The internet. It's both all that is good and of course bad in this world of ours. As wonderfully useful as it is deeply troubling. And we here at the Monium of Gander are no strangers to both of these sides of the same world wide webby coin. Apart from of course bringing you this utter delight every week, it's helped us setup many interesting trips and meet lots of nice people. We'd never have met all the nice folks at Forres for instance without the interwebs. But for every friendship made and pub recommendation, there's always an Orient wanker getting you blocked on Facebook and losing you 60% of an audience you worked 3 years to build. Good and bad see?
Having said all of this, we actually rarely get pulled up on or bashed online for anything we actually say here in the blog itself. Which given this is a load of slanderous nonsensical bollocks at the best of times is quite surprising. Well, this was until a couple of weeks ago when we were indeed pulled aside to explain some shit we'd recently curled out on these very pages. And by we, I mean me. For I was the culprit on this occasion. Bloody typical.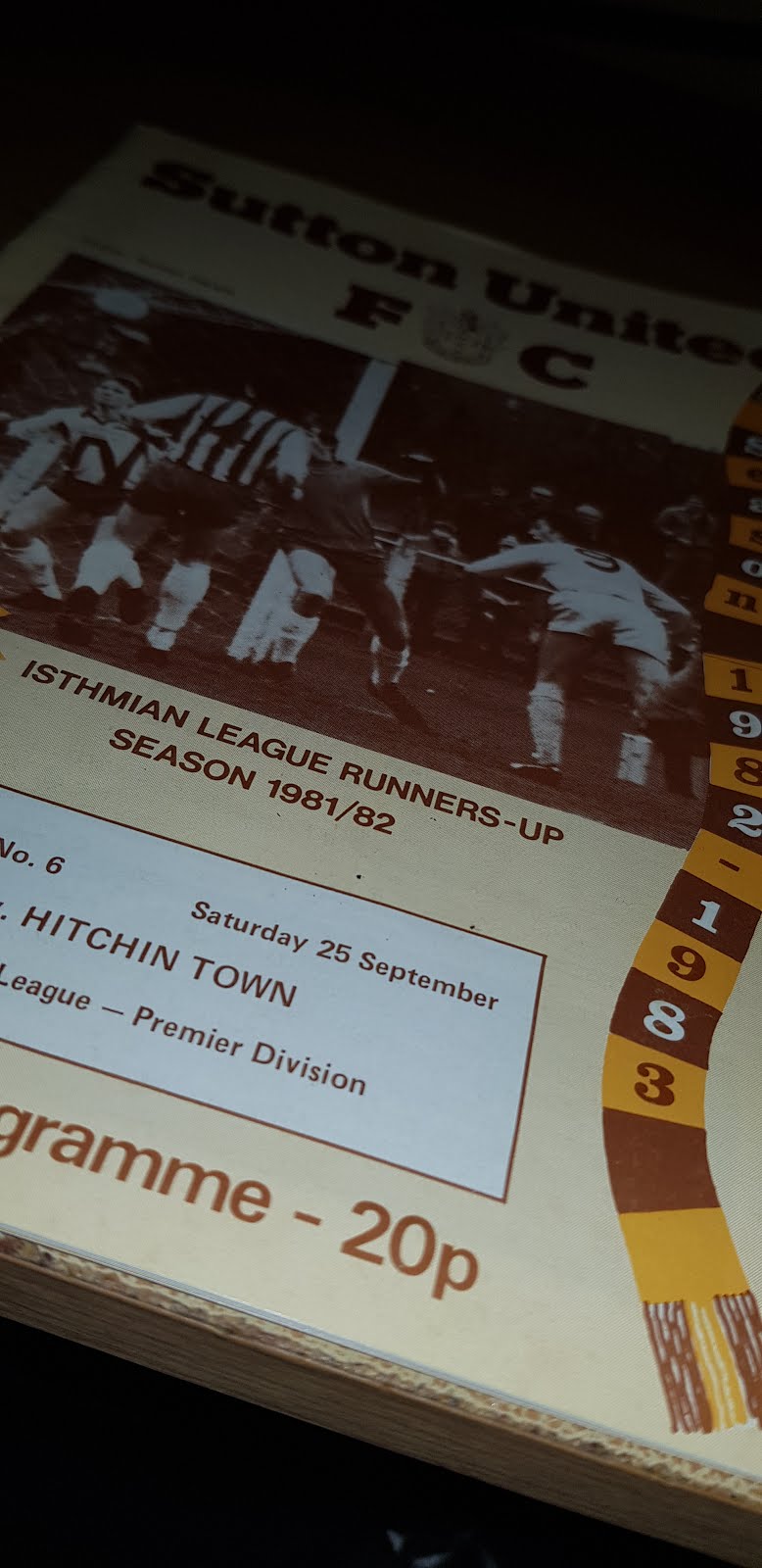 Where it all started…
It seems that some comments I made regarding the pre-match lunches were picked up on by some high ranking individuals at the club and these required some clarification. It seems that the line "the usual posh pre-match luncheon is underway in the Times Square (or whatever it's called these days) Lounge" which appeared in my Aldershot blog was the offending item and the high ranking individual that definitely wasn't our esteemed chairman Mr Elliott, wanted to know why we herberts hadn't attended one of the pre-match feeds. Now, I'm not sure quite how calling something 'posh' can be in any way deemed insulting, but horses for courses I suppose. My take on it was that I couldn't possibly call it posh as the likes of me were not in attendance but I digress, with my dressing down fresh in the mind and having taken this information on board, I engaged our resident Security Consultant and Social Secretary Magnum PI to get a booking made in the very near future to get Bruce the aforementioned un-named high ranking official off my case.
The meeting with Gravesend Ebbsfleet was soon chosen as the suitable candidate and having originally assumed just a couple of the other idiots would join in just for the hell of it, I soon found that the idea was rather more popular than I could have imagined as no sooner had Magnum put the call out on the top secret, VIP, members only whatsapp group tingumyjig than we had over a dozen RSVP's. In the end, we landed up with 14 people in total. Which I'm sure not even Bruce the unnamed high ranking club official would have ever dreamed would bother. Still, if anything else, having 14 Gandermonium associated persons at any sort of gathering, let alone one such as this is almost guaranteed to ensure we're never invited back to any future editions.
Gone upmarket…
With luncheon at 12:30 sharp, it's an earlier leave than normal from HQ and on the bus, my daydreaming is interrupted by the Burgers hopping on at Wallington Green. It's the first time I've seen them since before Xmas they'd both been lumped with working weekends over much of the festive period, so we catch up as the 407 trundles into Sutton. Dave also has a little present, a copy of a home programme against Hitchin from the 82/83 season which I believe was my first ever game at Sutton. Cheers! After a brisk stroll to GGL from the high street via an ATM, we arrive with a couple of minutes to spare in time for food. Outside, Greek, Mr X and Dukey, who is clad in some very fetching and posh lunch appropriate urban combats, are sticking one last fag into their lungs before being seated. Greek is concerned however. "Bruce actually seems pleased to see us here". Despite my reassurances he's just taking the piss as usual, Greek seems convinced of his observation. "He said it twice. And he was smiling when he did!". Uh oh. He might have a point.
The event itself is fairly low key as despite what you may read on here, even we can handle a proper knife and fork job without too much bloodshed. We get a nice bit of grub, a little speech from Mr Doswell who tells us we'll definitely be missing JC and Easty today and also alluding to some 'big news' soon that'll be unvieled at an upcoming Q&A. Interesting! As we wait for dessert, our Chairman Mr Elliott takes the floor and does some welcomes etc before turning his attention inevitably to us. One ribbing relates to my referring to the very room we're in as the 'Times Squre Lounge' in a recent blog and not being able to recall it's new official title that someone has recently paid a nice few quid to have over the door. Sorry sponsor people, I'm sure you're lovely!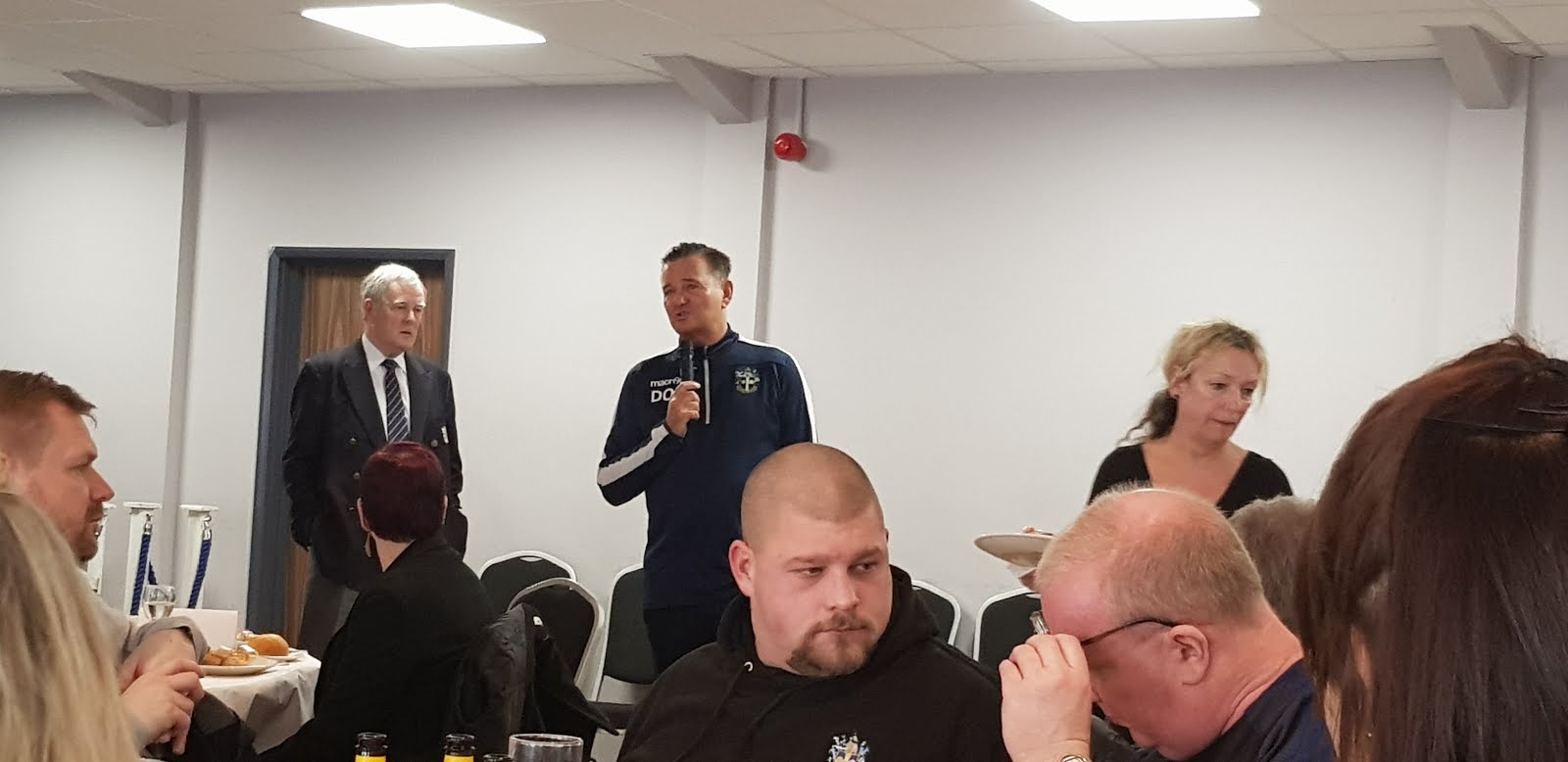 "Two little ducks……22!"
I'm also pulled up for calling AB a 'shouty man with an accordian', but mostly because I had sadly left a 'c' out of the last word. That's right folks, of all the many many sticks you could beat any of us here at Gandermonium with, Bruce went with a fucking typo. Which is quite surprising if I'm honest, talk about a free hit! I can only assume this was due to the more sedate, family friendly crowd he was playing up to, but I can't be sure. Anyway, this at least helps me settle on my Tripadvisor review for later on. "Nice food, prompt service, good value. Comedian was a bit rubbish though". One further highlight is at the end of the informal quiz that club legend Mickey Joyce puts together to help pass the time between courses. Having given the answers, he comes round asking for scores and is promptly told "17!" for our table by Magnum PI. He accepts this without question, slightly forgetting that there's actually only 16 questions in the quiz he'd devised. Still, it makes a change for someone to be merking arch prankster Joycey.
Having stuffed faces, it's time to find our customary pre-match spot at the bar and start getting some beers in. The place is busy today as with no segregation in place, the visitors are taking full advantage of the facilities. I also get to catch up with Bob and his Kent based brother Chris. Bob is without his usual sidekick Cathy today, as like Sean Connery's Stuntman, she's taken to being hospitalised to avoid watching us lately. Whilst this is admittedly a drastic course of action to avoid witnessing such things as 'Eastleigh Away' and the performance at Spennymoor, it is regardless quite effective. Get well soon Cathy! Before long, kick off approaches and I suppose we'd better get on with the bit no one really reads…
Worner, Bennett, Thomas, Beckwith, Bolawinra, Davis, Toure, Bailey, Beautyman, Williams, Dobson SUBS: Ayunga, Lema, Pearce, McQueen, Ikebuassi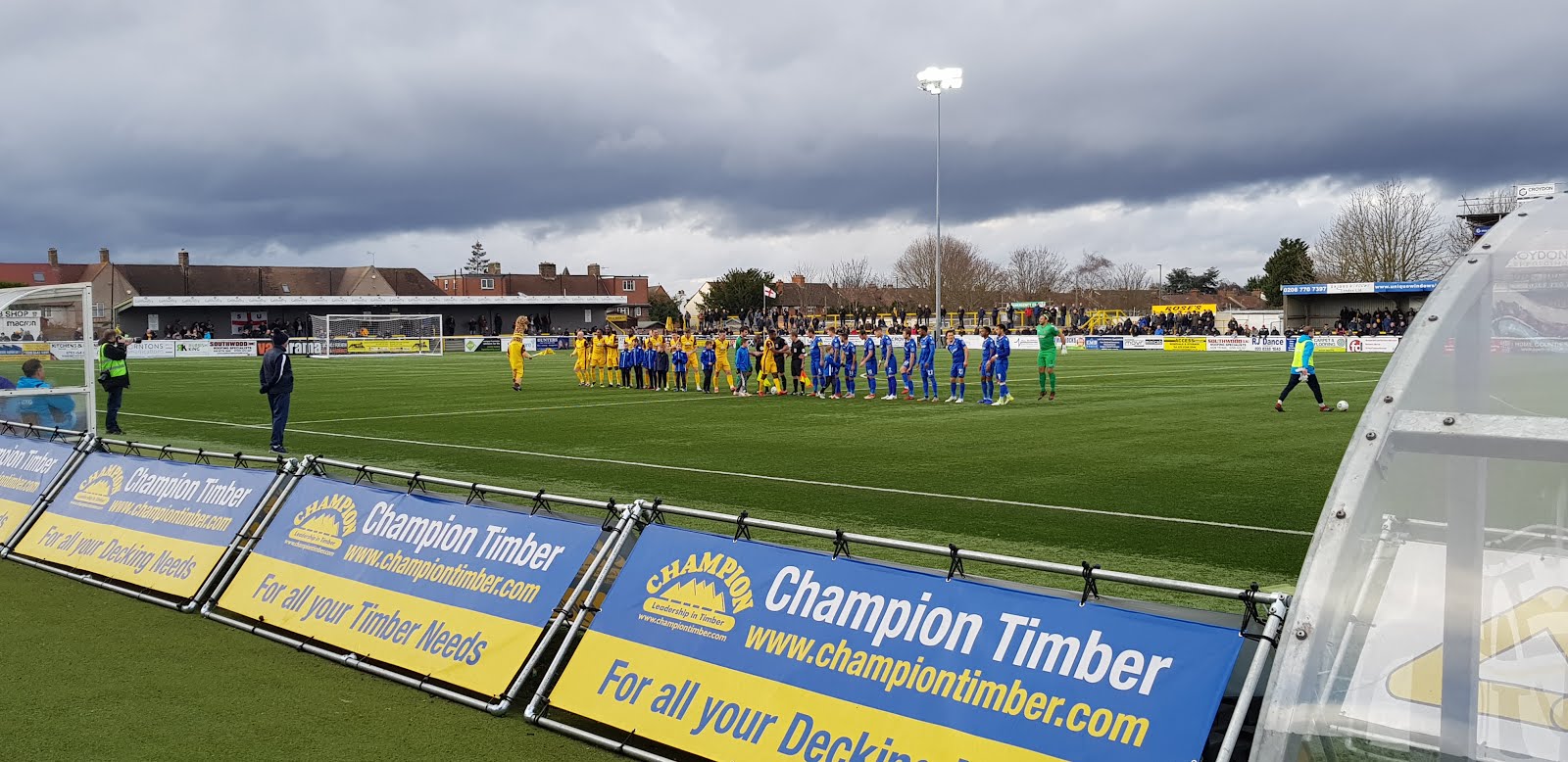 Line ups
Before kick off, the main talking point is whether Ashmore in the visitors goal has been on the Kedwell diet lately as he's certainly added a bit of timber from when we saw him last in August. The permatanned superstar himself is also looking as rotund as ever, no doubt secure in another 90mins no matter what he does. Ebbsfleet have been in good form lately and scoring goals, whilst we've been a bit off after a decent little run around Xmas. So this is expected to be a tough one. Despite this, the lads start brightly towards the Rec end with the wind at their backs and take the game to the oppo. Toure should probably do better with an early sighter and at least get it on target rather than the high wide and handsome effort he produces.
Dobson on our right is the first to test either keeper, trying to catch Ashmore out with an early hit from a good 30 or so out. The keeper backpedals and makes the save, but we're left with the feeling if there'd been a bit more height on the effort, he'd have been properly struggling. At the other end, Worns doesn't have a huge amount to do other than hold a couple of efforts from range straight at him and have to be smartly off his line to bloke a close range effort from a blue shirt after the ball drops to him from a corner. Back up in front of us, Tombo has probably the best of our chances, nodding over from several yards out following a tidy Dobson cross. Another case where hitting the target has to be the least we should be managing.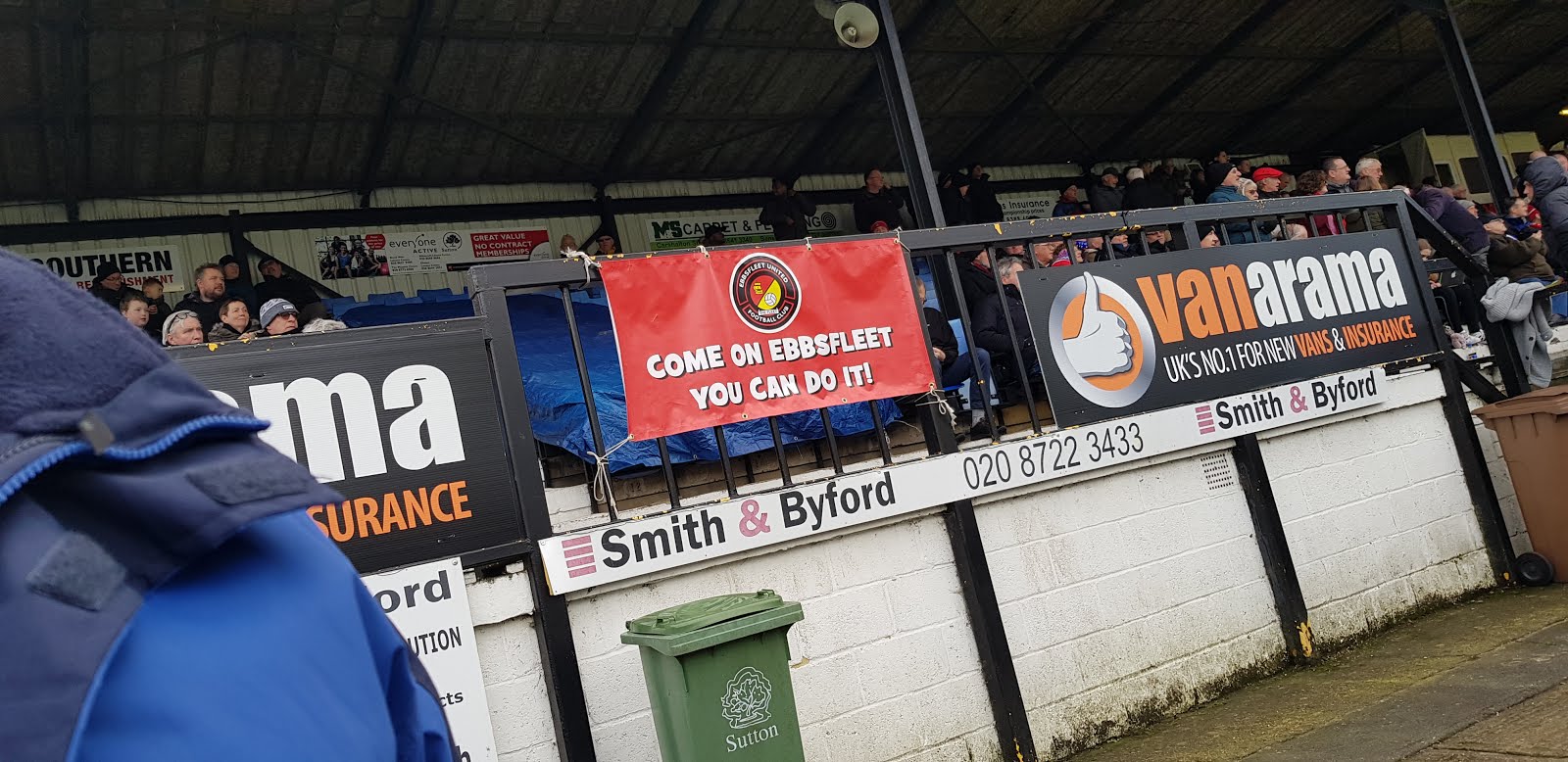 Er, no. They can't.
So, with a reasonable 1st 45 in the bag but no goals, I head for the shoebox feeling mildly satisfied. If we can manage the same again in the second, we should be golden. Yeah, about that.
With the strong wind now in our faces and dark clouds hovering above threatening to drop their contents on the Shoebox at any moment, we find it increasingly difficult to make much impact on the second half. Ebbs now playing with the wind find defending easier as well as getting up the pitch whilst we just largely launch it into the sort of breeze that would make a Scottish trawler man apprehensive. And when we're not doing that, we're showing the sort of passing and touch you'd expect from the likes of me after a 4 days drink and drugs bender. Naturally, this means we spend a lot of time camped in our half, defending. Which thankfully we're actually not half bad at this season. Having said all that, despite having a lot of the ball, the visitors don't do a terrible amount with it. Their sub McDonald has two decent sights of goal, one running off the shoulder of Becks down the middle, but whilst his shot beats Worner, it's cleared off the line by Bennett sliding in behind. He then has a hooked effort in the box from a dinked cross but his effort is hit into the ground and flicks off the far edge of the far post.
Despite making a couple of changes, the introduction of Ayunga and McQueen against his old club don't have much effect. But moments after the board goes up for 3 mins added time, the little fella we rescued from Kent gets the ball wide, cuts in on 18 yards and aims for the near post, but his shot is just diverted the wrong side of it by the slightest touch from a defender. Still, it's more than we've managed the rest of the half, so voices are raised for the resulting corner. Dobson sticks to to the back post and Becks half wins the header. It drops loose, comes back to the defender and he has a shot, which is blocked. The ball loops back over him and is immediately nodded back towards goal by Beautyman and is then subtly diverted onto the underside of the bar by Toure, with the ball dropping a good couple of feet behind the line. A defender desperately hacks it away but even a fucking National League lino can't miss one like that and the goal is given! 94 played and we've surely robbed it!?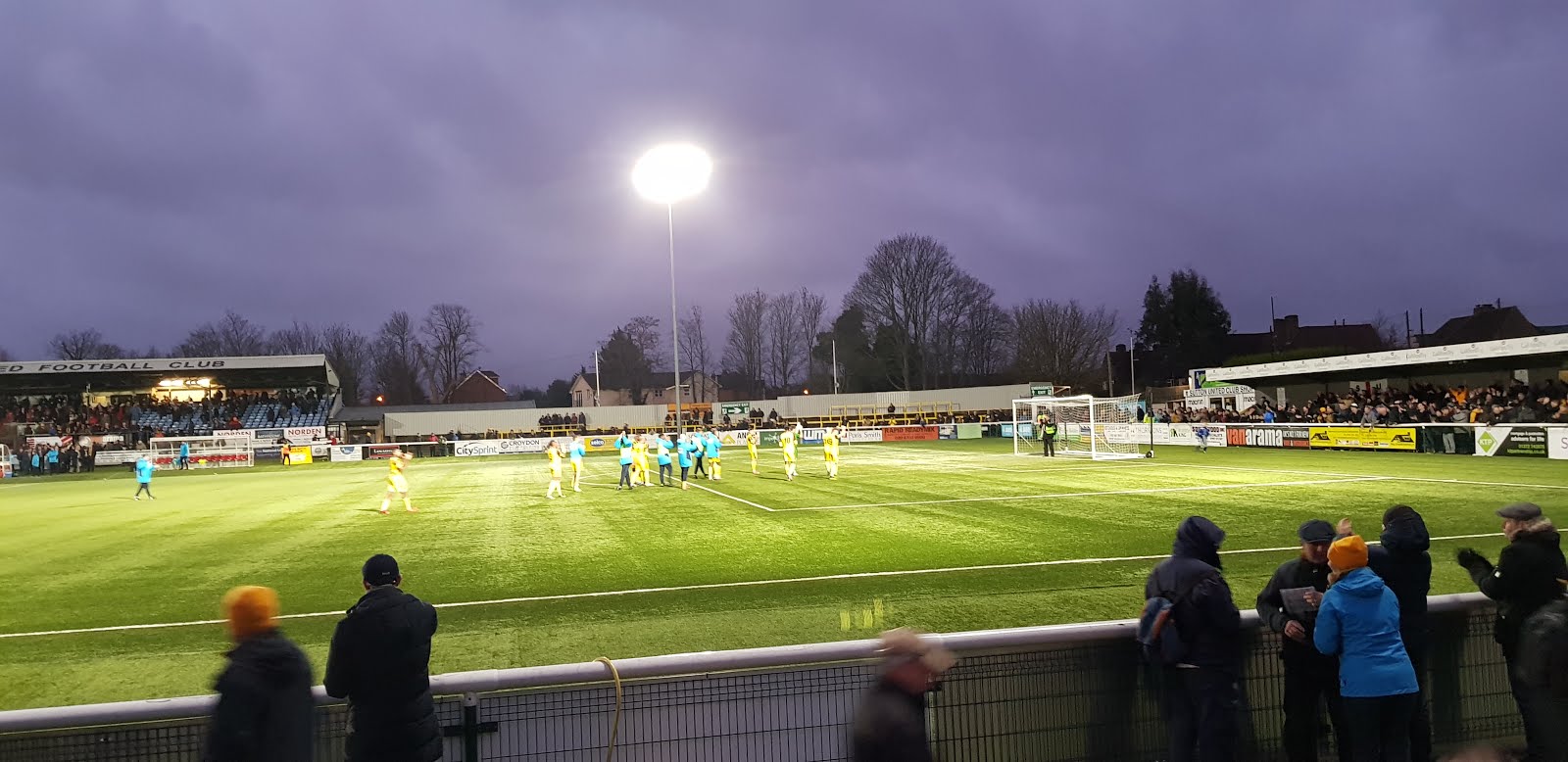 "Hello? Police? I'd like to report a robbery please….."
Ebbs have enough time to restart before the ref blows up and we're again celebrating what is a most welcome and somewhat fortuitous 3 points. Best of all, it finally takes us to the 52 point mark. We're fuckin' staying up lads!
The lads stick around to accept the congrats of the crowd, which is a bit bold I feel given that if anyone at the other end has dialled 999 to report a vicious robbery, they'll surely be caught red handed at the scene of the crime? With Worns picking up the MotM, we head into the bar for some celebratory beers. I also take the opportunity to apologise to Jeff, an Ebbsfleet fan I know, via Facebook as I doubt he'll be heading in for a pint after that finish! With pints on the go back in the bar, we toast a welcome win and then rope another poor unsuspecting guest in to do the SAK draw for AB. This time it's Spennymoor Pete, who we'd met up there a couple of weeks back but is based down here in the big smoke and has popped along for the day. Poor sod. Still, he's a nice chap and takes it in the humour it's intended. After this, the jukebox is on and the tunes start flowing including an inevitable blast of Elvis Presley's love letter to a certain city in the Nevada desert famed for gambling. Sure, it was a slightly undeserved win, but that doesn't mean we can't take the piss.
On the telly, Millwall take on Everton and Malcolm, our former main sponsor is glued to the action being a big Lions fan. He's not impressed by the opener for the scousers and loudly questions his keeper's parentage. But he cheers up somewhat when his lads come from behind twice to not only level, but steal a win of their own in the dying moments. Such are his celebrations that there's genuine concern he'll have the flat screen off the wall. Bloody Millwall hoolies! Next up is West Ham at the Wombles and the less said about their performance the better. Dr Bell is less than impressed by this and even more so by the abuse he's getting from those around him. Around this time, I'm chatting to the Cocktail Crew who reveal that earlier they'd spotted a lad who they swear blind was the dead spit of our very own Totts, but from the late 70's.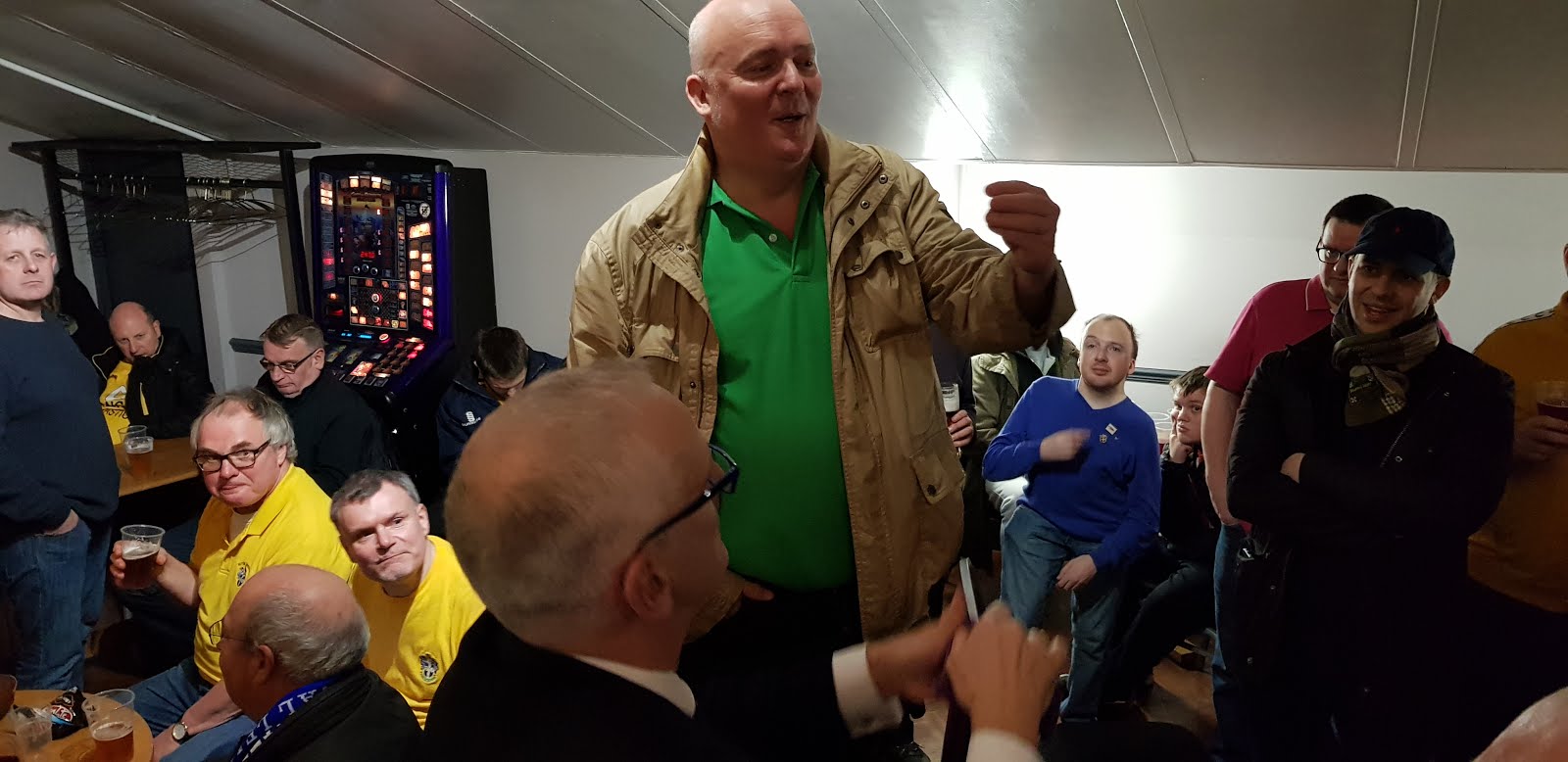 "Make the Northerner do it!"
Now, we all know how the President of the Republic and PRoWS number one bard loves a bit of that particular decade, but even we don't think his younger self ever managed to perfect the complex science of time travel. The Cocktail boys are unconvinced however, so I'm left to question our glorious leader for life via social media. But he of course denies everything, branding our Scouse fan club as 'unreliable witnesses'. I largely leave it there before I inadvertently set off a major incident amongst our ever growing and confusing web of supporters groups. I'm not sure we'll have heard the last of this though, mark my words.
With time pressing on and my earlier assessment that I wouldn't be out that late due to end of Jan post-Xmas finances (eg. I'm fucking skint!), it's around 10pm when Magnum and I decide to make our escape and share a cab. I'm also bloody starving by this point as all I've had is the chicken casserole at lunch. Home james! I get ditched outside HQ and let Magnum take the Uber the rest of the way to his own gaff and stumble indoors looking for food. Deciding that waking up her ladyship wouldn't be a wise move, I make a quick sandwich and wolf it down before falling mostly undressed into bed and quietly humming a familiar tune.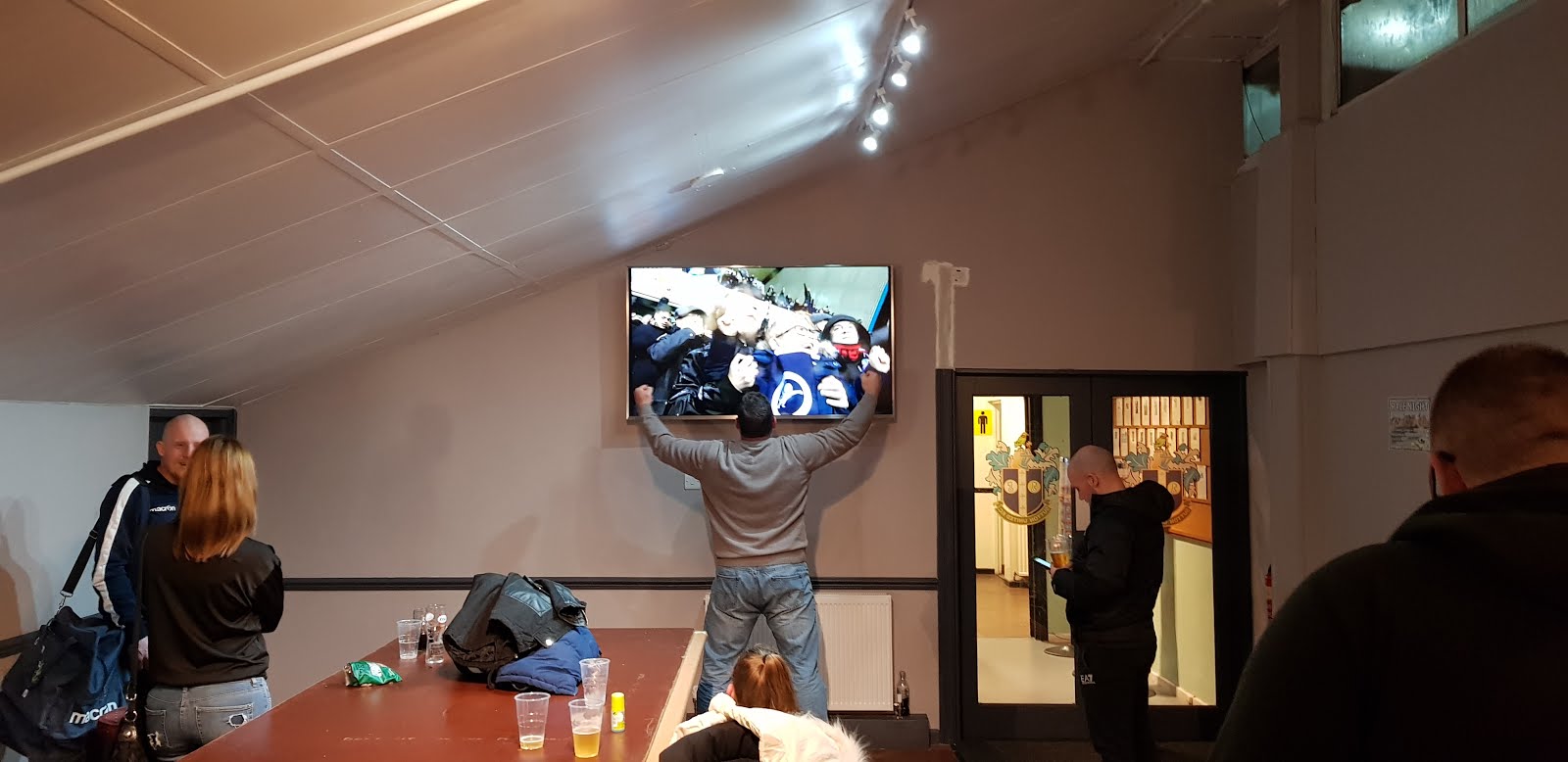 He looks excited…
Bright light city gonna set my soul, gonna set my soul on fire…..
Taz