Let me get the sentimental matters out of the way early doors by wishing our loyal readers a very Happy New Year and may 2019 be a good one for you all; well apart from any of our rival teams that is! And also an additional point is to wish my old chum Natalie a Happy Birthday. Many happy returns!
So the epic episode that was FATGATE is finally resolved and it sees Bromley kicked out for their form filling misdemeanour and us given a reprieve back into the FA Trophy. This however now means finding a way of getting to Spennymoor for the following Saturday – a place that does not even have a train station, so how on earth do we make this trip…..well, that would be telling. More about this later!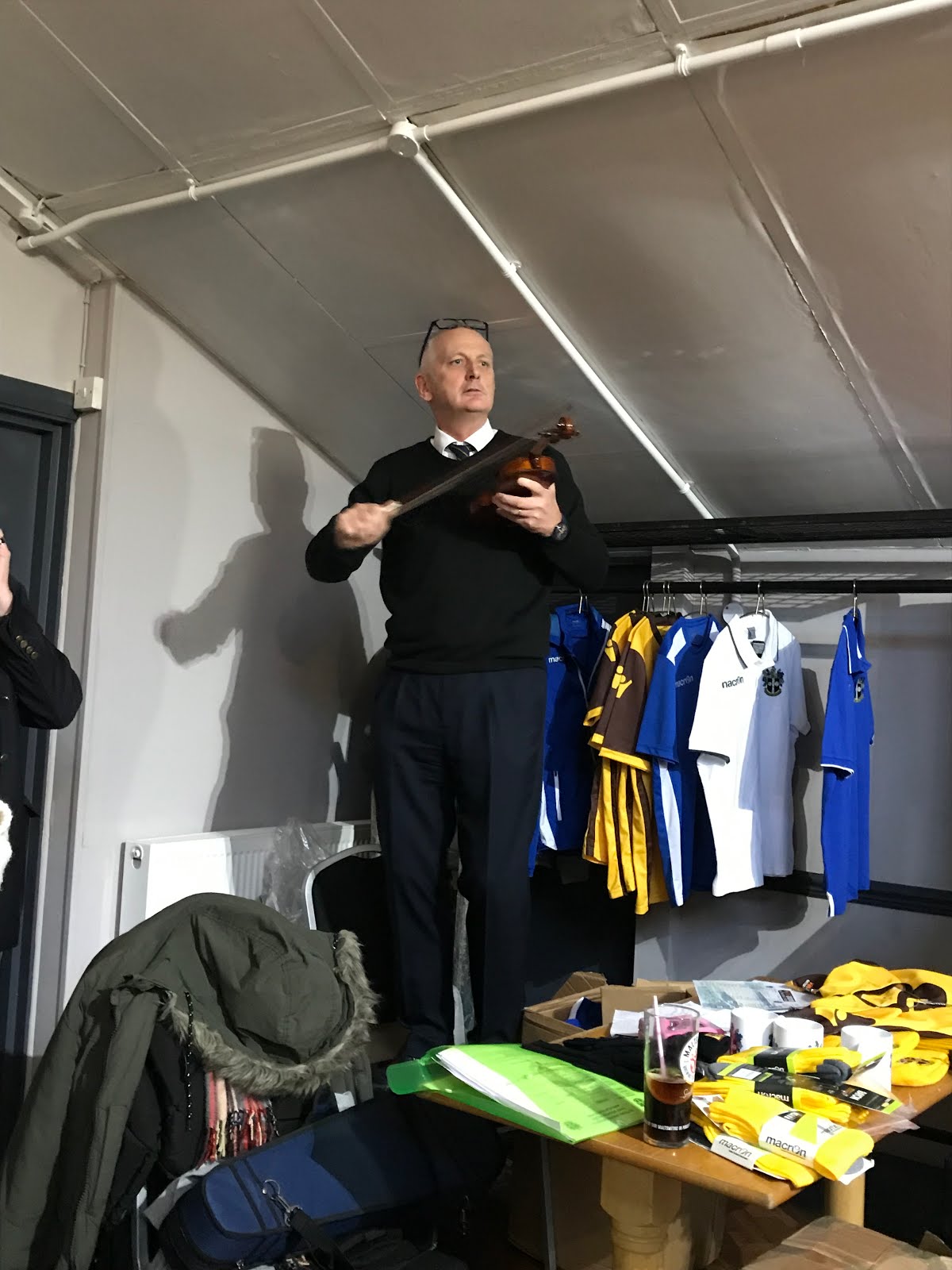 One man orchestra…
My usual thing is the night before football I do not like to go out as I like to keep myself fresh for the game itself, such is the event of visiting Gander Green Lane. However, an exception to this rule is only if there is a social engagement I cannot avoid. For this case it is a reunion with my work colleagues I first ever worked with and as one of my ex colleagues was over from New Zealand I thought it only polite to make the effort. Another thing I like to avoid generally is Croydon if I do not have to go there. As I already work there, I only see it as a work town. However, I went and made the effort and again took the opportunity of selling the club to my ex colleagues who were interested to hear of how well Sutton are doing. All this over a very nice Turkish meal. Very convivial.
So now let's move on to the game in hand – Harrogate Town. This was our first game of the season way back in August and what a weekend that was, plenty of Yorkshire Tea (which is the best tea going) and other such madness. I was very impressed with their facilities and team, well apart from one player which again we will come onto later. I decide I can't be bothered with the bus and call upon an Uber and it's a nice arrival to the ground where I do my usual rounds of saying hello to and catching up with the people that are already there.
For the second home game in a row there is a pre-match shirt auction, this one being for the shirt of Charlie Clough who has departed us for the kingdom of Brunei. I cannot think why he'd leave our beautiful republic for somewhere warm, sunny and paying four times his wage at GGL, tax free. But each to his own. The auction is started by what feels like being in a Parisian bar, albeit one near to closing, as AB continues his penchant for odd instruments and follows up last weeks snake charming by playing a violin (very badly) to alert the patrons the sale is about to take place. Once everyone has regained their hearing, the shirt of the departed Cloughie goes for £55, a whole fiver more than Ross Lafayette's last week.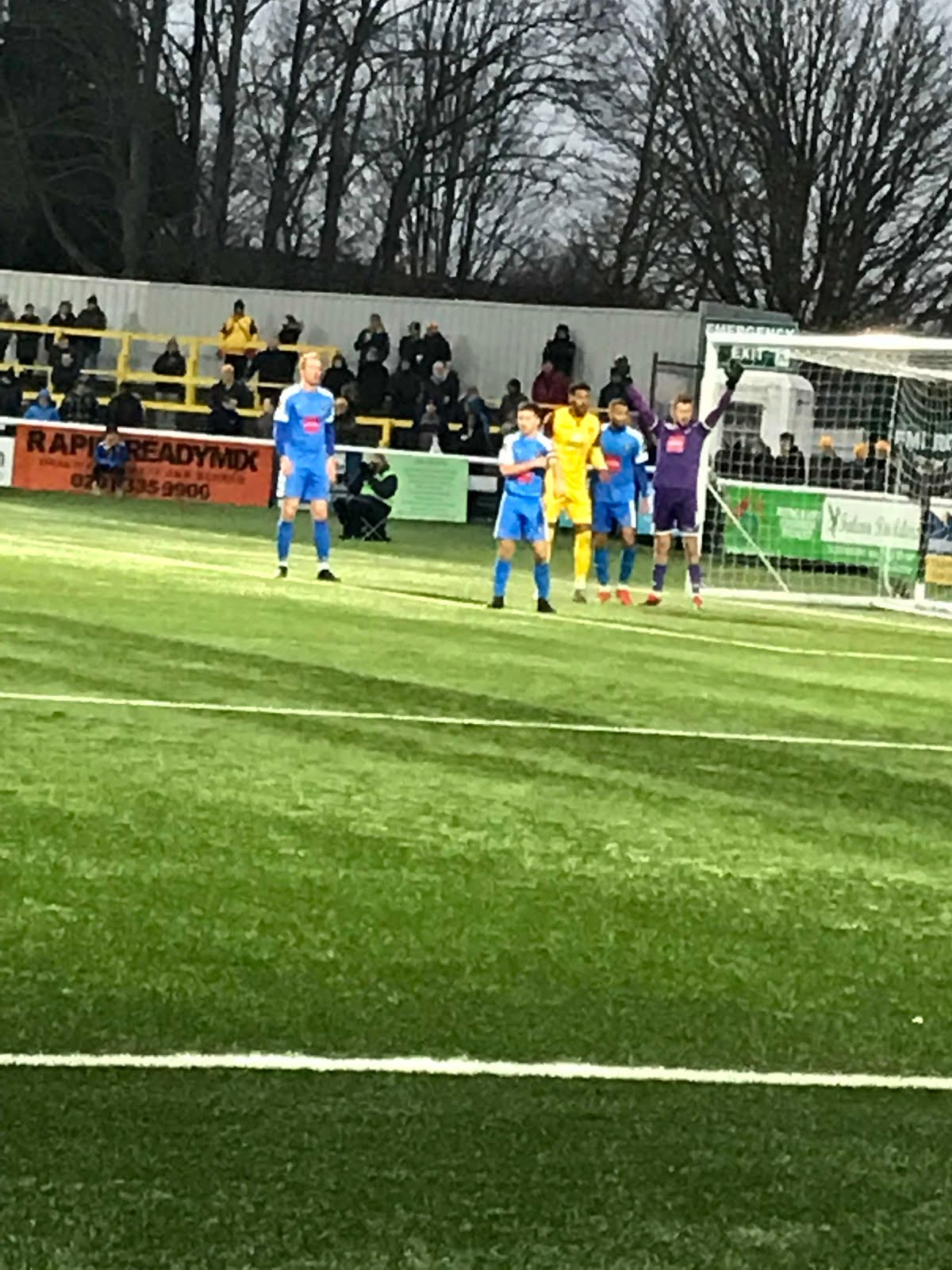 Little tosser!
The team line up is sent via the secret Whats App groupy and the team is announced as:
1. Worner, 2. Bennett, 4. Becks, 22. Pearce, 16. Bailey, 15. Eastie [skipper], 7. Tombo, 19. Beautyman, 10. Ayunga, 28. Williams, 9. Toure
And with what is a rarity these days in an unsegregated game, we are able to position ourselves behind the Collingwood End for the first half. Within the first few minutes I remembered the Harrogate number 4 being an absolute little cretin from our game up there and he begins to display the reason why I disliked him so much before. Constantly in the referee's ear and moaning, and falling over dramatically at the slightest touch. So for the first time ever I will be swearing in a blog and labelling him an absolute tosser! (4/10 Must try harder! – Ed).
But it is thanks to this tosser that we get our first goal, he once more falls dramatically to the floor and falls on the ball as if he has been fouled and places his hands on it expecting a free kick. The ref of course obliges, with a free kick to Sutton! Harry Beautyman punishes him and crosses the free kick into the box where it is met by the head of Josh Ayunga for Sutton to take the lead. Thanks Mr Falkingham!! There is much excitement after this and talk in the ranks inexplicably turns to porn and at this point Dr Bell raises the issue of 'space docking' – Google it, it's too explicit for this blog! (Er, it's definitely not – Ed).
Now as is customary for home games, even when on blog duty I join Half Time Steve (HTS) for a beer where I further discuss my despisement for the Harrogate number 4. It seems he has also been constantly berated for his behaviour by Taz and a few others of the Gandermonium crew in my brief refreshment enforced absence, but I am happy to report that no further goals were missed! So, 1-0 to Sutton.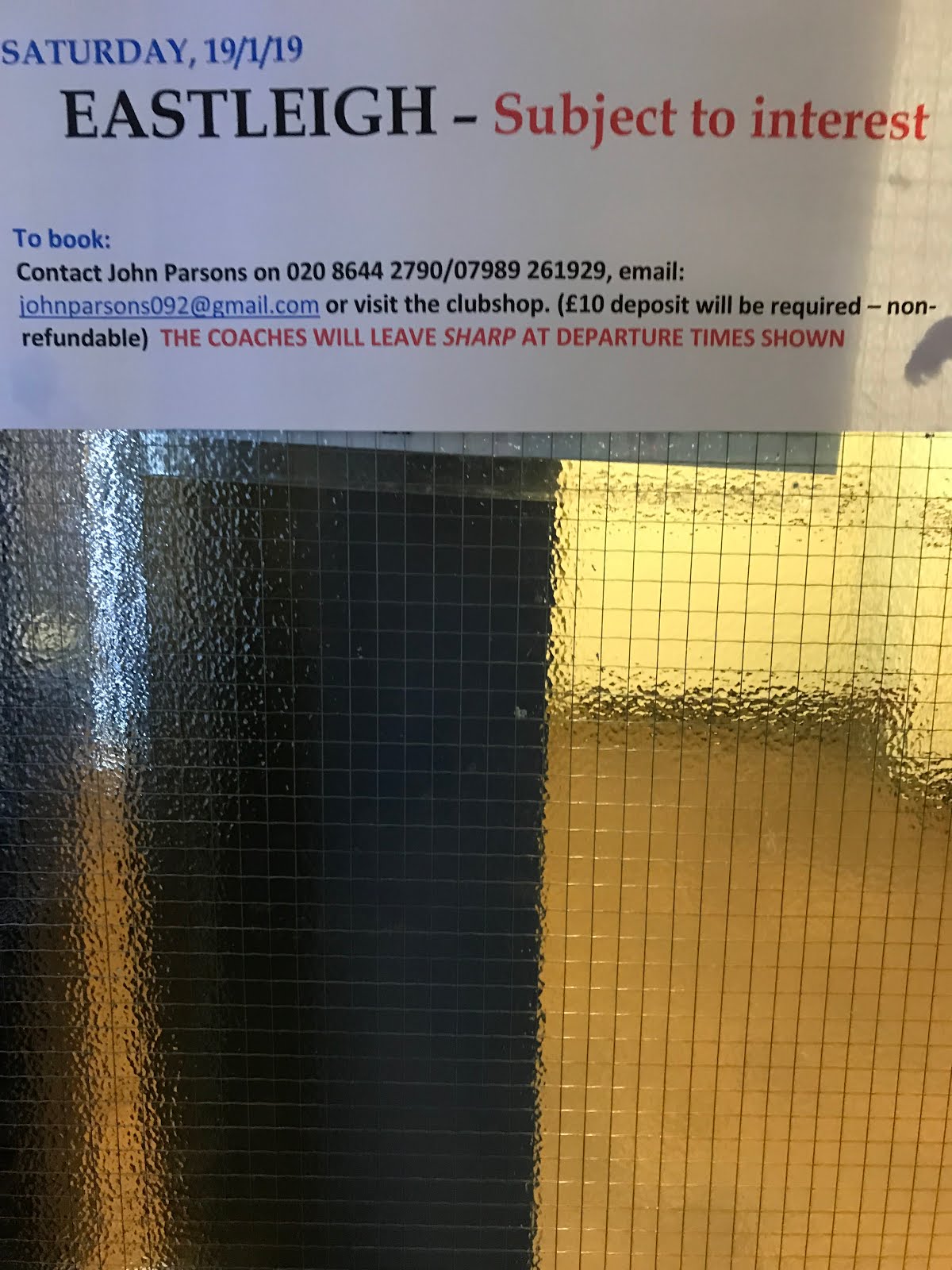 No interest here!
Harrogate started the second half more brightly and on the hour mark Worner is beaten with a fine dipping shot just outside the 18 yard box for the equaliser. It took a double substitution with 15 minutes to go for The U's to be reignited and what a substitution it was too, with Thomas-Asante and McQueen coming on for Tombo and Ayunga. Their pace gives us new life and with eight minutes to go Bennett crosses for Thomas-Asante to head down the ball into the box for Beautyman to slide the ball into the net for 2-1. Now, I nearly missed said goal, but not because I was in the bar as you may thing. No, I was on my way to the lavatory when I saw the build-up taking shape and held back.
However, all the hard work of regaining the lead was nearly undone by a poor punch from Worner in added time, which was hit upon by Thomson and Eastie cleared the ball off the line not once but twice in the ensuing scramble. To much the relief of the team, staff and especially us fans the final whistle and a hard fought win was determined – putting us up to sixth in the table. What? We aren't eighth any more!? I want to commend Harrogate Town on their play here, as they are a good side, just a shame your skipper spoils it by being a tosser.
It's time for the after match shenanigans and after Strikers are Key Belly calls an urgent meeting regarding the arrangements for Spennymoor. The Civil Servant in me likes a good old meeting, and arrangements are made (eventually!) for both transportation and accommodation – let us hope now that the game is not called off, we cannot waste Valuable Drinking Time (VDT) now can we???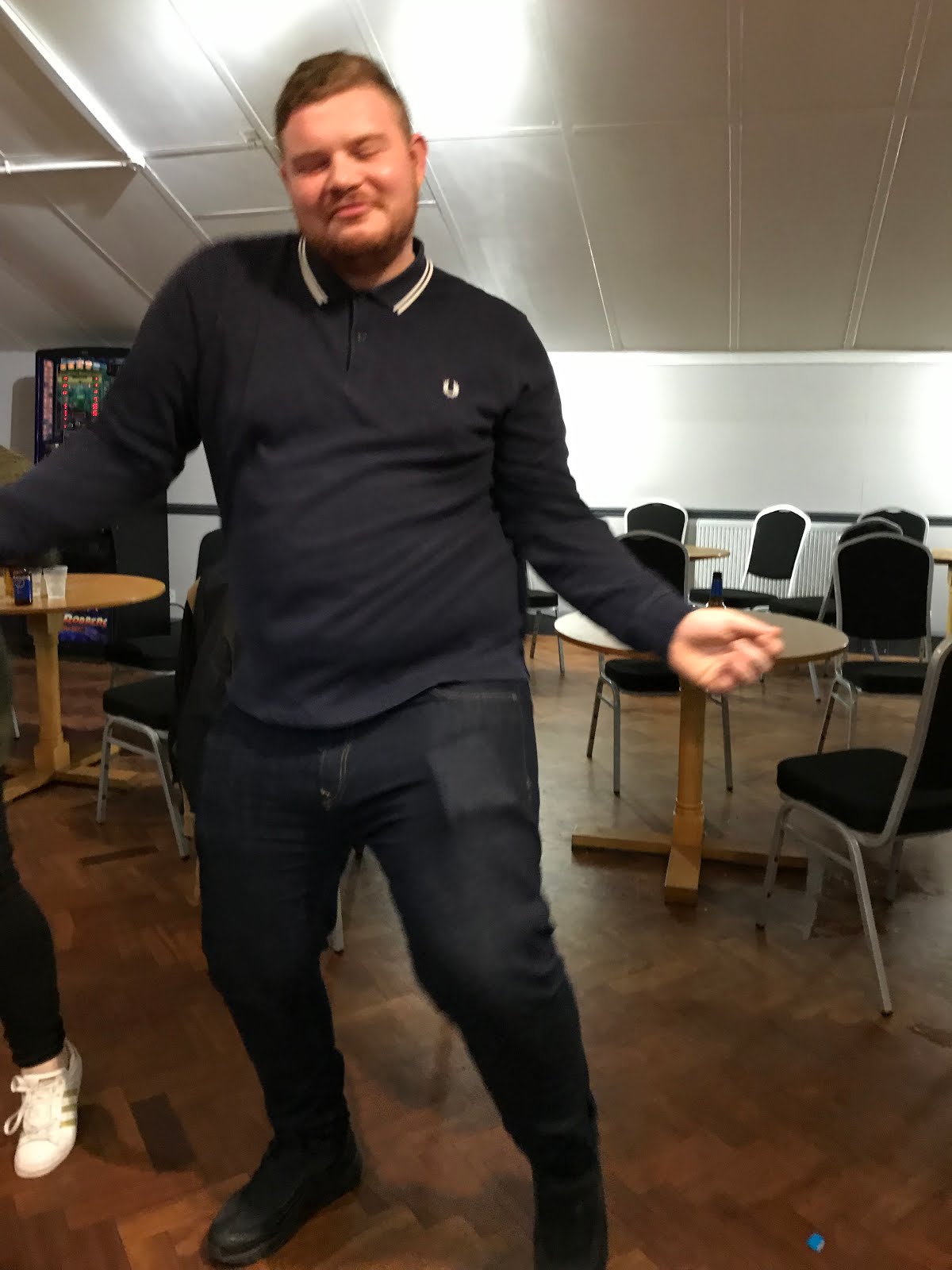 Shake your stuff!
I also notice that signs are up on the door for Eastleigh away travel with the tagline "subject to interest" well to be honest Eastleigh away does not interest me – as everyone will know they are not my most favourite side.
What carries on after the bar is the usual drinking and it seems this will not be relenting as we celebrate three points and Natalie's birthday. The tunes blare out from the jukebox – Wreckit Beckett displays his dance moves which I must say really are on a par of The COC's Marcus. Also found in the bar is a 'lost' football which naturally ends up being sent to the 'Lost Footballs' account on Twitter. With the bar closing it is time to rustle up more Ubers to take us into Sutton high street and carry on the night's drinking as we hit Gandermonium's second favourite drinking haunt – O'Neills. Upon chucking out time there, some head for the safety of their beds, whilst some of us try to get into the Slug and Lettuce for a nightcap, but we are told no more entry is allowed at such a late hour. Maybe the best thing really as I know a lot of us will probably be suffering with hangovers the next day (NB. Yes I did suffer).
So now we move back onto the cups, starting with our Dukey's favourite on the Tuesday against Chertsey in the Surrey Senior Cup and then that long journey north to Spennymoor next weekend in the FA Trophy. All the details of which will naturally be appearing here in due course!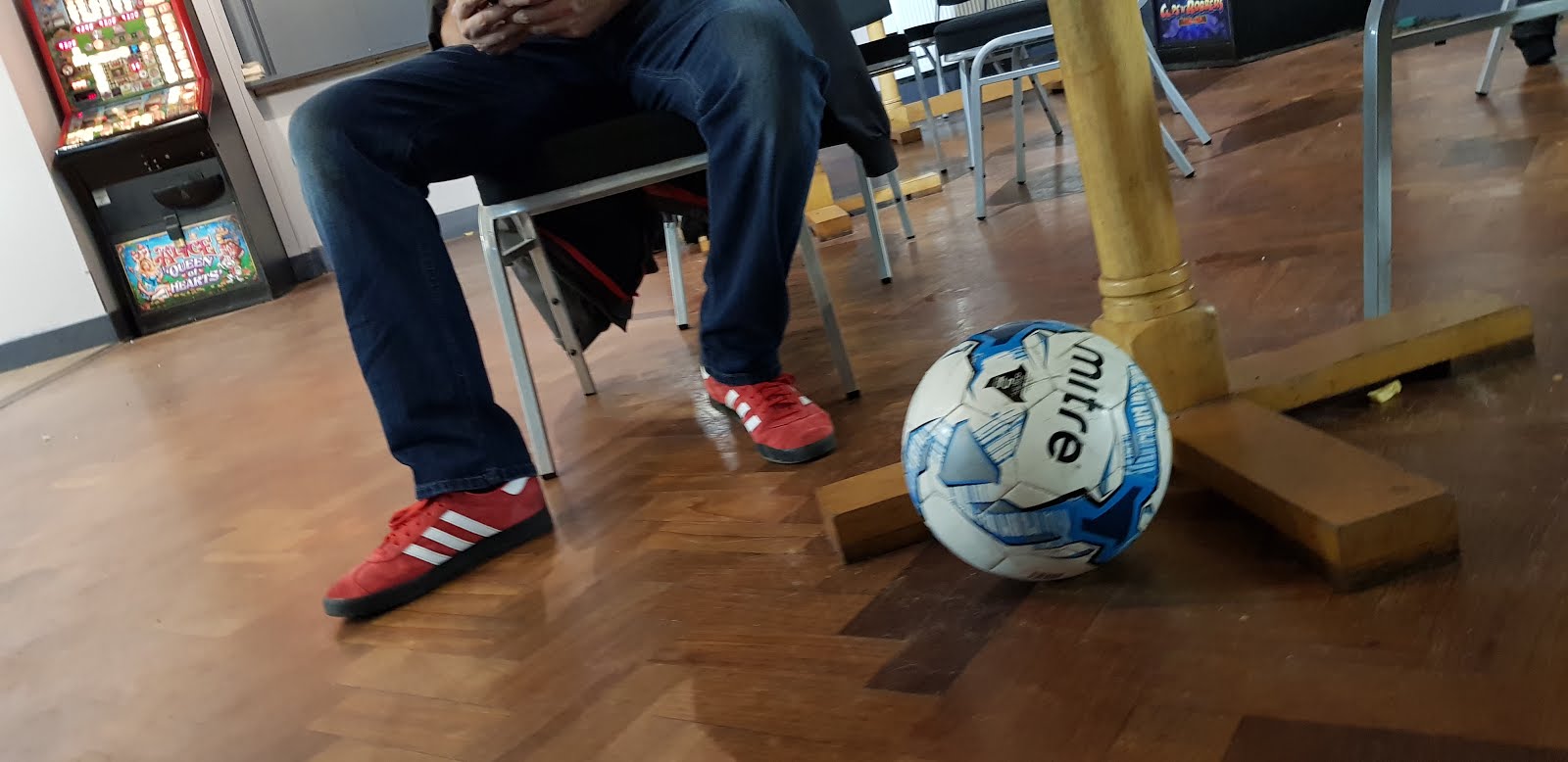 Lost Football?
Wise men say…
Robbo