Bugger the Happy New Year and all that bloody bollocks. I'm a Sutton United supporter don't you know! And I might be getting old (very slowly), but nothing seems new to me from the 24 hours before. Then again, only twenty four hours ago I was drinking in an Irish bar in Morden. And I didn't even get into any sort of trouble! But some things definitely don't change and in this case that is our beloved football team.
The festive football programme is fast coming to a end, but there is still time for yet another visit to be made to the 78/79 Kent Floodlit Trophy winners. Not the first time we'd played them this month, with not only a Boxing Day victory down the Lane, but also the standard "go a goal up and then concede two soft goals from set-pieces routine" here in the FA Trophy before that. Sound familiar that bit does it?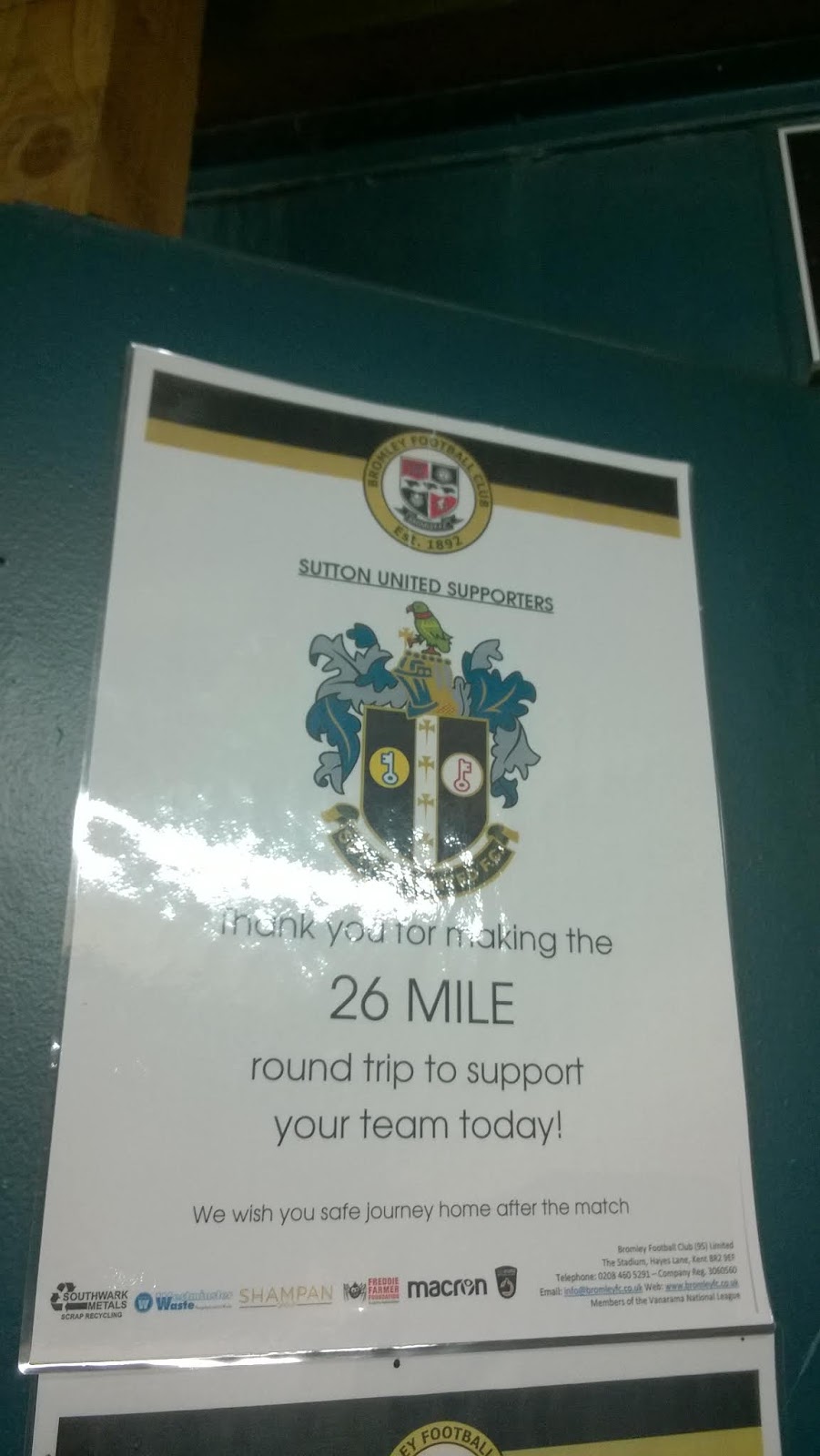 Like a marathon that…
So with it being New Years Day, this meant that the contingent coming from Gandermonium was not going to be quite as fully manned as you would think. Coupled that with the fact that the game was going to be on that new fangled thing called 'television' and therefore is pushed back to a quarter to eight kick-off at night and you know one or two will take the opportunity to decline to make an appearance. Hangovers or can't be arsededness? You decide.
After some of the 'issues' from the last time Sutton were in town, it was thought that we needed another plan of attack for this one in case the law decided that Sutton fans having a pint was a serious risk to national security again. Out of nowhere there was a suggestion of Tulse Hill as a pre-match meeting place. Still, it's something new, so fuck it, let's do that. Especially as it was where we were supposed to get our connecting train to Bromley South. Or was that meant to be Herne Hill? And because of the previous nights festivities I was glad that the meet was going to be a lot later than the usual "Lets met up for 11 o'clock" you'd get with a normal 3pm boot off.
Sorting it out with Dr Bell that the quarter past four was good enough for us, it's a brisk walk to the station as I get my train times completely wrong not for the first time this season. It's a quick ride up before we're dumped at the station. It turns out that on our train was also a very tired looking Southampton Steve. Outside is "The Railway Tavern" and home to a certain member's infamous Silver-back Gorilla antics from a few years back.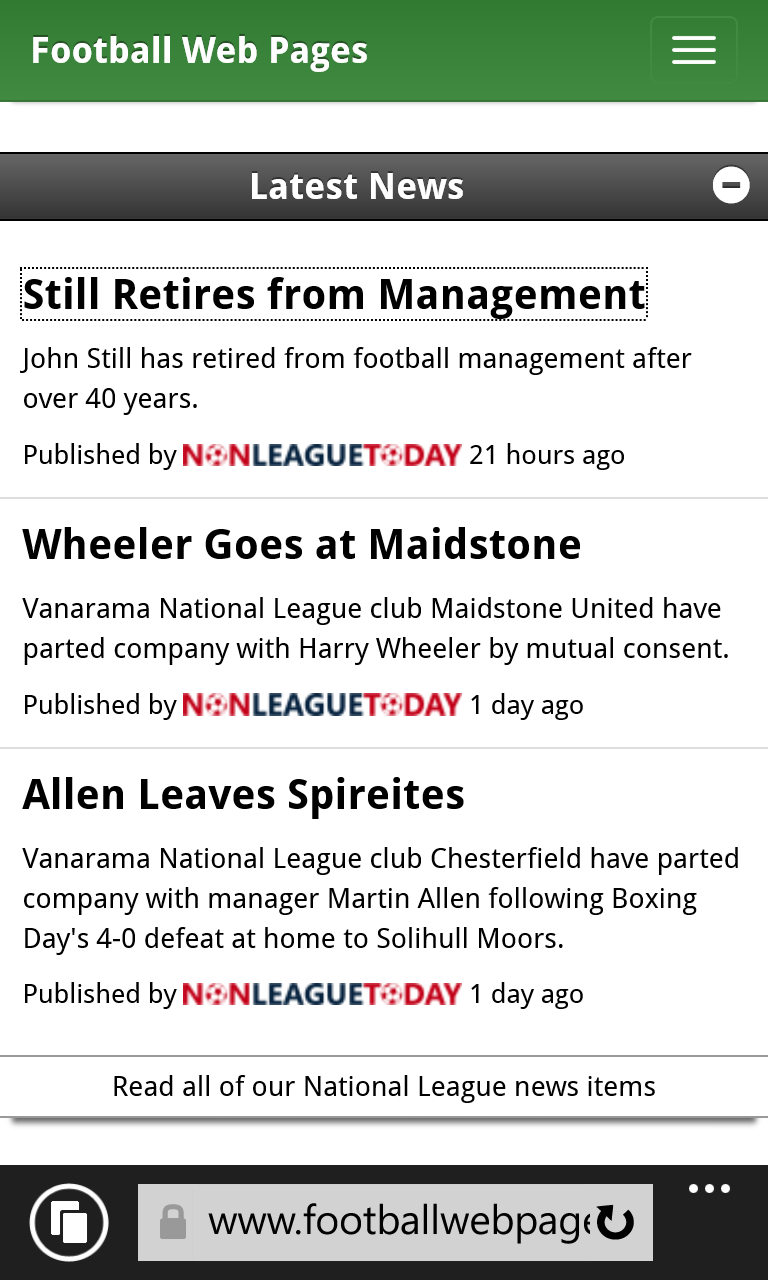 One or two changes…
Three drinks for over £15 later, we find Mr X, 4 Days & Lil' Chris lurking in a back room . There is a ding-dong of a match on the box currently as Forest are tearing Leeds (o as Dr Bell calls them: "Leeds 'Don Revie is a ****' United") a new arsehole. Watching the other scores in our division come in, and it seems that if we were to win tonight, we could climb up as high as fifth place! Although that of course means winning tonight first, which is not a gimme by a long shot. We also cover in conversation how there have been one or two or three management issues for other teams recently.
We also look at our very limited options to a possible trip to the North-East next Saturday. Yes, FATGATE is still rumbling on. Heading to a place that doesn't even have a bloody railway station is not the easiest thing to achieve, but a night out in Durham might be interesting. That reminds me, Get well soon Sean Connery's Stuntman. Not just from me but from the shareholders at Guinness as well! That dividend will be properly down come end of the financial year.
Eventually it's time to leave, so it's back to the station and after a change (who'd have thought?) at Herne Hill, we're heading into Bromley with the time fast approaching seven. With a chance of a quick swifty at the local 'Spoons opposite the station, we need no more encouragement. Here we bump into some rather worried looking teenies who'd just been given a 'friendly' greeting from some local Yoof in an alley near the station, we grab a sherbet to the ground.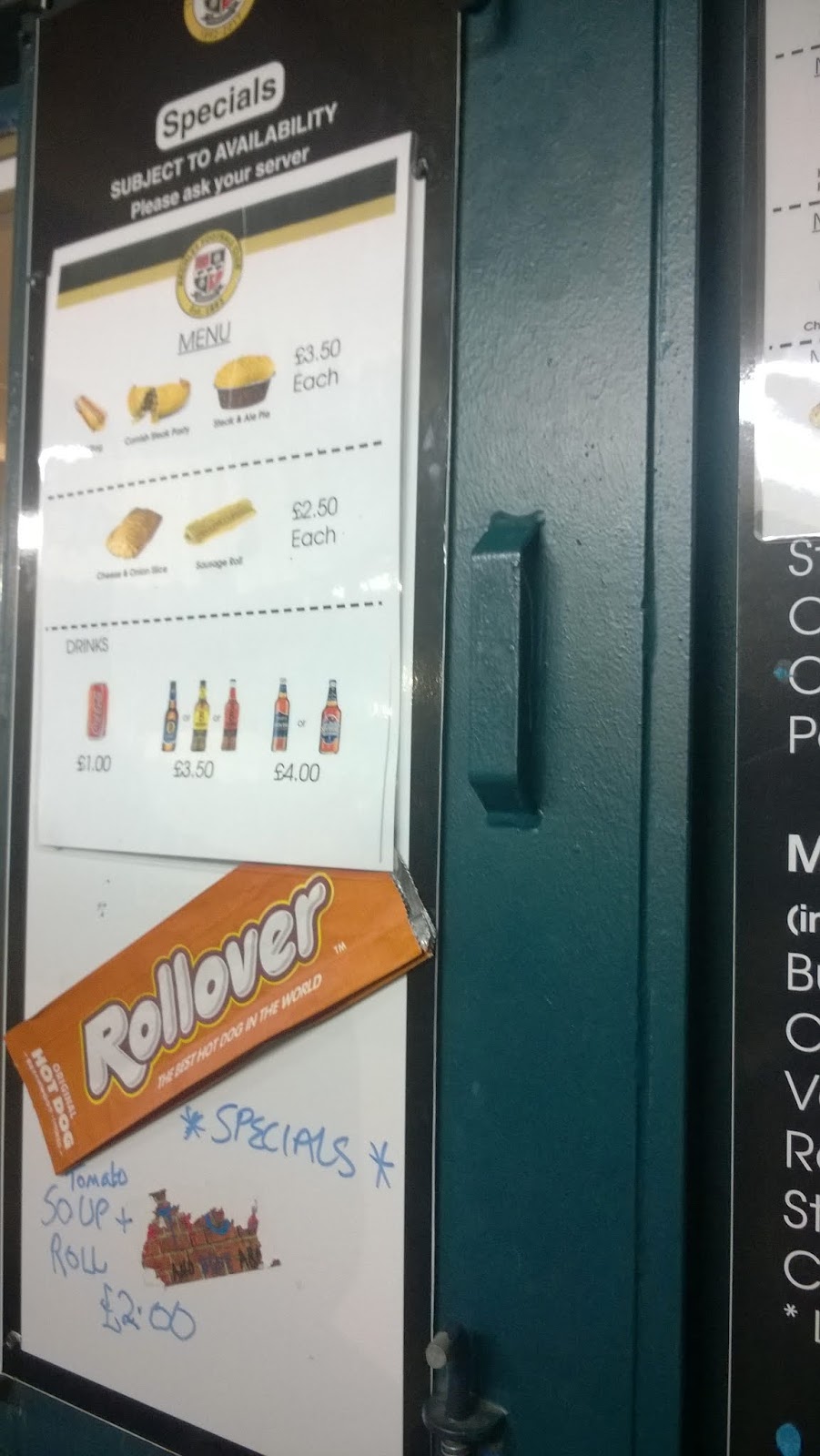 Limited menu….
Butler, Bennett, Bailey, Eastmond, Pearce, Collins, Beautyman, Davis, Williams, Ayunga, Thomas-Asante. Bench Warmers: Beckwith, Bolarinwa, Toure, McQueen, Mason.

With a rather strange reason for not being able to stand under any cover, thank the Lord that it wasn't raining, we all take our places down the side of the pitch. Before the off, there is a sort of collective groan once most people realise that it's none other than Mr Carl Brook once again doing his best to disappoint his wife paying public with his usual refereeing display. Or at least his interpretation of one.
Just after the ten minute mark and Sutton have the lead. The ball falls to Davis on the edge of the box and he skilfully found the space to knock the ball home. 1-0! Sutton tried to go for the second but failed to force Gregory into any real saves but Brandon went close from one curler. Gregory also did his best to help Sutton out by trying to get punished for carrying the ball a good yard outside the box every time he kicked it out of his hands, but the officials were obviously more interested in looking good for the cameras then what was happening in front of them.
Out of nowhere, Bromley had equalised. A set piece was once again our downfall, but it was a turn of luck from Bromley as a header back across goal hit the back of another player and found the back of the net. The local singing contingent also tried their best to entertain us with a medley of confusing songs. Highlight had to be "You're just a small town near Croydon…". Coming from Bromley? Fuckin' 'ell! Pretty sure you're closer lads!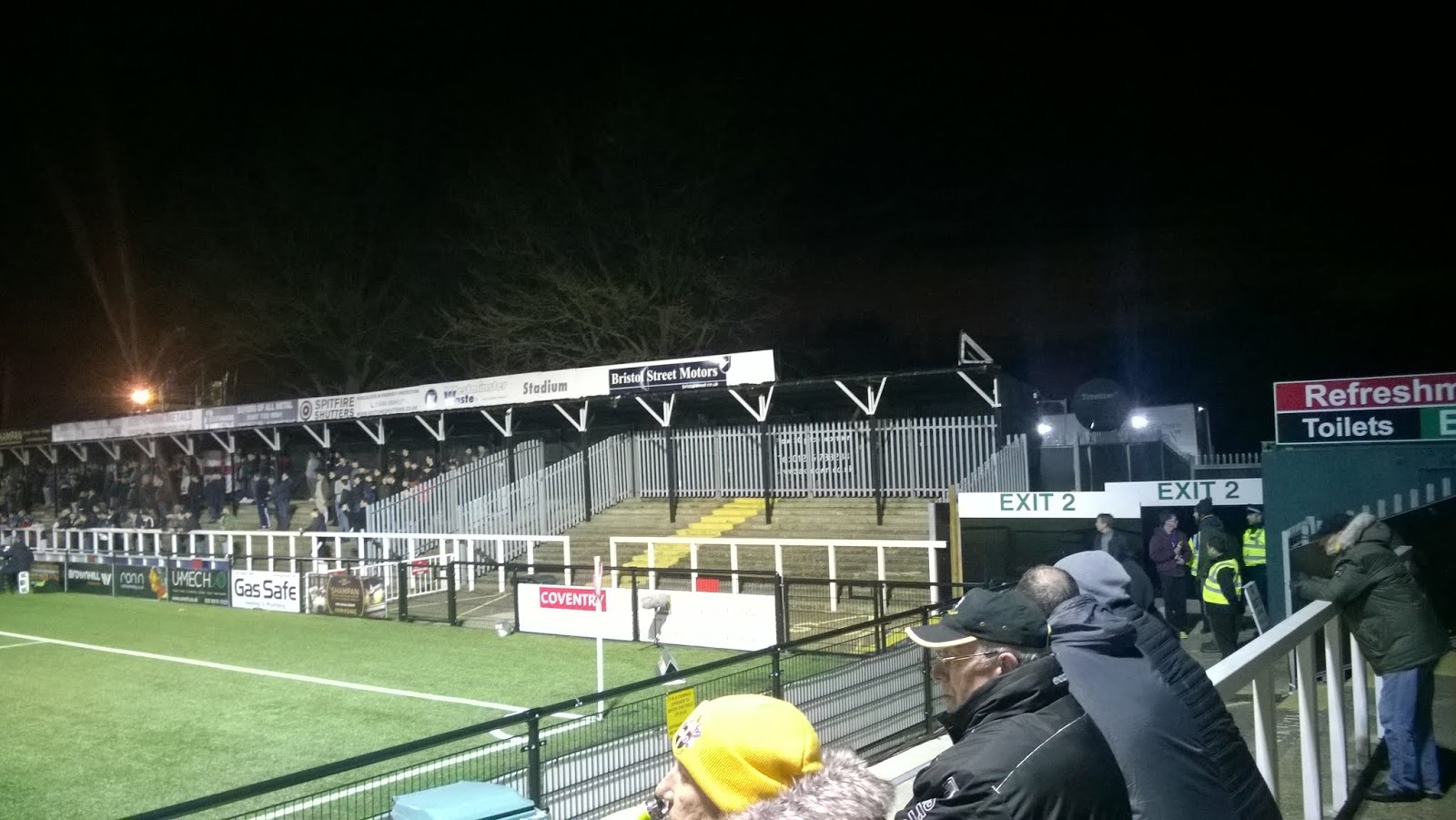 Segregation…
Second half and both teams continued to try and find a gap in the goal. But you can tell why both teams are where they are, as they failed to force any real stops from the keepers. The game starts to stretch out and the challenges start to get a little reckless. It was nearly twenty minutes to go before Sutton made their first change with Thomas-Asante being replaced with Bolarinwa.
Unfortunately for Sutton, With less then a quarter of an hour to go, captain Collins hobbles off and he has to be substituted for Beckwith. Time is fast running out and things go from bad to worse. SHOCK! HORROR! Sutton concede a corner! Bromley use this time to make a sub and the away crowd watch as he trundles off towards the box. If anyone had carried on watching him, they would've see that as the corner flies in, he rises unmarked to head the ball home. Bollocks!
With time fast running out, Sutton still managed to carve out a couple more chances to steal a point. First we saw Eastmond connect so well to a cross with his head, so well in fact that he failed to find the target completely. Then it was Williams to once again lashed at a shot that failed to hit the target. Not long after, Mr Brook ended our mini unbeaten run.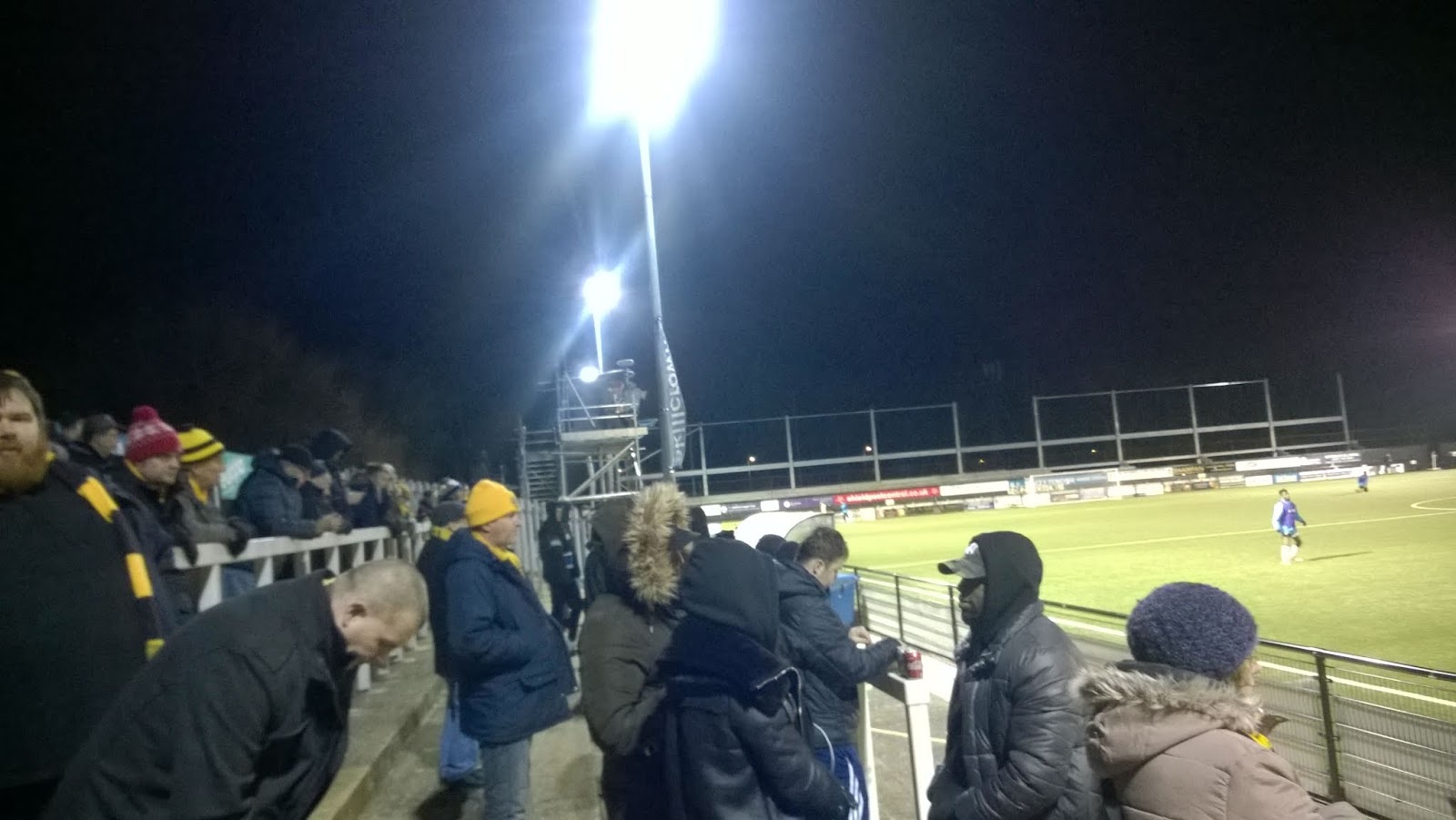 Crowds…
After match and it's time to make tracks. Luckily for the drinking members of The Firm, everyone manges to secure a ride back to the Fatherland and avoid the trains, or even worse, the fuckin' 119. For me, it's a ride with our very own Editor-in-Chief and all his happy thoughts & opinions. With a full car full of idiots, and lil' Chris, it wouldn't be long before I'm being dropped off about 5 minutes from my humble abode. And it isn't long after that before I'm out like a light.
So are we disappointed about that? Well, Bromley away will never be up there like other away trips clearly are. It's probably even in danger of becoming an exclusive member of Taz's infamous 'list'. (Nope, it's close enough and Brom North is alright for a pint! – Ed). Brook was just like Brook, an absolute arsehole, but nothing you wouldn't expect from him. Performance-wise and if you take away the average defending at set-pieces and the ability to not hit the target, you'd probably be as satisfied as a US federal employee.
We now move on to Saturday and to Harrogate at home. This might actually do us a favour as we seem to have a better record against teams from the top compared to teams that are lower down the table. Although, I can't deny that I'll be having half a eye on another match coming this Tuesday (not to mention the Saturday after now!). And I wonder why that could be? Anyway enjoy.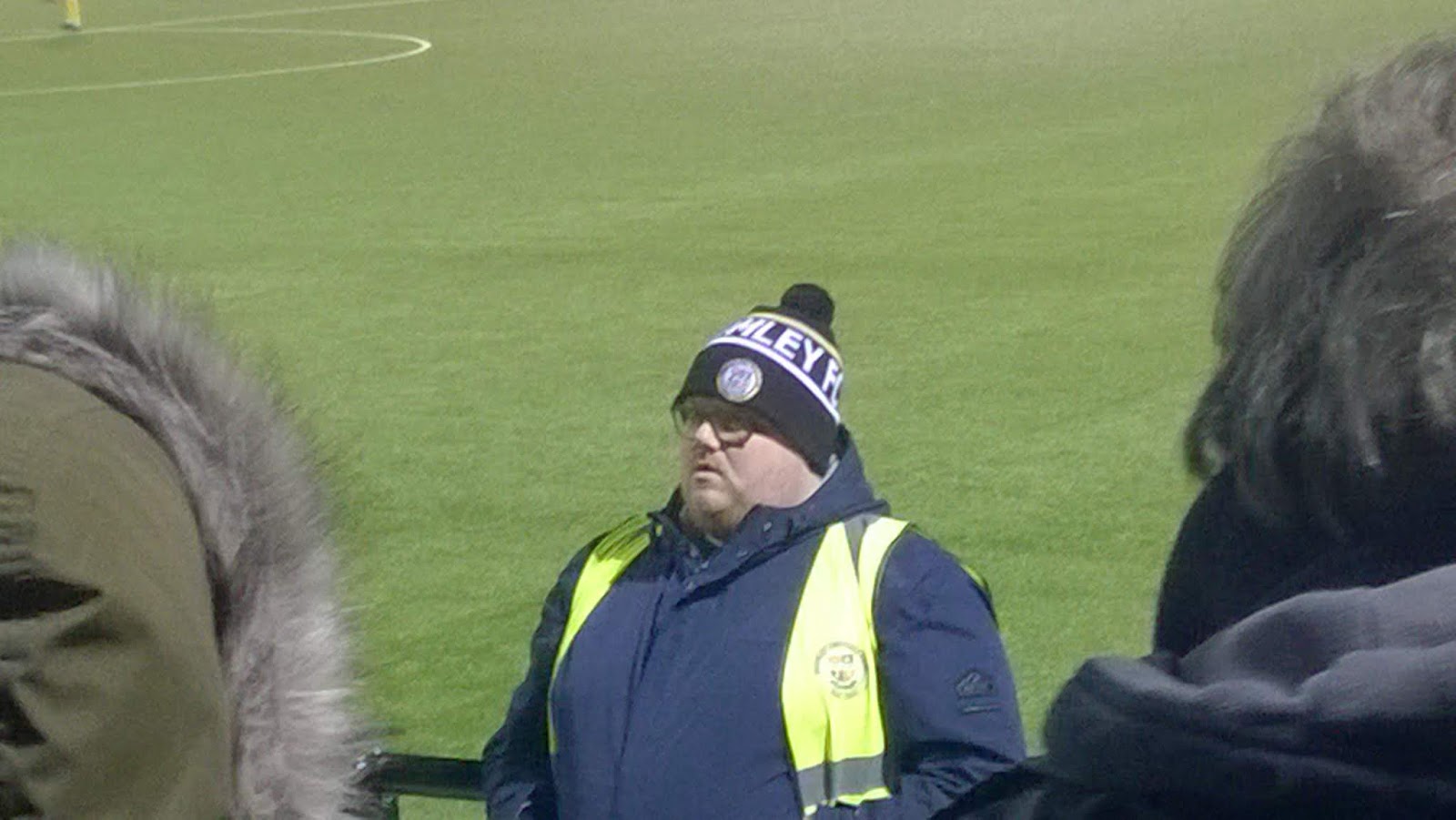 Who man dat?
Duke
Att. 1428