So was that worth it in the end do you reckon? Still, at least at this moment I suppose we could say that this year we're the worst team to take part in the FA Amateur Cup Trophy. Because only Sutton can lose two games in the competition in a row. But as you know, away days are not just about the football, luckily for some. So there might just be a reason to carry on reading. Just skip the football part if you want…most of you usually do anyway.
Before all that old cobblers though there was more player movements this week as Our Lord Dos was faced with a slight goalkeeping problem. With Butler now sidelined with an injury that will have him out of action for a few weeks, Worner had to be recalled back from our b-team Maidstone. But surprise, surprise he's only cup-tied for the FA Amateur Cup Trophy! Now why would you let someone do that?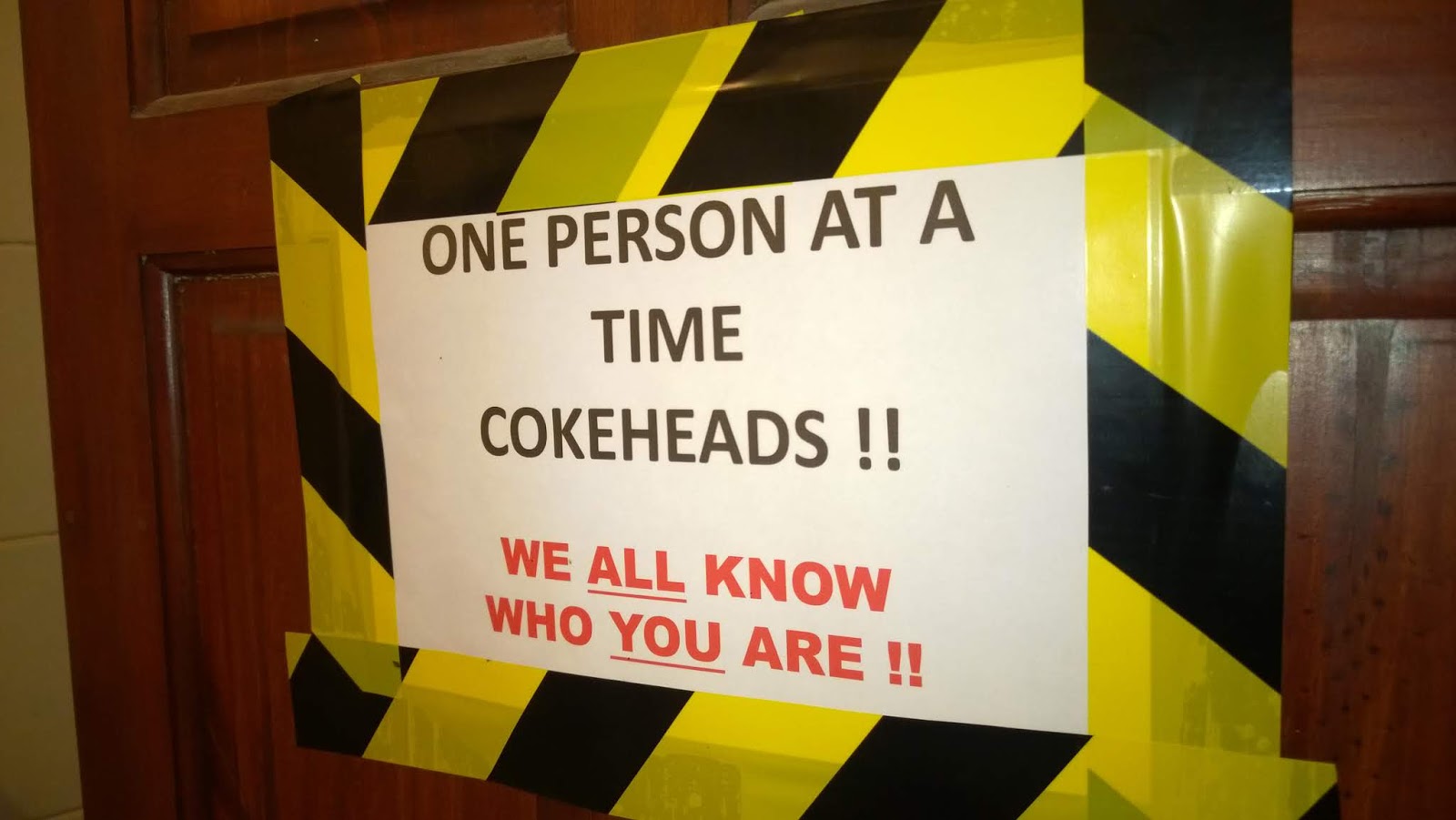 Don't want it to be too crowded in there…
That issue always reminds me of the time a couple of years back during 'that' cup run, when we let the likes of Cooper, McAllister & Dundas go out on loan and play for other teams in the FA Cup. Then after losing a few players (the likes of Wishart & Stearn) and before you know it, you're looking at a weaker squad than when you let them go.
So, who was going to play in between the sticks then? Three choices were probably available. First would be to get someone in from the outside. Second is to look lower down the club to the youth/academy and promote from within. And for Sutton at least, third is to call upon the services of our very own goalkeeping coach.
I was surprised that we didn't do the third option, but pleased we didn't do the second. The man to plug the gap was going to be the legend that is Chris Vagg. Ha! Ha! If only! But no, instead Sutton managed to secure the services of Chelsea Youth keeper Karlo Zigger! Zigger! Zigger! Ziger, in what could be his only game for the side. We also signed winger James Dobson from Slough. He was he fella that scored the free-kick in our embarrassment that was the FA Cup match replay against them. And yeah, he's fuckin' cup tied an'all!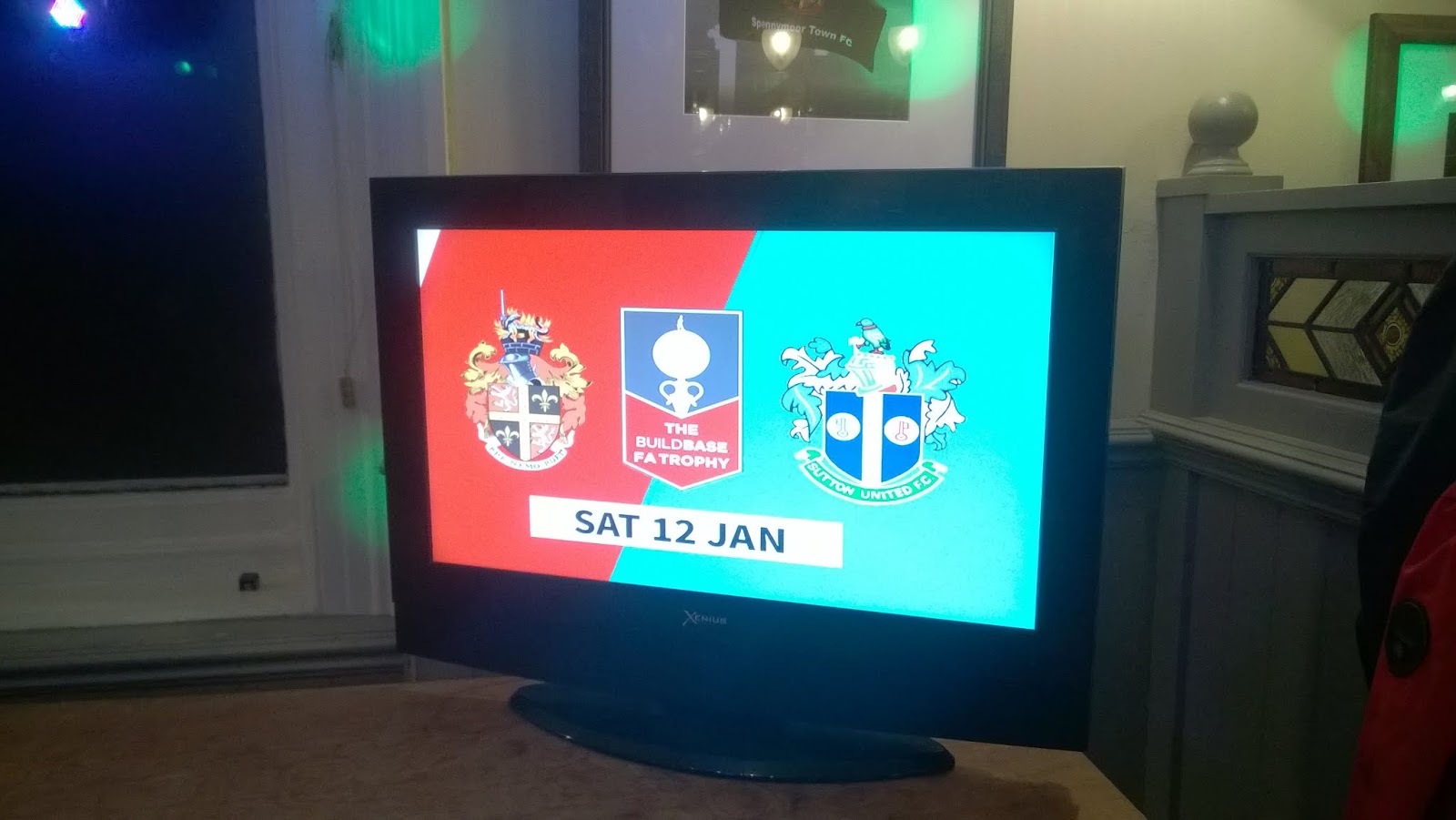 The big match is on the telly!
So with the late notice that this match was arranged at, it meant that train tickets were going to be a bit of a premium when it came to price. Couple that with Luton fans travelling up in numbers to see their side play at Sunderland the same day and it's a a perfect storm of excessive cost. Especially also considering that Spennymoor doesn't have a train station and one of the two bus companies that service the town, were out on strike as well!
After an extraordinary Gandermonium meeting after the Harrogate match, which Robbo mentioned in his blog, it was decided that it would be cheaper for us if some of the Firm were forced offered to drive. Luckily we had those very people. Taz, Magnum PI & Ozzie were going to be the suckers drivers. So after working out numbers and who was best to go with who and a whole confusing debate over who wanted/needed to be a front passenger, the plans were set in stone. Or at least Plaster of Paris or something. Paper Mache then?
For my journey plans, I was going to ride with Ozzie & The Firm Leader. But first, we needed to get to our pick up point in Walton-on-the-hill. The Firm Leader offered to kindly transport me there, and all I needed to do was be ready for a half five meet. Yes half past five. In the morning. For a three o'clock kick off! Well at least I went to bed early. If you call one o'clock in the morning as early that is.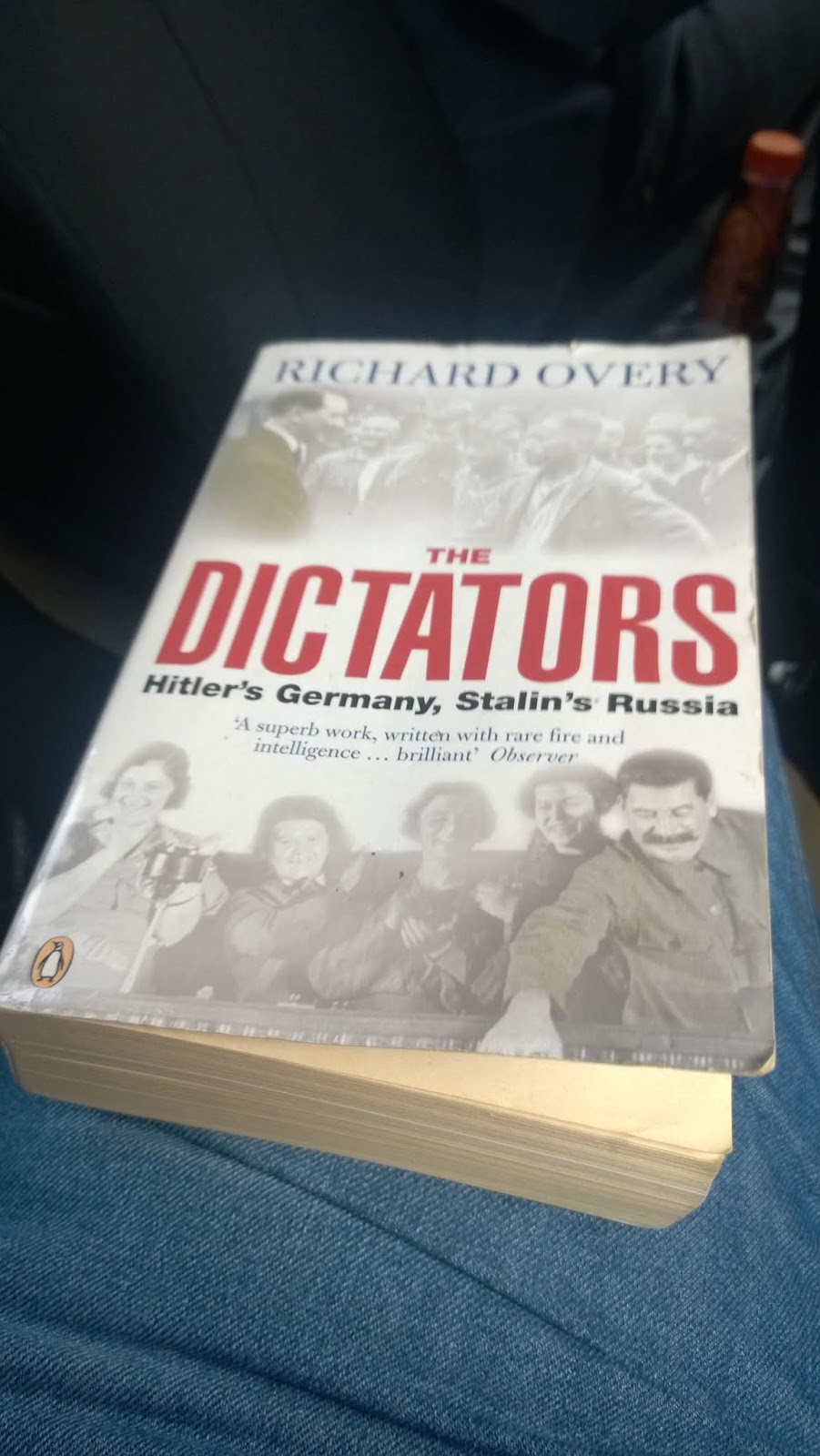 'Light' reading…
Arriving at Walton for six, it's into the back of the Ossie-mobile and off to Durham we go. A long enough journey to make for some non-league football. But it's a fairly easy one to get to, especially at this time of the morning. M25 onto the M1, then over to the A1 via the M18. With an estimated journey time of around five hours, I decided to try and be a bit clever. Instead of just caning my data, and battery on my state of the art Windows phone, I decided to go 'old skool' and bring something called 'a book' with me. One problem though, with such an early start at this time of the year, it was dark for the first part of the journey so I couldn't see fuckin' thing. What a plonker!
There was a stop off along the way at a desolate looking services where the Burger King franchise wasn't open and a Gregg's that had hardly anything ready to go without waiting for stuff to be cooked. But the Firm Leader seemed very grateful for a toilet, as he was last seen trying to run very awkwardly towards it. We arrived just in the nick of time methinks!
We finally get to our Travelodge at just before eleven and are told that, as expected, we couldn't check-in, but worse was that we were not able to leave our overnight bags anywhere on the premises. But we would worry about that later as we were already wasting Valuable Drinking Time. The first port of call is the local 'Spoons a short walk away where we find all the other persons of this publication and the first round is drunk in no time. It was here that Magnum PI surprisingly offered to be the whip man for the day! Odd, as that's usually a job for the gingers…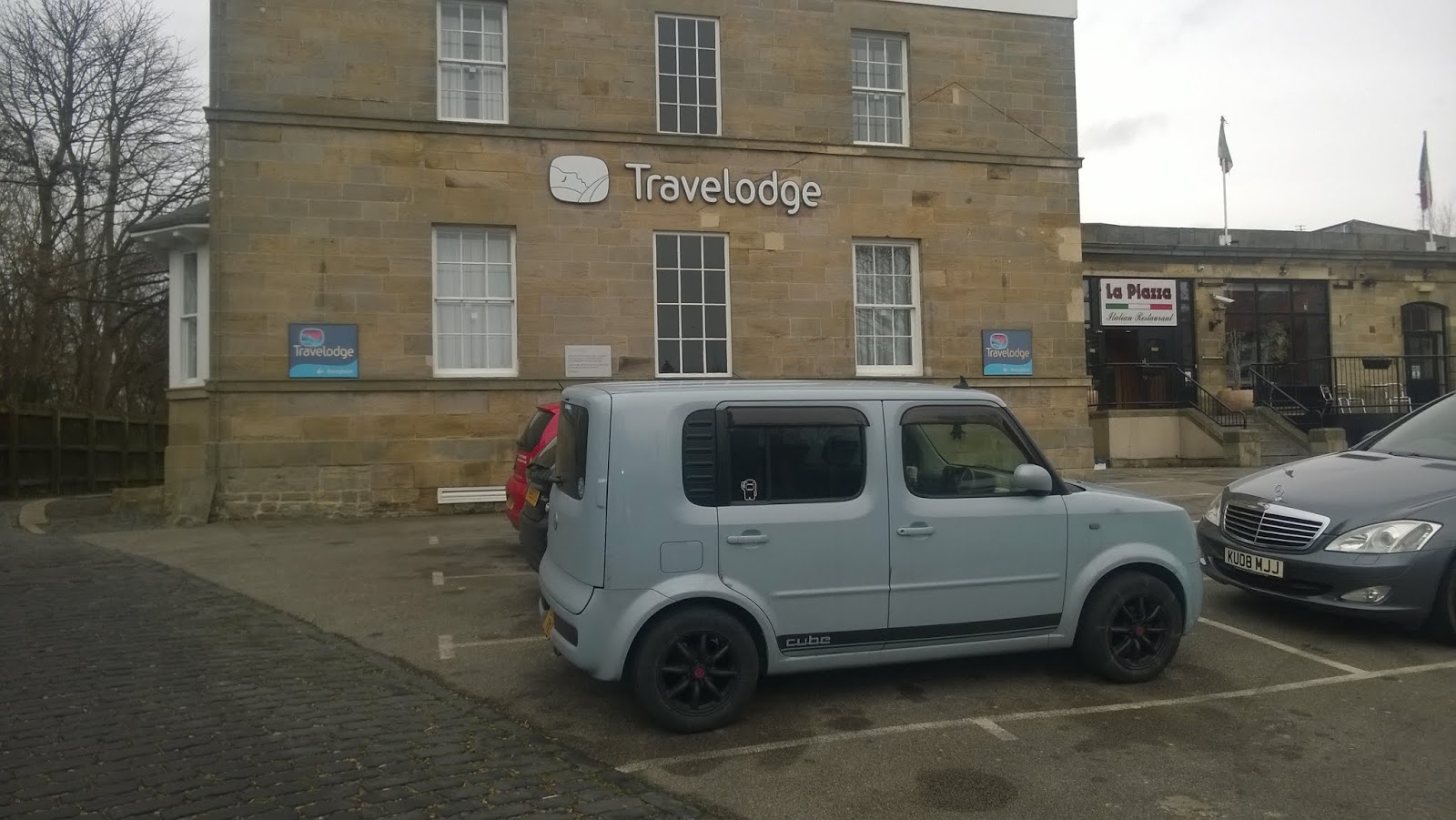 Home…
With Ozzie driving along to Spennymoor as she wasn't boozing until later, there was no need to get a sherbet with the rest of the rabble. Once we'd finally found the car in the car park, it was 'away we go'. Except that there appeared to be a problem with the hire car as it kept cutting out every so often. We carried on regardless and begun the trip that took you through a few non-descriptive villages before the floodlights appeared on the horizon. This is Spennymoor then.
The next meeting point is once again the local 'Spoons. "The Grand Electric Hall" is a funky old building that had all the hallmarks of what its original use had been. The place was busy as would be expected, especially by the amount of Sunderland supporters inside. Being told to move from the bar as the young lady said "because we need the space to get by and the bar is no place to stand", was a bit confusing for us. And that's before you take into account her thick local accent.
Next on the list was a pub you could see from our own table. "The Penny Gill", dead opposite, was not only the place where the reformed Spennymoor Town were created but also an 'old skool' rock pub with plenty of paraphernalia all over the walls. If Spennymoor were ever to get promotion to the GM Vauxhall Conference, this place would most definitely need to be revisited. You could probably write a whole blog just about a day in here.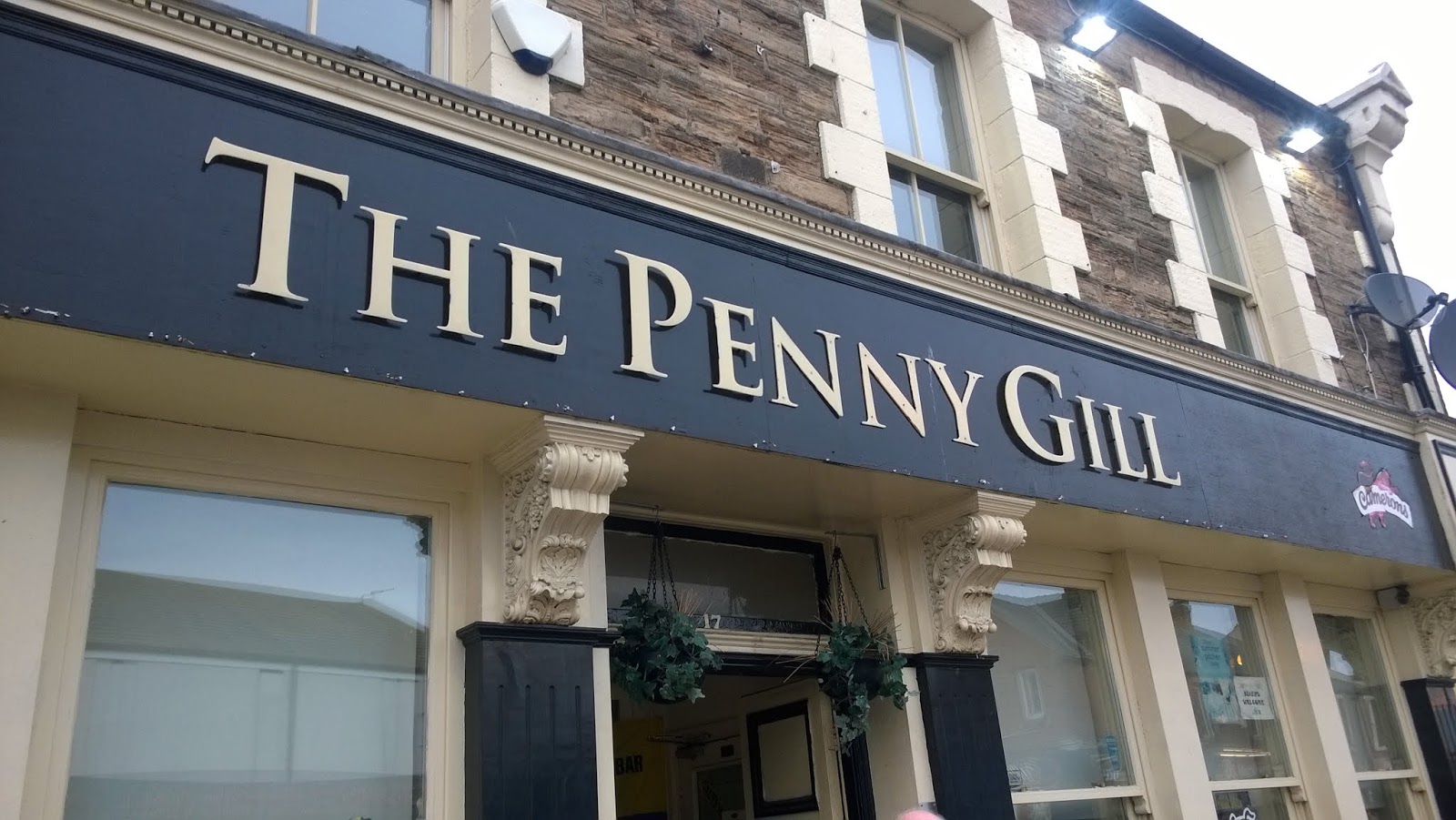 Nice pub…
Not wanting to waste any time, we go on the recommendation of a local and he suggests the "Brewers Arms" which is next and another gem of a pub with a friendly landlord. West Ham vs Arsenal is on the box, which keeps Dr Bell happy for a while and we take up the now traditional Gandermonium position of right next to the bogs. Magnum PI would then get into a rather surreal conversation as he starts going on about his 'fanny'. Fuck knows what he was on. Drugs more than likely…
Being able to squeeze in another stop before the game, it's the 'home' pub that's in our sights. "The Moors Tavern" is another fine looking local with a snack wagon outside. I unfortunately left it too late to get anything to eat before the game and I wasn't told by anyone that he was only here before the match, but from the others who did eat the food was apparently well above average and large portions as well. Bugger!
The team sheet had been put up by this time on social media. With what players we were able to fill, it looked like that, at least on paper, it was a good enough line up to give 'em a game. The bench on the other hand looked weak. We even reckoned that with Brown possibly still injured, this left us with one first team regular to call on and that Bolarinwa would probably be the only one making an appearance off the bench today.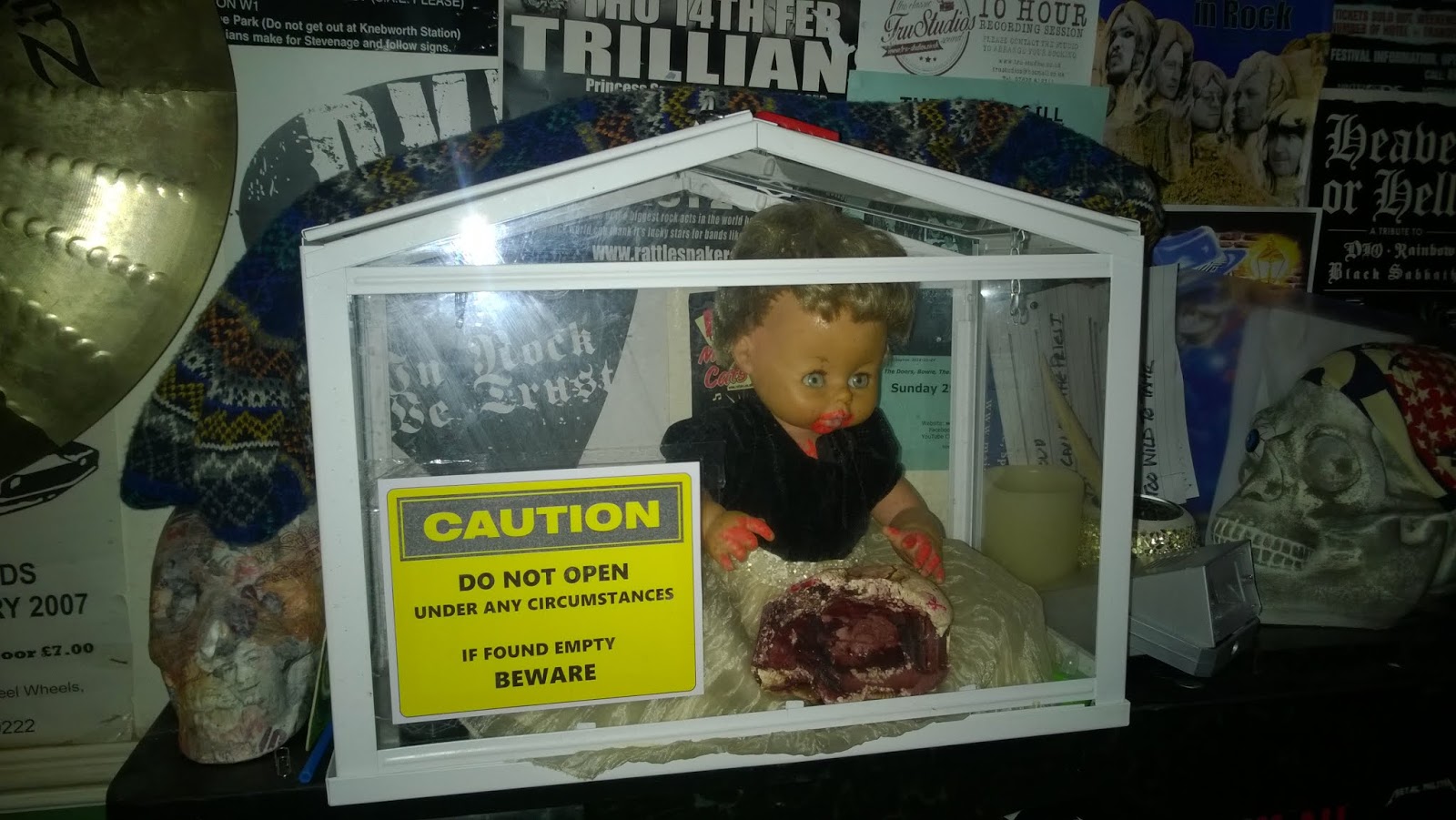 No explanation needed…
Time to head to the ground and it's a five minute walk from the pub. Nestled in between a row of houses is the Brewery Field. No segregation today but there is a turnstile that had above it the words"Away Supporters Only". And once inside, like from what I'd been hearing, there is a recognisable slope down to the far end. There was some seating in the main stand, and at the far end is a stand that is full of seats. With not much space around the ground to ever expand, It could be quite tight when the show rolls into town.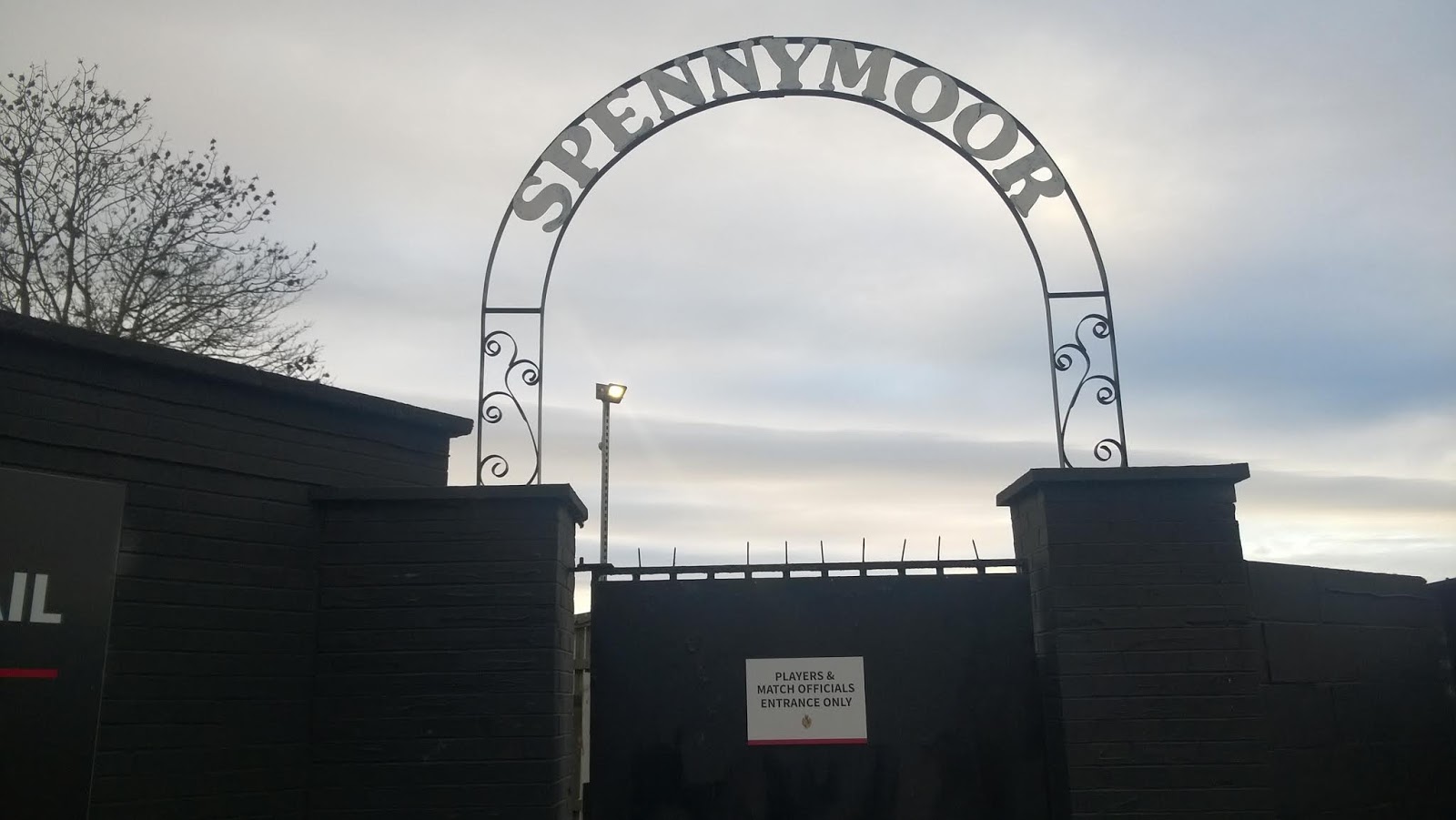 The ground…
Ziger, Bennett, Bailey, Beckwith, Pearce, Eastmond, McQueen, Davis, Thomas-Asante, Ayunga, Beautyman. Bench Warmers: Bolarinwa, Lema, Brown, Mbeta, Mason.
Winning the toss, Sutton decided to shoot down the slope first half. Well, if you're only going to get a half out of this team then you might as well try and start off with the advantage. Walking down to the other end we waited to see what was going to happen. And to be honest we didn't get to see much as Spennymoor were the ones who had plenty of the possession and the ball seemed to stay up the other end of the field for plenty of the half. Seems even gravity wasn't having any of it in our favour today.
With what we'd been drinking through the day, obviously the call of nature soon took me. Walking off to find the pissers I'm obviously 'Pointing Percy at the Porcelain' when I hear the roar outside as Spennymoor take the lead. Bollocks! I've just done a Robbo! Speaking to Dr Bell to find out what had happened and he informs me that Pearce was unlucky to get penalised for a free-kick. Ziger pulled off a worldy of a save from the free kick, but can't do nothing with the resulting corner as their bloke smashes the ball home on the volleyt in a well-worked routine. Shock, horror, Sutton concede from a set-piece!
Sutton did try to get themselves back into the game. Using the wings and trying to get the ball across, it fell several times to players on the edge of the box. Unfortunately, the shooting boots were most definitely not on as several players couldn't find the target. Even Dr Bell was no where near saving one as the shooting was that bad. McQueen was the only player in a Amber shirt that would force a save from the keeper but his effort was straight at him from a tight angle.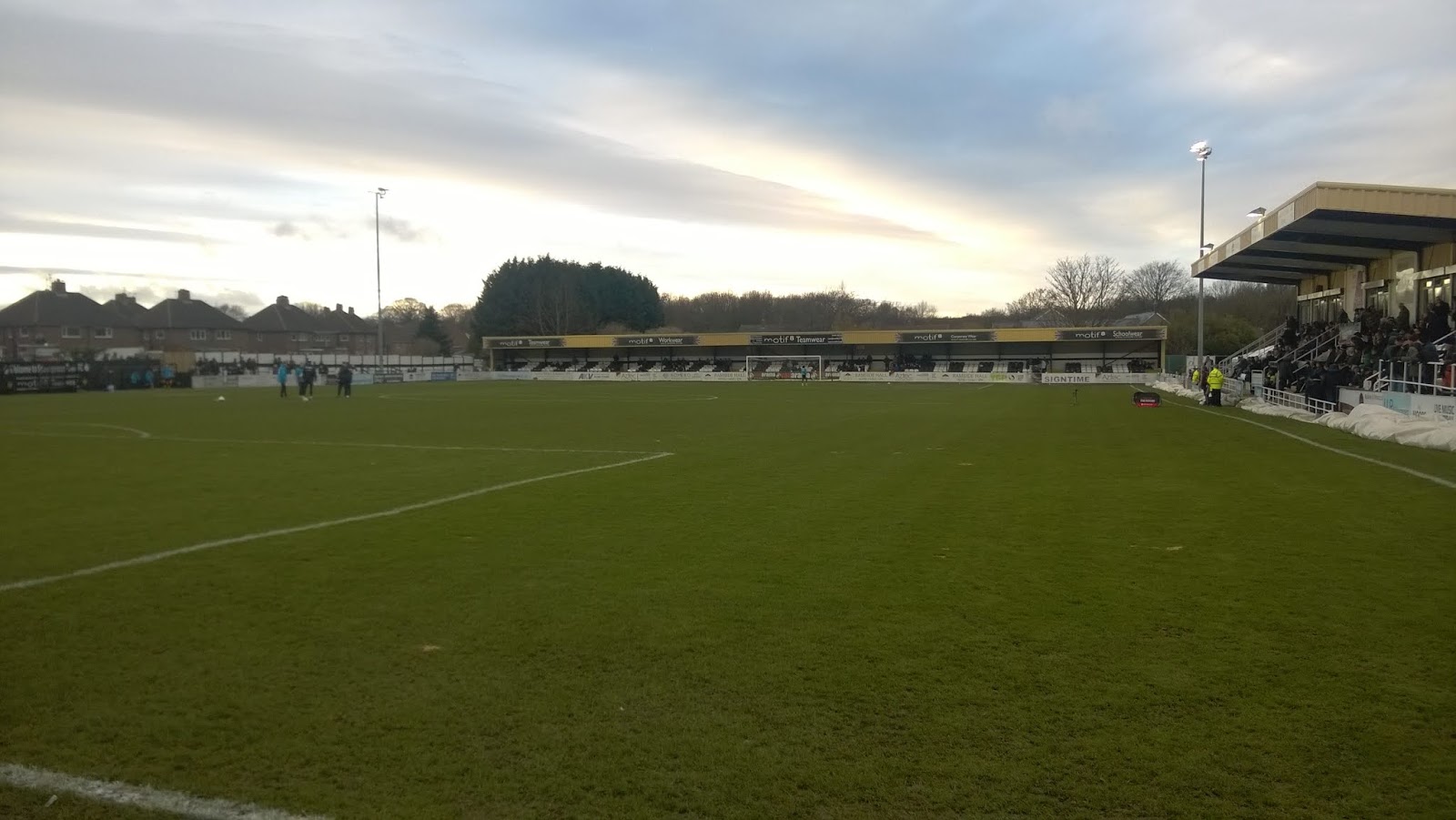 The arena…
Second half and Sutton are now shooting up the slope, which was so steep I swear I saw a couple of Sherpas hanging around. But there was to be no respite. Before everyone had even made it from the bar to the far end, Spennymoor had the first chance of the half. Oh yeah, it was going to be a long one! The game was pretty much killed off with another worldy of a shot that rockets into the net. My only criticism of this is that the fella was unmarked once again from a set piece, still he didn't half bang it. I'm sure there was a time when players used to practice marking on the training field. Clearly not anymore…
It's not long after that Sutton make a change (the only one, just like we thought) with Bolarinwa coming on for Thomas-Asante. Unfortunately this wasn't going to stem the flow of traffic as Spennymoor kept up the pressure. There were plenty of times that our new mate Mr Ziger was called into action to stop it getting silly. One particular effort had everyone applauding as the lad made a cracking double from a header and then the follow up shot.
But no amount of fine goalkeeping from the Croatian wonder kid could keep Spennymoor at bay forever, but it needed the help of Sutton to do most of the work. Davis would play his part as a Sutton attack broke down once again with a loose pass. Launching the ball forward, Sutton then found themselves on the back foot as players struggled to get back. Setting up another one on one, Ziger again managed to save the first attempt but could only get a hand to the second go as it ended up in the back of the net. The final whistle couldn't come too soon on this performance.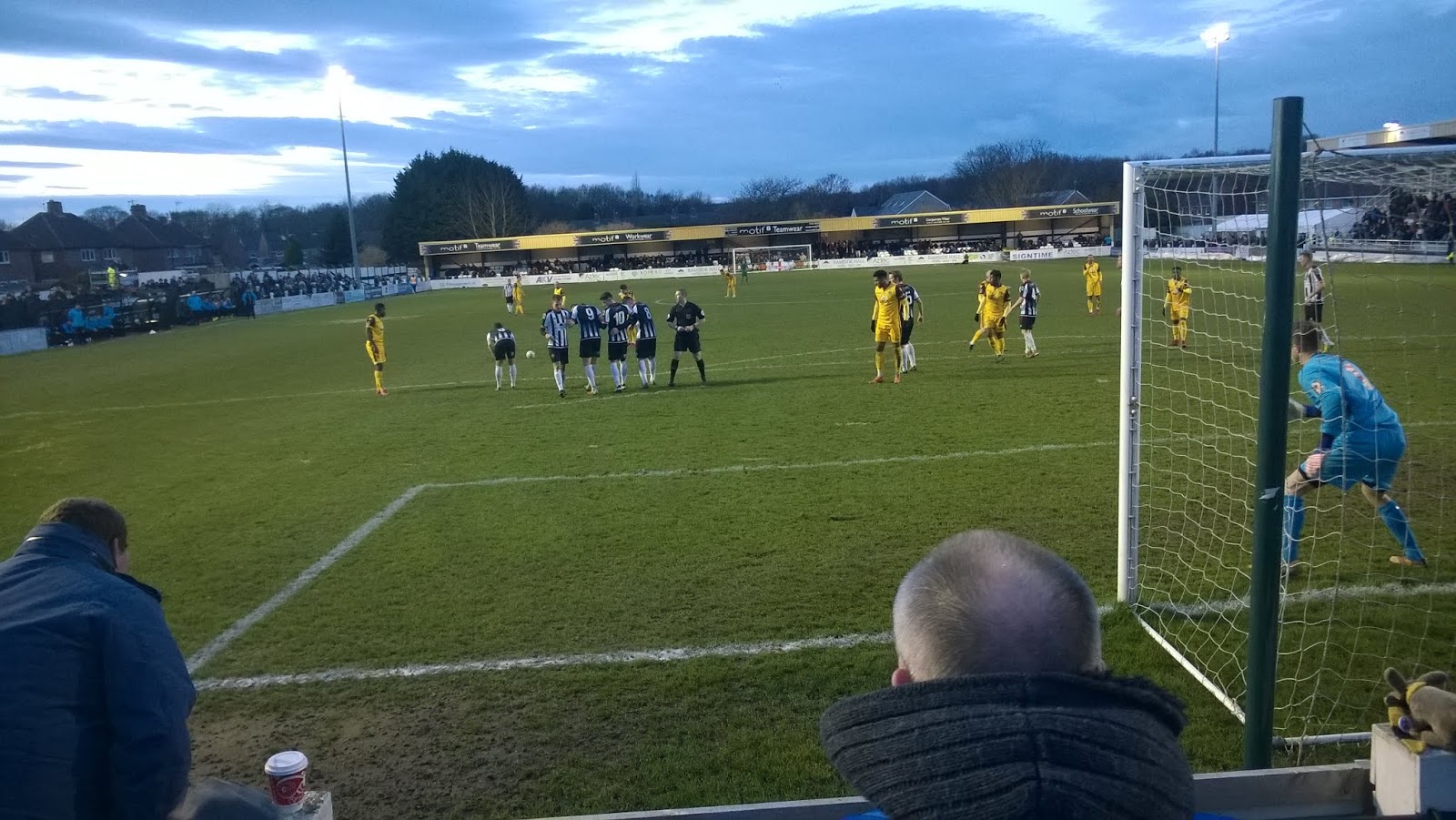 Action…sort of.
After the match and we head back to the local fans pub. Some of the others didn't fancy partaking in this social engagement and headed straight back to Durham. To be fair, the home support were gracious in their victory. There was more of the "We were shit" coming from us though! But at least Magnum PI finally admitted that his recent "We're Back!" statements only referred to our league campaign and not the cup competitions. So at least that's been sorted out now.
Several beers later down the line and we're still in "The Moors Tavern" and to be fair we probably could've spent the night in the bright lights of Spenny, but we had to make tracks back to Durham eventually. Managing to find out that Uber would run this far meant that we had ten minutes to go before we left. So, quick short anyone?
We arrive back at the hotel and find the rest waiting for us at an Italian restaurant next door. There was a slight mix-up as I went to the room to dump some of the now not needed clothing, I didn't realise that some had headed off to the next pub instead of eating. Coming back to the restaurant and they've decided to eat. So it's a spot of Pizza/Pasta. "You better stop with the pepper before you start charging me…".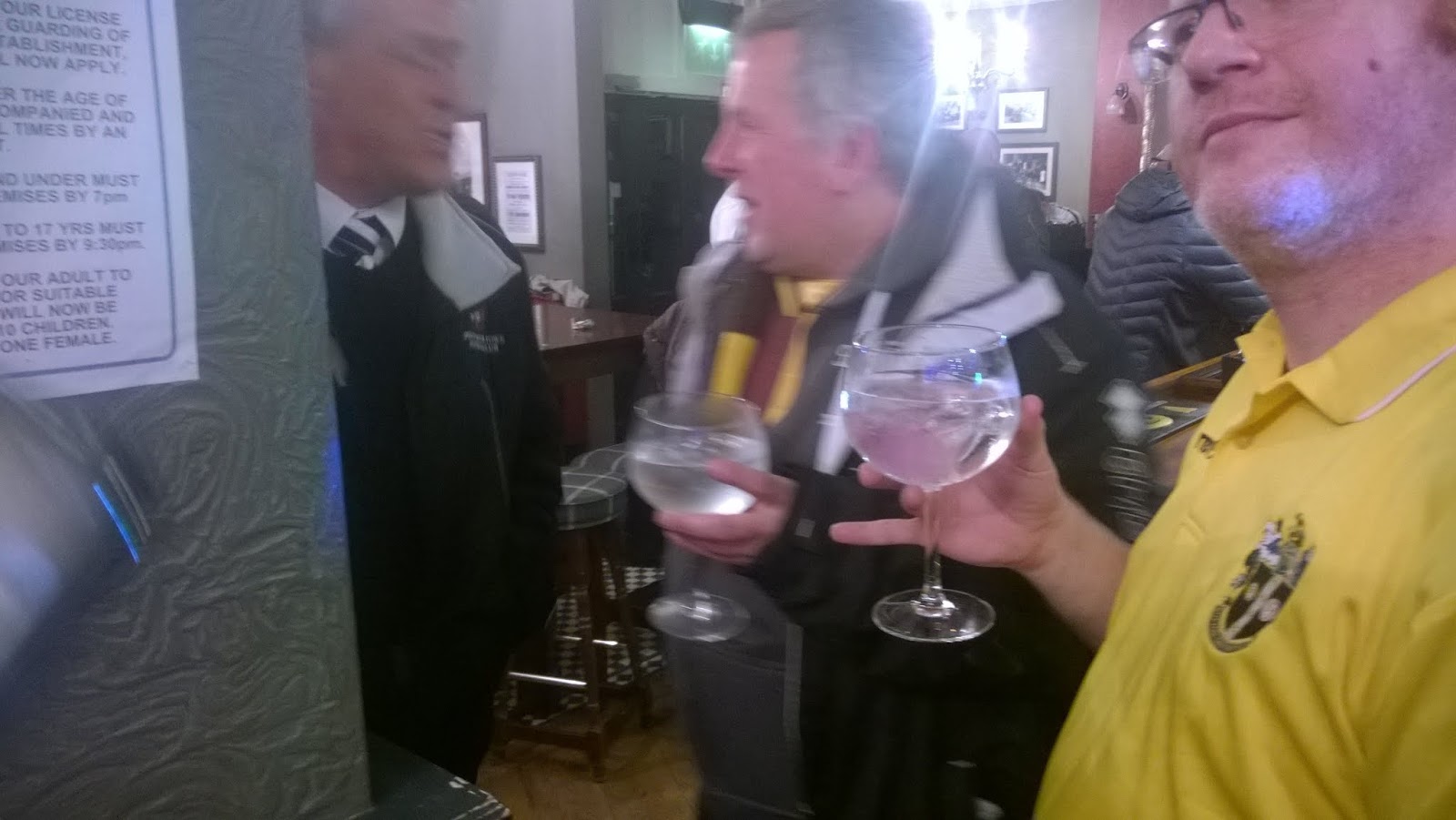 Pinkies out! Southern softies.
After dinner we then try to find where the likes of Taz, Dr Bell & Aleman have gone. Was it "The Woodman" or maybe the 'Spoons' possibly? How about the "Market Tavern"? No? "The Half Moon" Yes! Needless to say that they'd been to all those pubs mentioned and were 'well on their way' by the time they arrived after taken a short break to go looking at bridges.
A couple of beers later and we're heading next door to "The City" where we managed to stay until the point of the night where you finally get kicked out. At one point I got talking to a old fella outside who not only was more pissed than me, but begun to relay a story of about his mates stolen combine harvester. Ever heard of the '1997 Massey-Ferguson 30′? Well if you have, then you've got one up on me because for the next two minutes he managed to mention it at least ten times and I've still no fuckin' idea what he was on about.
Running out of open pubs in the area to go to and with the time fast approaching twelve, I decided that it was time to call it a night and head back to the hotel. Taz, Dr Bell & Magnum PI also felt the same, especially with two of 'em facing 5 hours driving tomorrow and we said our goodbyes to every one else as they headed off to try and find 'Europe's second worst nightclub'. Some gaff aptly named Clunge Klute.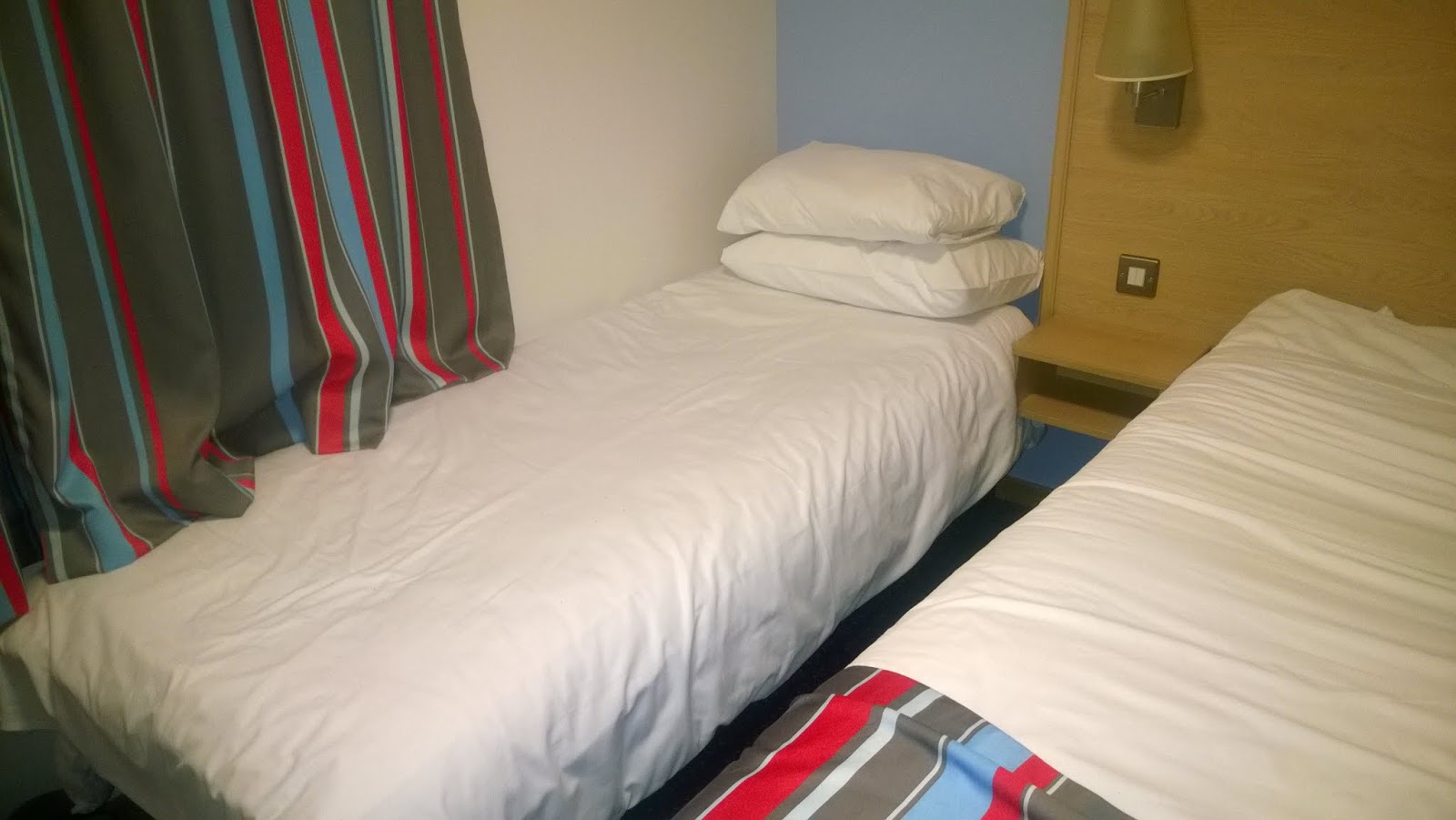 Luxury!
You'd think that a simple walk back to the hotel would be managed without any dramas but you'd be wrong. Over the river and we find there is quite a steep hill that needs to be navigated. So steep in fact it made the pitch earlier look fuckin' dead flat! But navigated it was…eventually…but it was hard work I can tell you. I swear it took about double the time it took to go down it as several times someone was stopping for a rest and a heavy breathing session.
For the others, the plan didn't go as well as they thought originally. First, "Europe's Second Worst Nightclub" wasn't even open. Yeah, work that one out. So instead it was off to another place. Apparently there were several sets of stair to climb before heading into this place that apparently made them all feel like a bunch of paedophiles chaperones at a prom.
Not to be beaten, they instead head back to trusty old 'Spoons, which had now become a Lloyd's Bar and required payment before entering. £12 for two jugs of Woo-Woo helped ease their pain on that front though.. But I reckon from the pictures of the Long Island Iced Tea that I saw, that it was probably that which eased their bowels in the morning! They even tried to set-up the table service app on their phones only to be told that time had beaten them. So they consoled themselves with £20 worth of apple Sourz shots instead.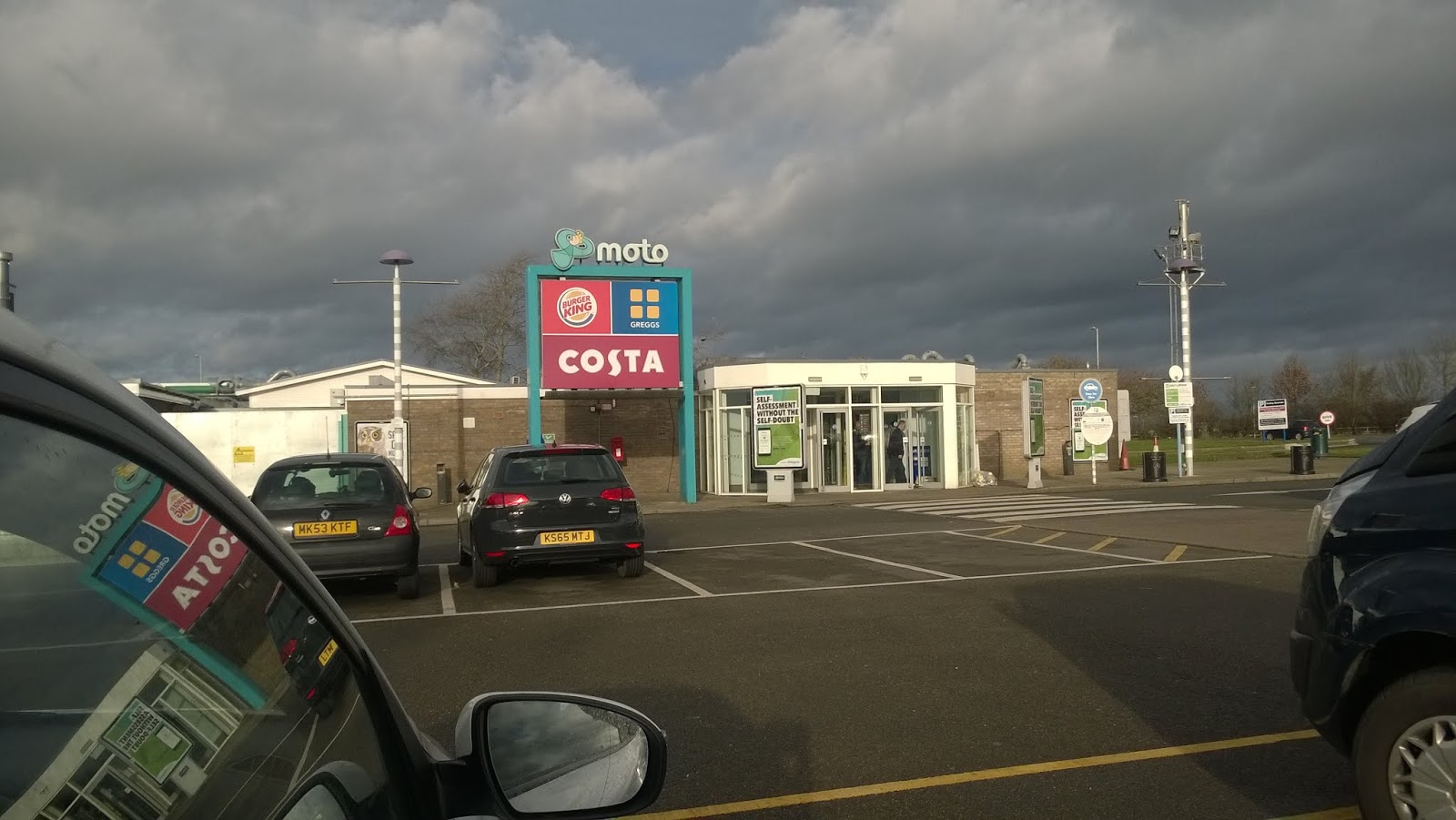 Hello Moto! (That was funny in circa 2005).
Only a few hours of needed kip later and then we're checking out, before heading back to, yes, 'Spoons again for some much needed fried goodness. Walking down towards the pub, we finally find a kebab shop that is located five minutes away next to laods of other take away joints from the 'Spoons. Damn! Trust us to miss the turning last night!
Fully fed, it was now time to say goodbye to everyone else as the lift back down South awaited me & The Firm Leader with Ozzie and the broken car. Three times it cut out as we turned around! The journey was going to be easy one once again as this time we were stay on the A1 all the way to the M25. A quick stop off at Grantham Services, which was a MOTO! and finally allowed me to use my exclusive 20% off discount card and a quick spot of Taz, Mr X and Dr Bell before we trundle all the way back to civilisation.
Half hour after being dumped in Walton-on-the-hill, I'm  being dropped at my door a lot more tired then when I was picked up the day before. We now move onto Eastleigh away, a fixture that not only we don't come away with a lot from usually, but at a ground that people are turned off by quicker than a Paris Hilton sex tape. But someone's got to go I suppose.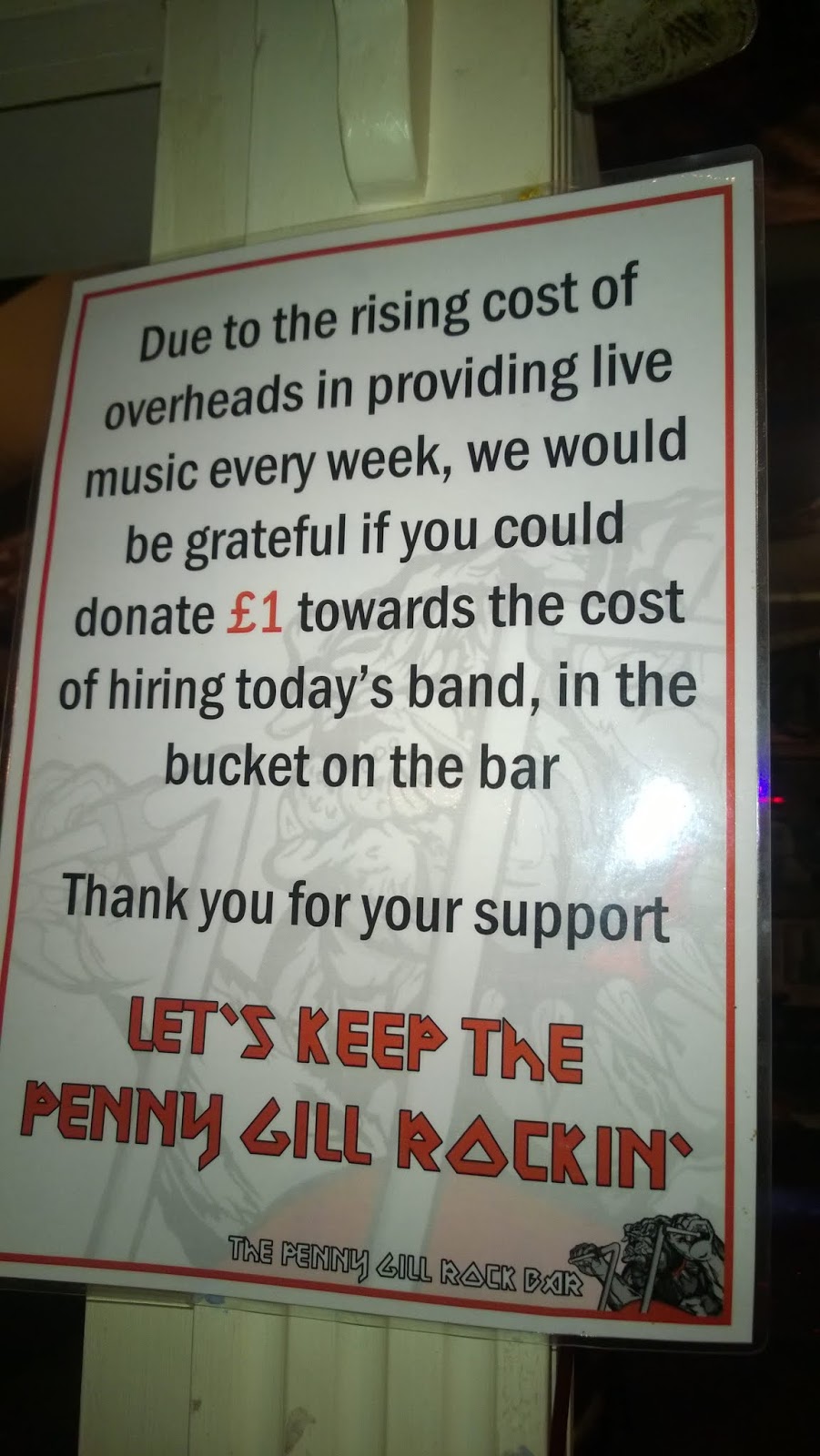 Reminds me of the Peel. Sort of.
Duke
Att. 760