Another match has come to pass and in the blink of a sleep-crusted eye, it's another defeat that we have to take back with us back to Sutton. So we still might not be 'back' just yet, but it was at least a better display then we've seen these recent weeks. Or that's what I'm supposed to say at least. Sending positive vibes and all that…
With the Trophy and the SSC gone for a burton, it's back to league action this week as we make the trip to the South Coast(ish). Eastleigh is the place, but it seems that it's the place not to be as several people from the usual assembly are giving this fixture the swerve. I guess it doesn't help that we have a atrocious record here at Ten Acres, but add the fact that the drinking options this way are somewhat limited shall we say I can sort of understand some giving it bollocks.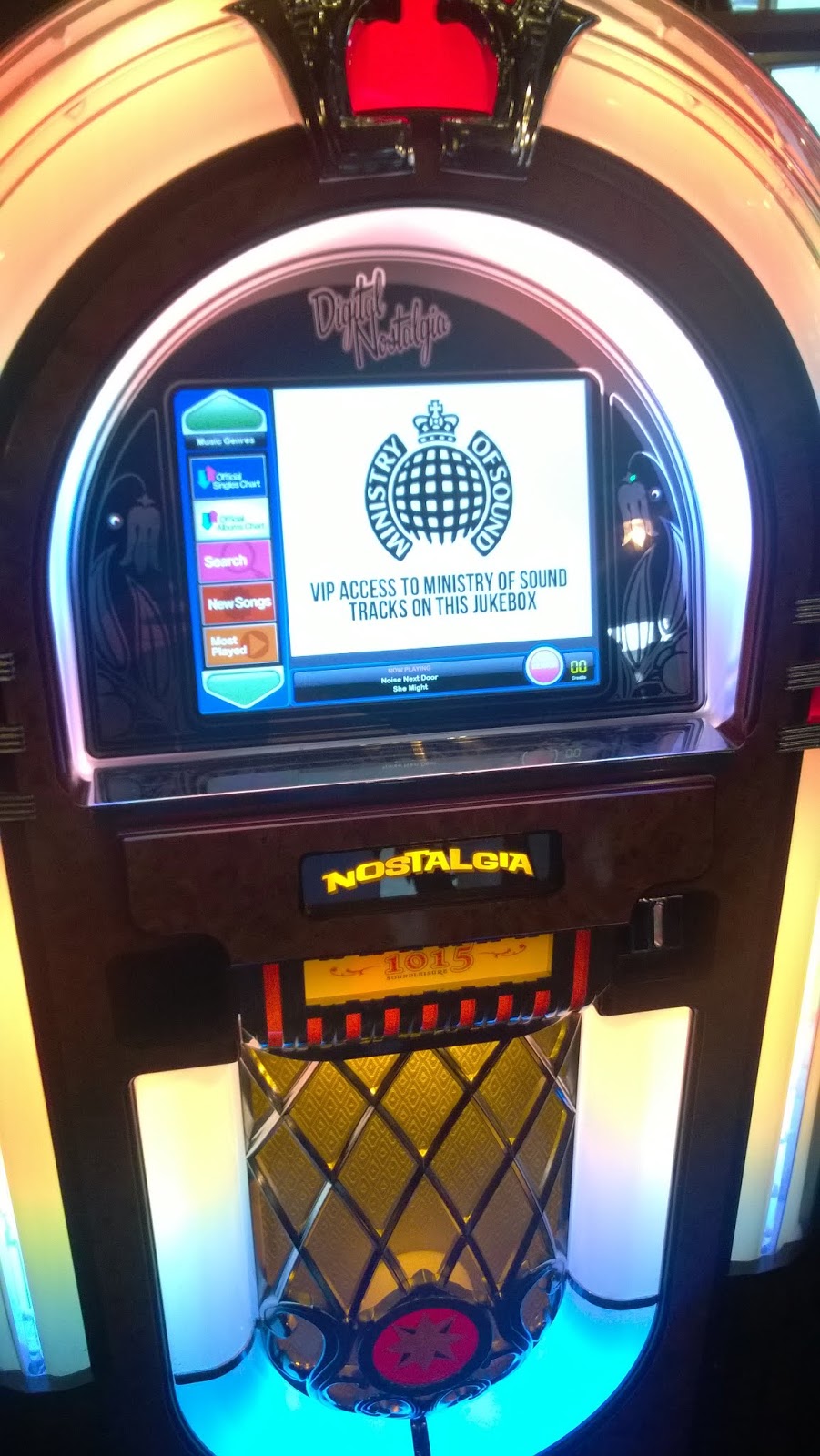 That's new…
So onto our trademark filler. And this time you're going to get an extra helping of Spennymoor action. And if you haven't read it yet (why not?) just click here. But don't worry, there's no football involved in this bit. Instead there are just one or two things that I forgot to put in the original bloody blog the first time round, so instead of just updating the original, I've decided to use it as filler here! Recycling? Me? Oh you lucky people.
First would be the trip home on the Sunday down the A1. And how many sex shops are dotted along the route? Blimey, we must've counted at least four on our journey. I don't think I've seen that many since I went up to Soho many a year ago. Now I'm not saying that those Northerners are more dirty than us Southerners (they're no where near some people's depravity), but to have such an amount of dirty paraphernalia available on the roadside is questionable. Ever heard of the Internet? Still, I suppose it's to cater for the more mobile adult leisure specialists like Barry.
Also during the Saturday night festivities, just before we all parted ways, we were in "The City" pub just chewin' the fat. For some reason Magnum PI came up with an issue that he was having in trying to locate several former Sutton United legends. Apparently there was Andy Salako, who came to Sutton from the Scum no less than three times I think, who was able to be located through a certain John Salako. Whoever he was, I've never heard of him.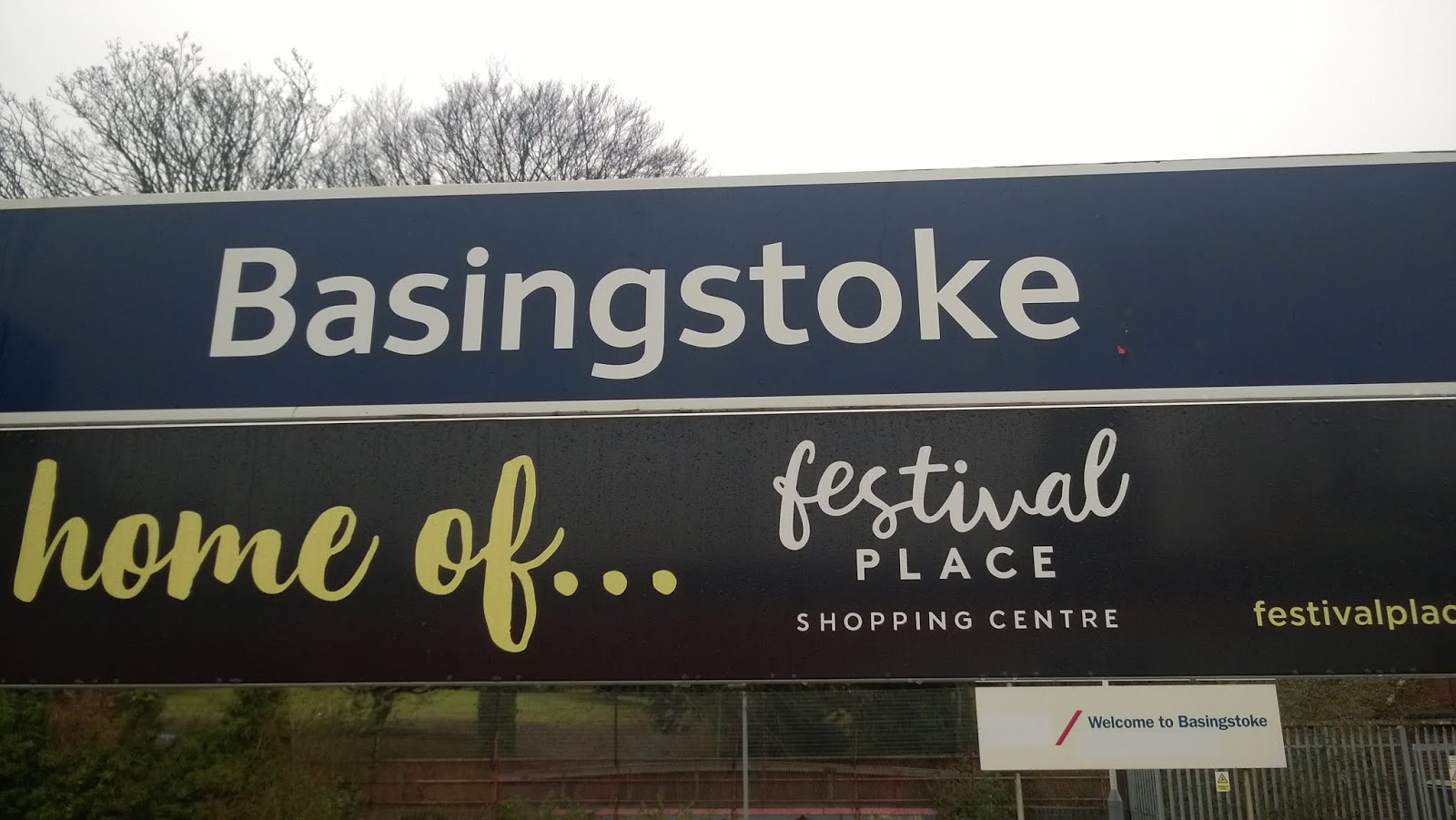 Memories…
The other player causing the intrepid private investigator some issues was none other than 1979 Anglo-Italian Cup winner Paul Jablonksi. But help was at hand as the Firm Leader offered his generous services. And a mere 30 seconds later, he'd found him. Well, we think he had. And how was he that quick? Googled him that's all and found him on Facebook no less. Shame he didn't charge £100 + VAT for that one, unlike certain parties.
So back to Eastleigh, and with most of The Firm giving this match the thumbs down, it was down to the stupid hardcore to 'represent' on the day. But not content with just having Eastleigh as a poor football experience, there were other cosmic forces in play as there was engineering works on the line between Eastleigh and Southampton. Oh great, possible rail replacement. And we fuckin' hate buses.
There was not much discussion on where to go for our pre-match drink on our part as apparently Eastleigh is in bit of a dry area with only a solitary 'Spoons (which would suit me) being the option. So instead it's off to the Southampton centre for a change and to join all the Saints supporters as they were heading into town for a match against the blue half of Liverpool at St Mary's.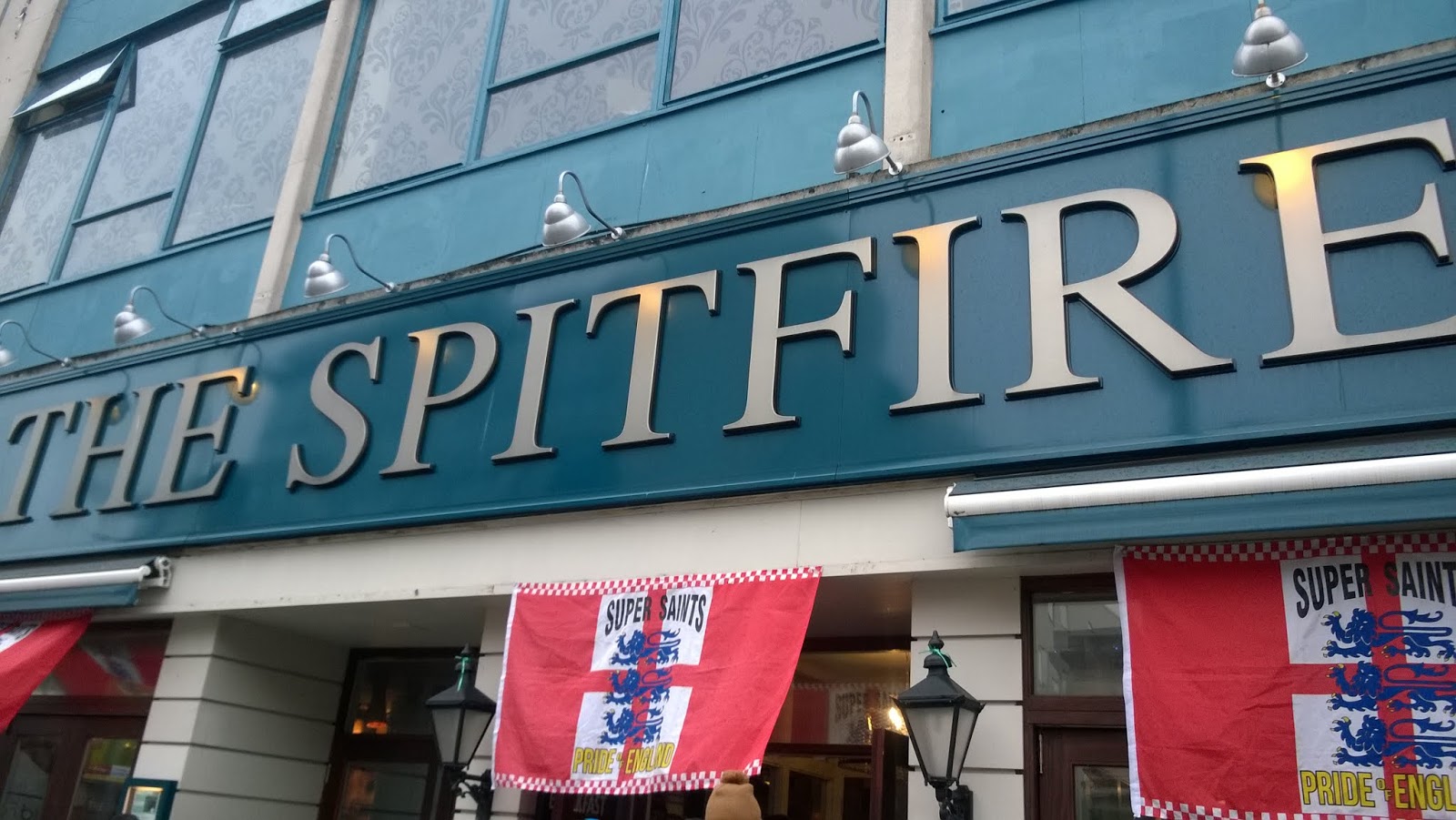 The first, put not the last…
For once, it was not going to be a stupidly early Saturday morning meet either. Gotta love a half nine train from Clapham Junction. But first there is a train from the Badlands to catch. Bumping into Dorch (going to 'arts & crafts' apparently!) on my journey in, I see 4 Days & Lil' Chris are dropped off at the station. Half hour later and we're arriving at Clapham and looking for a tap out machine. We're soon joined by Mr X & Aleman, but the latter is heading to a different part of town for his pre-match sherry. And by a different part of town, I mean one a good several mile hike away.
The train arrives and it's a surprise that it's not full of people for a change and a table is found, instead of the usual spot by the khazis. The journey requires a quick change at Basingstoke to give us all a bit of Ryman days flashback. It's rather strange that a 30 mile journey is supposed to take nearly an hour, but if you had the misfortune to ever experience it, it doesn't half go round the houses! Still, I get to hear two rather interesting comments along the way. I shan't explain myself but except I'll simply leave you with with "Muff like Epping Forest" and "She's only sixteen and a half!". And no, these are not connected before you ask.
Arriving at Southampton at about quarter past eleven, it's time to find a local watering hole. "The Spitfire" was it. Here we had to first get past the bouncers on the door. Being asked "are you away fans" was the first question and "Who are Sutton United?" was the second. But they eventually let us in and it was straight to the bar for a our first drink of the trip.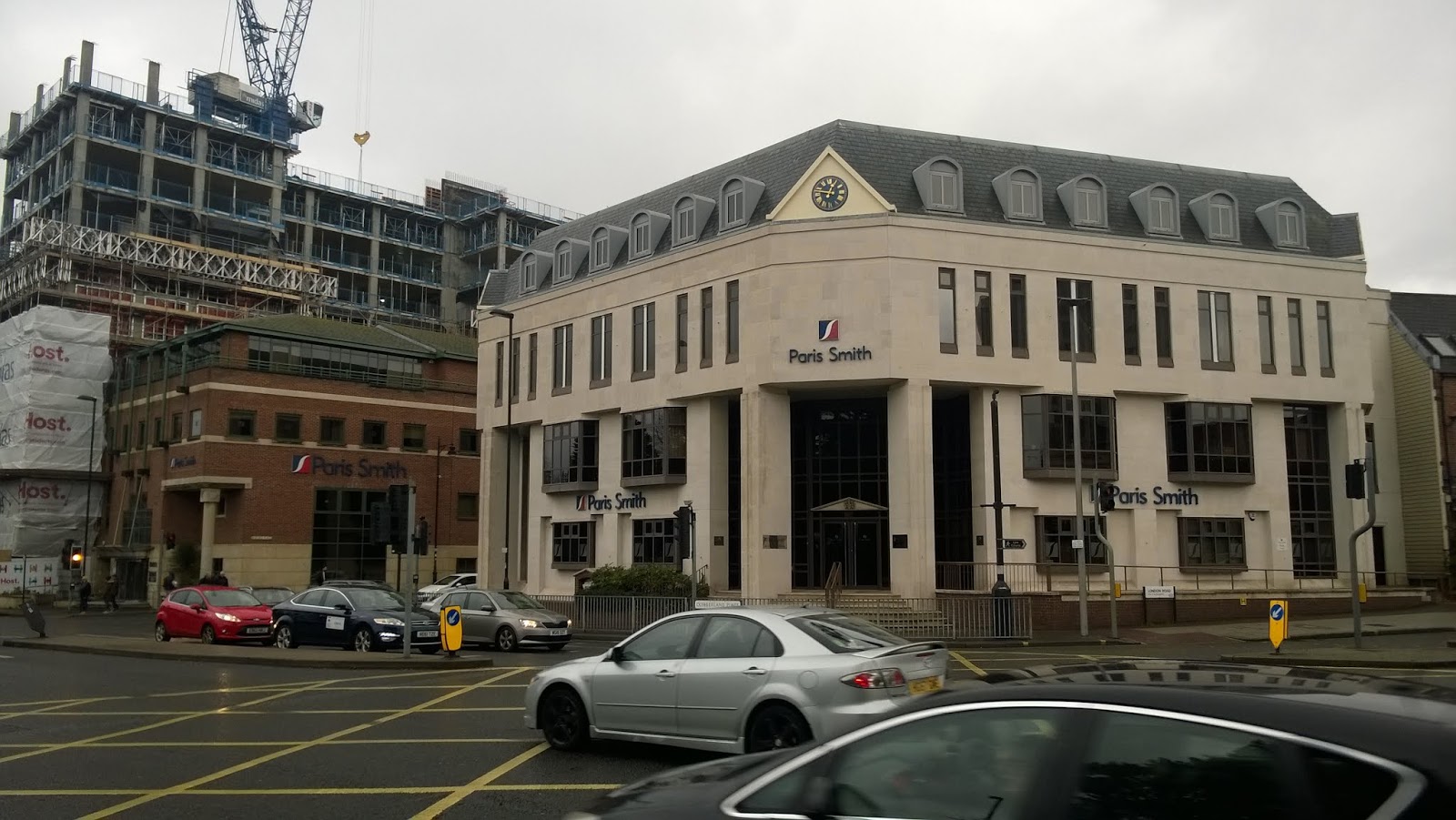 Sounds familiar…
Next pub is the "Scholars Arms" and the 'one pint, one pub' rule already runs into trouble here as we have to wait for Southampton Steve & Snowey who were passing through on their way to the other match. But judging by their efforts in Popworld the previous night, we doubted that there would be a lot of alcohol consumed by them this afternoon.
Moving on to pastures new, we even skip a 'Spoons much to my dismay and end up at some "London Road Brew House" gaff. Here we are all given the under-21 ID treatment but it's quite all jovial considering the the bouncer asked us "Eastleigh vs Sutton? Where that being played then?" on the way in. At Gander Green Lane mate, we always come here for a pre-match drink. Fuckin' bellend.
Trying to work out what pubs we could do in the time we had left, we decided that the next stop would be "The Hobbit". but on the way there we came across another boozer called "The Rockstone". Oh well, in for a penny in for a pound, or even a pint in this case. Not a bad place at all, but with a 'special deal' of two burgers for £22 on offer, it was a little bit pricey for our tastes.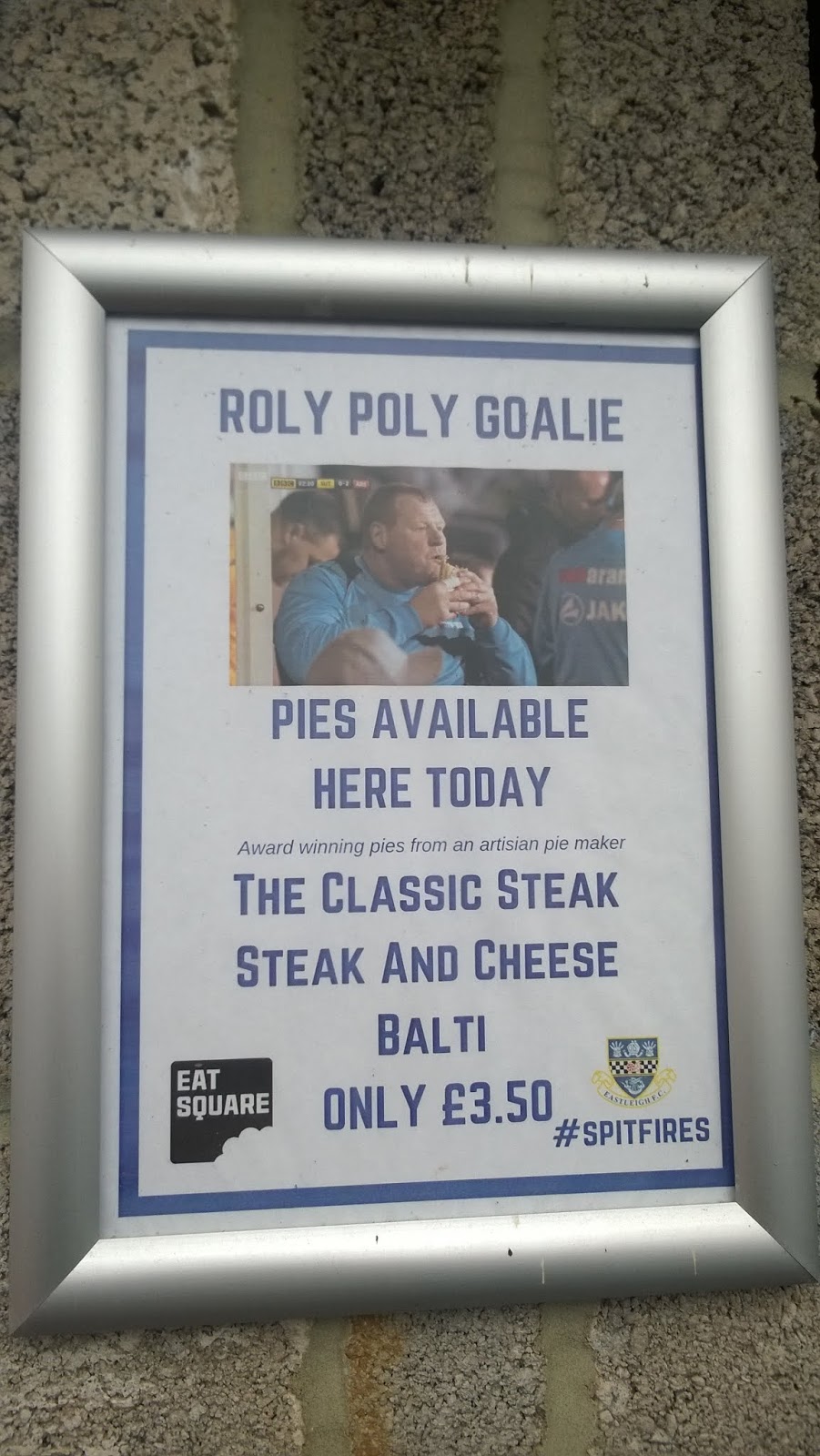 Oh fuck off…
The last pub we managed to squeeze into before it was time to head towards the ground was the "Shooting Star". Walking in and there were a few Saints fans dotted about and two dogs with the run of the place. So much so that when Mr X went to use the facilities, one of the dogs followed him in and just watched. It was enough to put him off what he was doing apparently.
Trying to leave the pub was about as eventful as our away days can become. The sherbet had arrived earlier than it was originally booked for, so drinks had to be consumed on the hop. Finishing my pint the last, I watched as 4 Days took the lead. Problem is, he managed to lead everyone into a fuckin' broom cupboard! His excuse: "I was following the dog!". Trying to get into the sherbet had is own issues as Mr X managed to somehow fall out of it whilst trying to get into it! What a plonker!
Surprisingly unlike last time, the road leading towards the ground was open, and the sherbet dropped us right off at the front gate saving us a walk. With Mr X once again bagging a free comp ticket for this one, the rest of us were directed towards the away end at the other side of the ground to gain entry. Negotiating past the cars that were trying to find spaces on the far side, we arrived at the away end. There was one slight problem though…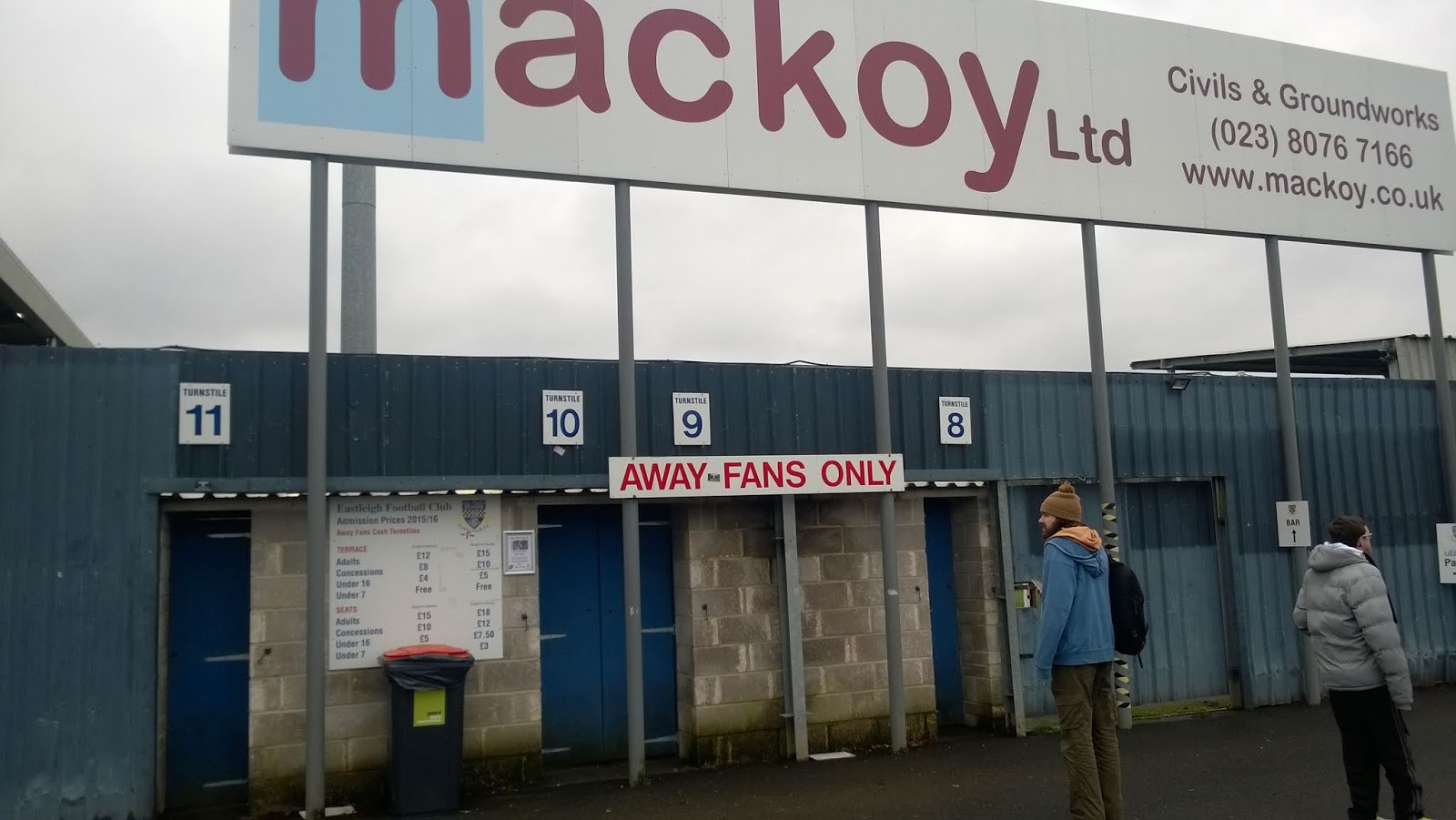 No entry. Closed. Shut. Verboten. Fuck off. Do one.
…It was all locked up! Fuck a duck! Down the other end of the ground we found a long queue as people tried to get in through the single open turnstile. Here we bump into plenty of other Sutton fans who had also been 'guided' towards the non operational away end, from this we guessed that the match was not going to be segregated. But even this queuing up with everyone else didn't end the dramas.
Finally getting to the turnstile, I was informed by the very young operator that they were not excepting any cash and I would have to buy a ticket from the club shop. Cheers for telling us that in advance lads! Fuckin' state of this club. So, it's now round to the club shop and to the back of another poxy queue to by a £15 ticket. Once purchased and it's round to yet another turnstile to finally get into the ground.
For the first time since the 2013/14 season, we arrive at the near end just as the teams set themselves up before kick off. And with the the toss already done, Sutton were shooting towards the end of the ground we'd just came into. Taking up spots on the concrete behind the goal, it wasn't long before we realised that plenty of home supporters were also taken unawares by the non-segregation and were not moving down the ground. Oh great…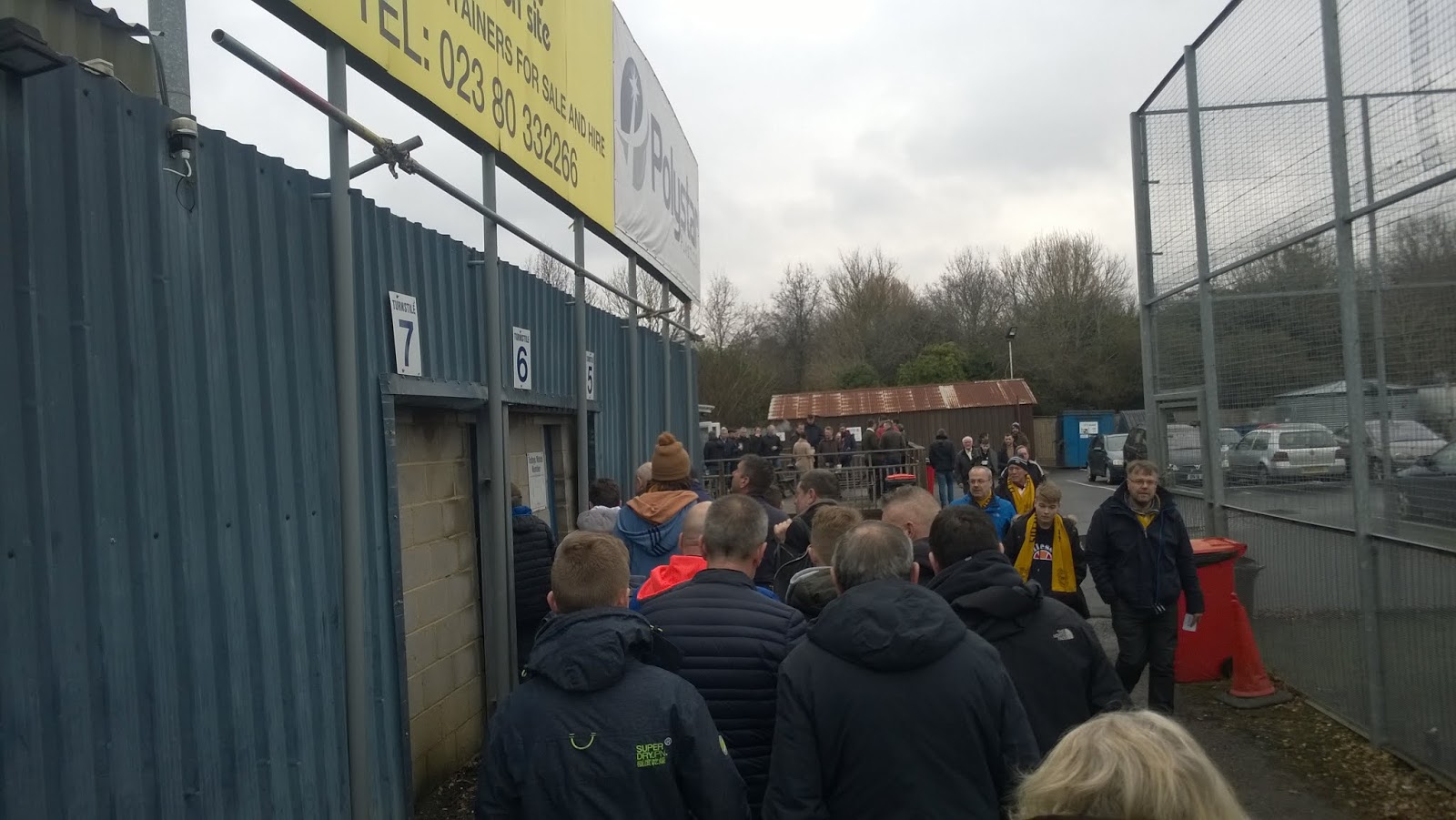 First queue…no cash entry apparently

Worner, Bennett, Thomas, Beckwith, Davis, Toure, Eastmond, Bailwey, Beautyman, Williams, Dobson. Bench Warmers: Bolarinwa, Ayunga, Pearce, McQueen, Mason.

Sutton kicked the match off. And they did so literally and kicked it right off the pitch. Starting the stronger, Eastleigh put on the pressure. Most of it would come down our left and eventually they got the break. A corner is only cleared back to the corner taker. His second attempt takes a nasty deflection high into the air that ends up coming back off the bar, There is a scramble to get the rebound, but Eastleigh get there first and tap the ball in.
Being one down after ten minutes sees to embolden the home support around us. This leads to several supporters to then act like twats and goad the travelling faithful. The stewards don't seem that interested until a sizeable amount of away supporters start to react to this cobblers. After it's calmed down, one steward who was more pugnacious then most tries to stop a supporter from vaping in the stand. Fair enough, but when asked about the home supporters who were stood doing the same thing just a few feet away, he ignores it and instead gets carried away with those that complained about the fact in the first place.
Back to the game, and Sutton start to get more involved. Davis has a free kick that goes inches over the bar. Eastleigh were still dangerous on the counter attack and Thomas nearly headed the ball into his own net after intercepting a cross. Dobson had a chance to equalise but his knock past the keeper was a touch too heavy. Beckwith would also miss a free header.
Sutton did eventually get their just desserts just before half time though. Bailey knocks a long ball forward that sets up Toure. Once again his take round the keeper is too heavy and Reda "£2,500 a week" Johnson looks to get to the ball first. But for some reason he fucks around clearing his lines and Toure simply knocks it from under his feet into the open goal. 1-1! Obviously the home support take offence to our celebrations at this point.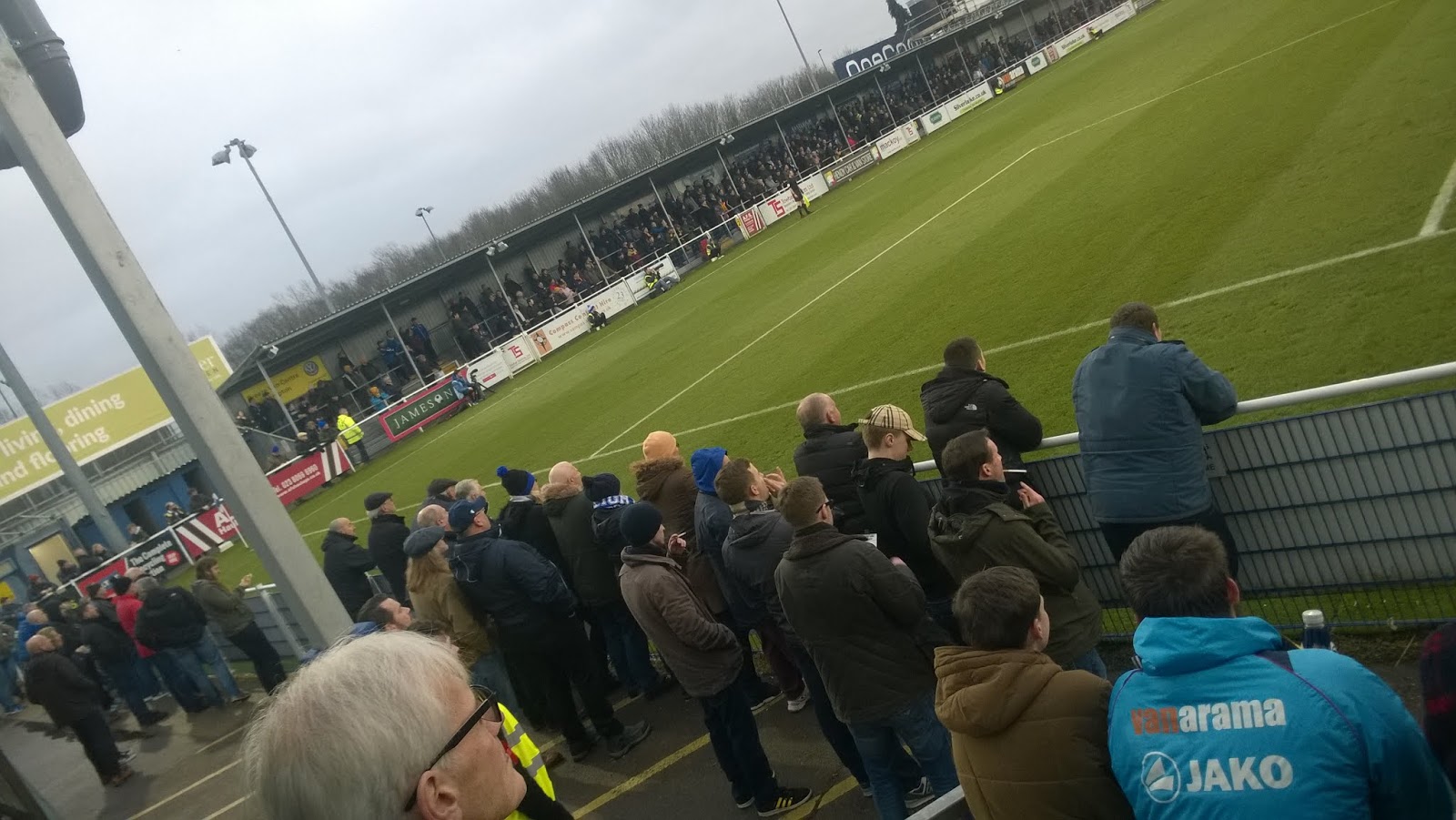 The natives are not happy…
Second half and we move down to the other end of the ground. At least here we wouldn't be bothered by the locals being wankers. The second half is much more tenser than in the first. And for the first fifteen minutes both side tried to test each other but not really forcing a real save off each keeper.
That was to change over the next ten minutes. Eastleigh once again drew first blood. Toure is caught in possession on the half way line but does his best to rectify the situation. He eventually ends up on the by-line but can't prevent the shot going into the back of the net from the tightest of angles. Their lead wasn't going to last though as Sutton replied five minutes later. Several cross into the Eastleigh box were only half dealt with until it ended up with Beautyman. He cross this time finds Williams and he glances it into the back of the net. 2-2!


Bolarinwa was brought on for Davis and the shape was slightly disjointed by this. Minutes later and Sutton try to bring on McQueen for Toure, but at this point Eastmond is struggling. Not sure what happened next, but whilst Eastmond receives treatment, McQueen comes on anyway. Eastmond now can't carry on, so Pearce is brought on for him. Well, almost as he's then sent back by the ref. Next the fourth official sends him on again only for Brad to be booked by the ref for coming on without his say so. What a twat! National League refs eh?
Time was fast running out, but Eastleigh still had the last laugh. Throwing the ball forward down the right a cross catches Pearce ball watching a bit. By just losing sight of the ball and his marker, the fella manages to get his head onto it and with Worner coming out to narrow the angle it runs past him and into the net. Bollocks! And of course, that's how it ends.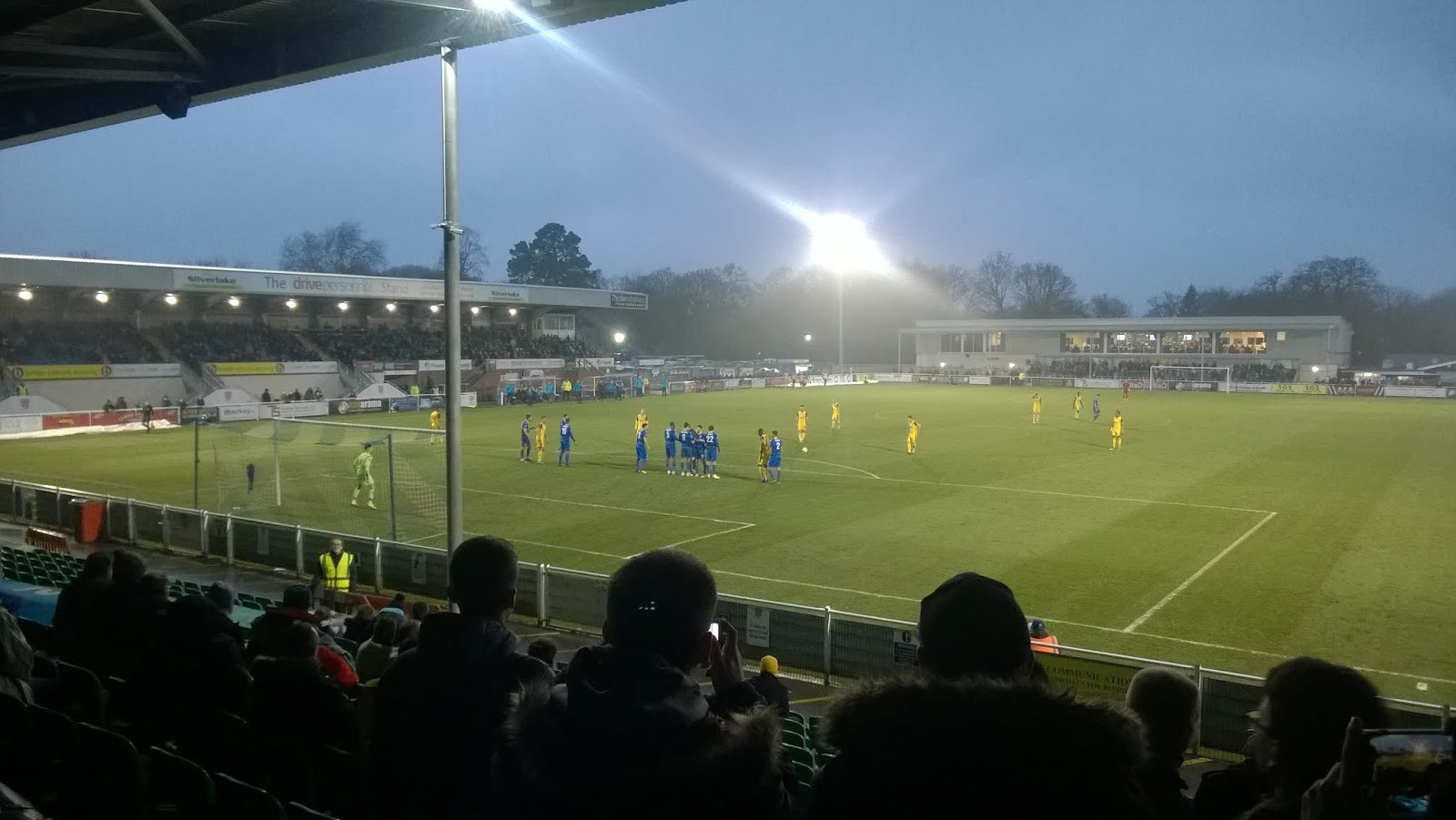 Action…
After the match and I would normally say we would head to the pub. But first there was an issue to be dealt with. Walking out of the ground and apparently something non-Politically correct is said by one of the stewards. Not realising that everyone had stopped, I was walking out of the ground before turning to see several people arguing with the geezer. Don't know what was said but the 'ubermensch' of a steward ended up in a pushing match with 4 Days. Very surreal.
With Mr "I'll expect an invite to the MOBOs" X back in the fold, we head to the local hotel to have a quick beer as we wait for the traffic to clear. Catching up on the scores we saw that Wrexham had lost again, Orient had dropped points & Braintree had slapped Barnet 4-0. And surprisingly we remained in a play-off spot!
Eventually the traffic had cleared sufficiently, so a sherbet to "The Hobbit" was ordered sharpish. We decided that the eight o'clock train was the one for us and planned accordingly. This meant spending nearly an hour in the next pub (The Guide Dog) talking to a couple of Saints supporters. By the time we realised that we weren't going to make that train, there was nothing for it but to head to another pub!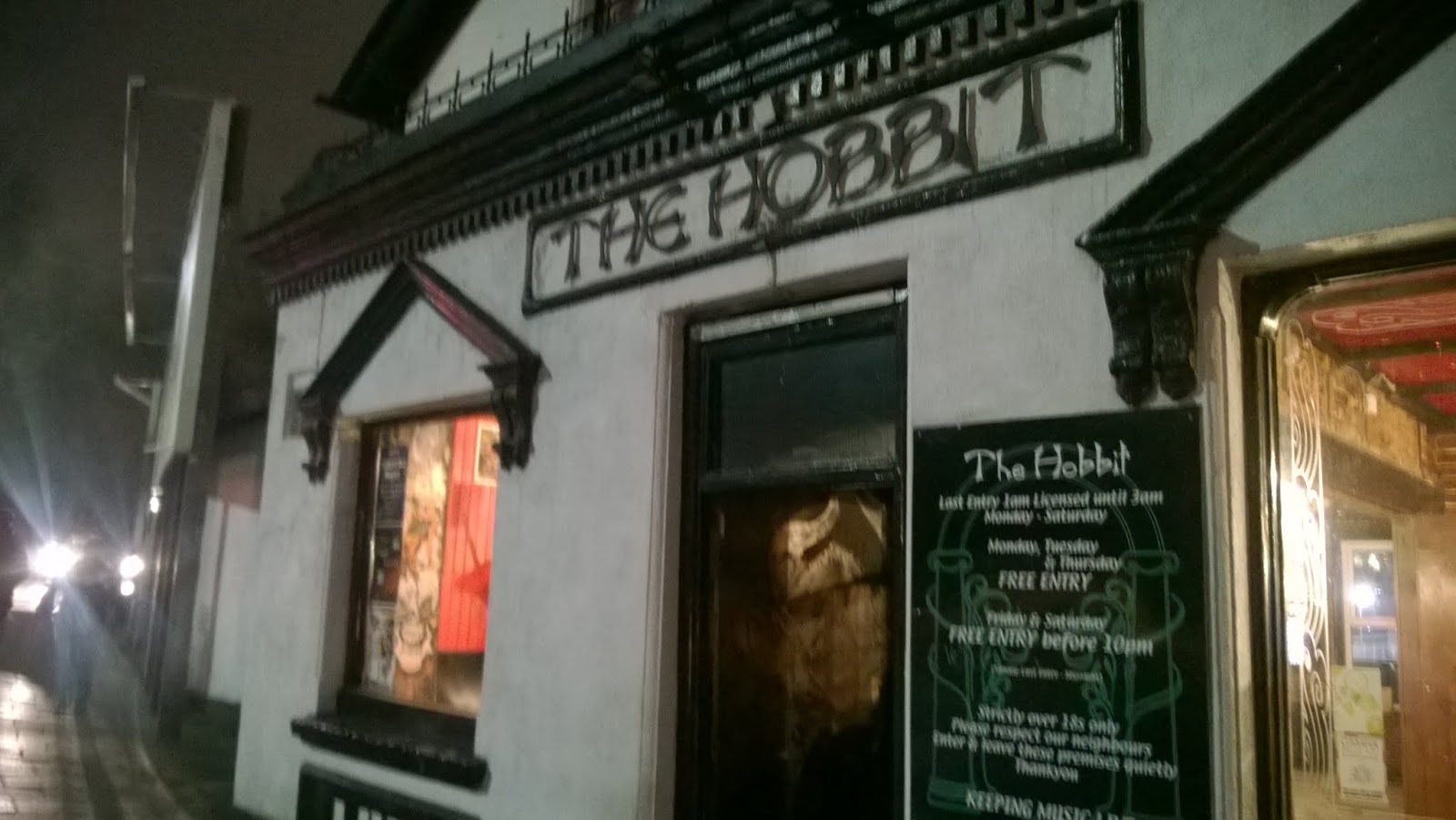 The great Hobbit…
A 'Spoons (finally!) was to be where we had a couple more drinks to work out our next plan of action. We could either try to get to Eastleigh or just lump it on Southampton Central because these were our only options thanks to the engineering. Eventually the choice was going to be Southampton as this had better options for some much needed food & drink.
A spot of the old Kentucky Fried Chicken was just what the doctor ordered at this point and it went down a treat as we headed back to Clapham. The journey was very long and no surprise as we somehow went through Havant along of all places along the way. Turned out that the journey time was just as long as the one we took that morning. 30 miles remember!
We arrive back at Clapham with the time fast approaching eleven. The only worry was that the connecting train was due so shortly after we arrived that we we're worried that we wouldn't be able to tap our cards. But we made the train and checking back on my records the following morning appears to show that I did manage to tap that bloody card. Result!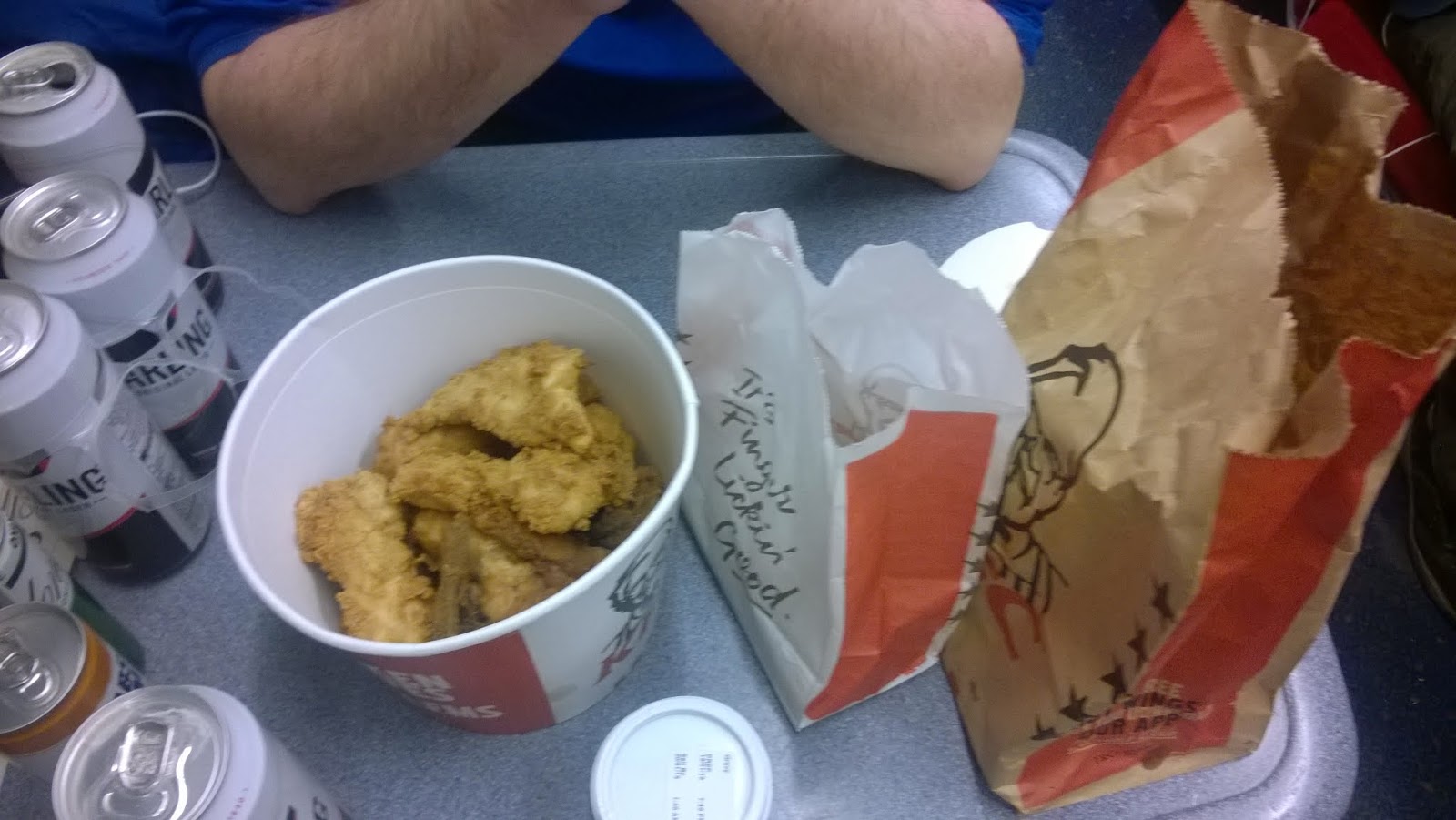 Fried goodness…
The train back to the Badlands crawls in and we jump on for the ride. Surprisingly we bump into some old faces we've know for a long time. That reminds me, Steve & Sharon say hello Mr Budd! Been a while since we've seen them and to cap off the night I'm given permission by them to cut through their back garden to get into an alleyway that leads to my humble abode.
So that's it for another week. We're still three points shy of Our Lord Dos' target of 52pts being needed for safety, but hopefully we can get over that mark sooner rather than later. We're still waiting to find out when Salford away is going to be, but Barnet at home has been sorted it seems. Surprisingly enough straight after our visit there! Enjoy!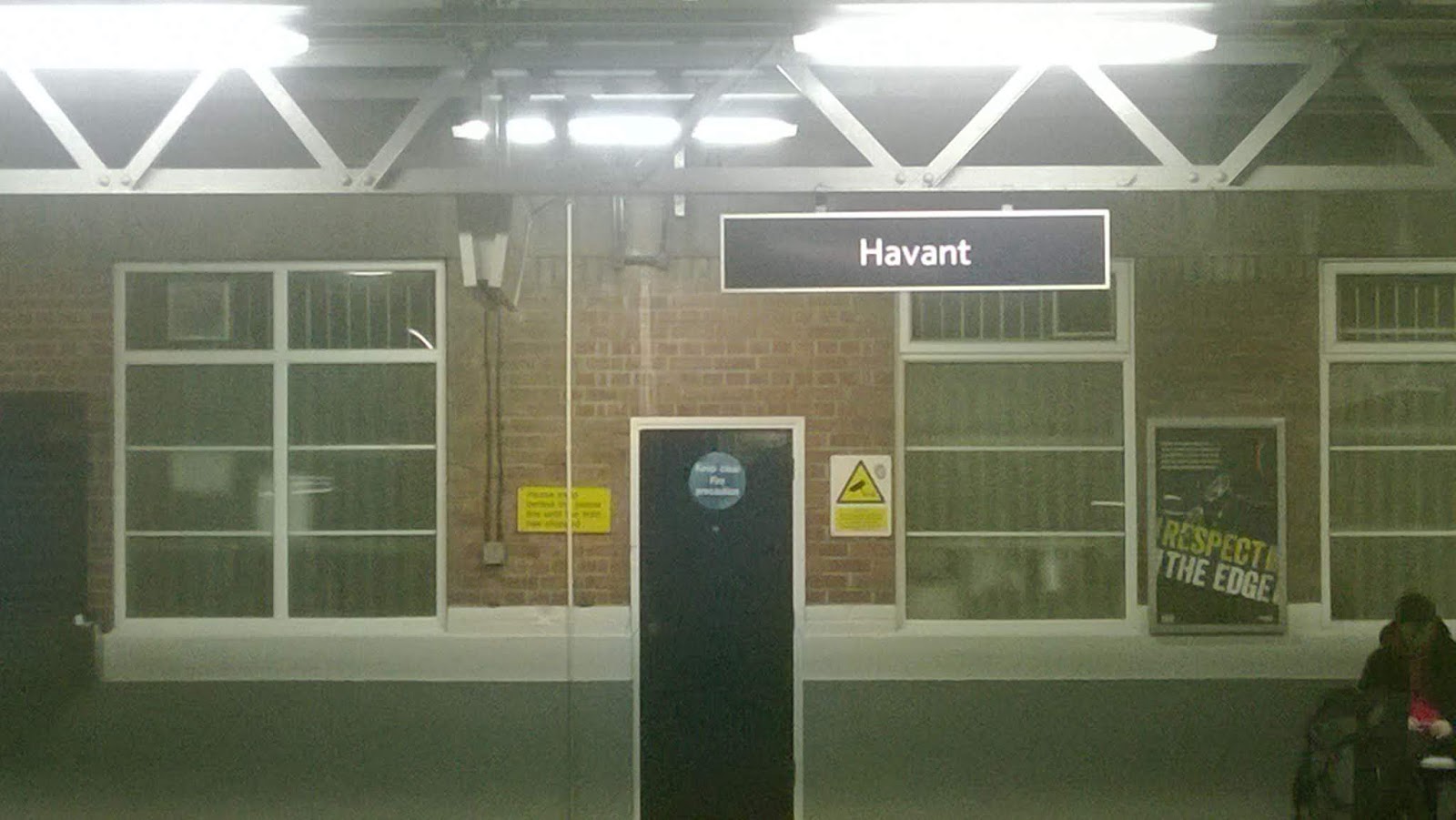 The wrong way…
Duke
Att. 1872