We're back! Well that was what Magnum P.I. shouted out as we were just about to use the lil' boys room after the game at Mill Farm. The question is, was that an opinionated remark about the football that he'd just witnessed? Or was he simply just talking to himself, and his lil' fella as he pointed Percy at the Porcelain? Hmmm, that's a tough choice. And not one I'd want to call.
A couple of things of interest happened during the week. First it's the sad news that it appears that the Youth team have been given the old heave-ho outta the FA Youth Cup. Which means bye-bye to a home match against Man City. It's a shame really, especially when you hear the reasons why. And even more worse when you hear the whole caboodle. Fat bloke from Chippenham and all that.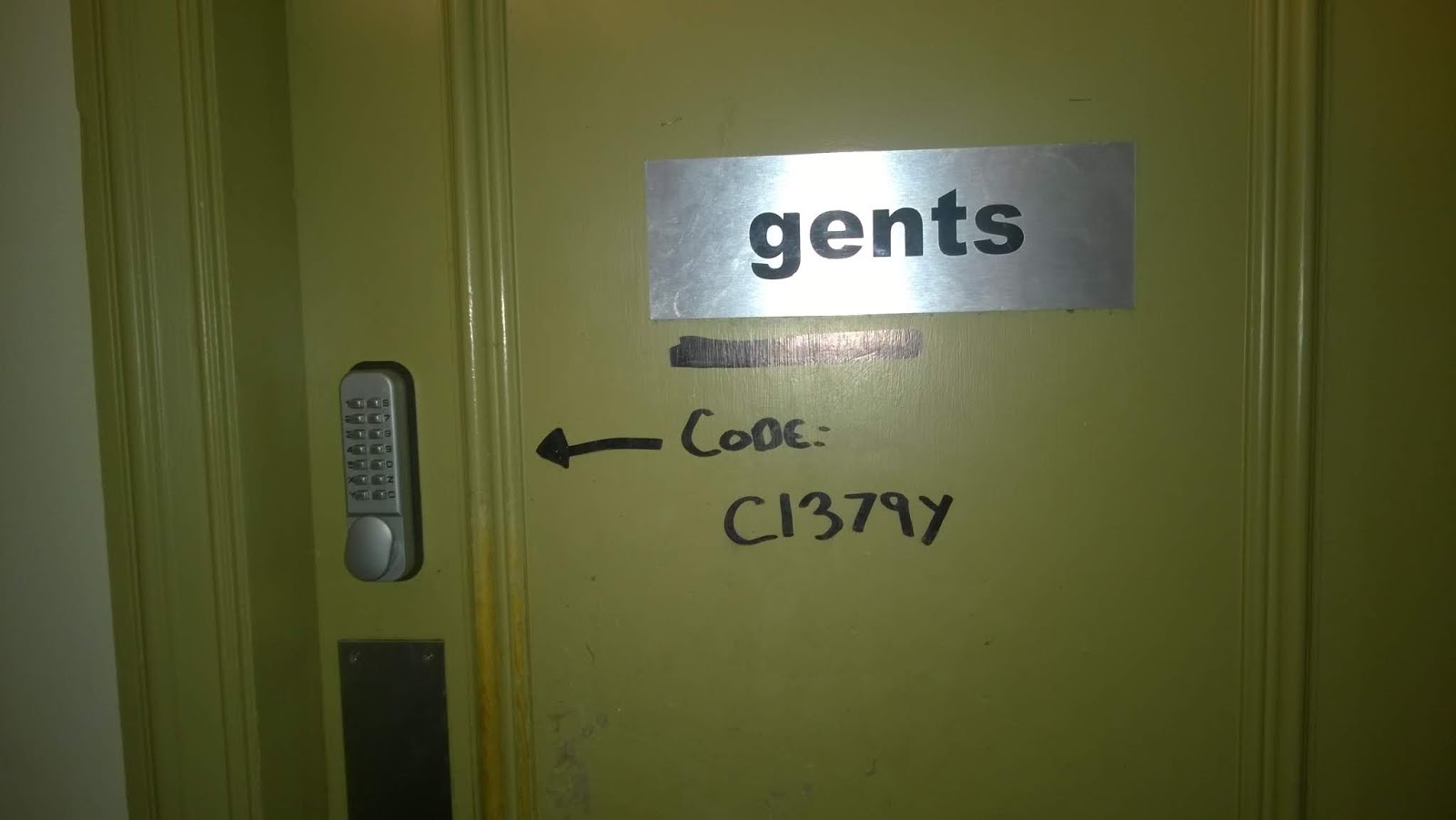 Security concious…
Secondly (and clearly more important in the strange & wacky world of The Duke) is the Surrey Senior Cup draw. Chertsey away no less. It might not be the new ground some of the older members of Gandermonium were hoping to get, but for the rest of us it's a new one I think. Not that anyone will go to it, especially not the first team. Anyway back to matters in hand…
You'd think that this blog would start with the usual "got up at a ridiculous time to catch a train up London, bla-bla-bla-bla-bla-bla…". But you'd be wrong. Oh so wrong. Because no thanks to our terrible performances against Slough, we couldn't book any advance trains for this trip and fuckin' certainly not within our budget. This meant that some poor mug was going to have to drive, or maybe two mugs. Or even three of them.
But before that there must be a special mention and a whole section dedicated to, one certain individual. Take a bow Taz, you bleedin' pisshead. For some reason, he was out at his firm's Christmas do. And yes, I know it was November, but you have to cater for all manner of weirdos these days I s'pose. Anyway, Having a few too many up town with his best friends Johnnie Walker & Ron Bacardi, and not bothering with the football on Saturday due to the aforementioned cost issues, he found himself trying to get home from Bank in the early hours of the morning. He also might've been a little "tired & emotional" at this point. Why he didn't just jump onto the Night Tube is beyond us, but he instead got a sherbet to Victoria.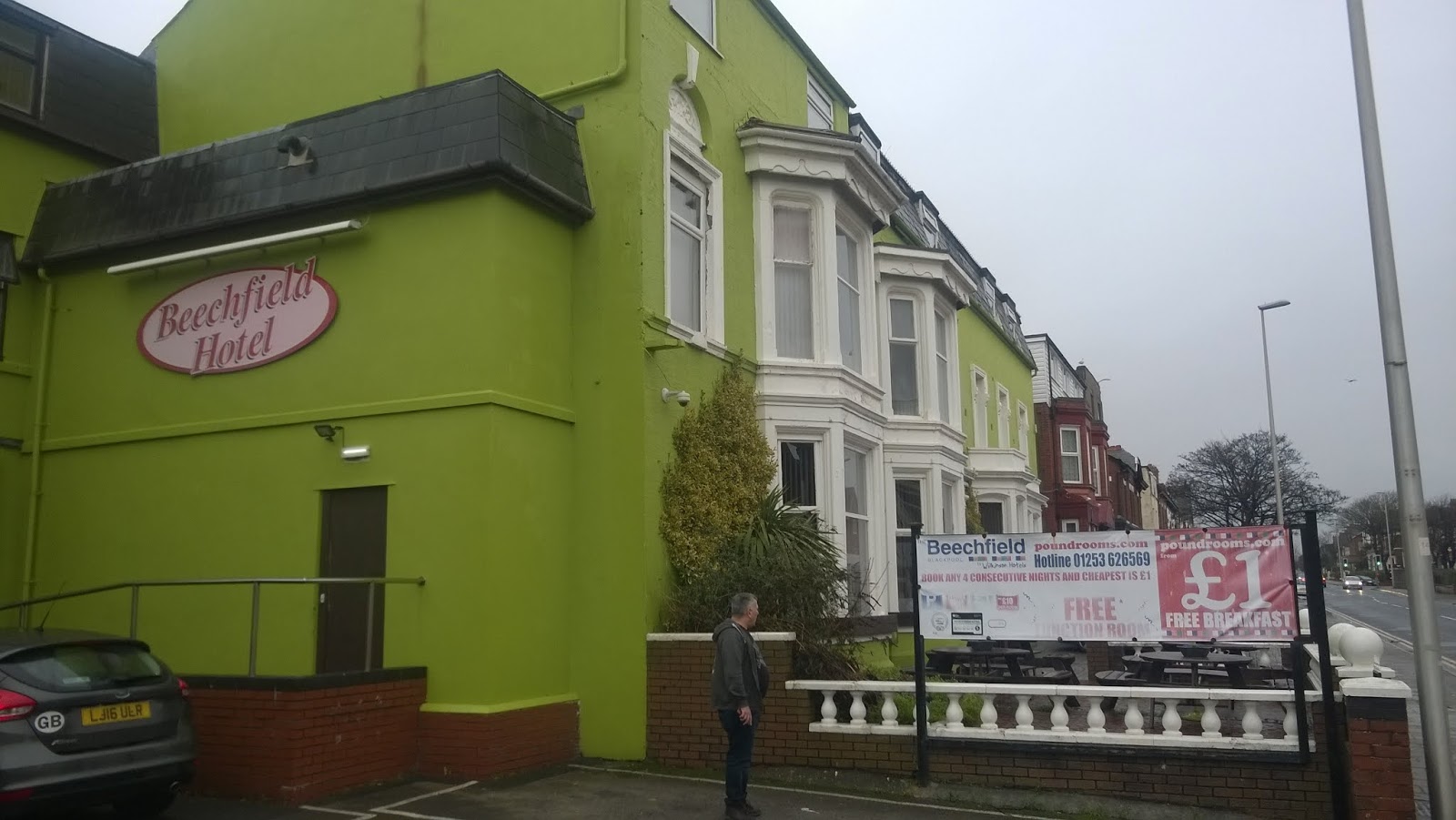 A touch green, our hotel…
Trying to secure some grub, he then waited for the station to open I guess. Once again, why he didn't just get a sherbet home is beyond us (And me! – Ed). The station eventually opened, and he then waited for a train home. And he waited, and he waited, and he waited. Well, with this being Southern Rail, it turned out that the first three trains leaving Vic that morning were cancelled! How's your luck? So by the time he was getting home (Fucking 6am! – Ed), we were already heading North. I still think it would've been funny to kidnap the fucker and take him all the way to Blackpool, but sadly no one could be arsed to back my idea.
There was several drop outs during the week that meant that come Saturday morning, there were only six of us making the trip. Mr X was heading up the previous night and after being a near witness to a car accident, he would be staying over at Preston before making the final part of the journey in the morning. The other five were going to be split into two cars.
The Firm Leader was going to drive down to Walton-on-the-hill to jump in with Ozzie. This left me & 4 Days taking up the offer to take a ride with Magnum P.I. I was going to be picked up first, so I simply had to get down to the local British Petroleum Station. Next would be 4 Days and he wouldn't be in the best of moods, especially when you find out that the nightly activities of Taz had caused him to drop his phone as he caught up on the many many many messages and cracked his screen!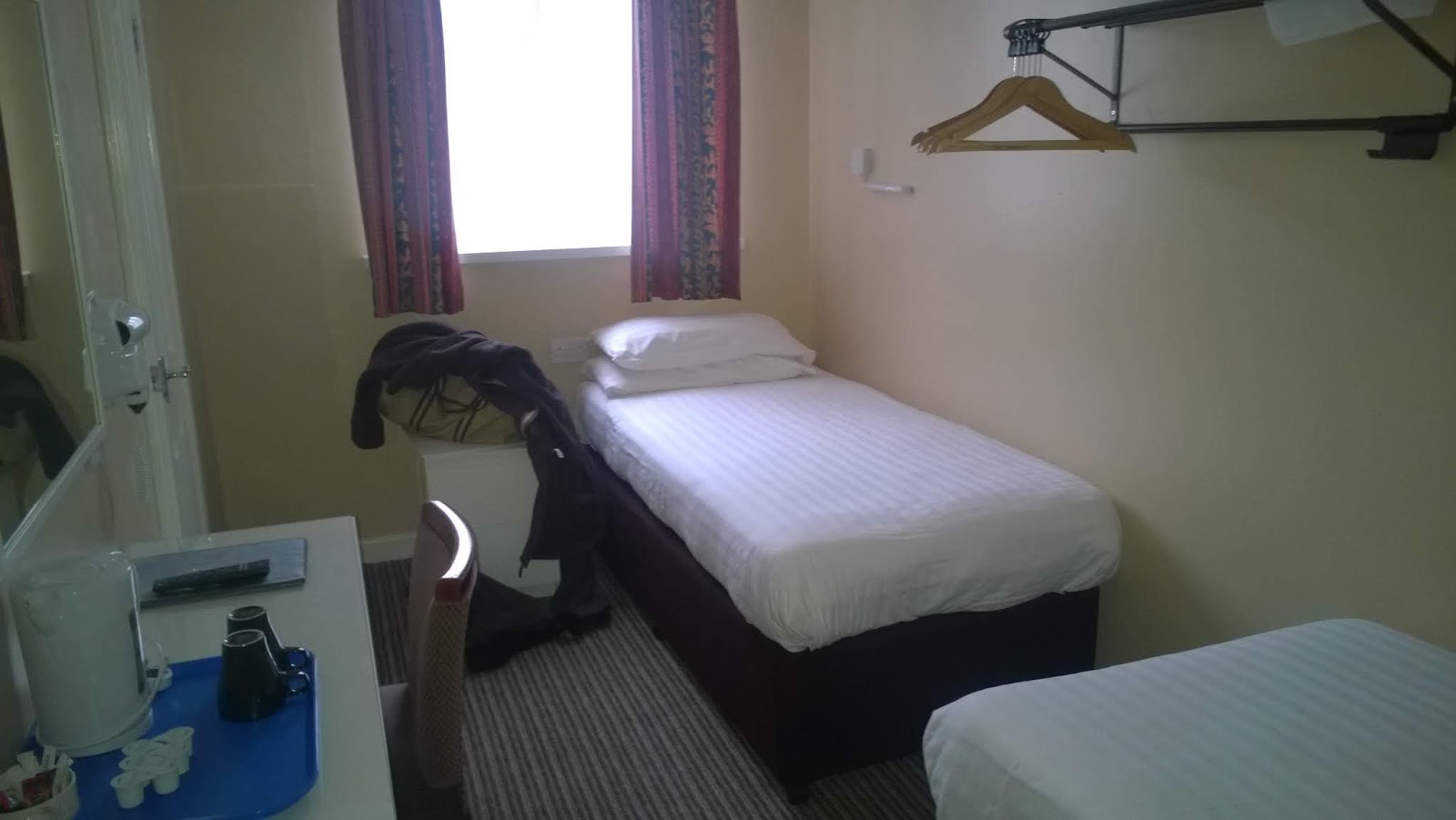 All mod cons and the like…
With the roads clear, it was a quiet journey up and we only stopped the once at Norton Canes Services on the M6 Toll for a cheeky Vanilla milkshake. Leaving at just after six meant we made it to Blackpool for just after eleven. Not bad Magnum, not bad at all squire. And that's without the Ferrari. I'll let slip the fact that you parked in the wrong car park though shall I?
Everyone by now had arrived and after dropping the bags in the rooms at the hotel it was time to start the drinking. Except by now, the heavens had once again opened and like the last time we visited the fair town of Blackpool, we were dashing around from pub to pub trying to stay dry between pints. Lucky for us, our resident weatherman confidently informed us that it was due to "stop raining at twelve". And what Magnum P.I. says, goes. Got it?
First on the list, was of course the 'Spoons. Because The Duke loves a bit of 'Spoons action! Oh and the cheap prices. A couple of cheeky pints is only spoilt by seeing Sol "I am the greatest defender ever" Campbell being interview on the Radio Rental. But before we got too comfortable we decided to find somewhere else that was showing the early kick off.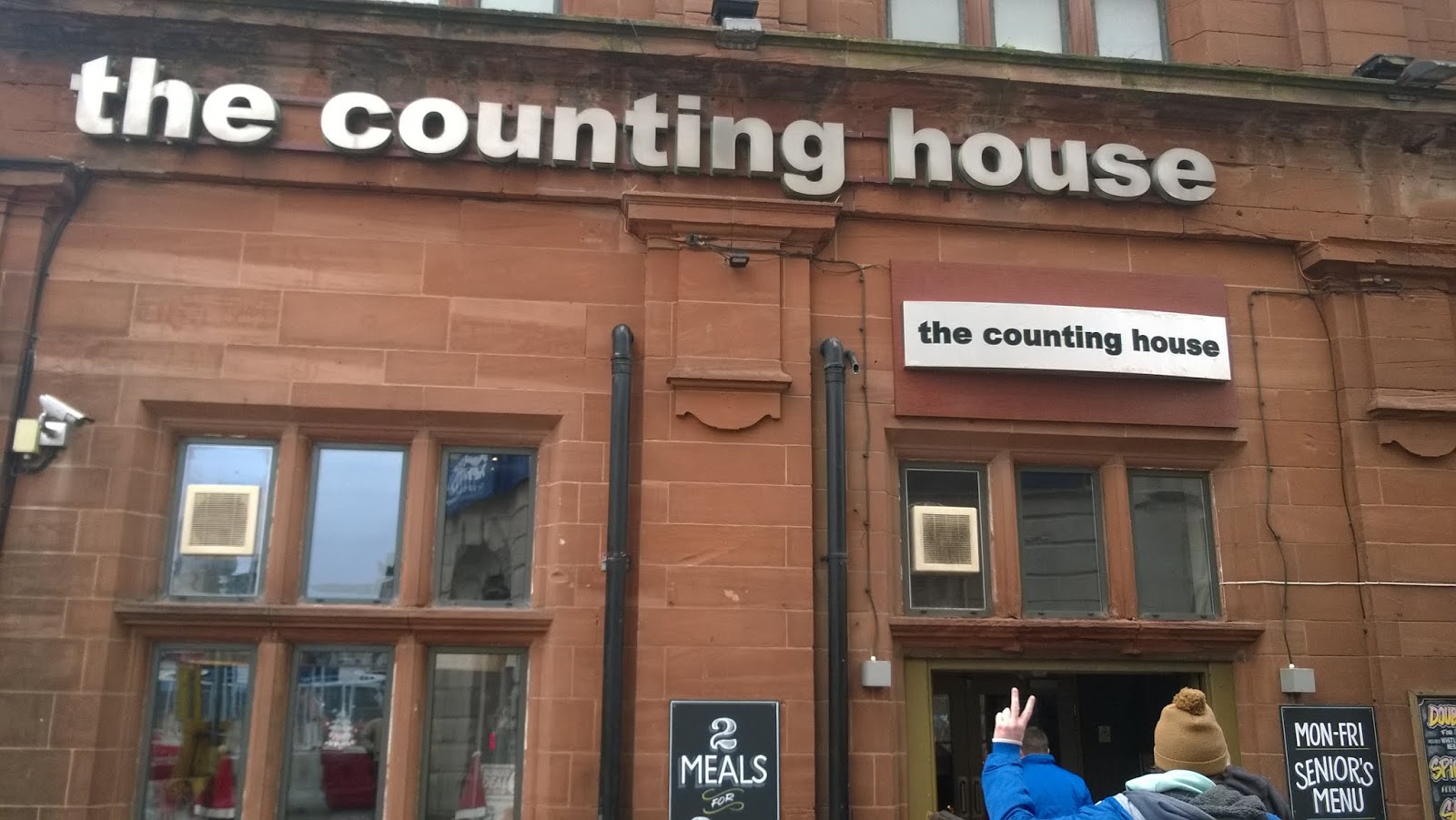 A house, for counting…
We remembered that "The Counting House" round the corner showed football, so we head in that direction. Passing the ever expanding tram works, we find the place and look around for a suitable television. Except there is one slight problem. All the telly's seem to be showing bloody Ice Hockey. And not even the proper American stuff but our very own British Elite league. By the way do they get any fans at these matches? No wonder it was being shown on 'FreeSports'.
The B-Team (or should that be S-Team as their topic of conversation was over who amongst them had yet to shit themselves) would meet up with us here. Also Ozzie was finally going show up after doing whatever Ozzie does in a hotel room for several hours on her own. After negotiating what was to be the first time anyone has ever seen a toilet with a code entry system (it was unlocked), we rustled up a sherbet to take us to the ground.
Ozzie was driving, so a few of the boys take the opportunity to jump in the Ozziemobile. The rest of us, for some strange reason, put Lil' Beckett in charge of ordering cab duties. Which given the sort of prices they pay for their doss houses on weekends away like these was a big risk, but the boy outdid himself on this occasion as one did actually arrive, with all it's doors attached and four wheels on it. Although it was a walk away. Funnily enough it was a black cab, and even weirder was that one of us had to go sit in the front. A first for me I can tell you.
Not very festive is it?
The ride was long enough and it was once again down to me to play the conversationalist with the driver. There were nowhere near the same sort of difficulties as with our trip to Paulton "why do they call him Dirty Barry?" Rovers, but I at least managed to strike up some sort of basic understanding. I can't believe no one ever seems to understand what I'm saying! It is the Queen's English after all.
Arriving at the ground and we only have time for a quick one before kick off. Last last year the place was packed with people. Not surprising as it's the only place to go to around here. Something we'd definitely classify as "the middle of fuckin' nowhere". A quick look on the massive television screen to see who playing and I'm shocked to see it's Leeds. What are the odds? You never seem to see them on the box these days….
We bump into some Northwich Victoria fans and check out the team line-up. Once again, it's the controversial move of playing Clough up front from the start. Have we won yet with that? It's also a surprise to see that Bradley Pearce has made the starting line-up. And to think, a few years back I was told that there was no faith in the Youth set-up what so ever…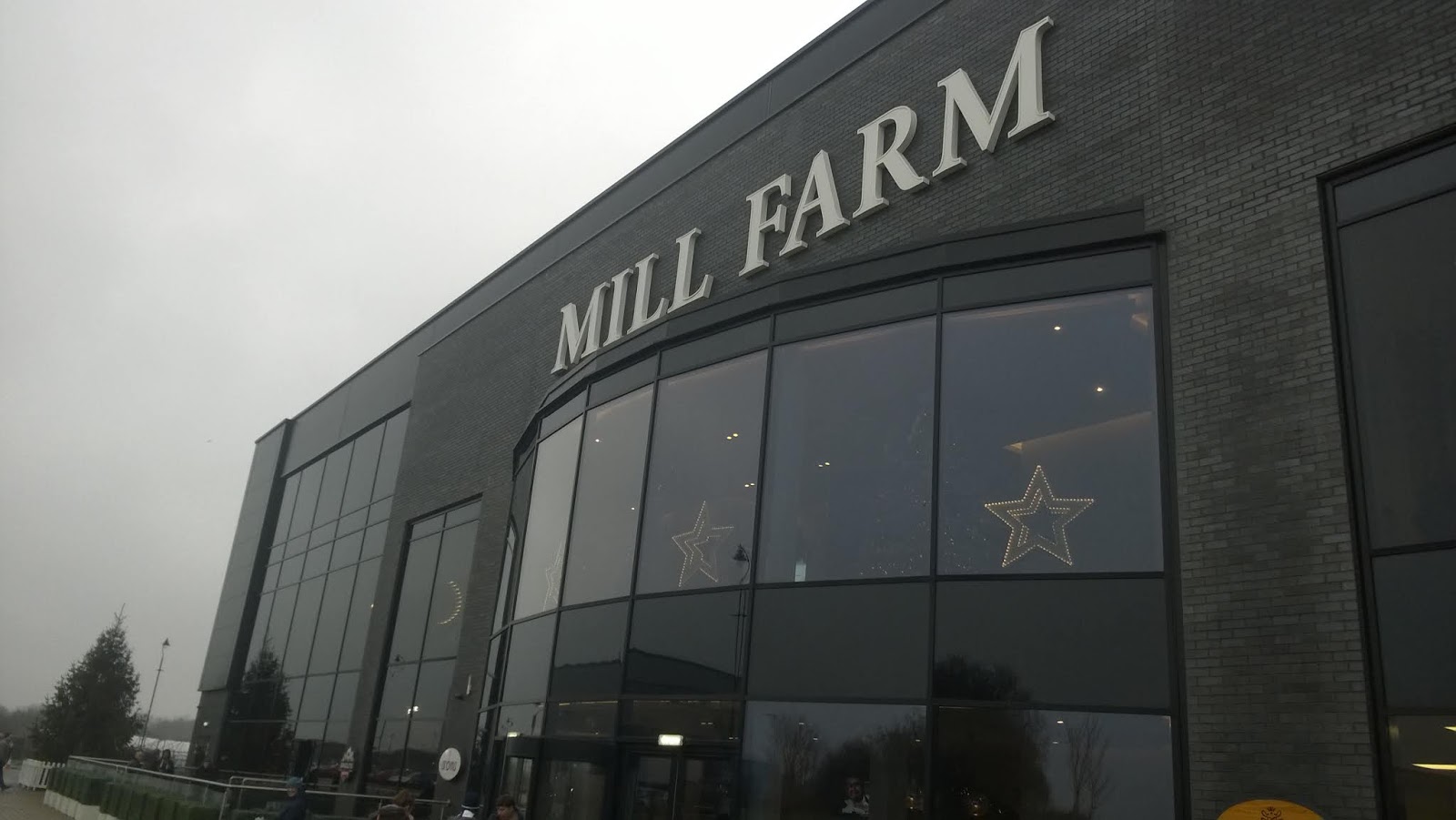 We're here!
Butler, Thomas, Clough, Collins, Davis, Eastmond, Bailey, Brown, Pearce, Taylor, Thomas-Asante. Bench Warmers: Worner, Cadogan, Dundas, Beautyman, McQueen.
With the rain still very much present outside (Cheers Magnum!), Flid started the brighter. They even forced a corner from the first attack straight from kick-off. The home support, possibly the quietest of any we've encountered on our travels this season, thought that their team had scored when a shot from outside of the box could only be parried by Butler to what seemed like three unmarked Flid players. But the shot hit the side netting and ended up behind hind the goal. A lucky escape.
Butler was called into action once again as several Flid players weer left unmarked at the far post. With the ball hangin' around in the middle of the park it fell to Bailey who tried to pass it back to Collins. It was way too short and he got caught as they broke away. Butler did well to stop the initial shot, but. Wait for it, an unmarked Flid player in the box stroke the ball home to give the home side the lead.
There was still time for action as Sutton looked for an equaliser. But when you're struggling to score goals, you're struggling to score goals. Most of the Sutton efforts failed to even find the target and when they did, like Clough's late header, it was weak and no trouble at all for he keeper. Flid nearly doubled their lead at the death with a proper slap of a shot, but we were saved by the bar.
The green fields…
Second half and Sutton started to grow a bit in confidence. They would pepper the Flid goal with several attempts, but nothing to once again trouble anyone let alone the keeper. Halfway through the half and Sutton got their break though. A Brown corner was messed around with in the box and eventually bobbled its way to the youngster Pearce, who snatched at the chance and hit it into the far corner. 1-1! From my view point, I thought he'd scuffed it a bit, but who gives a fuck?
Now level, Sutton made a change with McQueen coming on for Thomas-Asante. Sutton still kept up the pressure, but with no chances. Beautyman then replaces Davis and everything then goes to pot as Flid receive the ball down the left-hand side. It's a a simple cut-in but then the fella does well to curl the ball into the far corner. Bollocks!
The final throw of the dice is to bring Cadogan on for Brown, especially considering that he'd picked up a yellow for a cynical challenge just before. Then out of nowhere, Collins pumps the ball into the box. It's not dealt with by the defence and lands on the head of Thomas. He knocks it to the right and Cadogan thumps it into the goal. 2-2! We've snatched a bloody point!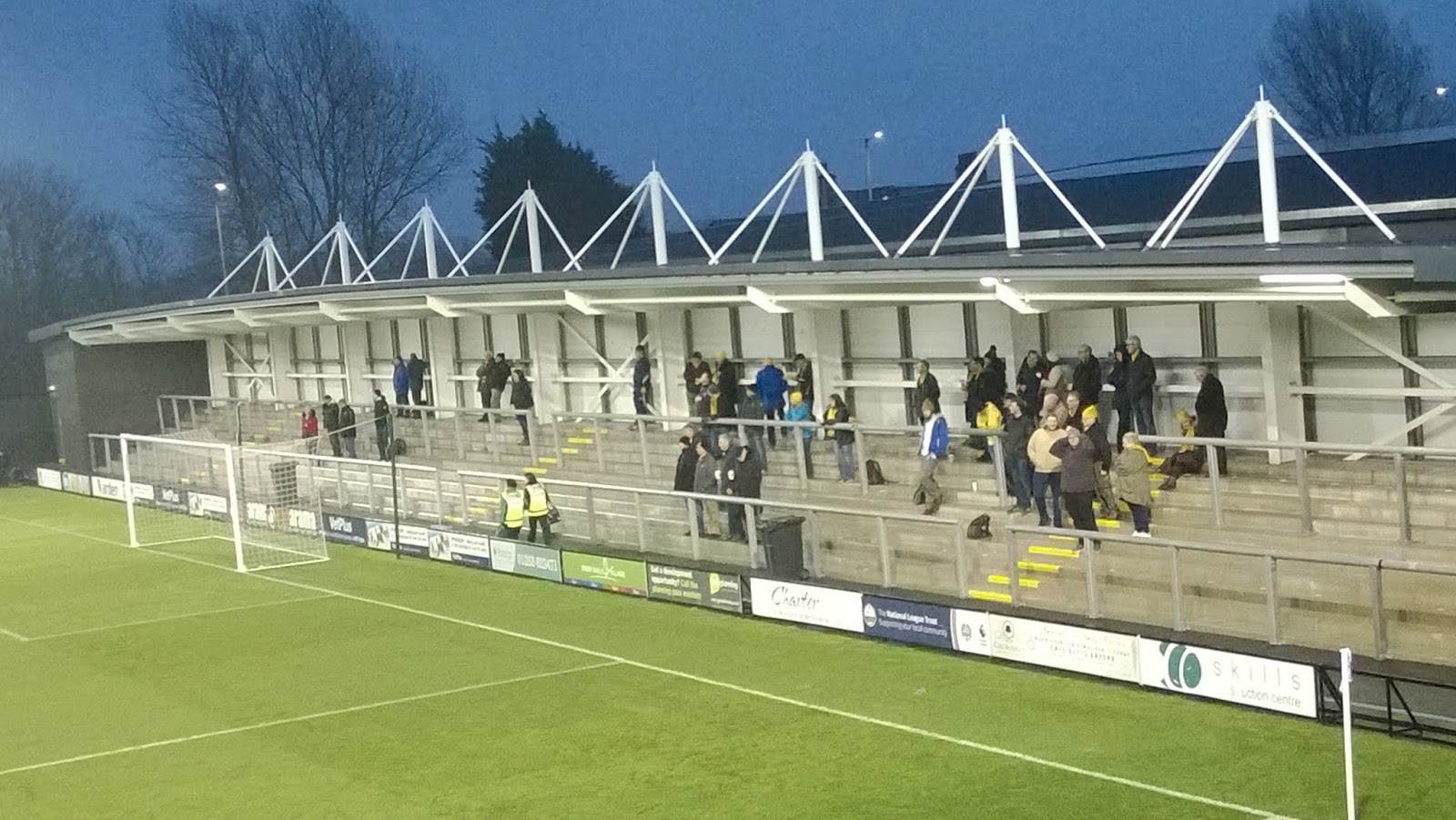 The travelling faithful…
After the match and after Magnum's khazi proclamations, we head into the bar for a drink as sherbet order-er extraordinaire Lil' Beckett is once more put into action. Totally forgetting about Indy & Sean Connery's Stuntman, they have to order they own transportation. Sorry fellas! Slight snag is, there's nothing for an hour. Oh well, only one thing for it and we order another drink.
Talking to various people, you do get a diverse view of our performance. Some good, some bad, some indifferent. I still think we think we're struggling a bit at the moment. But what do I know about anything? I haven't played Championship Manager since the 97/98 version on MS-DOS (ask your grandparents kids!) and used to put dodgy bets on the matches to make up my budget on Ultimate Soccer Manager 98.
A sherbet did finally arrived, but there was not enough space for everyone. The driver assured us that there were a further two on their way and he took the B-Team back to Blackpool. Now Mill Farm might be one of those all singin', all dancin' modern football stadia, but one serious ball ache of an issue is that no-one could get a fuckin' mobile signal for love nor money within the confines of the sports bar.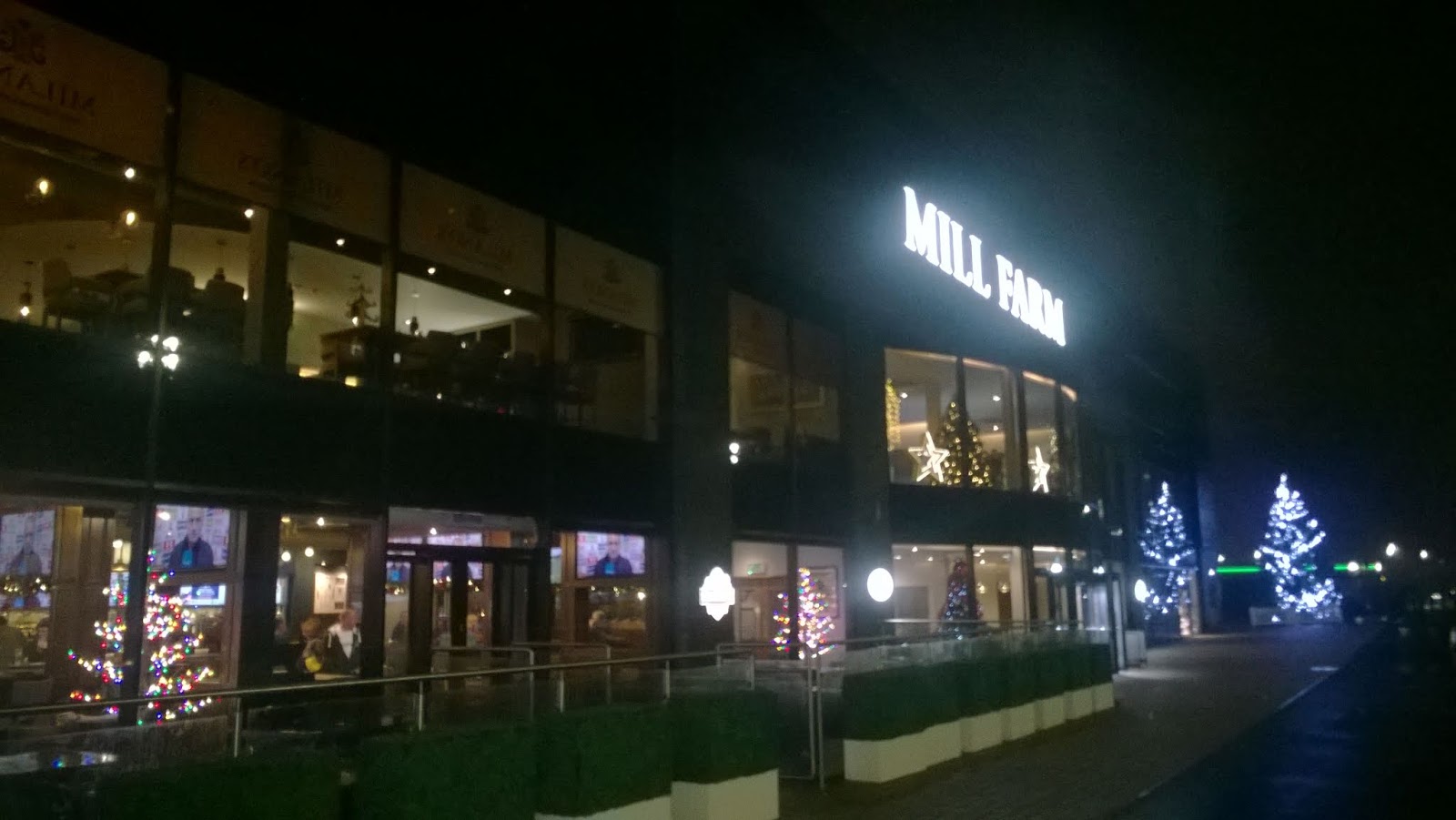 We're still here…
The result was that not one, but two sherbets apparently arrived to take us 'home' and without seeing anyone waiting outside and obviously not checking in the bar, fucked off back 'home' without us. Obviously we'd no signal in the bar, so got no text or call from the driver saying he was outside. It also transpired that the sherbet that the B-team jumped in earlier was not even theirs, but Indy & Sean Connery's Stuntman's! While waiting, we also bump into Mr Taylor who inquires about why he always hears the shout "Go on Jose!" when playing. It's only taken him 18 months to ask that.
Every cloud though and despite getting ever increasingly worried messages from The Firm Leader about our situation, the rest that remained behind eventually ended up at the bar talking to a Flid staff member. It turned out to be the assistant manager Colin Woodthorpe. And he's got a tale or two to tell, I can tell you!
After finally getting the bar staff to arrange our transport for us as they had a working phone the drivers could contact people on, it eventually arrived and we managed to get back to Blackpool. Only about two hours later than planned. Not bad I reckon, pretty good by our standards! A quick spruce up and it's time to hit the town. Well a bit of it anyway, as it was still fuckin' raining. It'll stop by twelve he said, stop by twelve. He meant AM obviously…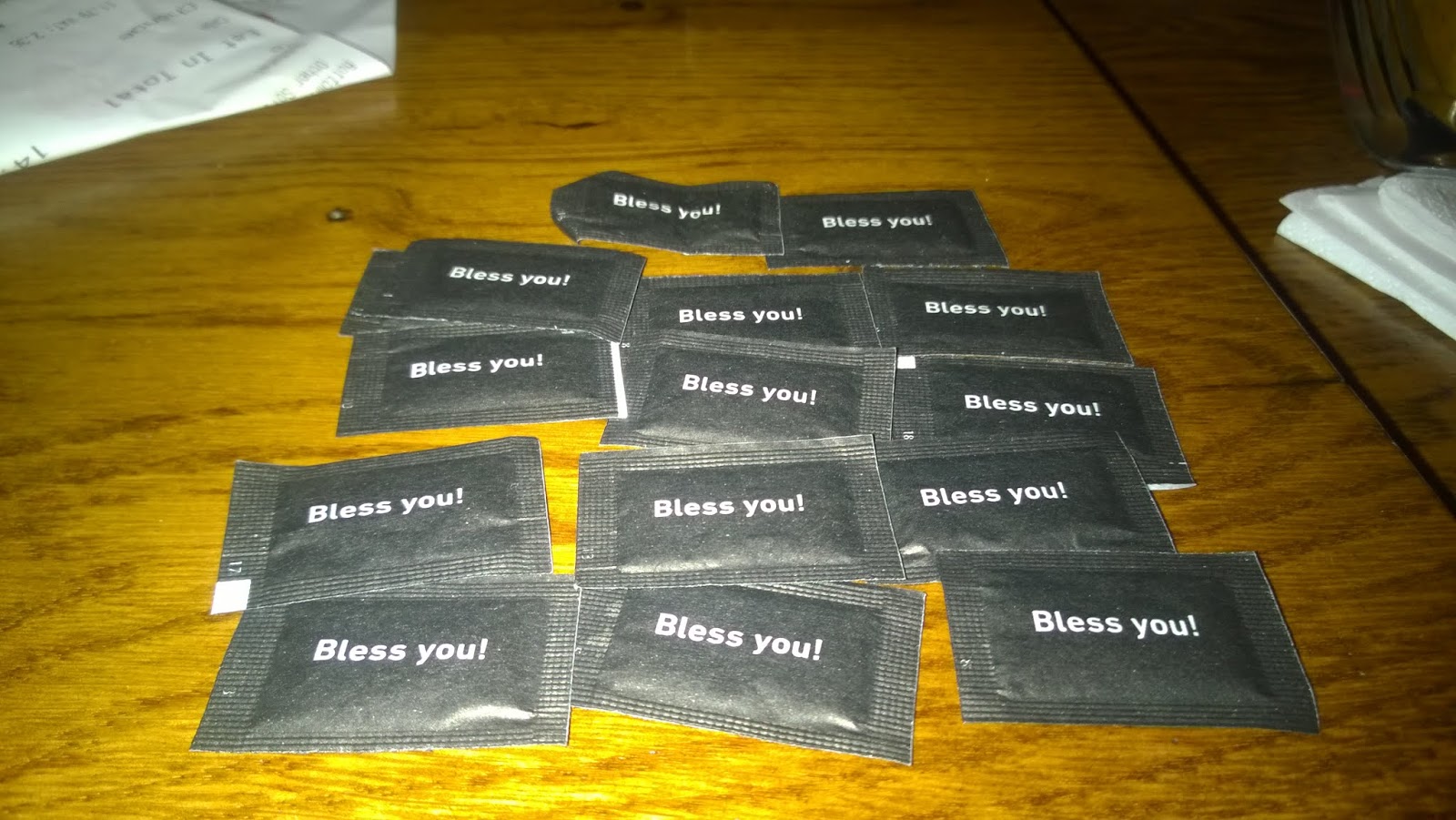 Not a lot of pepper…
First stop is somewhere to eat, so we head to the fish and chips place we found last time round. Except that was shut! Bollocks. 'Cheeky' Nando's it is then. Now fed, the rain was getting heavier, so we made a b-line to the closest pub on leaving. "Scruffy Murphy's". Scruffy by name and scruffy by nature as I doubt it's in that good beer guide Amber Aleman's always got with him, judging by the beer on offer and the clientele. A very quick beer later and we head out of dodge.
Next on the list was "The Mitre" as we'd been there before. In here we bump back into the B-Team and after several more pints as the rain continues outside, the old tiredness starts to kick in. At this pint I decided to call it a night. That and because I'd sat down and started watching Jaws on the old portable in the bar. Magnum P.I. also thought it be best as he was driving tomorrow. Mr X thought it was also a good idea and he too was driving tomorrow. Fuckin' party animals us.
Arriving back at the hotel and we head into the bar for a night cap. Rude not to right? Inside we find a rabble of drunk jocks that were drinking and dancing on the tables. Oh Blackpool, what a unique place you are. A coupe of nightcaps later and it's finally time to hit the hay. One or two other duties later and I'm surprised to see that the clock was just about to strike two in the morning. And oh look, it's still raining.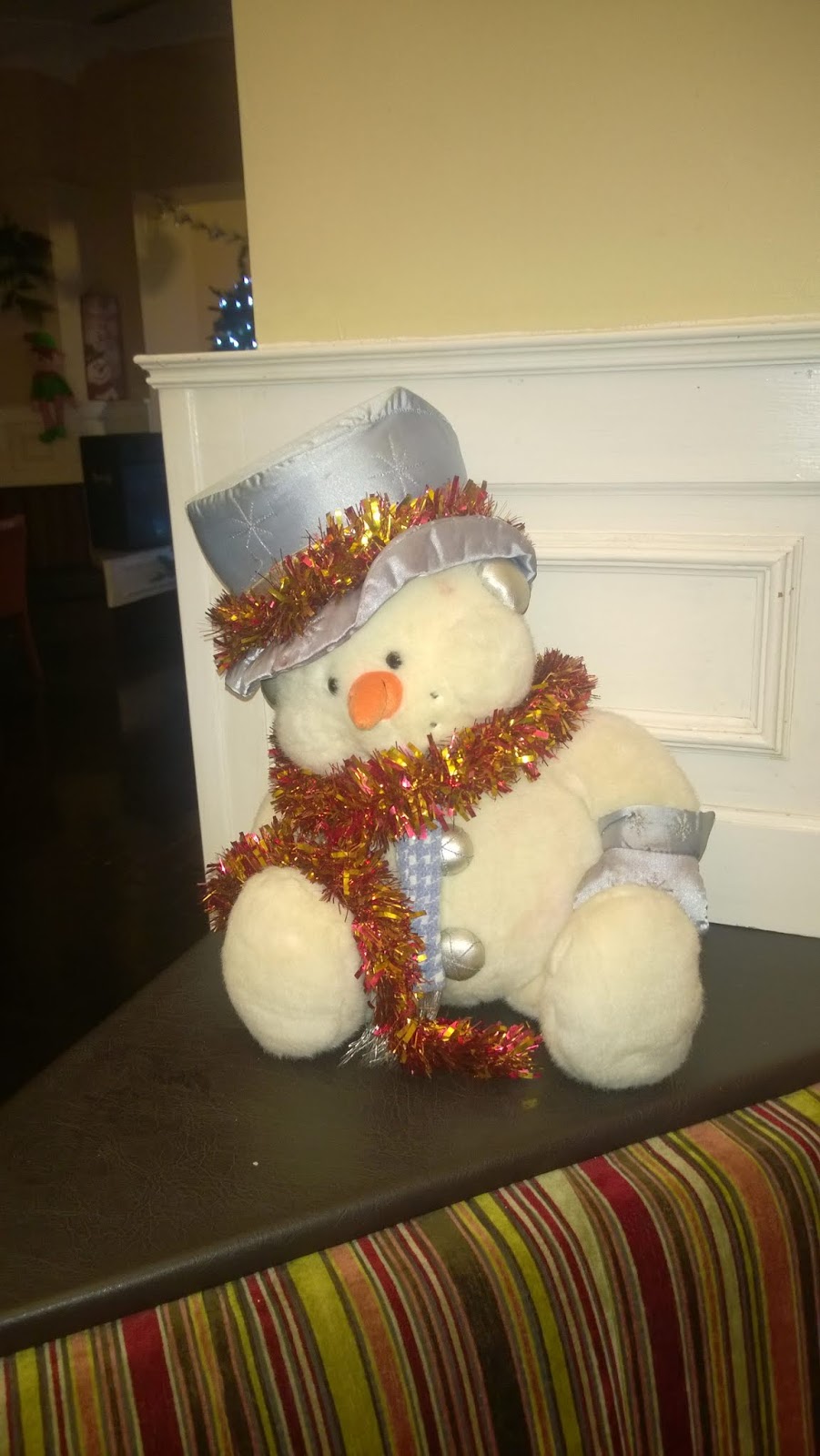 Had one too many…
The sun would've come through the window the following morning if it wasn't for the grey rain clouds that still covered the town. That and the fact that right outside our window was a narrow alley and a brick wall blocking any kind of view of the sky as well. A quick listen to the post-match comments from Our Lord Dos, usual stuff, and it's downstairs for a spot of breakfast.
With no one keen on going on the pier or going to buy some sticks of rock and with no Sleepy Joe to wait for this time, we're on the road for ten o'clock and heading South for home. By the time we once again stopped for a Vanilla Milkshake at Norton Canes Services on the M6 Toll, we'd already passed three totalled motors on the M6. We bump into The Firm Leader & Ozzie here and it's not before long we're back on the road for the final part of the journey. Eventually I'm dropped off at the same British Petroleum garage where my journey began at six o'clock the previous morning, just as Taz was getting to bed.
So that's us done for another week. From salvaging a point against the worst ream in the division, to salvaging a point against one of the better teams in the division. However you look at it, that's definitely an improvement. But another week is another week as we now cast our eye towards Solihull at home this Saturday. So until then, Enjoy.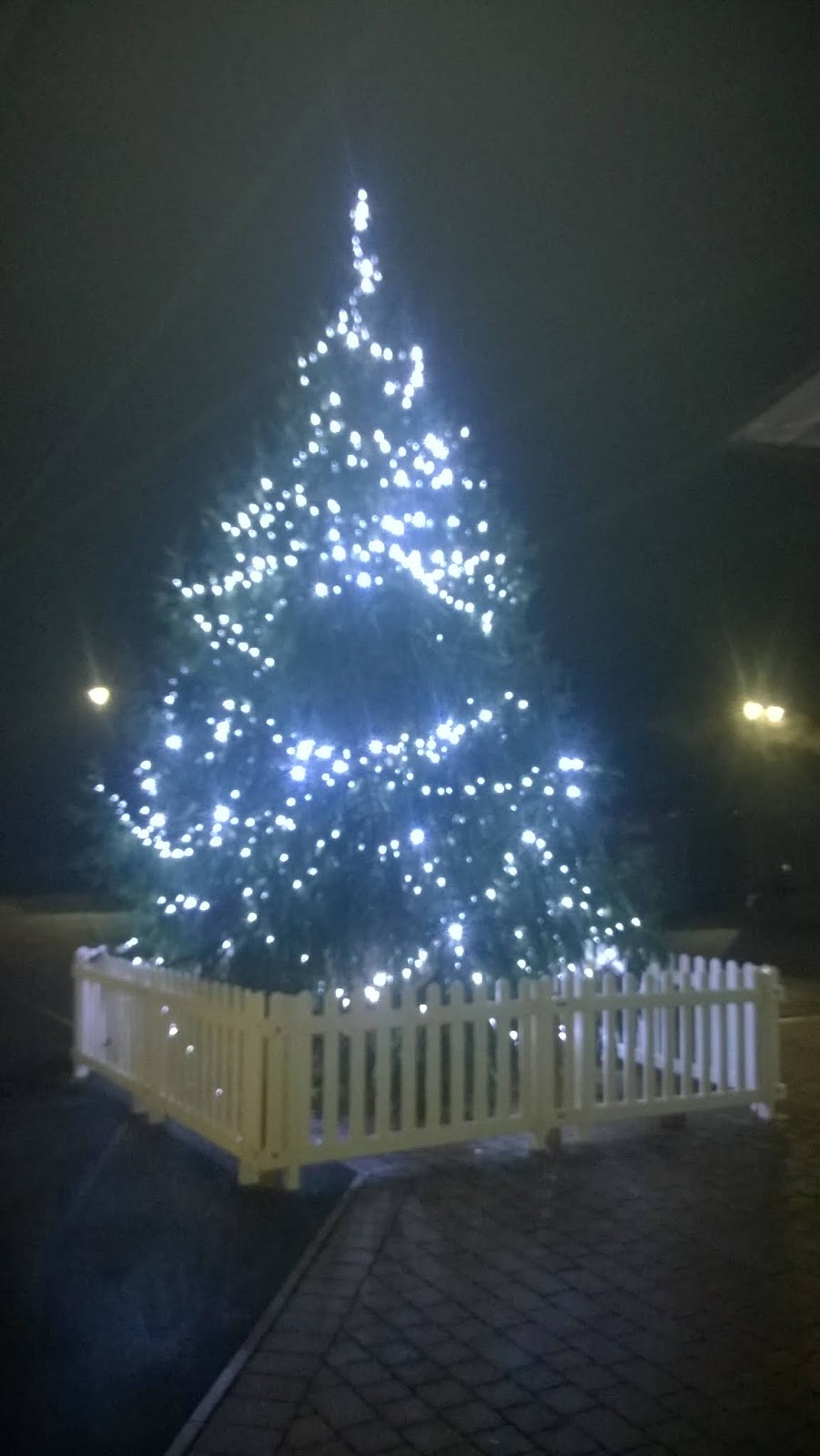 That's better…
Duke
Att. 1401