Greetings readers, hopefully some have stayed with us let alone been able to find us after a self-righteous Orient fan got our editor in chief and by extension, all of us, blocked on Facebook – but fear not as we'll never stop in our efforts to create these blogs for you the discerning football fan.
If you're resident in the Borough that surrounds our fair Republic, you may have seen across the town pop up posters appearing advertising half season tickets for the remainder of the campaign at GGL. Come on you know it makes sense and I know for a fact you will be keeping one man very happy – step forward a Mr Adrian Barry. And by happy, I mean 'quiet'. The other good thing about these posters is if you take a selfie and send to the club via the modern means of social media – Facebook, Twitter, Instagram, Snapchat and you could win a signed shirt! Credit must also go to the club photographer and fellow Civil Servant Mr Paul Loughlin for his fine imagery which has of course been used.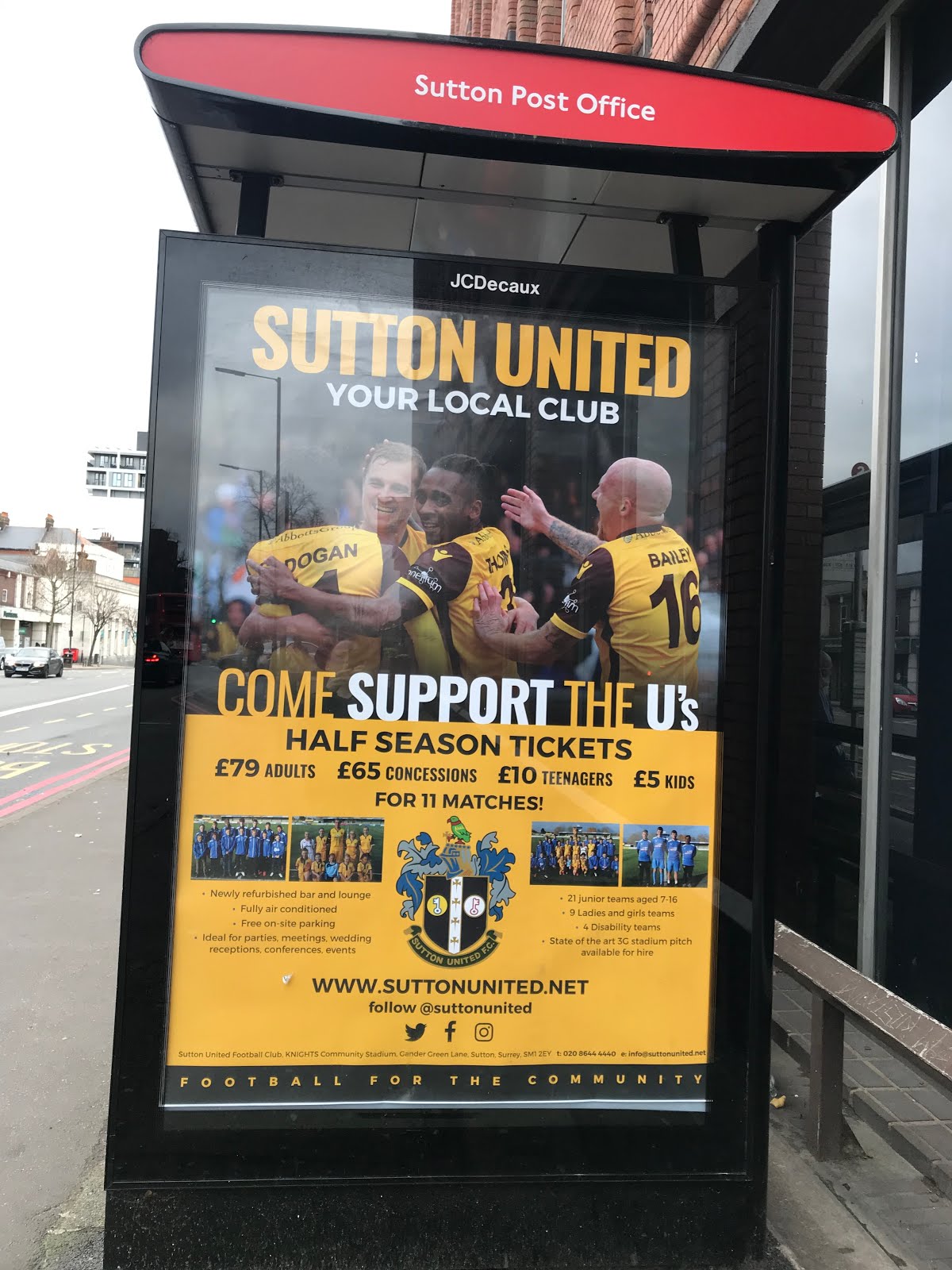 Marketing wet dream…
Other developments in the week saw Ross Worner move to Maidstone on loan till the end of the season. The guy needs first team football, and hopefully he will get that at Maidstone. Plus this will also keep Ossie happy with her Jamie Butler Fan Club. Speaking of which, I hear more badges are now available should you wish to have and wear one of these exclusive items, do not think twice just ask!
The other weekly goings on centre around some circus; no not Zippos but Billericay Town Football Club, in which six of their better players suddenly departed, wonder what Ross Lafayette is thinking now about his move to Essex? Also Mr Hypocrite, the chief ringmaster himself Glenn Tamplin. According to sources he has not been seen on Twitter for some weeks nor at the club. Sadly I cannot check as I am blocked for calling him out as a hypocrite – but seriously if this is the case I am worried about him. But hey Mr Tamplin we have all the time in the world.
I must add that whilst on the way to the ground via the very convenient 413 bus, was a woman who asked me my name. Of course I let her know and the she proceeded to state "what a handsome man you have turned into". Sadly, I've no idea who she was!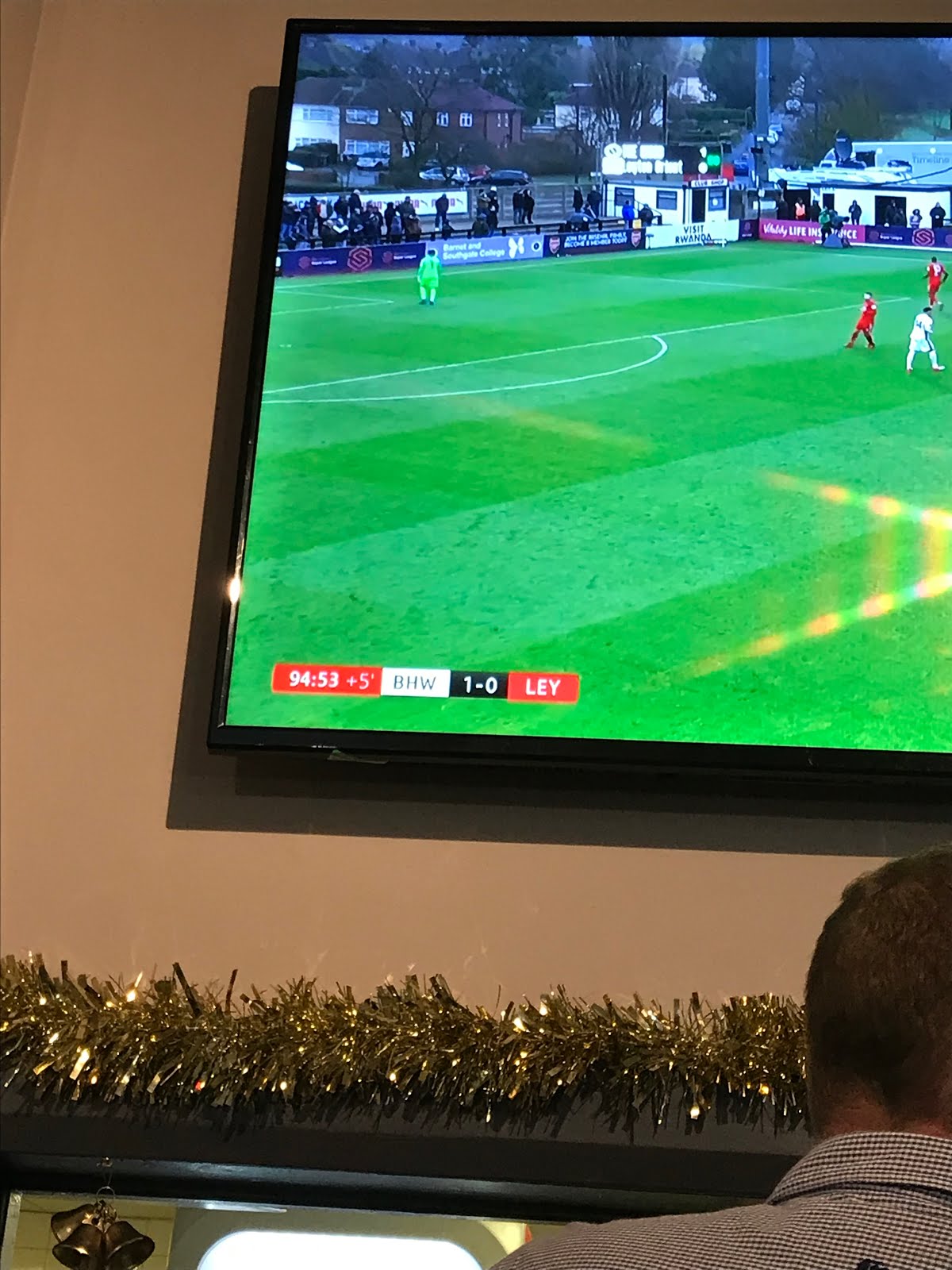 How unfortunate!
So now I move on to today's game against Solihull Moors, who impressively won midweek at home to Harrogate Town. They, as in Solihull, remind me of us last season where no one expected them to be in the position they are. So another tough game it will be. As I arrive to the bar it is my "friends" on TV none other than Leyton Orient and to make matters even more funnier – they go on to lose their second game of the season. Let's see what their fans have to say about that, and see if Boreham Wood get labelled thugs like we were for daring to defeat them. It brings a big chuckle amongst us all to see them lose!!
Our editor and chief Taz is informed by Mr X that a special delivery has arrived for him and awaits in the office. He returns excitedly with a package that when opened is found to be two shirts of our colour cousins from north of the border – Forres Mechanics. I asked Taz as to what the number 25 significant is and he tells me he thinks it might signify an anniversary of some sort; and there was me associating the number 25 with my favourite Chelsea player in my lifetime – Gianfranco Zola.
Upon heading out to the ground – let's get ready to rumble, it starts to rain and for the third home game in a row it starts to monsoon, the pitch though will not end up like a swamp thing of course. We all huddle in the Collingwood End behind the goal from the rain as the team below gets us started:
26. Butler (GK), 2. Bennett, 16. Bailey, 6. JC (skipper), 22 Pearce, 15. Eastie, 8. Davis, 23. Jose, 18. Wayne Brown, 14. Dundo, 25. Thomas-Asante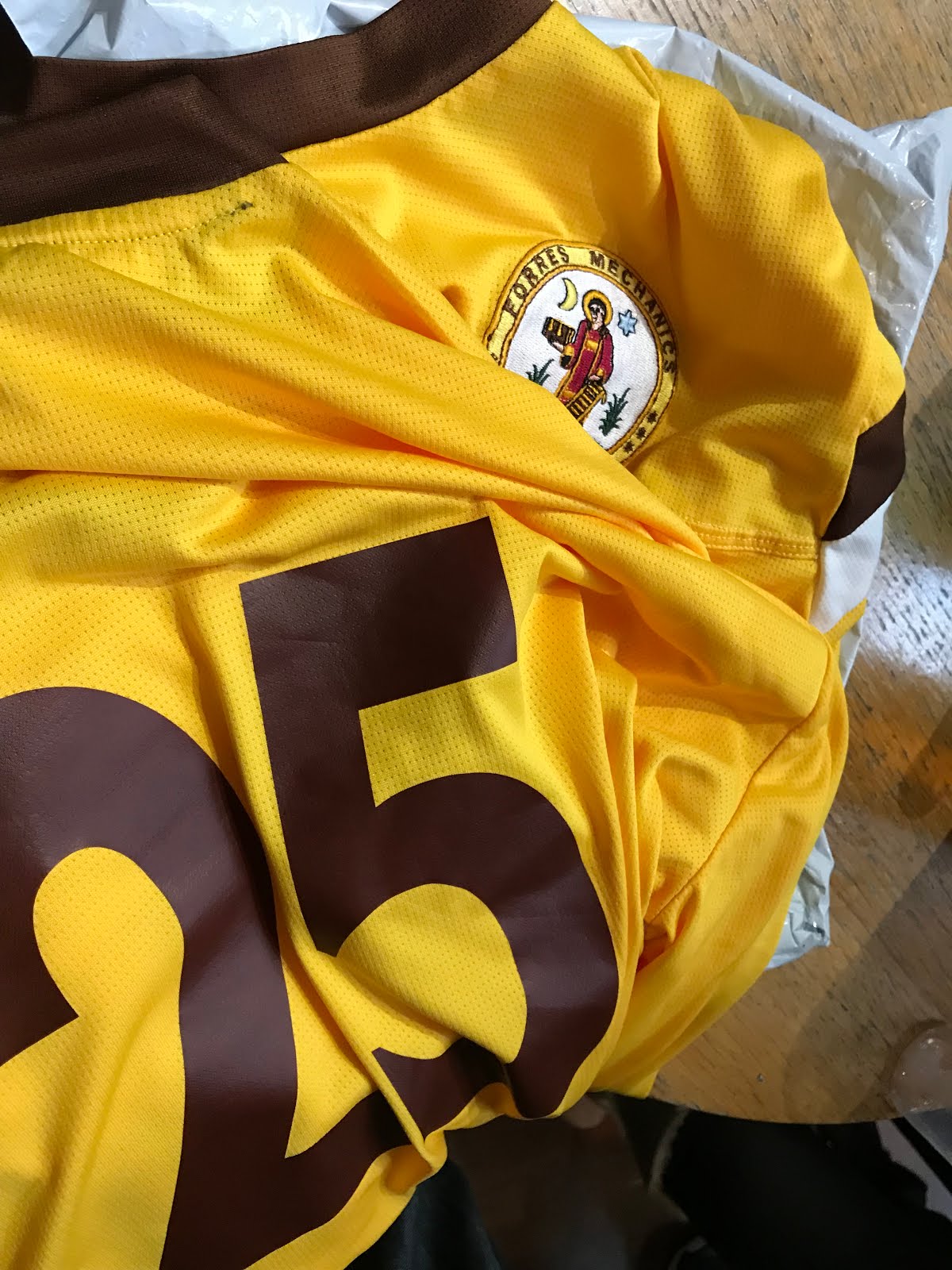 Gifts from oop' North!
Given young Mr Pearce's 2nd start, mention must also go to another academy based player on the bench today in Jude Mason. Welcome young man!
Now and forever, the story of a goalkeeper having a hit and miss game could be said of the Solihull keeper, the aptly named Boot – as his kicking is a lot to be desired, just a shame his actual saving/handling could not be the same as a host of chances are continuously saved by Boot – Incredible! Particularly so the free kick effort from Bailey which appeared to be heading into the top right corner and tipped over by Boot. And so, the inevitable happens on 33 minutes when Solihull take the lead with their first real effort on goal – Whatever – move on a couple of minutes and a scrap in the box sees a Solihull defender not once but twice scoop the ball with his hand, to no avail as it leads to the ever impressive Wayne Brown slotting the ball home for 1-1 and thus scoring his first goal for Sutton – Start the dance.
Now why change habits of a lifetime as HTS and I along with a couple of his friends start making our way to the bar. To get in out of the rain is our excuse! Not just for a drink you understand, but for a chance to dry off. To think we were seconds away from missing the equaliser. No no no we did not miss it! (Makes a change! – Ed)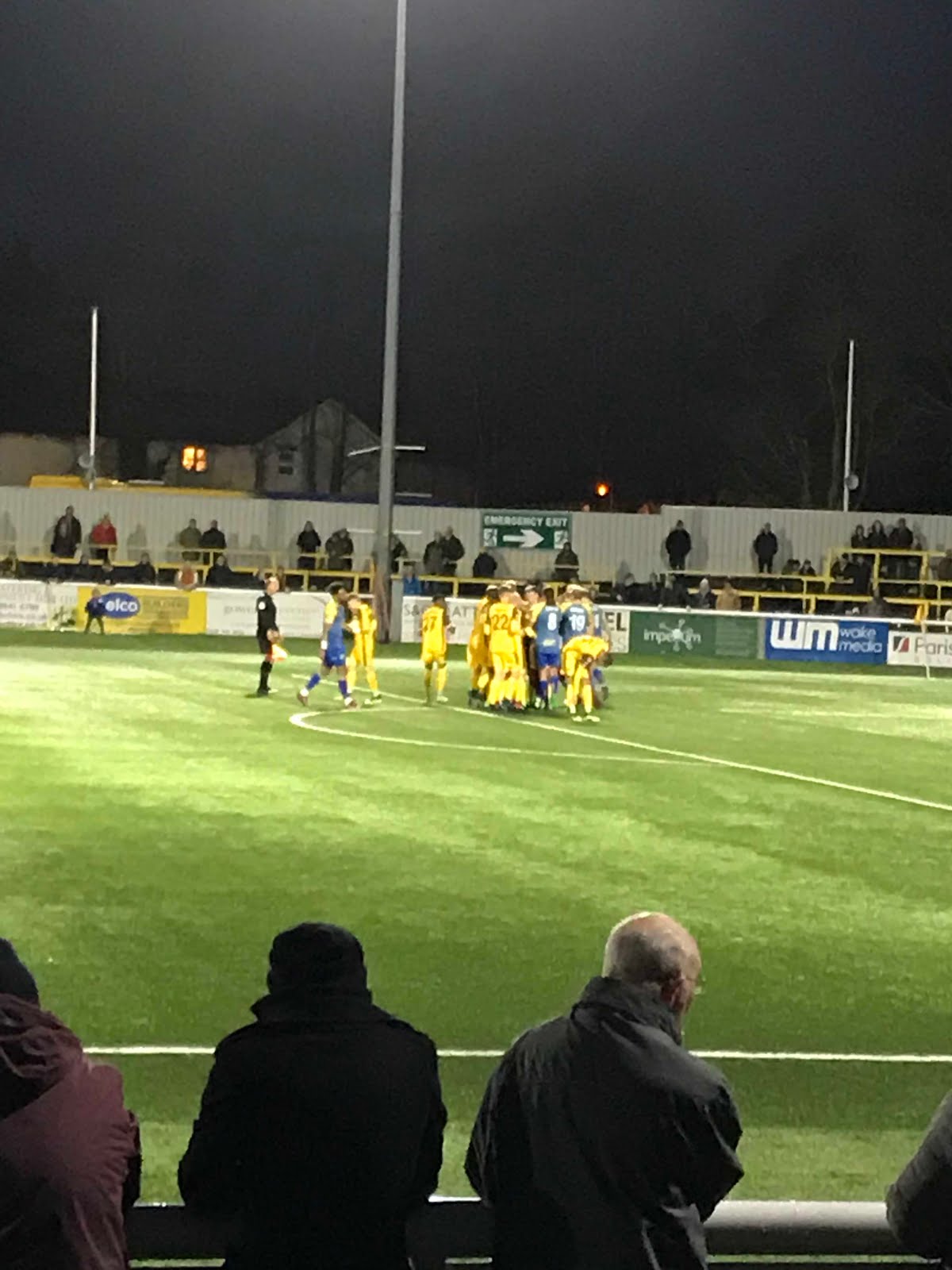 Handbags
As the second half kicks off, hopes are for a second Sutton goal, but nope yet again Solihull regain the lead just a few minutes after the restart. It was then thanks to Jamie Butler for two fabulous saves which kept us in the game and of course the wind was having its wicked way with the flight of the ball. So much so that the floodlight in the corner by the Shoebox was shaking away causing a bit of a disco effect in that corner. But I can see clearly now as the rain has gone.
Anyway, the equaliser thankfully came via a free kick from the boot of Kenny Davis. Wayne Brown was brought down inside the D by the Solihull captain who was taking quite a bit of verbal from regulars in the Shoebox – hey he was and is a nasty so and so – you dirty son of a gun. The issuing foul leads to a bit of a Parklife melee between both sets of players and after the dust settles Kenny lines up the free kick and whips the ball into the net for 2-2 on 74 minutes. One of my pictures captures the moment the ball hits the net no less! Eat your heart out Mr Loughlin!
Just as the game looked to be petering out to yet another 2-2 draw, Dale is crudely chopped by the Solihull number 10 and the referee bottles it by only booking him. Honestly, the challenge was a crude one and the number 10's boot was so high and out of control it could have been more serious. And so the final whistles ends to the frustration of another inept referee performance. I just wish with refs that things can only get better.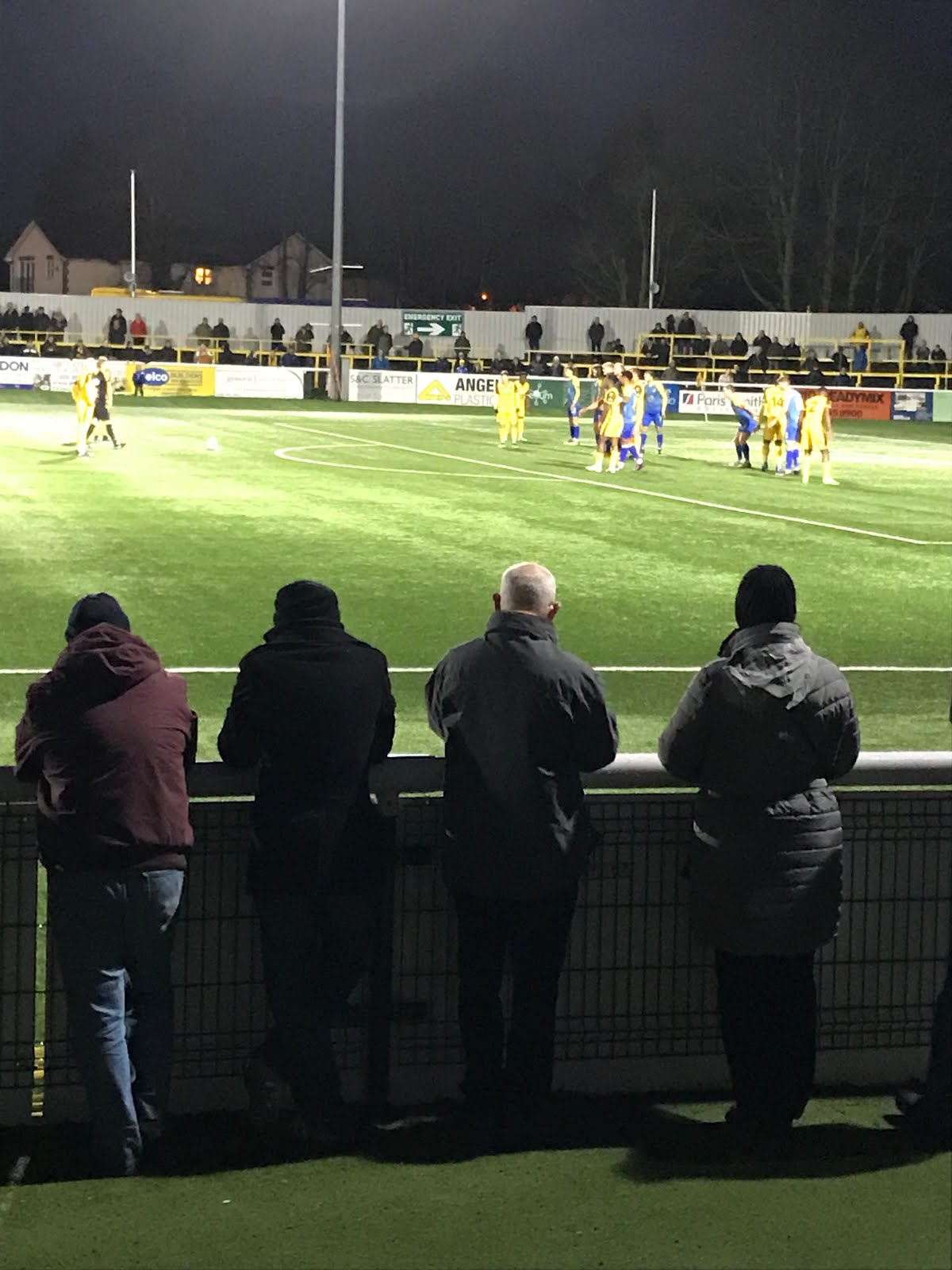 Lining it up.
For the statisticians among you, the substitutions made were McQueen on for Jose Taylor and Cadogan on for Thomas-Asante, and a booking for Eastie. The attendance was a reasonable 1,728.
Time for more Cigarettes (for some of our regulars) and alcohol as its time to enter the bar and some of the Solihull fans stay behind for a few drinks. I wonder what they thought of AB's Strikers are Key performance? It's ball number 50 which is pulled from the purple velvet bag, not 15 as one poor unfortunate chap thought and excitedly approached AB for his shot at glory before being turned away. Step forward Kiddo who was the correct 'winner' who fails to find the right key and the money rolls over to the subsequent double draw on Boxing Day. It is now time for Saturday Night to follow on as we all watch Chelsea beat Manchester City and then Tottenham beating Leicester in the evening Premier League games.
What we also discover it is the Sutton United players' Christmas party and they are buying in the drinks and dressed up to the glams for their night out. Enjoy lads, after what after halfway already has been a hectic season with trips to Scotland and Ireland – been around the world. I too have enjoyed the rhythm of the night with a few drinks as I decide to order myself an Indian takeaway to feast upon when I get home. Midnight at the Oasis!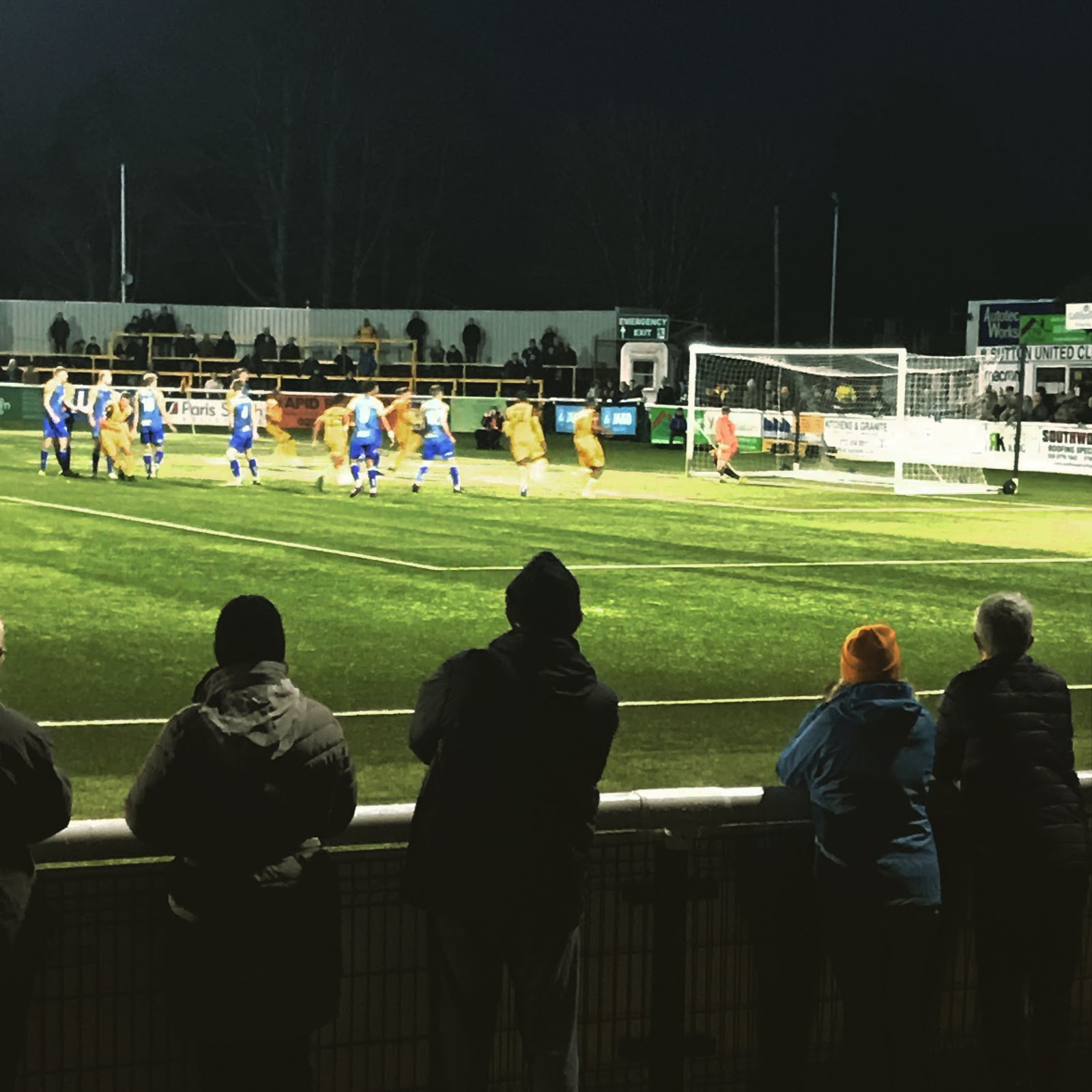 Bosh!
So I'll sign off and as this will be my last blog till after the festive season Happy Christmas to our loyal readers; and if you had not noticed I have subtly inserted some song titles from 1994, a fine vintage year if I may say so. Let's see how many you can find – ohhhh baby I love you way!
Onto Bromley next weekend away in the FA Trophy – a win there would be welcome as it would be nice to get to Wembley – dreams for plenty of Sutton fans (for those who have not been) as I am aware of previous Wembley trips by the U's. But hey now, it's not the only time we will be playing Bromley over the festive period – let us hope for three wins out of three against them.
Wise men say…
Robbo