WE'RE BACK! Well maybe a little. But if you were ever to bump into Magnum P.I. on your travels, you'd understand. WE'RE BACK! to Halifax. WE'RE BACK! to a supposedly cheap day on the drink. WE'RE BACK! To where some of us spent an overnight during the Beast of the East (Not to be confused with a Dr Bell ex). WE'RE BACK! WE'RE BACK! WE'RE BACK!
Another trip 'Oop North' awaits the Firm as we're only a few days away from celebrating the birth of Baby Jesus by eating way too much food and thinking it's acceptable for this one day of the year to start drinking very much in the AM category. But we're Gandemonium and we see this as acceptable any Saturday during the season anyway. Obviously.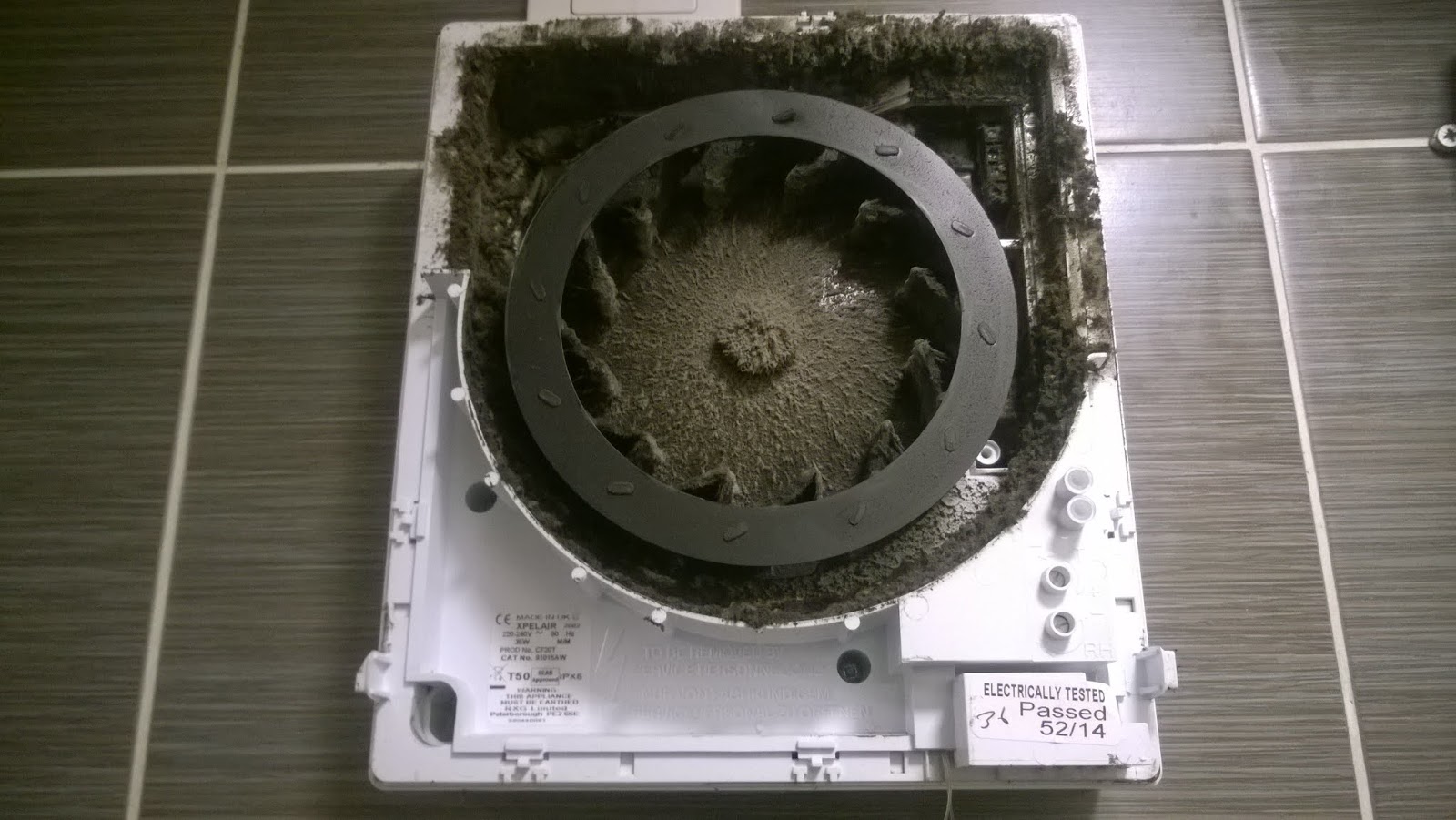 Quality British Engineering…
There were plenty of comings and goings this week down the club. On the staff front, there is a new coach called Matt Gray. But he isn't THE Matt Gray we all know unfortunately. Player-wise, we've seen the introduction of Brett 'the Hitman' Williams from Torquay. A player who knows where the net is apparently if you go by his reputation an not his Wikipedia page.
We also saw the departure of Charlie Clough as he goes to find his 'Ninth Continent' by joining a team (with the catchy name of His Royal Highness the Crown Prince of Brunei Football Club) in Brunei that played in the Singapore Premier league last season. Got that? This was after they had a stint in Malaya Malaysian Premier League. And if reports are to be believed, they might even join the Siam Thai Premier league for next season!
So onto Halifax. And my tale starts at five minutes to six in the freckin' morning as I'm meeting up with Jason the Firm Leader. It's a casual walk, by way of a cash point, towards the station. Luckily for us, the train we're due to get is actually running. Bumping into 'our' man at the station, he's surprised that we're not on the earlier train. Jesus man, 0619hrs is early enough surely!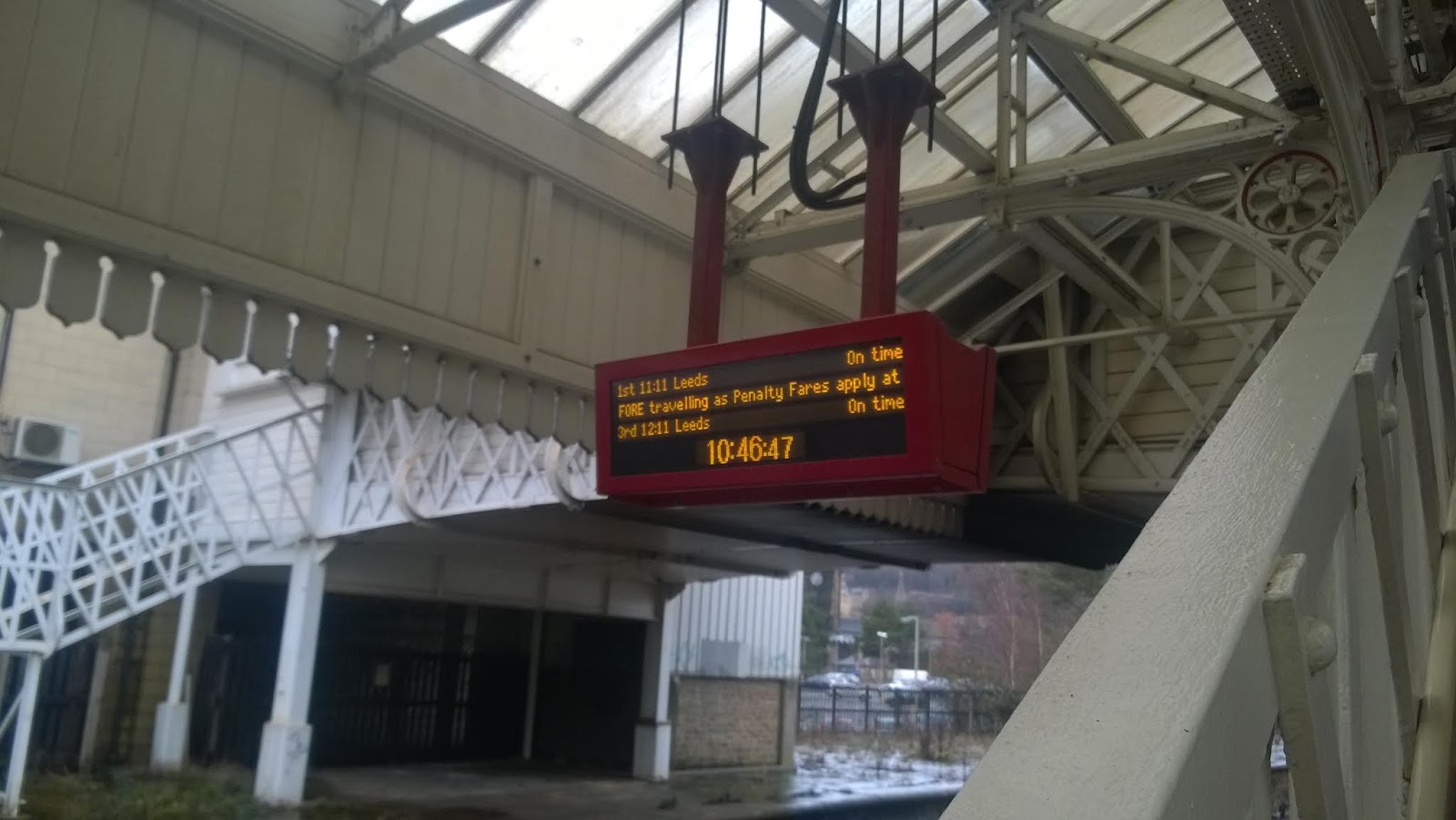 Made it on time…
The train arrives and we spot the COCs a few carriages in front. Dr Bell has plumbed for a seat near a toilet, much to the delight of the Firm Leader, who was bustin' a gut. We pull into St Pancras on time. And after a guard of honour from the COCs as we disembark we head off to find the rest of the rabble. Eventually everyone that is making the journey is located and we head to platform 0 (why the fuck would you number the platform as that?) and our train.
Pleasant journey up as the darkness gives way to daylight and several mean looking clouds. Like a group of dementia sufferers on a day-trip, it's the same questions as always. What ground is that? (Peterborough). What's the name of that power station? (Dunno). Anyone know what station that is? What time are we due into Leeds? (10:15).
Arriving at Leeds, the time has just gone past quarter to ten. We sort out some Halifax return train tickets before me, The Firm Leader & Mr X head out to feed the habit. One slight issue was that as The Firm Leader struggled to work out why his ticket was not working on a bar-code only barrier. I manage to slip by the side of him. I put my ticket in and the barriers opened. Waiting for the ticket to return I then realise that I've slipped in the Halifax to Leeds ticket.Wow, what a idiot. 30 seconds after receiving the bleedin' thing it's already been used up. Seriously, what a fuckin' plonker!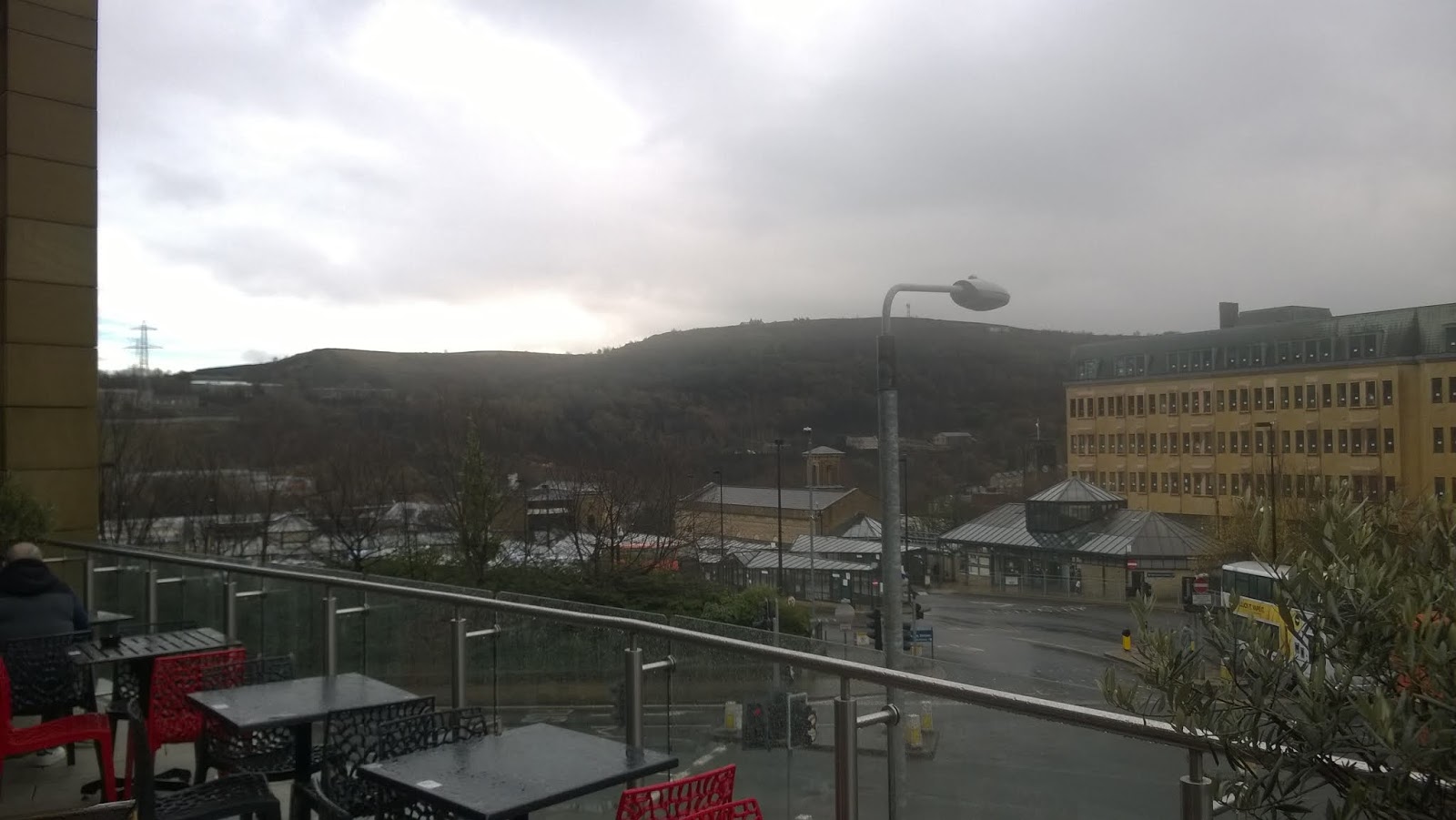 Where's the snow?
Receiving no sympathy whatsoever from my fellow smokers, we are back through the barrier. This time I use the right ticket. Up the escalator, and tripping up a young lady with my great big steel top capped boots along the way, we're soon on the train to Halifax. Obviously it seemed prudent of me to purchase another ticket for the return journey before I forget later on.
WE'RE BACK in Halifax once again and head straight to the first pub of the day. And that is after bumping into 'EDM' Eddie on route. And the pub? 'Spoons obviously! You should all know this by now. Amber Aleman is already here and the first beer is drunk in double quick time. Not bad either, Seven drinks for well under a score as well.
Being old hat at this, Me, The Firm Leader & Mr X lead the charge as we've been and done this town before. Next on the list is "The Upper George' a quaint boozer found in an alleyway. Finding a room that had a quiz box in it. We scale back another drink whilst some very heavy metal plays on the jukebox. "The Cat & Fiddle" is next as it's in spitting distance. Out the back of one pub and through the back garden to the next. It's here someone spots they do five Jägers for a tenner. Bad news this as it's not even 12 yet.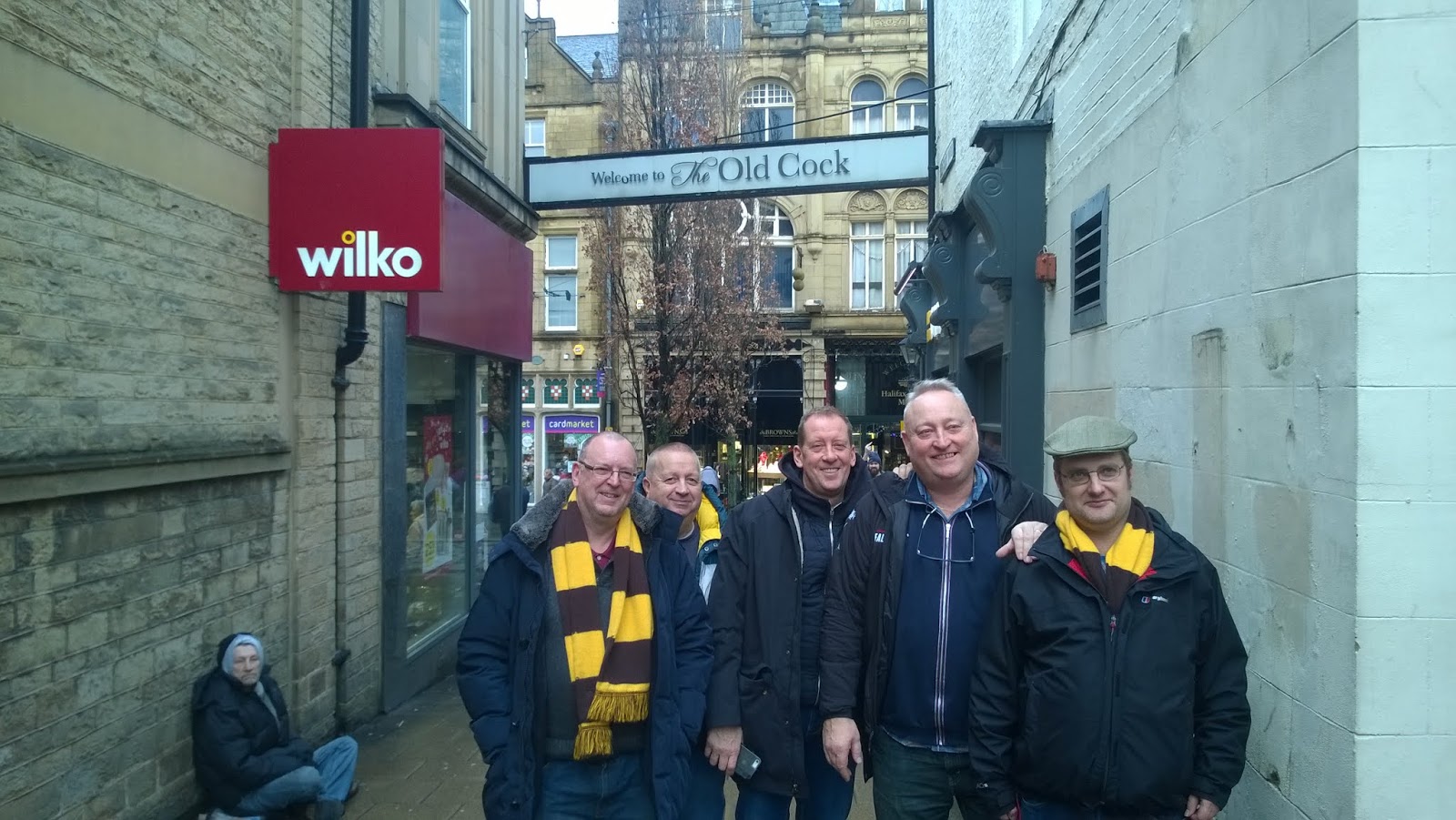 The COCs, and a old one…
Just as we're about to leave, the COCs reappear as they were on a later train up. No time to mess around it's off to the appropriately named "The Old Cock" for another round. Home of the Halifax Building Society apparently. See, factual this blog can be, A few extra Peaky Blinder-themed drinks later and we once again moving on to pastures new. "The White Horse" is next. A bit ropey for some, but at least they served cider in a glass instead of out of a can like last time round and Barry Chuckle was in having a pint, looking remarkably well for someone who died in August.
Trying to squeeze in another drink, "The Royal Oak" is next. Bumping into a few Halifax supporters, there was one who liked a pin badge or two or hundred. Personally I was impressed by the radiator up on the wall. But for Magnum P.I. it was all about the urinals. Some people are just plain weird! Managing to squeeze yet another round in before kick off, it was "The Three Pigeons" on the way to the ground.
Here we meet the very unique sight of a Halifax Supporting father and his Sutton supporting son. Amazing! Shame he was going to take him into the home end. The vile rhubarb cider I was given as a drink was fuckin' awful though! Dr Bell aka Pudsey (after he'd brought at least three pork pies) nearly had an accident when Mr X manged to chip his glass. Dunno what he was complaining about, you could barely notice it….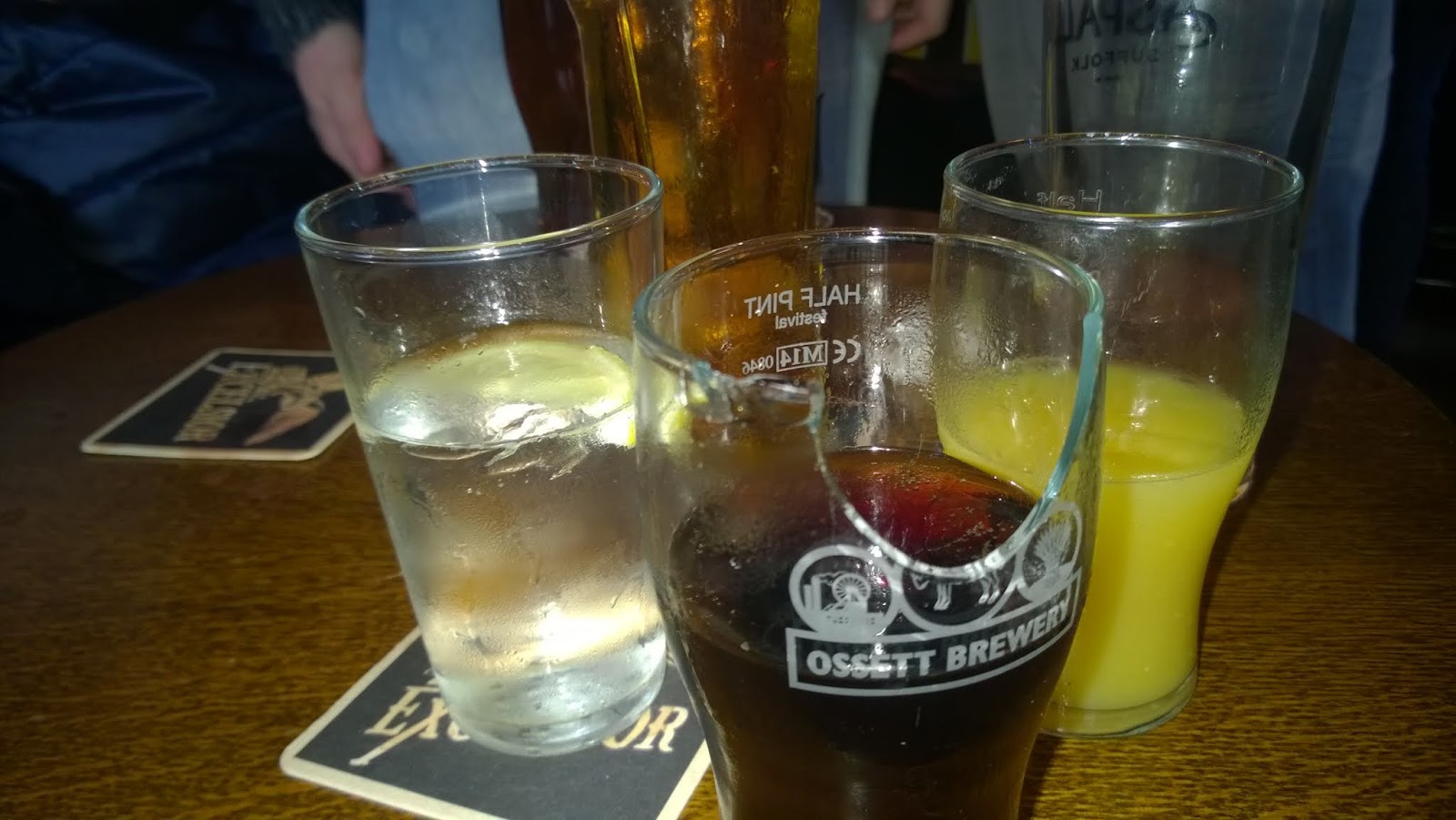 I can't see any chip…
Now it was time to head to the ground, being one of the last tho enter the ground, bloody no-smoking bollocks, I was counted as away supporter number 50 by someone who hates it when clubs undercut the away following. The Shay itself is impressive for an away ground. It's a shame that only two sides are used. At least then we wouldn't have been bothered by a ginger Harry Potter and his friends of limited intelligence.
"Don't feed the three…"
Butler, Bennett, Collins, Davis, Ayunga, Eastmond, Bailey, Beautyman, Pearce, Thomas-Asante, Williams. Bench Warmers: Beckwith, Bolarinwa, Cadogan, Taylor, McQueen.


With a touch of rain in the air, and no wind about, the pitch appeared to be heavier than from what we saw in the stand. Giving that this was going to be a contest between two teams that were struggling for any real sort of form, you'll understand that it isn't going to be the longest of match reports from us. Like you read this part anyway!
The first half appeared very bitty for most of it. This Halifax side appear as physical as we are with some strong tackles going on around the place. Attacking-wise and you could see why both teams are struggling, with only half chances and weak shots coming from outside the box. If any game had nil-nil written all over it, it was this one.
We did get to see a red card at least. Well, we being not me as I was in the pisser at the time. But apparently Bairdy might've said something within earshot of the fourth official. Either way he got his marching orders and joined Our Lord Dos in the stands for the rest of the match. Back on the pitch and new boy Williams struggled to create anything as the ball is pumped up to him again and again.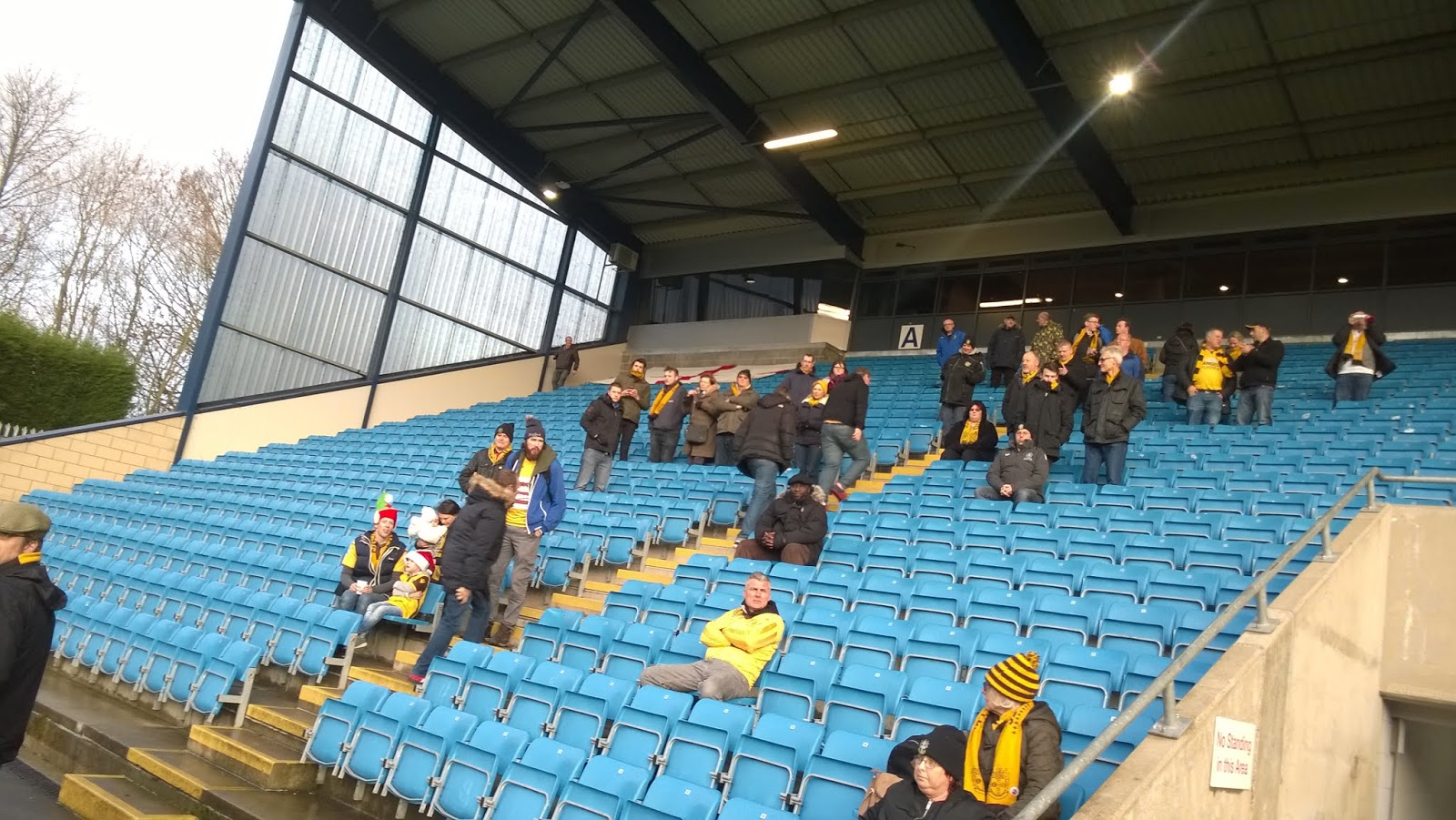 Travelling faithful…
The second half was very much like the first as both teams had too strong of a defence. Even the introduction of Bolarinwa for Thomas-Asante midway through the second half failed to raise this spectacle. A couple of rather comical moments to liven the mood would be first when the linesman from the other side decided to hobble off. The fourth official then gets changed and marches onto the pitch to take his position on the other side. Except that it's the same half as the linesman on the near side. What a plonker!
The other moment was when the ball looked to be going out for a Sutton goal kick. Butler stops it from happening with his foot and kicks it to the six yard line. You then get this sort of stand off as the ref, from inside the Halifax half, waves Butler on, but he tries to explain himself from inside his goalmouth. But as the ref starts to run up to Butler and book him, our keeper manages to get him to understand before running back into the box to pick the ball up. Strange!
With the seconds quickly evaporating towards the 0-0 everyone's pretty much accepted, the ball falls to Williams in the box. He tries to take it to the by-line to squeeze in a cross. It takes a deflection and bobbles into the path of Eastmond and his daisy-cutter of an attempt hits the far bottom of the goal past the keeper. 1-0! Holy Basil Batman! We've only gone and committed a crime! There was hardly any time left as the ref blew his whistle very shortly afterwards to hand us 3 very welcome points.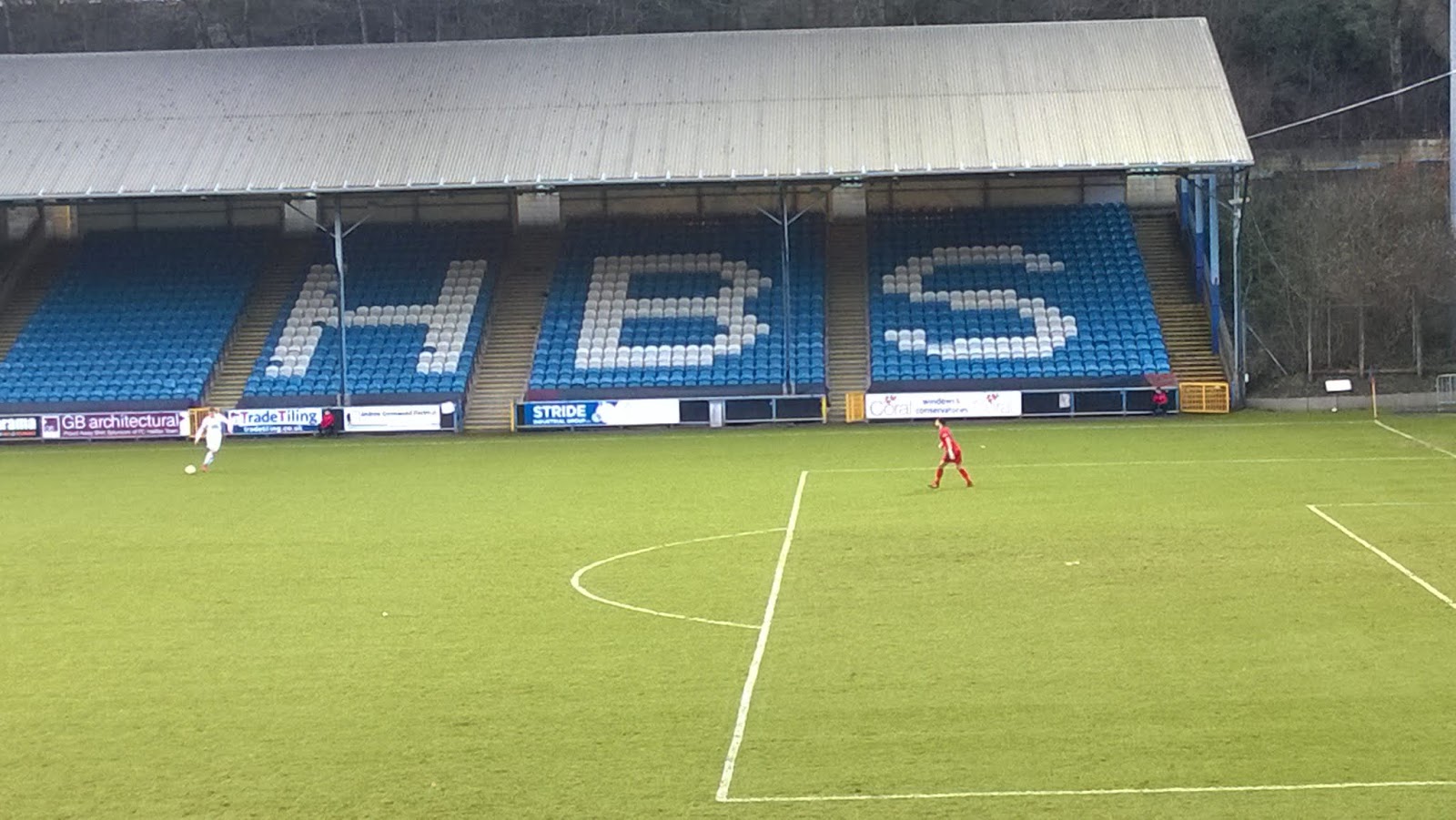 HSBC, for dyslexics…
After the match and it was back to "The Three Pigeons", here we could then dissect what was a blatant case of day-light robbery. But it's a nice feeling to be coming home with all the points for once. Talking to several Halifax fans that were in the pub, and you could see the frustrations coming from the home support. They were not very happy people at the mo.
With the last train from Halifax to Leeds being the 1815hrs thanks to a Northern Trains strike, it wouldn't be long before we were making tracks back to the station. Thankfully the train runs and we're heading back to Leeds, chatting to locals heading for a night out and someone locking the guard out at one of the stations. It's then seven o'clock and we're arriving into Leeds before heading off to a recommended pub from, one of the Halifax locals. "Whitelock's Ale House" is the place of choice and the place is busy enough so that most of the Firm have to stand outside.
Trying to work out what who was going to do what for the usual train home foraging mission, it was eventually landed to me & Southampton Steve to locate some local cuisine. Kentucky Fried Chicken is the place of choice and we head back to the station and the local franchise. As is always the case it seems, this location doesn't except my 'Colonels Club' card and more importantly a fiver off the bill. Fuckin' typical!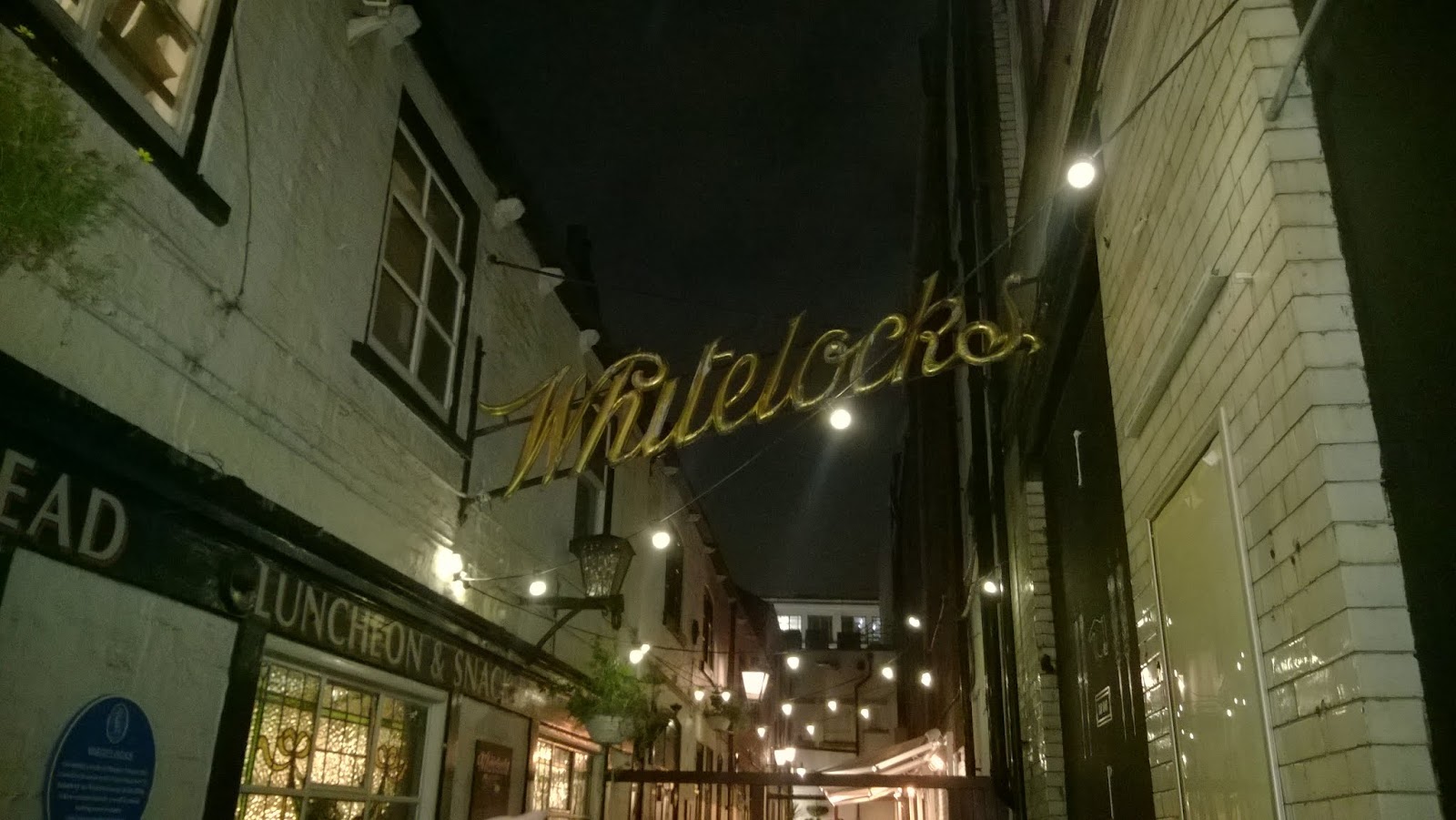 Not quite Golden Locks…
With plenty (but not enough it tuned out to be) of chicken and a gallon of gravy, we head towards the train. This is not before we bump into several members of the COCs who were having the exact same idea and grabbing some of the fried goodness courtesy of the Colonel. Making sure that I use the right ticket at the barriers, it's onto the train back South.
On the rattler and the food is consumed in record time before the beers are out. Or Vodka & Gins in our case. Conversations soon go downhill as you would expect. various examples would be like The Firm Leader aka 'Baron Greenback' somehow by the grace of god getting a personal message from none other that Woy Roy Hodgson himself! That's what putting a fiver on the Nigel's to win at Man City at 25-1 does for you.
We also discuss having another member of the Firm voluntarily leaving his job. And what can you say about someone who worked in the fascinating world of Cat Flaps? I bet their Christmas parties are a right orgy of excitement. And not to mention the annual conventions & trade shows. We also found out that he never did manage to custom make a flap for one of our members, but he did instead give up this little factoid: Which one of these products actually exists: A) Goat Gate B) Turtle Turnstile or C) Dog Door? Answers on a postcard to: Swap Shop. BBC TV, Wood Lane, London. W12 8QT.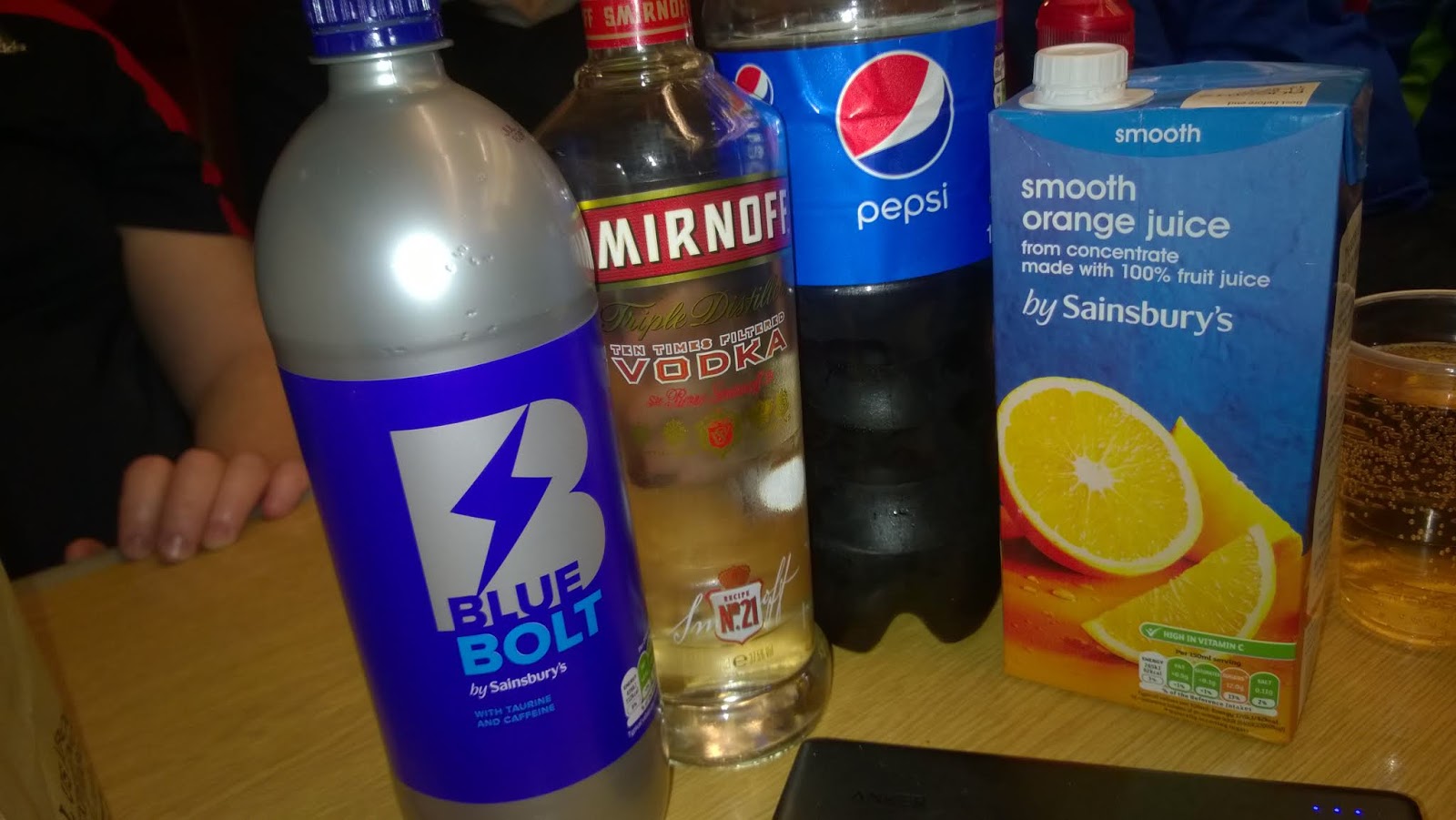 Anyone for Vodka?
One piss yourself moment was when 4 Days, behind us, decided that he'd had enough and plonked himself down for a cheeky power nap. Being the rather lanky bugger that his is, his feet over-hung into the aisle. Not only would he have to contend with people trying to tie his shoelaces together but he managed to get in the way of the tea trolley as it made its way back up the train.
Thinking that the fella would just wake him up, we're stunned when he just instead tried to pull the trolley over the big man's feet. One attempt, lead to two, which lead to three go's as he was adamant that he could roll it past the steel toecap clad plate of meat . Eventually he gave up and then just pushed the offending foot out of the way before carting on with his journey. 4 Days would wake at this point, only to be greeted with the howls and laughter of everyone that witnessed it.
The train finally arrived into King's Cross, and the decision is made to take the Tube back to Victoria. We make it in good time and elect to have a quick smoke before the train departs. Saying goodbye to those that were making their way back to Croydon, we spark up. Being interrupted by a very pissed tired & emotion Man City supporter, who it tuned out that I knew from my days growing up in the Belmont Conservative Club, we head to the train back towards the Republic.
Magnum P.I.'s toilet fetish…
Taking a little bit longer than we'd expected, it's a little jog to grab the 2311hrs. Sods Law it would be the last train of the day that we nearly miss! Twenty minutes later and it's time to alight in the Badlands. Checking the time, and it appeared that it was only 16 (sixteen) hours since we departed on this eventful trip. A lift awaits me & The Firm Leader outside the station and it wouldn't be long before I'm out sparko back in my pit. Job done I think.
As we're now firmly into the Christmas (other religions are not available) period, the games come thick and fast. First up, it's the return of Bromley on Boxing Day, before we're once again down Hayes Lane for the New Years Day Night game. Squeeze in Aldershot at home in between and before you know it, 2019 has begun.
Right. I need to look up train ticket prices for Spennymoor see what Santa has brought for me this year. Hopefully it's some nice coal that I asked for and not a fuckin' satsuma. And let's not forget to make a big deal about watching the Queens speech before falling asleep in a drunken mess. Hope you all enjoy what it is you all do. See ya Boxing Day.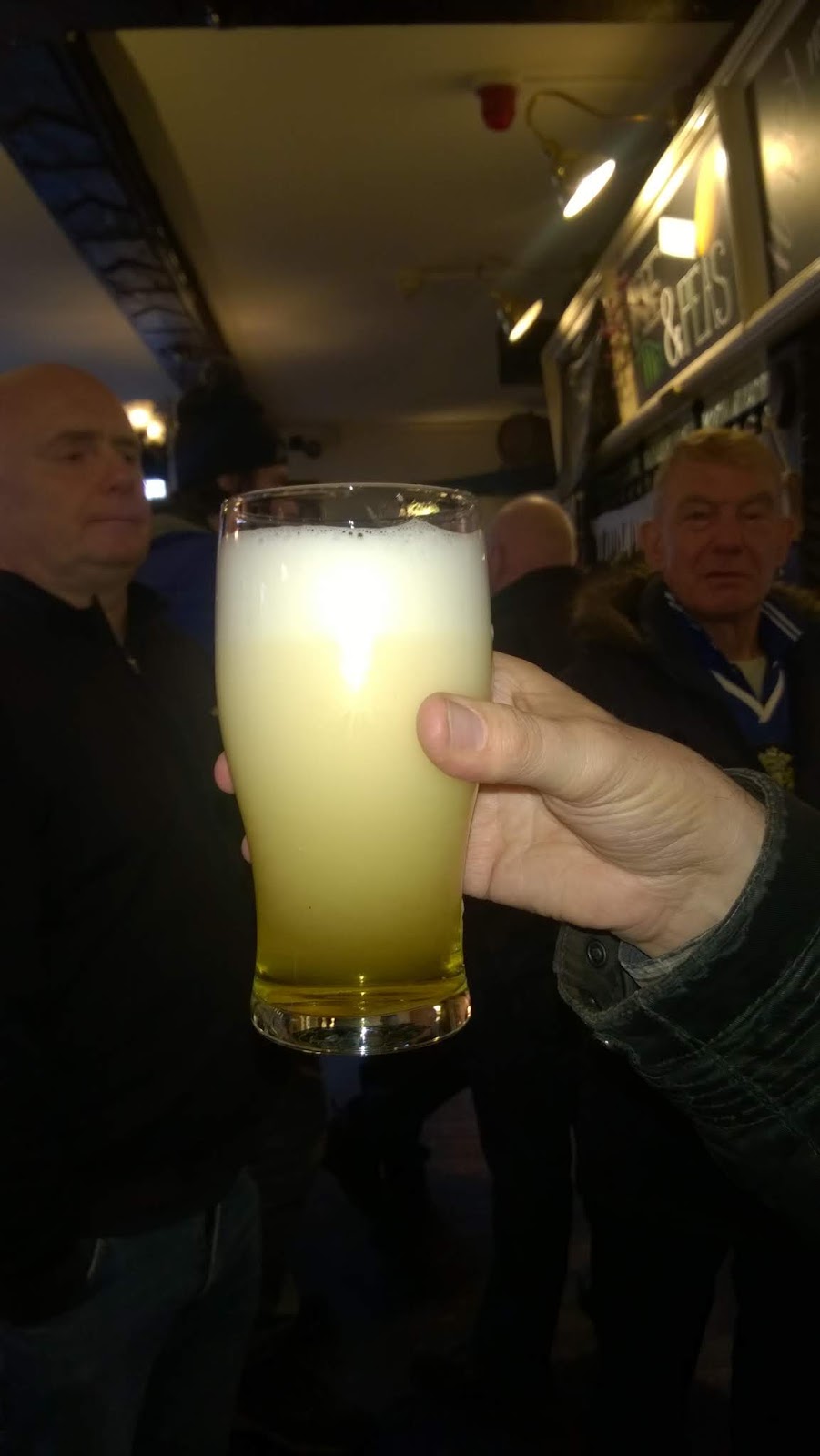 Bit cloudy that…
Duke
Att. 1319