Picture the scene. The poor house is cold. It stinks of damp, Dettol and overcooked sprouts. At a rickety old table huddle a group of pale looking urchins. They are proper fucked to be honest, having spunked every last penny and more on awayday trips to the likes of Scotland, Dublin and an endless stream of Northern shit holes that no one would visit in their right mind unless they were making some sort of post-Brexit documentary on Broken Britain.
Their diet is a cause for concern. Pot Noodle, the occasional slipper and the cheapest East European smuggled fags that their handful of remaining shekels can buy. But in front of them sits a kindly, festive figure. Slightly older and infinitely more sexually attractive, he pulls from his sack some gifts from the West to warm even the hearts of these desperate waifs and strays – a packet of Cuban cigars, a bottle of Remy Martin and a stack of used pound notes. Their little faces light up at this act of kindness.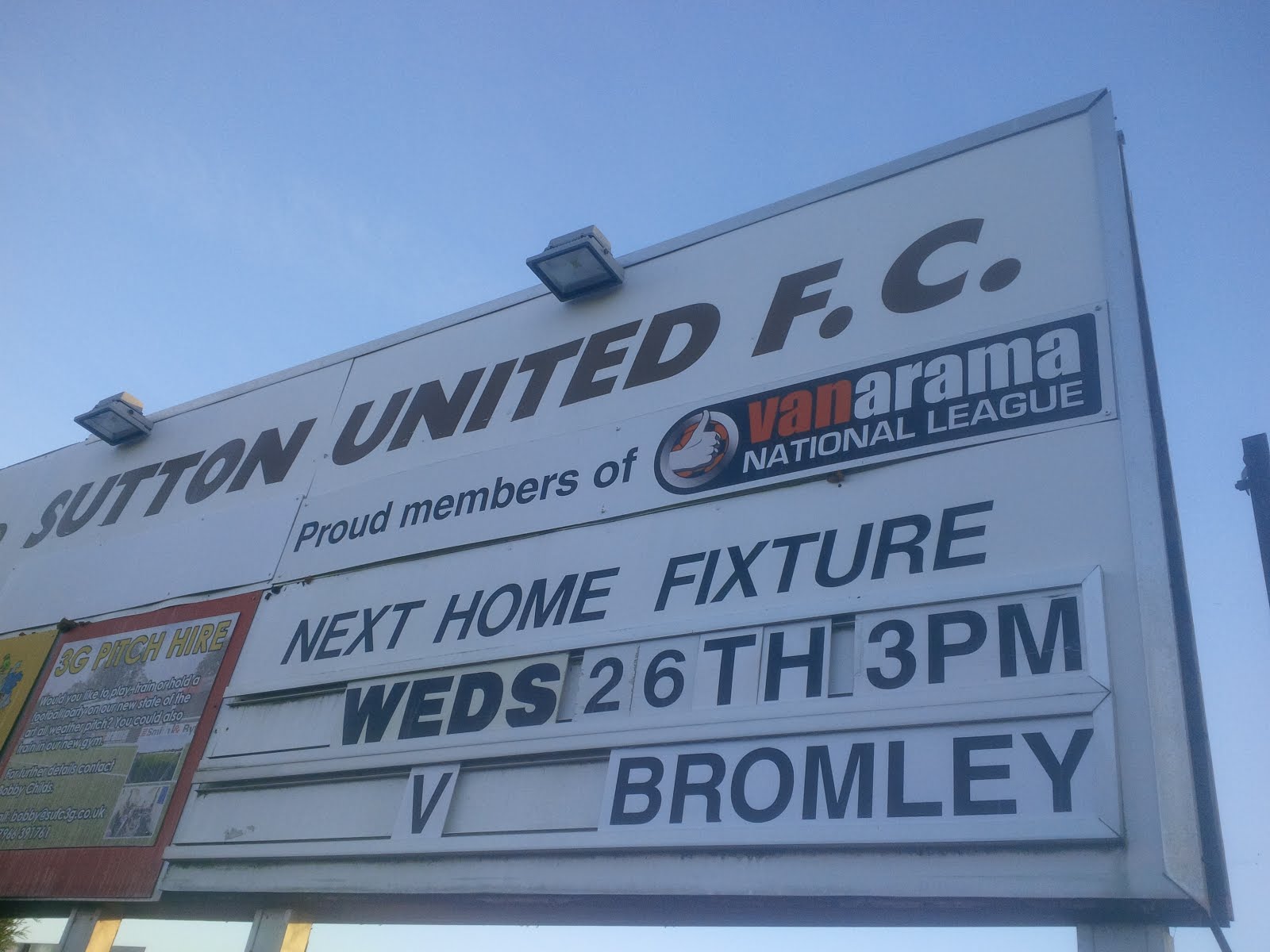 Playing Bromley? That'll make a nice change….
But lo, someone has to get greedy and ruin the whole fucking seasonal tableaux that has been arrayed before you. He clears his throat and raises a bowl before choking out the words……"Please Sir, can you do the Boxing Day Gandermonium blog?"
The dank room falls silent and for a few moments time stands still. The inquisitor trembles, awaiting the expected eruption. But this is the season of good will to all men, even the cheeky fuckers, and the response is a surprise to all as the bloke in the sheepskin issues the unlikely response "Yep, no problem, happy to give you lads Christmas off. By the way, who we playing?"
The myriad of gifts strewn across the table are hastily swept into a Sports Direct Lonsdale bag, chairs are kicked back and the urchins leg it for the door, cackling manically and shouting over their shoulders…. "BROMLEY! Ha ha ha ha ha…..you fuckin' mug!"
And so it came to pass that I ended up well and truly lumbered with stitching this bit of festive old pony together for your delectation and entertainment. That is also the last time I play the jolly festive uncle as well as it goes. They say that a man who is tired of Bromley is a fucking decent judge of tiredness. And I'm tired of them and I will tell you why.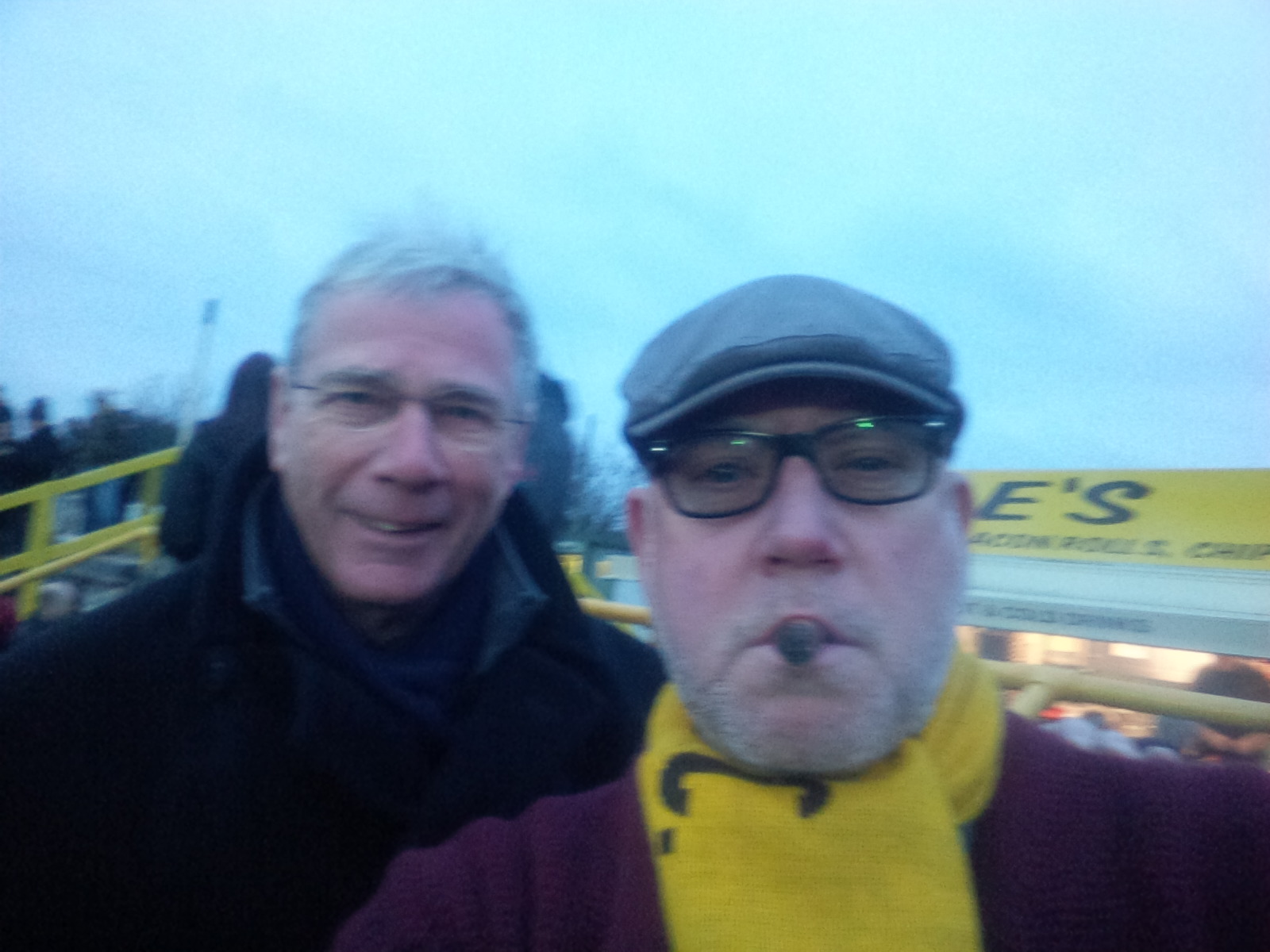 Cigars and spiritual guidance
Less than a fortnight ago we piled into Dirty Barry's Shaggin Wagon and set sail for Hayes Lane. But the king of the dipped headlight wasn't going the traditional route through Croydon, oh no, apparently it would be mobbed with Christmas shoppers so the van sped off towards Oakes Park and took us right out to the semi-rural dogging hotspots of the Kent/Surrey hard border. All of them logged and rated on the big fellas Sat Nav. He takes an extraordinary pride in his passion does Bal and you have to admit that is admirable in any walk of life.
Eventually we rocked up, parked up and were as pumped up as you can be for an FA Trophy tie in the freezing rain. We needed a livener. We had an hour and a half to kill and with no boozer in sniffing distance we headed for the Bromley club bar. It's segregated, we are older lads with our bollocks sagging to our knees even on a cold day and we need a bit of warmth and comfort not an added 90 minutes in the "open air" away bar. This is Bromley after all, not fucking Benidorm.
The stewards are eyeing us up, we've already hid the scarves but this needs some serious negotiating and ambassadorial skills at the Boutros Boutros Ghali level and I'm up to the plate like a whippet. "Bromley fans only in the club house lads" says the big fat fella in the Gilet Jaune, but he's not here for a riot, he's here to sniff out the chancers. I play our best hand. "We are neutrals mate." He's having difficulty computing this one and screws me out, it's tense, it's eyeball to eyeball, but I opt to slide in a gag to win him over….."Like Switzerland in the war." The loud bang is the sound of this little zinger backfiring like a fucked up Ford Popular on a cold morning. "Up the other end lads, there's a bar in there for you."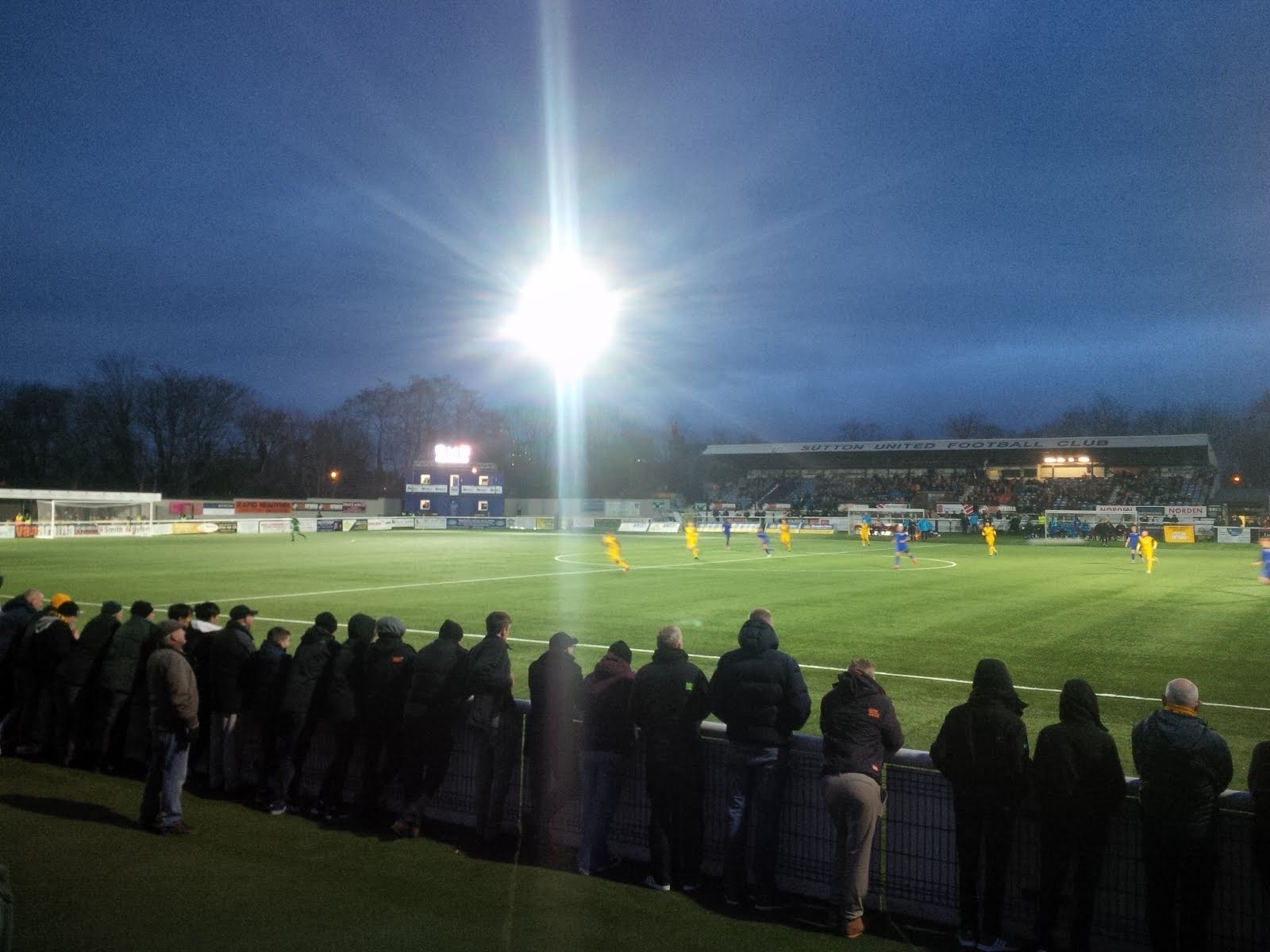 Festive Football Fun!
Cold, miserable and done over on a grim, grey afternoon only reinforced by the fact that some arse thinks it makes you Jack The Lad to smash the towel dispenser off the bog wall and leave the floor strewn with paper. Have a look at yourselves fellas, it's fucking embarrassing. Oh well, we are out of the FAT and into the mire so to speak, but are we? Are we really? Were Bromley fielding what in the old days would have been called 'a ringer' but what in these days of Political Correctness Gone Mad is now referred to as an "ineligible player". As we go to press the blazers at the FA are still on the lash and drenched in Johnny Walker and Castella smoke and the jury is out but unless Bromley have hired Rumpole and the upholders of the Rule Book pull some bollocks like they did with Concord a few years back out of their arseholes, we could be back in the Trophy. FATGATE indeed.
Anyway, with all this controversy swirling around I'm up for the Boxing Day homer and in my view this is the top footballing day of the year when you sweep away the torpor of the Christmas Day shutdown, pull on your new sweater, douse yerself in the entire contents of an Old Spice gift set, pack your finest cigars and head out for a nice early livener. I pop in the Gander for a swifty to break up the ten minute walk up GGL and there's a proper old school atmosphere about the place. I like it, but I manage to tear myself away and head off to HQ. There's a nice old hubbub here as well and as I enter the Allders Lounge I spy the COC's larging it up at the pre-match corporate lunch affair, stuffing their boats with seasonal fare and swilling down lager like it's about to be banned. Thanks for the invite lads. No really.
Through into the players bar and the Gandermonium lot look decidedly ropey. Greek is drinking some ginger-based cocktail and Taz, who looks pale at the best of times but today is basically translucent and hanging by a thread, can barely drink at all. I shake my head. Excess and a lack of personal discipline are terrible traits in a man (or woman) and it's a lifelong learning curve that some can only travel in the slow lane while others remain parked up on the hard shoulder. Philosophical.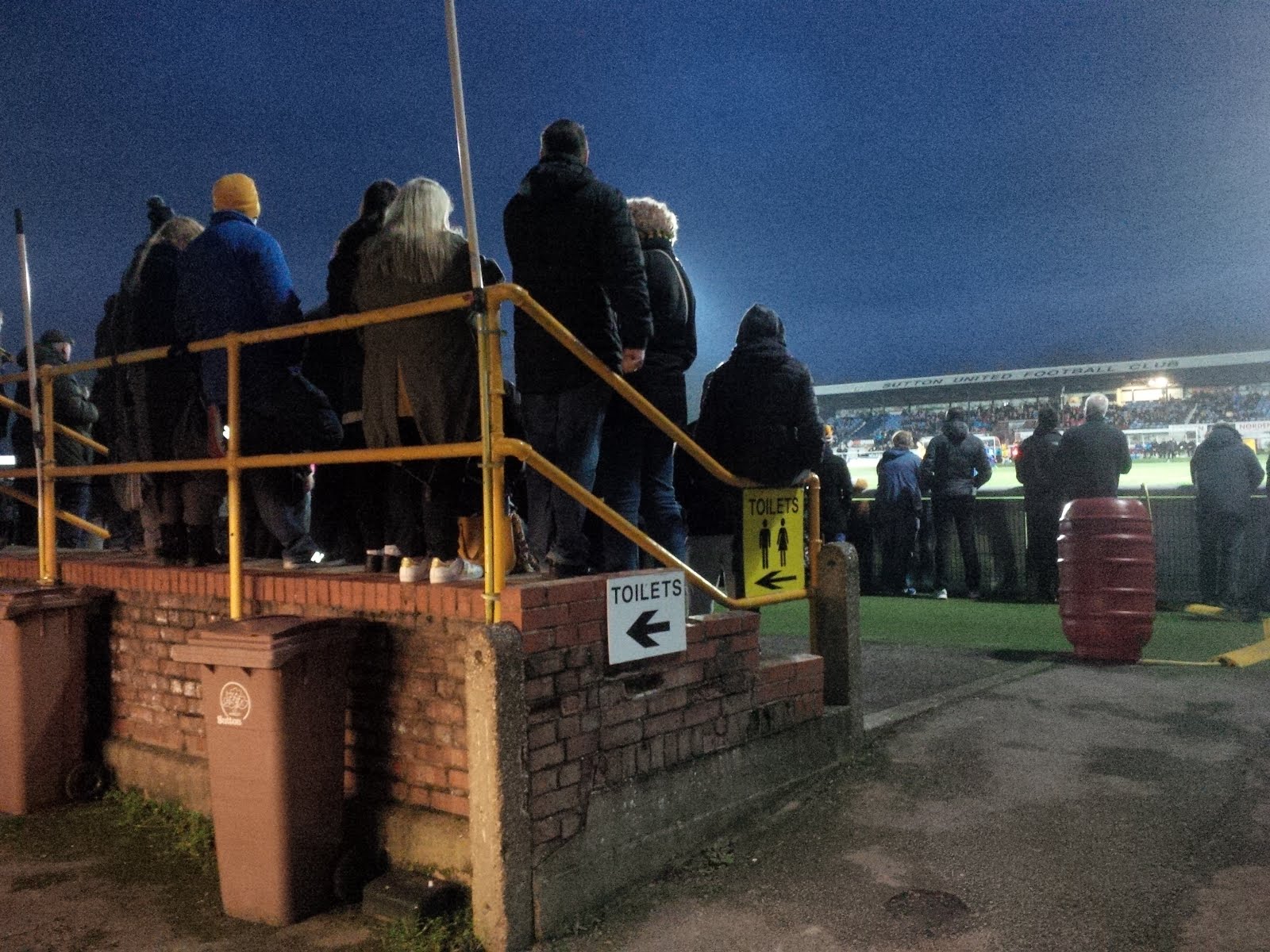 Packed out
Chancellor Oakes appears in his half man/half duvet matchday get up and I pump him for the inside gen on FATGATE. He's giving nothing away and similar enquiries of other club officials like Kiddo and AB elicit a similar poker-faced response. Nods as good as a wink lads. As three o'clock rolls round everyone's in the swim and I take the opportunity to load up with a slipper from Jenny's and very good it is too. Although it's a matter of time before the calorific and meat content of such treats falls foul of the poke yer nose in mob. Anyway, bollocks to all that, time to crack on.
Looks like a decent crowd in as we pile through the old turnstiles and as I enter someone gives me a free sausage roll! In fact they give me two and I stick the spare one in my jeans to keep it warm. Whoever, you were, thanks very much. It was bloody lovely and you are more than welcome to come back whenever you like. Things don't look quite so good up on the Shoebox where not only is there no DILF Bingo, there is not a single fucking DILF! Hopeless, and with only one of the Bacon's on parade we are looking thin on the ground until numbers are boosted by the arrival of Father Kev, our spiritual adviser, who is chuffed to bits when I pull a slightly battered sausage roll from about my person and press it into his hand. Jesus used to pull off similar shit as I recall and we celebrate it to this day.
Lee and the Outlaw stand witness to this seasonal miracle and with segregation in force the Shoebox fills up with the usual refugees from the Collingwood End and we are ready for the off.
Butler, Bennett, Collins, Pearce, Davis, Toure, Ayunga, Eastmond, Bailey, Beautyman, Williams. SUBS: Beckwith, Bolwinra, Taylor, Thomas-Asante, McQueen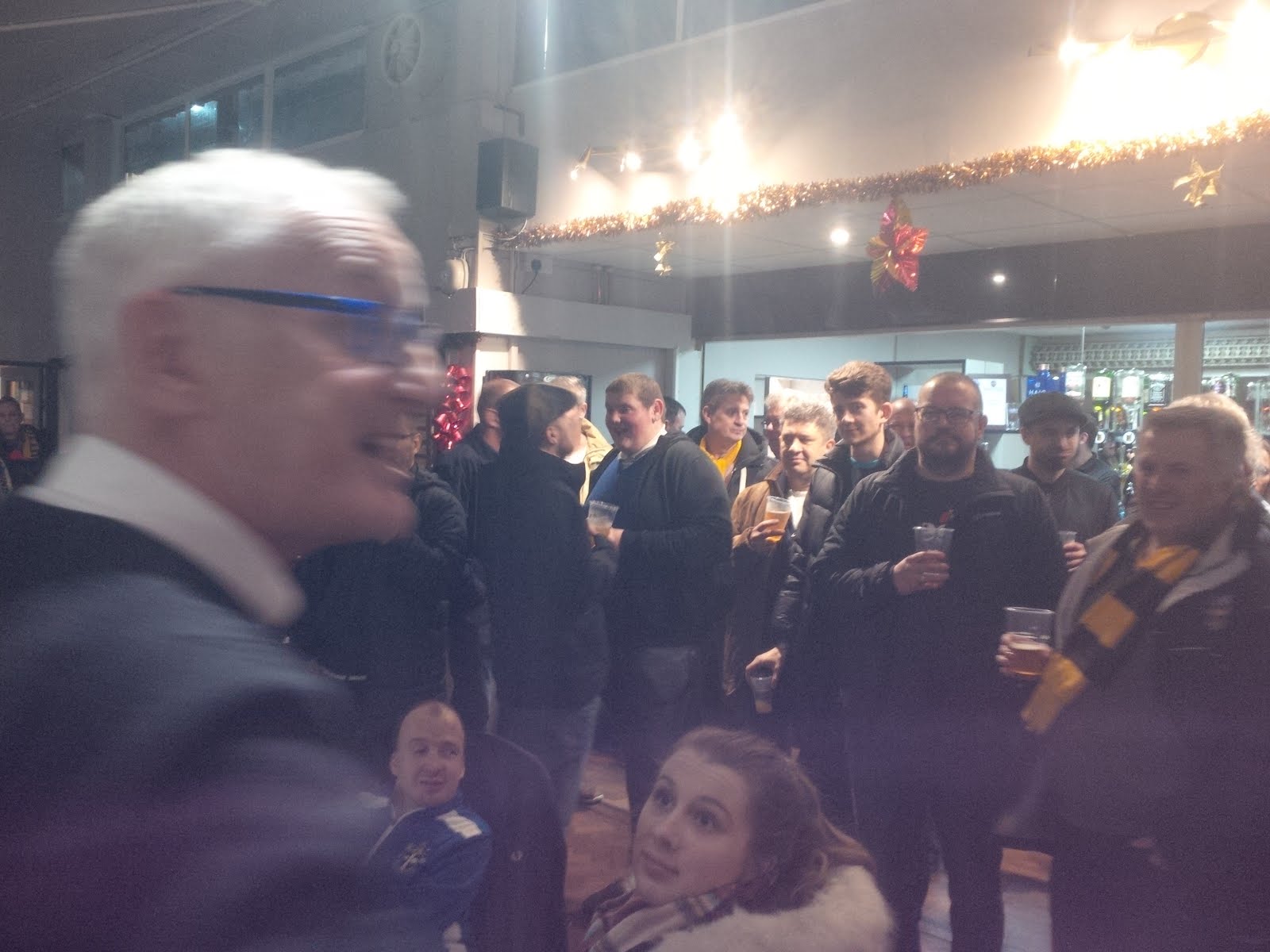 Shouty man
We get going straight off the blocks, obviously buoyed up the Miracle of Halifax last weekend and we are playing some very tidy stuff indeed and I like the look of the new signing up front, Jimmy who joined us from Fylde. Also good to clock H right back on his game now and like everyone else I'm chuffed to see the return of Jonah from Havant and this side seems to have had a fresh injection of energy and purpose just when we need it as the push for the play offs is on. Although we are without doubt the better side in the first half, clear cut chances are few and far between and we go in at the break level but looking good. A word for Dale Bennet as well who motored up and down the flank like a sprinter, adding some much-needed width and pace to our play.
I spark up a Monte Cristo and Father Kev gets the teas in and spirits are high in a crowd topping 2000 for the first time in a while. Alright then, second half, let's get in amongst this lot. Now I love a scrappy goal much as I love a thirty yard screamer, particularly when it nails on the three points, and we've got just the thing in the pipe as JC rises to meet a decent ball in, connects cleanly and it pings around the angle of the goal frame before the Bromley keeper scoops it out. But, for once, and long may it continue, the lino on our side is actually up with the play and observing the scene. And not only that, is prepared to make a fucking decision and he signals to the ref that it's over the line! Hallelujah. And it's one nil to the lads.
The game opens up a bit now with Bromley chasing but we don't drop as deep as we have on previous occasions when defending a one nil home lead but there's at least one heart stopping moment for old times sake when a massive defensive fuck up presents their lad with a one on one that he should have buried but somehow Jamie Butler manages to shift him wide without bringing him down and he screws his shot straight into the hoarding. Nice. There's a couple of corners to deal with but we close out the game on the attack and it's a tidy Christmas Box of six points out of six so far with the prospect of another bumper crowd for Aldershot at home on Saturday.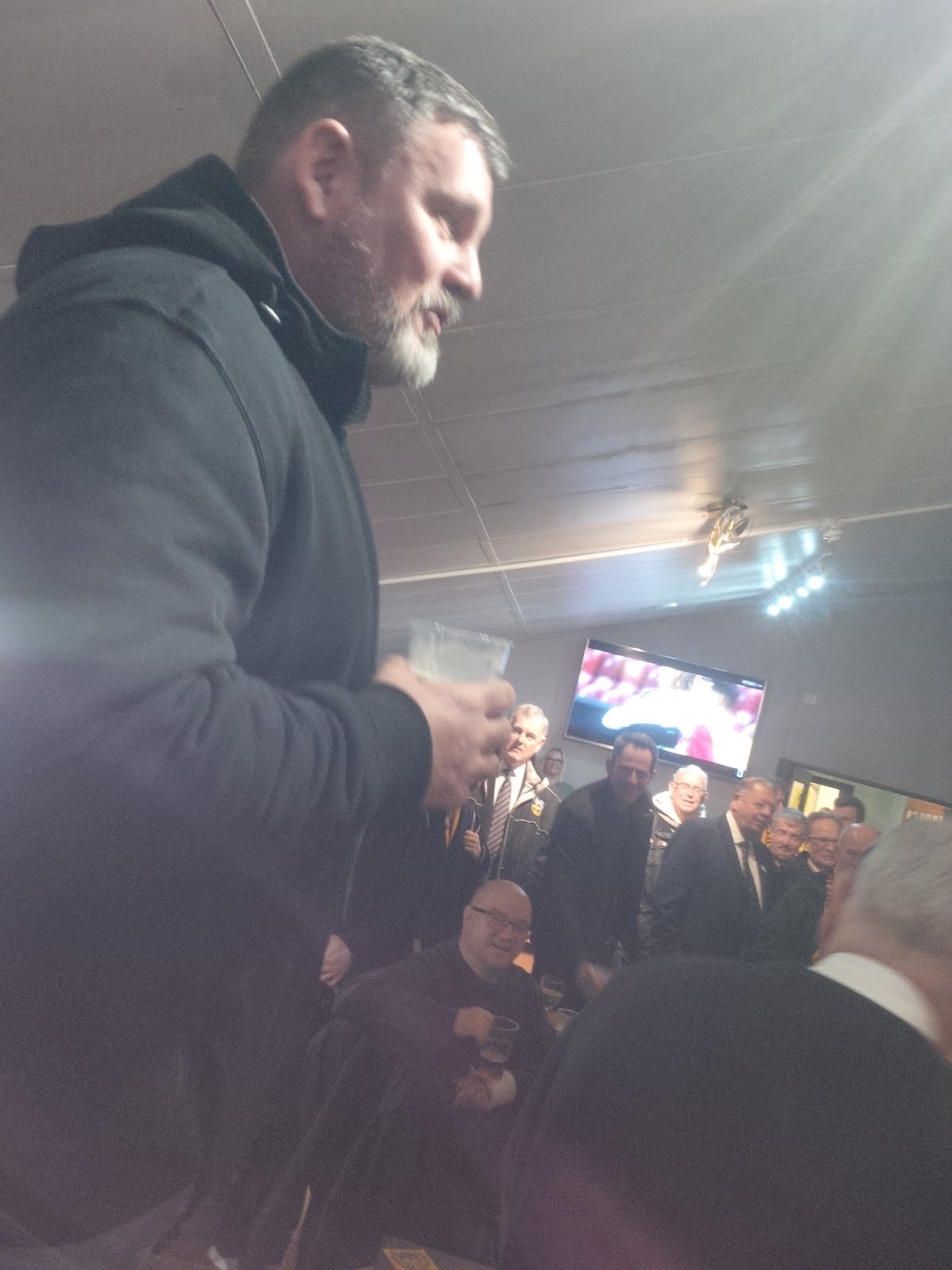 On the chair of doom…
I swing back to the bar for a pint with Kev and we have a natter with Marcus and Yvonne before AB fires up the accordion and Mally Boyle is heaved up onto the chair of doom for the Strikers are Key draw. Brilliant to catch up with Larey and Sean The Ram too, good old West Sutton Plough Boys, and we reminisce about the best of days for a while, long before West Sutton's leading night spot was closed down. Zero chance of it reopening now I am very sorry to say. All too familiar a story nowadays. But that's me done and we head off home, I swerve a last pint in the Gander, and slump indoors in me chair, in me pants with a tub of Roses, a glass of port and the Likely Lads on the box before sinking into a deep and pleasant slumber.
West Sutton by night
See you Saturday on the Shoebox.
Totts.