As we got deeper and deeper into the CONIFA Rabbit hole, a certain route to the finish became clear to me. With the final scheduled for 6pm at Enfield and the 15th16th Place Play off at 12 down in Bedfont at the end of the Heathrow runways it meant that I could see both the best and the 'worst' that the tournament had to offer all in the one final day.
This approach made sense for a couple of reasons. Firstly, we at Gandermonium like nowt better than an underdog. We're Non-League, always have been, so it stands to reason we'd be at a game like the 15th16th play off. Plus it would make a nice way to close out all this nonsense. Secondly, it gave us an all important new ground tick. Something this tournament has provided a fair bit of already. Finally, the early kick off leaves plenty of time to schlep back into London and make it to Enfield for the Final itself.
The wrong Bedfont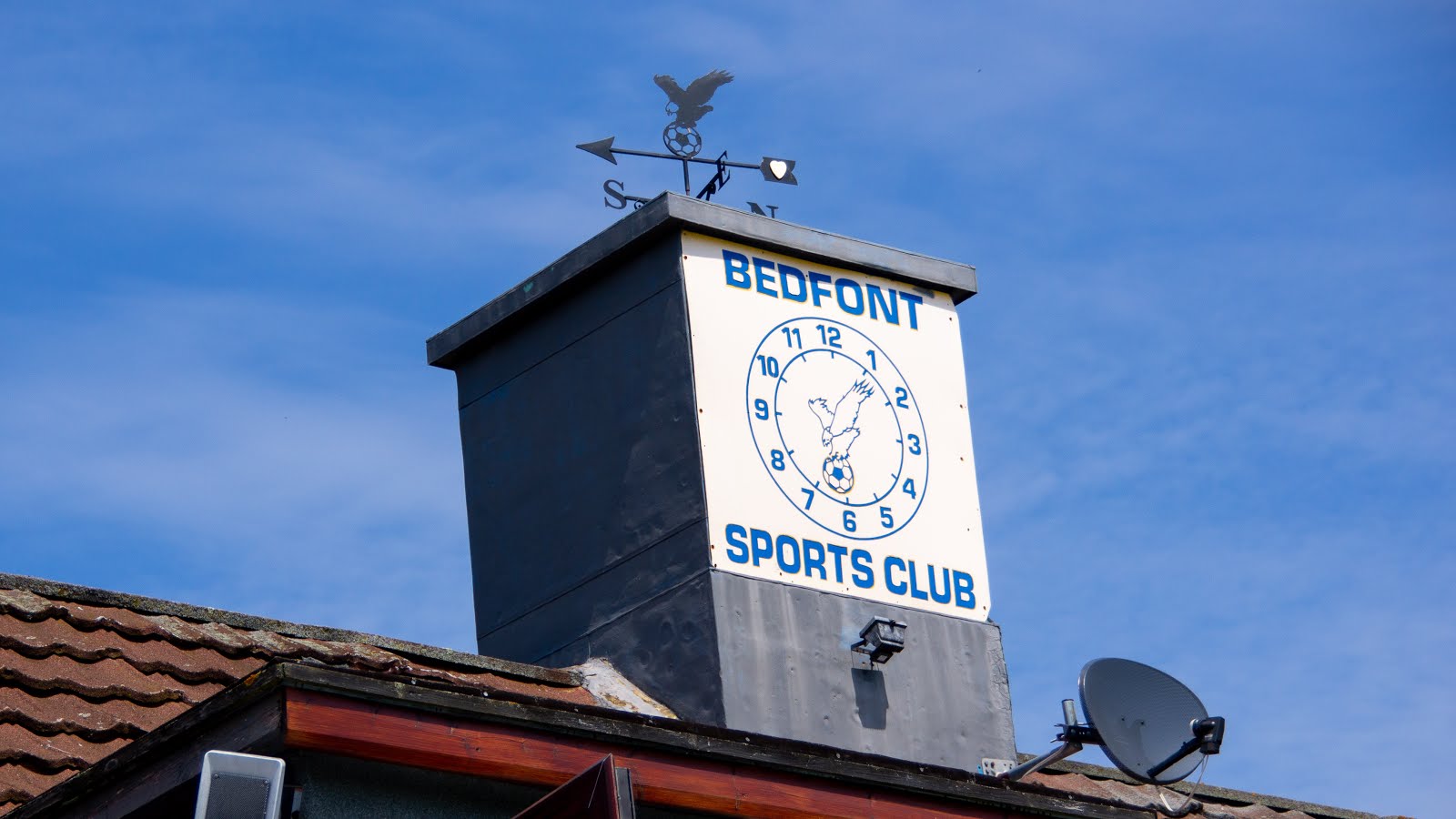 The right Bedfont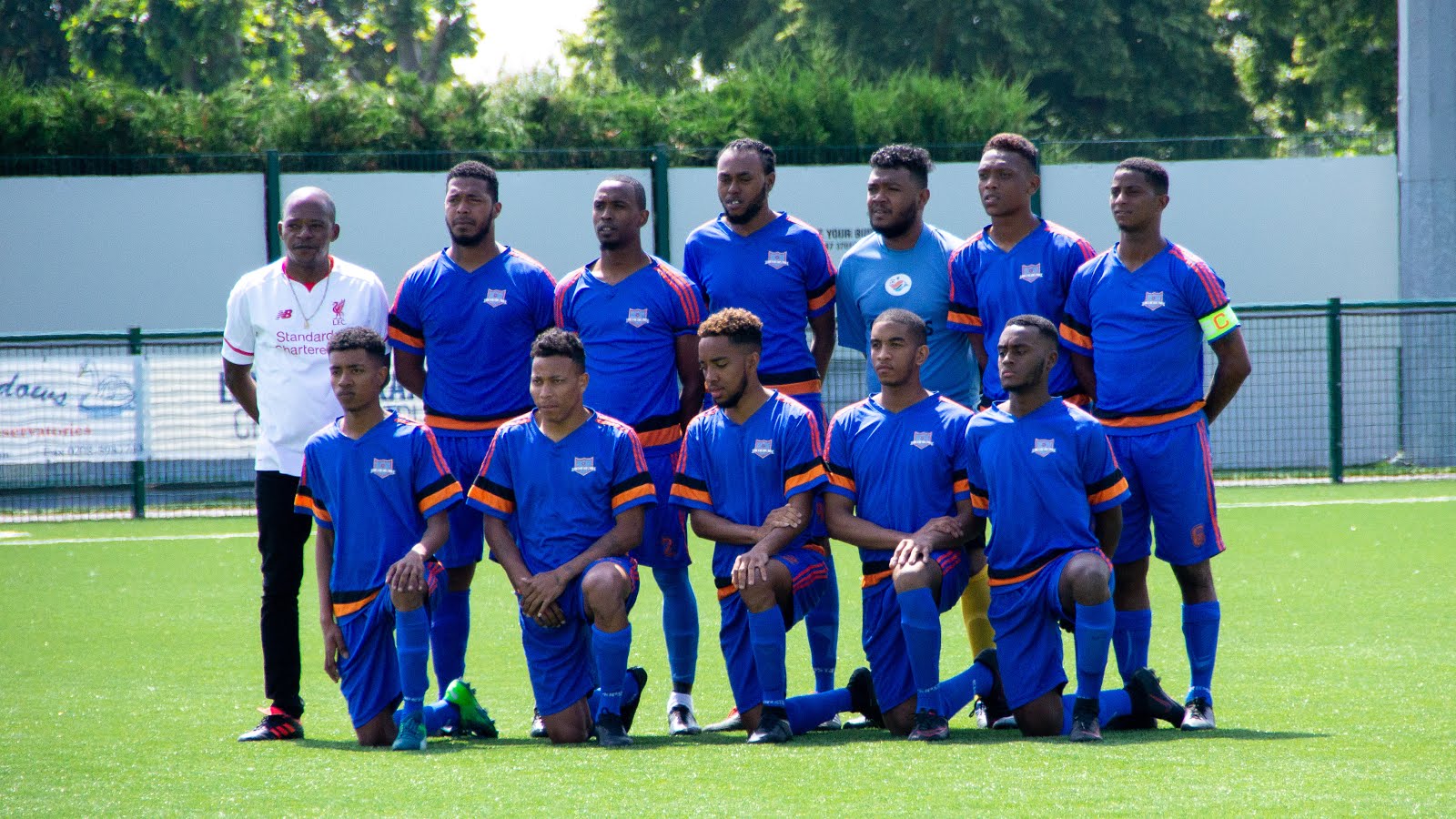 Chagos Islands v Tuvalu
With the plan sorted for the final day, the more I mention it, the more it makes sense to others as well. Dr Bell signs on for the journey, as does Steve. Finally, Crockett wants in and as he's working relatively close by he'll join us during the game. Dukey however doesn't fancy it and instead elects to head to Rotherhithe before meeting us in Enfield. The bastard, he did that deliberately. That's the one ground I won't get to in this whole tournament!
We all head for Clapham and a train to Feltham. Mainly as none of us has the mental strength to do the Metropolitan line the whole way to Hatton Cross. Over an hour on the Underground? Fuck that. We'll leave such sadism to Burgers thank you very much. We'll take the quick option and a cab cheers! I hit the over bridge at Junction and having secured a cuppa, a bacon roll and some readies I find Dr Bell lurking above Platform 5. Having scoffed my roll, we await Steve's arrival. He then calls from downstairs and suggests getting the slightly earlier train instead. Done! Then disaster strikes as I pick up my brew and then manage to knock into a barrier at the top of the stairs sending my cuppa flying. Sake! I was looking forward to that! With the train pulling in and no time to grab a new one, I have to go without and we hop on the rattler to head out West. There follows some confusion as having got on a service going to Feltham, the little displays on the train itself make no mention of the place itself. Thankfully the guard sets us straight and we are indeed on the correct one. Most of the chatter on the trip out is about our participation in the Irn Bru cup being confirmed the previous day. Trust me, you'll be hearing a LOT more about that in due course….
At Feltham, a taxi cab is obtained via the marvel of Uber and we're soon on our way to Bedfont. 10 minutes later, we're pulling into the car park at Bedfont and Feltham FC. Having got out of the motor though, something doesn't seem quite right. As in, the place is deserted. "Where's the team coaches?" I wonder aloud. On closer inspection, which involves a peer through a very locked gate, we establish that we are in fact at the wrong sodding ground by the means of identifying the playing surface as grass. The place we want has a 3G pitch. This is the wrong Bedfont. However, we spy some more floodlights just above the rooftops a short distance away and head over, eventually we come to Bedfont Sports FC and helpfully sat outside is a coach with a sign saying "Tuvalu" in the front window. Finally, we're in the right place. Either that, or we've stumbled upon a stop of longest, most miserable bus route in the history of mankind.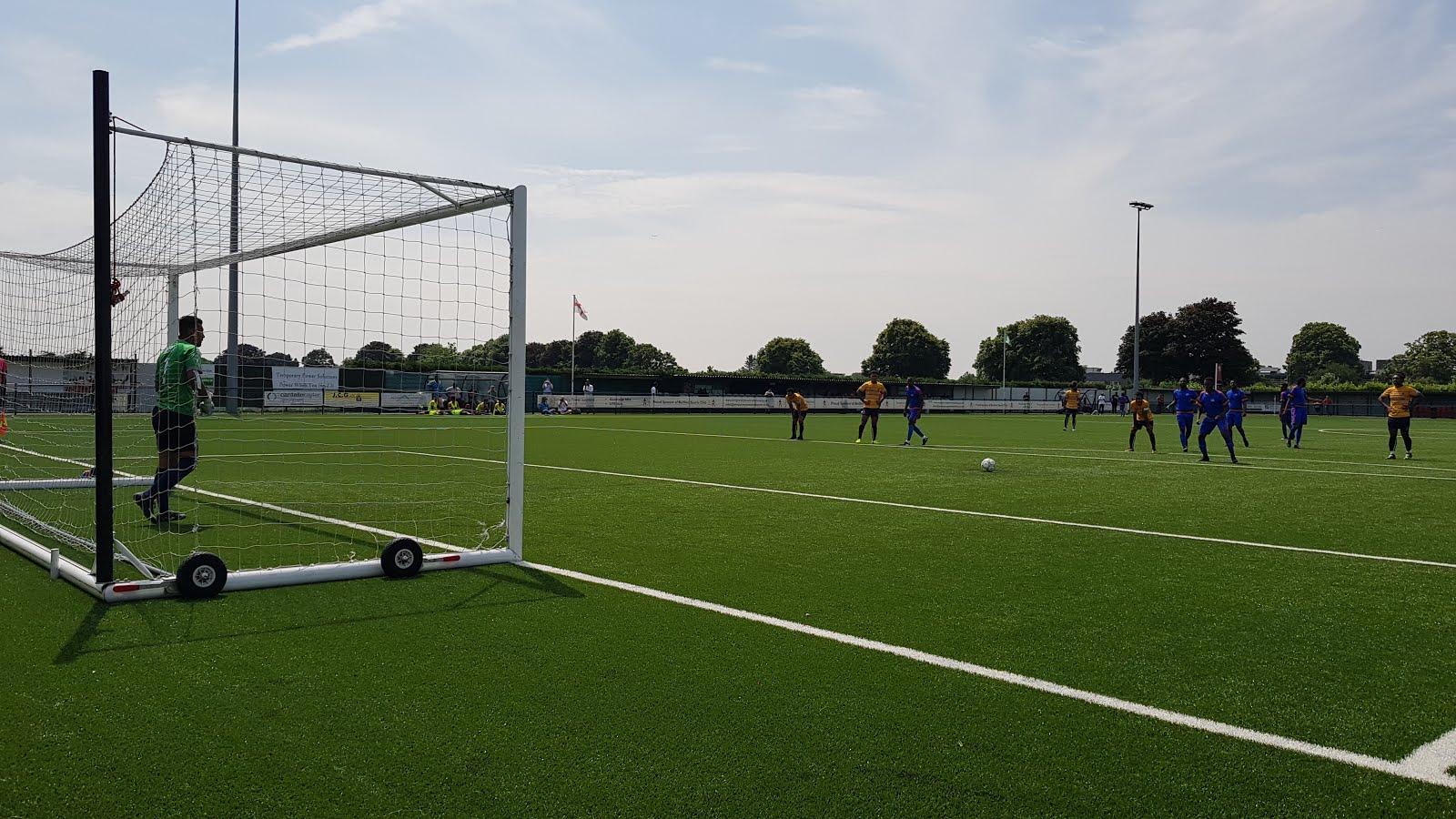 Chagos about to make it 1-3 from the spot…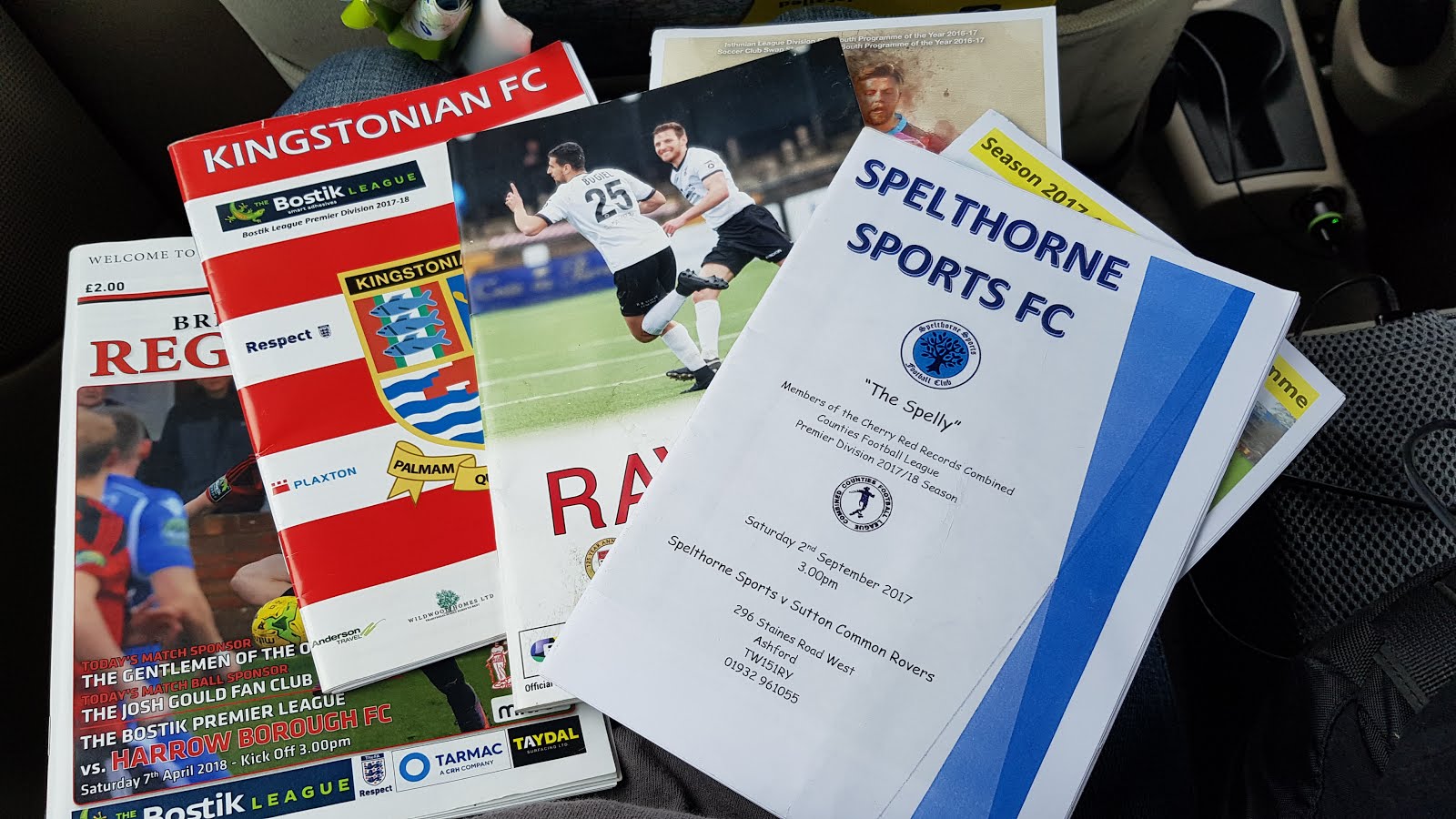 "Oi Crockett, where's your bobble hat?"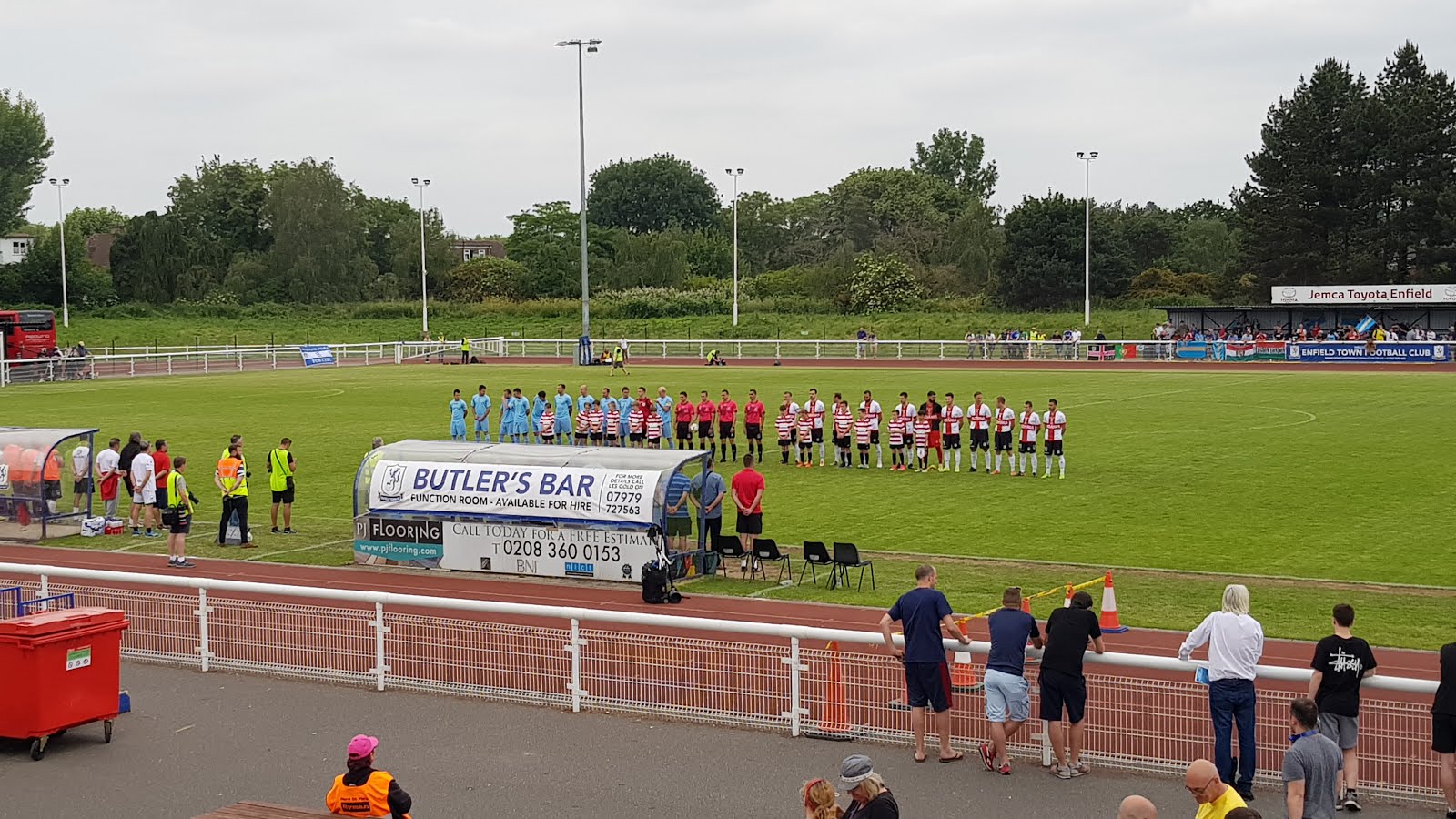 PadaniaSzekely Land line up…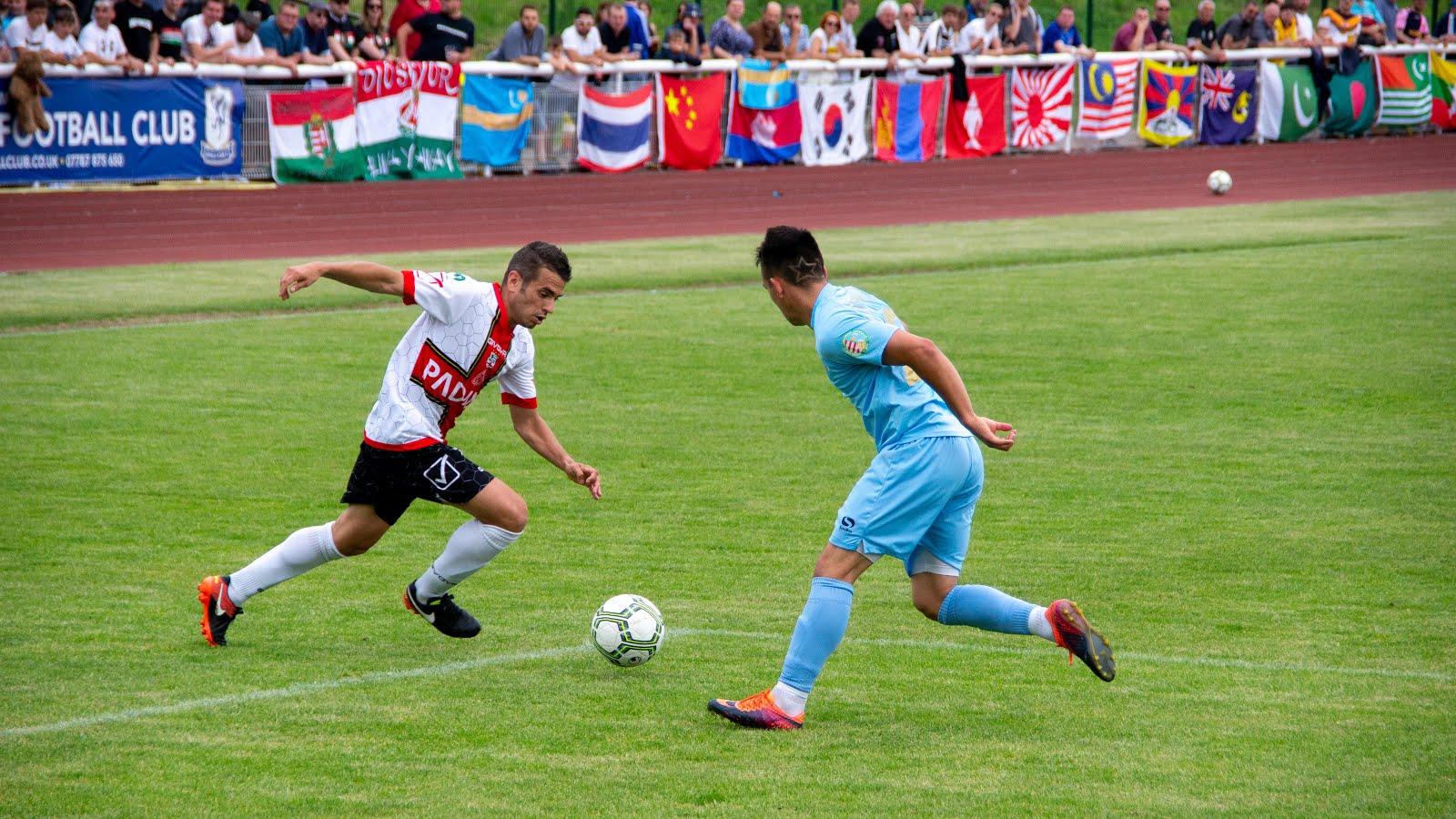 Action!
TUVALU v CHAGOS ISLANDS
15th16th PLACE MATCH – BEDFONT SPORTS, BEDFONT
We hit the rather snug and tidy little bar for a quick bit of refreshment before heading out for the action. As laready covered, the Ellan Vannin's withdrawal has somewhat messed up the placement games a bit and we're in fact not really seeing the 15th16th placement match, more the 15th placement match. And given that they'll officially get a 3-0 walkover win in the records, we already know that the 15th placed side will be Tuvalu. Yeah, this plan seemed great before the Manx lot bailed. Cheers lads! Still, it's a new ground and we're getting to see a team we've not yet watched in the Pacific Islanders, so it's not all bad news. The teams emerge to the Tournament anthem by Right Said Fred. "This ain't Moscow, this ain't Qatar…" warbles Fairbrass over the PA. "You can fucking say that again Richard" I mutter as a 747 screams overhead.
The game itself is miles better than the stroll at Aveley that Dr Bell and I saw on Thursday. Both sides are going at it at a decent lick and it's pretty competitive stuff. We're guessing the lads are using this to have a sort out about who's top dog in the 'Small Island in the middle of a chuffing great Ocean' stakes? Chagos start well and have a couple of chances, but the keeper and wayward shooting denies them. Then Tuvalu go in front a touch against the run of play and don't really look back, adding two more goals in quick succession to make it 3-0. Then before we've had half an hour played, Chagos are on the score sheet thanks to a penalty firmly despatched. Shortly after this, Crockett arrives and with there being engineering works on the Enfield Overground line today, he's also our transport to the final later. So of course, we're glad to see him!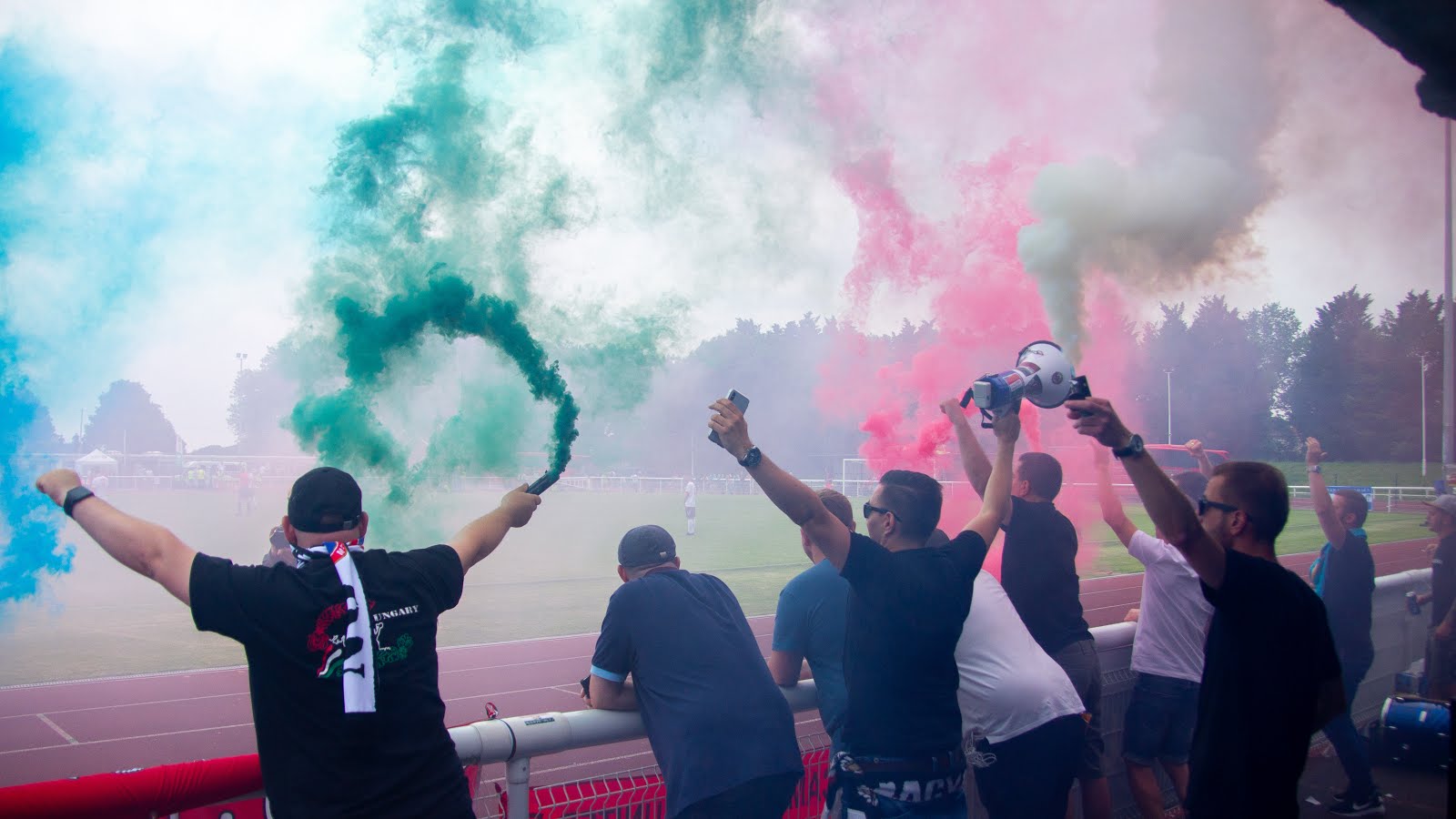 No pyro, no party!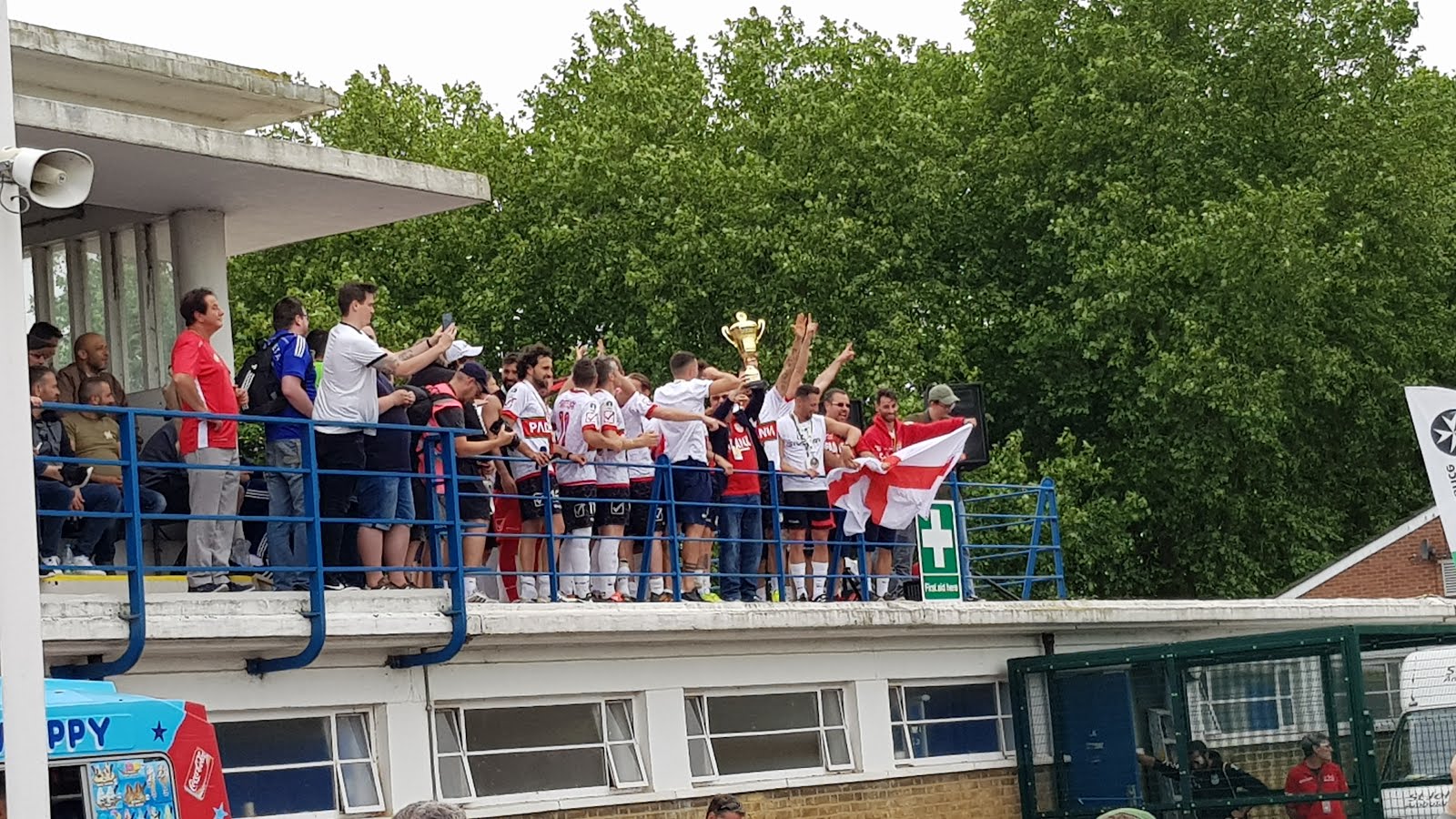 Bronze medal for Padania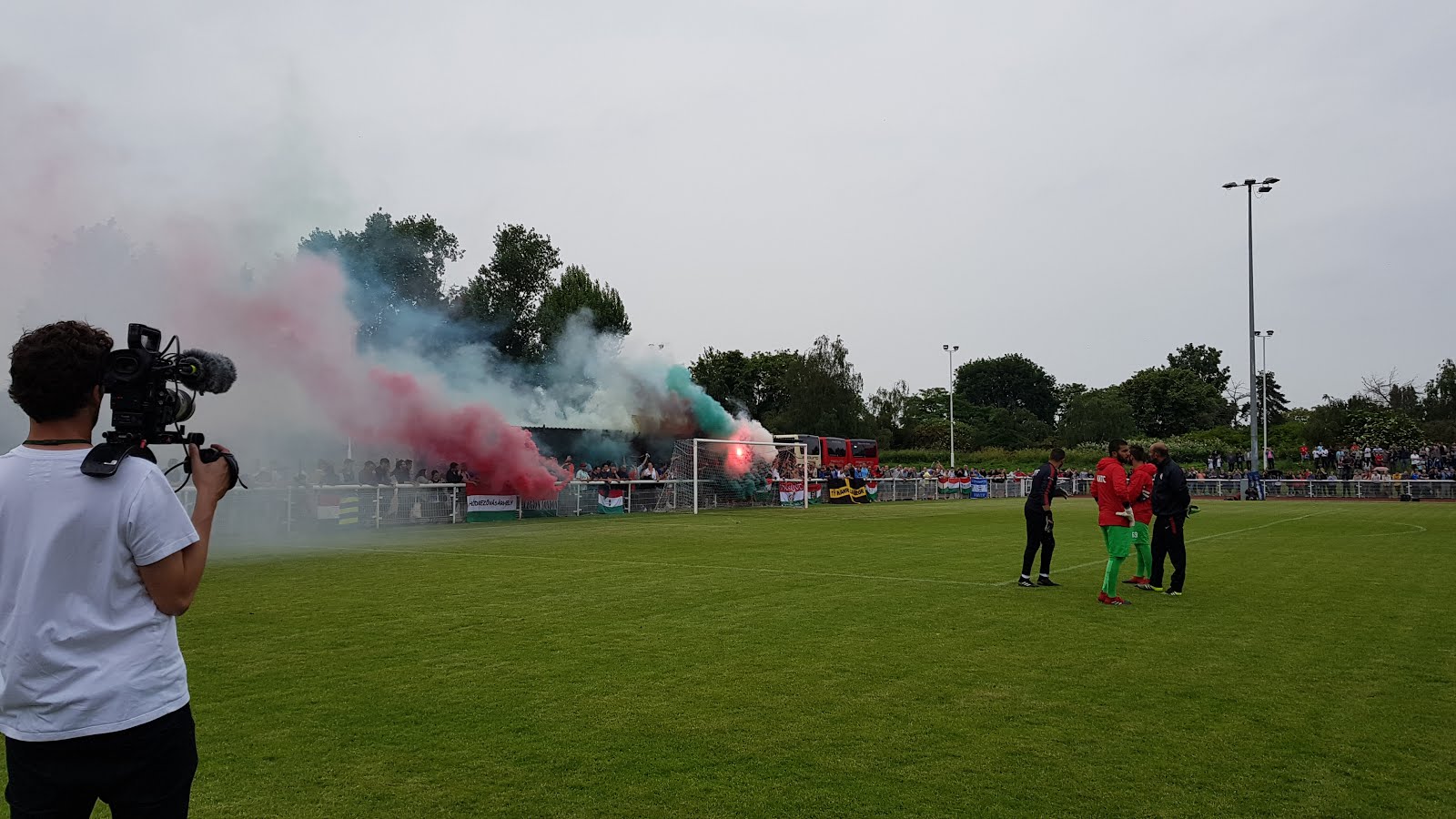 No Pyro, No party (part 23783)
Half time, we have another quick drink to get out of the unexpectedly hot sun (yeah, cheers again weather forecast. Another day sweating my cods off in jeans!) before walking about 10 feet out of the bar to watch the second half. Having missed all the goals in the first 45 mins, Matt is treated to 3 more as the Pacific Island boys take the 'Small Island, big ocean' bragging rights by running in 3 more goals. The 4th is the pick of the bunch, with a lovely little back heeled flick sending the man clear to score. This goal also provides a bit of other action in that the Chagos lads are not happy thinking their man was fouled in the build up, when in fact, he'd actually done himself by kicking his own leg! One of their guys pushes his protests too far and out comes a green card. With all their subs used, that's them now down to ten. The offender must have had this in mind as he continues pushing his point a bit too forcefully and soon gets a free upgrade to a red from the ref.
By the end, Tuvalu are reduced to 10 as well when one of their lads gets a whack on the bonce and the ref isn't that keen to let him continue and the match finishes with the Tuvalu keeper making a smart save from a Chagos free-kick on the 18 yard line. Cheers lads, it's been fun, but we've got somewhere else to be! So we wander out to the car park, squeeze into Crockett's Focus and head for the M25. Enfield, here we come.
PADANIA v SZEKELY LAND
3rd4th PLACE MATCH – QE2 STADIUM, ENFIELD
After some initial traffic and passing the time digging through the random assortment of match programmes stashed in Crockett's motor that lead us to inevitably take the piss out of him for being a ground hopper. Which I suppose is a bit rich coming from the likes of me who's about to do his 6th new ground in 10 days, but hey, bantz. The run is easy after this point and we roll into the car park just as the teams are being announced for the 3rd4th place match. Timing! The lass on the gate wants a fiver to park up, at which point Crockett enquires "What about media?" before I start flashing the old accreditation around to emphasise the point. "Oh, that's free!" she says and waves us through. Bonus! I head in through the press entrance and leave the lads to the turnstiles and whilst they're plebbing in, I take the opportunity to head up into the little cafe in the art deco stand to get a view out over the pitch as the teams line up. Right, enough of that, I'm starving!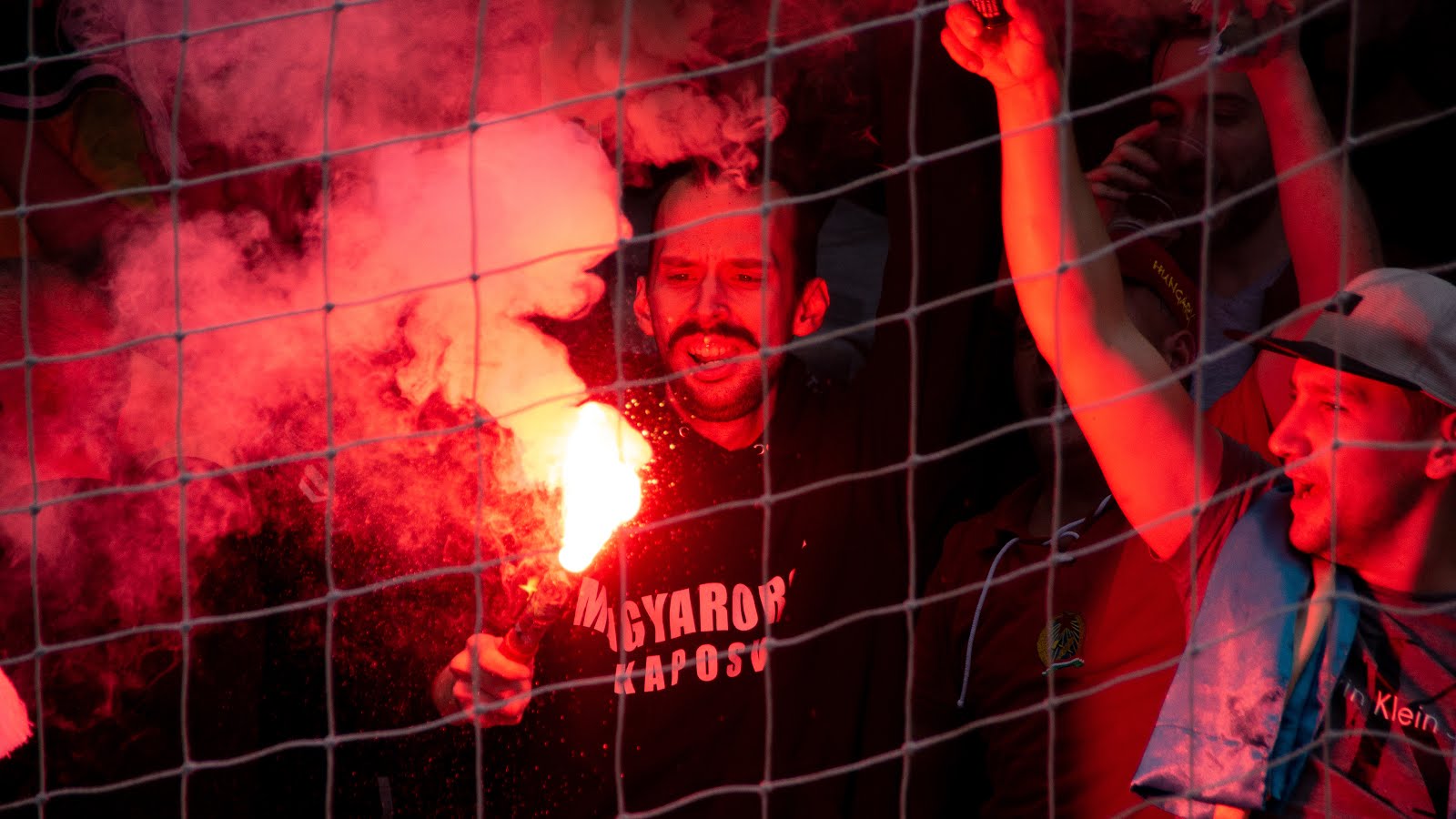 "Ere mate, got a light?"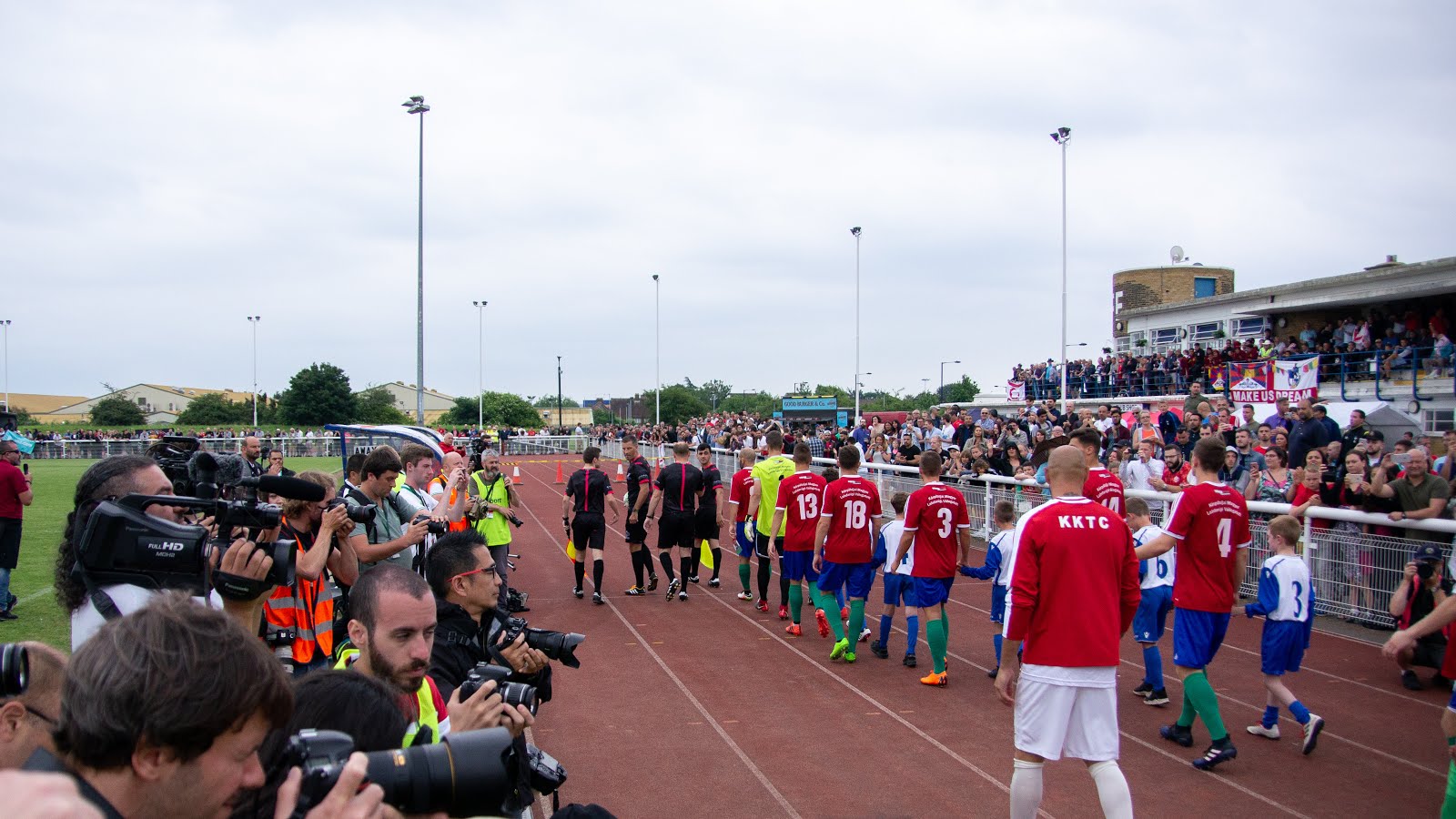 Teams face the press!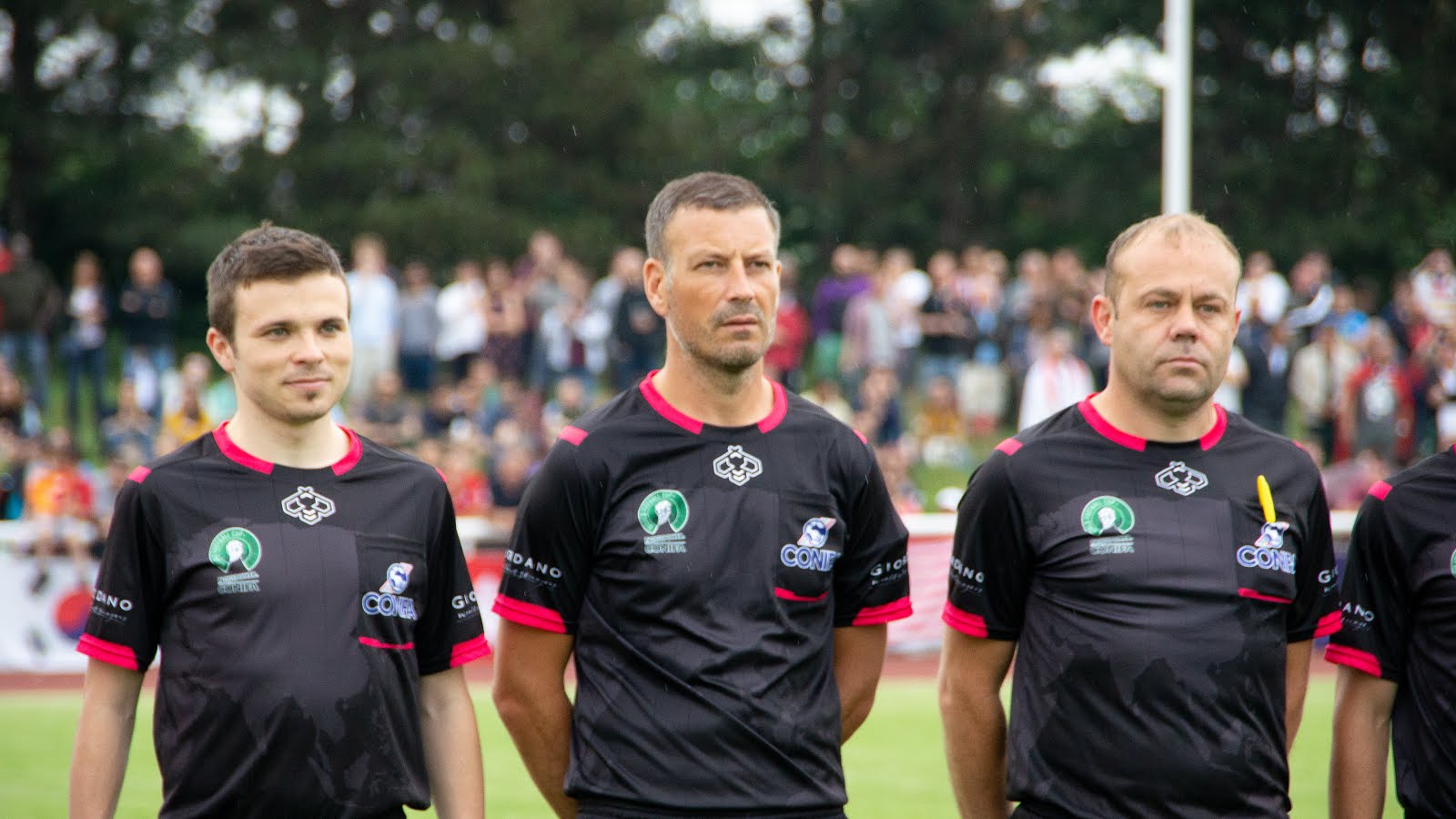 Oh cheer up Mark, it might never happen!
Grub secured and a drink obtained, we head down to park behind the far goal which Padania are shooting towards. This proves to be a decent choice as despite a couple of early opportunities for the Hungarians, the half is mostly dominated by Padania being on the attack. Sadly for them, the Szekely keeper is in a bit of an impassable mood, no doubt with that howler from the Semis still fresh in the mind, nowt is getting past him today and he makes at least 3 excellent saves, including one superb reaction stop from a very close range header. Apart from this, the main Szekely contribution to the came comes from their support on the halfway line who amuse themselves with various chants and several bouts of smoky pyro. So all square at the break, we head down the other end expecting more of the same second half. Along the way, we're treated to another lovely burst of pyro from the Hungarian fans. How much of this stuff have they got with them I wonder?
The second half proves to be a bit of an anti-climax really. Both sides are clearly feeling the pace of playing their 6th match in 10 days as well as those full on semi-finals on Thursday and in this 45 minutes, there's very little in the way of chances as both sides seem resigned to penalties. On the sidelines, the Hungarians prove they have a LOT of pyro with them as several more bouts of smoke related outbreaks provide the only real entertainment for those watching.
So, we finally get our first penalty shoot out of the tournament! Well, mine at least. Dukey had seen one just earlier when the United Koreans beat Tibet on pens down at Fisher. First blood goes to the Hungarians when their keeper dives to his right to save the Italians third kick. They then trade converted efforts until the final kick of the five when Lorand Szocs stepped up to win it for the Hungarians. The Padania keeper guesses right though and pushes away his spot kick to level it at 4-4 going into sudden death. The Italians convert their sixth and then their keeps Marco Murriero goes right and makes a super one handed stop to give Padania the win and the bronze medal.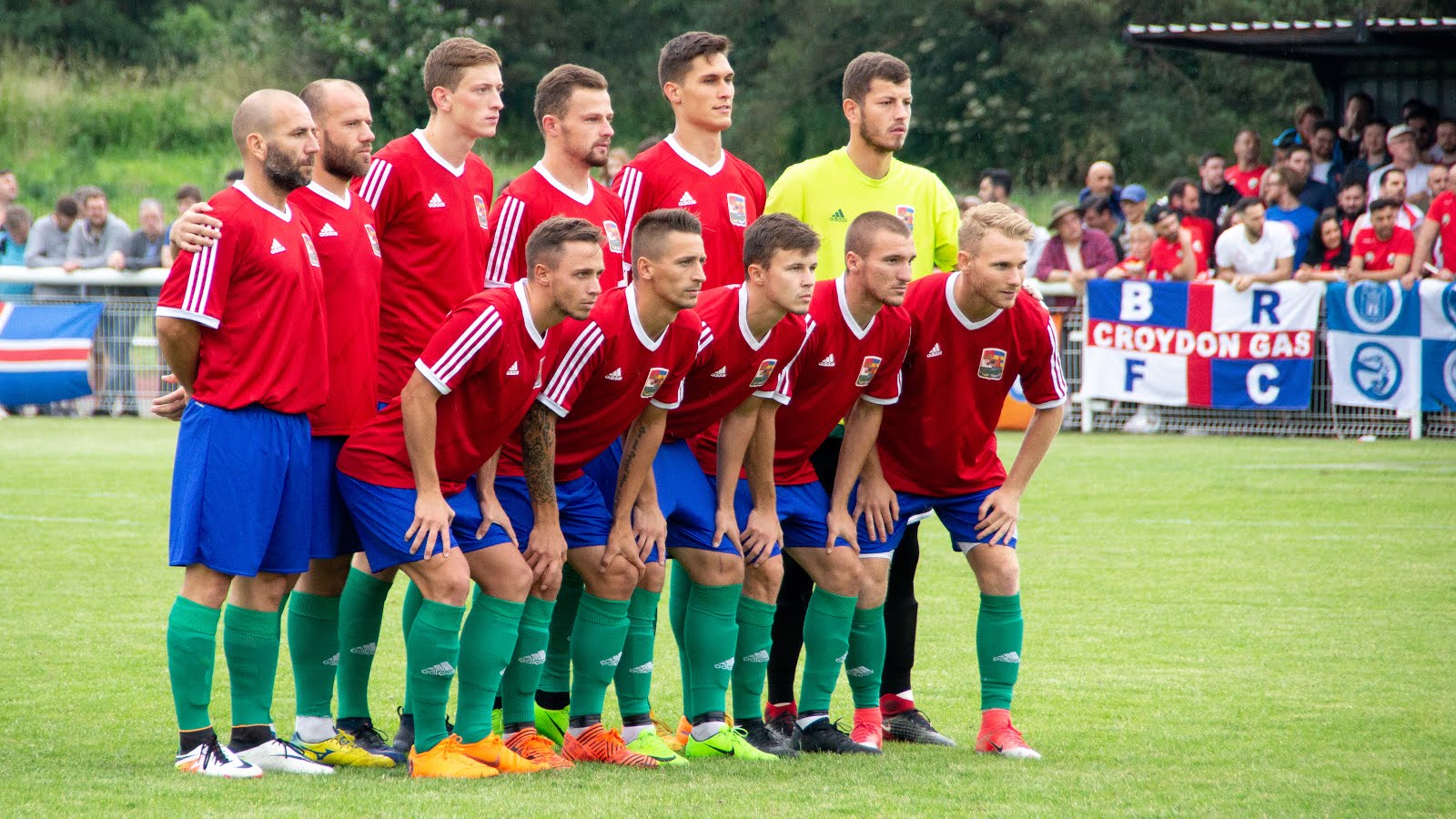 Karpatalya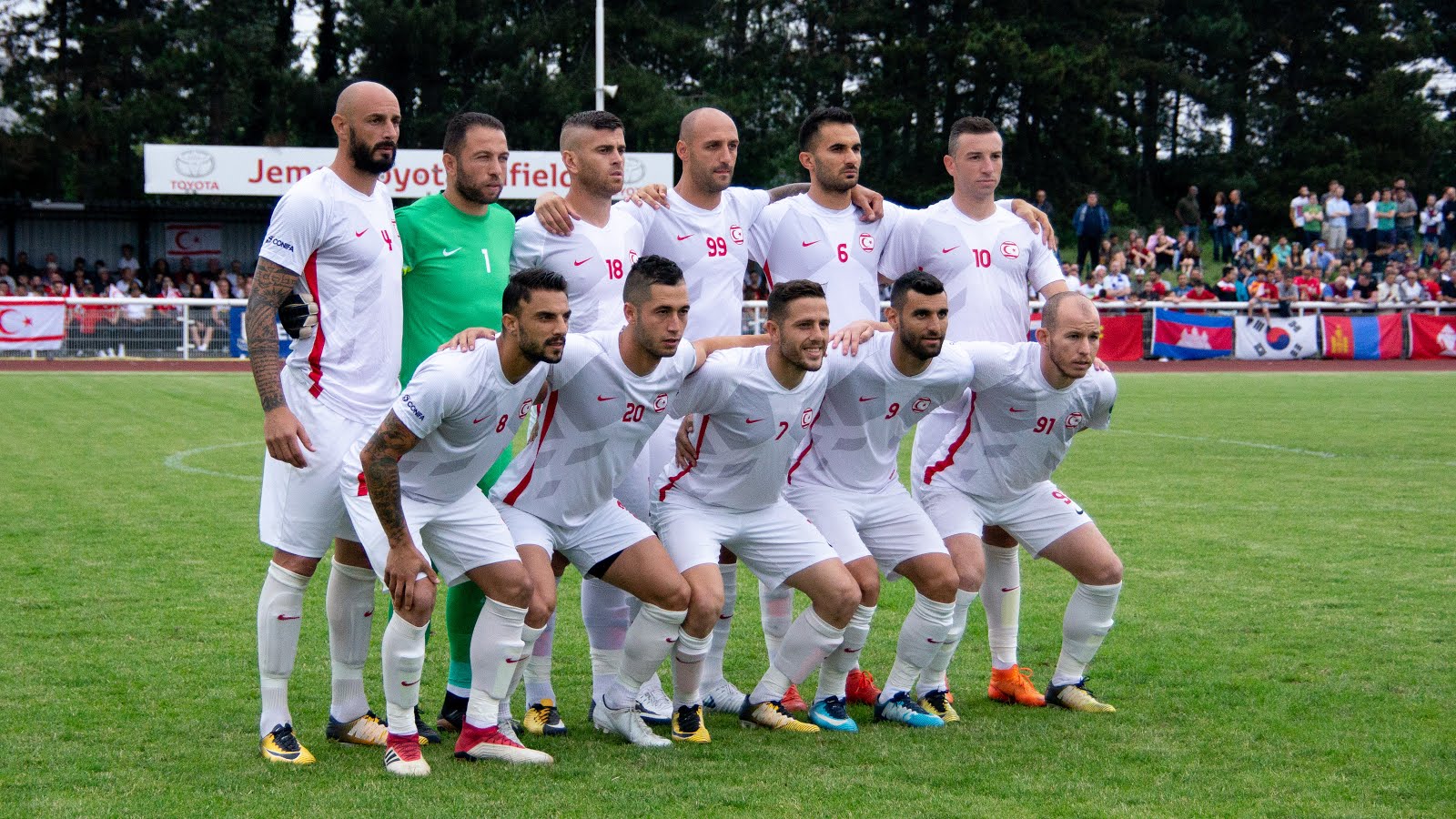 Northern Cyprus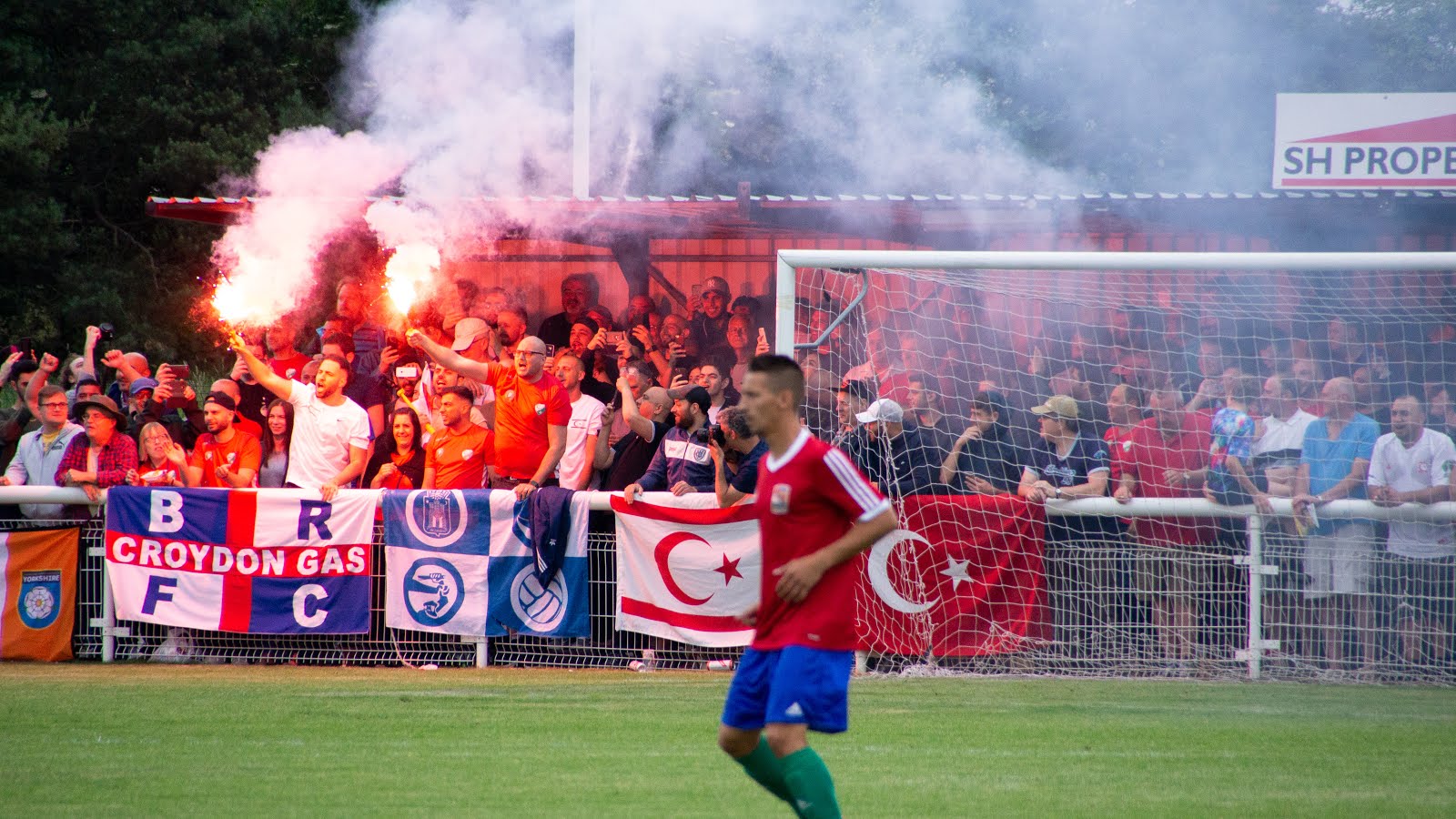 Oh and now the Cypriots have pyro too!
As the Szekely lads greet their fans on the touchline (along with some more pyro of course!) we're debating what to do next when a steward appears and asks everyone to leave the ground as they need to clear it so everyone can queue up to get back in again. Er? Well, with several hundred people already in the ground and a good few having paid in for the first game, we're not sure how that's going to work when there's barely 45 minutes until the final is due to kick off. And good luck shifting the hundred or so thoroughly refreshed pyromaniacs down the side! To prevent the guy from getting upset, we leave him to his impossible task and head round to in front of the stand where we find some of the COCs enjoying a beer and a natter.
NORTHERN CYPRUS v KARPATALYA
CONIFA WORLD FOOTBALL CUP FINAL – QE2 STADIUM, ENFIELD
I take the opportunity between games to enjoy a much needed pint and whilst doing so, a load of people in Northern Cypriot national dress rock up and a lot of the lads are holding mean looking sickles. For a laugh, I send the Morris dancer-phobic Mr X a picture message letting him know "the Turkish Morris Dancers" are scary looking and I'm sure he appreciated the thought. With kick off approaching, I decide to head to the gents to get that out of the way and en route we hear that kick off has actually been delayed half an hour due to the amount of people waiting to get into the ground. It would seem the ground record of 1200 set by Northern Cyprus and Tibet just a week ago will be topped tonight.
Finally with the start approaching, I leave the rest of the gang to go do media poncing on the touchline. Here I find one half of the 'Beautiful Game' crew and despite having his hood up looking proper Mitcham, I also spot Balti Steve lurking as well. And he's wearing an officials pass no less! Talk about one upmanship fella. With the ground filling out nicely, the Hungarians have relocated to behind the goal at the bottom end of the ground and they handily provide a full on pyro show for us shortly before the teams emerge. It would seem that our earlier assessment of their supplies was somewhat short of the mark or they've since gone through the sort of rapid re-armament that would have Albert Speer breaking out in a cold sweat.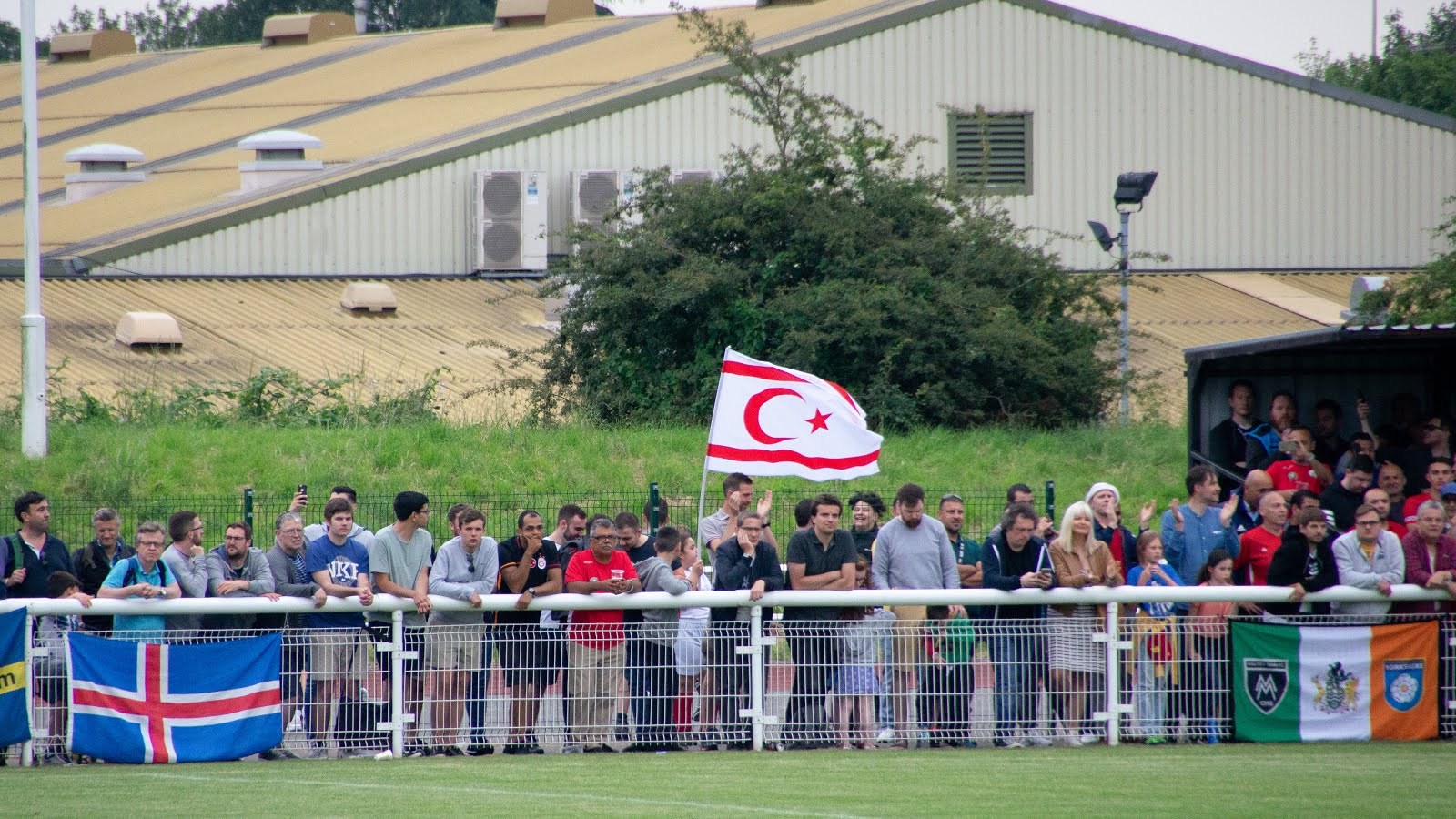 Fluttering in the breeze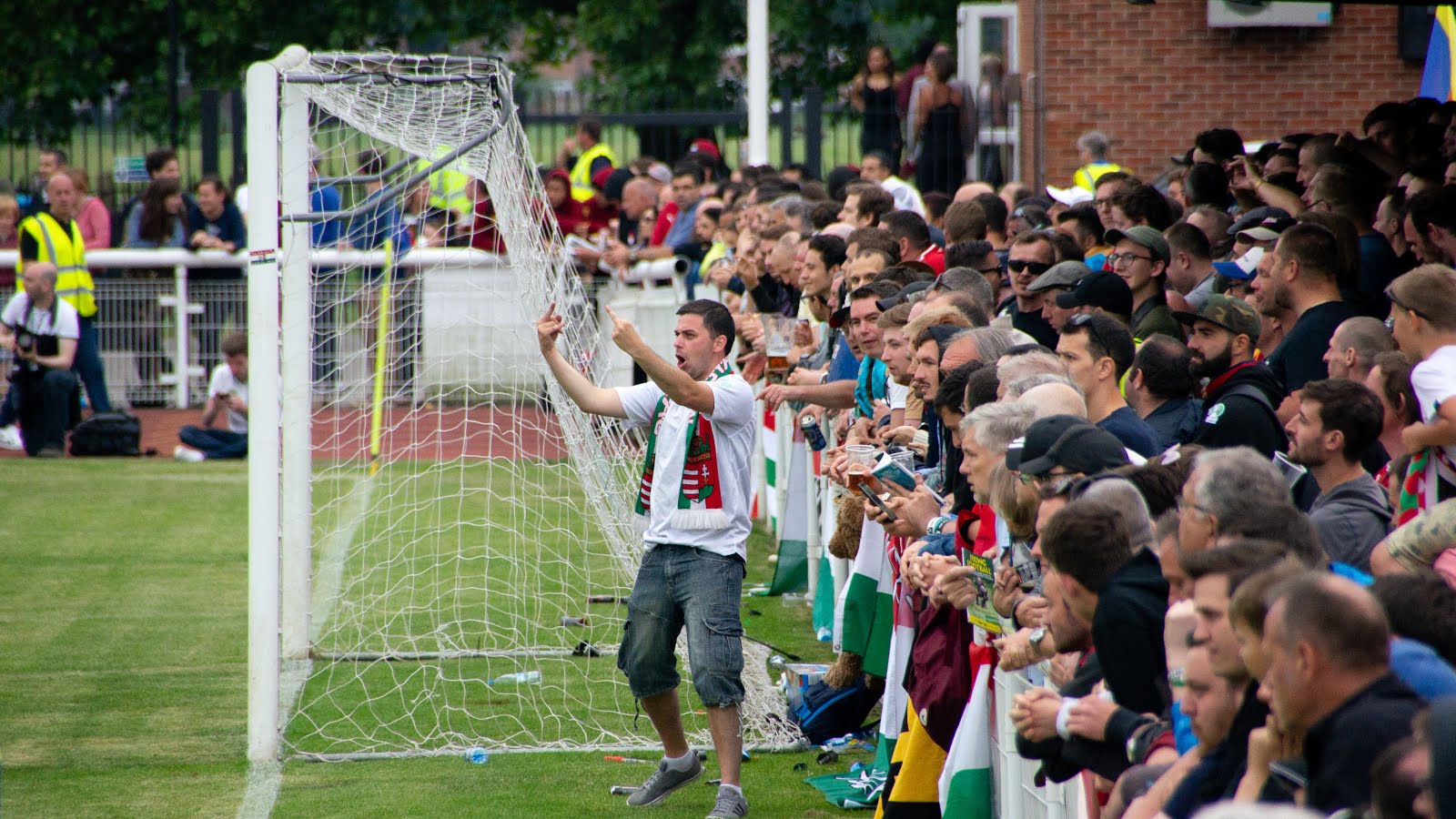 Well, no one likes to see that now do they? Well, except us of course…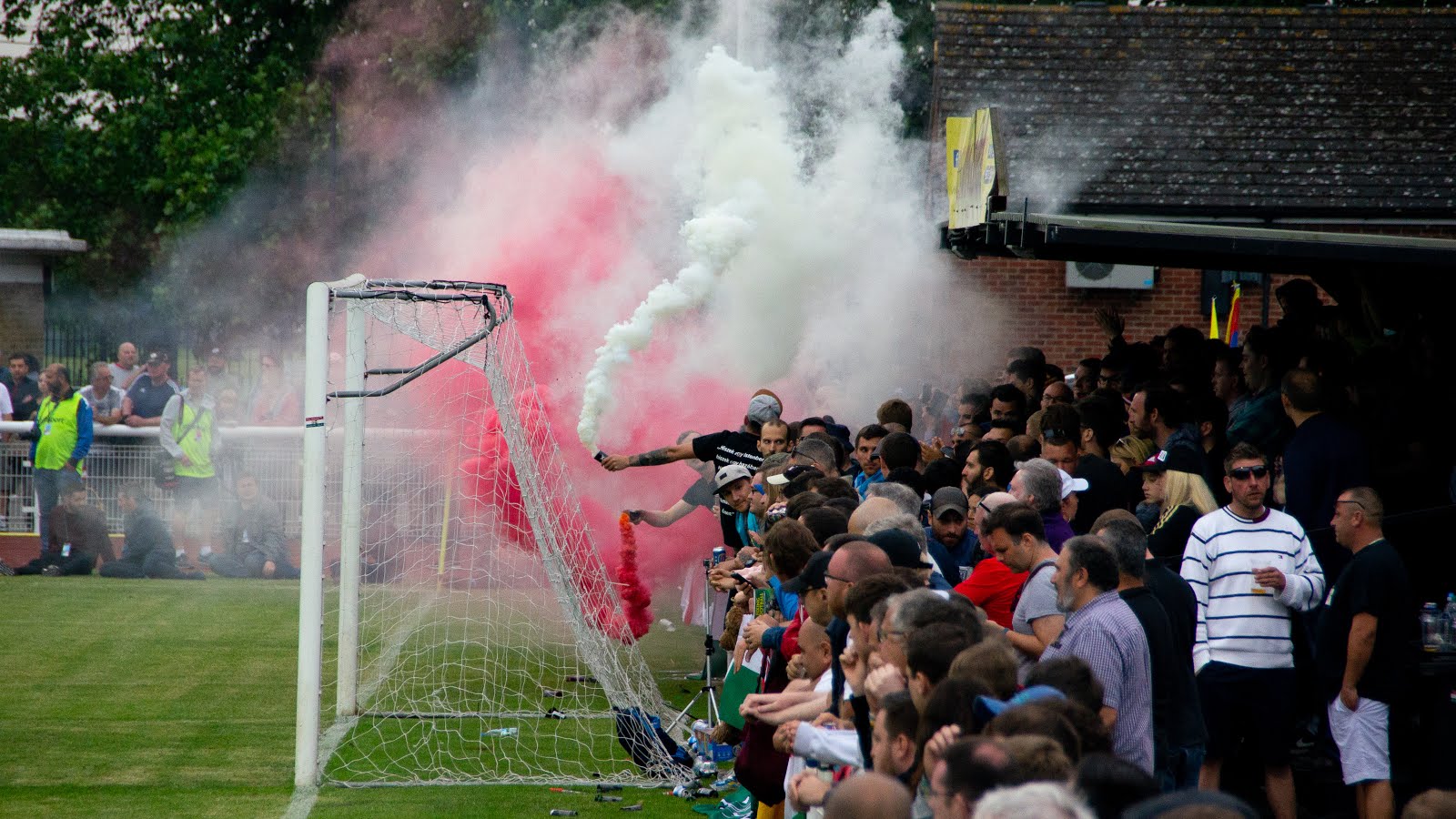 No pyro, no….oh you get it by now.
With the teams out and anthems done, I cut short my poncing and head off to find the rest of the mob to watch the game. Sadly, they've chosen a spot by the corner flag and the view is shite to say the least. Crockett and I decide to head up the side on the grass banking to try and get a better perspective on proceedings. Out on the pitch, we've got a somewhat cagey affair unfolding. Much like in their respective semis, Karpatalya sit in and look to break whilst Northern Cyprus try and dominate the ball and press. Sadly, like the 3rd4th match, it appears that the schedule has taken its toll here too and neither team can really get themselves on top and the first half passes with little incident. Once more, the pyro is about the only thing to keep everyone entertained. "How much of that stuff have they got?" wonders Crockett aloud. "Dunno, but I bet their supplier is enjoying a properly nice holiday this summer!".
The second half is little different to the first. Defences are on top and neither team can really fashion much in the way of chances. However, with 10 to go, the Cypriots dig into their energy reserves and step it up a notch to try and force a goal. Most of the effort comes down the right flank, mainly from the boot of Unal Kaya. His whipped crosses from the flank present the best chances. First one strong header wide, then another bulleted just over the bar. The best falls to the hero of the semi final win, Billy Mehmet, who gets on the end of one such cross but his diving header into the turf kicks up and clips the crossbar on it's way over. And that's as good as it gets sadly, with time ebbing away, I head for the sidelines. If it's going to pens, I may as well be as close as possible.
Just as the whistle goes, the rain that's been threatening for the last 15 mins or so starts to fall. So for the first time this week, I pull on my U's rain jacket and join some proper photographers in position at the far end for the shoot out. Karpatalya go first and the kick is tucked away confidently in the corner to the keepers left. Next up is Billy for the Cypriots. He goes the same way, but it's too close to the keeper and he gets down to push it wide for the save. Karpatalya convert their second to make it 2-0 before Yasin Kurt steps up. Again, the kick isn't great and the keeper smothers it down to his right. Advantage to the Hungarians! Their no.8 goes next to all but seal the deal, his effort is solid and beats the correctly guessing keeper, but thumps back off the upright and rebounds clear. A chink of light for Cyprus perhaps? Oshan steps up to rifle in his kick to pull the score back to 2-1. Svedjuk goes for power down the middle with the next Hungarian kick, but the keeper sticks out a strong arm and saves! Hang on, we're not done yet!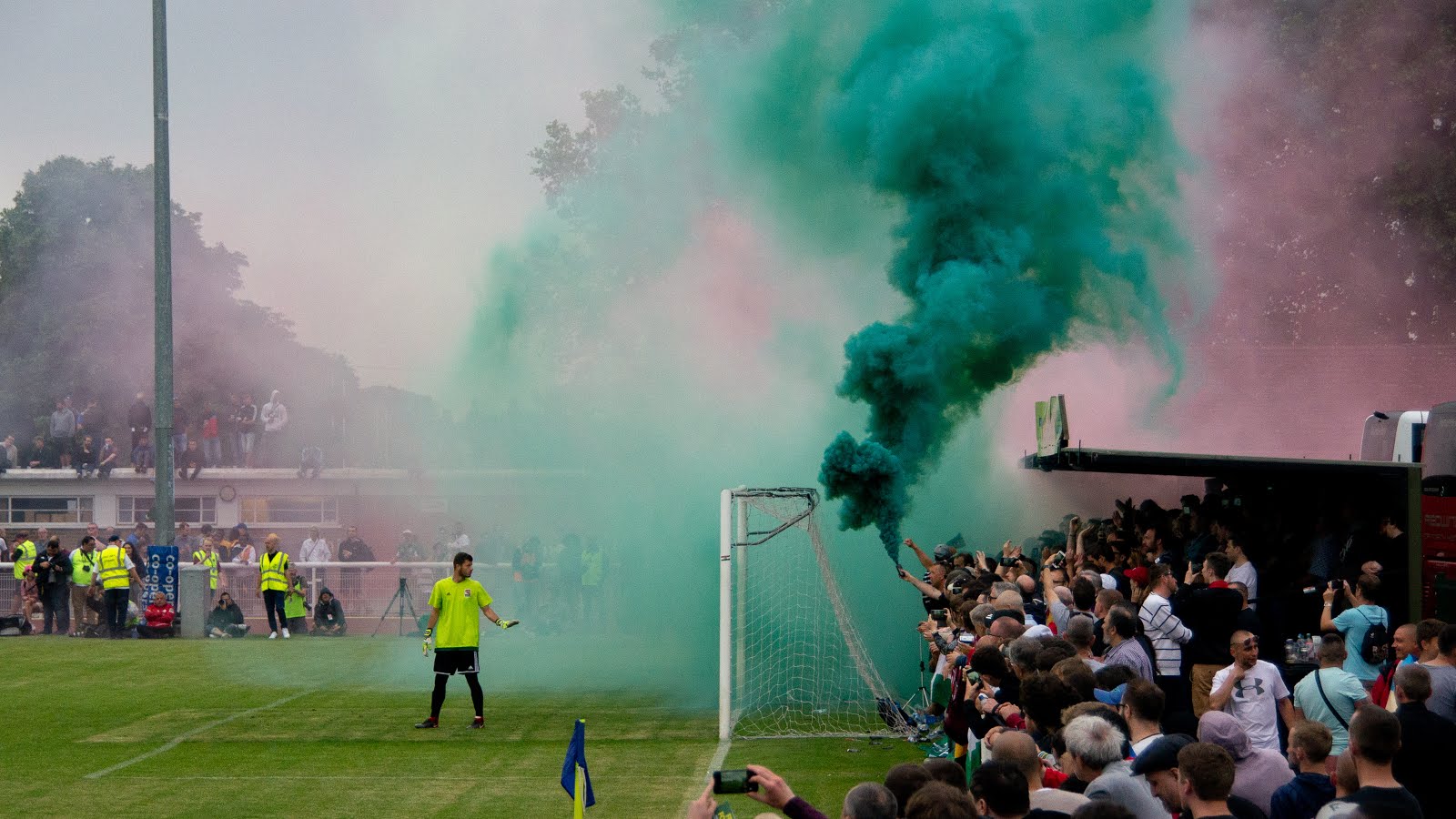 We think you have a problem lads….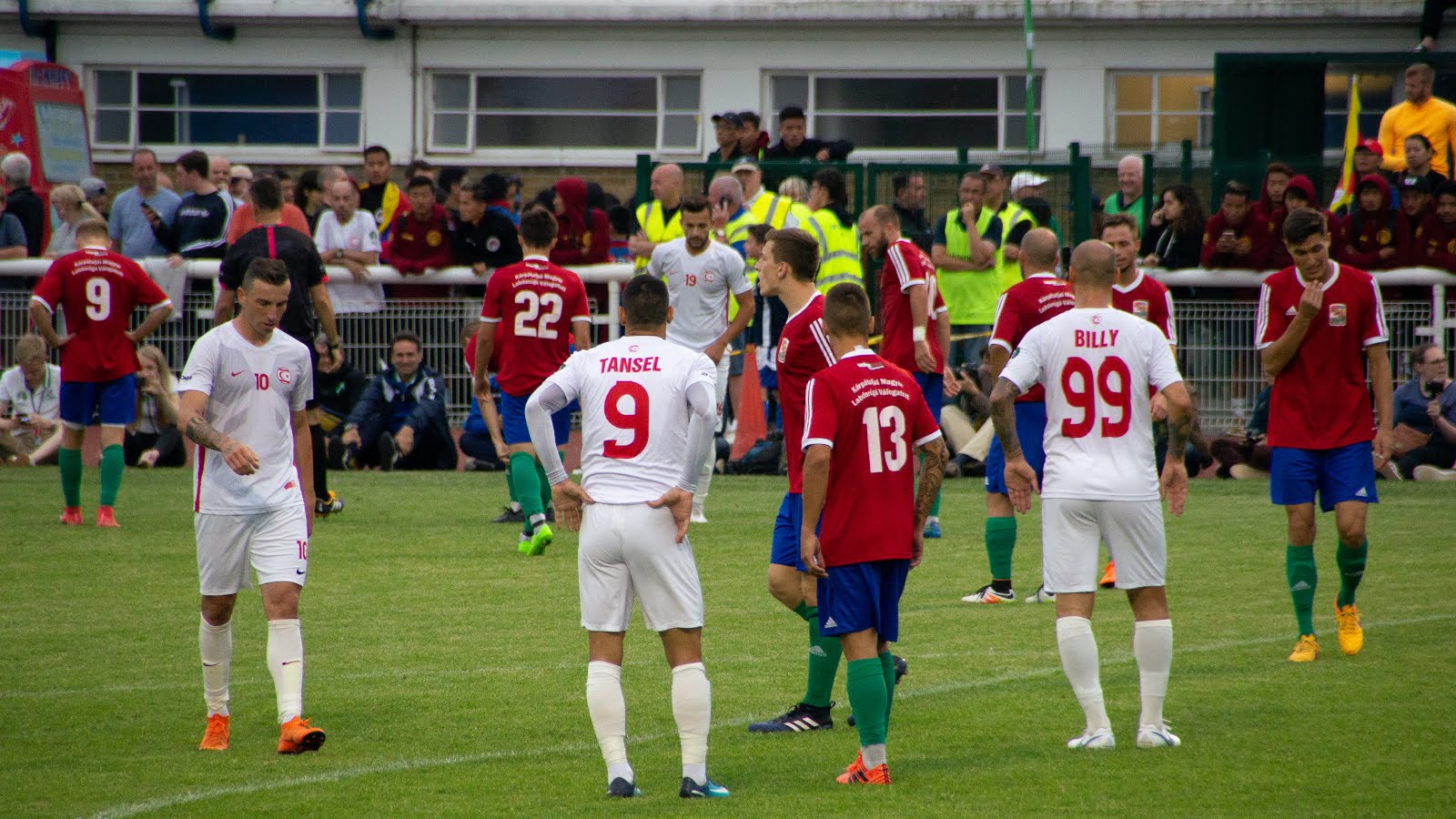 Standing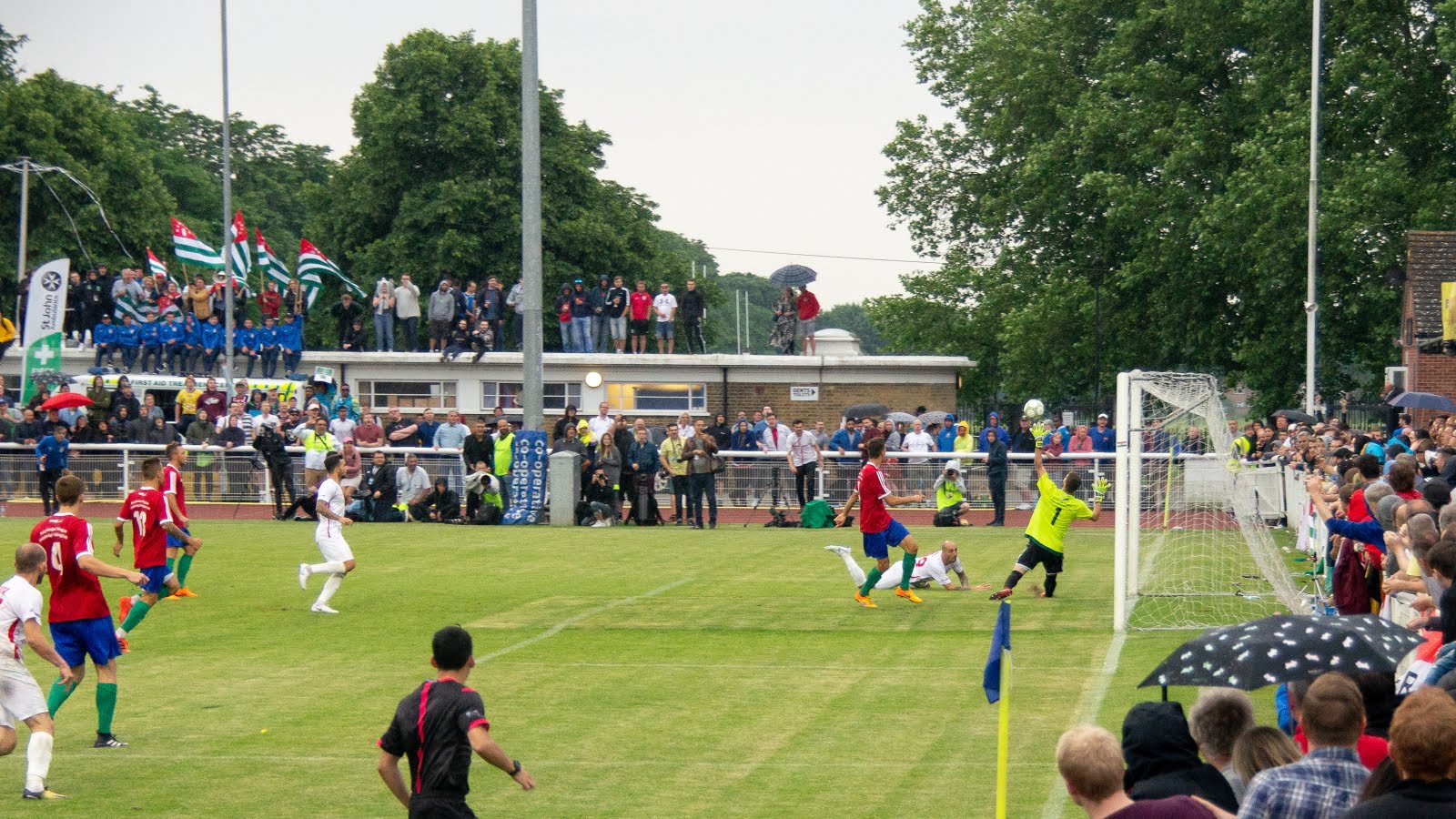 Billy's big chance
The Norther Cyprus no.6 comes next and sends the keeper the wrong way to square things up at 2-2 with 4 each gone. It's getting exciting! And wet, also wet. This rain is a right pain to shoot photographs in! The Hungarians last kick falls to their no18 Sandor Rozman. He confidently thumps his effort right into the corner giving the keeper no chance. So it's down to Halil Turan to keep his team in it and take the shoot out to sudden death. He goes to the keepers right, but so does Bela Fejer between the sticks and he saves! Blimey, they've only gone and Denmark 92'd it!
Amusingly, Frejer regains his feet and for a second seems to not realise he's just won a world cup, but his team mates all legging it towards him going mental seems to confirm his achievement and he himself sets off down the touchline no doubt heading towards their fans at the far end. Handily and also somewhat concernedly, he seems to be going via me. His run takes him right past me, within about 3 feet and all the time I'm just clicking away. He gets about three quarters of the way to the other end before the rest of the team catch him and he disappears beneath a pile of them and delirious fans. Elsewhere, Billy Mehmet sits distraught in the centre circle whilst people swirl around him like large rock in a stream. Eventually a team mate tries to console him and lift him to his feet but he's having none of it.
Having greeted their fans, with some more pyro naturally, the victorious team heads off the field for the presentations. Unfortunately, despite having had the shortest opening ceremony in history at Bromley, these prove to be amongst the longest as all the teams head up one by one to recieve the plaudits of the crowd and receive their participation medals. It's a nice touch for all these guys, some of who have travelled a long way to be with us for the last 10 days and is of course completely what CONIFA is about, but it does somewhat kill the joy for the Hungarians a touch as they're left sitting around for a good half an hour or so to eventually see their team lift the title. I kill time by chatting with Daniel from the Beautiful Game blog and also by meeting two Italians who notice my Sutton jacket. It turns out they're from Chieti in Italy and have been to GGL a couple of times this season as guests of Joycey. It also seems that the much dreamt of friendly between the Italian club and us is still on the agenda, hopefully for next year. Count us in!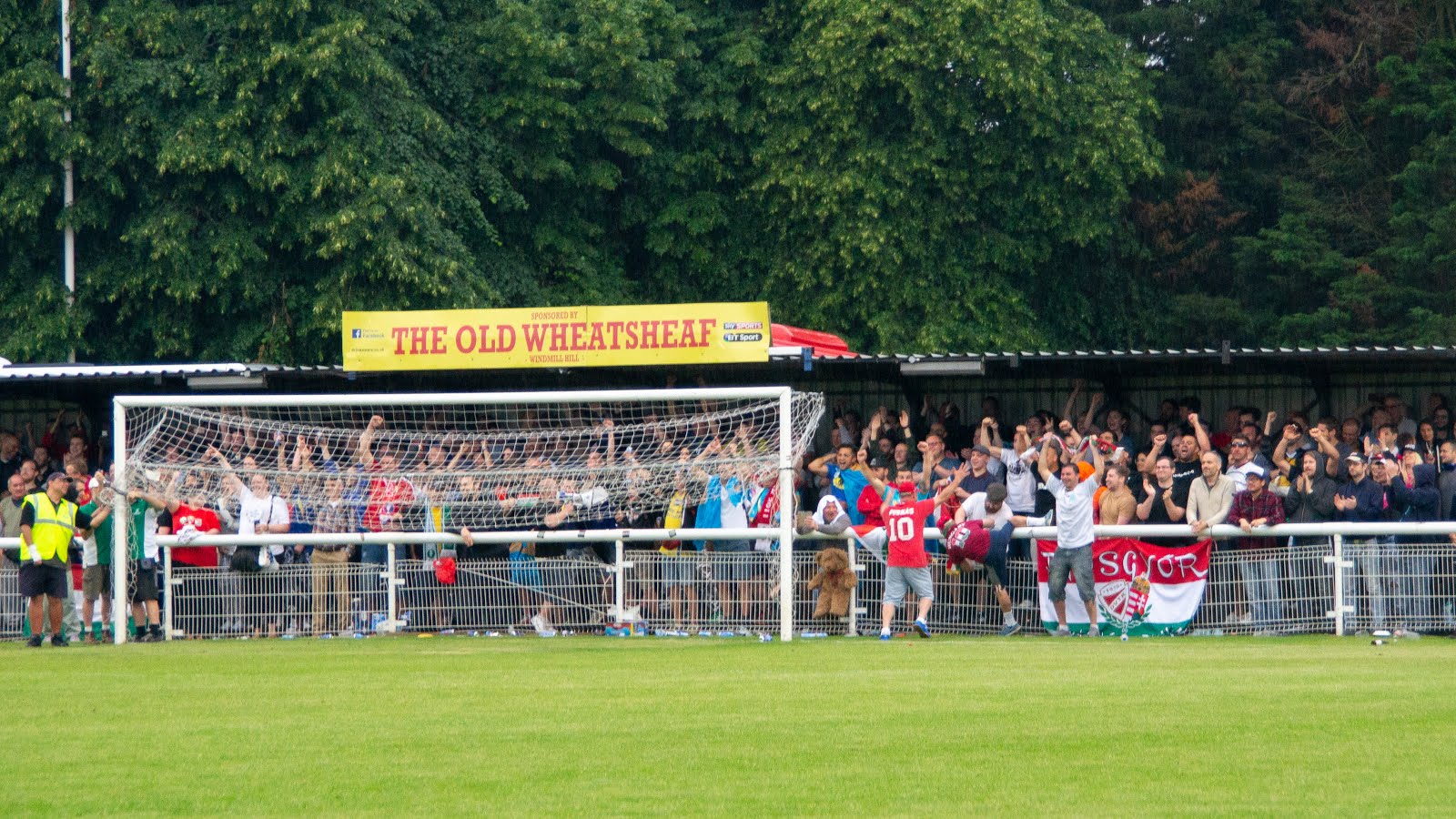 Hungarians celebrate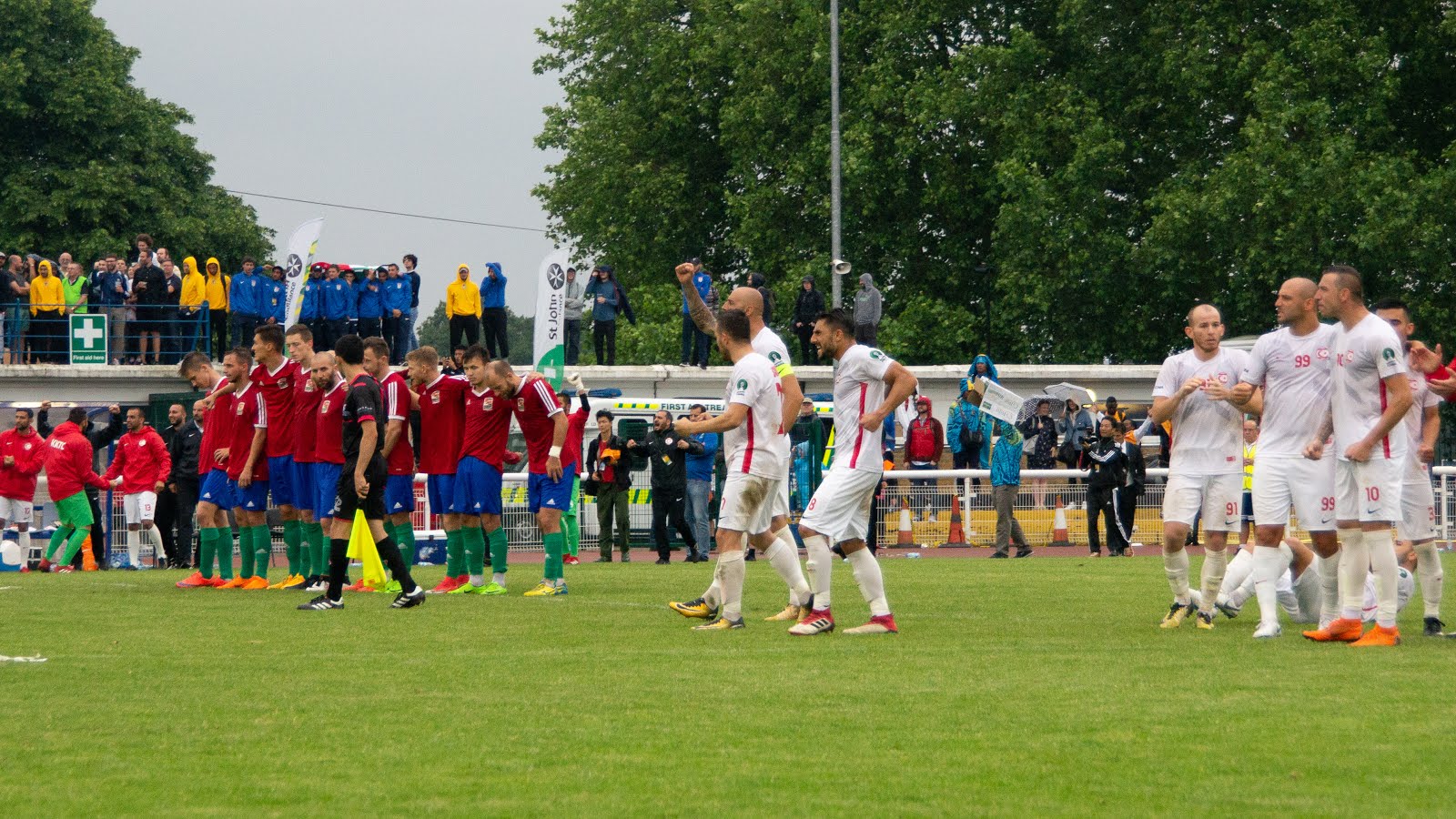 Northern Cypriots celebrate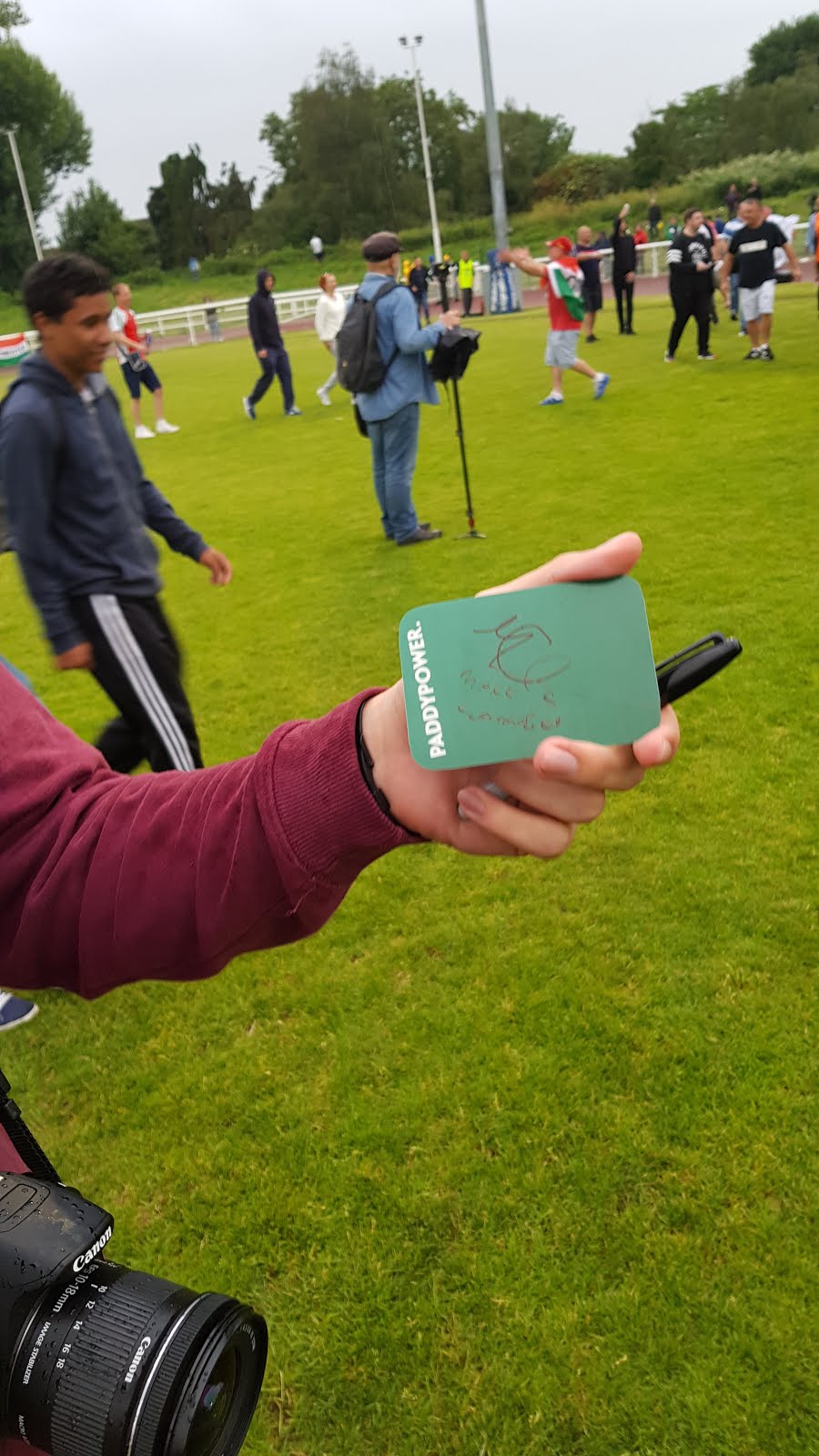 Top snatch that mate!
Eventually, all the other sides have received their plaudits and it's time for the main event with Karpatalya side hold aloft the winners trophy to a sea of camera flashes. Right, my work here is done. I'm bloody starving, time to head back Saaahf of the river and get me some food. We all pile into Crockett's motor and we're soon on the M25. I pass the time catching up on twitter and looking back through my pics on my camera. Having checked the ones of the celebrations starting, I think I may have to retire permanently from football photography. I ain't topping those! After a trouble free journey home, Matt drops me on Croydon Road opposite HQ and I'm left to stroll indoors whistling that bloody Tournament Anthem from Right Said Fred. Now where on earth did I pick that up from?
Suffice to say, this has all been a lot fun. I decided to do this purely for a laugh and to experience a tournament from start to finish and hopefully from a different perspective. That and I wanted to see if I could produce a reasonably consistent stream of content on here over a short period of time. I'd like to think I've managed that, but then again I'm probably biased. No, it's not been your regular sort of pissed up Gandermonium content and there's probably been a bit too much football for some tastes, but at the end of the day without football there'd be no Gandermonium. So you should probably cut us some slack just this once!
We all thought this tournament would be a bit of fun and we weren't expecting much from the games, but it's fair to say the standard of football has surprised us all a bit. There were genuinely no shocking sides that we saw. Sure, we witnessed a couple of right thumpings but that was just difference in quality levels rather than any team's inability, the sides all got it down, tried to play and got on with it with dickish behaviour kept to almost zero. It's been a breath of fresh air and from half thinking I might have had enough after a couple of days in light of how Sutton's season panned out at the end, I can safely say it's had the opposite effect. It's actually restored my love of the game a touch and got me looking forward to the new season now. No doubt I'll waste all this new found optimism however by watching the big World Cup and witnessing some fucking garbage or other to get the old blood boiling again. It'll probably be something to do with that VAR bollocks no doubt.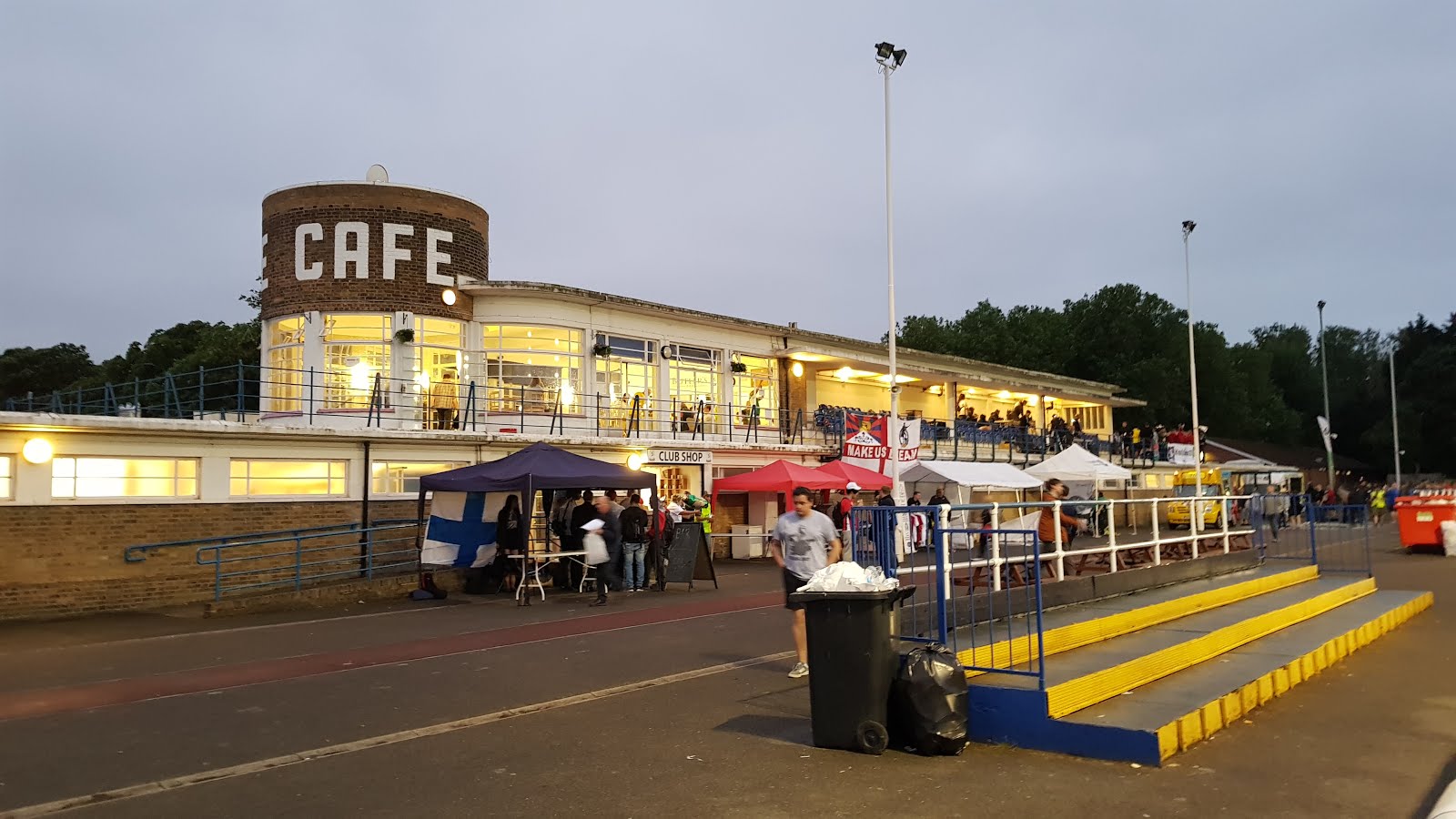 Bye Enfield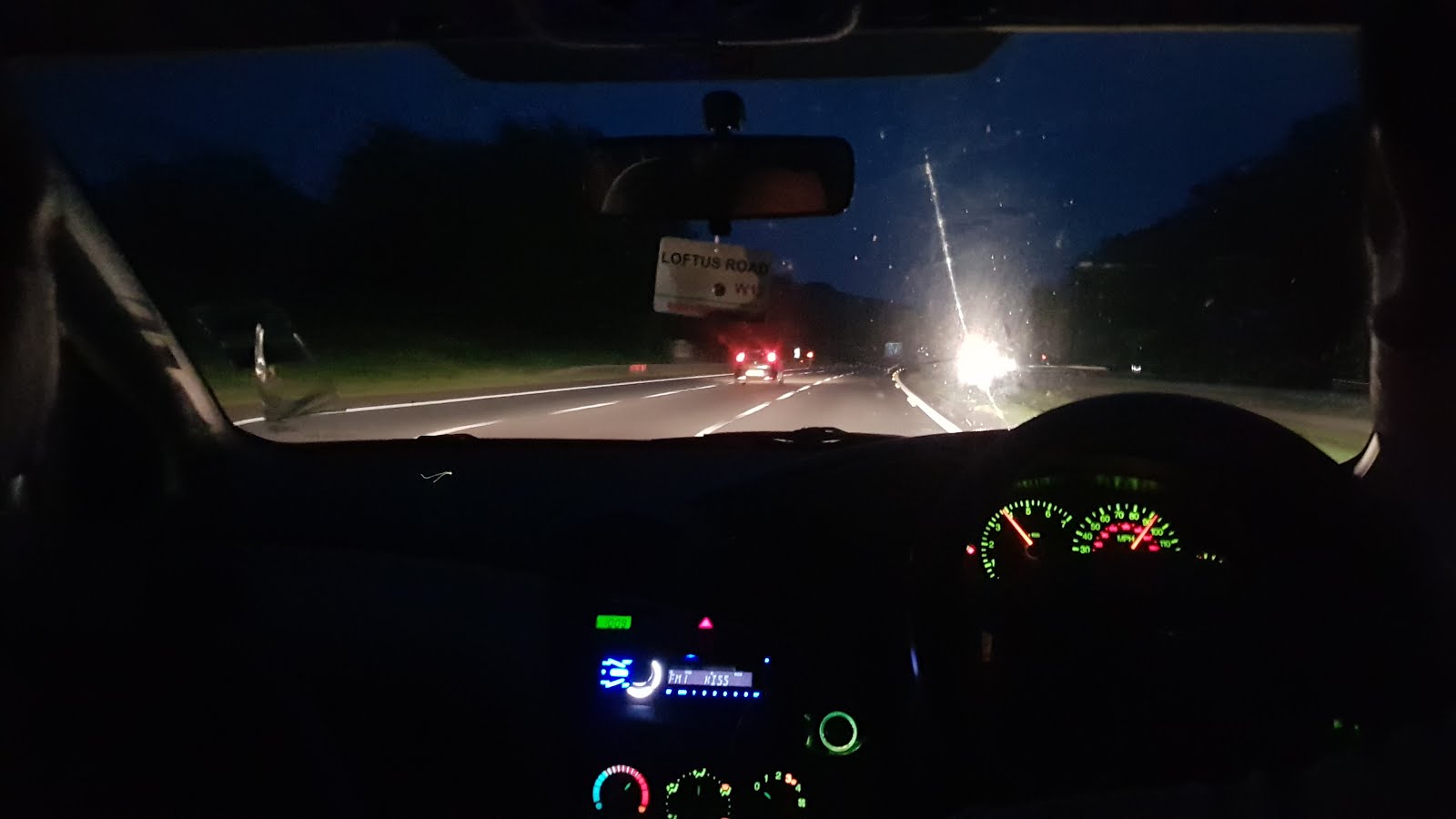 Homeward bound
So I guess all that's left to say is a big thanks to everyone involved in getting this show on the road. It can't be easy organising an international football tournament involving 16 teams, 10 grounds and god knows how many people and volunteers. So a big well done to all the gang at CONIFA as well as all the media guys and girls at the games dealing with the demands for team sheets and other crap. You have yourselves a nice sit down with a cup of tea. You've earned it. In fact, have yourself a biscuit too. Preferably one with chocolate on it. Go wild. We would.
Right, I'm off to the EasyJet site. I need a fucking holiday.
Taz
Today's Other Scores:
13th14th Place Match – Matabeleland 1 Tamil Eelam 0
11th12th Place Match – Tibet 1 United Koreans in Japan 1 (UKIJ win 4-1 on Pens)
9th10th Place Match – Kabilya 0 Abkhazia 2
7th8th Place Match – Barawa 0 Western Armenia 7
5th6th Place Match – Panjab 3 Cascadia 3 (Panjab win 4-3 on Pens)


Tournament Blogs:
PREVIEW | DAY 1 (Taz) | DAY 1 (Totts) | DAY 2 | DAY 3 | DAY 4 | DAY 5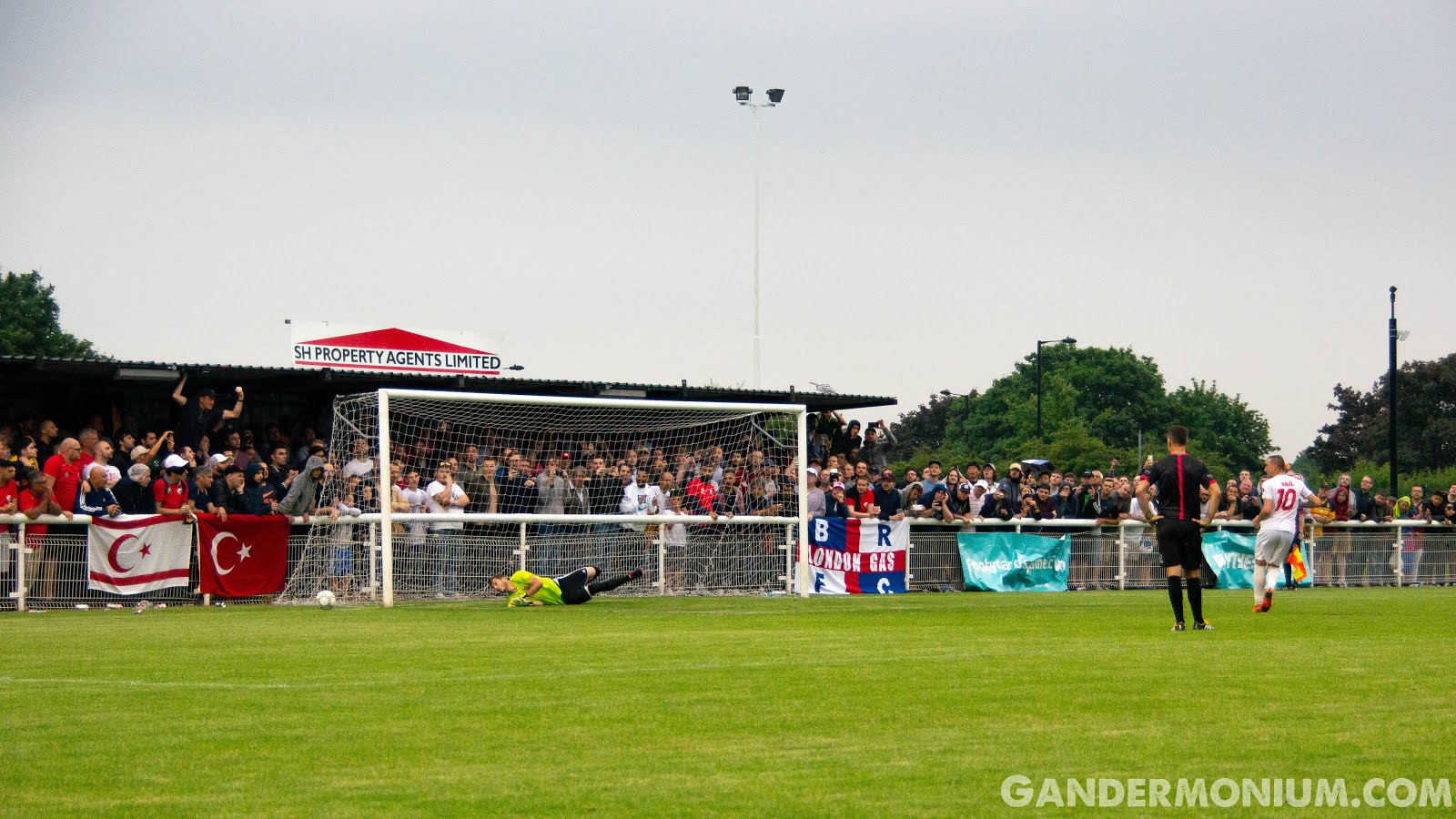 He's saved it!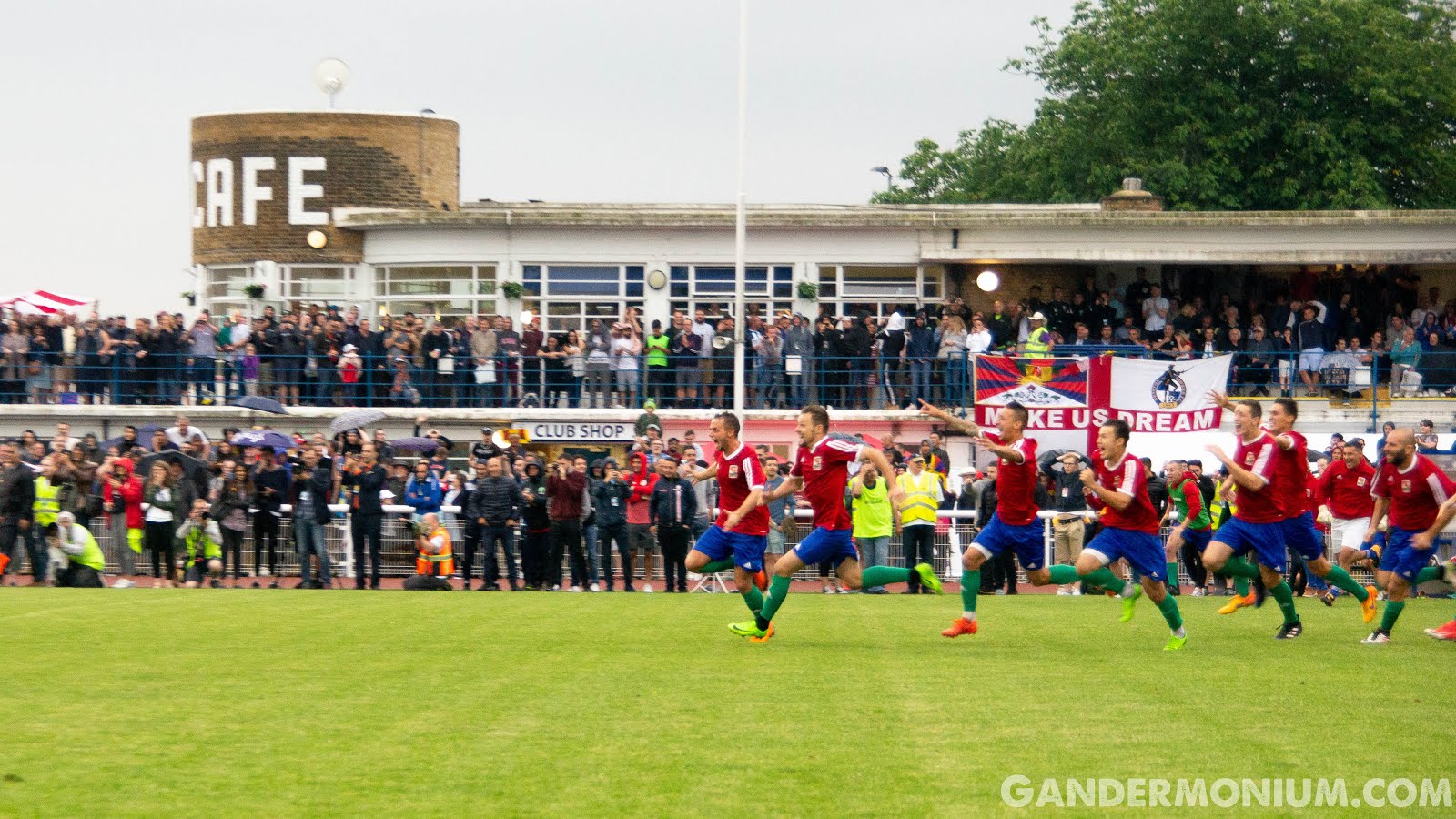 Yeeeeaaah!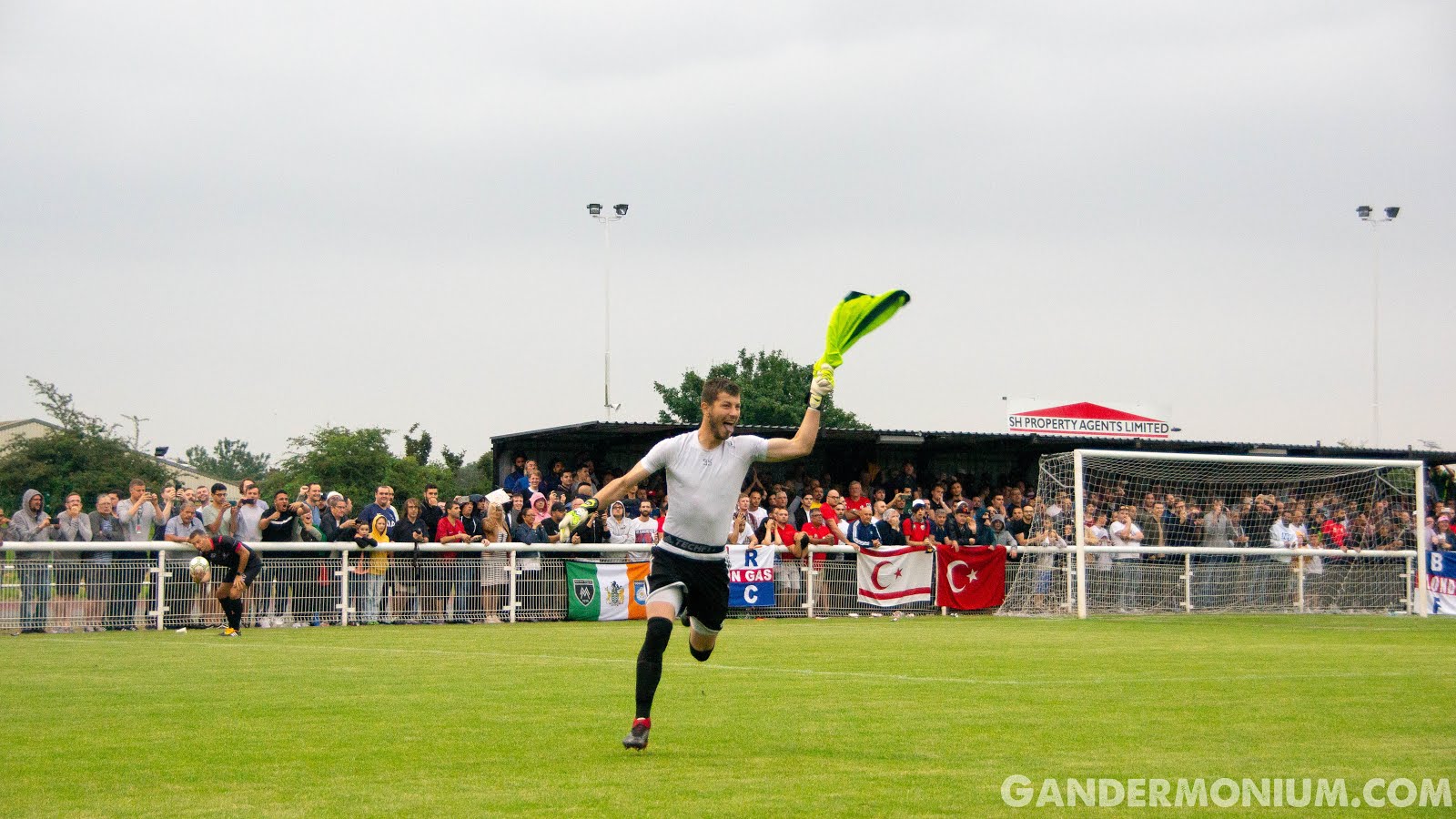 He looks happy.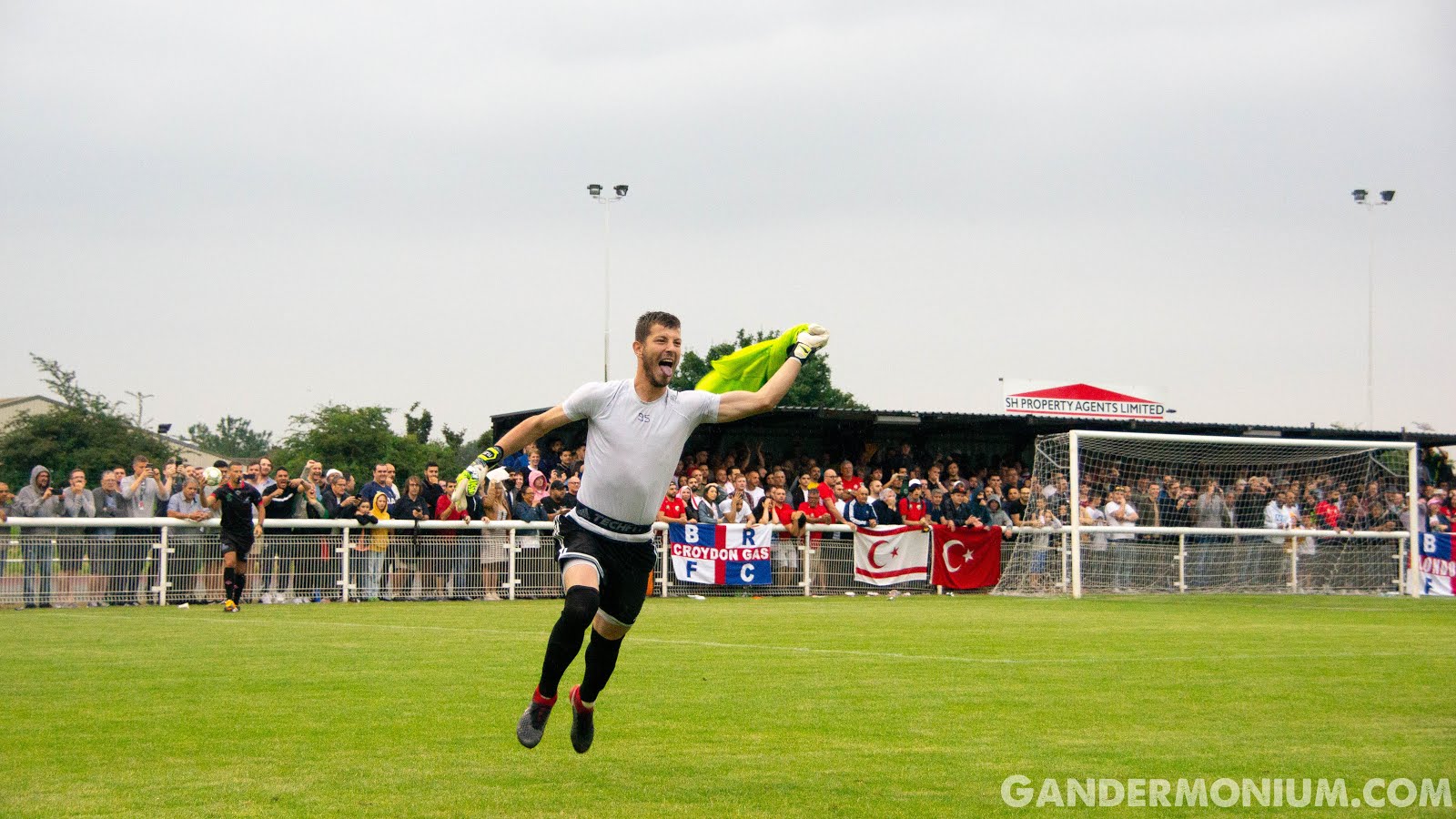 Wait a sec, he's coming this way….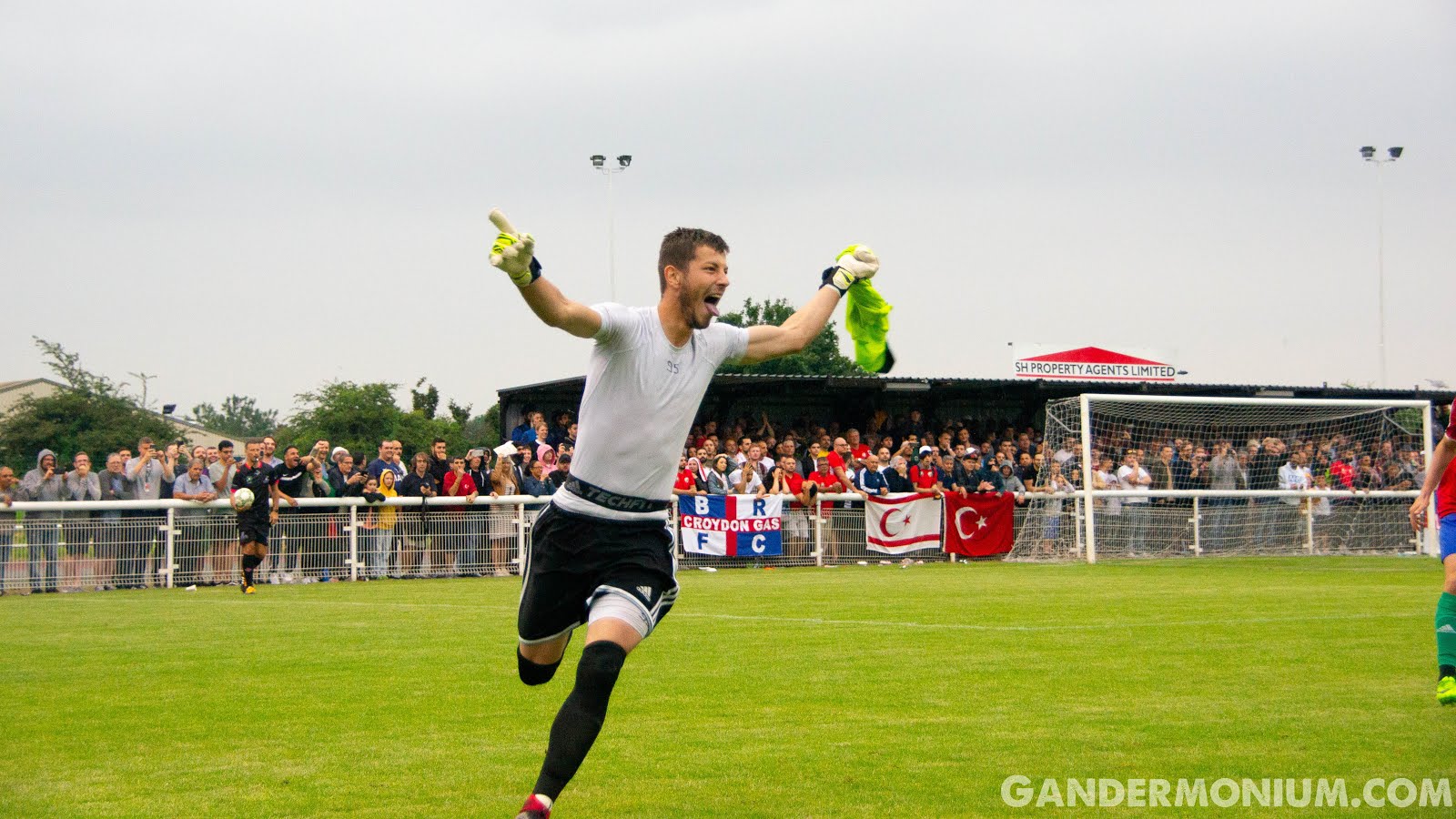 Yep, he's definitely coming this way!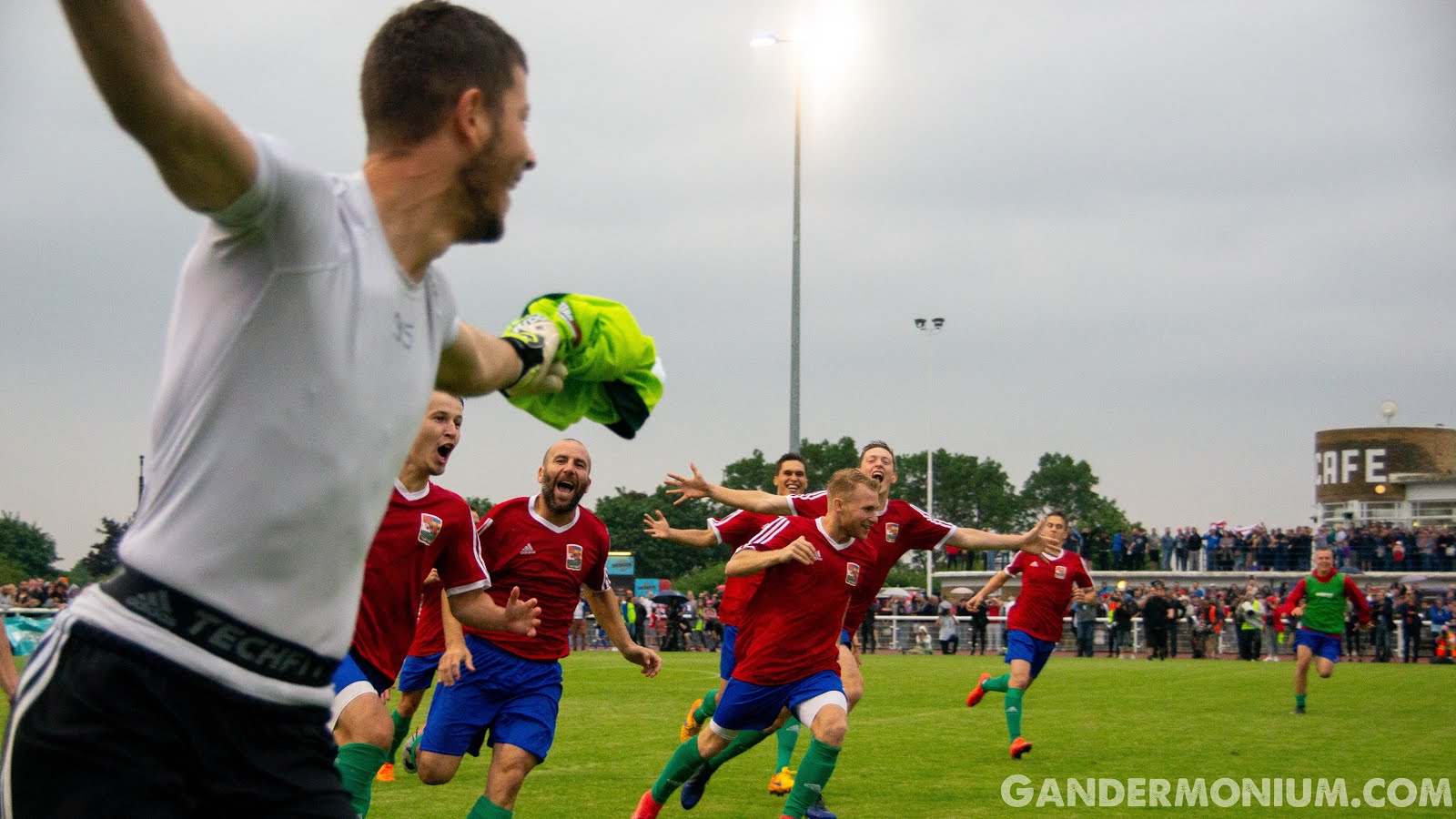 Phew! That was close!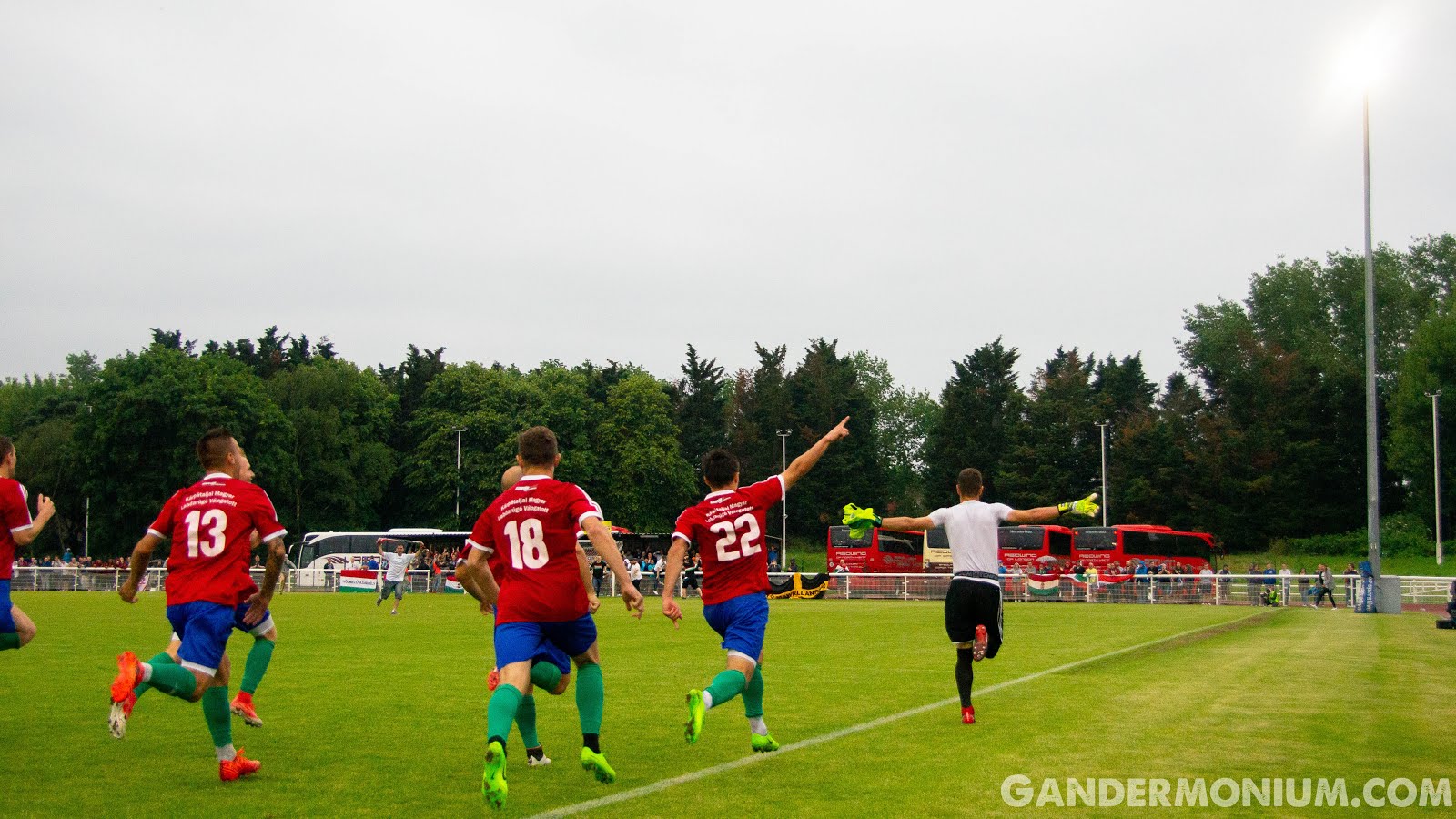 And like 2 ships that pass in the night, there he goes…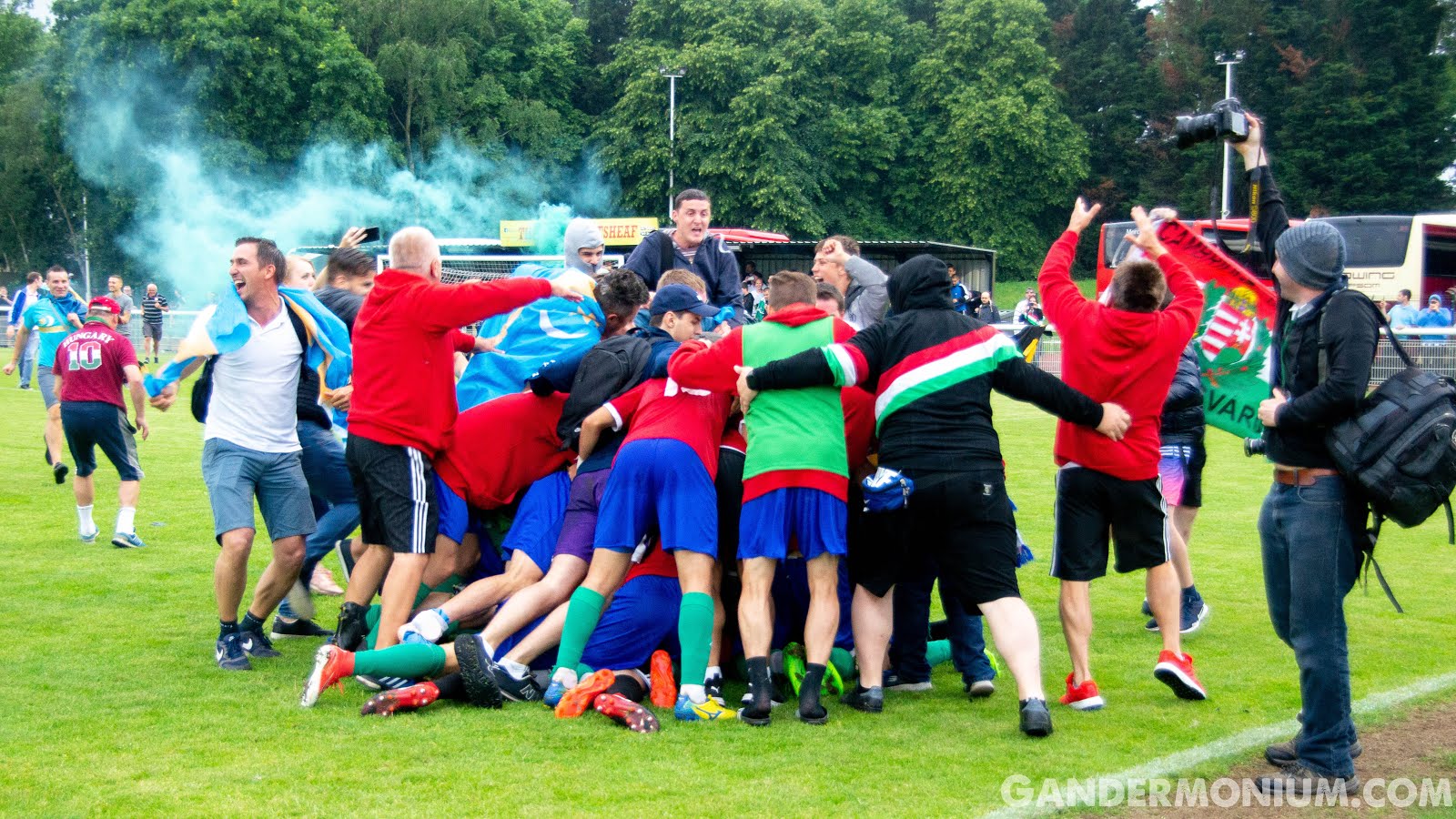 "Here lads, anyone seen your keeper? He was here a minute ago…"