If you hadn't already guessed, the last few days have mostly been a blur of going to football, watching football, taking pictures of football and then writing about football. And this means that the good lady has had to put up with this football bollocks a bit longer than she normally would in a regular season. So, with a handy blank day from CONIFA-ing yesterday, I dedicated myself to my beloved and we headed up town for a bit of culture vulturing.
The destination was the British Museum to take in the Rodin exhibition they currently have on. Which, depending on your point of view is either a seventeen quid a head wander around looking at a bunch of half finished looking sculptures, or the chance to admire a choice selection of the works of a man generally considered the progenitor of modern sculpture. I'm admittedly more in the 'fucking lumpen philistine' category when it comes to stuff like this, but getting to see the 'Thinker' in the raw was at least a bucket list tick and that 'Gates of Hell' gig he did is admittedly impressive. Mrs Taz was most enchanted by the dead French geezers efforts and that ladies and gentlemen is all that matters. Right, enough of that old pony, back to the football.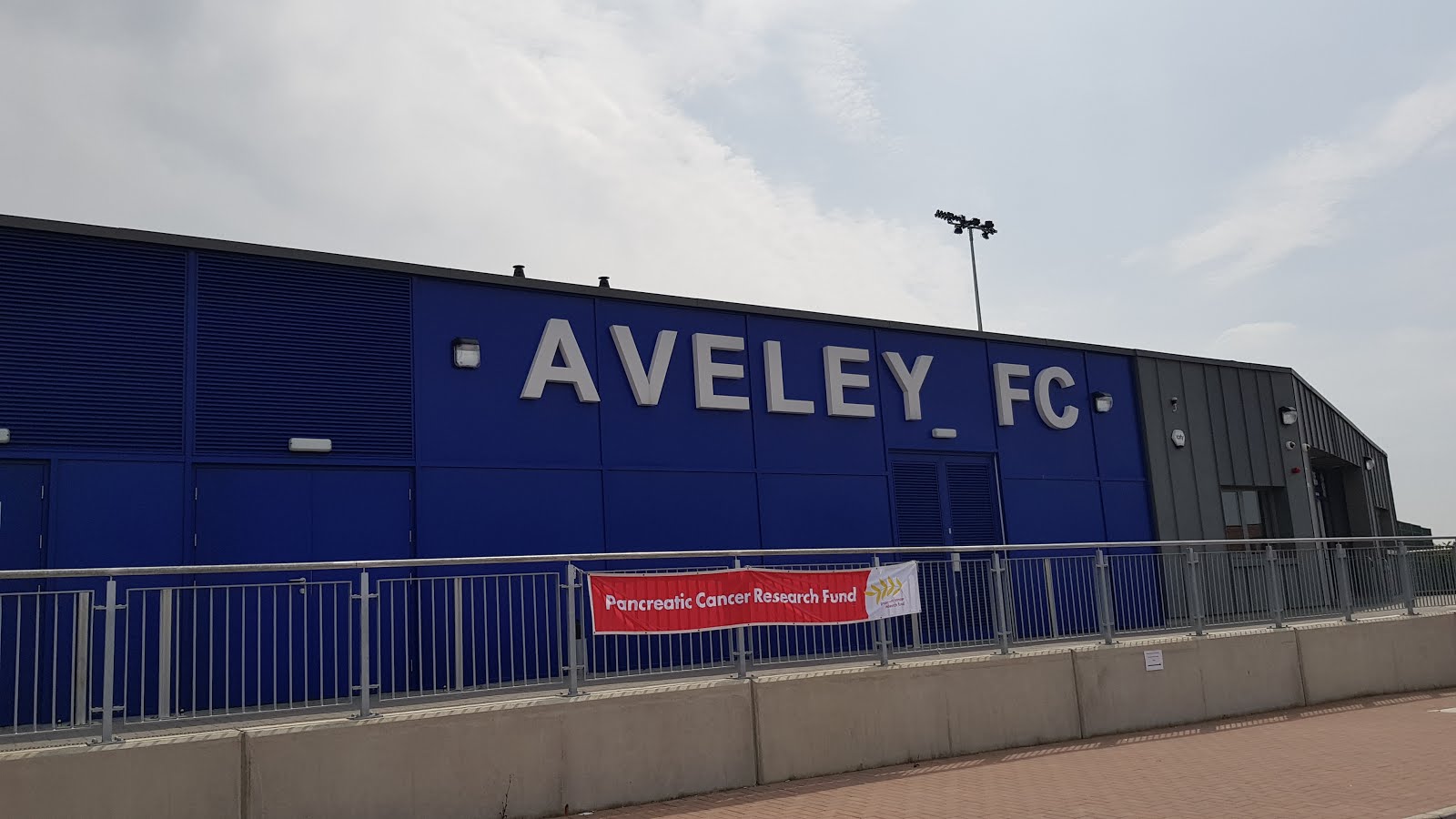 New ground tick!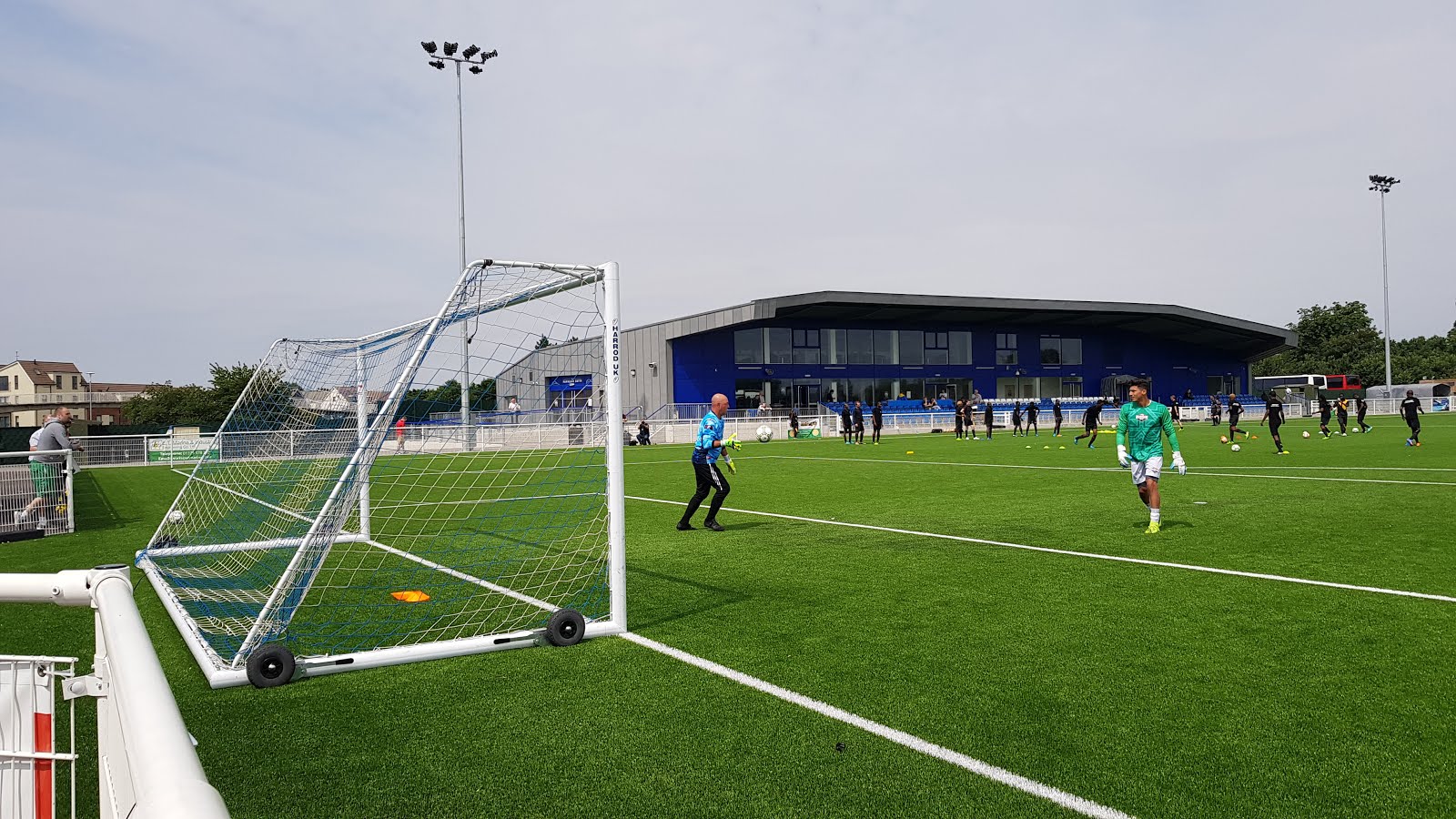 Brucie warming up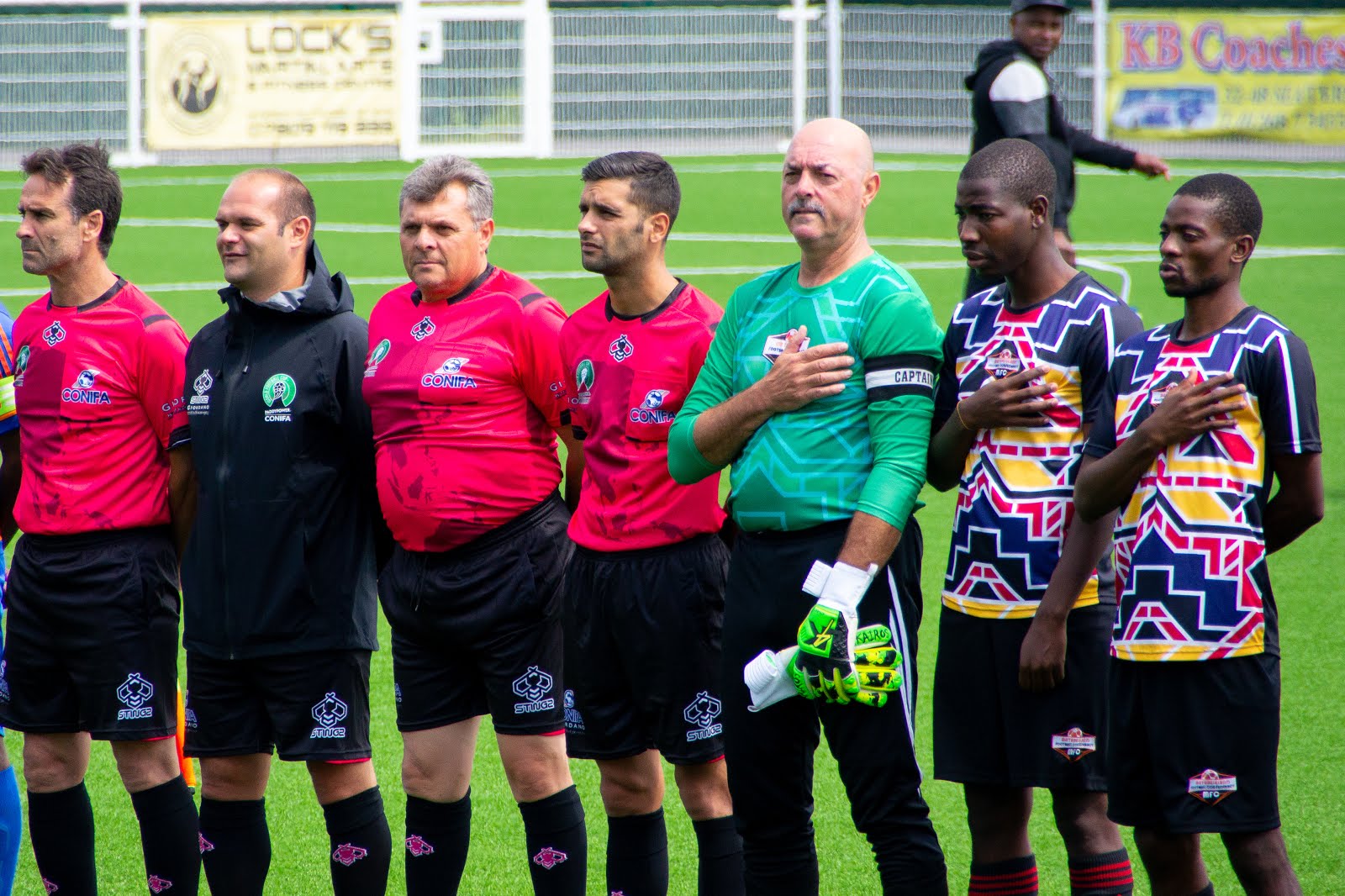 See, we told you it was Bruce Grobbelaar!
With the semi finals on tonight and the last few placement games being fought out, I decided to start Day 5 with a blatant bit of ground ticking, for which I make no apologies. The 12 noon kick off at Avely's new drum was the aim, with Matabeleland taking on the Chagos Islands in a friendly. They should have faced the losers of the Tibet – Ellan Vannin placement match on Tuesday, but this was made a little more complicated by the Manx lot having fucked off home in a huff. I almost take a leaf out of their book and give it a swerve myself, but then word hits the interwebs that the African's goalkeeping coach, one Bruce Grobbelaar, will be playing in the game. At the age of 60 no less. Sod it, we're in. If old Brucie can haul his carcass onto the pitch one more time, I can certainly sit on the M25 for three quarters of an hour. I won't be alone either, as Dr Bell is taking a break from tending his garden and wishes to accompany me around to Essex. That and he blatantly wants a new ground ticked off as well.
MATABELELAND v CHAGOS ISLANDS
PLACEMENT MATCH – PARKSIDE, AVELEY
I collect Sutton's newest hipster from outside his just after 10 and we hit the road. As I'd hoped it would be at this time of day, the run to just the other side of the Dartford crossing is easy enough and we're pulling into the car park at Aveley's plush looking new gaff a touch after 11. Turnstiles located, we head on in and are immediately greeted by the sight of 60 year old former Liverpool man Brucie warming up between the sticks. And to be fair, he doesn't look bad for his age. His team mates are also warming up, including a lad who'd paid over £200 quid for the privilege of 15 mins on the field today. Matabeleland had offered this up for auction online and were able to do so as this is technically a friendly after the Manx withdrawal. For tournament purposes, this match will be recorded as a 3-0 win for the Africans, so I'm guessing no one really gives a shit what they get up to on the field today. To be honest, if that was me, the first thing I'd be doing when I got home is sorting out my own wikipedia page to publicise my international cap!
We kill a bit of time and have a wander around the ground. It's a nice setup with bits of cover on all 4 sides and perfect for a club of Aveley's size. Another decent new build, whatever next! Having had a nose, we grab a cuppa and settle in for the game to start. Despite the kickabout nature of the tie, the anthems are still observed with the Chagos one being a rather funky reggae style number. We like it. So do most of the Matabeleland side as well as they stand there nodding their heads and swaying along to the beat! The game is very much played at friendly pace as the Africans give a few squad lads a run out. The Chagos team have a go and should probably be ahead early on. The lad who's paid for his spot wears 19 and slots into midfield. He does ok and almost sets up a goal with a raking pass out wide before being subbed with about 25 gone. This is about 5 minutes after the Sky TV camera turns up, no doubt to capture Mr Grobbelaar in action. Sadly for them, he lasts about another 5 mins himself before trotting off, having done little to sod all in the last several minutes or so. Hope you enjoyed that footage on SSN this evening!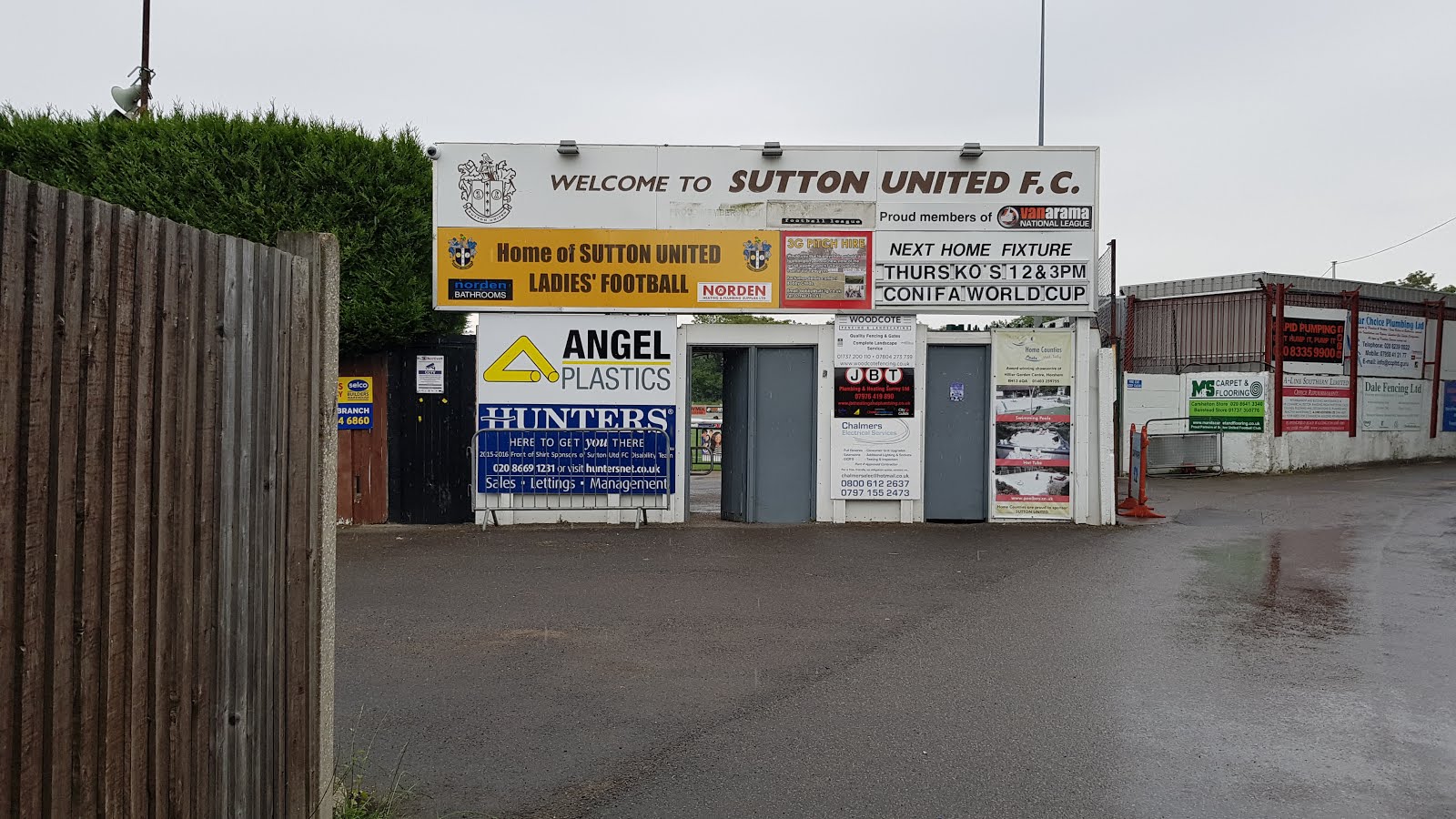 Back home again.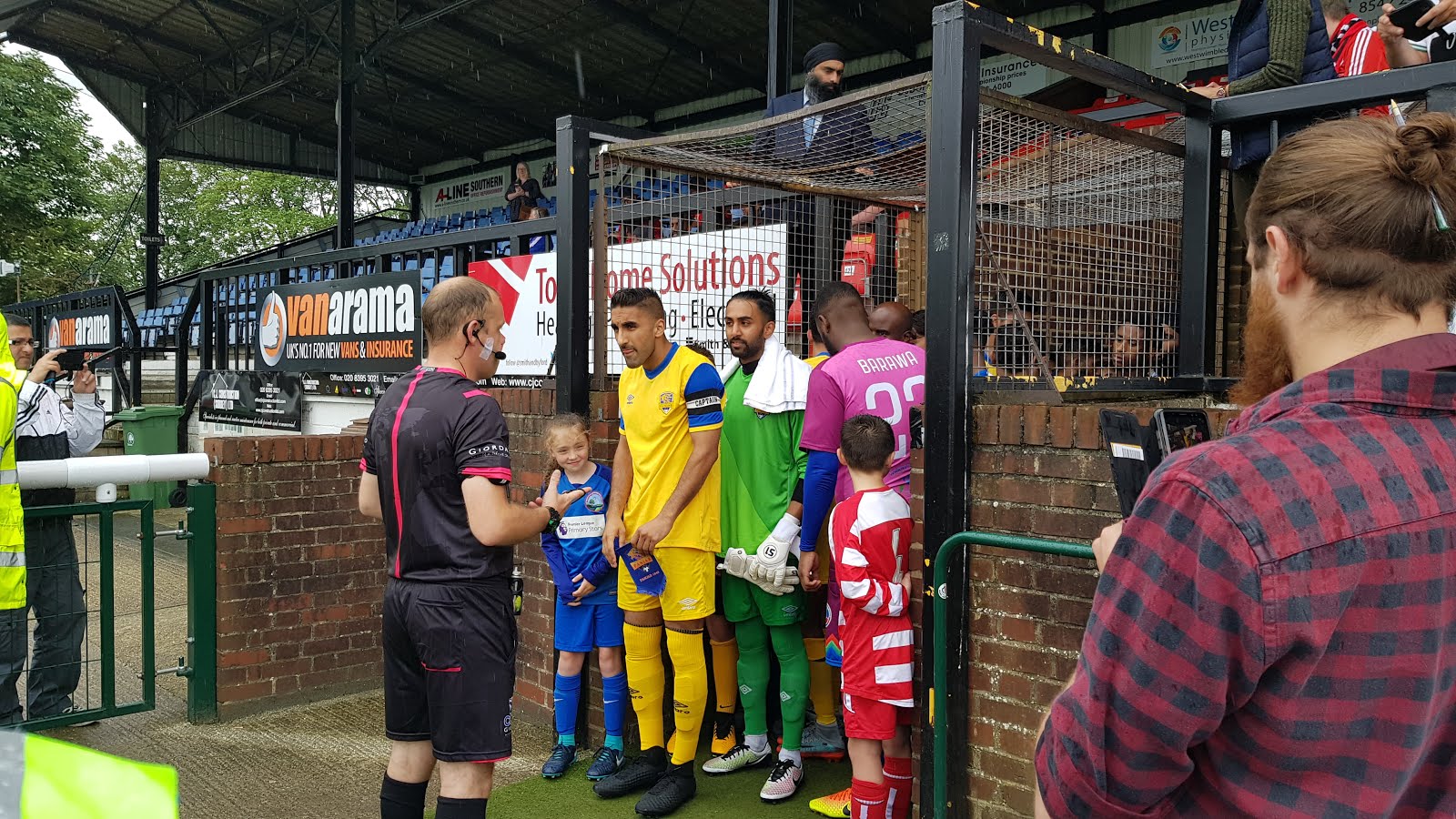 Barawa v Panjab ready to go…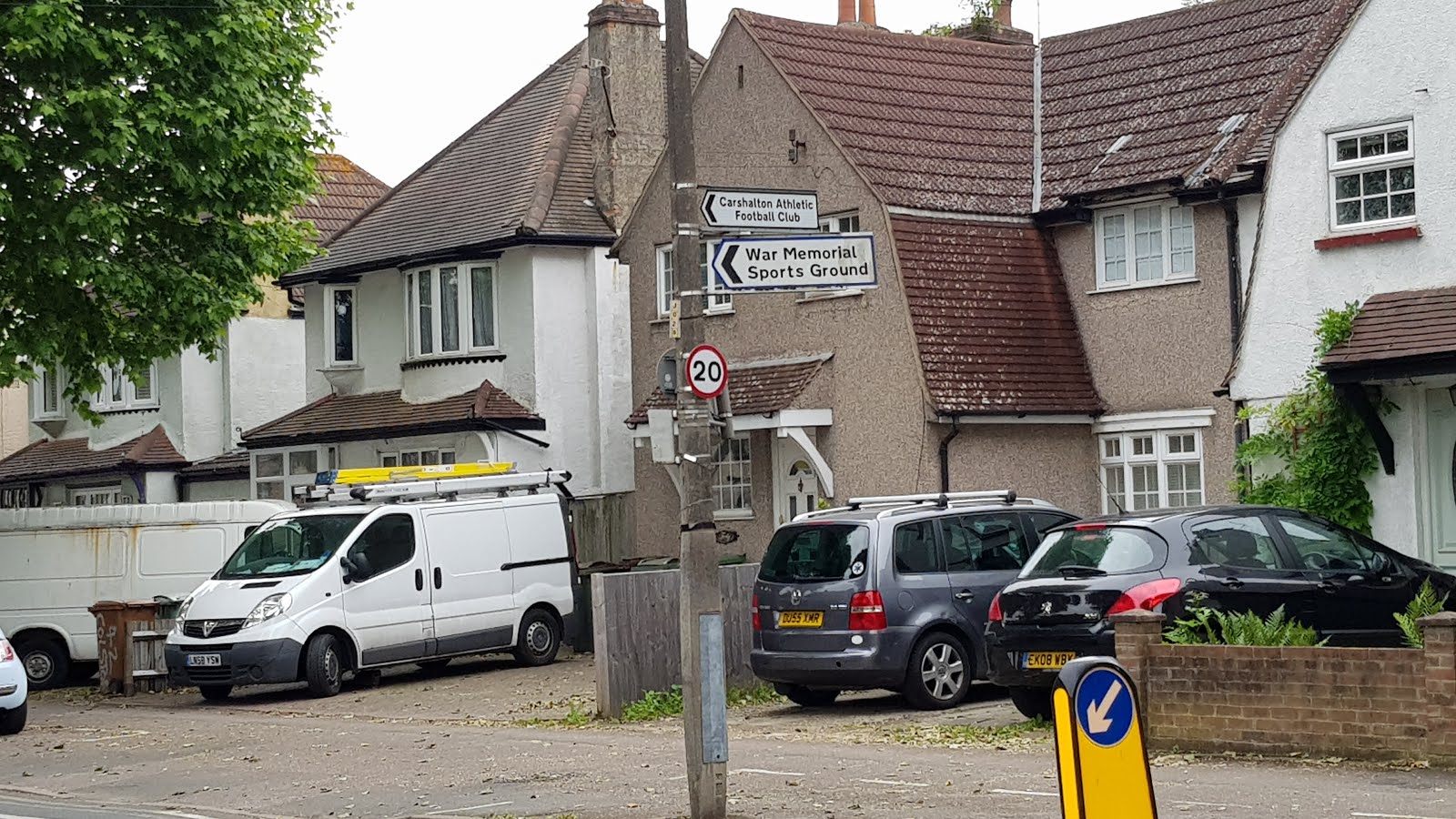 I hate this place
With half time approaching, my sinuses are really starting to give me jip. And having blown my conk for what seems like the hundredth time this morning, I end up with a poxy nosebleed and have to skip the last 10 mins or so to stem the flow of claret with half a roll of khazi paper in the gents. When I finally emerge, the 1st half has ended and with the game not having exactly caught out imagination, we decide to give it the full 'Ellan Vannin' and fuck off early. This should at least allow me now to get home and dump the car, plus leave enough time to make the 3pm KO at GGL. The M25 again proves no obstacle and having ditched the wheels safely at Gandermonium HQ and made Dr Bell and his dicky hip clamber over the small perimeter wall of my place onto Croydon Road, we head for Sutton. Luckily, we bag an X26 down by Wallington Green and are whisked there in but a moment, before pulling out some cash and starting the stroll to the Republc.
PANJAB v BARAWA
PLACEMENT MATCH – GANDER GREEN LANE, SUTTON
Of course, having been nice weather all day so far, for the walk to West Sutton it starts pissing with rain. Yeah, cheers Britain you dick. Still, this quickens our step and we make good time arriving with a good half hour to kick off. Time for a quick drink! In the bar we find fellow addict Mr X and also Greek, taking his first sip of CONIFA nectar this afternoon. He seems to be having fun as the earlier Tuvalu v Tamil Eelam game had apparently been a 7 goal thriller! Also in attendance is our old friend Simon of the parish of Weston-Super-Mare. He's covering this for his local rag as one of the Panjab lads is a WSM product, albeit now plying his trade for Cleved*n. At the bar is also a chap in a Wallsall shirt, getting a drink and some cash back. Suddenly team sheets appear and he's rather pleased to bag himself one and heads outside for the game, completely forgetting his 60 sheets cash back and leaving Di behind the bar holding his 3 crisp twenties! Oh we're sure he'll be back for it eventually.
With the rain still falling sporadically we head for the far side for a change and stand in the bus shelter. The game is ok, but not amazing. Barawa still look a shadow of the side I saw on the opening day, but they at least look a bit better than they did against Northern Cyprus on Thursday, with a big no.9 up top being their main danger. Both sides trade chances before Panjab take the lead a little against the run of play. Then the big no.9 presents me with my first green card of the tournament. He bursts into the box, goes to go round the keeper and is sent sprawling. Everyone around me mutters "Penalty" and I'd be inclined to agree. However, the ref thinks otherwise and judges it to be a dive, flashes the green and the big man is automatically substituted. With departure, Barawa's hopes of realistically getting anything from the game depart with him and after an absolute sitter is missed right on the break ("How the fuck's he fucking missed that?" enquires a member of the Barawa bench at the time) in the second half, Panjab ease away to a 5-0 win with all the goals being really dull close range tap in type efforts that you'd probably not really be that interested to have described in minute detail. The fifth comes with practically the last kick and we head for the exits, bidding farewell to our friend from Somerset as we go.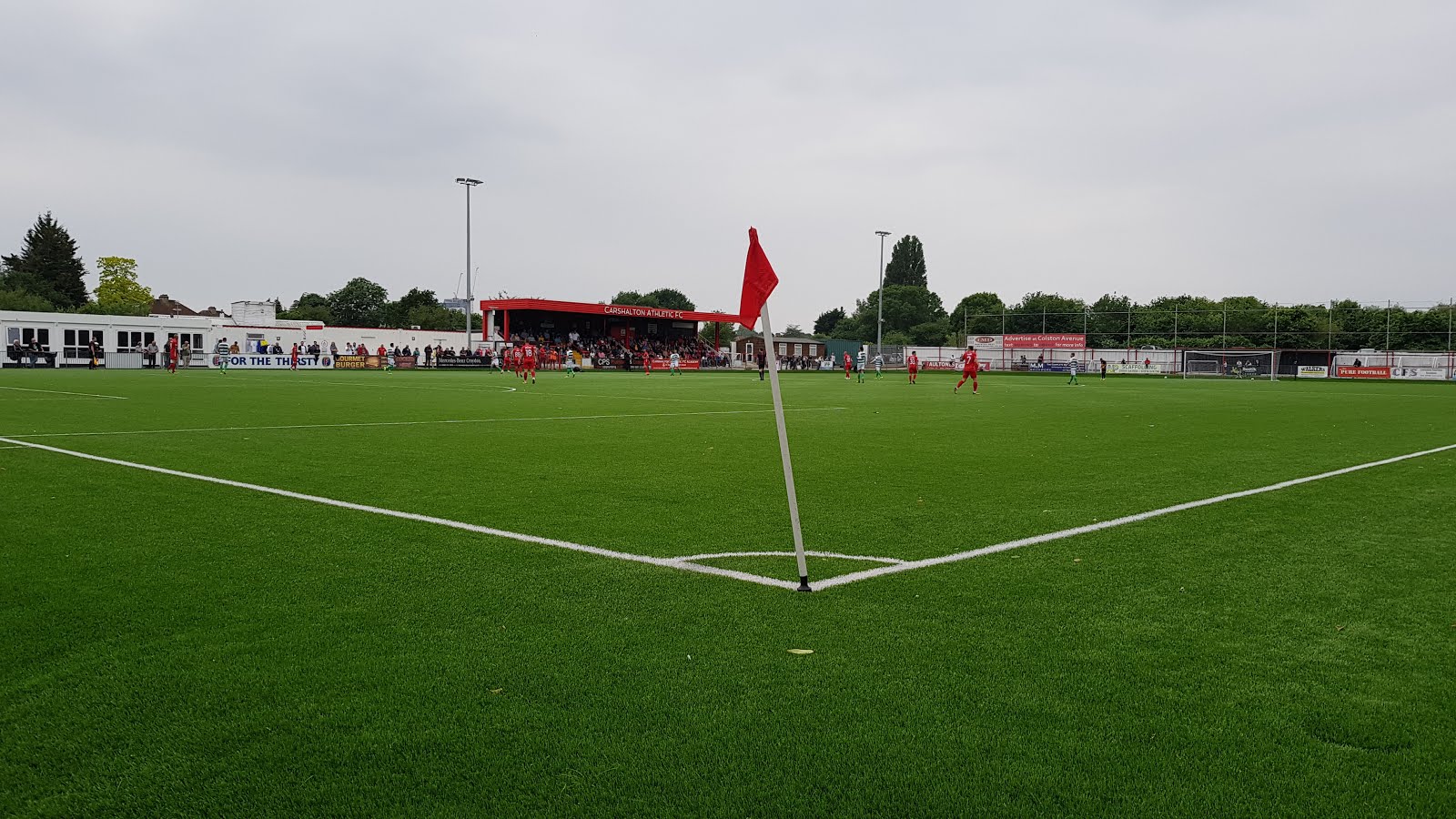 Fashionably late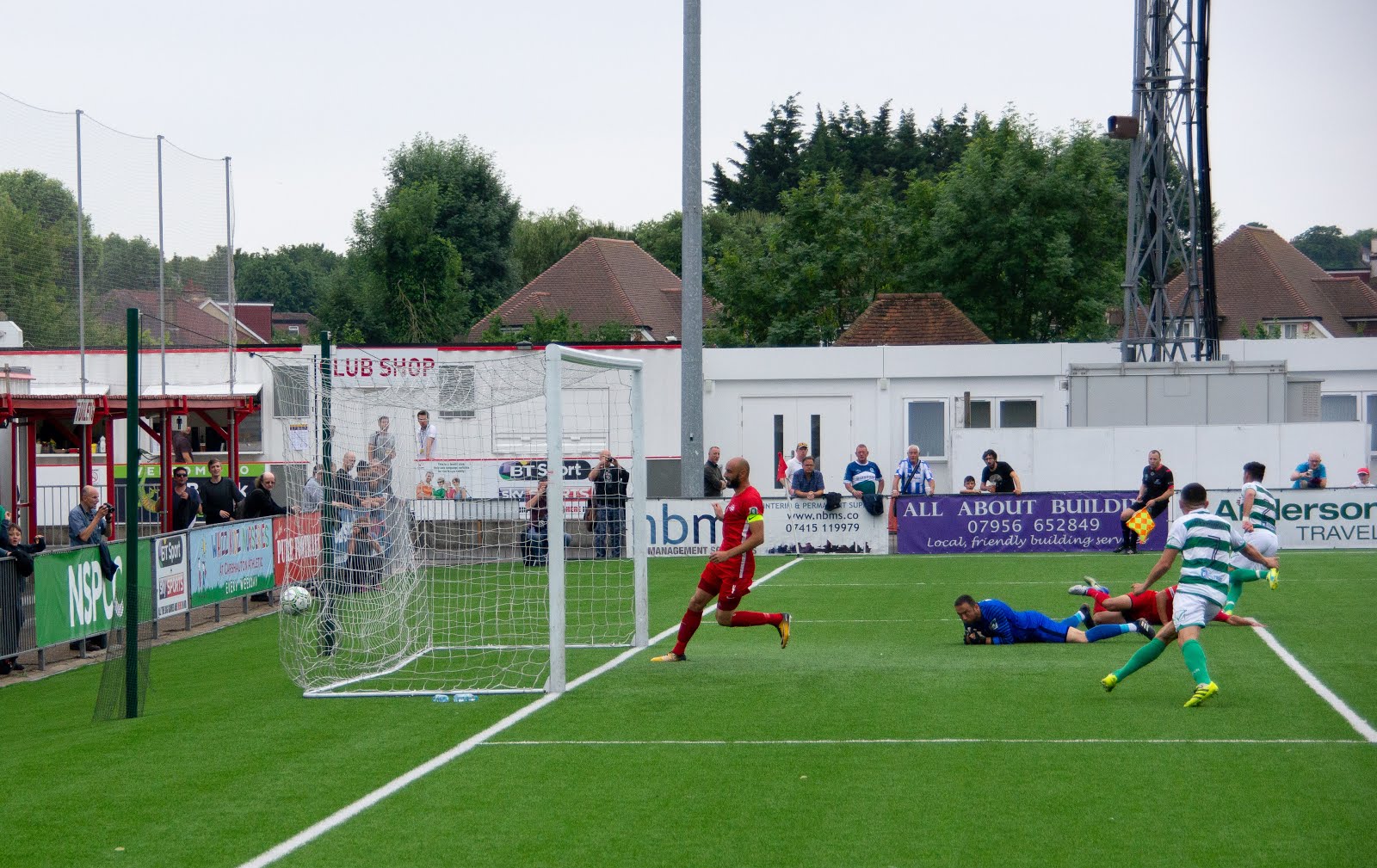 Padania open the scoring
Billy levels!
It's at this point I realise I've dropped a bollock. I'd been convinced the first semi final tonight at Carshalton kicked off at 6, but it doesn't. It kicks off at 5. So now basically. Arseholes! To make matters worse, Thameslink are once again playing silly bastards and the train due now, is delayed a good 20 mins. Uber it is! A quick dash over the border into the occupied territories, we drop Greek off to go hit the Hope for a pint and some dinner and Dr Bell and I amble up to the ground having missed almost the first 20 mins of the match. Good job I'm not press accredited and writing about all this shit eh? Oh…
PADANIA v NORTHERN CYPRUS
SEMI FINAL – COLSTON AVENUE, CARSHALTON
Thankfully, we've not missed owt important and we park up on the big side terrace towards the Colston Ave end of the ground. This proves to be a decent choice. The game is as expected, a feisty affair with both sides giving no quarter. The Italians are electing to sit in and play on the break whilst the Turkish Cypriots press high and at great tempo. They have most of the early running and put in a couple of reducers, including their skipper cutting the Padania 10, Innocenti (yeah, made us chuckle too) in half and taking a deserved yellow for his trouble. It's Padania that go ahead after 35 mins though. A quick ball from midfield finds a man clear in space on the right. He carries into the box and calmly slots past the oncoming keeper. 1-0! Much Italian shoutyness follows, mostly from the bloke down by the dugouts who's been swigging from a bottle of red and running through a large repertoire of Italian Ultras numbers all on his jack jones. The lead only lasts several minutes though, as the Cypriots are level through Billy Mehmet soon after. He collects with his back to goal, turns his man and from 18 yards, with the defender practically hanging off his back, he manages to steer a low shot into the bottom corner. This greatly pleases the much larger Northern Cypriot contingent in the crowd.
With the break now rapidly approaching, the Italians hit back and regain the lead. A raking ball picks out Innocenti on the left, he drives to the bye line and pulls it back to be tucked away from close range. Advantage once more to Northern Italy! At the break, we're joined by Totts and Dukey, who've been watching from the opposite end of the terrace. Predictably, Dukey instantly complains about the price of a pint in the Bobbins bar. Something Dr Bell had predicted he would do as far back as Thursday lunchtime prior to our opening game! You could say we know our flat capped friend extremely well. Others would say he's just massively predictable. We're comfortable with either.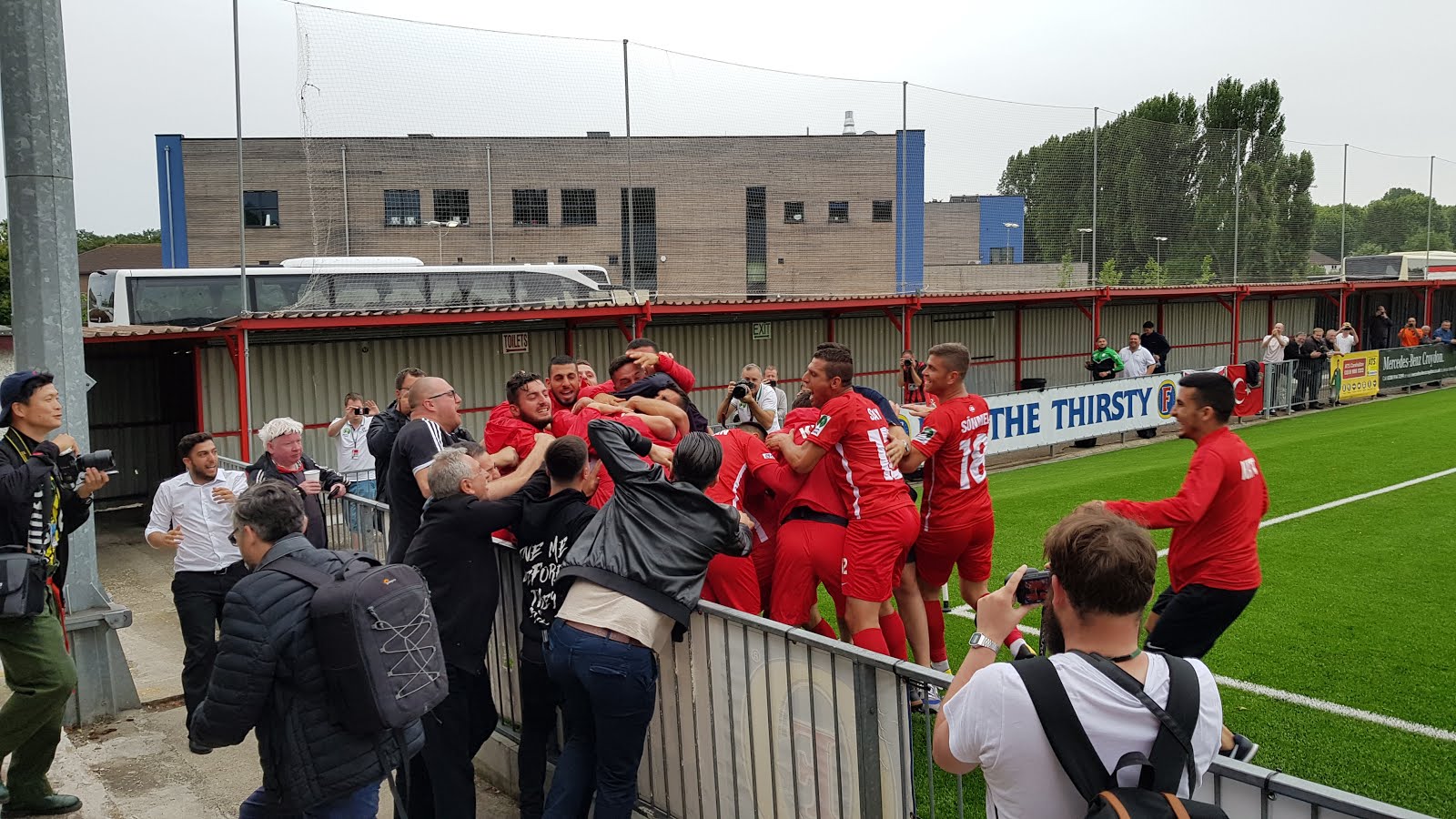 Sceeeeeenes!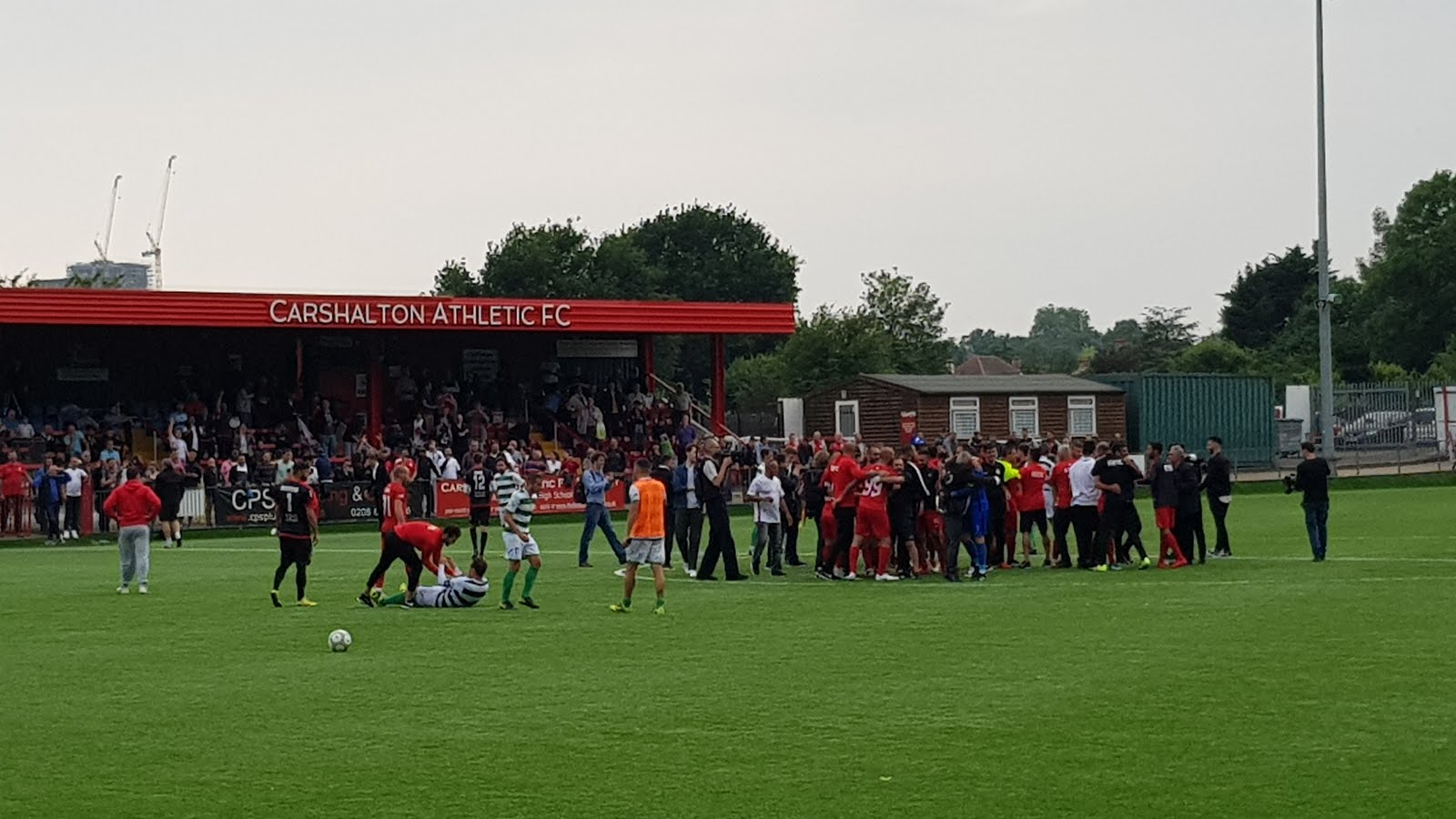 Can't beat a good pitch invasion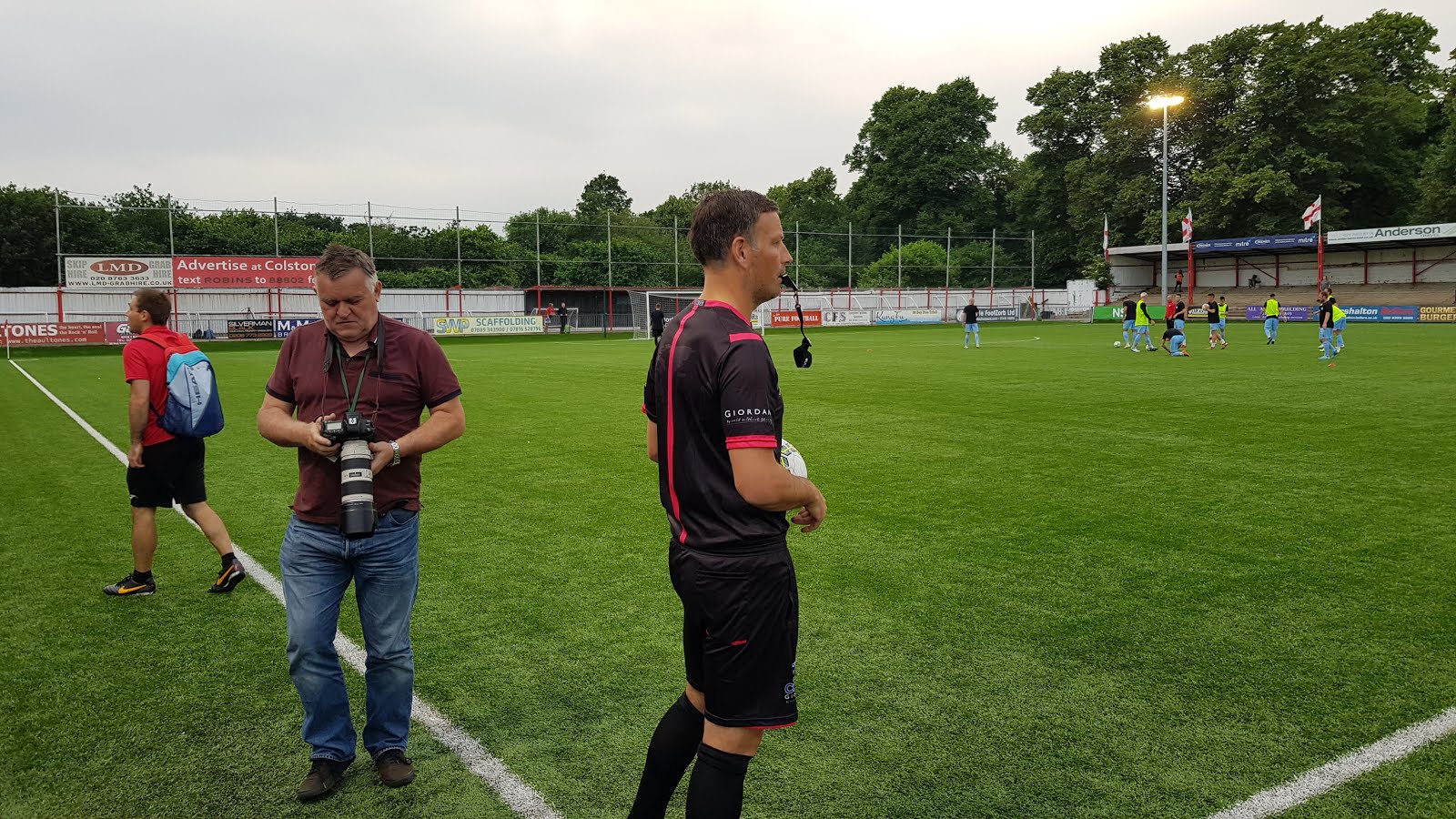 Grumpy Clattenburg
The second half is much the same as the first. The Italian side sitting in and looking to hit on the break and the Cypriots pressing hard trying to crack their rearguard. Both sides threaten, but as the half wears on, the Turkish Cypriots get on top and Padania's raids forward become fewer and fewer. Then with ten minutes to go, it's game on. A corner is half cleared, finds a red shirt and it's whipped in again from wide. It's met with a bullet header that brings a superb save from the keeper right under his crossbar, but his one handed stop just loops the ball back out invitingly and Halil Turan reacts first to nod home and spark 'scenes' in front of their bench. Mass bundleage, limbs etc. You get the picture. The game is then turned on it's head with 5 to go when a ball down the left sends a Red shirt clear and he drills a low ball across the 6 yard box for Mehmet to slide in and finish. If they'd gone fucking potty for the previous goal, they go properly barmy for this one. The lads all have a huge pile on in the corner in front of us which provides some fine pictures for all concerned. It's a killer goal and you doubt Padania have enough left in the tank to respond. Before the whistle, the Cypriots should probably add 1-2 more to the score and right at the death, the Padania number 4 gets his marching orders for a bit of off the ball shithousery on the far side with the ref blowing for time as soon as he gets his card back in his pocket and the Cypriots are into the final.
Whilst the celebrations ensue in the centre circle, we head round to the bar for a much needed pint and to get our breath back. Semi final number one has been something of a success! Right, onto the Magyar Derby next. We neck the much needed beers and Totts reveals that he was very tempted to join in the bundle for the third goal, but he felt this would represent a shocking example of cultural appropriation and as such refrained from such behaviour. A wise choice I think you'll agree. We'd expect nothing less from the Father of the Republic.
KARPATALYA v SZEKELY LAND
SEMI FINAL – COLSTON AVENUE, CARSHALTON
Breathless after what was a cracking game of football that had it all, we head to the bar where Dr Bell had been dispatched to procure pints. He's also bagged a table and we sit down to enjoy a little break from the madness. All around, various media colleagues break out laptops, charge phones and review pictures. I do feel a bit left out, but then again, I have a pint and I know for a fact I got a couple of the goals on my camera earlier. Job done, time to enjoy the rewards. Whilst we're supping, Sleepy Joe appears with his young un and everyone starts looking around for comedian Mark Watson so we can get a pic of them together. Sadly, he's already left says Joe as he saw him heading out as he was coming in. Yeah yeah, likely story. You're just trying to mess up our looky likey bantz sunshine.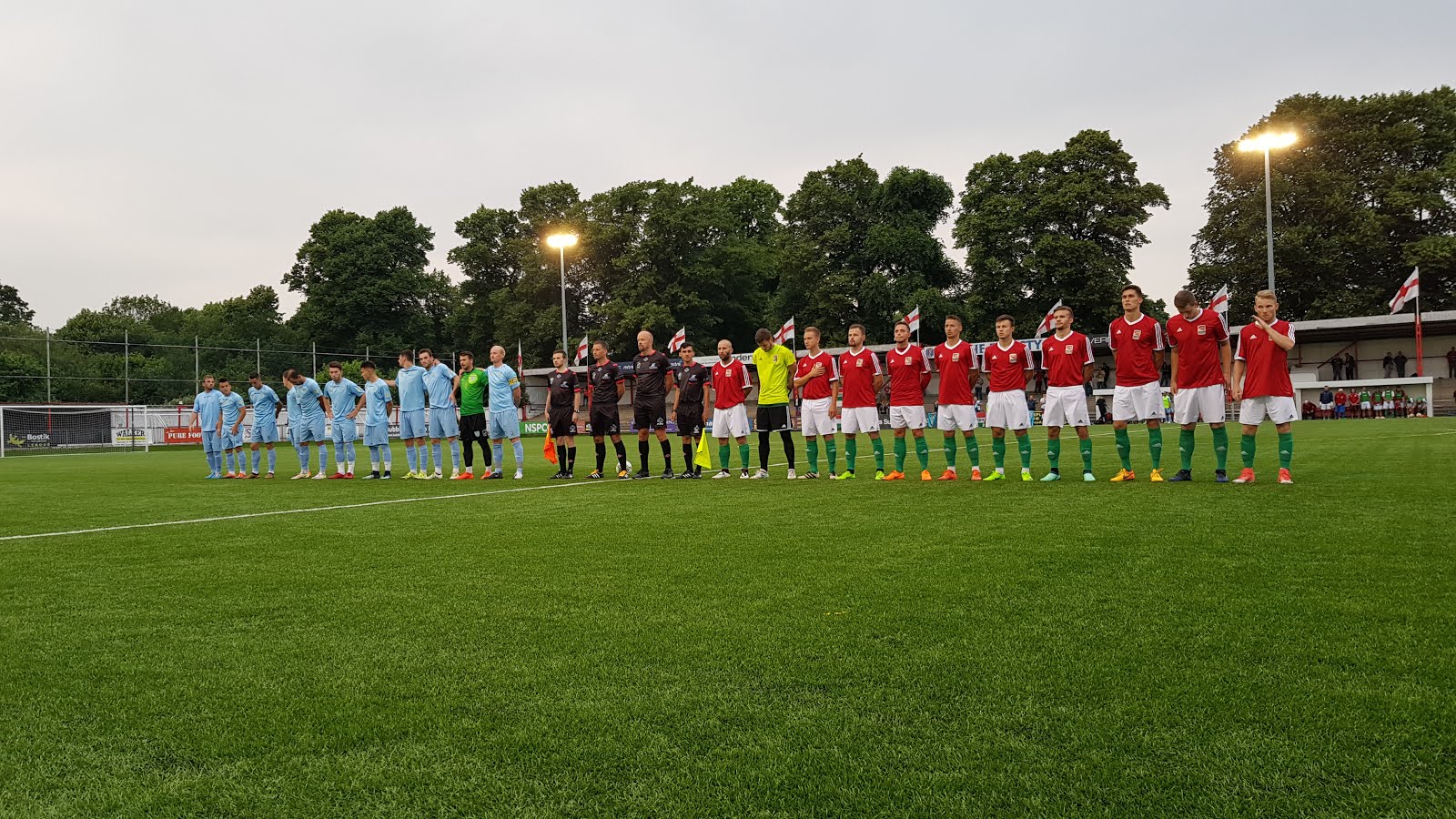 Anthems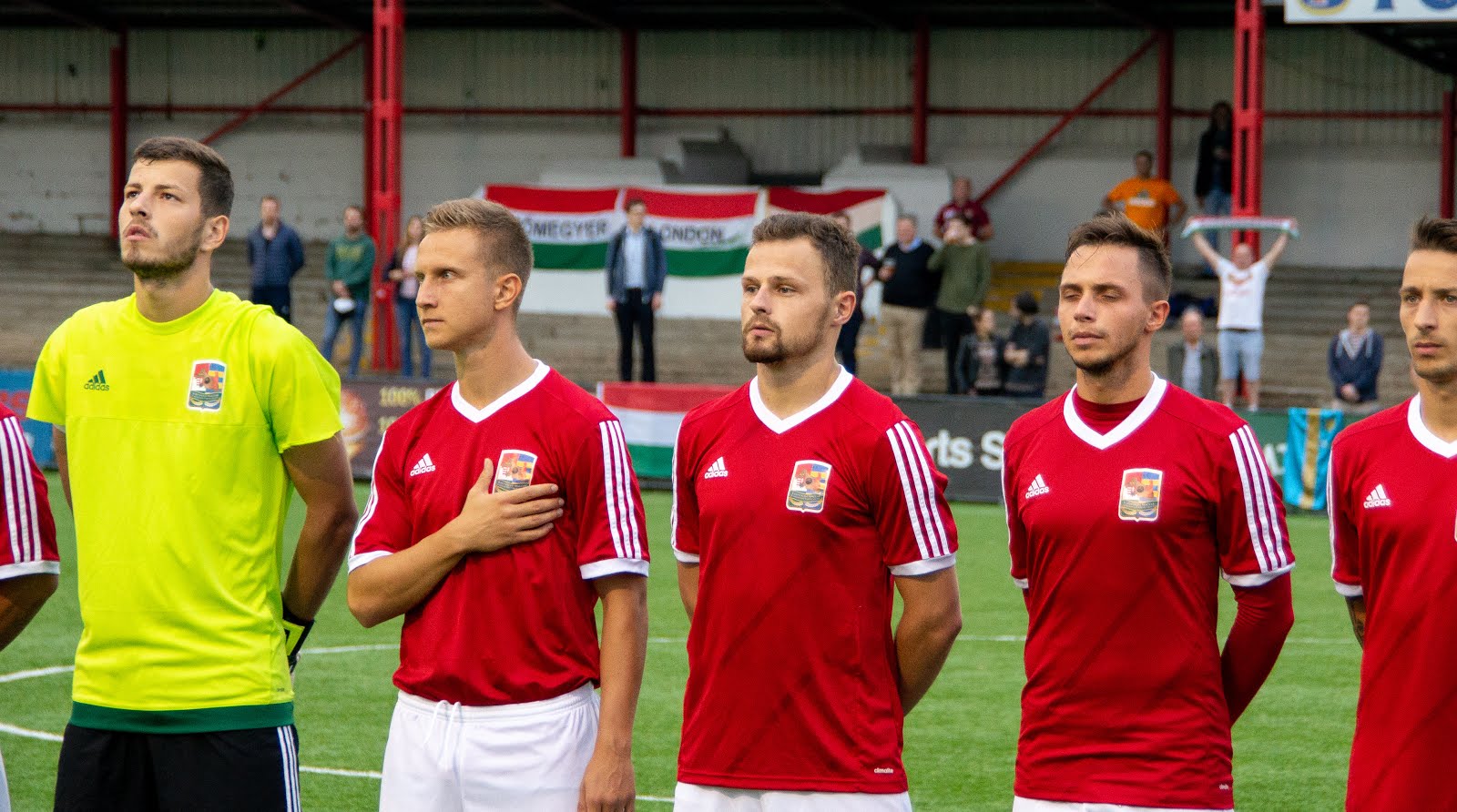 Pride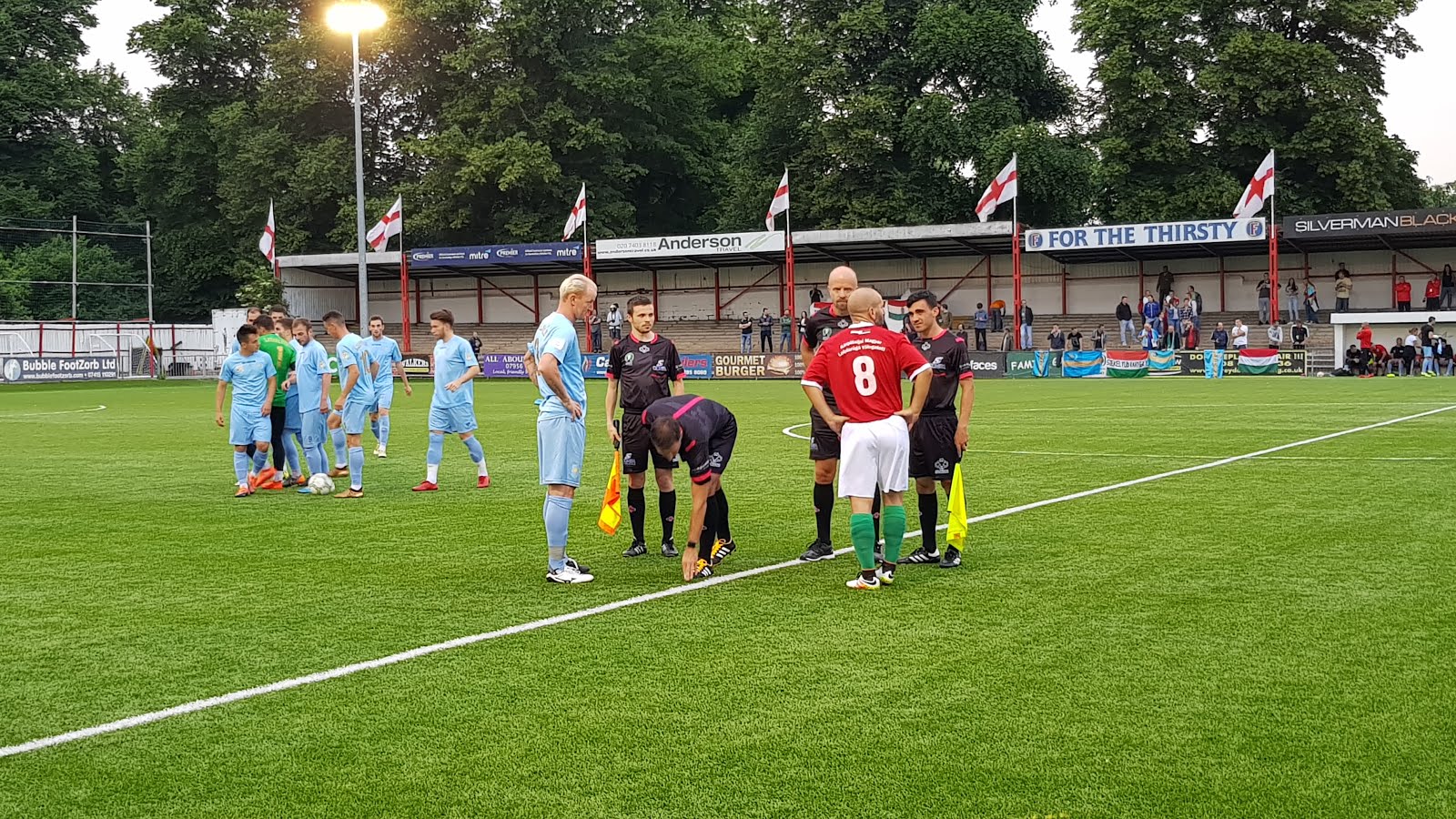 "Oooh look, a penny!"
With kick off approaching, I head out and flash the old pass to get pitch side for the second game. Here I get to see an increasingly irritated Mark Clattenburg waiting for the teams to stop buggering about with their warm ups and get in the tunnel so he can get this show on the road. There also seems to be some confusion over the team sheets. Eventually though, a few minutes late the teams are assembled and we're ready to go. With some pics taken, I get out of the way and leave the pros to it and head back to find the rest of the idiots to watch the game. Along the way, I overhear a lad asking two guys who'd held aloft Hungarian scarves for both anthems who they were actually supporting. "Oh we're not bothered who wins" says one.
This Magyar Derby is much like the first match with Szekely being more offensive minded whilst their Hungarian brethren from the Ukraine sit in a and look to hit on the break more. This leads to Szekely having a couple of decent chances that they fail to convert and with half an hour gone, Karpatalya strike to take the lead. A lovely darting run by their no.22 Petranics takes him beyond the defence and he calmly strokes it past the keeper on the run. This causes the game to burst into life somewhat as a couple of minutes later, Bajko spins off the last man and just beats the keeper to a through ball. He lifts it goal wards before getting wiped out and as a defender slides in to clear it right on the line, Clattenburg awards the peno. However, the Karpatalya keeper guesses right and pushes the spot kick onto his right hand post, then leaps to his feet to bat away the rebound right as a blue shirt is poised to nod it into the empty net. Great stop. Game on!
The second half is much the same as the first. Karpatalya sitting in, waiting for a mistake. Szekely buzzing around looking for an opening. And there's more than enough of them, as somehow they manage to miss 2-3 presentable opportunities to get back into the game before it all goes wrong. On the hour, Petranics has a speculative poke from about 20 yards or so and it looks an easy save for the keeper, but he makes a complete hash of it and somehow manages to fumble it into the back of the net to make it 2-0. It makes Loris Karius cock up in the Champions League final look like a textbook save. The Szekely forwards miss a couple more decent sights of goal and then with 15 left, it looks like game over. A ball over the top, the man in red is away and into the box before being cut down by a desperate last ditch tackle and we have our second penalty of the night. Gyurki makes no mistake for the Ukrainian Hungarians and strokes it home to make it 3-0. We're done here now, surely.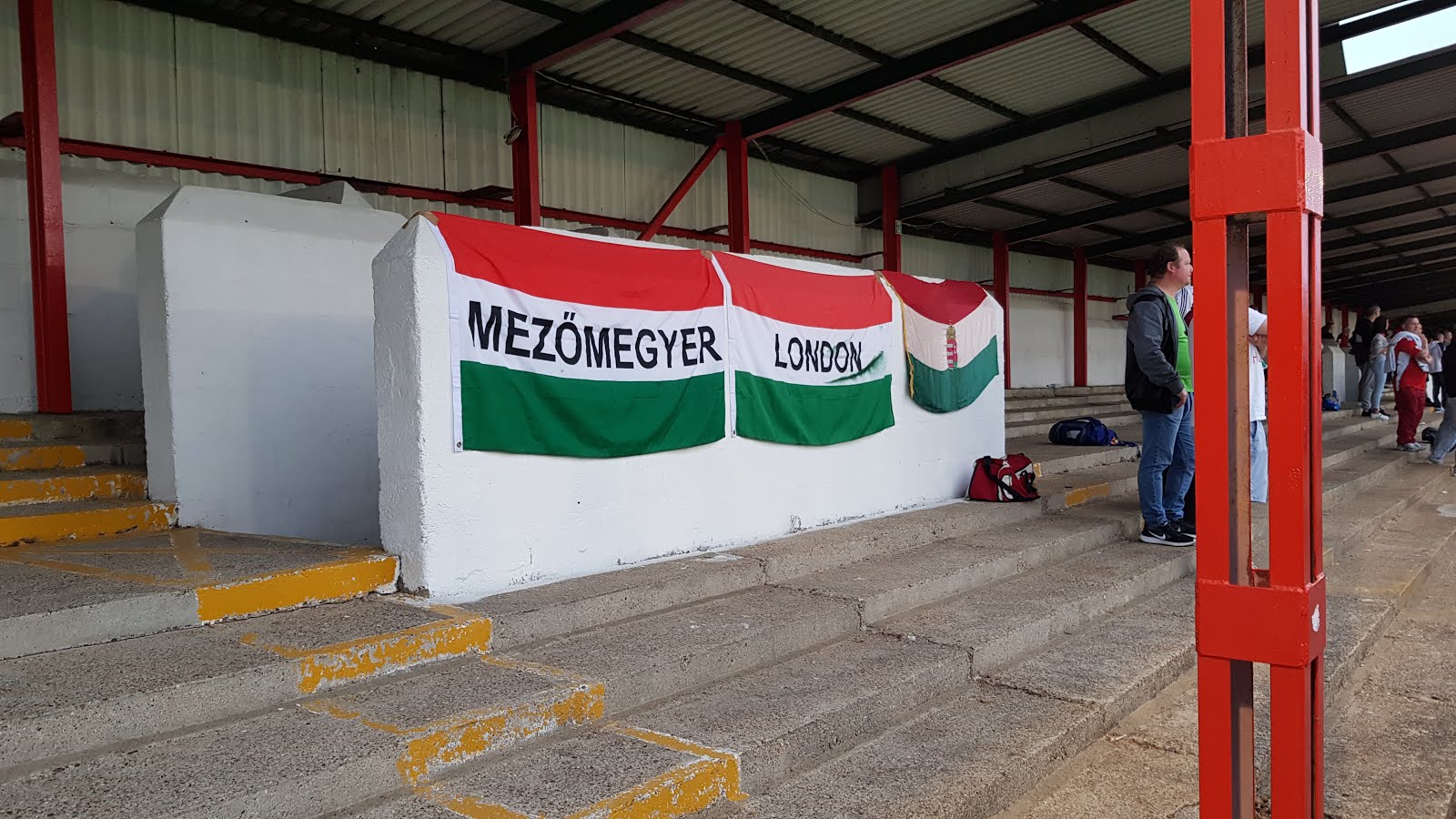 Ultras are in tonight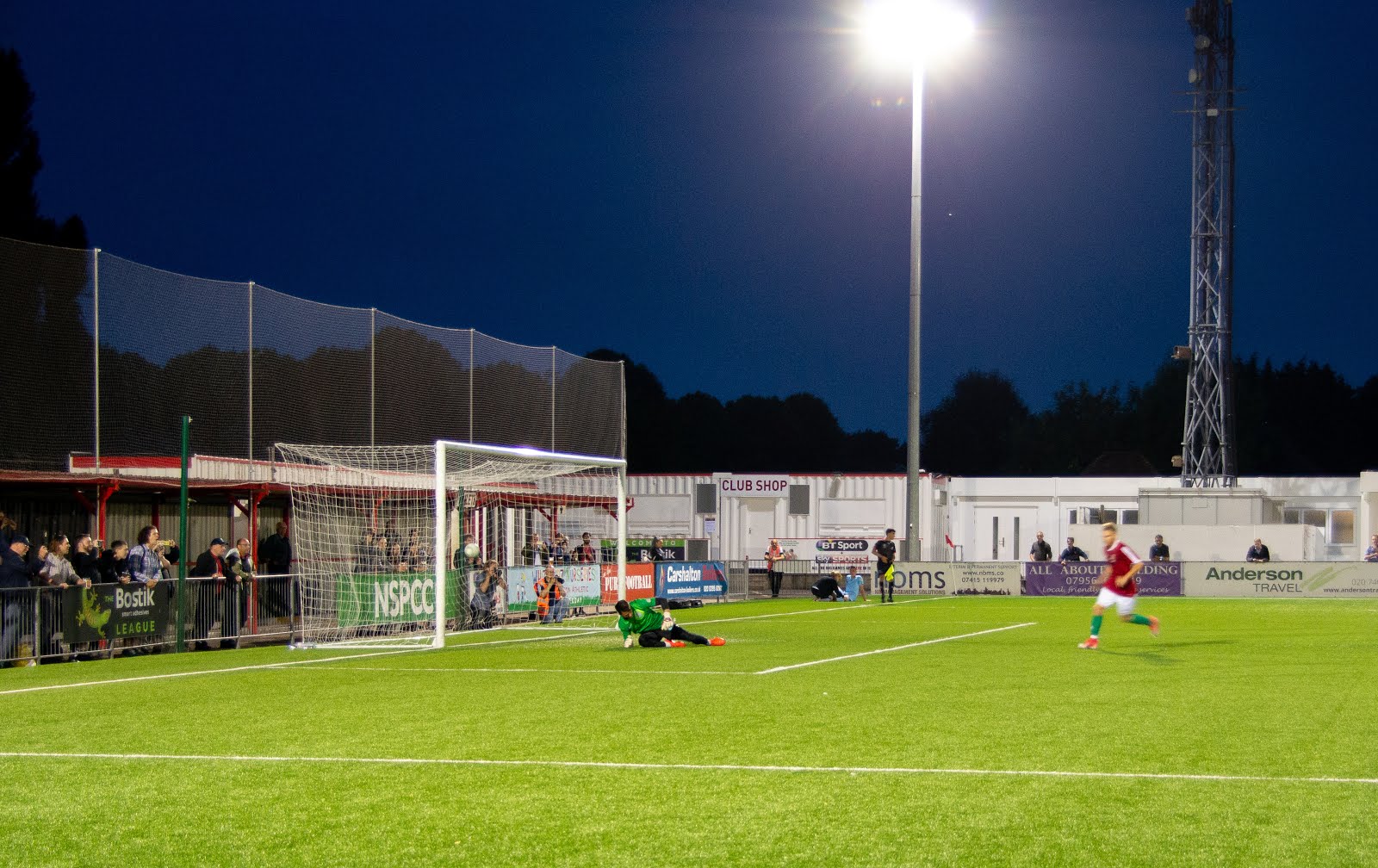 Karpatalya make it 3-0 from the spot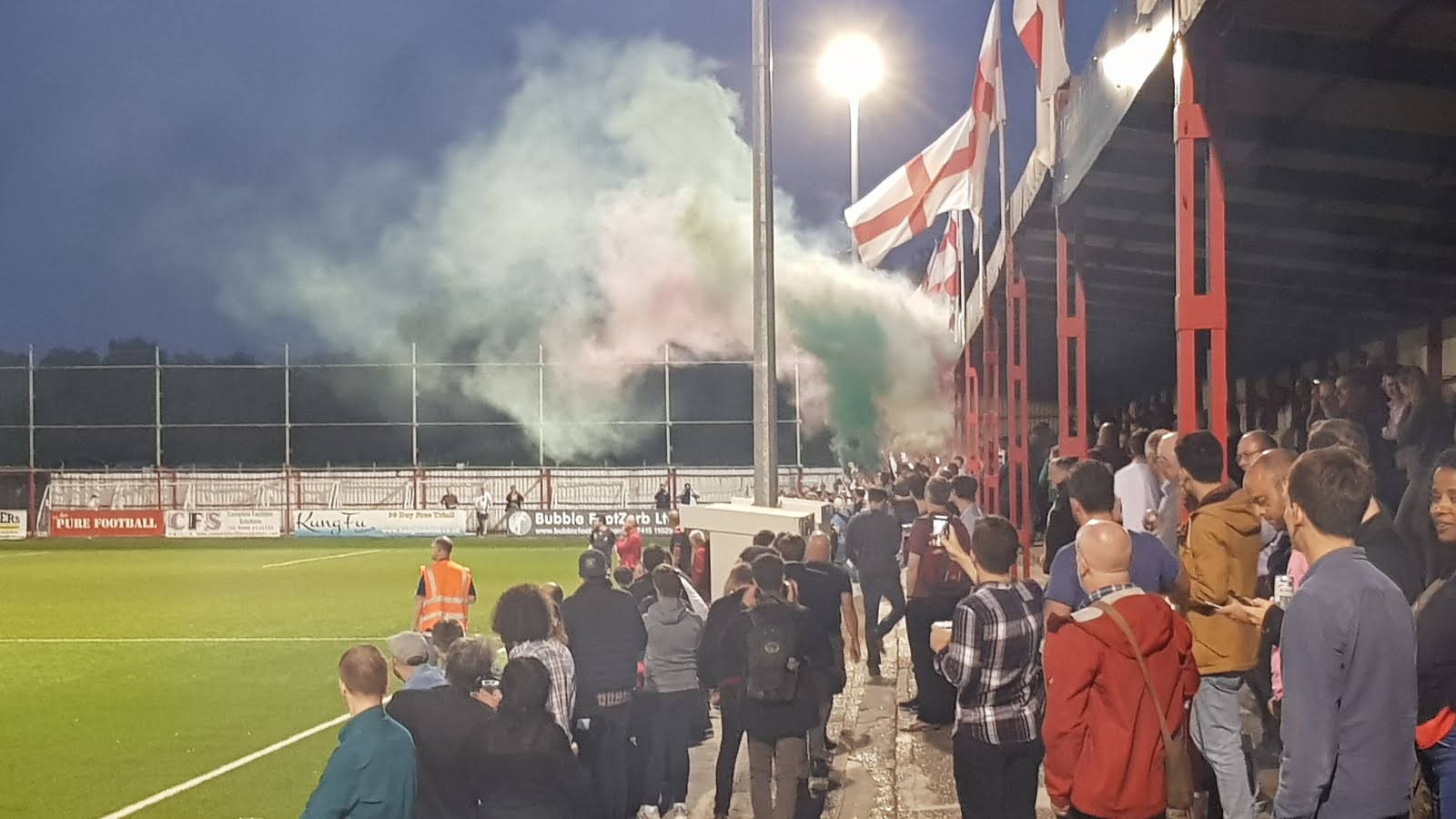 No pyro, no party!
Well, this is CONIFA. And if there's one thing we've learned from this mad tournament, it's that usually a goal is rather quickly followed by another one. And so it is here. 2 minutes later, a ball into the Karpatalya box and a deft header finds the far corner. 3-1! Szekely are back in it! Even more so 2 minutes later when the ball isn't cleared and Bajko cracks in an angled first time shot to make it 3-2. Bloody hell, this is madness! This sudden turnaround suddenly has the whole ground on tenterhooks. What way will it go next? Karpatalya suddenly don't look too assured and Szekely are right at it. They really should equalise with a chance from a high ball at the back post, but somehow the ball is put wide of the mark. Then with bodies committed to attack, the inevitable happens as we enter time added. Karpatalya pounce on the break and Peres wearing no.4 breaks clear and tucks the ball past the keeper to seal the deal. Karpatalya have Denmark 92'd it! Having not even qualified, they've come in as late replacements for Felvidek (another bunch of Hungarians naturally!) and made it all the way to the final. Amazing stuff.
As the celebrations break out on the pitch and then the two teams come together in front of their fans for a big Hungarian love in, we leave them to their joy and head down the dark driveway out onto Colston Avenue. Bidding Belly and Dukey farewell, I start the stroll back through the cooling evening air back to Gandermonium HQ and reflect on what was frankly one of the best night's football I've seen as a neutral in a good while. I doubt there's been two more entertaining semi finals as those back to back since the 1994 FA Cup!
Sneaking through the occupied territories, I pick up some chips from the kebab shop and make my escape back over the border. One day left to go in this funny little tournament and I just know I'm going to miss it when it's over. Still, it sounds like Nice might be the venue for the CONIFA European Competition next summer, so maybe we'll just have to get our press accreditation renewed for that one and hit the road for it?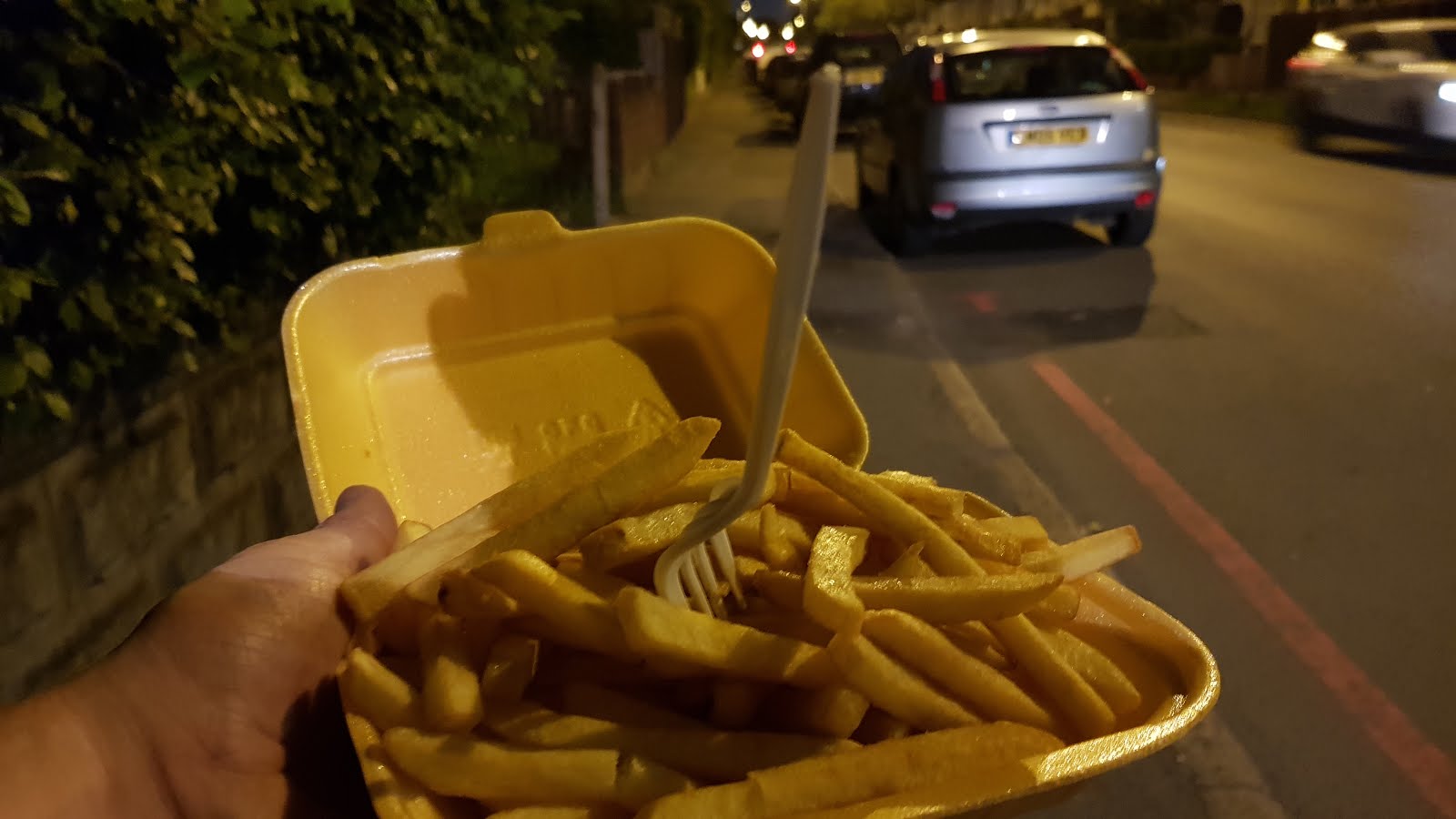 Chips.
See you at Enfield on Saturday. Should be a blinder!
Taz
Today's Other Scores:
Placement Game – Matabeleland 1 Chagos Islands 0 (Ellan Vannin withdrew)
Placement Game – Tamil Eelam 4 Tuvalu 3
Placement Game – Tibet 1 Kabilya 8
Placement Game – Abkhazia 2 United Koreans in Japan 0
Placement Game – Cascadia 4 Western Armenia 0


Tournament Blogs:
PREVIEW | DAY 1 (Taz) | DAY 1 (Totts) | DAY 2 | DAY 3 | DAY 4 | DAY 6