So, here we are then. The nitty gritty, the serious stuff, the exciting bit. The group stages are done, we've lost half of our 16 teams (except we haven't really as they're all playing Placement games until Saturday, but we'll ignore that for now) and we're now into the knockout stages of what's so far been a pretty entertaining CONIFA 2018 World Football Cup.
My choices of venue today are a little limited by the games all being 3pm and 6pm kick offs and as the grounds are not really that close together, there would be little to no chance of getting from, say Aveley, to GGL after one game at three for the next one at six, especially as it'll be the start of rush hour. So I'd have to stick to one ground, but with most of the others being only placement matches and one quarter being out in Bracknell where we were on Sunday, I elect to take the simplest option available which is of course at our very own Gander Green Lane. Besides, I'm a bit of a lazy sod, so it's a no brainer really.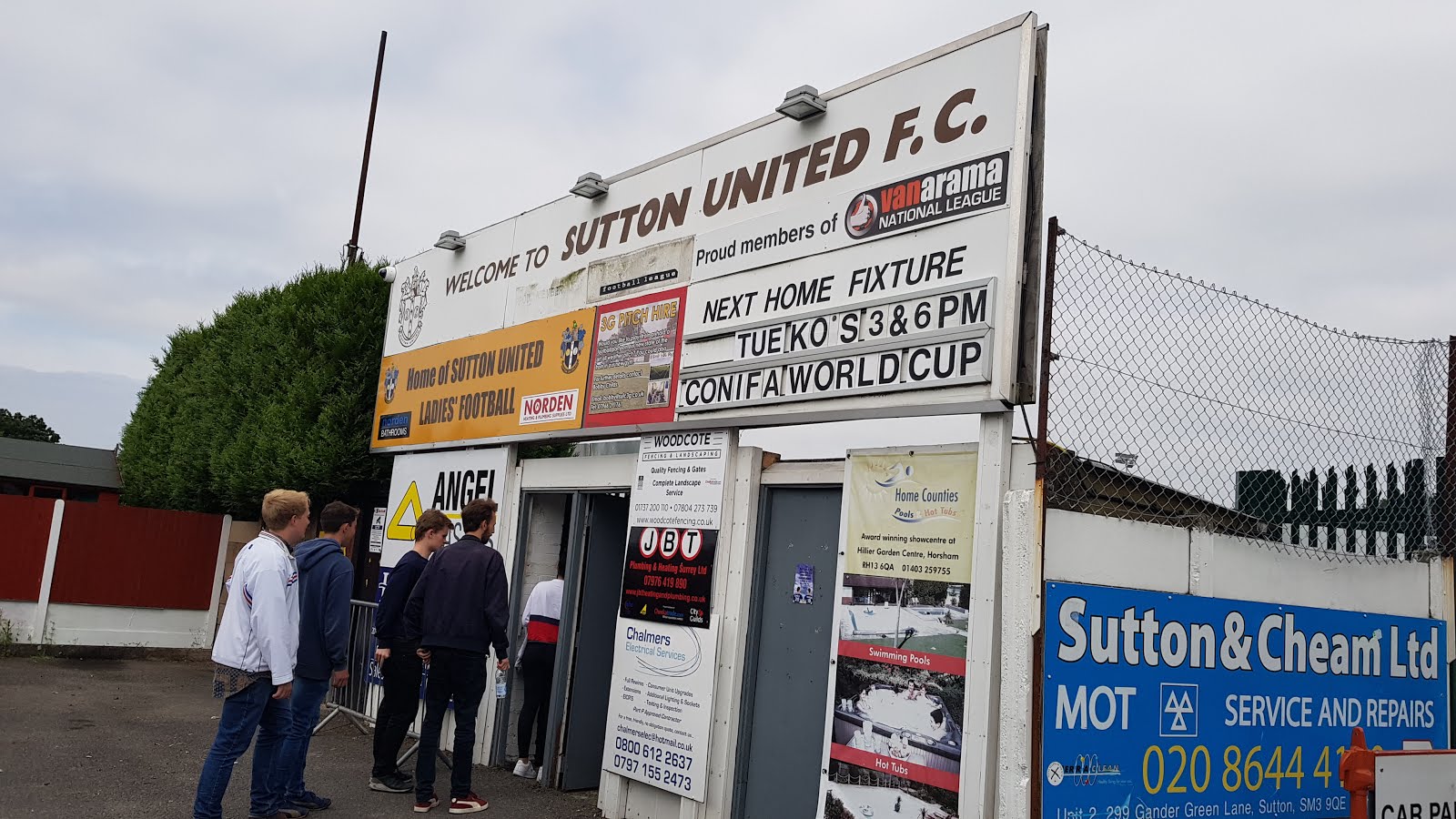 Huge queues.
Anthems.
Of course, having picked the closest possible games to me, I spend the morning pissing about and end up rushing around to get out and down to GGL in good time for the first Quarter Final between hosts Barawa and Northern Cyprus. A quick stop to grab a drink and a bite to eat in Carshalton High Street is complicated slightly by the fact Sainsbury's keeps declining my Visa debit card. Luckily I have a couple of quid in my pocket to pay for the stuff. I bet bloody Zlatan Ibrahimovic doesn't have this sort of bother when he's trying to pick up a fucking sausage roll and a bottle of Liptons iced tea. He certainly doesn't seem to in that advert of his on the telly that's for sure.
Finally at GGL, I take a wander into the bar, then having spotted no familiar faces I head outside instead. The bar itself still having the shutters down doesn't exactly help either. Out in the ground, I have a quick chat with Red Oxide and the gang who are in painting the miles of newly installed barriers on the terraces a nice shade of yellow. Thankfully, despite having offered our usual summer decorating assistance, we were not required so it means we can use the break to do other stuff, like poncing about at the World Cup for non-FIFA affiliated countries, that sort of thing. Dr Bell then appears and we then head back into the bar. Here the main topic of conversation are the rumour circulating in the Scottish press that Sutton may be invited into their Irn Bru cup competition (no, really!) and the rather disappointing news that Ellan Vannin have, to put it in not too technical terms, given it bollocks and gone home.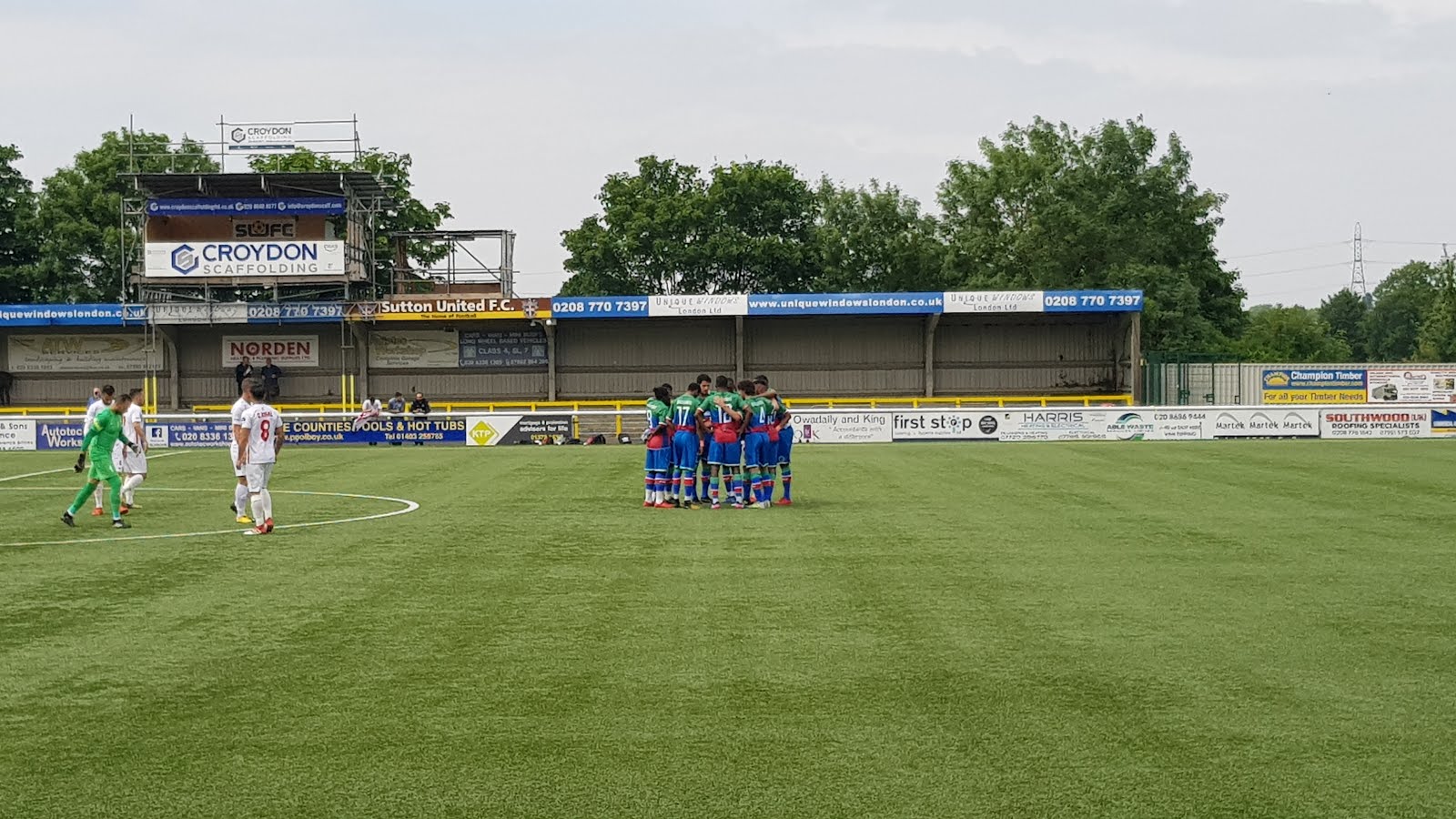 Huddle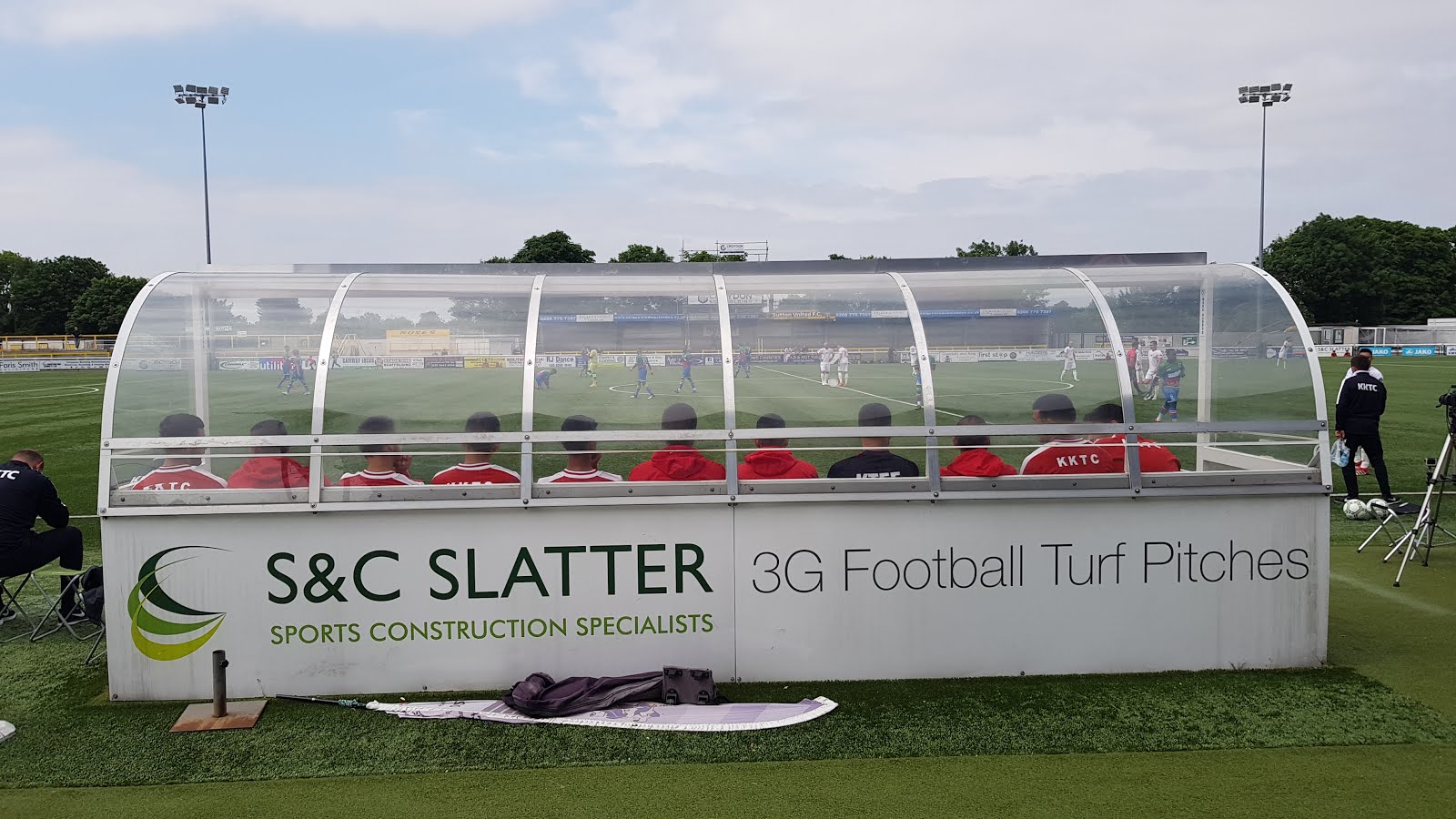 Bench
It seems that the Manx mob had made a protest after their loss to Barawa that eliminated them at the group stages as the hosts had fielded a lad not on the original squad list. It seems that they'd got permission from the CONFIA board to do so, but naturally he'd been a bit tasty and scored one of the goals. The complaint was rejected and then after an appeal was then lodged and subsequently rejected, they were still unhappy and have withdrawn from the comp. Which is a bit of a shit really when you consider that Tibet are expecting them at Bromley today for a placement match! One would hope that the Tibetans were told they could have a lie in, or that could have put a serious dent in someones karma somewhere down the line.
BARAWA v NORTHERN CYPRUS
QUARTER FINAL – GANDER GREEN LANE, SUTTON
Our first game of the day is between the 'hosts' Barawa, who we last saw on the opening day at Bromley comfortably turning over the Tamils and Northern Cyprus, who we've yet to see in action. Although Mr X assures us from his viewing up in Enfield against Tibet on Saturday that they are 'decent'. So this could be quite a tasty tie on paper. As you may remember from the opening day, there were one or two technical issues with the playing of the participating teams anthems. The reason being our tech and the organisers tech were from different centuries. Well, it's not actually improved that much and despite the best efforts of CONIFA man Paul, the best they can manage is a bluetooth speaker paired with his laptop to 'belt' them out from the touchline. Which is all very moving and no doubt reduces both line ups to tears. We'll leave you to decide what kind they are.
Taking up a rare new position on the fence in front of the club shop, we're actually in the best spot to watch the Northern Cypriots give the Barawa defence a torrid time. I'm also reasonably well placed to try and get some pics on my DSLR which needs a test run as I've just got back from the service centre having it's sensor cleaned. Totts for one is not impressed. "That's far too fucking professional for my liking" he growls. "You've definitely not borrowed it from Dukey, there's no Vaseline on the lens. So it must be yours." he adds. I refrain asking him why he thinks it was off being cleaned in the first place. Last time I lend Tom anything of mine that's for sure.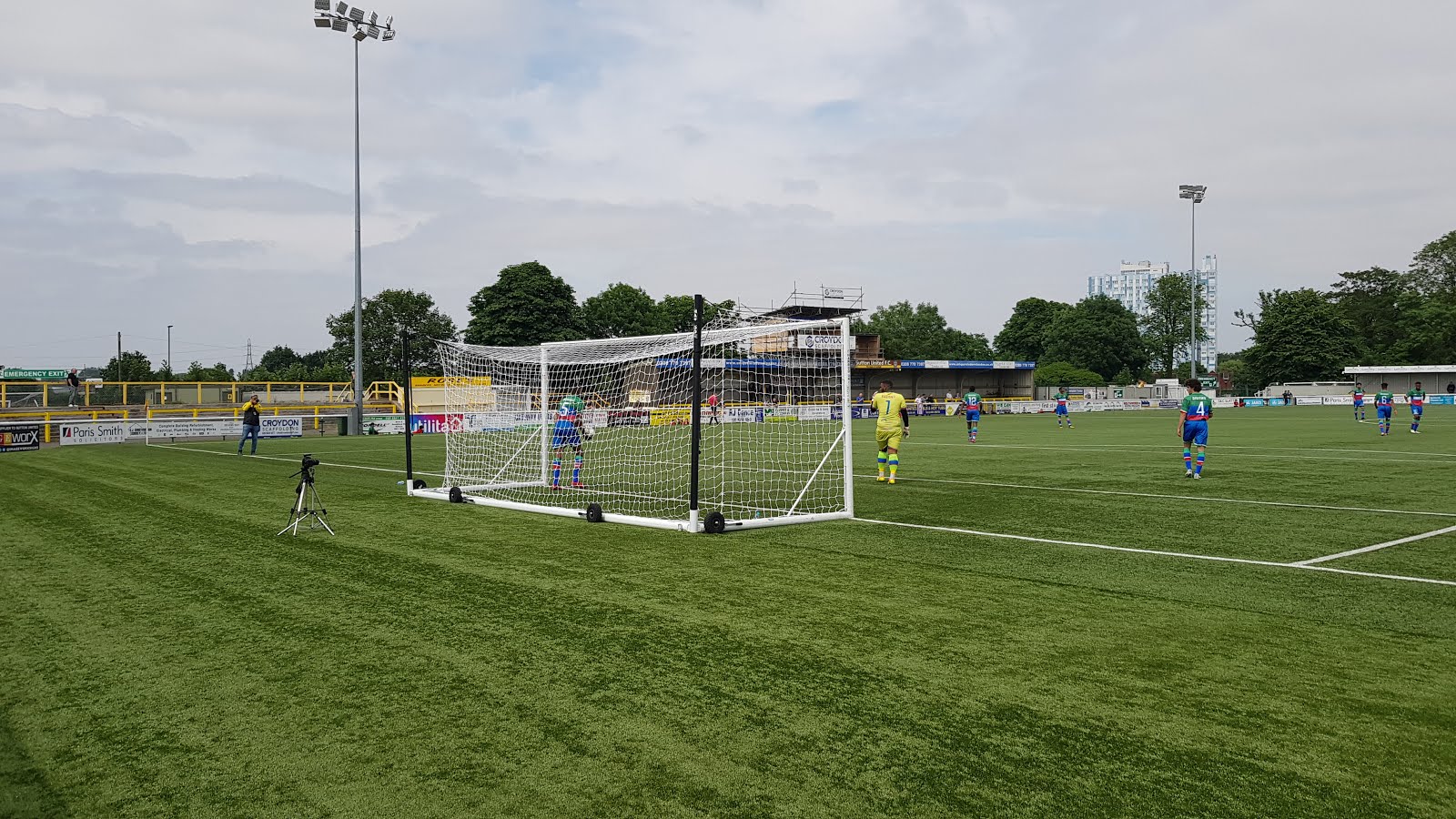 Goal!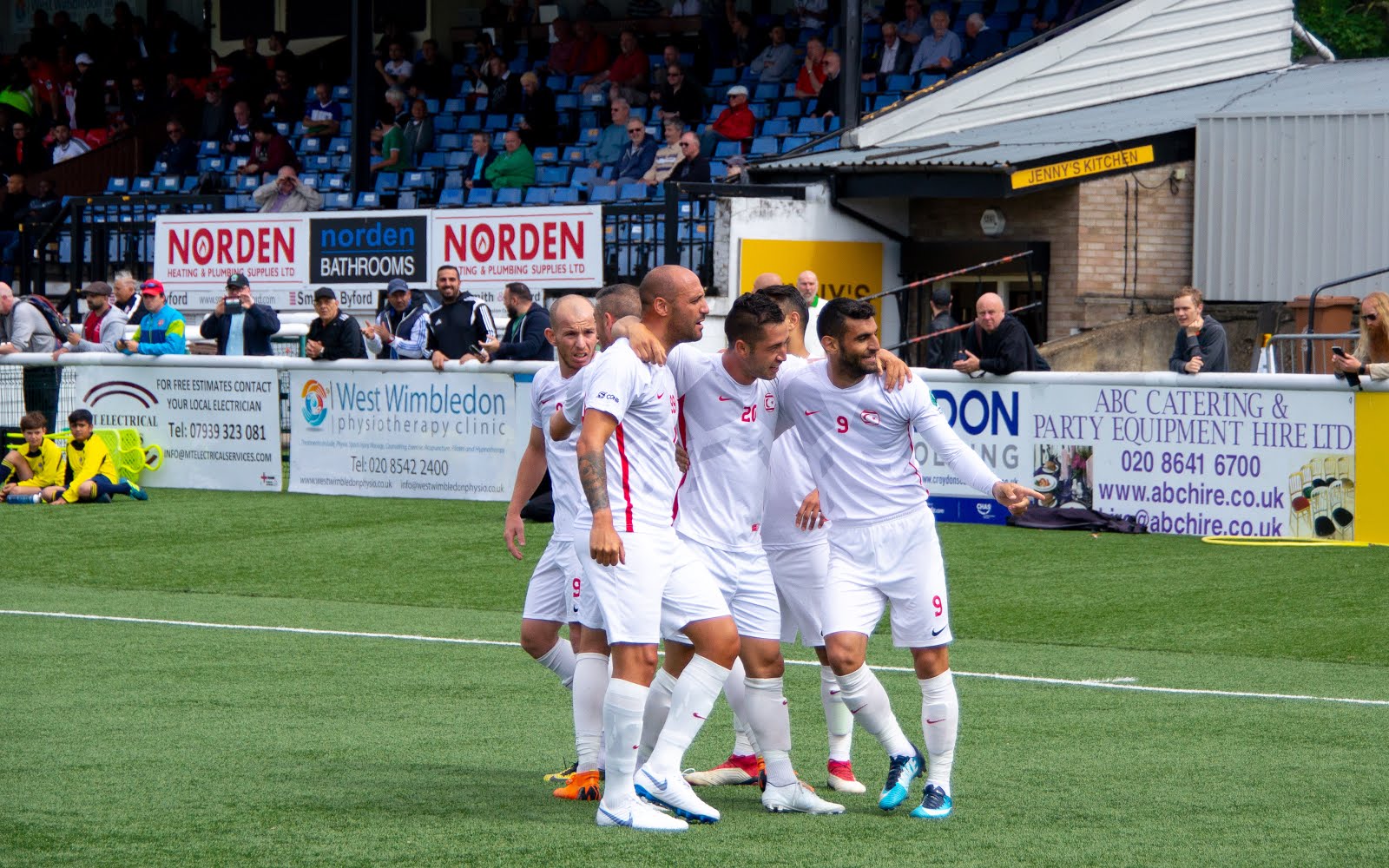 "You put your left leg in….."
On the field, as already alluded to, the hosts are struggling. They look nothing like the side I saw at Bromley and there's no sign of the number 15 Gianni Critchlow from that game in the line up either. With them having little attacking outlet, the first half is one way traffic with the Cypriots having all the chances. They fail to register from a couple of reasonable openings before they finally open the scoring just before the half hour. A shot from the edge of the box is parried by the keeper and the troublesome #20 Ugur pounces to rattle in the rebound. From here, they really should go on and have the game well wrapped up by half time but they prove to be rather wasteful with their finishing and instead by the time the break arrives, they're still only the one goal up when they should be three or four ahead.
For the restart, Dr Bell and I move round the side a bit for a different view of proceedings and loiter around the fence in front of the Shoebox. Here we get to see the Northern Cypriot onslaught in all it's glory. It takes them several minutes after the restart to extend their lead. A corner from the left finds #99 Billy Mehmet completely unmarked to loop in a header. 2 minutes later, it's 3-0. An attack down the left, cross to the back post and a stooping header does the damage. Another 5 minutes after that and any hopes of a Barawa fight back are extinguished by a 4th goal. Mehmet gets in wide, tries his luck from a tight angle and a defender bundles it over his own goal line. Another 5 minutes later, it's 5-0 with a ball slipped in on the right and a fierce finish off the underside of the bar. At this point, with 20 still to play, I decide that tweeting every goal is pointless and we head back to join the lads behind the goal, where we find them trying to decide at what point a thumping becomes a rout. Well, that's easy. A thumping is up to 5. 6 is a rout. More than that and we're into shellacking territory.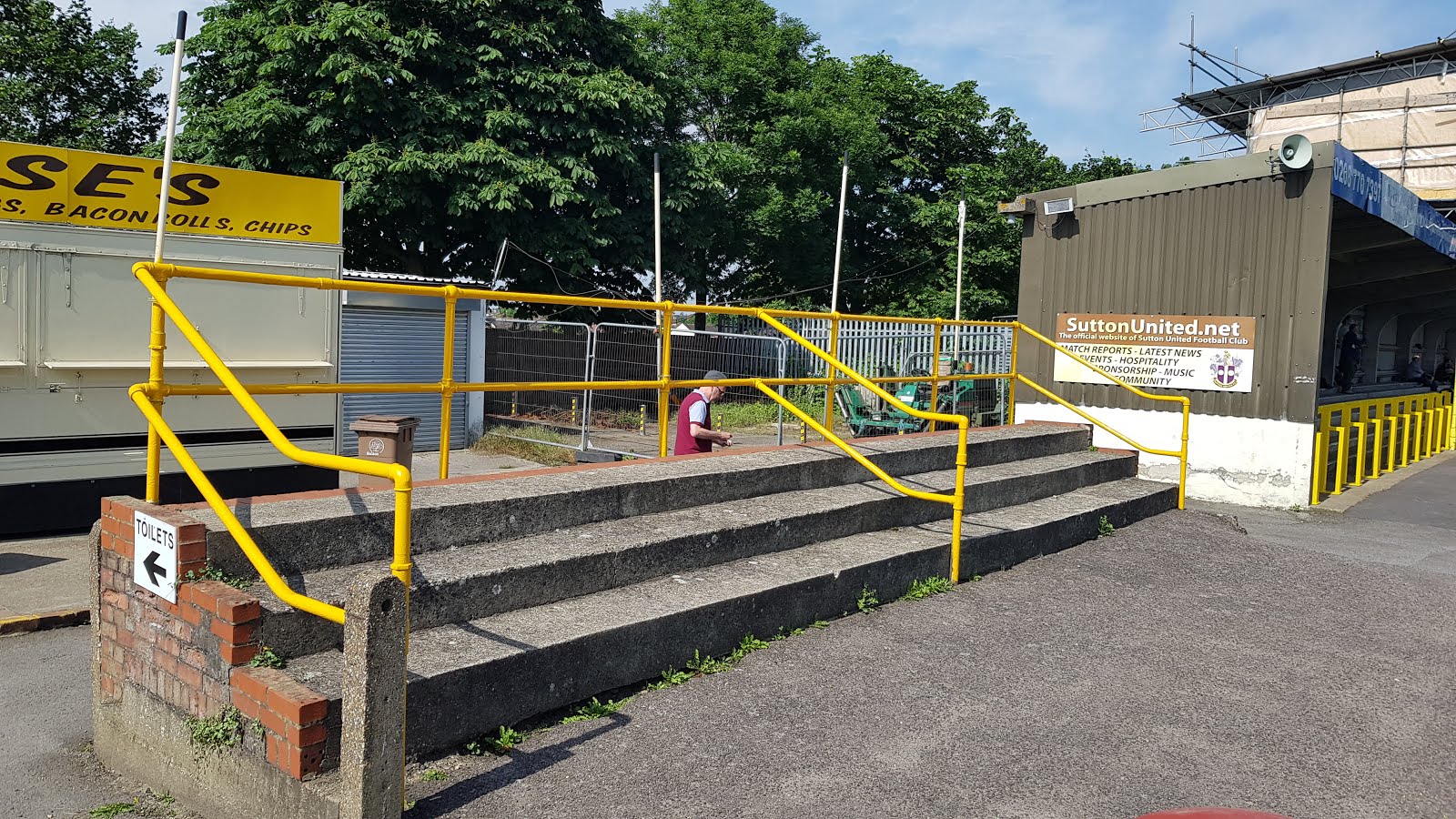 Fresh coat of paint and raring to go!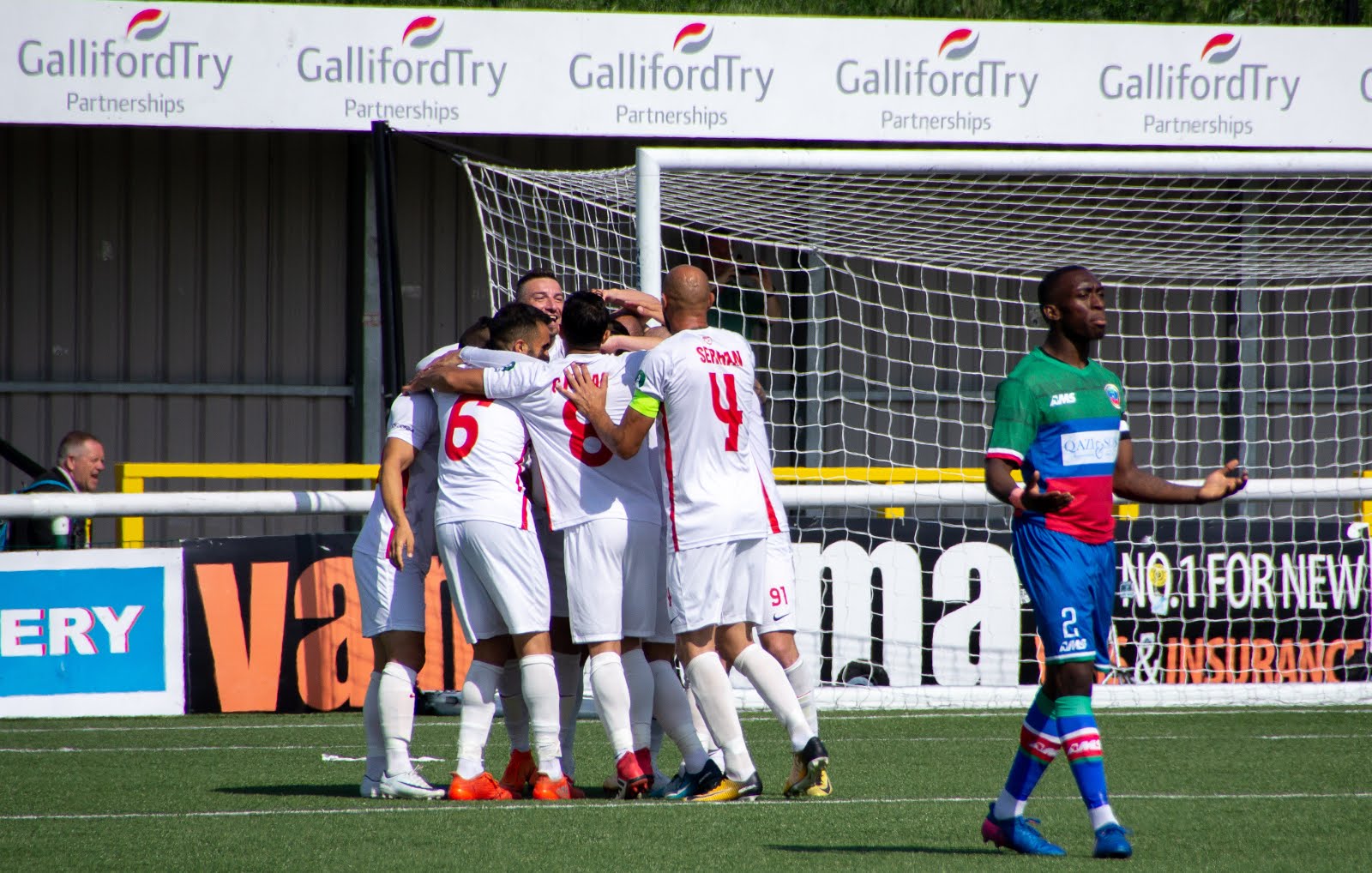 Joy and despair
Speaking of which, goals six and seven arrive out on the pitch with a few minutes left and an eighth is added right before the final whistle, which we think has come a little promptly with seemingly little added time played. "He's done 'em a favour there!" claims Dr Bell as we head towards the bar. This however proves easier said than done and with the tunnel still blocked, we try to use some local knowledge by darting up into the stand and down the centre steps. Sadly the gates are pulled across so that's a blow out. Here I take the opportunity to properly catch up with Paul Watson, CONIFA's Commercial Director and the man who'd contacted us way back asking who best to speak to about getting GGL in on this world cup action. He's also the author of THIS book that we reviewed on here some time back! Here he gives me a little more background on the Ellan Vannin withdrawal, why Barawa were so out of it in the game just finished (apparently they had players missing as they couldn't get out of work!), as well as the kind of organised chaos that comes with organising an event such as this. He also introduces me to the tournament's head of refereeing, which will become a valid point shortly.
Leaving Paul to his madness, I finally head for the bar and wonderfully find Dr Bell sat waiting for me with a pint. Marvellous stuff! This is much required. Here I take the opportunity to catch up on other results and get the old dog and bone a much needed charge, as well as sticking a bacon roll in my face to give myself a much needed charge! Whilst polishing off my pint and considering heading back out for the second game, Balti Steve appears and hands me two small plastic cards and asks who would be most trustworthy to hand them into. It's a driving licence and an American Express card that he'd found on the floor out in the hallway between the bar and the gents. Looking at the drivers licence, I can't help but think I've seen the face somewhere before. Hang on, I have seen the face somewhere before. I was talking to him not 20 minutes previously with Paul! They belong to the refs head honcho! So off I toddle to find Paul and get the cards back to their rightful owner and with that important business taken care of, I return to polish off my pint just as Mr X strolls in fresh from work.


CASCADIA v KARPATAYLA
QUARTER FINAL – GANDER GREEN LANE, SUTTON
Back outside awaiting the teams to appear, Paul is rushing around again and has so many things to do that he conscripts his brother, the stand up comedian Mark Watson to do the announcements on the PA. This tournament just gets weirder by the day. Still, he's not half bad. Tony Dolbear will need to watch himself. We're again treated to the anthems from the bluetooth speakers and from what we can make out, the Cascadia anthem isn't quite what we'd have expected. "Sounds a bit Enya to me" remarks Totts. "Cascadia includes Seattle doesn't it?" remarks someone else before adding "Should really be 'Smells like teen spirit' or summat".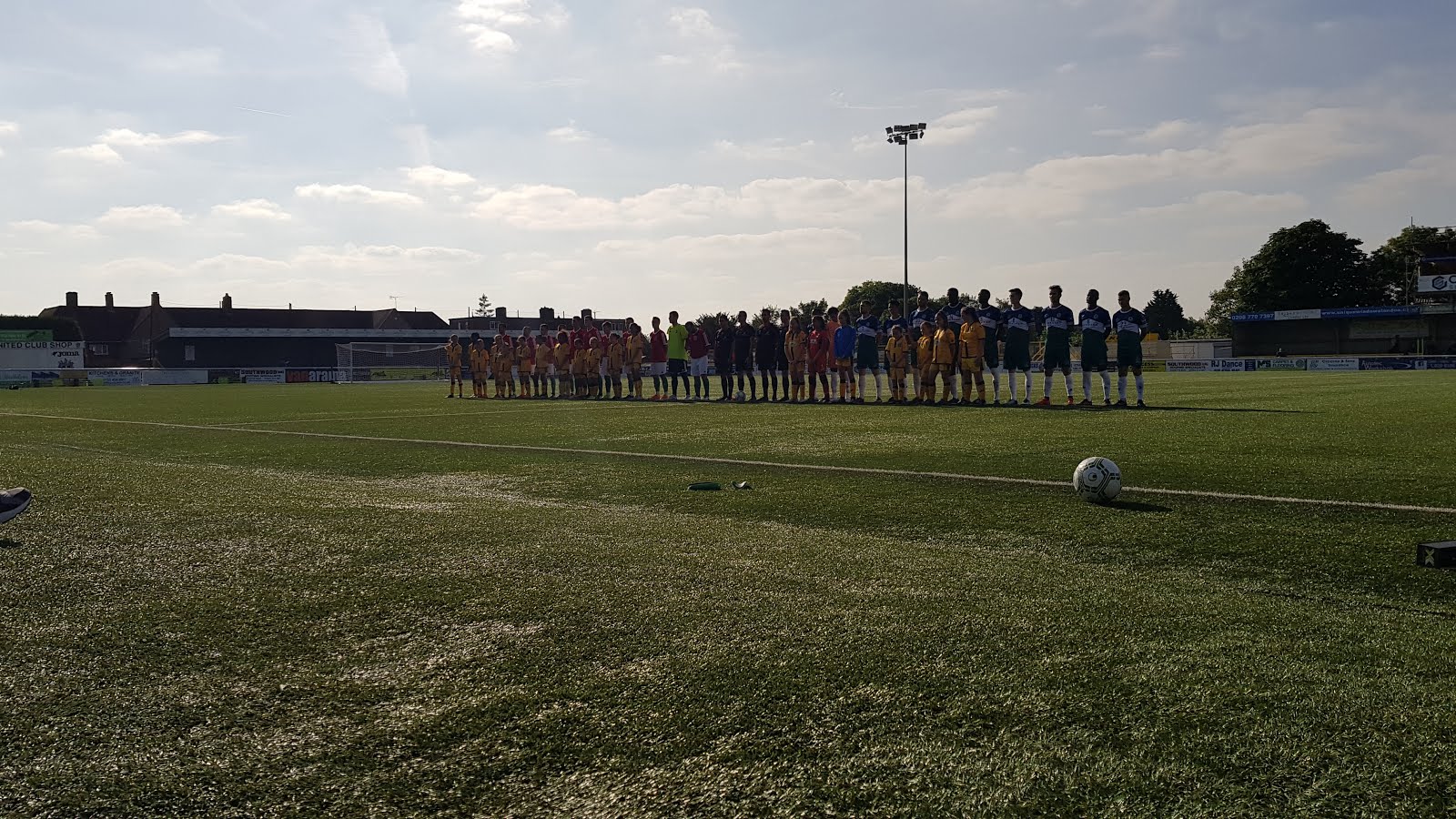 "Here we are now, entertain us…."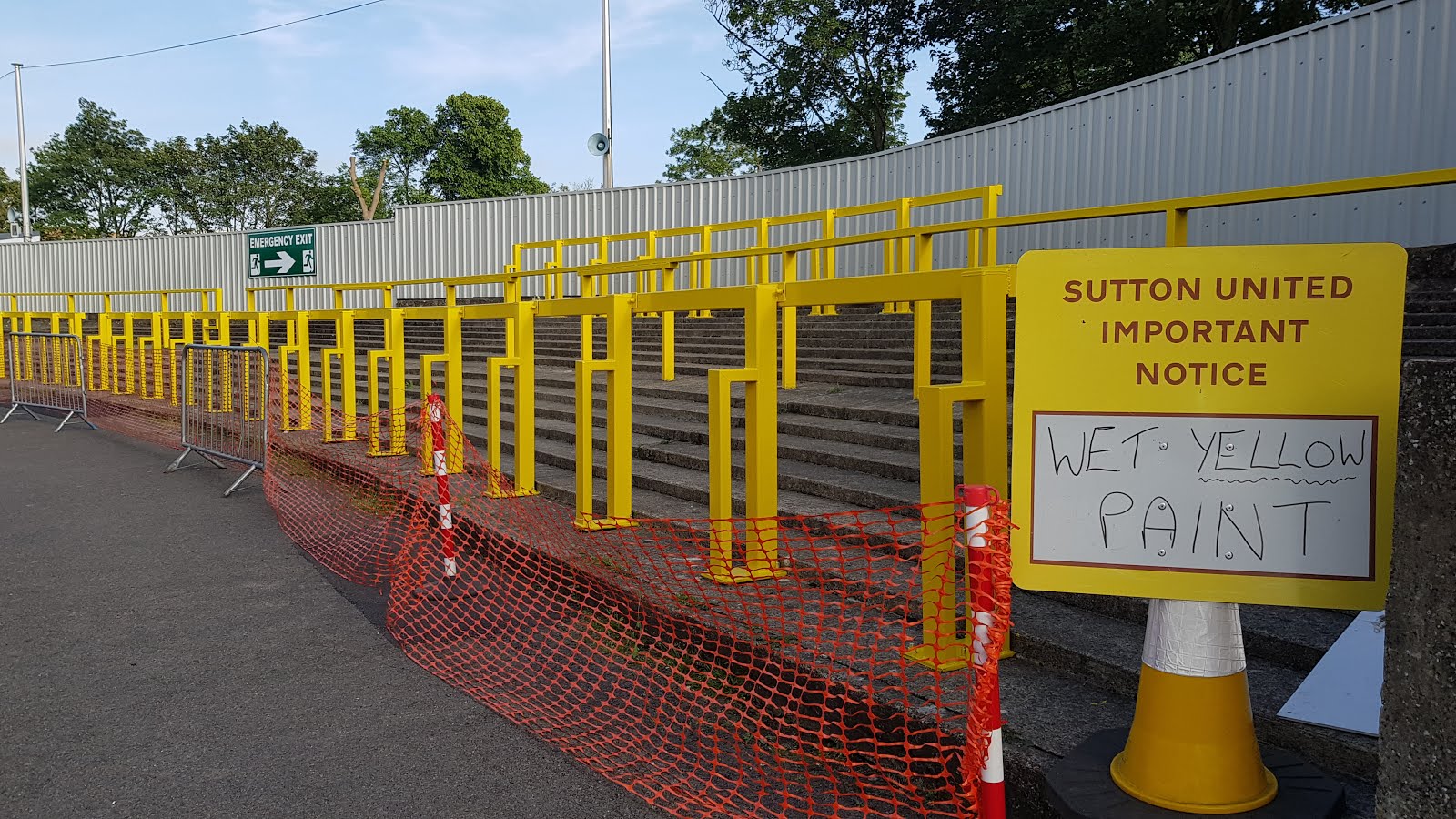 Mmmmm. Yellowy.
The second Quarter is more competitive than the first, with the cagey but canny Ukranian Hungarians largely sitting in against the North Americans. This isn't the best idea, as the lads from the land of Lumberjacks, Nirvana and Starbucks go on the attack and really should get themselves in front. However they waste at least 3 good chances, all put over the target, to take the lead. Meanwhile, Windy adds to the ever growing list of 'hip' jokes dreamt up to mock Dr Bell and his upcoming reconstructive surgery. "Are you into HIP OP now?" he asks with a completely straight face "I reckon we should call you Dr Dre instead". Yes, like I said before. Utter utter bastards to a man.
With Cascadia having missed some decent opportunities and Karpatalya having ridden the storm, the two sides head in level at the break and we head back round to the bar. Not fancying another beer and with the car in the car park anyway, I elect for no refreshments and head back out. I try a different viewpoint from the restart and head around to the Shoebox via the Rec End, which now being the full on away end at GGL, I'm hoping to spot some weird stickerage. Sadly pickings are slim and I head back towards the box to rejoin the rabble. As I get close the Hungarians, who've started the second period far more menacingly, take the lead. A solid hit from range is pushed out in front of goal by the keeper and the follow up is tucked away. From here, the boys in red never really look like losing the lead, despite the efforts of the Dulwich looking bloke in the straw boater waving his Cascadia flag in front of the stand. 10 minutes after taking the lead, the Hungarians from the Ukraine double their advantage and it's a bit of a cracker.
Their #13 Robert Molnar goes on a mazy little run, weaving past three oppo into the box and drawing the keeper before slipping the ball to his left for Takacs to roll it in at the back post. With Cascadia having offered little since the restart, you get the impression their race is probably run. Although they do miss another decent chance when their 23 from Corinthian Casuals, Max Oldham bursts through. But with the goal at his mercy, he screws his shot well wide of the mark. Then with about 10 to go, the Grunge and Coffee lads pull one back from out of nowhere. A shot is blocked on the edge and breaks to a lad with one of those delightful top knots and he steers the ball home to make it 2-1. Mr X is certainly not impressed. "Fucks sake, I was about to head home and put some dinner on!".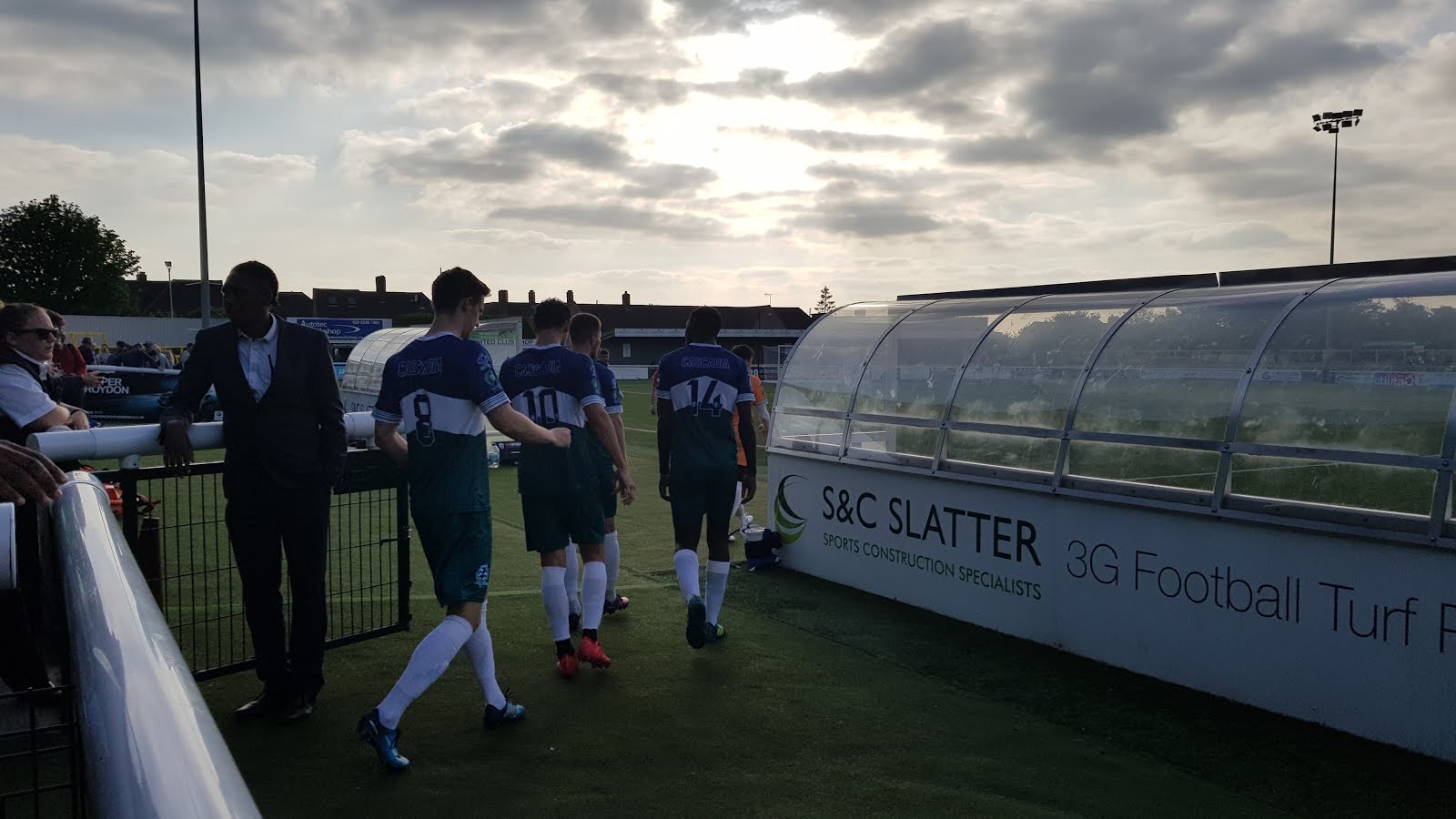 Out for the restart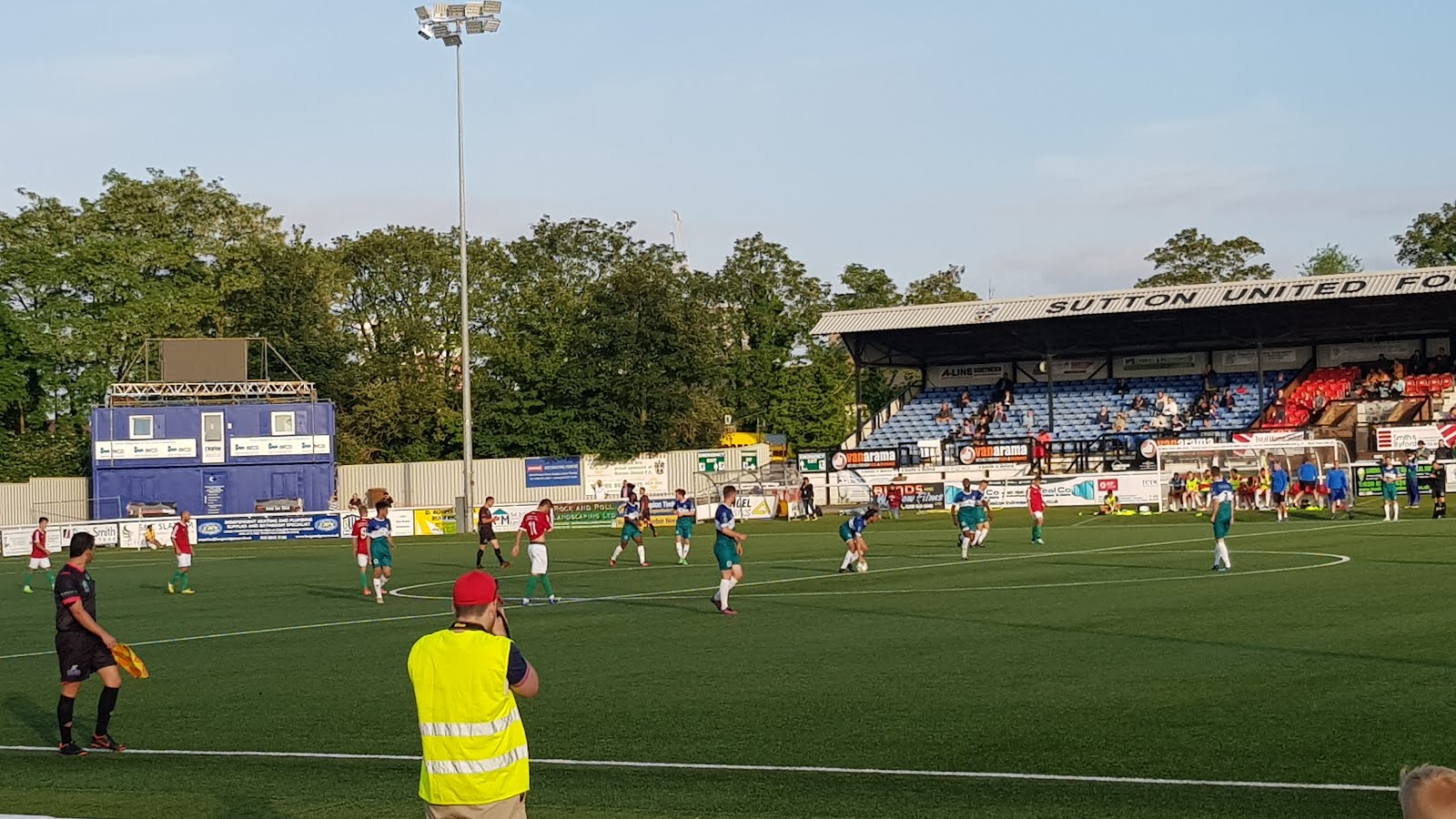 Cascadia pull one back….
Suddenly, the Cascadians in attendance spark into life and start cheering that bit harder for their boys to try and urge them on and get an equaliser. Sadly for them, Karpatalya go and do what they did against Tibet on Sunday in this same situtaion when the oppo had just pulled one back and their fans got a little loud. They go down the other end and nab another goal to to cruelly pop that growing little bubble of optimism. A huge punt upfield from their keeper is allowed to bounce by the Cascadia defender in the box and the attacker gets goalside. A little hand in the back is all it takes to send the man in the red shirt sprawling and the ref points to the spot, much to the Cascadian's disgust. It's a soft one, without doubt, but you could practically see it coming from the moment the defender let the ball bounce.
The fouled man picks himself up and despite the keeper guessing correctly to his right, the spot kick it tucked away and Karpatalya are into the semis. They're pretty pleased with this and after the full time whistle join in a big rousing chorus together of 'RIA RIA HUN GA RIA!". Which I can only guess is Ukranian Hungarian for "West Sutton is lovely. We're very happy to have won, thanks for having us".
With everyone heading off to do stuff like have dinner, I decide I should probably do the same rather than hang around in the bar like Billy no Mehmets. Geddit? Oh come on, pay attention at the back!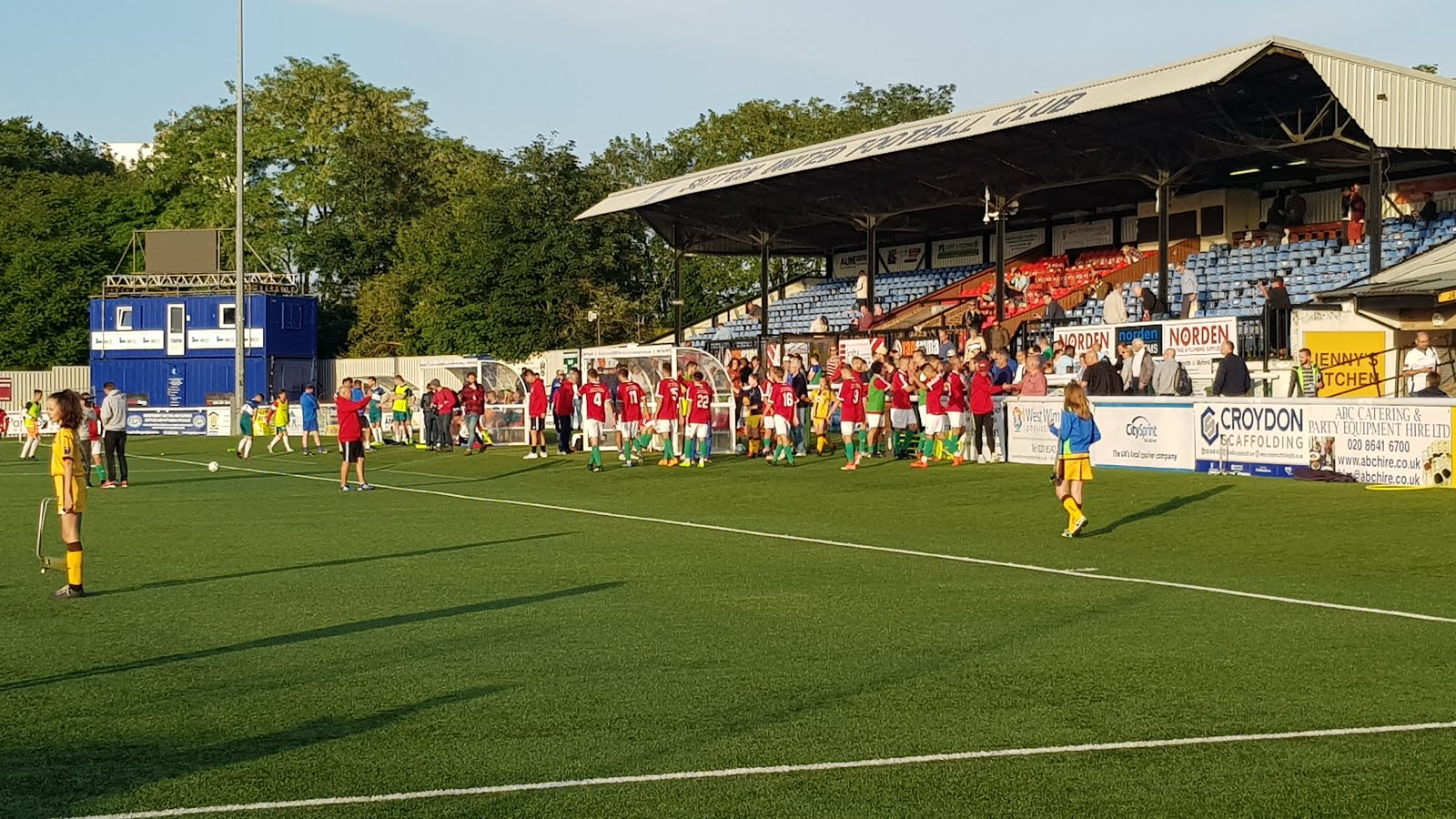 HUN-GA-RIA!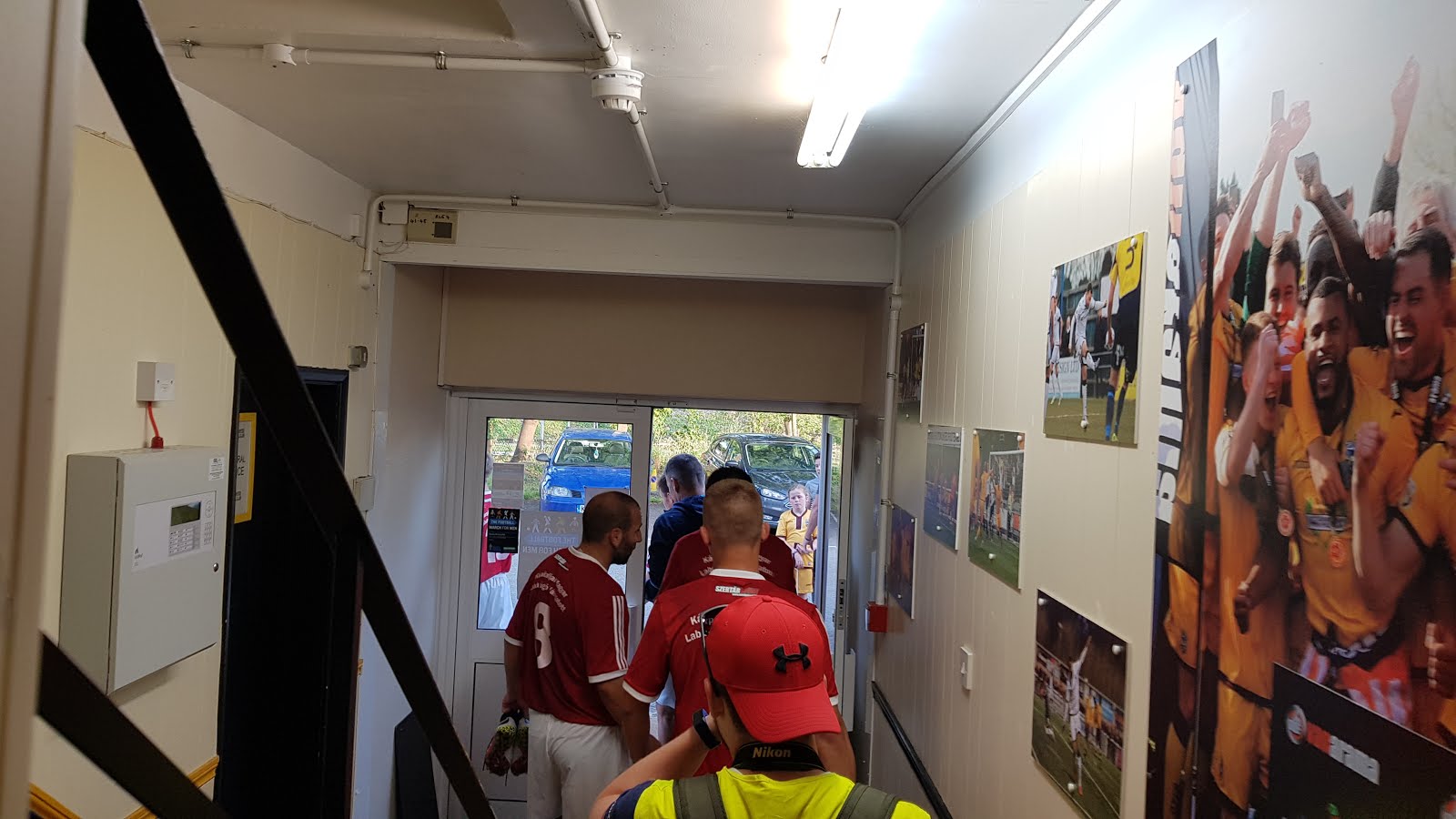 "Are you sure this is the way to the bar?"
Elsewhere in the other two Quarter Finals, Padania have unsurprisingly eased the big favourites Panjab out of the tournament and into the placement games with a 2-0 win, whilst Szekely Land have set up a big 'Hungarian Mionrities' Derby in the semis with a 4-0 victory over Western Armenia in what appears to have been a somewhat bad tempered clash. So, there now follows another rest day before the Semis on Thursday, where we'll be shamelessly ticking off another ground with a trip round the M25 to Aveley's new gaff for a placement game before we head back to where we started all this madness, Colston Avenue for both semi final games.
See you there. Or not. You might have other plans that day, how would I know?
Taz


Today's Other Scores:
Quarter Final – Padania 2 Panjab 0
Quarter Final – Szekely Land 4 Western Armenia 0
Placement Game – Matabeleland 0 Kabilya 0 (Kabilya win 4-3 on pens).
Placement Game – Tibet 0 London Turkish XI 4 (Ellan Vannin withdrew)
Placement Game – Abkhazia 6 Tami Eelam 0
Placement Game – Tuvalu 0 United Koreans in Japan 5


Tournament Blogs:
PREVIEW | DAY 1 (Taz) | DAY 1 (Totts) | DAY 2 | DAY 3 | DAY 5 | DAY 6