After the truncated nature of Day 2, it's back to full steam ahead for CONIFA Day 3 here at Gandermonium HQ. We've got two games lined up and best of all, they're both new grounds. Which for sad Non-League nerds like us, is frankly just about the best thing in the world. I only hope the fucking Groundhopper app lets me check in to these ones unlike at Haringey yesterday. Which being a Premium user, left me most perturbed. I should probably write to my MP and complain. Either that or start a rubbish online petition…
Today's action will see me take in games at first Bracknell and then Slough. First off is Tibet v Karpatalya at Larges Lane at 3pm, then it's the short hop to Slough's new drum at Arbour Park for favourites Panjab against the 0-0 draw specialists, United Koreans in Japan at 6pm. Needless to say, if the latter is another blank, I'll not be amused! Given the location of the matches and it being a Sunday, public transport can do one quite frankly. Besides, the Tazmobile needs a run out as it's been a while since the old girl did any sort of distance. To assist with giving the car it's best possible workout, I decide to add some ballast and as luck would have it, the sizeable frames of both Belly and Dukey decide to accompany me on my little road trip. Job done!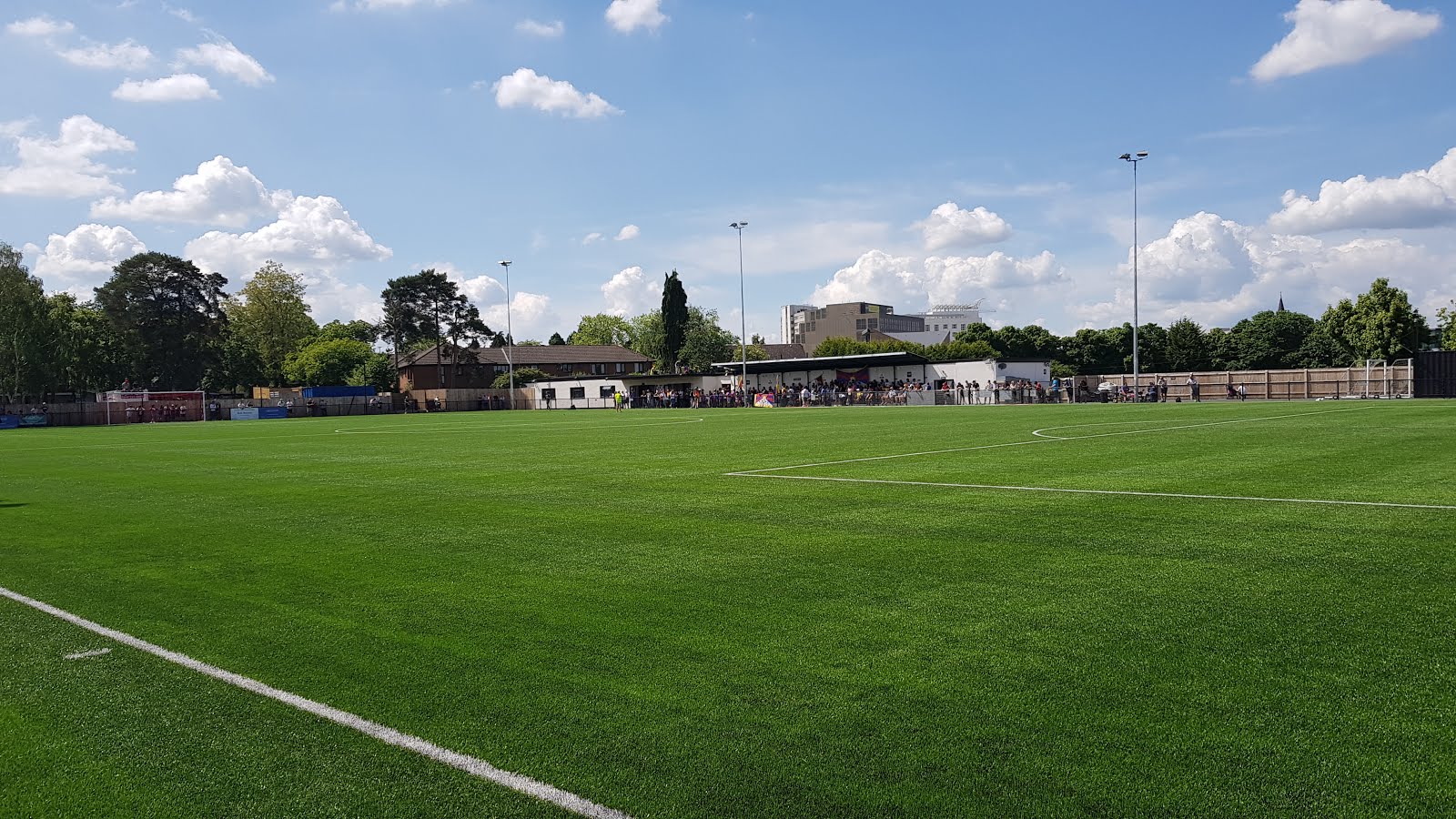 Hello Larges Lane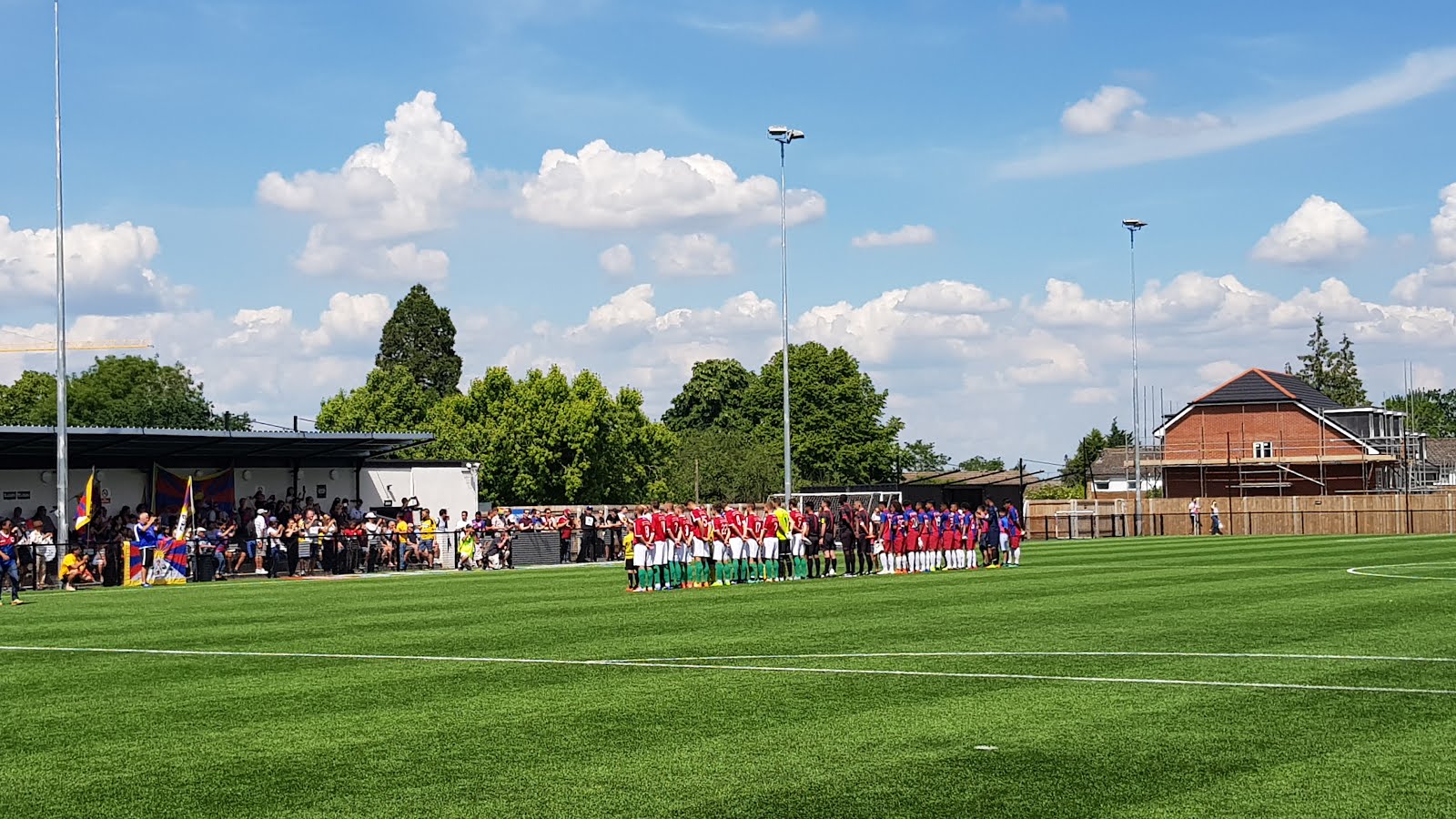 Anthems time.
First on the collection list is the flat capped one and after almost causing a minor RTA (me, not him), we're off to get Dr Bell. With West Sutton's most renowned nuclear physicist on board, we're heading for the A3 and Bracknell bound. As you'd expect with more than 3 members of the Gandermonium collective in one place for a given period of time, the chatter is about all sorts of nonsense. Of course, we fill in Dukey on all things CONIFA and he's soon browsing their page on Wikipedia to see what other games he can make, there's also a startling admission from Dr Bell. It would seem that his doctor has decided that he requires a hip replacement. Of course, if you know us, you'll know that I and Dukey treat this news with the care and respect it deserves. Yes, we spend the rest of the trip making hip related jokes. It's not big, it's not clever, but it's definitely funny. Dr Bell thinks he knows the cause. "I told the Doctor it was hanging out with you lot that did it". We're not impressed. "You twat, he probably thinks we're some sort of hardcore salsa club or something!". Still, it passes the time nicely for myself and Dukey, especially in a bit of M25 traffic.
"You'll have to grow a beard now mate, what with you being a HIPster and all".
"You'll probably be going to watch Dulwich next year yeah?"
"Dunno about you, but I'll be taking a hip flask to away games next season"
"Bet it wasn't caused by the weight of your fucking wallet"
"It's alright mate, we're only pulling your leg. Actually, best not, we might break something"
"That's what we like about you Belly, always shooting from the hip"
Yes, I know. We're utter bastards. Mean, cold hearted bastards.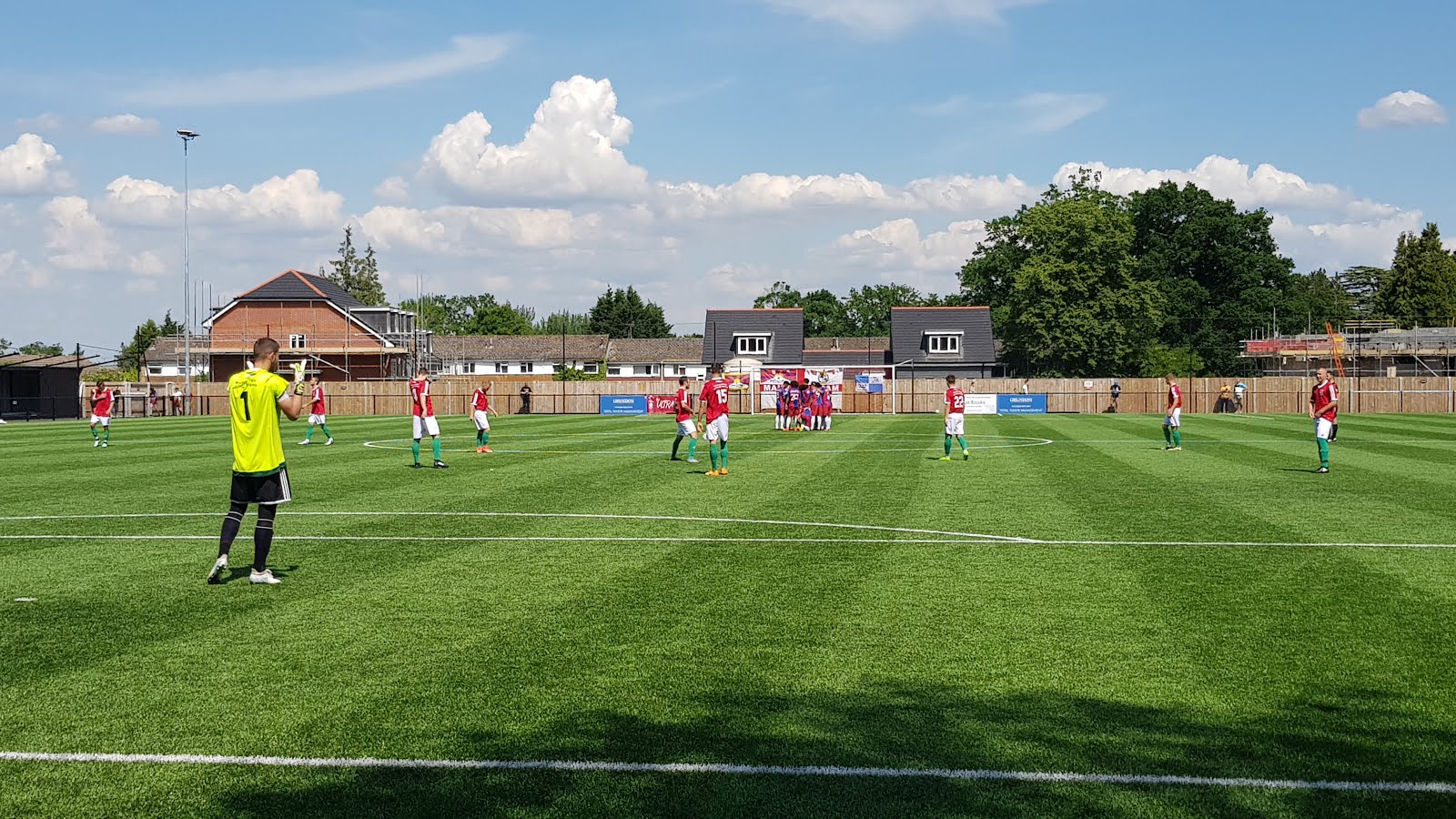 Pre-match huddle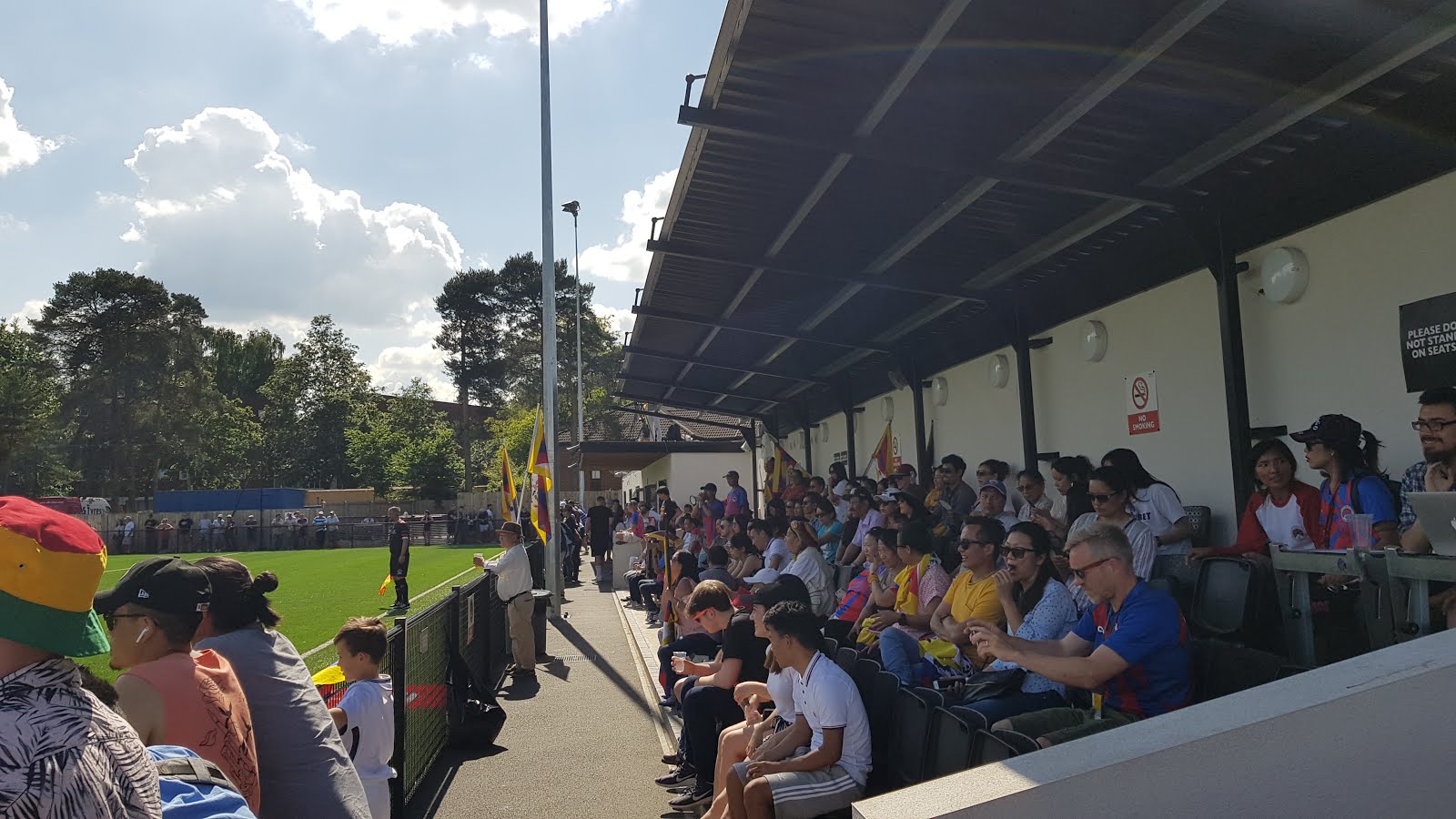 Decent crowd in again…
TIBET v KARPATALYA
GROUP B – LARGES LANE, BRACKNELL
After some sat nav based fuckery in Bracknell meaning we get to see most of the town's extensive roundabout collection and ending up in the wrong place, we eventually rock up outside the ground and bag a spot dead opposite the turnstiles with half hour to kick off. Job done. Leaving the peasants to queue up and dole up some coin to get in, I simply flash the old accreditation and enter via a side gate. I could get used to this! Larges Lane has been widely redeveloped lately, with a new 3G pitch and clubhousestand down one touchline. It looks like they've sold off a bit of land though to achieve this as it's a bit tight behind the goals and there's new housing going up behind the goal where we parked up and came in from. Still, it's a tidy little setup nonetheless. There's already a good couple of hundred in today, with most seemingly here to cheer on the Dalai Lama's boys. Sadly, there's no sign of the man himself, which is a shame as we were looking forward to buying him a pint and chatting about some Tantra techniques. Shame, but maybe next time.
As Larges Lane is mostly uncovered and as today's weather forecast was actually correct in it's anti-ginger outlook, we park up at the far end as some trees at least mean this part is a little shaded. Thankfully, I've worn shorts today at least. Then, just as the players emerge, up rocks Mr X. It seems that having had a famous old time at Enfield for Tibet against Northern Cyprus yesterday, he's now got the CONIFA bug too. He's even been to Bracknell before, so it's not a new ground for him. What a loser!
Tibet, in their frankly fucking ace kit, start brightly despite the fact they're largely playing for pride. With them having lost their first two, there's no way results can fall in their favour to help them qualify even if they win. However, this early promise is soon extinguished with Karpatalya's first attack. A quick break down the right, the ball is switched and their man is in wide to fire across the keeper into the far corner. The goal settles everything down and despite some earnest effort from the Tibetans, they can't quite fashion a really good chance whilst the Hungarians largely play on the break. During the half, Mr X reveals that he'd learnt from his trip to Enfield on Saturday that apparently 2 bids have been received to host CONIFA 2020, one of which is from Nice in France. Suffice to say, if it pans out that way, we'll be looking to have some of that. Yes ladies and gents, we're officially hooked on this stuff.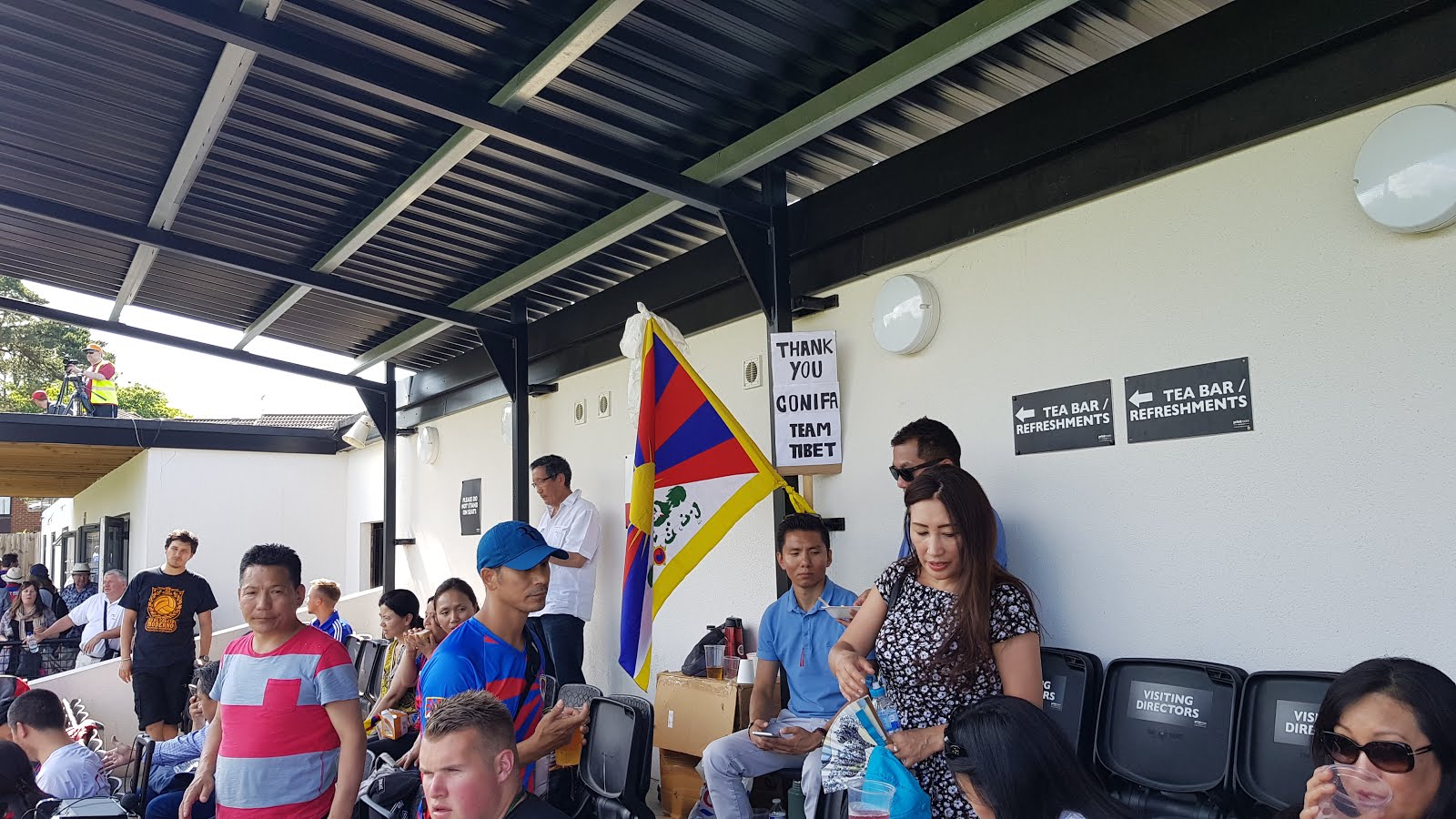 Awww, that's nice.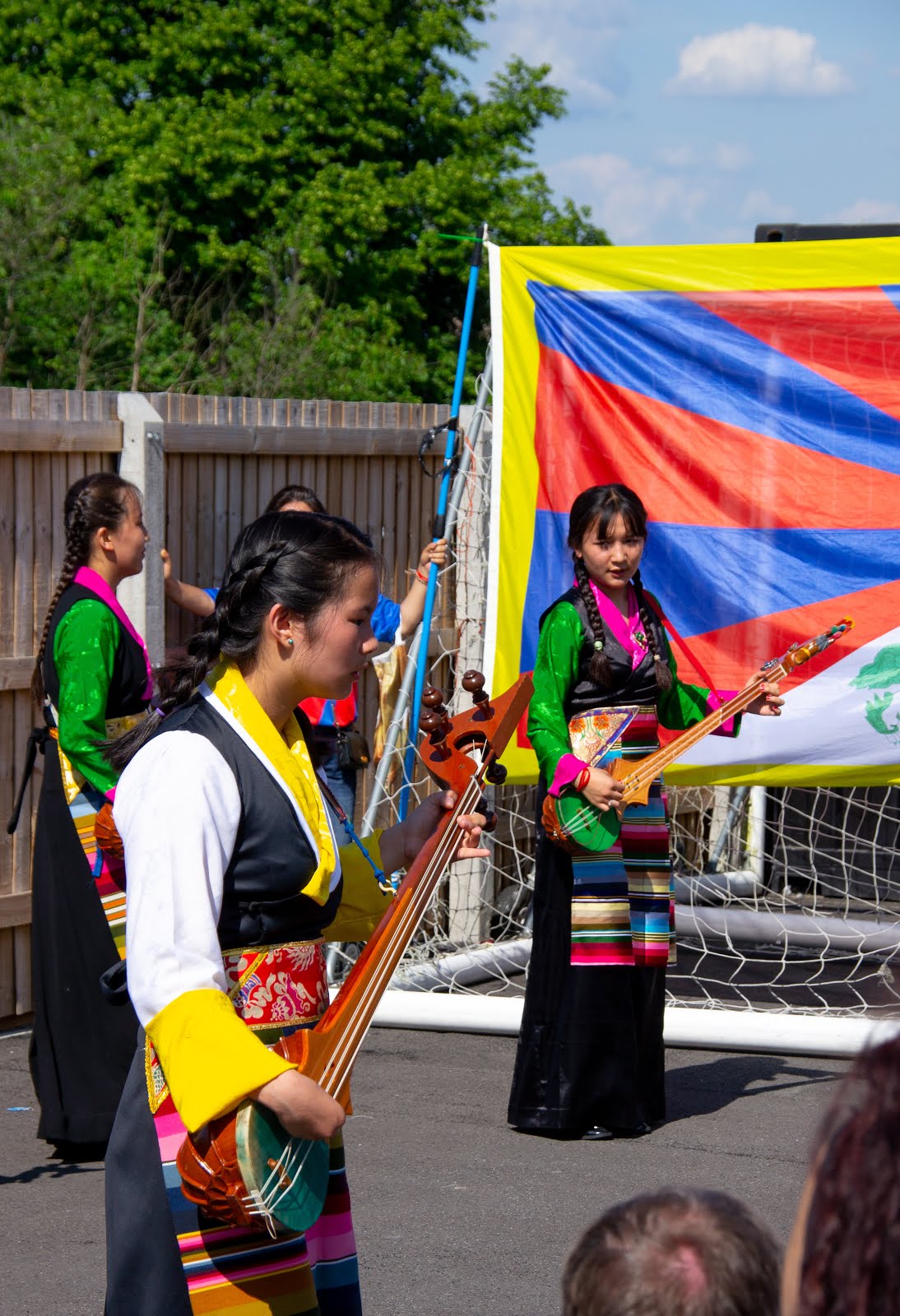 Half time entertainment
With half time on the horizon, the contest is largely ended by a penalty. A ball over the top sends a man into the box and he's clumsily checked by a defender. The keeper is sent the wrong way and it's 2-0. Then, as we've seen in a couple of games so far this tournament, goals near half time usually come in twos and it's no different here. Tibet can't clear their lines following a set piece and having failed on a couple of occasions to deal with the danger, the ball comes back to a Karpatalya lad in the box and he pokes in from close range to make it 3-0. Stick a fork in 'em Bhudda. They're done.
At the break, I have to dart outside to shift my motor. A local had advised us during the first half that the local parking wardens are a bit hot round here and that the bays we'd bagged right outside are only valid until 4pm, meaning I risk a ticket. So I move the motor to a Junior school car park a few yards around the corner to avoid getting a fine. We then get to enjoy some Tibetan music for the rest of the break whilst enjoying a cold drink, which all in all makes for a lovely atmosphere.
Obscure football with a cold drink accompanied by nice soothing music on a lovely summers day, what more could a man ask for eh? Well, a few things if you're Dukey. But we won't go into all that.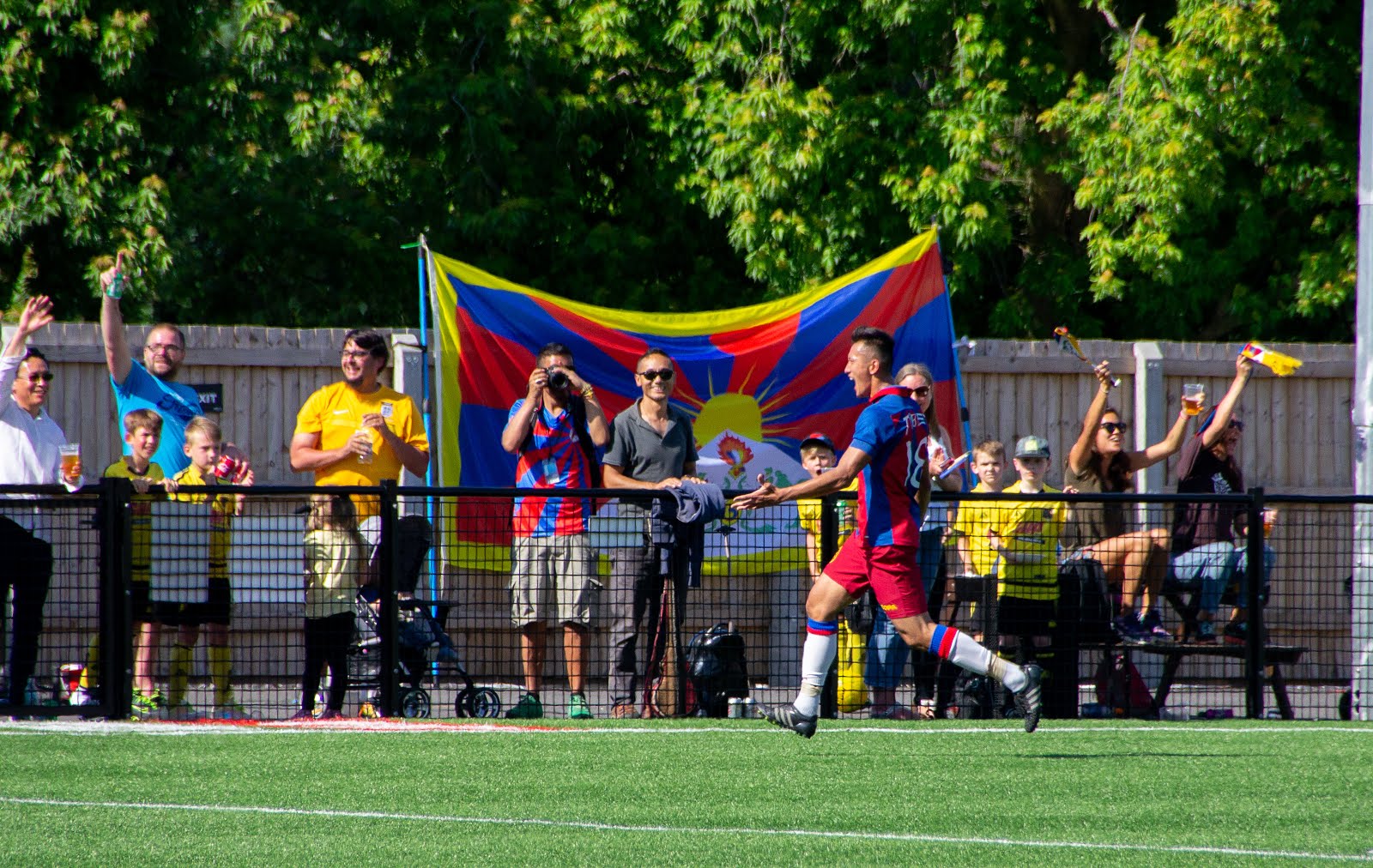 He looks pleased!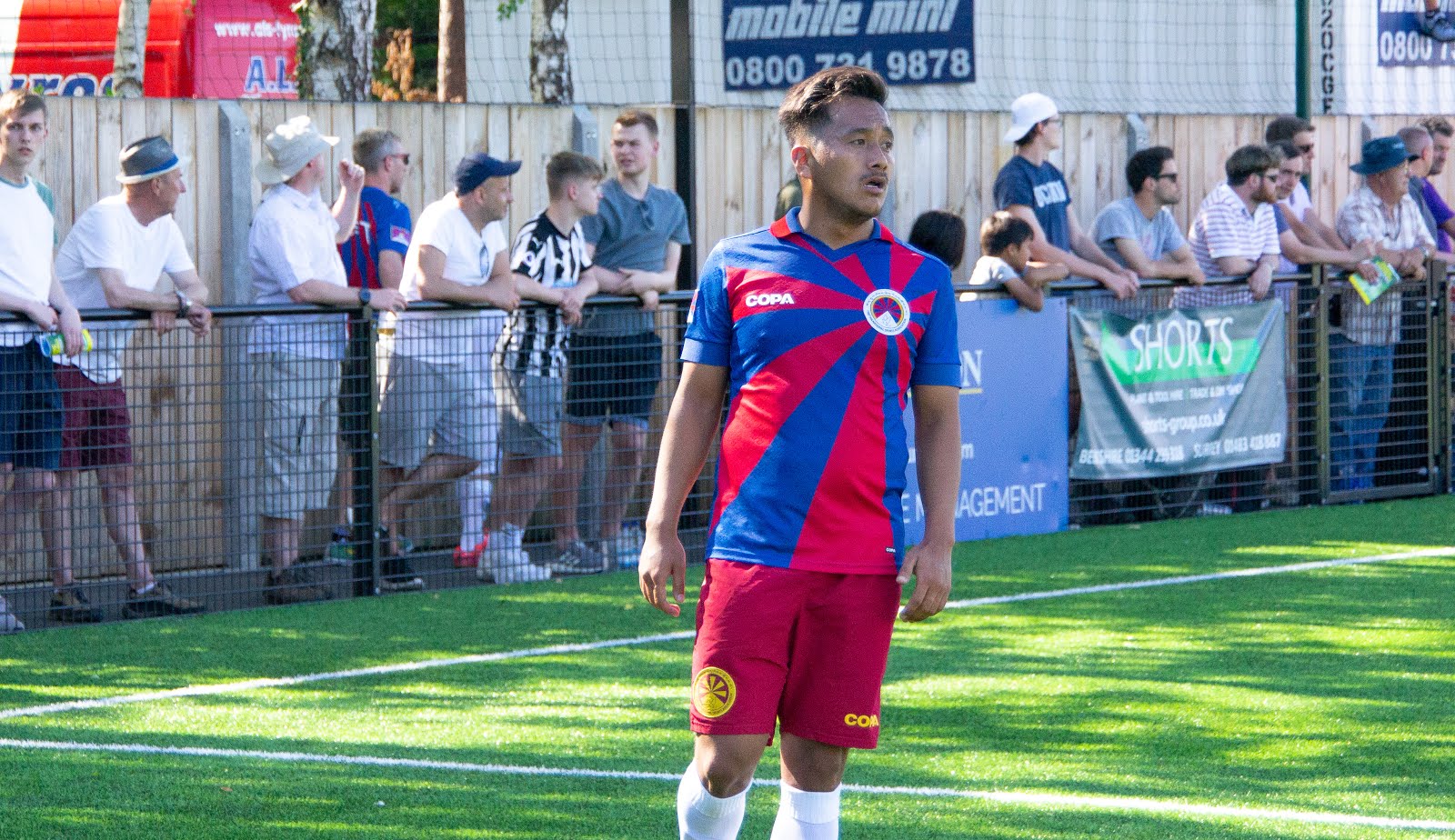 That shirt. Swoon.
The second half sees more endeavour from the Tibetans as they try their hardest to get back into the game, but proceedings amble along without either side looking likely to add to the score. Then with 15 minutes left, the Tibetan no.18 Tenzin Yougyal has a pop from 20 yards. It's straight down the keeper's throat really, but he seems to get his footwork all wrong and he's all over the shop as it dips past him and into the back of the net. Suffice to say the celebrations from their fans are not very Zen like at all! "If they can get another, that might make this a game" mutters Mr X as the game restarts. Sadly, that's not to be. Within 5 minutes, the Hungarians have sparked back into life and added two more goals to kill off the tie. The first a decent low hit on the run, the second a close range finish after they can't again clear their lines. Still, it was fun while it lasted.
During the half we've been keeping up with events elsewhere in the other groups and the big news is that holders Abkhazia have crashed out in Group B after drawing 2-2 with Northern Cyprus, the team they had to beat to progress. Another surprise is that Ellan Vannin are also out, despite topping Group A at the start of the day, they've lost 2-0 to Barawa and with Cascadia rattling in 6 without reply against Tamil Eelam, the Manx lads drop to third on goal difference and will go into the Placement Rounds instead of the Quarters. Totts will be gutted!
With the Tibetan team greeting their fans, we instead head for the motor. We've got another game to catch! Mr X however is undecided whether to head on or home. "Of course he'll go!" exclaims Dukey as we pull out onto the main road "He won't miss out on a new ground!". I guess we'll find out in about half an hour won't we! As we head over to Arbour Park, Dukey sits trying to work out who's going to be playing where on Tuesday plus who's currently in the quarters and who isn't. This is interspersed with more piss taking of Belly's unfortunate upcoming disability. To help soothe his frayed nerves, I stick on some music. 'Hip to Be Square' by Huey Lewis and the News of course!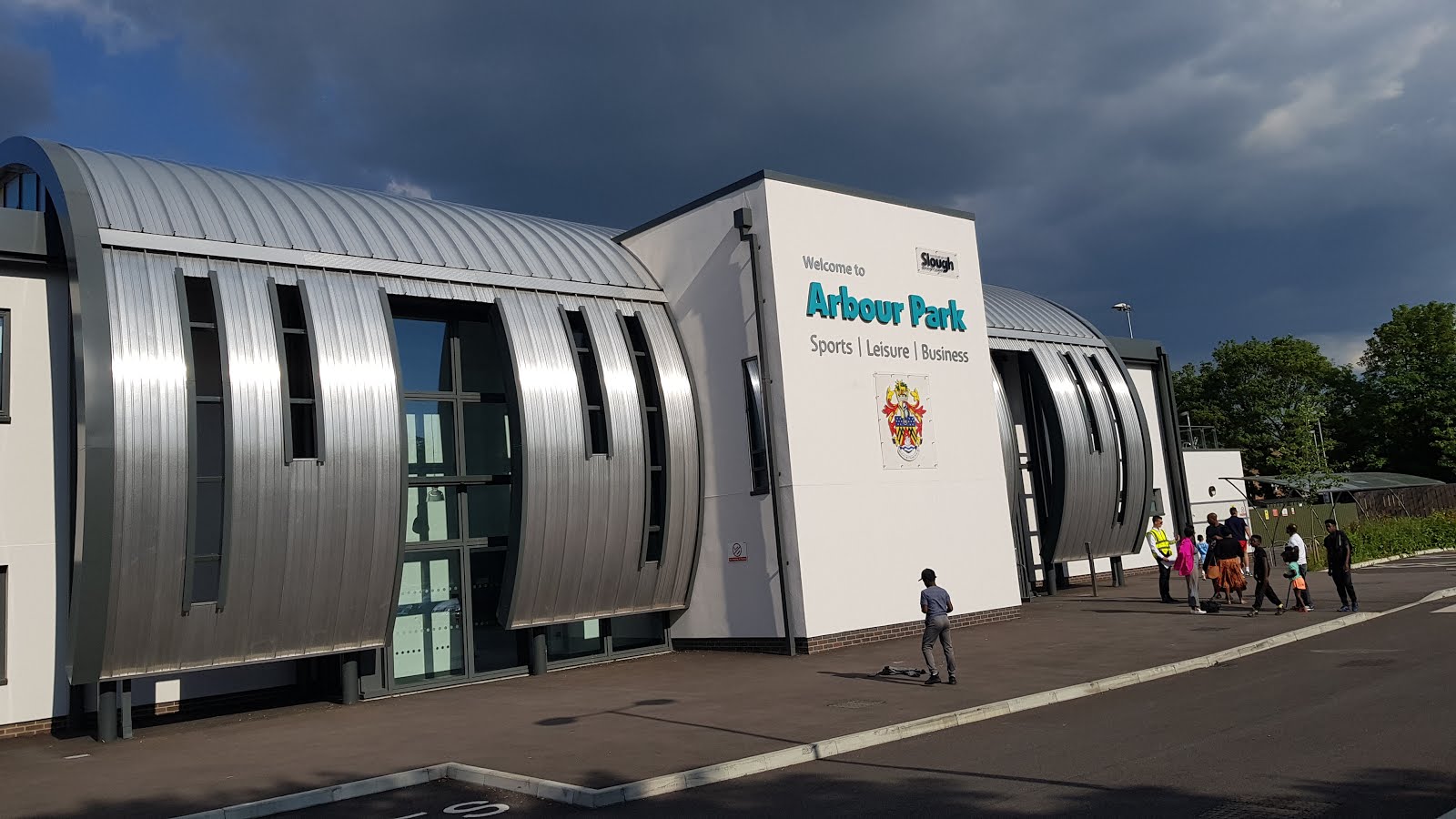 Bit space age innit?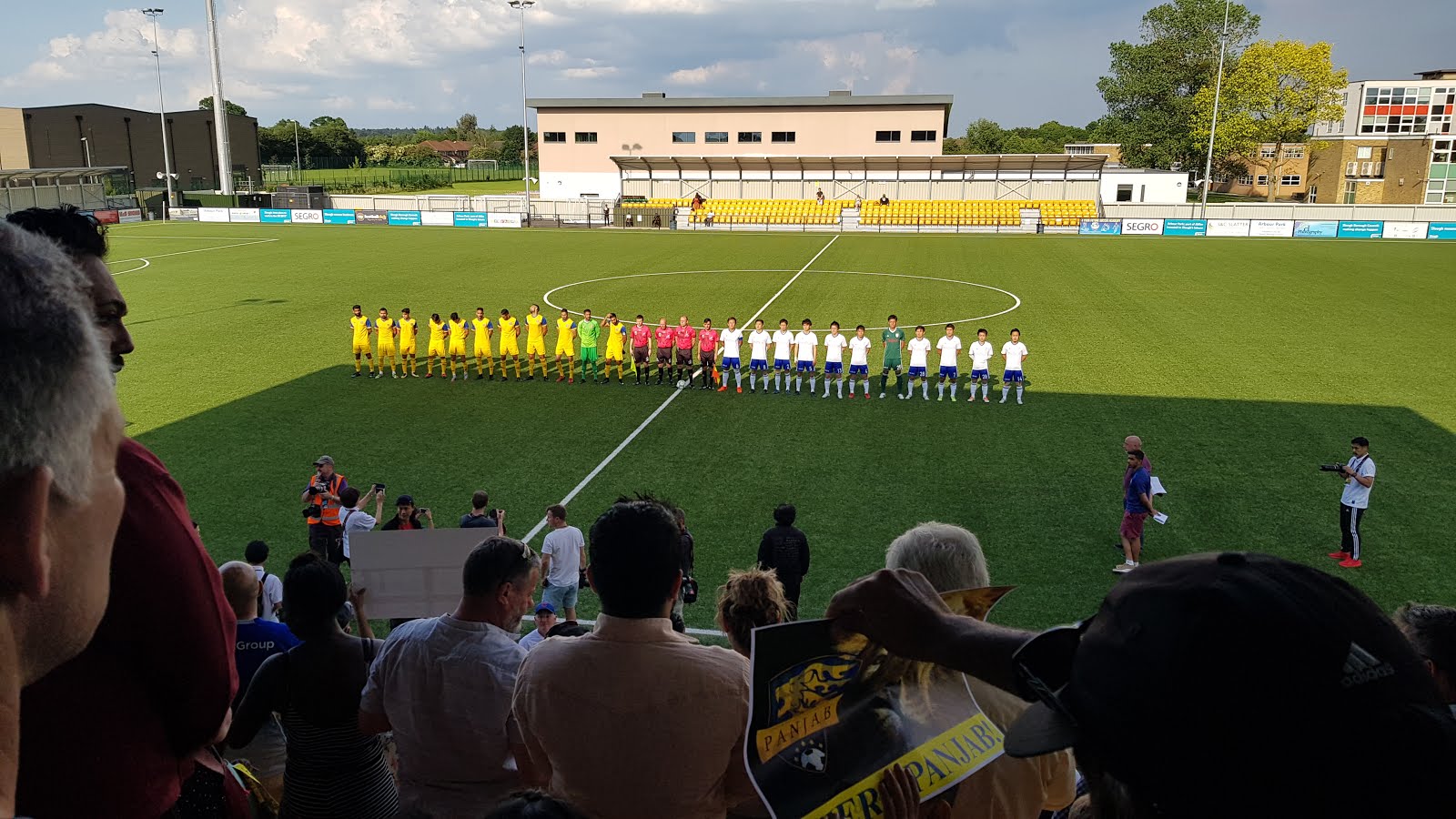 More anthems!




PANJAB v UNITED KOREANS IN JAPAN
GROUP D – ARBOUR PARK, SLOUGH
We pull into Arbour Park a good half hour before kick off and once inside we find a decent looking new build. Now, it's always nigh on impossible for these new grounds to have much in the way of character, but you can at least provide the basics for a half decent place to watch football, such as cover behind the goals and a good few seats. This they've managed, with too many sides these days thinking flat open areas behind the goal is acceptable for grounds a couple of levels below the FL. It just isn't lads. Spend the money where it should go, around the pitch. Of course, we're only inside a couple of minutes when we spot a familiar face. "Knew you wouldn't miss it!" chuckles Dukey as we greet fellow ground ticking loser Mr X.
We're all a bit peckish by this point and head for the food bar at the back of the posh main stand. This produces a most agreeable portion of Sausage roll and chips for 3 quid and best of all, air conditioning! Whilst the teams emerge and the anthems are played, we stuff our faces before taking a wander down behind a goal. Here we're treated to some early action as Panjab win a 1st minute penalty. With Panjab needing at least a draw to make the quarters and UKIJ needing to win, this is a vital peno. So of course the bloke goes for style over substance and tries a to Panenka it, so of course the keeper superbly saves with an outstretched boot. Unlucky mate, that's the danger of yer average Panenka you see. Looks brilliant when it comes off, but you look a proper bellend when it doesn't!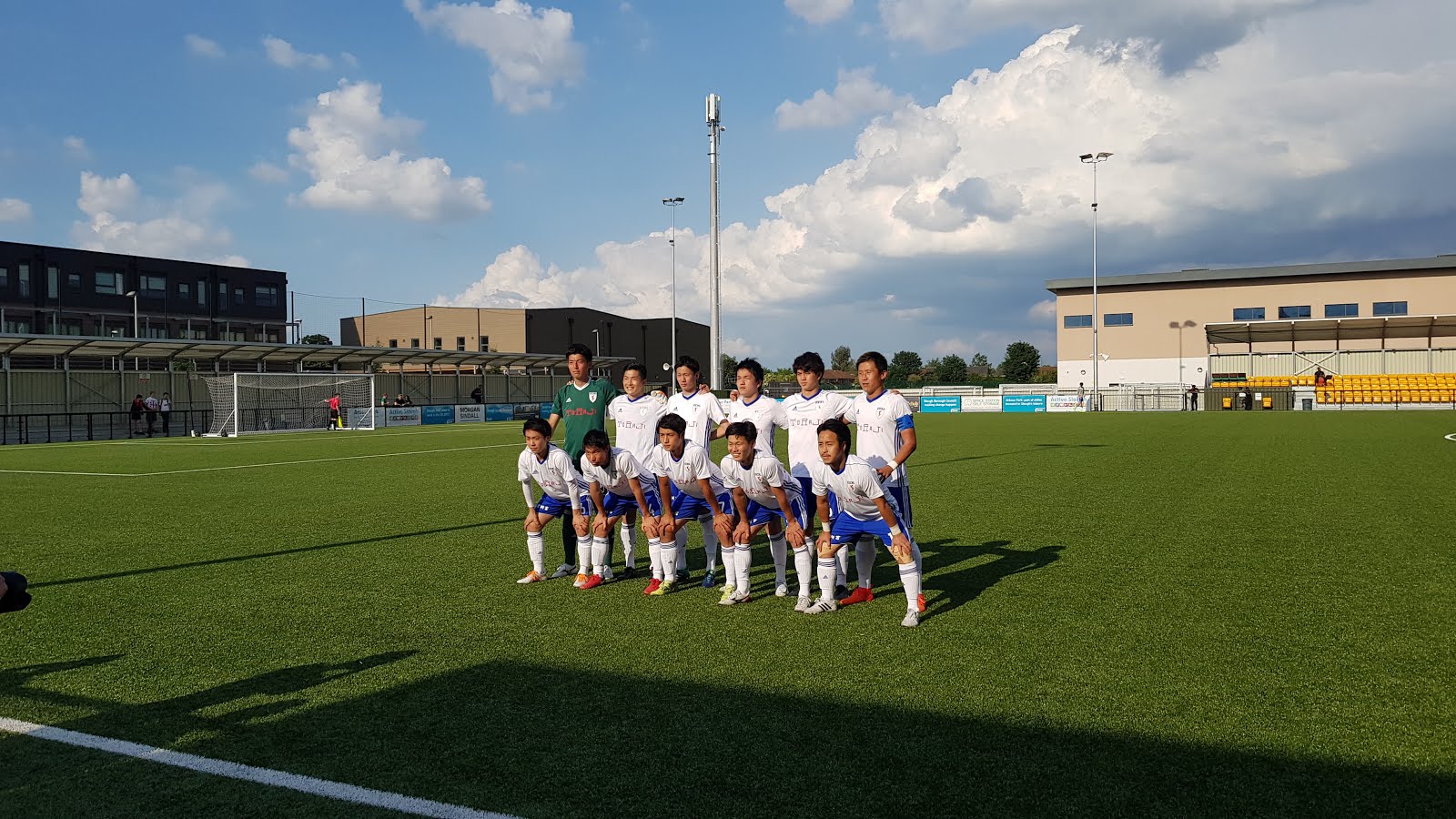 Koreans ready to go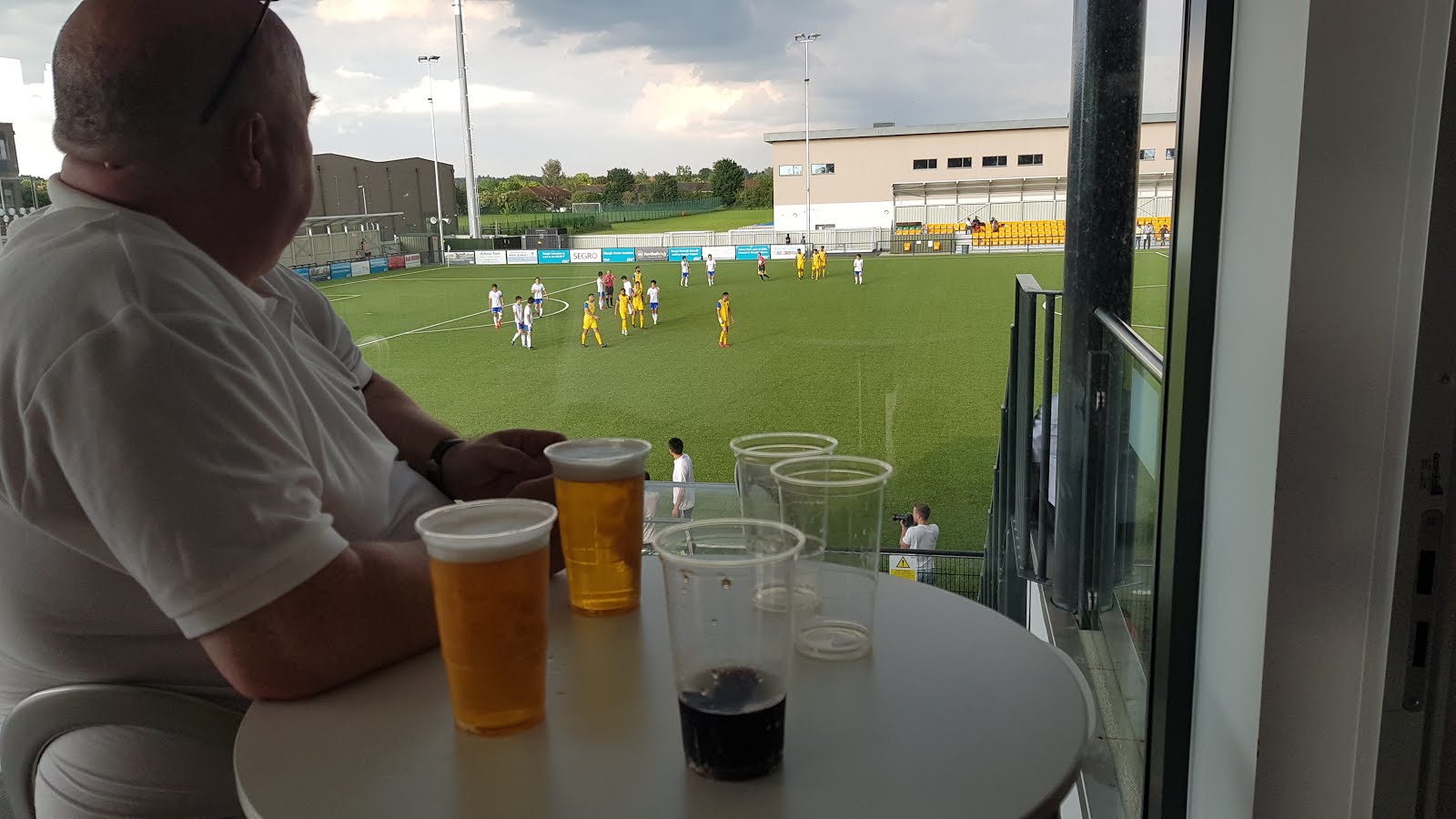 Half time drink with the Maidenhead posse…
From here, both sides largely cancel each other out although they both have a chance or two to break the deadlock, the best being a deep ball to the back post that the Korean lad somehow manages to nod wide rather than on target. So at the break we go in goalless and we head for the bar where we understand some other Non-League losers are lurking. Yep, the Maidenhead GMOSC mob are in and they're all holding their noses given they're behind enemy lines this evening! We catch up on various bits and bobs over a drink before we again head out for the second 45. Apparently Western Armenia are comfortably beating Kabilya as expected, so the situation remains the same. Panjab will go through with a draw. However, if the Koreans win, they'll be going into the quarters.
Despite being technically good, UKIJ just lack that bit up top and despite having a good go, they never quite look like they're going to score. The closest we get really is UKIJ hitting the bar twice with the same crossshot, which bounces along the top of the bar. Meanwhile Panjab are mostly seeing out the game to get the point they require to progress. The Koreans job is made extremely difficult with about 10 to go when the ref awards Panjab another penalty, this time it's an absolute rotter with the player running straight into his oppo. Naturally this is converted and the favourites are heading for the quarter finals. Still the Korean lads stick at it and with time almost up they finally register their first goal of the tournament. And my word it was worth waiting for! The ball drops to Su Hyeon Mun about 25 yards or so out and he flashes an absolute humdinger past the keeper and into the roof of the net. It's a cracking hit, but it's too little too late as the whistle goes soon after. Panjab are through, the United Koreans are eliminated and will go into the placement games.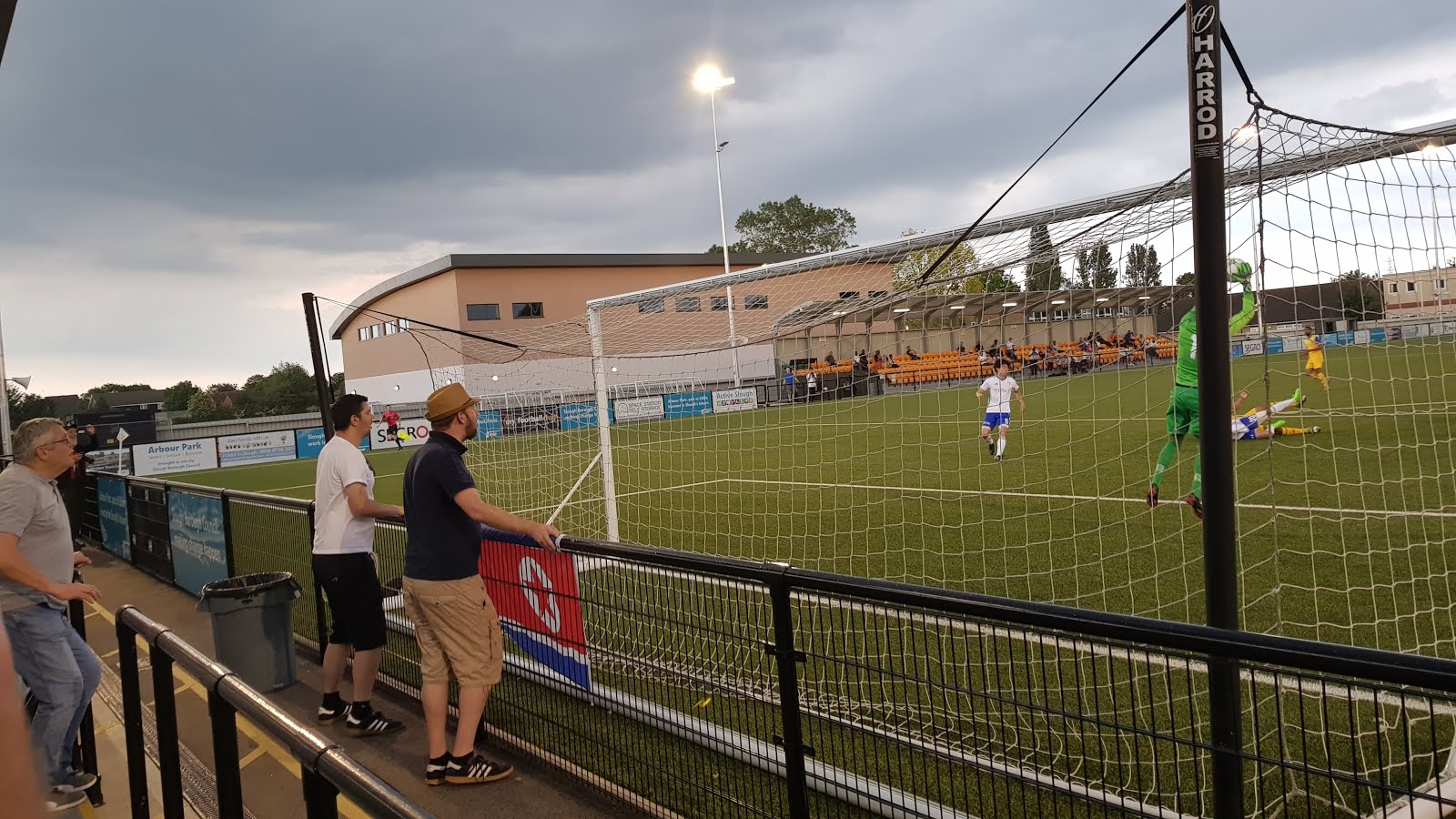 Just don't ask….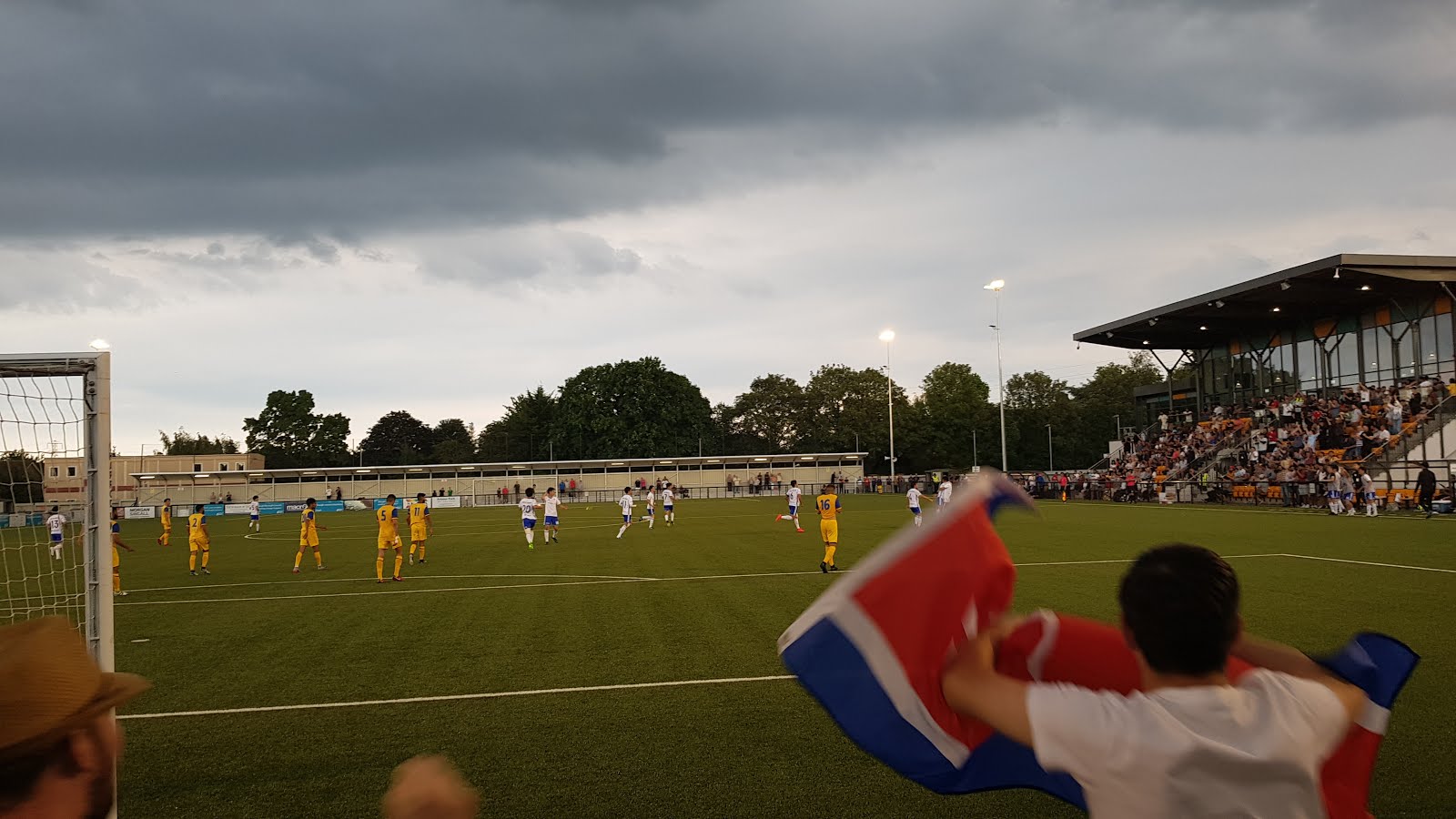 Goooooal!
We say our goodbyes to the GMOSC firm and look forward to locking horns with them again next season. Then it's time to get out onto the M4 and head for home. Dukey gets on the interwebs and does us a round up of all the evening results. Western Armenia have topped Group D with a 4-0 win over Kabilya, Padania have seen off Szekely Land 3-1 in Group C and best of all, Matabeleland (whose bench included ex-Liverpool keeper Bruce Grobbelaar, complete with #96 squad number) have a win! They beat Tuvalu 3-1 at Haringey despite missing a penalty. Great stuff and well deserved for the Zim boys.
The trip home is easy peasy and I've soon dropped off my ballast from the car's workout and I'm pulling up a chair at home with a cuppa to catch up with TCMT and start writing up two days worth of nonsense. At least there's a blank day tomorrow so I can catch up!
Quarter Finals on Tuesday, two of which are at Sutton. Ooooh. exciting.
Taz
Today's Other results:
Group A – Barawa 2 Ellan Vannin 0
Group A – Tamil Elam 0 Cascadia 6
Group B – Abkhazia 2 Northern Cyprus 2
Group C – Tuvalu 1 Matabeleland3
Group C – Padania 3 Szekey Land 1
Group D – Western Armenia 4 Kabilya 0


Tournament Blogs:
PREVIEW | DAY 1 (Taz) | DAY 1 (Totts) | DAY 2 | DAY 4 | DAY 5 | DAY 6