I hate adulting, it's rubbish. Always getting in the way of the really important and cool stuff. Like pissing about following a football tournament for teams from places that officially don't really exist. Can you outsource your adulting? Is that a think these days? Surely in this post-Brexit, make profit from any old rubbish world, there's some firm somewhere that can take care of all the stuff that gets in the way of the things we really want to be doing? Anyone? Hello? Is this thing on??
Yes, having carefully laid out my itinerary for the CONIFA World Cup, colour coded the days and even made little labels to represent the different teams, real life burst in, gave me a wedgie, knocked a cup of tea all over is and then blew it's nose on the soggy remnants. The utter bastard. Suffice to say, it put a right spanner in the works for my plans on the Saturday. I can't be arsed to go into the details, but in the end, having planned to do games at Enfield and Haringey that day, I swung to then not being able to do either to suddenly late on being able to scrape one in after all. Still, as I always say, one game in a World Cup for non-FIFA affiliated football associations in a day is better than none.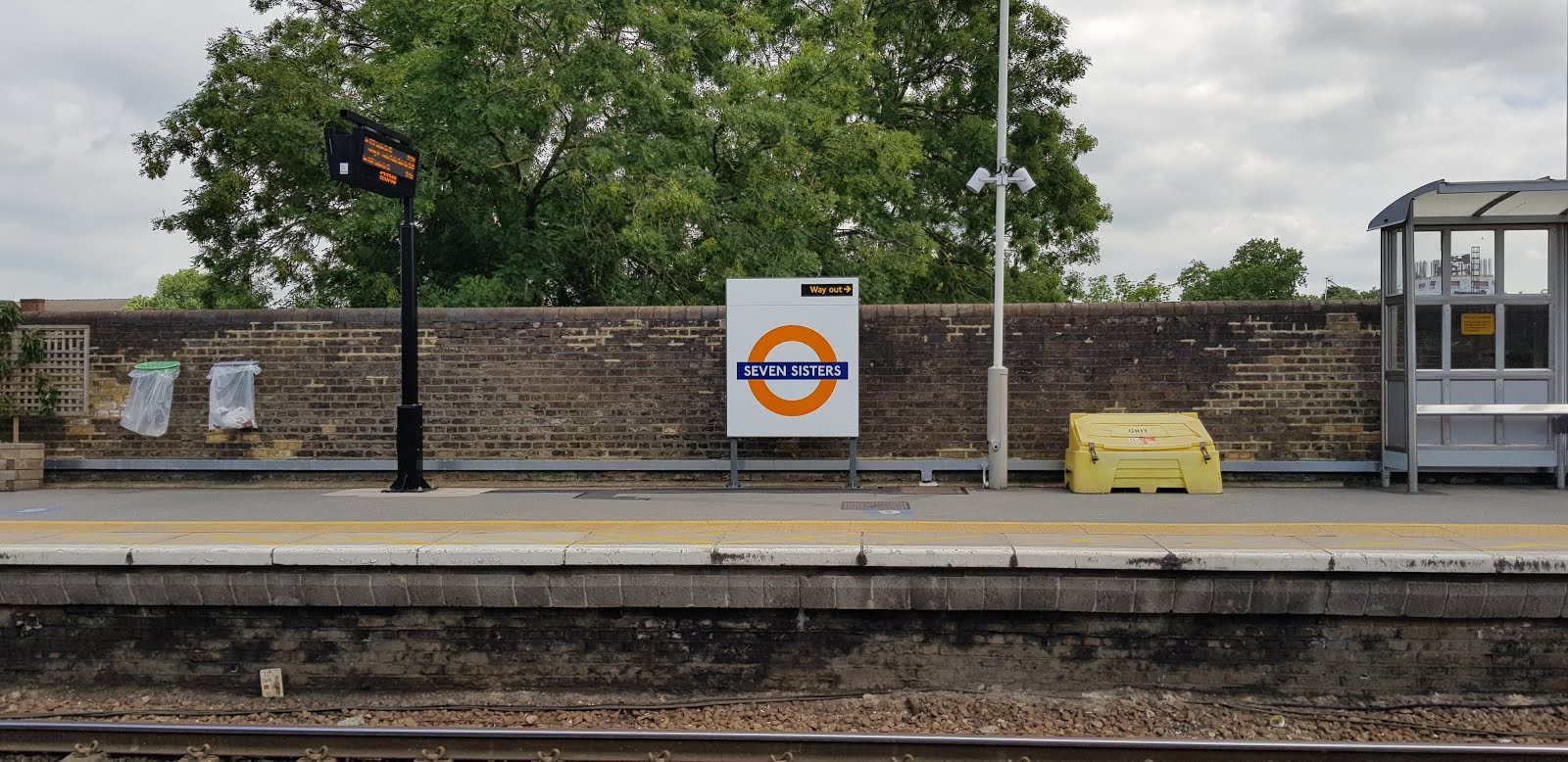 Transportation related.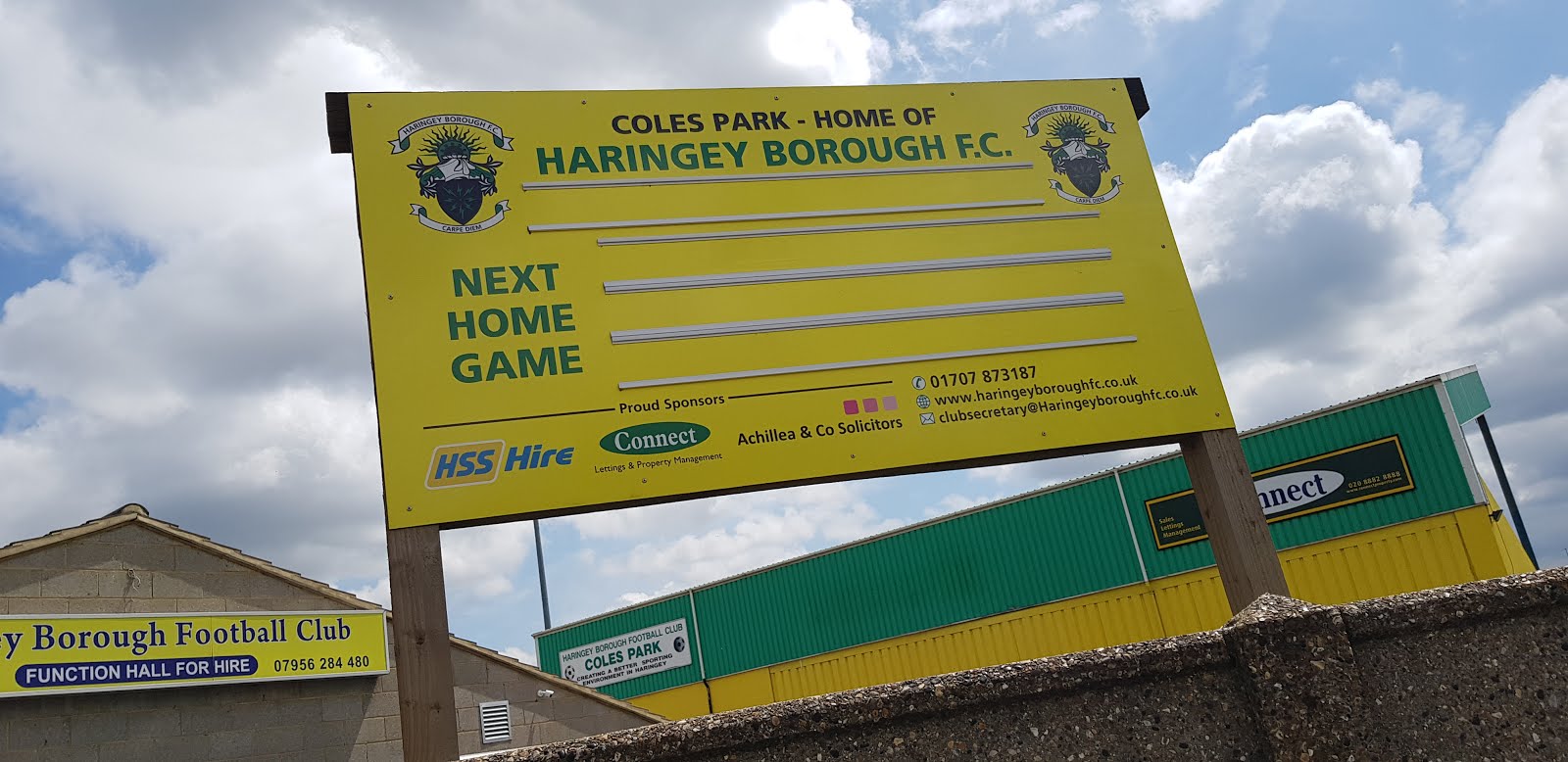 Top advertising!
So with my press pass around my Gregory, I set off for North London. Originally I was going to probably do Abkhazia v Karpatalya at Enfield, then follow up with Padania v Tuvalu at Haringey but in the end, I decide to check out the 2pm Matabeleland v Szekely Land game at Haringey. A true battle of the 'Lands'. If Sky were televising this stuff, they'd definitely be selling that as a 'Derby' and no mistake. It's a quick run to East Croydon, a train to Victoria and then a tube up to Seven Sisters before hopping on the Overground 2 stops to White Hart Lane. The journey is trouble free and I pass the time making a start on a book about legendary Benfica coach Bela Guttmann and his life story. Before I know it, I'm on White Hart Lane with the cranes for Spurns new ground towering above the rooftops behind me, I set off on the stroll to Haringey Borough FC.
MATABELELAND v SZEKELY LAND
GROUP C – COLES PARK, HARINGEY
On arrival, I'm a little concerned by the lack of cover on offer. My weather forecast, checked earlier, was about as correct as a Thameslink timetable and it's now really rather sunnier than I was expecting, meaning the walk along WHL has left me perspiring a tad. Wearing jeans was not a good move. Nor was leaving the factor 50 at home. With this in mind, I park in the stand to get out of the evil killer sunlight for a while and await the arrival of Steve who's taking in the game before heading off to the England-Nigeria friendly at Wembley afterwards. As I sit and cool off, I notice there's quite a lot of people coming in wearing Hungarian shirts and they're all rather well refreshed. There's even a bottle of jaeger going round! Amusingly, a couple of lads in front of me try to tie up a Hungarian flag, but then after a brief discussion in which the word 'string' appears to feature a bit, they draw the conclusion that they lack some sort of material required to attach said flag to anything. No bother, one spots another of his colleagues is wearing trainers and has omitted to tie his laces. Guessing that as his mate isn't really using them at this point, he takes his Bic lighter to them and burns off two perfectly usable lengths of string. Problem solved!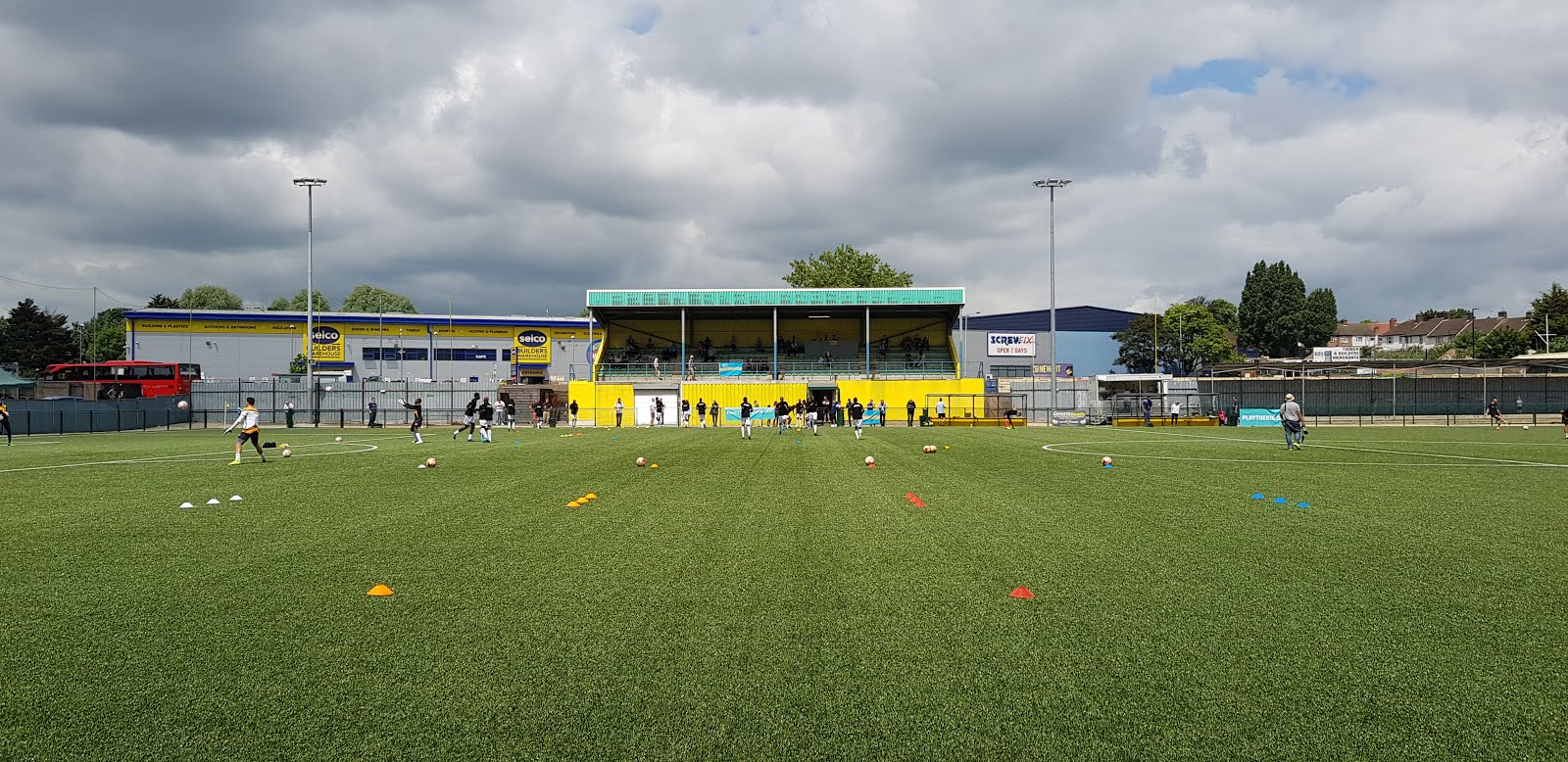 Small, but functional
No Pyro, No party!
I eventually locate Steve who's emerged from the bar and it seems that there's a LOT of Hungarian support for the Szekely lads today. However, despite there being about 100 in the ground, there's apparently about the same sat in the bar outside necking pints! With kick off approaching, we head down behind the goal as the the anthems play out. The Matabeleland one is belted out with gusto by their fans in the stand, meanwhile the Szekely Land one is greeted by scarves held aloft and a shitload of pyro from the Ultras. This could be an interesting day! Just as we're abvout to start, Mr X wanders up. It seems the temptation to chalk off two new grounds today proved too great and he's made a late dash north to make it before the start, he'll also be heading to the Tibet game at Enfield afterwards. "Don't care, doing the final there!" I sniffily inform him when he finds out I can't make it.
We park up on the halfway line and like on Thursday, the Africans start quickly. From kick off, they play some really nice one touch stuff through the heart of the Szekely team and a ball is slipped in for a runner on the far side. He draws the keeper and clips the ball over him, but it isn't quite high enough and flicks off the stoppers head and loops up over the bar rather than into the back of the net. After that. the opening 20 minutes is pretty open, with both sides having opportunities but Matabeleland having probably the better of it. Just as we're getting our teeth into an interesting clash, it's turned on its head half an hour in. A ball over the top sends the Szekely striker Bajko in behind with a clear run on goal.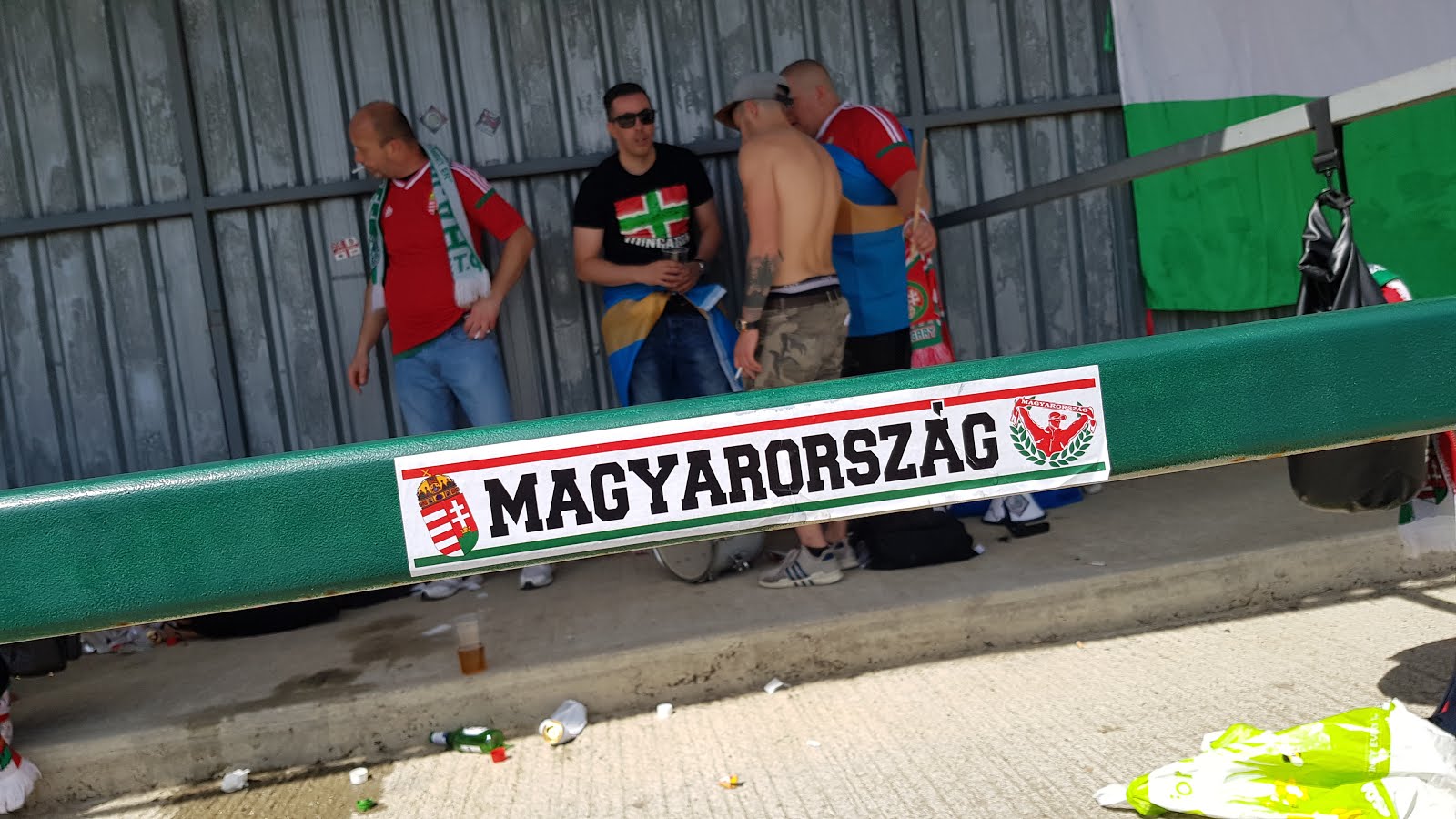 Awww, wish we'd brought ours now!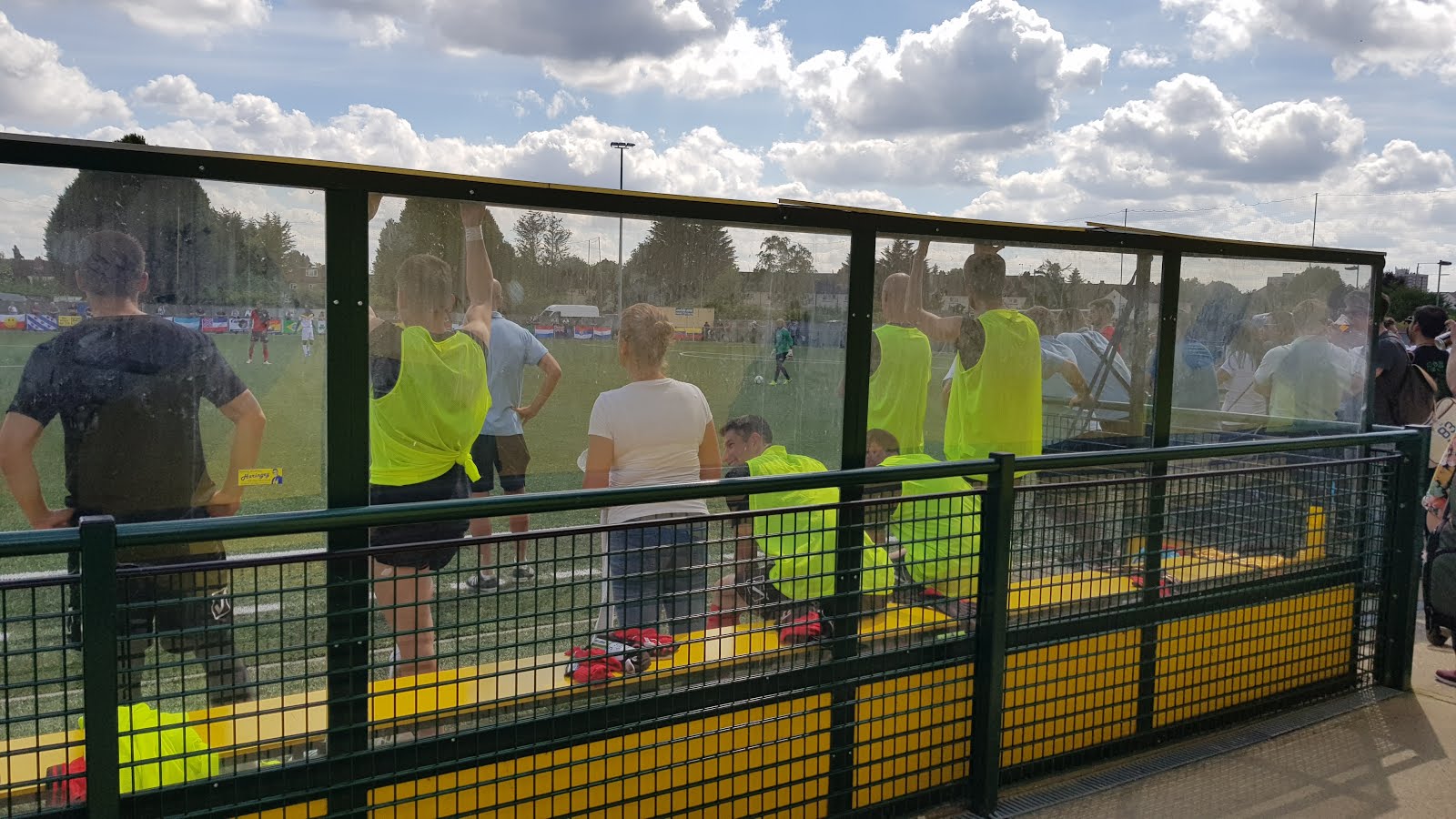 Observing.
The Keeper races off his line to meet the threat but the attacker gets there first lifting the ball over him and towards the empty goal. The keeper can do nothing but wipe out the oppo and as a defender just gets back to clear off the line and prevent a goal, there's only one outcome. Our first red card of the tournament. The keeper tries to protest, but he knows he's toast and instead sportingly shakes the refs hand before departing. To rub salt into the wound, the PA sparks up and the bloke on the mic announces at deafenings volume to everyone for about 3 square miles that there's been a "RED CARD FOR MATABELELAND!". Yeah, cheers for that mate, clearly you're a graduate of the ITV Sport school of stating the bleeding fucking obvious. A sub keeper is brought on, but sadly at the cost of number 8 Sawusani Mudimba leaving the field, who's been causing the oppo a fair few problems up to this point.
Amusingly, having gone down to 10, the Africans then carve out the best chance of the game. Thei #19 persists down the left and eventually finds a way past his man and fires a low cross right across the face of goal, sadly it's just out of reach of a white shirt sliding in at the back post. Chance! This proves to be a high water mark in the game and just 2 mins later, they're behind. Bajko is in off the shoulder again after a through ball and he's clipped from behind. Penalty. Magyari steps up and despite the keeper guessing correctly, he rams the spot kick home. After this, the game is mostly one way as Matabeleland try to keep the Romanian based Hungarians at bay. This they manage with hard work and a little luck, but with half time upon us, Bajko gets dumped on his arse a good 30 yards out in a central position. A low drive from the resulting kick catches the keeper by surprise and it beats him down to his left to make it 2-0. A minute later, it's 3-0. A quick break catches the Zimbabweans outnumbered and despite appeals for offside, the ball is squared across the 18 yard box for Magyari to all but kill the game.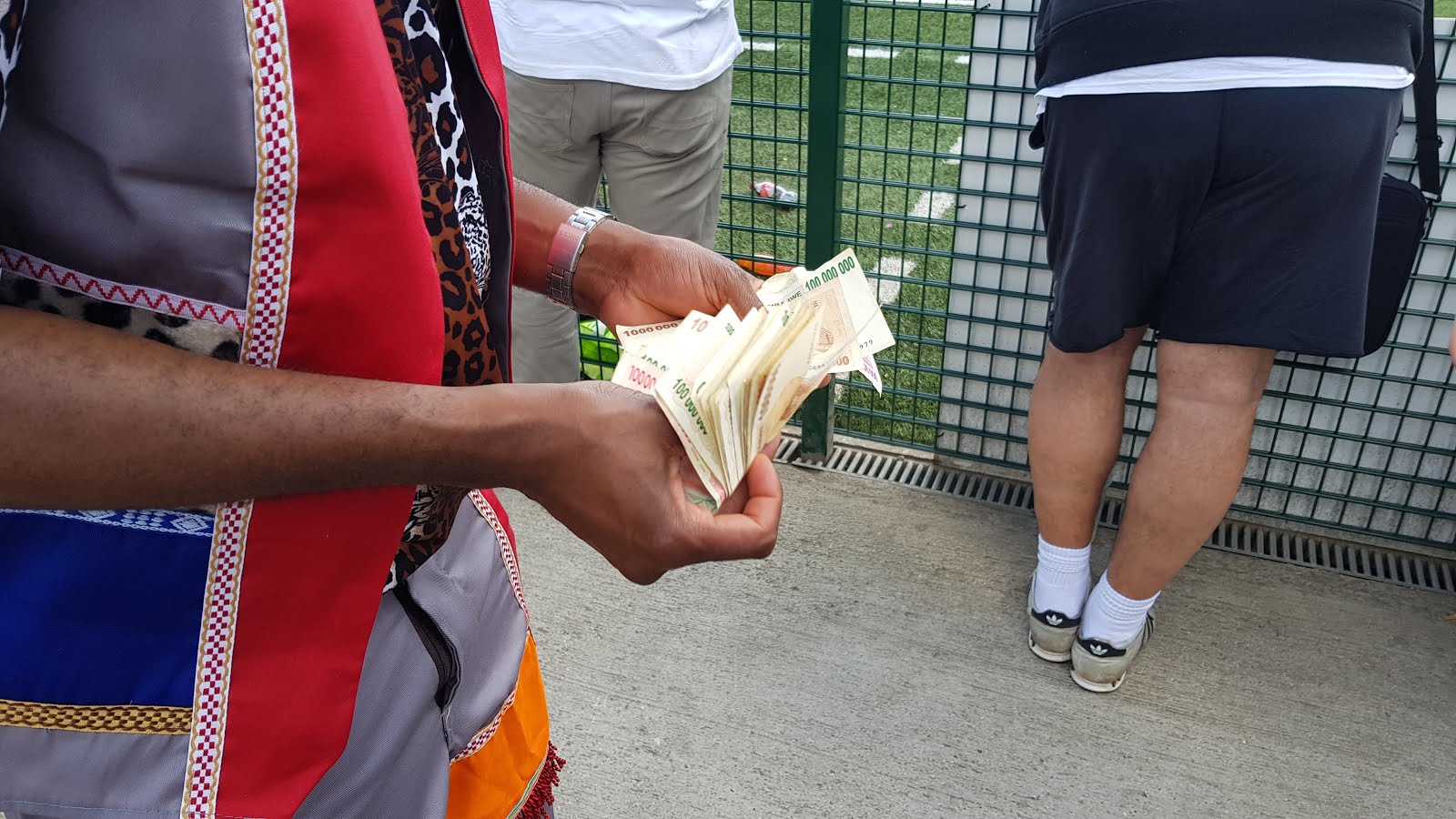 "Loook at my waaaaaad!"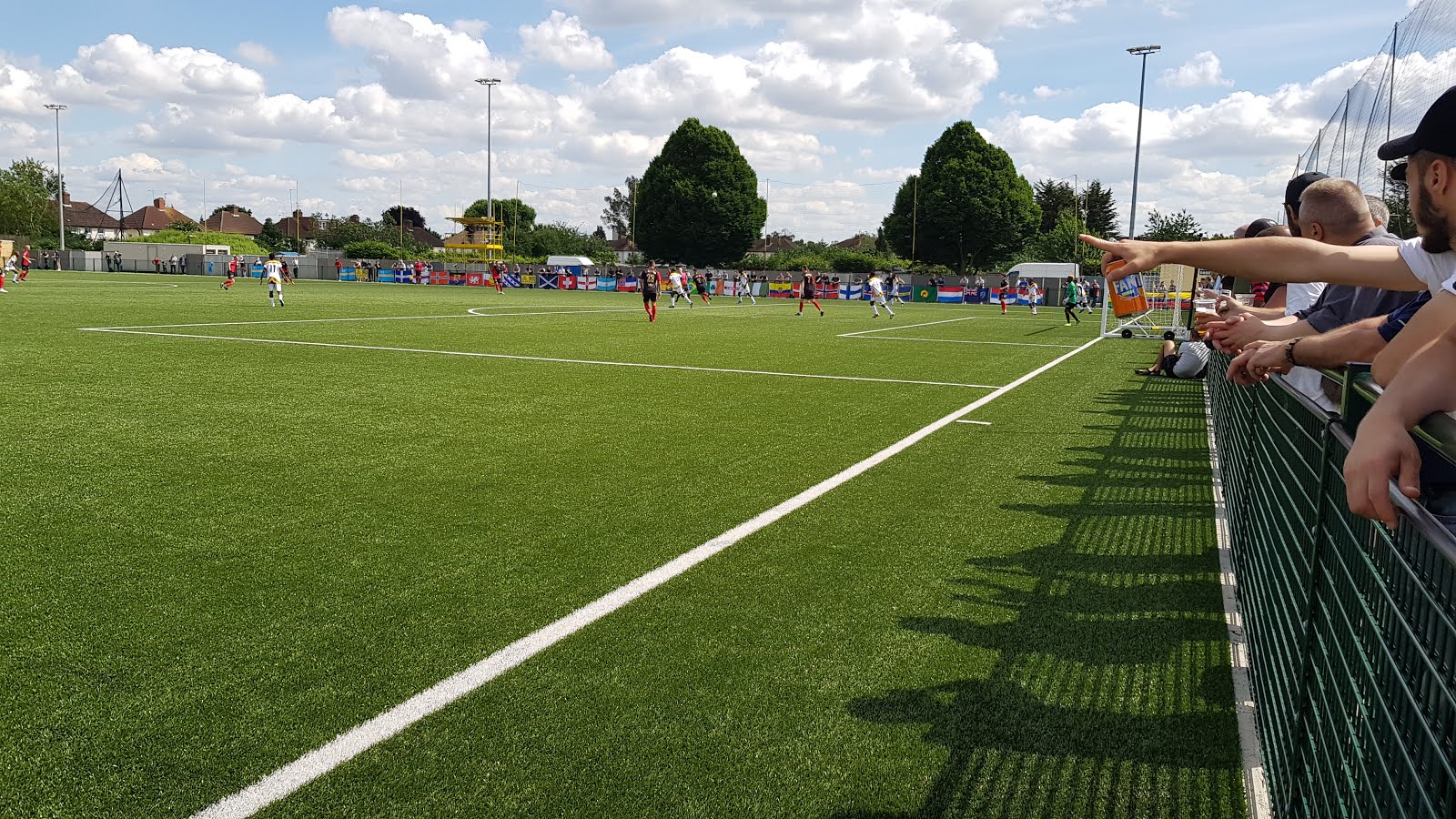 Action. Sort of.
Over on the far side, the Ultras are delighted by this and a load more red, white and green smoke bombs are popped off. Fortunately, there's no further damage before the break and we move off in search of a cup of tea. Having obtained a brew, we're confronted by a smiling man in an African headband, clutching a ridiculously big wad of bank notes in one hand and rattling a bucket with the other. It seems he's selling some daft valuation notes from Zimbabwe's dark days of hyper-inflation as a way to raise money for the team on this trip. As we both already have some of these notes (MR X because he actually went there and me because the missus is from Zim) we just chuck in a couple of quid. A couple of other lads though start having a barter with him over the purchase price. He wants a fiver for a 200 million dollar note, but the lads will only pay three quid tops. In the end he relents and accepts their offer to boost the coffers. "Funny thing is, that probably wasn't worth 3 quid back when it was fucking printed!" chuckles Mr X. He's probably not wrong, as I know the 200 Trillon Dollar one I've got at home was only valued at £1.25 when it was issued and a lot bloody less than that by the end of that same week! All this is played out with the deafeningly loud PA blaring out fuck knows what in the background. I think it was music of some sort, but I can't be sure.
The second half gets underway and soon the contest is well and truly over. A ball into the Matabeleland box is chased down more in hope than anything else by a Szekely attacker, but the defender slashes at his clearance and matey can't believe his luck as he lifts the ball into the roof of the net from several yards out to make it 4-0. The rest of the half is mostly Szekely stroking the ball about and the Matabele lads running their nuts off to keep the score down and also try to nick something as a consolation themselves. Unfortunately, just as it looks like they've got away with just the four, number 5 comes with practically the last kick. Another quick break and with the attack overloaded, a tap in from close range closes the scoring. Despite this, the Matabeleland fans in the stand have not shut up all half, running through a long repertoire of various songs, one or two of which I'm probably going to be humming for a couple of days at least. That's not to say the Ultras didn't stick at it all day, oh no. They all made it quite the atmosphere, definitely a real clash of cultures!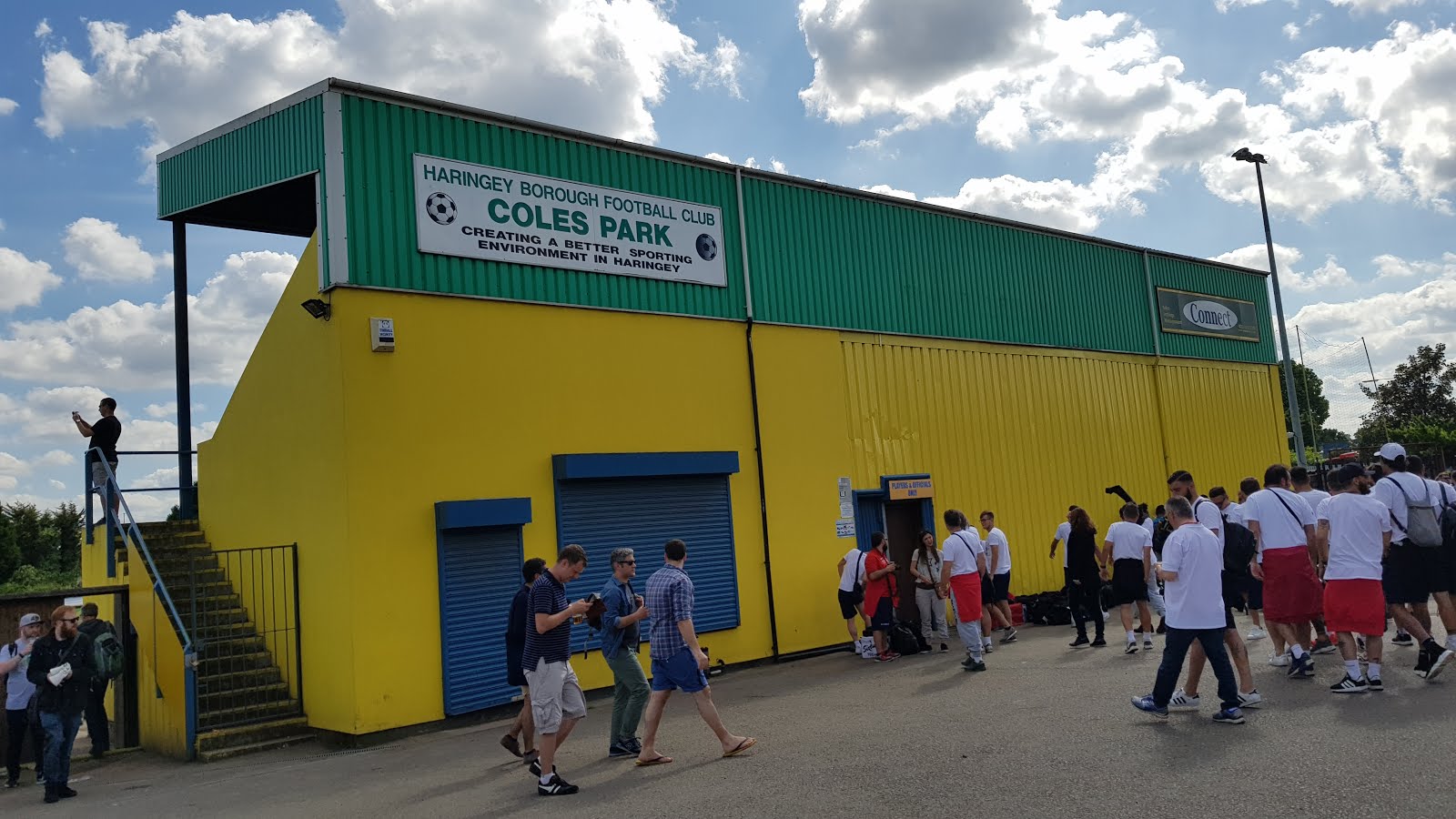 Another one ticked off!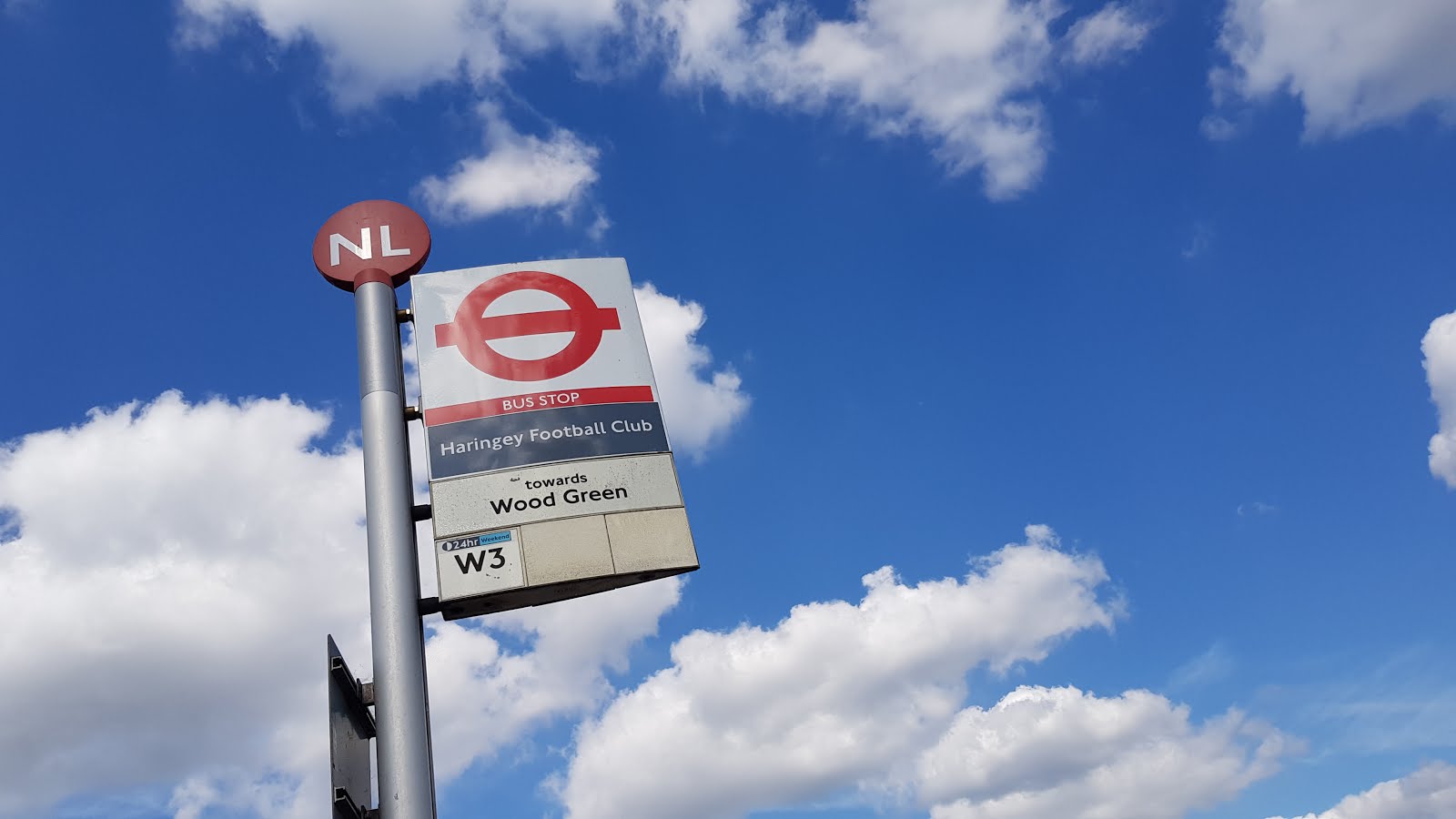 Awww, now we want a football bus stop!
With Steve having already scarpered to be able to make it to Wembley in time, Mr X then says his goodbyes and heads off to take in Tibet v Northern Cyprus at Enfield. Meanwhile I hang around a bit longer to watch the two teams greet their support, but its soon time that I need to do the off and get back into town to greet some friends who are over from Austria for the weekend. So I head for the station and on arrival find I've just missed one, so with 15 mins to kill, I head round the corner to the main road to take a closer look at Spurs new ground.
It's really quite large. And to quote Greek when I send him pictures of the construction, "Fuck having the window cleaning contract on that!". Back on the train, it's just me and Bela Guttmann again all the way to Blackfriars for my social event. Here I put behind me the annoyances of earlier and catch up over a few pints and dinner with my out of town friends.
On my way home, humming some tune or other I've picked up from somewhere, I catch up with the other scores from around the tournament. Interestingly, Padania have pumped Tuvalu 8-0 in the game after the one I saw and the Italians have also copped the first 'green card' of the comp for a dive. Which is a bit much given the scoreline, who dives when you're winning 8-0 for fucks sake? Also, there's been one or two shocks elsewhere. Hosts Barawa have lost 2-1 to Cascadia at Carshalton and favourites Panjab have lost 1-0 to Western Armenia. Holders Abkhazia have also found life hard, losing to Karpatalya at Enfield earlier in the day. This is good, as it keeps the groups largely interesting going into the final round of games tomorrow. Also I note that my bitter prediction that the opening day 0-0 at Colston Ave would be the only one the whole tournament has been proven to be utter bollocks by the United Koreans, who've logged their second goalless stalemate of the competition against Kabiyla. At this point, I decide not to waste money on the lottery this weekend.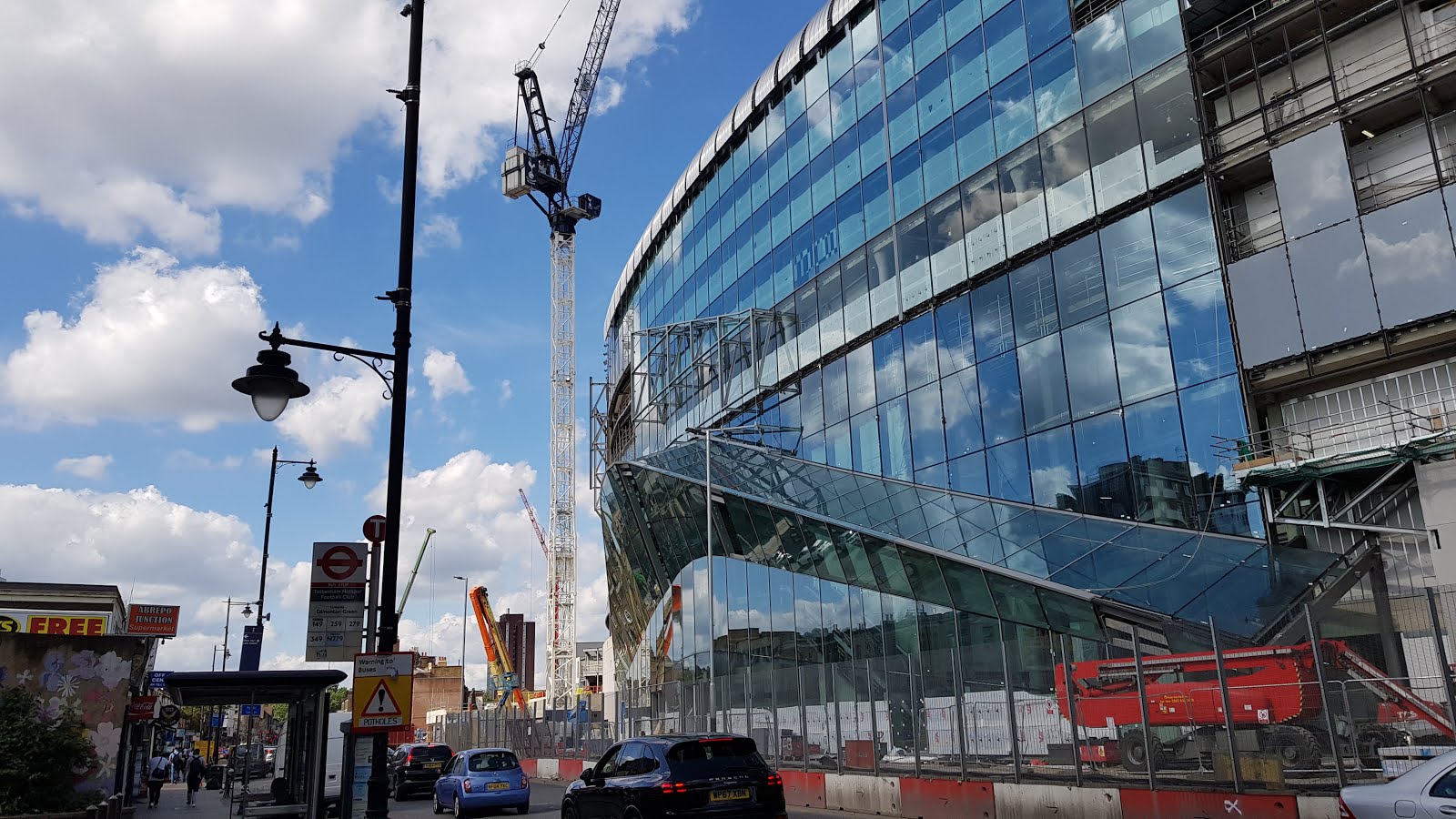 New White Hart Lane. Large.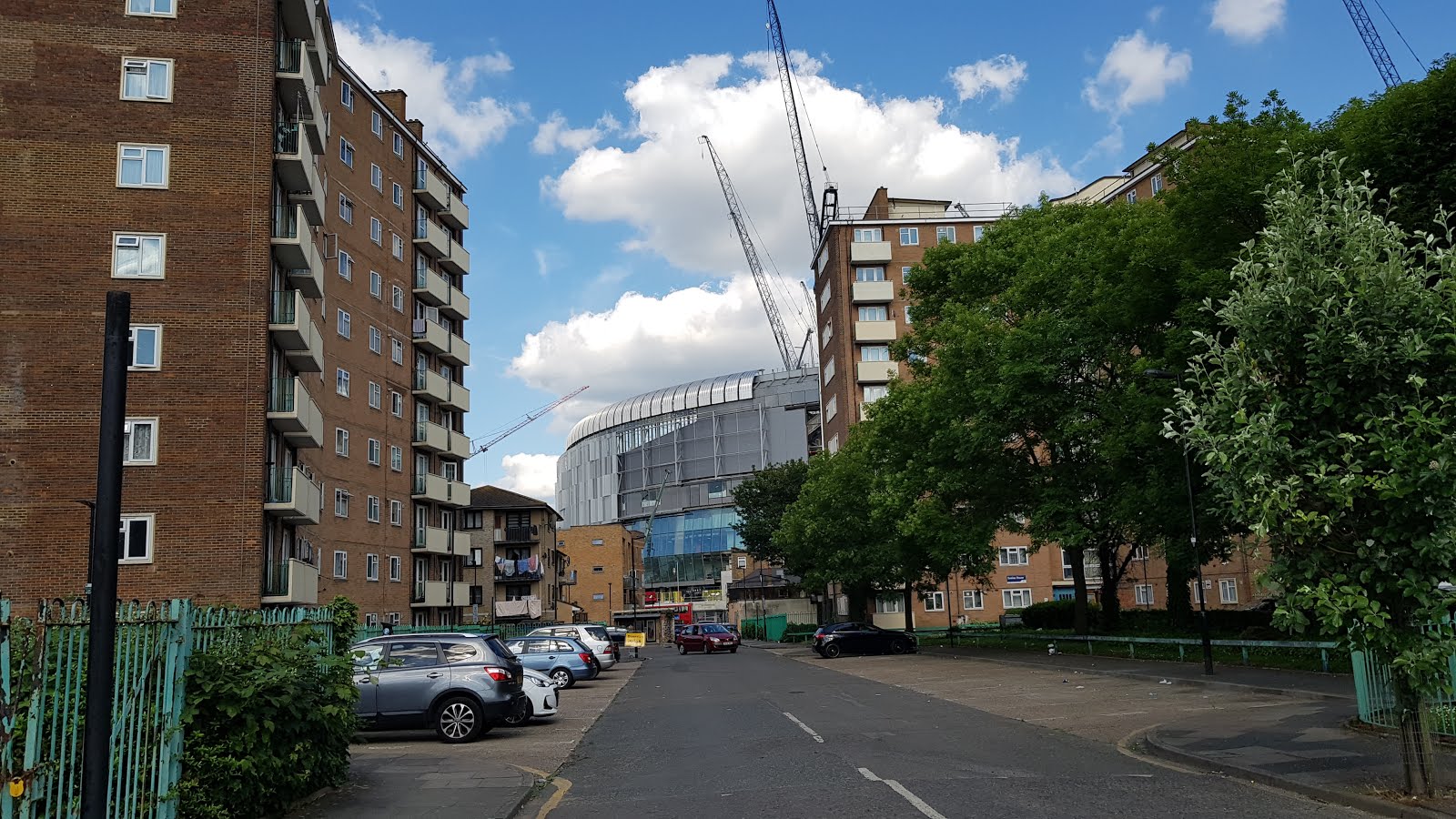 Building site.
Right, back on the horse properly tomorrow. No slacking. Two games to do and two new grounds to boot.
My this odd little competition is fun.
Taz
Today's Other Results:
Group A – Barawa 1 Cascadia 2
Group A – Ellan Vannin 2 Tamil Eelam 0
Group B – Abkhazia 0 Karpatalya 2
Group B – Northern Cyprus 3 Tibet 1
Group C – Padania 8 Tuvalu 0
Group D – Utd Koreans 0 Kabiyla 0
Group D – Panjab 0 Western Armenia 1
Tournament Blogs:
Click HERE for Taz's Day 1 from the Tournament and HERE for Totts entry from Day 1.
Or Click HERE to go to Day 3!