Are we bleedin' back again already? Ain't no rest for the wicked these days. It seems like only a few weeks ago we were all crying into our plastic cups as once again our beloved team had crashed out in the first go at the play-offs. Still, it did cap off a season where we saw us finish in our highest ever league position. But we won't mention the cup competitions.
Well at least we've had the World Cup to keep us distracted. So much so that we've even do a few blogs about it. Oh you thought it was the other one? Really? We're Gandermonium after all. And depending on where the forthcoming European Championships are going to be held next year, we might have our post-season away trip already possibly sorted out.
There has also been a few personnel changes over the break. Worner has finally got over his pre-season injury from last year, and has already been shipped off to Chelmo 'on-loan' for the season. Walton has gone to 'Ricay, Emmanuel has gone somewhere like Jeffery, and Harrison & Thomas of the Terrell variety have ended their loan spells. Even John (Louis, not the common cockney expression) has got himself a gig up at Cambridge. Even Robbo's close and personal favourite has left for pastures old already.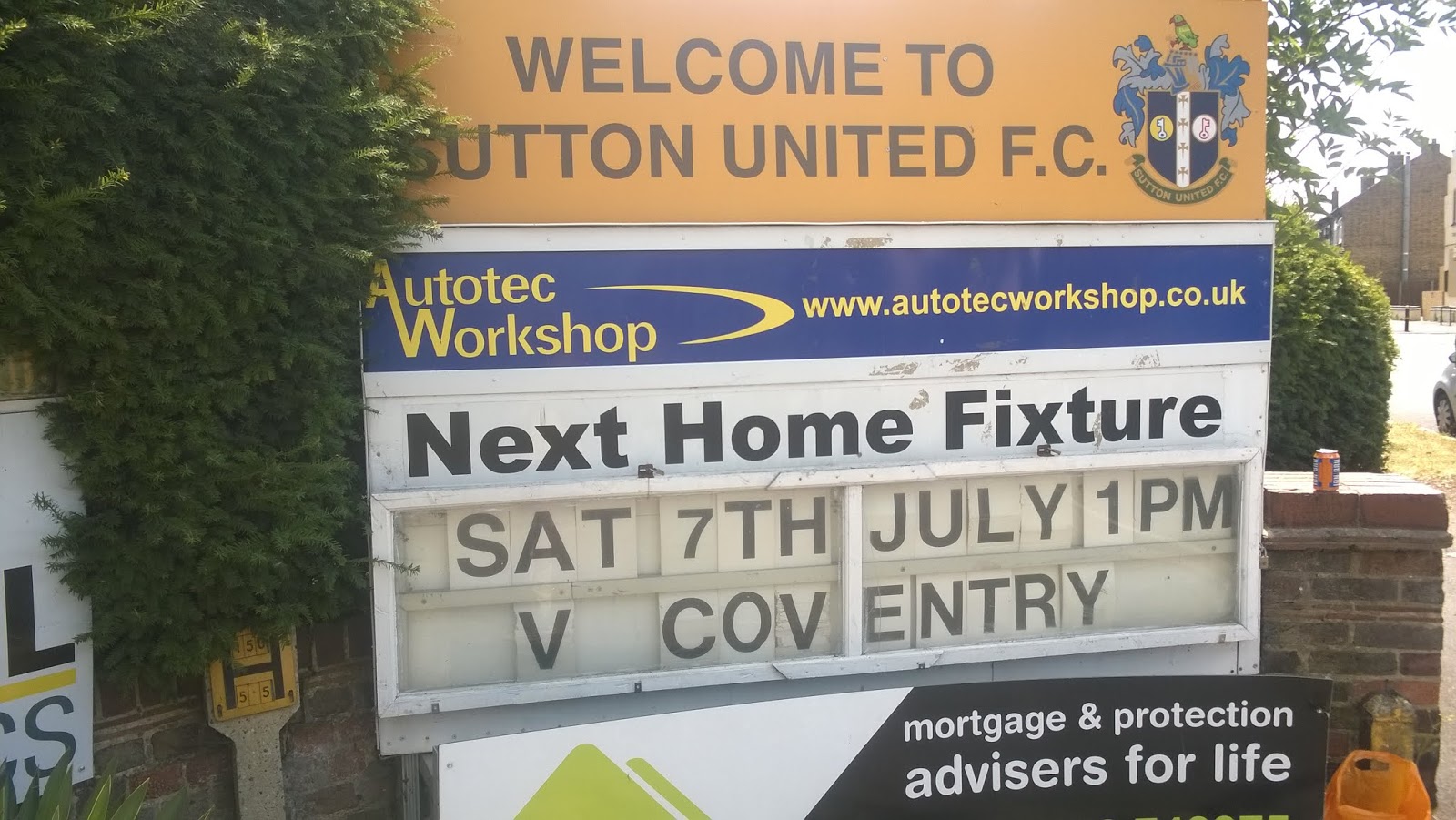 All the information you need…
It hasn't been all one way traffic as several players have come our way. Well three at least. We see the return of not only Dan Wishart. but Charlie "eight Girls in Eight Continents " Clough as well back to the club. Lenny Dale Bennett also joins us from Forest Green. Apparently he's the new Ben Jefford! Wink, wink.
News had also filtered through the grapevine that the 'elf & safety two bobs had been poking their noses around the ground again and have decided that no-one is currently allowed to stand at not only the perimeter fence surrounding the pitch but the hard standing behind it as well. We all now have to stand behind the crash barriers that were erected last year. But what about those on the Shoebox I hear you say? Don't you worry about us, we're made of sterner stuff.
Finally onto Saturday and SHOCK! HORROR! Thameslink were once again not running a single fuckin' train to West Sutton. Here's hoping that they get their money grabbing hands removed from the till once and for all and let the great Chairman Totts have a crack at it. He'd be able to sort it out! He could also sort out Dorking Wankers Wanderers while he's at it, what's all this bollocks about on-line only tickets for the friendly? At this rate I'm not going to bother with it. Charge £10 for a ticket and yet you must pay a booking fee on top? You can suck that.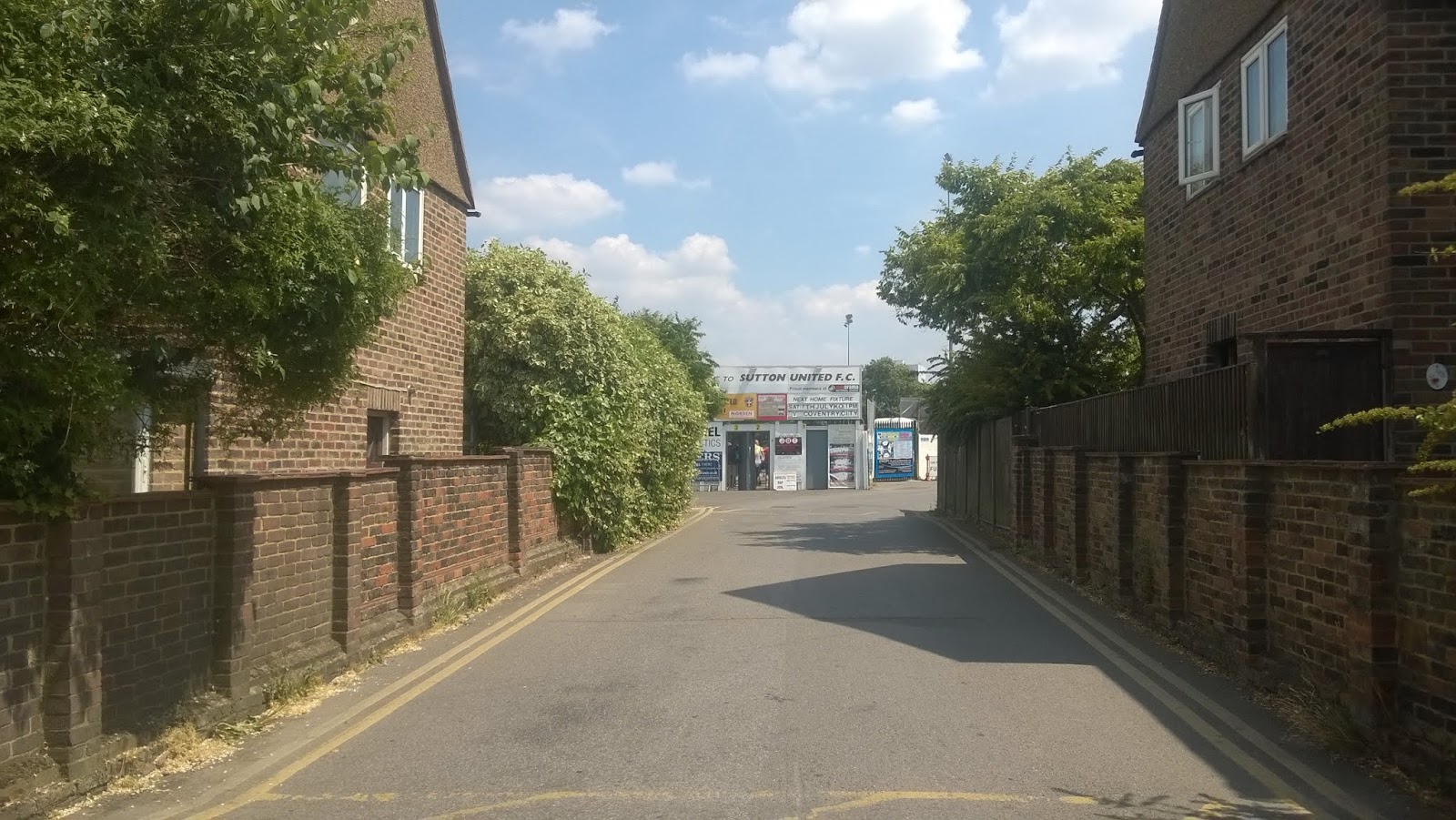 Crowds…
With my usual pre-match drinking partner Dr Bell lying around in a private hospital bed after the old git needed to get one of his swinging hips sorted out, I head in Sutton to catch up with BT Pete instead. On route, I need to get some cabbage out so head off in that direction. And who do I spot doing exactly the same thing? None other than Robbo. It doesn't take much to convince him to join us in 'Spoons for a cheap couple of beers. Especially since he didn't buy one. "I'll get you one at the club…" yeah, yeah, like fuck he did!
Conversations were of the whole 'perimeter' issue and the recently released fixture list. Harrogate away on the opening day then? And we at Gandermonium have already started the ball rolling on that trip. Especially since Barrow away train tickets might be out this week. I'll also save our little entrance into a certain Scottish cup competition for another time.
With Robbo deciding that he isn't going to walk to the ground, he heads off for a sherbet instead. Me & BT Pete have another before it's time to walk in the baking sun towards GGL. With time short we head straight into the ground. Judging by the numbers on show, it appears that others might have made different plans for today.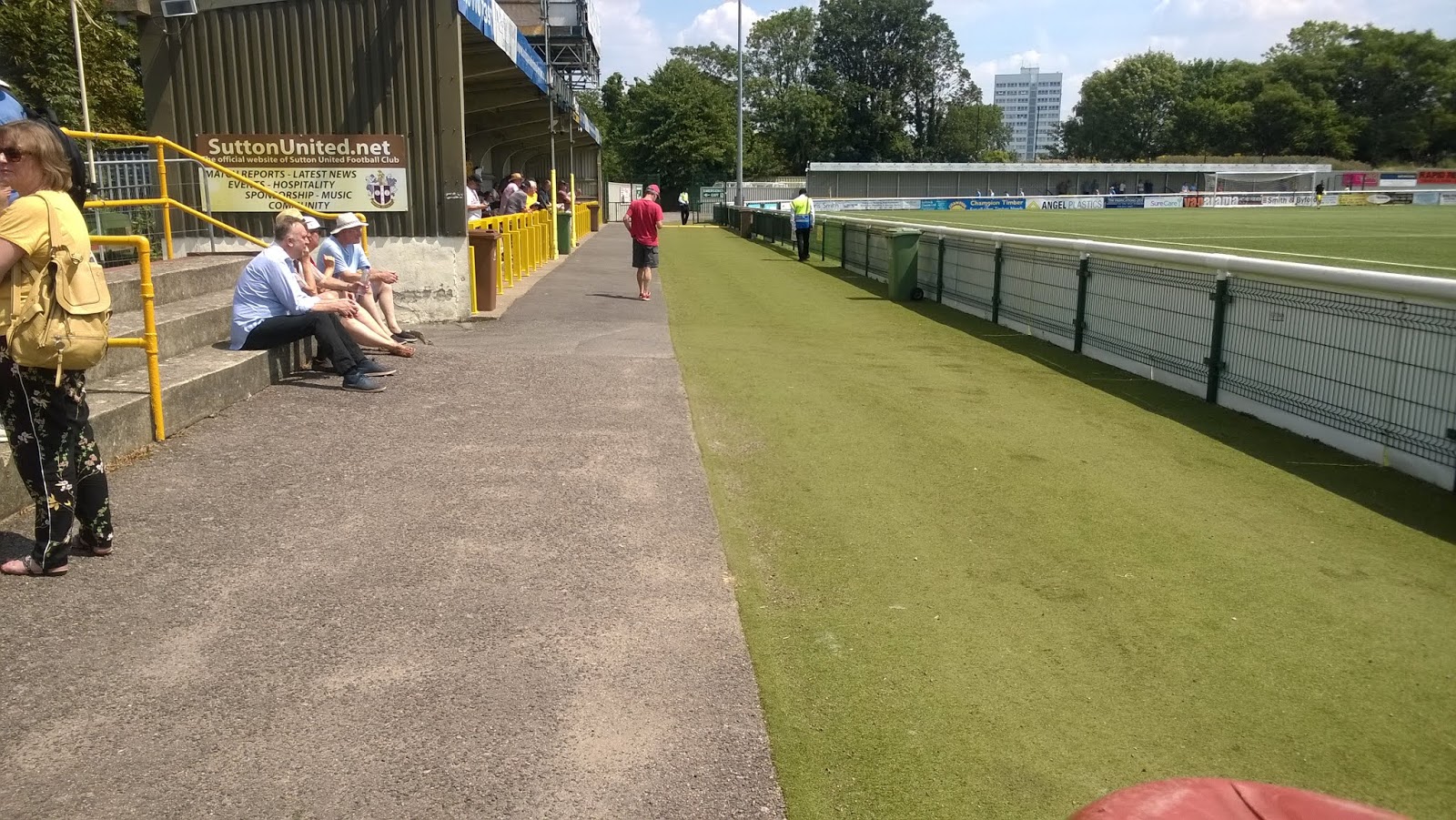 No mans land….
Butler, Bennett, Ayunga, Clough, Collins, Bolarinwa, Lafayette, Eastmond, Beautyman, Wishart, Taylor. Bench Warmers: Thomas, Lema, Cadogan, Dundas, Bailey, Green, Hallett, Henry.
With the time already past one (Cov turned up late apparently!), we finally kick off the start of the 2018/19 season. Of course it wasn't going to be a grand contest and it was played at a pace only seen in friendlies and Poland vs Japan matches. Even the Coventry keeper got in on the action as he was somehow allowed to wear an all yellow kit by the ref. Er….
After a couple of half chances, out of nowhere, Sutton take the lead. A simple bit of one-two play between a couple of Coventry defenders has one of them hit it back towards a centre-back. He leaves it for his keeper behind him to collect, except that the keeper isn't behind him in his goal, but has moved to the side for some reason. All everyone can do is watch it roll into the back of the net. 1-0! If you remember the York own goal from the season before last down the other end, then you have a idea of what it was like. Then again you could just look at the fuckin' highlights.
Coventry huffed and puffed but failed to test Butler with anything of note and the only other highlight of the first half was to see how the scoreboard appears to have changed. Don't know why it bothers us that much but the new way it shows the time underneath the scores is seriously fuckin' annoying. As soon as I know why this is, I'll let you all know. All the big stories on here.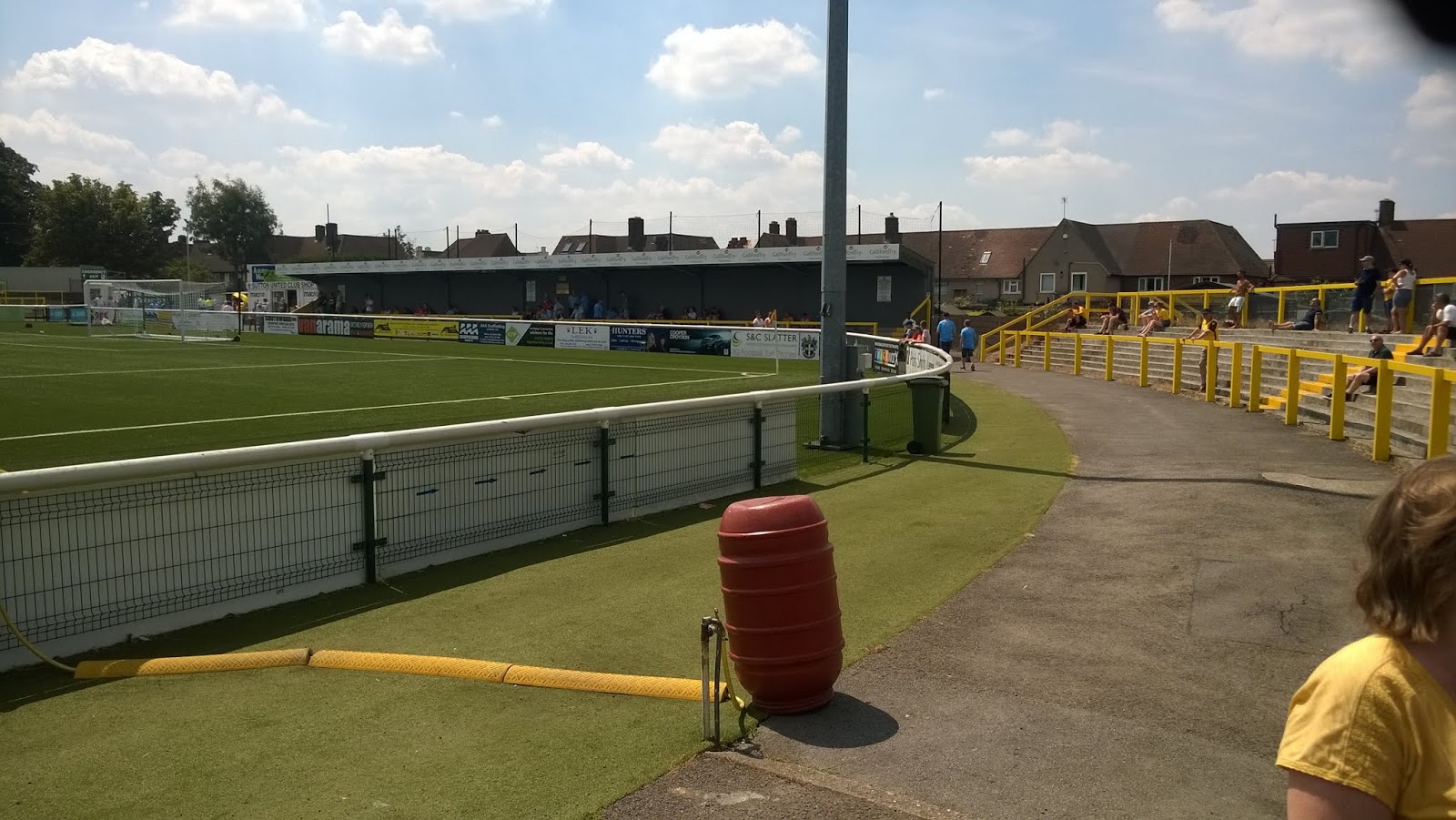 Seriously, 'elf & safety, it might collapse at any second…
A quick beer at half-time and the second half begins with a wave of substitutions as Coventry completely change their whole team, including an appearance from the famous and much travelled 'A. Trallist'. Great to see him once again get a run out, although you'd think such a veteran would have had an England cap by now. For Sutton we see the removal of the likes of Butler, Bennett, Wishart, Bolarinwa, Lafayette, Ayunga to be replaced with Hallett, Lema, Thomas, Bailey, Dundas, Cadogan. It also appears half of the supporters have failed to re-emerge as well. Not surprising really given it's bleedin' baking out here and the newly tarted up Times Square Lounge now boasts a very efficient air con to go with it's shiny new bar.
It didn't take long for the Legend that is Dundo to grab a goal (his 107th I think). Receiving the ball from Thomas, he turned like a Sherman Tank in the Bocage and rifled the ball into the corner. 2-0! That's 499 appearances for the Legend now, and considering I was assured that Dundo's 500th match would be a 'meaningful match', I'nm guessing he's in for a pretty dull pre-season from now on! I couldn't help but smirk at the idea of Our Lord Dos turning when the goal went in and whispering to Micky "Fucks sake, he's going to do it again and spoil my team plans". Go on Duns!
Just after the hour and Sutton make the final few subs as Green & Henry come on for Eastmond & Clough. Most of the rest of the match saw Sutton produce several half chances but every shot seemed intent on trying to find the now shut again Plough across the road. And like the first half the ref once again cut the game short by blowing his whistle in the 88th minute. Jesus fella, I might've paid £10 for this. I didn't, but I could've…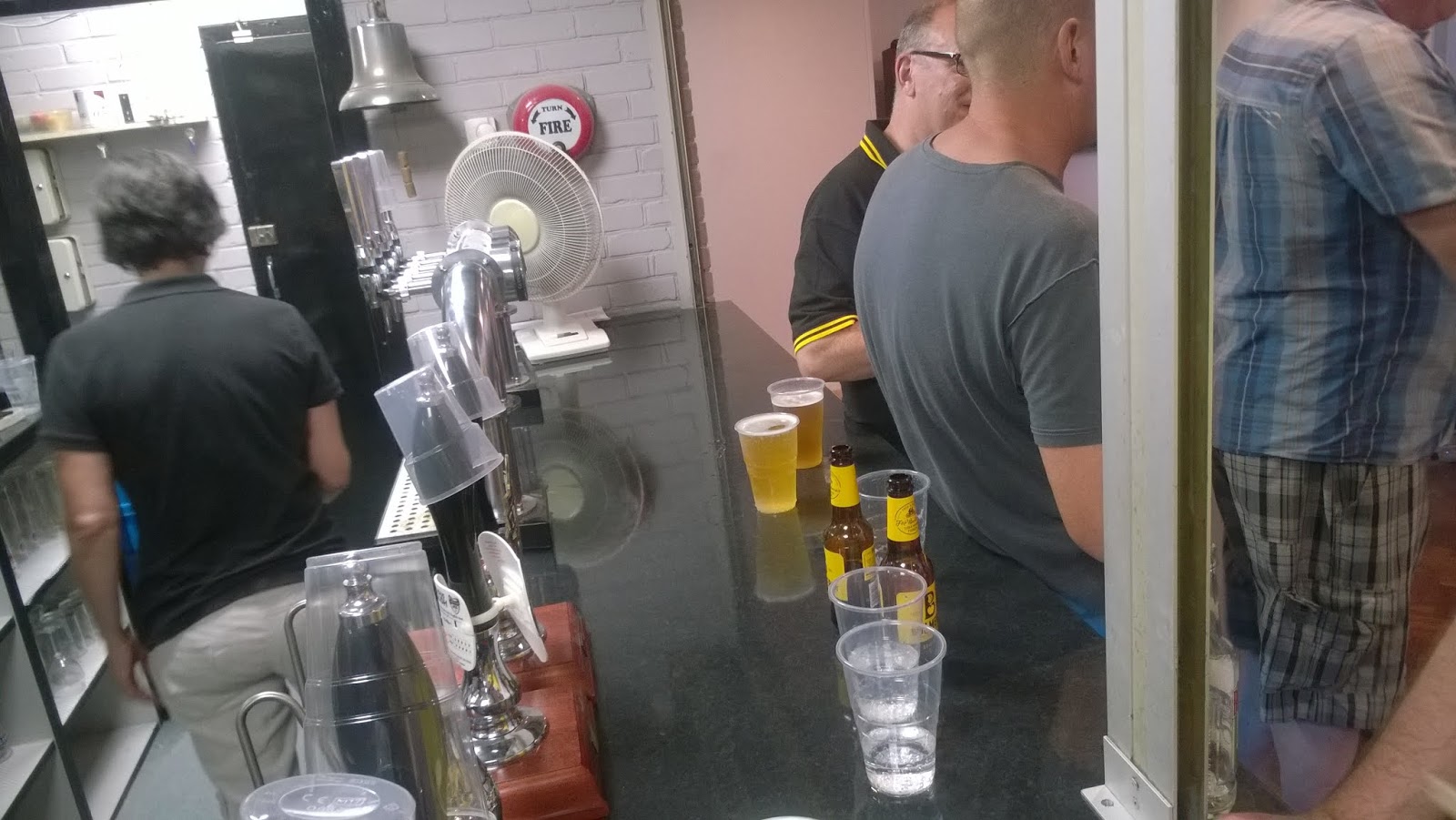 Well stocked…
After the match and the few that remained in the ground head to the bars to join everyone else for the little matter of another game on the telly. And here you had two choices. You could've gone into the Boom Boom, where you had the great air-conditioning on full blast that kept you cool as a cucumber. Problem is that there was only one telly in there and the sound had yet to be connected to the missing six speakers.
In the players bar, you had no fresh air whatsoever but two tellies to chose from and plenty of sound. Problem with this was that you could also hear a telly in the VP's that was somehow several seconds in front of everyone else. Cheers lads! Of course my first £4, yes £4 now, Bulmer's ended up all over the brand new bar as Mr X once again displayed his ability to be a right Bampot! One of these days I'll publicly unmask the idiot for such stupidity. Still, at least they had some in. Appeared that there wasn't any real ale for the likes of Taz or Foster's on tap for the patrons.
Following the Three Lions success and not wanting to spend all our day down the club we head into Sutton to watch our third match of the day. "The Crown" is of course our destination for 'a quick one before dinner in Spoons'. This of course goes for a burton and we instead have several to see some former Yugoslavian state beat another Socialist Republic with a long name on penalties to set-up another excuse to watch some football on Wednesday.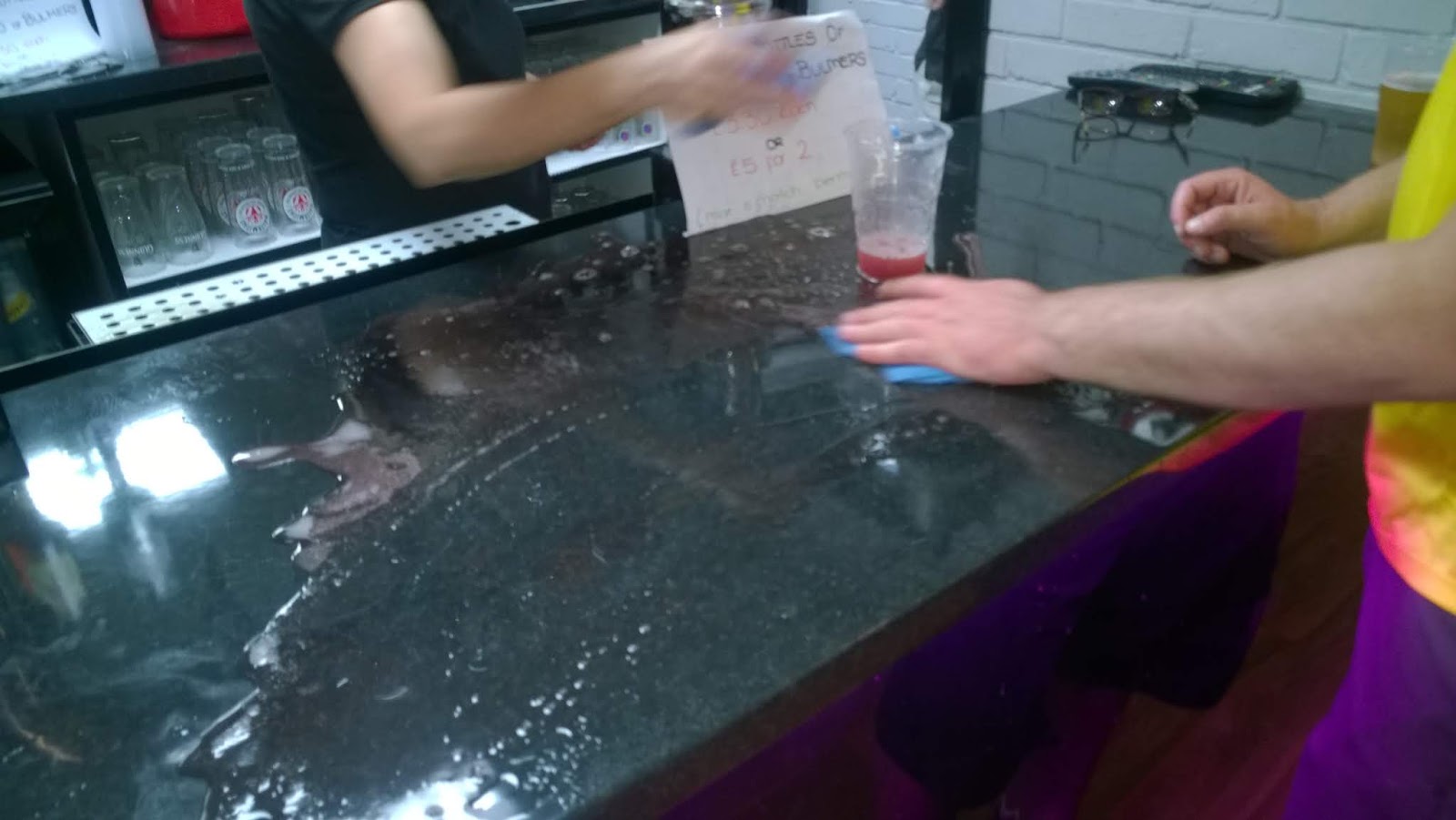 Official, the first spillage on the new bar…
Final port of call for the night was a touch of the fried stuff from the Colonel. The Grass Taz even plumbed for a spot of ye olde Double Down. That's the sandwich made without any bread. A clear healthy option for all you budding gym bunnies and athletes. No carbs, no gluten. Bosh. With it being an early enough finish, I even manage to catch a bus home. Unlike Robbo, who disappeared at some point during the festivities at the Crown and can't remember how he got home!
Terrible behaviour that.
Duke
Att. 453