Eastleigh. Famous for two things: firstly, as the venue for my sixth-form
education; secondly, the motivation for Taz's list of never-to-be-revisited
non-league football grounds – the "Eastleigh List". Our trips to Ten Acres have
never been particularly fruitful, and our early season defeat there left the
editor of this here blog insistent that he'll never darken that particularly
inaccessible door ever again. We'll see whether his principles (yes, apparently
some of us have them) hold for that one, although the way they're going it'll be
taken out of his hands as they wind up back in the Conference South.
It's fair to say they're not a particularly likeable club, especially over
the past few years with the amount of hard-earned cash that's been spunked on a
continually-underachieving first team squad. Apparently former Coventry and
Sheffield Wednesday defender Reda Johnson is on somewhere approaching four grand
a week. Nice work if you can get it, especially for the seven appearances he's
made this season. Who knew that signing a load of mercenaries on huge wages
wouldn't necessarily produce a team that can be bothered to play football every
week, especially when they're having to take orders from Mr Personality himself, Richard
Hill?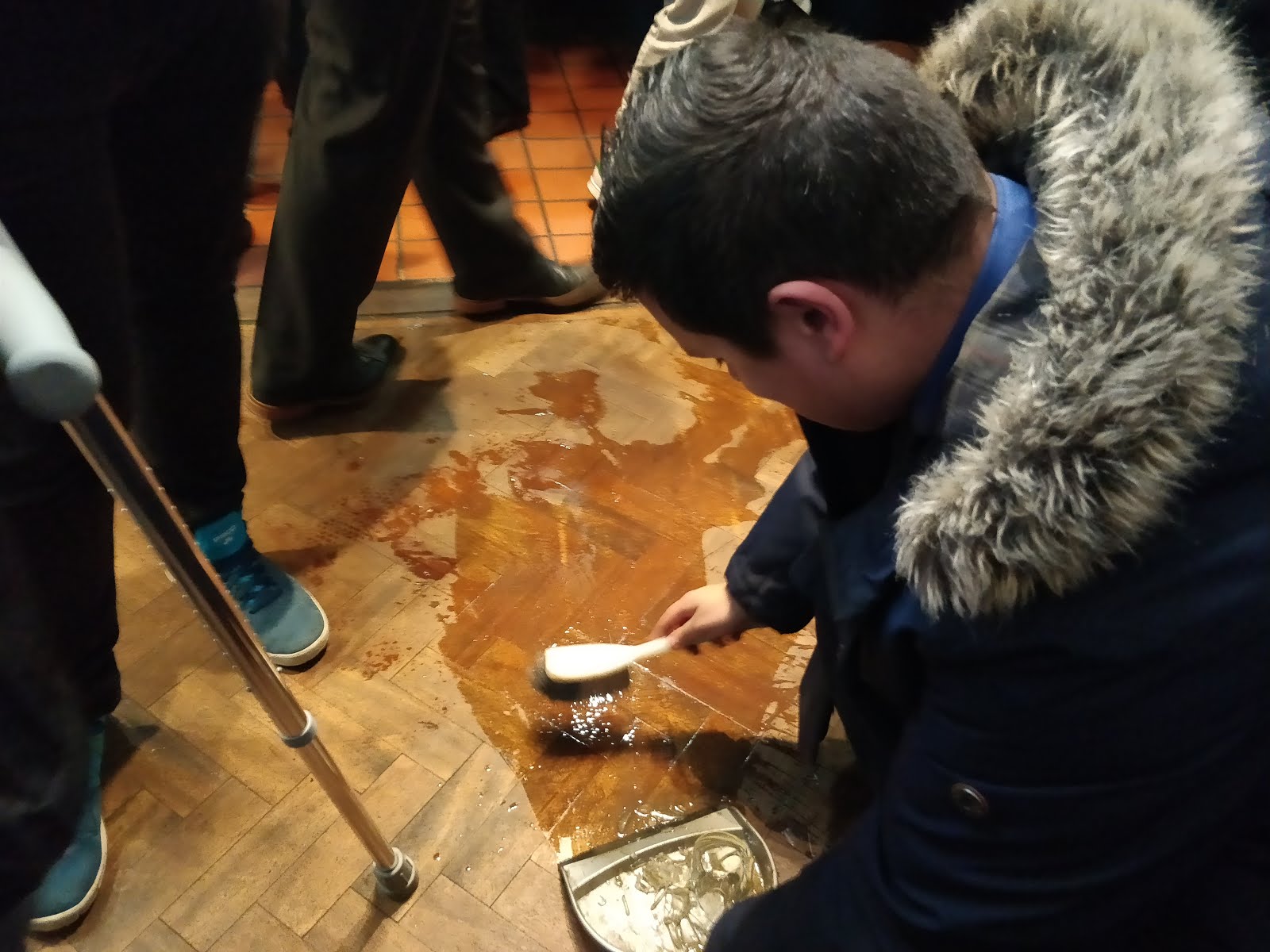 Butterfingers!
Hill, of course, gave a rather weird interview before the start of the
season criticising artificial pitches and the National League for allowing them
to be used. So it was rather delicious that Eastleigh would then be forced to
cancel the majority of their pre-season friendlies because their grass pitch was
an absolute shitshow. And it's not been at all entertaining seeing them
being awful this season. Oh no. But our record since getting back to this level
against the league's dross hasn't been particularly good, so this game has got
irritating banana skin written all over it.
I managed a fairly early start for this one – early insomuch as I managed
to drag my arse out of bed before 11am – and bumped into Pete the Perv in Sutton
High Street, just before heading into everyone's favourite Irish-themed pub for
some much-needed breakfast. Pro tip: if you value good sausages over mushrooms
(and let's face it, what sort of weirdo doesn't?), they'll let you exchange for
free. Now that, my friends, is a bargain, although hopefully not as much of a
bargain as the free breakfast Jonno will give me in exchange for this free
advertising.
Having filled that particular hole, we made our way down to the PRoWS,
aiming to get into the bar in time for the live FA Cup tie being shown on BT.
Mission accomplished, and an entertaining game it was too, with Oxford City
giving Notts County a run for their money. The usual faces eventually appeared
in the bar, and talk got onto our plans for Gateshead away, pending their
inevitable Sunday defeat to Luton. Needless to say, nothing got agreed and at
the time of writing trains still haven't been booked. Looking forward to
Newcastle inevitably getting a home draw in the third round and the train prices
going through the roof…
It wouldn't be a day in the bar without some idiot spilling their pint, and
this week the honours went to Crockett, and in impressive style. Not only did he
spill the pint, but he also managed to smash the glass all over the floor, and then cut his hand to pieces picking up the shards. Played, fella.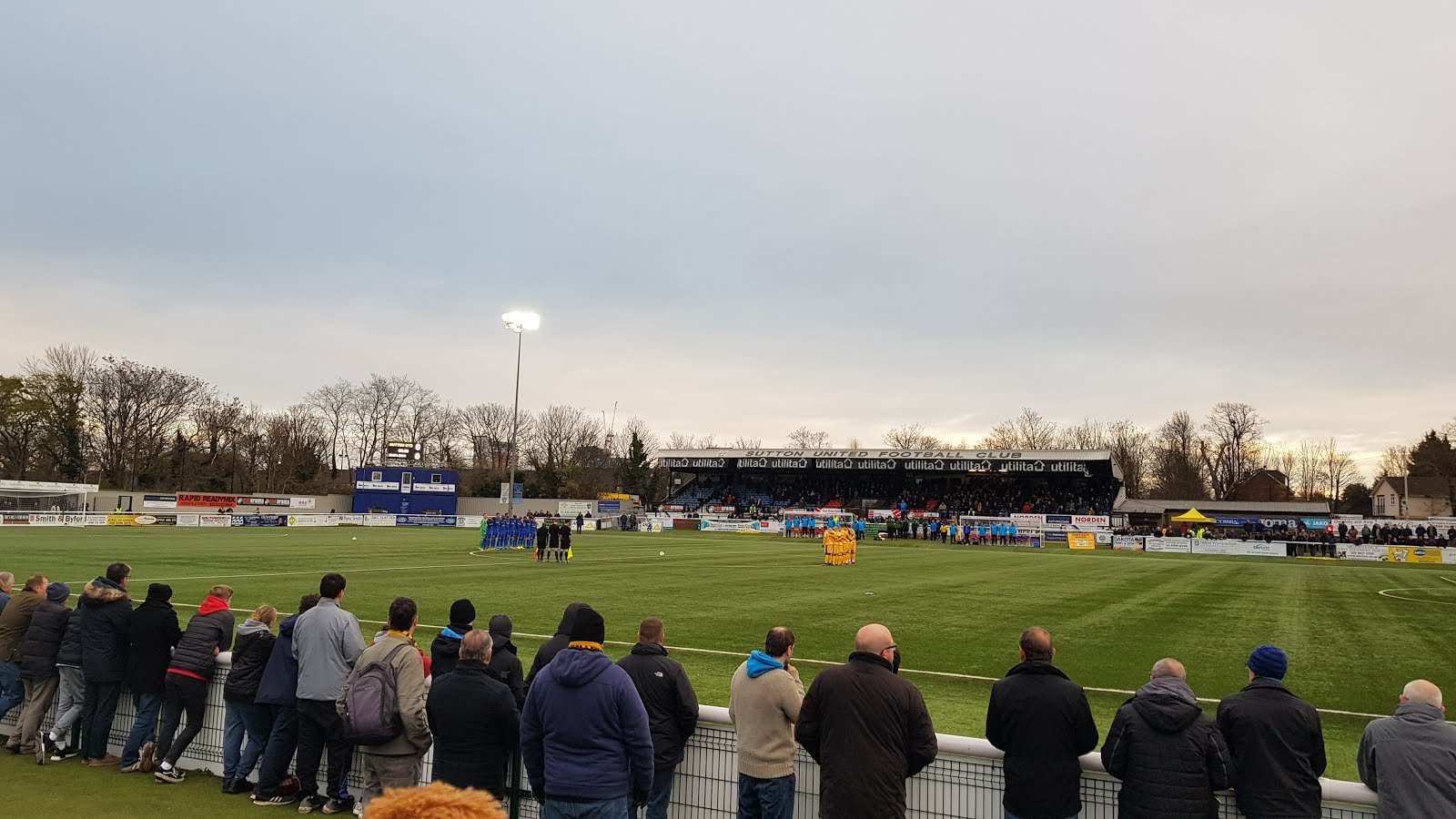 Silence
Chairman Totts eventually showed his face – this reminds me I need to ask
him about my PRoWS diplomatic passport, I'm sure it must be in the post, but
figured it might come in handy for my planned summer trip to what Dukey would still
refer to as 'the Soviet Union'.
The teamsheet eventually arrives – one known omission, with Robbo's
Obsession missing out due to a "gentleman's agreement" after his recent
re-signing, although I'm pretty sure there aren't (m)any gentlemen at Eastleigh,
so quite how they got that one through I've no idea. Strange concept, that. So
it was the same starting eleven as in the North Pole, er, I mean Guiseley, last
week. Pretty much all change on the bench, with the long-awaited return of Craig
Eastmond the big highlight.
Team, in positional order, as I really hate teams listing their
lineups in squad number order: Butler; Spence, Downer, Collins, Bailey;
Bolarinwa, Walton, Davis, Cadogan; Dundas, Lafayette. Subs: John, Eastmond,
Wright, Taylor, Egan. #AgainstModernTeamsheets
With segregation in place for this one after their local pikeys took advantage of cheap coaches to travel up and caused a bit of a scene last season, we take our position on the Shoebox from the
start, and after an impeccably observed minute's silence, we're attacking the
Collingwood Road end as usual. It's an open game to start with, and despite
their lowly position Eastleigh are giving as good as they're getting. They have
a decent early chance as Collins ducks under a long ball expecting Butler to be
right behind him, only for Zebrowski – a recent signing from Her Majesty's
Pleasure FC – to nip in, but his first touch is crap and allows Dan Spence to
mop up the loose ball.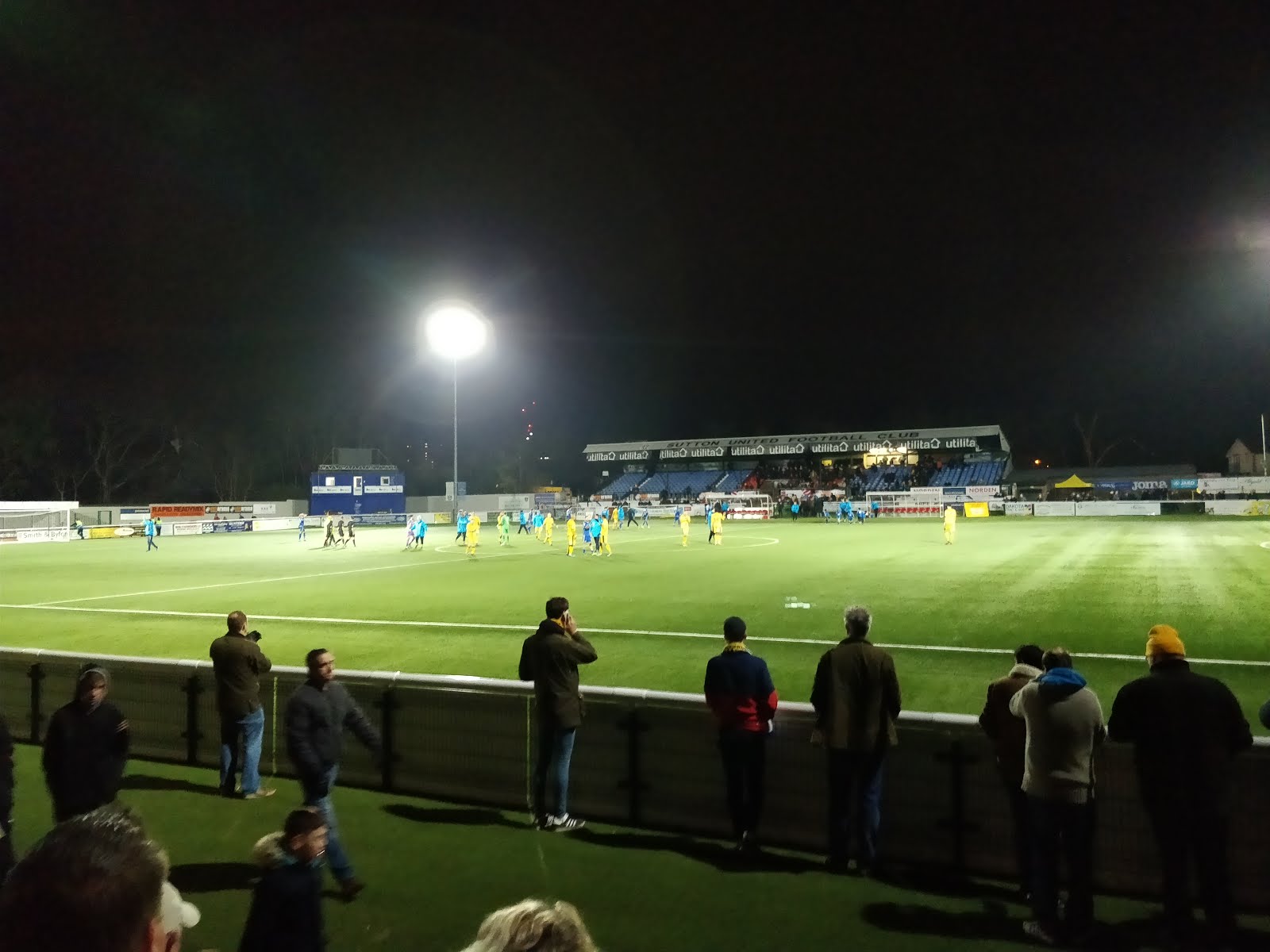 They think it's all over! Oh, it is…
Twelve minutes in, and with both sides seemingly comfortable on the ball
(here, Richard, that's what you can see on a perfectly flat pitch), Callum Howe
gets a bit too comfortable on the corner of their box, Bolarinwa is alive to it
and nicks the ball off him, runs unchallenged across the area and slots it under
Stack at the near post. 1-0! That should calm the nerves a bit.
Should. A few minutes later, an Eastleigh player finds himself with acres
of space of the edge of the area, lines up a shot and toe-punts it a few inches
past the far post. Butler's not impressed with the lack of closing down, and in
truth neither are we. Wake up call survived there.
The rest of the half is all us, with Cadogan and Stack having a bit of a
personal battle with the keeper pulling off two cracking saves to keep his side
in the game, one from distance and one from point-blank range.
Kenny Davis, who's really grown into the team in the past six weeks or so,
unfortunately picks up a knock so makes way for the return of Craig Eastmond –
we're not sure he was expecting to play an hour, so this'll be an interesting
test of his fitness.
Nicky Bailey lines up a free kick from the moon which Stack tips over the
bar comfortably, and then just before the whistle Lafayette muscles his way
behind the defence, he hits a volley from the edge of the area that dips just
over the bar, and that's that for the first half. Should be three or four up,
but a lead is a lead, and we retire to the warmth of the bar.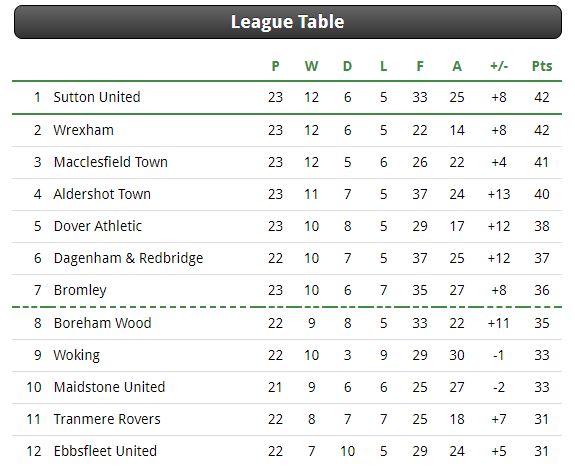 Oh FFS, not again!
The visitors make a change at the break, but it makes fuck all difference
as we continue the dominance from the end of the first half. Spence gets forward
down the right (it's great having a full-back playing at full-back, isn't it?)
and somehow threads a low diagonal cross between about 6 players which finds
Cadogan running onto it towards the far post, but somehow he blazes it over. I
think it's still rising now.
The main action in the second half, in truth, is taking place off the ball,
as their skipper is kicking lumps out of Lafayette, who's done pretty well to
not react to it. It takes the ref about five obvious bits of violence for him to
finally give us a free kick, and Boyce eventually ends up in the book after the
weakest offence of the lot. Textbook National League refereeing.
Tommy Wright gets the last twenty minutes here in place of Bolarinwa, and
it's not long before he banishes any lingering worries of a spawny Eastleigh
equaliser when he latches onto a Lafayette flick-on from another huge hoof up
pitch by Butler, sees the keeper off his line and coolly lobs it over him into
the back of the net. 2-0, job done, lovely stuff.
Butler's finally forced into a meaningful save in the last minute when one
of their lads has a pop from distance, but he easily tips it over the bar.
Speaking of the bar, Belly, it's your round!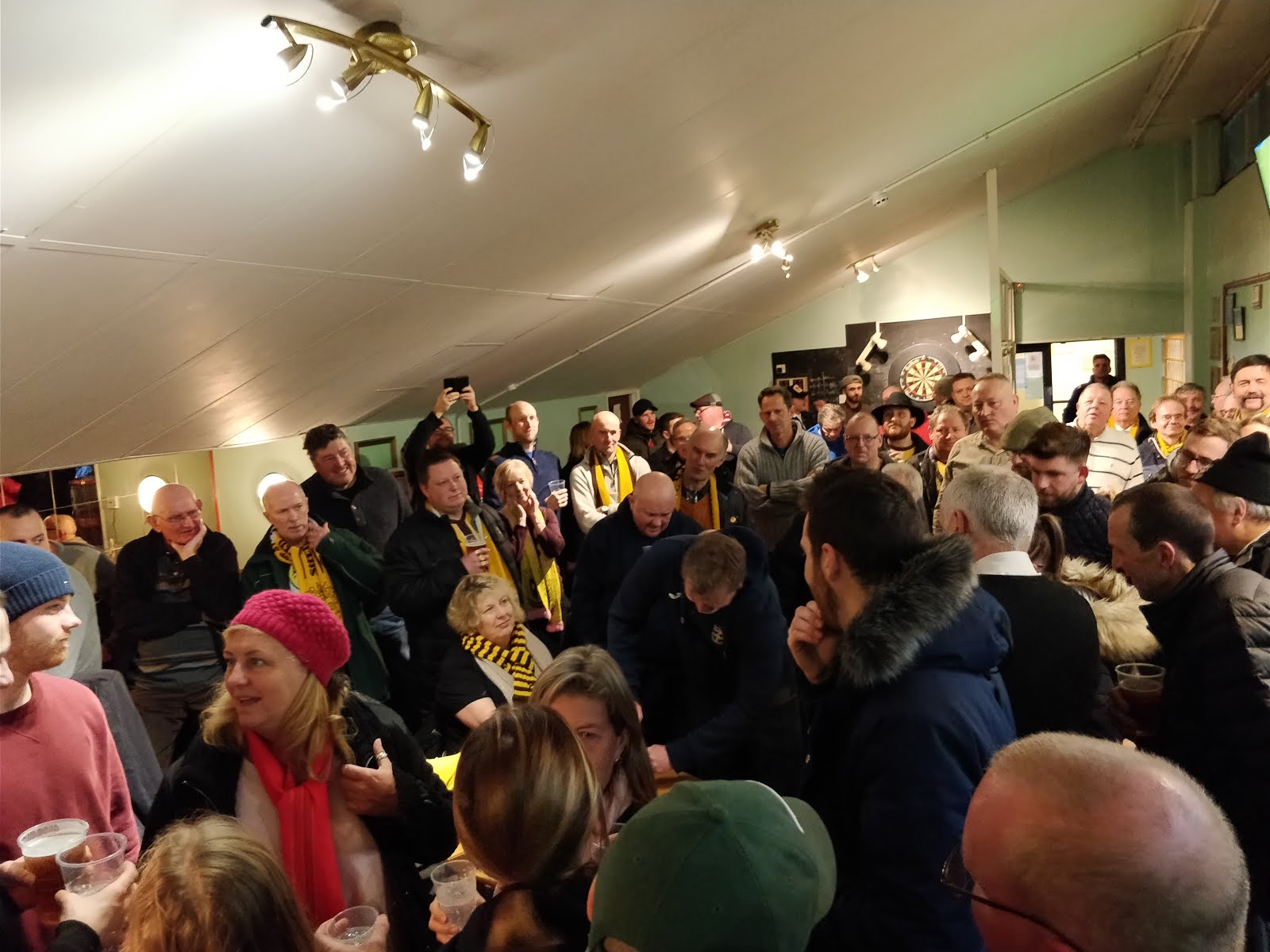 5th time lucky? Er, no. Worse luck next time!
Aldershot have failed to win at Torquay, and you know what that means… top
of the league again, for either the sixth or seventh time (we argued, nobody
agreed, so let's leave it at that). The exact halfway point of the season, this
shit is getting serious now. (It's definitely six! – Ed)
Back in the bar and it seems a few of our rowdy visitors have got behind
enemy lines. Turns out I actually went to school with some of them back in the
day, and they'd been in the bar since half-time. Judging by their second-half
performance, a wise move. What wasn't such a wise move was one of them
starting a few Eastleigh chants, and when they failed to get the reaction they
were looking for, they swiftly headed for the exit. Don't rush back, eh,
lads?
AB and his surely-on-its-last-legs accordion soon arrive for two Strikers
Are Key draws. The first one sees the Beckwiths and JC's ball pulled out, and
Simon Walton does the business for them and opens the safe for a tidy £1200.
Bastards. The second, with a bonus £200 added thanks to 4 striker goals in the
last week, sees Mr X take to the "stage". Fortunately the smugness levels in the
room remain at "manageable" as he fails and has to make do with the consolation
prize of £50 – the fifth time he's been drawn out but then not picked the right
key. Oh well. Get to the bar, FFS!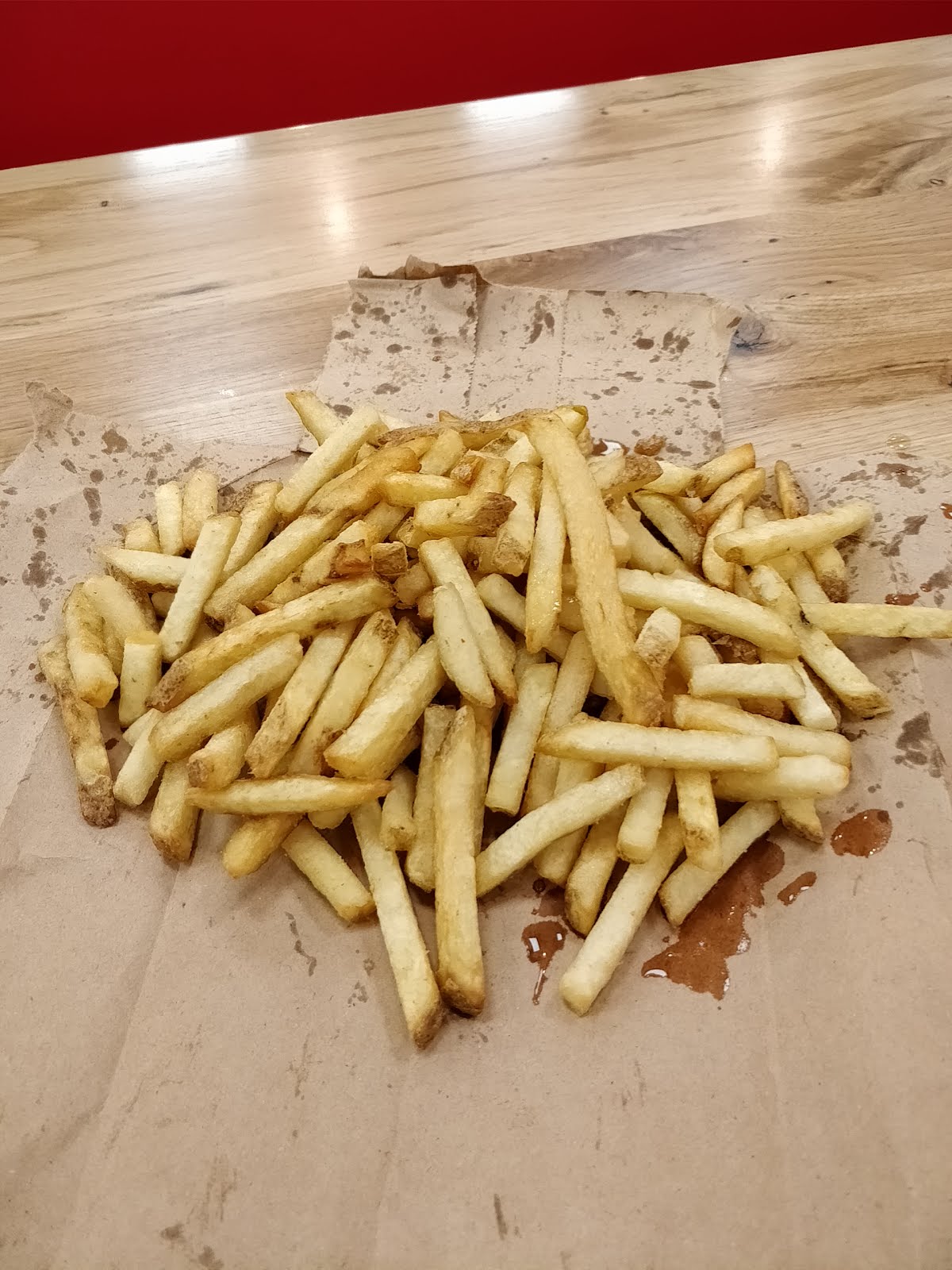 Feeding the 5000…
As an added bonus, Taz reminds Belly and I that there was still the best
part of £30 left in the whip from our Guiseley trip last week, so we get a £10
refund and immediately hand it over the bar for more booze. The vodka's going
down a little too well, considering I have a drive to Bournemouth in the
morning, and as Robbo has put Chesney Hawks on the jukebox for at least the
second time this evening, that's probably my cue to Foxtrot Oscar as well.
Having not eaten since midday, I stop off at Five Guys in Croydon –
surprisingly empty for this time of night, the usual triple cheeseburger and
"little" fries is demolished. They call them "little" fries, but fuck me, it's a
portion that could easily be shared between 6 people. I dread to think how many
you get with the large portion. Anyway, with my appetite now satisfied, it's
time to head home. Quick tram and I'm parked on the sofa ready for Match of the
Day.
That'll do.
Steve