It's back once again! The bounty of the county, the premier cup competition has returned for another season. So while the wait is still on to catch up with Dulwich Hamlet's record tally of victories (16 to our 15), could this be the year? It's been a while since we've won, over fourteen years and counting, and now we're behind Woking's record final appearances.
But let's roll the clock back a touch and highlight the title of this blog. After originally being put down for this and our previous match, I decided on an idea of trying to put some sort of story arc into them. The whole point was to highlight how our rise in the non-league pyramid had brought on both positives & negatives.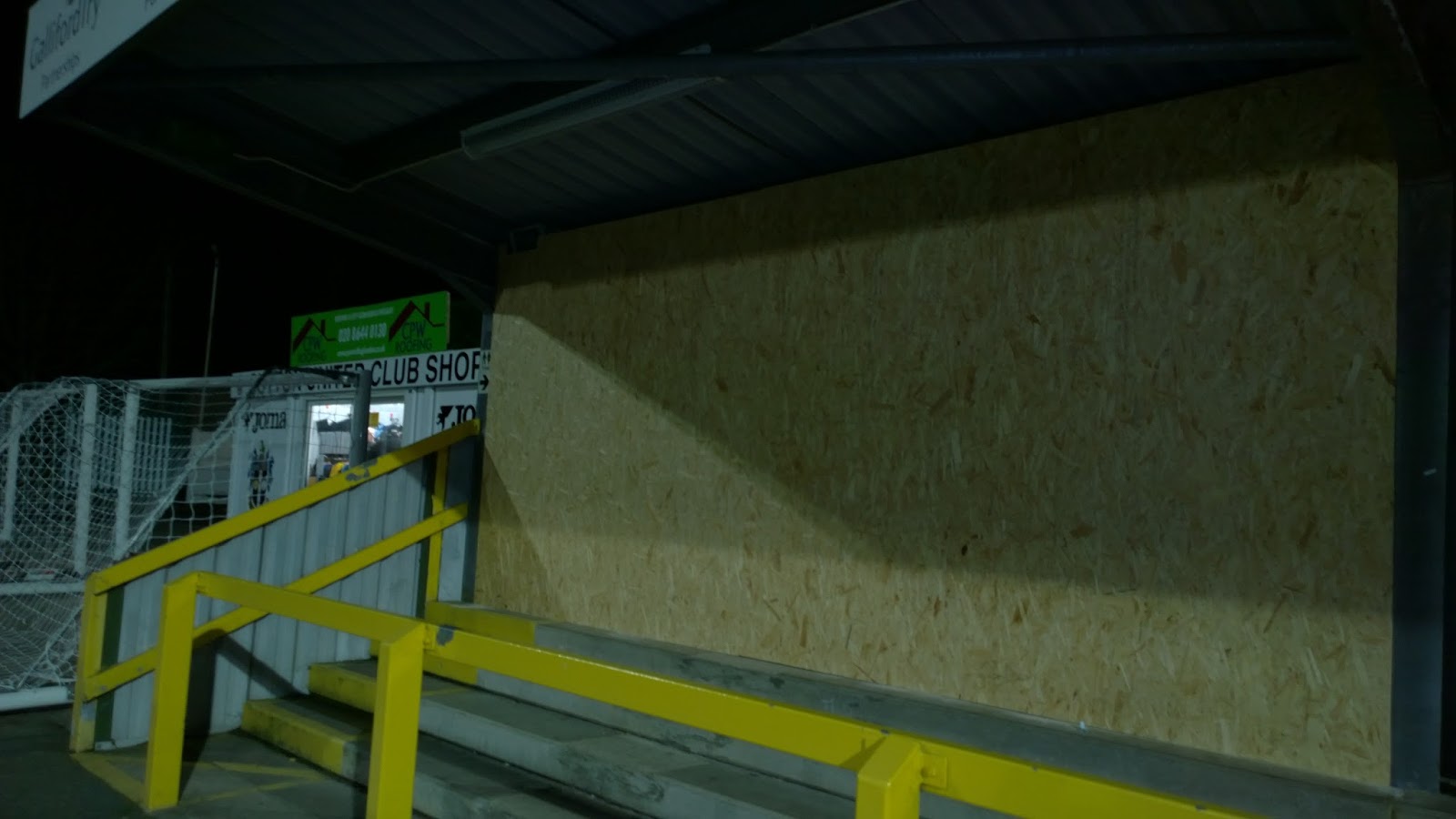 I have no idea what that is for…
For now, we're going to places like Leeds, Liverpool, Newcastle, Manchester & Birmingham for a league match (well Guiseley, Tranmere, Gateshead, Macclesfield & Solihull at least) and the fact is once again we've reached the summit. The negative was going to be all about how this has caused the SSC to be reduced to a non-entity that barely gets mention and how we don't even stick out the first team any more. I had it all set up, was going to do a right cry baby act, bang my fists on floor and have a right old moan about it.
Waste of fuckin' time that was. Turned out in the preview released on Monday it was mentioned that five first team players were going to play this time out. Oh well at least we have a chance to win now. Also on Monday was the FA Trophy draw. Truro at home then. First thought was that a home game a fortnight before Christmas was just what the wallet needed. Second thought was, bollocks, possible replay (if they don't agree to finish the match on the day) in Cornwall couple of days later. That'll separate the idiots from the smart the men from the boys. I wonder which we'll be?
So onto the main feature. As with the last couple of years, many members of the Firm weren't going to bother with this match. So many in fact that I won't mention all of them as it would take too long. Chairman Totts was once again in Post-Franco Spain at a Boney M tribute concert, don't know why Robbo didn't bother, seeing Stearn start his first match since his comeback would surely be enough excuse for him? No Cheam Park DILFs and no Dirty Barry on the Shoebox neither, still at least the Bacon Rollers were there. Even Dr Bell was not supposed to be about, brownie points with the missus he said, that was until she turfed him out as she had 'company'.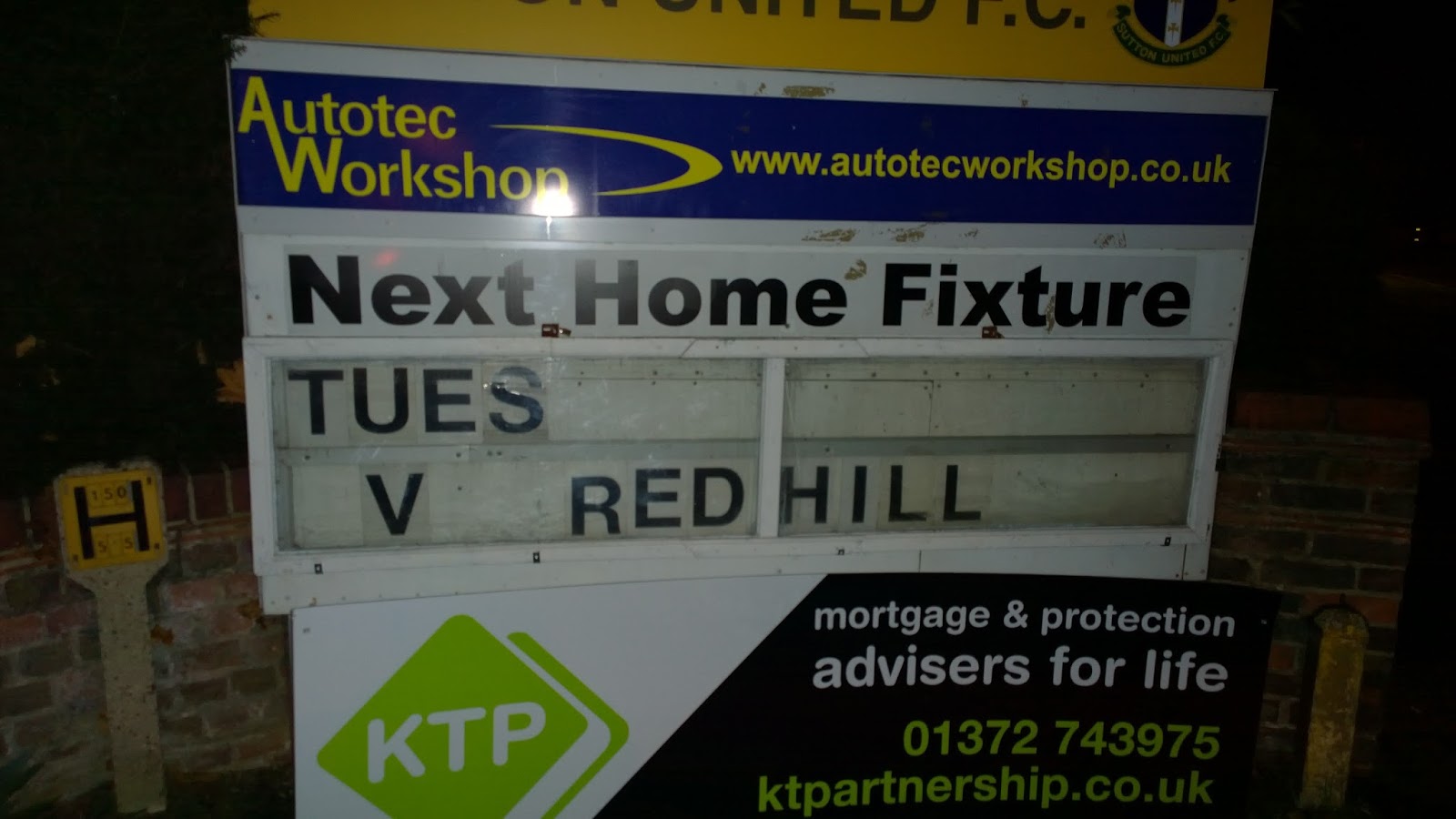 Red…Hilll…Got it!
Oh how I love the build up to the Surrey Senior Cup. Every year we get the same confrontations between the same people. Where the true footballing connoisseurs declare their love for it, much to the public derision of those with lesser, more simple tastes. I'm always amazed how we get the "What would would you prefer, Winning the Surrey Senior Cup or the league/FA Cup/FA Trophy" question every time. Like it has to be a choice. I mean, I've heard whispers of something called "A Double", but I'll need to research it more and get back to you on that one.
Needlessly booking the executive Gandermonium parking space (mainly as no one else was in competition for it, but I guess it keeps Mr X's diary in order), I park up and walk towards the ground. With the clear night sky, it was going to be one cold affair. Not quite Guiseley cold, but cold enough not to wear shorts. Arriving in the bar I spot the usual boats of Mr X, Southampton Steve, 4 Days, & Lil' Chris.
With a team sheet thrust into my hand, we get a first look at the team. Hmmm…So we do indeed have five palyers from the first team starting as well as the two lads that were on the bench Saturday. And what is this? Mata & Yeboah on the bench? Well move over Yakubu, we've got some right bobby-dazzler's tonight!
Yes, that is a queue to get in…
Annakie, Mason, Chapman, John, Morris, Lema, Taylor, Okolo, Wright, Egan, Stearn. Bench Warmers: McGee, Mata, Dadey, Yeboah, Agwuegbo.


Having someone like Wright upfront is a god send for a game like this because those of us that'd started the match on The Shoebox hadn't even made it round to the Rec End before he'd beaten the defender and found himself one on one with the keeper. Unfortunately his attempt was too close to him and the keeper managed to get his body in the way.
For most of the opening twenty minutes it was Sutton who were pressing the Redhill goal. Several crosses went through untouched and Wright had a couple more chances to get onto the sheet. At the other end, the first real danger was when a young Denzel Gerrar Tarell Annakie had to be brave to get onto the ball in a goal mouth scramble.
Eventually Sutton got the break they deserved when a Stearn long ball was knocked down by Wright. It may've left him but it spun out to Egan in the middle of the park.His shot at goal from a good 25 yards out found the right hand post and the back of the net. 1-0! The lead was not to last though as a spectacular effort from outside the Sutton box ended up hitting the top right corner not too long after.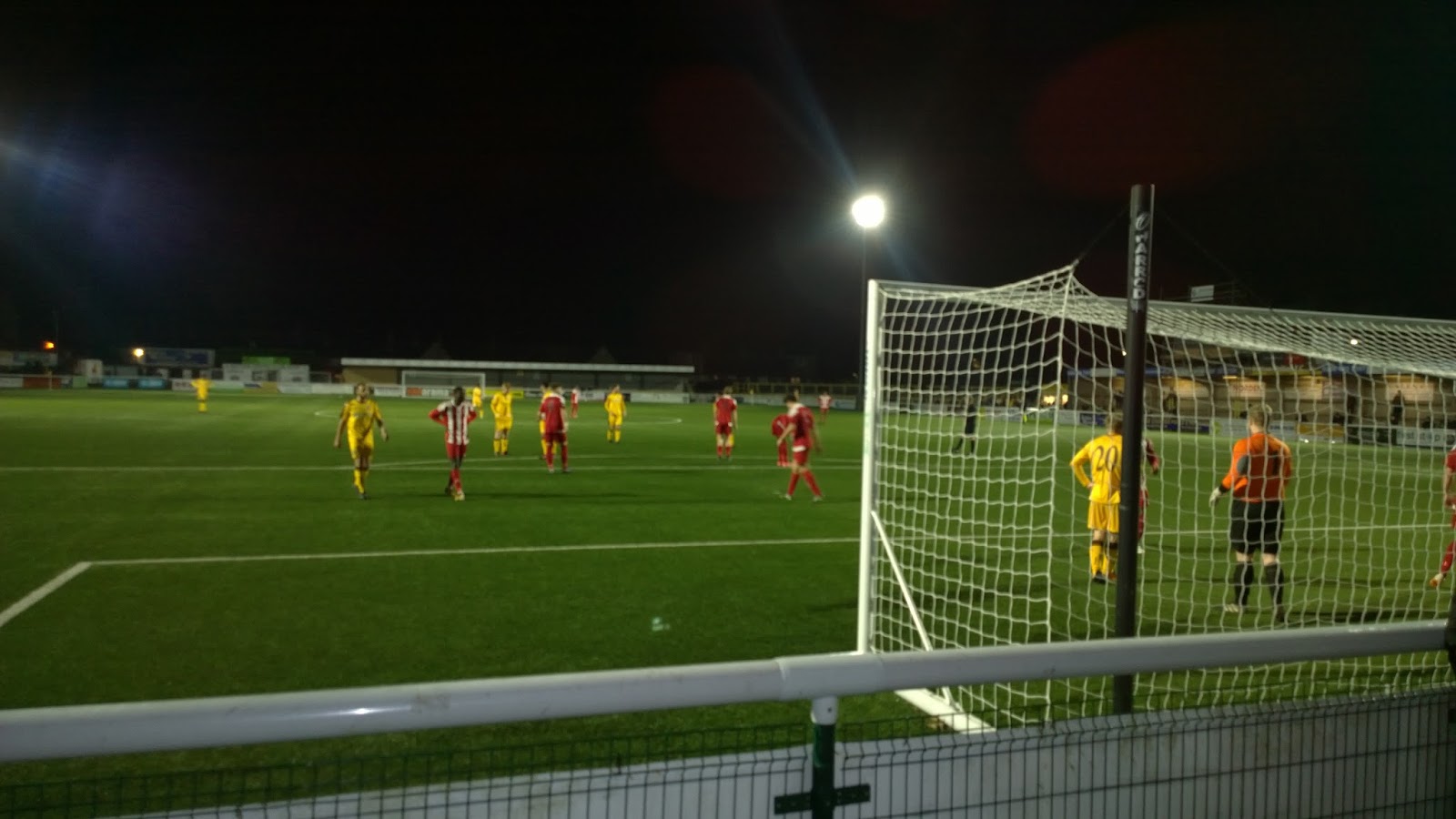 U's vs Lobsters
Second half and we're back on The Shoebox. Sutton may've doubled their lead if it wasn't for some poor finishing and a bit of good goal keeping. Wright was probably guilty of the best of the early chances when he fluffed his header a few yard inside the penalty box.
With John being replaced on the hour mark by McGee, the game started to swing towards Redhill a bit. With the Development Squad employing the now familiar first team tactic of "Wandering left Back", it gave Redhill the opportunity to test Annakie's shot stopping techniques. Chad Morris (who I was slightly disappointed with, regarding the hype before the game) was replaced with Dadey. Agwuegbo then came on for Chapman.
Ten to go and Sutton finally get the break. Sub Dadey was the man to slot the ball into the box for Agwuegbo who hit ihis shot at the keeper but it seemed to worm under him and cross the line. 2-1!! Redhill's heads began to drop and they then had their skipper sent off for a second yellow in a pointless handball that didn't need to be done. Stearn's free kick was theatrically saved by the keeper and Sutton held on for the win. JUSTICE!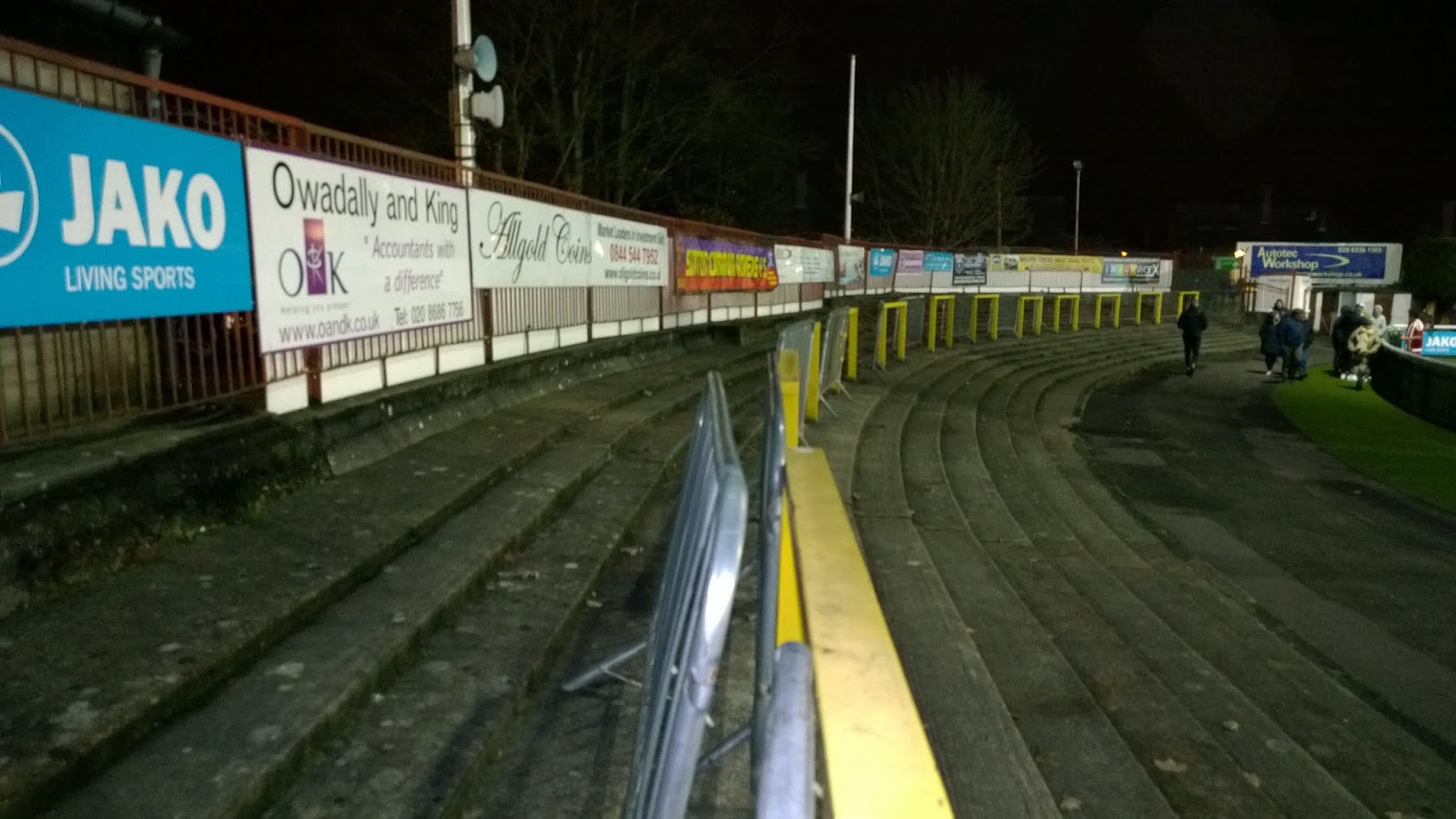 See the stress test has been passed by the council…
After the match and it's the usual duties for the workers of the Co-operative Union of Net-lifters, Tweakers and Shapers. Back in the bar, I manage catch the last thirty seconds of the Watford vs Manyoo match on the box, which is exciting. A quick drink (and realising that Gateshead away will need to to be booked before the FA Cup draw on Monday, possibly) and it's time to head back home to the Badlands of Carshalton.
Of course there is still time for the usual shit we come out with. At one point it was how, if the FA don't consider it a first team game for us, in disciplinary terms I mean. Do they still do for Redhill? If so, seems a bit unfair if they can get a player off a suspension but we can't? We also managed to get into a heated debate over an off the cuff remark I made about how three consecutive Olympics are going to be in East Asia. Mr X our geography expert disagreed with this assessment, so we Googled it on Yahoo. I won.


With Aldershot winning at Bromley tonight, this means that they go top level on points with us and Wrexham. The plus side is that now we won't lose on Saturday against Eastleigh. Well, we can lose but not because every time we've gone top this season we've dropped at least a place he following match. Anyway, someone else can deal with that. I've got dreams of away draws to Colliers Wood, Dorking Wanderers or Spelthorne Sports to think of…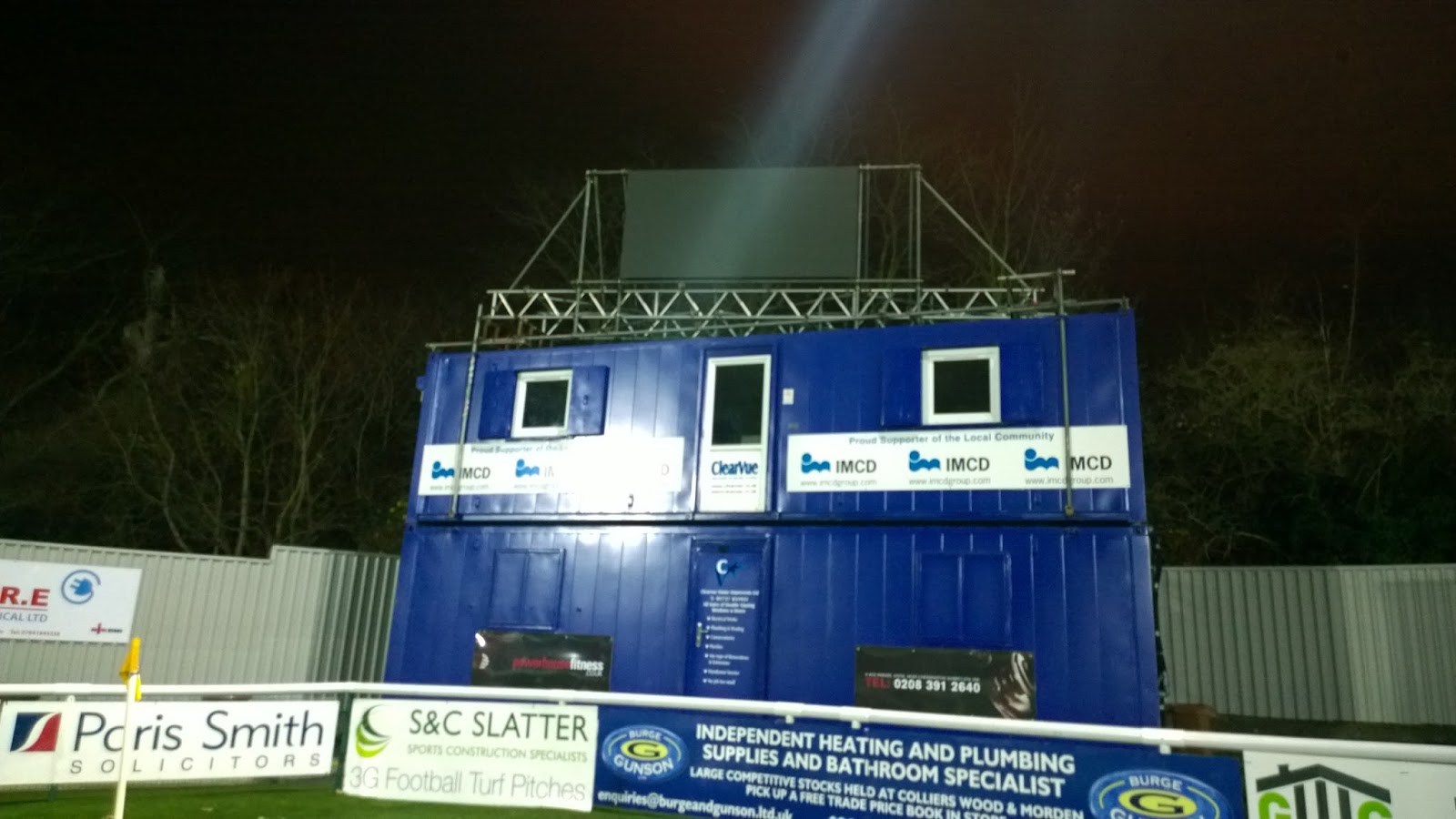 Even the scoreboard didn't show up tonight…
Duke
Att. 181
*A Retraction*
It has come to my attention that an issue has arisen from my Guiseley blog. No it's not the use of fuckin' bad language, or alleged discriminatory (had to look that up in a dictionary) behaviour. Or even the fact that it's completely nonsensical most of the time. And you grammar Stasi can do one as well.


Apparently it's over something that someone told me in a pub and I put it in without question. Many apologies if you think it was incorrect. To be honest, I don't do any research to clarify any of the points I make in here and I doubt I'll start to in the future, so be aware people when you read the blogs. It's all bollocks! Still, in the spirit of 'Retractions' here are possibly other pieces of information that also might not be true and may have appeared in these here pages at one time or another:
Nando's is value for money,
Whoopi Goldberg is funny,
There are WMDs in Iraq,
I've never met a nice South African,
Solomon Taiwo, Kameron Abassi & Gavin Heeroo are talented footballers
Chesney Hawkes is a lyrical genius.
I am Keyser Söze,
The Pope is Polish,
Korfball is a sport,
Kingston Council is run by competent staff,
John Sitton never lost his temper,