Ah Leeds, one of the final bastions of virgin territory that has yet to see the Gandermonium boys inflict their trademark idiocy upon it. Well, virgin territory is a bit of a lie as several of the Firm have already sampled the place that invented Jelly Tots in the past. Oh yeah, full of information I am sometimes, or the inter webby thingy is at least…
And not only are we not content with just a night in Leeds, but we also are going to throw in a night on the tiles of Sheffield as well! That's because this blog starts early on a Friday morning. Very early in fact, as I forgot to turn off my work alarm. So it's five o'clock in the AM and I'm due to be picked up by the very punctual Mr X at just after eleven. Of course he was late.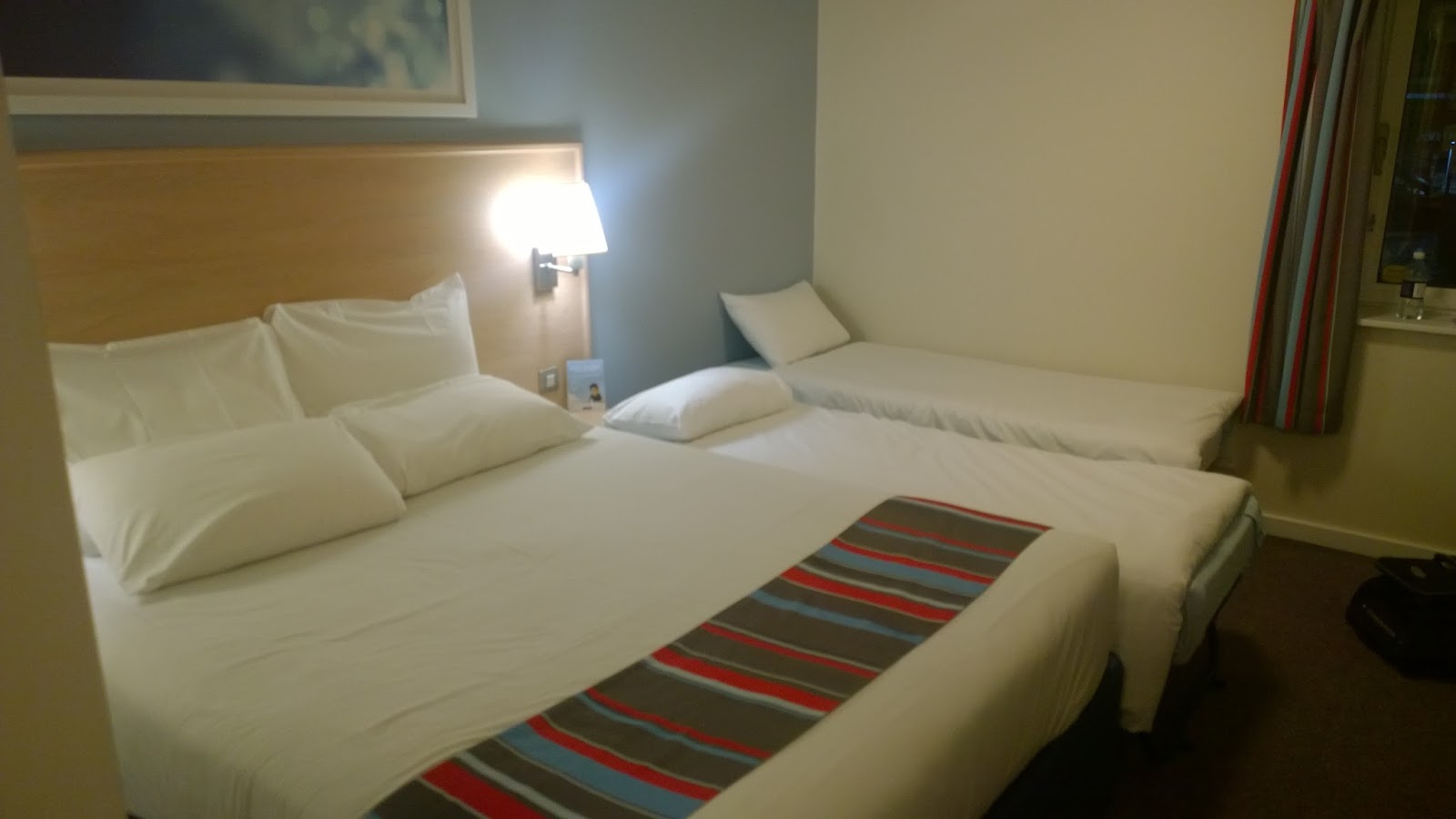 The Price of Success…
With the Donna Rachele having gone to the great breakers yard in the sky, Mr X is now sporting a new motor. It's a Vauxhall, just like mine, except it's about thirteen years newer. Got all the new modern extras you would expect too, except I believe he's still waiting to add some spinners, underneath neon lights & hydraulics to give it a more of a Max Power/Boy Racer look.
The GPS thingy is showing a rather worryingly early arrival of half past three. So it's onto the A3 before hitting the M25 all the way round to Watford to pick up The Firm Leader. He is already waiting as we arrive and soon enough it's goodbye to the mild southern climate and onto anything but that.
Sitting in the back, well I am the smallest apparently, we begin the long ride up the M1. At one point giggles are heard from the front as we apparently pass somewhere called "Butthole Lane". Yeah yeah I know we're immature, but imagine hearing "fancy seeing a bit of action down The Butthole?" Sounds right up Dirty Barry's street that, literally. Wait…what?…holy shit batman…turns out that there is a football team that plays on Butthole Lane. Shepshed Dynamo apparently. Well fuck-a-duck!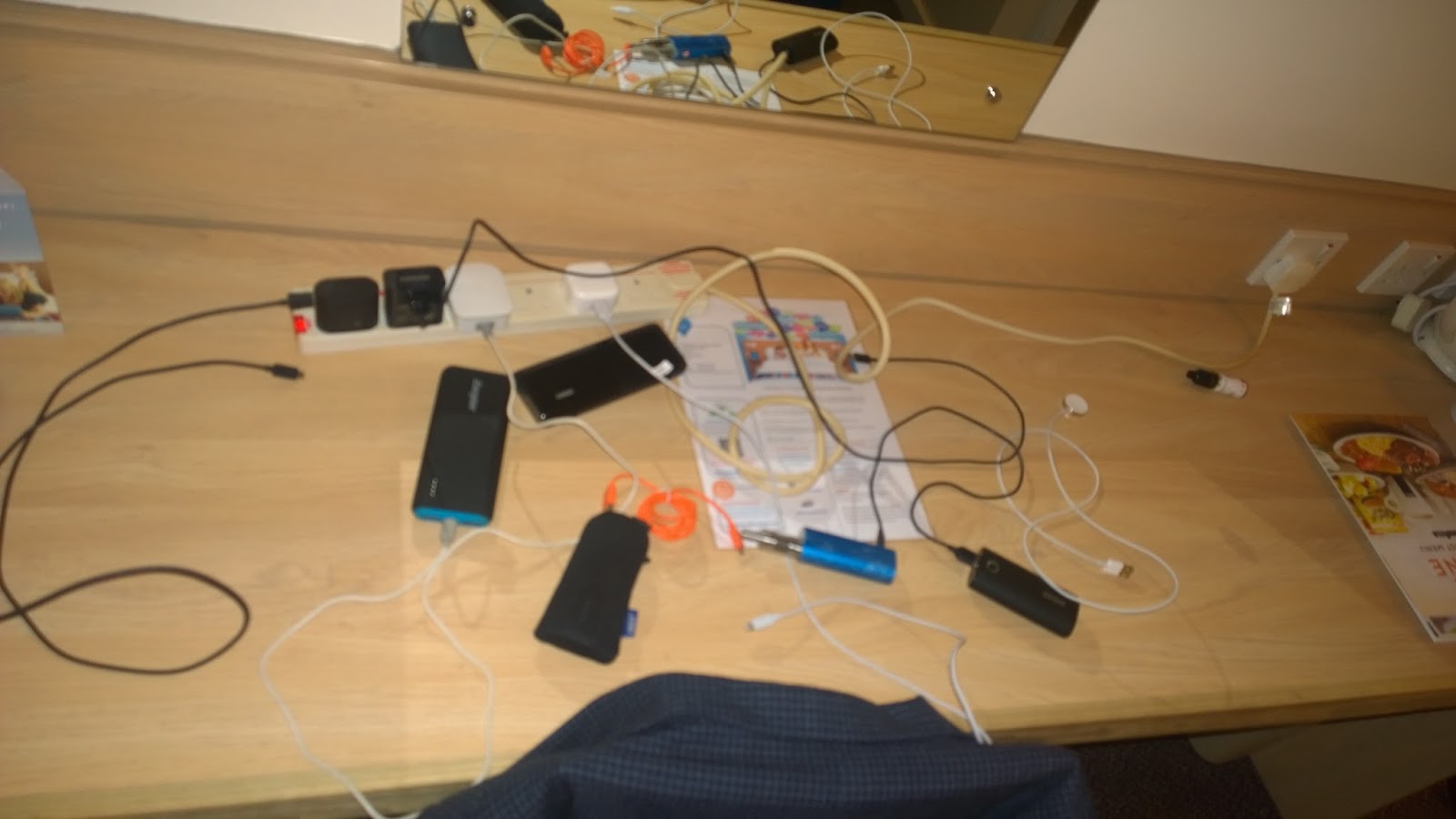 Assorted battery Packs & Vapes on charge…
If any of you readers remember our trip to Barrow last season, then you'll know that those of us that decided to drive up on the Friday, compared to those that left early on Saturday, had a right shithouse of a journey. Well after stopping off at the services near Northampton and still catching up on our original arrival time. It happened once again. Roadworks, Traffic & an accident.
Six o' bloody clock we finally arrived in Sheffield! And that was even after Mr X had questioned my Postcode giving information and decided to change it at the last minute. And he still took a wrong turn with the bleedin' Travelodge in sight! Eventually we park in some swanky car park next door and head off to check in.
A quick comfort break and a splash of God's Own Brut and we head off into to town to see what Sheffield has to offer. A lot of homeless people and the pungent smell of mari-ju-ana is the answer it seems. I won't go into much detail (might do at a later date), but we begin to smash it Gandermonium-style. I think we ended up doing more pubs in a couple of hours than what we did in our whole trip to Scotland at the start of the season!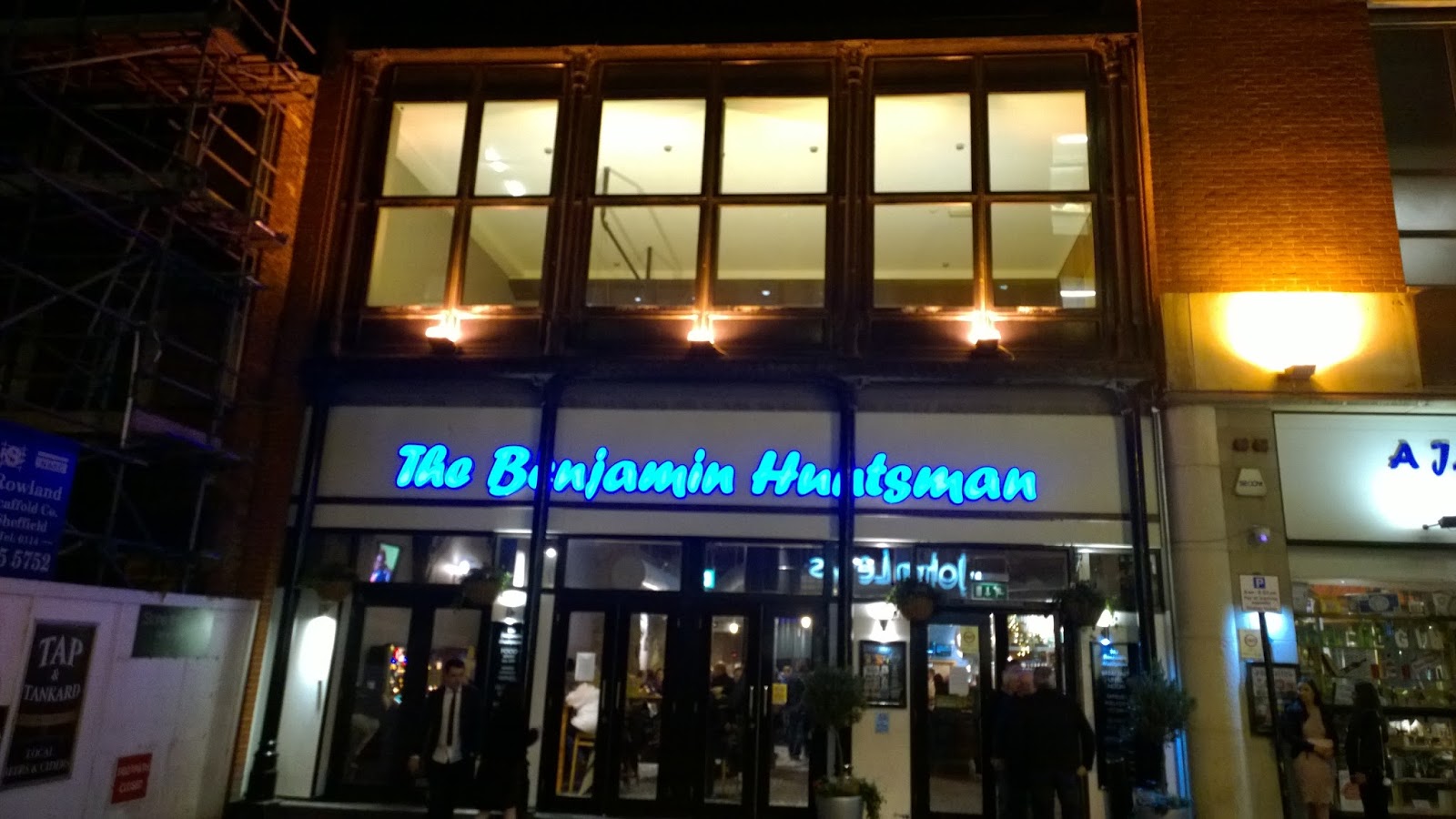 The Ben HUNT-sman…
I don't know why but at some point in a sport bar called "The Common Rooms" we end up catching a bit of the West Ham vs Leicester match on the big screen. Now don't tell me how I thought this happened but for some reason I imagined that boring boring Gary Neville was commenting on the match and that he said the following:
"The West Ham defence is like a large V, that stands for vagina, another word for a vagina is gash, that's the West Ham defence for you."
– Probably not Gary Neville
At some point we followed the Firm Leader into reliving his youth, by visiting "OMG" "Reflex". Despite it being near empty when we arrive, it soon fills up with all manner of people. From a couple of birds that were trying to start an LA Gears revival to a random Sheffield United fan who after finding out we were Sutton fans (all about Curly) was insistent that we joined him at another place called "Maggie's". But we had to decline.
Mr X was the first to leave around 1 but we weren't too far behind him, and eventually it was the early hours of the morning and we were eating pizza in a Travelodge. Classy! The Firm Leader even offered some to a group that were sitting on the next table. Trying not to disturb a sleeping Mr X and failing we finally make it back to the room for some beauty sleep.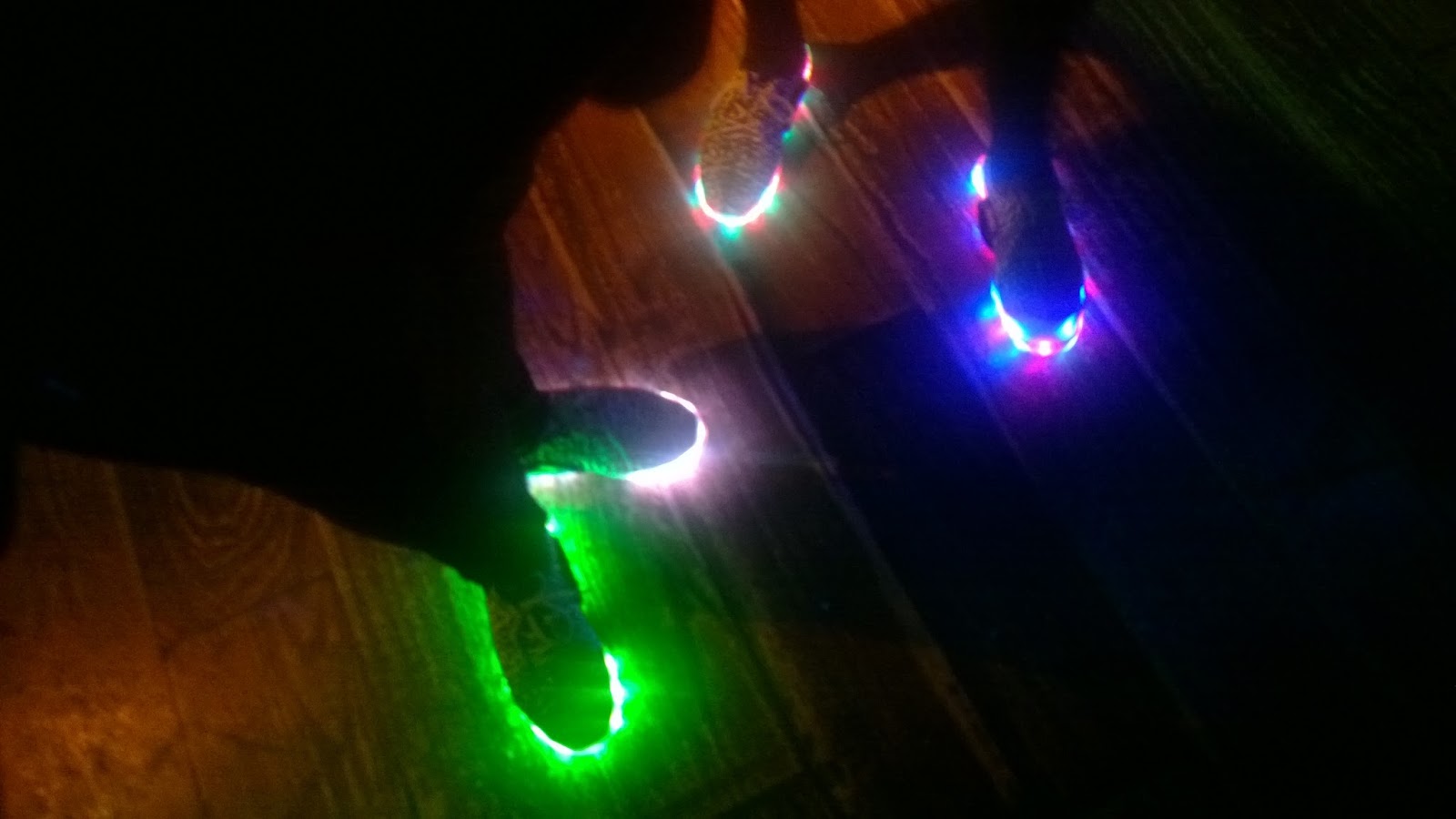 All I'd to say was that I'd a foot fetish…
Up at 0802hrs (don't worry about the significance) and we're soon downstairs and overindulging on the hot buffet that Travelodge likes to offer. The Firm Leader was to be surprised when he found what looks like a plaster in his butter. "Don't Worry" commented the waitress, "I'll be straight onto the Butter Company about that…"
With an agreed departure time of nine thirty and managing to actually leave on time, we are soon making the quick trip a bit further up the M1 to Leeds. Its only a forty five minute journey and compared to all the shit we had getting to Sheffield, this part of the trip is clear as day and soon enough the signs for Leeds are soon past us as, well, we're not exactly staying in Leeds itself.
We arrive at our Leeds base of operations, a place called Colton. And after flat out refusing to pay an extra £10 to check in early, we rustle up an Uber. Except, there aren't any to be found this far out, so instead we use a local firm to take us to the station. And fuck me it's bloody cold! So much so that we christen the place 'Colton Cold' for the rest of the trip.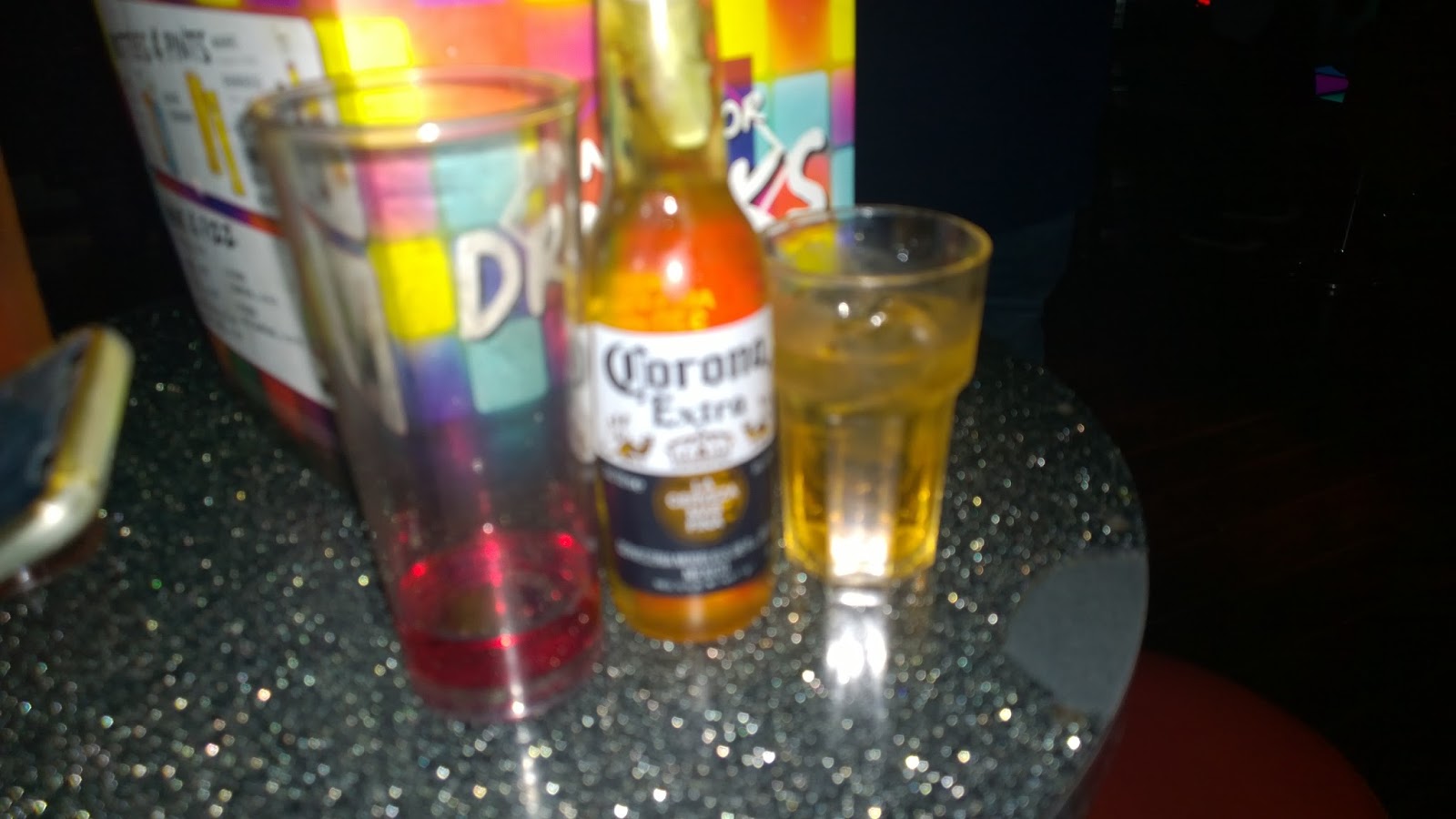 This is called "losing track of the number of drinks you have..".
Getting to Leeds Central station at five to eleven we then try and catch the 1102hrs train to Guiseley. Thinking that we weren't going to make it we print of some tickets and nonchalantly (told you I'd get it in) head for the train, only to realise that we can make it if we run. Sprinting for the train, catching The Firm Leader's water bottle in the process, we make it with seconds to spare. only for the train to not move for a further five minutes due to being unable to leave the platform because of a train ahead. A quick fifteen minute journey follows and we're soon in Guiseley.
With the day-trippers electing for a beer first in Leeds we first head to the closest pub to the station, which is somewhat surprisingly called "The Station". Nice place that even had an old Leeds supporter that claimed that he went down to Sutton for the FA Cup match in 1970. Unfortunately, after last nights little session, the first beer of the day took some time going down. Just as we are about to leave "EDM" Eddie arrives. He's been here a while and managed to walk around most of the place already and decides to join us on our travels.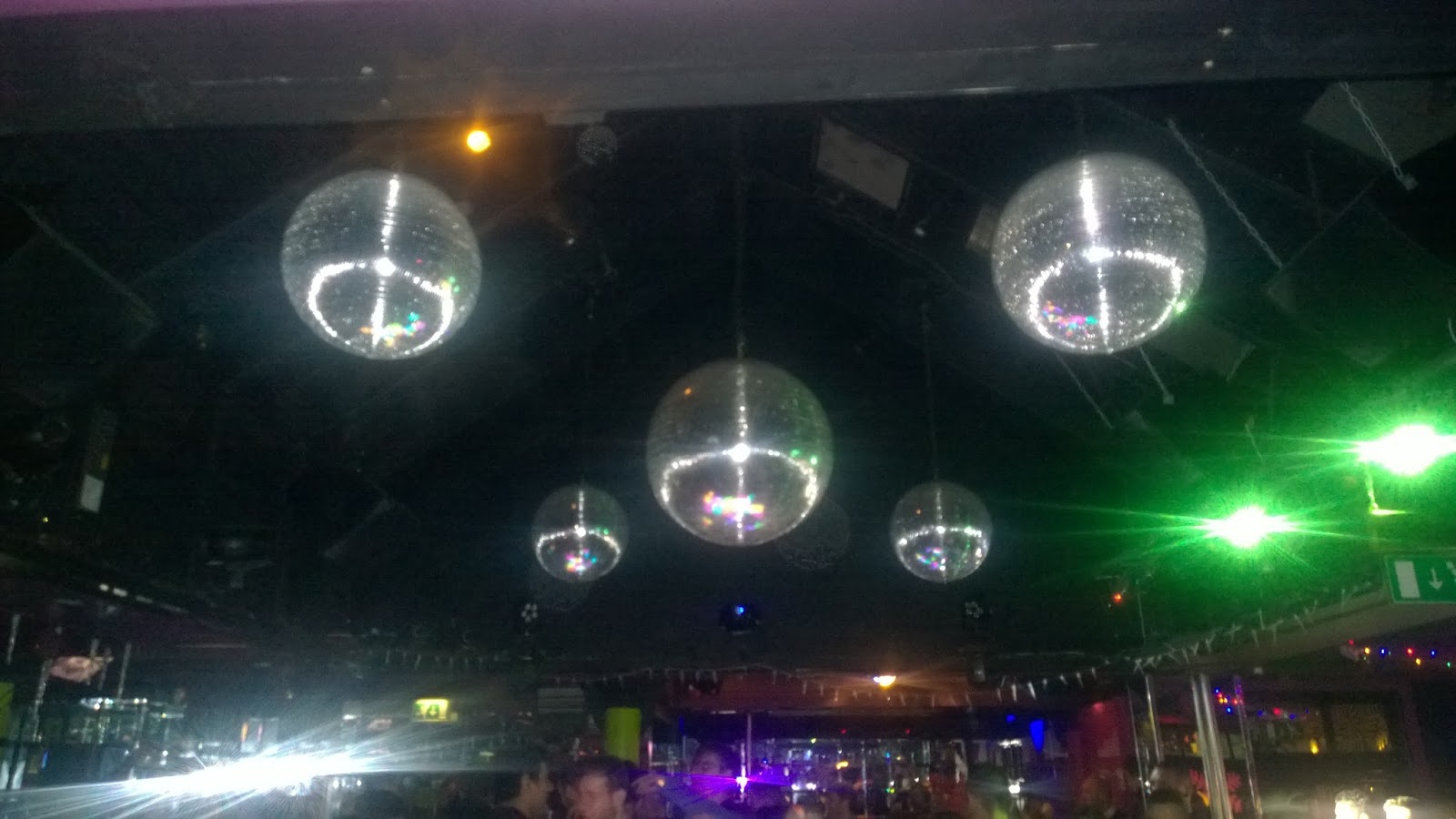 Disco, Disco, Disco…
Next on the list is a pub recommend to me by my Guiseley mate, "The White Cross" ended up being a Ember Inns, but we soon are sinking a few jars as "EDM" Eddie enlightens us of his love of every thing electronic. So much so that even The Firm Leader can't keep up with the bands that Eddie flies at him. I'm still amazed at the idea of Eddie driving on an isolated motorway in the Middle East with only Camels and sand for company whilst listening to Dubstep at full volume.
My Guiseley mate would soon arrive and after another quick jar we head off to the ground. I have to say that the place has a lovely charm to it and the locals are as friendly as anyone we've met on our travels. Mr X and soon enough even The Firm Leader would sample the wonderful local delight that is pie & mushy peas.
With the arrival of the day-trippers from Cooper's up the road, we soon get down to football business. Managing to get hold of a team sheet (No Twatter line up for some reason) we agree that the bench is very weak with only two proper named subs on it. There's even a rare start for Spence. So I guess I was completely wrong about what I said in the Solihull blog.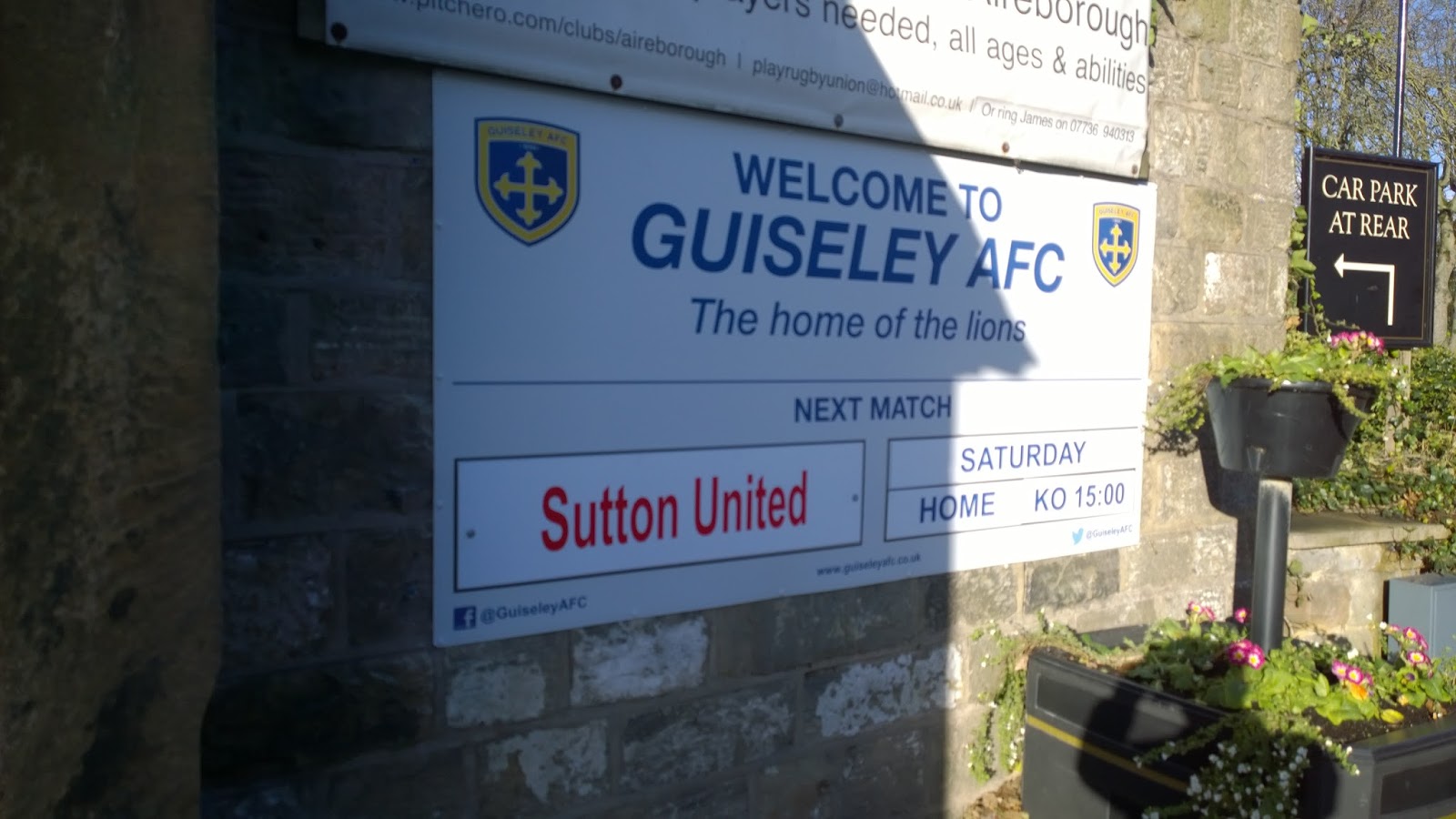 At least we're in the right place…for a change
Butler, Collins, Davis, Cadogan, Dundas, Bailey, Spence, Walton, Downer, Bolarinwa, Lafayette. Bench Warmers: Morris, Brown, Egan, Stearn, Lema.


Taking our spot at the far end, Sutton started brighter than we had really expected them to and certainly far more than what we did against Torquay on Tuesday night. The Legend that is Dundo had the first shot that was well saved, and with the wind in our favour, it would only be a matter of time before the Big Man once again cemented his place as top scorer for the season.
This time it was from a in-swinging corner from Cadogan. The ball sailed past nearly everyone to back post where Captain Collins out jumped his marker and guided it back into the six yard box. Here we had Dundas only a yard out in front of the defender to smash the ball into the roof of the net. 1-0! That must be something like seven league goals for the Caribbean Curly Toe now.
More excitement was soon to come when Guiseley were awarded a penalty. A corner was only half cleared back to the taker and when he aimed a shot at goal that appeared to hit Dundas at least on the top half of his body. From my view I wasn't too sure but I'll let someone who was standing next to me at the time say what he thought about it:
"That's a penalty, [whistle], oh fuck off! Really? You're fuckin' kiddin' me…"
– Taz
Up steps the corner taker to take the shot. SAVED! Butler guesses the right way and it's at that easy height to be parried away. Guiseley would later on want another attempted spot-kick but this time they get it wrong when the Guiseley winger is beaten to a through ball by Butler and ends up on the floor for his troubles. Fortunately the ref is having none of it either.
Cadogan & Bolarinwa link up as the ball is cleared and just when we think that the little chip over the defence from Cadogan is a little too long for Bolarinwa, he still gets in between the defender and the keeper and toes it past the man between the sticks and it drops into the goal much to the surprise of those a mere few feet away. 2-0!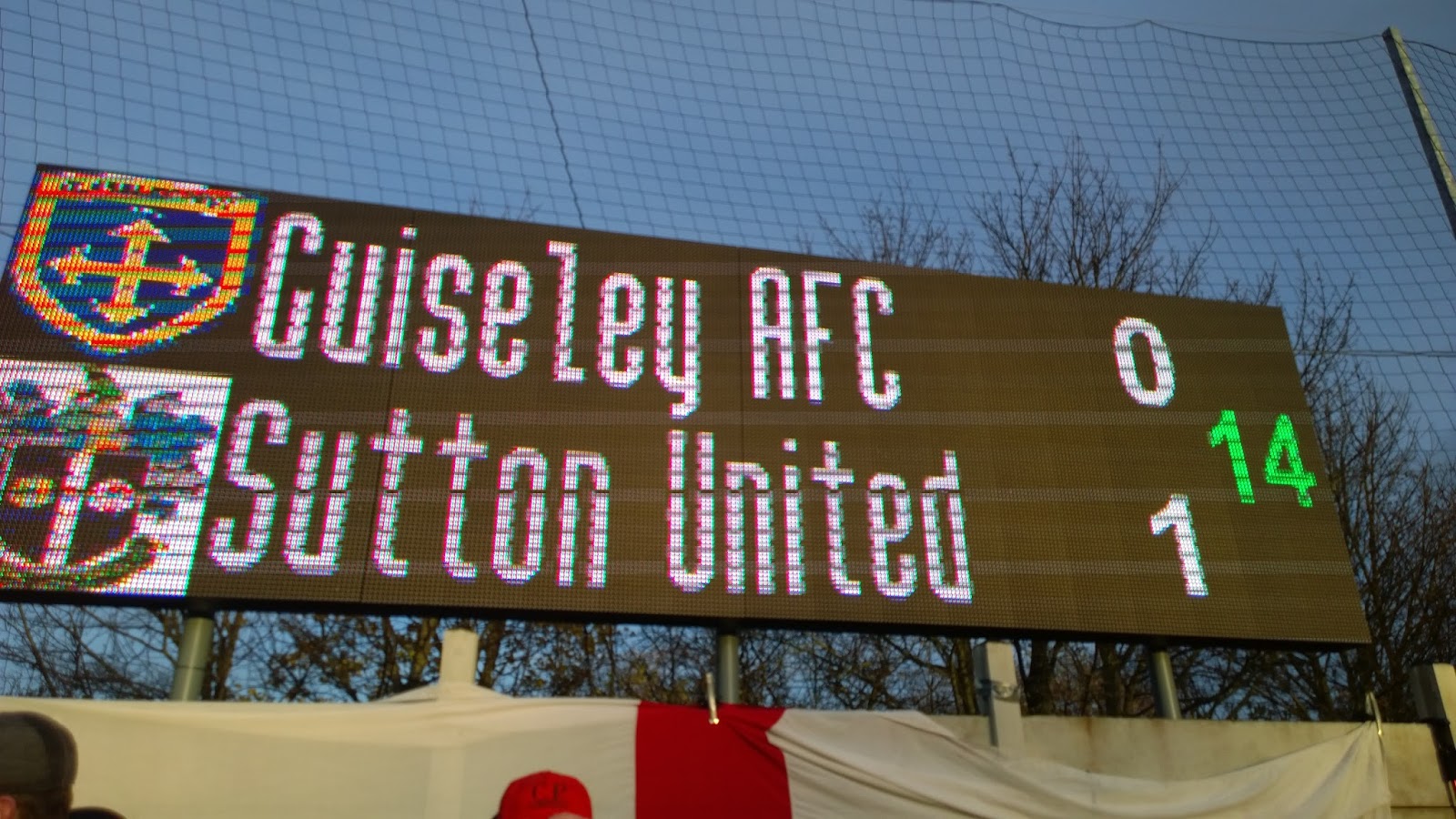 Readable scoreboard…
With not much else to report on in the first half, the ref soon blows his whistle and we begin to make our way round to the bar. With what it seems like most of the ground trying to get into the warm, it's a god send that we took the opportunity to pre-order our half time drinks as the place is properly rammed. But by the time I've had my cheeky short, it's already time to head out as the second half had already kicked off.
Second half and once again we all congregate behind the end that we're shooting against. Not only to see the action close up, but to also keep warm as the temperature continues to drop quicker that a whores knickers high class escort's very expensive silk panties.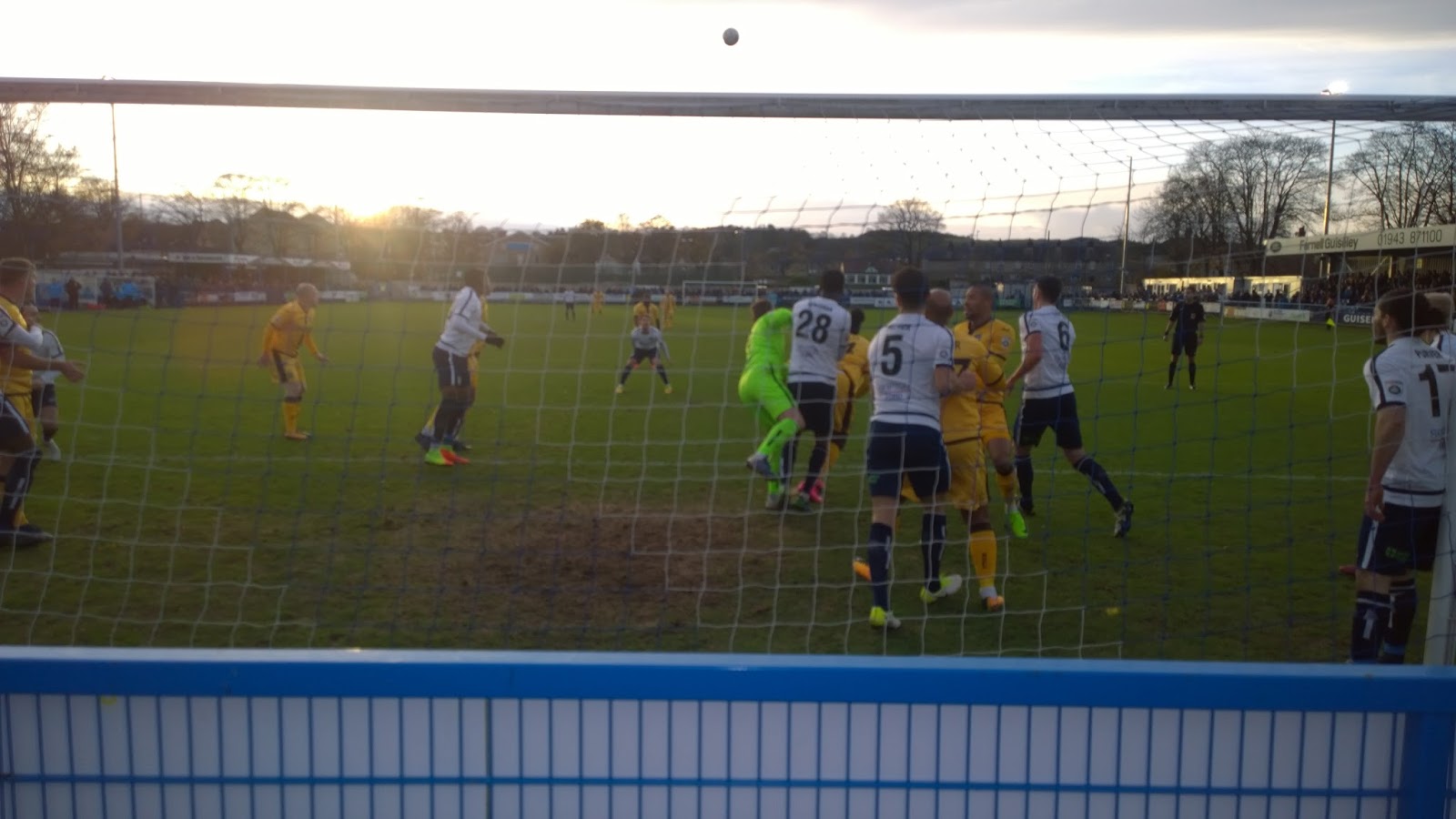 Action…
Guiseley made two changes at the break, and with the wind in their favour you would expect a tight half. Sutton's best chance of the half came early on when Dundas tried to get on to a low cross from Bolarinwa. Unfortunately, under pressure from a sliding defender he failed to poke the ball on target and it went wide of the post. Not long after, Dundas was to set up Cadogan for a clean shot, but it was agonisingly saved by the legs of the keeper.
Near the hour mark, a limping Davis is removed from the field of battle and is replaced with young Egan. Much of the rest of the match sees Guiseley come more into the game. Downer picks up the only yellow for Sutton on the day as he takes down a player running towards the Sutton goal after Cadogan loses the ball in the middle of the park.
With twenty minutes to go, "Don't feed the pigeons" Stearn is introduced for Bolarinwa and gets himself involved in the game. With the use of a rather Chalmers-esque throw in, Guiseley continue to pepper the Sutton goal. Butler twice near the end of the match makes decent saves to keep his clean sheet bonus intact.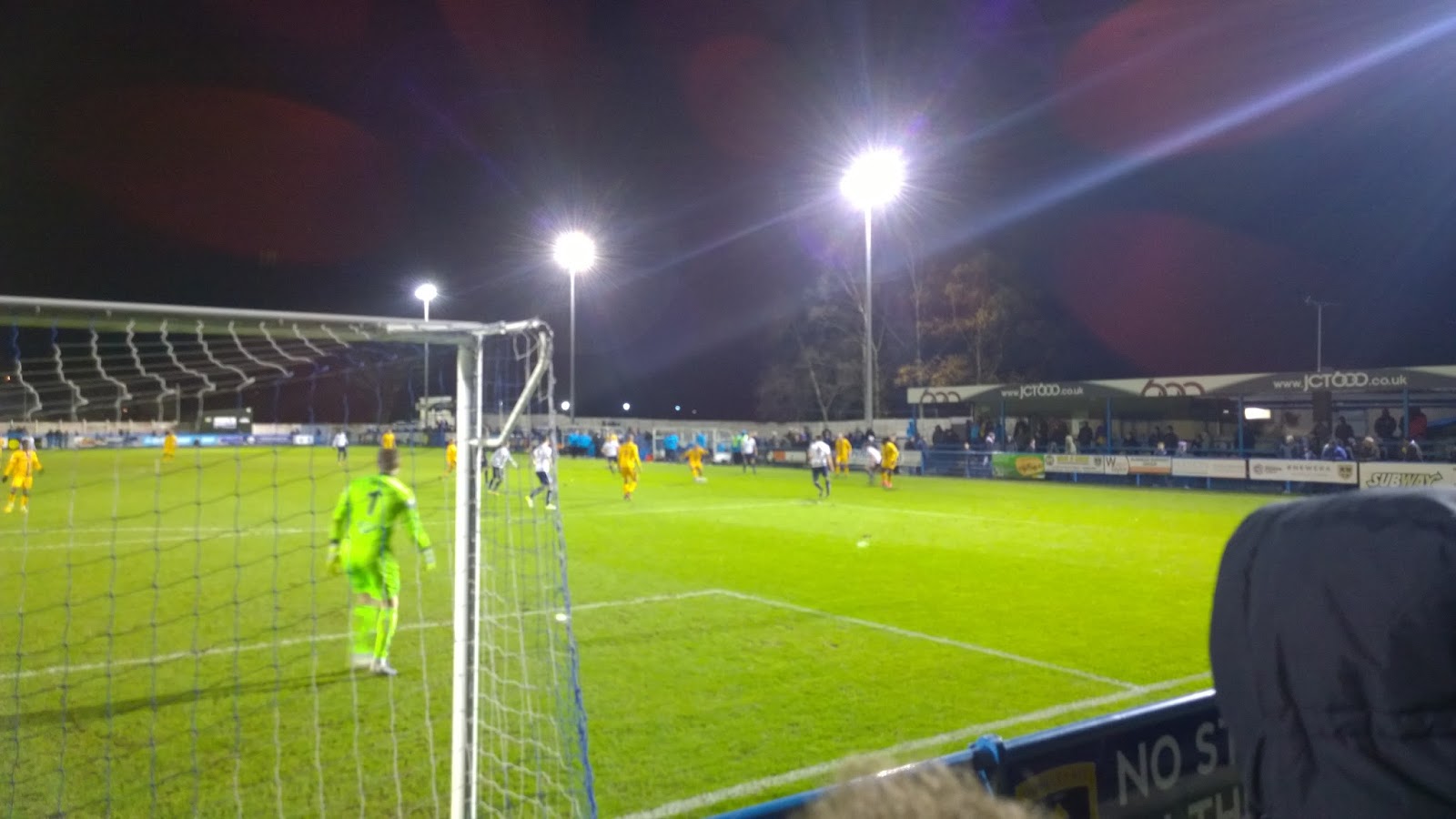 Action at night…
With the points in the bag, after the game everyone heads off towards "The Station". For myself however, I head back into the club bar to have one more pint with my Guiseley mate. Here, we cover the a wide range of different aspects of the Yorkshire club. From going full-time, through the expectations for the season and right the way through the fact that the football club doesn't even get the takings from the bar (the cricket club next door do).
Saying my goodbyes and sorting out the return fixture, I head off to join the rest. Missing those that were making the day trip, who'd already fucked off back into Leeds and their long train journey home, I sit down to a pint and try to watch some shite premier league football. A plan had been formed in my absence. Instead of getting a train back to Leeds before getting sherbets back to Colton Cold, they've opted to get a sherbet all the way as the cost is about on a par with the previous arrangements.
It soon arrives and before long we are whisked back to the Travelodge. Passing what seems like a KFC drive-thru on every corner. We soon arrive and head to the local Harvester for a quick bit to eat. And this were the plan starts to show cracks. Despite some empty seats we are informed that there is at least an hour wait, so instead we head off for other options.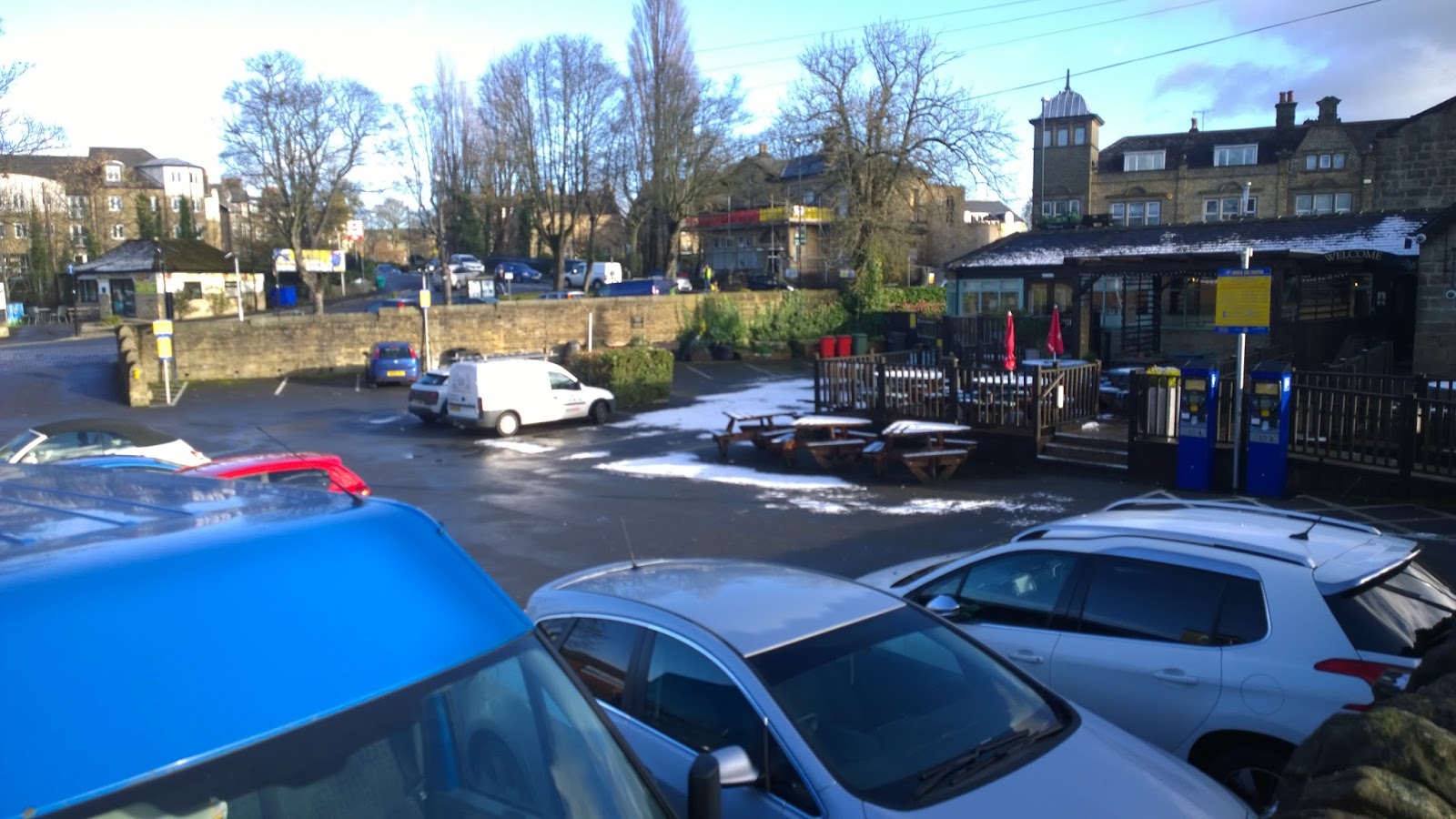 Is that snow?…
One random topic of conversation on the sherbet back was on when was the last time any of us had visited a Pizza Hut since the one in Sutton had closed. And what was in front of the Harvester? No, wrong, it was a Subway actually, but next to that was a Pizza Hut. So we head into there for several rounds of the Salad Bar (yeah, some of us are getting old), a beer and a pizza.
Being the only one to finish their pizza, no prizes for doing it except a very bloated feeling, we head back to Travelodge to get changed and ready for a second night out on the town. Needless to say that the 20+ pints in the last 24hrs and the large amount of food, it's a real struggle to get motivated. So much so that by the time we're waiting for a sherbet. I'm already looking at the Harvester (nearest pale that sells any beer), thinking that it might just do me.
We head into Leeds central, and with The Firm Leader steering us to Popworld, we're lucky that there is a 'Spoons next door as the queue is not only long enough on this testicle freezin' brisk night but the ages of most of the queue would make us look like we were dropping off our kids at playschool. Yeah they were that young lookin'. Heading into 'Spoons it's my turn to buy the next round but as I go for my wallet I realise that my keys are missing. Bollocks!
Buying in three pints was not the best decision I made as it was becoming a real struggle to drink. So much so that The Firm Leader would by himself a double VRB and not touch his pint at all. As none of us had done any research into Leeds, we then wander off to find any drinking establishment that presents itself. Any where did we end up? Gold star for anyone who said 'Spoons.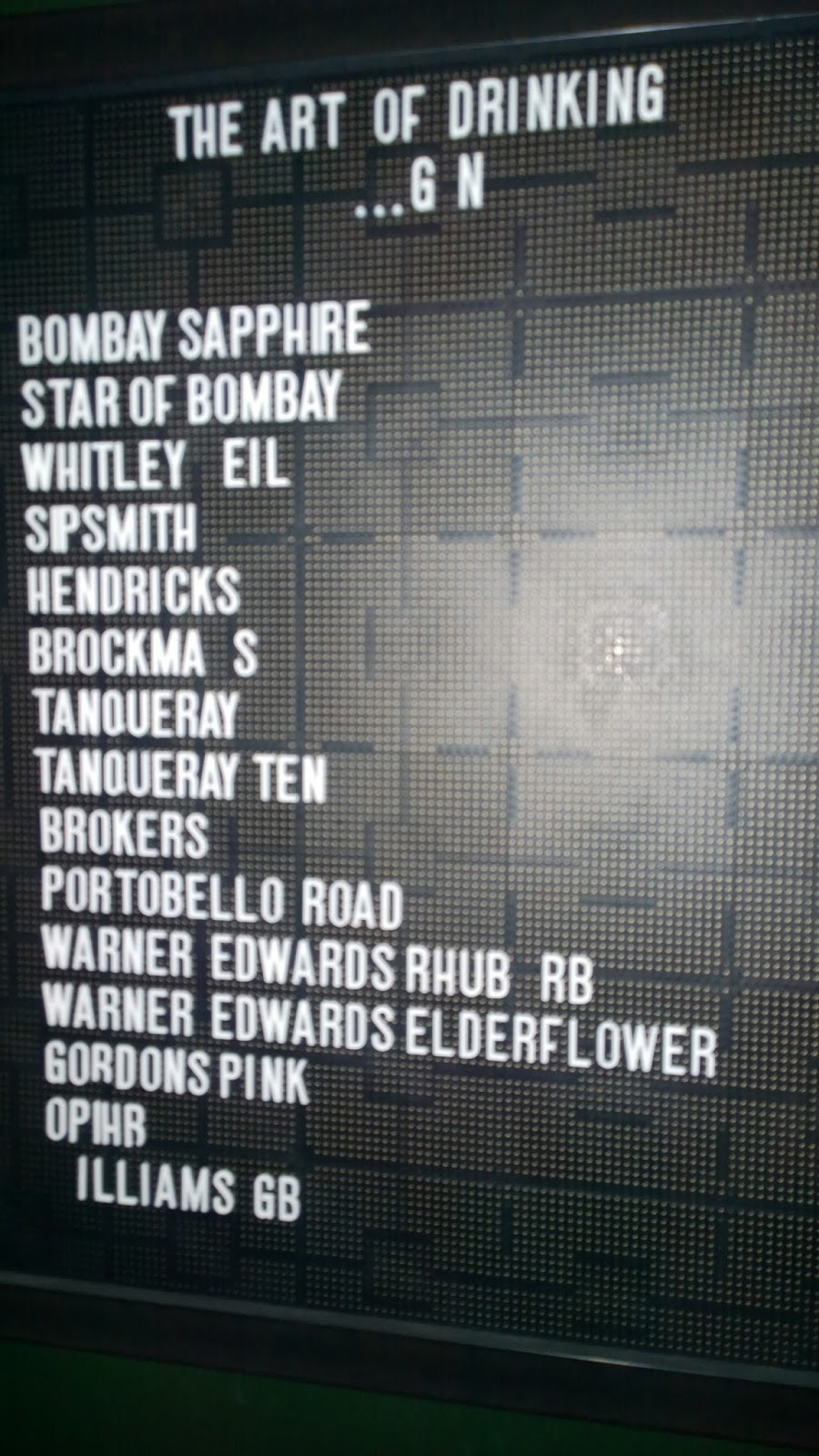 Never had G N before…
A couple in there and we all agree that we've hit the wall. Well me & Mr X at least. The Firm Leader's a beast! Getting back to the hotel and I start to rummage through all my gear looking for my bloody keys. No joy anywhere so it 's time to lay in bed wracking my brains as to where they could've got lost.
Morning arrives with a near stampede for the toilet before we head out to the Harvester for breakfast. On the way I spot our car and have a quick butchers in the back window. And what do I see? My fuckin' keys on the back seat! Turns out that I used them to open a bottle of coke when we stopped for petrol and must've put them down then. Bell end.
The Harvester 'all you can eat' breakfast is a must for anyone that hasn't tried it yet, but be warned. After two days on the juice there is a little resistance to how much you can eat. Especially when it involves upping the ante against those around you. But I do love the first question they always ask you "How many bacon?". I think I'm in love.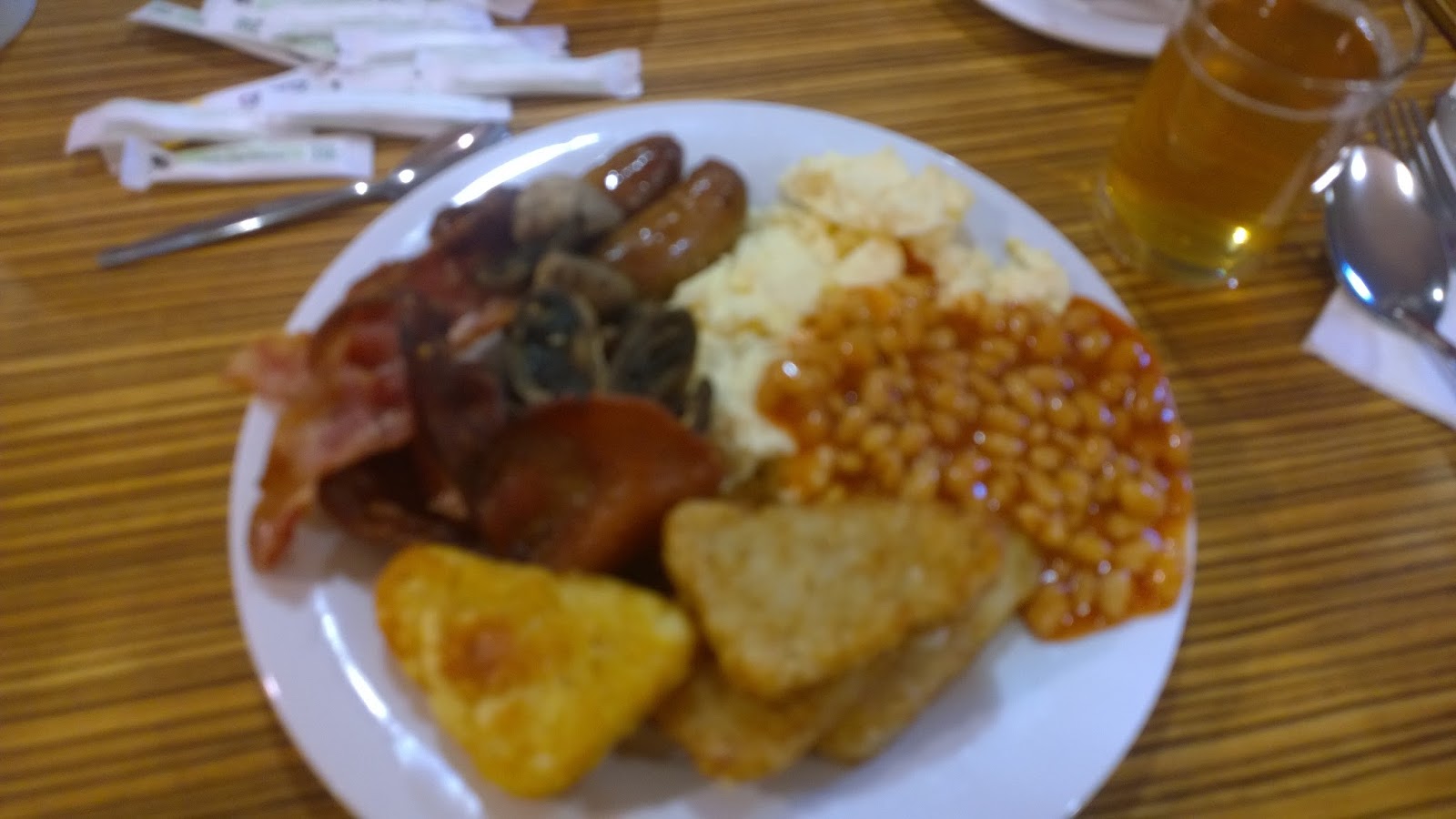 One of several breakfasts…
Departing cold Colton at around eleven I soon fall asleep and only wake when we arrive at Watford Gap services. A quick tea break and its back on the road for a problem free trip until we hit the Royal Borough of Kingston and the usual London suburban traffic. The Firm Leader is dropped off first and then it's my turn, turning the key on another long Gandemonium trip. I tell ya, the price of success is the fact that we're National now, and some of these trips we make in the regular season we could only have dreamed of back in our Ryman days, where a day by the coast was probably the best we could ever hope for.
So what have we learned from this trip? For me it's the fact that Old Father Time catches up with us all eventually and it seems that my days of drinking twenty five pints in less than thirty hours is probably nearing its end. From now on I'm strictly a 20 pints in twenty four hours man I reckon! That and Yorkshire folk are very very annoyingly nice.
We now move on to the Surrey Senior Cup match down the Lane against Redhill. Taz in charge…sorry, Chairman Totts will be in the hot seat…what…Robbo?..Na, just yankin' your chain there. I'll be clobbering something together for that one. Might be a few naughty words in it if it goes the way I think it might. So no different from any other season then…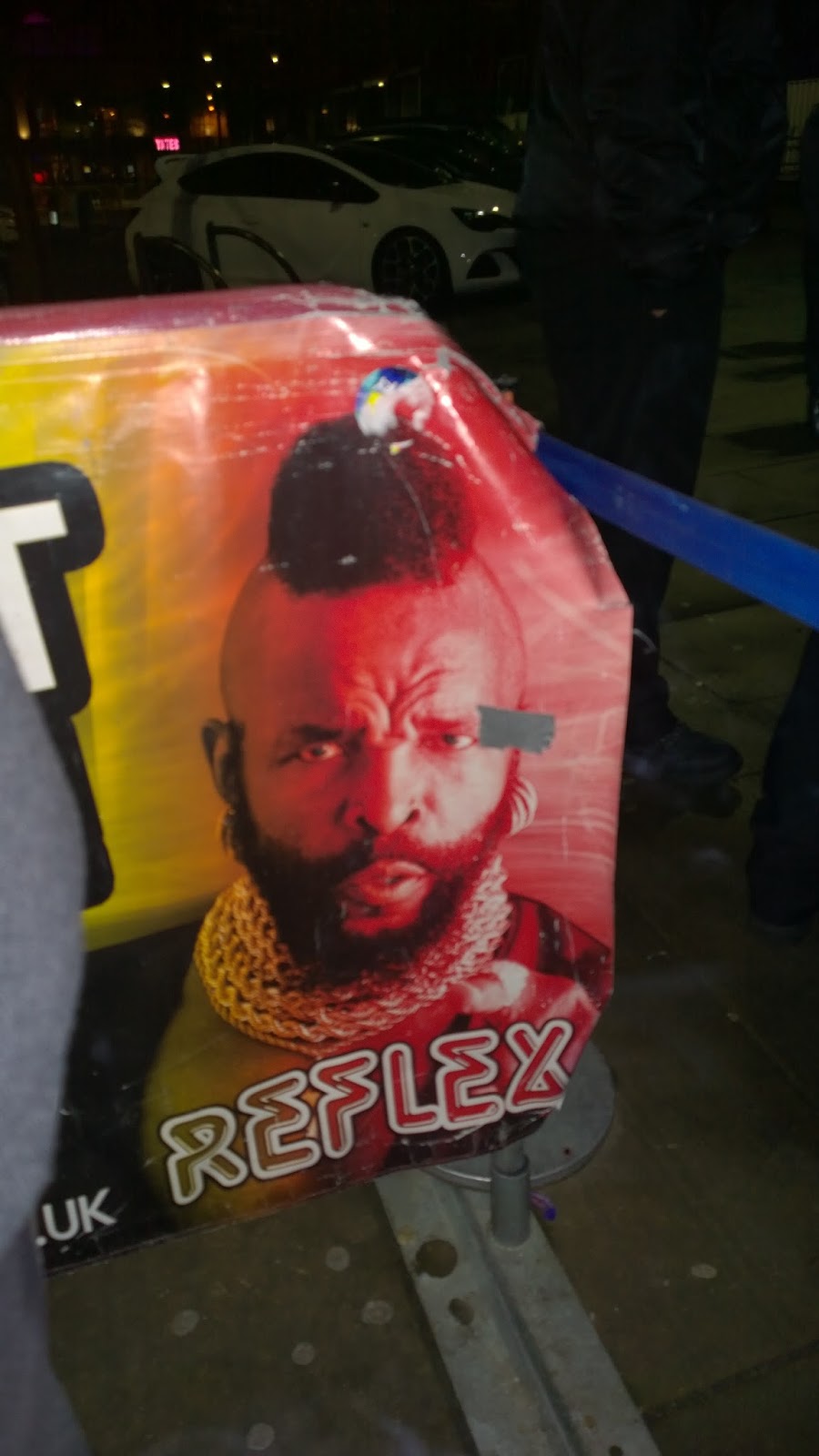 "I pity the fool…"
Duke
Att. 929