The magic of the cup is back once again for Sutton. And this time it's another trip 'Oop North' to take on some more football league opposition. Cambridgeshire is the county and Cambridge is the town city and surprisingly enough for once it's not to visit to Milton Road. Well you can't go there anyway now as it's flats or summat, but to The Abbey to take on the United.
Doing some research for the blog, which definitely didn't include several hours of "researching" 1970s vintage French Porn, I also came upon this little ditty that showcases the original Gandermonium in all its great non-photographic glory. It's got all the usual ups & downs of a non-league supporter. From the rumours of a manger resigning, to seeing a rare victory, and witnessing another clubs demise as their chairman does the old sell-the-ground-from-underneath-them-to-a-mate-for-a-tidy-profit routine.
The last time I'd been to Cambridge was during a over-nighter on the way to a match against Bury Town. That eventful Friday night had us attempt Kings Street where I'd been told that there were loads of pubs all on one stretch of road. Turned out that there was only four bloody pubs and even then we only manged to do three of them as we ended up in a lock-in in one!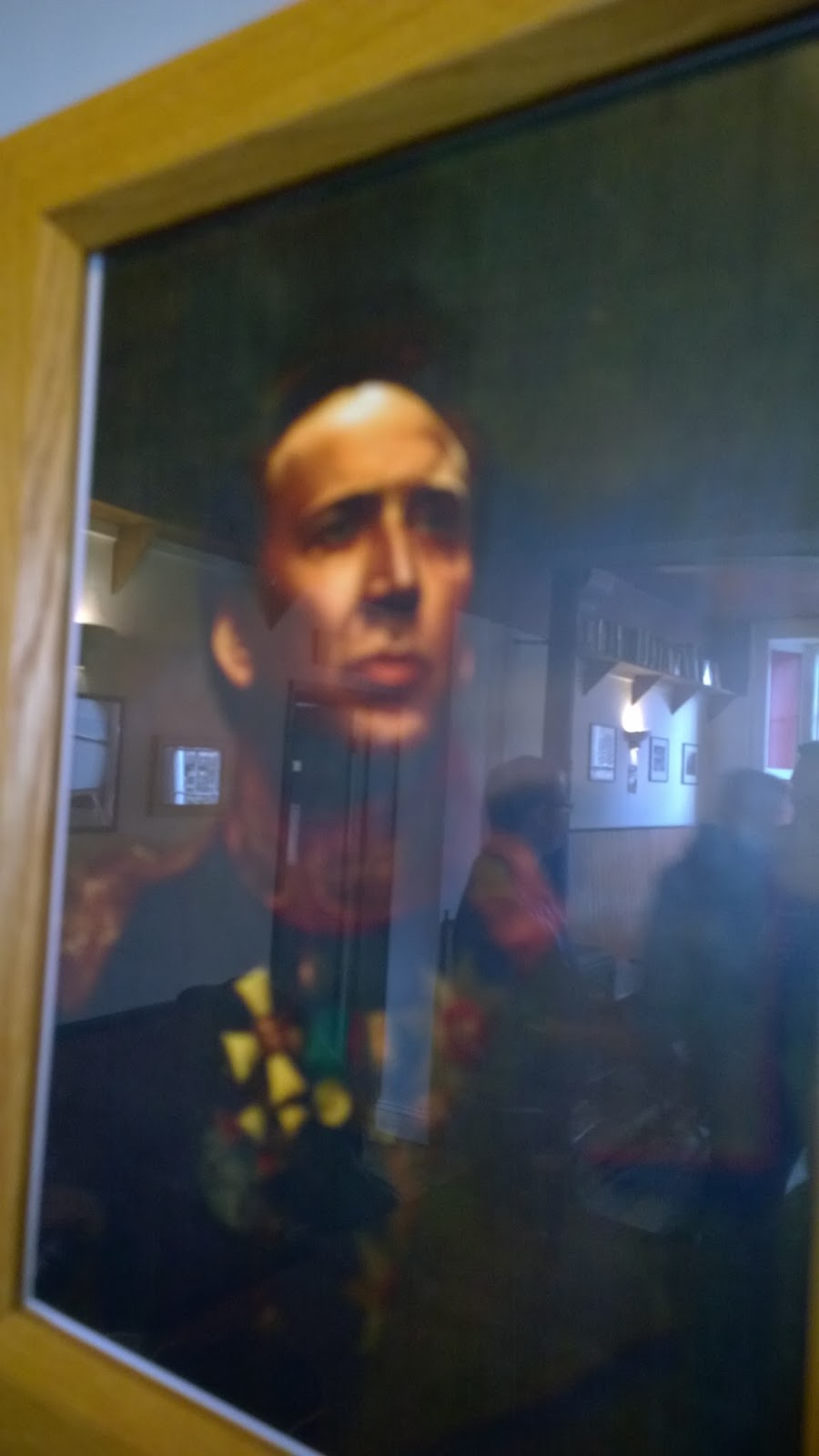 Is that…Nicholas Cage?
This is also not the first time that we've played against the other Cambridge team. A rather drab friendly saw us go down 3-0 in a home friendly at the start of what was turned out to be the worst finish under Our Lord Dos. You know the season, where even though we weren't in any danger of getting relegated but beat Basingstoke in the bloody play-offs. And we won't talk about Merstham. Ever.
What is all this Sunday football bollocks about anyway? Right buggered up my usual Sabbath routine it did. When I would usually be seen down the road picking up a paper for the Old Man and gorging myself on some of the finest fried foods that the Badlands has to offer, I'm instead heading up town to grab a train somewhere.
Like a few in our band of merry men, I thought that we were going to aim for the 0915hrs train from Kings Cross. And of course there was bloody overnight engineering affecting all trains from the Badlands (up until ten o'clock). So the only other real option was to jump on the trusty 80 bus and head over to the 'toob' at Morden.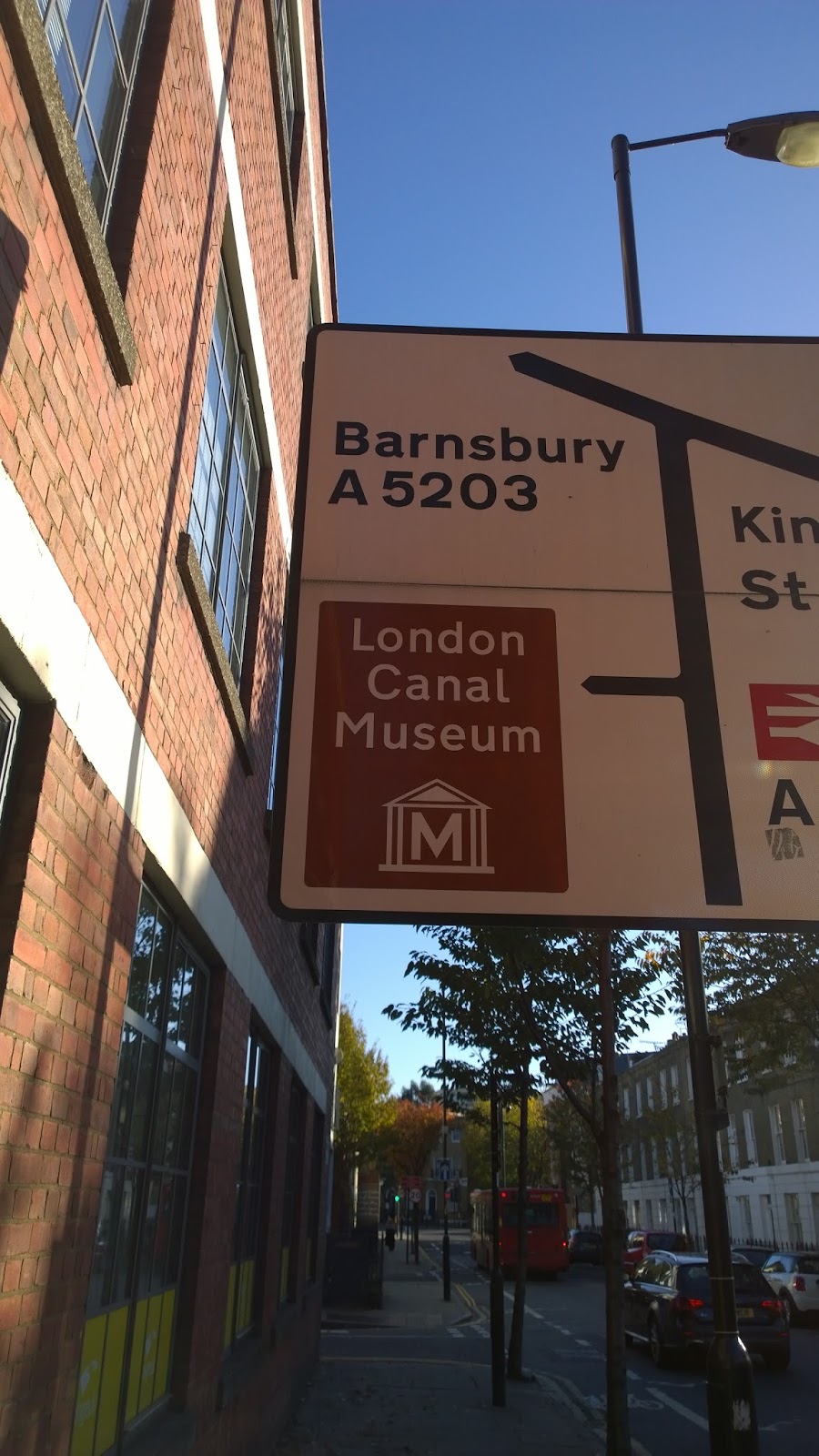 When in Rome, Sorry, London…
Up and ready at the crack of dawn, it's only then I realise that the train time has actually been agreed to be the an hour later. So with another splash of God's Own Brut for good luck, I decide to still head on out. With my own cafe not yet open, I came upon the cracking idea of stopping off at the Wimpy Bar in Morden. Not quite a Lil' Thief, but it would do.
Of course, best laid plans and all that. It doesn't open til ten, so no bloody chance at half eight then! Instead I revert to Plan C and jump on the Underground up to Kings Cross. Looking around for a cafe at Kings Cross is a complete fail. But I did find the London Canal Museum. Shut obviously. Receiving a call from Dr Bell I find that he was in a cafe somewhere near Kings Cross. The one we went into a few weeks back and the same one that I 'd completely forgotten about. Idiot.
Taking in a quick cuppa, we are soon leaving and heading off towards the station, when I receive a call. Mr X is on the blower telling us not to go to Kings Cross and instead to head to Liverpool Street as the trains are up the Khyber thanks to overrunning engineering works. Another perfect plan, except that we are of course already at Kings Cross and would now need to jump back on the Underground.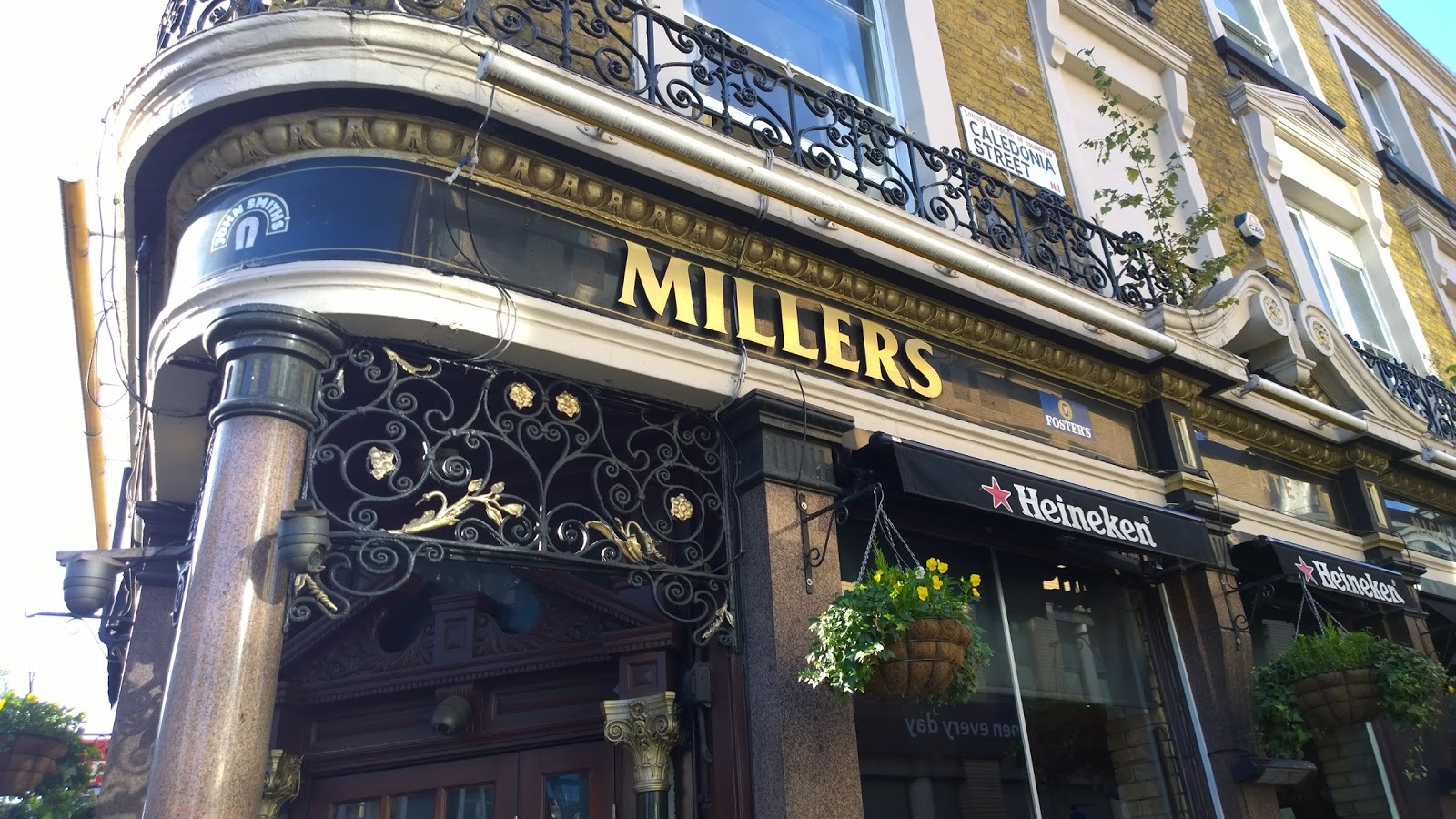 Sounds like a shit pub…
We soon bump into Red Oxide & Son as they are also now heading to Liverpool Street. With the time fast approaching lift off, we arrive to find that we are the last to join the travelling party. If you don't include Magnum P.I. that is as no one told him what we were doing! Just making a much slower train than we'd planned, our new time of arrival was to be around ten to twelve which means losing over three quarters of an hour of VDT.
This is fact extremely valuable VDT as today's contest was a two o'clock kick off, meaning we had two options. Either it was to watch football sober, which you don't really want to do at this level or just crack on with it. So with a thirst on, the first pub of the day was "Kingston Arms" that might suit the beardy-weirdy ale types and the old grannies that think it's ok to push in halfway through ordering a round, but not your larger louts as the Bittburger was not that pleasant I was told. But then again that opinion came from a very hungover Crockett, so is to be treated with at least a pinch of salt.
Necking the first pint in a rather swift manner, we decide to head back a little ways to the "Devonshire Arms" that by now was finally open. Finishing our drinks first a few of us start to make the trip. Just as we arrive, the next train load of Sutton supporters is marching down the road. As we walk into the pub the place it contains just two old blokes & a dog, with a single fella behind the jump and the chef getting the kitchen ready.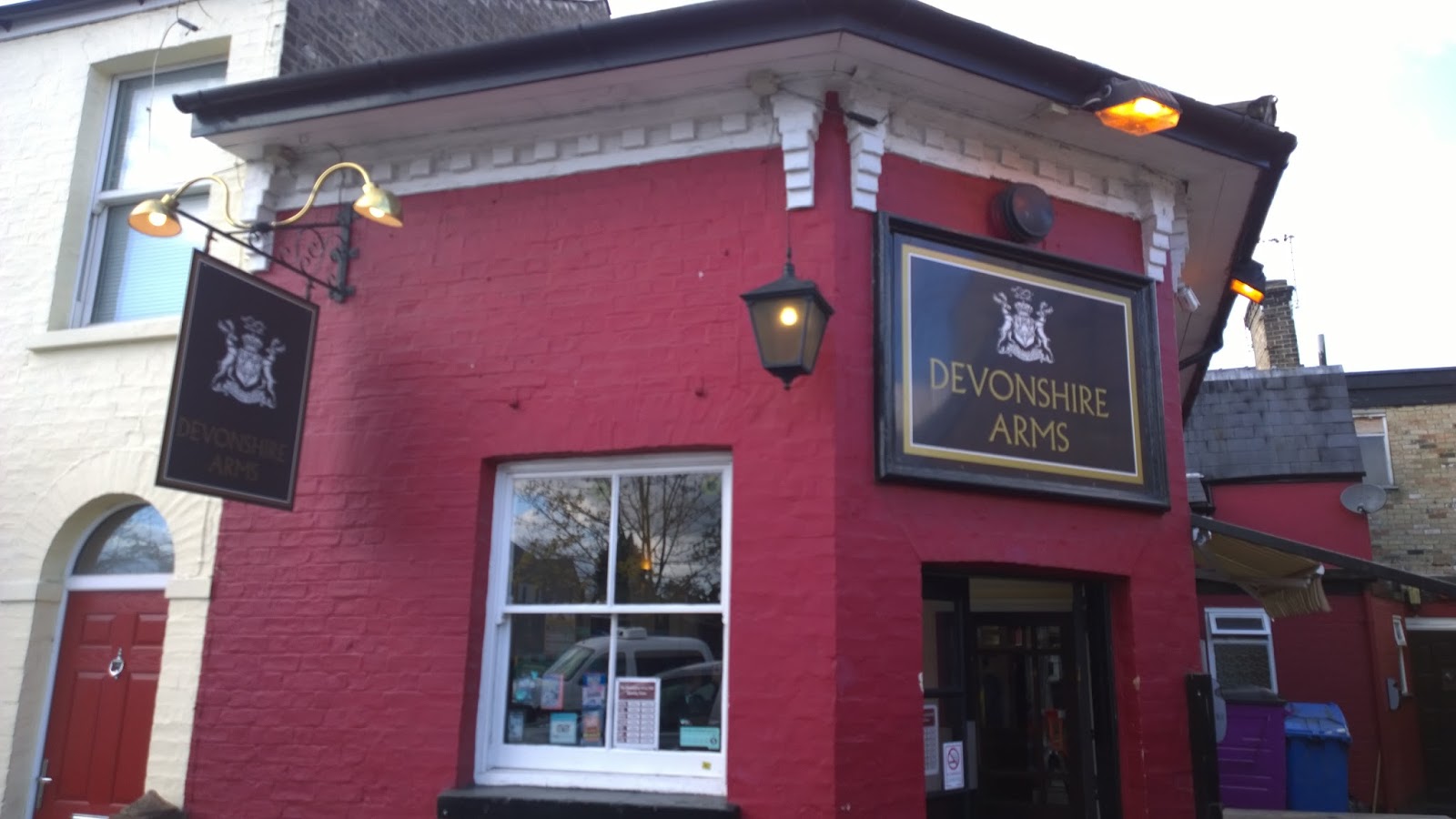 Excellent place…at lunchtime at least…
Needless to say we soon mobbed the place with nearly fifty Sutton fans of all shapes and sizes. From the Cocks, to Chairman Totts, past an Undercover Policeman and all the way to a rare appearance from Chalmers as well. The pub must've done a days trading inside the first hour as several pints each were consumed in the surroundings of several strange looking prints on the wall.
The pub was that grateful for the sudden influx of unexpected trade that they even wheeled out some bacon sarnies & chips on the house for the whole mob. Shame you missed out there Rax! Don't think the policemen that arrived were that happy to see us mind you. I guessed this by how grumpy they were, not saying a word to anyone. Eventually though it was time to head back towards the station and jump in a sherbet for the dash to the ground.
Sending Indy & Sean Connery's Stuntman ahead, we arrive to not only find them at the front of the queue but also midway along was Scouse Neil and his boy Joe. With a seven-seater next in tow, we all bundle in and head to he ground. The cabbie obviously then starts to enlighten us on the local rivalries and in no small way should we compare Histon to anyone around here. So United are not the best team then?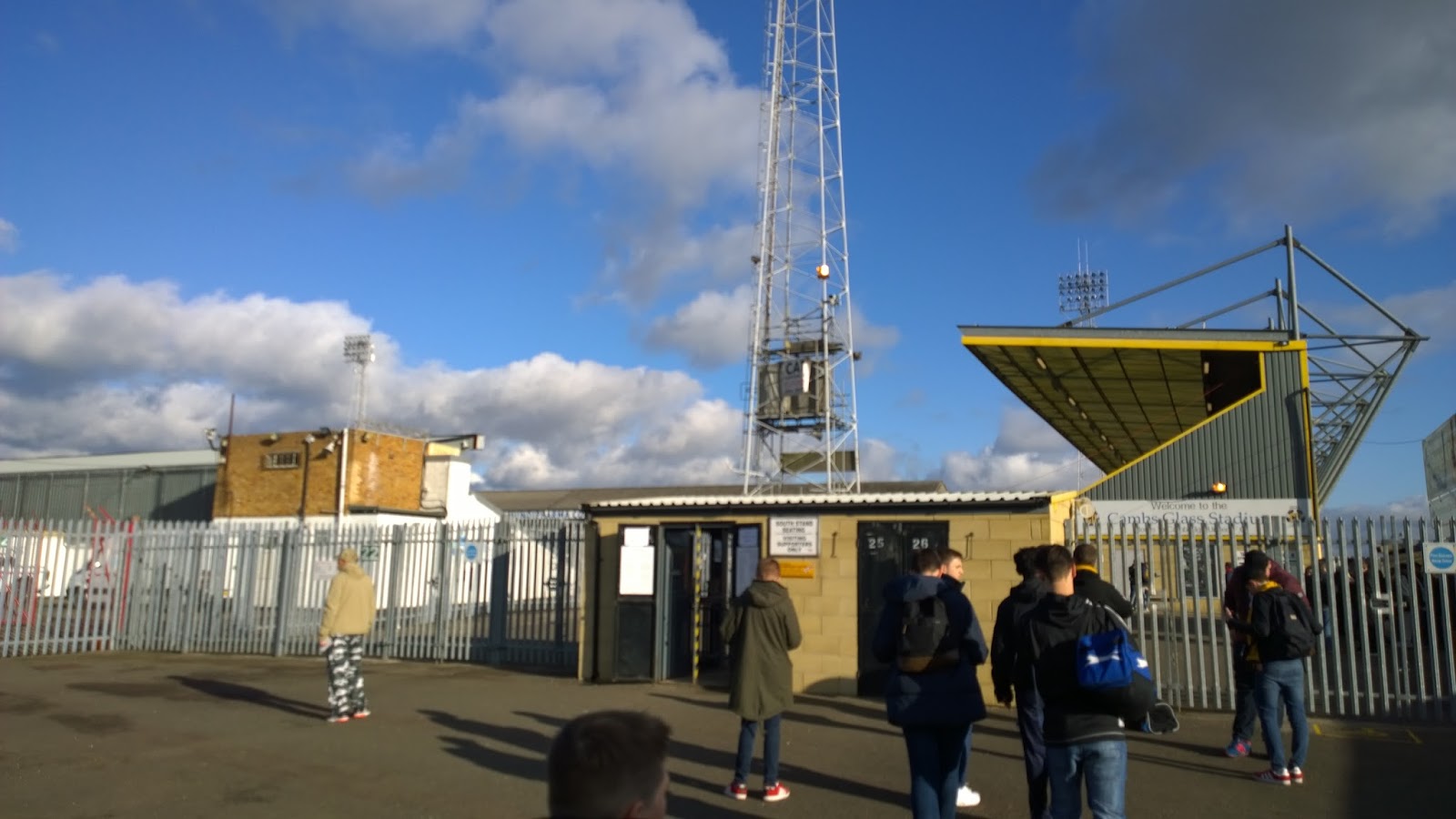 Away entrance…
Butler, Thomas, Beckwith, John, Collins, Davis, Cadogan, Dundas, Baileym, Wright, Taylor. Bench Warmers: Lafayette, Coombes, Spence, Jeffrey, Downer, Brown.


In a swirling wind, Sutton started brightly. You wouldn't have known that we were from the division below as we kept Cambridge at bay without too much problem. But we also still failed top produce any clear cut chances ourselves. We did however manage to produce several corners that all seemed to be aimed perfectly at the head of the full-back who guarded the near post. Midway through the first half, Bailey goes down crocked and has to be replaced with Lafayette. So that's at least three central midfielders that are on the physios bench now.
We also get to witness a rather comical red card for Cambridge just before half time. Taking it past two defenders, the Cambridge fella then attacks the last remaining man between him and the penalty box, Beckwith. Knocking it easily past him, he then for some reason known only to himself flings himself to the ground like in a proper Swan Lake fashion. Straight away there are howls of complaint from the travelling faithful as the ref's just given a free kick. Clearly he's just taken a dive, but did the ref see it? For once he did and quickly dishes out the fella's second yellow of the match. If that'd happened to a Sutton player, I would expect some punishment from the gaffer on it.
All of a sudden, despite being a man short, Cambridge are attacking and a free attacker gets his foot through the ball and lashes a shot that wobbles the cross bar. And who gets the rebound? Jabo Ibehre, who incidentally played a very important part along with our own Downer in my Division 4 League Two Leyton Orient FIFA 2004 winning team. Anyway, his shot is scuffed and a bit weak but it still bounces past the dive of Butler and into the back of the net to give Cambridge the lead right on half time.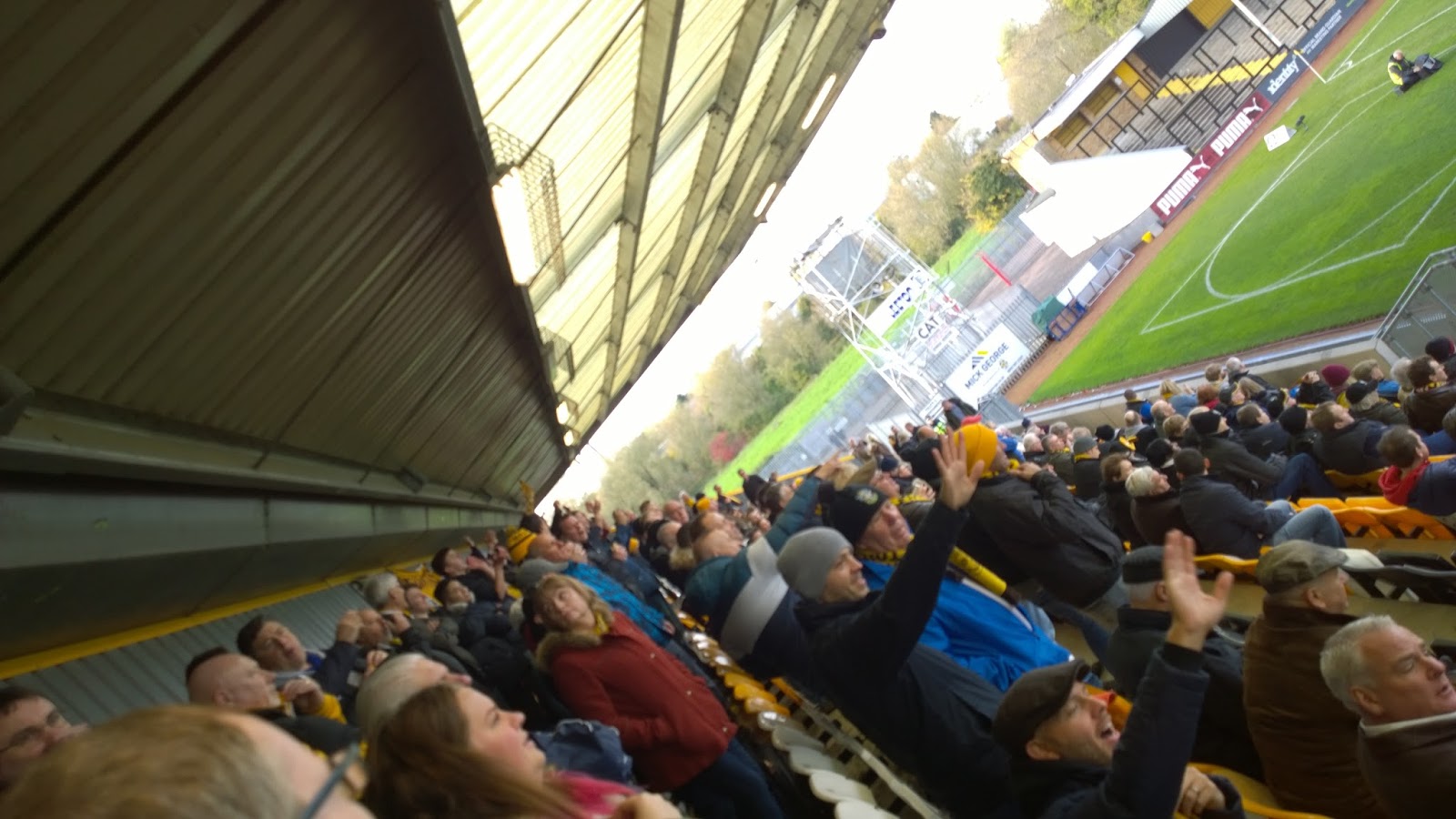 Blimey, away fans!
Second half and Sutton are attacking the away end. The Legend that Dundas (my personal MOTM) kept on causing various issues in the Cambridge defence but our final ball into the box continued to let us down. Cadogan, who was having an otherwise quiet match, popped up to smash a ball against the outside of the left hand post. Cambridge did have a chance to kill the game but luck was on our side for once as the shot came off the inside of the far post and calmly out as some of the home support cheered thinking it was 2-0.
On the hour mark, Wright is replaced with Jeffery and from the off he gives the full back something to worry about with his pace. So much so, that the little ginger fella was to be given the man of the match for his troubles. Talk about two sides to the same story. The game does start to get a bit bitty as both teams try to effect the outcome with different tactics.
The Wanderer Thomas was finally replaced with Coombes with just over five minutes to go and Sutton went with three at the back. This could've probably have been done a lot earlier to get more effect but Sutton still toiled to break down Cambridge. We even had several corners that once again failed to trouble anyone but the first man. Coombes has a shot that the keeper saves well, but eventually time runs out and the man in the middle brings the curtain down on a another year of FA Cup action, just a bit earlier than last year.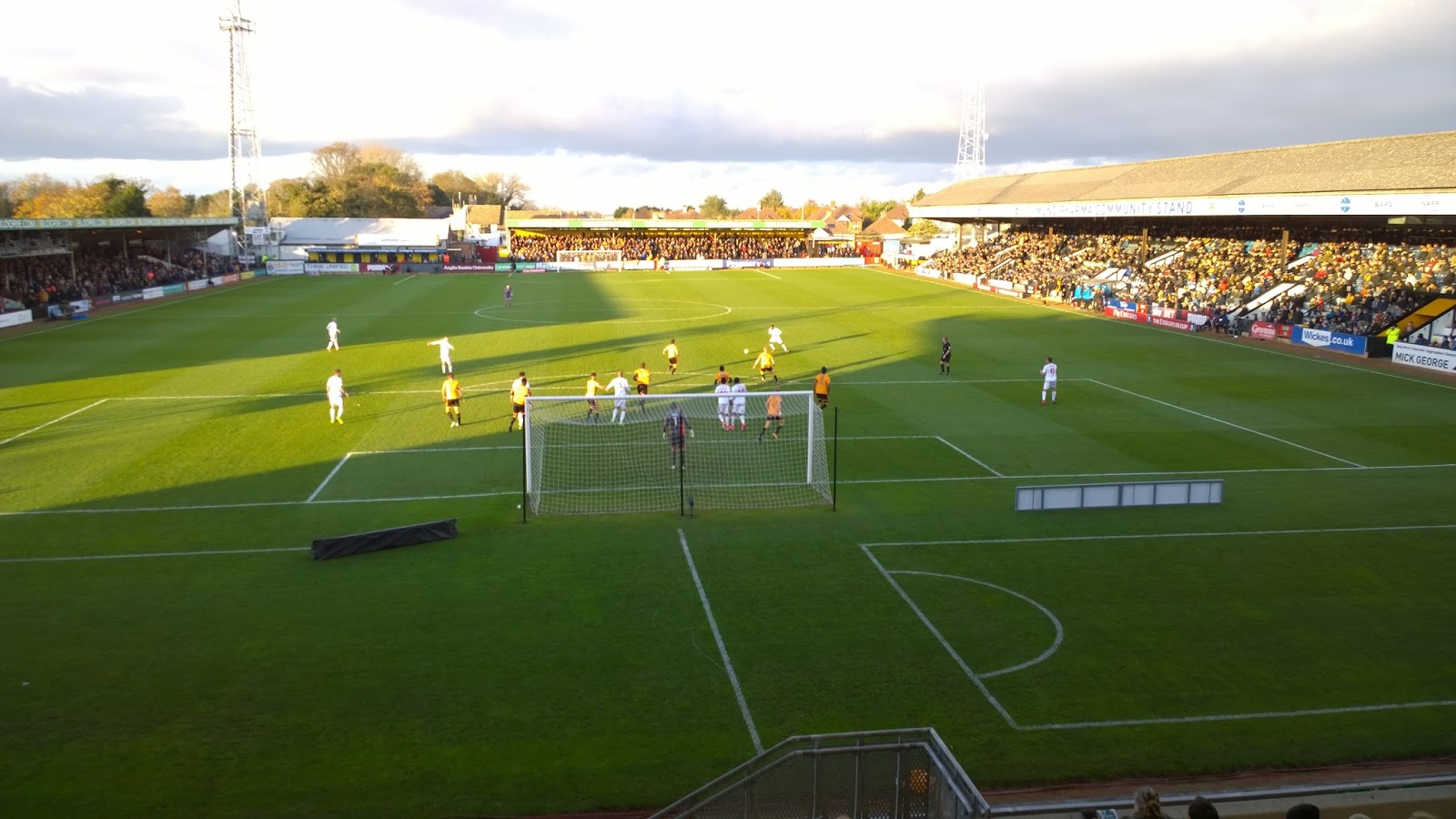 Not a bad view really…
A rather frustrating game really. Sometimes a comprehensive defeat feels better than a performance that promised much and ends in an unfortunate reverse. Another injury that we're going to have to deal with too. I also think that we have a full-back issue and the simple fact is we're probably not scoring enough goals. Not that I'm individually criticising anyone, I know that's not allowed. But no doubt it'll all sort itself out in good time.
The whole set piece issue is something more endemic I think. Since before the time of Our Lord Dos has our attacking set pieces seemed a lot worse that what we have to defend against at times. If we all had a pound for the times they've hit first man, we'd be a lot richer than some of us are now. Except maybe the Firm Leader…
Leaving the ground, it's time to do what we do best and drown our sorrows, so next on the pub list was "The Wrestlers Pub" that turned out to be as shut as it's possible to get, so instead we head to "The Corner House" to argue over the match. A quick pint down and it's then off to pastures new. Past one of the most random kebab vans in the world we find "The Dobblers Inn" that appears to be a bit like one of the expensive Fuller's pubs back down South that have those weird menus…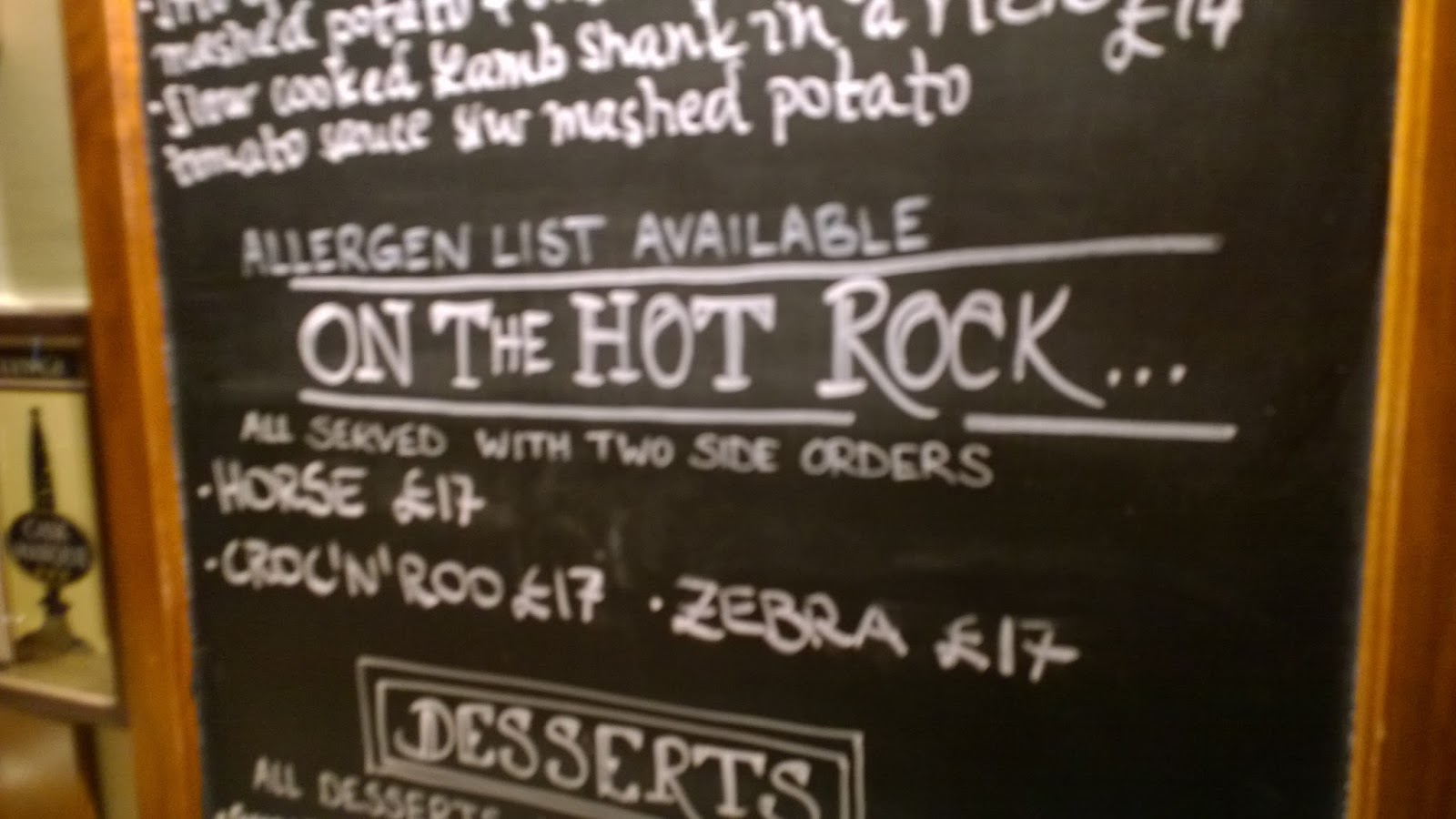 Mmmmm…Croc'N'Roo….
You gotta love Cambridge at times. It can remind you of what pub life was like back home in the gold old days. Because it seems like every other back street corner has a little pub on it. "The Alexandra Arms" is next and this really is a gastro-pub. So much so that the fellas think its funny to buy me some sort of rhubarb flavoured cider for my troubles.
By now the pace is picking up and another pub is soon frequented as we head to "The Geldart". A pint later and it's back to the Devonshire for a couple before we depart. Here with a change of staff having taken place we're served by a young lady, who won't be winning any customer services awards in the near future. Blocking the aisles is a fire risk, my arse! Shame really as the Devo was probably my pub of the day.
With time now upon us to leave the fleshpots of Cambridge, we all head towards the station. Stopping off at the local Sainsbury's we stock up on some food and drink for the journey. Surprisingly there are no 24 Buds purchased on this occasion. There are instead crisps, Pringles & Yum-Yums, as well as six mince pies purchased by Steve, who's obviously feeling festive. Not much is passed round, well maybe the crisps as they're soon thrown around the place and the only bit we see of the Pringles is the empty tube when it hits Dr Bell clean on the hooter. Don't know who threw it, but it was a good shot.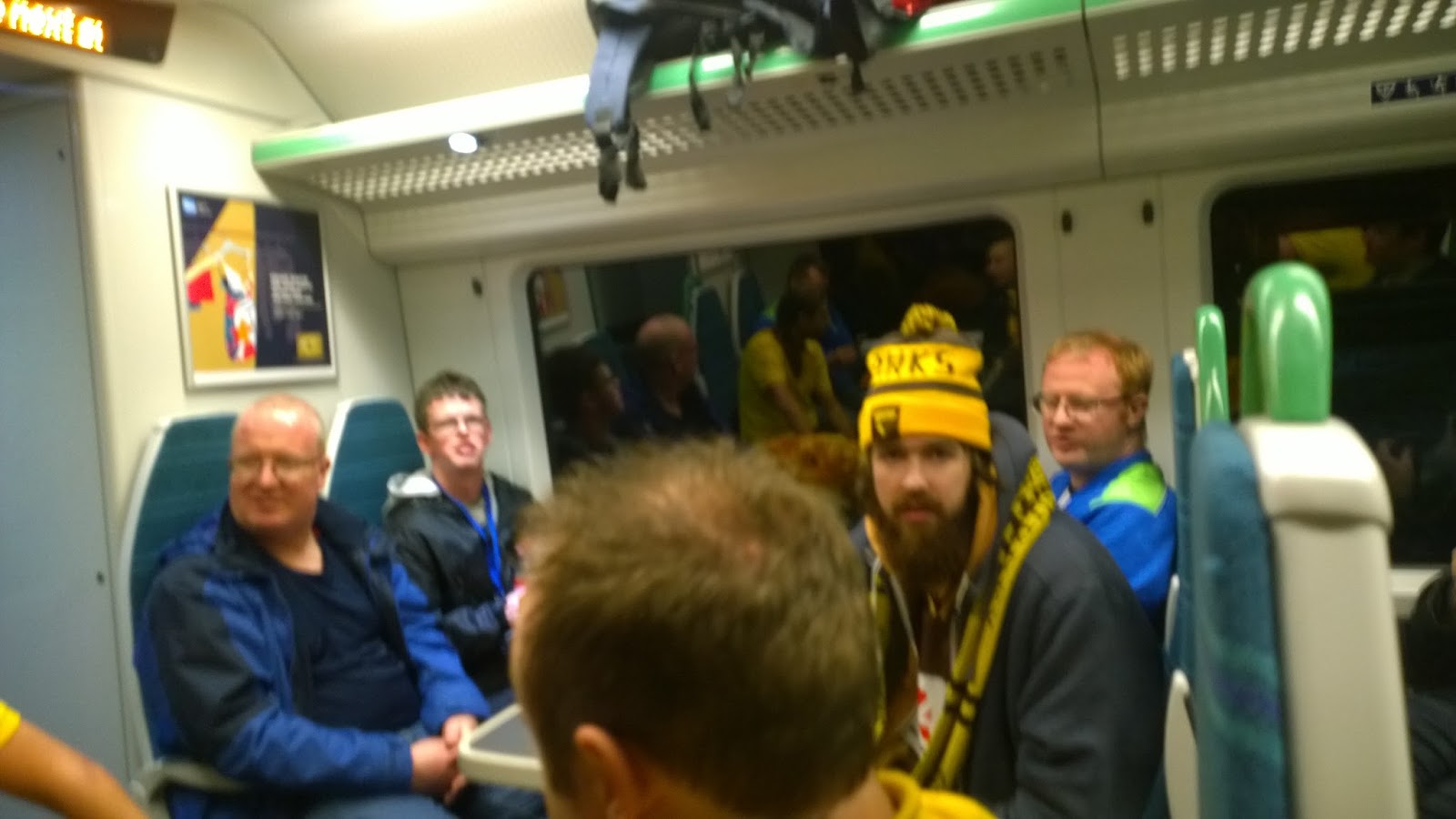 Who threw that?
We arrive back at Kings Cross and head onto the Underground with Victoria as our destination. Except Rax that is, who heads off to Vauxhall to try and get home to Leatherhead. Don't ask me why, because I didn't ask him. At Victoria the usual Croydon bound lot say their goodbyes as the rest of us head South of the river.
That is where the journey ends for me as getting near the Badlands of Carshalton I decide that a defeat doesn't constitute another beer, let alone a night out in O'Neills. Saying goodbye I head off into the dark to moan at several different kebab houses that don't have any Chicken Doner left. Don't know what happened to the rest of the mob but it probably would've included trips to O'Neill's, 'Spoons & probably even Tapuri if I know them…
So with no cup adventures to distract us, we're back to league football this weekend with a trip up to Solihull. Well, a right drink up in Birmingham before and after at least. Hopefully it won't be anywhere as bad as our last visit there, but you never quite know with Sutton. Still, it's only a tenner for the train and it appears that there are a good few of us making the trip. Doubt it'll be anywhere near the almost 500 to make it up to Cambridge but you never know…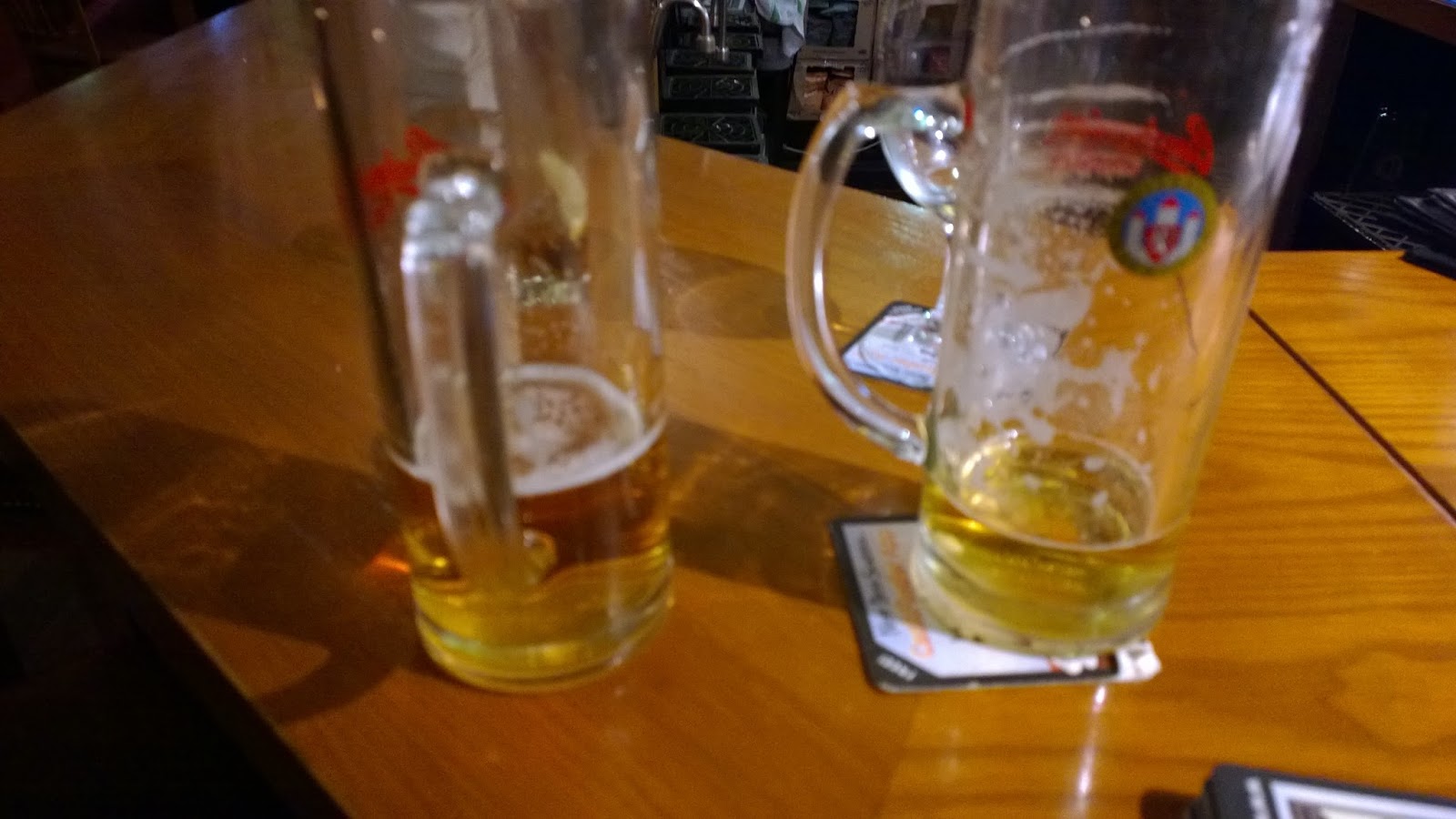 How we all felt at the end of a long day…
Duke
Att. 3070