Ah Ha! Our trip to Birmingham has finally arrived. Seems like a lifetime ago when I passed over a crisp tenner to a Gandermonium Travel's executive organiser for this one. And yet it never occurred to me that this was going to be a long trip. Especially when you realise that your return leg departs form the Midlands after nine o'bleedin' clock.
During the week we got the news through that Our Lord Dos had pulled in a couple of ringers. As you all know, we're a little short in the central midfielder department. And I'm not talking about height either before you think about it. Although you probably just have now that I've mentioned it. Well anyway, I've never heard of this 'Egan' geezer but that Bolarinwa fella, he sounds very familiar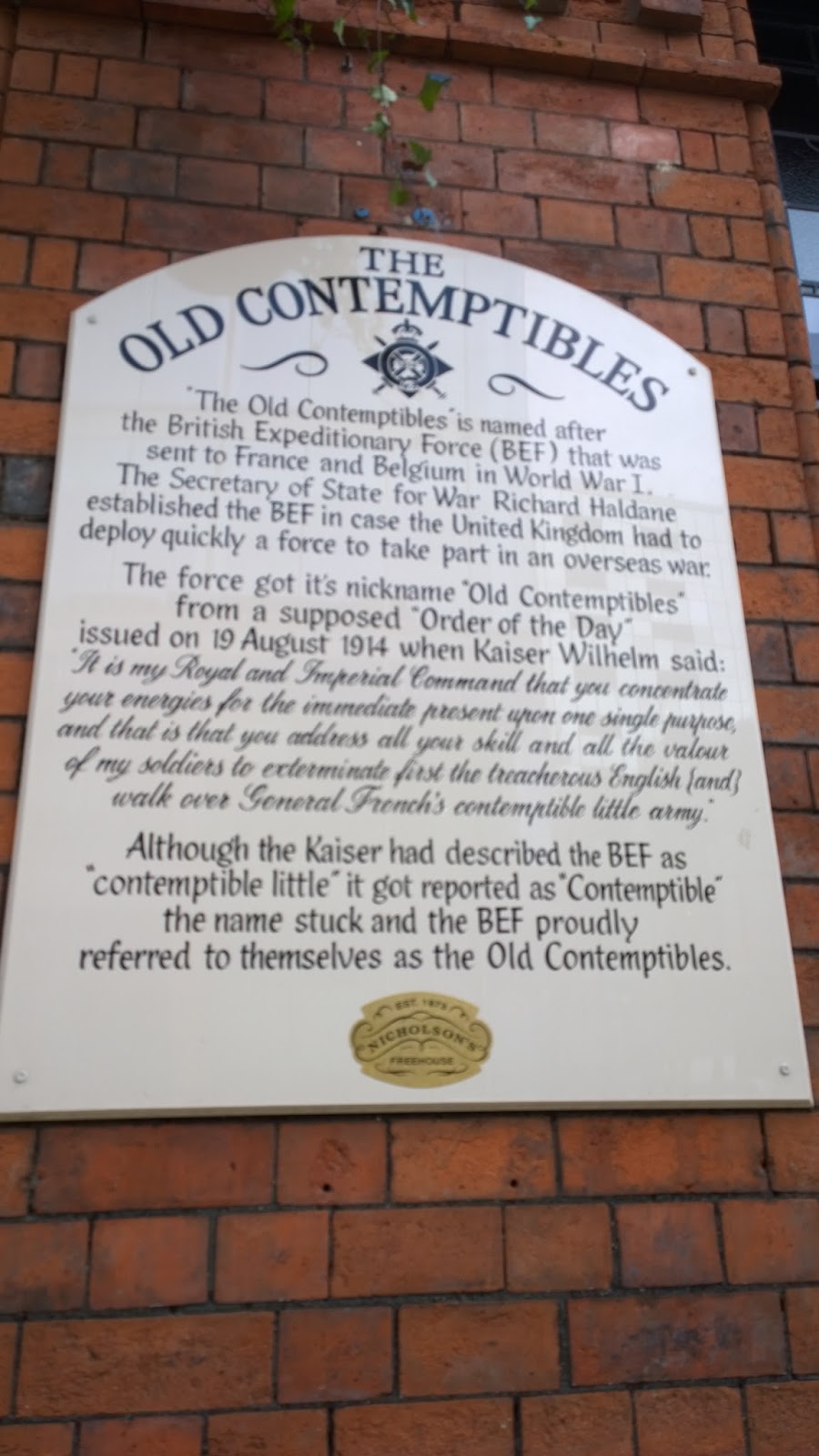 Gandermonium does History….
With pretty much a carbon copy of last years little excursion, we're all due up at Euston for a 0923hrs Virgin Express. For me that's the 0802hrs off Carshalton. And unlike last year, with the whole Dr "I'll do an Alan and miss the train" Bell incident, he decided to not go for the mysteriously disappearing 154 bus to Morden this time and instead catch the same train as me. Although he still went out the night before and had one too many shandies it seems.
Arriving at Victoria, we slump onto the Victoria line and soon enough we're at Euston with plenty of time to spare. So much so that we can go to Sainsbury's and get some breakfast. Along the way we spot Indy & Sean Connery's Stuntman having a drink inside "All Bar One", yep that's right not even nine o'clock and they're starting already. Gonna be a long day of that. Still, it was raining outside, so they were probably just keeping dry.
"Miss the train" Alan is soon spotted, as well as Mr X & Irish Pete. Shortly afterwards Southampton Steve arrives, despite the fact he'd gone to Wembley the night before and is already knackered. So with everyone here we head towards…Hold up…Are we missing anyone? 1,2,3,4,5,6,7,8…We're one short. Howe many tickets have you got Mr X? 15? What? Copies? Fuck that. Taz was late, he made it though. Eventually. Just.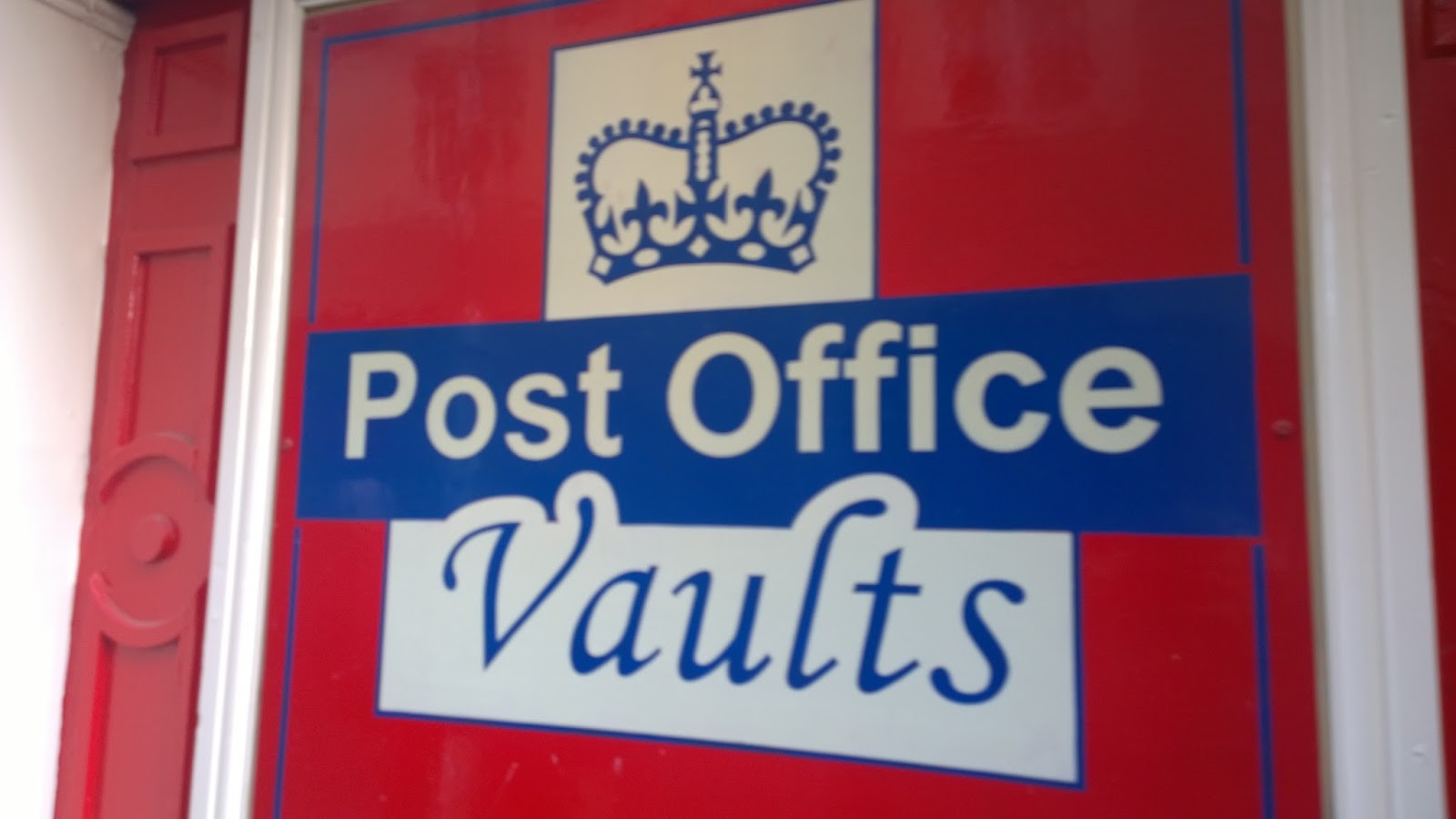 Home of the Gandermonium Bar Billards championship…
The trip up is comfortable and even 4 Days joins us at Birmingham International as he'd been watching the Garlic's vs the Leeks in Paris the night before and jetted in. Conversations are kept at their usual sober levels. From Southampton Steve's trip next year to New Zealand (what do you mean you never heard about it?), past my usual drunken Amazon purchases, to Steve commentating that a recent online problem would be like "trying to talk semantics to a dolphin", well I do know this one fella as it happens…
As it was before eleven when we arrive, many of the local establishments are yet to open. And for once, we didn't even go to a 'Spoons! Outside the station is "The Shakespeare" with added bouncers outside on the door already. So we head to here as people needed cash out and we were in time for the two minute silence.
Next on the list of course "The Post Office Vaults" a classic of a place. Not cheap mind you. Especially the 8.4% Porter that Sean Connery's Stuntman went for. But this is the venue for the "2nd Annual Gandermonium Bar Billiards Championship". That resulted in Mr X sweeping the field as 4 Days surrendered his title from last year with barely a fight. Still, he did better than ol' 'Ten Points' Taz, who built breaks at the pace of the fucking Pyramids going up. Still, we need to get one of these down the Clubhouse I reckon…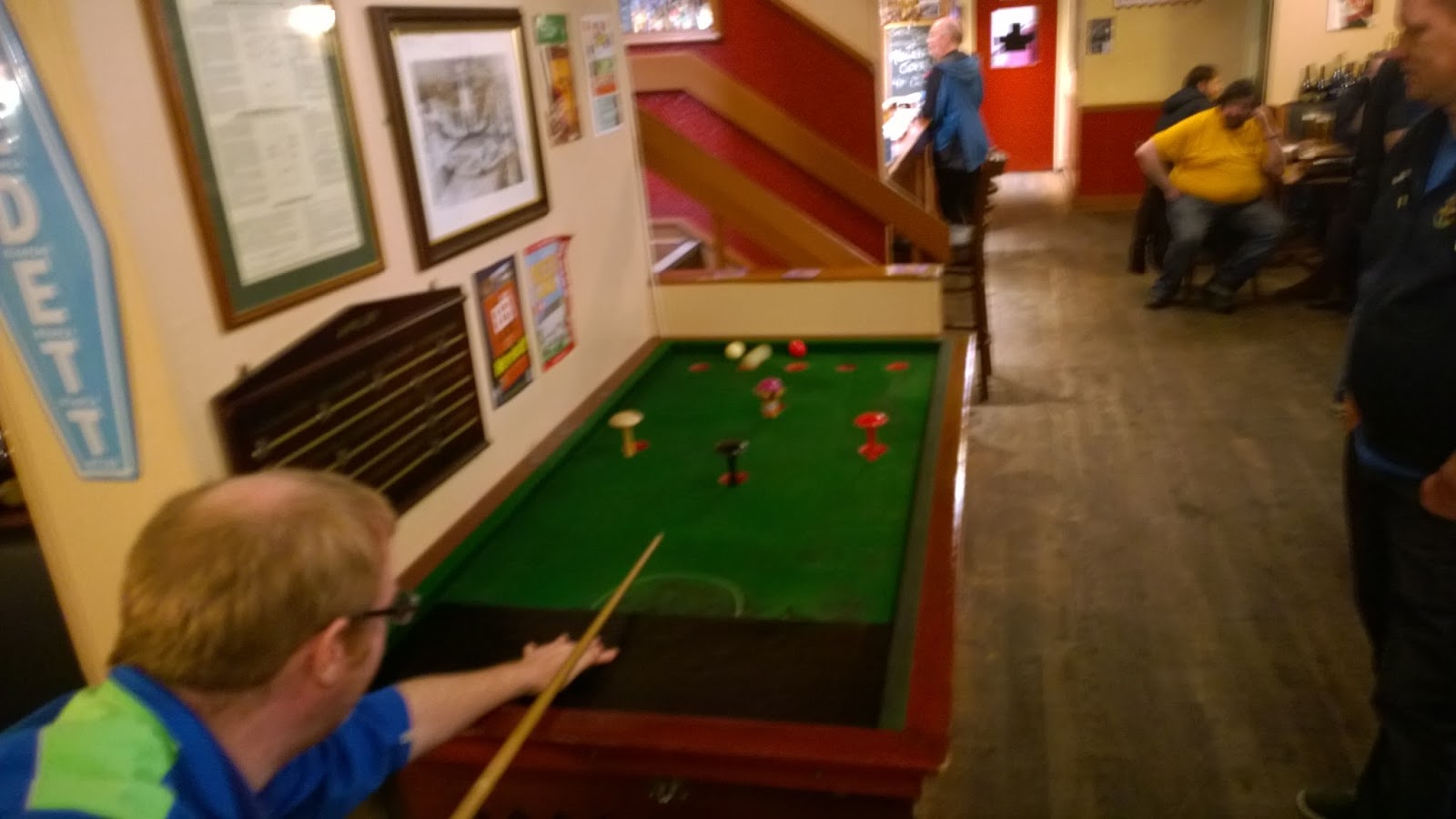 Don't hit the Pop-Up Pirate!
Several pints later and we head off to the other gaff we went to last year, "The Wellington". A lot quieter than the last time as well, as there was no Villa fans around what with it being International Weekend and all (do they have any?), but we soon make up for it with a lively debate about the going on's currently at Dulwich. Just check out their rumoured weekly wage bill for starters.
With nowhere to really drink in Solihull itself (there might be, but we never bothered looking) we mange to squeeze in a quick pint in the only other pub we've been in before. "The Old Contemptibles" by Snow Hill station, quality name for a pub, has us chuck down another drink whilst Southampton Steve manages to name something like 23 Saints guv'nors there have been since the invention of Football in 1992.
Quick train ride to Solihull and we're sorting out cabs to take us to the ground. Arriving there, we head into one of the three bars available. And at £3 a pint it's not too bad. News of the team line-up show that not only is Spence not in the team but not on the bench either. Don't think he'll last much longer unfortunately at this rate. £15 entry, £1 more than last year, and we're taking part in the traditional two minute Rememberance silence before taking our spot at the far end of the ground.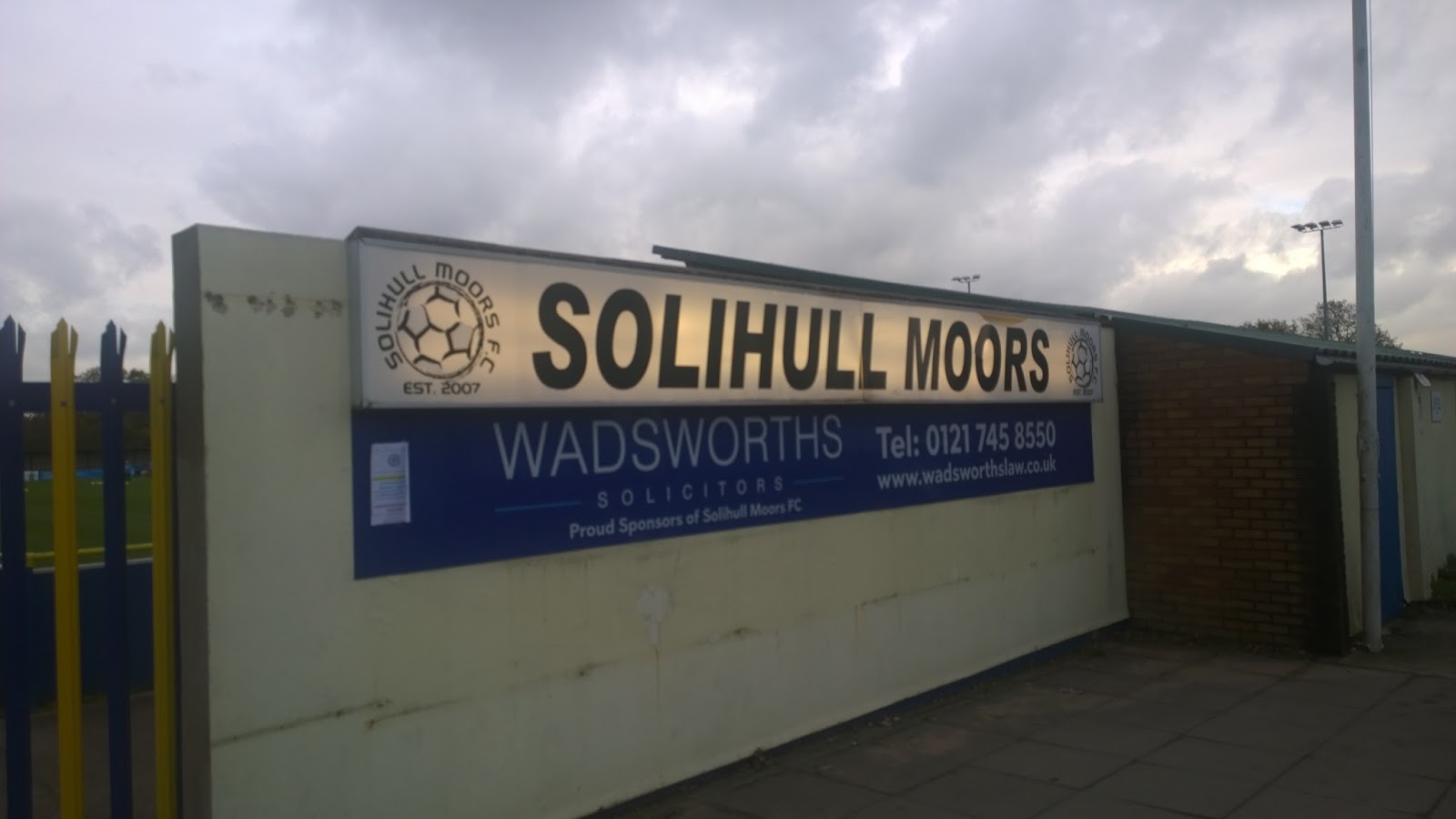 Always thought Moors were from North Africa…
Butler, Thomas, Beckwith, John, Collins, Davis, Lafayette, Cadogan, Dundas, Taylor, Bolarinwa. Bench Warmers: Coombes, Wright, Jeffrey, Downer, Egan.


Inside the first five minutes, Sutton thought they had taken the lead. Bolarinwa was the man with his first cross of the day that was inch perfect for Dundas to get in front of his marker and head the ball home. Unfortunately, once again we got to witness the abysmal officiating at this level as the linesman somehow gave it offside. Someone should get him a rule book for Christmas methinks.
A Solihull fuck up eventually gave Sutton their deserved first blood. Starting with the keeper, who was chased down by Lafayette, scuffed his clearance that only went a far as the defence in front of him. Not happy with that, the defender then lets the ball run under his foot towards an expecting Taylor. He then put the ball through to Lafayette and he smashes it under the keeper into the back of the net. 1-0!


Sutton could've made it two several times with various shots, but the danger from Solihull was always there. Sutton should've been awarded a penalty when Beckwith nearly had his shirt ripped off, but judging by the state of the linesman from earlier, we weren't going to get anything from him. There was also some resolute defending at our end, including an amazing tackle from last man Bolarinwa. Solihull's best chance was probably came with an effort that came off the inside of the left hand post after a header.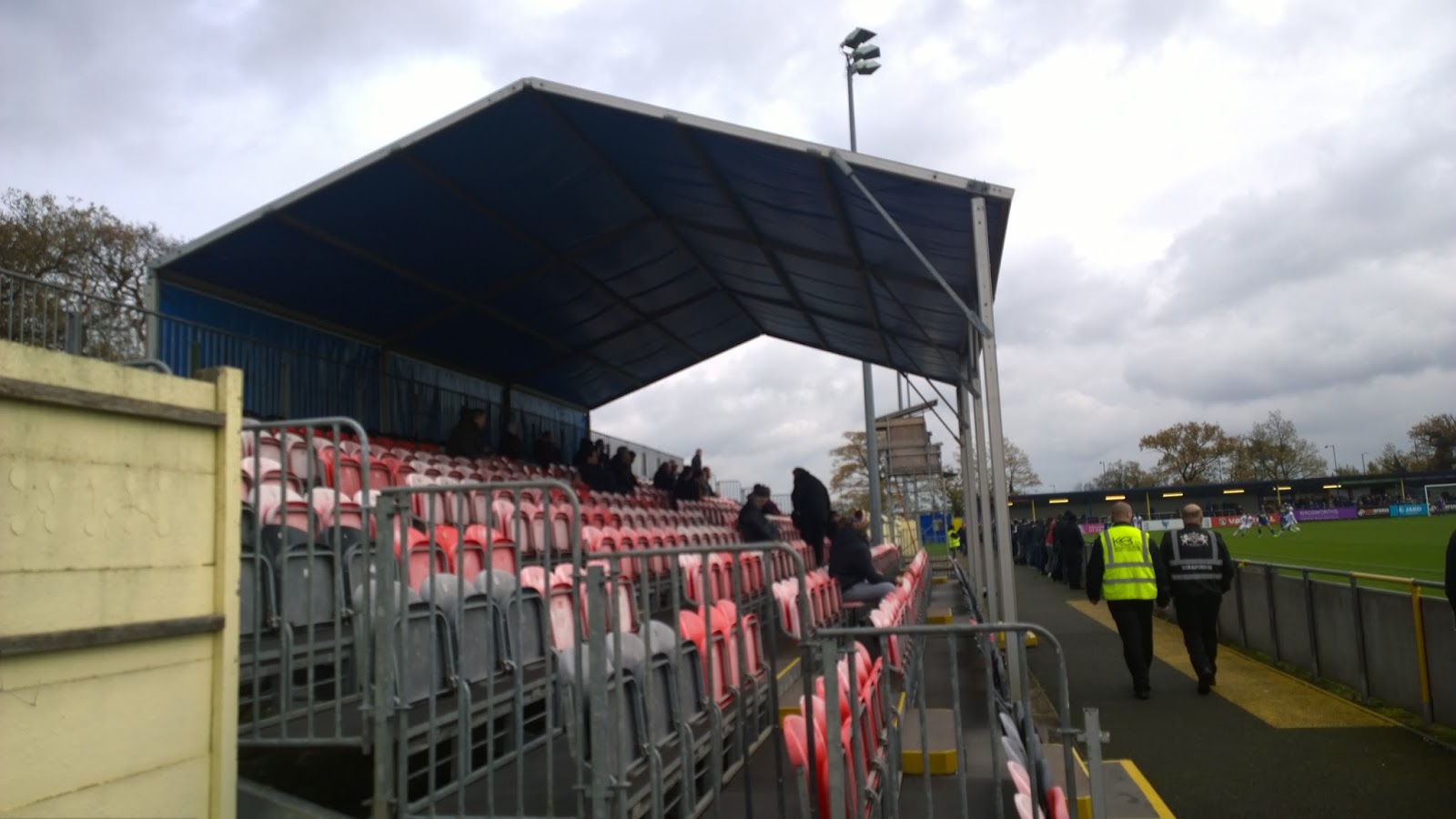 Crowds!
Second half, and it's no-where near the spectacle of the first, still both teams stuck to their game plans. Sutton continued to use Cadogan & Bolarinwa on the wings and Solihull were either looking for a counter attack or were trying to bring their the long throw into play, but mostly the latter. Cadogan once again had one of his trademark rising shots tipped over the bar for a corner.
Midway through the half, Cadogan is replaced with new boy Egan. This part of the match seemed to die a little and the only action was from behind the goal when several people (myself included) were 'asked' to not smoke at the covered end. The only result was that I had to watch the rest of the game from the sidelines instead. Being the stubborn fucker that I am.
With less than fives minutes to go, Sutton finally put the game to bed with a second goal. Deciding on not bothering with the Arsenal bollocks of 40 passes to create a chance, Sutton give it a bit of the old skool direct play. Butler kicks the ball up field onto the noggin' of Lafayette. He gets the ball into the path of a marauding Dundas. With the keeper making a late charge, he calmly lifts the ball over him into the empty net. 2-0!


Downer is brought on for an already booked Taylor and Sutton see out the remaining of the clock not troubled by anything that Solihull could muster. And let's face it, their heads had already dropped by that point with the second goal and were more than likely just wanting to hear that final whistle and trundle off down the tunnel.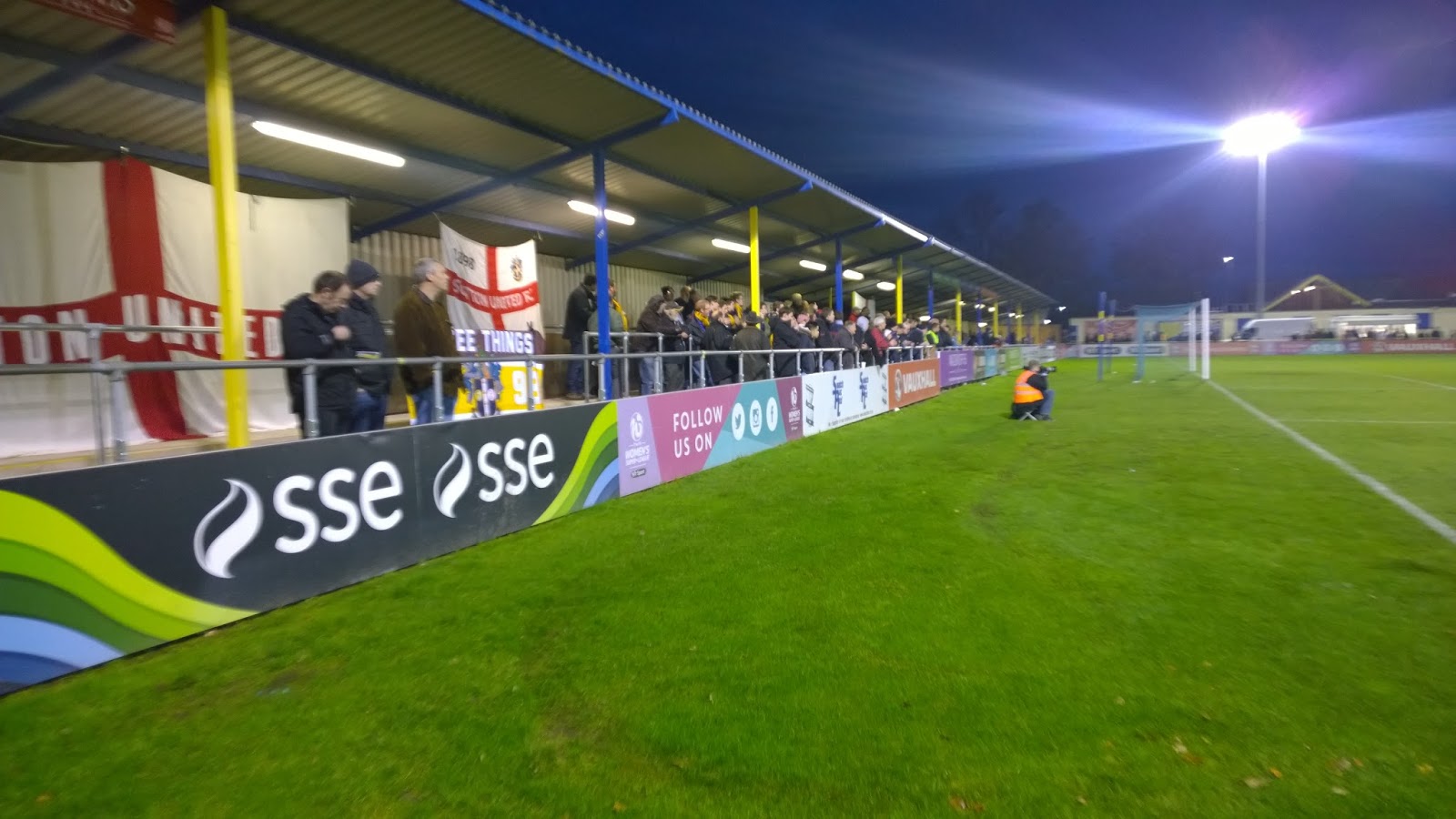 The view from Smokers Corner…
Finally a win against the former Conference North champions! And considering that we're missing three of our central midfielders, not a bad effort from the lads. Thanks to "Card Watch" as it now seems that with Taylor & Davis both picking up yellows, we've now four players on four bookings apiece.
Back in the bar and it's a few jars as we see the other results come in. And it's as you were as all the top sides picked up three points. I still can't work out why the bookies still have us as clear favourites, but it was interesting to see that all three teams that have the so called 'plastic' pitch are now in the play-offs. Squeaky bum time for the league yet? Well, their HQ is back in town, maybe we could pop in and ask em?
After a bit of discussion and several pints, we finally decide on a taxi back to the station. Using the mobile app based service that the current Mayor of London detests so much we're soon on our way. And according to the cabbie, he reckons that there isn't much price difference on getting a cab from Birmingham central rather than the train and then a cab. But I reckon that nugget of info might be a season too late for us. Wink wink. No not that, I mean coming to Solihull again obviously…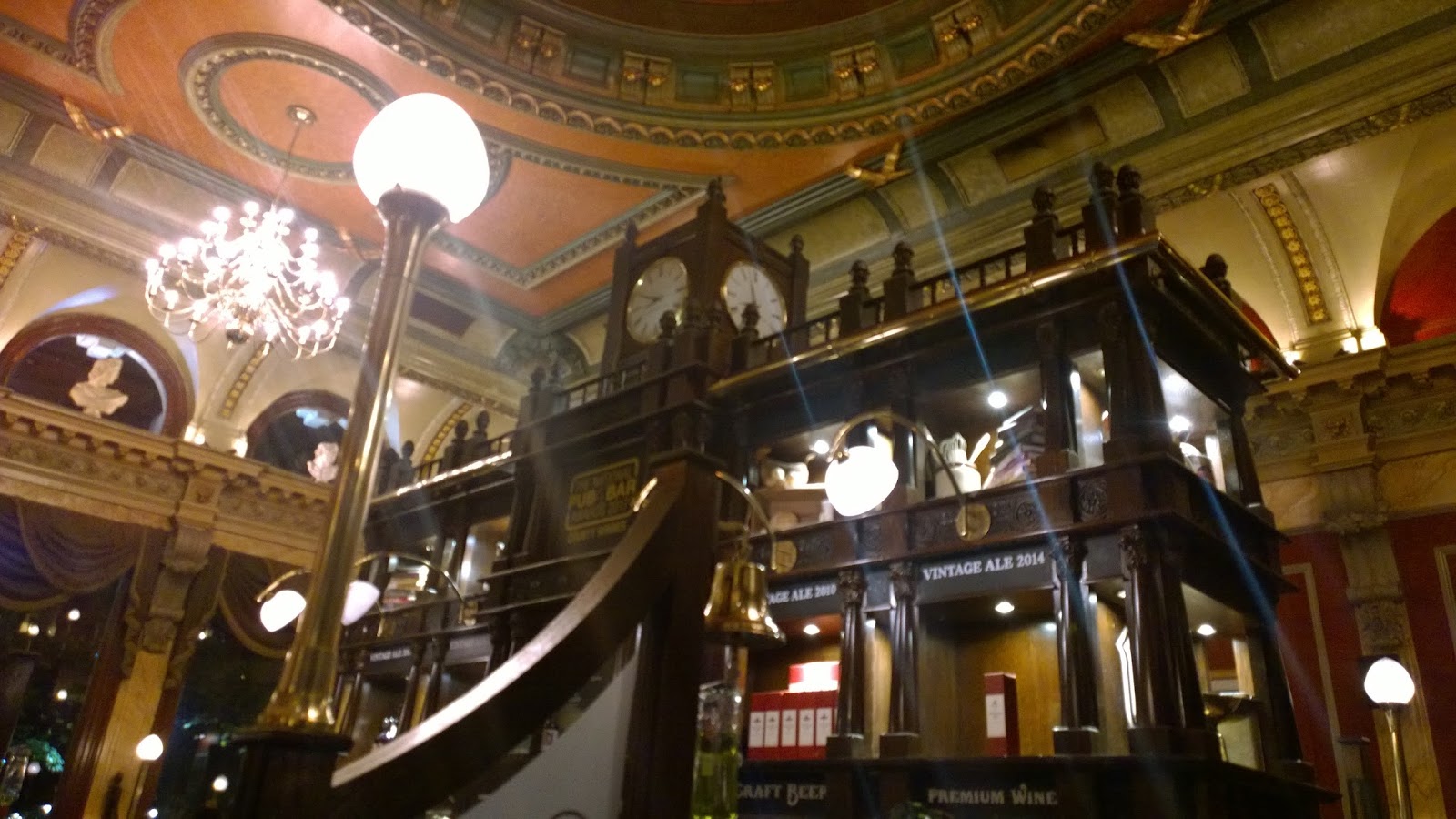 Fancy Pub Pic #1
Back at Snow Hill and it's a stop off at the "Old Contemptibles" once again. Quick beer and considering we've got time to kill until our post nine o'clock train, we head off for a new place. Down the road is "Edmund's Bar & Brewhouse", but after a pint we couldn't find Edmund so we leave and go looking for him in one of the other boozers we've looked up. Maybe it's his night off?
We soon stumble on "The Old Joint Stock" that was a little on the expensive side, well it was a Fuller's for fuck sake. But fuck me, what a poncy set up they have there. A right swanky place if ever I've seen one. I actually think this might've been the most expensive round of the day. Still, judging by the surroundings you wouldn't be surprised. No sign of ol' Edmund neither.
With Taz in charge of sourcing food for the journey back (he ended up in McDonald's), it was down to me to find booze. Ably helped, and when I say 'helped' I mean 'hindered' by Irish Pete & Dr Bell, we find a Tesco's near the station. And how were we supposed to know that there was two floors? Well we worked it out eventually and stocked up for the ninety minute journey back to the smoke.
Very Fuckin' Fancy Pub Pic #2
Taking our seats on the train we settle down for the trip. For some reason Taz brought me a fillet o'fish that he thought was quite amusing. But this was soon forgotten as Dr Bell had manged to lose the bag he was trusted with. Now the bag we didn't give a fuck about, but the 50% of our booze supply that it held was of more concern. Well, when I say 'lose', he'd only put it on the floor next to his seat, but this didn't stop him from traipsing up and down the carriage, first speaking to the conductor, and then hunting high and low before he was finally shown the error of his ways. Still, it was ten minutes of laughter for the rest of us while we drank the first half of the booze!
Out of nowhere, Mr X then produces some quiz cards that he'd 'liberated' from one of the previous pubs. And not only including us in this quiz, but half the carriage. Including a bird behind us that was quietly asleep before being woken up by our behaviour. Not in a Weinstein manner obviously. To be fair to her, she got most of the questions fired her way right. Fucked if I know anything about the Johnas Brothers or One Direction though. All I got was questions like "What is the collective noun for Flamingos". Apparently it's not a Flange, but that was the only thing that sprang to my mind at the time.
Arriving back at Euston at quarter to eleven, everyone starts to disperse at a rate not seen since Mr X had emptied his bowels at full time. As far as I'm aware everyone made it back home eventually. but I can't be too sure, Taz & Southampton Steve had left before we'd made it down the Underground. Irish Pete just disappeared completely as we got on the Tube and Chalmers of the Alan variety was last seen causally walking off at Victoria for a Waddon bound train that was due to leave in under three minutes. Personally, I was just thinking about my breakfast in the morning…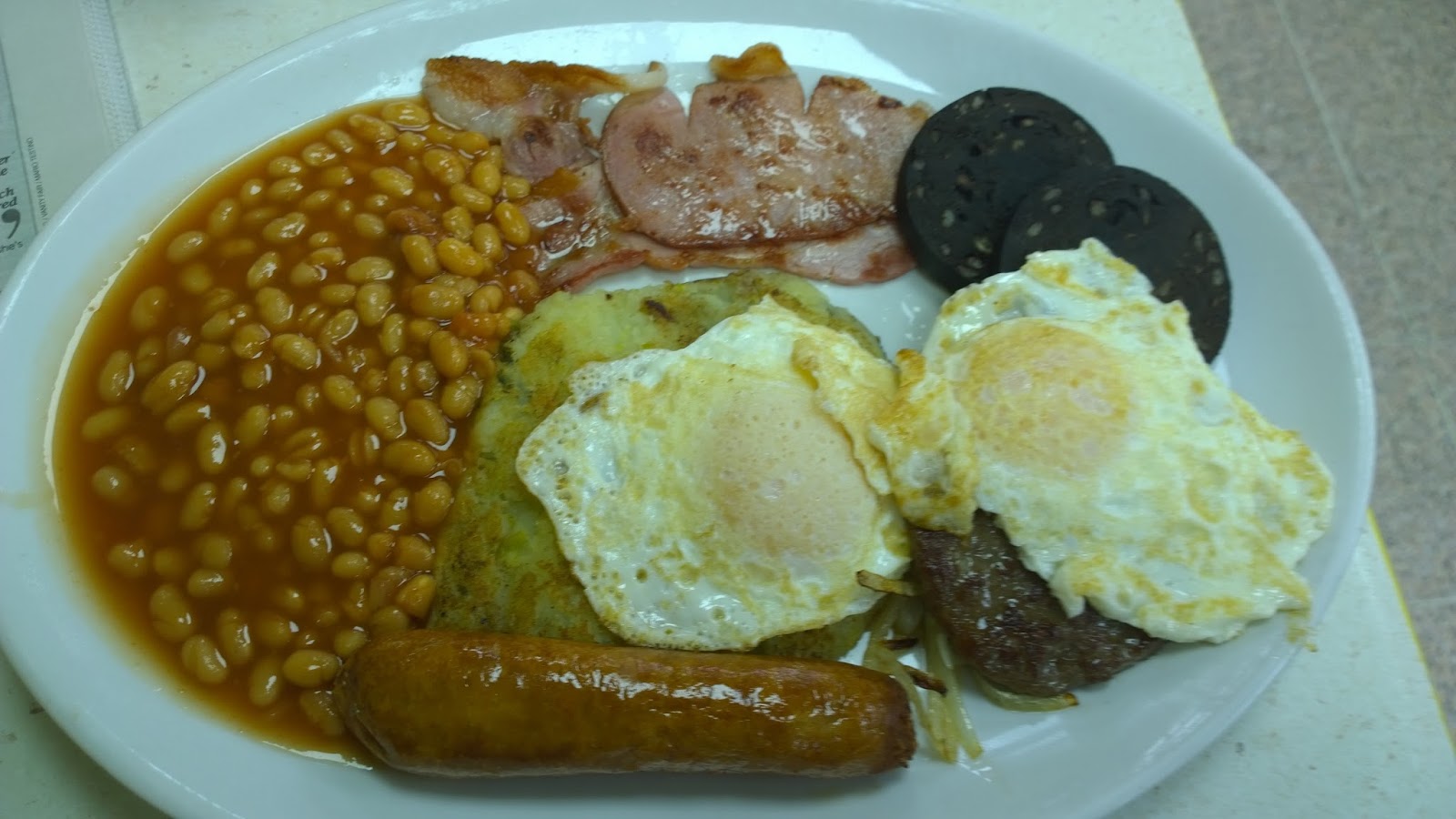 The Duke is hungry…
A simple trip back to the Badlands of Carshalton and I'm saying goodbye to 4 Days & Dr Bell. Mr X by this time was fast asleep in his chair. Lucky for them Crockett didn't make the trip or otherwise they may have ended up out later in various drinking establishments around Sutton than their Mothers would've have approved of. Just like last week.
We now move on to a couple of home ties. Thank bleedin' fuck for that because our next excursion is another little 'Oop North' trip. To Leeds and Guiseley to be accurate. At least we've all sorted out what we're doing for it. Nothing to worry there at all. Now about those drunken Amazon purchases again…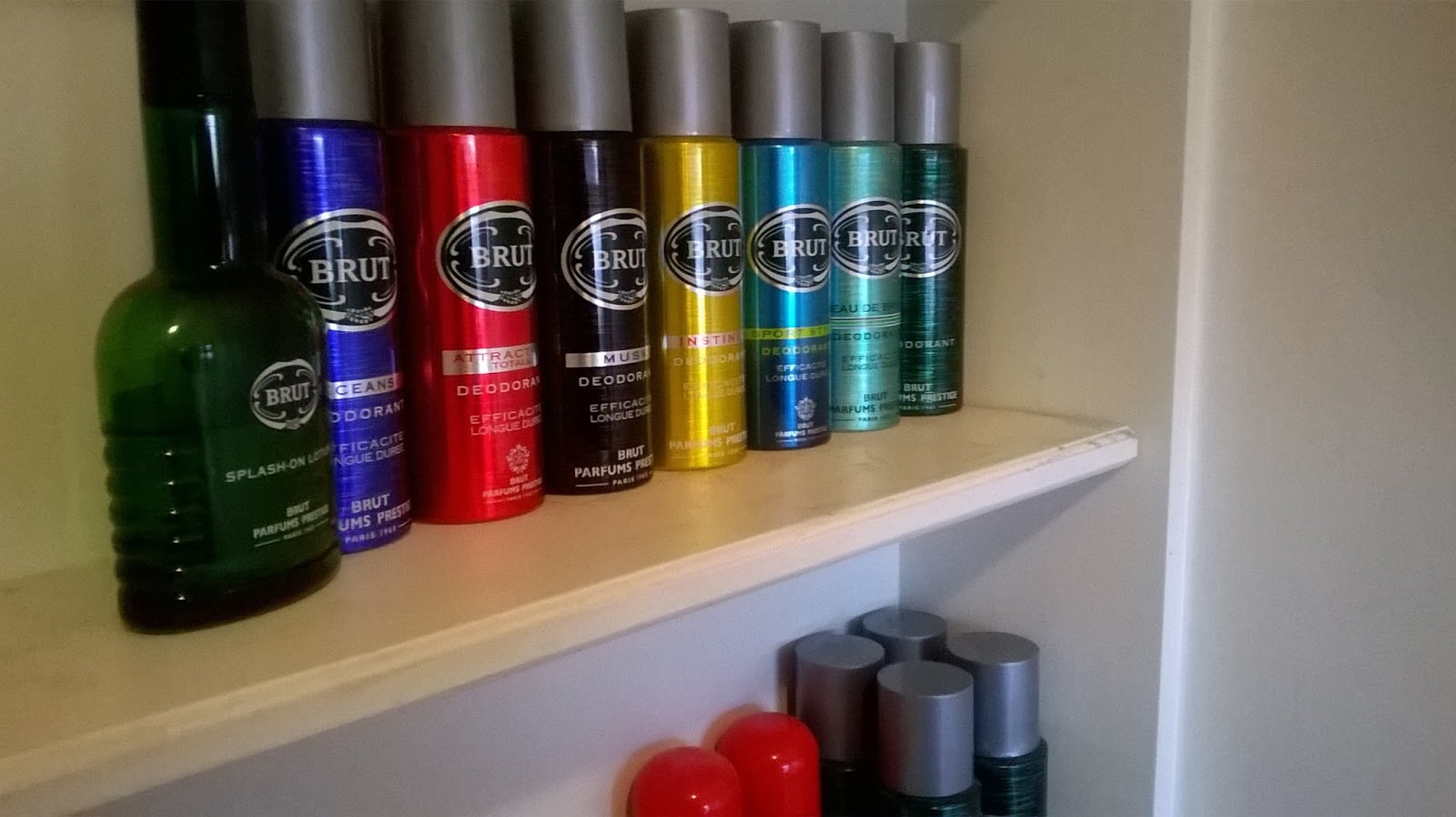 When will someone tell him he has a fuckin' problem?
Duke
Att. 729