We all remember the first ever football match we attended
including who it was to see, who was the opposition, the date and who you went
with – we've all been there. Today I
decided it was my nine month old niece, Emily's first game to be at Sutton
United. My own personal first game was with my Dad, Uncle Kevin and cousin George. Chelsea vs Sheffield Wednesday on 28 December 1996 ending in a 2-2 draw.
Little does she know but both
her mother and uncle attended Sutton United back in the day when an EastEnders
select eleven played a charity game and we both had our photograph taken with
June Brown (aka Dot Cotton). Little did we also know back then that June Brown
is also family (as well as Sir Elton John).
The majority of the Gandermonium chaps are up North, well up
North in fact, in Scotland attending a Forres Mechanics game; you have Totts writing for
last night's clash against a Norwich select eleven while I keep up the long running Gandermonium tradition for this latest pre-season friendly against Chelmsford City.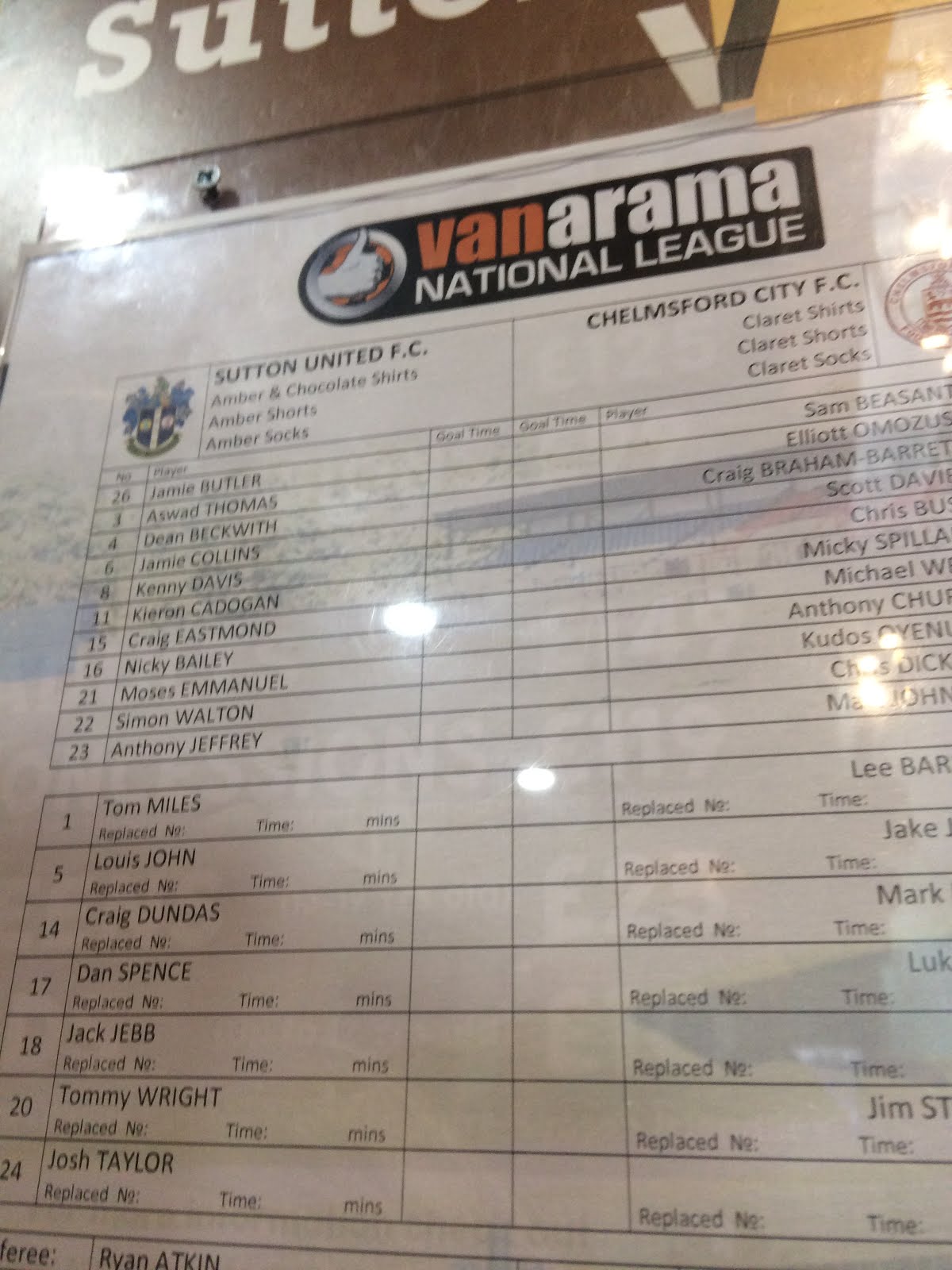 Sheet
I had arranged for my sister and niece to attend too – as
hopefully the last pre-season will cascade a number of first teamers in the
squad. Last night saw a dramatic victory
(three goals to two) against a select Norwich City squad. My sister picked me up just before two, and
we parked up around Jeffs Road. It was
fair to say my niece (Emily) was unsure of her surroundings but as I stepped
back from the bar she was doing her usual of having what everyone else had
around her – you cannot have a beer just yet Emily! She has, however, attracted a number of fans
already, as she always does, in the form of Millwall Terry and Chelsea Pete. Also the mother of one of Sutton's very own
successful under 9s, and an ex-Greenshaw pupil Leanne is a fan too. May I add my own congratulations to said side
on their success and for making the Sutton Guardian newspaper.
The bar was pretty empty, come next week though this will
not be the case. Oakesy comes along with
the team sheet and it is fair to say, it is a strong line up:
Butler, Bailey, Thomas, JC, Beckwith, Eastmond,
Walton, Davis, Emmanuel, Jeffrey, Cadogan. SUBS: Dundas, Spence, Jebb, Wright, Taylor, Tom Miles (GK).
For reference, on the team sheet for Chelmsford are ex-U's
Mickey Spillane and erm let me think about the next one…..Chris Dickson, who
you say – yep the much announced 'international' we signed almost one year ago.
Becca, Emily and I make our way round to enter, now at first
all appears well with Emily – she has a great view of the game standing beside
her Uncle. But by minute 15 she starts
crying – I don't think she likes all the shouting going on, good job
Gandermonium's own Taz is not in attendance otherwise it could have been much
worse and scarred the little one for life! (She'd definitely have learned a few new words, that's for sure! – Ed) But
she settled once back into her pushchair, although Emily does not last too long
and by minute 30 my sister decides to take her home – oh well Emily come back
another day.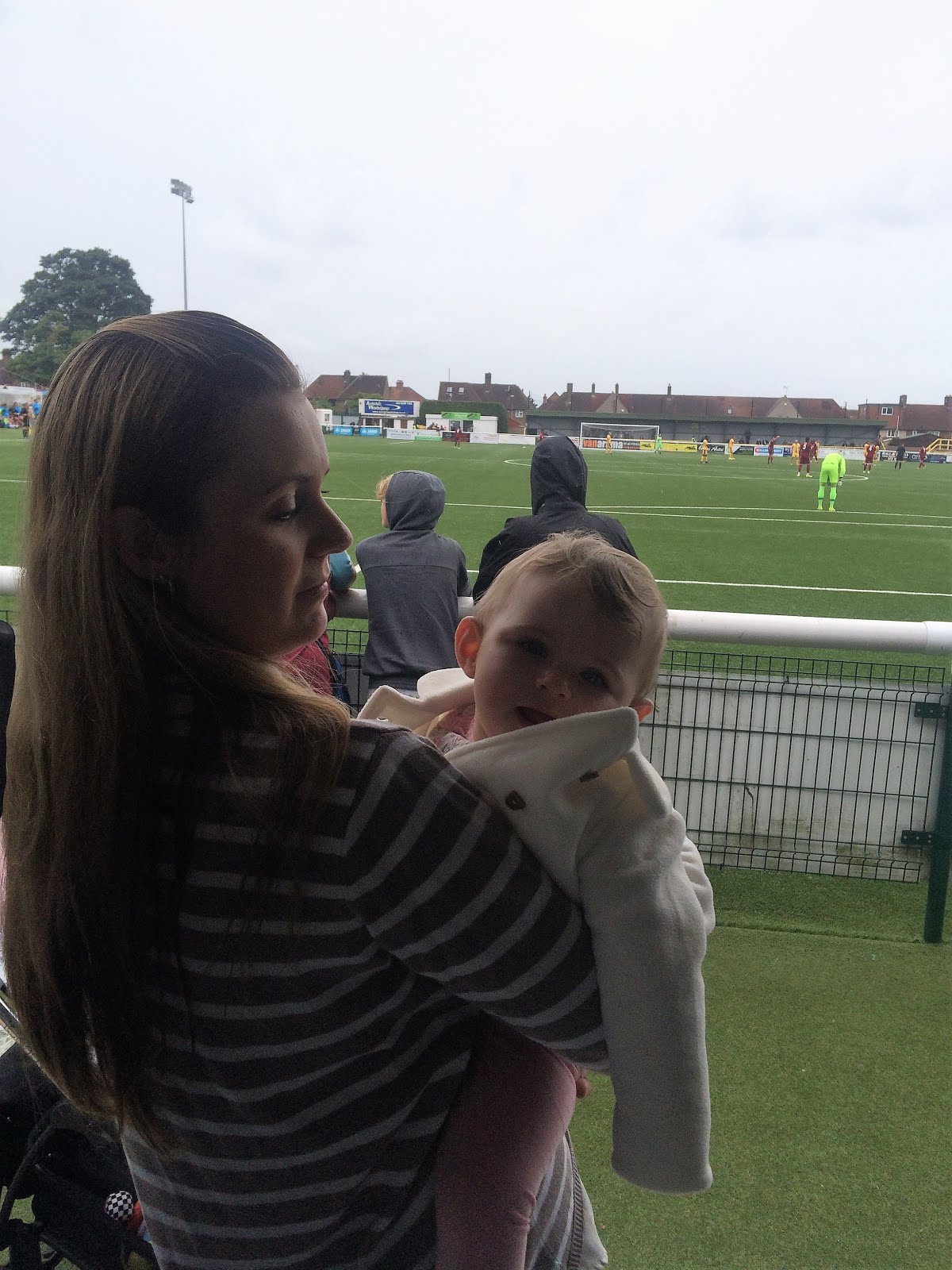 "This is crap. I was promised sweets & stuff…."
Back to the action, not much of note from a Sutton
perspective – that is until minute 18 when a Chelmsford free kick hits the wall
and is rebounded by a Chelmsford player to give them the lead – thankfully it
was not Chris Dickson coming back to haunt us!
Due to the lack of action, I did my usual go to the bar with
half time Steve and his nine month old dog Harry. We make a prediction on how many goals we
will both miss during the forthcoming season.
He tells me he has already missed one – the previous night against
Norwich. For what it is worth I predict
I will miss nine goals this season.
Come out to the second half to a much depleted shoebox,
although our very own Totts is managing to keep everything together there.
Changes have been made with Dundo coming on from Jeffrey in what was an injury
to Jeffrey, along with young Tommy Wright on for Simon Walton. I have to say I have been very impressed with
what I have seen and read about young Tommy, and he was proving it again today
by making himself available across the whole pitch and getting into the
opposition.
Another performance I have
to note is club legend Dundo – he looks a lot trimmer than before and was
giving the Chelmsford defence a lot of trouble.
However, it is still Chelmsford leading – until the 61st minute – a good cross field pass from Deano, flicked by Dundo for Kieran
Cadogan to finish and level the scores.
It does get better as two minutes later – Aswad (not of the
1980s reggae group fame) Thomas delivers a delightful cross into the box for
Kieran Cadogan to head the ball into the back of the net – Sutton lead. From that moment on, Sutton seemed to be
comfortable and see out the game to eventually winning the game by two goals to
one with Cadogan getting the man of the match award.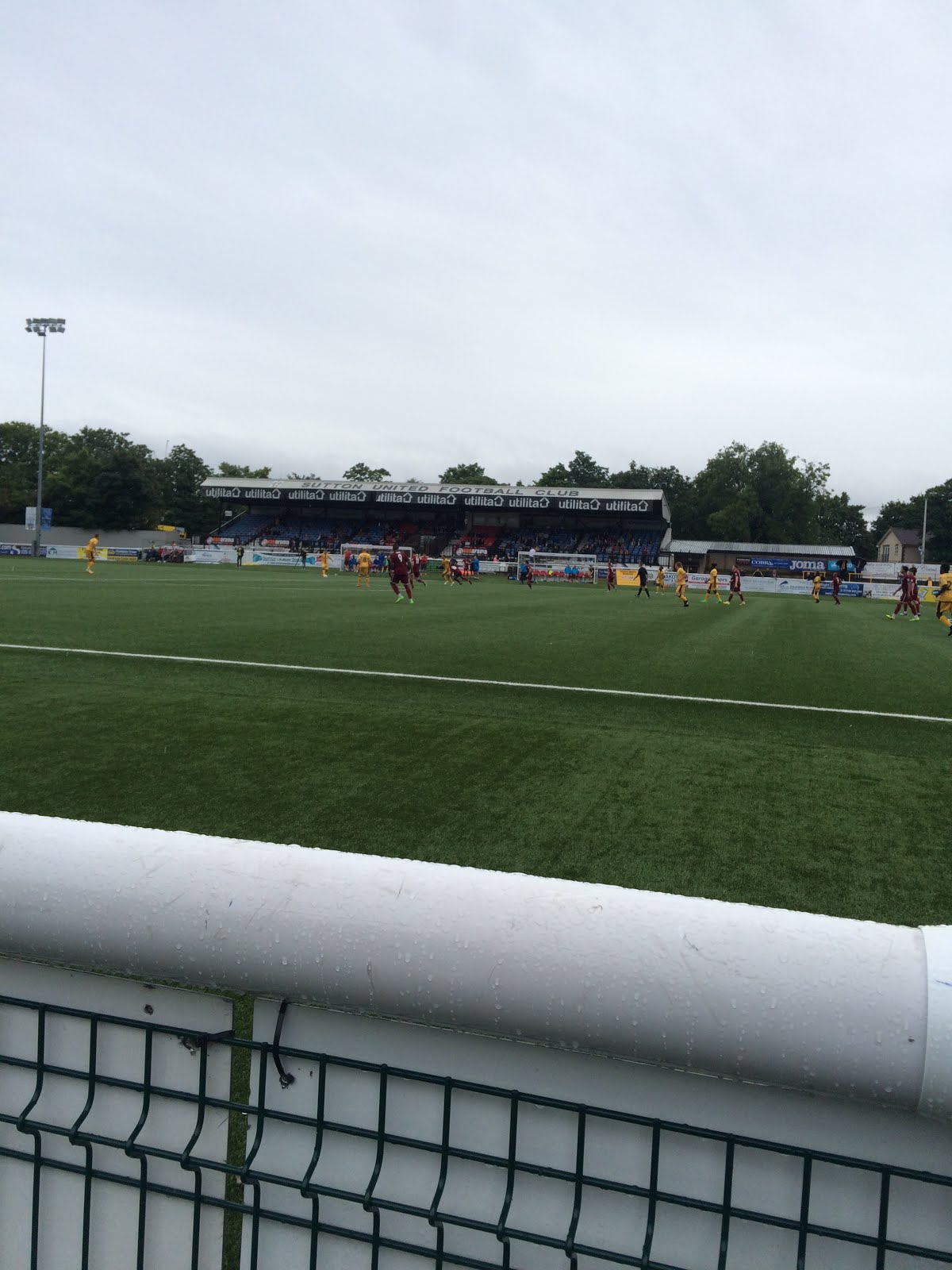 Action stuff!
For the statisticians out there the other substitutions out
there saw Josh Taylor on for Moses Emmanuel on 62 minutes, on 77 minutes Jack
Jebb for Kenny Davis, Dan Spence on for Nicky Bailey and Louis John on for
Deano. No bookings made.
This blog will have been fully completed by the time my
other fellow contributors have landed back from Scotland – they were even pictured on BT Sport at the Dundee vs Dundee United game. And very sober they looked too. Which is most unlike them!
Oh and for those who may have wondered how Emily had fared on her first visit to GGL, I can confirm she was perfectly fine (No need to call social services then? – Ed). One day you will
see her be a mascot, I guarantee it. I am just so proud
of her and will always continue – ok guys and editor I know these blogs are not
for soppy-ness but I just cannot help it, I know we have a reputation to
maintain!
So that's pre-season over for this campaign and it has been a
great work out for a number of the boys.
Hopefully, some will have given our Dos a headache on selection. Now we look forward to next week and the
first game of the season – and it cannot come any bigger than Leyton Orient – a
once long established Football League club.
And what is more – it is being screened live on BT Sport.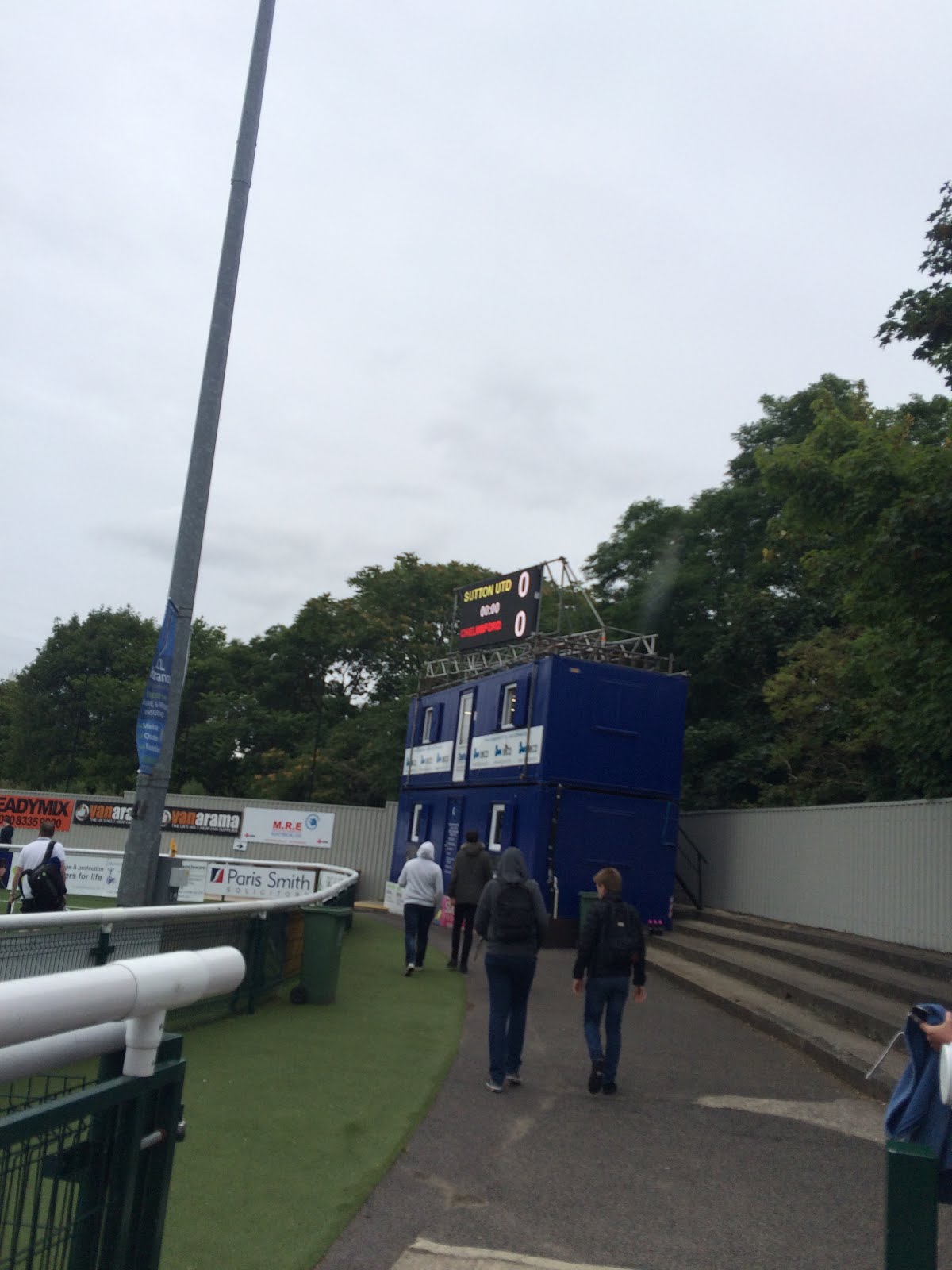 Walking!
I therefore hand you over to whoever it is doing the Leyton
Orient game.
Wise men say……
Robbo