Can you believe I'm actually doing another film review for this bleedin' blog? Well I say 'doing' as most of this was actually written back in the old Conf South days. Now some might say that this is a sign that the boredom of life without Sutton is starting to kick in, but I'll say to those people, that in fact, I was doing really important things that can only be seen as trying to improve society as we know it. Like attempting to find out how the classic Japanese game show, "Hand Job Karaoke", benefits us all. However, that one could take a serious amount of research…
So what did Taz (and his devilish mind) come up with to review this time? Well on our last outing I got lumbered with doing "Zidane a 21st-century portrait". And the only way to improve on that would be to do none other than "Goal: The Impossible Dream". Well whoopy fuckin' do! He can be a right sick bastard sometimes. So I guess 'Soccer Moms 6' will have to wait until next time.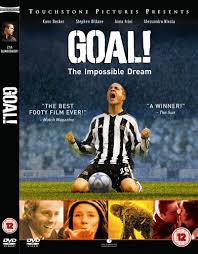 You're right about the impossible dream bit…
From the cover of the DVD we can see unknown actor Kuno Becker in one of those traditional goal celebration poses. Also on the front of the DVD are the usual quotes that may or may not highlight how good the movie really is. The first was from that teenage football publication Match Magazine and their quote was "The Best Footy Film Ever!", so clearly the kids love it. The other quote is from former Page 3 aficionados The Sun with the simple "A Winner" which looks like one of those pointless comments that could've been grabbed from anywhere in a review. Like "It's not a winner".
Looking harder at the front of the case past our unknown star I see several smaller photos that don't really stand out that much. the first is of a fella who looks like that geezer that played a sort of evil Rain Man to Nicolas Cage's brother in that seminal 1997 film "Face/Off". The other is of the female lead, which is Anna Friel (yes she of that lesbo kiss in Brookside all those years ago). So we have the competition and the love interest. Trying to delay the inevitable further, I glance at the blurb on the back:
"When ten-year-old Santiago Munez crossed the Mexican border into America, he had two things with him – his football and a ragged picture of the FIFA World Cup. This rags-to-riches story of trial and tribulation, love and loss, tragedy and triumph is the most realistic football movie ever made. From real superstars, to real games in real stadiums, to unprecedented access to Newcastle United, Goal! will have you out of your chair and on your feet, cheering for the gifted footballer as he makes his way from the barrios of Los Angeles to the majestic fields of St. James' Park."
Oh shit! It's going to be one of those films I quietly say to ones self. And for a split second for some reason I did think that we were talking about Exeter City but then my attention is again diverted by the little title on the back: "Special Features". Lovely, I do like an nice optional extra on any DVD! Then, after finally picking enough courage I place the DVD into the Xbox and listen to it whirl up. The first screen I see is of my new mate Mr Becker with the now defunct bank Northern Rock plastered over his Newcastle top.
Where's my money gone Northern Rock?
Special Features
As per normal, I start with the pointless shite. So the first feature that I take a butchers at, is the usual 'making of' documentary you tend to get which in this case is called "Behind The Pitch" a title which makes no fuckin' sense and is basically ten minutes of various people describing how wonderful it was making making this film and the greatness that they hope to achieve. One interesting comment was from one of the producers who claimed "there has never a film about football before", really squire?
Next on the list is "The Beauty of the Game" where we get a load of bollocks about how football is this magical force that unites people. Clearly the producers have never been to a Boxing Day derby match in the London Borough of Sutton before. During this section you also get the then Newcastle manager Graeme Souness waffle on about how supporting the Toon is the be all and end all of football, best fans in the world blah blah blah. Lets also not forget that as this DVD is designed for full international appeal there is also a kiss arse approach of Real Madrid being the pinnacle of the modern game.
Sandwiched in between a Happy Monday's music video (nope, no fuckin' idea!) and trailers for Goal II (already?) and the 2006 World Cup are two slightly more interesting features. The first is where our lead actor picks the ten players he would most like to line up with. I can't quite work out if its a joke or serious as the little fella names not only his Gran as right back but Ashley Cole on the left! But as the different players' photos file past, you'd never guess what well known kit manufacturer is the main sponsor of this film. Oh no.
The second half decent one was "Golden Moments of the FIFA World Cup" which was a weird three minutes of goals from the World Cup Finals. Of course you saw goals from Maradona against England in Mexico 86′ and the classic Carlos Alberto at Mexico 70′ but for some strange reason they also picked Papa Bouba Diop scoring for Senegal against France in 2002 and José Luis Sierra netting one for Chile against Cameroon at France 98′. Now tell me, does anyone really remember those? Answers on the back of a postcard to the usual address.
Anyway, I guess it's about time I watched the actual movie….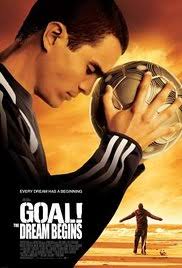 Different spin in America then…
Main Feature
Well let's just say that's nearly two hours of my life I'm never going to get back! I'm not going to lie, I didn't enjoy the film very much. I did seem to struggle with the idea that this fella, who illegally entered the good old US of A, somehow managed to bag a trial at a random Premier League team like Newcastle. I mean, at least Dwight Yorke was playing against Villa for him to be spotted by Big Ron.
The film is very much split into three parts and details his "rise" to play in the mighty Premier League. The fact that he also bags the girl, just to me, rubs salt into the wounds. I suppose really, getting the Yanks to write a decent script for a film about the beautiful game is like getting me to write about nuclear physics after watching a few series of The Big Bang Theory.
There were some slight sniggering moments but all in all I was just waiting for the film to end with my finger itching to press the fast forward button most of the time. The extras were a much better watch. You might call me an argumentative git (if you're being very nice) but I never was able to detach this story from actual reality.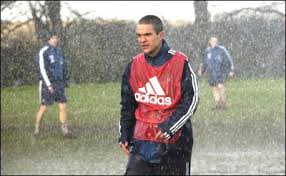 Must show that it's grim up north…
When you start to lose interest in a film you begin to lose the fantasy aspect and the face value of things. For example with three games to go Newcastle sign a new centre forward. This is odd as I was under the impression that the transfer window was shut at this time? Also in one scene we see our star play in a home reserve game for Newcastle against Man Utd. Yet, in the background the seats in the stand clearly spell out "The Bees", so I'm guessing this scene was not filmed up north?
You of course get the usual Crocodile Dundee-esque enquiries of someone hispanic and from L.A. travelling to the barren north of England. "What is Toon?", "What is a Geordie?" & "What is in Black Pudding?" are just some of the burning questions that needed to be asked. And when you get the whole soccer/football debate, well. Bit like the whole depressing weather and our star not being able to understand the English way of playing the game.
There is a scene blatantly stolen homage to the Sean Bean classic When Saturday Comes, of a disapproving father watching his boy play his first match on a TV in a pub. I wasn't quite sure on the time difference but I always thought that the Americans were quite strict with there drinking laws. And who is that making a cameo I wonder?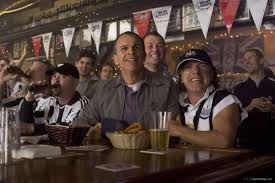 Clap, Clap, Thunder! Clap, Clap, Thunder!
There are also quite a few actual football players that try and attempt to give the film some credibility. Well, when I say football players, with the likes of Titus Bramble, Michael Chopra & Lee Bowyer you know you are onto a winner! Add a little of Martin Tyler doing some commentary like a cheap FIFA game and you can almost, very nearly, forget some of the other issues. Like for example, why does the ball change colour from white to yellow back to white during the Newcastle vs Chelsea match?
As it's a football movie, there's the other big issue that usually fucks these up. The scenes of actual football matches. Fuck me, some of the staging is terrible! At one moment we are shown some footage from a game, then they try to weave in the film stars. Sometimes it is just about bearable, but others, it's a clear WTF moment. One top example would be the final match of the season. So let's explain ourselves…
If you do make it to the finale, you are then given the cliches of cliches. As it stands, Newcastle need nothing less them to beat Liverpool to take fourth spot from away from them and qualify for Champions League football. With a packed out St James' Park, our young star is given his very first start in the Black & White.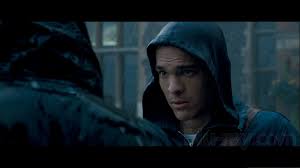 Yeah we get it, it's grim!
After Newcastle have taken the lead with a goal from that fella in Jurassic Park III, they are soon enough pegged back by goals from Bišćan & Baroš. Neither of whom appeared in any of the Jurassic Park franchise. With time running out, Jurassic Park III fella grabs a second. Can't say that I've seen many shots from open play that send the keeper in totally the wrong direction, but it happened for him.
So, we arrive at the final few minutes, when Newcastle get a free kick, just outside the box. And for some reason, our man on as a sub and on his debut is given the opportunity to send Newcastle into fourth place. He takes a run up and with his left foot and curls the ball around the wall and into the goal. Game over! Cue the final whistle and much celebrations from the Barrios to the fog on the Tyne.
But hold up, did I say left foot? Yep, that's right. What a way to bamboozle people by taking a free kick with your other foot. And this despite only using his right all the way through the film. He keeps that in his locker for special occasions I suppose. However after some digging, it turns out that the producers had used stock footage of Laurent Robert for this bit, a player who happens to be left footed!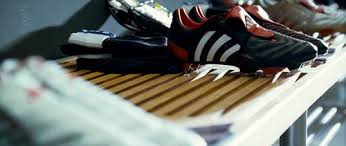 Remind me again, who sponsors this film?
All this flick really needed to cap it off was to fade out to credits with the Lighthouse Family playing one of their uplifting songs. But then again, I suppose they only save that sort of ending for a film involving Rugby League. Yeah, serious. Now does anyone know what film I'm talking about? No answers on a postcard for that one…
So we arrive at the end of this film review. Hopefully I won't have to follow this up with the sequel (didn't even know that it was a trilogy of films), but you never know what with Taz being a total bastard. At least it should be a long time before we try this malarkey again. There is only one thing left to do and that is stick in the obligatory trailer that encapsulates what equates to a near two hour film in less then three minutes.
You're welcome.
Duke