So. as the season enters its final third we're finally able to relax and enjoy the run in with Conference safety assured. Like bollocks we can! We're in the last 16 of the FA Cup and have Arsenal at home, we still need points to be sure of National League football next season and Totts song is still doing the rounds! It's like a fucking madhouse round here. So, dive in dear reader and enjoy the drama and the chaos that was February to April in the last part of this Gandermonium Season Review…
FEBRUARY
Two days after the Arsenal draw, it's rather unsurprisingly announced that we'll be one of the live TV games. It's such a big tie that we're even displacing Eastenders! You're welcome. Annoyingly though, some shit right wing rag rag runs a story about us looking to move the tie to Selhurst Park so we can 'cash in' on a bigger gate. No one's impressed, mainly as you've not been allowed to do that for over 10 years now. We issue a firm rebuttal and eventually, other outlets catch on. The game WILL be at GGL. It was never gonna be anywhere else. No doubt having been proven to be wrong, the Mail will probably do a follow up about us being involved in the cover up of Princess Di's death, that watching us gives you cancer and that we're all well good mates with dole defrauding immigrant terrorists.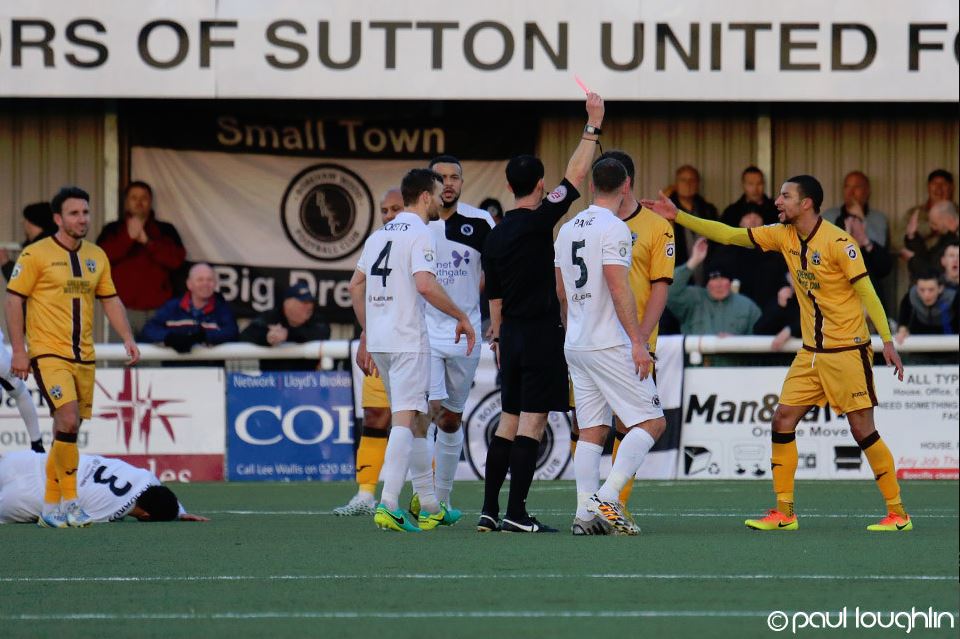 Eastmond sees red.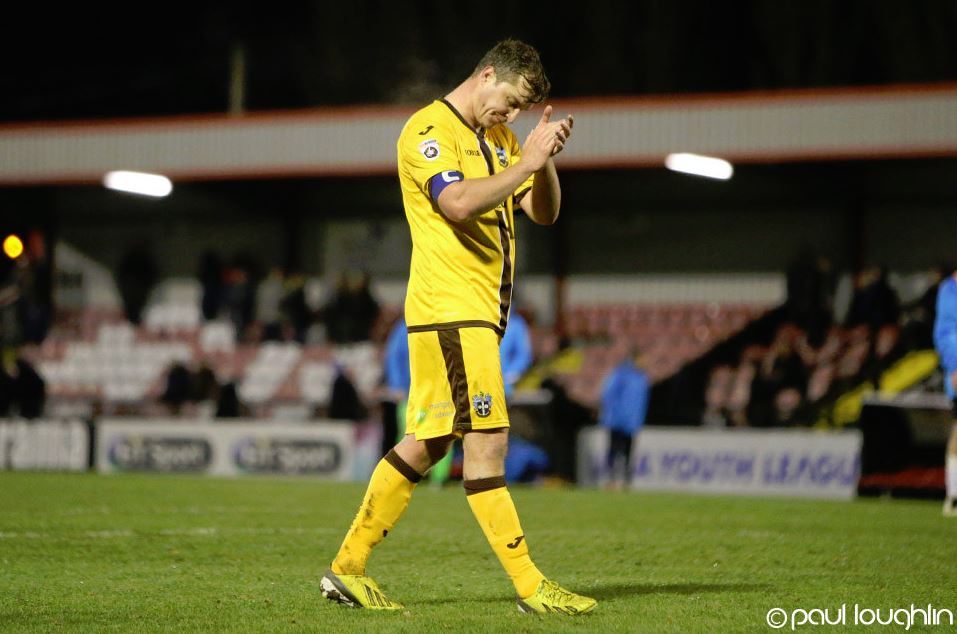 Just the 5-0 defeat.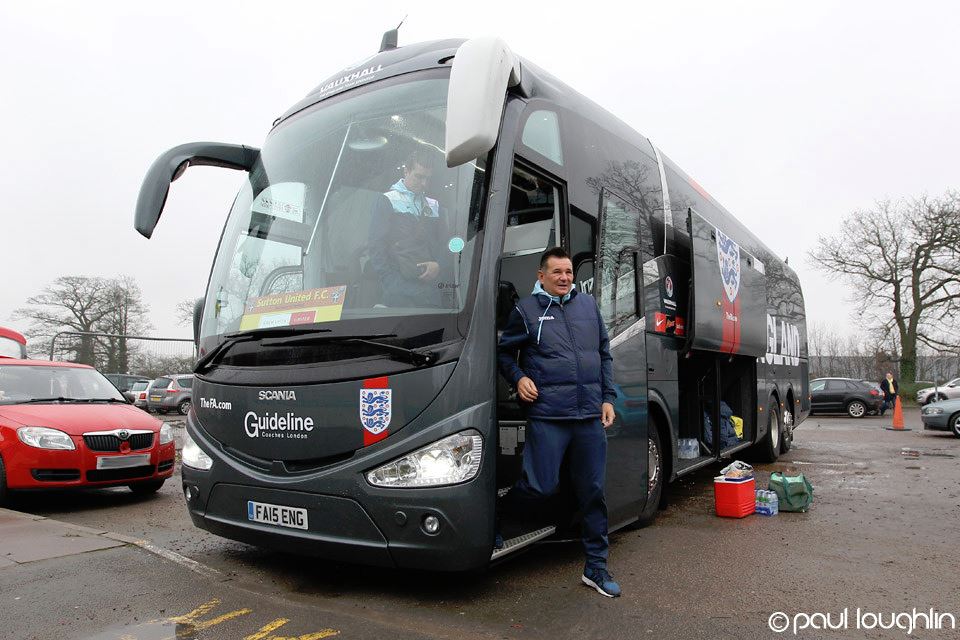 Travelling in style!
We kick off February, or 'Arsenal month' as it should now really be called, with yet another cup tie as Boreham Wood come calling in the Trophy. It's a weird one this as neither side really deserves to win a dour contest, least of all them after they fail to break down 10 men for almost an hour and then 9 men for the last 15 as we have Jefford and Eastmond red carded. In the end, the 0-0 is celebrated like a win though, purely for the shift the lads put in. Yeah, it's another replay, but it's the moral victories y'know? We announce that the tickets for the Arse game will be on sale for the princely sum of £30, which goes down like a fart in a lift with all sorts of bellends on social media who've no idea about SUFC and reckon the club are "exploiting our loyal fans". Clearly these people hadn't checked out that BBC price of football survey stuff back in November. Nor the fact people like Wrexham & Dagenham charge £20 for fucking league games. This being famous lark really does have its limits you know.
72 hours later and a patched up XI, thanks to injuries and looming suspensions, is in Elstree for the Trophy replay at Boreham Wood. This time, there's no victory for us of any sort, moral or otherwise as we take a good old fashioned five goals without reply todger slap to the face (5-0). And all for the princely sum of £18 quid. Again. The cup run has clearly taken it's toll as the lads just look physically and mentally knackered at the final whistle. With this in mind and amusingly, given our current crop of ex-Arsenal juniors in the squad along with our pending FA Cup meeting, Dos adds another ex-Gooner to the playing staff the next day with Jack Jebb signing on. He'd been touted as the next Jack Wilshire as a kid and sadly has had the sort of career we're surprised the real, made of glass one hasn't ended up with, joing as a free-agent. Still, with the games piling up, we need all the bodies we can get right now.
Jebb goes straight into the squad for the trip to Solihull Moors. We have a good piss up in Brum beforehand, well, except for Belly who becomes our second train misser of the season. As for the game, it's much of the same old story on the road. 1 down inside a minute, we dominate, don't score, JC misses a penalty and we concede again right on half time. In the end, it's a firm 3-0 defeat and the 2nd 45 is so poor, the skipper feels the need to apologise personally to the mildly narked travelling support at the final whistle. To celebrate, we then leave Chalmers behind at the ground when we bail in cabs for the station. It's ok, he catches up eventually. The following day however, it's Arsenal tickets day and after a brisk start and a queue almost literally a mile long, something goes awry. Someone's fucked their maths up and it seems like there simply isn't going to be enough tickets to go around for all the ST holders. In the end, reducing people's allocations to one each, fraught recounts and pulling back whatever we can from whoever we can, we just manage to cover those poor people who've frozen their arses off queuing all day. But it's a bit of a PR disaster and the mood in the club amongst the volunteers afterwards is not a jolly one. Especially in the knowledge that some people have definitely missed out. However being the club we are, Bruce is determined to get things straightened out.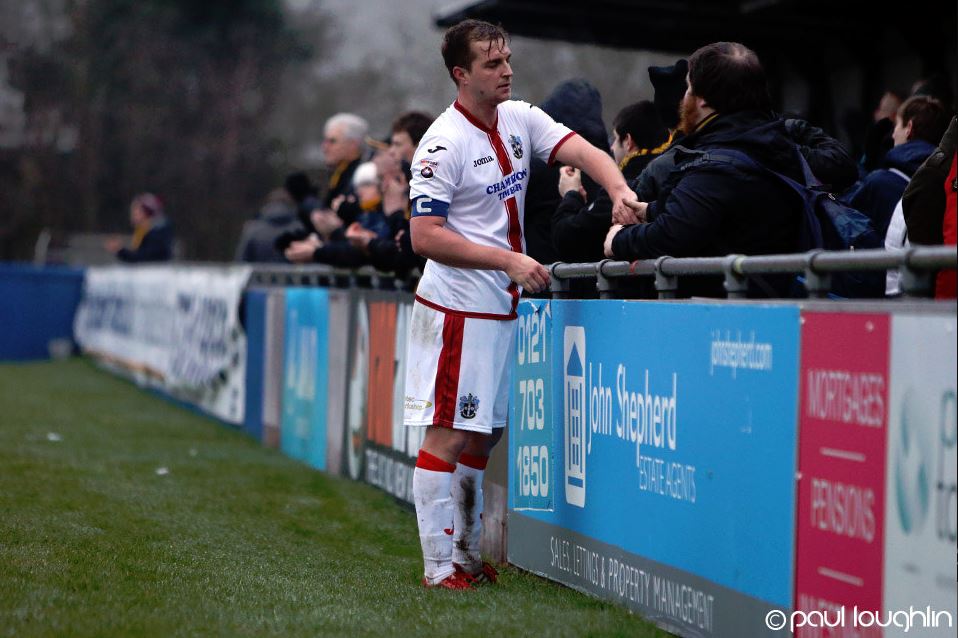 JC apologises for the shite at Solihull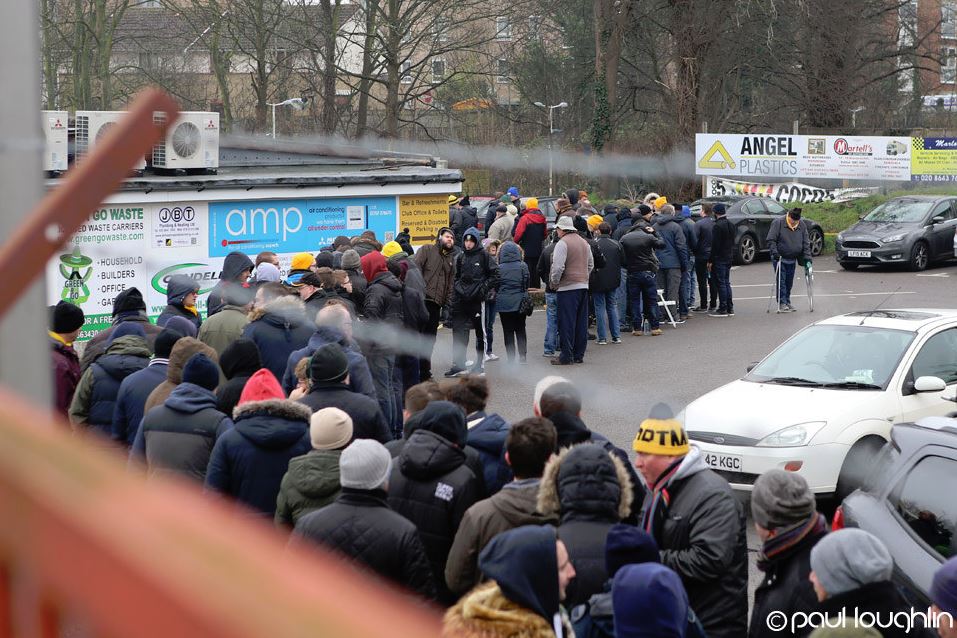 "Must be someone REALLY good on Boom Boom this week!"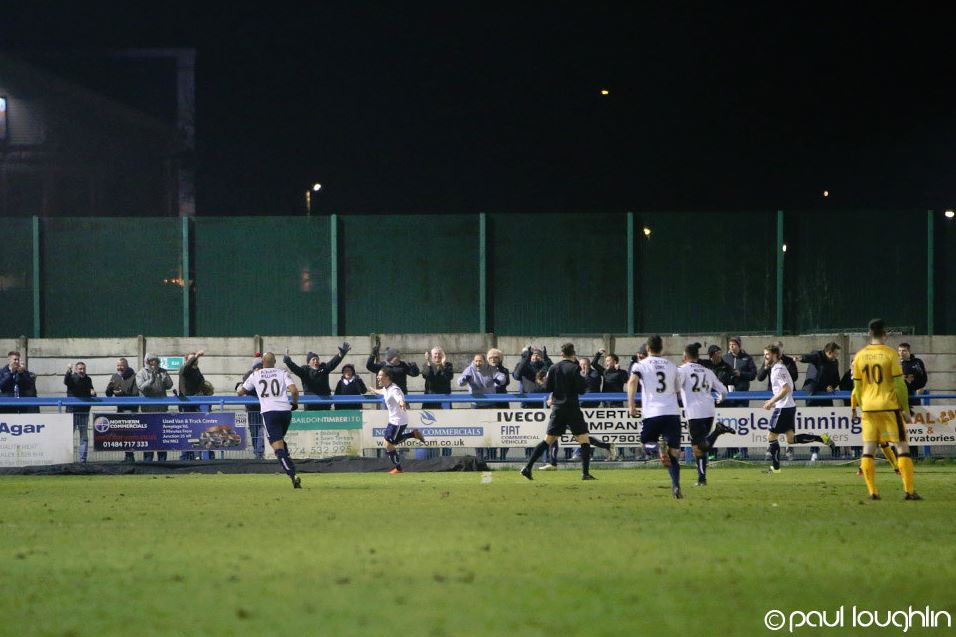 Last second heartbreak at Guiseley…
It doesn't get any easier either, as on the Tuesday we're off up North again, this time just past Leeds (Hi! Remember us!) to meet struggling Guiseley and not only that, there's been rumours of a change in shirt sponsor for the Arsenal match, which are are then confirmed during the afternoon. It's Sunbets. A new online gambling firm related to the really rather-unpopular-amongst-football-fans-daily Newspaper. Of course, this unleashes an absolute shitstorm on social media and also amongst our own fans, who are not impressed.
Still, despite having 'sold our soul to the devil', we receive a warm welcome from the locals and Dos, who makes a point of shaking every travelling fan's hand before KO. And typically we're 1 down inside 5 minutes. Still, another makeshift side works it's way patiently into the game and Tubbs levels deservedly from the spot. We should go ahead late when the ref inexplicably gives an absurd foul as Tubbs is trying to tap in from almost on the line and deep into injury time they inevitably scramble a winner (2-1). It's probably the most gut wrenching defeat of the season so far, an absolute fucking sickener and one we have the whole bloody length of the M1 on the way home to contemplate. Who's stupid idea was this getting promoted lark anyway?? The defeat also extends not only our poor away run but takes us to about 27 years since we last kept a clean sheet away at this level. The last time? That bloody 9-0 win at Gateshead in 1990! In the shadow of all this, the departure of Craig McCallister to Eastleigh goes almost unnoticed. In the meantime, the fallout from the Sunbets deal continues and even causes we here at Gandermonium to actually do a bit of adulting and pen a serious blog for the first time ever. As well as make an appearance on the renowned Liverpool FC podcast, 'The Anfield Wrap' to try and put some perspective on things. We're not entirely sure it works, but hey ho. At least we tried.
What does get somewhat lost in amongst all this various horseshit, is the fact that Arsenal try to be all nice and proper and want to apparently donate not only their share of the gate, but their fee from the live TV too. Some 300k's worth. Sadly, the FA, somewhat understandably, say they can't do this as it'll look like a bung. As if we'd take 300 grand to chuck a game! Half a million and maybe we'll think about it. We might be Non-League, but we're not fucking cheap you know!
In the run up to the big day, GGL is a hive of activity as the Beeb set out their stall (and studio) for the live coverage. Part of the additions for the match is a 100 seat temporary stand in the corner by the Rec for the visiting fans and two massive fucking floodlight pylons on the Rec side to help bathe the Lane in extra light for the TV cameras. They're a bit bright! On the Sunday night the draw for the 6th Round is made (otherwise known as the Quarter Finals) and ironically having drawn the Gooners in the 5th, we're lumped with fellow Non-Leaguers Lincoln City at home, who'd spectacularly dumped out Premier League Burnley on their own patch in the last round, should we pull off a miracle the following evening!
As the Arsenal game is scheduled for a Monday night for some reason, we at least we have a good few days to fully enjoy being widely hated by the footballing public for our choice of sponsor and they seem to mainly hope we go bust all die in a freak yachting accident lose heavily. And by the day of the game, most of us just want it done and dusted if we're honest so we can get back to being an insignificant speck on the footballing map. Strangely, all that's gone before is nothing compared to what's lurking around the corner, but I digress. First, the game. The lads give a frankly astonishing performance as a strong Arsenal side is made to work every bit for their 2-0 win. Adam May spurns a brilliant chance on half time, JC heads just over in the 2nd half and worst of all, Deacon thrashes one off the bar from fully 30 yards. Such is the occasion that the Gooners even bring on Alexis Sanchez, purchased for the bargain sum of £30 million, for the last 15 mins, at which point the Shoebox just falls about laughing. So much for 3G pitches being 'dangerous'. At full time, we sadly don't get to thank the team for their staggering efforts, as the pitch is invaded by feral selfie taking little wankers who just want to get on telly. After a 2-0 defeat. Bell ends. Still, whilst it's been quite the adventure, we're mostly bit glad it's done and dusted now quite frankly.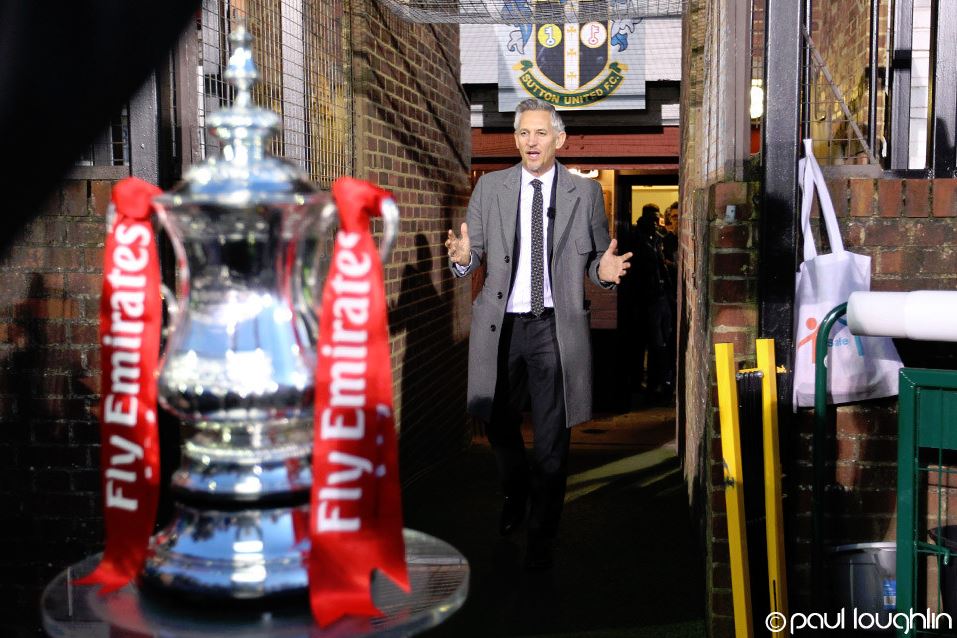 "Who's the grey haired ggezer? Looks familiar…."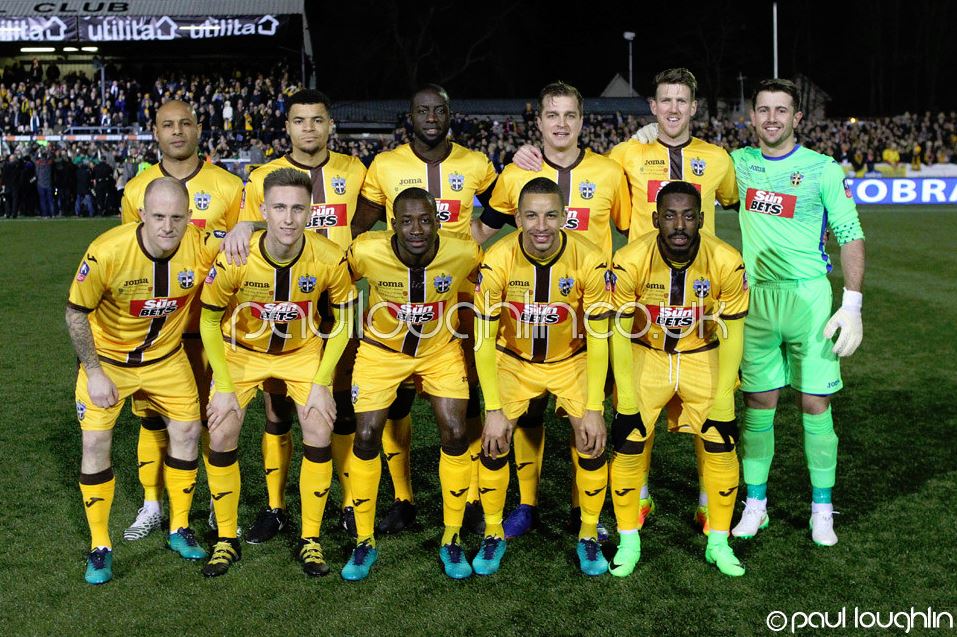 Ready to go. Arsenal at GGL. And yes, we do realise how daft that sounds…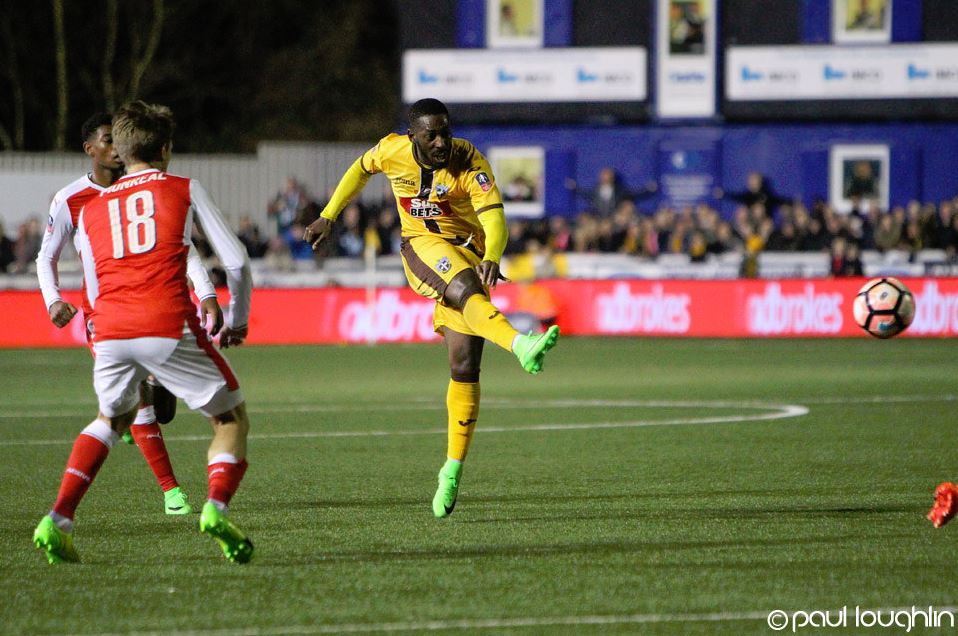 That fucking poxy, stupid, lousy, twatting crossbar!
Ha. Yeah right, is it fuck! It turns out that during the game our by now very well known world famous portly keeper's coach Wayne Shaw (aka. The 'Roly Poly Goalie') has taken it upon himself to munch on a piepasty on the bench during the game. Harmless you say? Bit of banter yeah? Well not really when you take into account the sponsor you've been widely coated off for taking up with, (you know, the nasty newspaper related online betting company?) were bloody offering odds of 8/1 on him doing exactly that. Now, we're not going to comment on the why's and whatnots of what happened here (frankly we're sick of hearing about it), but the end result is that by Wednesday morning, Shawy is on his bike and the FA as well as the Gambling commission are looking into the matter. And by Thursday it's front fucking page news in the Sun as well as getting big coverage in a few other dailies. Naturally, we also return to being the worlds most hated football club and take yet another absolute pasting on social media for "Sacking dat fat golie dat eated da pie. Was well bantah! LOLz!!!11!". Somewhat ironically, the volume of abuse we 'enjoy' for this particular event makes what we copped for doing the Sunbets deal look like a single tweet from a Scouser going "Bit disappointed with that decision lads" in comparison. Yeah yeah, we know. Social media eh? Go figure.
In amongst all this nonsense and outside the weird fucked up, nightmarish media bubble we're currently unable to escape from, Kingstonian announce they're leaving AFC's gaff at the end of the season and will be squatting out at Leatherhead for the foreseeable. Which must be a big relief for them as it's really close to Kingston and all. We also bolster the squad further as Dos moves to pick up former Sutton & Chelsea junior Adam Coombes from Conf South side Welling. He's been banging them in for fun down there, so we're hoping he'll do the same up here. No, you fuck off.
With the abuse of the X Factor generation still ringing in our online earholes and making our temples throb, we take the long trek down to the English Riviera to take on Torquay United with the aim of trying to get back to some sort of normality. But this is Sutton United FC. And if we can't just string out some misery that bit longer than is necessary, no one can! Early doors, Worner cops an injury, concedes and then limps off. And with no sub keeper on the bench (we've not had one all season in the League), Simon Downer takes over. Of course, none of this goes unnoticed on Twitter. It's all 'karma' apparently for us 'sacking' Shaw. Cunts. But, almost as if the lads know about all this nonsense swirling around on t'internet, they stick out their chests and show some of the character and ability that got us to the 5th round in the first place. Roarie drags us level before Downs lets in the one shot he ultimately has to face in the well over an hour he's between the sticks. The lads battle back again and Biamou levels almost immediately before Beckwith loops in a header for the winner (3-2). Yes, we've finally won another one away from GGL. WE'VE WON AN AWAY GAME!! And with a full back in goal for 75 minutes.What a silly fucking season this is proving to be.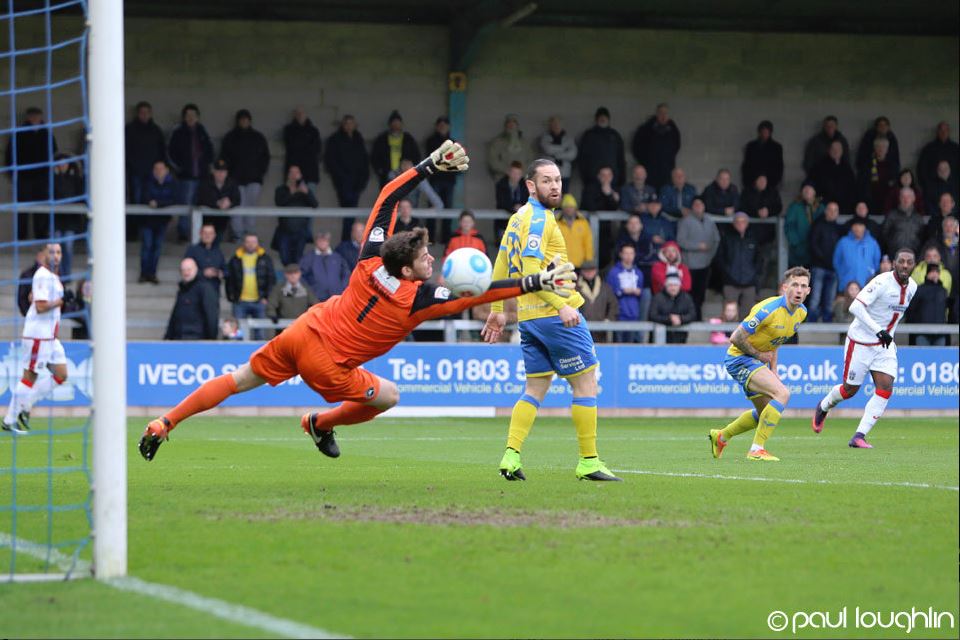 Roarie smashin the laces off it at Torquay…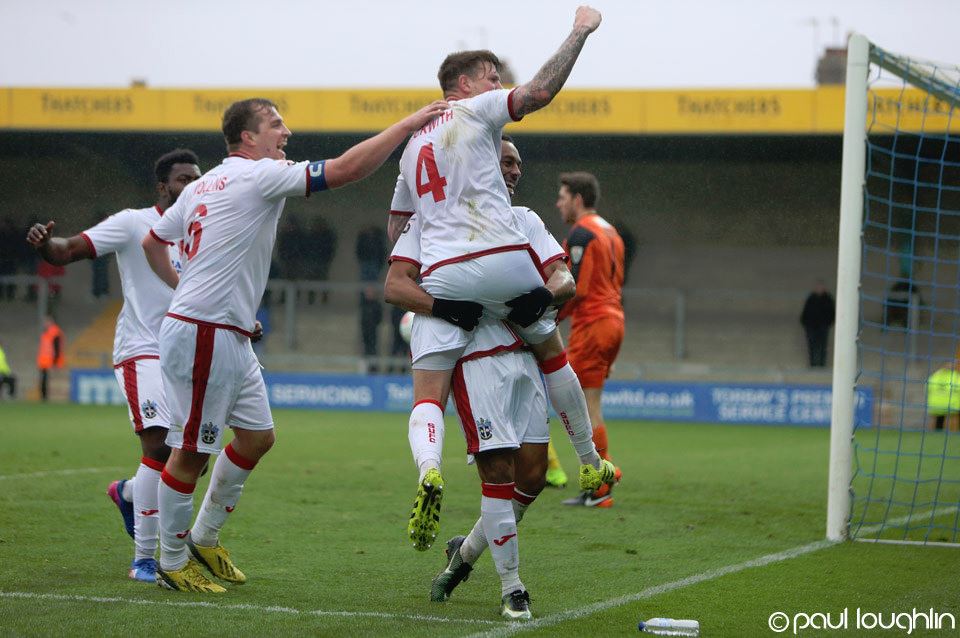 Becks with the winner at Torquay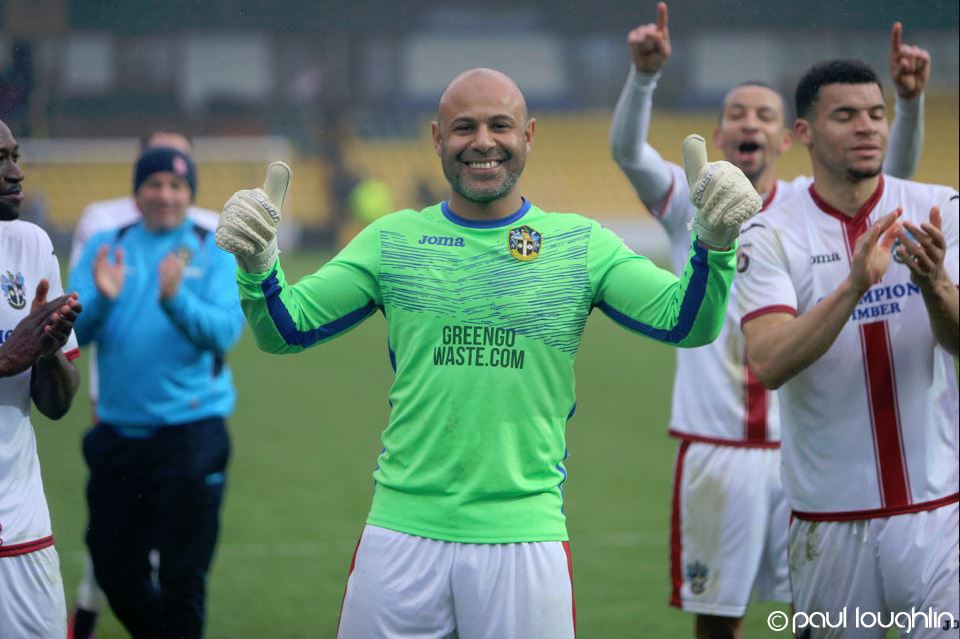 England's number one thousand, England's Englands….
Of course, we follow up that with what seems like our now monthly meeting with Boreham Wood. Wait! Wait! We need a keeper! So, with Worner unlikely to be fit again this season thanks to a hip problem, we bring in Will Puddy on loan from Bristol Rovers. Thankfully this meeting is at GGL so we're at least not shelling out 18 quid to get in and make up 2/3 of the crowd, or be left stranded for a week by the bloody Thameslink. Clearly fired up by our rare away success, the U's make it a much needed two wins on the bounce with a single Biamou goal in the first half (1-0) to secure the points, but it really should be by a lot more than that at the end as the Wood are largely outplayed. We also include another new signing in the squad, former Palace lad Keiron Cadogan, who's been most recently playing for GAIS out in Gothenburg in Sweden.
So, with possibly the longest February in history finally done and no more cup distractions remaining, we can take stock in the league and work out what we need to do to remain in the National next season. The two wins at the end of the month were very handy indeed and put us 16th and gives us a total of 42 points. Christ, that's better than we expected! We only need to get eight more to be basically safe. Quick! Onto March!!
MARCH
So, where next? Barrow? Oh for crying out loud, that's MILES away! They're still gunning for a play off spot but are falling behind and it's looking less likely they'll be involved in the end of season shake up. Still, it's a tough place to go regardless. The game is rather ordinary and no side really deserves to win, although we really should have a penalty in the last minute that the latest in a long line of shocking refs ignores. Sadly, Roarie's protests are a little too forceful and already booked, he cops a second for his trouble. Still, on the upside, that 0-0 is a decent result regardless. It's also our first clean sheet away from home in the Conference since 1990. 27 years to be exact. Or about 57 games. Right, can we get drunk now? With Wayne's departure, we lack some goalkeeping backup, so we bring in ex-Womble Seb Brown as Worns #2 and coach. Although Puddy will be staying on until the end of the season it seems. On the player front, it's also revealed that Dan Fitchett and Matt Tubbs have both been told to find new clubs for next season. Tubbs departs the day before the York game and rocks up back at Eastleigh. Quelle suprise.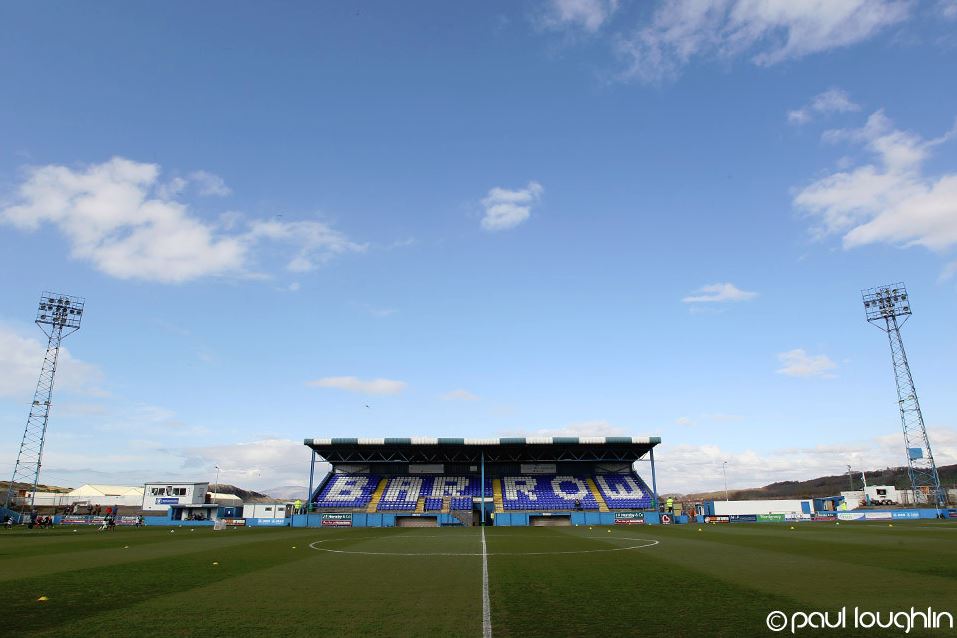 The bleak North West….oh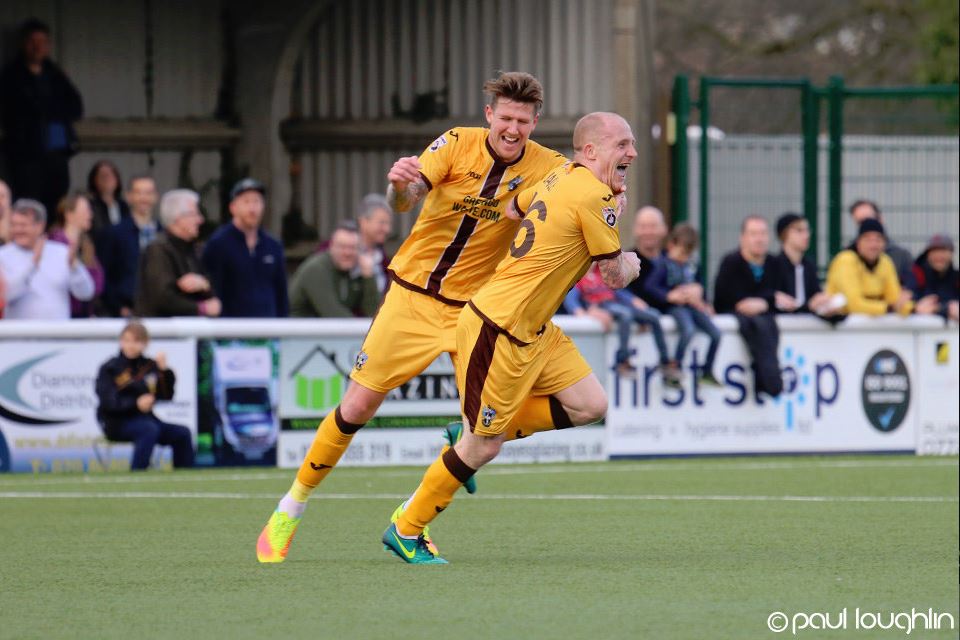 Bailey hears jagerbombs are 2 for 1 in the clubhouse…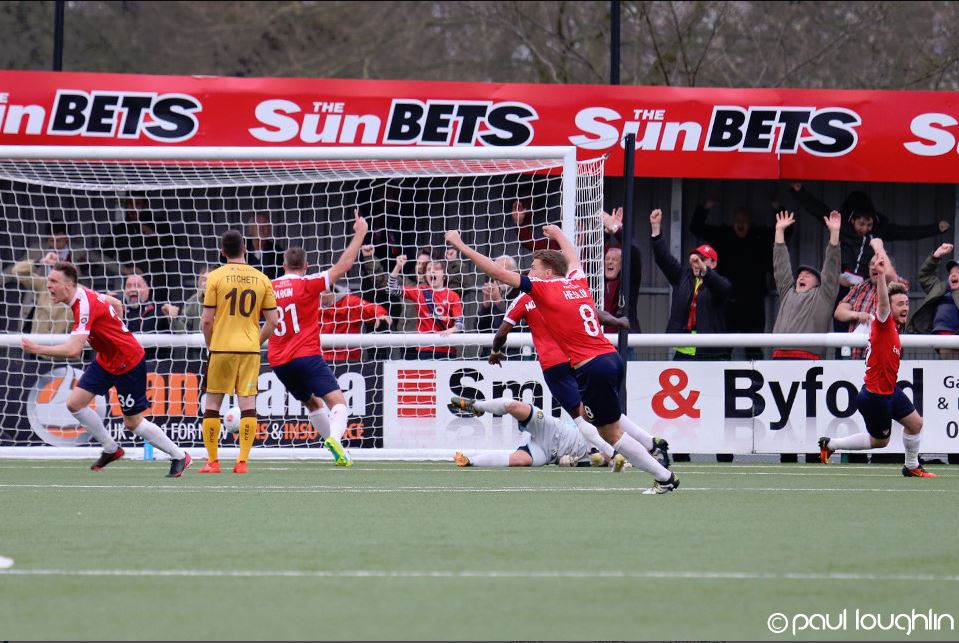 York celebrate an unlikely point…
We're back at home for the visit of York City. Who despite having that big budget and only dropping out of League 2 last season are still properly in the shit at the bottom. They're at least picking up points, but unluckily for them so is everyone else at the arse end of the league. It's a tight game and you'd probably have your money on another scoreless draw. But then Nicky Bailey crashes one in on the volley from 30 yards and a brilliantly shit OG makes it two late on. Sadly, we concede straight away and then deep in injury time, we drop more points and register about our 100th 2-2 draw when they visitors whip in a free-kick leveller. It's definitely 2 points dropped and with the sides below all starting to gain momentum, we're reckoning 50 points might actually not be quite enough. Still, Dos & Bruce seem confident enough at the Q&A on the monday night, where they also fill people in on the Sunbets situation and a few other things this season, they also announce we'll be keeping our cheap season ticket deal for next season. Result!
Forest Green Rovers are the next to visit on the Tuesday, still pushing for that top spot. Despite matching them for a good while, we then give away 2 poor goals in quick succession and it looks done & dusted. Instead, we then push on and really should get something from the game. Cadogan finally gets the goal we deserve in the final minute, but we can't quite force an equaliser (2-1). Another toughie follows with the trip to Aldershot Town. A good travelling following sees the U's embarrass the play off chasers with a 1st half so one sided, if it were a fight, the other bloke would have been hiding in the bogs refusing to come out. Typically, we spurn chance after chance and then with their first foray out of their half on 45 minutes, go ahead thanks to a calamitous own goal as Bailey thumps a clearance off Puddy into the net. Fucking typical. The 2nd 45 is less impressive and they add a second at the death and the away form continues to haunt us (2-0). This means we're now down to 18th in the table. Not good, not good at all.
With the cup done, the games come thick and fast as we catch up on fixtures. Our next port of call is Maidstone United for the opening of their rather nice new stand behind the far end. Another decent showing again goes unrewarded as we lead thanks to yet another OG (how many is that now this season?) but they level from a soft peno and we're left hanging on a bit at the end. Still, while a point (1-1) is better than nowt, we're not exactly racing for the perceived safety line. The team need to put in a performance to be honest, as we've been a little goal shy as well as points shy lately. Which makes the departure of Dan Fitchett to Wealdstone during the week that bit odder. Thankfully, all but doomed North Ferriby are in town next and we bloody well owe them one for when we gave 'em 3 points along with their ninth AND tenth goals of the season at their place. And we do to them what we probably should be doing to a side in their position by dishing out a firm 5-1 humping. Cadogan continues his good recent spell with a brace, with Roarie, JC and Max rounding things out. A good win to lift the spirits and 3 well needed points. Before the game, we also induct Craig Dundas and some bloke called Paul(??) into the SUFC hall of fame for their contributions to the club.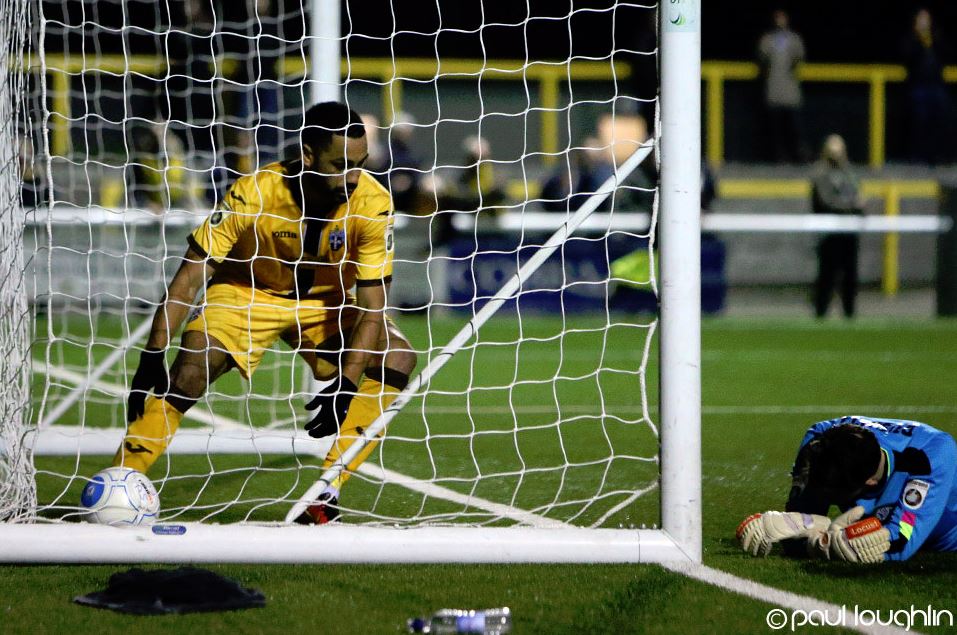 Pulling one back late on against FGR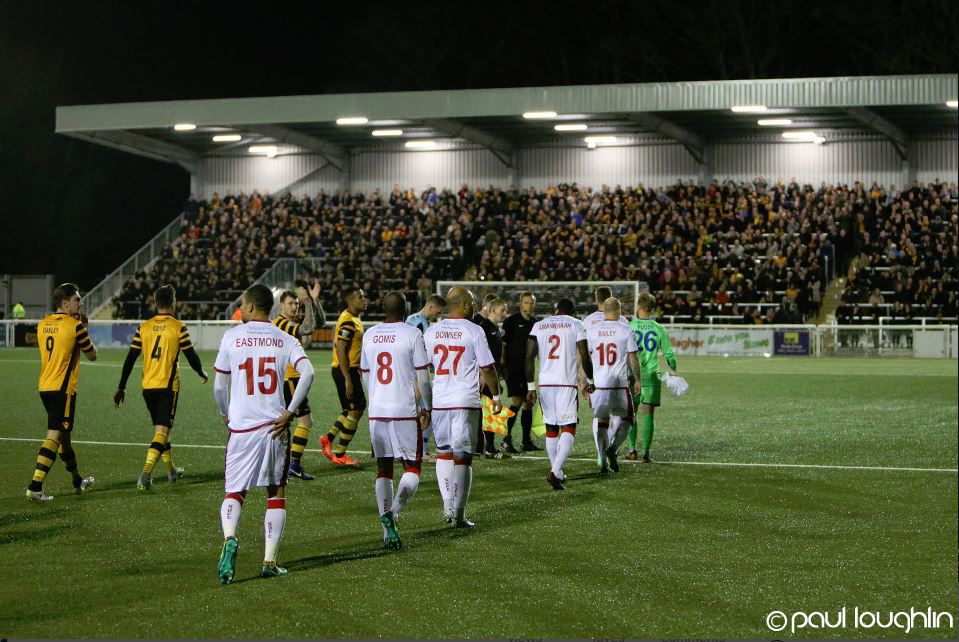 Walking out at Maidstone.
The first of five against Ferriby.
The following day, having slipped into the Ryman Premier relegation spots, the soon to be relocating Kingstonian sack their manager Tommy Williams. Craig Edwards joins having recently left the newly ignited shit or bust circus at Billericay Town, which we really just don't have the time or the heart to go into in any great detail here. Suffice to say, it'll all end in tears.See Hornchurch. Or Athletic, Grays for details.
We close out March with a home game against top placed Lincoln City, who are no doubt itching to get a bit of revencge of their own after we turned them over at Sincil Bank way way back in early August. They're probably doubly pissed off by the fact we've managed only one poxy away win since then! Another tight game ensues and whilst they probably have slightly the better of it, we're not overwhelmed by any stretch. Then they pinch one from a corner and we look done. But we'd reckoned without our little last minute man, Deacon, who has a pop from 20 yards and crashes in a superb equaliser to make it 1-1! Much jumpy jumpy follows amongst our biggest league crowd of the season (2246) and we have a bonus point on the board.
Speaking of the board, let's have a look shall we? March has not been kind to us to be honest. We only managed 6 points from 7 games to give us a grand total of 49 for the season so far leaving us in a reasonable 14th place. Now, we know what you're going to say here "That's good! You said you needed 50 to stay up!" and yes, you'd be right. We did say that. But, not for the first or last time in our stupid lives, we might have been wrong. Below us the bottom 4 have largely closed up the gap dragging several other sides into the relegation equation. And we're right on the outer fringes of that. Whilst no one really thinks we can go down, we still need a couple more wins to be absolutely sure. And fast.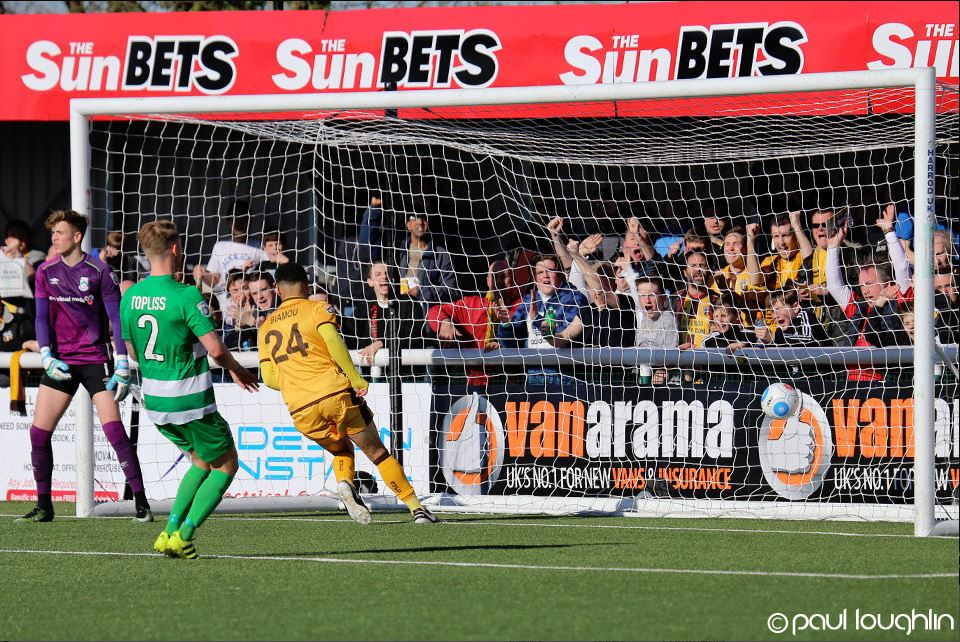 Max making it 3 before HT v. Ferriby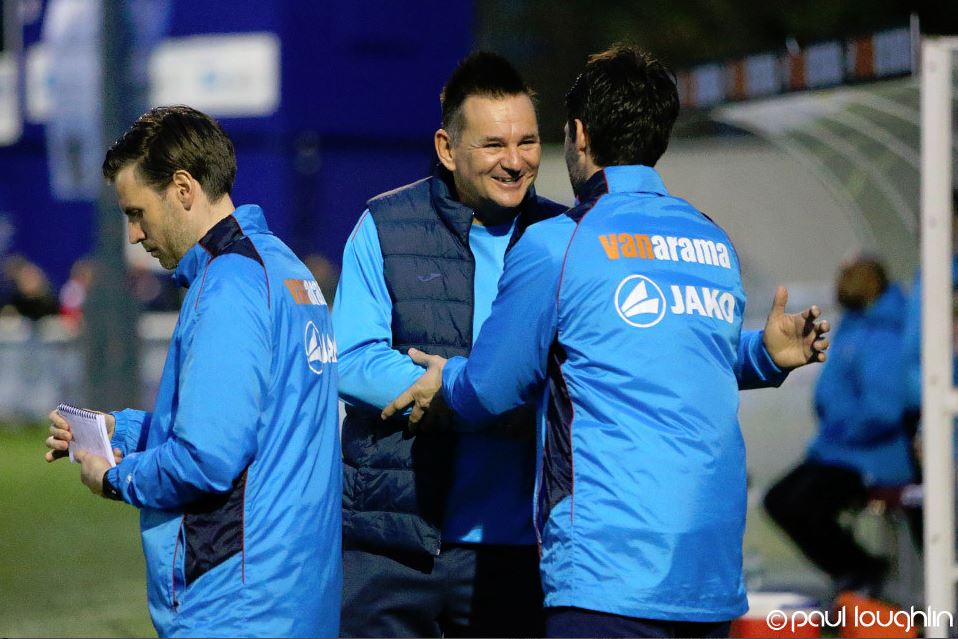 "I remember when you were the gaffer at Concord!"
Roarie slows down the Lincoln title charge ever so slightly….
APRIL
Sadly, it seems that quite a few other people still think that 50 points is going to be enough. And it shows a bit when we visit Woking who are one of those sides down there fighting for their lives. We bummed this lot back in October without much fuss, so this should be a good opportunity to put some daylight between us, them and a few others. Sadly, we turn in a pathetic 1st half, are a goal down inside 5 mins and largely offer little. The 2nd 45 is a bit better and we level after a fortunate clearance hits Cadogan and goes in. From there, there's only one winner. Sadly, we once more miss fuckloads of chances and let in yet another soft as shite winner in the last minute (2-1). This away form stuff is now getting seriously ridiculous if we're honest.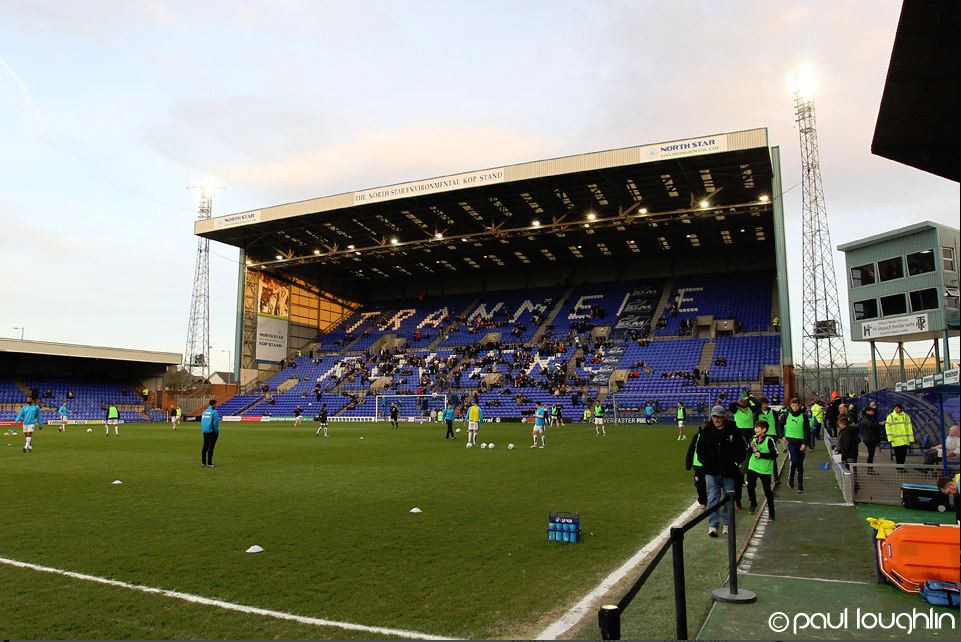 We played a league game here! Hahahaha!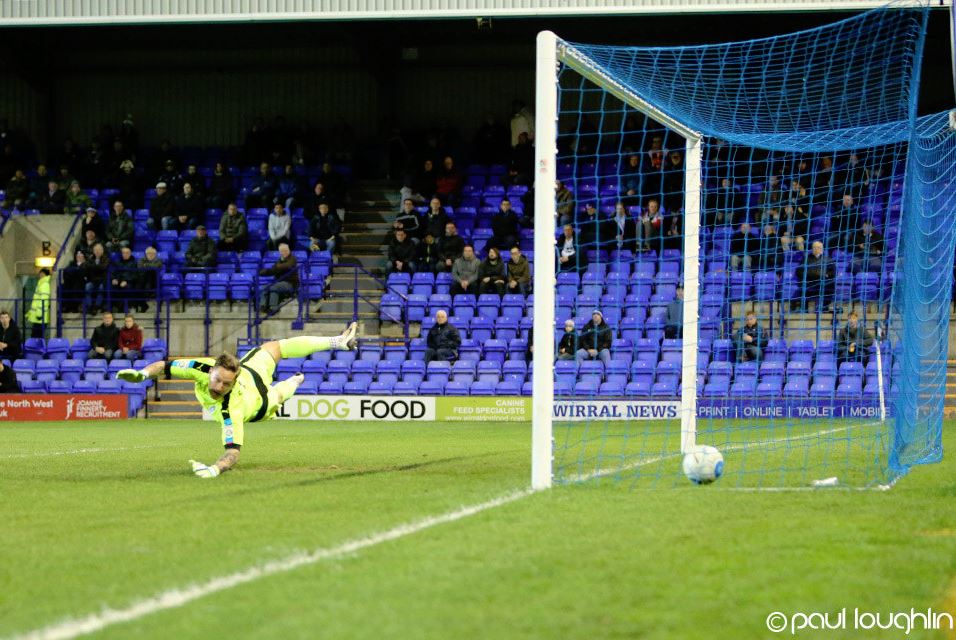 Jebb fires in from range at Prenton Park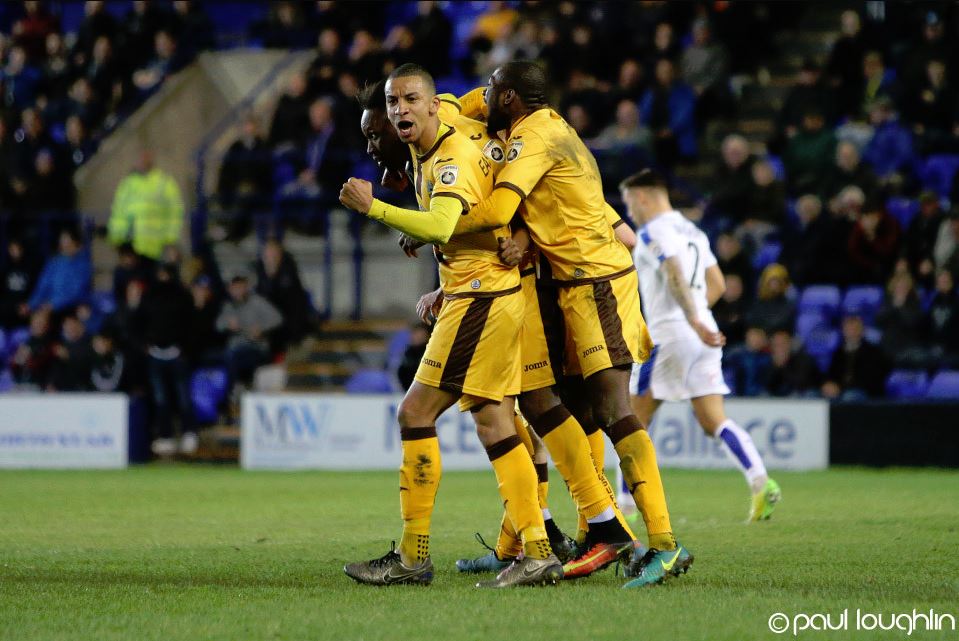 Level at Tranmere!
To make matters worse, we have a midweek trip to Tranmere Rovers. The original game was surprisingly binned due to the 3rd round of the FA Cup getting in the way. We say surprisingly as it was us who were pissing about in the 3rd Round and not them! Included in the side for the trip is young Tommy Wright, who's been on a dual reg at the latest reincarnation of Salisbury and has scored about 40-odd goals in the process. Despite the hosts charging hard to try & chase down Lincoln at the top, they're not that amazing. They edge ahead in the 1st half and another gash OG from us makes it 2-0 with 20 to go. Game over? Well, not quite. Jebb pings in a cracker to make it 2-1 and a couple of minutes later, Pape Gueye bundles one in to level the scores and send the 77 away fans mental! Sadly, another absolute fraud of a ref helps the big boys out and we of course lose (3-2) to yet another bloody 93rd minute winner. We can't fault the effort, but it's another absolute heart breaker to have to contemplate on the long journey home.
Still, we face Southport on the Saturday and they're all but down, needing to win all their games to have any hope of staying up. We make hard work of it, but lead thanks to another goal from Kieron Cadogan, who's settled in nicely. Sadly, we respond by letting in 2 shockers and at the break results are NOT going our way at all. Leaving us hovering now just 3 points above the bottom 4. News that makes a little bit of wee come out if we're honest. Thankfully, despite a lifeless 2nd 45 we manage yet another last minute goal from Roarie Deacon to salvage a vital point (2-2) and a couple of the results below us rebound to make our position a little less sweaty than it had been barely an hour before. The fact is simple though. We still need at least 1 more win to secure National status. Gateshead make the long trip South and they're still on the very fringes of the play off race. Not that you'd know it, as we turn on a solid showing and after Roarie's put us ahead from the spot a Biamou double rounds off a 3-0 win that really should be 5 or 6 against a pretty terrible Geordie rabble.
So, with 3 to play, we're probably ok now. But we'd rather not rely on what we have doing the job! The fag packet maths we've been doing lately tends to indicate that if we can get a point from the Bank Holiday trip to Dagenham & Redbridge up next, we'll be fine. What isn't fine however is having to lob up a franky piss taking £21 to get into a fifth tier game. On the pitch, we don't play that badly, but we really should be 4 or 5 down at the break rather than the 2 we actually are as we let in a couple of softies again and have a couple rattle our woodwork. We've almost written this one off before Mr Biamou gets us back into it with a quickfire double after the break to level it at, yeah you guessed it, 2-2. Oh Desmond, how we love thee!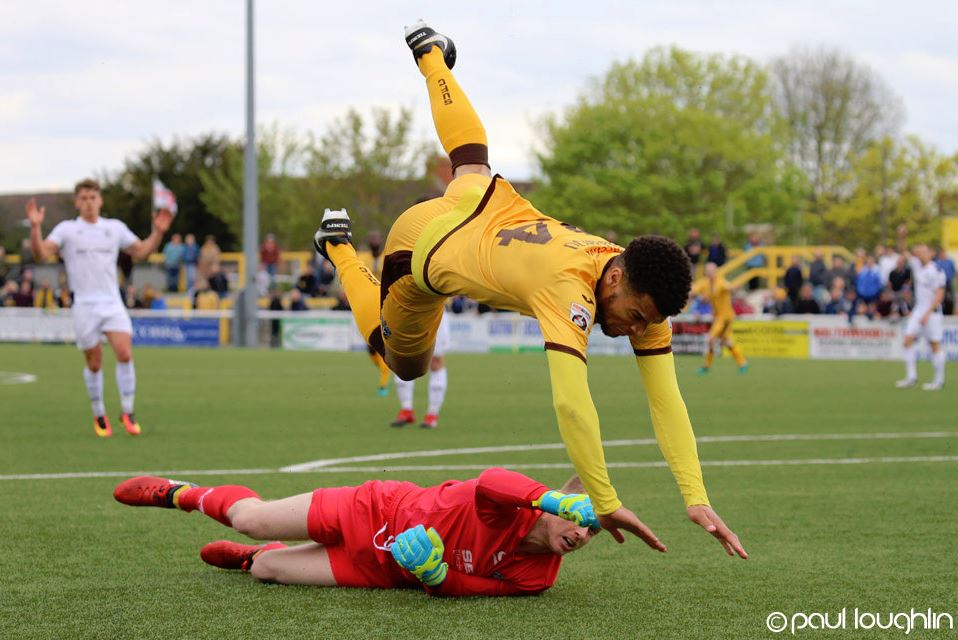 Is it a bird? is it a plane??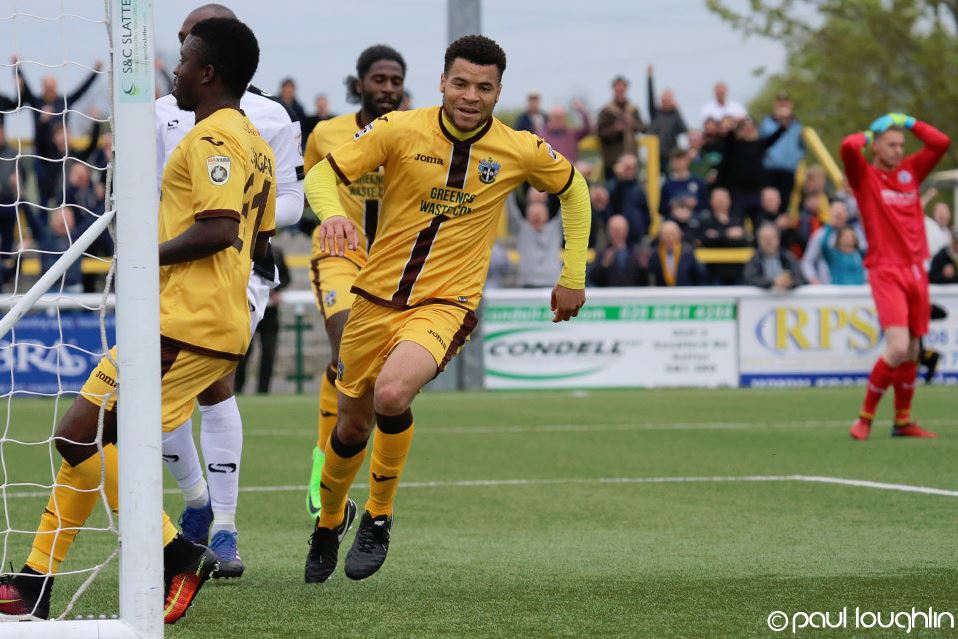 Biamou delivers a blow to the Heed.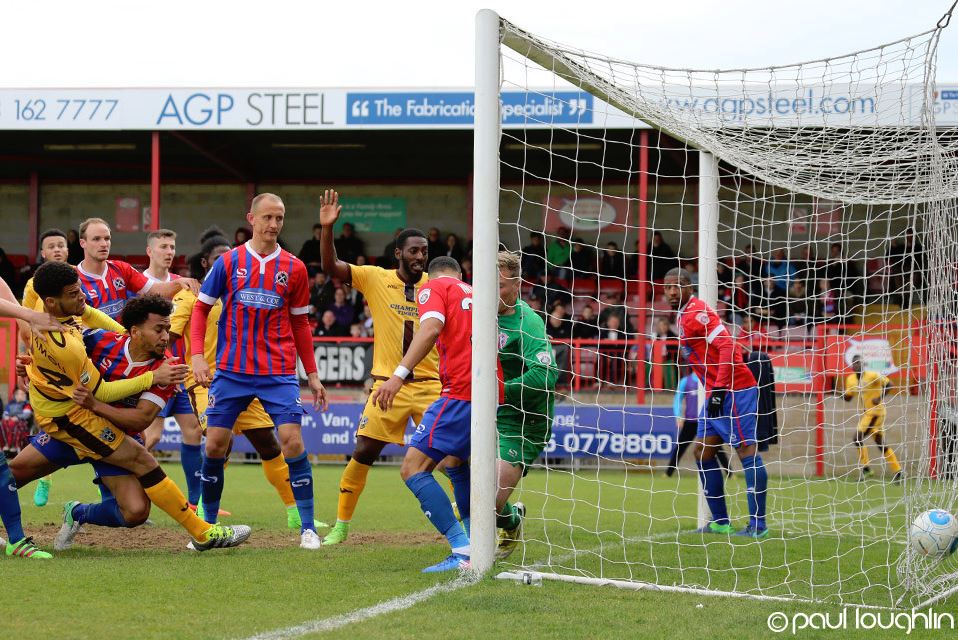 Max nuts us level at Daggers.
During the week, the knowledge that we're basically sorted and will be playing National League football next season is boosted with some mirth supplied by our dear neighbours, who have been done for an inelgible player and will be docked 3 points. Three points that stops them making the Ryman 1 South play offs. The very play offs totally amateur Corinthian Casuals have made. Us? Laugh? Well, just a little bit. We also get news of some possible new developments at Gander Green Lane thanks to the cup money and other incomes. Dave Farebrother announces on the forum that we're aiming for improved floodlights (that'll please Torquay!), upgraded and enlarged changing rooms, a remodel of the players bar and a new digital scoreboard jumbotron thingy. Fuck me, we've turned into Eastleigh!
The Daggers point along with other results means we're now 5 clear of trouble as we welcome Chesterfor our penultimate game and the last at GGL for the season, before which we watch Lincoln beat Macclesfield to lift the National League title. Having got pumped at the Deva 4-0 earlier in the season, we owe the Welsh borderers big time. And they're on a shocking run of form too. Lovely! We take full advantage as Adam Coombes finally scores opens his account, Adam May belts in a scorcher, JC clips in a cheeky free kick, Coombes doubles his tally and Bailey rounds it off with another 30 yard thunderbolt! 5-0 thrashing? Erm, not quite. This is Sutton United after all. We then switch off, let in a shocker to ruin the clean sheet, then concede a second and look like we'll ship more and be lucky to get a draw. Thankfully we make it to the end with no further damage and close the home campaign with a 5-2 win and are now totally, certainly, completely and utterly 100% safe. Never in doubt! Afterwards, the end of season awards are done. Deacon picks up 2, JC gets club player of the year and Adam May deservedly gets Young player of the year despite not being our player. Ooops! We also get drunk and buy shirts, before wondering what the team will wear for the last game of the season on Saturday.
During the week before our final match, the club formally announces something that we've all known for a while, as Dos blabbed about it during the pressers pre-Arsenal. The news is that we've signed a sponsorship deal with Knights Foundation, not to host David Hasslehof and a talking car oh no, but to rename GGL as 'The Knights Community Stadium' in a 3 year, 100k deal. Will anyone call GGL by it's new moniker? Will they bollocks. Will we cash that cheque anyway? Too fucking right we will.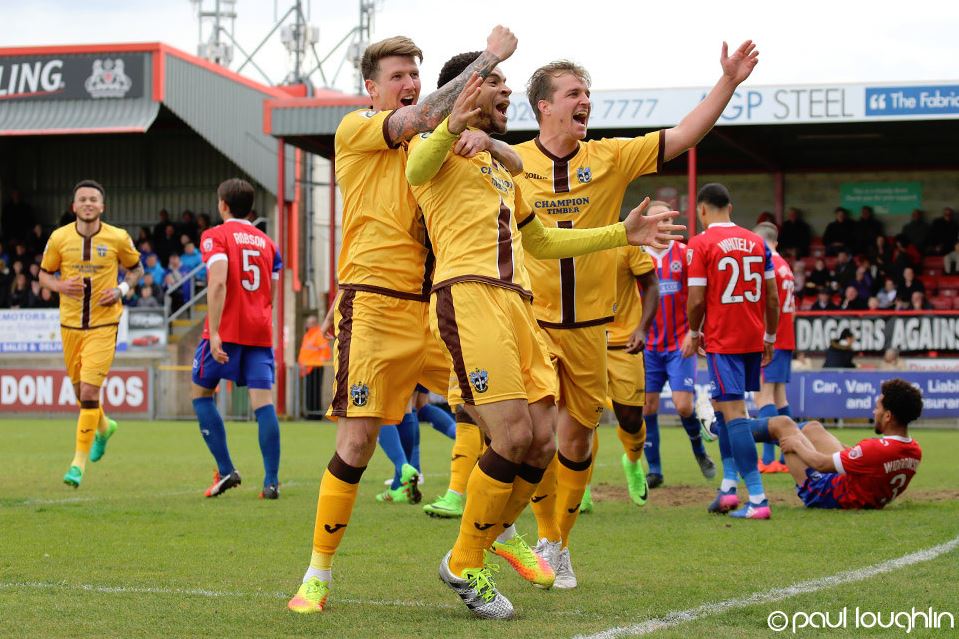 The lads celebrate getting into Dagenham on a concession…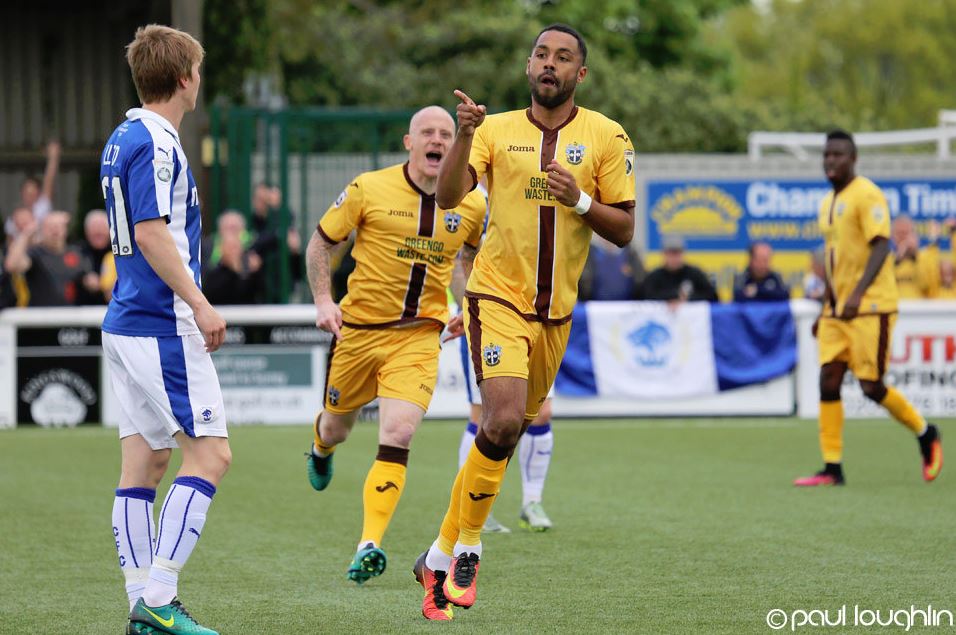 Coombes finally off the mark!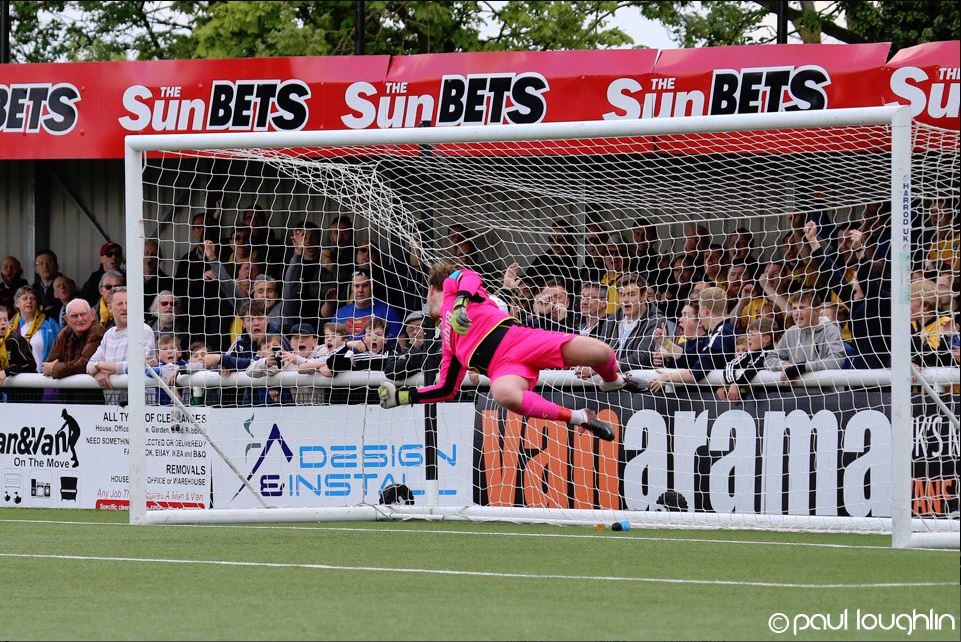 Adam May smashes one in against Chester
And so to Macclesfield Town we go. We make a weekend of it in Manchester, drinking and eating far too much. The game itself is typical end of season stuff with us safe and them saving themselves for the Trophy final at Wembley in a couple of weeks, in fact the only real thing of note is that it represents the 450th appearance for the legend that is Craig Dundas as he's given a rare start up top. Even so, we create all the chances and of course take none of them. And so having waited 27 years for an away clean sheet in the Conference, we rack up our second inside 2 months with a slightly unsurprising 0-0. We then proceed to drink Macc dry for the evening. Oh come on, do we have to bring up the away record again?? We also get to watch Casuals sadly losing their PO final on peno's via the magic of a modern mobile telephonic device. Unlucky lads.
In the end, we wind up finishing dead in mid-table. 12th. And with a final points total of 58. This means we end up the highest placed of the 4 promoted sides from last year, which ain't too bad at all. At home we won 13 of 23, losing 4. This meant we got 45 of our points from Gander Green Lane. Away, we won only twice, drawing 6 and losing the rest. Naturally, this gave us a poor return of just the 13 (irony!) points. Which I believe is about our worst return away from the Lane in any league for quite some time. We weren't even that bad in 07/08 and we had 2 less matches! Still, we were a bit unfortunate on our travels with games such as Wrexham and Aldershot. Scoring goals was our problem and our final total of 61 was a little skewed by 3 five goal hauls in the last 2 months. If we'd been a bit sharper in front of goal on the road and won say the 5 or 6 we deserved to, we'd have broken the top 10.
Right! So, that's us done then! Bye! See you in July! What? You wanna know what happened elsewhere? Oh do sod off! Is your Google broken or something?? *sigh* Oh all right then….
POSTSCRIPT
In the National, Lincoln are (as already mentioned above) crowned champs, with Tranmere runners up. The Scousers seeing off Aldershot over 2 legs in the play offs whilst FGR (3rd) ease past Dagenham in the other tie. At Wembley, the Vegans see off the meat pie boys and having spunked over 10m up the wall in the last 3 years, their fairytale ascent to the Football League is complete. Ah the romance of football! At the other end, Southport, Ferriby & Braintree go down, along with York, who drop straight through after their relegation from L2 last season thanks to a last minute equaliser from Guiseley on the last day. The footage of this is worth watching, if only for the deafening silence that falls on Bootham Crescent at the final whistle.
Hand clap, hand clap…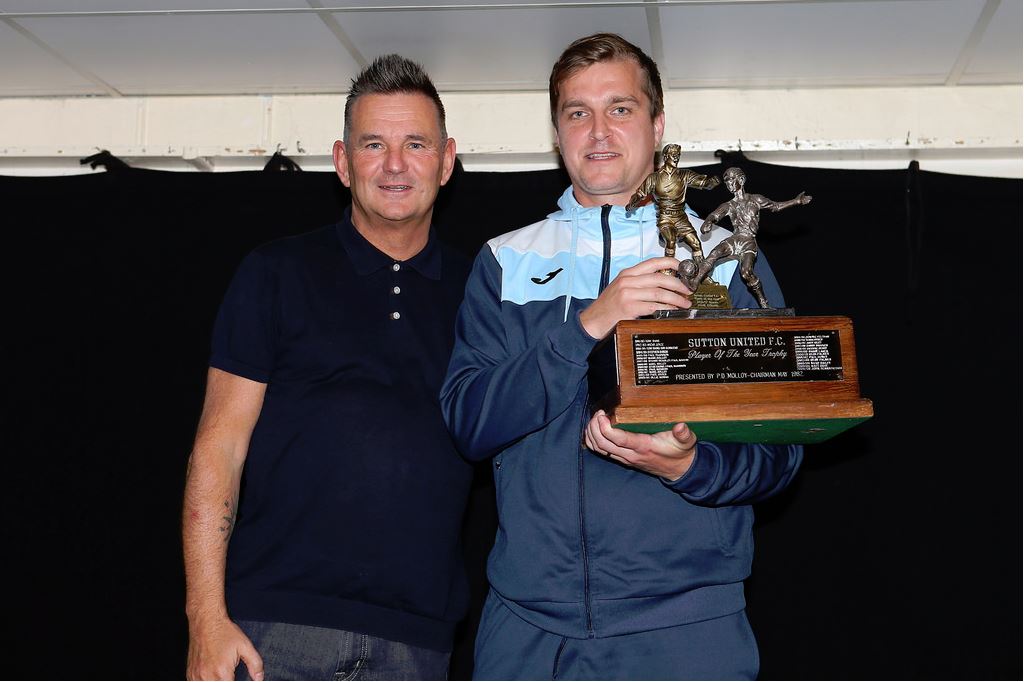 Awards n'stuff.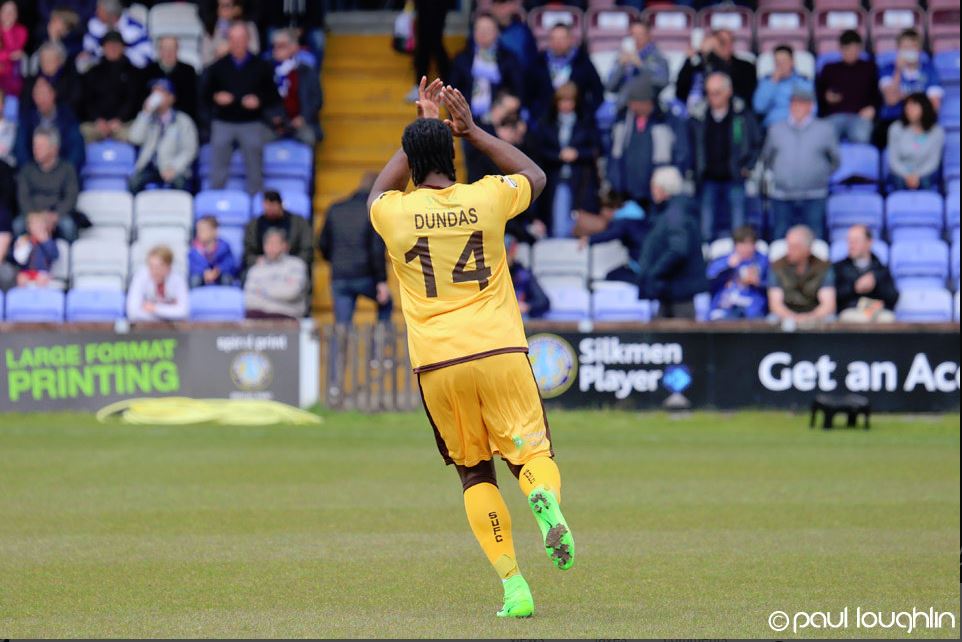 450 not out for the Big D.
And speaking of League 2, Leyton Orient join us just a couple of years after being 90 mins away from the Championship in a L1 play off final, thanks basically to their well publicised issues with their knobhead Italian owner running them into the ground. Although whether they'll even start the season is debateable as they have a winding up order against them amongst other things to overcome. Time will tell. If they survive all that, then they'll be joined by Hartlepool, who dropped on the final day as Newport completed a staggering escape (11pts adrift with about 8 to play!) thanks to an 89th minute winner at home to Notts County. So, at least we get 2 new grounds.
The Trophy Final is played out between Macclesfield and York, with the relegated Minstermen edging out the Lancashire side 3-2 beneath the arch with a late winner. Members of the firm are of course present, having ponced a couple of freebies like the leeches they are.
In Conf South, Ebbsfleet & their 1.3m budget once again finish runners up, this time to Maidenhead United meaning we'll get to renew acquaintances with the GMOSC crew next season. The Vegas boys then face off with Chelmsford in the final at their place and despite playing with 10 men for half the match, finally cast off their hoo doo and come from behind to win 2-1. Which of course delights absolutely everyone. Not. We won't go into all the bollocks surrounding the Conf South play offs, mainly as we never quite get our head round it ourselves. Suffice to say both Poole and Hungerford can't compete due to some shit or other about seats and hard standing yadda yadda yadda. Instead, Hampton in 7th gets the spot instead. Going down from the South are Gosport, Margate and our old friends Stortford. Who bizarrely end up shunted into the Southern Prem, much to their understandable delight.
In the North, moneybags AFC Fylde lead from pretty much the off and win the title giving us a potential weekender in Blackpool next season. What could possibly go wrong? Runners up Kidderminster lose to Chorley in the play offs & they meet with Halifax in the final. The Shaymen eventually triumph after extra-time to give us 4 new grounds next season!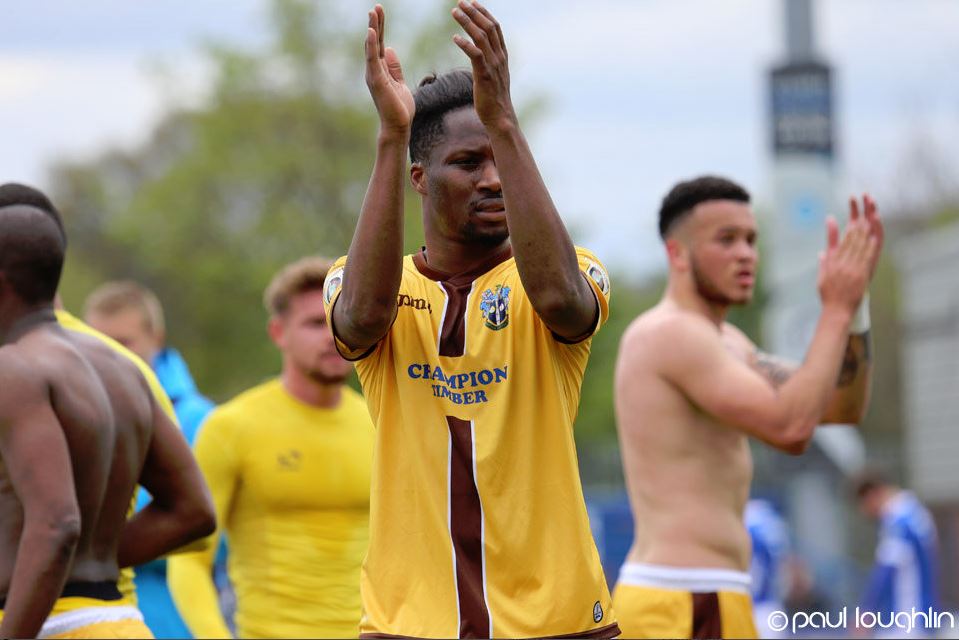 The boys give thanks at Macc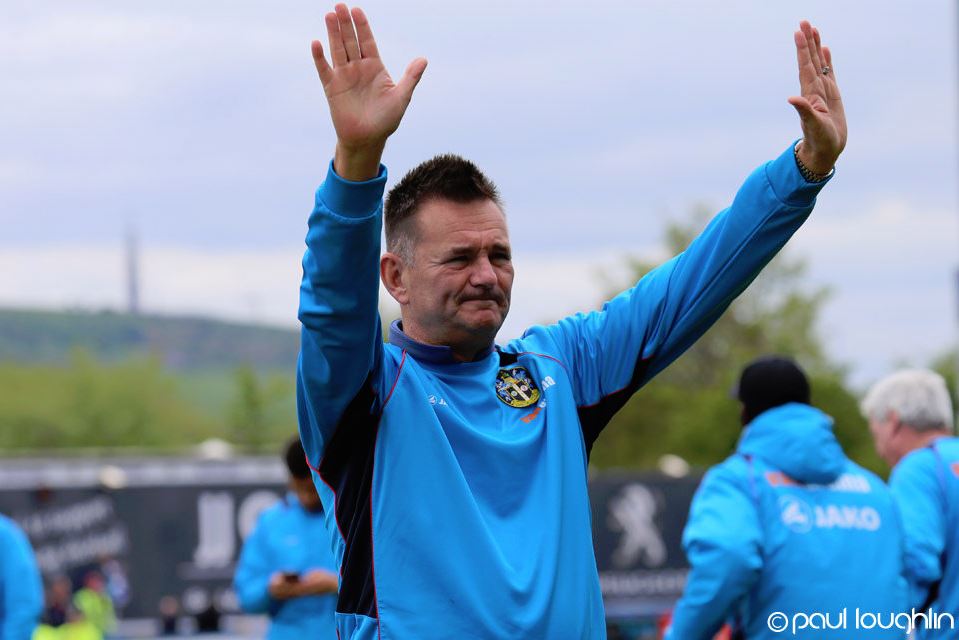 We're not worthy!
Even further down, the Ryman league is won by Havant who bounce back into Conf South at the first time of asking. They pip Bognor who then buck the trend for runners up to royally fuck the play offs by seeing off everyone's favourite South London hipsters, Mumford & Sons Dulwich in the play off final at Nyewood Lane.
Er…and we think that's about it. If we've missed owt, tough. That's what the internet's for. Now on your bike. We've got stuff to do before we start mooching for a gutter to spend the summer in.
Go on, shoo. Scram.
As always, we'd like to thank the jolly good sport (and Clubman of the Year!) that is Paul Loughlin for once more allowing us to rob his superb pictures from this season and make our round up look far more professional than we could ever hope to! Check out the full sets of his stuff on Flickr HERE. They're dead good.