Oh come on, you know us. We might give it all the "Thank fuck that's over" and talk about putting our feet up as soon as the season ends, but when you finish mid-table like us this year, there's always loads of post-season malarkey going on to tempt you into just going to one more game. Just one more. A bit like Mr Creosote and that one tiny little 'wahfuh theen meent'. Can't hurt.
Then we'll definitely put our feet up. Honest.
Fortunately, I'm a little more iron willed than some on this front. One or two of our number sneaked off to see a couple of the play-off games in the levels below, but I stayed firm. Mainly as I'm a shit neutral and watching games at grounds I've been to dozens of times already when there's nowt at stake doesn't really appeal. Plus even if we'd wanted to go and watch the likes of Gravesend Ebbsfleet against Chlemo, we wouldn't have got a ticket anyway. And we didn't want to go watch the likes of them.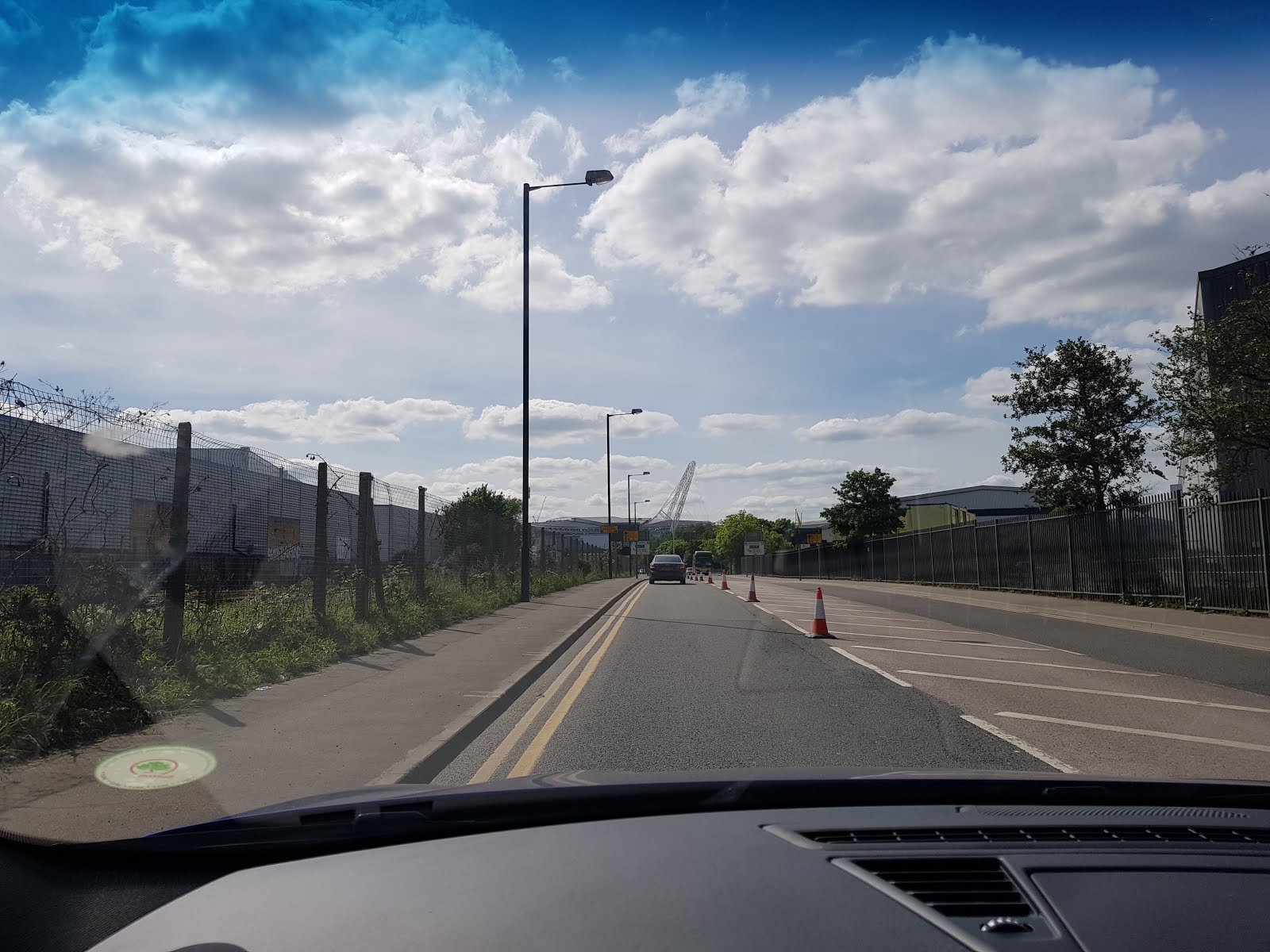 On the horizon…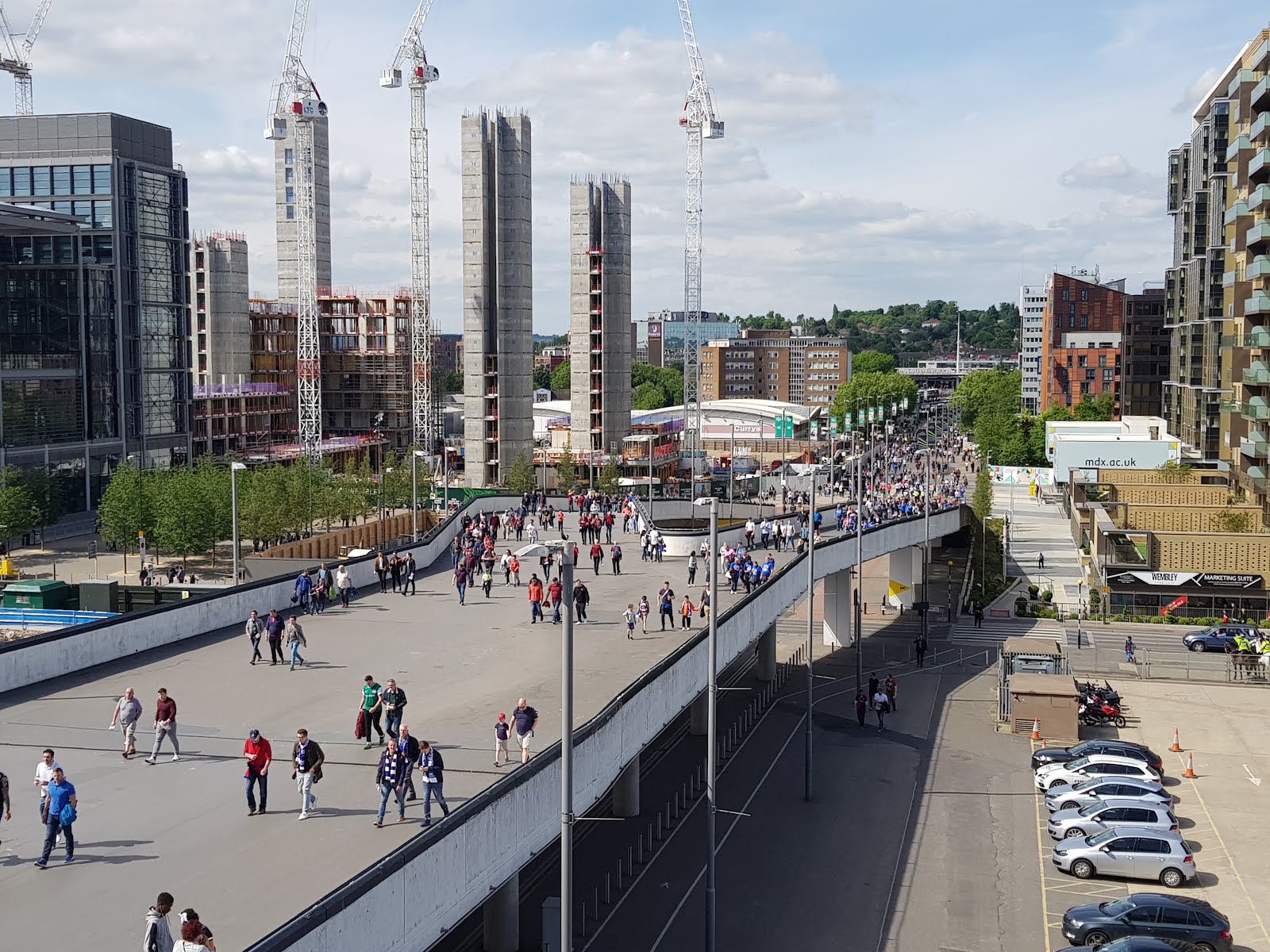 Wembley Empire Way
There was however a brief discussion of doing the National final at Wembley, brief as in we saw the ticket prices and gave it bollocks. Thirty six sovs for a game of Non-League football ain't exactly going to get my juices flowing, but when you add in the 4 quid booking fee per ticket and the fact the robbing cunts even charge you £1.60 to print the fucking things at home, that's a definite 'no' from me. That's right by the way, £1.60 to use your own bastard ink & paper. Scandalous.
So it looked like I'd escaped. That I'd make it through the post-season minefield unscathed, cold turkeyed and would emerge blinking into the light for the Pre-Season games in July and hopefully a monster drink up at Forres Mechanics at the end of that month (don't ask!). But no. I got sloppy. I got complacent. And then it happened. A face from York asked on the National Forum if anyone wanted a pair of tickets he'd had donated back to him for the FA Trophy final. I wasn't that up for it really, but being the nice person that I am I at least tipped off the rest of the herberts via the top secret, members only, VIP whatsapp thingybob of their availability.
Mr X answered the call and he blagged himself the pair. Well done sir. It seemed that he was planning on treating his Nephew to a no doubt thrill packed day in a 8/10ths empty Wembley watching two Non-League sides clog each other in pursuit of a trophy no one in the rarified atmosphere of the Football League even knows exists. The lucky lad.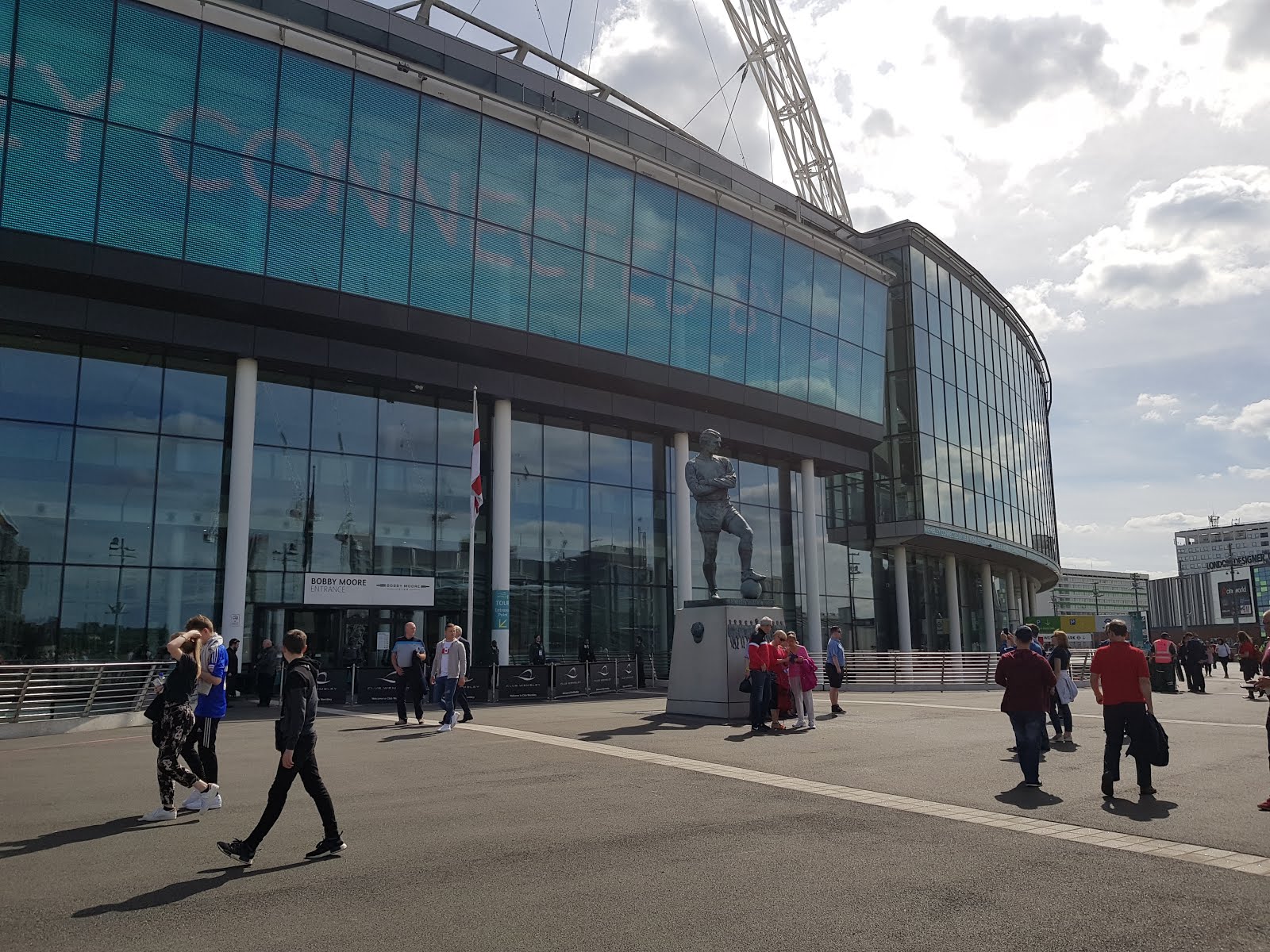 Sir Bobby.
Still, my luck couldn't last and it turned out that the man of mystery's young nephew is smarter than he sounds and cries off sick the day before. "Probably wants to sit in playing his fucking X-Box" is the spurned Uncle's verdict. And having spent as many Saturdays as I have with Uncle X, I'm surprised it's not an excuse I've pulled myself before now. How much is an X-Box these days? I really should look into that. Of course, with no family to escort him now and keep him company and having effectively been the middle man in supplying the briefs in the first place, I'm offered second dibs. Sloppy seconds if you will.
Oh for god's sake. Go on then.
Planning is brief. We decide we can't be arsed with the Vase Final kicking off at noon. We might be Non-League, but we're not that Non-League. We also decide we can't be bollocksed with the train up either, with the unknown one offering a ride in Donna to Wembley instead. With these crucial details ironed out, we agree on a 2pm meet and I flick on the box to watch the Vase final on the telly. Like I said, not that Non-League!
As I watch South Shields outclass a Cleethorpes side that look like about as bewildered as I would had I been grabbed off the street, dressed in a blue football kit and shoved out onto the Wembley pitch in front of over 12,000 people, it dawns on me that I'm currently watching a game on TV at a ground where I'll be watching a game live in person that very same afternoon. It's bloody odd I can tell you. It's a feeling I've not quite shaken off as I trundle down to the awaiting X & Donna with 15 still to go in the Vase. Naturally, I have to share my confusion with my designated driver.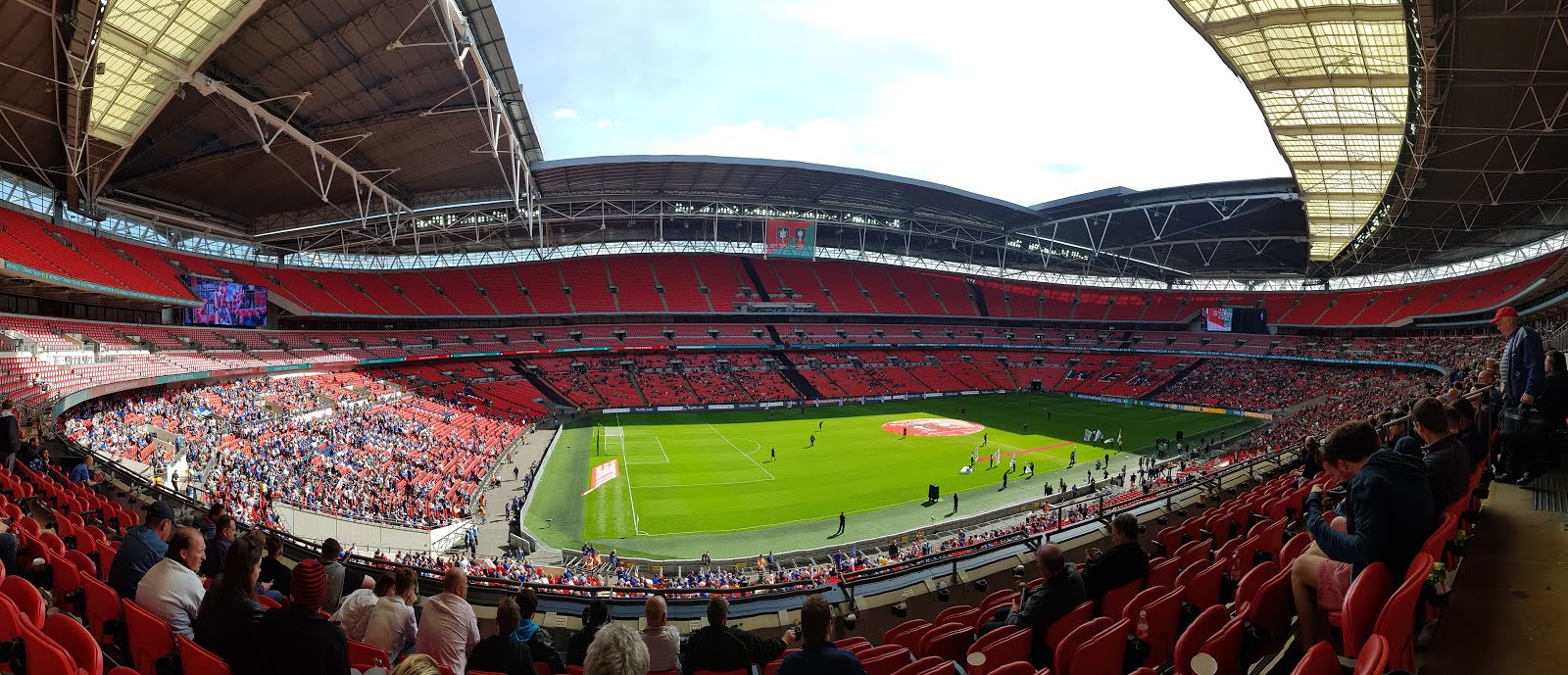 Panoramamama
"Have you been drinking?" is all he can offer in response. Sadly not old bean!
Oh shit. Sobriety. I'd not thought of that. Watching a Non-League game? Sober? It's enough to make you want to spunk over a fiver on watered down Budweiser in the hope it'll take the edge off. Oh wait, we're off to Wembley. It will be watered down Bud at over a fiver a pint. Problem solved.
The drive up is fairly easy and with a 4.15 kick off, we've plenty of time. Arriving in the less than glamorous surroundings of the national stadium with a good 45 mins to spare. So, we park up 200 yards from the stadium outside some grotty old industrial unit which a geezer with a fucking huge doberman for company relieves us of twenty quid for the privilege and are soon heading for the surrounds to soak in the atmosphere. Now, I know what you're thinking. "Twenty nicker to park up? Mugs! That geezer saw you two coming!". Well, you'd be wrong. Whilst the price is steep, Mr Doberman's rates are a good tenner less than the official FA sanctioned spaces in the shadow of the arch. Although their attack dog wielding bloke would have been wearing a nicely pressed blazer as he relieved us of our 3 crisp Bill & Bens.
We wander round to the front of the stadium to see how busy Wembley Way is and it's starting to fill out nicely with 2 distinct streams of colours heading up towards us. On one side and filtering around to our right, the Macclesfield fans. On the other and mooching around to the left, York. As we watch and Mr X takes in as much nicotine as he can to get him through the 90 minutes in front of us, we chat about would we like to make Wembley, how pissed would we get pre-match etc. The answers being "Yes we would, but it's new Wembley so would probably be shit" and "Enough to calm the nerves, but not so much as to not remember every painful minute". Right, shall we?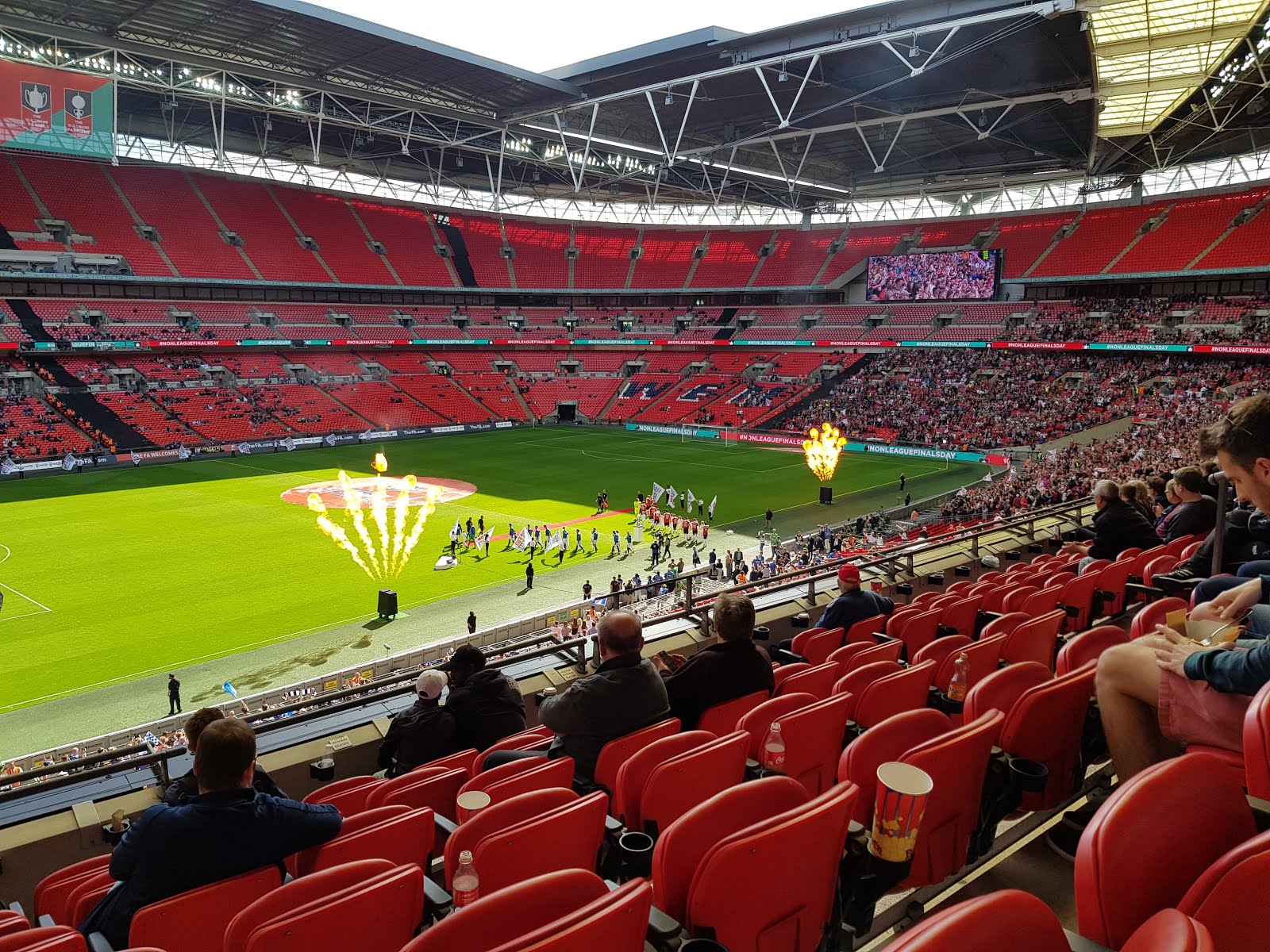 That looks a H&S nightmare….
Ah yes, I'd forgotten to add. We're not only poncing this one, we're poncing it in Club Wembley no less. Now, like me, if you've never been in Club Wembley before, then the only way I can describe it is it's like flying a bog standard airline, but the posh bit involves a bit of carpet to queue on and you get a cushion once on board. Still, the one thing I note is how much security there is about. There must be one for every other fan in here today, at least. Annoyingly, they're all in dark suits as well rather than the usual dayglo, so they can sneak up on you unseen no doubt as you sticker the faux marble in the khazis. Sneaky fuckers. If I were actually paying for any of this, I might make a complaint.
Fortunately, the beer selection is better than hoped and my fears of watching completely sober are banished with a reasonable pint of ale from a little cart. Mr X stays sensible and opts for a cup of tea despite my warnings and reminders of watching this sort of stuff not even vaguely under the influence can do to a man's soul. As I sup, we note some of the different shirts on show. I spot a Queen of the South one, and a couple of Hinckley lads. There's alos a small group of Donny fans and what seems to be an entire team all in red trackie tops with 'Phoenix' on the back. Nope, no idea. Pint finally necked, we head out to find our exclusive seats, which as it turns out differ from normal Wembley seats in that they have some padding and a drinks holder. So yeah, definitely worth every penny of whatever you'd pay for this normally. If you were actually paying for it. Which we're not.
Did I mention we'd got these free? I did? Oh.
As we kill time before kick off, I'm soon reminded of another absurdity with our National Stadium. The fact that it's sponsored by a mobile telephone network and yet in which I resolutely cannot get a fucking mobile phone signal. And we're not talking "Oh no, there's only 3G available!" first workd problems here, oh no, more "You shitting twats EE! I can't even send a bastard text message!". Of course, as you may have guessed, my mobile provider is not the same one as that splashed over every fucking surface of Wembley Stadium boasting of how widespread it's 4G network is, however this is of course completely co-incidental and in no way connected. Of course, Mr X finds my cellular signal issues amusing. Mainly as his provider is the same one splashed all over every fucking surface of Wembley Stadium. The smug prick.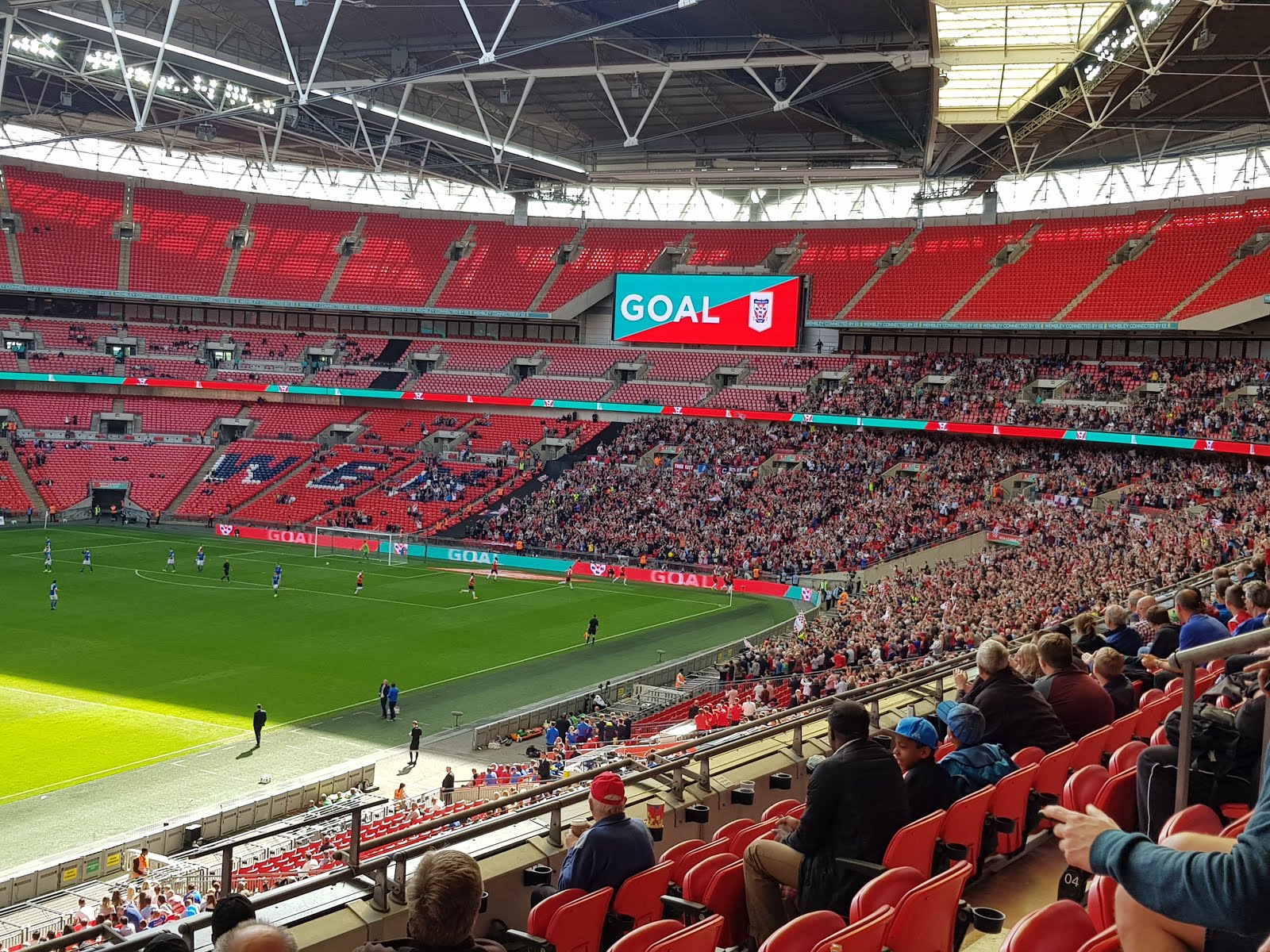 Parkin nods….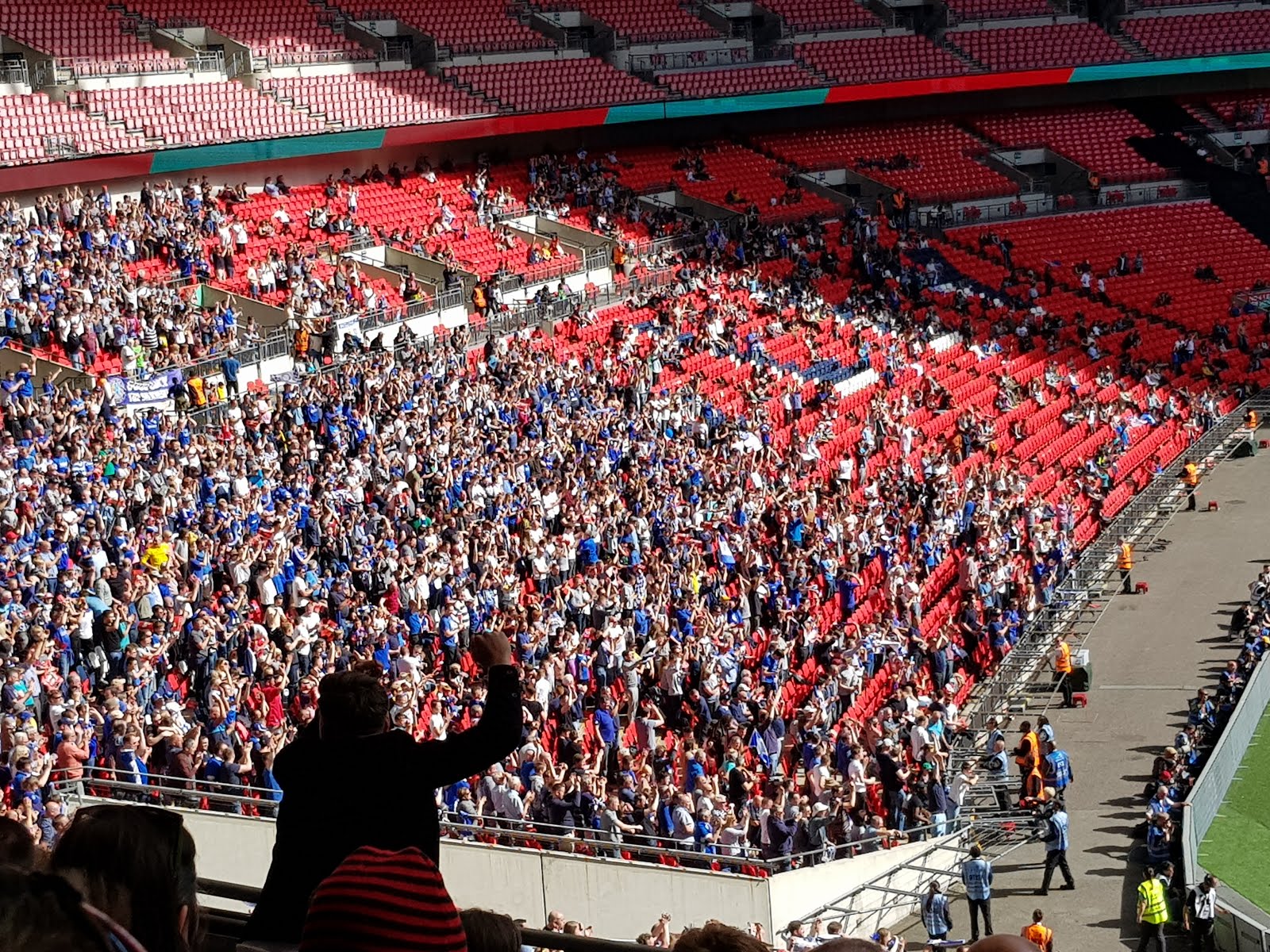 "Fucking have some of that!" – Macc level
Like in our visit there a couple of weeks back, Macc start quickly looking to see if they can force an early goal. But having pressed a bit without creating too much, it's York who provide the first moment when one of their lads darts onto a bouncing ball into the box. He looks to be levered off it but despite the shout from the City fans behind that goal, the ref is having none of it. Macc again keep pressing, but then from nothing inside 10 minutes, York are in front. A little clipped ball in from the far side is deftly nodded into the far corner by the portly figure of John Parkin. As he waddles off to celebrate, we're given a chuckle by his mugshot flashed up on the big screen which makes him look like a Big Issue seller.
The lively start continues as Macc go back on the attack looking for an equaliser and having pressed well, the York lead only lasts about 5 minutes all told. A free kick in from our side is half headed away and drops to Browne who takes a touch, goes a little wide and shoots through the keepers legs. Bouyed by getting level, the blue shirts continue to apply the pressure and keep testing the York full backs out wide. They have a peno shout themselves soon after, but it's much like the York one at the other end and the ref is having none of it.
So far, we're a bit puzzled how York are in the game as Macclesfield are making all the running and playing some decent stuff. The with about 20 mins gone, York do it again. A ball forwards is held up by Parkin and he lays it back. The supporting midfielder immediately threads a ball through for an overlapping full back and with the Macc defence struggling to make up ground, he squares the ball to the back post for his mate to slide in and make it 2-1. As the celebrations get underway at the far end, the mystery man and I exchange a glance and a shrug. If anyone's seen that sort of goal happen many times this season, it's us.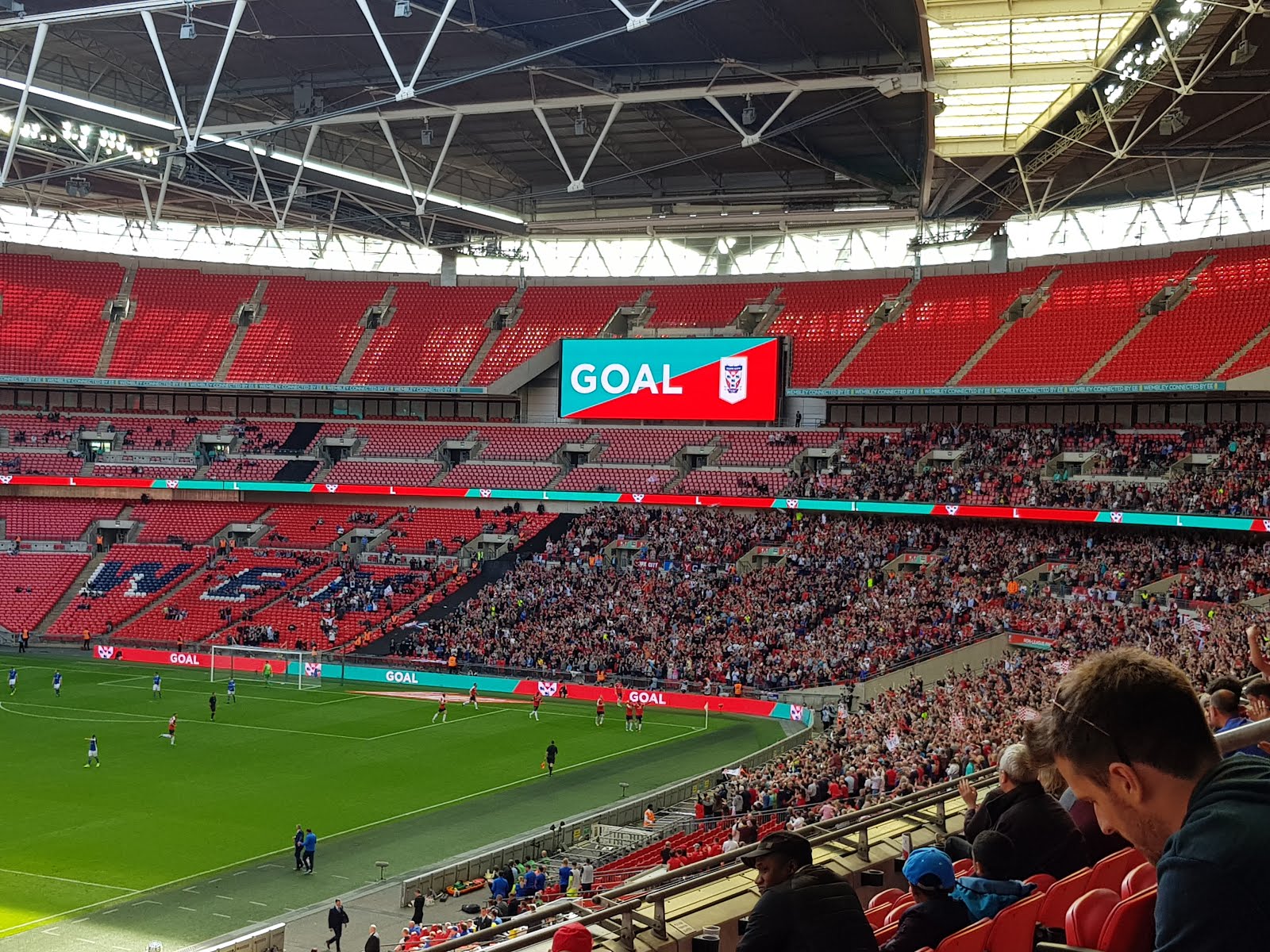 York again.
Soon we're back to the previous pattern of York largely going direct but not making a lot stick up top and Macc playing all the good stuff and stretching their oppo. First the impressive baldy lad hits one from 20 yards that the York keeper has to tip away from his top near corner and then the Macc no.9 takes advantage of the crap no.10 playing centre back losing the ball in the sun. He almost gets clear, but his first touch is rubbish and he ends up laying in his baldy mate, but the keeper is out to make a good block. Then with the break approaching and our thoughts turning to a cuppa, the so far impressive Browne really should square things up. He gets to the bye line, turns inside leaving the defender on his arse, darts into the box and goes across goal past at least 2 red shirts and from about 10 yards with anything hitting the target surely being a goal, he fires a good couple of yards over the bar. Up in our padded Club Wembley seats we shake our heads and exhale audibly at the miss. Again, finishing like that is something we're more than familiar with!
With a minute added on, Macc press one last time and have seemingly fannied about with it a bit too much outside the box rather than get it in the mixer when it gets laid off to Ollie Norburn. Amusingly, pretty much every other time a blue shirt has been in this position about 25 yards out, the Macc fans have usually urged "Shoooooooooot!". This time however it's more "Shooo….ah fuck it" and it dies before it's even started. Even more amusingly, shoot is exactly what Norburn does. And then some, as he hits an absolute thunderbastard of a stike right down the middle and it flashes over the keper's outstretched hands, and crashes into the back of the net just under the crossbar. Fuck a duck! What a hit! There's barely time for the celebrations to subside let alone kick off again before the ref blows for half time. Timing Oliver, timing.
With the entertaining first 45 at an end and the second Macc goal still fresh in the nostrils, we amble back inside for a cuppa and to see if we can bag a sausgae roll or some such other sustenance to tide us over until the end and that won't require us to flog a kidney each to obtain. Sadly, this is of course Club Wembley and instead the choice is limited to Krispy Kreme donuts, some weird carvery or some fish and chippy type place selling a sausage and chips for six and a half nicker. And it's not even a battered one! In the end we settle for just a brew and I set about failing miserably at getting any sort of mobile signal even out here. So, having resigned myself to the dark ages for the next three quarters of an hour, I locate my matchday companion and we head back inside.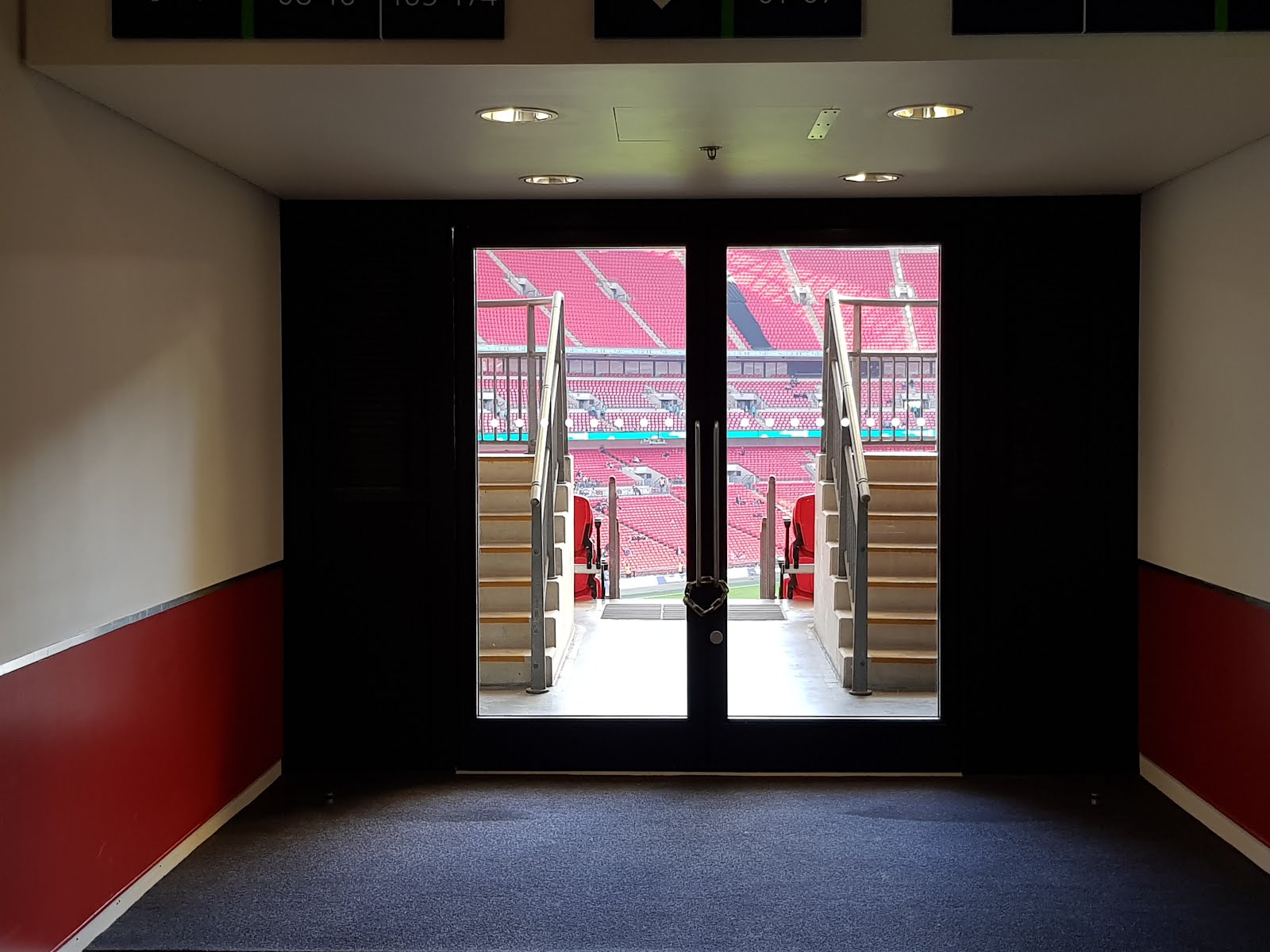 S'a door innit.
As we make ourselves comfy again, the main topics of convo are Parkin making JC look anorexic, just how York are even in the tie having largely created sod all and how iffy the York centre back wearing number 10 has been. The teams emerge for the restart and the PA makes an announcement of a half time change for City. "Replacing number ten, Yan Klukowski….". Ha! Told you he'd had a shocker!
And people say we're just pissheads who haven't a scooby what we're talking about. Eat your heart out Jamie fucking Redknapp.
Stuff gets back underway down below us and again it's Macclesfield looking to make things happen. A couple of early sighters come from them pressing very high up the pitch, although York again nearly nick the lead back with about their first foray up the other end. A hopeful punt forward bounces just on the edge of the box and as the defender hooks it clear, he only succeeds in smashing the ball into the face of an onrushing striker and the ball loops just wide of the far post. Macc go back on the assualt and baldy man shoots through a crowd from the edge of the box after a corner isn't cleared. It looks just wide from our spot about 20 miles away and the replay on the big screen confirms our suspicions. Browne continues to be at the heart of everything good for the Silkmen, with another darting run seemingly taking him in on goal. But instead he tees up the rather unimpressive no.9 and the keeper pushes away his close range effort. Their best chance though comes soon after, with a ball into the box from our side is just headed away and it's thumped back on goal first time by a blue shirt. But there's a defender there and he just manages to head the shot away from under the crossbar.
Macclesfield create one more chance when a nice little threaded ball puts Browne away in behind the defence. But again keeps is quick off his line to block the shot. After this, the pace of the game seems to take it's toll somewhat as the tempo tails off and despite still having a lot of the ball, Macc seem to have lost that little bit of zip in their play. So we get a rather dull last 15 or so, with little of note happening and we're both agreed that an Extra 30 minutes looks absolutely nailed on. Then it happens again. A big lump forward, Parkin gets it down, holds and then manages to bumble away from his man. With a sight of goal, he shoots from 18 yards, but a defender gets across to block the shot. Unfortunately for him, all he does is help it loop towards the near corner where the tiny York sub darts it to poke the bouncing ball into the roof of the net. How the bloody hell have they done that??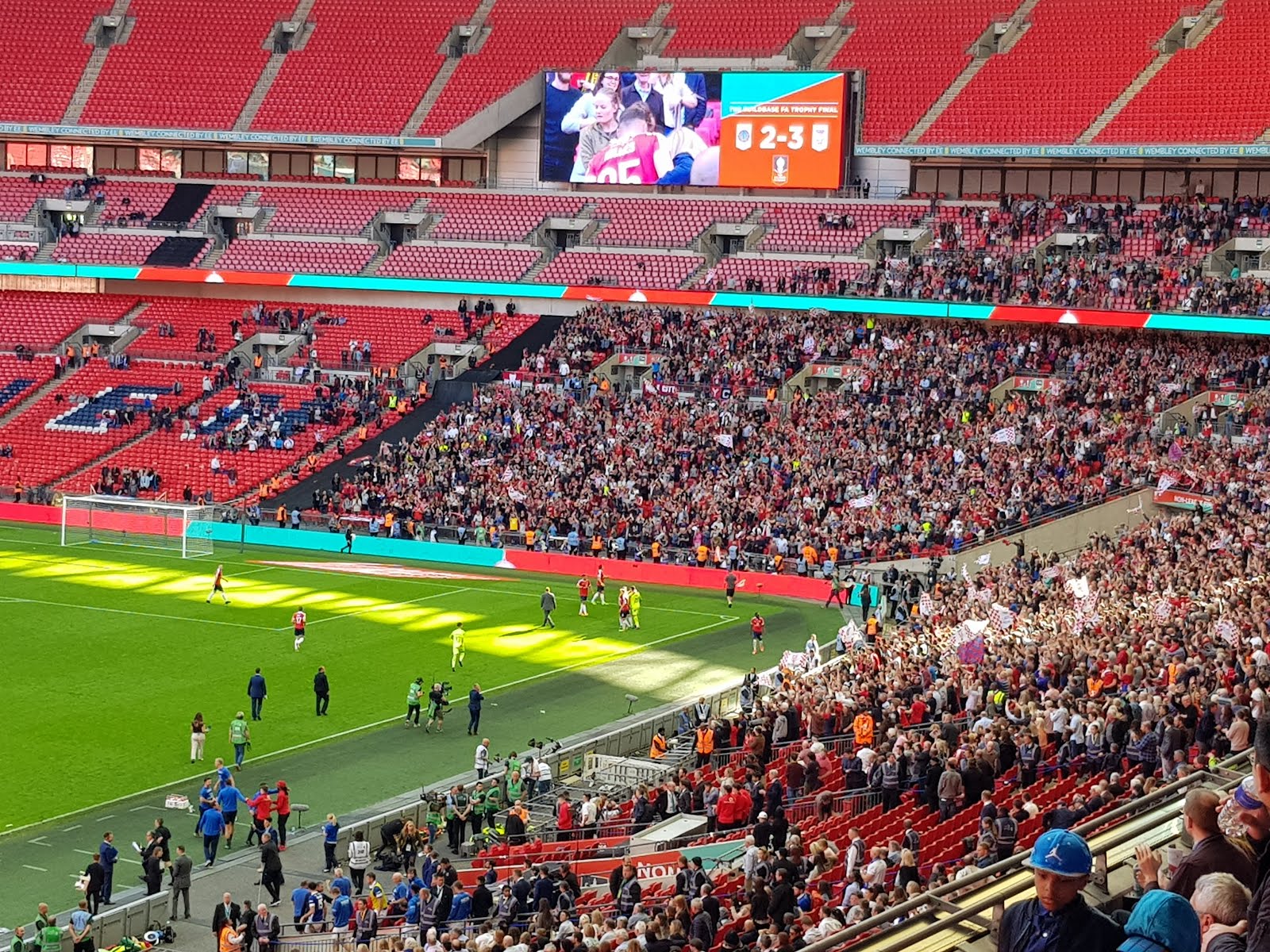 Fesitivites…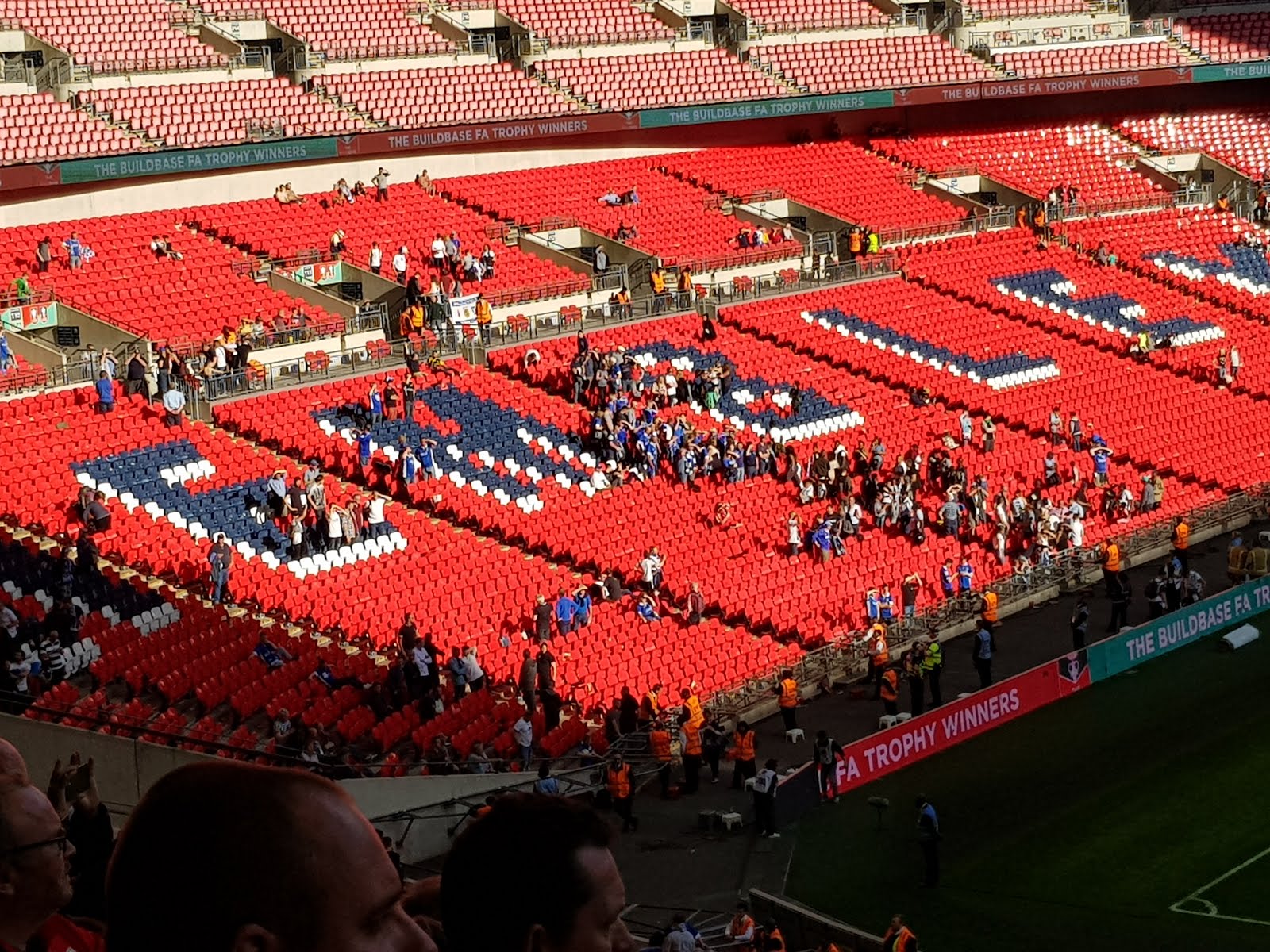 Something to emulate. Wembley defeat.
With 4 minutes left, we're not expecting Macc to bounce back again, especially given how flat they'd looked for the last few minutes or so. And so it proves, with the soon-to-be-Conference North side holding out without too much fuss. Just before the end however, there's one final chuckle provided by the choice of man of the match, which bizarrely goes to the York no.33, Sean Newton. This is the bloke we'd last seen scoring a corking OG in the 2-2 draw at GGL in March. Now, here he had admittedly provided the run and pass for the Minstermen's second goal, but apart from that he'd largely spent the afternoon getting bypassed by the Macclesfield widemen. A defensive masterclass it was not. We wonder aloud if the choice was being made by his mum, as it's the only way we can see him possibly getting the nod ahead of someone like Browne who'd scored and caused problems all day long.
The final whistle goes and the York fans celebrate. I'm not sure if it's out of relief they've got something from a miserable season or if they're just happy clappers along for the day with no idea of the misery endured by many of their regulars. We shuffle along the deck to see if we can get a view of the presentations, but there's too many people about and we can only just see the pot itself glinting in the light as it's held aloft by the winning skipper. At the other end, the blue shirts of the Macclesfield fans trudge to the exits. "Just think, that could be us in 12 months time!" I offer as we ourselves decide to do the off and head for home. Mr X says nothing. He knows I'm right! Annoyingly, we're made to go the whole way down to the ground floor and walk out through the car parks rather than around the concourse outside the ground, so stickering opportunities are limited. Foiled again by those suited bastards! Back at the grotty industrial unit we find Donna where we left her and she's even still got all four wheels attached, which is a bonus. Mr Doberman and his four legged best friend are nowhere to be seen though, so we assume he's off feeding a small child to fido somewhere and head off before we ourselves end up strung up out back to be turned into dog food.
The man with no identity sets his sat nav for Gandermonium HQ and we set off through Neasden, where we cop a glimpse of a rather stunning Hindu temple and then down into Shepherds Bush, where we catch sight of the slightly less stunning Westfields shopping centre. Naturally, being taken through this part of West London, the one place we're keen to avoid is Fulham Broadway. Mainly as Chelsea are at home today and were wrapping up the PL title, so the place will probably not only be rammed, but crawling with numpties in blue shirts. Naturally, this is exactly the route the Sat Nav takes us. Stupid twat. Still, the traffic's not too bad given it's a good couple of hours since full time and we're soon over Putney Bridge with minimal delays and back saaaahf of the river.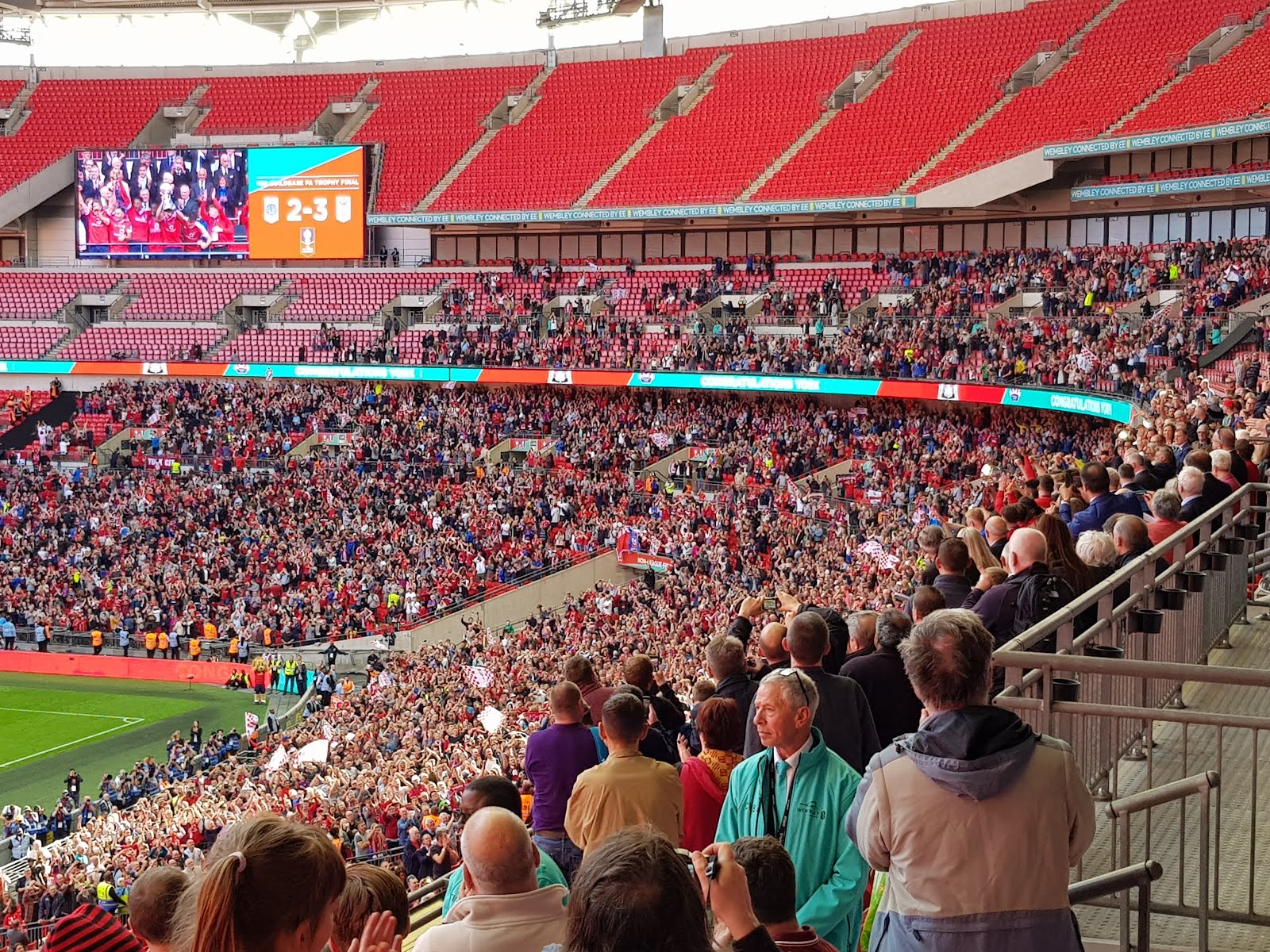 Held aloft! Er, honest…..
From here, it's not long before we're pulling up the wast gravel driveway to Gandermonium HQ and I'm once more deposited back at my abode, wondering what on earth I'm doing with my life and whether Mrs Taz will have the kettle, dinner or both on when I get inside.
As it turns out, the answers are "Your guess is as good as mine" and neither. Bollocks.
Right, that definitely is it. We'll see you in July and not a minute sooner.
No, you fuck off.
Taz
A quick word of thanks to Phil up at YCFC who sorted us out the tickets for this one. Much appreciated squire. Cheers!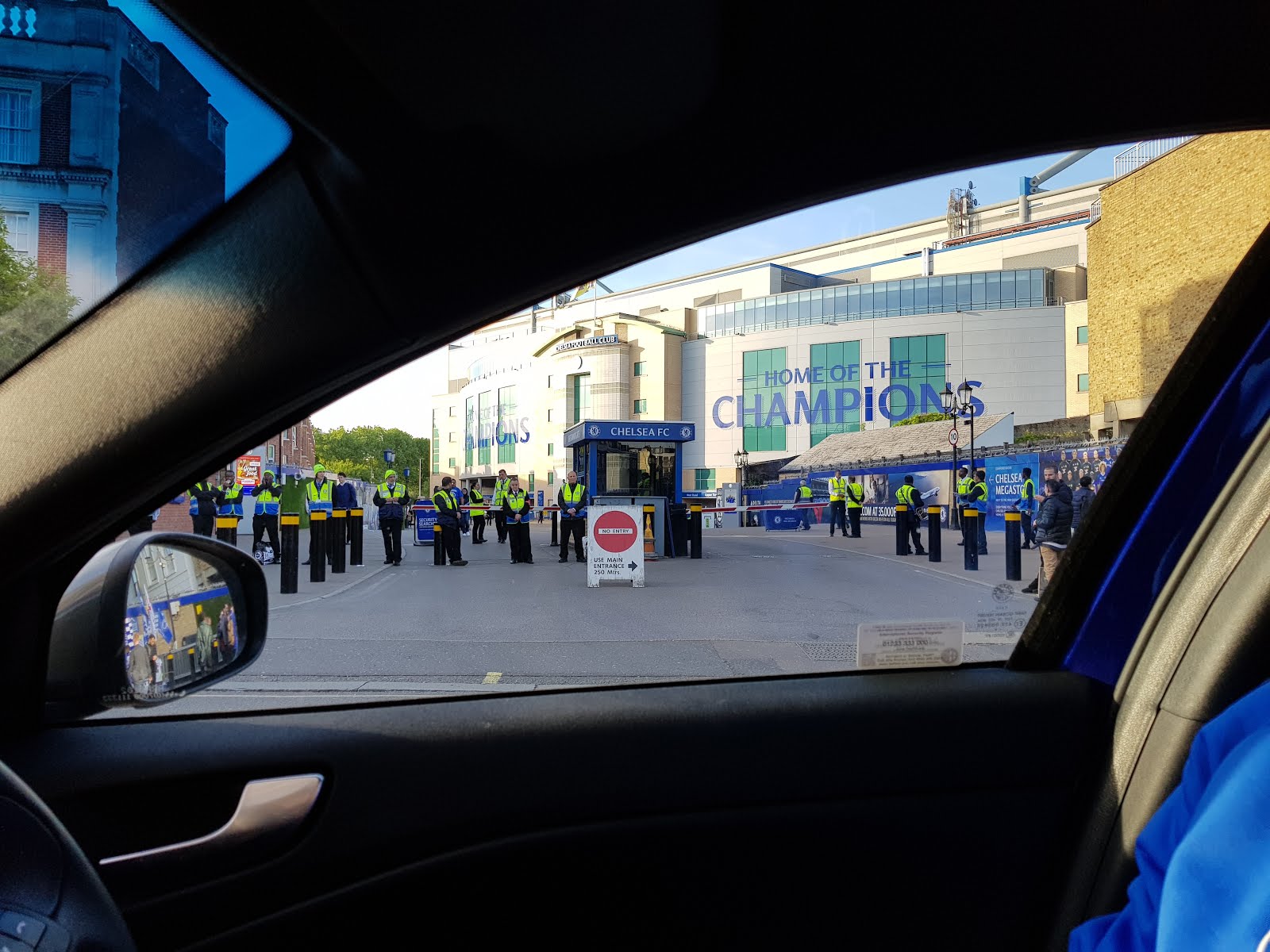 Well this place looks just awful….