In Part 1, we got our first Conference Season underway in 16 years, were briefly the 95th best team in England, got the impression we were largely going to be getting sod all away from home and also knocked the best team in the draw out of the FA Cup. So, not at all bad really. Now, it gets a bit wordy from here on in. so we'd suggest a cuppa and at least 2 digestives for this part.
To Dartford. And the FA Cup!
NOVEMBER
We enter the middle third of the season with that less than enthralling FA Cup tie at Dartford. There's a couple of reasons for that, it's the 1st Round and we wanted a League club, they're on a bloody good unbeaten run and we've been less than impressive away from the comfort of GGL for 2 months now. So you can see why we're not wetting our pants with excitement. As it turns out, we get to witness one of the silliest and most entertaining games in years! Baimou has us ahead inside 30 secs and after 23 mins, he's crashing in our 3rd to make it 3-2. The hosts fight back gamely and level for a 3rd time shortly after the break but then we pull away with a superb attacking performance. A brace from Stearn sandwiches a second goal from Deacon to round off a ridiculous 6-3 win. Monday's 2nd Round draw is less exciting, pulling us out against L2 sides Crewe or Cheltenham Town at home. Still, at least it's a league side!
Now, about that away form thing…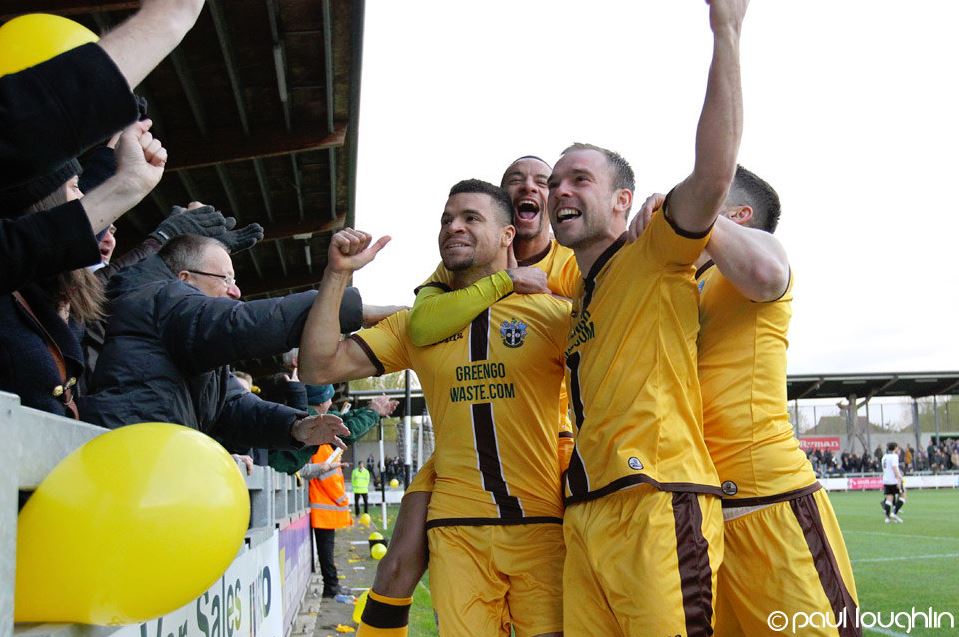 "3-2 after 25 mins. I think that'll do lads!"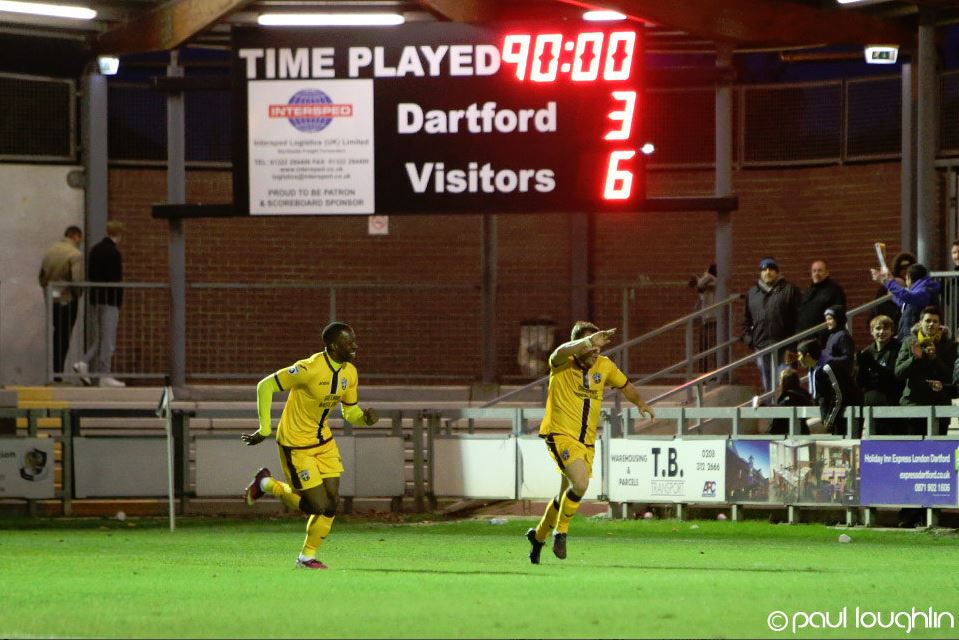 Stupid stupid stupid stupid game!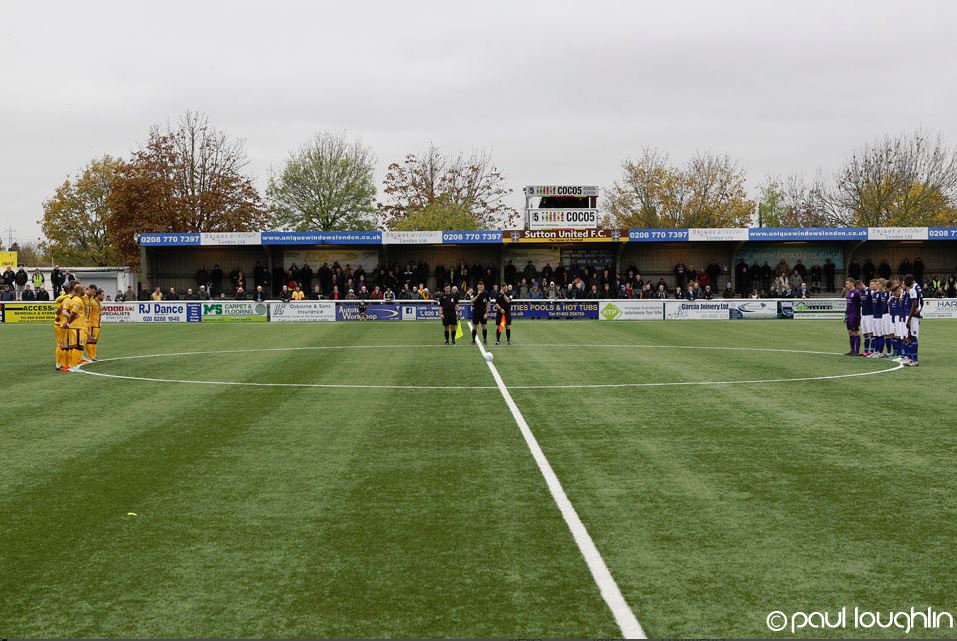 Minutes Silence for Rememberance Day
After the utter madness of that cup tie, what we all needed was a tight, tense goalless draw against unbeaten oppo to remind us football is meant to be neither fun, exciting or entertaining. Oh, hello Barrow! The play off chasers are indeed unbeaten since August but have drawn a few amongst those, so are in the PO spots rather than topping out the division itself. Neither side quite gets on top over the 90mins and we have our first 0-0 of the season, but it's another solid showing against someone from the upper reaches. The street parties held to commemorate the result are abruptly interrupted the following morning when bad news arrives. The club have received and accepted a second offer from Eastleigh for winger Ross Stearn. With them closer to his Bristol home and him unlikely to sign a new contract in the summer due to the travelling, it's a sensible move. A fucking nice fat pay rise and a signing on fee no doubt helps as well. But it definitely weakens the side as Ross has been by far our most consistent performer this season. The wee man will be missed around GGL and no mistake.
Following that return to earth, we're once more heading North the following weekend. Literally, as North Ferriby United is our destination. A small village just outside Hull, Ferriby are finding life hard in the National and they're bottom with only 8 goals to their name all season. Yeah, you know what's coming next. A terrible 1st hour, 2 dreadful goals and we're in the shit. Biamou pulls one back late on and Dickson hits the post, but we go down to a pretty shocking defeat, 2-1. Not a good day at all. Still, at least the BBC's 'Price of Football' survey shows us to have the cheapest season tickets in the top 5 divisions of English football. On the Monday, struggling Cheltenham see off Crewe convincingly in their Cup replay, meaning they'll be coming to us in the Cup and preventing a bit of a reunion with Dario Gradi. Still, that's probably for the best given the historical child abuse scandal that has recently come to light involving the Alex and one of their former youth coaches. The scandal would go on to engulf a number of other clubs in the FL as more and more victims come forward.
With the last couple of games being a bit dull, the last thing you want is a trip to Boreham Wood. Especially when they're charging 18 fucking quid to get in. The game sees the debut of new signing Ben Jefford, a fullback acquired from FGR. Another iffy performance follows, although we do create chances and although Wood aren't much better, they score from just about their only real attack of the night (sounding familiar?). So a 1-0 defeat and the away run continues. To make matters worse for a lot of the travelling U's, Thameslink fucks everyone over so badly that some don't get home until gone 3am. 5 hours to do a 75 minute journey! Still, it gets Gandermonium it's first ever mention in the national press when Totts kicks off big style over it.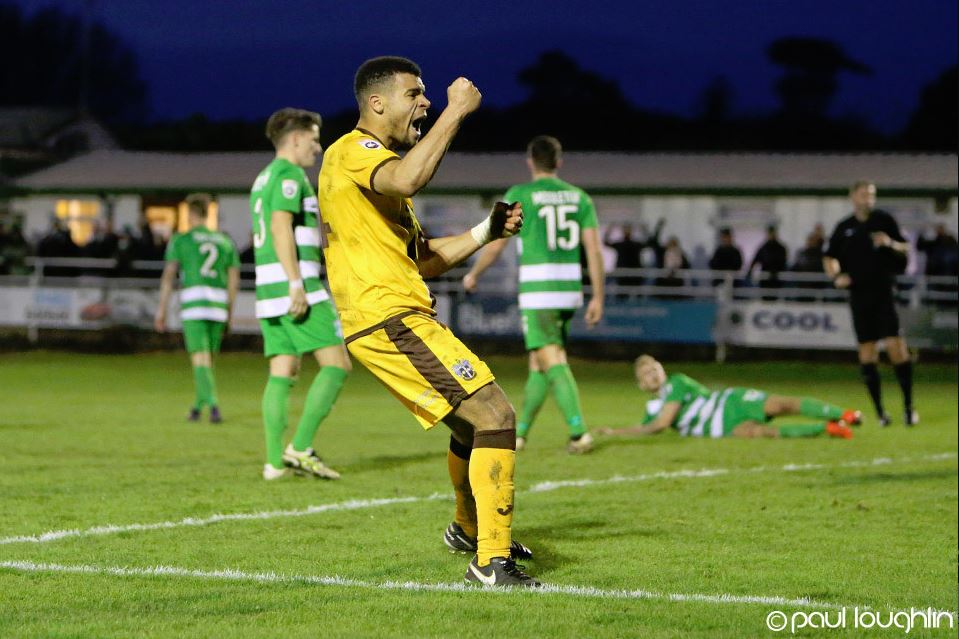 Max pulls one back in a village near Hull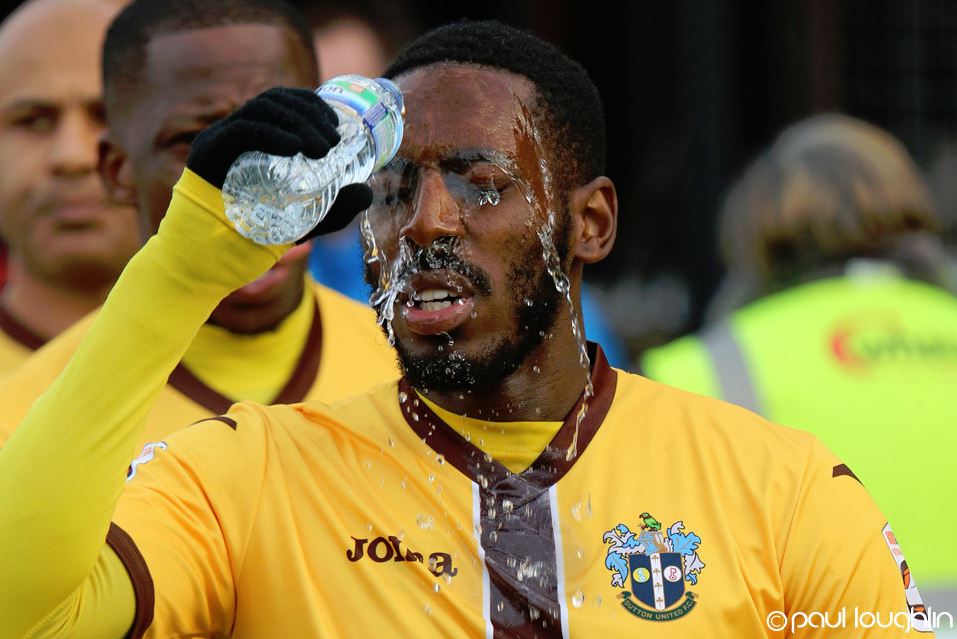 Mmmm. Refreshing.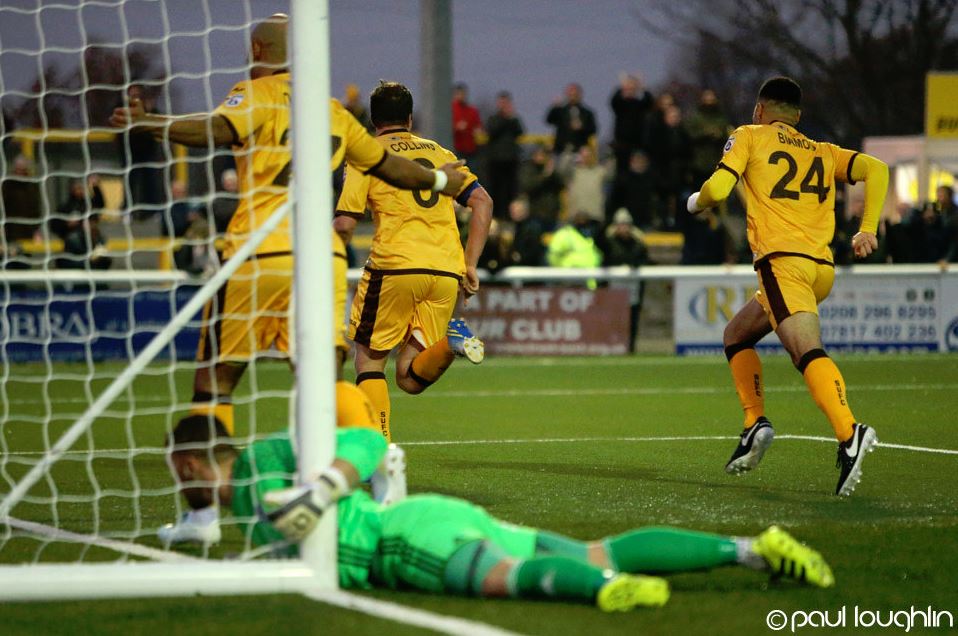 JC rather pleased at nutting his 2nd v. Aldershot.
With just the solitary point earnt in the league so far this month, the roller coaster excitement of the Dartford game now seems a long time ago and with our tally in the league stalling somewhat what we need is a win to recharge the batteries. Thankfully a faltering Aldershot Town comes to town trying to keep a play-off chase going with a squad somewhat disrupted by injuries. Fortunately, Sutton are in no mood to be generous for a change and comfortably see them off 2-0 in front of over 1800 people with a brace from the skipper. Naturally, the win keeps us firmly in sodding 13th place and the oppo have a good old cry about our nasty, horrible, perfectly flat pitch.
With the Cheltenham tie just 4 days away and a couple of the lads nearing suspensions due to cards, plus a couple of walking wounded, Dos decides that a meeting with the currently 90th best side in the country requires players to be rested for the midweek visit of Dover Athletic. Their front three is on fire at the moment and we get to bear the full brunt of this firepower. We exchange chances before we fall 2-0 behind thanks to Ricky fucking Miller again. Then Beckwith gets a straight red for an alleged elbow and the floodgates open. By the end it's 6-0 to the visitors and it should really be about 10. The performance is so bad, a few of us uncharacteristically leave well before the end, muttering that this fucking cup tie better be worth it.
The one good thing about that pumping however is that we finally move out of 13th place! Into 14th. Bollocks. The bad news is, November has yielded just the 4 points taking us to only 29, still some way from the 50 or so we probably need to be in this division next season. Socks need to be pulled up and no mistake.
DECEMBER
With Stearn's departure being keenly felt, we're looking a bit light at the sharp end, so Dos moves to bolster the squad further with another raid on the deep dark countryside to bring in striker Matt Tubbs from Forest Green Rovers. With an enviable goal scoring record, everyone hopes he's the man to reignite our season and he unsurprisingly goes straight into the side for the big cup tie. Given it's the second round and our pedigree in the cup, the BBC decide to host their Football Focus show live from GGL before the game. Naturally, this means TR & Matty Hanlan are wheeled out for the occasion, albeit a round earlier than normal. It's a bit weird but also quite interesting to see the BBC mob do their stuff in making a rather fast moving live TV show. As for the game, well at Half time, those curses about resting players for Dover return. We're 1 down to a rather poor set piece goal and have done absolutely fuck all but make a really rather big & workmanlike Cheltenham side look competent. However, the much hoped for half time roasting does the job and Tubbs fires us level within a minute of the restart. We get on top, but can't quite force a winner and deep into injury time just as we're all calling 'shotgun' on a seat in Mr X's motor for the replay in 10 days time, Deacon steps up to drive a shot into the far corner (2-1) and send the majority of the 2200+ crowd in the Lane absolutely mental.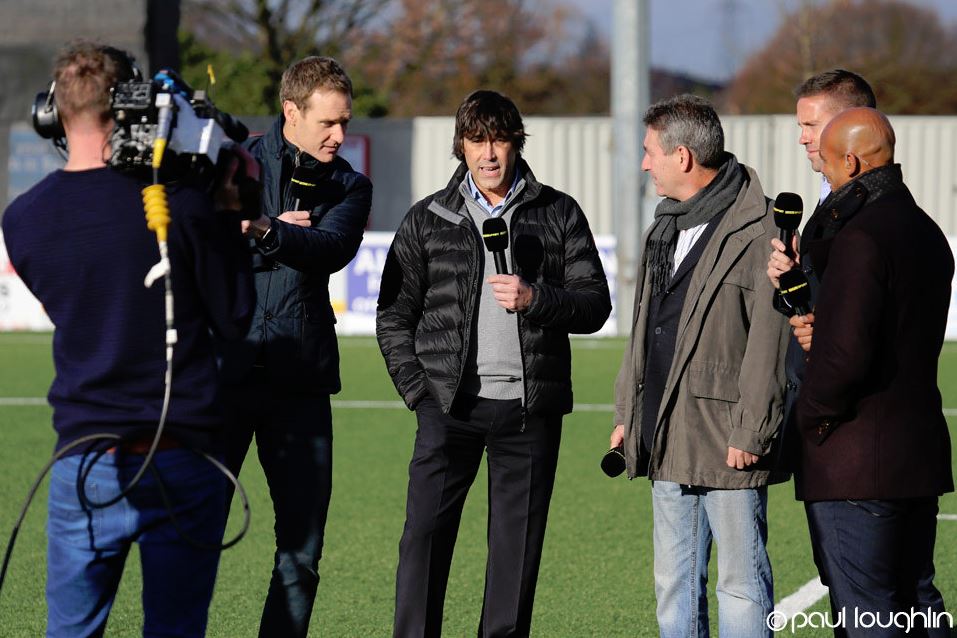 No idea who they are….ahem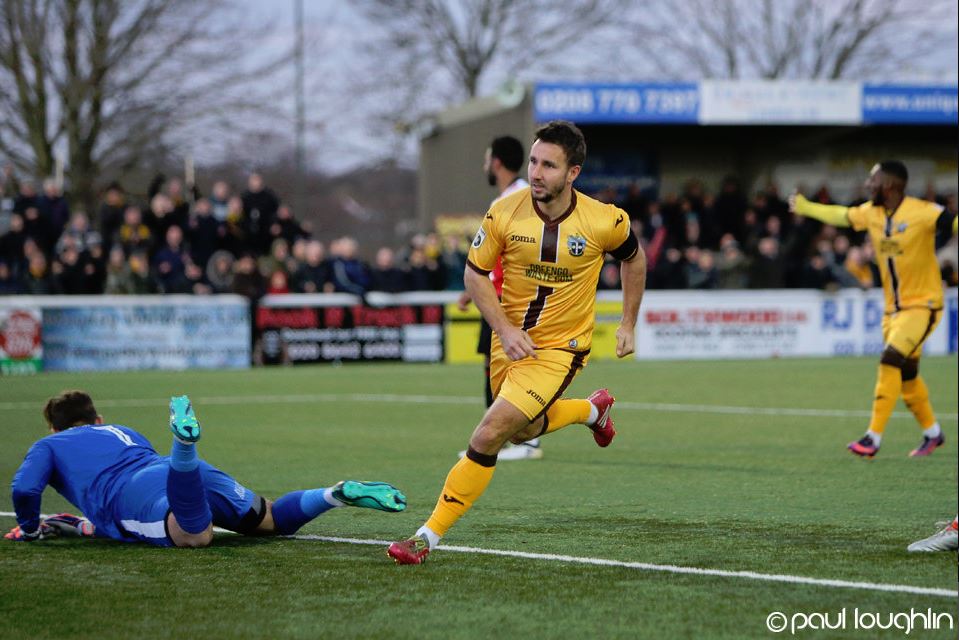 Tubbs levels v. Cheltenham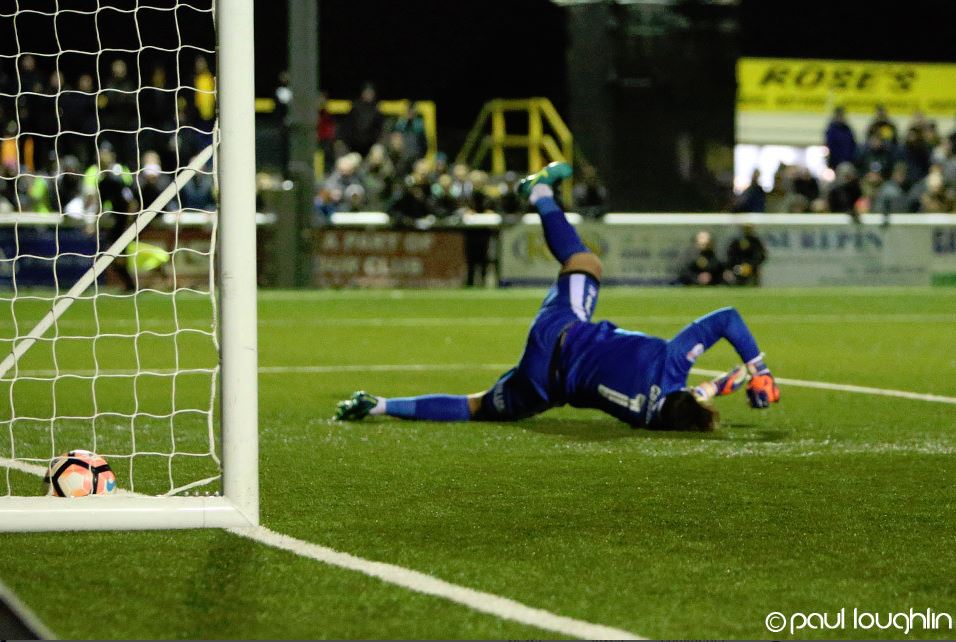 Roarie Deacon. The 96th minute v. Cheltenham. Scenes etc etc…
Afterwards in the bar, we all get a bit pissed to celebrate and drunkenly persuade Totts to write a song about Sutton United for the next round. We're also treated to the sight of some of our ugly mugs on 'Final Score' as well. Sorry about that! Mondays 3rd round draw plumps us with near neighbours and everyone's favourite phoenix club AFC Wimbledon at home. The tie comes with a tinge of initial disappointment as with it being the 3rd Round, we'd hoped for someone a teeny weeny bit bigger than the mid-table League 1 Wombles. However, this is tempered with it almost certainly being a sell out given our proximity to each other and history (Nu-Wombles 1st game of course being at ours in 2002) and it should at least be a shoe in for a live TV game and a nice few quid for our trouble.
As with last month, having had that super exciting conclusion, we're back to earth 3 days later when the team takes a trip to Raynes Park Vale in the Surrey Cup. Well, when we say 'the team'….. Sadly, given our new status in the 5th tier, this comp apparently no longer qualifies as a senior fixture, so we can't use it towards helping expend suspensions etc. So Dos treats it with no little disdain, sending the Academy side down to fulfil the fixture, much to Dukey's disgust. To be fair, the youngsters do a fine job and they hold the CCL1 side to a 1-1 draw after AET, but eventually go down 4-3 on Penalties, even more to Dukey's disgust. The local Samaritans hotline will have been on full alert following this one and no mistake.
We return to cup action at the weekend with the FA Trophy kicking in and we reacquaint ourselves with Conf South opponents Bath City. A Ben Jefford free-kick floats straight in from out wide to sum up a rather dour tie. Still, we're in the hat for the next round, that's all that matters (1-0). With Xmas approaching and the games now coming thick and fast, next down the Lane are Wrexham, they of the booing and jarzy 1-0 wins. Somewhat poetically, we largely boss this game as well, but instead run out winners thanks to our deadly finisher 'Own Goal' who must surely be closing in on the top scorers slot (1-0). Three points is three points though! Much like with Tranmere, the visitors don't mind us winning too much as it probably puts another nail in the coffin of a rather unpopular manager. Happy to help boyo! Meanwhile, the AFCW game is causing ructions of a sort, mainly because neither the BBC or BT Sport have deemed the tie worthy of one of the Live coverage slots, instead bizarrely plumping for 3 ties all involving Premier League clubs. Naturally, absolutely no one whatsoever can understand it as these lot usually make so much out of all that 'Romance of the Cup' bollocks. Yet they completely ignore a game that has enough little facets and factoids to make Motty come in a his sheepskin. Idiots. We also boost the former Arsenal cadre at GGL a little more by adding wide player Jeffrey Monakana to the squad. From his highlights reel on YouTube, he looks like he could be a good'un.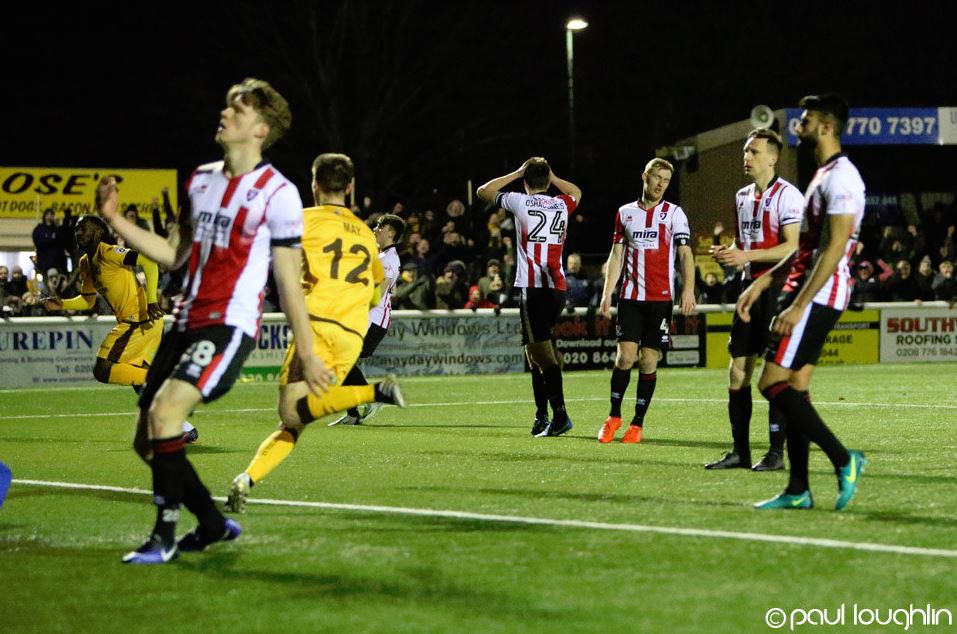 "Ah fuck. We should probably have stopped him doing that…"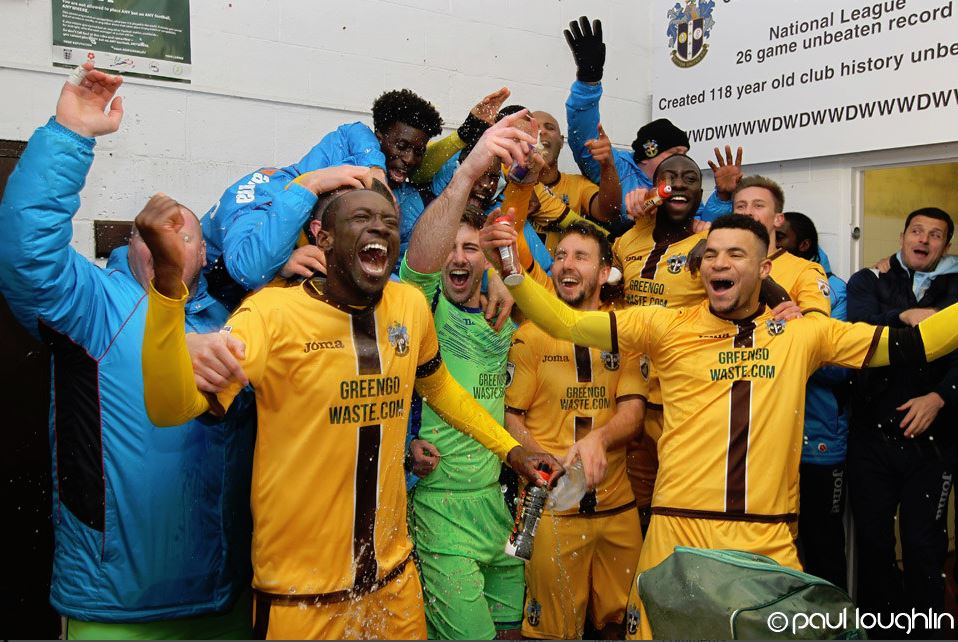 "We just beat the 90th best team in England!!!"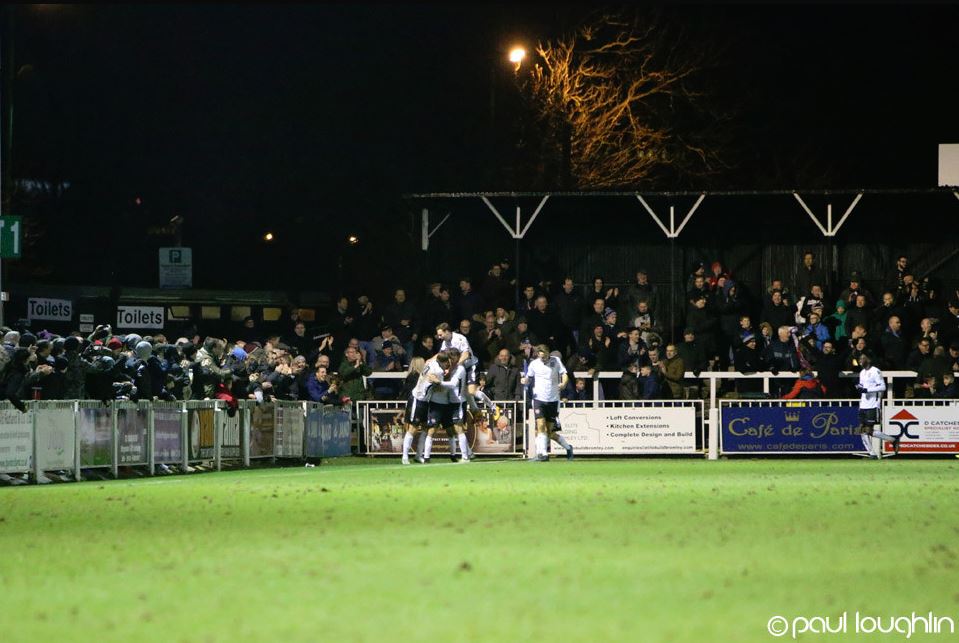 Bromley on Boxing Day. Merry fucking Xmas….
Boxing Day! We take the bus over to Bromley for some pre-match boozing before watching a somewhat difficult match played on a ropey surface. Chances are at a premium, but in the last 15 we come on stronger and look the most likely to nick it. That is until the 2nd minute of injury time when a massive deflection beats Worner and Bromley nick it (1-0) instead. We're also made to look like twats by some rather daft shit from some of our fans who seem to think us and the hosts are deadly rivals, behaviour that gets a couple slung out after some posturing following their late late winner. All we know is that this away form is getting really old now.
So, as we depart what has been a largely amazing 2016 (unless of course you were David Bowie, Prince or George Michael, then it was probably a bit hit & miss if we're honest), we've now seemingly settled nicely into 14th spot. And by settled into, we mean we've paint the hall, been to Ikea to pick out a nice sofa and a coffee table with names we can't pronounce. Still a couple of wins in December have helped move the tally (35) along nicely towards that magical half a hundred of safety. We're getting there! A little slowly, admittedly, but we're definitely getting there. In other news, long term absentee Shaun Cooper is released and ends up joining Conf South side Poole Town.
JANUARY
With the really rather deadly to famous people 2016 barely cold in the ground, we begin 2017 with the return fixture against Bromley on New Years Day. The performance is much better than a few days before and we see off the visitors 2-0 with the minimum of fuss. Biamou opens the scoring and Hudson-Odoi finishes late to give the scoreline the gloss it deserves. Another 3 points in the bag and closer to you-know-how-many! We also ramp up the publicity for the forthcoming cup tie as Totts actually makes and releases the song we'd drunkenly goaded him into doing after the Cheltenham game. He actually fell for it. What a fuckin' mug! Still, it's a bloody fine effort and small children in West Sutton will no doubt be serenaded to sleep for generations to come by the soothing lullaby that is 'Back on the Shoebox Terrace Again (Football, Beer & Rock n' Roll)'.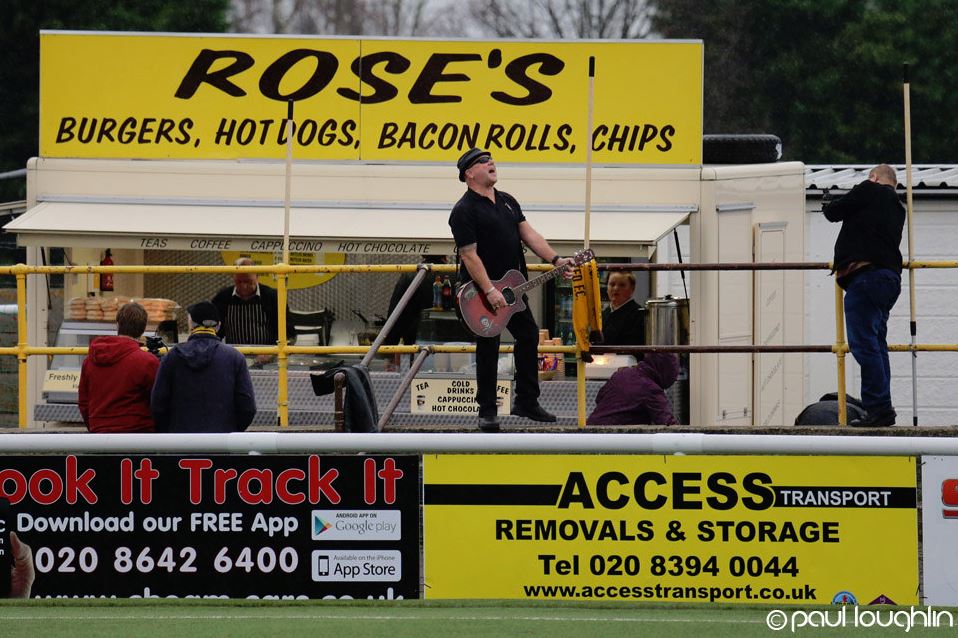 Totts. Doing Pop star stuff.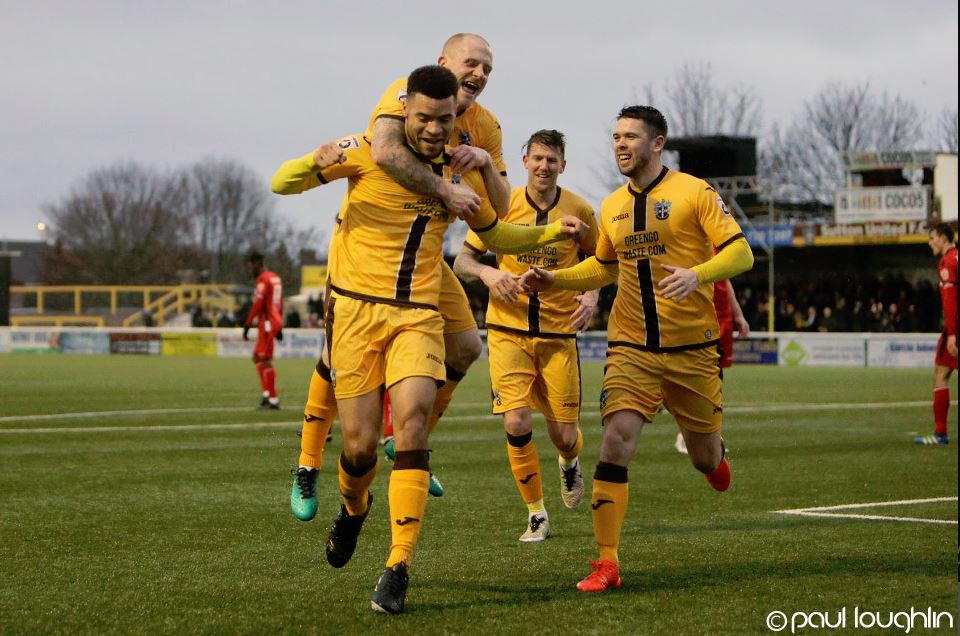 Max. 1-0 v. Bromley
AFC Wimbledon. FA Cup 3rd Round.
Then it's time for the big day. AFC Wimbledon at home in the 3rd Round of the FA Cup in front of a packed sell out crowd of 5,013 at Gander Green Lane. Naturally, the crowd is 90% Wombles, just as they'd predicted, as we're just a mickey mouse Non-League outfit and they're a massive famous club. Not. Despite the occasion, the game is disappointing, Sutton make pretty much all the running and create 2-3 very good chances over the 90 minutes, but like in many games this season don't put them away. The visitors offer little other than lumping it up to the big man and apart from a late penalty shout rarely threaten, if at all. So it finishes 0-0, we're still in the hat and we get to do it all again 10 days later on their perfect bowling green of a pitch. Or at least it better fucking be after the whining Ardley adds to the litany of so called professionals crying about it. Dunno what their problem was, they never tried to pass the cunting thing anyway!
With a big replay now to consider, we make the trip up to Braintree Town with one eye once more back on injuriessuspensions etc. And what a classic we have in the offing. Two home wins all season plays one away win all season. No, we can't believe BT Sport weren't sniffing round this one as a live game either! As it turns out, this match is a perfect microcosm of the season away from the Lane. We play ok, create more than enough chances to win the match, take precisely none of them and lose 1-0 to about their only shot on target over the 90 minutes. Sound familiar? Fucking away games. Good job we're at home in the cup replay eh? Oh…
Before we get to the Wombles Part 2, we have to go on the piss down by the seaside in Worthing for yet another cup game, this time in the Trophy. I know I know, it's a tough ask, but someone's gotta do it. Now, Worthing might be a Ryman Prem side, but they'll be no pushovers as they're absolutely flying at the moment, scoring for fun and also knocked out Dagenham on their own patch in the last round. Oh for fucks sake! Fortunately, we're nicely drunk by KO and despite starting strongly, go behind and have to come back in the second half. Deacon and then Adam May's first senior goal swing the tie seemingly our way and there only looks like one winner. But the Rebels dig in and pinch a late leveller to set up yet another replay. Oh, hello Desmond! You here again? (2-2). The next day, tickets for the Cup replay go on sale and all 850 at Wimbldeon's smaller than our ground ground are soon sold out.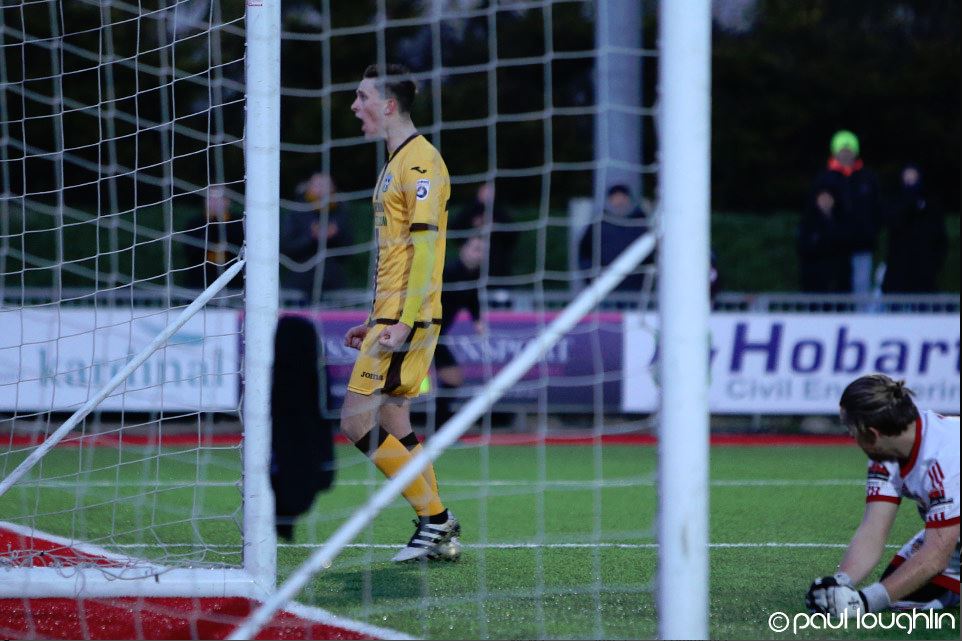 Adam May rather pleased with his 1st senior goal @ Worthing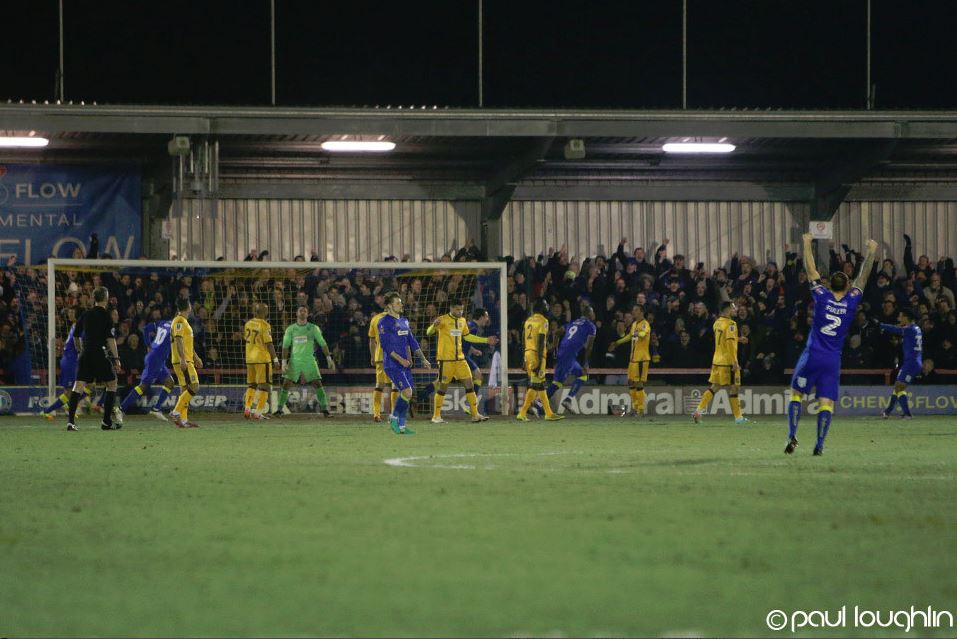 The Wombles get one on target….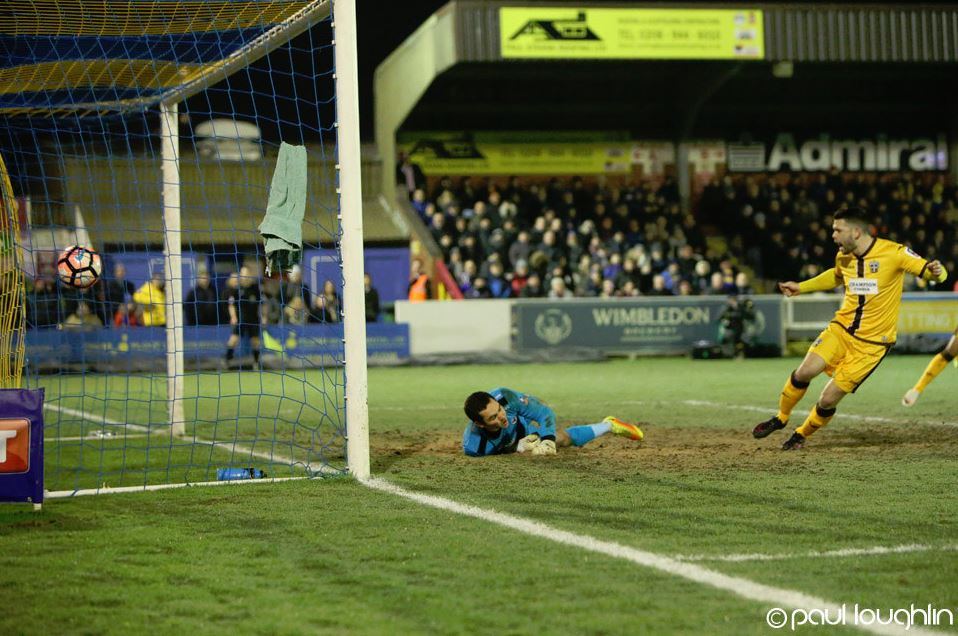 ….and so does Roarie. Limbs!!
Thankfully having dodged any new suspensions or injuries we go into the AFC Wimbledon replay with a full strength side. Or at least we do until Nicky Bailey pulls out with a bad back on the Tuesday morning. As if this wasn't going to be hard enough!! Also not on our side is the pitch, which bearing in mind the fucking nonsense spouted by their gaffer Neil Ardley 10 days ago after the first game about ours, is an utter disgrace. The pitch at RPV in the SSC was better than this utter slag heap. Still, despite having to pick our way through a bumper cabbage crop, we start well, miss 2 great chances and of course go behind to their first effort on target in the entire tie. Another twist 5 minutes later sees them have a centre back pick up a straight red for hauling back Tubbs as he spins free onto a through ball. Almost an hour of frustration follows as we bang our heads against a brick wall, unable to find a way through. Then with 20 to go, Dos goes all in & throws May & Hudson-Odoi on to try & stretch the game. It works. With a quarter of an hour left, Deacon twists and turns on the edge of the box before thumping a shot into the top far corner to send the away section fucking mental. Then with the hosts tiring and Extra Time looming as we enter the 90th minute, a lovely little give & go move out wide gets Deacon to the byeline and he squares for Biamou to tap in and spark more chaos amongst the travelling hordes. Then in added time, a hoof forward is flicked on for Fitchett to dart clear lob the keeper from 30 yards right on the refs whistle. 3-1 and we're frankly going Radio Rentals in our shitty little corner of what was once Kingstonian's ground. With a guaranteed live game awaiting in the 4th Round against Leeds at Sutton, it's a huge huge win. About 300 grand's worth to be precise.
The celebrations last long into the night, mainly as Dos orders everyone back to GGL for a lock in and a massive fucking piss up. And we don't need telling twice where there's a massive fucking piss piss up concerned! Here the jukebox is firmly made use of, Shawy & 4 Days are behind the jump doling out the beverages and Totts flatly refuses to do a B-Side for the cup song, no matter how many beers we buy him. Most of us don't stumble out until the early hours and we don't mind admitting that work the next day is a bit of a struggle.
It's back to earth on the Saturday with with everyone's favourite multi-million pound budget spunk-a-thon Eastleigh visiting. Currently managed by Martin Allen, already their 3rd gaffer of the season, they're not quite as high up the table as you'd expect for a two million quid budget. We really should murder this shithouse collection of overpaid wank, but we need a Tubbs equaliser to secure a point instead (1-1). The disappointment is further added to by their fans being an absolute set of pricks. Joy. Still, we've got bigger fish to fry. The next morning, we've got a ground to sell out for a MASSIVE cup tie! The queues last most of the day, but by the time we close up, most of our allocation is gone and there's only a few left. We'll be seeing another full house come 4th Round day.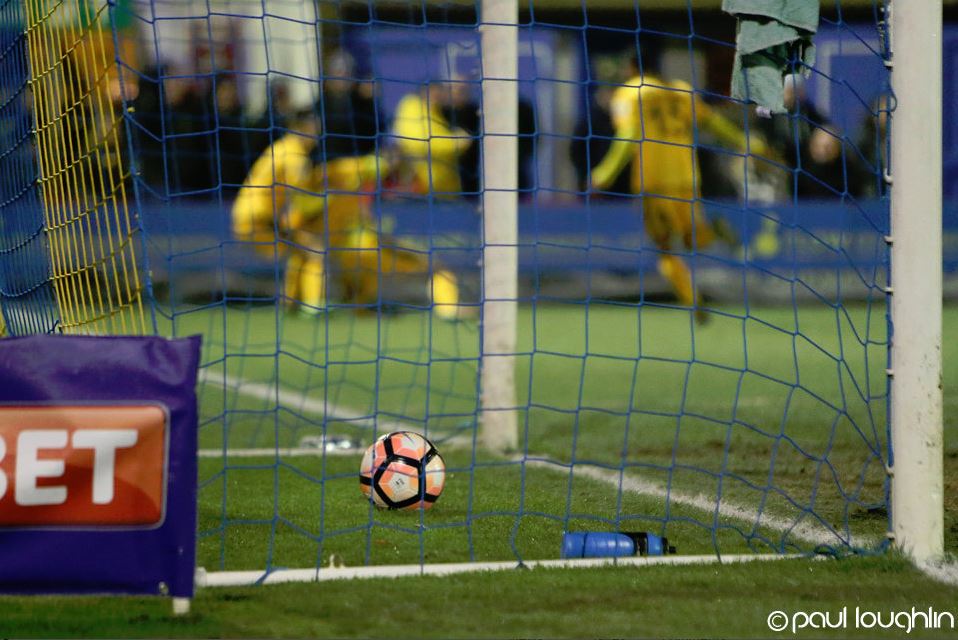 Max makes it 2-1 at the Wombles…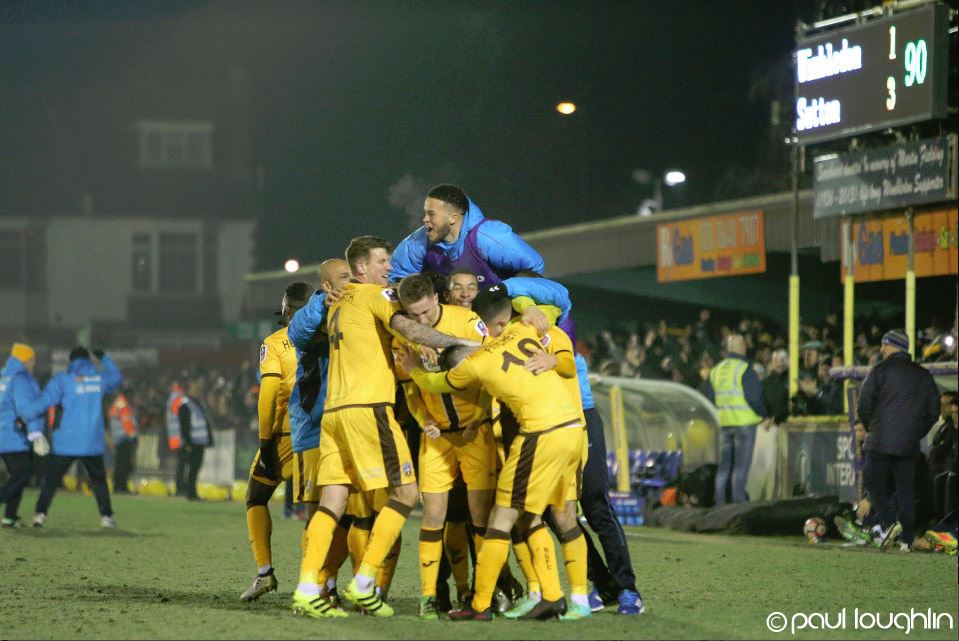 Fitchett goal & final whistle celebration combo!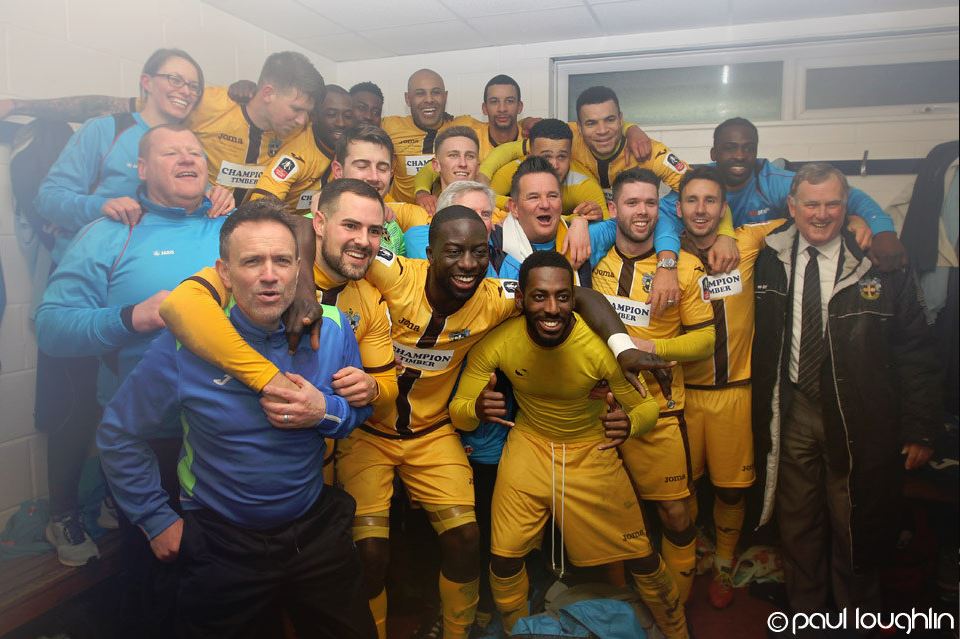 "Yaaaay! We just beat a mid-table League 1 side!"
Unfortunately, the midweek before that, we've got the small matter of Worthing at home in the Trophy. Despite kind of playing a bit warily and with a slightly mixed up side what with the Leeds tie looking, we take a 2-0 lead with 20 to go and it looks all done and dusted. Dos makes all 3 changes quick smart and now we just have to see the game out. Unfortunately, the changes have had the rather odd effect of leaving us with basically no defenders on the pitch and we rather unsurprisingly fall to bits. They pull one back before the inevitable last minute penalty levels the scores and we get a rather unwanted extra 30 minutes. Strangely though it seems the Ryman boys have thrown everything into earning extra time and unable to push on, they fall to an Adam May strike which makes it 3-2 and sees us through without too much more drama. Phew!
Now to the big one! 40 odd years after our last 4th Round meeting, Leeds United are sat in the top 3 of the Championship and looking intently at a Premier League return when they roll into sunny West Sutton. And this influences Gary Monk's team selection a touch as he makes no less than 9 changes from their last league game. As a similarly placed Brighton had found out against Lincoln, this is a big mistake. The lads are in no mood to be mugged off by a bunch of pretend Championship pro's and dominate the game from the off. Deacon has an early goal chalked off for a moody offside and other chances are missed. But then in the 2nd half, Deacon's tripped in the box for a penalty and JC steps up calm as you like (1-0) to send the place fucking garrity. The game is seen out with minimal fuss as the visitors simply can't step up to the occasion, even having a man sent off near the end and the crowd floods onto the pitch at full time to salute a famous win.
Naturally, we have a tipple or two to celebrate after. And this time we've taken the next day off bloody work. We're not doing that bollocks again! Naturally, the result is big news with one well known tabloid even going with a double page spread headlined with the name of this here shit Non-League blog. No, really! We should probably have trademarked that if we're honest. The following night and still a bit fragile, the bar at GGL is packed out for the 5th round draw. The last sixteen. And of course, the FA fucks us over again by giving us some mickey mouse outfit again. Ok, we lied. We got Arsenal at home. And the roof comes off the place.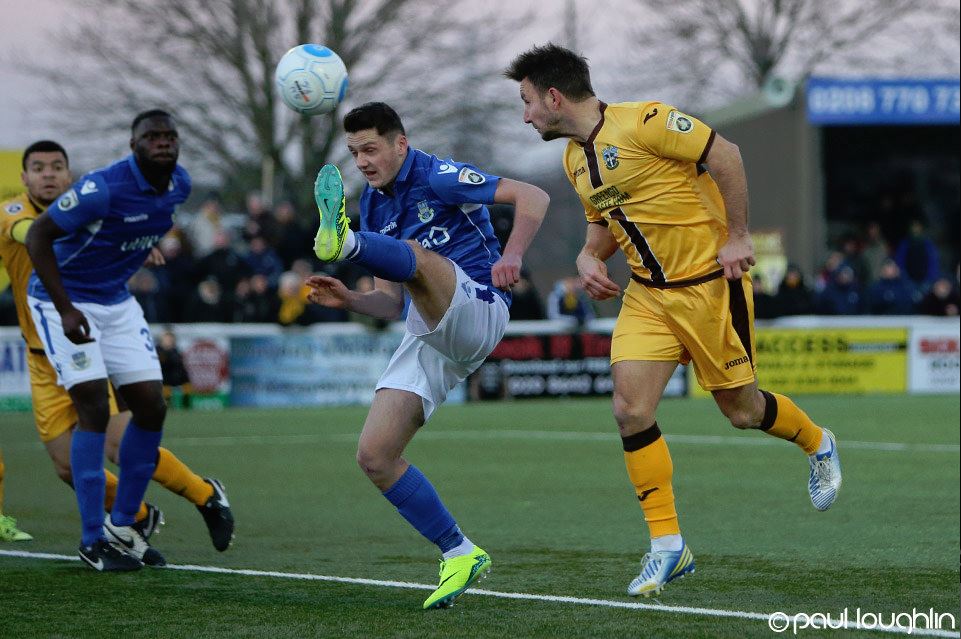 Tubbs nods v. Eastleigh.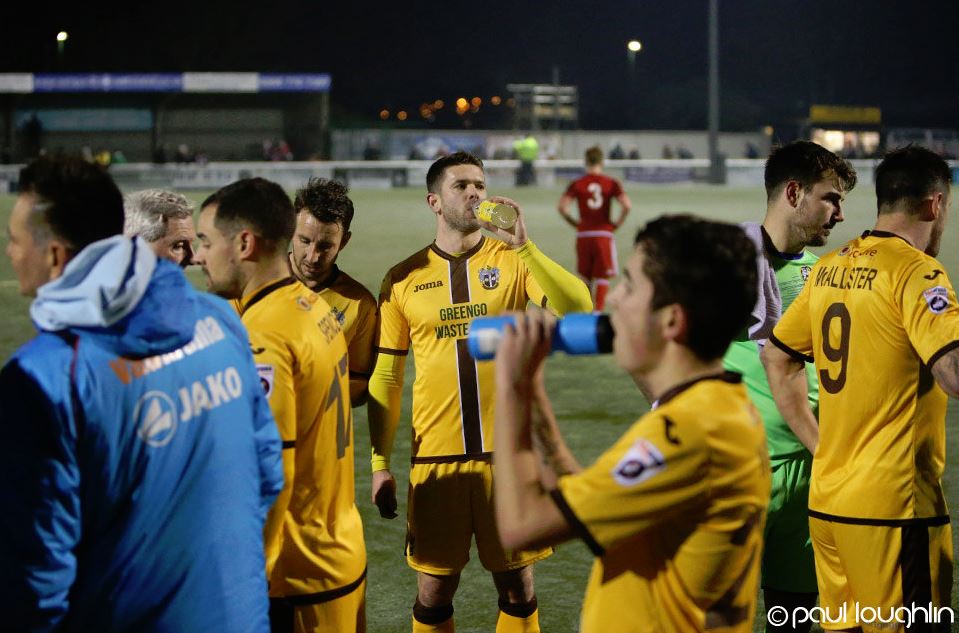 A totally unecessary extra 30 mins v. Worthing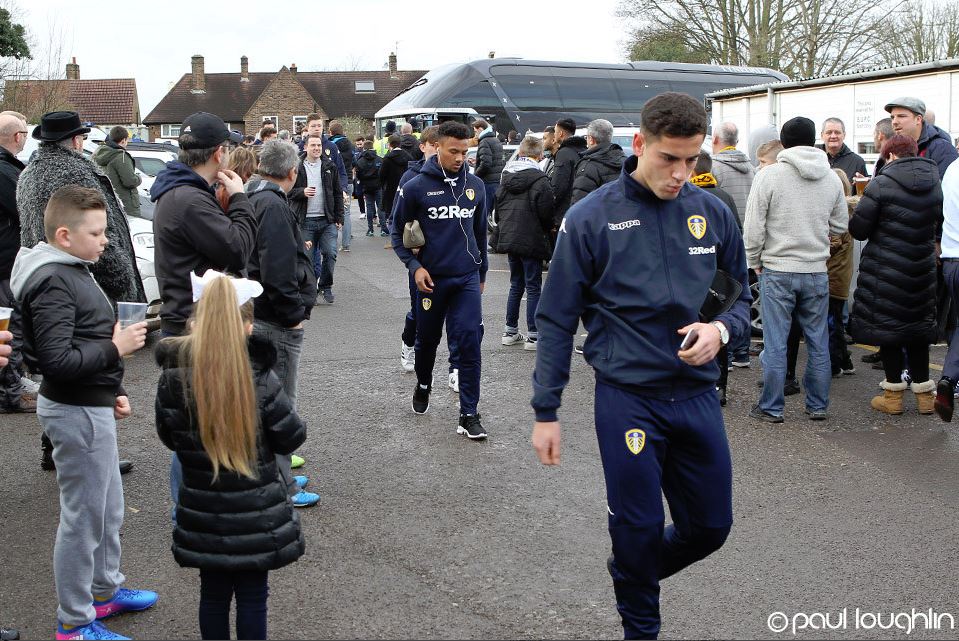 "Daaad, who are they?" Leeds U12's arrive at GGL
When our FA Cup hangovers have cleared, we check the league table and find that to our dismay we've again only added a single point to our total from the 3 league games we squeezed into January whilst we were pissing about in the FA's knock out compo's. Ooops. Still, we're no longer marooned in 14th, ooooh no. We're 15th. Crap. Time to move the sofa….
Still, no one cares right now. We're in the last 16 of the FA Cup and we're playing Arsenal. At home.
Jesus christ.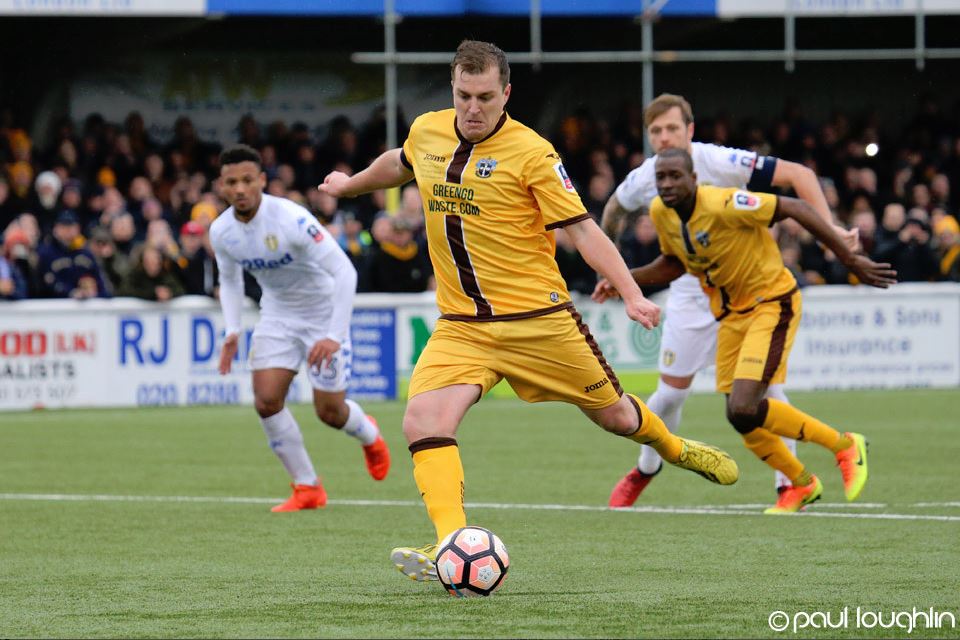 JC steps up to the plate against Leeds.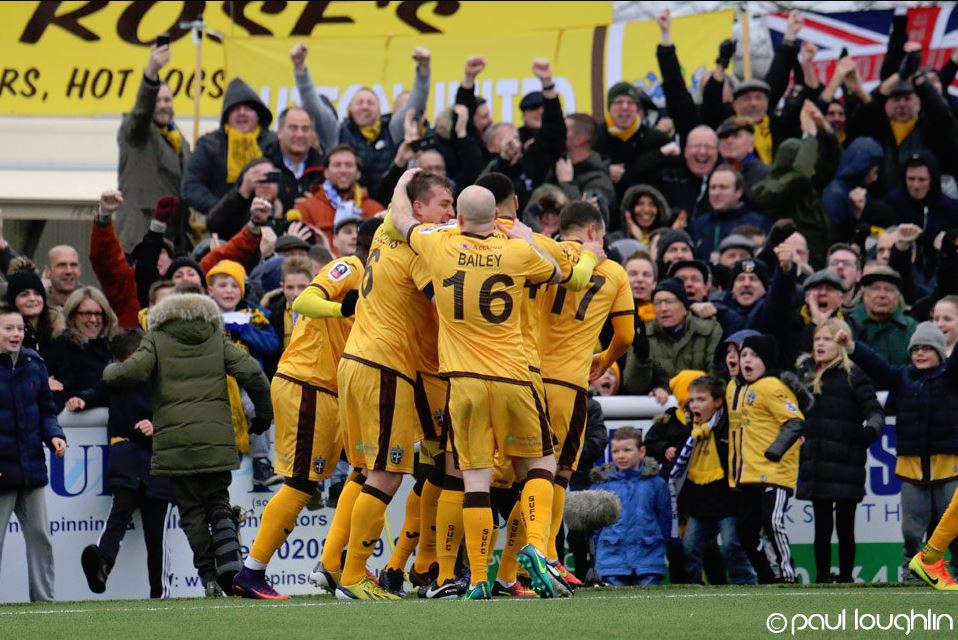 And sends us all fucking barmy!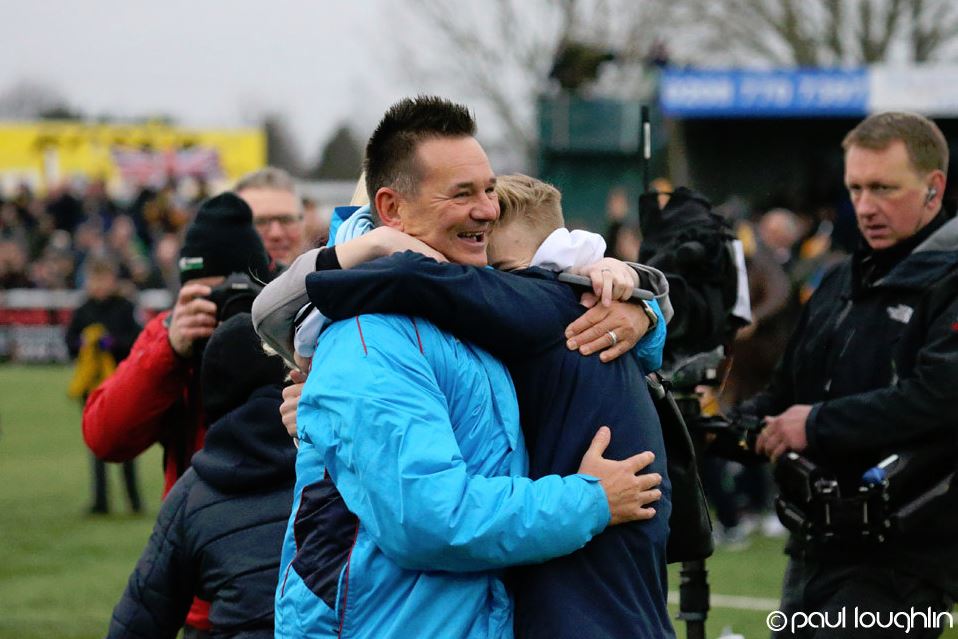 Dos celebrates with the family post-Leeds
As always, we'd like to thank the jolly good sport (and Clubman of the Year!) that is Paul Loughlin for once more allowing us to rob his superb pictures from this season and make our round up look far more professional than we could ever hope to! Check out the full sets of his stuff on Flickr HERE. They're dead good.