So here we are again. Another year, another season. Done. And whilst that means time for most of you to book a week somewhere sunny and the lads to go off and let their hair down, eating shit food and doing too many Jagerbombs, for us here at Gandermonium there's still work to be done. Mainly summarising all the shit we just watched for 9 months.
So, get a Jager down you, suck up that kebab and get your feet up as we relive our first season back at National Level for 16 years. Shouldn't take long, it's not like much happened after all….
PRE SEASON
With last season ending so ridiculously (you know 26 games unbeaten, league title, Ebbsfleet fucking the play-offs. All that jazz), it's unsurprising that our dear leader elects to largely stick with the really rather successful squad we already have for our first Conference season in 16 years. However, that's not to say we're not active on the new players front, oh no. Coming in is Bradley Hudson-Odoi from Wealdstone. Sadly, on the way out is Tom Bolarinwa. Snapped up for a 5 figure sum by newly promoted Conference Play Off winners Grimsby Town.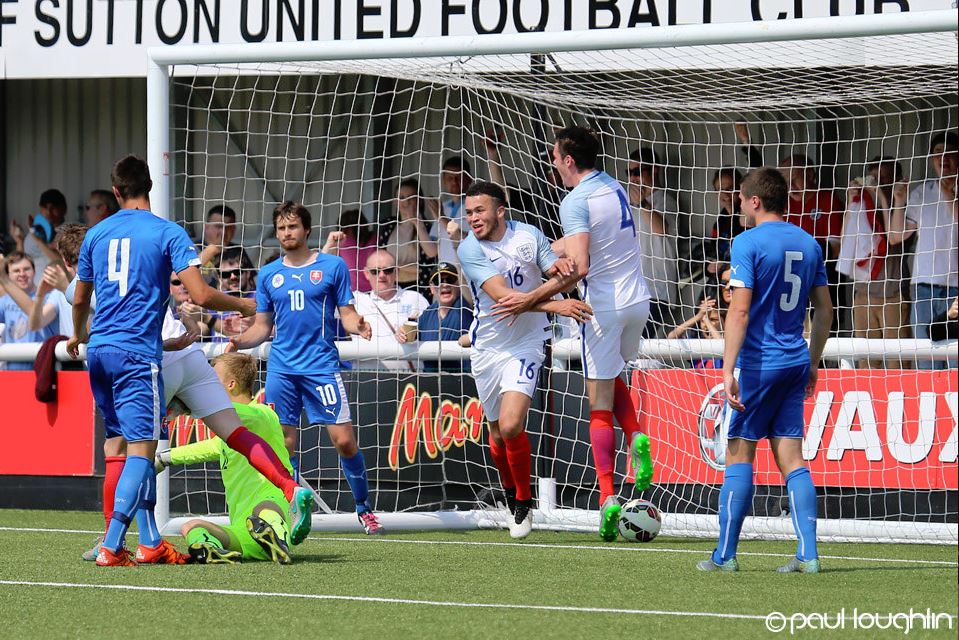 "I gotta go ask the gaffer for a raise!"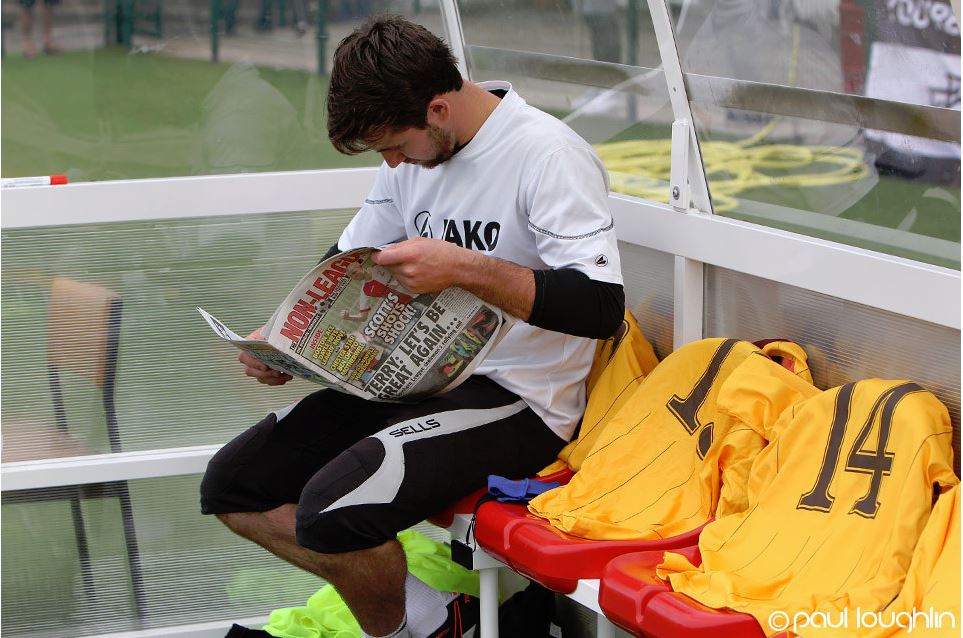 Worns hitting pre-season HARD.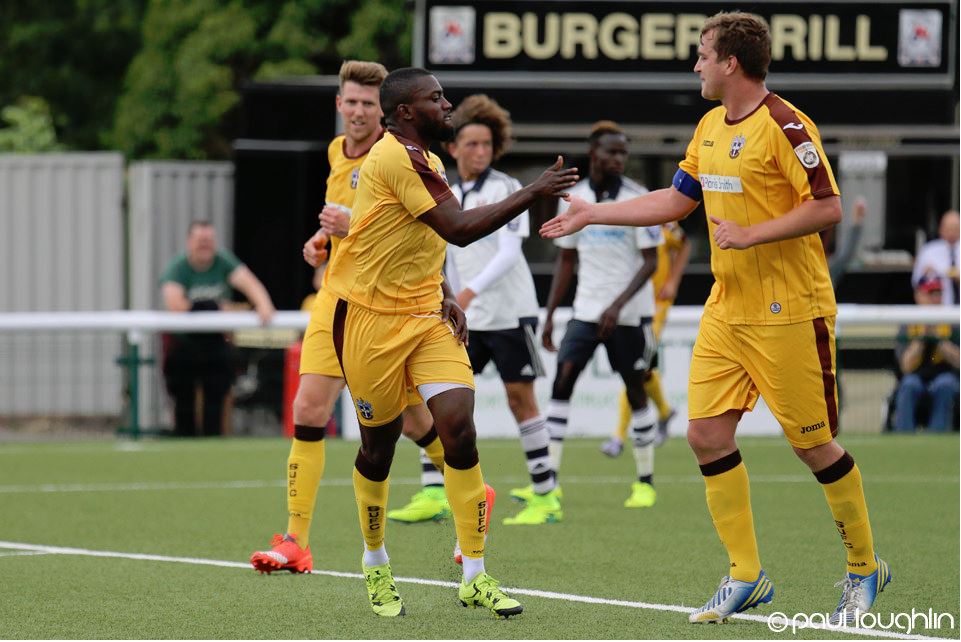 Debut goal for Mr Hudson-Odoi
The summer starts with an England C game being hosted at GGL in June (clearly the FA's blazers had heard good things about our boardroom biscuit selection!) and U's men Louis John and Dan Wishart find themselves in the squad. Amazingly, Louis nets twice as the Non-League lads chuck a 3-2 lead at the death to lose 4-3 to Slovakia's U21 side. No doubt buoyed by this outcome, Mr John demands a nice pay rise 5 minutes after already signing a new deal. This is understandably given short shrift by Dos & the club. Silly boy.
Pre-season itself kicks off with a home game on the Axminster against a young Fulham side and the U's resplendent in last season's kit, as this years hasn't arrived yet! A strong U's XI in the first half plays some good stuff and leads thanks to a thumping volley from debutant Hudson-Odoi. A lot of changes at the break leads to a a 3-1 defeat though. Next up is Portsmouth at the international footballing venue that is GGL are Portsmouth, who largely bring down a strong side. You wouldn't know it. Another debutant, Roarie Deacon, signed from Crawley during the week puts us ahead and Bedse Gomis makes it two before the break. They pull one back late on, but we hold out for an impressive win (2-1). A trip to Kingsmeadow follows for a tie against everyone's favourites Kingstonian. A ropey showing on a pitch with grass so long you could re-stage that raptor scene from fucking Jurassic Park on it makes a bit of a mockery of proceedings and it takes a last minute pen from Hudson-Odoi to nick a 1-1.
A baking hot Saturday sees a Palace XI down in the Republic. The U's have the better of things against lively oppo, but just as a goalless stalemate is looking likely, Bedse curls a beauty into the to corner from 20 yards to pinch a win (1-0).. Looking good so far! Still, South London is no doubt still theirs regardless of this earth shattering result. Meanwhile, the new kit remains missing somewhere between GGL and Joma's Spanish factory. News also emerges that we'll be live on the telly in September thanks to Tranmere being in our league. Although for some reason, it's a 12:15 kick off, which is shit.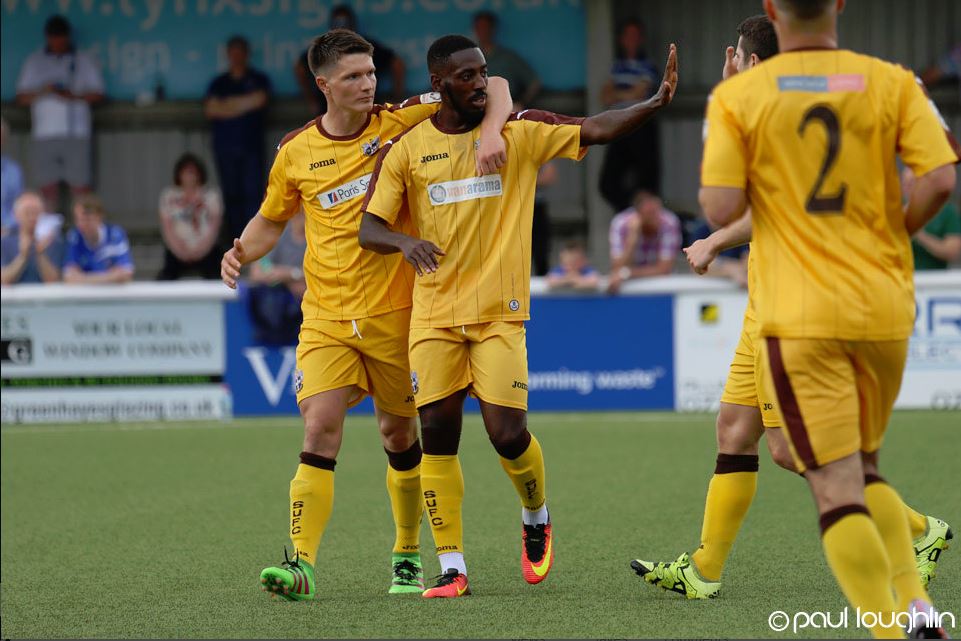 Debut goal for Mr Deacon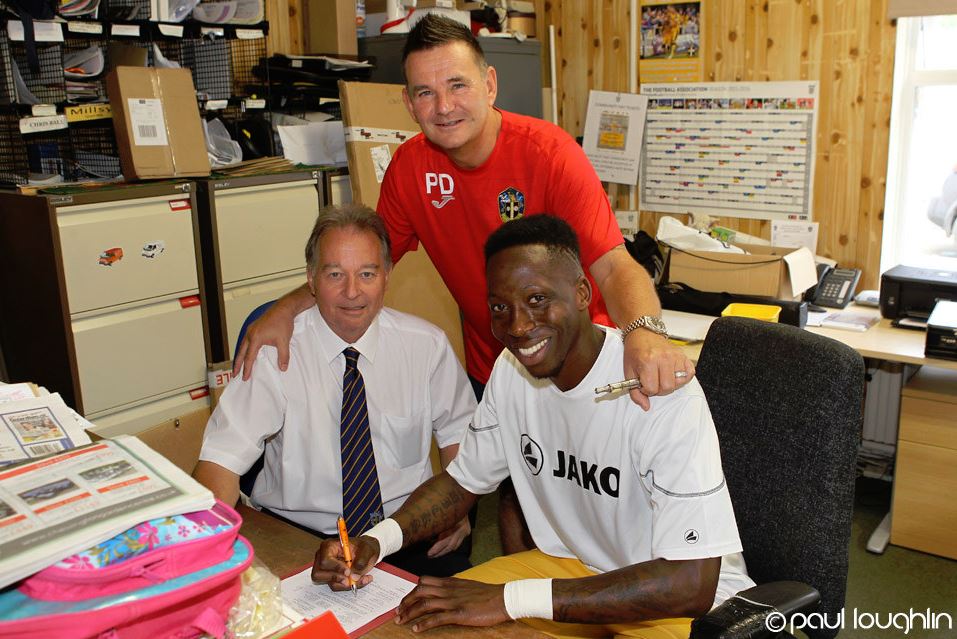 No, it's not fucking Yakubu!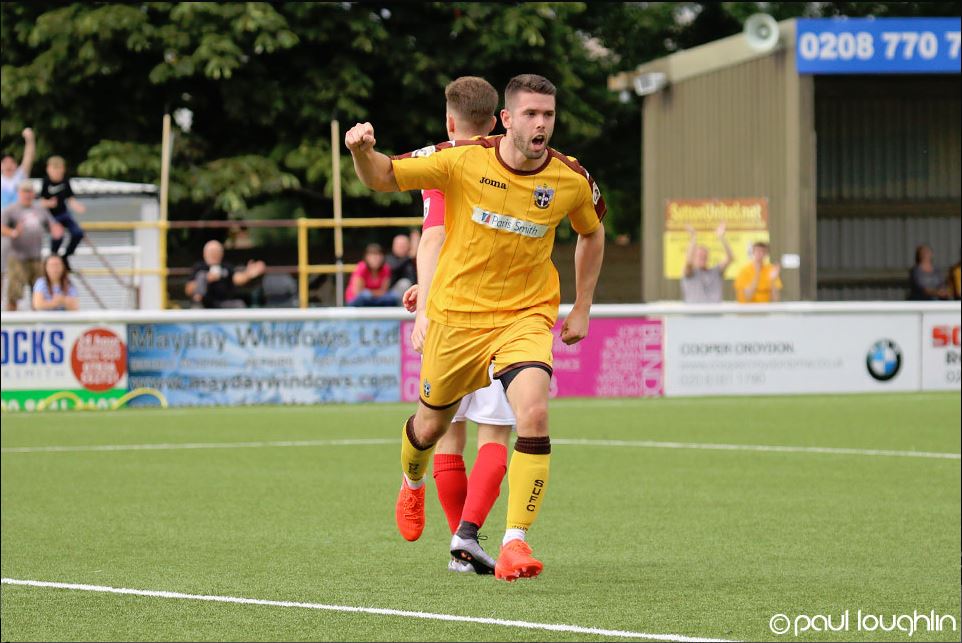 Fitch does up Ebbs again!
We see out July with firstly a midweek trot to the Beveree to face Hampton & Richmond. A so so performance, with a goal from new man Maxime Biamou, signed from from French 4th Division outfit putting us ahead. But the hosts hit back and steal a late win with a last minute bundler. Frustrating (2-1). Last up this month are old friends Gravesend Ebbsfleet, who we overhauled a couple of months back to win Conference South. Of course, all opportunities to rip the piss out of them for it and their alleged pre-booked 'title winning' trip to Las Vegas are firmly ignored. Not. 2nd half goals from skipper Collins and Dan Fitchett seal a repeat of our late season clash here in April that also finished 2-0.
Most of the talk pre-match however has been about a much touted new signing we're due to make. Loads of names are bandied around and some of the yoof get a bit carried away, to the extent where they're absolutely sure it's former Everton star and Nigerian International Yakubu. So much so, one of them gets a henna tattoo of 'Feed the Yak and he will score' on his arm whilst on holiday abroad. The new signing? Chris Dickson. A forward who's been playing in Cyprus and has 2 Ghana caps to his name. So, not Yakubu, who turns out for Boreham Wood in a friendly during that week.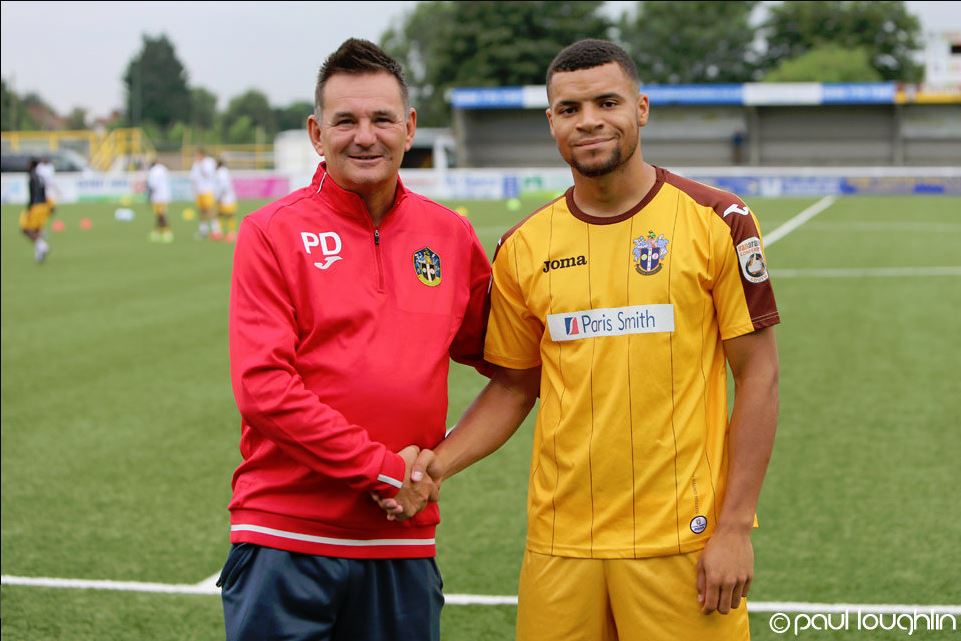 Allez le Biamou!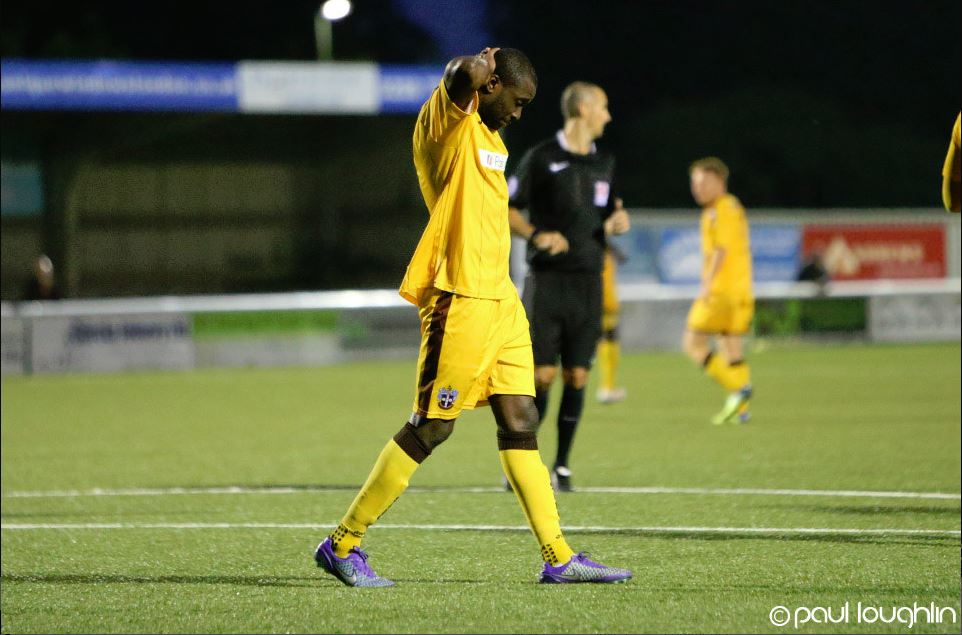 Bedse,post-Zaza v. Tonbridge
Good job it was only henna eh lads? That laser removal stuff is expensive we hear. Right, now where's this new fucking kit got to?
AUGUST
Before the actual season gets underway, we squeeze in one more friendly, this with old 'friends' Tonbridge Angels, just 4 days before we kick off. Nope, we've no idea why either. Still, we run out relatively simple 3-1 winners, the main talking points are the team sheet containing Christopher Columbus and Bedse skying a shocking peno with a very Zaza Euro's type run up. Right, can we stop pissing about and get this show on the road now??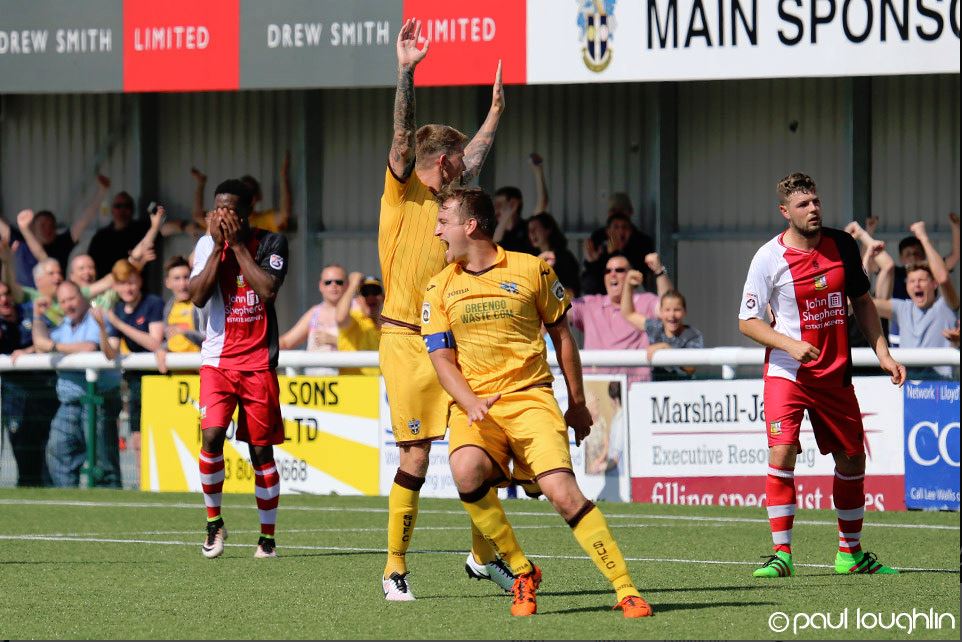 Becks levels against Solihull, opening day.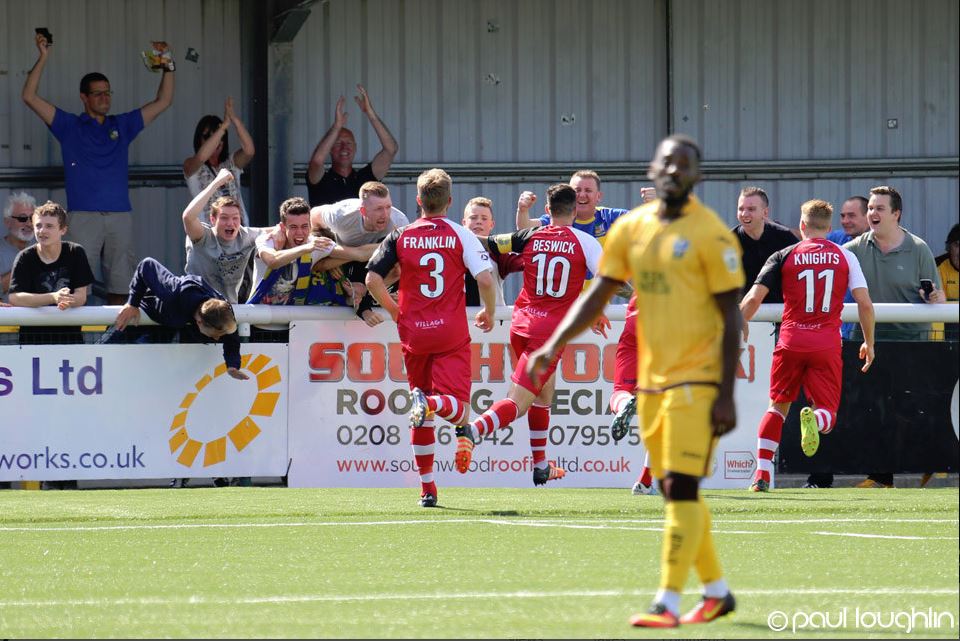 Oh for fucks sake….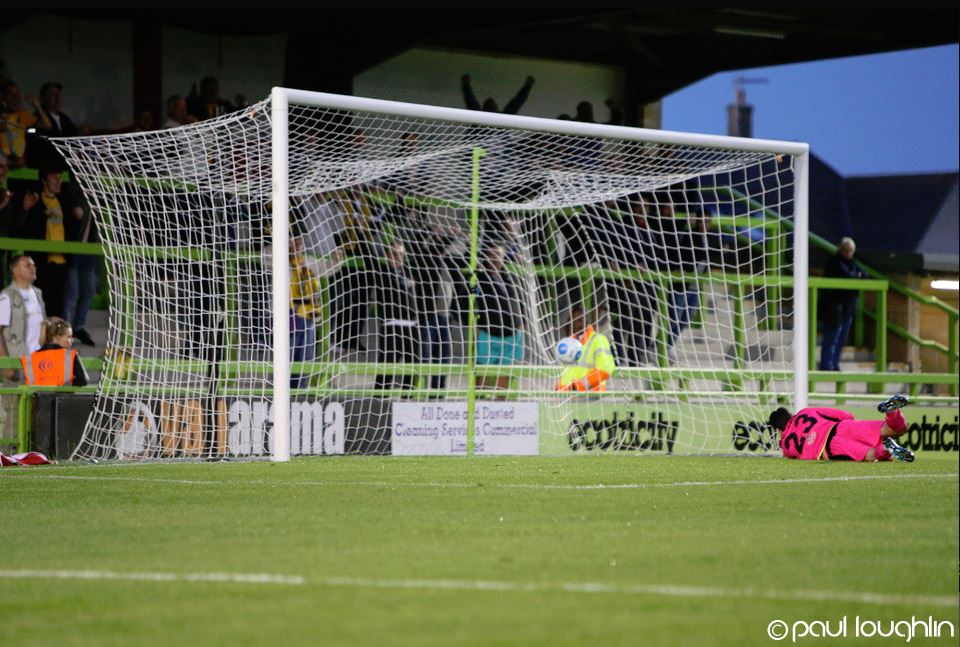 Bailey's peno at FGR
We kick off the season with the visit of fellow regional champs Solihull Moors, who'd won Conf North last season. And speaking of last season, this game reminds us of how we started that campaign as we dominate the first half, only to go behind to Solihull's first real attack. Beckwith pulls one back, but a lifeless 2nd 45 sees the oppo hit us twice more to run out 3-1 winners. With that chastening return to National football, we're not not exactly expecting much from the trip to title favourites FGR. However, despite falling behind early on, we weather the storm and deservedly level just before the hour to take a superb point (1-1). In fact, we have chances to win it right at the death.
If we thought the vegan boys would be tough, up next are another title favourite in Lincoln City. A cracking day out on the piss is coupled with a superb performance as the lads take advantage of an early red card for the hosts to rack up a 3-1 win. Naturally, the locals take this early blow to their procession to the title well. We're all 'cheating Cockney cunts' apparently! This particularly annoys Scots born Mr X and resident Taffy 4 Days.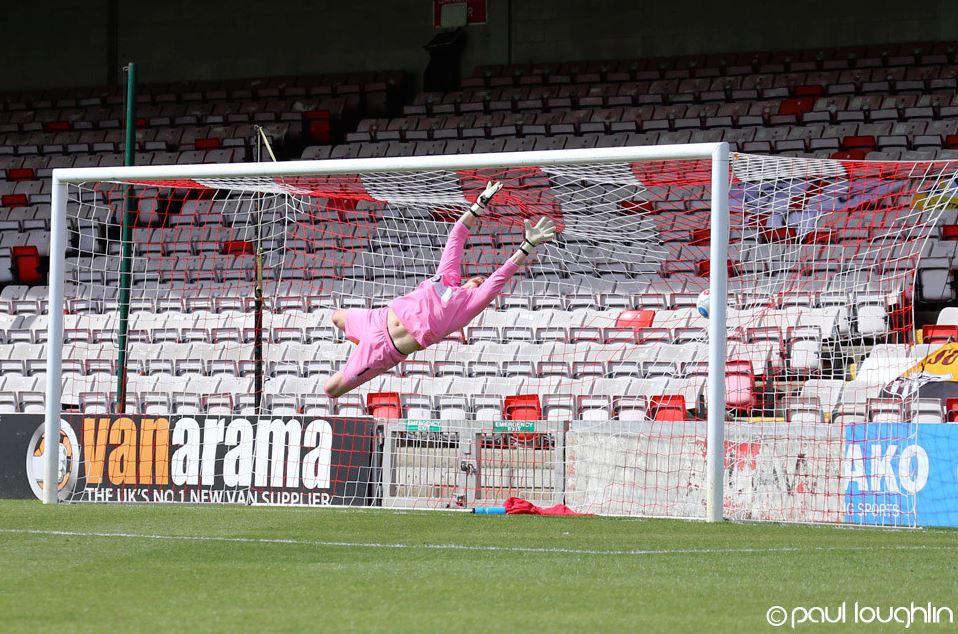 Wishart's free-kick crashes in at Lincoln….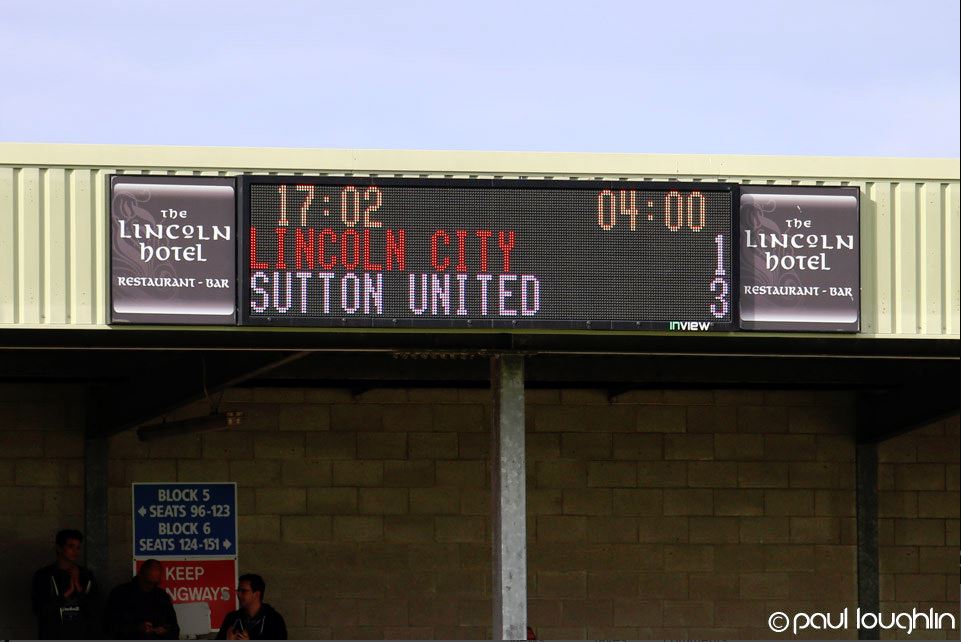 As good as it got on the road for a while!!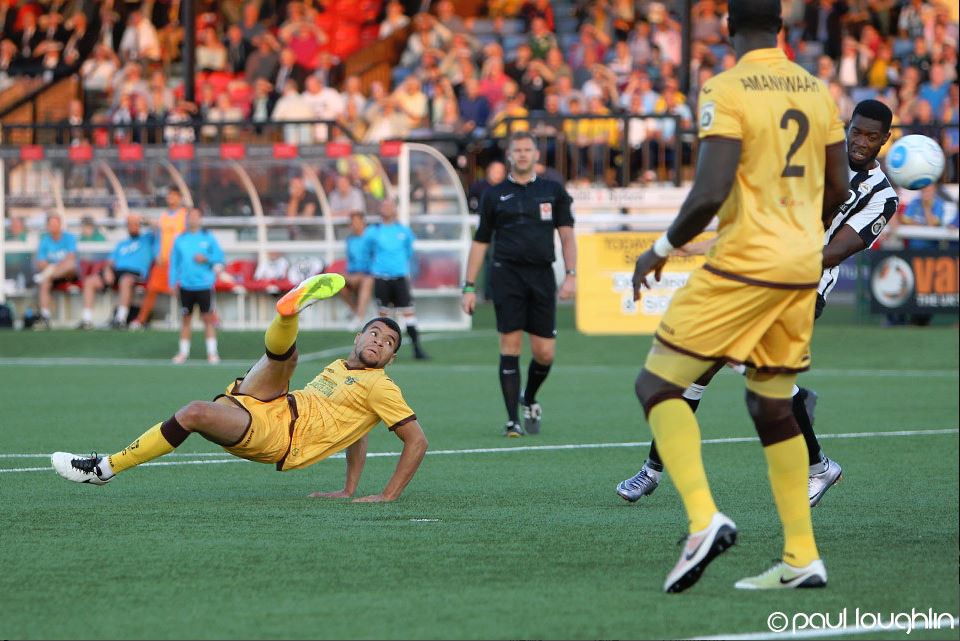 Frenchman stuffs Turkey.
Next up are Torquay, who bring a sizeable support to GGL for this midweek game to make up a superb attendance of over 1600. And they get to watch a miserable performance from their side as they go down 2-0 and are lucky it's not at least double that. Biamou opens his account with a superb acrobatic effort and then wins a 2nd half pen which sees their skipper sent off. Naturally, our shit floodlights, terrible stadium and fake pitch are all to blame for this result. Not them being an utterly shite, pretend professional football team. Oh no.
Our decent start, still wearing last season's kit no less, continues when we welcome another ex-FL outfit to the carpet. This time Macclesfield Town are our guests and again Full Time oppo stinks out the place with a pretty lifeless showing as Stearn and Bedse take us to a comfy 2-0 win that leaves us sitting in a staggering 3rd place in the table. Us. Third. Hahahaha! That makes us the 95th best team in England! This National League stuff is a piece of piss!! But, just as we're thinking about making a call to engage a top London Lawyer to take on the Football League's ban on artificial pitches so that we can have no issues with promotion this year, the lads deliver a reminder that we're Sutton United. And we're Non-League shite.
A cracking day out on the piss in Chester including a meet up with former midfielder Tony Quinton is somewhat spoilt, inevitably, by the football. 2 down inside 5 mins we then go on to batter the oppo, fail to score and let in another 2 right at the death for a rather unflattering 4-0 bumming that drops us back to 7th. Er, about that lawyer, tell 'em we'll call them eh?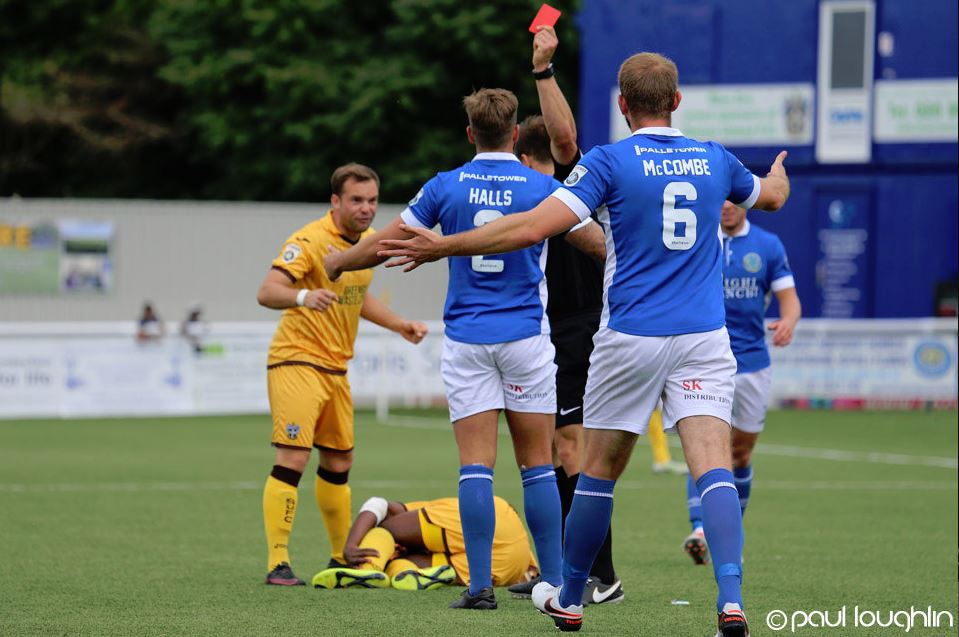 Dirty Northern Bastard!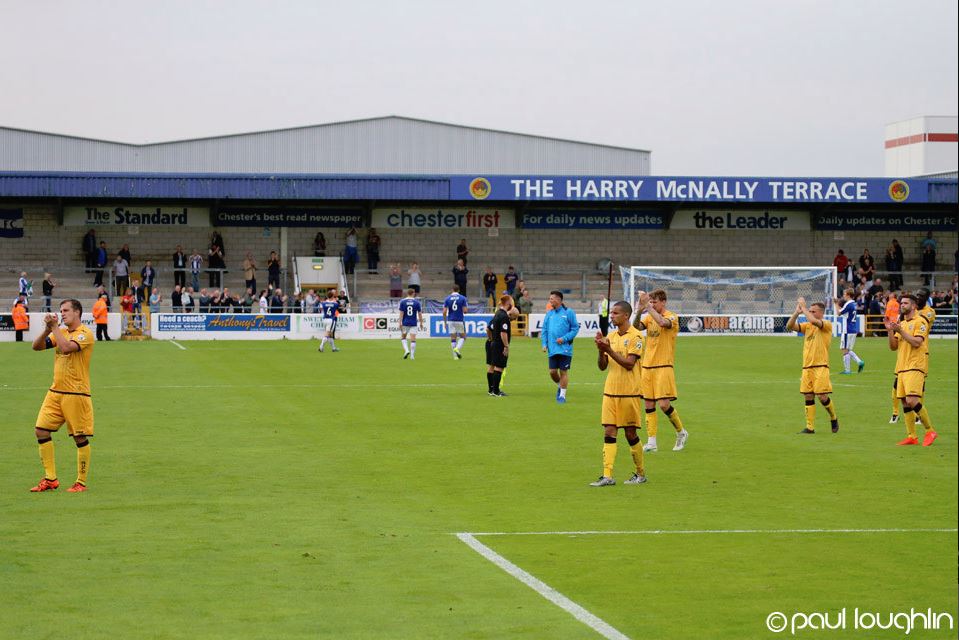 As good as Chester got!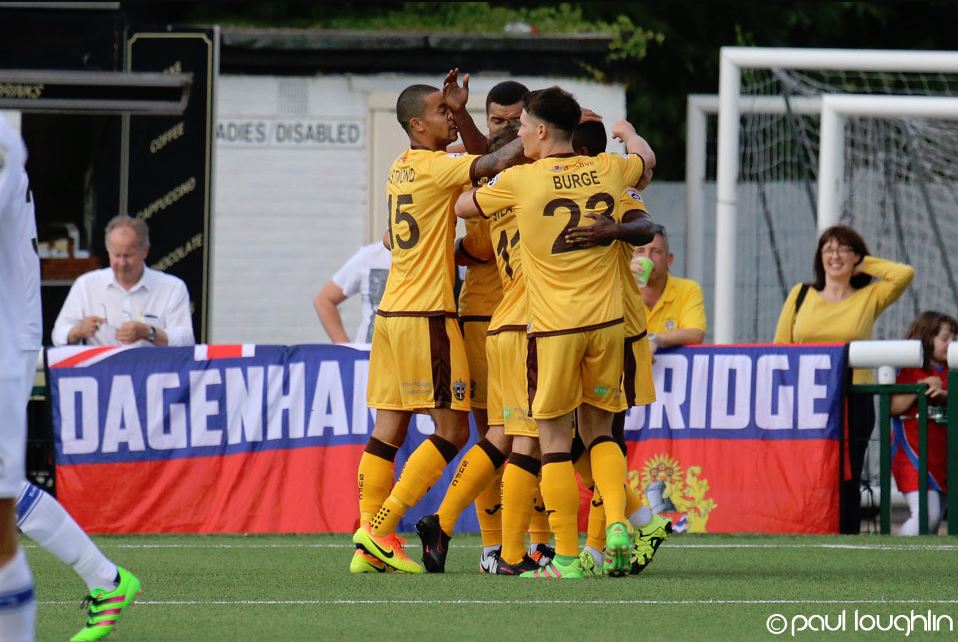 Bradley, on the carpet, with the Dagger….
Bank Holiday Monday and we're back at the lane to welcome half of East London's Non-League football clubs, or Dagenham & Redbridge as they're known these days. The early promotion chasers give us a stern test, but only after Hudson-Odoi scores his first competitive goal to give us the lead. We show character though and hold out for a very good 1-0 win after some intense late pressure. They of course blame the pitch. We're just glad to have put Saturday's result behind us and finally get a look at our new Joma strip that has finally landed from Spain. And very nice it is too!
So, with our first month back in the National done and dusted, we sit a very respectable 6th place with 13 points. Just another 37 needed! Other good news is that Dan Wishart won't be leaving us in the transfer window as we'd feared. A hammy strain having put him out of action for a couple of weeks has cooled interest from a couple of L1 and Championship clubs.
SEPTEMBER
We kick off September with the long trip north to Newcastle to face Gateshead, another Full Time outfit who are gunning for at least a Play off spot. Despite an OK performance in a largely unremarkable game, we fall behind to a soft goal and despite having 2 off the line and one off the bar late on, can't quite force an equaliser the performance probably deserves (1-0). Later on, the night of carnage we've planned on 'the Toon' goes a bit pear shaped as Sean Connery goes walkabout and we instead spend the night turning the place upside down in the pissing rain for the silly old goat. In the end, Chalmers finds him sat on a bench under the Tyne Bridge early Sunday morning, like a fucking silver pony tailed troll. How he manages to stop himself throwing the silly sod into the Tyne, we'll never know. We can't say for sure if our self control would have been quite as exemplary.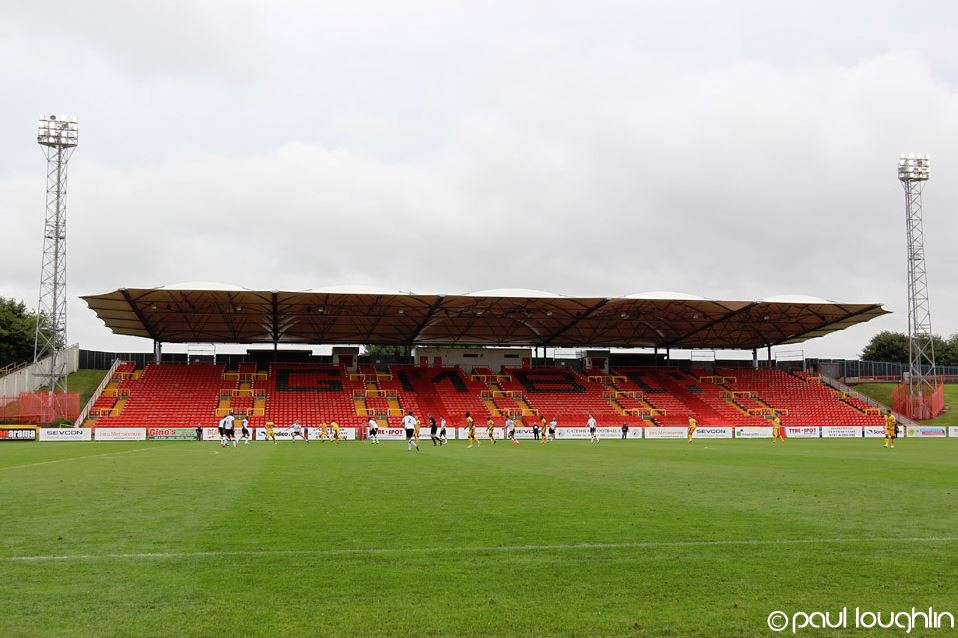 The seething cauldron that is Gateshead…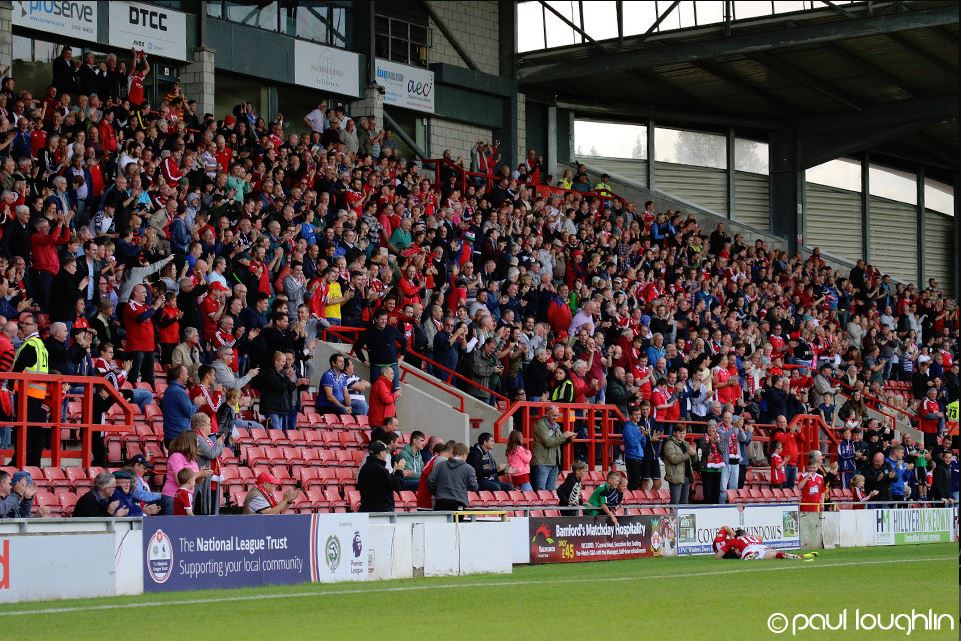 BOOOOOOO!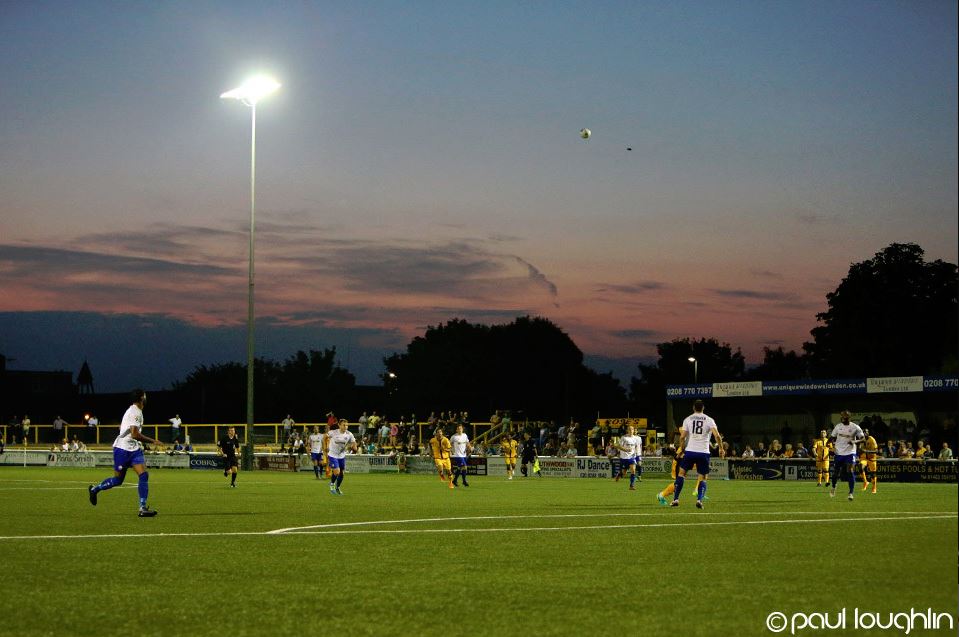 As good as Braintree at home got…
Of course, with one disappointing single goal defeat miles from home, what better than to have two in a row? Wrexham is our next port of call and having enjoyed pubs cheaper than Wetherspoons that aren't actually Wetherspoons, we think it's fair to say we play the Taffs off the fucking park in their own back yard. To the point where at half time we're scratching our heads about how it's still 0-0 and they're getting booed off by 4000 people. Naturally, the 2nd 45 is much the same and with the U's still having not scored, they inevitably stick away their one half chance (1-0). This doesn't placate the locals though who proceed to boo the side off at Full Time as well. Quite a few apologise for the result outside and in the pubs on the way back to the station too! Whilst it's a first for us and undoubtedly a nice sentiment, it's of fuck all use to us in the league table really.
With a lot of miles covered on the road in the last 2 weeks, we're back to the warm, ample bosom of GGL 72 hours later to face struggling Braintree Town. They understandably come for a scrap and we're made to work hard for our lead when Bailey fires in a penalty late in the 1st half. But this is Sutton and of course, we give away a soft spotto of our own right on the break to level things up. The 2nd 45 is frankly rubbish, but having looked like we'd survive and pick up at least a point, some Essex prick smashes in a worldy in injury time (2-1) to make it three defeats on the bounce instead.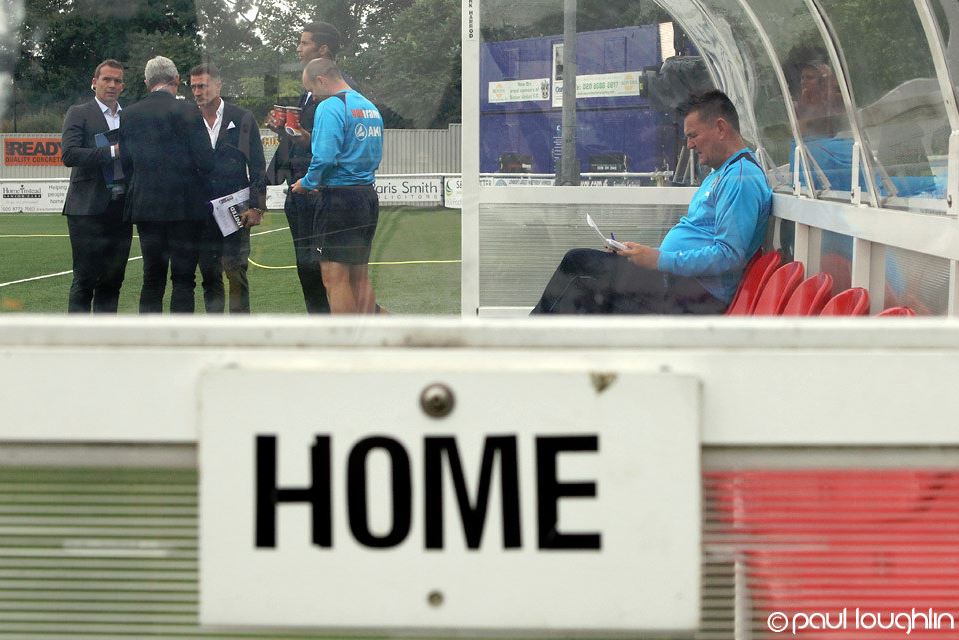 Dos learns his lines before facing BT Sport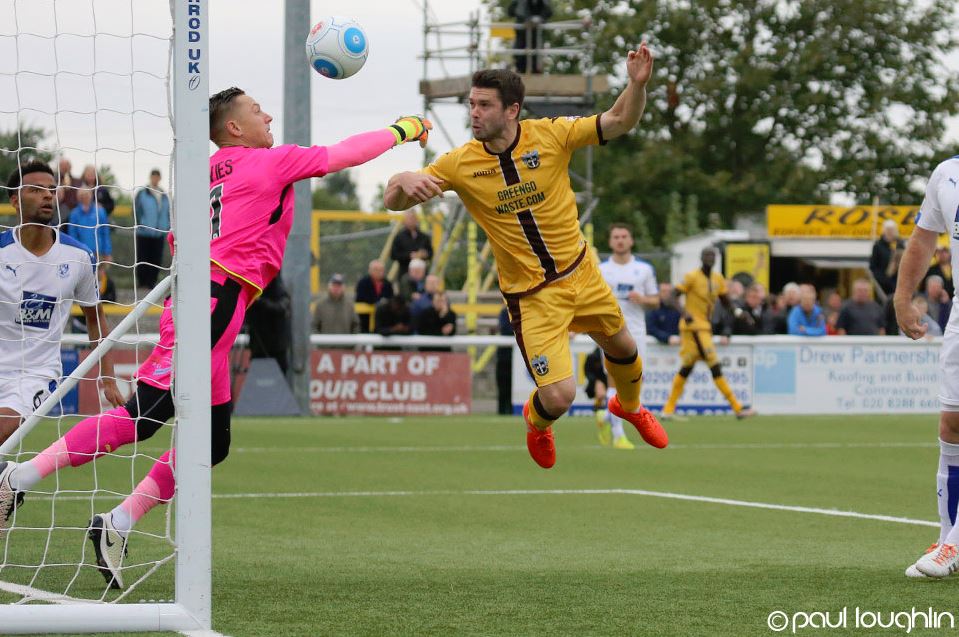 "Look mum! I'm on the telly!"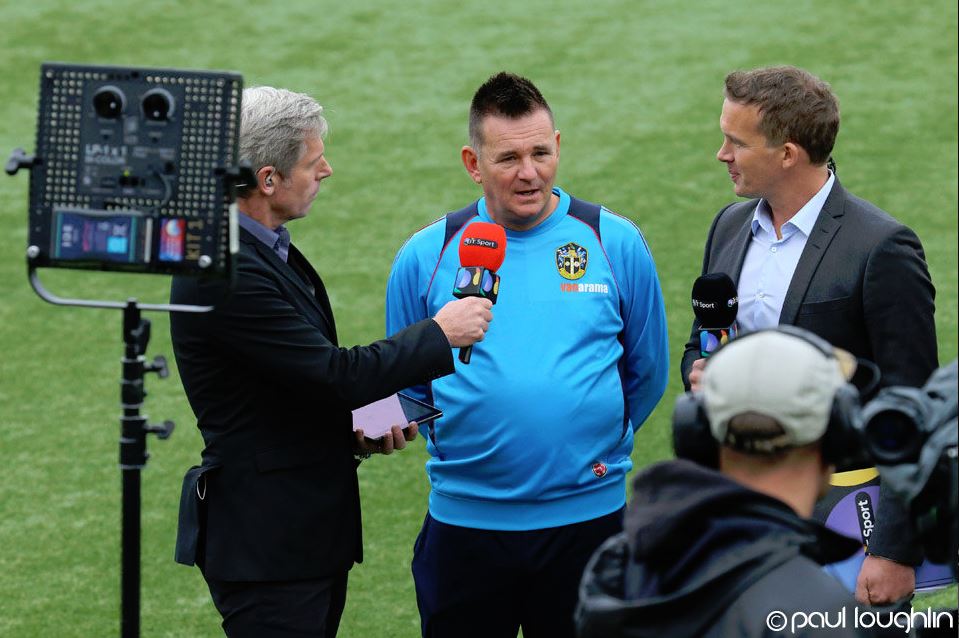 Good practice for later in the season as it turned out!
Having got a bit of a slide on, the last thing you want are red hot promotion favourites to come calling for a live TV game, but that's the way life is unfortunately and we welcome Tranmere Rovers to the Lane for the first time for the 12:15 ko on BT Sport. Things aren't all rosy with them either though, they've lost a couple themselves lately and are already a couple of points behind in the race. The fans aren't happy about this and despite them hitting the bar in the first minute, we deservedly run out 1-0 winners thanks to Dan Fitchett's 1st of the season in the 2nd half, set up by Biamou's clever knock down. The visiting fans are a decent bunch though and we have a good laugh afterwards. They're even happier the next day when the club bins their unpopular manager.
Later that day, Carshalton unbelievably still on the same manager as they started the season with, hump Godalming 10-0 at the Factory of Sadness. No doubt this game was somewhat traumatic to the few fans they have left, given none of them can count even close to that high. They probably checked the press the next day and thought they won 1-0.
September is closed out with a trip to Eastleigh. A shit venue for us and one that now resembles a meccano convention. Still, at least you can see the game now! Sadly, this proves to be another of those now familiar away showings where we outplay the oppo but suddenly find ourselves 2 down. Stearn pulls one back and it looks to be consolation, but we keep pressing and win a last minute penalty that Gomis takes but the keeper saves. So a 2-1 defeat and we're left ruing our luck again.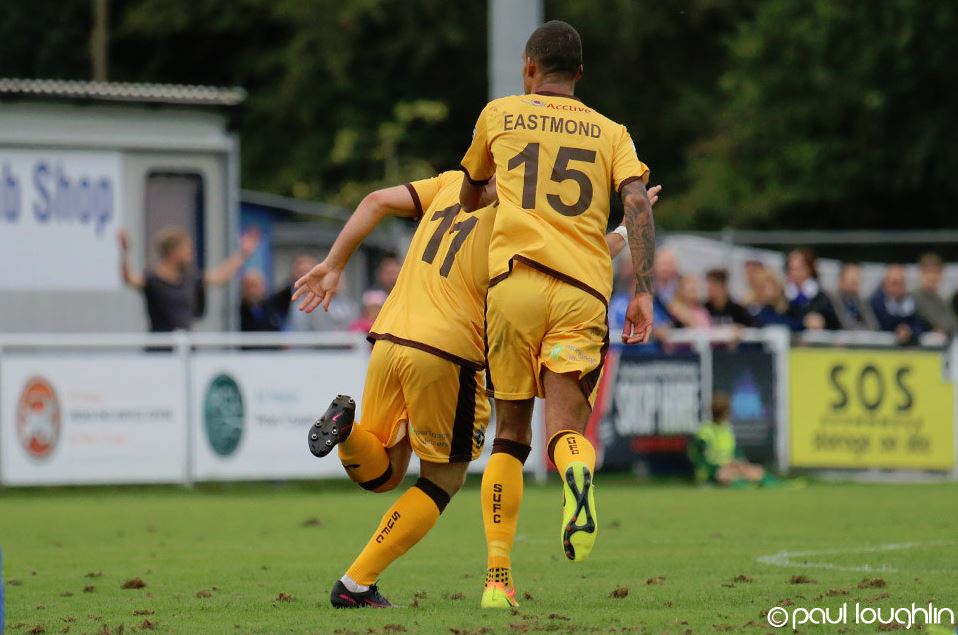 Stearny gets us back in the game at Eastleigh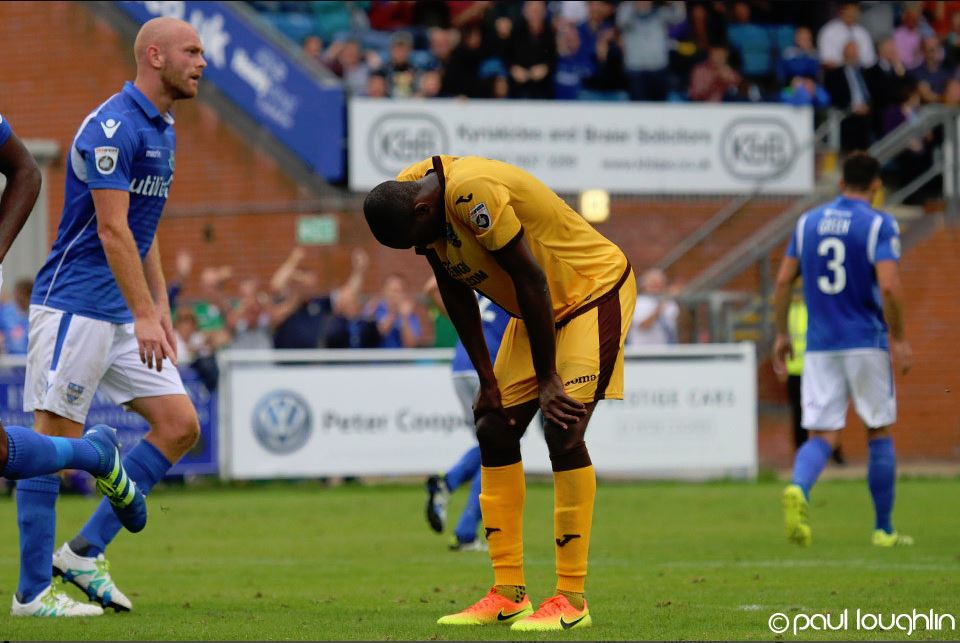 What's French for "You're sacked!"
With a rough month behind us, that early promising start has faded and we find ourselves only 3 points better off and down just below mid-table in 13th place. Here's hoping October will be better! We also start wondering where that young lad Joe Morrell we had from Bristol Rovers has gone to…
OCTOBER
The third month of the campaign is underway with a home match against rock bottom and currently winless Guiseley. So yeah, you can see why we may have been a bit nervous about this one. And with good reason. Despite home advantage, we're largely very ordinary all afternoon and it takes a wonderfully despatched OG late in the first half from the Guiseley full back (on his debut no less!) to give us a welcome 3 points (1-0). This match though proves to be the final appearance of Dan Wishart in a Sutton shirt as the club announces the next day that it's accepted a 'substantial' offer from Forest Green for the flying wide man. No fee is announced, but we hear from our sources its 20 grand up front and 20 grand later on. Whilst it's a nice boost to the coffers with the Bolawinra money, we're another good player down. Fresh blood is required!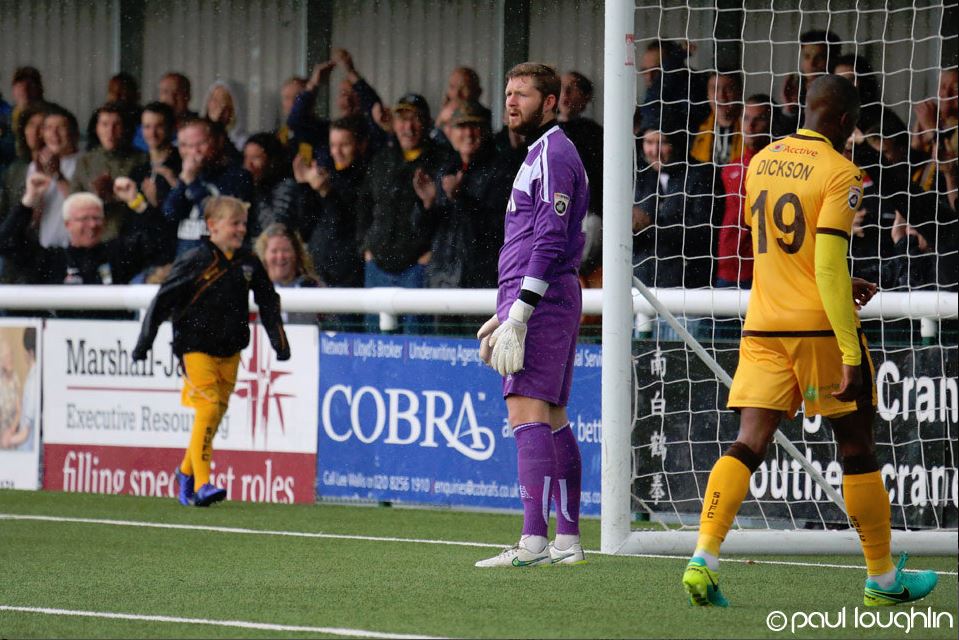 As good as Guiseley at home got!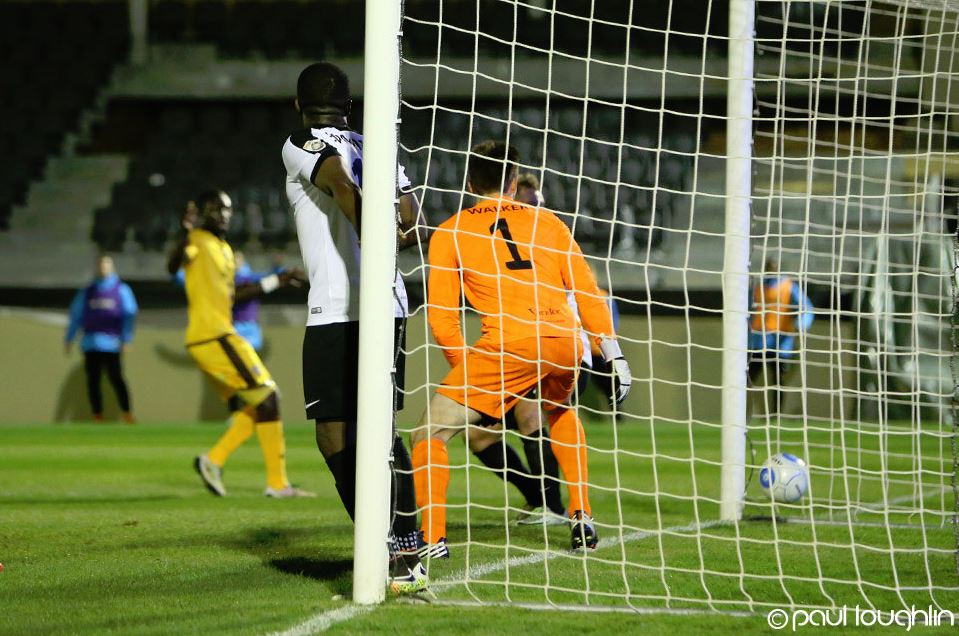 JUST HOW FAR OVER DOES IT HAVE TO BE YOU BLIND CUNTS??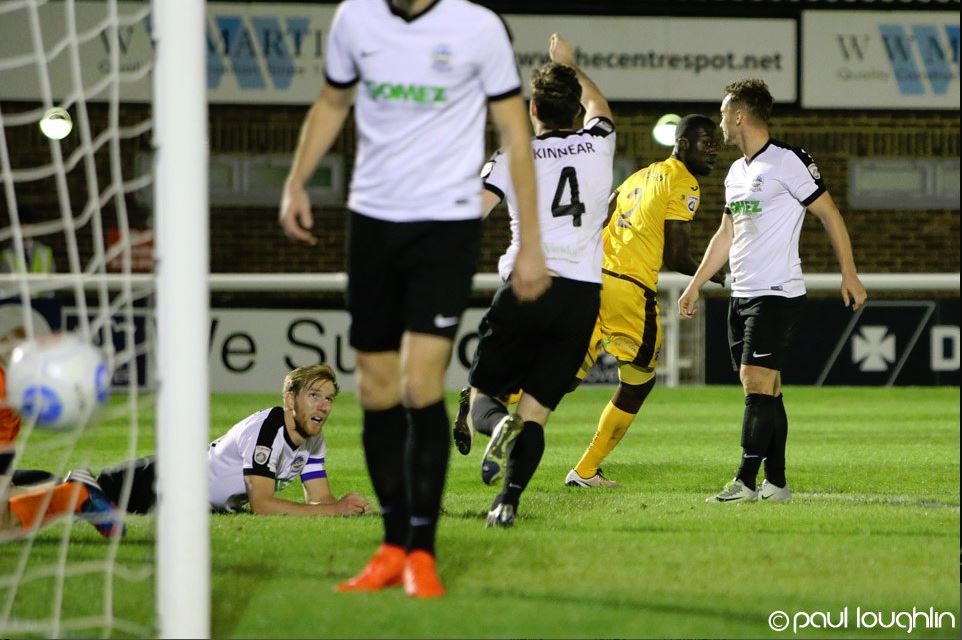 Manks gets us in the game at Dover….
We travel to old friends Dover midweek and fall behind fairly early to a ball over the top. Gomis looks to have equalised midway through the half when his header comes down off the bar and lands a yard over the line. Sadly, neither the ref or the linesman actually spot this, largely setting the tone for much of the officiating we have to suffer this season and instead we go in 1 down. We dominate the 2nd half, but go further behind to another goal from their red hot striker Ricky Miller. Amankwaah pulls us back into the tie and as it looks like we'll get something, a deflection so big it could be seen from fucking space makes the score 3-1. A mental last few mins sees Dover have a man sent off and Hudson-Odoi miss a late penalty for the U's. It's our 5th straight away defeat and our away form is now becoming slightly concerning it must be said. Elsewhere, Guiseley face fuck York 6-1 at home. Ouch.
Our frustration is soon forgotten as we welcome old Surrey rivals Woking to GGL on the Saturday. They're struggling a bit near the foot of the table and we take full advantage as we tear them a new arsehole in a 4-1 win which could easily have been 7 or 8 with better luck & finishing. It's a welcome morale boost, the perfect way to celebrate Dos' 500th game in charge of the U's and takes us back to the 1980's when we were regularly handing this lot their arses here when in the Isthmian League. It also nudges us back up to 13th. Unlucky for some? Hardly. We'll take that over 23rd all day long! The following weekend, it's time to take a break from the league and take our first delve into the FA Cup for this season. However, we're expecting it to be our last as well as we face top of the league Forest Green Rovers at home. The tie doesn't quite go to form though. FGR go ahead after a tight affair, but Stearn thumps in from range to level up. And just as we're contemplating our second midweek trip to the middle of fucking nowhere for some vegan burgers and a replay, Roarie Deacon pops up in the box to head in off the far post in injury time and send the rec end mad (2-1). On the Monday though, we wonder why we've bothered when we draw out Dartford away in the 1st round instead of a plum tie against some FL oppo. Still, at least it wasn't fucking Hemel again.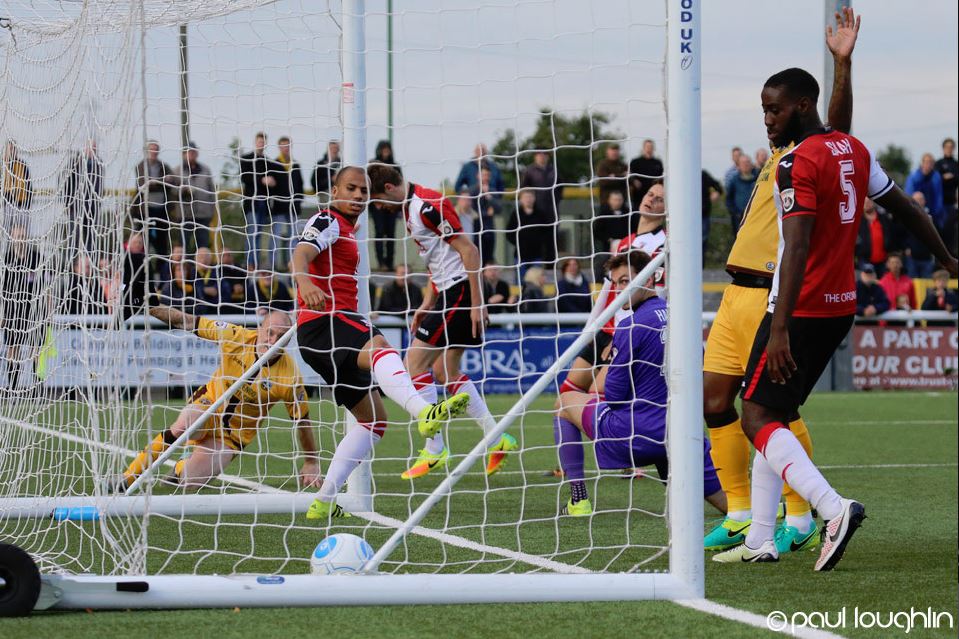 Nicky makes it 3-0 against Woking….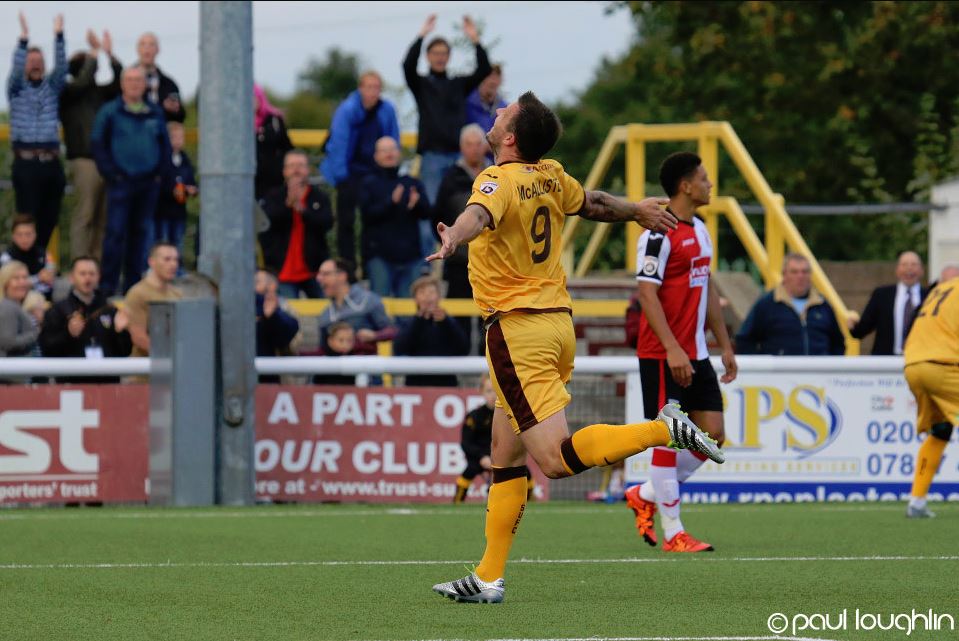 ….and Macca makes it four.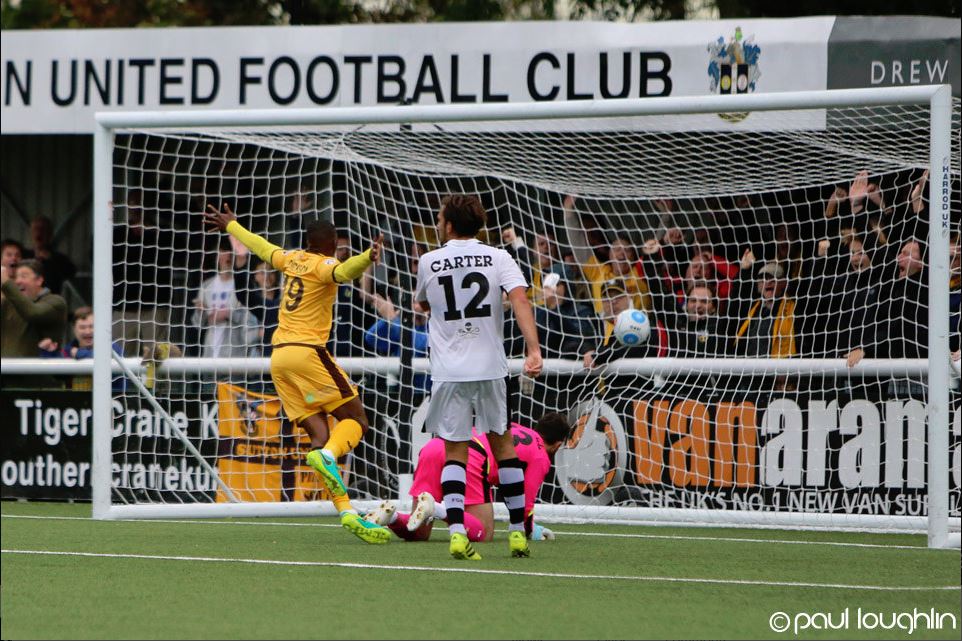 Scenes! Deacon's header hits the net v. FGR
Another long trip North for a big piss up follows as we head to struggling Southport, a trip that sees our first 'missed the train' casualty of the season. Yeah, we were amazed it took this long too! Despite their lowly position, they largely outplay us and it's only due to them being shite that we go in just the 1 down at HT. We do improve a bit after the restart and bizarrely win 2 penalties in a minute. First Stearn is fouled, but Bailey's spot kick is saved. Then less than 60 secs later, the ball is put back into the box where a defender handles. This time Jamie Collins steps up and levels it at 1-1 to earn us a point. We quite like Liverpool too and would have enjoyed a full weekend trip here for the Tranmere game, although they'll no doubt still be in the cup with a tasty 3rd Round tie that day. Oh well. Despite the draw, we stay in 13th place.
The following Tuesday sees the latest episode of football's latest bitter, seething, tooth and nail rivalry. El Plastico. That's right, Maidstone are in town and they've had an up and down start, currently hovering around the bad end of the table. We show them what for and take a 2-0 lead with an irresistable 1st half performance. Except that having gone 2 up, we give away a shit pen a couple of minutes later and then a soft arsed equaliser right on half time. So rather than racking up the goals in a comfortable win, we take only a point from a Desmond (2-2). Er, this is a home game right??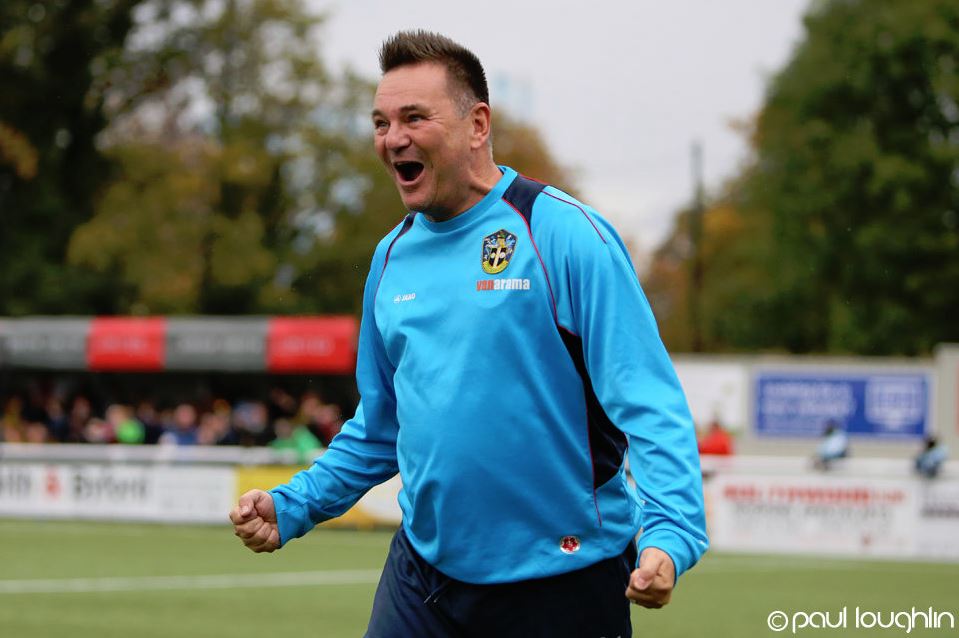 We think Dos enjoyed that late FGR winner…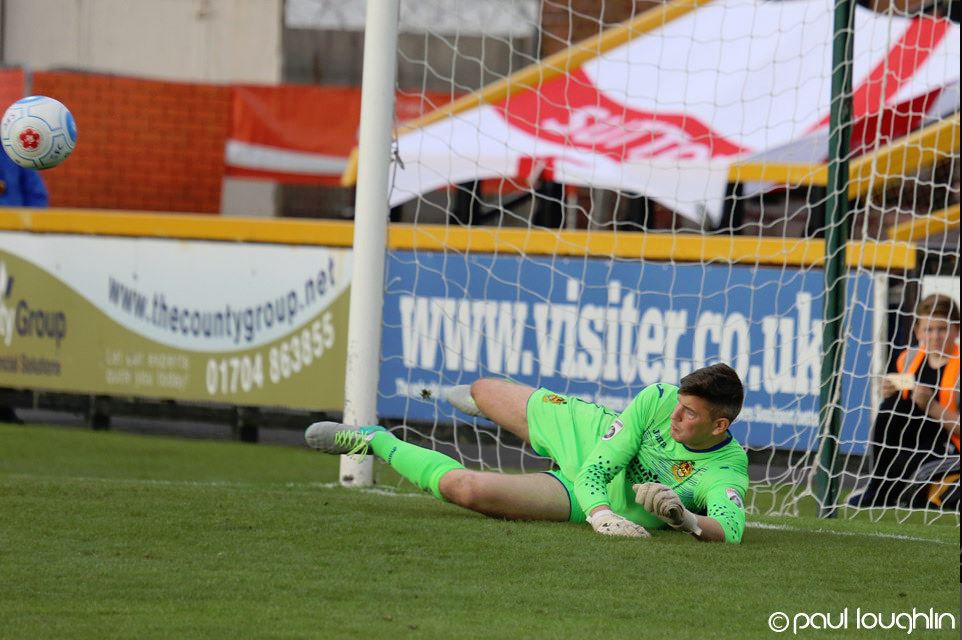 Southport penalty #1. Missed.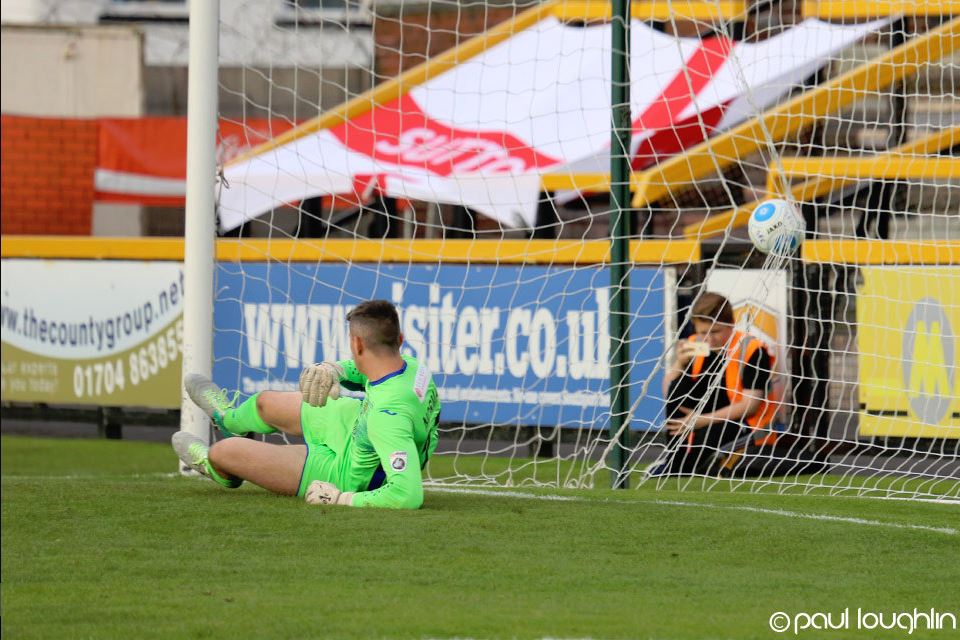 Southport penalty #2. Scored.
The first third of the season comes to a close with a super drunken weekend in the fair city of York. For which Dos recruits young midfielder Adam May on loan from Portsmouth. Surprisingly, having come down from League 2 last season and having one of the biggest budgets in the league, the Minstermen are struggling quite badly and are firmly jammed up in the bottom four. So this is a chance to rack up a much needed away win! Er, no. JC gives us the lead from the spot, but they level soon after. A proper worldy from nowhere in the 2nd half then gives them the lead and they look to have taken 3 valuable points when Dan Fitchett's persistence wins us a second pen in injury time. Up steps the skipper again and our old friend Desmond is back on the manor. 2-2.
Still, that point takes us up to 25 for the season. And although we remain seemingly permanently moored in thir-bloody-teenth, we're at least halfway to our safety total of 50 points but with just a third of the season done. And we're still in the cup, so it's looking rosy so far!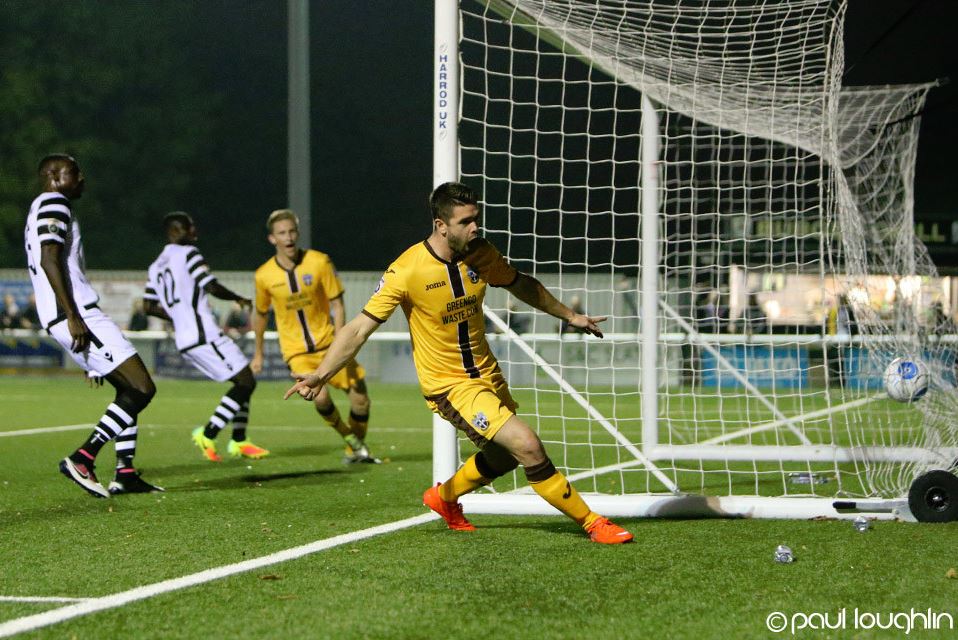 Fitch gets us up & running v. Maidstone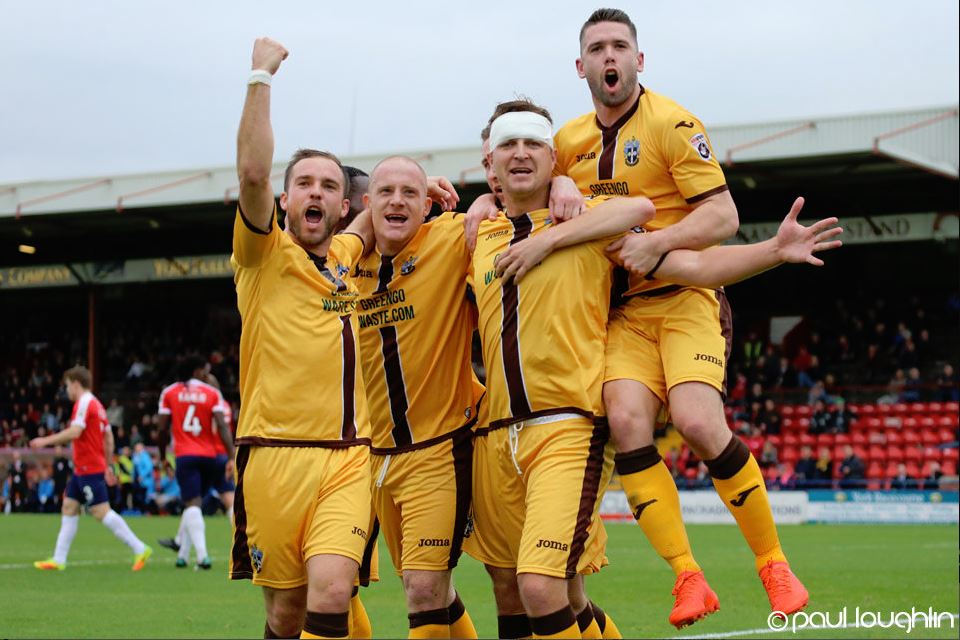 Lads! We've just heard York has THREE HUNDRED PUBS!!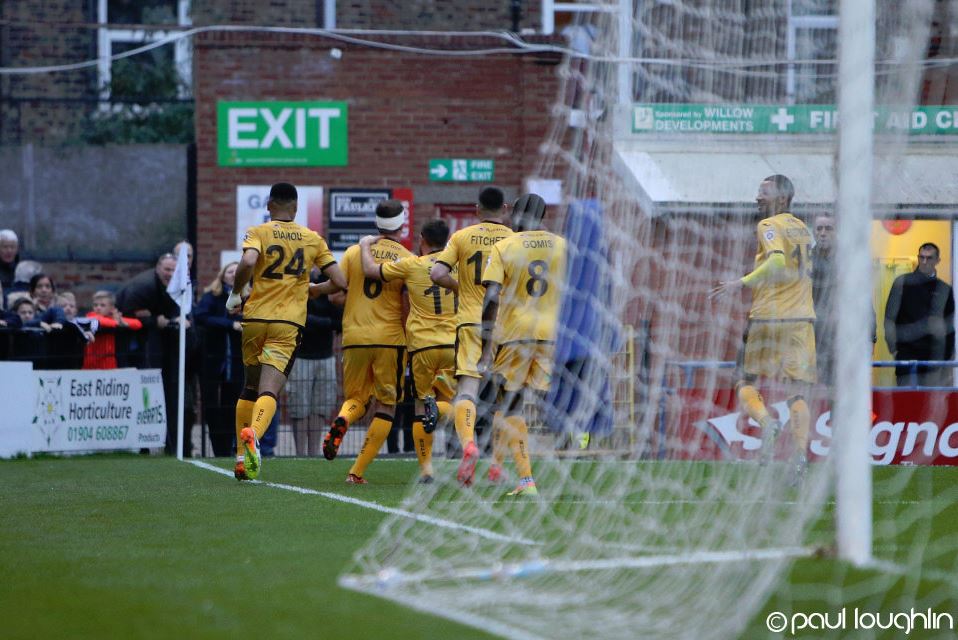 JC secures a point at Bootham Crescent
So, will we make 50 points? Will we win another away game? How many pubs did we do in York? Will anyone else miss a train? Where the fuck is North Ferriby? And will we ever get out of bloody 13th in the table? All of these questions (well, some of them) and more will be answered in the thrill packed second installment of our 2016/2017 season review! Coming soon!






As always, we'd like to thank the jolly good sport (and Clubman of the Year!) that is Paul Loughlin for once more allowing us to rob his superb pictures from this season and make our round up look far more professional than we could ever hope to! Check out the full sets of his stuff on Flickr HERE. They're dead good.