Don't worry, we're nearly there now. It won't be long before we can all take a break from the ups and downs of yet another Sutton United season and just turn our heads to other pursuits. I don't know, something like watching cricket? Or maybe taking the wife to B&Q on a Saturday? Or even reorganise your DVD collection based on the studio that released it instead of a highly complicated system that is so complex, to even explain it in this blog would be fruitless. But I'll try anyway. I call it "Alphabetical".
But before we crack on with our final home game of the season, we'll need to wind the clock back ever so slightly and mention some news that appeared on the ever so secret Gandermonium WhatsApp thingy, no the FUN-employed Firm Leader hasn't finally come up with an interesting gym story, but instead there has been some movement on more ground developments.
And no, the powers that be haven't answered the call from the Shoebox. There's no reduced beer prices at all and even worse, someone has bloody drunk all the pint bottles of Bulmer's (who the fuck would that be? Was it me? I don't fuckin' know!). But more importantly there's NO ROOF FOR THE SHOEBOX!!! Well that's just a bollocks decision. In my totally unbiased and impartial opinion. I dunno, maybe we should have actually asked for one?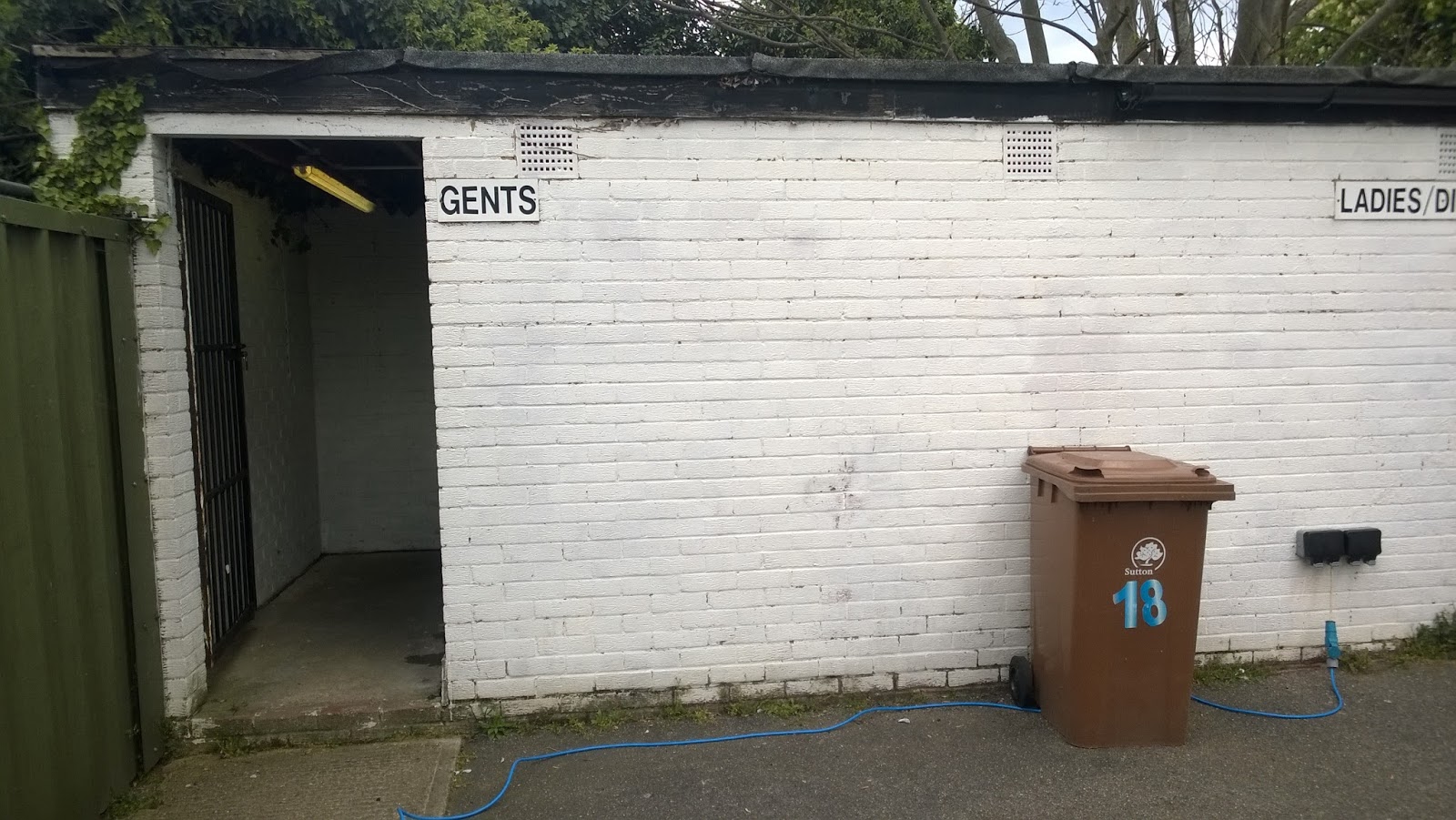 The Khazis look ok from here…
Instead we're going to "improve" some of the old bogs (and also someone would like to prevent men from flashing inside one of the traps, an issue that I didn't think even existed). Also the Rec side pavilion is once again on the agenda, but there was no mention of the fuckin' brick thing some of us brought a few years back though.
And there is also a rumour that a modern scoreboard might be installed in the near future. A great big thing that would no doubt be able to be seen on Google Earth or something. Never realised that so many people failed to keep up with the score during the game. But, what's that saying? "Ours is not to reason why…"
So back to Saturday, and with the end of season shin-dig later that day, I thought that it might be, as the Old Jock Brown used to say "prudent", to jump into Sutton and have a quick bite on my way through. I'd even worked out that a nice slap up meal of double pie, double mash & Liquor would give me enough sustenance to last the day.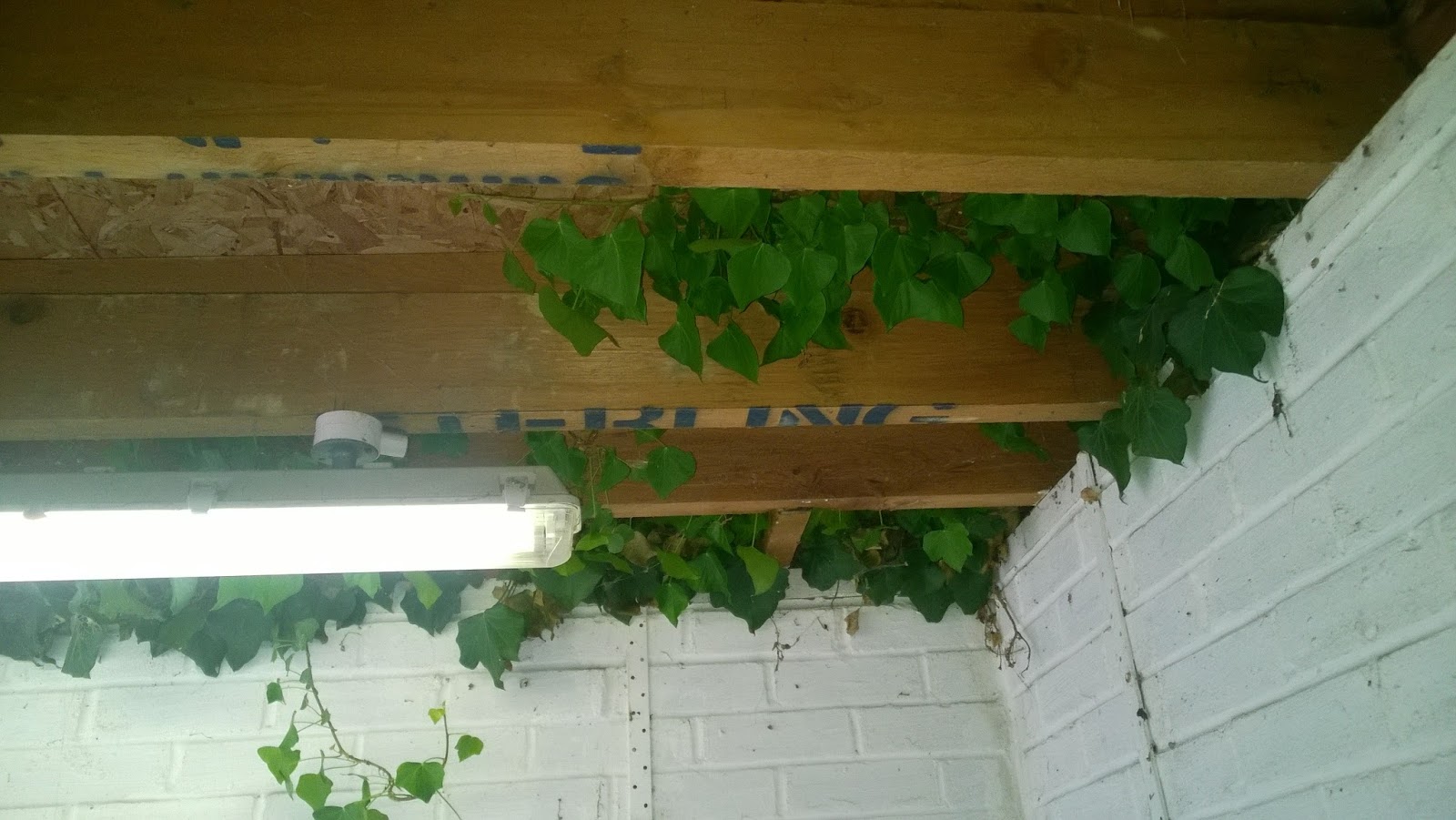 It's even got foliage inside to brighten up the place…
And how was it I don't hear you ask? Fuck knows! Didn't go did I! After all that planning I instead was so lazy that I could only manage a Bacon & Egg sandwich from the cafe. Jumping on the usual one o'clock train I was greeted at West Sutton with Soper jumping off as well with a suspicious looking package under his arm.
Instead of informing the RUC, I inquired about said package. "A trophy for tonight" was his reply. "Well at least you managed to get it back before the evening" I remarked, "That aint half of it, I've got to pick up the rest from Wallington after my duties on the gate.." Nice to see that some parts of the club are holding up the 'Amateur' part still!
Arriving at Gander Green Lane, orshould I say Borough Sports Ground? I'm soon in the bar with everyone else as we watch Lincoln score a very early (for them) 76th minute winner to be able take the league title. Still took 4pts of those buggers didn't we! And I bet neither of their championship signs end up in the local high street tonight. It' not long before it's time to walk out and take our spaces at the Rec End.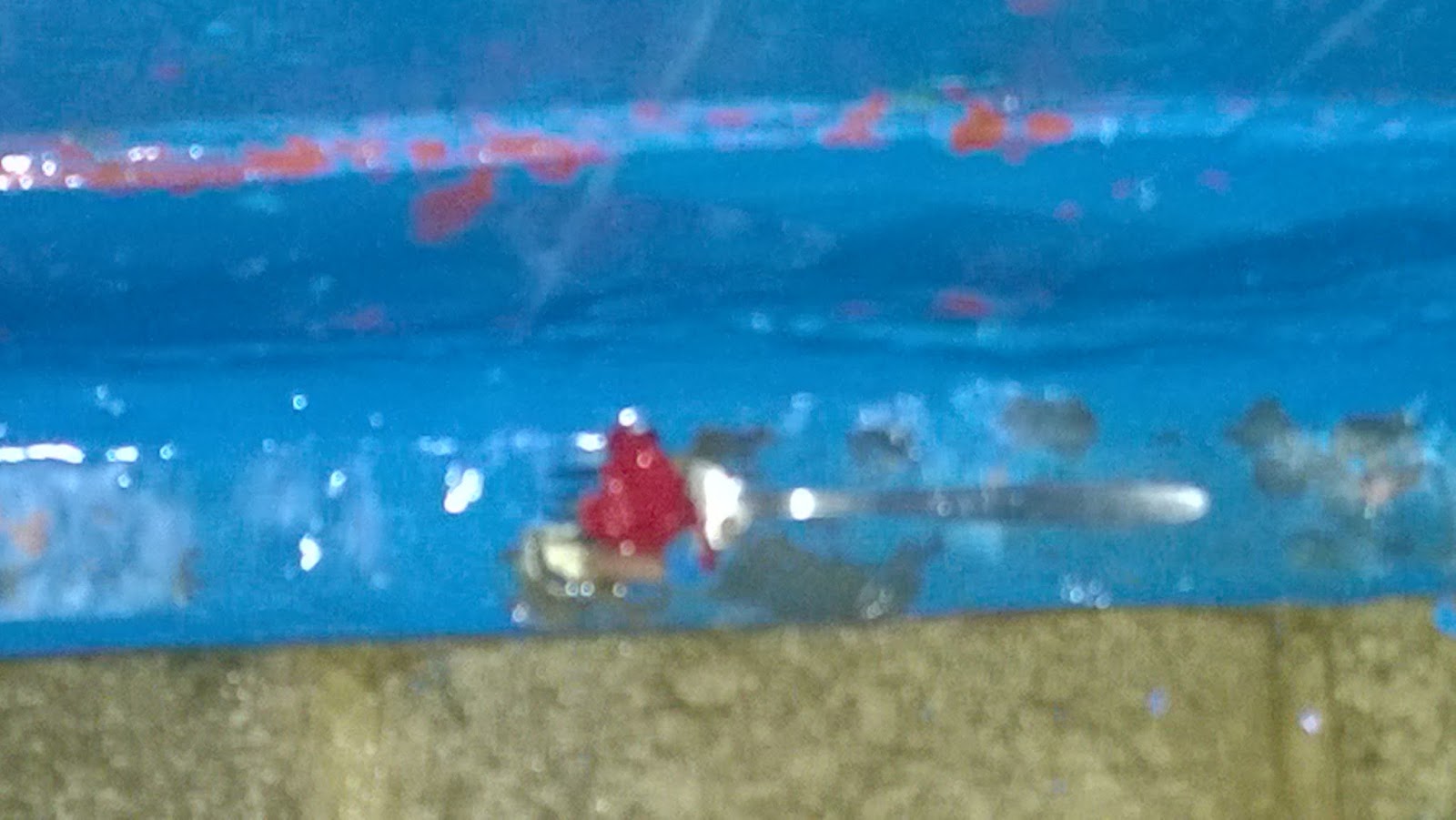 Is that a Fork?


Puddy, Beckwith, Collins, John, May, Eastmond, Bailey, Monakana, Biamou, Coombes, Cadogan. Bench Warmers: Gomis, Dundas, Spence, Jebb, Brown.
With the weather unsurprisingly far better than anything that the Met Office could be bothered to describe, Sutton started like a train failing to stop at a red light. And in an uncharacteristic fashion actual took their chances for a change. If some of you may remember, Sutton had a torrid time in the reverse fixture back at the start of the season. You know, when we were the 95th best team in the country and we'd amassed a whopping 4pts in our first two games away from home.
Playing with the unfamiliar formation of 4-4-2, it took Sutton only a mere five minutes to take the the lead. And who was it that stepped up to the plate? None other than Coombes himself as he received the ball from Bailey just outside the box and unleashed a dipping shot that sailed past the Chester keeper (who was on the six yard line) and into the back of the net. 1-0! And with that very goal, he was to join the likes of Spence, Jefford & Dickson on the all-time top scorers list.
Still reeling from that effort, Chester were about to find themselves in the same position as Sutton from the first match. This time it was Brian Adam May who opened his league account with an even better goal. This time he received the ball from Beckwith and jostled into position thirty yards out and to the right hand side. One look up and he lashes a shot that sails over the keeper and into the goal once more. 2-0!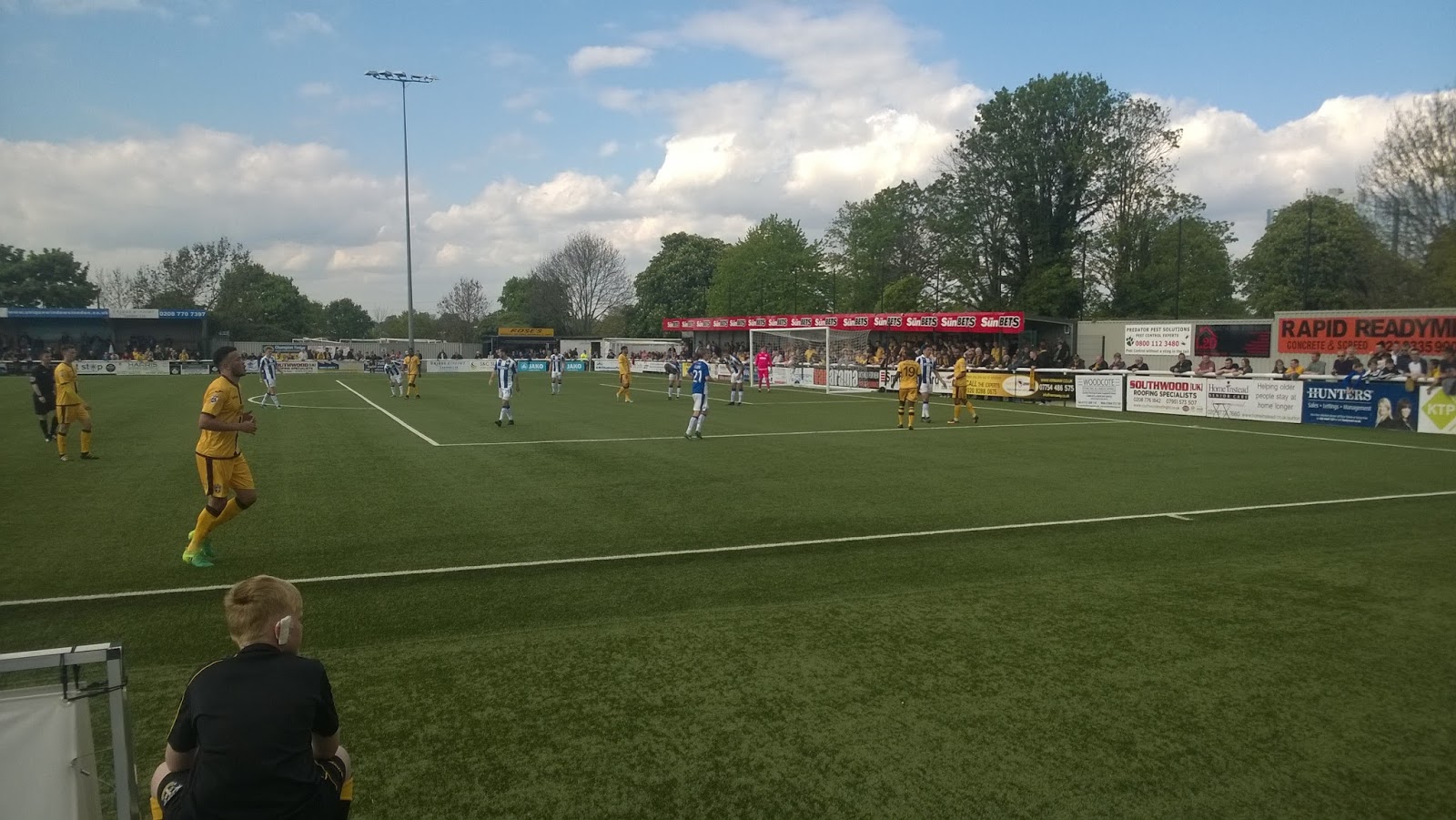 Standard boring action shot #145786


Bloody 'ell, only eight minutes gone, and we're two up! It could've been three minutes later, but Biamou managed to hit his shot at the only place in the goal from six yards out that the keeper had covered. Well I say covered, it was actually hit straight at him and he didn't know too much about it.
Not to be outdone, Collins got in on the action just before the break. A free kick twenty-five yards out and slightly right of centre was his chance. His shot may not have been the the most powerful, but he lifted it over the wall and with the Chester keeper rooted to the spot, all he could do was watch it sail into his top corner. 3-0!


Being three nil up, we start to walk around towards the bar, but hang around long enough to see Chester have their best chance of the half with a shot that grazed the top of the bar from their hefty geezer waddling up from the back. Straight after this we make our way out of the ground and haven't even re-entered by the office before the whistle is heard.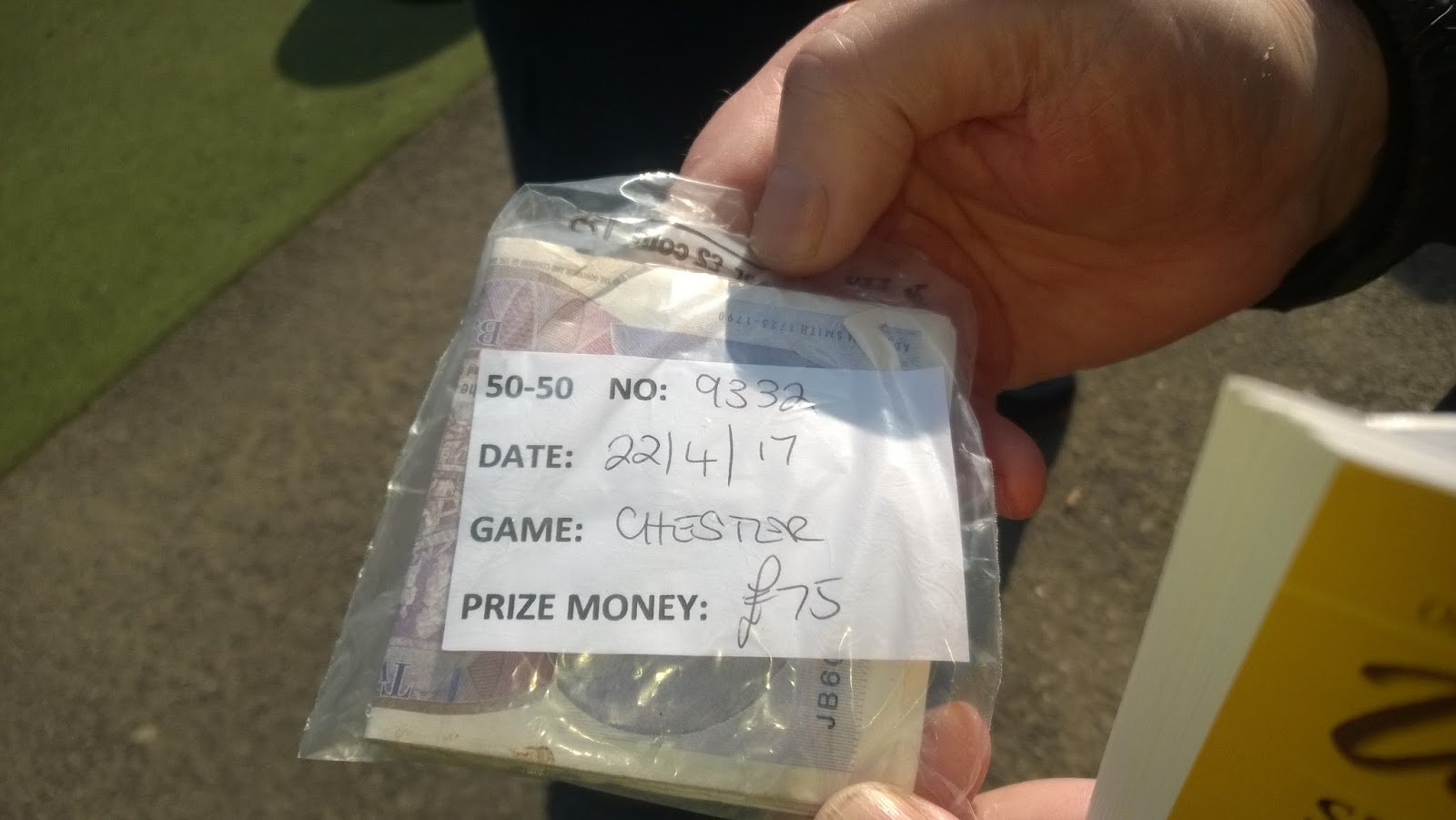 See? 75 quid there in old money…


After knocking back a quick pint, we return to the arena take up the usual spots on the Shoebox and we are greeted with the news that the former president of the Sutton Slut Club, Wellie, had managed to win the Golden Goal 50-50 draw. Not bad at all with a £75 cash prize for him to take back to the wilds of Kent. I also won't mention anything about 4 Days being one number out again. Not worth it. He'll only get upset.
All of a sudden I look up just in time to see Collins cross the ball into the box. Coombes manages to lose his marker and calmly nods the ball into the goal from 6 yards. 4-0! Bloody buggers! Not only has Coombes risen through the ranks once more and joined the likes of Fleetwood, Cooper & Shaq, but we've actually gone and levelled the tie at 4-4 with nearly a whole half to go. Revenge could be ours!
As expected the game starts to get the feel of two teams not really playing for anything of importance but that doesn't mean that Sutton still have and miss a couple of chances to make it five. Befroe the hour is up Monakana is replaced with Jebb. I tell you, that boy has some potential for next season.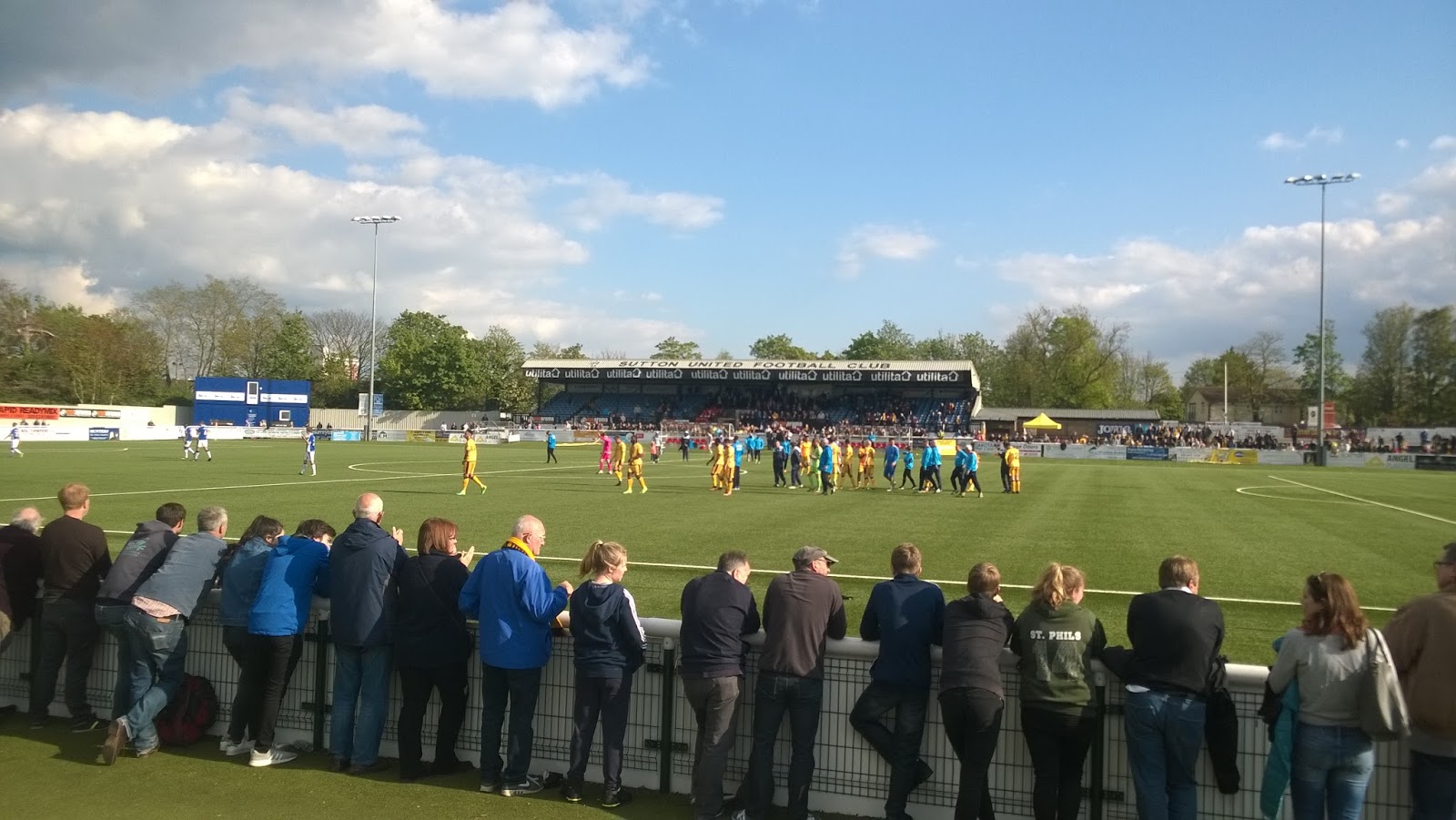 You'd never guess where this was taken…
Shortly afterwards Biamou is subbed for the legend that is Dundas (449 games and counting) and Spence replaces Beckwith. Minutes later we're given another contender for the "Goal of the Season if only we hadn't already had the vote" compo. Receiving a clearance outside of the box from a corner, Bailey lets it bounce a couple of times before giving it some wellie and leathering it into the back of the net from about 30 yards. 5-0!
You might think that would be the end of it, and you're right. Well, for Sutton at least. Chester had other ideas. First it was a fuck up by Puddy as he came to clear the ball and failed to make contact with it. With still some work to do the Chester player slotted the ball home from an angle twenty yards out near the "executive boxes". Then minutes later, the same player worked his way into the box and hit the ball low past Puddy to make it only a three goal deficit and kept Chester up on the aggregate score.
As for the ref there was no need to mention the former Hollywood actor come referee Chris O'Donnell as I don't recall him booking anyone or needing to fuck up any decisions. With the final whistle came the opportunity to clap the faithful on the Shoebox for the final time this season. Even Downer was there, sporting a nasty Mars Bar on his Stomach after his recent falling out with his appendix.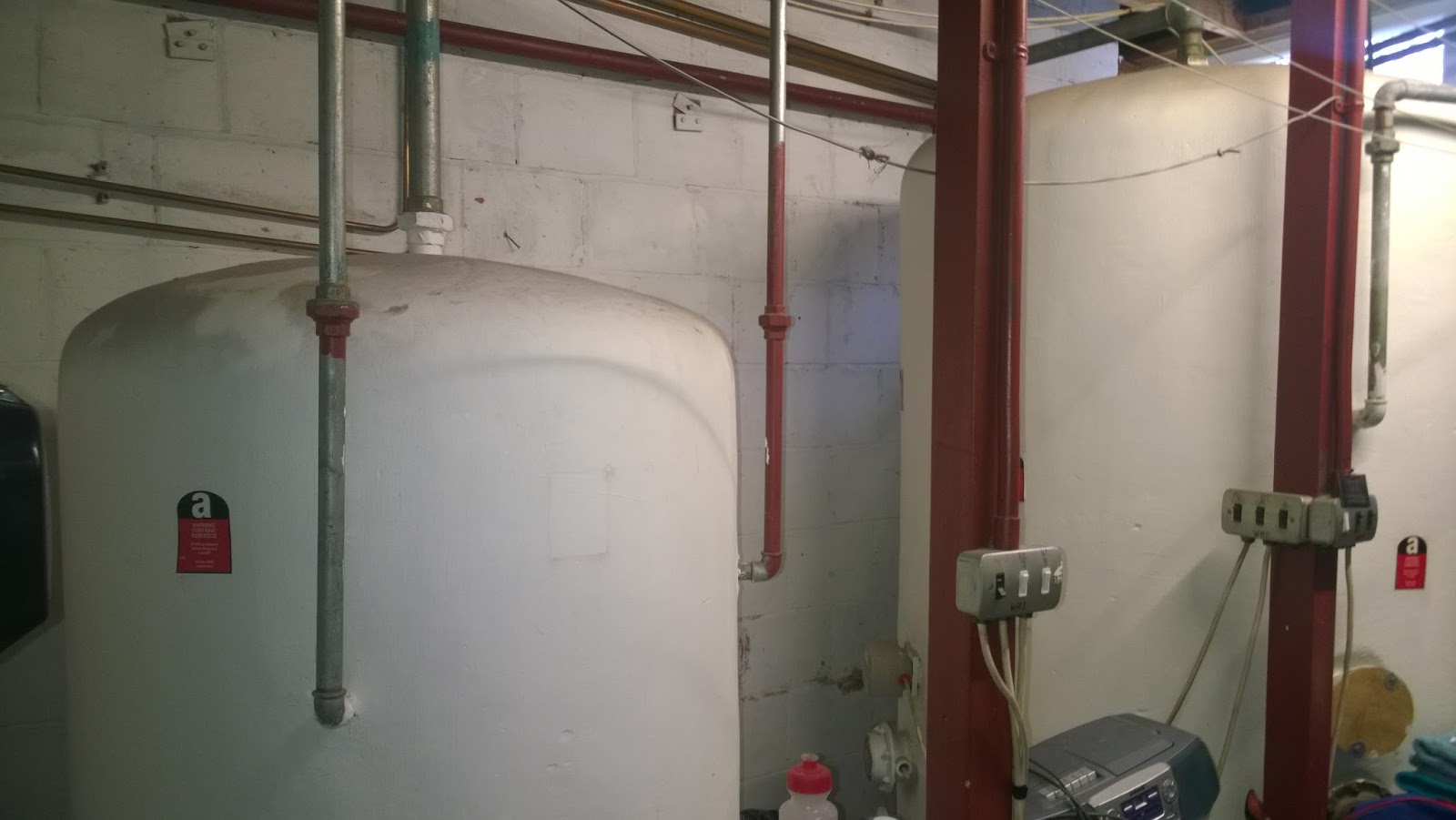 The Duke and two old boilers, get it? Boilers?
After the game it was time for me to once again try and give the club the excuse it needs to name me Clubman of the Year. Hey, those nets don't lift themselves after games you know. But if they did, they would probably be the best lifted nets in the world. Having safely secured the corner flags, just to make sure, it was time to head into a packed bar and have a pint.
Most of the Firm know that as I'm involved with very important club business straight after the game, they would usually get this war hero his usual bevvy. Usually. Well on this occasion, Taz fuckin' forgot! Probably on purpose knowing him. If he wasn't something like 47 years old and coming down with alzheimers I would probably be a bit pissed off with him. Still, fact is he forgot and I had to take his fiver and join the four deep throng at the bar.
With the usual throng of results coming through we digested the good and the bad with several pints before it was time for some of the boys to watch a bit of FA Cup action. To be honest, my interest in that competition probably ended in around the fifth round stage but for some it was clear that they had a soft spot for one team.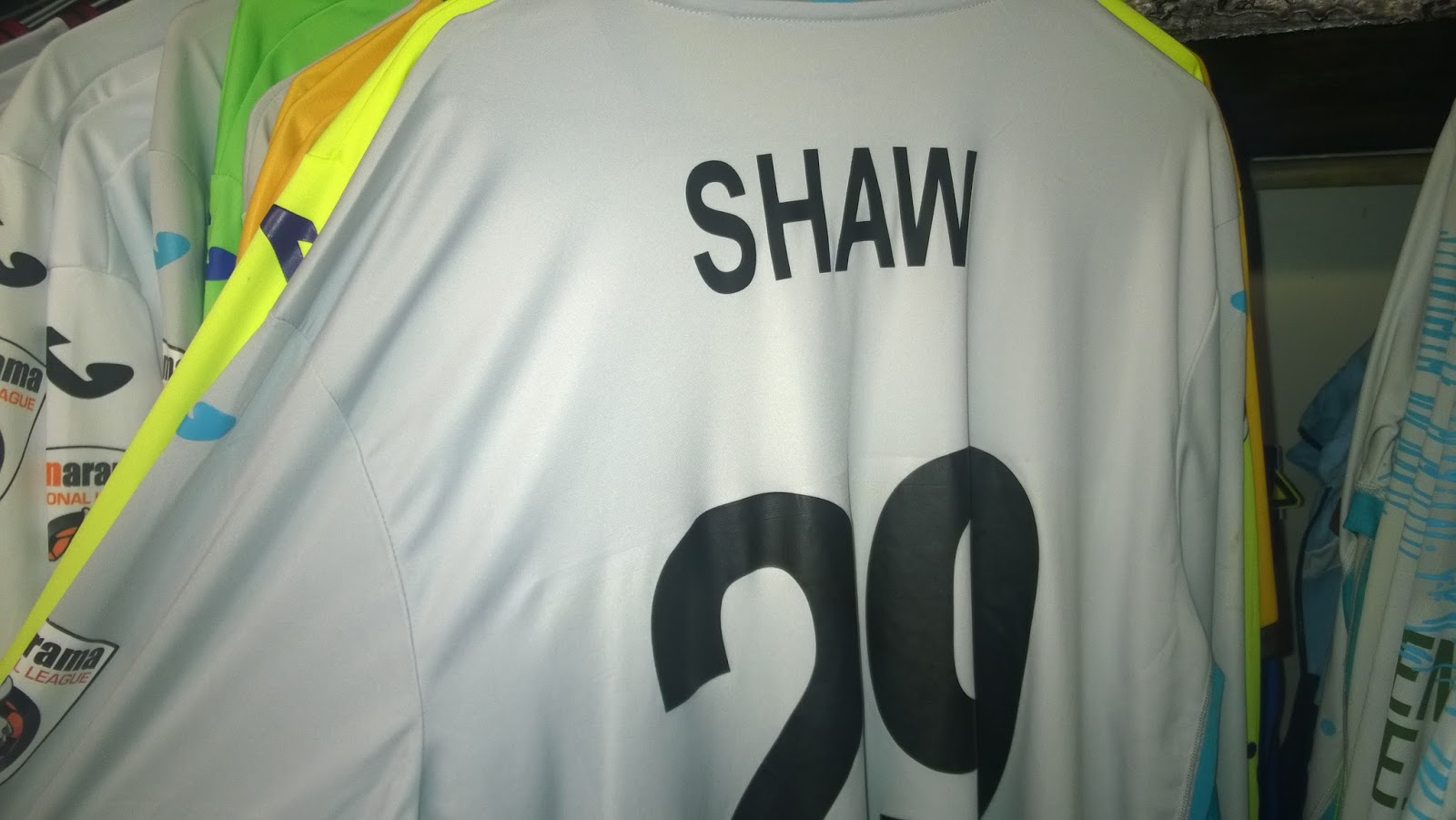 Hmmm…Are we keeping it for a reason?
Eventually it was time for the main event, the end of season do. First it was a quick change of top from the back of The Firm Leaders's personal Duke, and not to mention to liberally dousing myself in the love juice of a god. Or as some lesser people call it, Brut. I'll admit, I probably overdid it a bit, somewhere around the point that I was in contravention of the Chemical Weapons Convention of 1997, but hey the ladies like it. Possibly, somewhere…
Collins was named Player of the Season and Deacon got a shit load of the other awards. Surprisingly he even won the Goal of the Season (my suggestion of giving it to the York fella instead fell on deaf ears) with his run of the mill effort against AFC Wimbledon. In another break with tradition or as some would say the usual, there wasn't even a pot on the length of the chairman's speech. Things really are changing down the club these days!
There was the usual auction of players shirts and the first lot went for astronomical amounts as the beer helped skew people's decision making. Shit, we're talking 100's of pounds here. Obviously I didn't buy any. But hey, I thought £40 was a too much to pay for some scoff in Nando's the other week! And I was right! After watching a wonky Youtube video on a projector of the goal of the season, it was time for the second lot of shirts that flew off the rails as a job lot that even had Gandermonium making a purchase.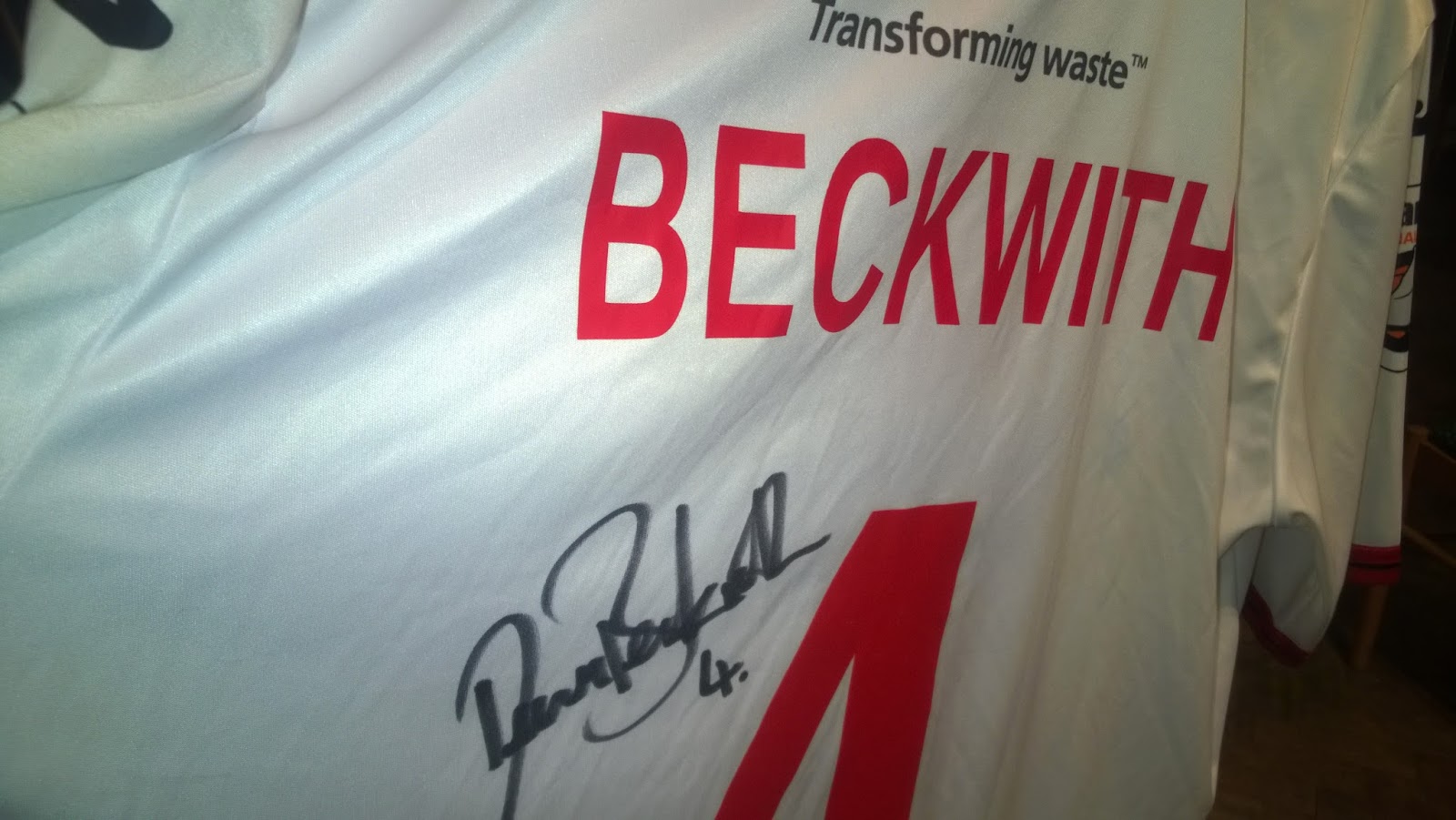 You'll never guess who bought this shirt…
Talking of Gandermonium, we even managed to corner Our Lord Dos before the end of the night to put towards him a few very sensible suggestions for the next campaign, and I can exclusively reveal to you that next year we're going to win the Surrey Senior Cup! Oh yes, our Lord Dos said he would do it. Promised even, just to shut me up. Or was it "leave the Surrey county and re-join the London FA"? Fuck knows, by this time I might've been half Brahms. but he definitely did say we would win the county cup. Well what he actually said was "mention the Surrey Senior Cup again and I'll headbutt you" Same thing isn't it?
The do finishes a bit earlier than previous years, so it was time to head off. Waving goodbye to Mr X at West Sutton we headed towards our local den, O'Neills, Taz called it a night before we even made it through the door and to be honest I didn't last too many pints in there before it was time to wave the white flag myself and take my usual sherbet home with the usual driver. It's funny but, during our conversation he also might've said to me "mention the Surrey Senior Cup again and ill headbutt you". Or did I imagine that bit?
So, that's me done for another season at least. We now have only one game to go up near Manchester. And what better way to see off the season than to have a Beano up there? Well, we're not going by coach that's for fuckin' certain. It won't be quite Maidenhead Dresslemania-style but the Firm Leader will probably have plenty of wacky Claire Rainers to choose from.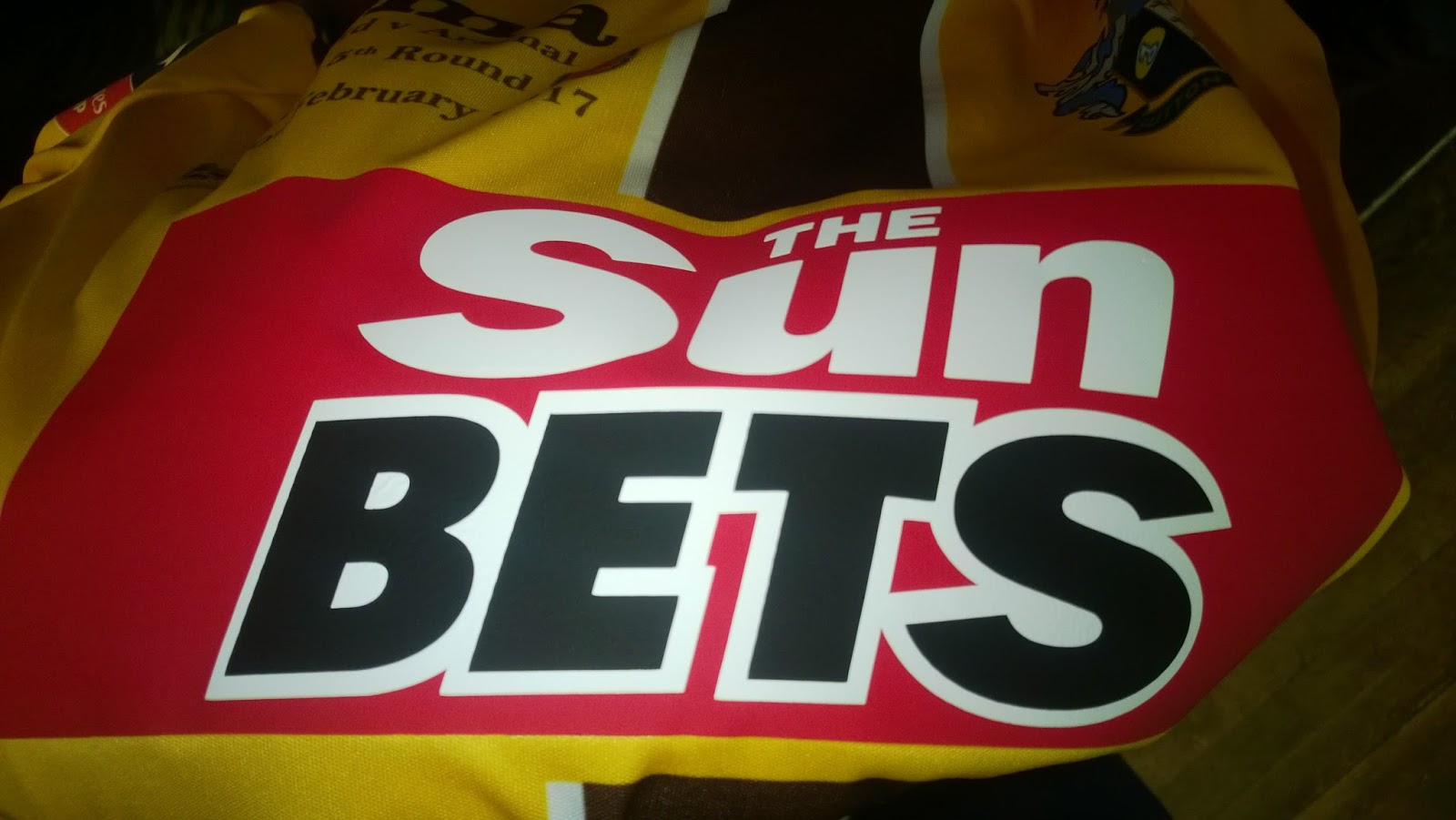 Standard controversial Gandermonium picture. Without the boobies…
Duke
Att. 2082