Dagenham. Away. Easter bank holiday Monday. A clear sign
that the long season is starting to wind its way to a conclusion. With this being my final report for Gandermonium before the
summer break I decided to have a bit of a run up to it and posted up a daily
Dagenham-related song on the old twitter feed across the bank holiday
weekend.
This cornucopia of Essex-tinged sounds kicked off with The
Stranglers "Dagenham Dave" and wound its way through Billy Bragg, The Clash and
the Tom Robinson Band before culminating with the late great Ian Dury and his
Dance Little Rude Boy with its line about the "Dagenham Royal Swagger". I spent
hours putting this unique soundtrack together to get everyone in the mood and was delighted to find that
precisely no one gave a flying fuck. Cheers.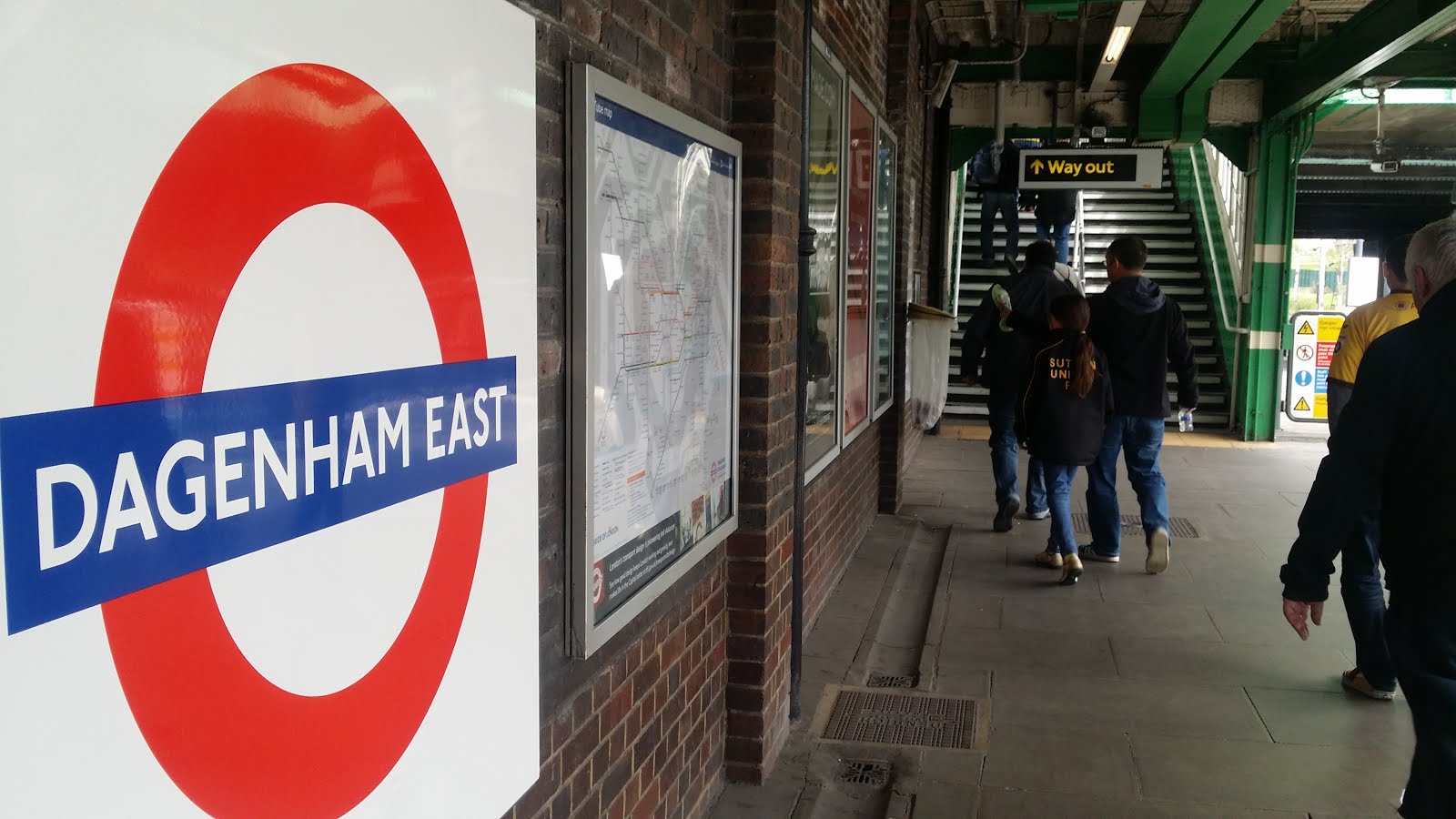 Destination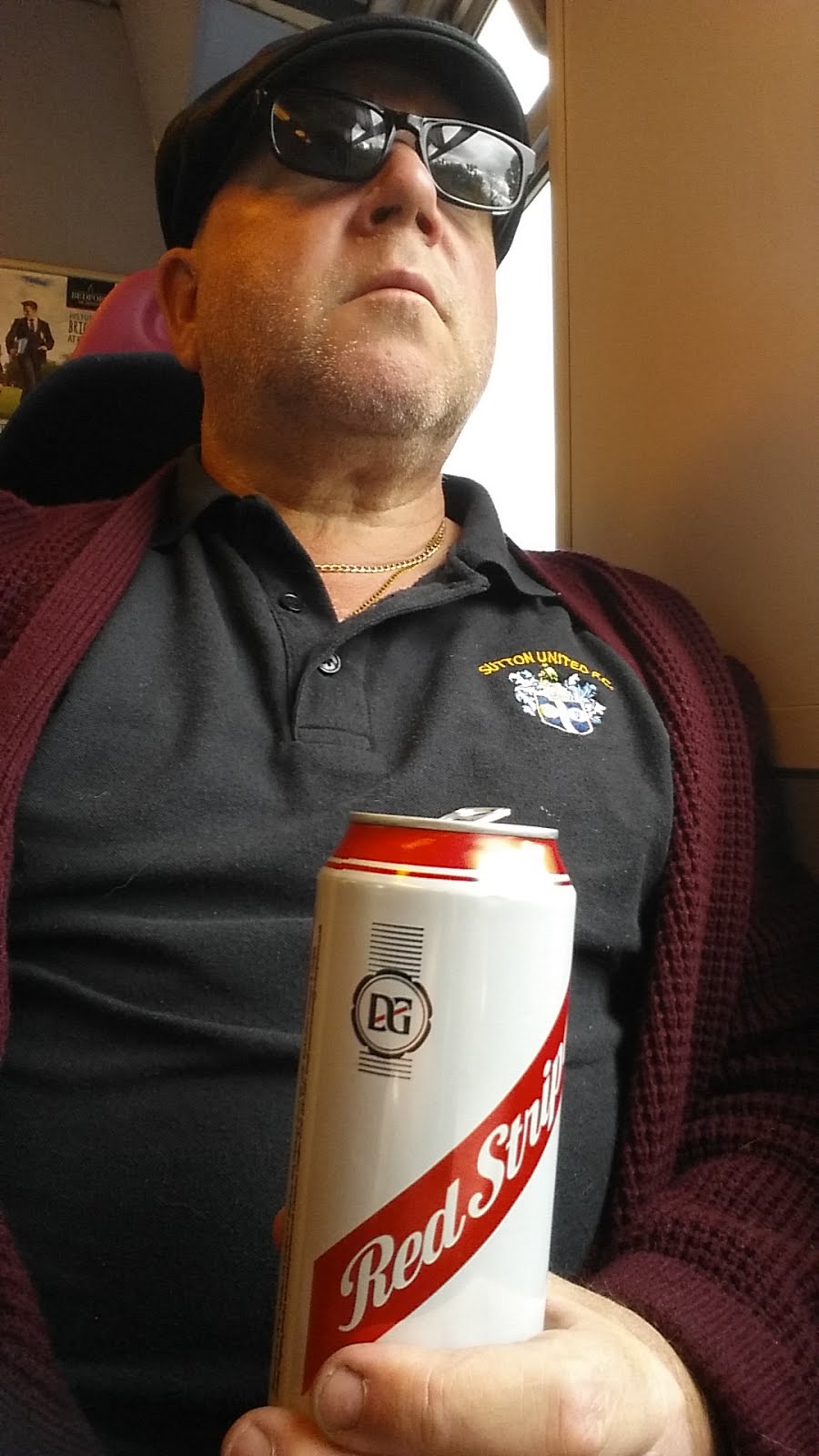 Leisurely
The trip out East brought back vague memories as a little kid of journeys
down the old A13 to see my Auntie May who lived on that whacking great LCC
Becontree Estate as part of the post war, east end relocation. That would have
been right back in the 1960's. Becontree was the only estate in London which
managed to overshadow St Helier for sheer size. You will never see those kind of
bold, imaginative public housing projects again. Trust me on that.

Any football fan has got to love the Easter bank holiday
programme. A couple of games rattled off in quick succession just at the point
in proceedings where every goal and every point counts at both ends of the
table.
Off the back of a belting win at home against Gateshead in
front of a bumper Good Friday crowd we were in good shape and almost banished
any last lingering doubts about getting sucked into the relegation dog-fight
although the safe-points threshold seems to be edging upwards almost by the day.
A point at the Daggers and we would be able to breathe easier after one hell of
a season.
In the interim I squeezed in a reserve game down at Worcester
Park – I find it hard to not get a match in on a Saturday afternoon – and later
regretted not having made the trip down to Leatherhead to watch Jamie O'Hara,
now plying his trade with the paupers of Billericay, losing his shit to the
chaps in the Cow Shed. Ah well, maybe he will be turning out for Staines Lammas
against SCR next term. Who knows?
So Easter Monday trundles round and I have a travel plan in
the bank that dodges all the tube line closures and various engineering works
and which should land me safely in East Dagenham in time for a few scoops before
kick-off. And everything goes swimmingly. Heading out of West Sutton just after
noon my first two legs up to Waterloo via Wimbledon are on the overground so a
couple of cans of Stripe can be quaffed at a leisurely pace as I ponder the
afternoon ahead.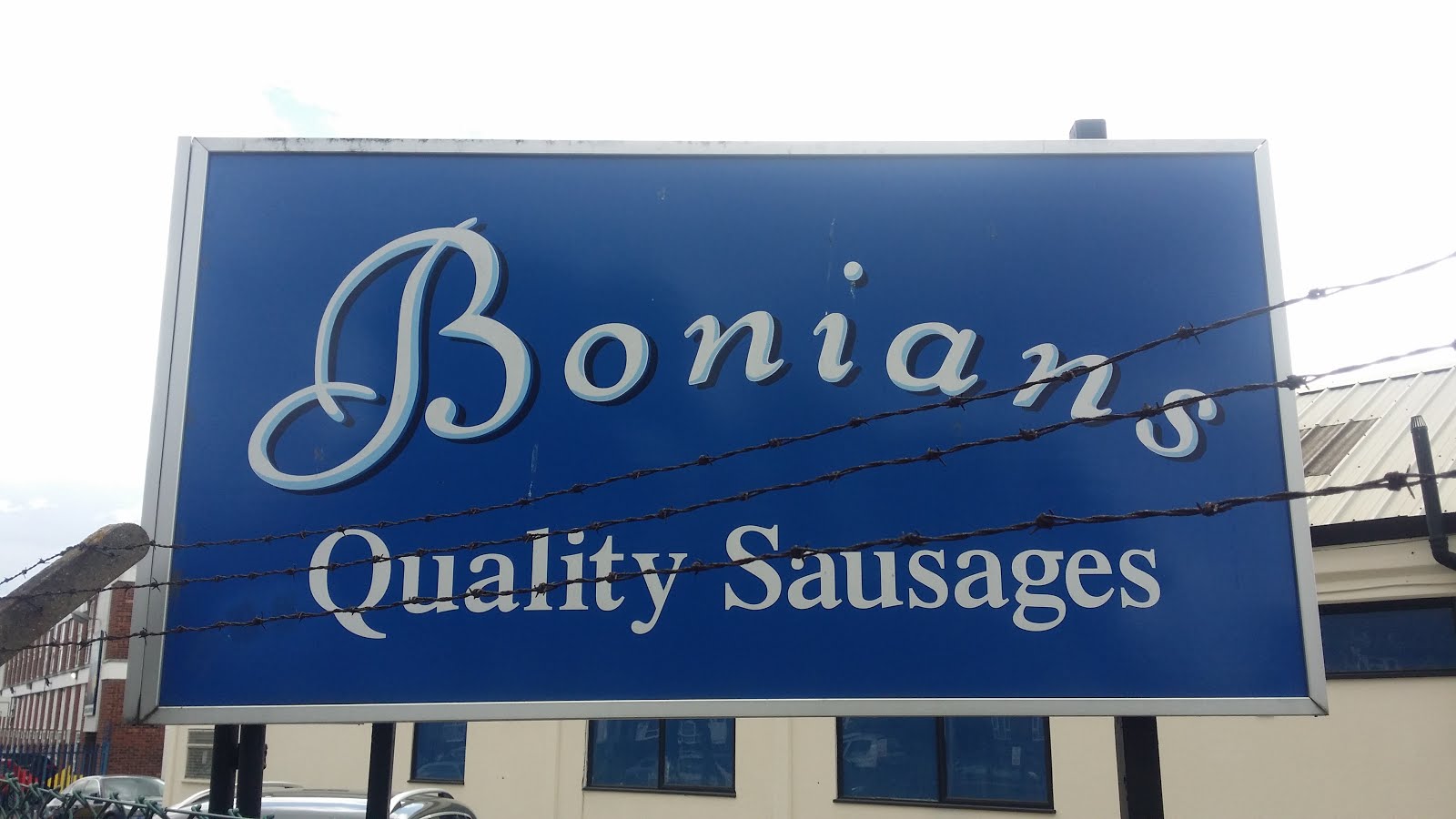 < Insert obvious penis related joke here >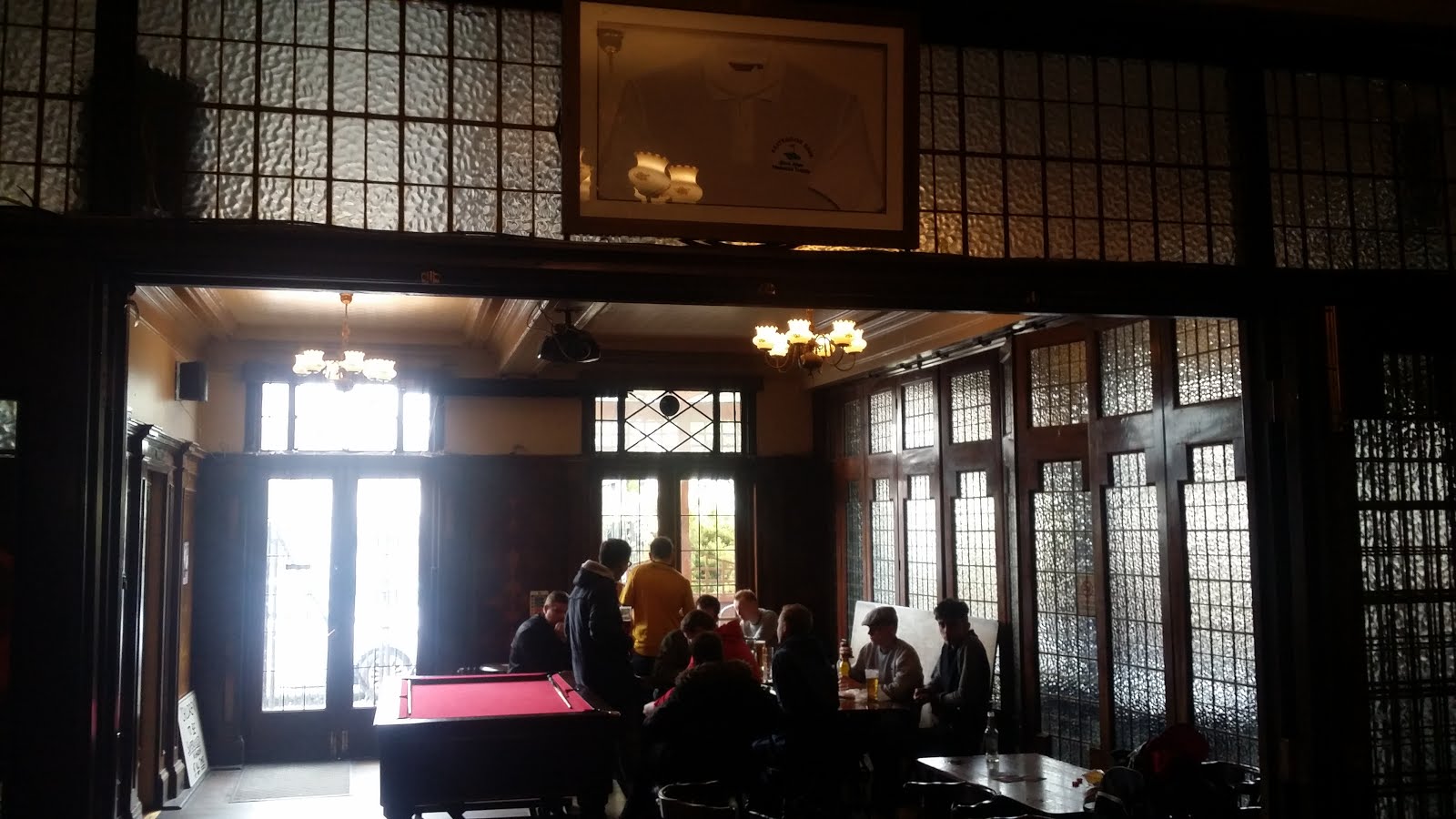 Dark. Moody. Just how we like our boozers.
The tube is well and truly shagged and that means the Jubilee Line up to West
Ham and a shift across to the last lap on the District. Minding my own business
at what was once hammer-land I run into the rest of the Gandermonium crew who
ask why I hadn't joined them early doors at London Bridge. Well, partly because
at my age you grab any chance for a bit of a lie-in and secondly I don't dig
getting mugged off for the price of a pint in those wanky city boy boozers. The
point is made and I would like to think is understood. Time will tell.
After a long wait for the departure of the Upminster train we
are soon trundling our way up through Upney and the likes and me and Belly have
a nostalgia-fuelled natter about the long lost non-league grounds of Essex. Like 'Last of the Summer Wine' for fat old football yobbos. The others looked on like
bored carers in one of those dodgy private nursing homes where no one really
gives a shit.
Anyway, soon enough we are pulling into East Dagenham and the
decision has been made to head up past the ground and take in a couple of
liveners at the historic Eastbrook, I for one am not disappointed. The pub's a
belter. All walnut panelling and glass partitions and a fine collection of
footballing and boxing memorabilia. Brilliant. And a top class scoop of
Guinness as well. I can recommend the gaff 100%.
After a prolonged discussion about vintage turnstiles, and
the importance of regularly lubricating your central spindle, which I guarantee
you the entire pub found fascinating, its soon time to depart this fabulous
1930's time capsule and to head off back towards Victoria Road.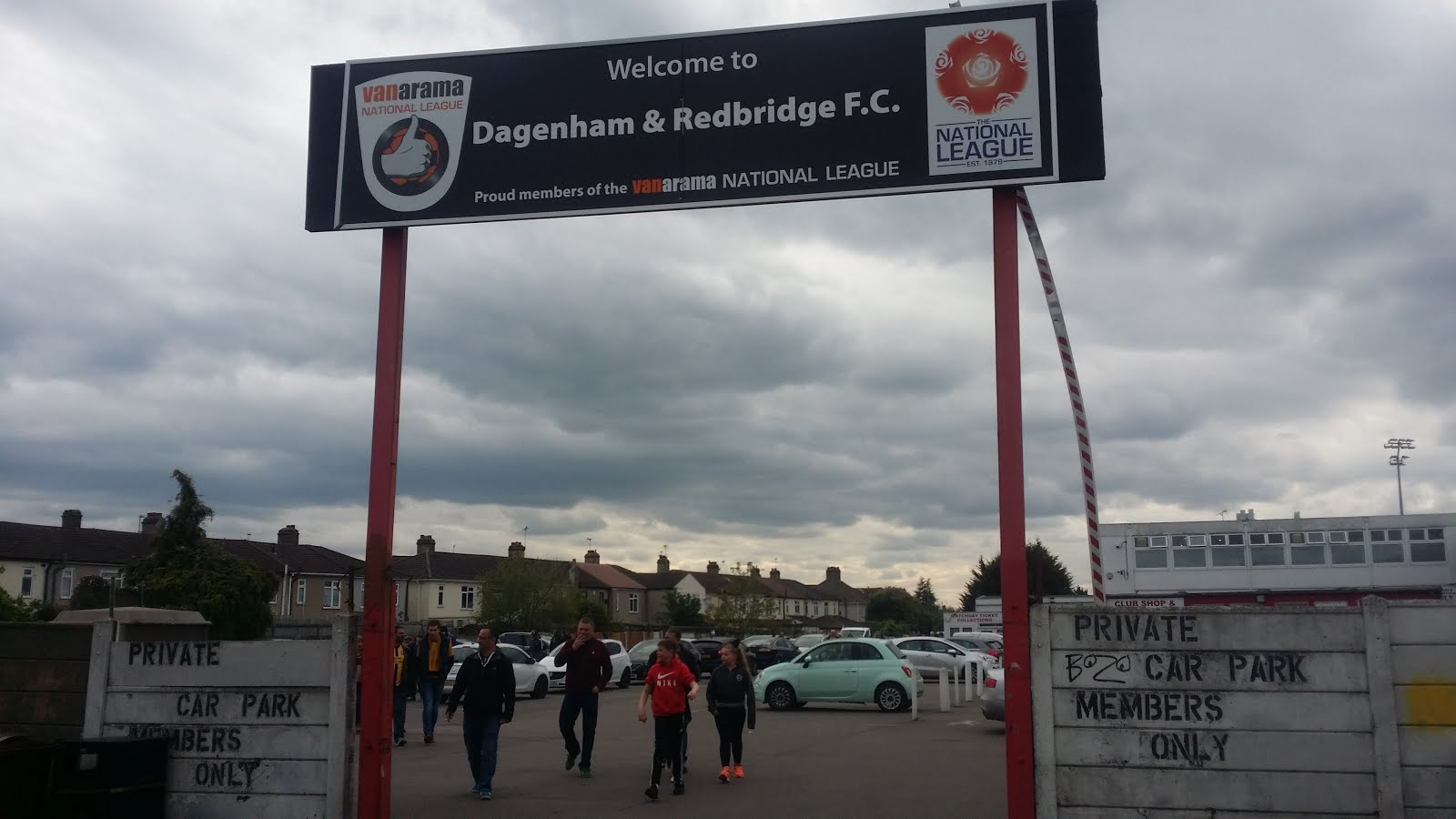 Signage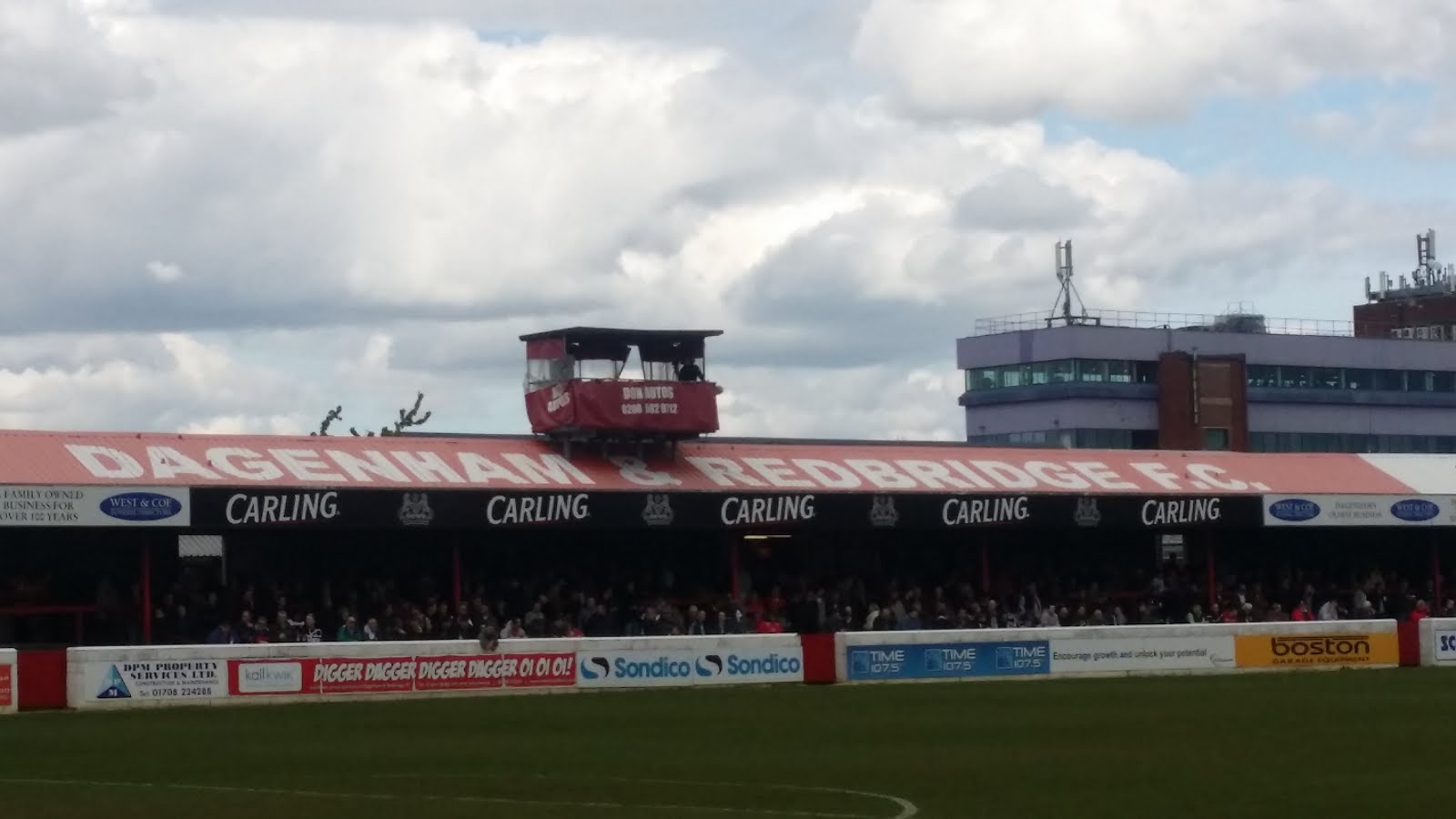 Shed on a roof
I've not been to the Daggers ground in a fair old while but
not a lot appears to have changed except for the large stand behind the goal
which I don't remember from my last visit. But of course what does piss us all
off wholesale is the TWENTY ONE FUCKING QUID that we are charged for admission.
Twenty's Plenty! Says the bearded hippy twat from Virgin with his adverts and
all that bollocks. Not in non-league clearly and if you think you are going to
get that spare quid back from Branson you will be waiting a long time my old
chinchillas.
Something called "soft segregation" is in operation. Nope,
not penile erectile disfunction but some odd arrangement where you come in
through the same gates but sit, or stand, in an allocated area. Can't really see
the point of that but we are up in the seats behind the goal and would have to
say it's a decent view up there and with a good turn out from Sutton we soon get
a nice bit of noise going. Strangely, no sign of the North Korean Daggers though.
Presumably out on ballistic missile tests on Rainham Marshes. Or maybe rounded up and
shot. Who knows? Who cares?
Our team selection sparks a bit of sucking of teeth.
Particularly the defensive line up, but we've had the memo from the mighty Dos
and we are all up for it and right behind our lads as the match gets under way.
It's all fairly even in the opening exchanges and with the surface a bit on the
dry and bobbly side neither team gets much football going for the first twenty
minutes or so. We look comfortable enough until a bit of routine defensive work
goes to shit allowing Dagenham to open the scoring with an exceptionally soft
goal. Fuck it. The patchy Daggers support suddenly rouses itself and we respond
in kind.
What we don't need now is to give away another before half
time…KLAXON! Their lad breaks down our left, burns off Ben and somehow manages
to squeeze a shot in at the near post from a highly unlikely looking angle. Not
clever. Not clever at all fellas.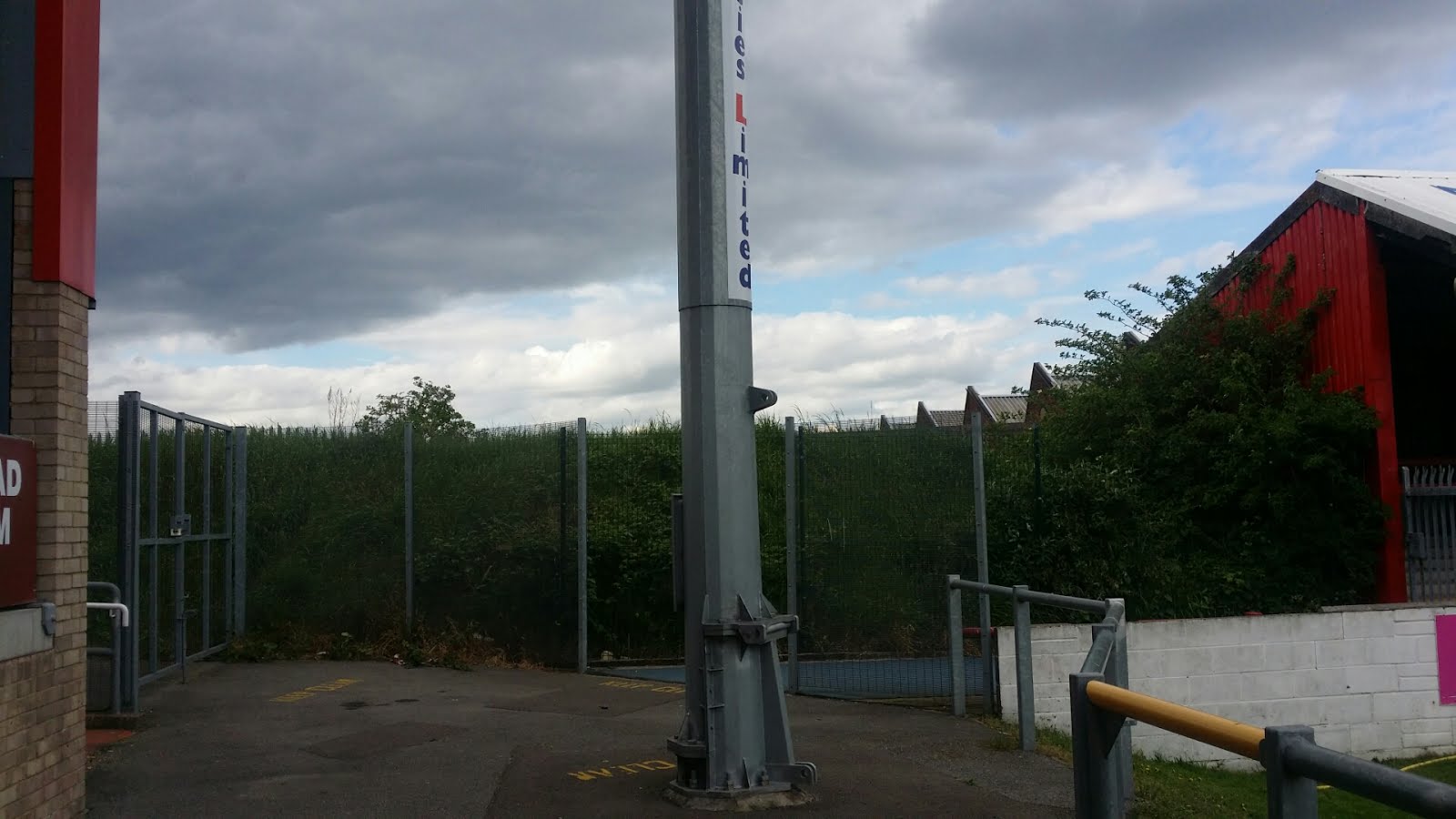 Dagenham East Nature Reserve
Get yer nut on it suuuuun!
The whistle blows and as we are heading down the steps
towards the shared bar area one of their lardy lads does the old double handed
wanker, two nil strut right in front of us. Nothing we've not seen many times
before and about as scary as a chocolate bunny. But the stewards think otherwise
and not only pull the bloke away but unceremoniously dump him out the ground on
his arse while his mates suddenly become his legal defence team and make all
kinds of representations about human rights and what have you. The stewards
politely tell them to fuck off. I enquire as to why he was lobbed out "Zero
tolerance mate". Fair enough. Harsh but fair. And funny as fuck.
I squeeze in a fizzy lager pop and the talk is all of whether
Dos will shake it up. And yes he does. Louis on to right back, Bailey to the
left and Dundo revved up to do his thing up front. The moves are warmly welcomed
and within minutes are being touted as the work of a pure genius. Before the
imminent carnage Puddy pulls off a belting one on one save that stops us going
three zip down – as big a game changer as what comes next.
First, Max scuffs one in that pops over their keeper when he
was clearly wrong footed by the bobble. A bit of luck but Max was the right man
in the right place to exploit the situation. Cue huge excitement up in the
Sutton contingent. Game on. Minutes later it's a full on carnival as Max rises
again like Christ himself to smash a header into the top corner to level it up.
This is fucking brilliant and we are at that height of excitement only the
travelling football fan, when you've turned around a two nil deficit away to
play-off contenders, can ever truly experience.
Now the game opens up nicely but by far the best chance for a
winner falls to Roarie Deacon who's deflected blast veers just wide of the post.
But anyway, we are happy as Larry and it's a great touch when Able shoves Max
forward to take the full plaudits from the travelling support for a brilliant
weekends work. Top stuff mate.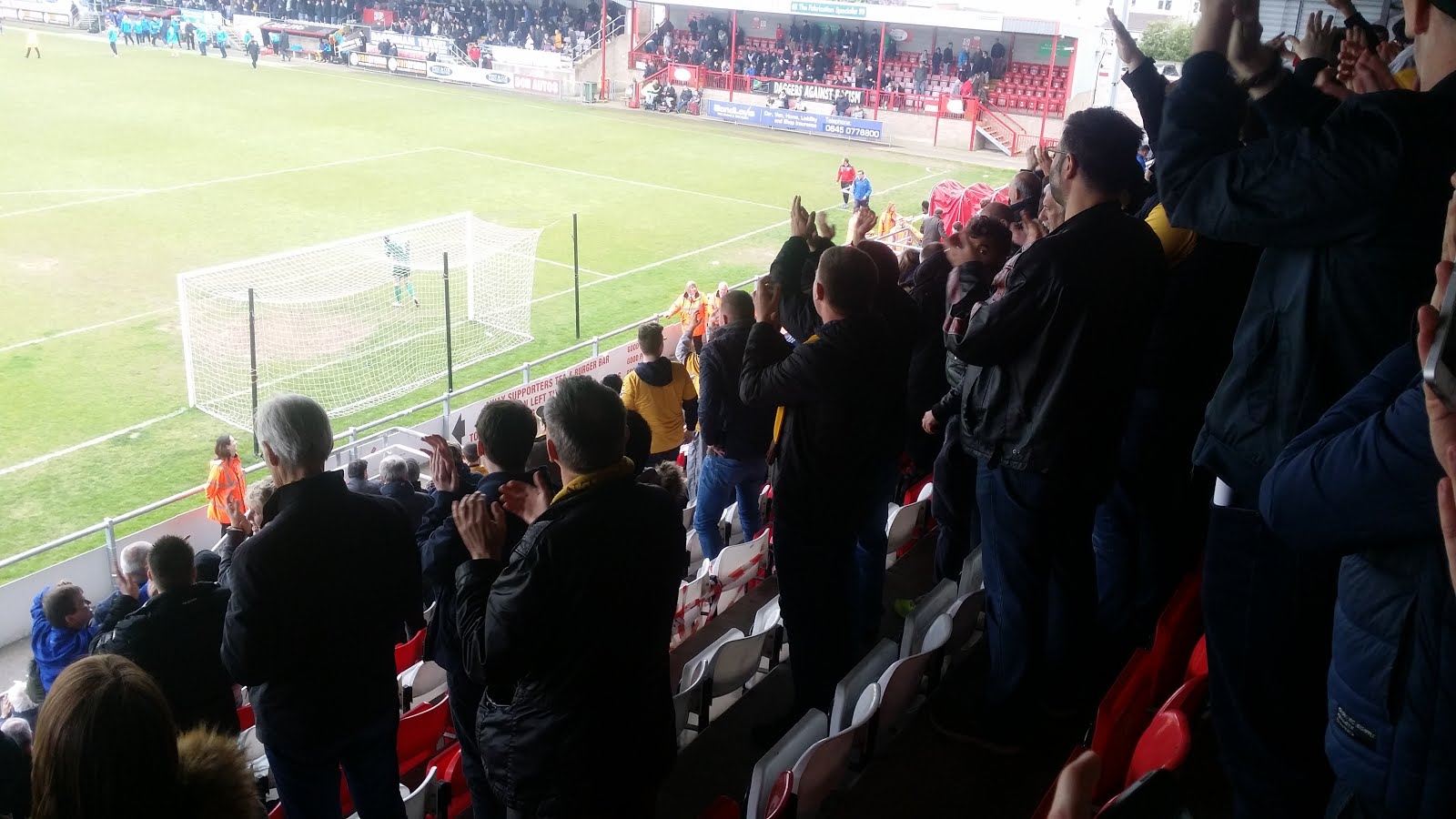 Jubilation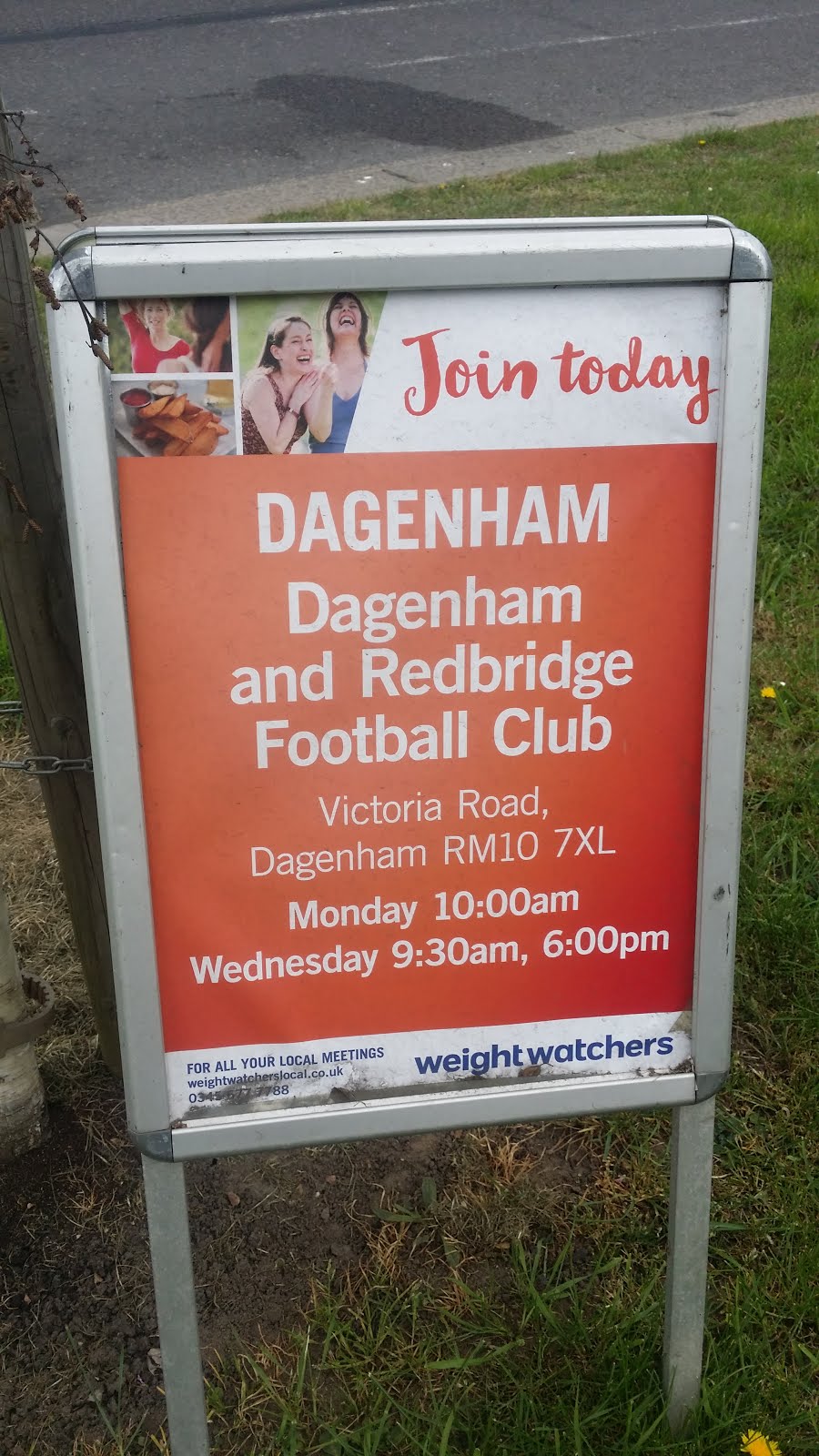 Of no interest to us, obviously.
We stop for a couple of pints in the carvery-style family fun
pub by the station and have plenty of time to get into an on-line row with the
Dagenham programme editor amongst others. Someone says we are not mathematically
safe and gets a proper coating for trying to spoil the day with some
post-modernist facts bollocks. Then its across the road for some chips and off
back to the People's Republic.
I leave the rest of the crew at London Bridge and retrace my
steps via Waterloo and Wimbledon and back to the bosom of the West Sutton
community. Narrowly avoiding the come-hither lure of the Plough I strut back
down GGL with that great feeling that the planning for next term in the National
can get under way with a vengeance. Meanwhile, Chester at home on Saturday.
Let's finish this season in style.
Totts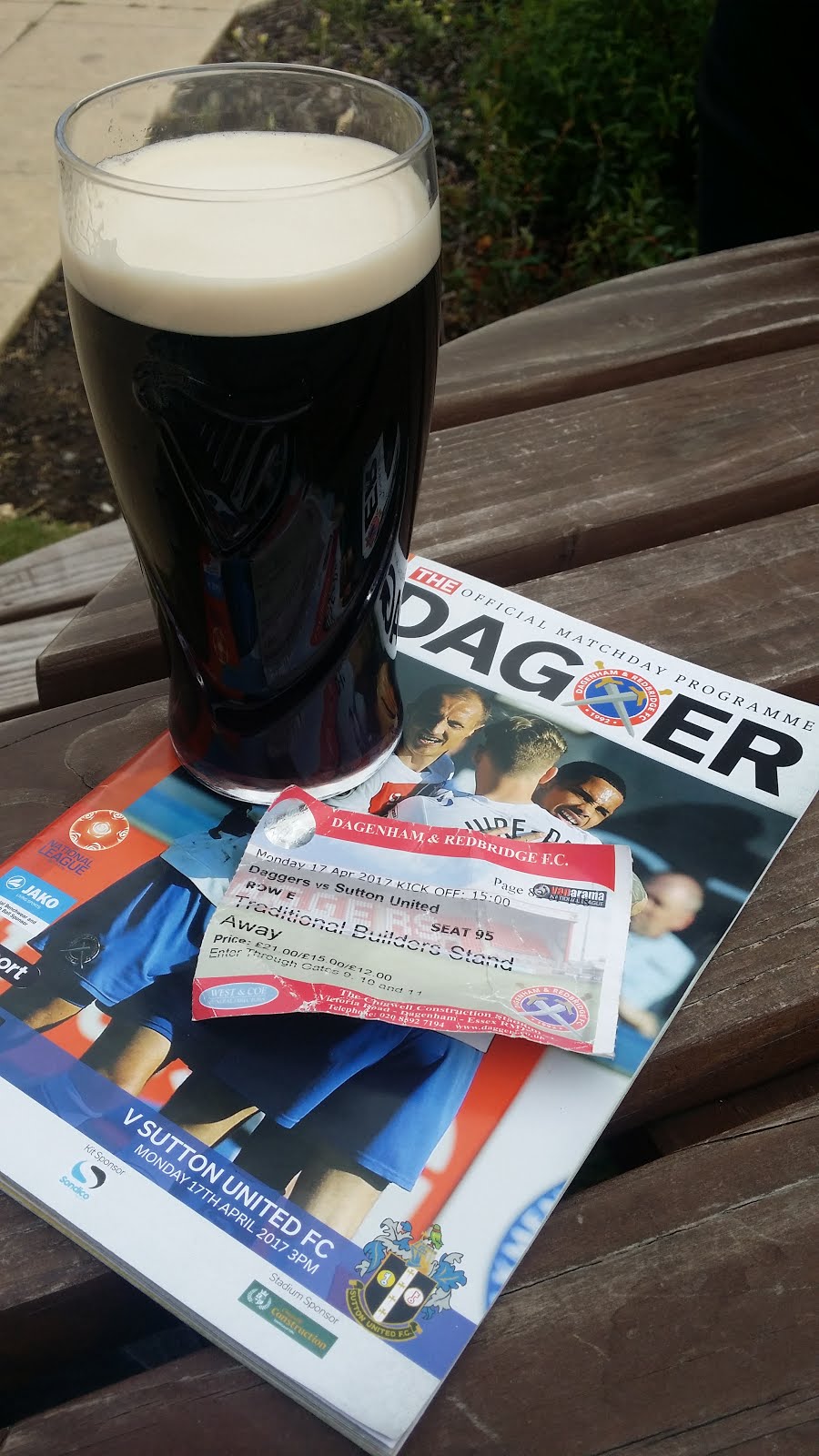 The usual…