So here we are. FA Cup Quarter Final day! 90 minutes from the Semi-Finals and a game at Wembley. Unfortunately, it's got absolutely bugger all to do with us given Mr Wenger's lot unfairly nudged us out by scoring more goals than us a couple of weeks back. And since then, we've instead been slogging it out on the road with trips to each end of the country to the likes of Torquay & Barrow.
Mostly, we'd tried to leave the Cup stuff behind. It's done, the last bit of it was a little off putting and we really need to sort out some points in the league. But one nagging question remained. What if Roarie's banger had been an inc or so lower and flicked in off the underside of Ospina's bar rather than slammed back off it? Would that oft talked about lack of backbone in Arsenal's side shown itself in a collapse and a replay, or would we have simply made them angry?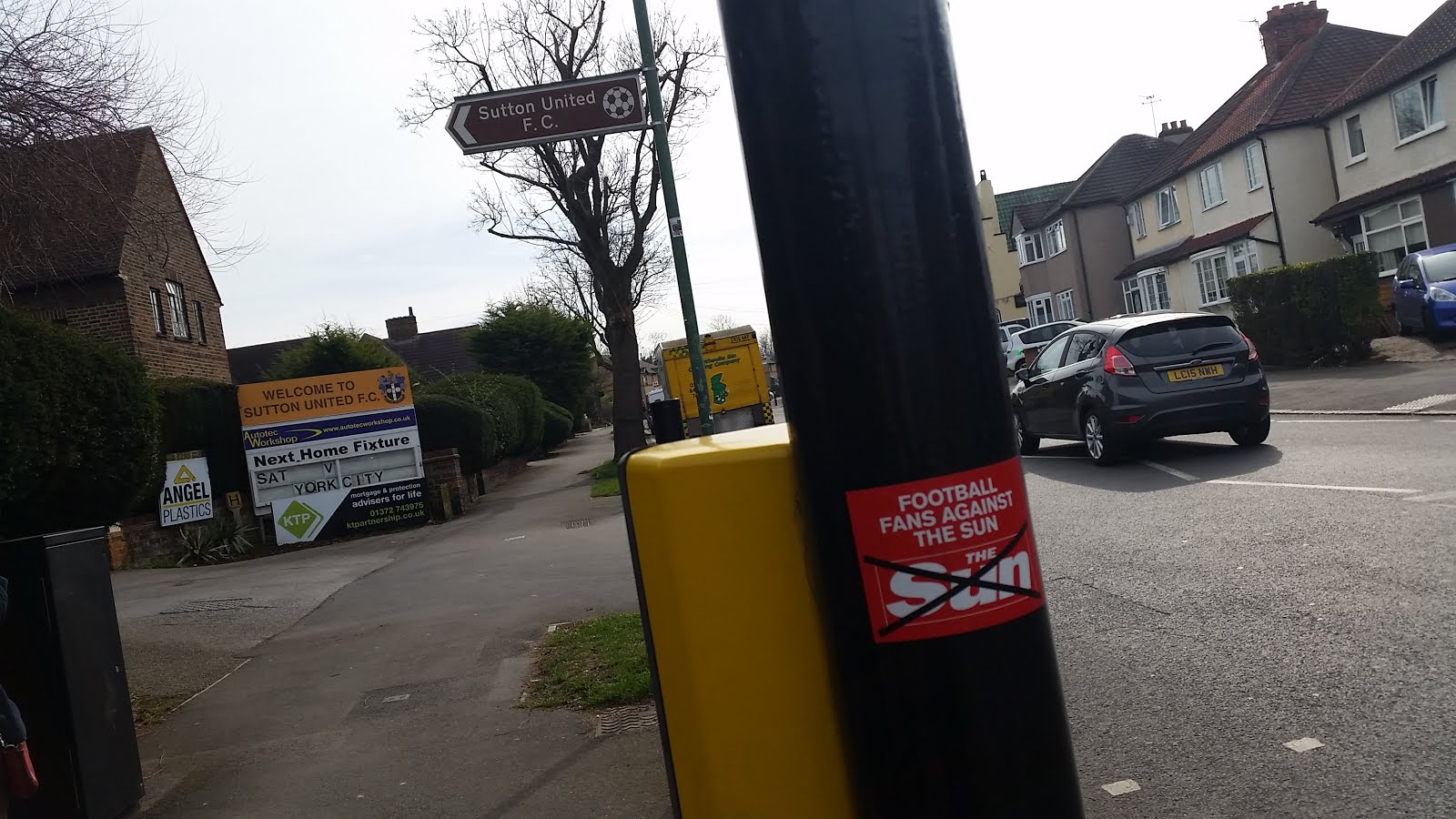 A lot in one photo…
We'll never know of course. Although having witnessed their 2nd leg performance against Bayern at the Emirates during the week in which they were as soundly beaten as an old carpet, we were given a slight inkling into what might have occurred in a parallel universe.
Yeah, replay at least.
With last week's slog up to Barrow done, it's almost a relief to get a lie in today and have a nice, simple home game on a Saturday. And a lie in I have before the usual abolutions and taking a stroll down to Burgers Manor to return some DVD's I'd borrowed a while back. And no, not those sorts of DVD's either you dirty minded bastards.
It's a rather warm day as we all stroll down to the bus stop to get the ever reliable 407 into Sutton. Disembarking at the Cop shop we dart across the road between traffic as I try to bump off the Burgers. Dave had promised me a cut of his and the missus vast Lego collection were either or both to meet an unfortunate end. And, what can I say. I love Lego!
My usual stop in Greggs is binned as it's rammed and instead we walk down the High Street so I can pick up a card for my nieces birthday. We then pop into the other branch of the cheap norther sausage roll provider so I can try and get a sarnie for the walk down to the ground from there instead. I wait several minutes at the back of a queue whilst the one bird serving behind the jump chats to some bloke without so much as serving him an iced bun. So I give it bollocks, lob my baguette back onto the shelf and leave. You're wasting my drinking time!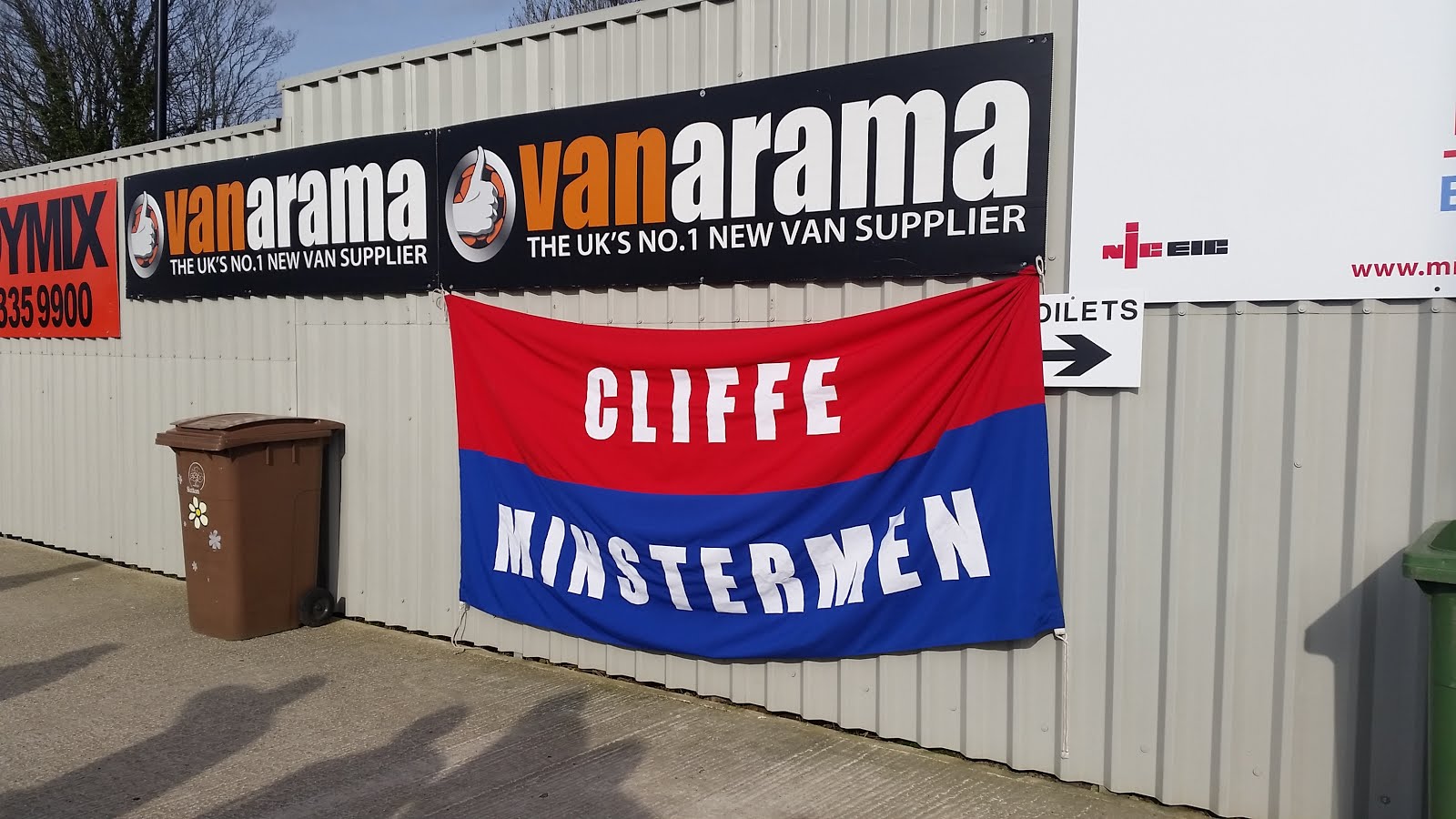 Minstermen? Is that like the Jehova's Witnesses?
We then make our way round to the ground via Collingwood Rec, our plan to cut through the ground using the perimeter key I have from past groundworks days is dashed though. Access to the padlocks from the outside has been cut off by panels placed over them, probably at the behest of the TV firms who had a couple of million quids worth of kit lying about here recently. More drinking time lost. So thoughtless, is this what I pay my TV licence for?
Eventually we hit the bar and find Mr X waiting. Would I like a beer? Stupid question really. On the box is the Middlesbrough Man City quarter final. City are aleady one up, so there's little to interest us there. We instead pass the time with our usual practice of talking shite and catching up on the week's happenings as the usual reprobates drift in one by one. A bonus is Dukey rocking up just as the majority are draining their glasses, meaning it's his round. Unlucky squire! I also get some information from last week's trip to Barrow thanks to Granny Blanket Beckett.
Having turned in at about half one that night, I'd told Belly to call when he wanted in to the apartment we had sorted for the night. At some ridiculous hour, this occurred and I stumbled down to let him in. Job done. Well, it seems this simple process was a little more fraught that I'd assumed. Despite drinking less than a 5 minute walk away from the gaff we were staying at, Belly had got into a sherbet with Beckett and his old man and then lead them on an almost 30 minute wild goose chase around Barrow as he simply couldn't remember where he was staying. Eventually, through process of elimination (eg. Visiting pretty much every doss house in the fucking town) they finally found our place. The story doesn't end there however, as they then apparently spent several minutes wondering how to get in, including buzzing every apartment in the sodding block before the silly old twat remembered he was supposed to call me to request access.
Idiots. I associate with absolute idiots.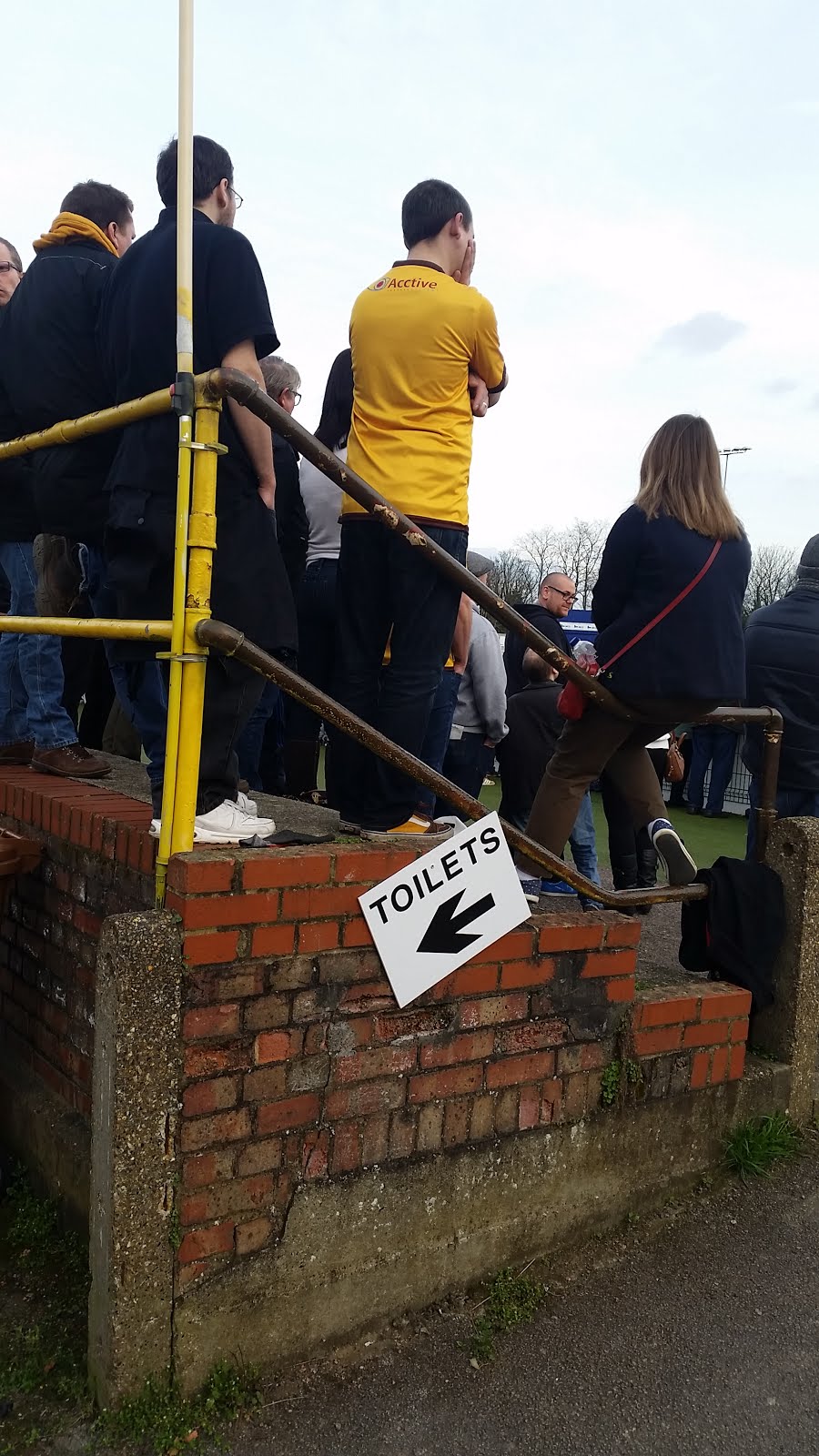 The Shoebox has a basement?
The Becketts were particularly unimpressed with all this as their agreed £2 cab ride to their own beds ended up setting them back an almost bank breaking £9. It's at this point that I take my leave of the conversation however as talk turns to that of 'claiming expenses' and 'small claims court'. Yeah yeah, speak to our legal team chaps. He'll be the one on the Shoebox later wearing a pork pie hat and carrying a starting handle for a Hillman Minx.
Before KO there's then time to catch up with Phil from York who's been enjoying the almost Vegas like joys of Sutton's pedestrianised High Street pre-match, but sadly the clock is against us and with the tunnel bell ringing in the background to signal the appearance of the 2 sides, I drain my glass, wish the Yorkish chap good luck and head out into the throng.
Puddy, Amankwaah, Beckwith, Collins, Gomis, Bailey, Spence, Jebb, Biamou, Coombes, Cadogan SUBS: Jefford, John, Fitchett, May, Dundas
As it's turned out nice, we're treated to a positively buzzing Gander Green Lane today. The crowd looks a good 2000 worth, swelled by a healthy travelling support of at least 300 from oop'north. They're clearly confused by the lack of segregation today as there's little pockets of red and blue dotted all over the shop. Naturally though, we elect to shoot towards the Rec and we're soon underway with a large number of visitors under the cover with us. Thankfully, they're a bit classier than those cock-ends from Eastleigh a couple of weeks back and largely get behind their side.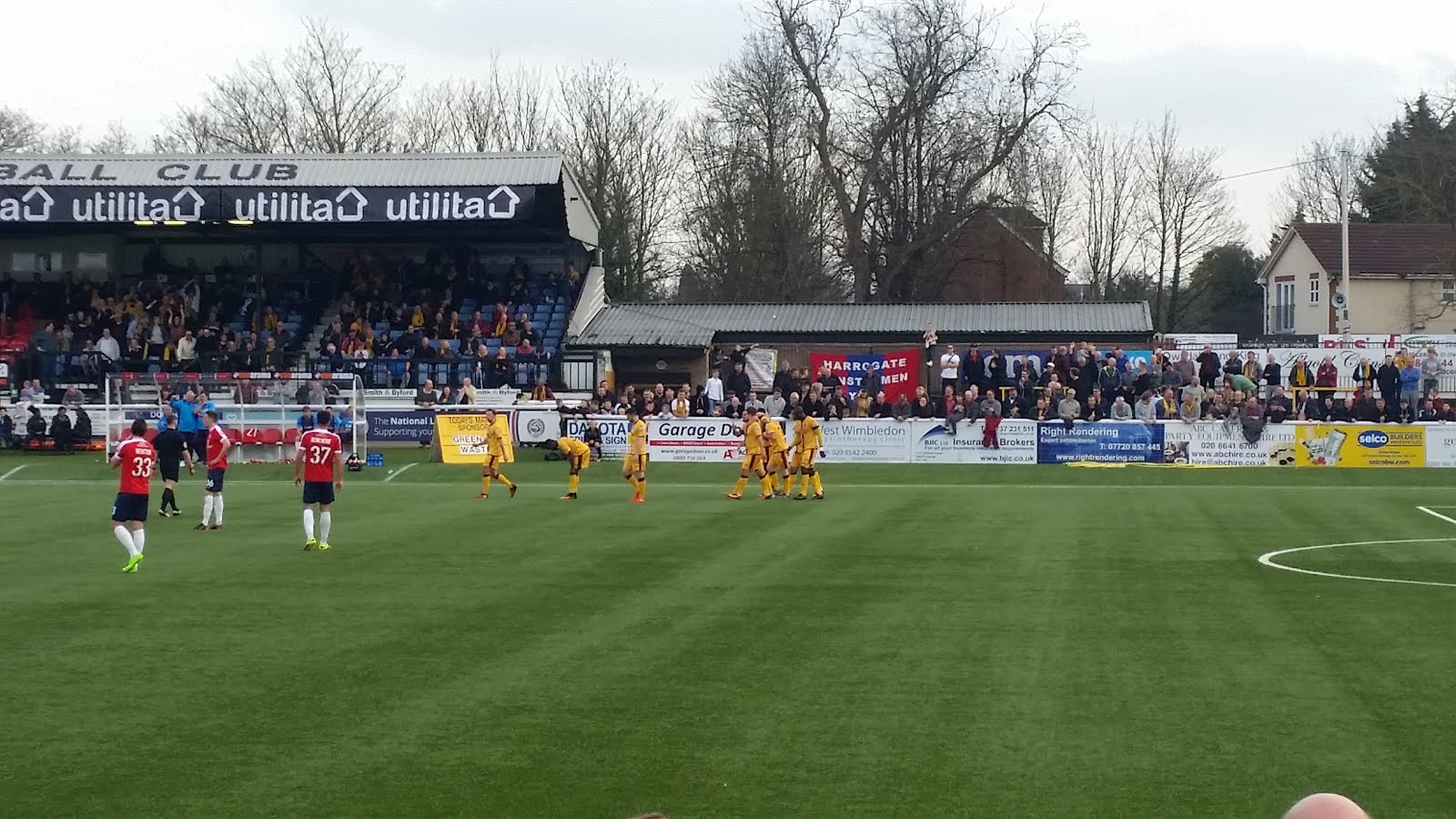 One nil!
The first half is largely forgettable. With York staring down the barrel of a 2nd straight relegation, they're not here to fuck about and sit in nice & tight to frustrate us and see what they can nick at the other end. Thus what plays out is Sutton having a fair bit of the ball and some decent approach play but little in the way of proper cutting edge or chances in the final third, which is unsurprising given we're missing Eastmond and Deacon today. They should probably be in front when one lad heads wide when well placed and they do hit the bar when fatty Parkin diverts a shot onto the woodwork, albeit from a position so offside even a Conference official couldn't miss it. We do finish the half with a surge though and Bedsy fires just wide from about 20 yards and Beckwith hoicks well over the top when a low ball across following a corner finds him towards the far post. It's to no avail and the scoreboard, if we actually had one that is, remains untroubled at the break.
A cuppa and a bit of bacon at the break lifts the spirits a touch, but the 2nd half is little better than the first with Coombes trying the spectacular to open his U's account, but overhead kicks straight at the keeper to provide a brief moment of excitement. Everyone is settling for a 0-0 it seems when with about 75 gone, out of the blue Nicky Bailey rolls back the years with the sort of banger his 18 year old self would have been proud of. Cadougan tries to stick a cross in from the stand side but it's headed away high into the air by a defender. No bother from the Ginger fella that, he lets it drop and thumps a low bouncing hit across the keeper from almost 30 yards and into the bottom far corner. 1-0! Christ! Is it 2003 again??
The goal really kicks us into life finally as York wobble a touch. Coombes whips a shot on the turn just over the bar and Amankwaah has a header back across goal hooked off the line with the keeper stranded. But with a couple to play, we finally look to have sealed the points with a somewhat bizarre goal. Fitch has come on to give us a bit more legs up top and he chases down to pressure the York left back out on the touchline in front of the Shoebox. He doesn't fancy pissing about with it this late on and instead passes the responsibility back to his keeper. Well, he would have if he'd passed it to where his keeper actually was. Which is about 5 yards along the byeline from his near post! Instead matey sticks a firm pass about 2 foot inside the post and keeps can't change direction quickly enough to prevent a comical OG.
Now we've had a couple of crackers this season it must be said, but this one is the pick of the bunch!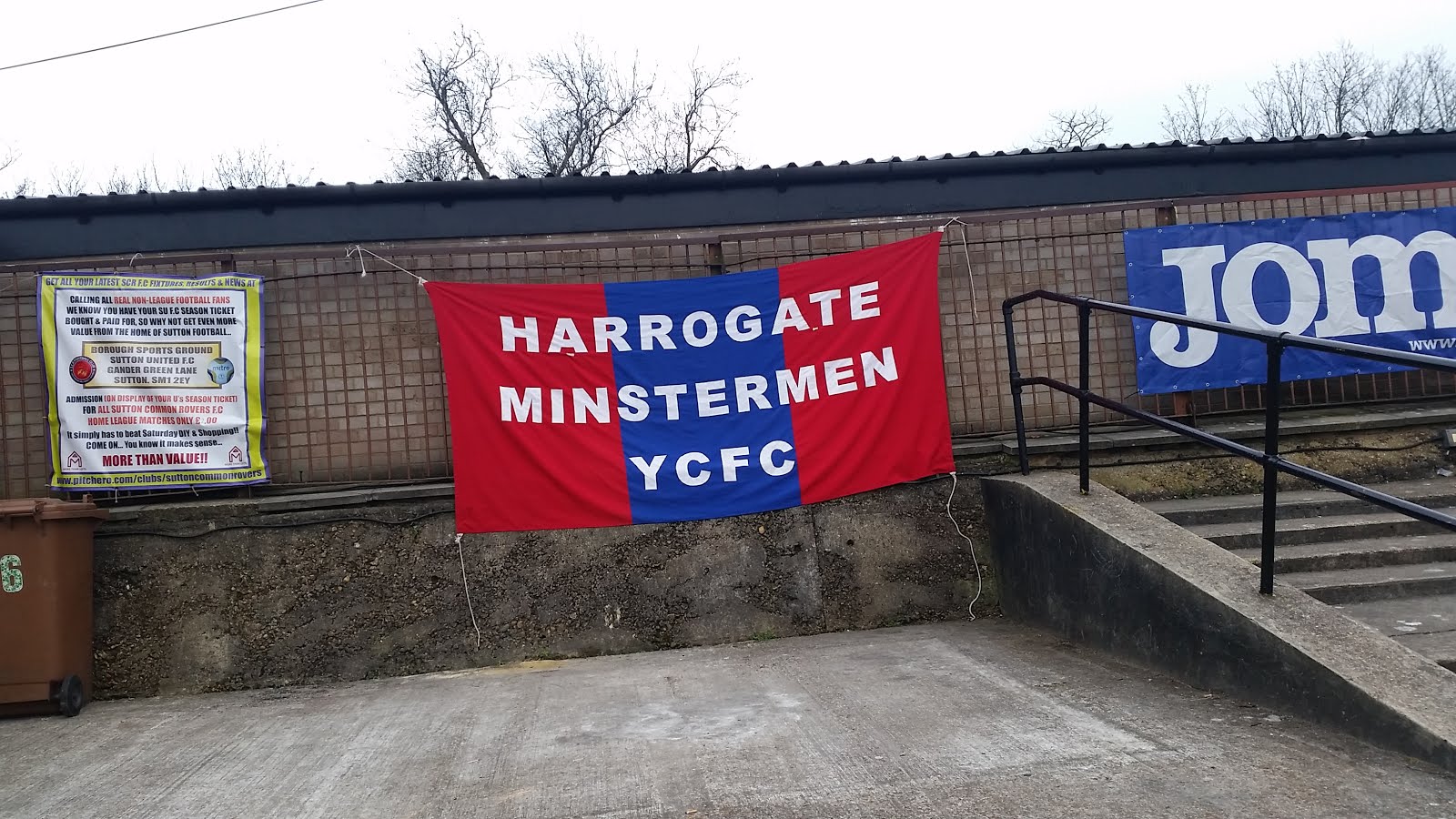 Oi! Hang your laundry somewhere else!
So, 2-0 up and 3 to go. Game over right?
Fuck off. This is Sutton United we're talking about. Renowned giantkillers we may be, but we're just as good at nausing up positions like this as we are at seeing off Leeds reserves in the 4th round live on the telly. Within a minute there's some shocking marking from a corner and some bloke has nodded York back into the contest. Up goes the board moments later to indicate 5 added minutes and we respond in typical fashion by sitting so deep we may as well be stood amongst the away support behind the Rec End goal. Of course, inviting this pressure costs us as in the last minute of time added, the ref penalises Becks for a soft looking contact about 18 yards out. We've been here many times before of course and can spot a gut wrencher a mile off.
Matey steps up and whips the free-kick into the top corner to level things up, send the away fans into raptures and have us roll our eyes before gazing to the heavens to await the inevitable final whistle mere moments later. To leave us in no doubt at all that we've properly naused this one up, the lads to a man sod off straight down the tunnel.Although I can't say I blame 'em too much for that.
So it's a trudge to the bar whilst sighing a lot and imagining what it would be like to have secured Conference football for next season. I guess it'll have to wait until Tuesday night's clash with FGR here. I mean, it's not like they're any good is it? Oh.
Back in the bar, a pint is soon helping dull the sting of the result and we're slightly cheered by the news that Phil and his posse had bailed a couple of minutes early to catch an earlier train off West Sutton and missed all the excitement. Oh well! With my pint going down nicely, I find myself accosted by West Sutton's number one chart topping star Totts. He's not happy it seems. Aalthough it's surprisingly got bugger all to do with the wrath of PROWS first lady thanks to the fact that he'd just this week purchased a vintage turnstile from somewhere down in the New Forest and which now resides in his back yard. No, it seems he has an issue with Dukey's bowel movements, or the description of them at least, in the last blog. And it seems as I'm "in charge of this bollocks" it's my fault somehow. Not sure how he's come to that conclusion really. I only set it up, pay the hosting and edit it. Fuck all to do with me squire!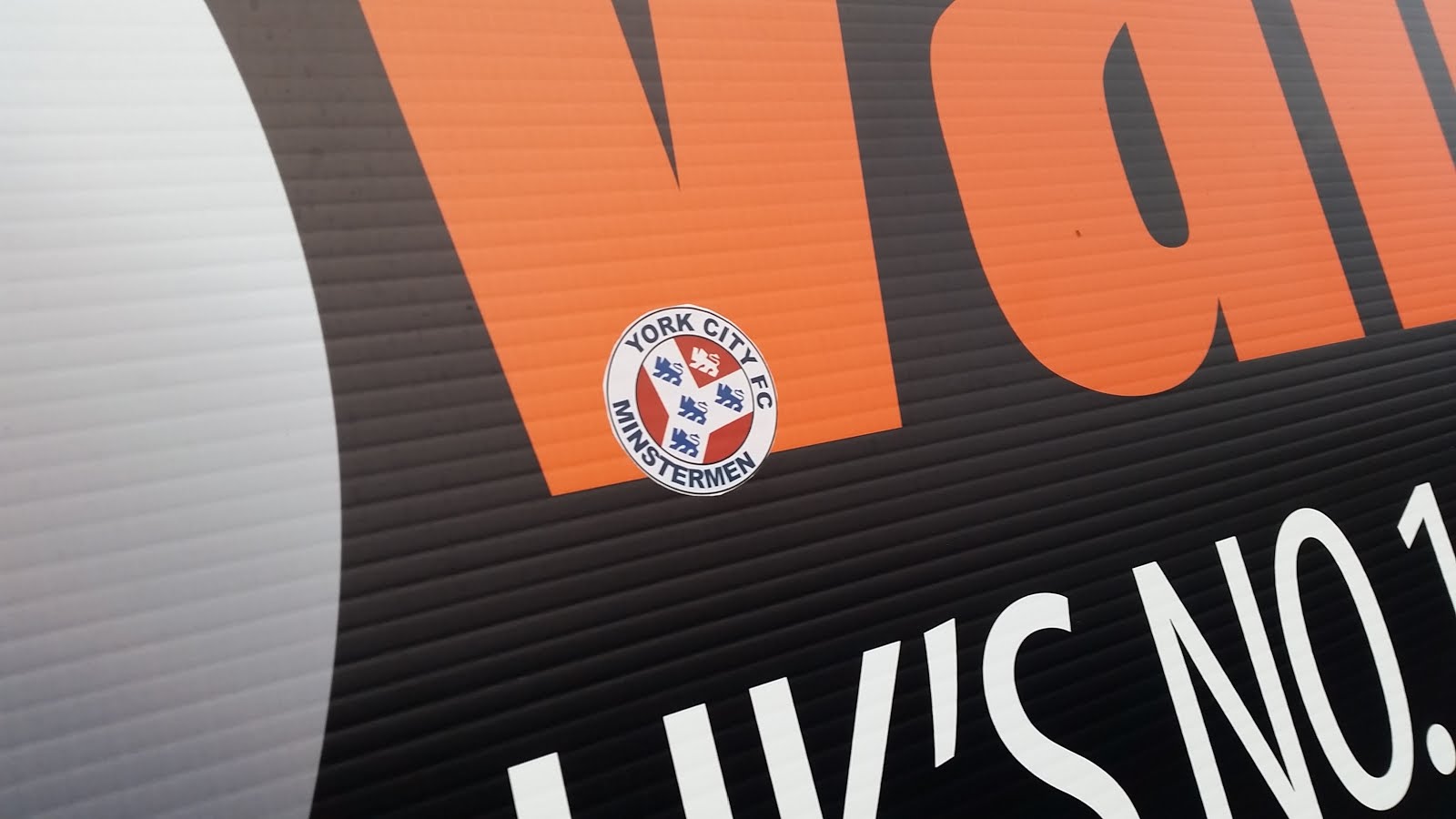 That's naughty!
"I don't wanna read about Dukey and his two bob bits ever again" he growls. "Consider this a fuckin' PRoWS Government D-Notice on it!".
I shrug in the manner of "I'll see what I can do" knowing full well I've about as much chance of preventing a repeat as I have of keeping his Dukeliness off XHamster. We settle down for Lincoln's big night out at the Emirates. The Conference league leaders stick to their task well and last a bit longer than we did before agonisingly conceding a deflected effort. In the end though, they're well beaten 5-0 as a very strong Gunners side makes the most of home turf. Still, nowt to be ashamed of. A 5th tier side in the quarters is a fine achievement and no mistake.
Before long I notice I've outstayed my own home for dinner deadline so sink my beer and say my goodbyes before heading to West Sutton and the train home. Here, to round off a top day, Thameslink manage to provide a train on time, but one that has a door that doesn't open. The set I've trying to use to be precise. And before I can try another, it's fucked off quicker than Dukey to the gents on a Sunday morning in Barrow leaving me stood on the platform and using a plethora of obscenities. Not wanting to top the night off by murdering someone, I err on the side of caution and order an Uber to take me home.
I make the nice taxi man ditch me at the Chinese so I can collect dinner for me and my beloved as with the mood I'm now in, there's no way I'm going to bother cooking!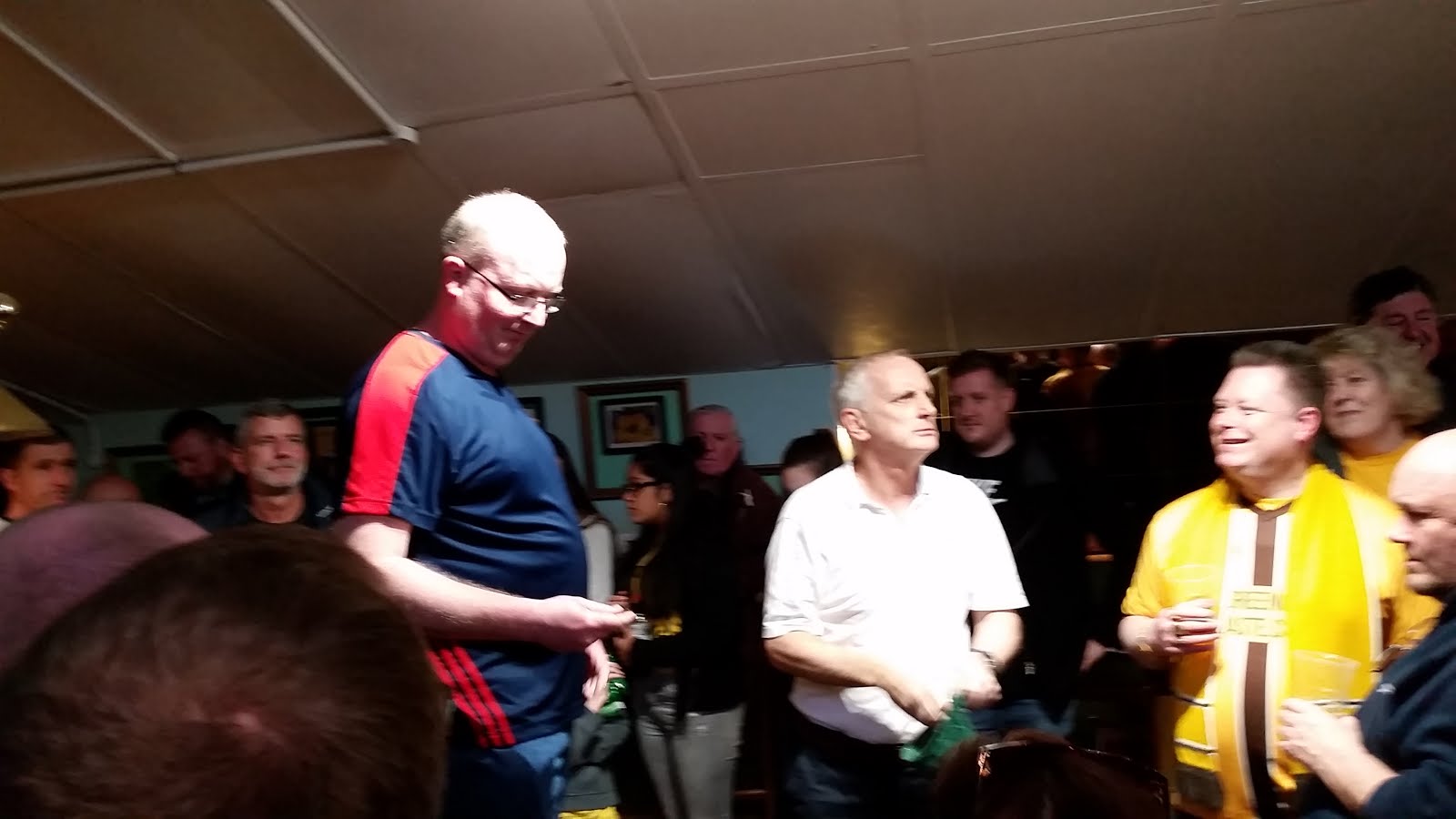 "Belly's forgotten where he lives again!"
So, with safety still not assured, I'll be leaving you in the care of our Republic's head honcho for the game against the Vegans on Tuesday. No doubt given his recent purchase, it'll be one long love letter to early 20th Century turnstile design, along with plenty of talk about 'well greased mechanisms' and 'penetrating oil'.
Don't say I didn't warn you.
Taz