Greetings fellow readers, first things first Tuesday was not only another away game loss to Dover Athletic but it was also yours truly's birthday – some good guesses on how old I really am have been made, some not so good!
Although I am sure the world and his wife could clearly see how over the line Gomis' header was and going in at the break at 1-1 could have been a different outcome all together – anyways what's done is done and nothing can be changed about it now! It is also goodbye to Daniel Wishart, instead of taking a step up, it's a seemingly sideways step to Forest Green Rovers who coincidentally are our opponents next weekend in the final qualifying round of the FA Cup.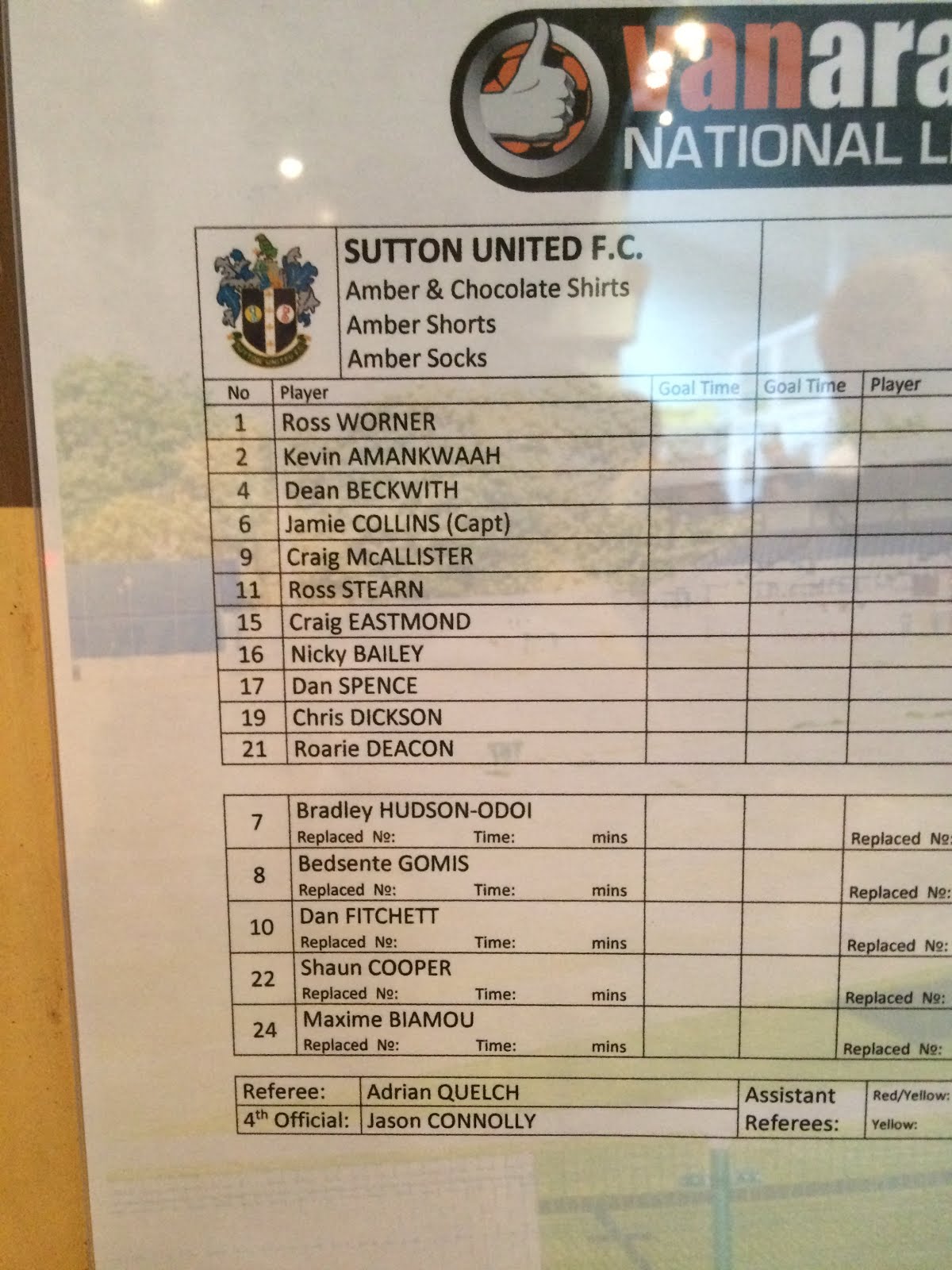 Line 'em up
So today, is the Surrey derby against Woking, yes I will always say Sutton is Surrey not London! Last time Woking played us at the hallowed turf (then grass) of GGL was a 5-0 opening day drubbing so hopefully it's nothing like that again. Besides which my blog record needs a turnaround in fortunes considering my last effort against Braintree was my first defeat.
I arrive to the ground very early via Sutton's finest pub – The Old Bank, yes I know some of the group are regulars at O'Neills but The Old Bank is more convenient when getting off at Sutton station. Now I know normally one does not drink alcohol before kick-off but I so needed a drink today and it was a single brandy and coke with no ice, ice only dilutes the flavour and it was then the old style usual walk to the ground.
As I arrived to the bar I see a brand new addition – a jukebox! With many a tune to pick from too. What a welcome addition, as I mention to Kiddo much later on, and no doubt many a pound coin or two will be inserted into said machine to pick tunes from. This jukebox will no doubt bring in more income for the club. The likes of Mr Ayre, Mr X and Chalmers make their selection on said device and then comes to my turn, no pressure than for one self; but it's fairly evident that one of my selections gets proper criticised – none other than Berlin's "Take My Breath Away" which can be found on the classic soundtrack to Top Gun and said song also happens to be my favourite song of all time.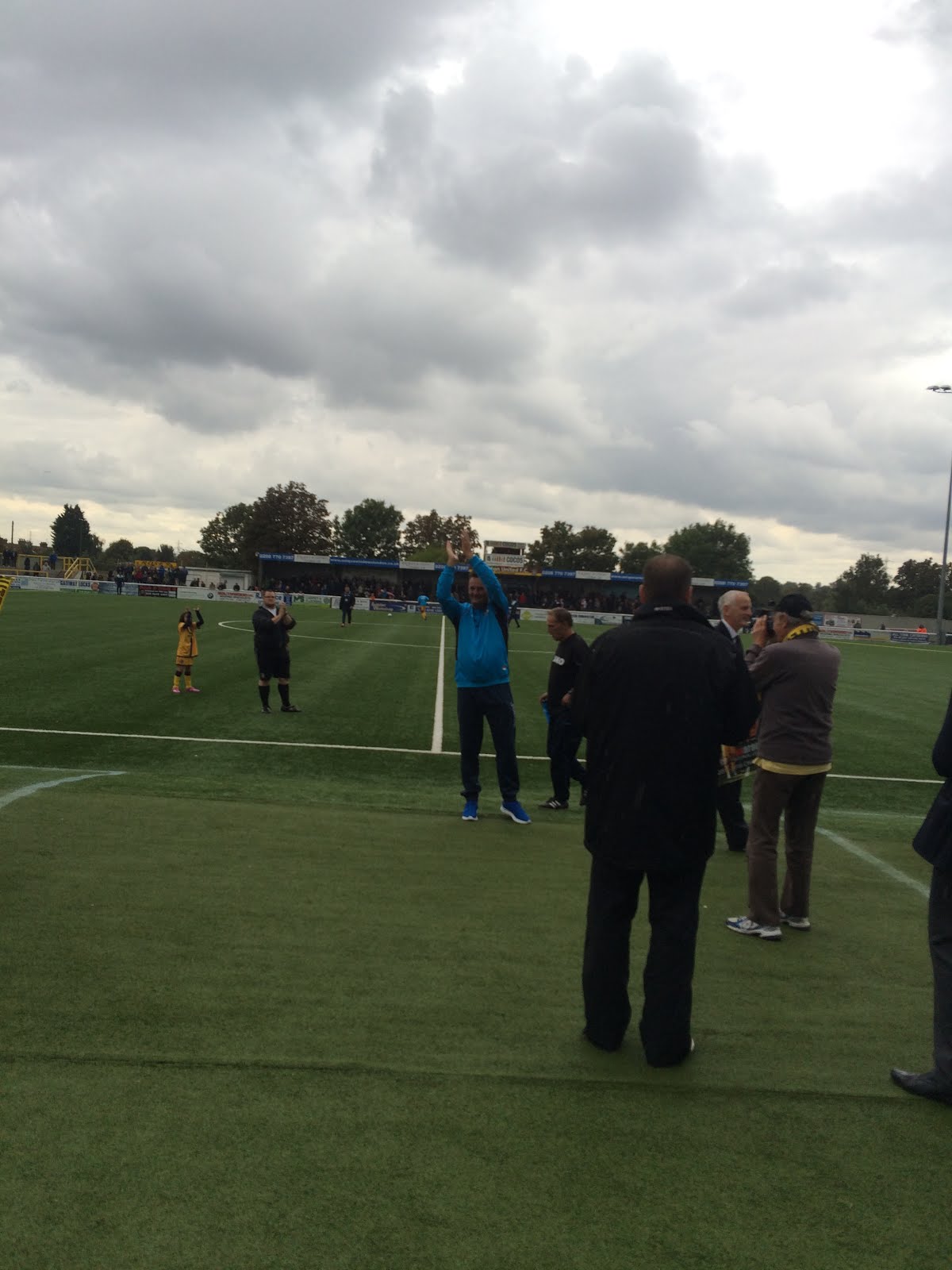 Hand clap, hand clap.
The team is finally in and I kindly ask Mr X to take a picture of it for me, as everything was appearing blurry to me so thank you squire – hence why I brought my glasses to today's game.
Line-up as follows:-


1. Worner, 2. Amankwaah, 17. Spence, 4. Beckwith, Dean, 6. JC (skipper), 15. Eastmond, 16. Bailey, 21. Deacon, 19. Dickson, 9. Macca and 11. Rossi
Heading out into the ground there is a presentation for what today is Dos' 500th game in charge. He is presented with two canvas pictures of the team receiving the Conference South trophy and a second picture (which may I add I liked the look of) that's an overhead shot of GGL. The third item received by Dos is a shirt with the number 500 on the back. I hope the following picture comes out well considering the rainfall at the time.
Kick off and I take my stand next to Mr Ayre who we spend half the time talking about films – now let me note that I am not quite the film buff where as he is, guess that's one thing someone is better than me at knowing! Although it comes as knowledge that we both acknowledge the soundtrack to Dances With Wolves is a truly superb piece of work by John Barry. Although Mr Ayre I still do not get the significance of the scene you mentioned from The Lost World of Jurassic Park.
As for the game itself Woking start the better side, and from what appeared they hit the post which was actually deflected out for a corner. It was not until the 22nd minute where Deacon slots home a shot to the goalie's left hand side and creeps in to the bottom right, the 'keeper will be disappointed to have not kept it out but who cares its 1-0 to Sutton. Straight from the kick off Woking almost grab an equaliser after Matt Tubbs (yes he of Crawley Town fame and scorer for Forest Green against us) bringing out a save from Worner. This cued a more upbeat dominance from The U's seeing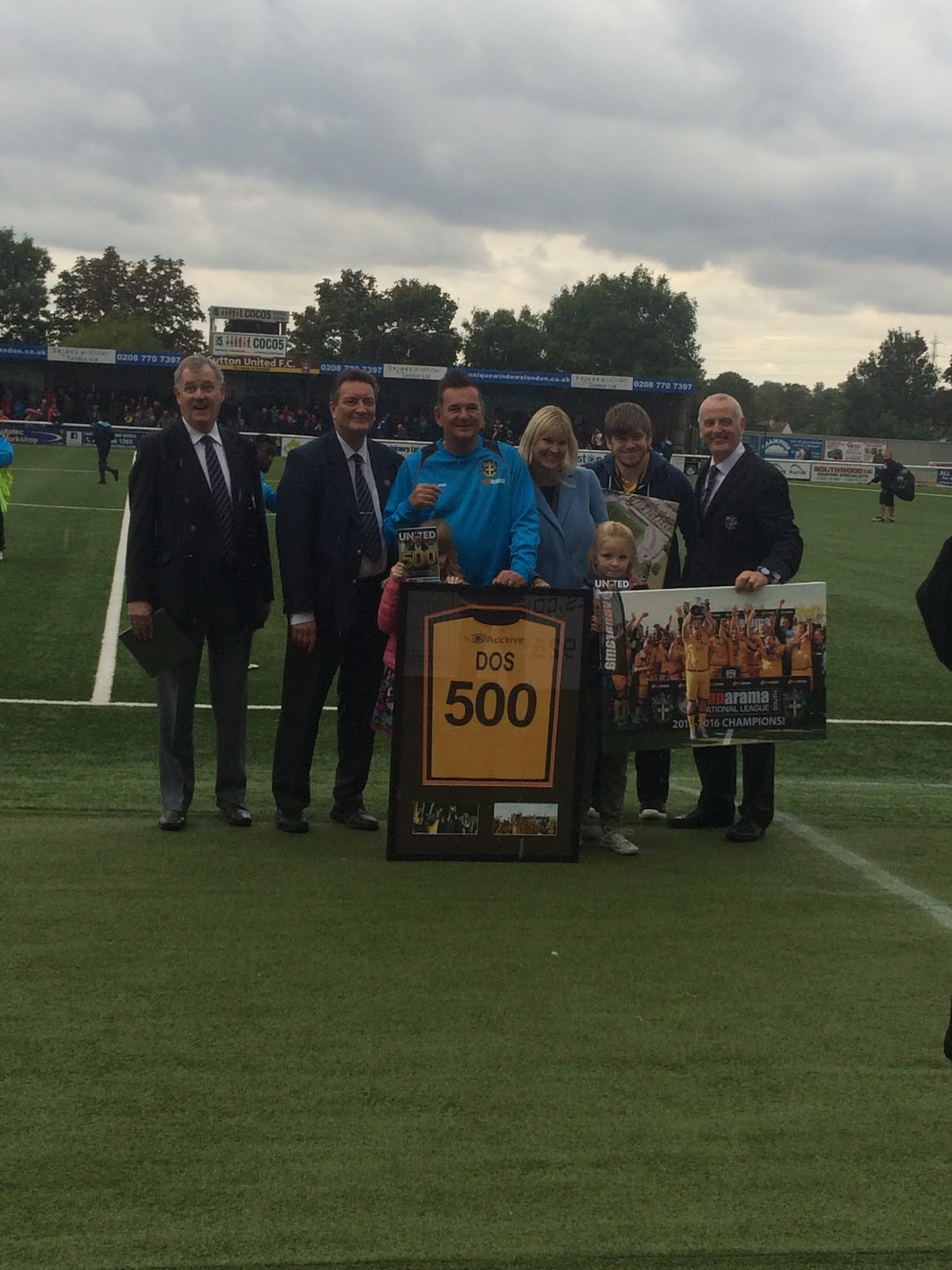 2 more than Dukey
Eastmond hit the side netting and that is as far as I saw off the first half as I made way to the bar…..I needed a drink so the rest I have pulled from the official source.
As I approached the bar I hear a big roar of groan and I read that Dickson has missed a glorious chance to make it 2-0. But the biggest groan was to come from my very own mouth as in the bar I sit with Steve (my normal pre half time drinking buddy) who tells me on Flash Scores that it is now 2-0 to Sutton and of all people to score yes it's my fave, Rossi Stearn with the second, looks like I will have to catch the highlights to see this goal.
And now for the second time this season I miss a goal straight after kick off of the second half. The return of Nicky Bailey has been a much welcome sight and it is he who scores the third goal for Sutton, again I will have to catch the highlights to see said goal but the lads tell me it was a low effort from a corner.
Thankfully I do not miss the fourth goal and finally it's a striker who gets it, Macca after his return from his loan spell at Eastbourne nods in the fourth on 52 minutes and guess what, that's an extra £50 for the Strikers Are Key pot. One more goal only needed to equal Woking's 5-0 beating of us back on that opening day, and this brings a swathe of substitutions seeing Coops replace the fit-again Beckwith, Dean on 55 minutes, Biamou on for Dickson on 69 minutes and Fitchett for Macca on 73 minutes. A fifth goal does arrive but sadly it's a consolation for Woking scored by, yep you guessed it Matt Tubbs, on 75 minutes. Ok I know its 4-1 but there are still 15 minutes left and anything is possible in football, just ask AC Milan circa Champions League Final 2005.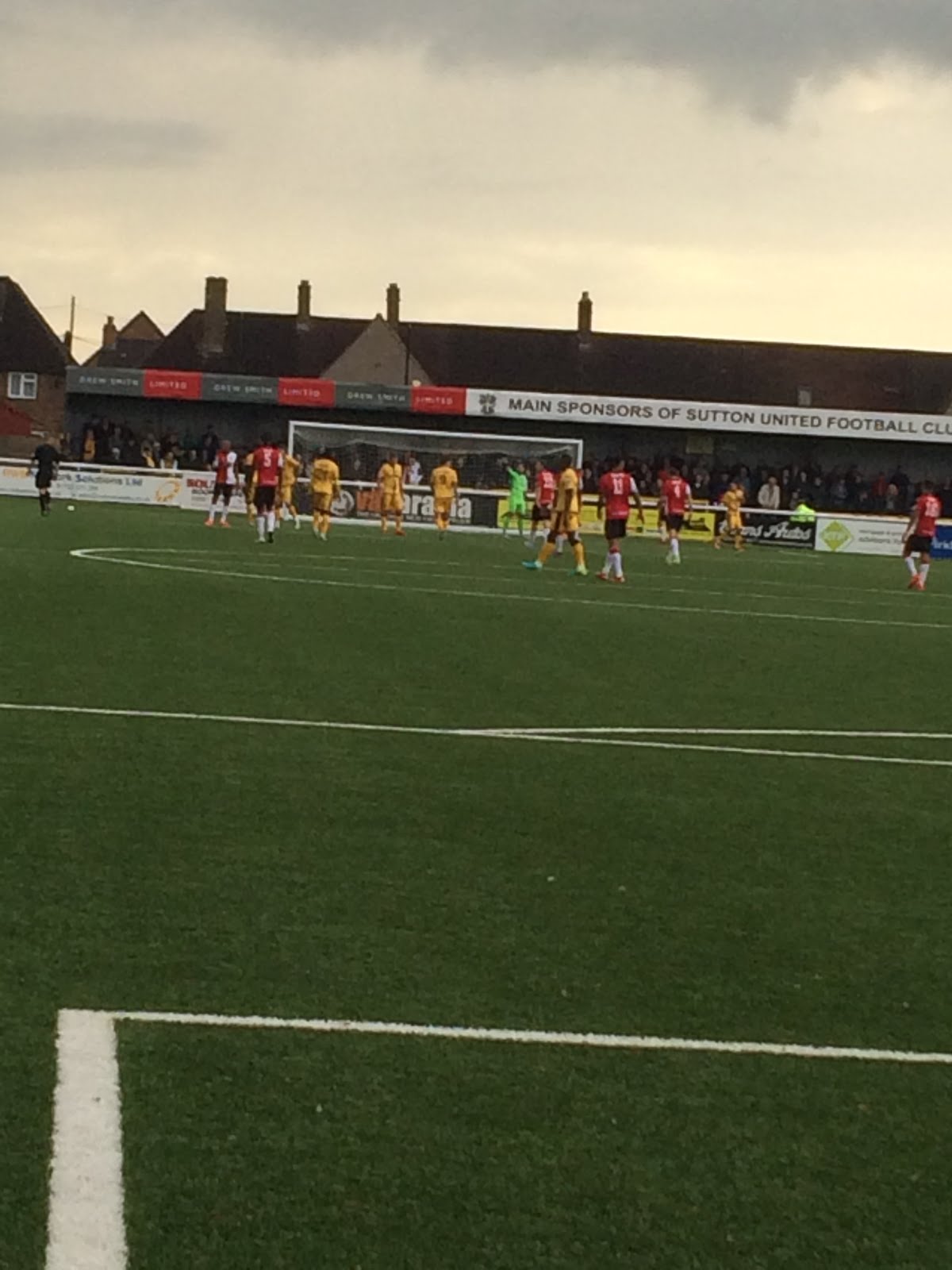 Off kilter….
However, the final whistle blows and an attendance of 1714 witness Sutton return to winning ways and the team are applauded off the pitch as Roarie deservedly gets the man of the match award. What's even better is no yellow cards for any Sutton players today.
To the bar and it seems the Strikers Are Key draw will be delayed due to the kick-off of the England World Cup Qualifier against Malta. What is it about England games that tend to be a snore-fest as this one proved to be; 2-0 against Malta…..I mean come on. Anyways the Strikers Are Key draw is Adrian's real acknowledgement of the work Dos has done in the 500 games he has been in charge of this football club for, although Dukey has missed two of them. You will have to ask him the games he has missed although I heard Harlow Town mentioned a lot. I promised Adrian that I will include this in my blog, but he like Dos are, is one of the real heartbeats to this club – they care about what goes on on and off the pitch and Adrian you are a true gent. And to think he was once referred to as Mr Shouty Man, but not only is he a director and shareholder but he is a true fan – there is my promise to you my good man.
As for the actual draw it is a good friend of mine whose syndicate is drawn out, one Julian Rozario, however he is absent today and it is Dos who picks out a key (ring) for him. Turns out to be the wrong one, but JR will be getting £50 for his trouble. May I also remind you my friend to send off for your remaining Euro 2016 stickers!!!!
And so to the jukebox we return to and it seems as if The Chairman has joined in with selecting songs (once Taz has given him a crash course in how it works!) and its discovered he is a massive fan of The Kinks – Waterloo Sunset is a great song Chair; although I do not think he was too impressed with someone selecting the Technoheads' "I Wanna Be A Hippy"! Oh well I have got a whole week now to decide what nine songs I will be selecting for my £2 worth at the FGR game, expect some cheese ha!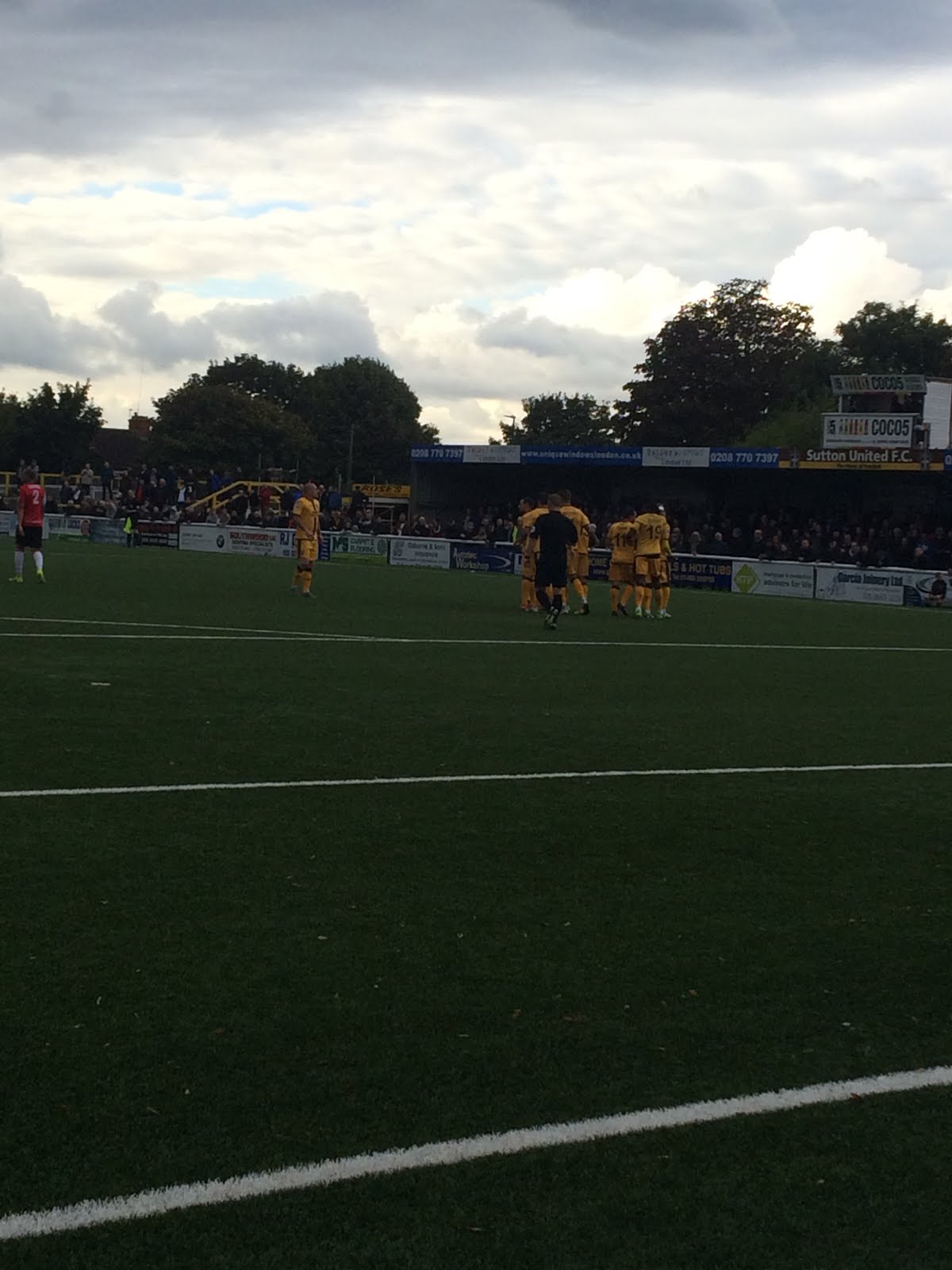 Celebrate.
I also promised Burgers that I would include one of the most random conversations ever experienced, the theory of the "ghost turd" (sorry but I do not use profanity in my blogs). I have never heard of said expression and ask Dave to Google this for me, once it pops up on his mobile I use the phrase "Oh yeah". Readers you will have to Google this for yourself. Or ask Dukey.
And so its home time to catch the end of tonight's X Factor; hope Honey G goes = what a waste of a place on the show. I now hand you over to, er, whoever will be bringing you the FA Cup tie against Forest Green Rovers, remember it's all pay! But let's hope its progression to the first round proper. Not just for us shareholders to see extra income for the club but for further exposure of our wonderful football club.
Wise men say…..
Robbo