We're always moaning, amongst other things, about the draws the FA decide to lumber us with in their competitions. The reasons for this are simple. We're miserable bastards and the FA keep making us go to Hemel fucking Hempstead. Thankfully however, this year they've been way more generous.
Our reward for entering at the last Qualifying round following our elevation to the National was not a tie with that mob just off the M1 for a change, but a home game with Forest Green Rovers. Top of the league and with by far the biggest budget in our division. About the hardest tie in the round, barring being away to the same outfit.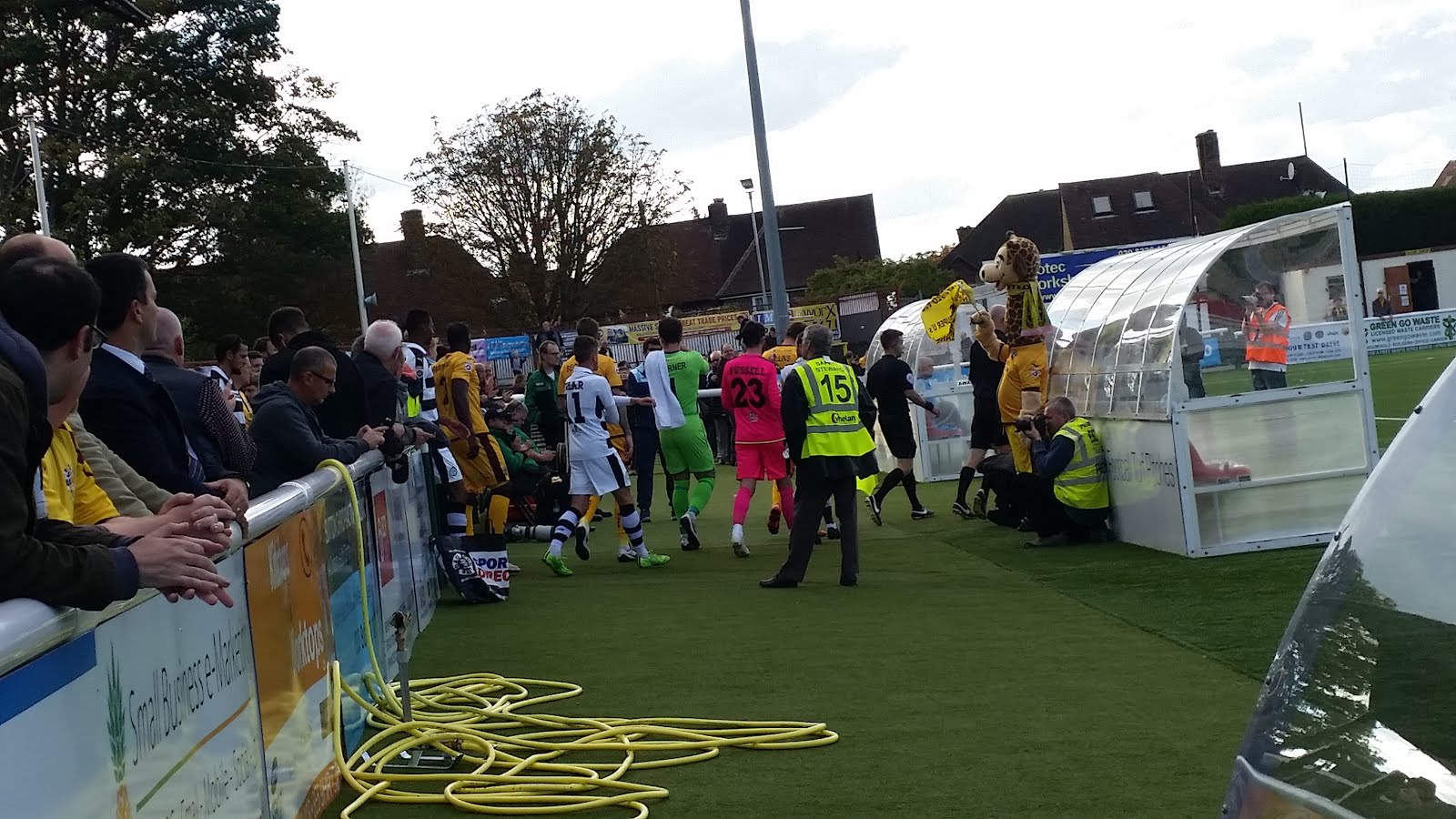 "United we stand….with a giraffe"
Yeah, cheers lads. Still, at least we're at home which is where we've done much of our better work so far this season, so we're in with a shout.
As it's a home game, I take my time getting ready, heading out just after 12 for the perennially useless 407 into Sutton. Now recently, the addition of a bus app to my dog has allowed me to spend less time waiting around fruitlessly for this twat, but even today that's no use with the one my app had told me was due several minutes after leaving HQ simply doesn't arrive. Instead I have to wait for the next one, which shortly before it arrives a terse message from Steve enquiring as to everyone's whereabouts is received on the top secret, members only Whatsapp group. It seems he's all on his lonesome in the bar with just some vodka and Dresden v Stuttgart on the telly to keep him company, the poor love.
Of course, we all sympathise with his plight given he's in a bar and we're not. Moments later my bus arrives, one which two stops later, Burgers fails to catch as planned. Now finding myself somewhat alone on the journey into paradise I pop in my headphones to be entertained by the Pointer Sisters 'Jump' and other such musical delights.
I jump off at the Police Station, hit the ATM and draw some folding. It's then a quick dip into that conveyor of pastry type delights that is Greggs for a couple of sausage rolls to help me pass the time on the walk down to GGL and to assist with the rumbling in my stomach. Which is probably sensible given there will be little but beer filling it for the next few hours.
Naturally, I find myself on the Republic's boulevard of heroes a short while later a happier bunny for my little snack and covered in fucking sausage roll crumbs. Which is I believe a big look on the catwalks of Milan this year. In the bar, it's quiet. Except for the usual bellends loitering around. And Chas and bloody Dave is on the jukebox. Hardly an inviting environment. I get a round in and we settle at the bar in the usual spot to talk shite and abuse each other. MarkyN mainly puts up a robust defence of the Cockney duo. Dukey & Burgers arrive and tag onto the round. Then a couple of minutes after that Chalmers rocks up, finally, Belly. Who having been resigned to buying himself a pint, moves faster than anyone has ever seen him when he hears it's 'still' my round. Such is his delight, he completely forgets he's agreed to get Wardy a beer and the Scouse lad is most peturbed a short while later when his beverage has not materialised. Still, Belly's happy.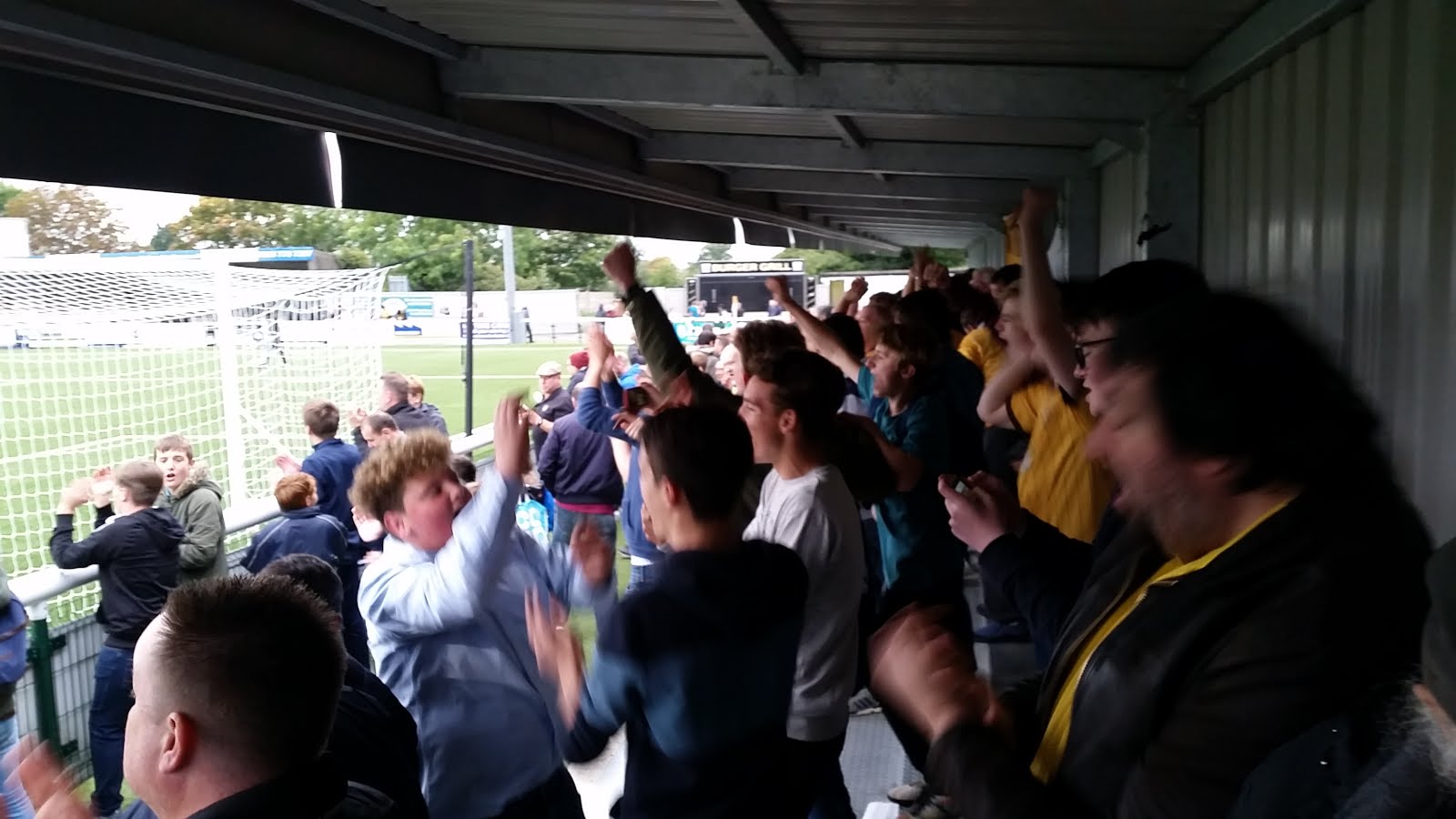 Jubilant Yoof
Robbo appears and asks if I'd put a mention of his newly born niece in the blog. I refuse, mostly as I'm a twat and also as it's not football related. Later though, we come to an agreement after a brief discussion and me being threatened with a broken bottle. So yeah, congrats on the recent Uncle-ness Robbo!
Worner, Amankwaah, Spence, Beckwith, Eastmond, Collins, Deacon, Gomis, Biamou, Bailey, Stearn. SUBS: Hudson-Odoi, Dan Fitchett, McLennan, Dickson, Downer, Shaw
Things get underway in mildly unusual surroundings, with the visitors un-sportingly winning the toss and making us shoot towards the GGL end instead of the Rec as we normally do, so it's the Shoebox for us. What? We're creatures of habit and we don't like having our routines messed with! It makes us cranky. Like being sober. Weirdly, having set up their flags at the GGL end, the away support then simply abandons them and pisses off up the other end. Trusting bunch. Luckily for them, we've left our balaclavas at home today or we'd have had pictures of us holding those upside down all over Instagram quicker than you could say "We're pretending we won these in a brutal fist fight when in reality we nicked them when the owners weren't looking".
The first half has a cagey start. FGR have made a couple of changes, but still pack more than enough threat. Still, we're off brightly and are trying to take the game to them. In fact, the first real chances come our way in one little spell of a few seconds. After a bit of pressure, Eastmond can't quite get onto a cross in from Stearn, the ball isn't cleared and Stearny tries again. This is blocked and eventually a shot from Bedse skips across goal with Max just unable to reach it at the far post.
FGR have a couple of sighters, but nothing that overly troubles Worner. Then about half an hour in, they're in front. We defend a ball into the box, but completely switch off from the corner. It's played short and the visitors skipper clips the ball into the top near corner. 1-0.
Disappointed by this, things soon get worse when Mr X tells a story about having had a bacon and pate sandwich that morning that is so dull even Chalmers, king of the boring story, yawns. I know! Bacon, boring? Who could have thought it possible?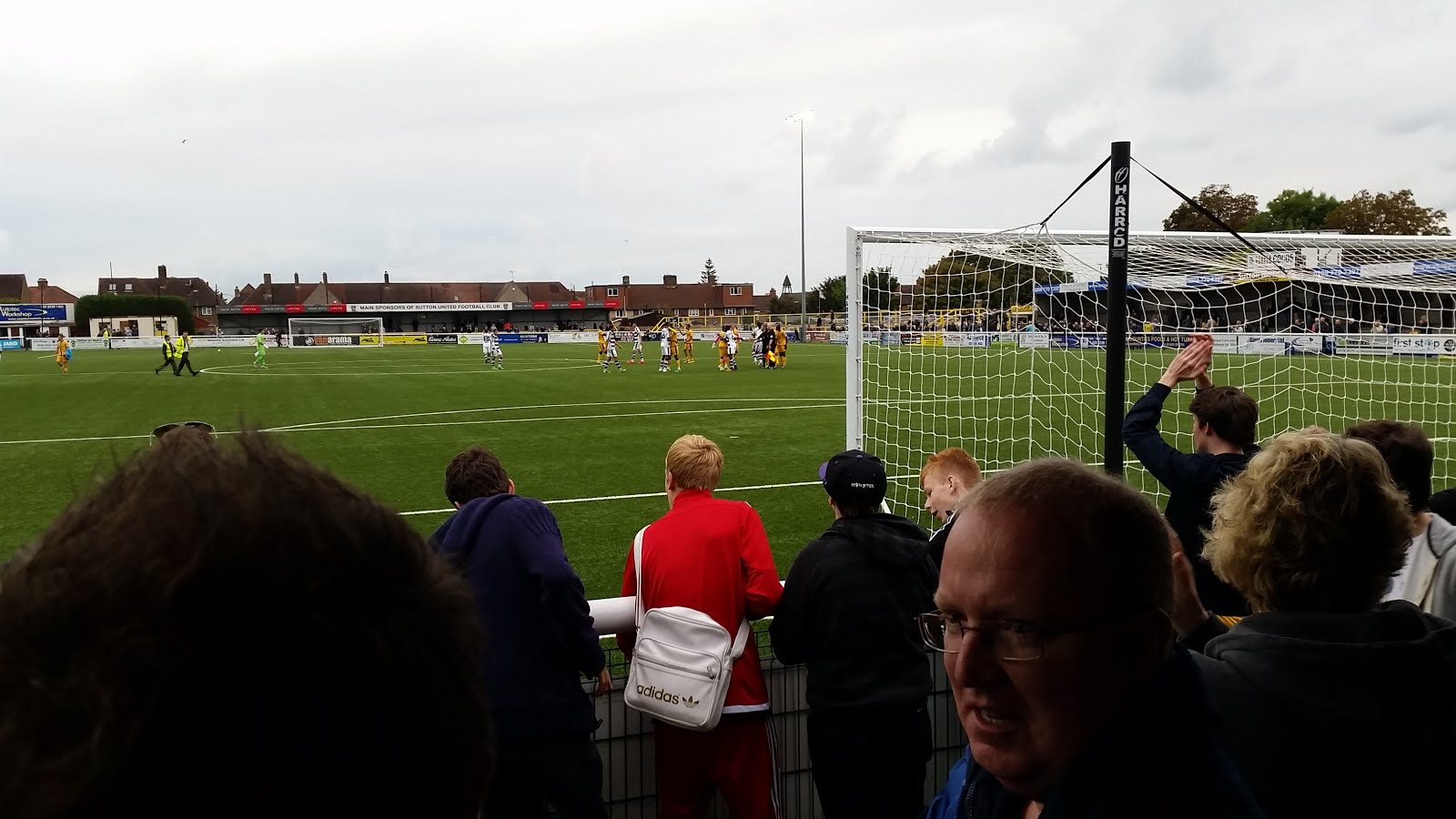 All over!
The lads stick at it though and 10 minutes after going behind, Stearny has us level. A soft free-kick is won by Deacon, having been chopped a couple of times far worse already and got sod all. Ross lines it up and with only a 2 man wlla cracks a shot that despite dipping late in front of the keeper, he really should stop. Still, who gives a shit. The onion bag ripples and we're all square again. 1-1!
Dukey is at the far end taking a piss when the goal goes in, but it seems he'd emerged just in time to see it go in. We wonder aloud why he'd gone to the Rec end when there's been a set of perfectly functional khazis behind the Shoebox for weeks now. It seems observation isn't Tom's strong point, as he'd not noticed them. Dozy twat! Most of the rest of the half is pretty even steven, they sting Worns hands from about 20 yards out but the best opportunity comes right on the break with a huge hoof upfield. Eastmond finds himself in the clear with just the keeper to beat, but seems to get caught in 2 minds between lobbing the stopper or taking the ball round him and their fella manages to stick out a boot and stop the ball allowing him to claim it. Heads in hands, the whistle goes for the break.
Half time, amusing news reaches us that Ryman Prem side Merstham are 2-1 up against chokers Ebbsfleet in their cup tie. With the 1st goal being scored by ex-U Tommy Kavanagh and the hosts having missed a peno as well! Seems the Scummers are getting turned over by Cray, the team they disgracefully CHEATED in the Trophy last week by playing a ringer. Karma's a bitch eh lads?*


*-This paragraph might contain examples of bare faced hypocrisy.
FGR have clearly had a bollocking at the break as they're a lot sharper on the ball. Their lads get on top in midfield and they start to put us under some sustained pressure. They create two great chances, the first a ball in from wide leaves their lad with a simple sidefoot finish from just inside the box, but he screws it wide. Then Worns gets down to save well from a shot through a crowded box, but the rebound is put well over from a few yards out. The striker's embarrassment is somewhat eased by an offside flag. We're not out of it by any means though and soon an offside flag is easing one of our lads own unease, Becks heading wide from Bailey's cross from about 6 yards out.
Worns has to tip over a cracking hit on the volley before Dos makes a change and freshens up the attacking options, Dickson's introduction almost brings a goal as he scrambles in down the left, but his shot from a narrow angle is deflected and brings a great save from the keeper.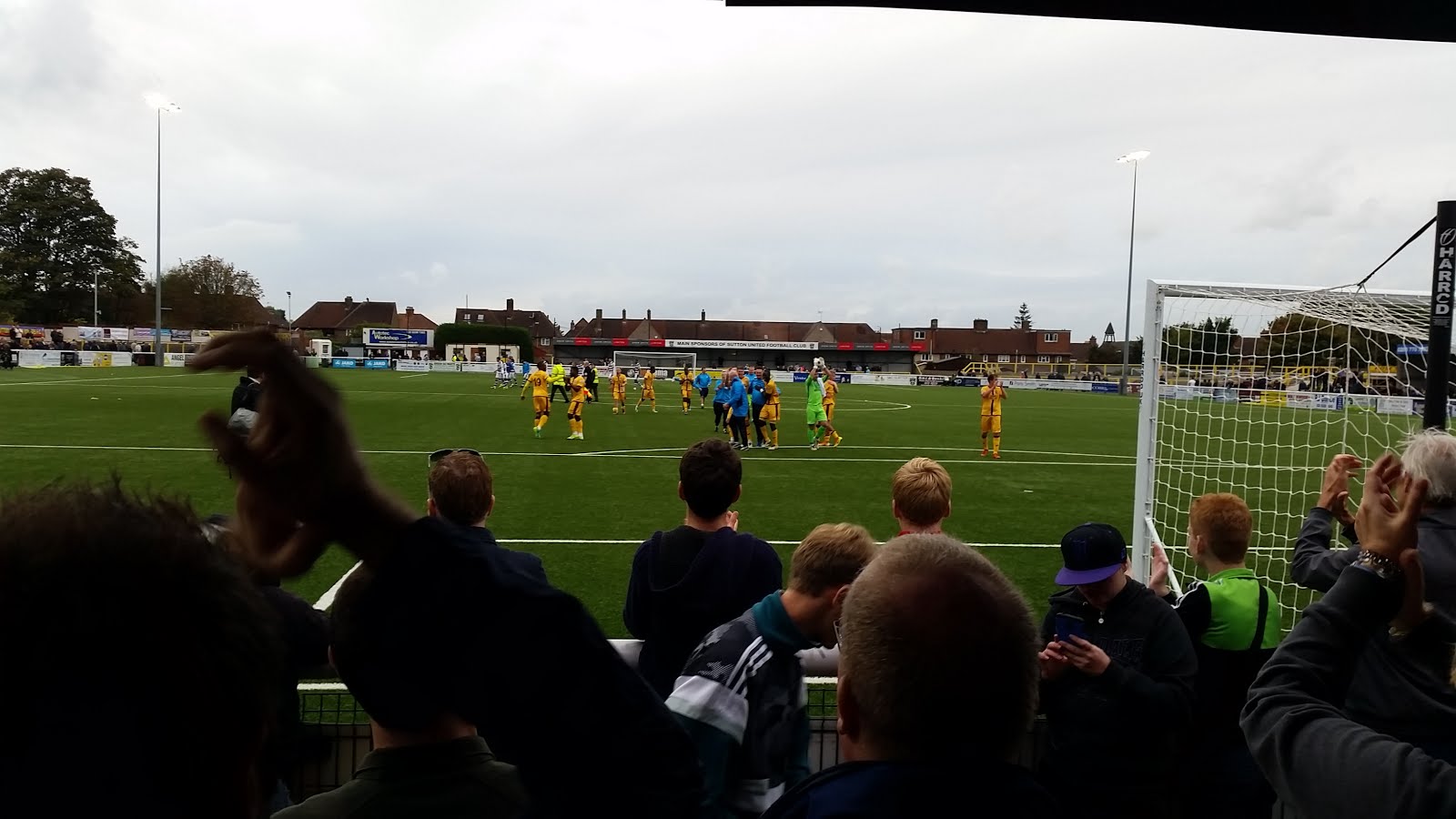 Clap Clap Clap
The game starts to peter out a bit in the last 20. We're not quite looking likely to nick one and they seem to have kind of settled for the draw despite bringing on two of their first teamers. But with time running out, we start to find a bit of space down the flanks. A couple of breaks come to nothing, but with the 4th official preparing the board for added time, Dickson lays off to new boy McLennan who's on for the injured Spence. He takes a touch, looks up and swings a cross right onto the nut of the unmarked Deacon and he guides a header in off the foot of the far post. 2-1 and the Rec End goes a bit mental!
I believe this is what the youngsters refer to as 'scenes' these days?
As the celebrations die down, up goes the board. Four minutes. This is enough for FGR look to get back into things of course and it looks like we're going to hold out comfortably until a late ball in is hoicked across the face of goal by none other than Cloughy. Thankfully no one in a black & white shirt can get on the end of it and we all breathe a 'Fuuuuuck' type sigh of relief as it runs away to safety.
Righto, time for a beer of the celebratory variety I think. And several of them.
Back in the bar, there's news of plenty of shocks elsewhere. Free-scoring Ryman Prem leaders Leiston have gone out to some 9th tier mob, but the most obvious of the lot is of course Ebbs 2-1 defeat at Merstham. Of course, no one laughs or whistles Viva Las Vegas at this news. Naturally, there's an upbeat atmosphere and even Totts puts important PRoWS government business on hold to enjoy a couple of celebratory scoops. He also takes command of the jukebox to give us a thorough Ska Punk schooling. Never let it be said the education curriculum in the Republic is of no value.
Other entertainments are provided by an ex-player who shall remain nameless claiming he retired to to having too large a penis and not actually a dodgy hip and that he went on to have a successful career in pornography. Although apparently even Dukey doesn't have that one on VHS! I also win a bet with Mr X on the result of the 2 epic FA Cup ties against Leatherhead a couple of years back. He reckons the replay was a 4-3 win, but I insist it was 3-2. A quick look online confirms my win and earns me the standard Gandermonium bet return of five English pence and the right to exceptionally smug for a short period of time.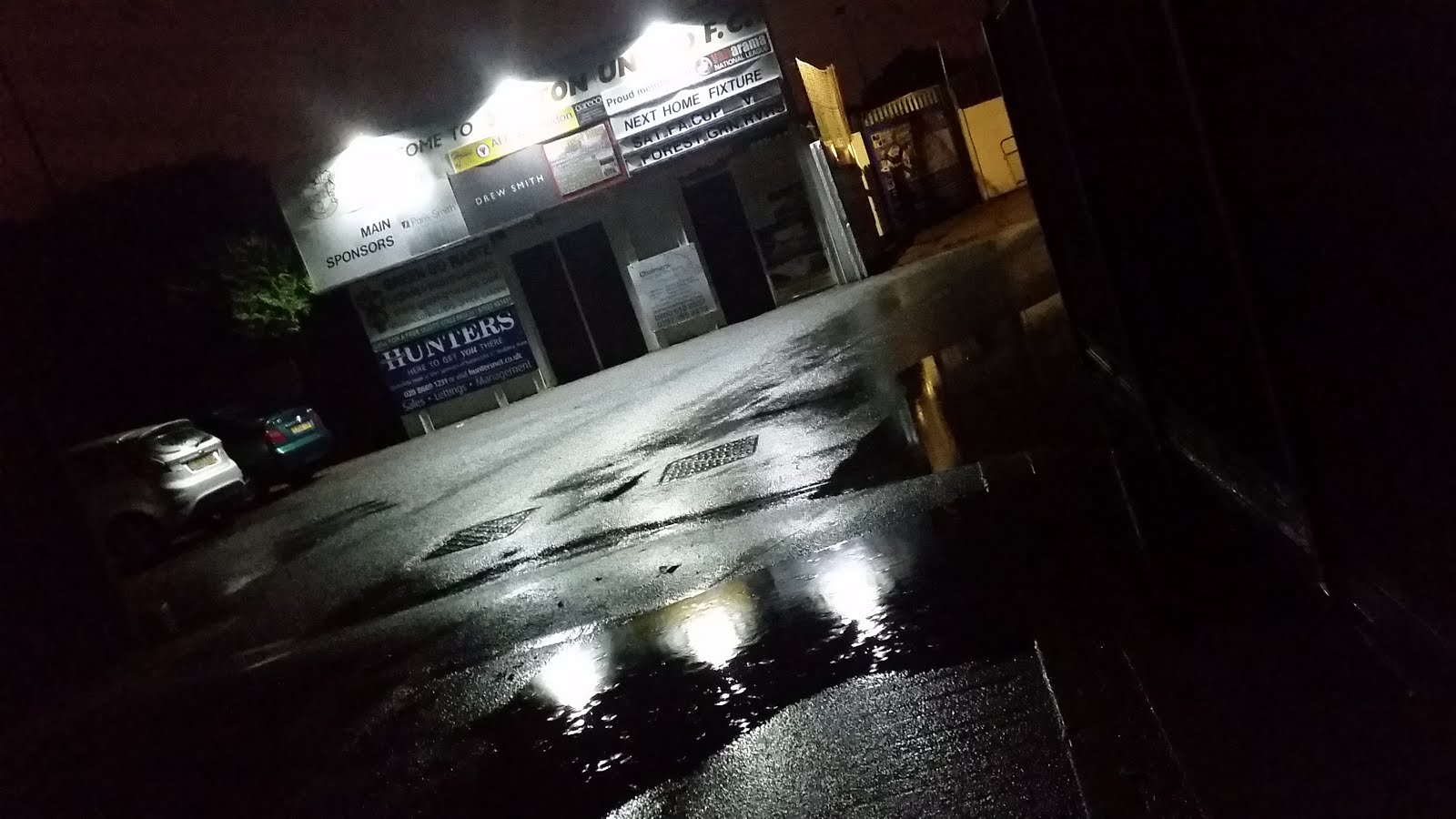 Dark & wet…
Before too long though, I've got one eye on the time and the other on my pennies. With Southport away next week, I decide to escape before things go rapidly downhill both financially and alcoholically. Or as is more likely, 'uphill' towards O'Niells. Same thing really. Some dick sticking Jive Bunny on the jukebox is the final straw, so one final round is bought to say goodbye, a G&T is necked and it's off out into the rain for the schlep home, which is made a bit more irritating when I remember there's no trains from West Sutton this weekend. Bloody Thameslink.
A phone call to the missus is made, a Chinese is agreed and within the hour I'm tucked up back at HQ with my face in a large portion of beef with onions and a special fried rice, wondering who we'll get in the draw.
Bet you 5p it's someone shit.
Taz