There was a quiet murmur in the room, the smell of anticipation was everywhere. Some of the lads were up at the front, their expectation like that of school kids waiting for the tuck shop to open. Others that were more experienced in these situations had more of a look of mild disappointment that comes with every time this happens all ready, but yet they couldn't turn their heads away. So where were some of The Firm doing on a dreary Monday night?
No it wasn't a Tijuana Donkey Show, but the draw for the FA Cup First Round. Taking our spot in the small gathering we awaited for the draw to begin. As always, there was the usual bollocks before the draw and then you begin to wonder the various possibilities. Do you want a easy home draw? Or possibly a big money spinner away at one of the bigger boys? Personally I was after Grimsby away. Why? Night out in Cleethorpes of course!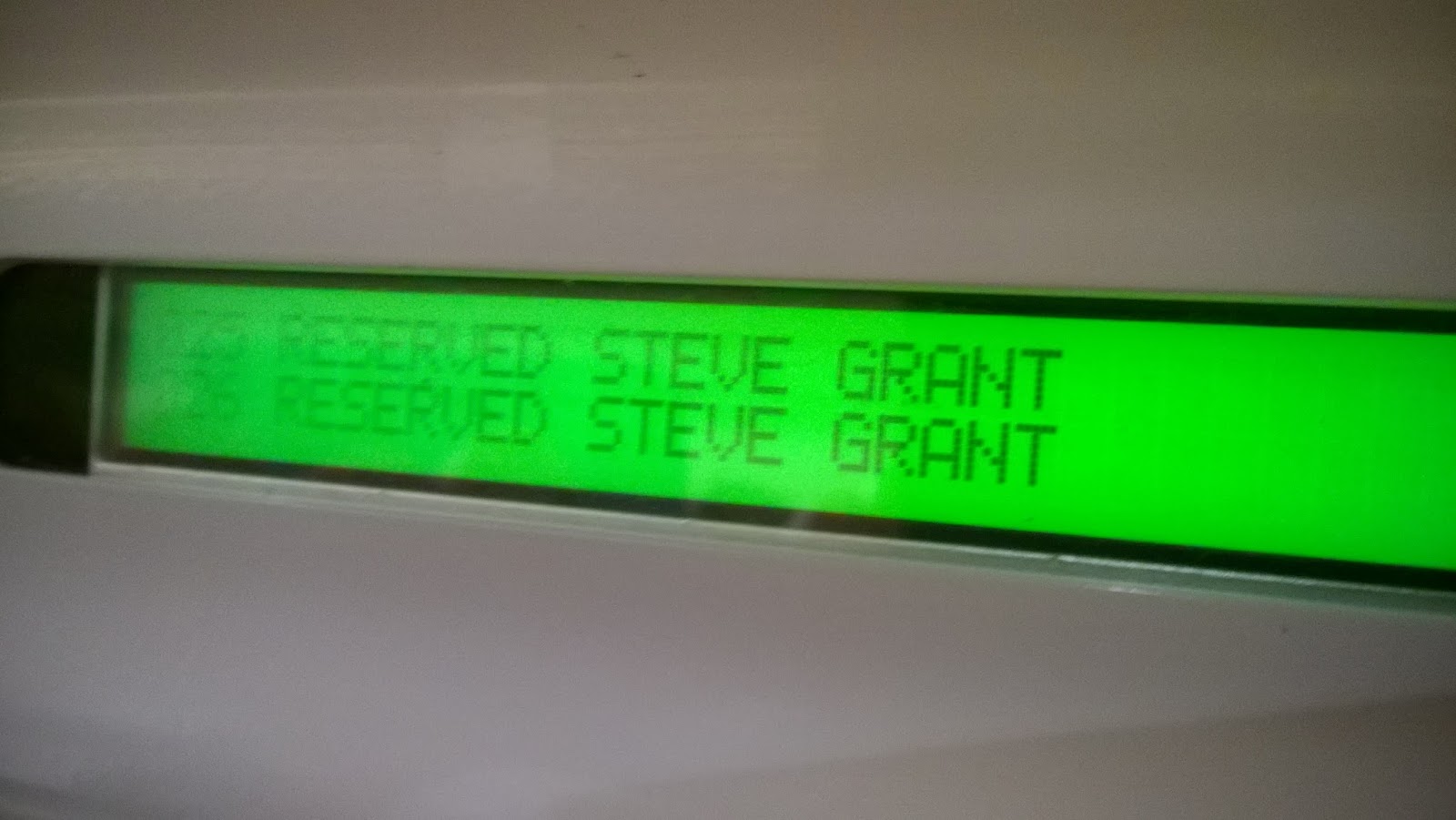 Eddie's lesser known brother. Shit at reggae too.
As the draw finally got under way, the big teams started to disappear quicker than a free bar at a AA meeting. With groans coming from behind us at the bird on the telly coming out with a needless little known FA Cup fact about the teams being drawn, I even considered fuckin' off when the dreaded Hemel are announced. Someone remarked that they could "fuck right off" with drawing them again in a FA competition. Thankfully, Barrow were going to get that honour this year (and Hemel lost against Taunton in their replay anyway, thank fuck).
Then I heard the phrase "Ball number 63" be called out. Wait, that's bloody us! Looking at the screen I saw we were to be up against Dartford. Dartford? Oh great, another bleedin' no smoking ground to attend. Still, with Southport & York to visit the two coming Saturdays. It's probably for the best. For the wallet at least, but not possibly for the liver!
Originally there was supposed to be a Dirty Dozen making the trip to and then past Liverpool. The first casualty before the day had even arrived was our Firm Leader. For whatever reason it was, and it wasn't to go to Chipstead to watch Epsom & Ewell, he found other more important things to attend to. Lets face it, this is the fella that might've thought 'Sugar Diabetes' was a Welsh Flyweight!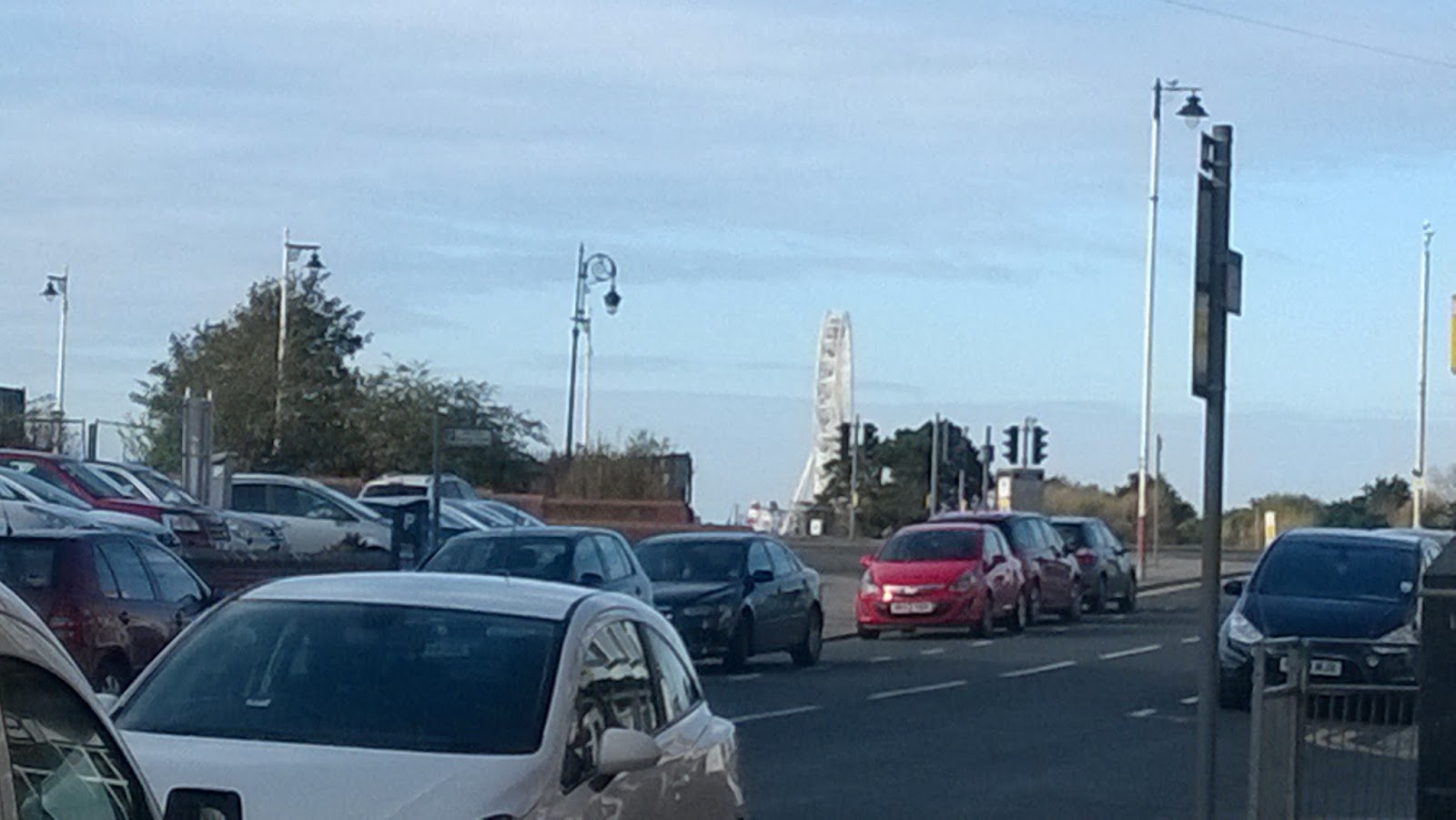 Is that the London Eye?
Southampton Steve was the man in charge of arranging today's transport and had booked us on the 0907hrs from Euston. This meant that it was the usual free for all in getting there with everyone sorting out their own routes. For me it was a simple train outta Carshalton. Not totally trusting the trains since they were fucked up privatised, I aimed for the Euston via Victoria to give myself plenty of time in case of any issues.
Already on the train was 4 Days and we headed up to Vic before jumping on the tube to Euston. First people we saw were Steve & Aleman. Round the corner was Indy & Sean. Outside with the pigeons were the three amigos: Mr X, Dr Bell & Taz. A message on the old blower informed us that 'Broken Bottle' Robbo was near the platform. That left just one of the 11 missing, Alan. Brother of the Chalmers.
Ah yes, Alan. Apparently at this time, which was around ten to nine, he was still waiting to go into Blackfrairs on his Thameslink train from Croydon. So in layman's terms, he didn't have a chance in hell of making the train North. So with another person down we headed towards the platform to use the single rail ticket between the lot of us. We all settled down for a the sober trip north with loads of tea on the go. I won't bore you with the detail and the fact is I can't remember any of it either. Except in my notes I have "4 Days Sutton Manor Fisting". Yep, same here, fuck knows!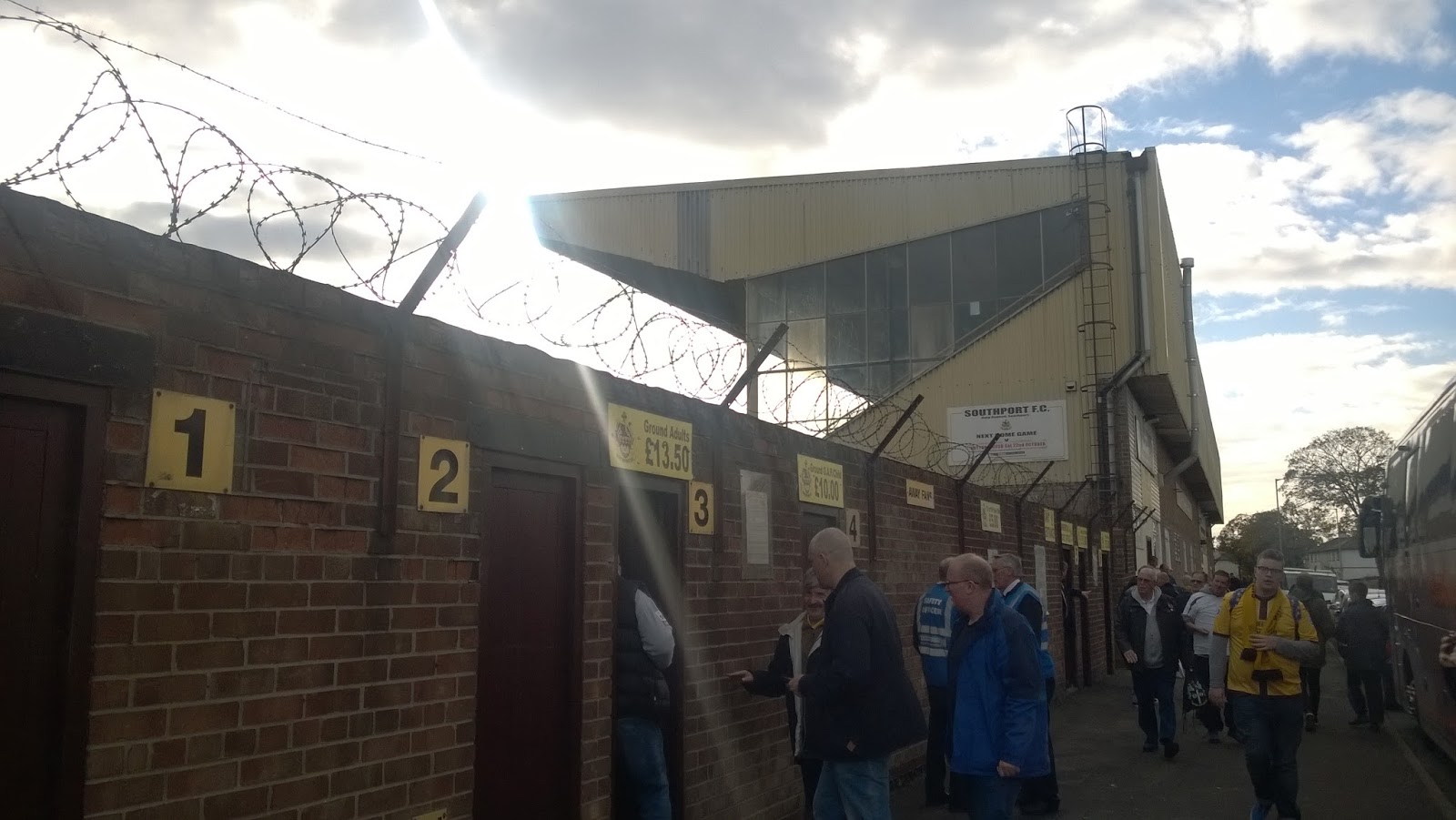 ID2 starts filming in the frozen Northern wastes….
We did mange to squeeze in one tinnie before arriving at Liverpool Lime Street though, a legacy of me palming a couple of cans off onto Sean & Indy at Eastleigh, which they'd kindly returned to me this morning. They were a bit on the warm side though. A quick walk over to Central Station and the Metro awaited. This was not before having to witness a case of randomness. For some strange reason, there was this odd fellow out by the ticket barriers shouting the odds at someone, possibly only in his mind. Don't have a clue what happened to him but he had clearly been removed from the station for summat and was now standing just outside screaming out random stuff and making legal threats. Still, it made the wait for the tickets to print one at a time more interesting then it should've been.
The Metro part of the journey was like taking a Thameslink with plenty of dodgy named stops before Southport. Looking a places with names like George Formby & Bill Cosby was only disrupted by a huge fuckin' fire that was occurring at a scrapyard near the docks. It was so big it was even getting mentions on twitter. You never quite realise how far Southport is outside of Liverpool until you take a train like the one we were on. With some beer consumed on the train a few of us were glad at arriving at our destination and headed for the local pissers. Which were remarkably well look after compared to some of those back home I must say.
In Southport itself and we hit the first pub recommend by our resident CAMRA member, and who would've thought but it's a 'Spoons! Not only that, but its cheap as chips as well! Handing over our crisp £20 notes to our nominated whipmaster Dr Bell (it seems Taz is still on strike for some reason), we let Mr X buy the first round. And as if to prove how far North we've come, he gets a crisp new Scottish £5 note in his change.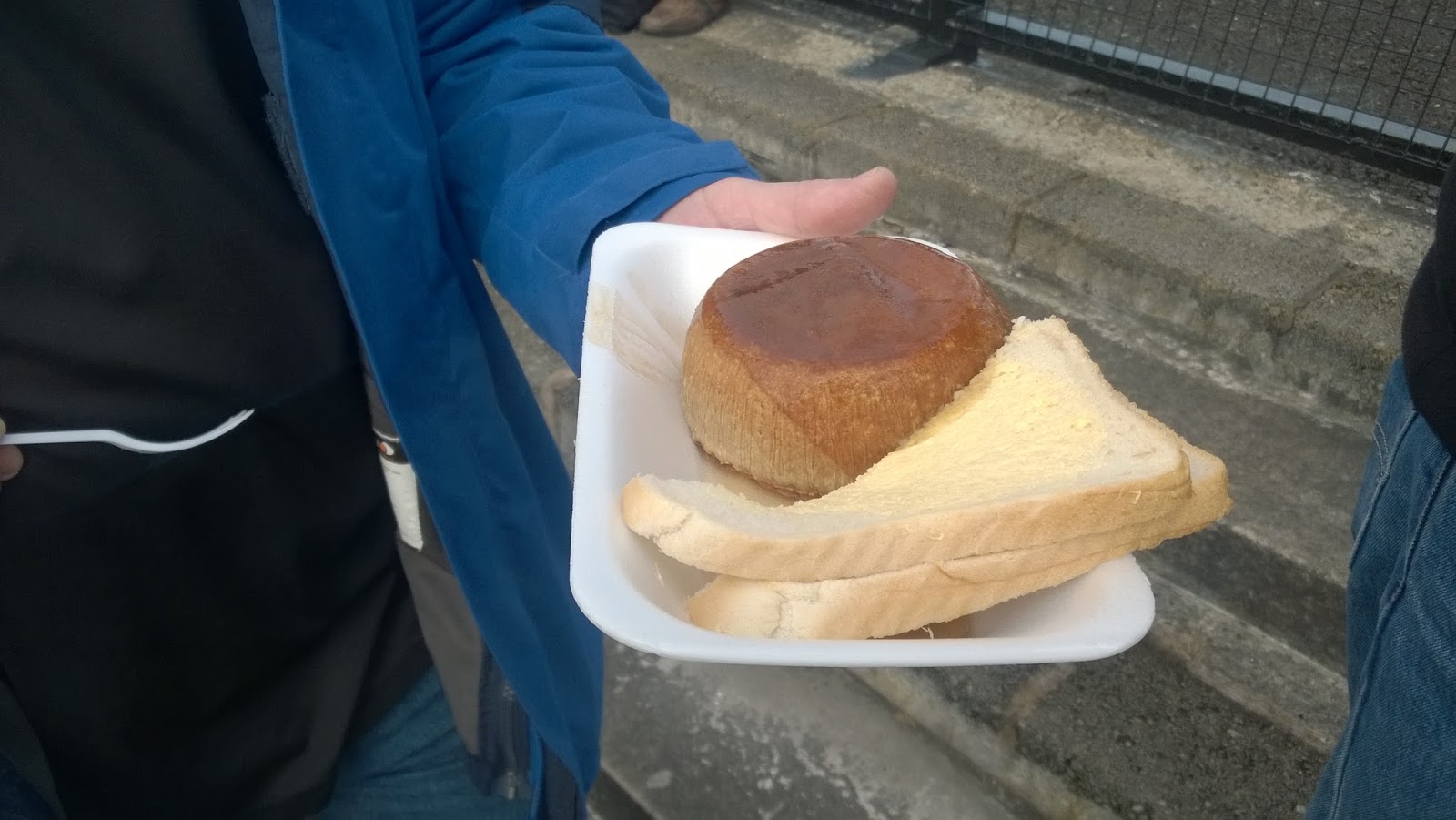 PIE!
Aleman headed off over the road to check out the next pub "The Phoenix" and soon enough the news comes through that the place is even cheaper then 'Spoons. Of course, like a flash were there. £1.89 for a pint cannot be laughed at in this day and age. Settling down to watch an abysmal Bournemouth vs Tottenham match we then weighed up our options.
Considering that we arrived into Southport rather late for us drinking wise, at after half twelve, we didn't have that much VDT to play with. And considering the best boozers had you heading away from the ground towards the other end of town, we decided to have a few here and grab some sherbets. Which, SHOCK HORROR! there were no fuck ups in allotting enough people to. Trust me, that's a Gandermonium special!
The journey wasn't long at all and we even had the cabbie apologise for the delay some traffic had caused and the cost it had bumped on top of the usual fare for the journey. Jesus man, it was only £4.20! Fuck Uber! Taking a look at the ground from he outside had the visions from the classic I.D, film of a large stand with barbed wire running over a brick entrance. £13.50 was the price to enter and once inside we took a spot on the open terrace and basked in the Northern sunshine, which meant we'd probably see fuck all of the 1st half.
With Mr X the only one to eat at the pub some of the boys headed for the refreshments hut. Here more bargains were to be had, £2.50 for a pie with bread & Butter plus some weak gravy from a kettle, which went down so well that a certain Dr Bell eventually had three of the blighters through out the game. With 52 away supporters in attendance we saw the team run out in their new away strip for the first time.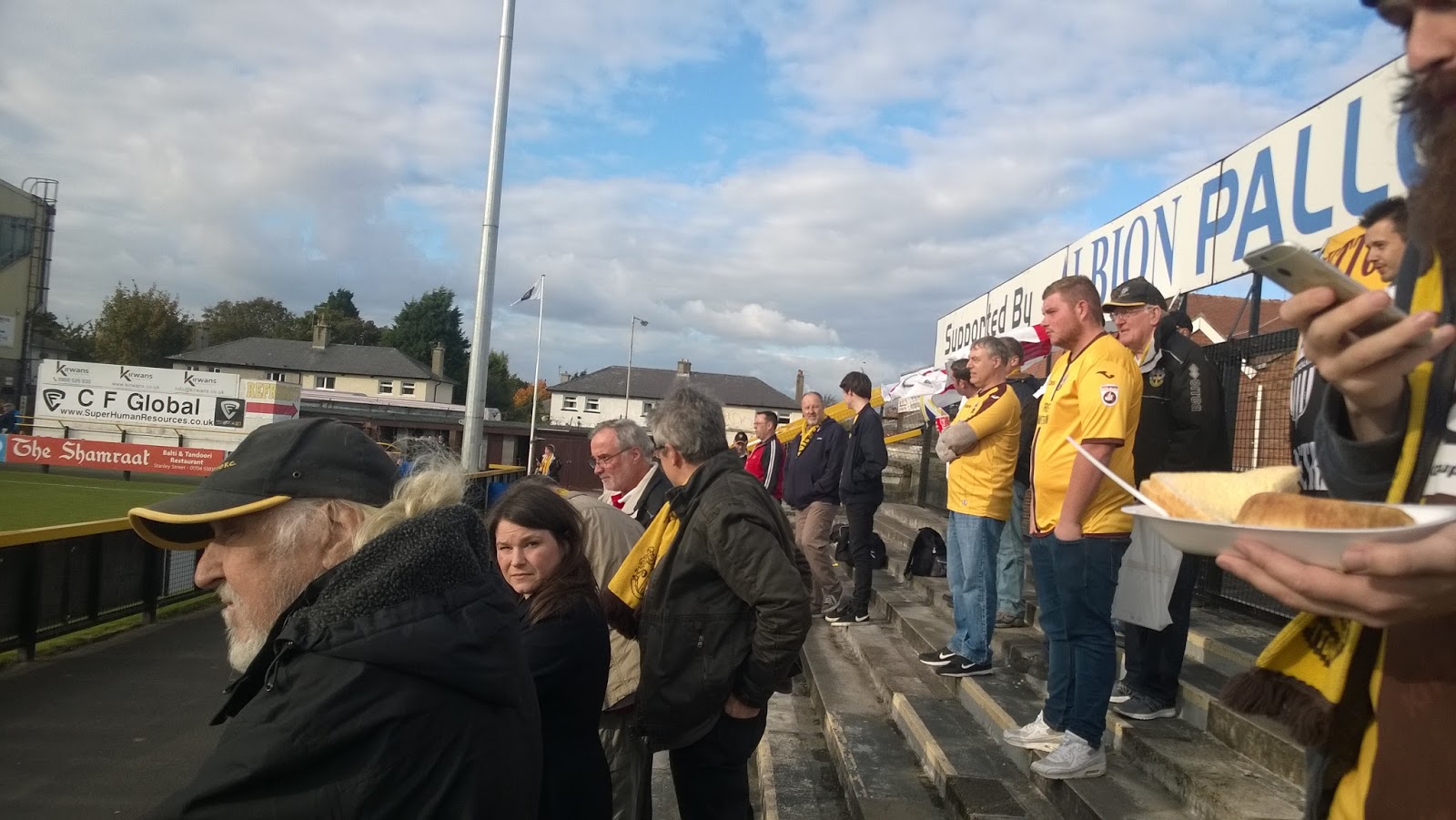 Expectant.
Worner, Amankwaah, McLennan, Beckwith, Bailey, Collins, Hudson-Odoi, Gomis, McAllister, Biamou, Stearn. Bench Warmers: Fitchett, Dundas, Dickson, Haunstrup, Shaw.


Being segregated at one end meant that after the toss, we were to be left behind Worner's sticks. I never have a problem with segregation, because you can get to see a part of the game you don't usually see. Unfortunately this means we get to watch Sutton defend for 45 minutes.
We did start out with a purpose and created a couple of chances before totally switching off. You can see why Southport were bottom of the league, because they didn't take their chances and we gave them plenty of 'em! The first big one was a simple ball over the defence that had the fella one on one with Worner. Luckily for us, the fella couldn't even hit the target with his attempt and the ball went just wide.
Clearly not waking up after that let off, it seemed like Southport were the team that wanted to take three points as they came at us with every intent. Out of nowhere, Stearn did have a 30 yarder ping off the top of the bar, but our chances were far and few between. It wasn't long after this that Southport got the goal they thoroughly deserved.
Amankwaah was at fault as he failed to keep the ball out on the line, not for the first time today and this time it cost us. As this gave them the space to pick out the right pass into the box. With enough space and time, the fella just smashed it past Worner. It was nearly 2-0 soon after when Worner lost a corner in the sun and fumbled the ball coming in from the right, but luckily he was far enough out that the ball died a yard from the goal line and he was able to grab hold of it.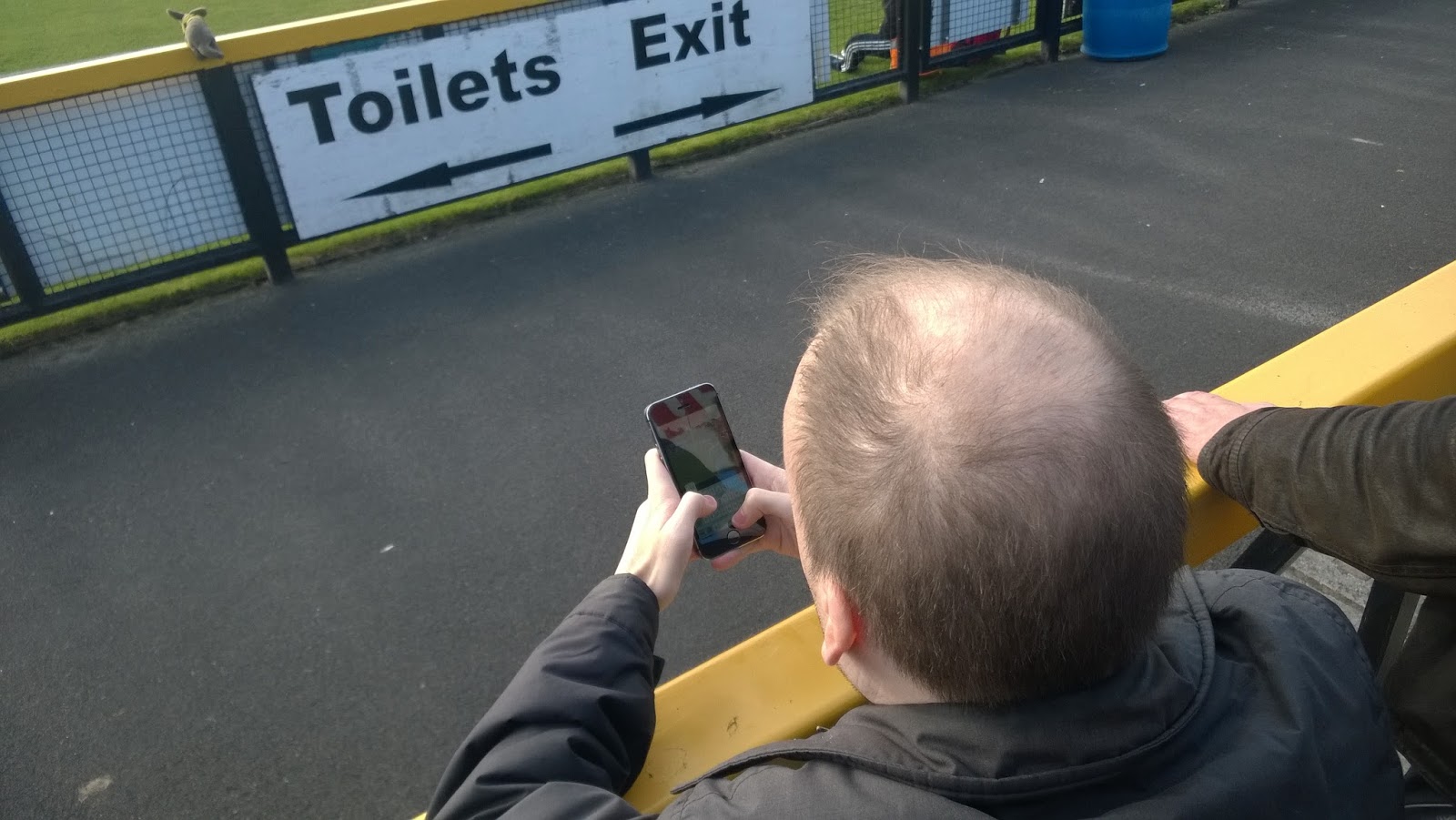 Watching me, Watching him, Watching them.
At the start of the second half saw Sutton make a much needed double substitution. The legend that is Dundo finally got the chance to play some proper Conference football as he came on for the quiet Biamou on the left wing and Dickson was brought on for Hudson-Odoi. You would hope that with the break and the replacements the game might change in our favour.
Off course it bloody didn't. For the first ten minutes we are still on the back foot with Southport creating more than enough chances to kill the game. Several times it was like watching Sutton, with only worse finishing that let them down. If it wasn't Worner being forced to make a save, it was failing to hit the target with cross shots and the like.
Eventually Sutton were given a lifeline. It was Stearn doing his best Andy Johnson impression, by grabbing us a soft looking penalty. With Bailey in the side, we knew we had our number one penalty taker back as he placed the ball down on the spot. He took a few steps back and…
Bollocks! Why can't we take a fuckin' penalty? Fair play, if the keeper goes the right way you wouldn't moan but if its the right height and all that. Within a minute, Sutton attack again and as the ball flies in a Southport defender goes to chest the ball but loses track of it and it whacks him on the arm. Plenty of shouts are given for a handball and strangely the referee agrees. Another penalty!
1-1! This one was taken by Collins and as you can see it gave the keeper no chance, even if he'd guessed right. Southport were to have the lion's share of the remaining chances but Sutton may have nicked one when an Southport attack broke down and the ball was knocked forward to a very lonely Dickson near the centre circle.
Unfortunately his knock past the chasing defender was so heavy that this gave the keeper a chance to clear the ball. Even at the death Southport had a chance to win the match, but it was not to be, thanks to the heroics of Worner in goal. That man really kept us in the game today. Shame a lot of those in front of him failed to rise to our now heightened expectations.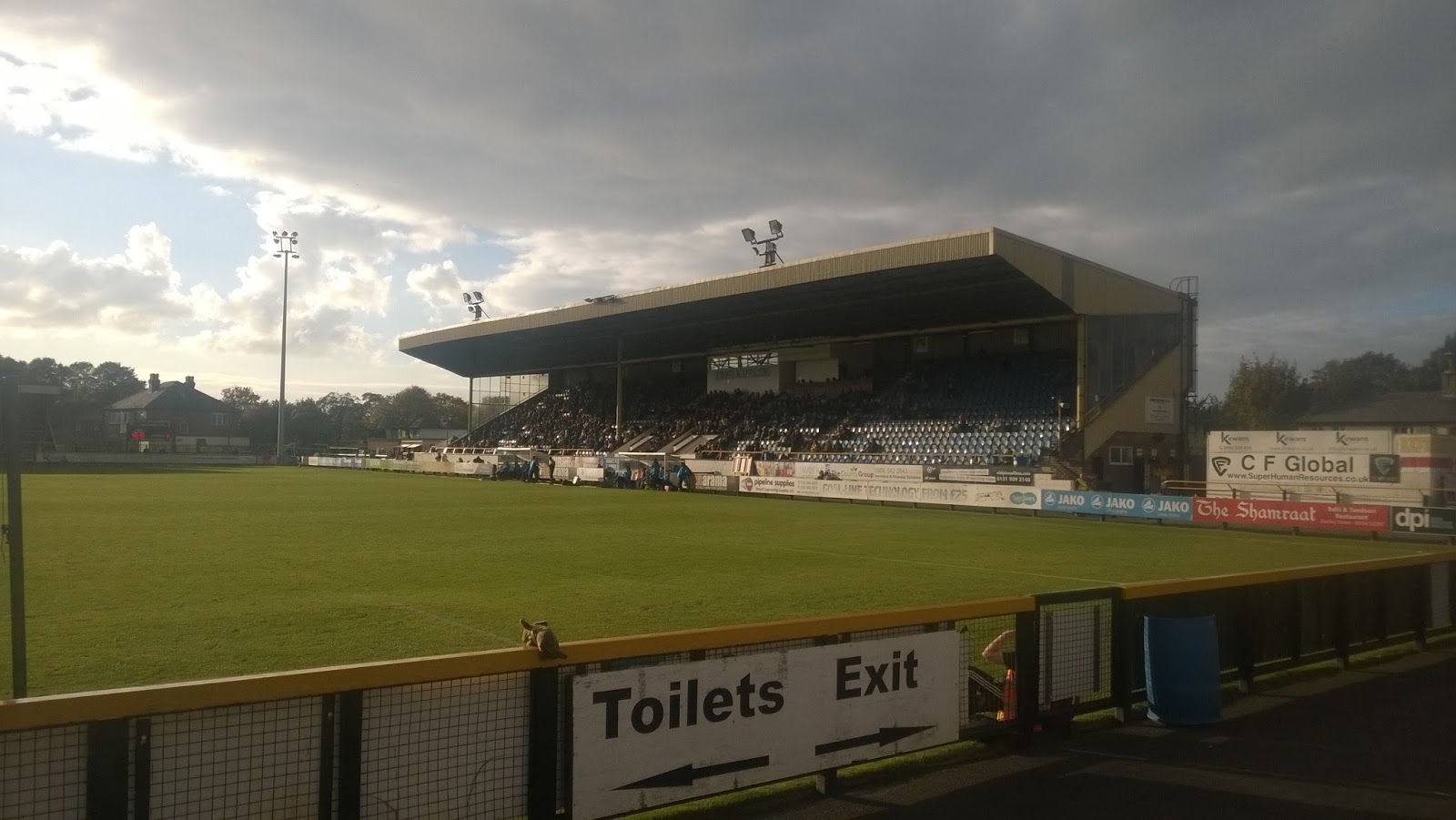 El stadio
After the game, with a point firmly nicked off the Scousers, we headed to the Thatch & Thistle down the road to discuss what we'd just witnessed. Yes it was bollocks, yes we were lucky to come away with a point and why are we so shit at penalties? And how come our away record is so poor? Do we need to make changes? These were just some of the questions that, as per normal, we failed to answer, mostly as we were drinking. Someone did mention that the game was like "Going out on a pub Crawl with Betty Ford". Get it now?
Time was soon once again at a premium, so we rustled up some transport and headed towards the station. Needing some refreshments we located a local shop. Well, I say local, it was in fact a Polish shop that sold all the delights a growing Pole needs,. Like beer, crisps & dried octopus. Having to work with Poles on a daily basis gave me the knowledge I needed to know what to purchases were the best to make (not dried fuckin' octopus) whilst others blindly picked some of the stronger stuff on offer.
On the train back to Liverpool we noticed a little sign displaying all the byelaws. An interesting one was byelaw number four, which states that no drinking is allowed on these trains. This point was made further when the conductor with the rape gloves passed us. Wondering how he'd known were were boozing, Dr Bell soon admitted he'd had a chat with him before getting on the rattler, all whilst holding his 4 pack of beers.
Then again, his warning didn't stop us and it wasn't long before we were back in Liverpool and byelaw 4 was no longer a problem.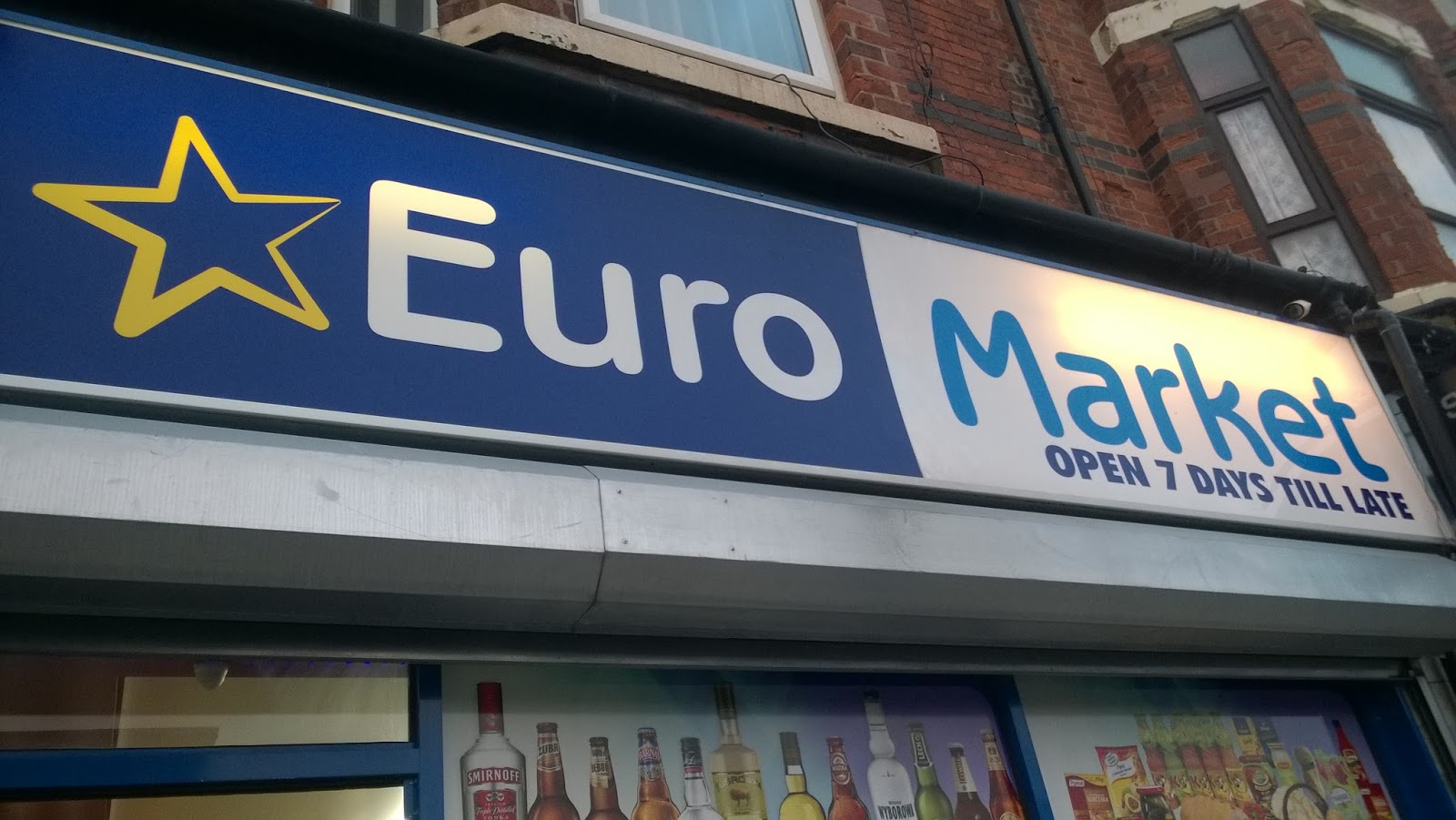 Beer! Crisps! Dried Octopus!
With a hour between trains we headed halfway and stopped at another 'Spoons where we chatted with some local lads who couldn't believe we'd come all that way for Conference football. It wouldn't take long before we were due to leave so we worked out where to purchase some much needed grub. Luckily for us, a few doors down was a KFC and it didn't take much to have people agree with that decision. I was chosen to do the food run, whilst others did the booze.
So, off to visit the Old Colonel's (no relation) and it was yours truly sorting it all out. Well I do pretend to be a good Christian sometimes! With my £5 off coupon, I steam towards to counter only to be told that it was like a Chicken based Argos where you pay one person and collect it from someone else. The powers that be clearly believe that they can serve more people this way. But it don't half slow it down, especially when you've only got 20 minutes to get a train back to more civilised lands.
Being within a throng of different punters, I soon begun to realise that not only people before me were getting served but others that came in well after me too. All I'd ordered was a 14 piece bargain bucket with extra extra extra gravy, but others were getting their buckets, Fuck it! The time begun to tick down as I waited for my number to be called out. Even Taz & Alan popped in to see what was taking so long.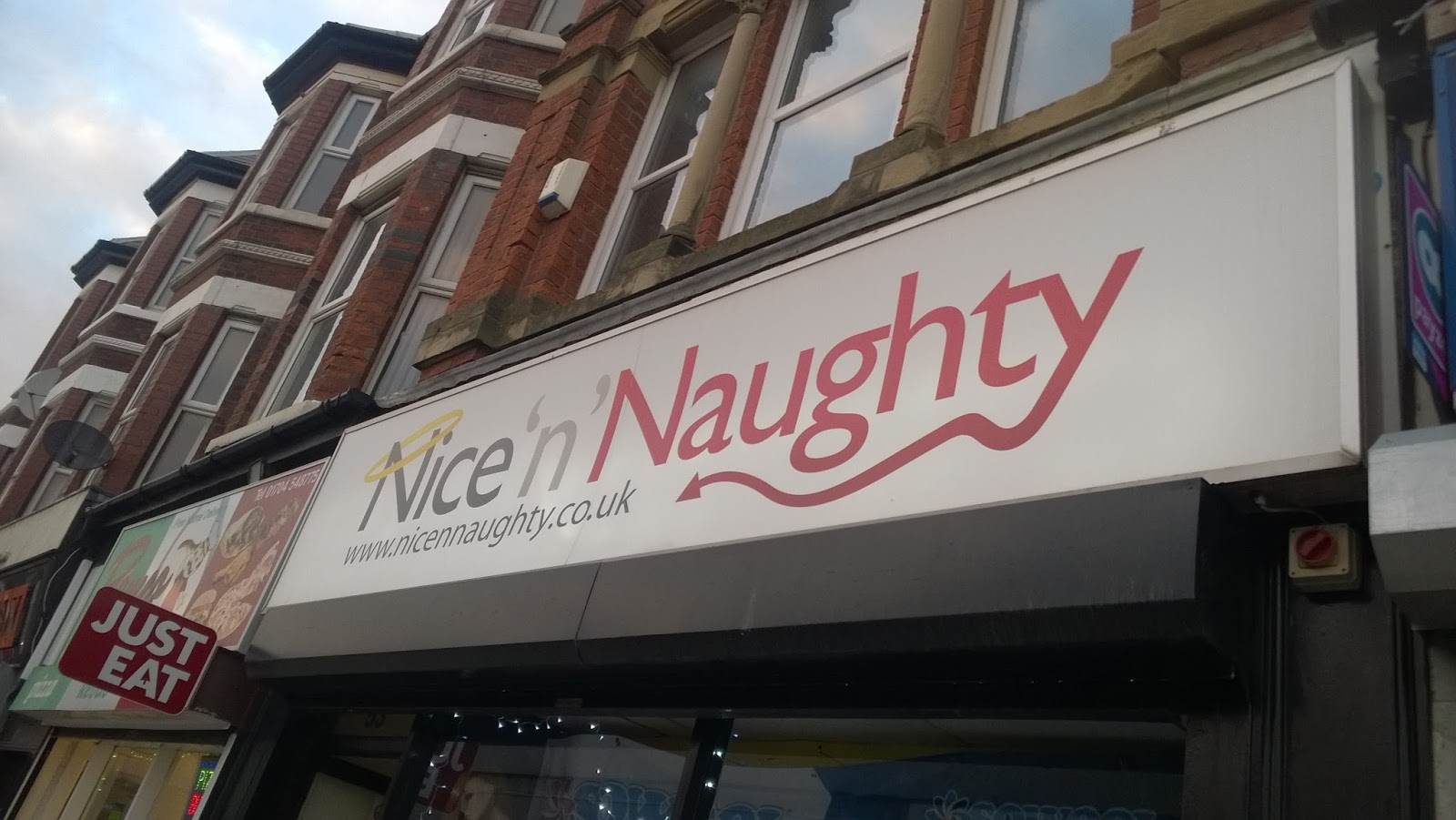 This had Octupus based stuff of a different variety….
Suddenly I saw a bucket begin to slide down from the preparation area to the front of service. Clearly this was ours and I begun to wade through the crowd to intercept. With one eye on the bucket, and my hands frantically trying to locate a receipt, I tried to wade through the crowd that had gathered to watch this wonderful spectacle of nature.
Then as the bucket reach the bottom of the slide, it failed to stop and toppled over onto the counter and then onto the floor. BOLLOCKS!!! I wasn't too sure if the five second rule applied this side of Watford Junction and had to wait as the mess was slowly swept up. Eventually a new bucket was produced and quicker than you can say "finger lickin' good!" after fifteen pints, I was out of the door quick smart and heading towards the station.
It was a good idea to book tickets in advance, because the ten to eight was absolutely rammed. It seems some local rattler had got cancelled, so all the dregs were on our more VIP service. You could compare it to a scene from Brookside with the amount of domestics going on throughout the carriage. Taking my seat next to a acolyte of Il Duce, we divvied up the chicken & chips, and a sense of serenity surrounded the Firm as well were momentarily distracted with a moist piece of something in our gobs.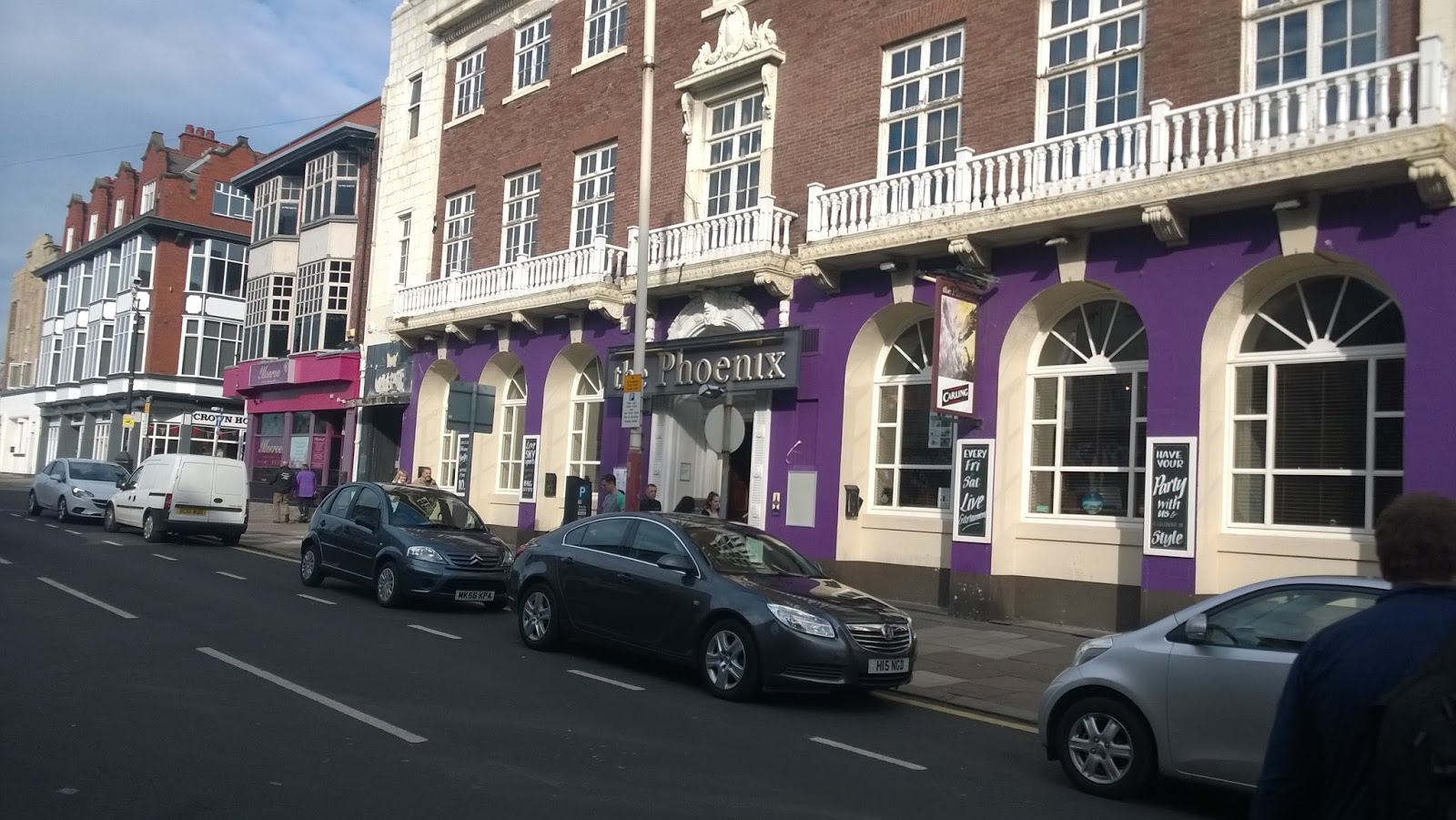 Seriously £1.89 a pint!
Surprisingly the train nearly emptied when we arrived the next stop. Looking out of the window, we wanted to see what place had the people of Liverpool heading to in their droves on a Saturday night. Trying to locate a station sign was hard enough in the dark, but with all these people as well made the take that much harder. Eventually Taz manage to catch a glimpse. Runcorn! Yep, apparently Runcorn is the place to be these days. Not that Taz & Dr Bell agreed. Takes all sorts I suppose.
The journey back to London passe off without incident and I don't think we pissed anyone off. But saying that, we never know if we do anyway. Arriving back at Euston we decided to head to The Tap for a night cap. Well it was only ten o'clock! Sean, Indy & Broken Bottle Robbo decided at this time to call it a night and headed towards the underground.
After a piss poor pint in the Tap and we were soon heading towards the tube and Victoria. With our luck in we managed to get a train to Sutton that passed through Carshalton and I decided to call it a night here considering we have a two day bender in York coming up. Before that its Maidstone at home in 'El Plastico' on Tuesday night and we'll let Broken Bottle Robbo (no doubt he'll mention it in his blog) take over for that before I'm once again the away day reporter. So lets hope for three points at least on Tuesday!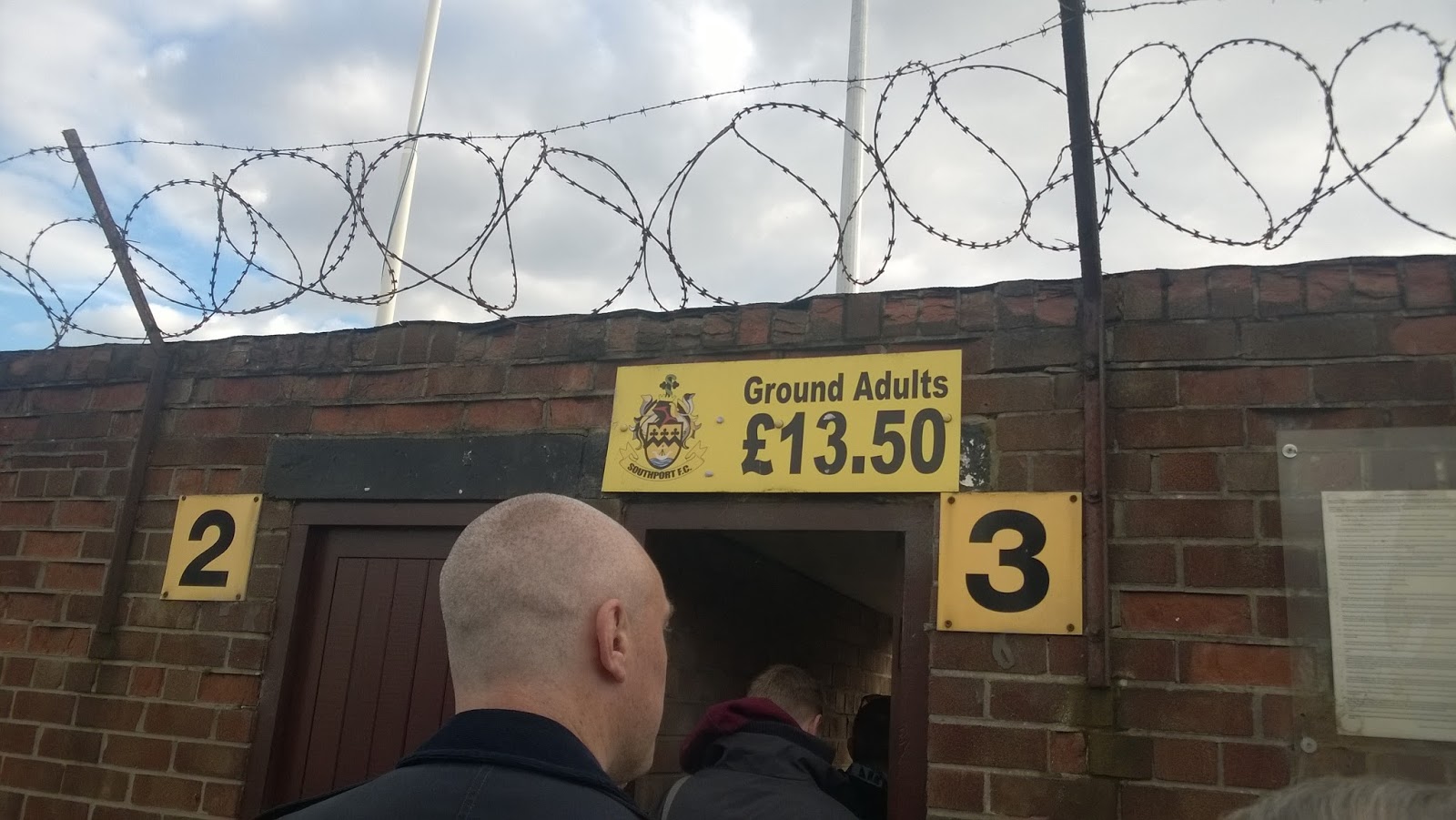 Bargain!
Duke
Att. 864