Is it true that we have attained our highest ever league position recently? "Yes luv, we're the 95th best team in England". Is it true that despite them being ex-league clubs, we've been on the receiving end of some of the most sourest of grapes? Shit Ground, Shit team, Shit food, blah blah blah… Is it also true that Hitler had one ball? Well actually, no, that isn't true but the others are.
Sitting third in the league was something I never expected going into the Bank Holiday weekend. I thought that we would have our traditionally slow start that we are normally used to. Of course with it being a Bank Holiday, it means that you've got a double helping of Gandermonium to get your teeth into. I'll be covering Chester and Robbo is on duty for the big game against Leytonstone Leytonstone-Illford Redbridge Forest Dagenham & Redbridge.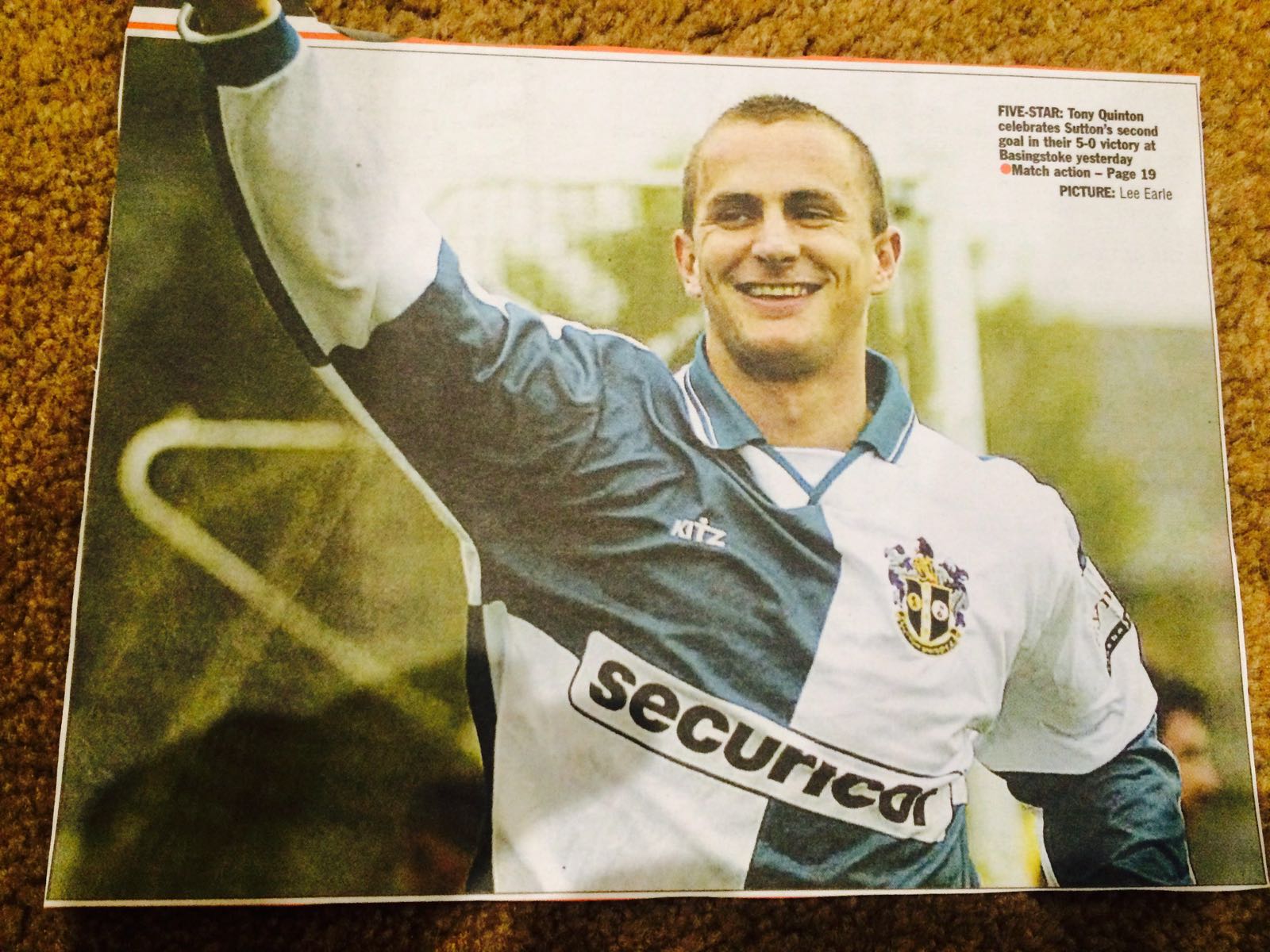 Oh Tony, where did it all go so wrong??
With British Rail once again right up the spout, with engineering works making Sutton a no go, it was every man for himself as we were due to get the 0907hrs out from Euston. I decided to go to East Croydon and up to St. Pancras from there for the short walk down the road to Euston. All that I needed was an option to get to Croydon. Lucky for me that the Firm Leader had offered us a lift, unluckily for me he was due to go to a leaving do the night before, meaning he probably wouldn't be getting in until the wee hours.
He did at least seem to be in a happy state of mind when he arrived outside Duke towers in the motor driven by his better half. A quick ride over and we were soon approaching East Croydon. Just behind us was Alan, who had made the last minute decision to join us on this little excursion. You don't wanna know how much more he paid for his train ticket because of his lateness, but it was eye-watering, I can tell ya!
The 0755hrs from East Croydon was due to hit St. Pancras around just after half eight, so that would give us about half an hour for the five minute stroll to Euston. Naturally the Thameslink train out of Croydon was delayed by several minutes and just past Norwood Junction it stopped for no real reason for what seemed like an eternity. The Firm Leader was quite content at this point, sat in his own little world listening to Happy Hardcore, no doubt still living off the effects of the night before. During this wait, I amused myself with some internet browsing, mostly about our destination today. During this I was intrigued to learn that the ground was actually in Wales! Eventually though we started moving again and arrived at Blackfriars about ten minutes late. Fuckin' Ada. Not another dash for a train again?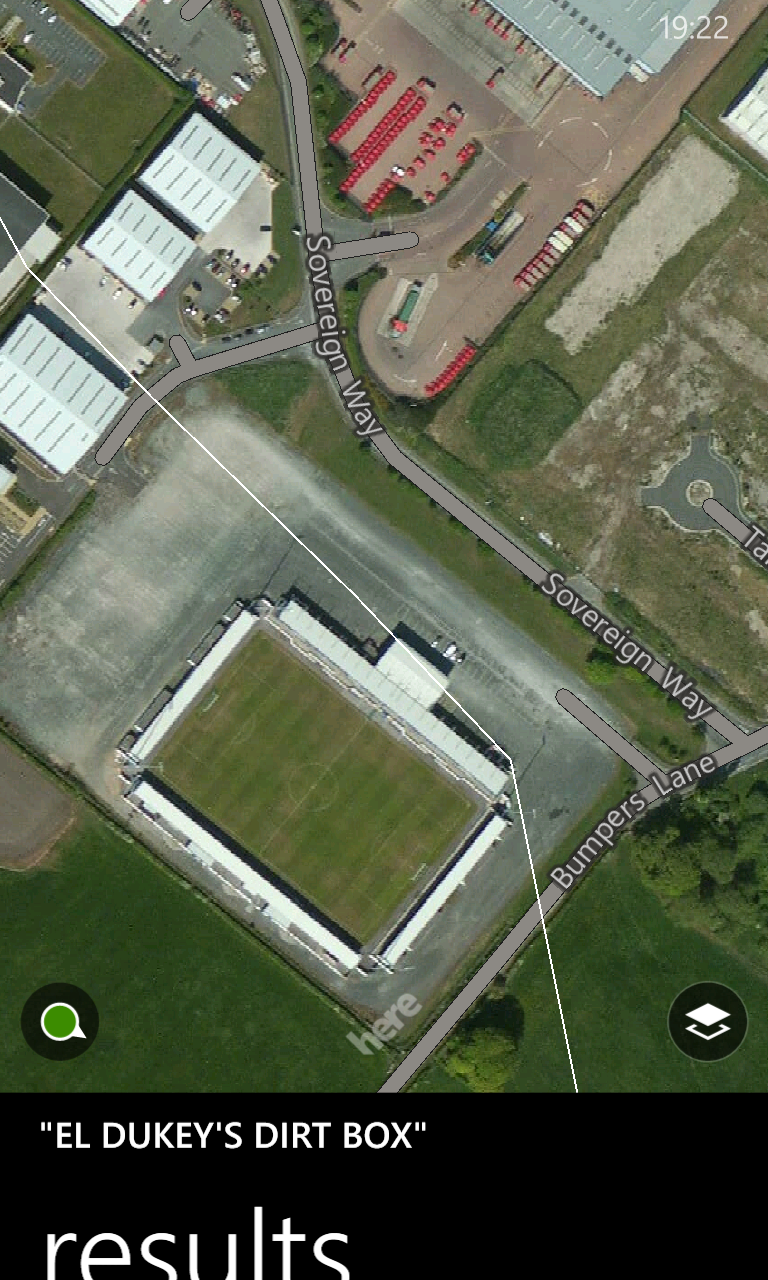 You don't want to see the results of this search…
So, arriving at St. Pancras with fifteen minutes to go instead of thirty, we started to stroll quickly over to Euston. And with everyone else already on the platform, we were helped by the fact that once again the barriers were open meaning there was no messing about with tickets. Taking our seats we settled in to what turned out to be a comfortable journey northwards to Crewe, with the Firm Leader keeping his overnight hangover at bay by demolishing 3 cans before half 9. Elsewhere, Taz and Mr X were left moaning about their teas from Caffe Nero, that looked more like milky water than proper cups of rosie. To make things worse, they then discovered that not only could the bird behind the jump in Nero's not make a cuppa, she'd done theirs with decaf bags! Despite this, the only issue that now remained was the change over there to catch the train to Chester.
We originally had 9 minues to do this, but with our train being several minutes late for some reason or other, we were now left with an estimated time of only three minutes to catch our next train, so it meant we had to work out our plan of attack. Coming in on platform 6, we found out that we needed to head over to platform 11. Planning for this we put Indy & Sean at the front and Dr Bell right behind. Let the old'uns get a head start. If we thought last week's nonsense was going to be tough, this was near impossible.
Arriving at the station, I was momentarily distracted by the closeness of Crewe Alexandria's ground, but as we pulled up to the platform and waited for the doors to open so we could pile out, we were told by a Virgin employee that platform 11 was actually right next to platform 6. So basically what we down south would probably call 'Platform 7' instead of 'Platform 11'.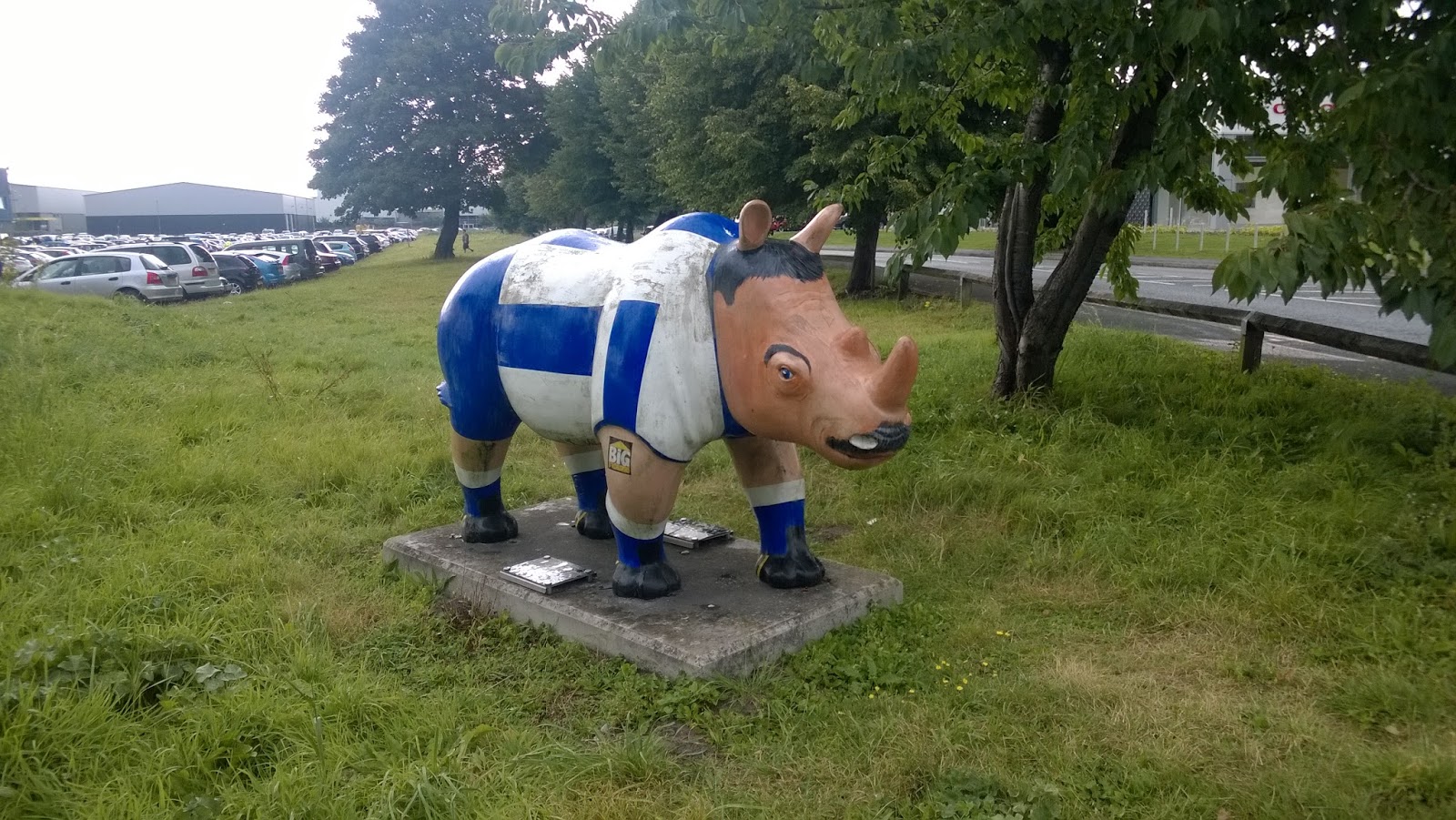 The rare and endangered Chester rhino…
This of course made changing over a lot less of a fuck about than we'd thought and instead of a mad dash, we instead walked about 10 yards through a little tunnel to platform 7-11. On the train, not having reserved seats to settle in we instead blocked up a couple doorways, right by the khazis too as is our usual practice on busy trains. By a quarter past eleven we were arriving in Chester. Its strange that we'll be making this same journey in a fortnight when we take on Wrexham as whilst Chester may have a ground in Wales, it's Wrexham is the Welsh team. To greet us at the station was none other than our resident CAMRA rep, Amber Aleman. There were also a few other eager Sutton faces around too.
After a short stroll down towards the canal we came across Aleman's first choice of pub for the day. The Mill Hotel & Spa was not the usual sort of haunt for the Firm. In fact this was further from anything we would've thought of, but we had faith in Aleman and his choices. This place was very posh and all boutique like. Surprisingly it was cheaper than we thought it might be. Just the £16 for five beers isn't bad, very much in line with London prices. See, not failing at life!
Someone who was failing at life however was the dear Firm Leader. Going through bouts of joy at still being half-pissed, and grumpy with the impending hang-over looming, it took a turn for the worse soon enough. Sitting out by the canal enjoying the sunshine, some of us were smoking proper fags, others those new e-vapes things. The Firm Leader was one of these. With his e-Vape being the design of a pen meant that if dropped it would probably roll away.
So what happened? Yeap, you guessed it! It rolled off the table, hit his foot and rolled on it's new path right into the canal. And boy was he was very grumpy after that! Still, we all helped him feel better by pissing ourselves laughing at his misfortune. Laughter being the best medicine after all. Soon it was time to move off and find pastures new. On the way we tried to further reduce the Firm Leader's grumpiness by telling him we'd point out the first place we saw selling vapes so he could buy a new one. As if on cue we walked round one corner and found an e-vape shop right there. Sadly for a distraught Firm Leader, there was one minor issue with the place that couldn't be overcome…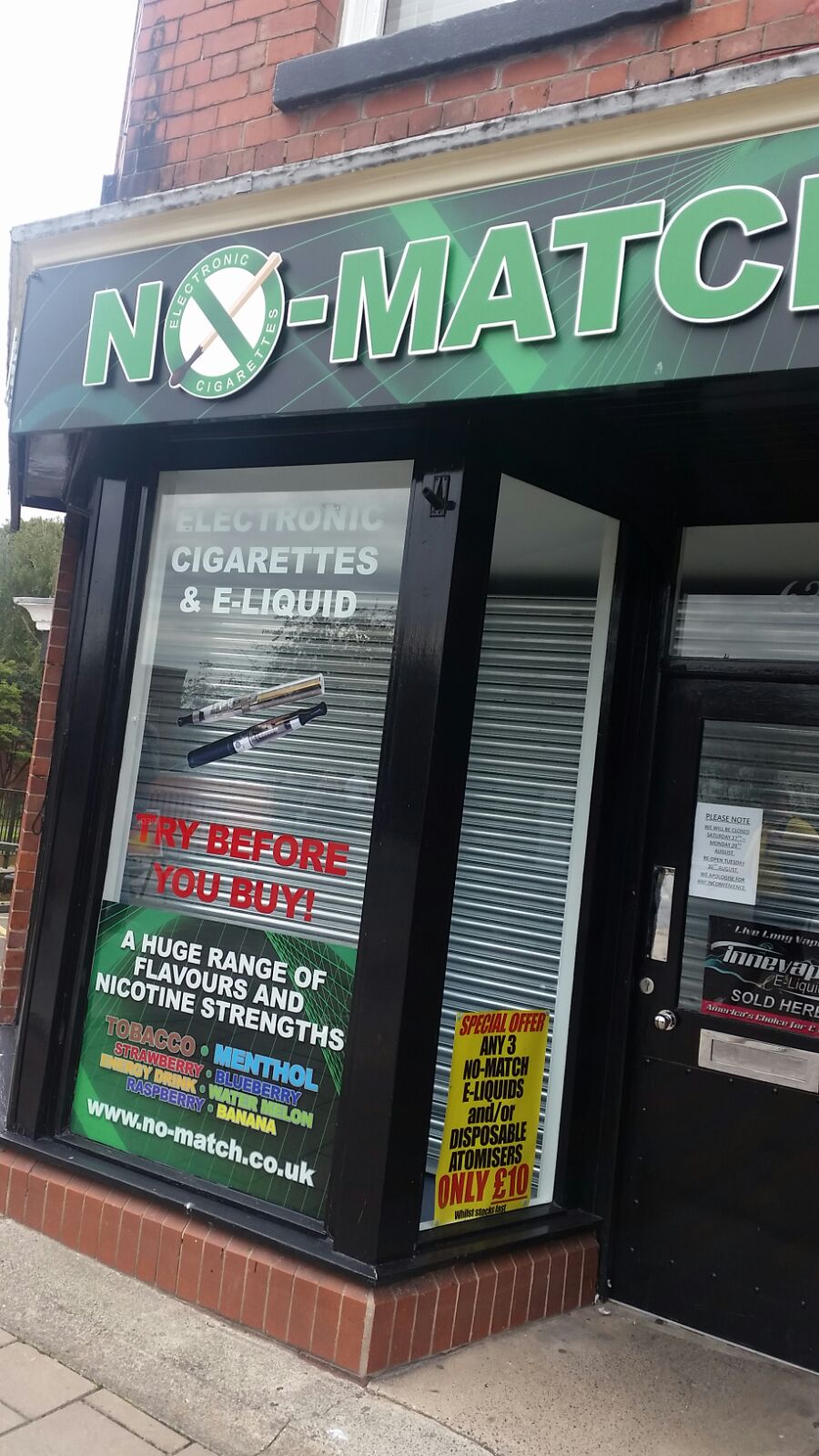 Closed. Shut. Verboten. Fuck off.
Taking a route across the old city walls themselves (who said we don't do culture?) we eventually ended up at the Pied Bull. Another hotel type place, but a bit more of our speed as it looked more like an old boozer. Here we settled for a quick beer in the garden as we discussed the usual bollocks that we are known for. Bumping into a couple of more Sutton fans that had made the trip, we were eventually rejoined by the Firm Leader who had disappeared in his quest for a new e-cigarette to help his grumpiness.
Drinks finished, we popped right next door to the Red Lion to watch the football on the telly. It was here that today we were also joined by a special guest, none other that ex-Sutton Legend Tony Quinton! See, Gandermonium in action once again, we know them all, both the highest and the lowest. All the movers, shakers, losers and boozers. And for those of you too young to remember, Quinno was the fella what scored the famous hat-trick against Basingstoke over twelve years ago when we nicked the runners-up spot. It also got him on the front page of the NLP. For a butcher's at the report from that game, click HERE.
If you know the Non-League game, you may also remember that he was the fella that had the interesting pose in the team photo for Carshalton a few years after. He wasn't embarrassed by it and even had a copy of it on his phone! Regaling us with stories from back in the day and catching him up on the goings on at GGL since he moved to the frozen North, we decided to bunker down here until cabs were order to the ground. Knowing that we would be segregated and not knowing if we would be allowed access to the bar gave us an easy decision to make. More beer please barman!
Arriving at the ground we soon realised that we could've got a drink but would've been charged a quid for entry for the privelege, bloody cheek! So instead we walked around to the away end, with me once again trying to finish as many cigarettes along the way because it was another one of "those" grounds. Luckily, for once it seemed that they were civilised sorts as they would allow us to go outside at half-time to feed our nicotine habits! Taking a spot in the far corner of the ground we waited for the game to start as the heavens opened for a brief moment.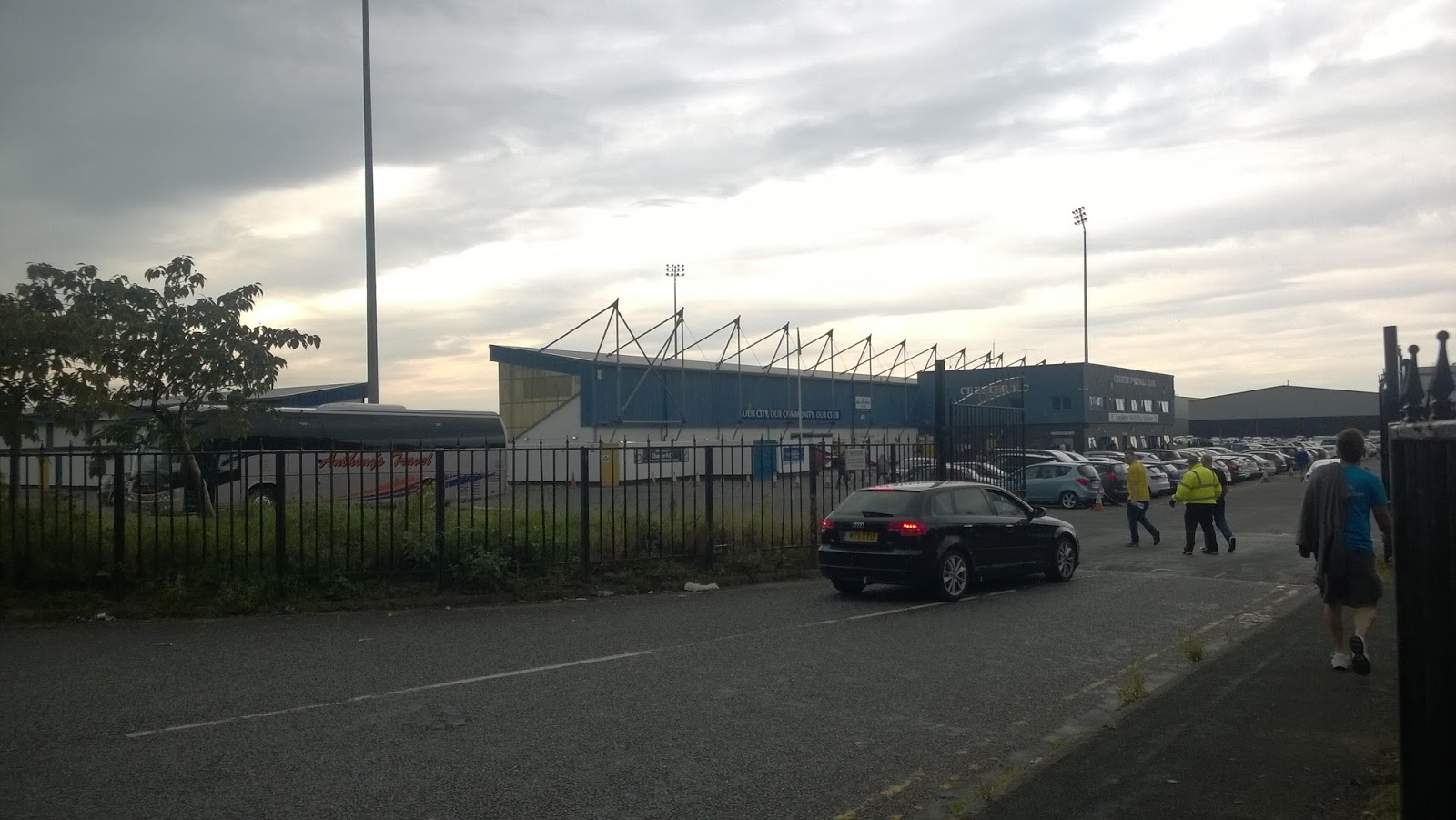 You are now entering Wales…


Worner, Amankwaah, Spence, Beckwith, Eastmond, Collins, Deacon, Gomis, Dickson, Fitchett, Burge. Bench Warmers: Stearn, Bailey, Biamou, Morrell, Downer.
It seemed like we hadn't even touched the ball when we were given a very early warning to switch on. A simple Chester corner after about 20 seconds found an unmarked player inside the box who saw his shot smash off the the right-hand post. His second attempt had to be cleared off the line and Sutton hadn't woken up yet to the situation around them.
If that wasn't a wake up call I don't what is because we still weren't awake a couple of minutes later when Chester took the lead. Burge was guilty of giving away a needless free kick out on the right of the pitch. The cross that came in was once again met by an unmarked player who guided the ball into the back of the net.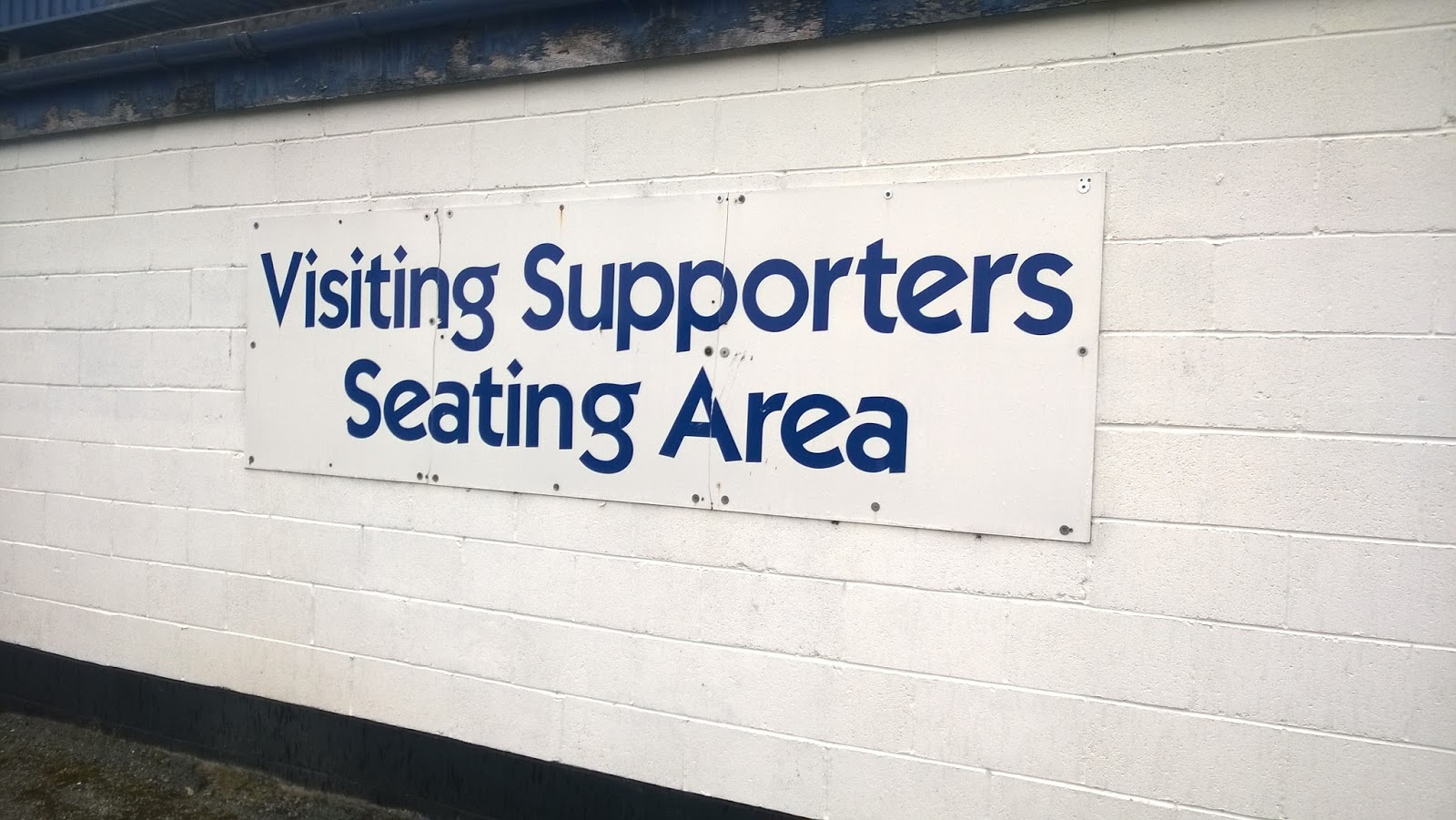 We think this is us…
Things went from bad to worse minutes later when Chester was handed another gimme on a plate. With Gomis trying to create some space on the edge of the Chester box, he lost the ball weakly and attack lead to defence as Chester caught us on the break, Worner managed to save the first shot but all he could do was parry it to another unmarked player, who had the simple job of tapping the ball into the goal.
Jesus Christ, seven minutes gone and we were 2-0 down. WTF? Well I didn't see that coming! I guess this is how Maidstone felt when we took the piss down there last season? Sutton did mange to stop the rot but it was helped by Chester taking their foot off the gas a bit, probably happy to sit back and defend their lead. There wasn't much else that happened as the lull was mostly Sutton having possession and Chester happy to let them have it.
What did seem to me and several others, was that we seemed to miss a big fella up top. With McAllister still injured and the legend that is Dundo not making the bench once again, Fitchett was left as a lone striker that had a torrid time up against two man mountains. The only save their keeper had to make in the 1st half was from Dicko getting in behind, but the shot was blocked.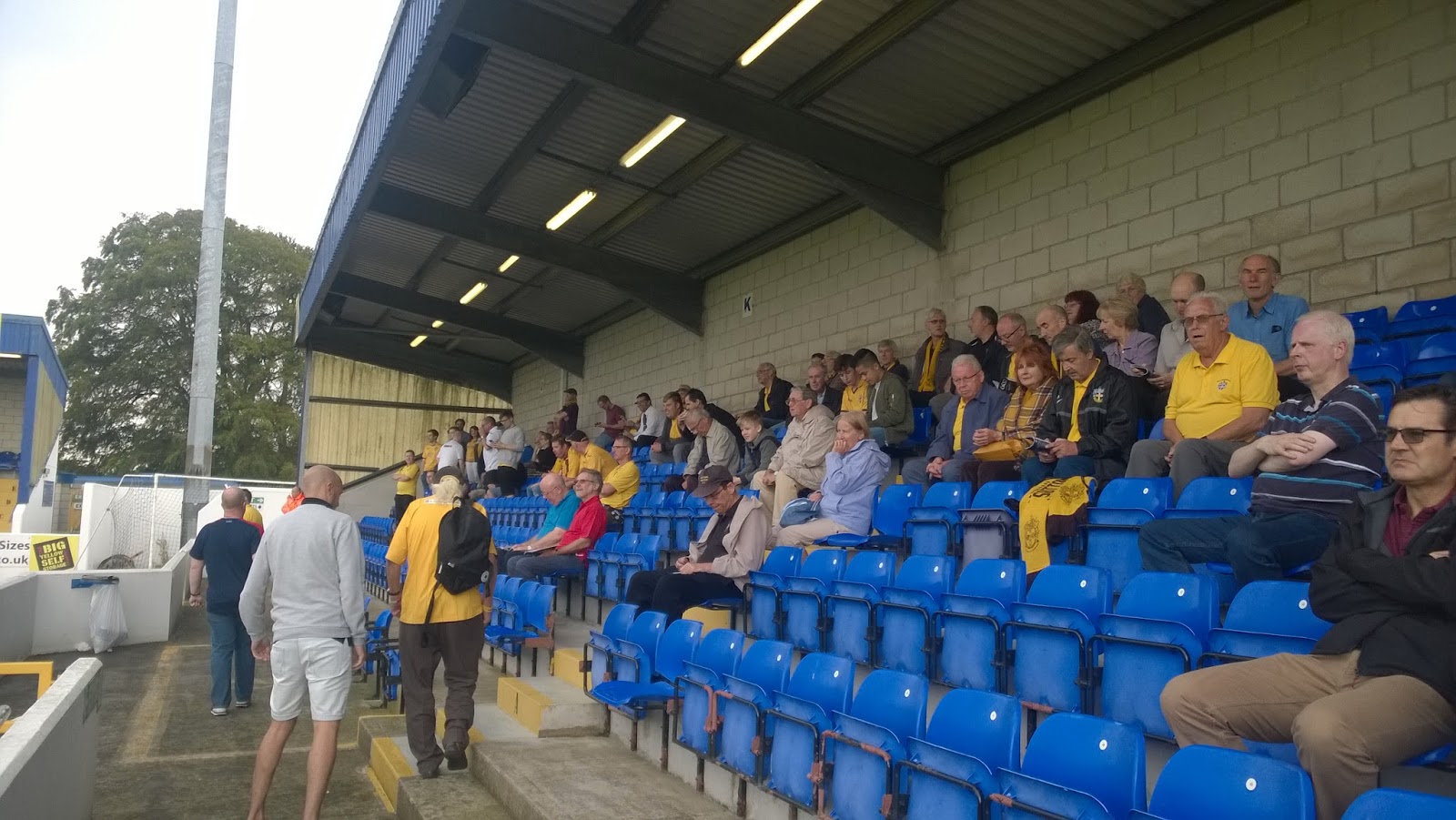 The hardy travelling support
Second half and we got to see Sutton attack the corner that we were penned into. Our best shot of the match was a Burge free-kick that forced a good save from the Chester keeper, even though he seemed to needlessly flap the ball away. Approaching the hour mark, Sutton tried to shake things up a bit with a double substitution.
Burge was replaced with Stearn and Biamou came on for Dickson. Whilst this was going on, Sutton also tried to have their third sub as well. Bailey was supposed to come on for Gomis, but the fourth official made such a fuck up over it that it was several minutes before he finally came on. We then had a spate of similar corners. Each were taken buy Stearn and every time he tried to hit it hard and low at Bailey, who was near the penalty spot. By the third attempt, Chester had managed to work out what was happening and could easily read it. One effort from these was cleared off the line though.
There then came a long stoppage when a Chester player, after being tackled, managed to head butt Bailey in the knee. This lull seemed to hurt Sutton more than Chester as they picked up the pace soon after and we disappeared. Their efforts were rewarded with a penalty. From where we were at the other end of the ground, it did seem that the leg had been left in for the fella to go over, but others will disagree.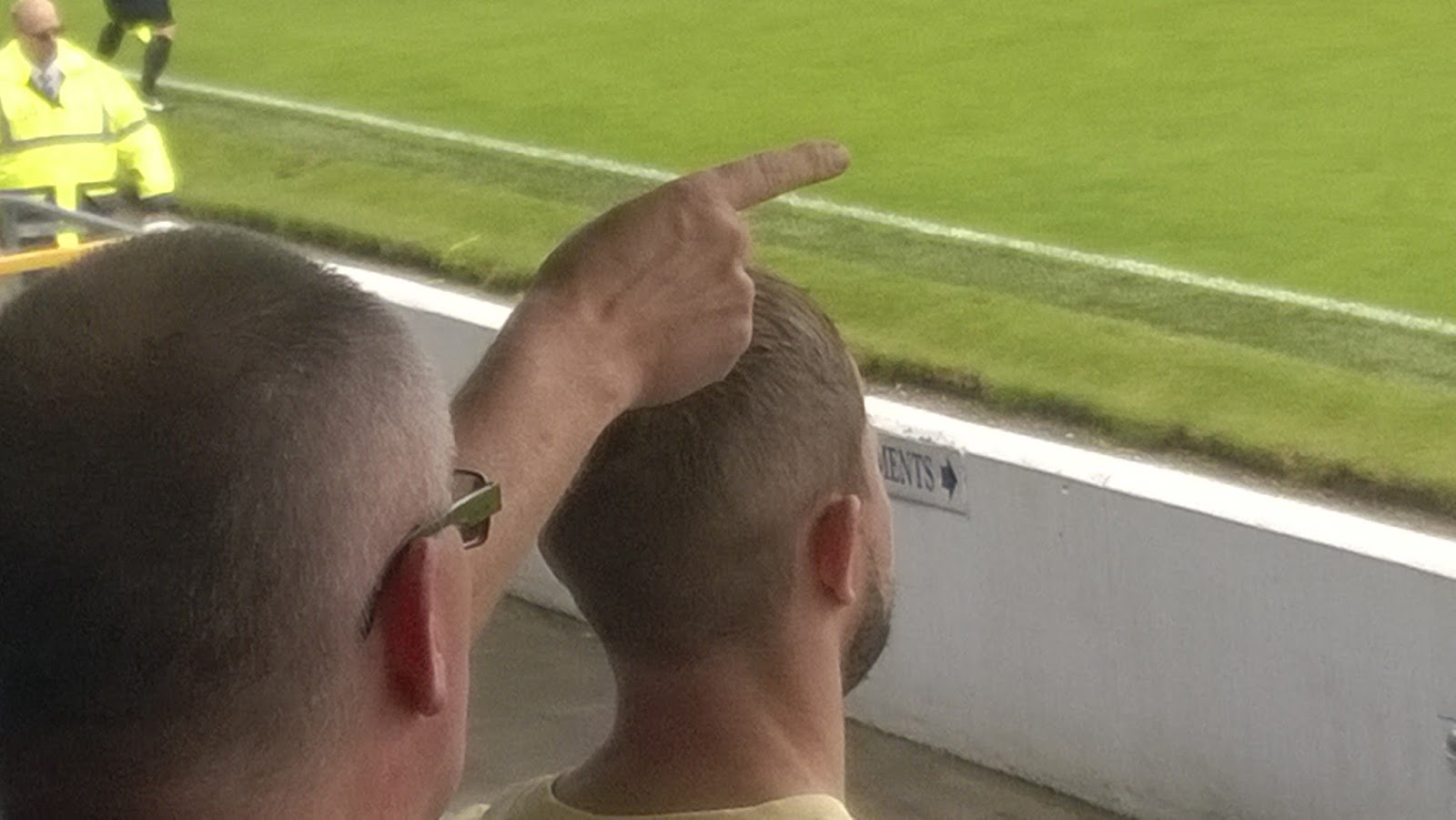 "See that defending over there? That's shit that is"
Worner done his best to get his body to the ball, but it managed to worm its way over the line anyway. 3-0 down and it was goodnight Vienna. Sutton did seem to give up a little with five minutes of normal time remaining. There was even a whopping ten minutes of added time to negotiate. During this Chester were to add a fourth as well.
Once again it was Sutton that gave a helping hand. Another disappointing set piece that had some miscommunication between Stearn and Eastmond led to a counter attack that was stopped outside the box with a foul. The resulting free-kick was deflected into the path of yet another unmarked player. Smash into the top corner and it's 4-0.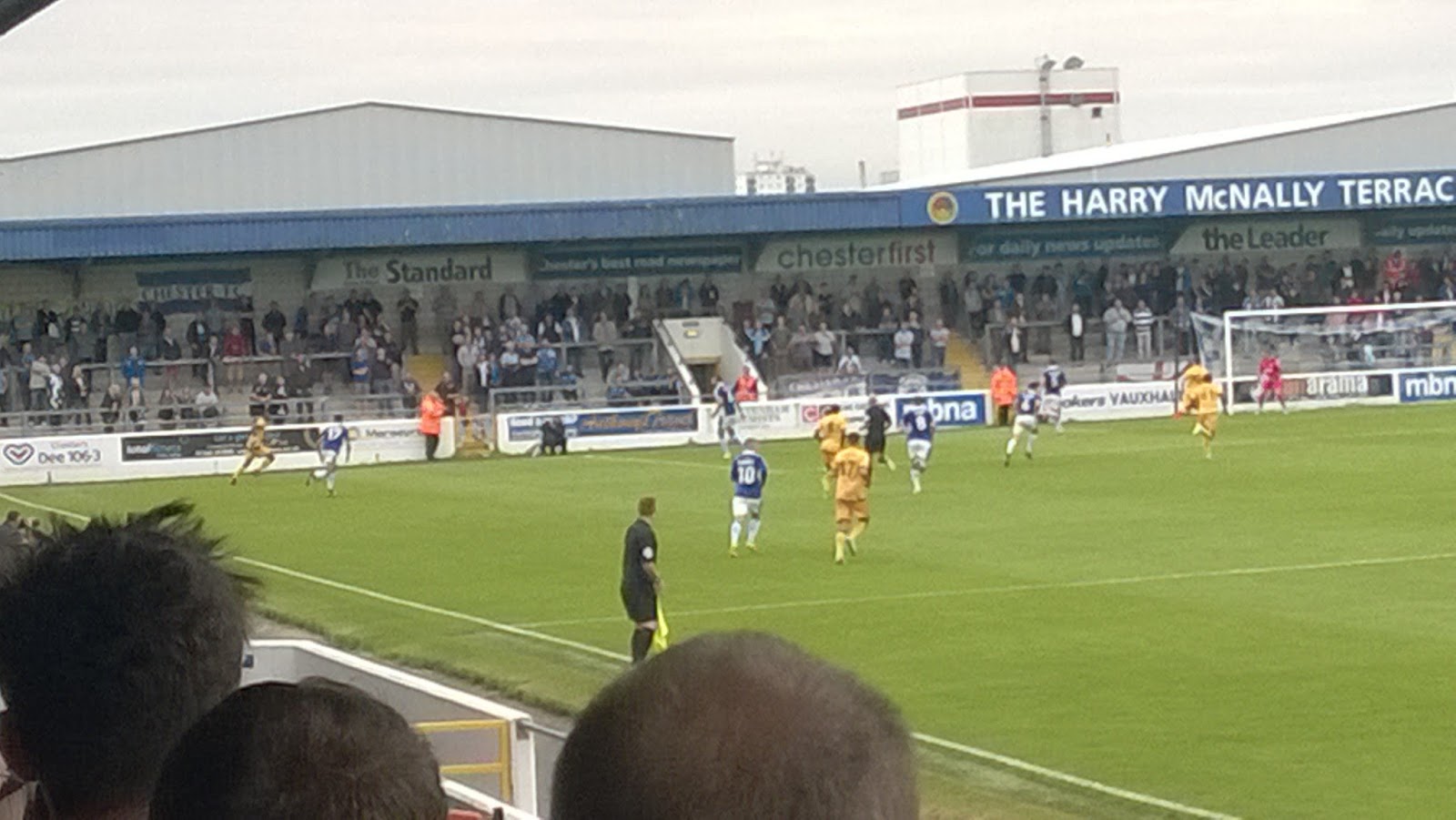 Action and stuff.
After the match we all tried to bundle into a load of sherbets and shoot straight back into town to make sure we had as much beer time as possible before the train home. As always someone must've failed to fill a cab as we when the last one arrived, we had 4 seats and 5 bodies and Mr X was forced to wait for a new one to arrive. The Cottage Inn was the next boozer, but a couple of stragglers went to the Egerton Arms instead. Quinton also managed to drop his wallet in the cab and was very lucky to get it back five minutes later when the cabbie returned it to him, complete with all his folding in it. I mean, who loses stuff in the back of a cab? Oh yeah, shit I remember, the phone incident at Staines. So me!
Once more all coming together at the Kash Bar we discussed our food & drink options. Being limited by our location, we were soon heading for the station after saying our goodbyes to Mr & Mrs Quinton (One word fella, Barrow!). Having grabbed some take outs from a small offy along the way, we just made the 1855hrs train from Chester to Crewe, which was a little two carriage rattler and again packed to the rafters, so we were once forced to stand up all the way. At least this time it was nowhere near the khazi. Probably because this little shunter probably didn't have one. Our next train, the 1923hrs from Crewe to Euston was also quite busy, but luckily we had made reservations for most of those that were heading home. This didn't go down too well with the family of QPR supporters that had occupied our seats, but one look at the ten of us and the "We got bummed 4-0 today, so fuck off" look on our boats eventually persuaded them to move.
Now I wish they hadn't because being right next to the toilet is bad enough, but next to a bog that is out of order and stinks to high heaven of pure 100% shit was an experience in itself! Over an hour and a half of it was just torture that no amount of cider could blot out. Normally its just the effluence of Taz we have to deal with, but this was something else! We didn't even realise that the team were on the same train as us until Bobby the Physio appeared out of nowhere, fella had two of my ciders as well! Still I doubt people like us would've been welcomed in first class. Especially after a 4-0 bumming.
Back at Euston and away from the stinking Virgin trains khazis, we went to the Bree Louise to discuss our options homewards bound, here it was decided to jump on the tube to Victoria and work it from there. From Victoria it was onto to East Croydon, where we decided to split up. Some of the Firm got the bus home, others had missed the bus home and had to get a black cab. The rest of us waited a fuckin' lifetime for an UBER outside the college. Heading to Sutton, Mr X & The Firm Leader wanted more alcohol so popped into O'Neill's. For me, I was feeling hungry (don't know why, as through the day I'd managed a finger of shortbread and a sandwich on the train), So a quick dip into some fine local deep fried cuisine was the order of the day before getting the long trip around the houses home on the 80 bus.
So before I let Robbo take over blogging duties, here's a little game we're going to call "Guess the Williams", there's no need to send in your answers but if you must, just slap the fella you think it is. Hard.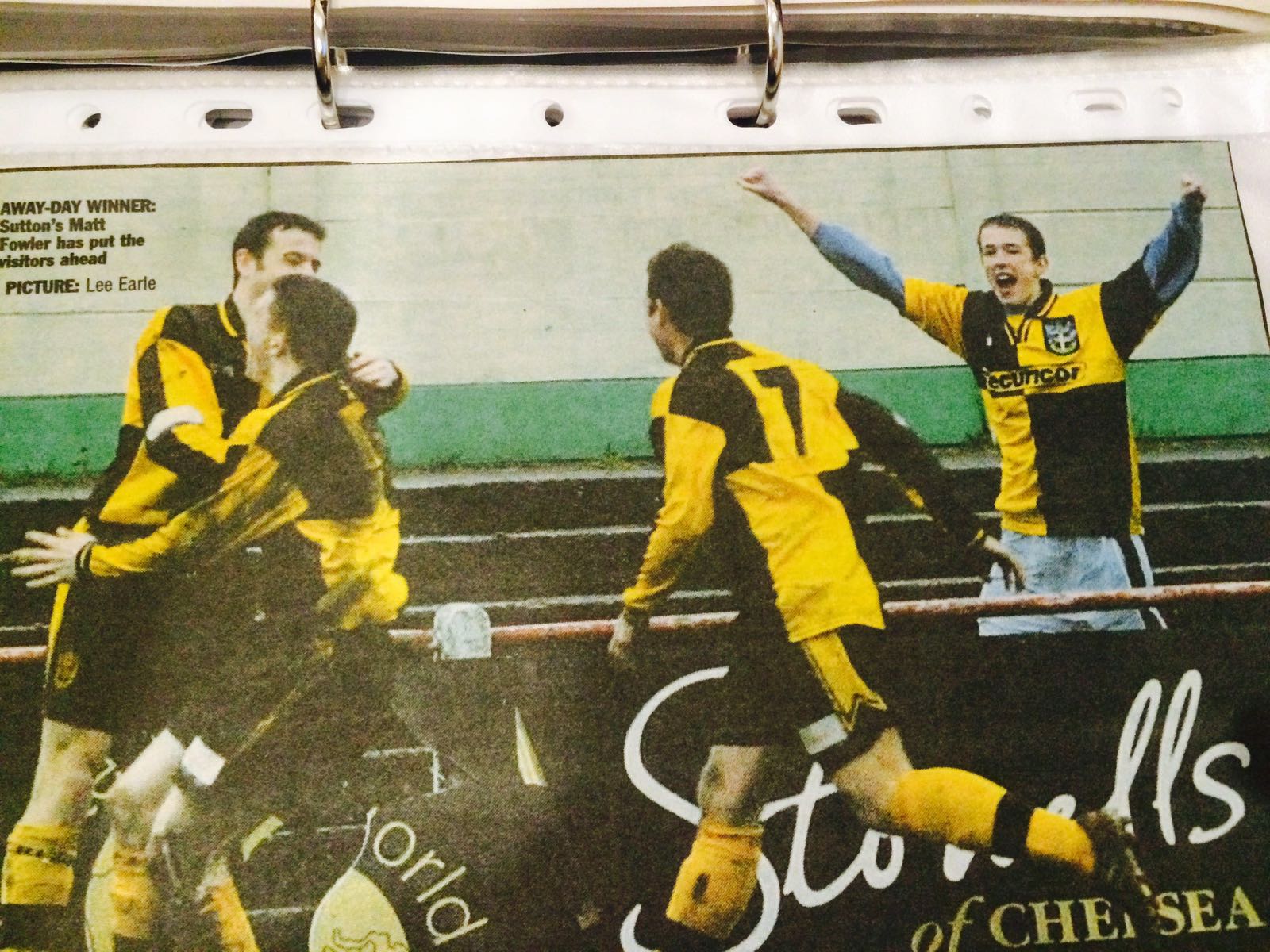 Answers on a postcard…
Duke
Att. 1625