After finally decontaminating myself after going deep into enemy lines at K's midweek, it was time for young Robbo to take the reins and return to Gandermonium blog duties!
The next opponents in our pre-season programme was Crystal Palace…not the first team but a select eleven. So it was a thought as to whom would be in their side and if we would put in a better performance compared to that against K's; one in which we were lucky to come away with a draw from. Still, it was another good workout for the boys.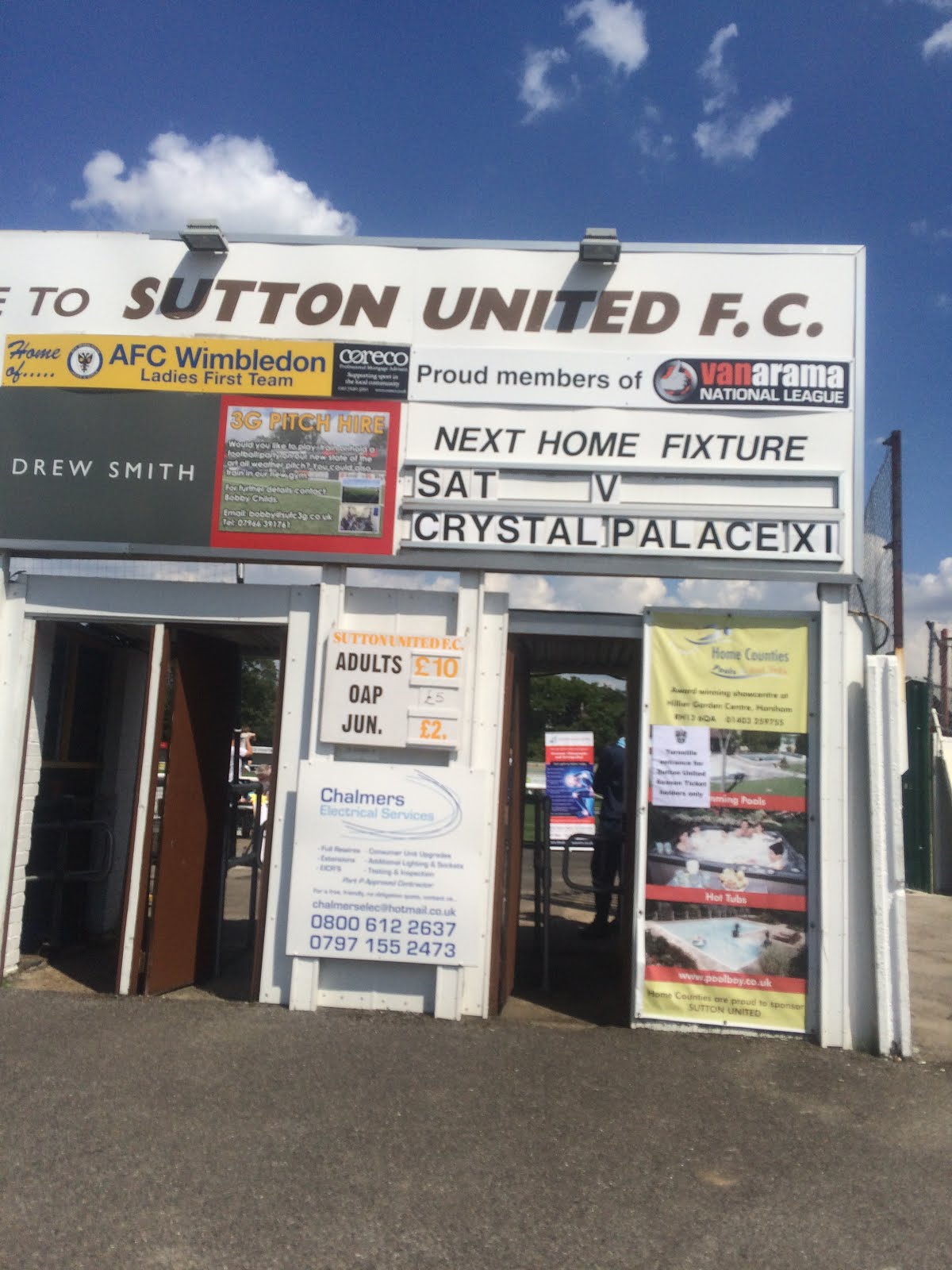 XI? Exy? Ixy? Oh never mind….
Instead of taking the normal route walking through The Rec I decided to take the old faithful and go via the train instead, albeit the three minute train ride from Sutton to West Sutton. I remember once upon a time when West Sutton had a proper ticket office! Now it's just someone's back garden.
Upon entering the bar I notice all the usual lot were in already but I decided to have a chat with Mark Beckwith, Ralphie Beckwith and Chip. This is when I notice Mr Oakes bringing in the teams for today.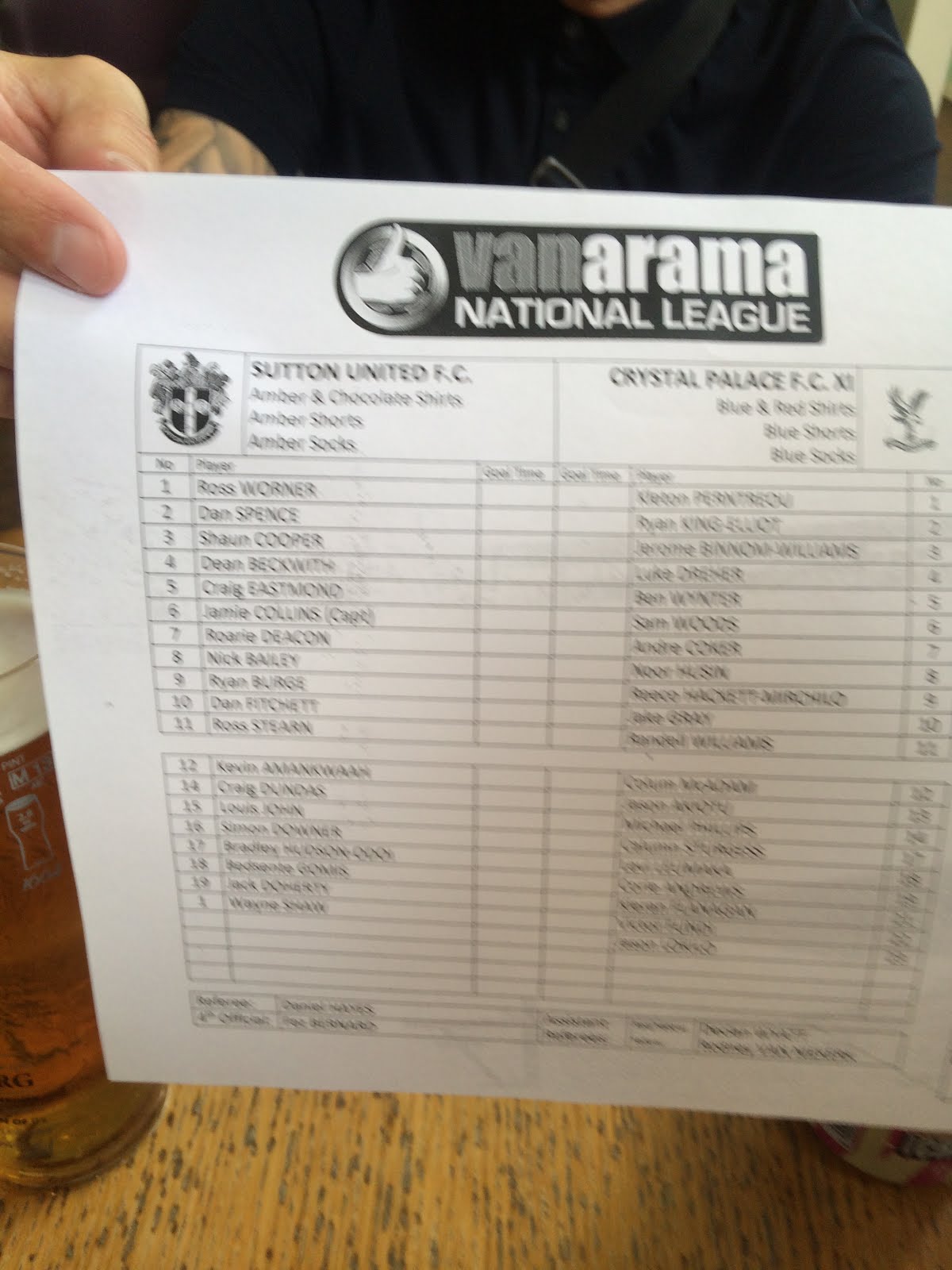 Focus Robbo, FOCUS!
We are also joined today by a newbie for their first ever game today, young Bobby who is Billie's son. Hope he enjoyed it!
Before kick-off there was a minute's silence for the sad passing of Mike 'Blakey' Bidmead which was observed well. To kick off and we're all thrown off as for a change, Sutton are shooting towards the Gander Green Lane end, so it's off to the shoebox for us. Still I guess we'll have to get used to staying in one place due to segregation coming in this season for the big games.
Worner, Spence, Cooper, Beckwith, Eastmond, Collins [c], Deacon, Bailey, Burge, Fitchett and Rossi
In what was an uneventful first half chances from Eastmond and Rossi were saved by the Palace goalkeeper. The one thing to note from the first half was the two breaks for the players to take on much needed water as the temperatures were boiling hot. Just before the half time whistle Palace had a chance to take the lead through a free kick but this was wasted by them.
Man crush.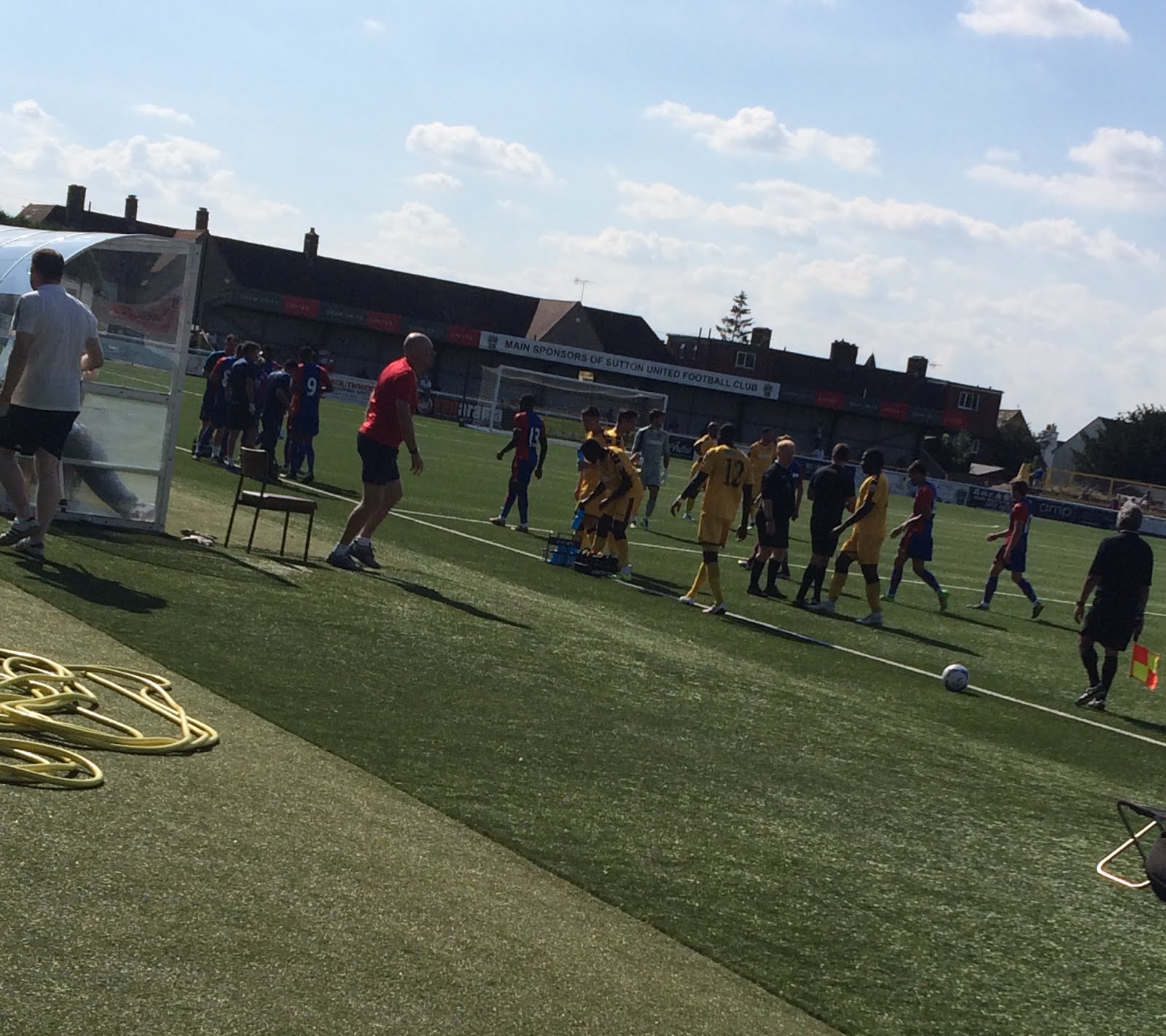 Drinks break. Who's round is it?
It was obvious what was going to happen come the second half, particularly in pre-season and that is a huge glutton of substitutions – starting with Bailey and Rossi coming off for Amankwaah and Hudson-Odoi. This constant flow of substitutions along with the baking sunshine affected the fluency of the game and looked destined to have 0-0 written all over it! That was until with six minutes to go Bedse struck from 25 yards out which flew into the top right corner. 1-0 to Sutton!!
Almost immediately Palace had the chance to equalise but the chance was put over the bar. So the game ended 1-0 to Sutton with an attendance of 657. Not bad. The skipper was given the man of the match and young Bobby had his picture taken with JC. He looks delighted!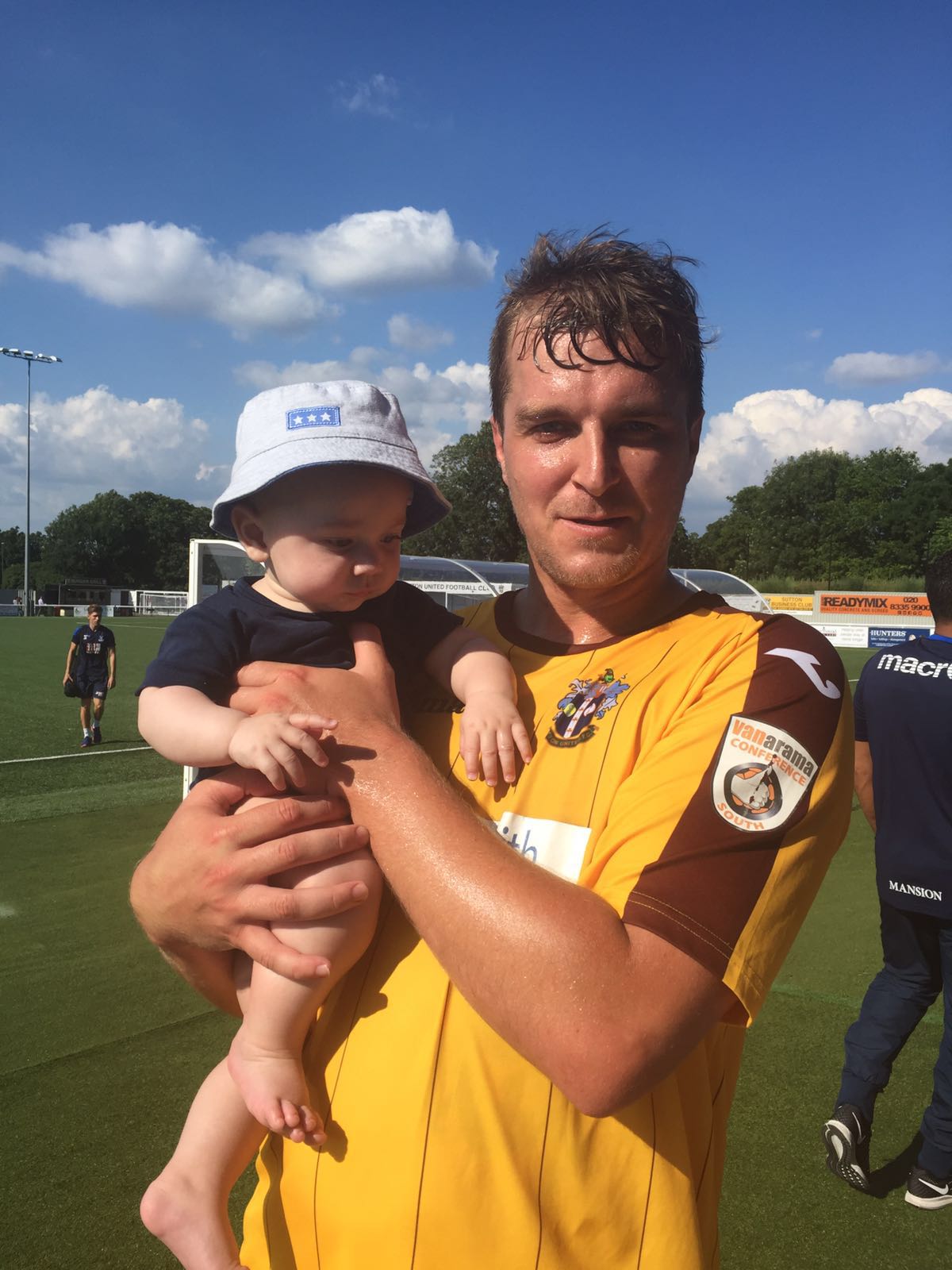 "I preferred the bottle of champers for MotM if I'm honest…."
Now back to the bar for the usual after game stuff and much needed refreshment in such hot temperatures. If you know me well enough, I much prefer colder temperatures than these. Bring on winter. Here Dukey was proudly showing off his gen-u-ine Hawaiian shirt, apparently produced by craftsmen in China and purchased at a cost of four US dollars in Wal-Mart. Clearly a luxury item! Ryan Burge's mates up from Cheltenham were also describing their planned night out in Essex with our midfielder later on. Ryan looked on nervously the whole time, in case his well oiled friends dropped any embarrassing tit-bits for the gang to make use of. I think he got away with it!
Afterwards, I headed to the main bar for a bit where I had a good chat with the chairman about the season coming and it was then time to hit the bright lights of Sutton with the rest of the mob. So Dukey, Dr Bell, 4 Days, Chalmers, Mr X and I took a walk towards The Crown, but we found there was a private do taking place here so it was no entry. So then it was onto our next planned stop The Grapes.
Here we met up with a familiar face in Traz and some of his pals, had a few beers. Then whilst the others I believe left for their usual spot in O'Niells, I was unfortunately left to my own devices and for some reason headed up the road to…..Wonderland! And OMG did I feel old in there or what! I think it's safe to say I will not be touching alcohol for a while now. Well, not at least until the season starts anyway.
I now hand you back to Dukey for the next pre-season away fixture at Hampton and Richmond. Taz tells this me this should be Gandermonium's 300th report, so Mr Gen-u-ine Hawaiian shirt will have to make it a good one!
Robbo