So tell me, what have Woodstock, Pulp & Brookside got in common? Well to be honest, and here at Gandermonium it could mean anything, it all started with the late Jarvis Joe Cocker (or was it the Spice Girls?) and ended up with Sutton United being mentioned in divorce papers. Yeah on second thoughts, don't bother trying to join the dots on that one, fuck knows how we managed.
So I see that the Scum down the road have sacked another manager. What is that know? The 128th or something since Dippy took over? At least this time Howard has gone public that he doesn't know why he got the elbow, and in the process, blowing the 'mutual consent' bollocks that emitted from the club out of the water. Still I suppose that this is the only way that Dippy will ever get to see his team against a 'Sutton' down the Lane any time soon. And by that I mean the tenants.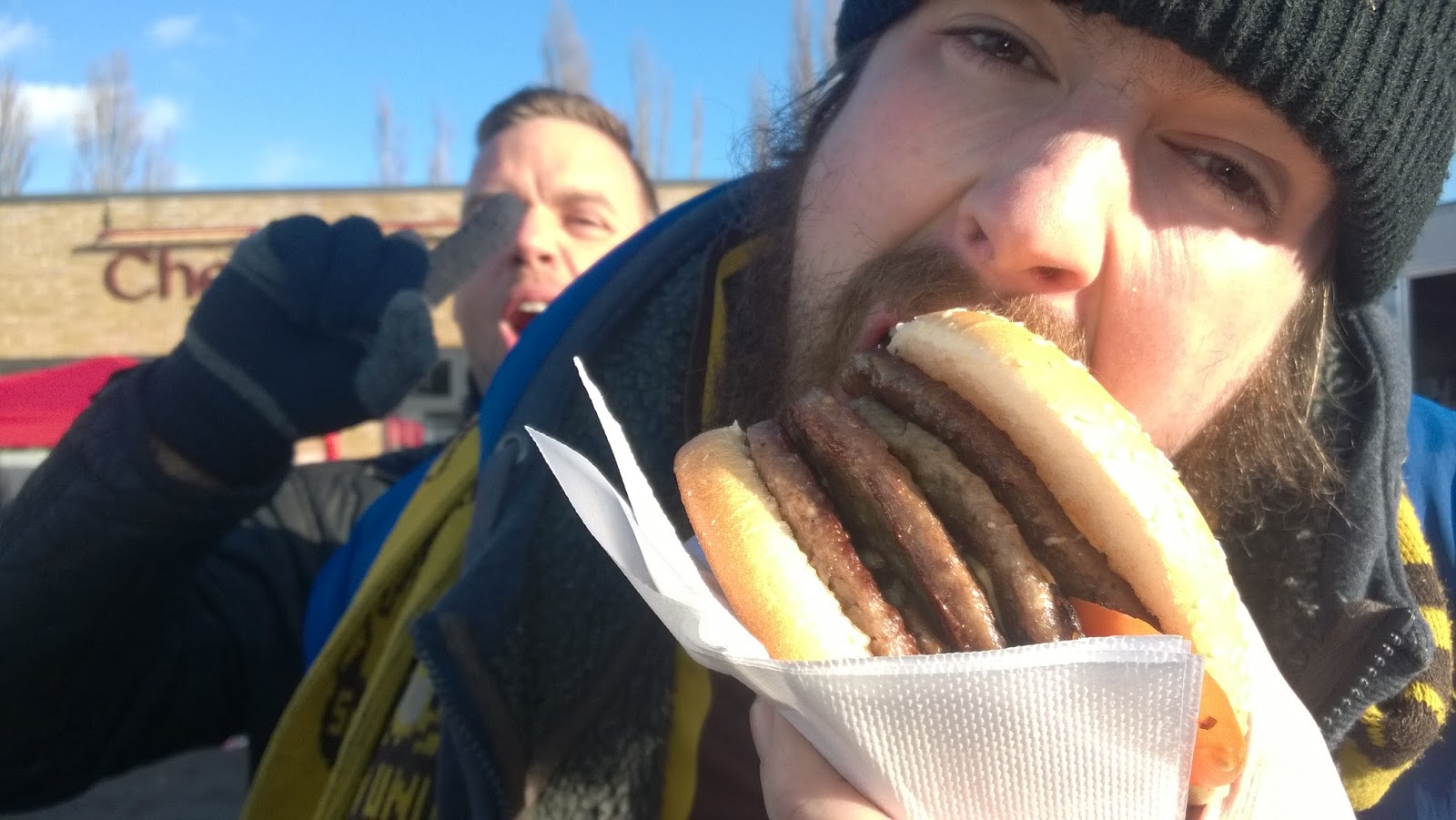 You could feed the fucking 5000 with that!
Anyway on to Chelmo away. The first train of the day was going to be the 0911hrs Thameslink to Farringdon. Meeting up with Taz, our hopes for a nice cup of tea evaporated when we found the tea van was not in attendance. Shocking. Once again no one was in the last carriage but further up the train. the usual boats were on the train with the same old MIAs.
A quick change around at Farringdon and before long we had caught the tube to Liverpool Street. With enough time to sort out tickets, and not enough time to have a cheeky half at the Hammy Hall, we sort of separated out like when your pee comes up a different colour in a swimming pool whilst people grabbed cash, Maccy D's and tea. Eventually though it was time to jump on the train and head to Essex.
With the train arriving ten minutes before eleven, we were forced to take shelter in the Plough (much to 4 Days' disappointment) for a little libation. Mainly as it was open, the Ale House wasn't and it had started to piss it down. Watching one of the Williams sisters losing in the Australian Open final helped us pass some of the time before we finally headed across the road to the Ale House to really get started.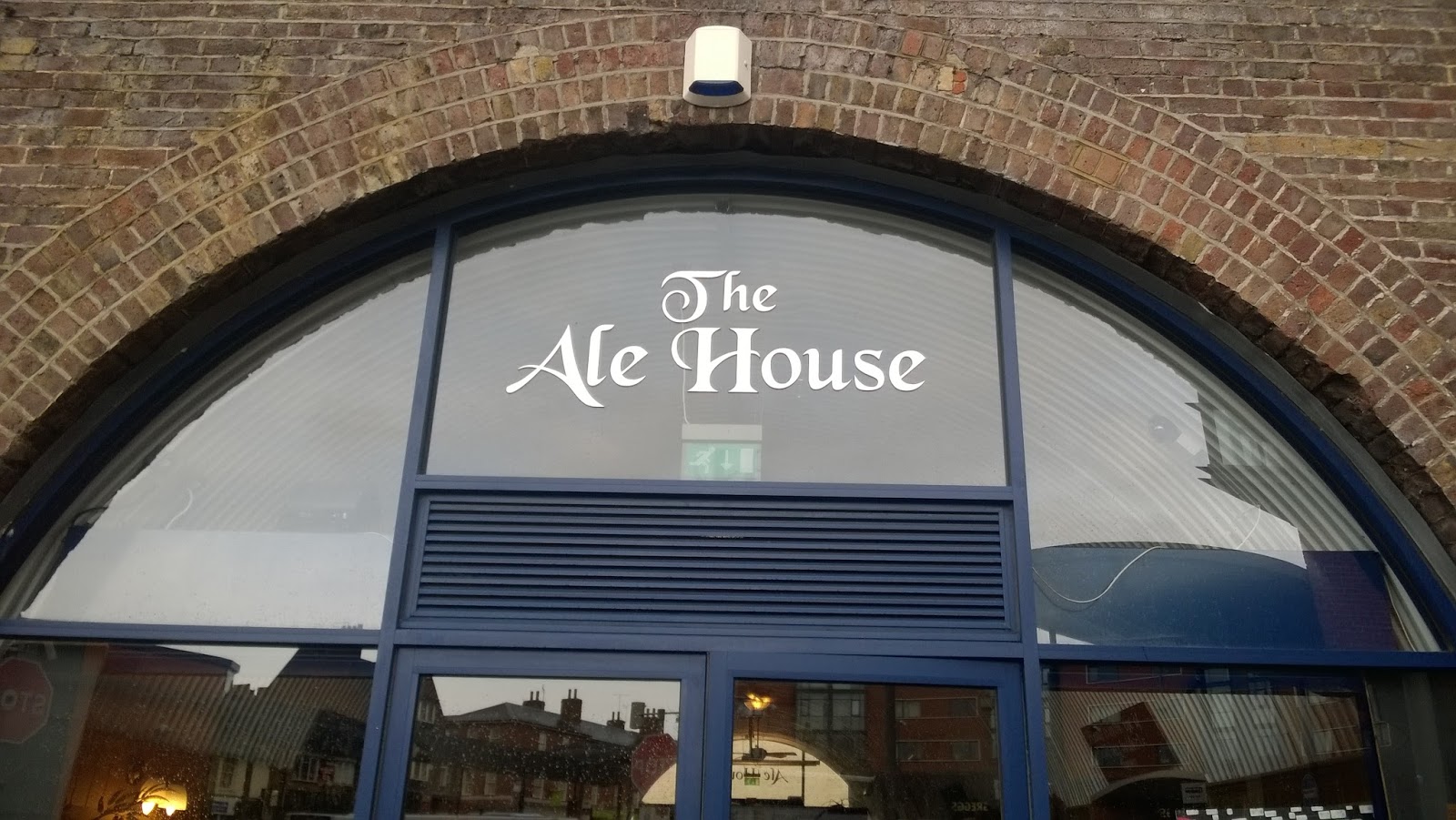 Ok, so it's not a house, but it definitely does ale.
Hmm, the Ale House. That little place under the railway arches that does plenty of freaky type drinks but nothing mainstream. Now I don't know where these rumours have come from, but just because I dabble in a bit of the apple juice now and then, it doesn't mean I will necessarily drink everything under it's banner! A whole hour was wasted on trying to drink some 7.4% concoction that tasted drier than a peppermint fart, which Taz had thought I'd enjoy.
As always, Wardy was in fine form. Not only did he end up buying Taz a dog lead (that was broken eventually later in the evening wrapped around my neck and Taz's shoe) as a sign that the currently not working Ed-in-Chief will be taking a Big Issue spot soon, but then managed to convince himself that the window on the ground floor of the building opposite the pub was a flat, even though the barman informed him that it was a community centre (he even had a butchers through the window the nosey sod).
There was also a surprise appearance from our first success with the new Gandermonium dating app 'Gander'. Beeney had been living up these parts for a couple of years now after us little bunch of Cupids had reunited him with his missus, but had made some time for a little bit of football. Either that or he needed a rest from all the children he'd been making!
The last pub before the sherbets was the Railway for a quick drink before heading towards the ground. £13 entry and I was greeted with the sight that you see in the first photo. 4 Days with a 4 patty burger. Still it kept him quiet for a while, so that was a success on all fronts. Although it did smell a bit rank to us. Heading into the bar we made time for another quick drink before we headed outside.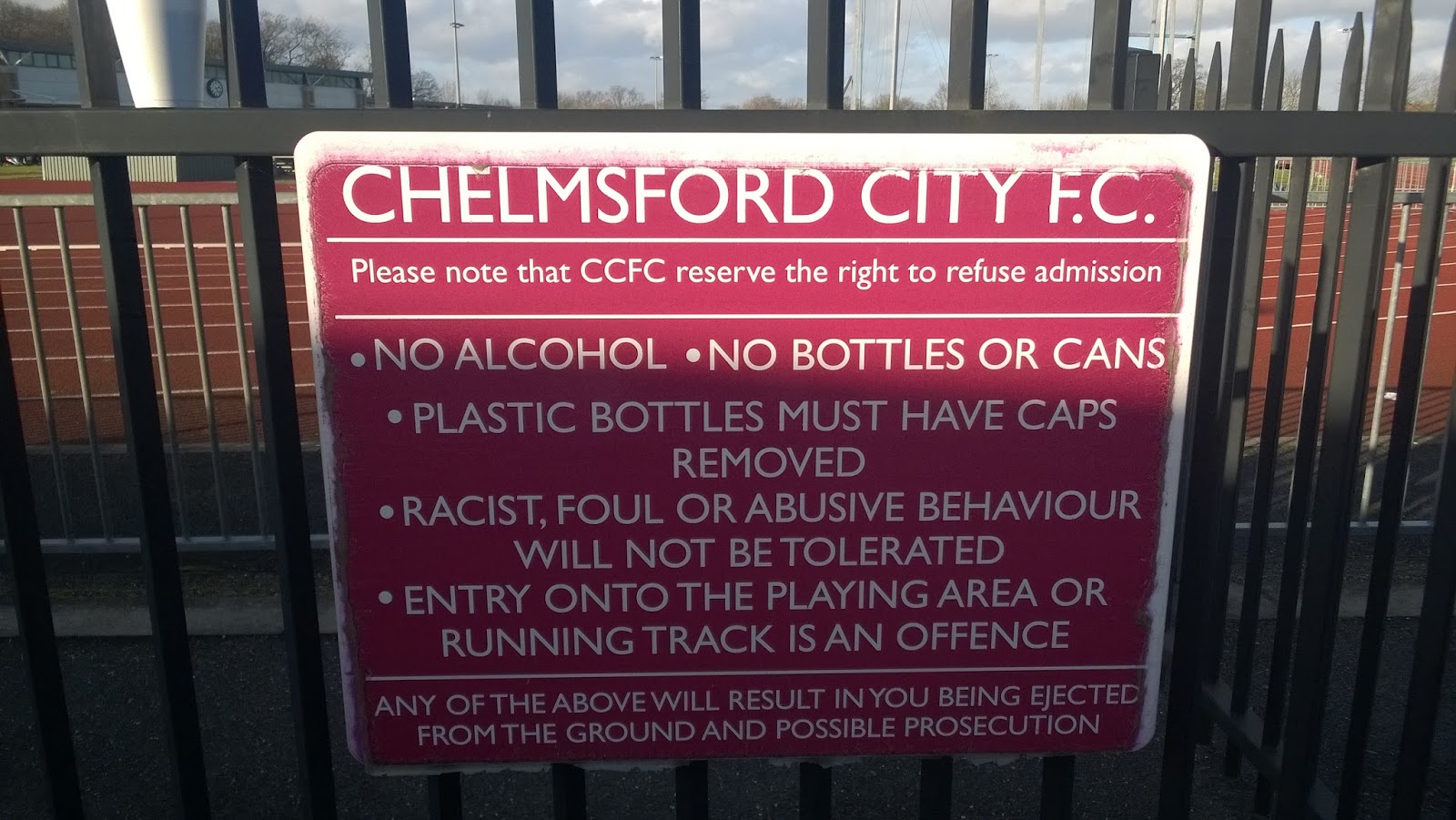 Oh come on, where's the fun in that???
Worner, Amankwaah, Wishart, Beckwith, Eastmond, Collins, Bolarinwa, McAllister, Dundas, Fitchett, Bailey. Bench Warmers: Stearn, Fleetwood, Cooper, Spence, Downer.
With the sun in our eyes we took our spot at the far end of the ground. One noticeable difference was not only was the steward that was a dead ringer for Harry Potter, but also the grunting bouncers at the other end were missing. Sutton started with a spring in their step as they took an early control of the game. With the return of former ex-U Bailey back in the team, you could see the start of a partnership with Eastmond.
Before even five minutes had been registered on the clock, Sutton had taken the lead. Fitchett, taking a pass from Bailey cut inside into the box. His shot may not have been the most powerful, but he managed to make the keeper commit the cardinal sin of letting it slip in-between him and his near post. 1-0!
Minutes later and McAllister had opened his knee up trying to block a clearance. He was forced to be replaced with Stearn. Much of the half saw Sutton trying to grab the vital second goal. There was a chance for Chelmsford to claw themselves back but once again Worner in goal was up to the task with another timely stop.
Giving Dr Bell a hand with the halftime round, I think I missed the disallowed goal. But it definitely wasn't fuckin' offside. A quick libation and it was off to the sweet table to find out what wasn't in stock. Apparently, as usual, there wasn't any chocolate covered peanut brittle, shrimps & pint pots to name but a few. You'd think the geezer would have learned by now!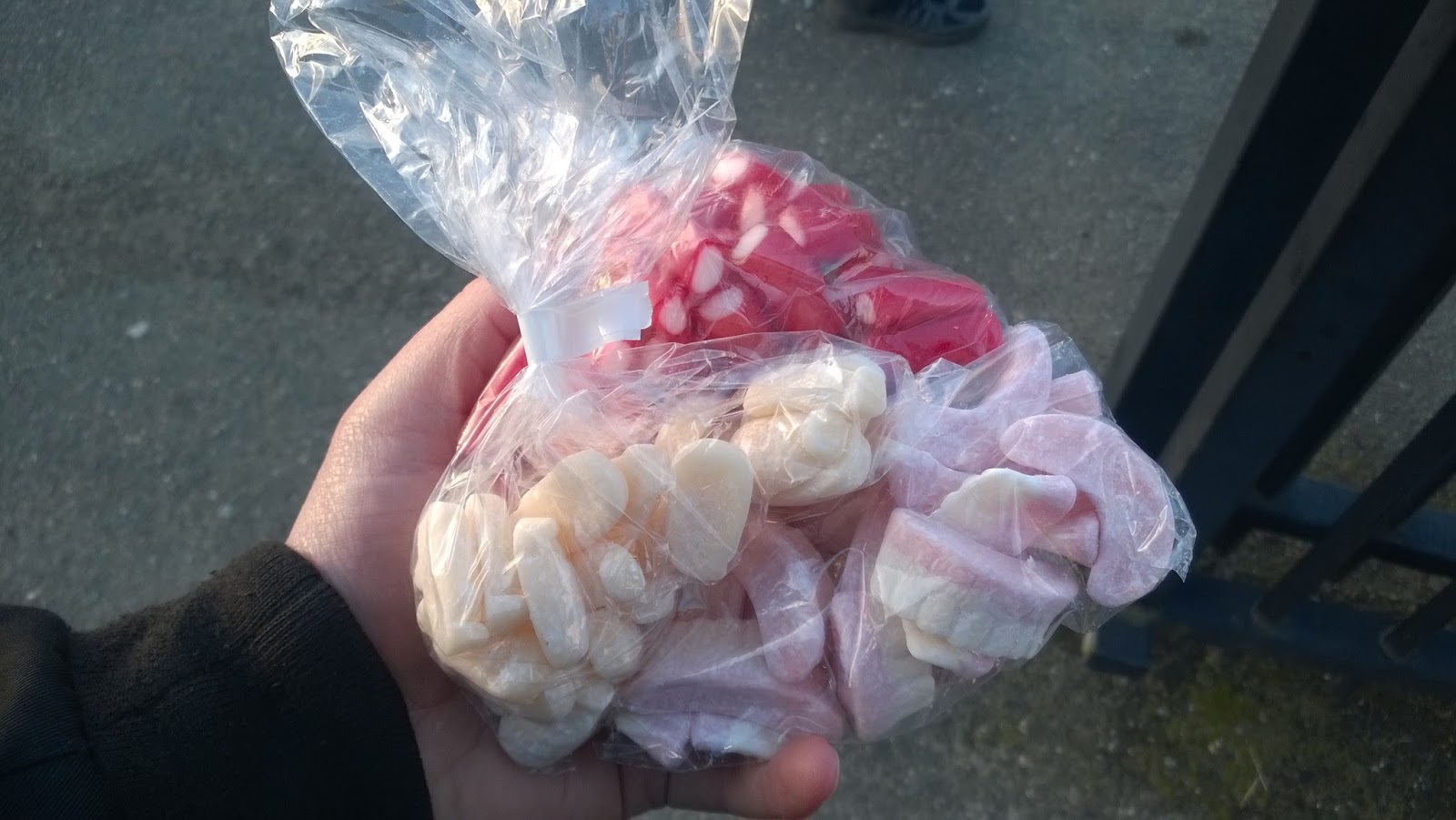 Would you like a sweetie little boy?
Second half saw Chelmsford start with their best spell of the match, it didn't help that Sutton had their worst spell with no communication between the backs and some wayward passing. Just before the hour mark Amankwaah was replaced with Spence as it appeared that young Kevin was carrying a slight niggle.
Sutton finally got the killer breakthrough with less then 25mins remaining. It all started with the legend that is Dundo. First he was fouled as he tried to control the ball, only for the ref to wave play on. He then got straight up and chased the fella down. Winning the ball back he set up Bolarinwa to marauder down the right hand side. His cross was meet by Fitchett who calmly toed the ball home. 2-0!
Being 2-0 up gave Sutton the cushion that they needed and if it wasn't for some poor finishing or non existed set piece taking, the score could've been different. Dundo was guilty of first missing a header and a one-on-one that had him putting the ball past the far post. Stearn & Wishart's attempted free kicks were bad enough also. But in the end we weren't punished for our wastefulness and popped the three points into our back pockets to take back to South London.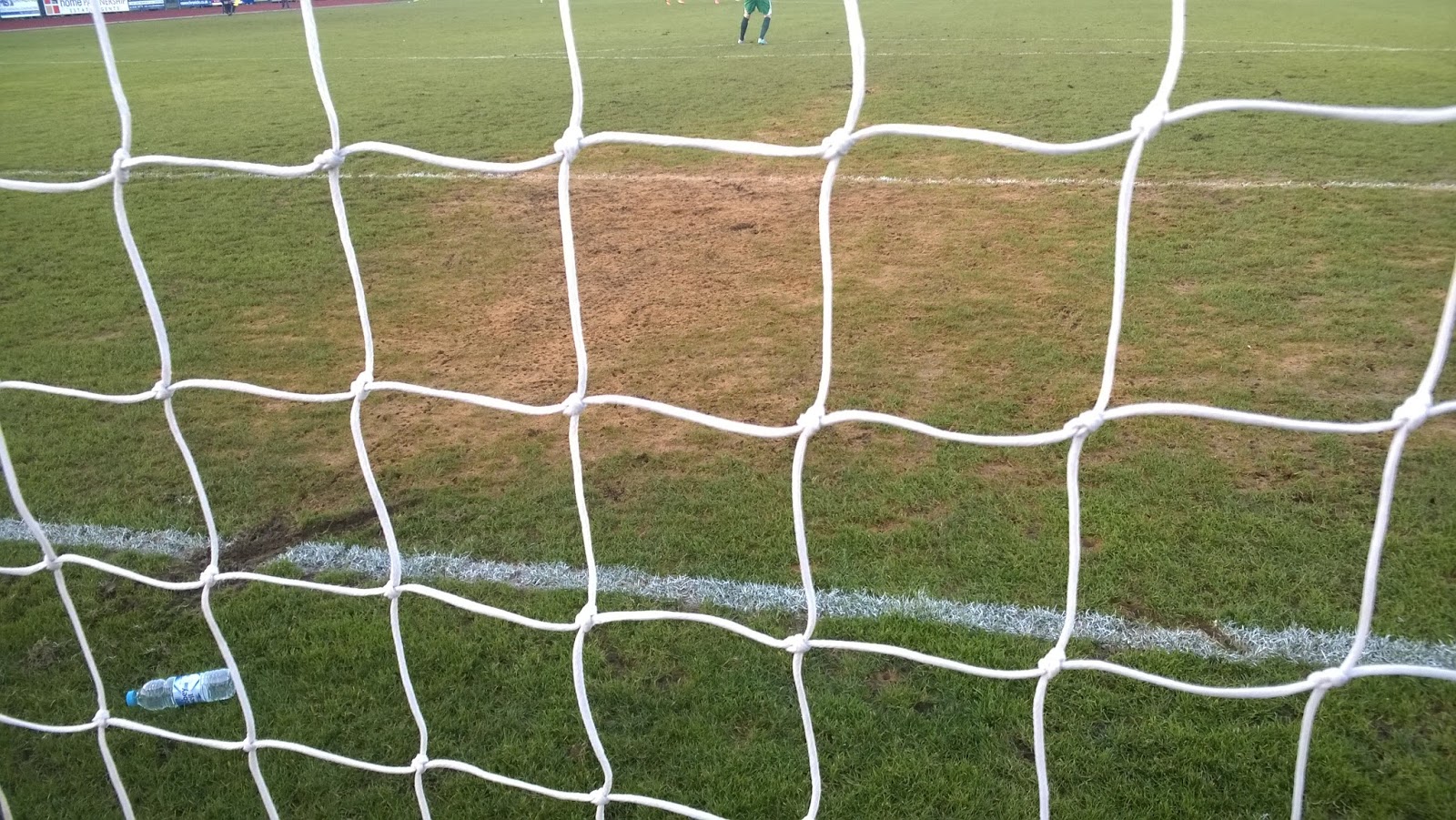 Better than Eastleigh's. And Havant's.
Back in the bar we awaited the other results to come in. Gravesend Ebbsfleet managed to sneak a last minute winner at Basingrad Basingstoke having trailed all afternoon, but Maidstone dropped points against Concord. And did anyone see the Hemel vs Weston result? Bloody 'ell, our mate Simon must've been having kittens! Or something at least, as it turned out the poor lad ended up in Exeter St Davids, wherever the fuck that is. It certainly ain't where he lives! Eventually it was time to head back to the town centre and a couple of sherbets were ordered.
As always, one didn't turn up and it was left to me & Mr X to hang back and drink more alcohol, courtesy of a certain Jamie Collins! Cheers skip! Eventually we did manage to arrange some transportation and not before long we were out of St. Helier and in the Orange Tree with the rest of the rabble. Several drinks later and we were off to the next pub, the Queens Head.
Ah yes the Queens Head. The pub where my reputation precedes me. So much so that the immortal words "her surname is the same as your nickname" from the barman had most of the Firm in stitches. I was still amazed that once a year we come here and still he remembers us. In fact he said he'd delayed his taking up a new job just because he saw Sutton were going to be in town and that we would no doubt make a visit to his establishment.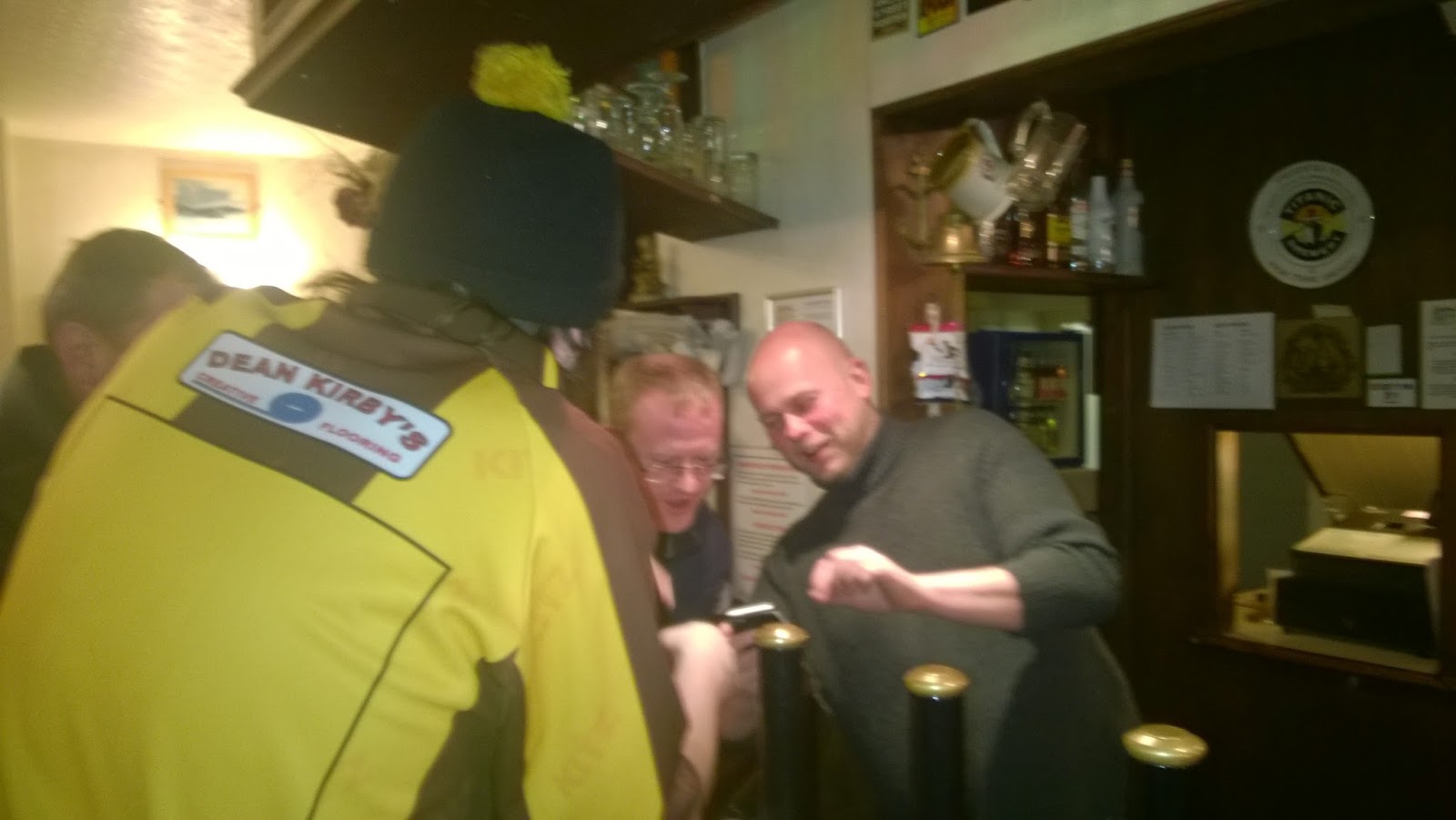 "And this is a picture of the bird Dukey lost an arm wrestle to…"
Eventually it was time to make a move back to the station. The usual drunkenness followed with a certain dog lead being attached to a certain part of my anatomy. No not that you perverts! My hooter for gawd sake! We did managed to break the thing in the end but as Wardy muted "Pound well spent I thought".
Making it back to Liverpool Street alive, we quickly jumped on tube and grabbed the next train available from wherever we went (honestly can't fuckin' remember) With some of the boys managing to grab some food on the way, it wasn't long before we were all staring at Taz's medium-sized burrito (not a euphamism). Even a sneaky ball flick didn't persuade him from relinquishing control for even a second. He knows how to hang onto his scoff that boy.
O'Neills was the final port of call and the three amigos (me, 4 Days & Wardy) had only enough time to sneak in at least three pints before the place closed. Don't really remember much happening but I did make a blog note "Better heads hanging outside of zips." Fuck knows what that means, but if you think you know please write in to the following address:
WAC-A-DAY
TV-AM
PO BOX 200
London
NW1 8TQ
Bognor in the Trophy on Saturday, and luckily you've got Totter taking over the mantle for that little encounter. we've also got a guest blogger in for the home match against Bath the following Saturday as well. The only question remaining is, what blog do I prefer? Wealdstone away on the Monday, Bognor away on the Tuesday, or even Knaphill away as well? I'll tell you what I would like, and that is a fat b… (That's quite enough of that – Ed)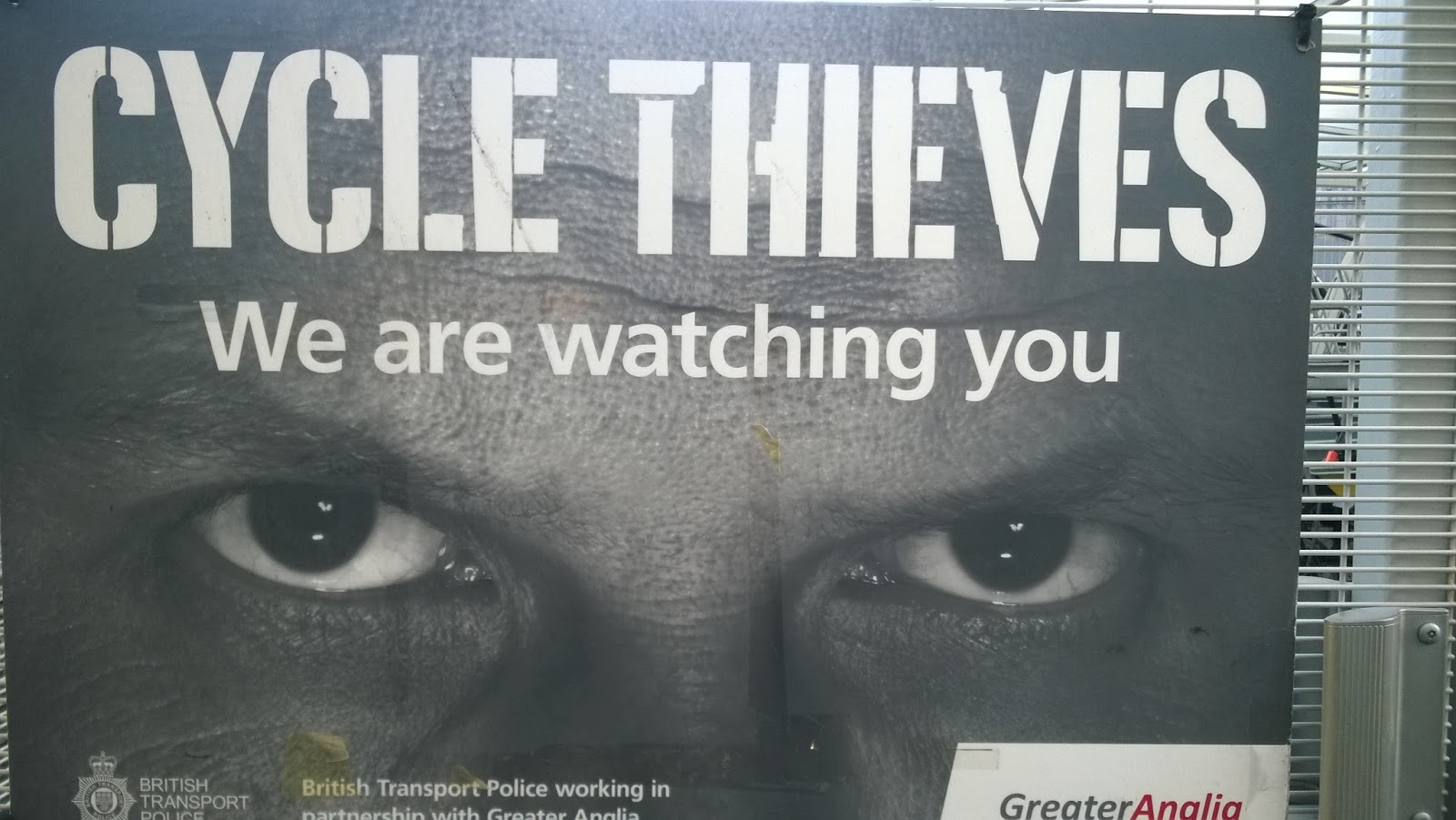 You try cutting a lock off with those looking at you…..
Duke
Att. 856