It's been a while since I've sat here on a Sunday morning
and put together one these updates, and to be honest I was a little rusty. I'd lost the natural flow you need for this sort of thing. So I called up Dukey on Sunday morning for a bit of
advice on how this stuff works again, and his best bit of advice was just do
what you normally do Juan, write a load of bollocks as usual. Remember
what it says on the blog, Sutton United, Beer and Bollox. Well thanks for your
ever so helpful advice big man.
With plenty of time on my hands to kill this week, I decided
to have a look at the .net website, and spotted that the Academy Team had a
home game set for Wednesday afternoon, so I thought I may as well pop down to
the club to see what all the fuss was about. I even put a call into our Editor
in Chief Taz to see if he fancied it, given he was on Garden Leave or basically
getting paid for not even working. He said he fancied it given he had naff else
on, anyways did he show? My arse he did, the lazy git.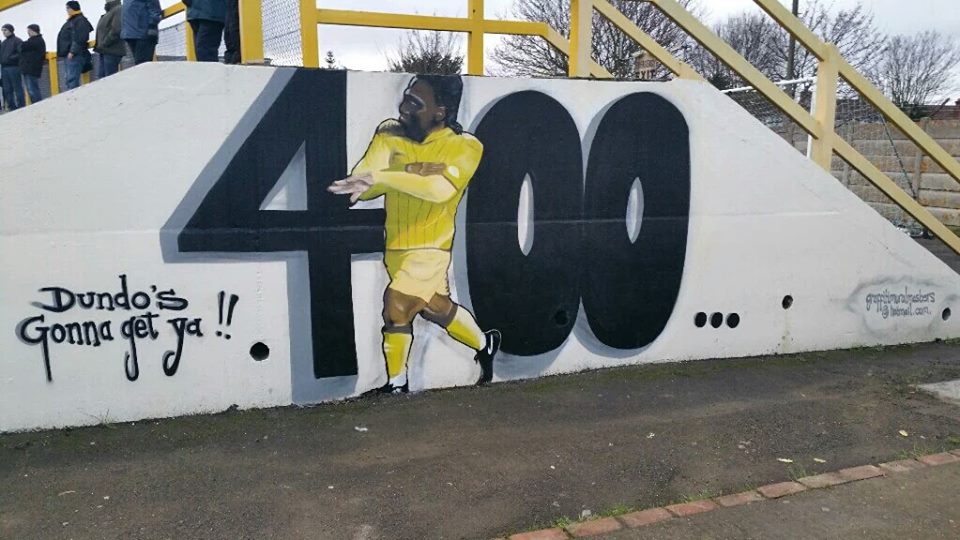 Fuck off Banksy.
The Academy game was somewhat a little dire to be honest.
You could see these lads were clearly playing together in their first year, and
the quality of football on show was not that to be compared of the Youth Team
level. The Sutton boys were one down at half time, which wasn't the worst
scenario to be in, but the second half was again a scrappy affair to watch and
they went on to concede another three against Wealdstone. Anyways for me the
experience was another tick in the box exercise. I think I'll just stick with
watching the Youth Team if I'm at a loose end for now.
News came in from the Duke that on Thursday his brother in
law (or something like that) would be in attendance at the ground to put
together some kinda spray can tribute to the BIG MAN Dundo on the end of the terrace by Roses given it was his 400th appearance on Saturday. So with
nothing else on, I headed down to the club on Thursday arvo to meet Dave and to
admire his handy work. I can tell you standing in the cold watching paint being
applied to a wall certainly does ring true with the old saying watching paint
dry. Still, beats watching Carshalton! Even Duke rocked up once he had finished emptying the contents of the Borough of Kingston's recycling bins, only to pipe up and comment "It looks a
little like Leroy from this angle". Fucks sake.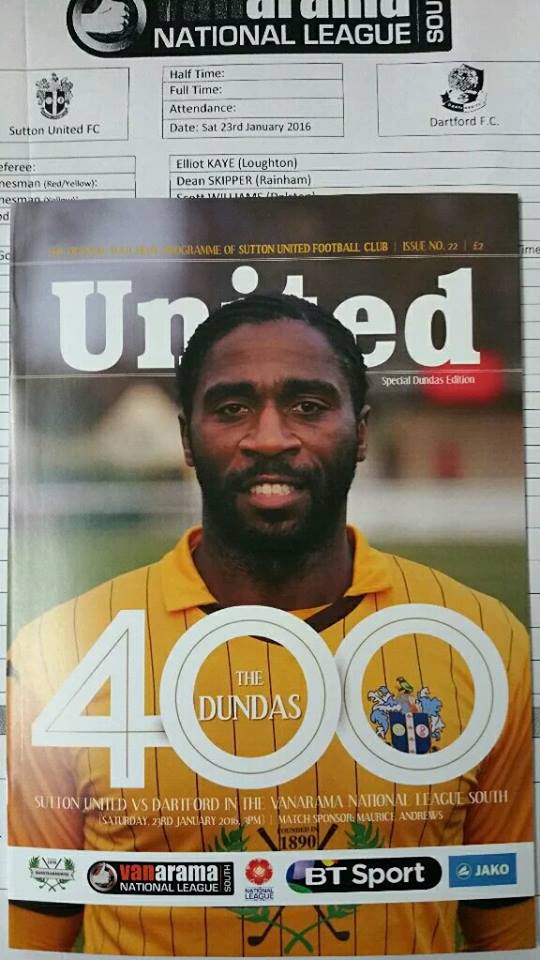 The big four oh oh!
Whilst we were both standing there admiring
Dave's handy work, a couple of Dave's postie mates rocked up to have a gander,
one of them being a Leatherhead fan. This set Dukey alight with conversation of the Surrey Senior Cup, the boy loves that old pot. With the mural completed on Thursday evening, I could stick a line through this one on
this weeks 'things to do' checklist.
With Saturday now on the approach, and after spending Friday
night round at el paradise del Carshalton Dukes gaff, and discussing various
film actors and which films they are linked to via Wikipedia, or as I now refer
to it as DUKEPEDIA, I had enough of his film facts for one night and headed off
home to prepare for Saturday.
As some of you may know and be aware of, we've got a fairly
large sized Dundo's Gonna Get Ya flag, the same design as one of our stickers, and well
at the previous home game against Curzon we had decided to get the flag signed
by the Management Team and squad, as we thought it would be a decent gift for
the Big Fella on his 400th appearance, anyways after the game and a
few beers later we decided to sign it ourselves. Being the mature group
that we are, even comments along the lines of "Dundo can I have your babies?" were
scribed onto the cloth. Us mature? Us adults? Think again.
As I'm useless at remembering key things like this, I lobbed it on the front seat of the motor ready for Saturday morning, best place for it overnight.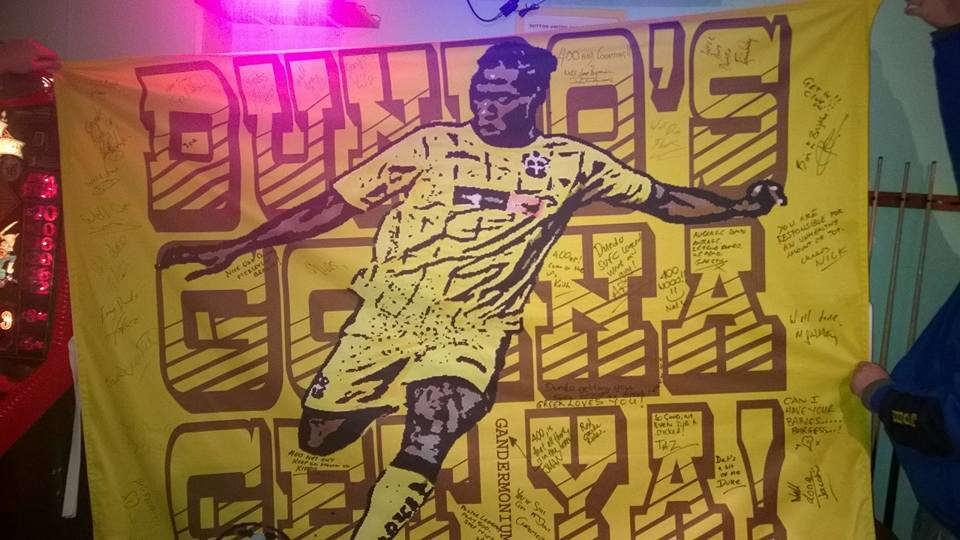 "Ere, some bastard's scribbled all over your flag mate…."
Saturday morning and for some reason lord knows why I thought I'd do the Christian thing and offer our most frequent writer Dukey a
life down to the club to save his little legs from a walk to the train station.
On arrival at 12:20 PM at casa del Duke, he complains that I'm late! That's gratitude for ya. Jesus man, it's only twenty past the hour and kick off ain't until 3pm, what you on about? Turns out he was going to get the half twelve train or something, but then my ears
switched off to the typical bullshit Duke Moan that follows. Then he drops the bombshell
and asks me to pick up Greek seeing as I'm in the area! Cheeky bastard. Looks like Juan cabs
are back on, and I'm talking Uber X New Years Eve rates. So we head off around the corner to
pick up his loyal Greekness and literally 30 seconds after Greek jumps in, the
conversation already turns again. Something along the lines of Greek and his new
Space Invader Tattoo not going ahead, and Dukey comparing his new tattoo design
to that of a Space Invader launching man fat over Greek's arm, where does this
boy get this shit from? His mind is warped I tell you.
A quick pit stop at Tesco's for the two Ronnie's for cash
and fags and we are arrive with no more dodgy Space Invader talk for at least
five minutes, before handing over £2 to Johnny for his dodgy no change money
laundering service to get into the car park. Duke even asks him for a receipt for the VAT man come April
for his year end accounts.
Arrival at the Club and the place is rammo. A few of the
usual boats are on display in the bar, and the rest gradually start to pour in
around the 1pm mark. The Dundo Flag is dumped on the pool table
for any other dodgy comments to be scrawled whilst Greek buys me a refreshing
drink. The conversation turns to how ironic it would be if the Big Man Dundo
wasn't actually starting today, again where these stupid ideas come from nobody
knows.
Having been given the nod by Dos, the plan was to take the
signed gift out onto the pitch before kick off and present it to the big man.
Plan duly accepted. Back to the bar talk and the drinking, then the
line up comes out for today's action. Within 30 seconds after checking the
players that are starting we always like to have a little look at the man in
the middle, the man in black, the official, and I shit you not who have we got but that silly twat from our home game against Truro. Yeah you know the one, the
worst decision maker and card shower the world has ever seen. This man shows
so many cards, you could easily mistake him for a magician. Step up Mr Elliot
Kaye.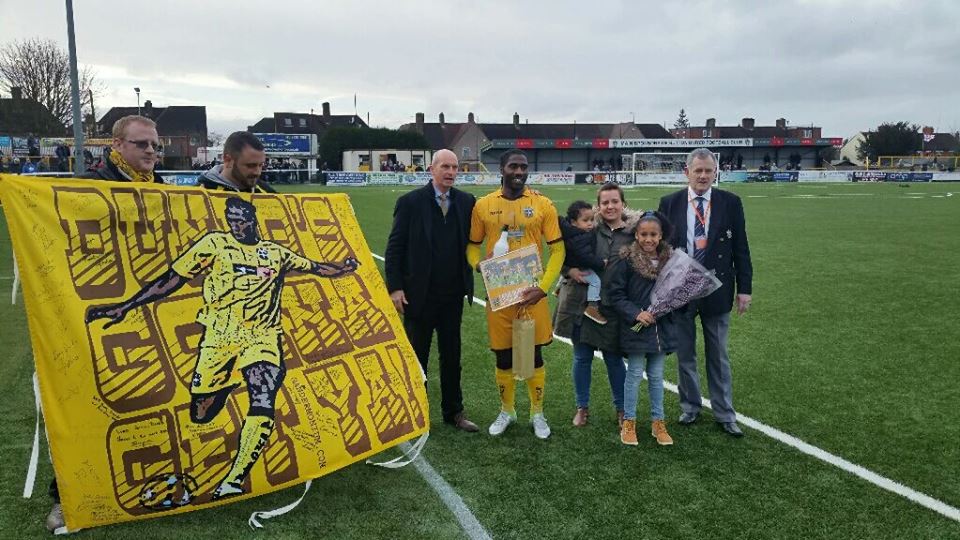 Paying tribute to a legend
With time pressing on, it was time to step onto the artificial
green and get in some kind of order to present Dundo with his gift. Anyways,
both Dukey and Taz were supposed to be joining me, and well Duke had just lit
up a smoke and couldn't be arsed, but just in the nick of time Taz rocked up
on cue. "Sorry mate, I badly needed a piss!". I hope he washed his hands.
The players entering the pitch and Dundo coming out last
from the Tunnel it was a given that the big fella would receive the obligatory
round of applause and appreciation given the occasion. Also, Dartford's nice touch in providing a guard of honour for the man was much appreciated. A touch of class which in this day and age in non-league football is getting less common.With the walk of fame completed and the gifts
presented; a bottle of Malibu, flowers and a framed picture from the club, and
our little something, it was time to turn our attention to the game.
Today's oppo were in cracking form and kicking at our heels when
looking at the league table. Today's game was a crucial one, and really and
truly only a win would suffice to maintain our league position and keep the
pressure on the top two clubs as well as keeping the likes of our visitors behind us.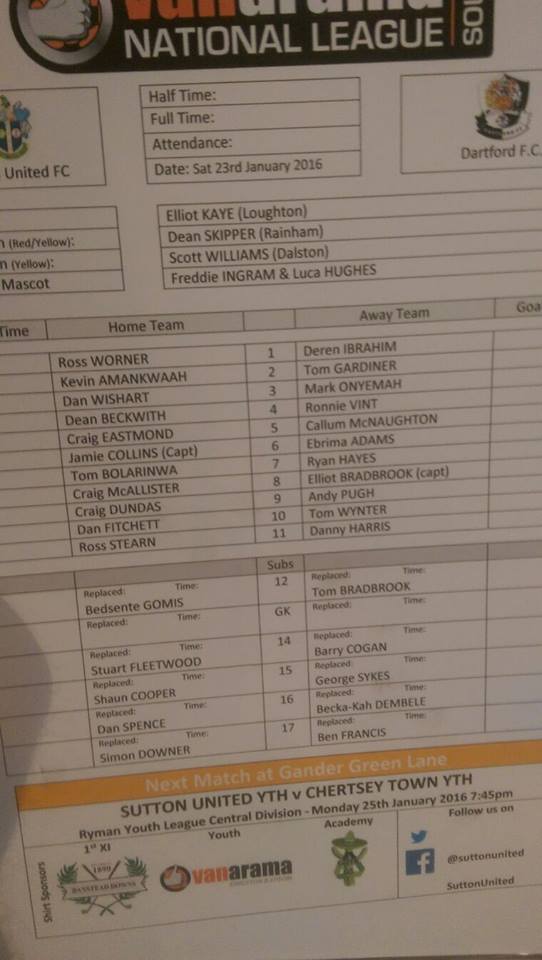 Todays referee will be….shite.
With the match underway, and going in our usual direction
towards the Collingwood End, you could straight from the off that today's game
was going to be a battle. Clear direction from the bench being shouted across
the park to settle and keep hold of the ball and keep it on the deck- you could
see that it we looked a little nervous for the first ten minutes or so. With the yellows beginning to settle down and
play the football we are used to seeing, you got the feeling that both teams
had done their homework, and both midfields trying to prevent that of any
decent break through.
Dartford had the decent possession in the first 10 to
fifteen of the first half, before Mr Kaye as per his typical display
made his presence known to all throughout the ground with a showing of a card,
for a foul which clearly wasn't and missing some others too. Even a shout for
a Dartford pen, which looked like one to me from my vantage point, but
Mr Kaye waved on for play to continue. Had he given it, I think it would have
been a massive game changer. Still what else could he get wrong? Well as we go on the attack, he brings the
ball back for a drop ball just on the outside of the Dartford Box, which of
course we contest, well Fitchett tries to but the Dartford left back steps
right in front of him, and clearly stands in his way. Mr Kaye is clearly on
another planet at times. Another
challenge he misses is a wild one by Wishart, who goes straight through a Dartford midfielder and wipes him out ("A fair challenge" remarks Dukey), which
sends us into a fit of laughter. We ain't too sure how Wishy gets away with it scot free,
but hey-ho. Still we press on and start
to create some chances, both Big Mac and Fitch up top linking up well with
Tombola down the right wing, having switched Stearn over to the left. A
clear cut chance goes amiss for Big Mac has he places a free header just wide
of the left post. With Dartford now slightly on the back foot we now start to
keep hold of the ball and begin to stretch Dartford's back four as wide as we
can. With a couple of minutes left on the clock before the half time break, a
real chance drops to Stearn who whips in a curling shot going straight for the
top right corner, only to hit the cross bar and bounce down and out! Bollocks,
that could have done us the world of good if we had gone 1 up on the stroke of
half time.
Actshun!
Stalemate at the break and time to grab a brew from Rose's
Tea Hut and join the masses who await in a queue as long as that witnessed as the
Sutton Job Centre claiming the dole money. And one that moves just as quick.
Second half underway, and we are on the back foot for the first
ten minutes as we are playing far too deep, and we just can't seem to keep a
foot on the ball, or string some decent possession together. Standing in the Shoebox, and the muttering of worrying words start to be heard throughout.
Shouts of encouragement are broadcast, and the breakthrough finally comes. The ball is played to Macca and the Dartford left back
misjudges his interception so Macca lets the ball drift past, and
applies his burners, drives down the right wing and delivers a perfect ball
into the box for Fitch to take a great frist touch and drill into the net. 1-0!
With the deadlock now broken we step up our game and tempo, we keep the positive drive going and within a
few minutes we go onto score a second, Macca taking the honours for this one as a poor clearance lets Eastmond crak in a volley that's blocked and the loose ball just needs tucking away. Fucking yes! 2-0! You can't get better than that. Happy Days. We keep going forward and keep applying the
pressure on Dartford, and Fitch has another pop from outside the box driving
and curling the ball towards the right post, forcing the Dartford keeper to make
a quality stop low down to his left. We go to absorb most of the pressure that the visitors can muster and seal the win, keeping our place in the top
three of the table.
With the game done and dusted, time to head back to the bar,
where the news comes in via social media that the Scummers down the road got
smashed 7-1 away from home. Oh how we laughed, again, and again. And again. With time pressing on though, I decided to call it a night before the strikers are key draw had kicked off, and left the boys to enjoy the sweet taste of victory.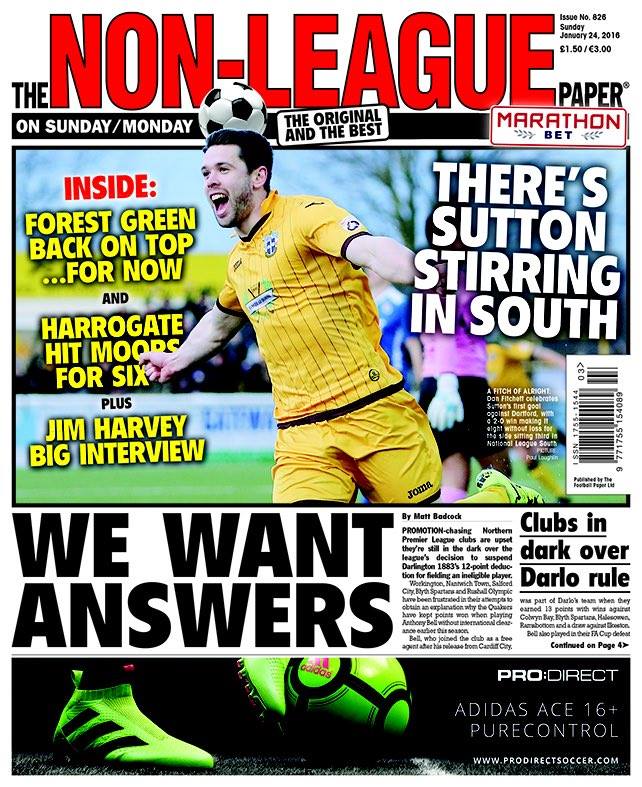 Front and centre!
Onto the next league game and it feels like an eternity
since we've played away from home. Chelmsford away, so cue the battle of Chelmo
part 3. Dukey will be back in the pilot seat for that one, so stay tuned as he
brings you the best drinking establishments Essex has to offer.
Also, before I go I hear that the lads encountered one of our many fans of the blog after I left last night, an old work mate of mine by the name of Ross who was DJ'ing a party at the club. Seems he managed to stick his motor down the high kerb at the back of the ol' Times Square lounge and his stranded Clio had to be shoved & lifted to safety by some of the crew, much to their amusement. Good job no one took any pics, eh Ross? Oh….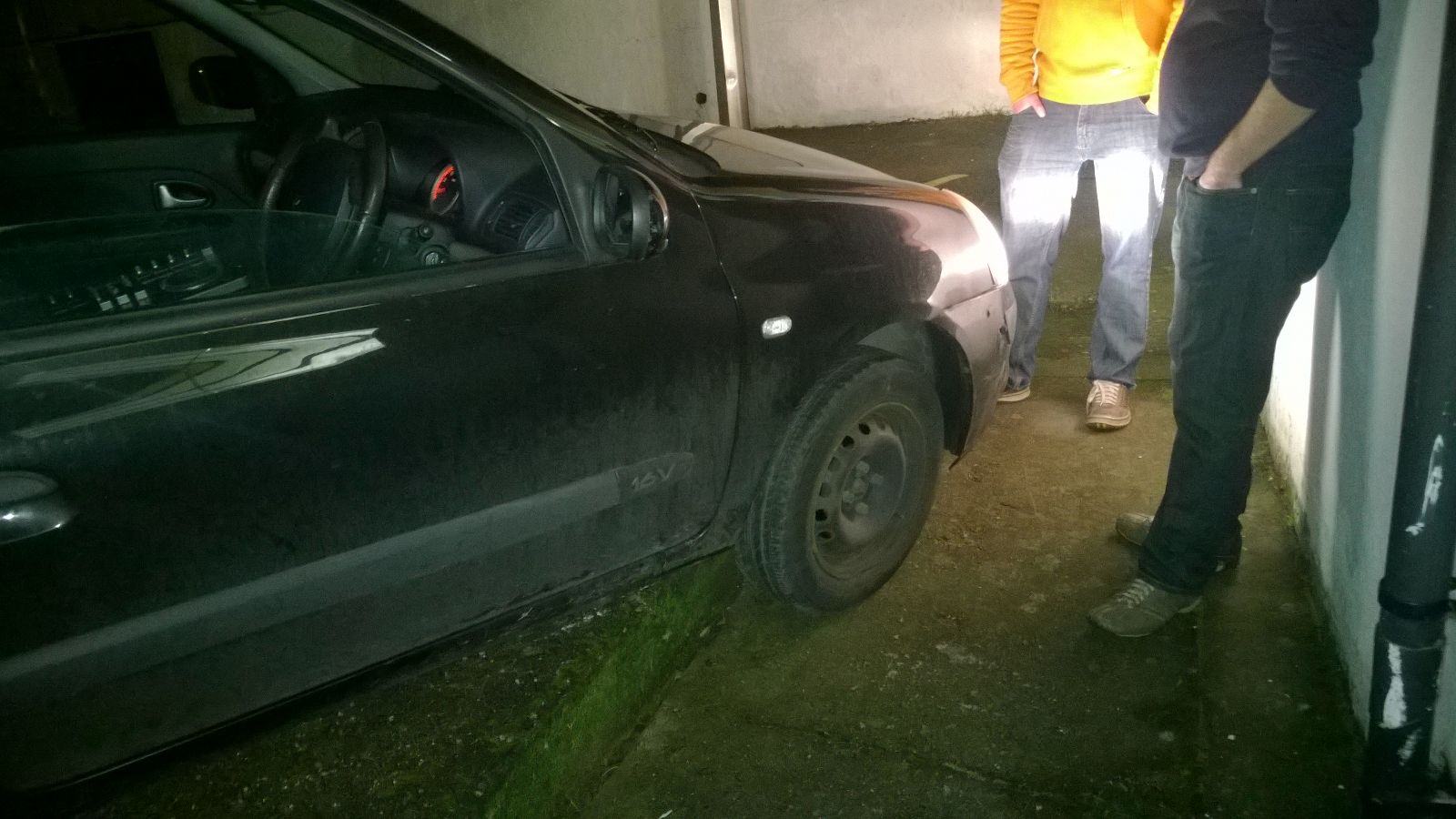 "Could be worse, some pisstaking pissheads might offer to help…"
Sorry fella!
Juan.