It's back. The FA Trophy returns to once more tantalise us with the rather ambitious dream of a day out at Wembley. And despite all our whinging this season (and past ones!) about samey old draws, the FA finally relented and gave us someone a bit different in Curzon Ashton. And I don't mean to be rude, but even hardy old stagers like us scratched our heads at that one and muttered "Never heard of 'em" before turning to Google for information.
Google was helpful. It told us that they were from oop north near Manchester and were a Conference North outfit, thanks to 2 quickfire promotions in recent seasons. Still, it's someone new to play and as Dukey pointed out, there was a chance of a 'night out in Manchester for the replay on the Tuesday'. Ever the bloody optimist that boy. Especially as Curzon's midweek nights are actually Mondays.
New signs! *steps back in amazement*
As I've pointed out previously, I sort of made myself a jobless drain on the state recently, but fear not as I have been keeping myself very busy rather than sitting about eating crisps. Mostly by watching bloody Sutton United at every single opportunity. And today's game would be my fifth U's encounter in seven days. In fact I've seen so much of us this week I now even know several youth teamers names and can give a vaguely half arsed appraisal of their strengths and weaknesses.
I think I might need another little unemployed person hobby to keep me occupied.
My Saturday morning is largely the same as any other really. Up for some breakfast and then the usual boring adulty stuff like hoovering before I head off into town. Sadly the hoovering would come back to haunt me later when I woke up Sunday morning to find I'd managed to knock out all my heating and was occupying a cold storage unit instead of my flat. But that's another story entirely, so instead I wrap up snugly against the cold and skip full of joy out into the January sunshine to catch my big red limo into Sutton.
For once, I've managed to get out at a reasonable hour and this allows me time to undertake the usual admin of a trip to the ATM as well as a stroll down the monument to Western capitalism that is our high street to indulge in some FX trading. Mainly as I've still got 40 Euros burning a hole in my wallet from the Valencia trip before Xmas (write up coming soon, stay tuned kids!) and I really should get it changed back into proper money that I can then in turn piss up the wall later tonight.

Hardcore Ultra Thugs.
The lady behind the jump in Thomas Cook is nice and we have a lovely chat about my trip and that Valencia is somewhere she's always wanted to go. She then gives me about 30 quid and I head off to the Home of Football. To help fuel me for the day ahead, I relent on my joblessness and pop into Greggs for a baguette and a bit of Ribena to munch on the way down. Having marvelled at the architecture of Balaam House, I find myself in Collingwood Rec and realise that whilst this is the main exit point from GGL for us on the stumble to the pub later on, it's the first time in absolutely ages that I've approached the ground from this side.
Here I bump into an old friend in Paul and we take the opportunity to catch up on the remaining walk to the club, passing the Curzon team & supporters coach as it attempts to negotiate the driveway into GGL itself. Of course, in the bar, I find the usual loosers, boozers, smokers and teetotallers (Loffers is doing 'Dryathlon' or summat) cluttering the place and talking utter fucking nonsense. And we're soon joined by 30 or so visitors in blue & white. My first thought is that I'm jealous as they have a Hummel produced kit and it has those classic chevrons on the arms. Bastards. I suggest to Mr X that we should get onto the club about switching the next time we change ours. About time we looked as stylish as we act really.
Oi, stop laughing at the back.
Most of the pre-match chatter revolves around what the fuck we're going to do if this does go to a replay. The best scheme we can come up with is poncing a lift back on their coach in return for a some refreshments being purchased for the journey. I think you'll agree that this is a plan so foolproof, even a Carshalton fan couldn't fail to enact it to the full. Sometimes, we startle ourselves with out cunning genius.
Worner, Amankwaah, Wishart, Beckwith, Eastmond, Collins, Bolarinwa, Gomis, Dundas, Fitchett, Stearn SUBS: McAllister, Fleetwood, Cooper, Spence, Downer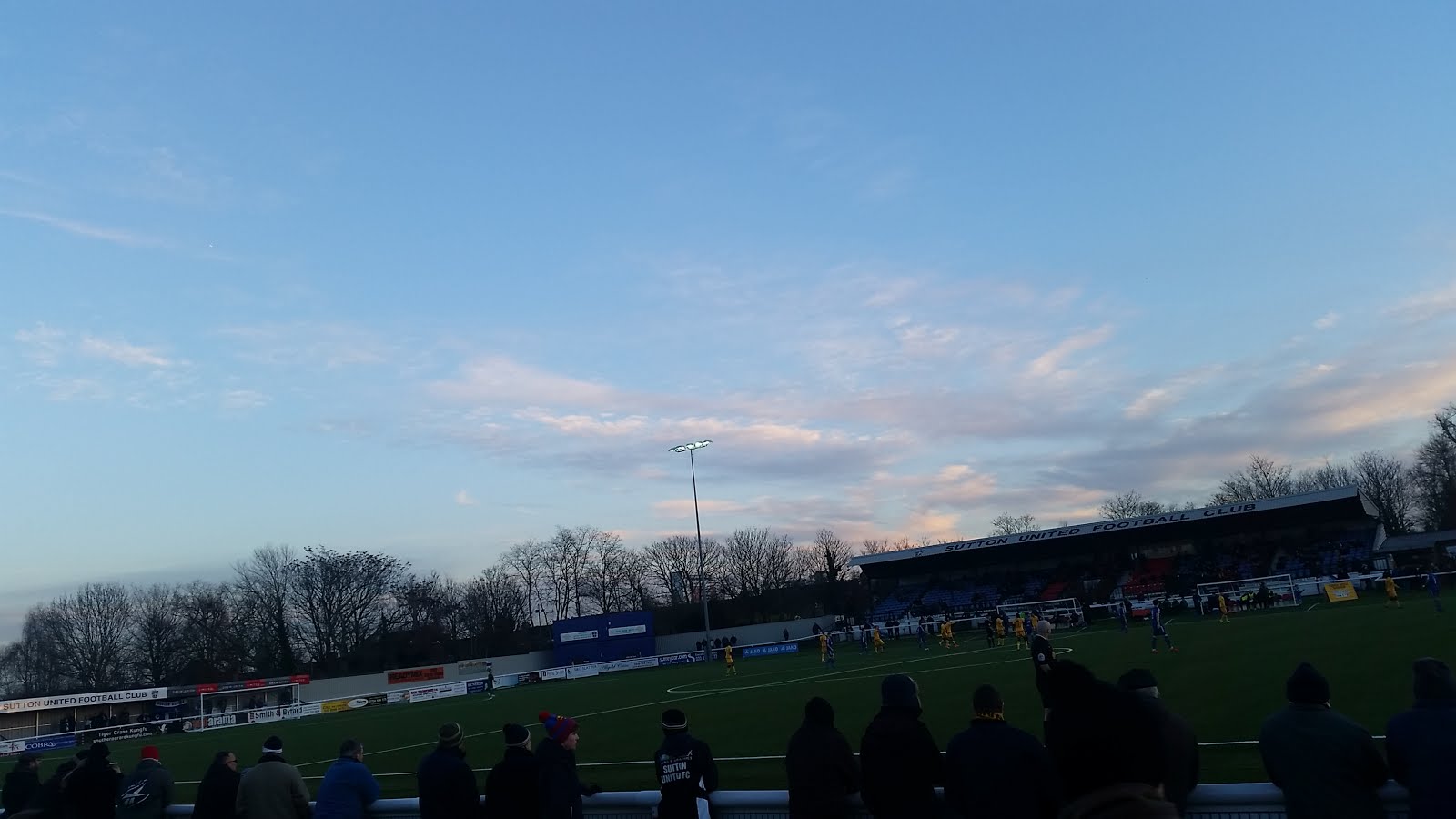 Cold out.
Going towards the Rec end as per normal, the early exchanges really aren't much to write home about. Fitch's touch lets him down when in a reasonable spot and one of their lads blazes high wide & handsome from about 20 yards and er….yeah. Hardly a pulsating tie to be honest. In fact, when the opening goal comes, I'd have thought it's something of a surprise to pretty much everyone watching. Eastmond lofts a free kick from just inside the Curzon half into the box. A clutch of players jump to challenge for it and all of them miss. It drops kindly for Jamie Collins and he turns to fire low past the keeper from about 6 yards. 1-0!
Any hope that this will spark some life into the game is misplaced. Curzon have plenty of the ball but create little, whilst we struggle to really get any rythm going, thanks in the main to the visitors hard working midfield which is sticking to Bedse and Eastmond like glue, making it hard for them to feed the wide men. Dudno leads a break following a Curzon attack which breaks down on our 18 yard line and having given the defender the full on Jamaican two step his clipped cross is too low for Wishart to head and too high to really do much effectively with his feet at the far post. Fitchett then draws a yellow card from the Curzon no.5 when chasing onto a threaded through ball from Stearn in his own half. The U's striker being pulled back by the oppo. But with the keeper well off his line, it's debatable if Fitch would have got their first, so the ref decides a caution is adequate punishment.
Eventually half time arrives and I decide to head off to the tea hut for a cuppa to warm the bones. Sadly, like last week there's another big queue and rather than join it, I park up on the Shoebox to await a more opportune moment to make my purchase. As it turns out, this won't be for a while.
The second half is little better than the 1st to be honest. We get deeper and deeper as it progresses and the visitors are allowed a bit too much of the ball for my taste. Our only decent chance is a later header from Dundo when well placed, but he directs it straight at the keeper. The oppo don't create loads despite all their possession, but their best chance comes with about 15 left. A free-kick from just inside our half isn't dealt with and finds it's way to the opposite side where the no.4 is stood all alone. He has a poke from about 18 yards and the shot creeps inside Worns far post. Thankfully for us, it looks like a blue shirt has darted across the flight of the ball trying to get a touch on it's way in and the lino has his flag up straight away for offside.
Thank fuck for that.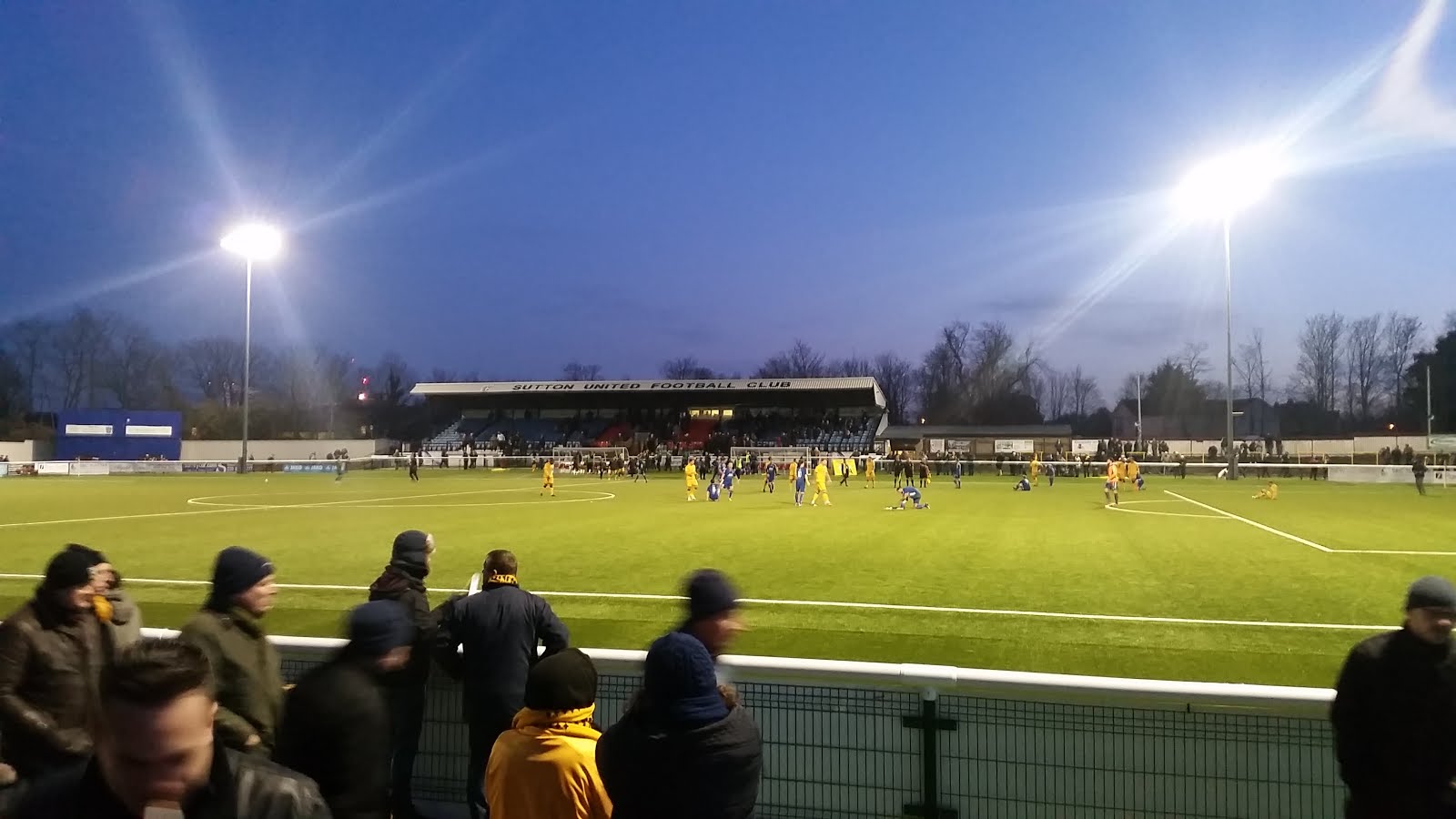 Final Whistle!
With the game doing little other than frustrate, I decide now is a good time to take a break and I go for that bacon roll I've been wanting since half time. It's a good move as my late dash for food rewards me with a four slicer. Bargain! So I return smugly to my spot on the terrace with bacon to console me in the face of nervy cup tie football.
The visitors last real chance of having the honour of us cluttering up their coach home for the replay on Monday night comes with a few minutes left. A free-kick isn't defended well and the loose ball is hit from 18 yards low towards a corner. Thankfully Worns is alert and sprawls on the carpet to stop the shot and then gather at the second attempt.
After this, the final whistle is greeted warmly as we stumble a little into the last 16. Still, as we've said on here many a time before. Fuck it. A win's a win! Right, bar.
We set about getting pints in as well as chatting to some of the visitors. A couple feel the offside goal should have stood, but a couple of others reckoned it was about right. I guess the highlights on SUFCTV will help in that regard. Before long, the majority of the Curzon gang are on the coach and heading back northwards, leaving us with just 3. Who sadly are having to doss down in Croydon this evening. Still, even our sadly shaking heads at the news fails to deter them from the idea they've got a bargain at £20 for the night each. So, we make them feel at home with a couple of games of killer (we even let them win one!) and of course far too many beers. Someone also asks what 'a Curzon' is and suggests that today's opposition might have been christened after a chain of Cinemas.
Seems plausible.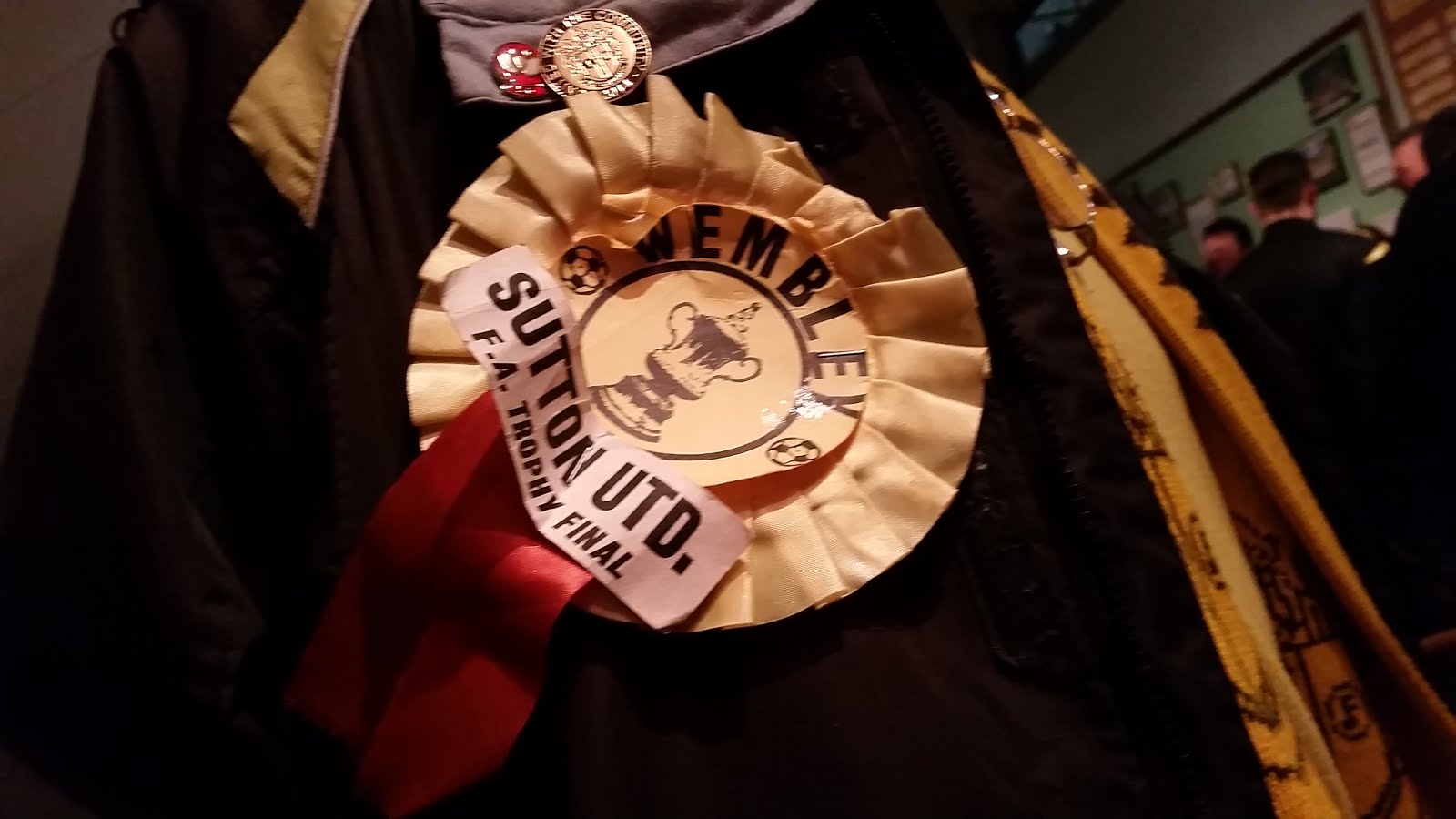 "We're the famous Sutton United & me might go to Wemberleee!"
Eventually, it's that time again and we decamp for O'Niells in the high street. Here we manage to persuade our new friends Aaron, Joe & Gibbo to join us for a few more, partly to make up for dumping them out of the Trophy and also so they don't have to go back to Croydon after dark and risk becoming a knife crime statistic. They agree and Greek rustles up some cab action via Uber to ship he & them into town whilst the rest of us set off on that well worn trail through the ground and up the high street. We amble into the pub a while later and find the visitors already well at home and Saints Steve also here.
Right, whose fucking round is it? I'm parched.
Things get a bit blurry after this, although I do recall discovering that Aaron is a fellow fan of perennially shite NFL outfit the Detroit Lions. He's made up as he's never met another one of us. I meanwhile despair for his sanity as they've never ever been good. Ever. Also, Gibbo displays a shocking taste in sweaters, showing off a design that should really be adorning an early 90's goalkeeper rather than a northerner out on the piss in grubby South London Suburbia.
Eventually having definitely not killed any of our guests with drink, the lads bid their farewells and Uber it back to the ghettos of Croydon and their digs for the night. We meanwhile get a bit more drunkerer before having a moment of sanity and calling it a night at least half an hour before chucking out time. Which is very unlike us. Having not eaten since my late 2nd half bacon roll, I take the opportunity to bag a foot long at Subway on the way to Melville's and tuck it safely away inside my jacket to devour on my return to HQ.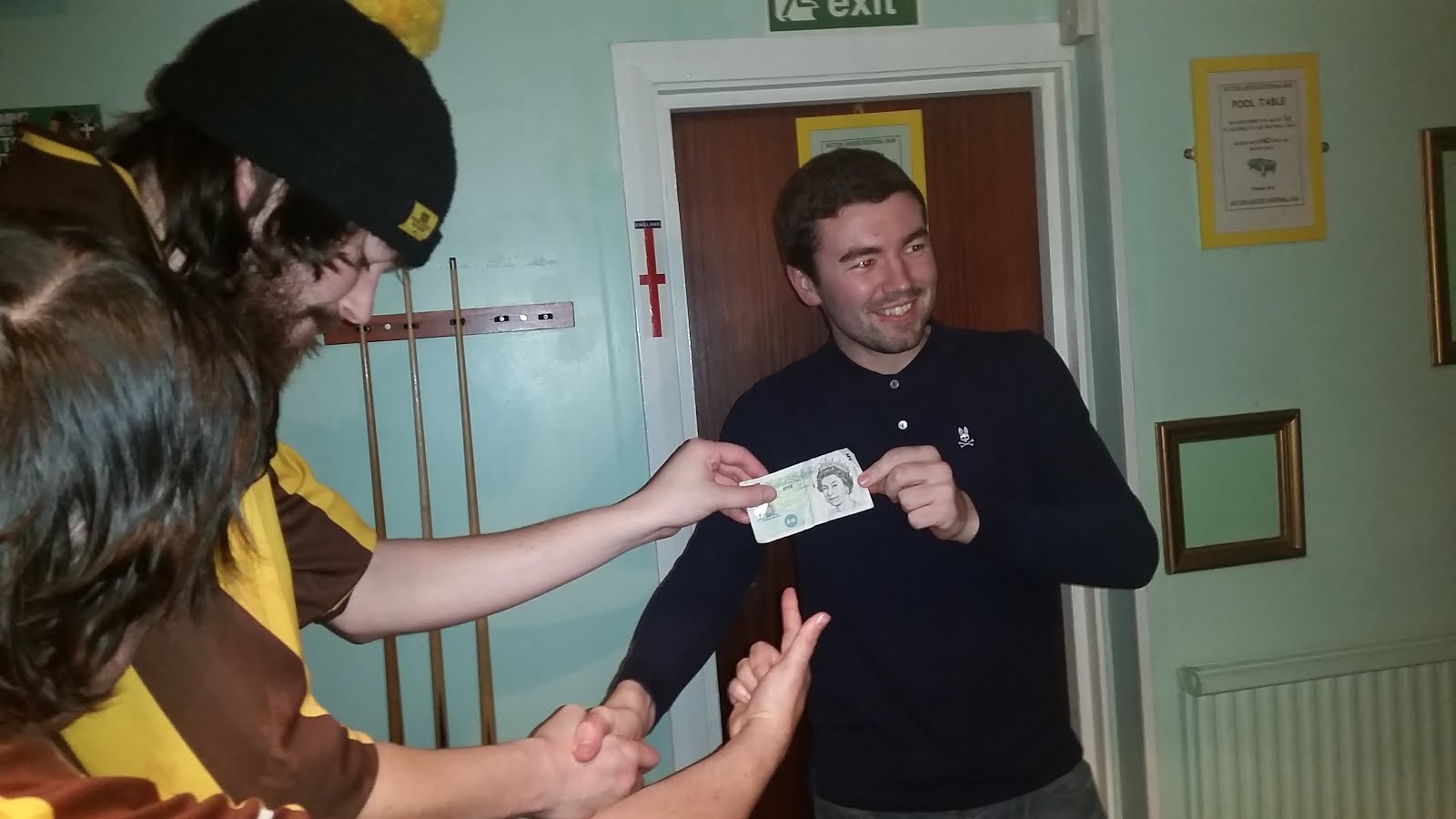 "He'll be able to buy a new house when he gets home now!"
C'mon, hurry up and get us a cab Dukey. I've got a sandwich to eat.
Taz