God you gotta love a cup tie. Well except when you lose of course. I mean, it's no good getting all excited for a game knowing that all it would take is a last minute kick in the old proverbials (Merstham away springs to mind) or to play with you strongest team available and still lose to a team several divisions below you (Merstham away still springs to mind).
The second round saw a comfortable 3-0 victory against '73 FA Amateur Cup & '97 Saft-Nite Shield winners Walton & Hersham. For the third round it was time to travel to Tolworth and play Kingstonian Corinthian Casuals. And not any Casuals side either, but one that was filled with many an ex-U.
If a Monday night match seems like an usual encounter, then Wednesday can also be if you go week to week in the same routine. As luck would have it, as one of our top members here at Gandermonium is currently on "gardening leave" which seems to involve mostly sitting on his arse in his flat, he kindly offered to drive for this match. And he didn't need any persuading from me either.
It's a grass verge….
With pick up due at 1845hrs, I had plenty of time to get ready. The only issue was that as I work for the local council in them parts, as Taz calls "saving the planer" (what a plonker!), I felt it was only fair to go incognito as I didn't want to be recognised. Well from the waist down apparently as the only piece of camouflage I own is in the form of a pair of urban combats. Sometimes I amaze myself with the way that my empty space in between my ears work.
Picking me up on time and heading towards the Hope to snatch 4 Days we were soon westward bound going a rather strange route that was know only to the man behind the wheel. With parking a premium at the Tolworth Arena, and trying not to get stuck in the mud (unlike nearly someone else!), Taz managed to secure a spot that would allow an easy getaway.
Spending a tenner for entrance and a programme for Old Man Frank, we made tracks through the rather long queue for a simple cup of tea into the bar. Inside we saw the usual boats of Mr X & The Firm Leader nattering away. Also in attendance tonight was Chelsea Keith & Arsenal Natalie, who are becoming more regular than the effects of a mutton Vindaloo.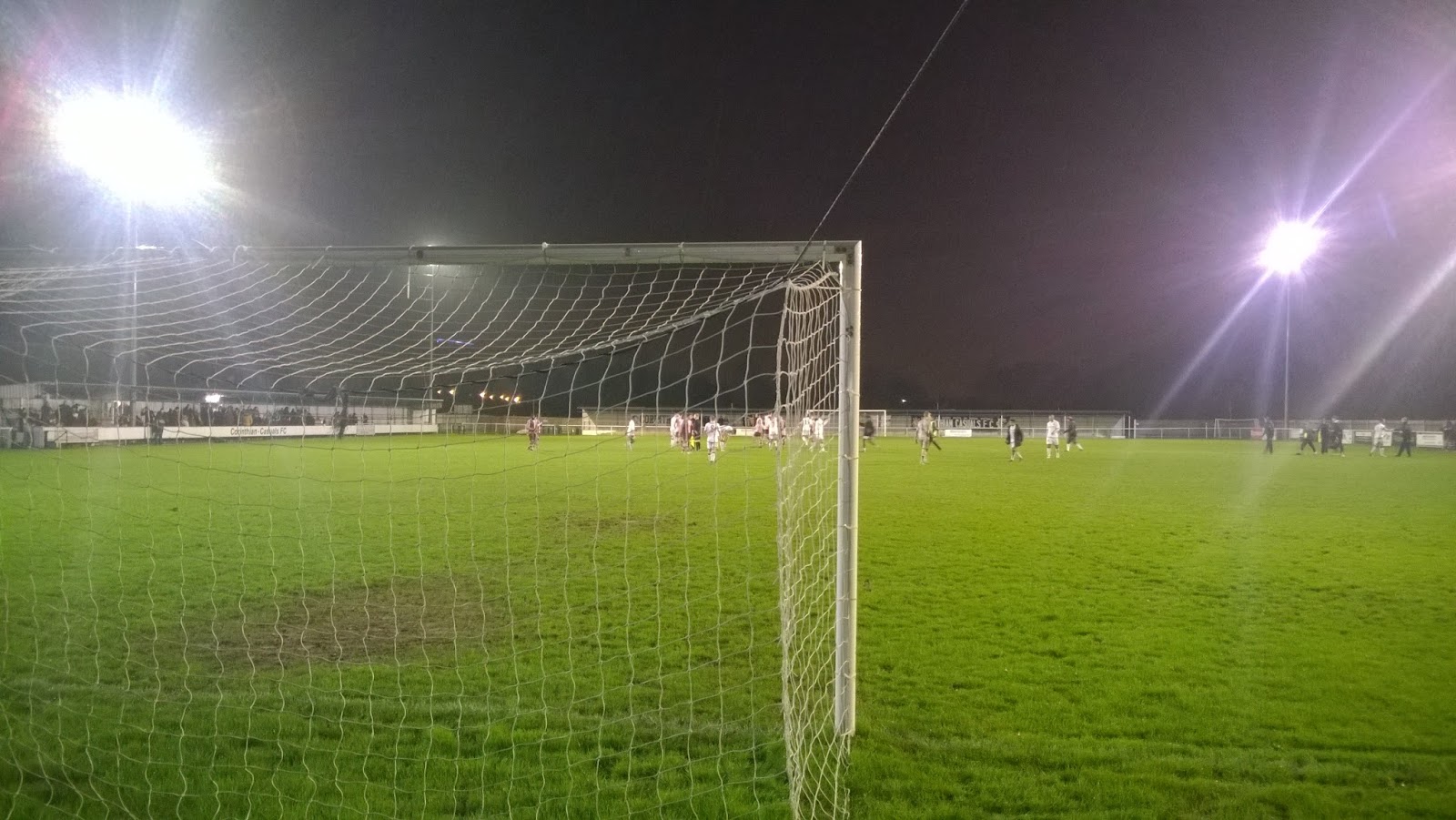 Rolling fields.
Shaw, Strange, Spence, Downer, Cooper, Doswell, Munro, Wright, Dillon, Fleetwood, Burke-Hamilton. Bench Warmers: Towner, Anderson, Kalognomas, Brown, Hill.
As expected, both teams seemed to take a while getting into any rhythm and play some football. Casuals had the best of the early chances but were denied twice by the ever young Shaw in goal. But even then he wasn't really that troubled, but we still had the feeling that this might be a rather long night seemed to happen with Sutton failing to get any consistency on their passes.
Towards the half hour, Sutton finally got the breakthrough. All it took was a simple through ball from Fleetwood that totally cut through the Casuals defence and gave a chance to Wright. He, being as cool as a cucumber, then simply slotted the ball past Danny Bracken in goal into the net. 1-0! The crowd behind the goal went wild and (I) sighed with relief.
After taking the lead it seemed to boost Sutton's confidence and they begun to fling the ball about a bit better. According to Mr X, Dylan Burke-Hamilton who was playing out on the left had some blistering pace. Unfortunately for him on a heavy pitch like the one we had tonight, and the fact that all the balls were too close to the by line, we sadly failed to see any of it.
We did seem to play the one-man-up-front routine with young Reyon Dillon (Pronounced 'Ree' for short, or 'Ray' if you're Taz) struggling to make an impact. Also at the back we got to see Jack Strange go from hero to zero with quality take downs followed by wayward passes. Even Downer got in on the act with a couple of trademark experienced, well thought out tactical fouls.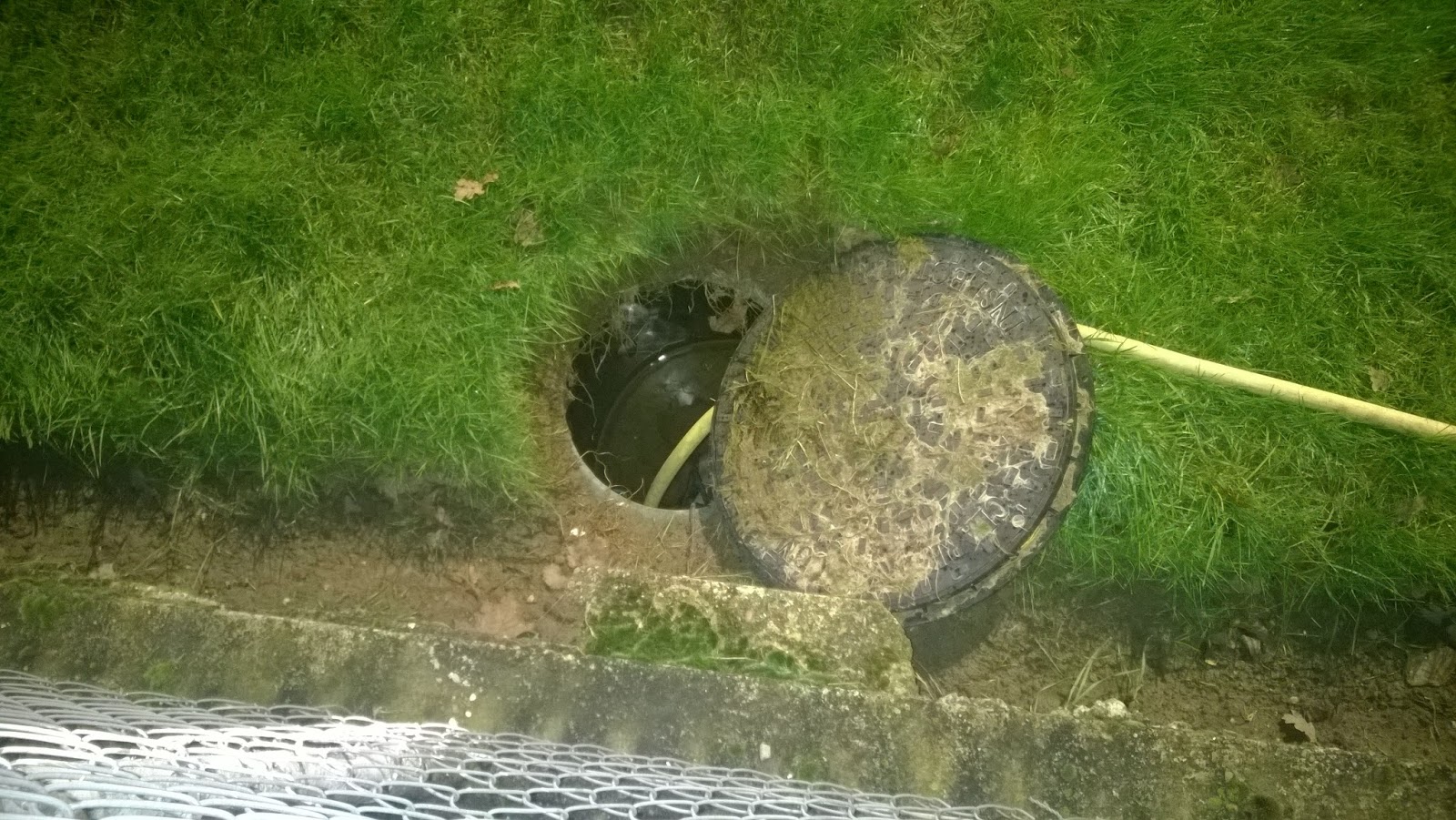 I, er, well, um, nope. No idea.
Second half we took our places at the other end, in between empty Foster's cans & the distinct smell of Jamacian Woodbines. Surprised to see the same starting line up it was soon changed when Strange was replaced by Elliot Anderson. Downer was the first to have a pop at goal when his deft touch on the ball was scrambled away on the line, only for Wright to have another pop that was also cleared off.
It seemed that all that was missing was that final ball, because most of the time we were adept at finding a Casuals player just in front of our own. After the hour mark, Burke-Hamilton was substituted for Aidan Brown (Aden & Raiden, get it?), whose Youth team goals per game ratio is a bit stupid (53 in 43 I think Mr X said). Two minutes later the changes made the difference & we'd doubled our lead when Dillon got onto the end of a Spence cross to leather the ball home. 2-0!
With only fifteen minutes on the clock remaining, Casuals finally pulled one back with a near post header. 2-1. Dillon was finally replaced by Kalognomas and not before he was finally booked for kicking the ball away for the third time. But there was still time for a bit of cherry on the cake as Brown headed in from a nice Anderson cross. 3-1! He even celebrated with a double back flip. One right out of the Duke book of goal celebrations that. Honest.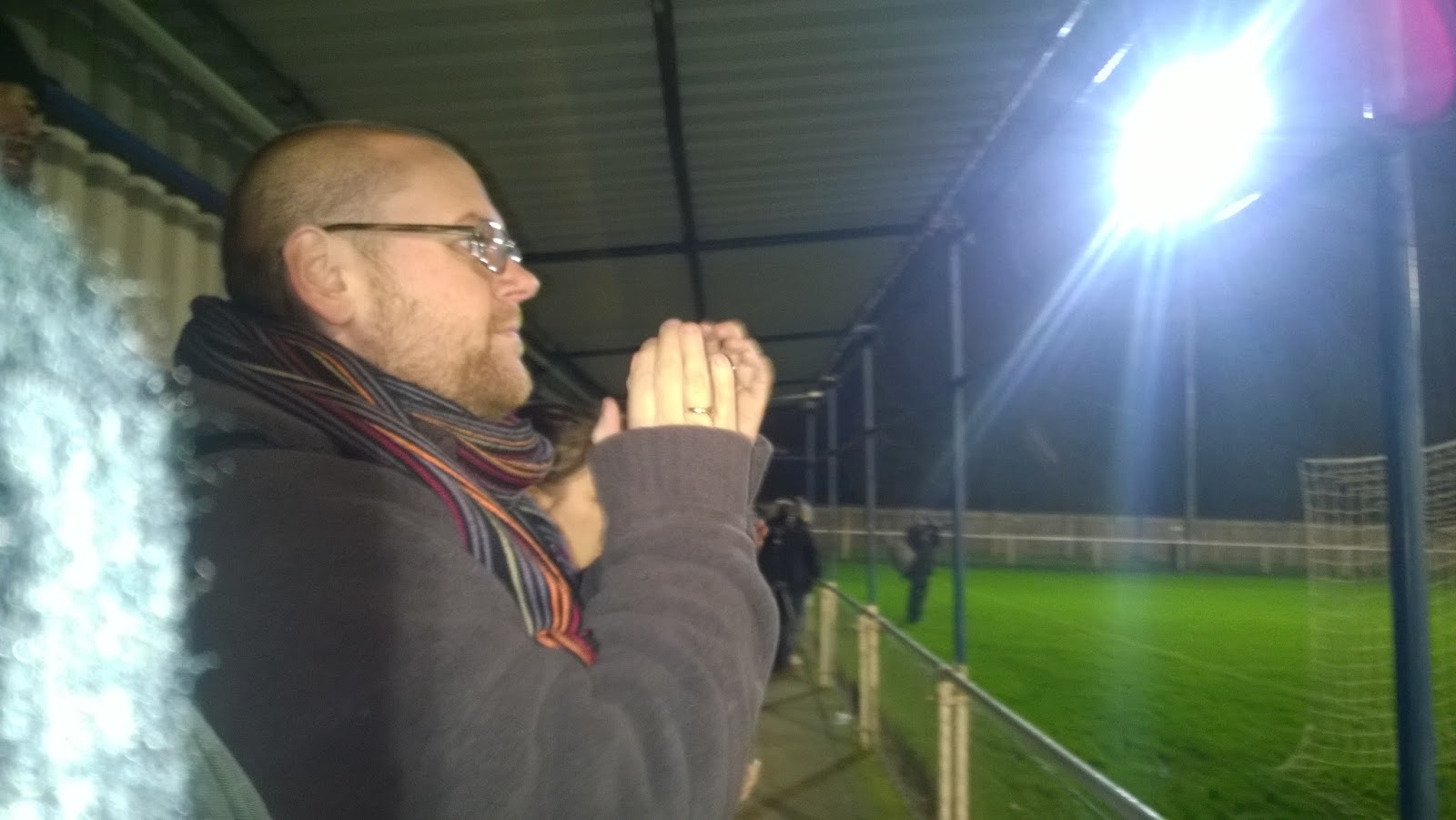 Rapturous Applause
With the final whistle being heard, we celebrated a surprisingly comfortable victory (the bunch of death threats might've helped though!). I honestly thought that Casuals would give us a more of a run around with the sorts of players they had and them being ex-Sutton, but it wasn't to be. It was good to see some of the Youth playing at the Senior level but I fear that they really need a bit more sharpness before they'll be properly knocking at the first team door.
So our attention now turns to Friday morning and the draw for the Quarter final. Surprising really, considering that there are still three ties yet to be played. And after that there is the little matter of the Second Round FA Trophy match against Curzon Ashton. I suppose really the question for that is if its all square on Saturday, who will be making the trip North on Monday? My money would be on the Gandermonium crew trying to bunk a lift north on the Curzon coach!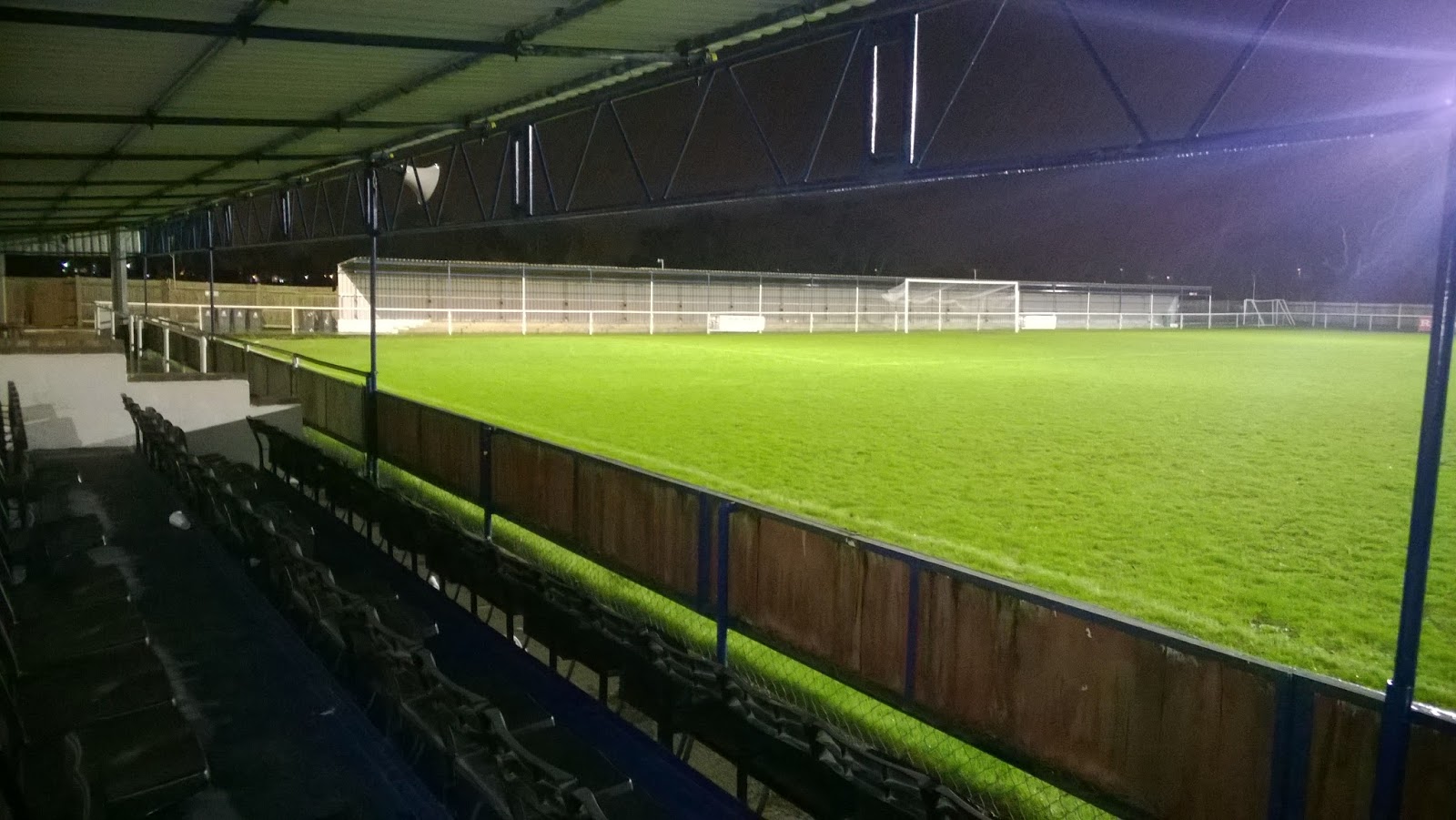 Dukey replicating the scene when Carshalton visit.
Duke
Att. 130