Having recently become an unemployed bum in waiting, this tends to give you a fair bit of time to yourself. It also tests one's willpower. I mean, it would be easy to simply pull the duvet over your head and just lie stinking in your pit until midday before getting up and spending all day in your pants, filling the gaps between Jeremy Kyle re-runs with the odd phone callemail to recruitment firms.
Fortunately dear reader, I am not one of these people. I mean, for starters, have you ever watched an episode of Jeremy Kyle for christs sake?
With time not really at a premium until early April, I can do all sorts of things constructive with my time in between wooing whatever local fast food outlets require staff. Such as try to repair Chalmers laptop. And write crap like this. By the way, does anyone know if Wimpy are still going? I don't think I've sent them my CV yet.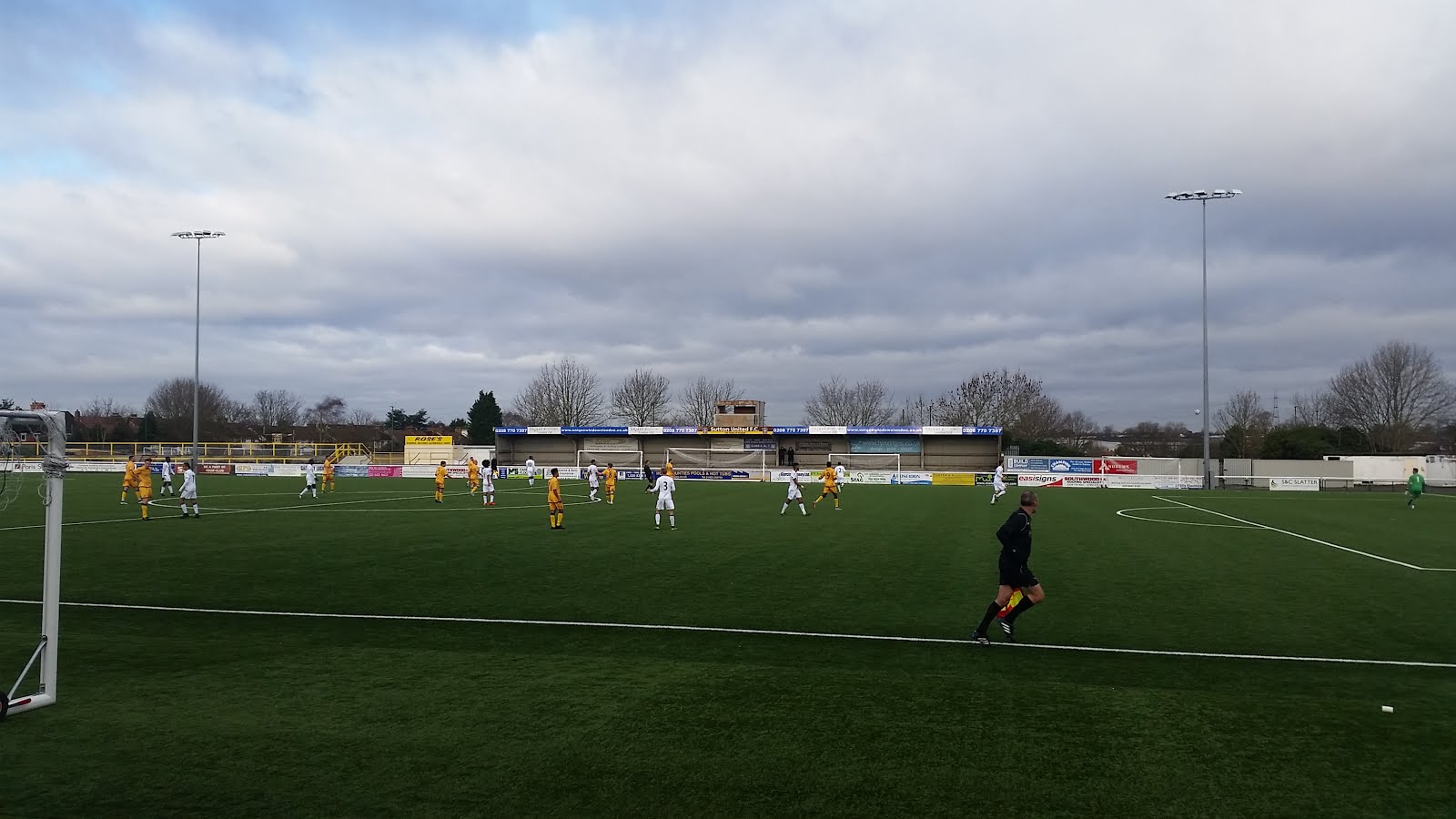 Good morning GGL!
Another enticing opportunity arose this weekend with the announcement that the U's would be holding a practice match at GGL on the Tuesday morning against Palace's under 21's side, presumably in place of the lads usual training workout. With a kick off at 10.30 am, this was a perfect reason to get out of bed and avoid daytime telly. Especially as our Commander in Chief Dos positively encouraged dossers like me to pop down and enjoy the delights of a glorified training game. Sold!
Up before 9, I take a run in the palatial grounds of Gandermonium HQ enjoying the fresh January morning air. Well, when I say 'enjoying' I actually mean 'wheezing round muttering "fuck me it's cold" a lot'. But still, exercise is exercise. A quick shower and warm up with a cuppa indoors and I'm into the Tazmobile heading once more for the beautiful vistas of the People's Republic. However, on my way in I decide to once more boost the local enconomy of the more downtrodden part of the borough and stop off in Carshalton High Street for another cuppa and a bacon roll. Sadly, this move proves slightly costly time wise, as I end up getting stuck behind a bin lorry as I attempt to wind my way into the more affluent areas via some back roads.
What are the odds eh? Rubbish clearance in Carshalton. Didn't think they bothered any more round here. Unless of course the plague has hit town again and the council are doing the neccessary clear up as no one can afford the Co-Op's services. However, there's no bloke calling 'Bring out your dead' and none of the doors have red marks on them. Still, I guess in this day and age it's all done via text message or something. Technology eh?
Eventually free of my rolling refuse filled roadblock, I'm soon across the border and pulling into a packed GGL car park. Fuck me, I expected to be able to roll up and nick Bruce's spot! Instead I'm left with the scraps, mooching about looking for a gap to squeeze the car into. Eventually I get lucky with what appears to be the last usable gap in the place and having locked up, I'm heading into the clubhouse clutching my elevenses. In the bar, I find several members of AFCW's management staff (turns out they're training here again this afternoon) and GGL regular Rax. "Christ, you must be bored!". However it transpires he's got a day off and is on Daddy daycare duties. So his poor little one has been dragged out into the cold to watch meaningless football. Luckily for him I can't remember social services number, so instead I ignore this blatant child cruelty and head down the tunnel to find the game having just kicked off.
1ST HALF TEAM (may not be correct!)
Shaw, John, Spence, Jack Strange (Youth), Sam Doswell(?), Dylan Burke-Hamilton (Youth), Scott Munro(?), Fleetwood, Nicky Bailey, Tommy Wright, Reyon Dillon (Youth)
Outside, I find a few more familiar faces than I'd expected. Kev Sutton (retired) is in, as is my esteemed Gandermonium colleague Totts. Although he's apparently on 'official business', claiming "I've got the RMT briefcase here with all the nuclear launch codes for the Tube strike!", he can't fool us though and is clearly here just tossing it off like the rest of us. Bob Budd is also another retiree in the house as well with his Palace supporting FiL in tow, as is TonyHS. Christ, it's like a regular home game! I also finally get to catch up with Steve, a Palace & Tooting fan who runs the 'Chicken Balti Chronicles' Facebook group we use to help distribute this nonsensical material to the world. This is the first time we've met despite having been at several games together before but always somehow missed each other.
Steve is a Gandermonium fan, naturally (Who isn't?) and enquires who exactly is responsible for the reports. So I introduce him to Chairman Totts and also confess that I play my part when required whilst making excuses for Dukey's absence as he's out on the mean streets of Kingston doing his bit to save the planet. He chuckles and tells us he particularly loves our turn of phrase in these here parts. In other words, the absolute liberties we take with the English language. Although this does somewhat confuse the members of the Facebook group whose first language is not English apparently. Along with a good few whose it is no doubt.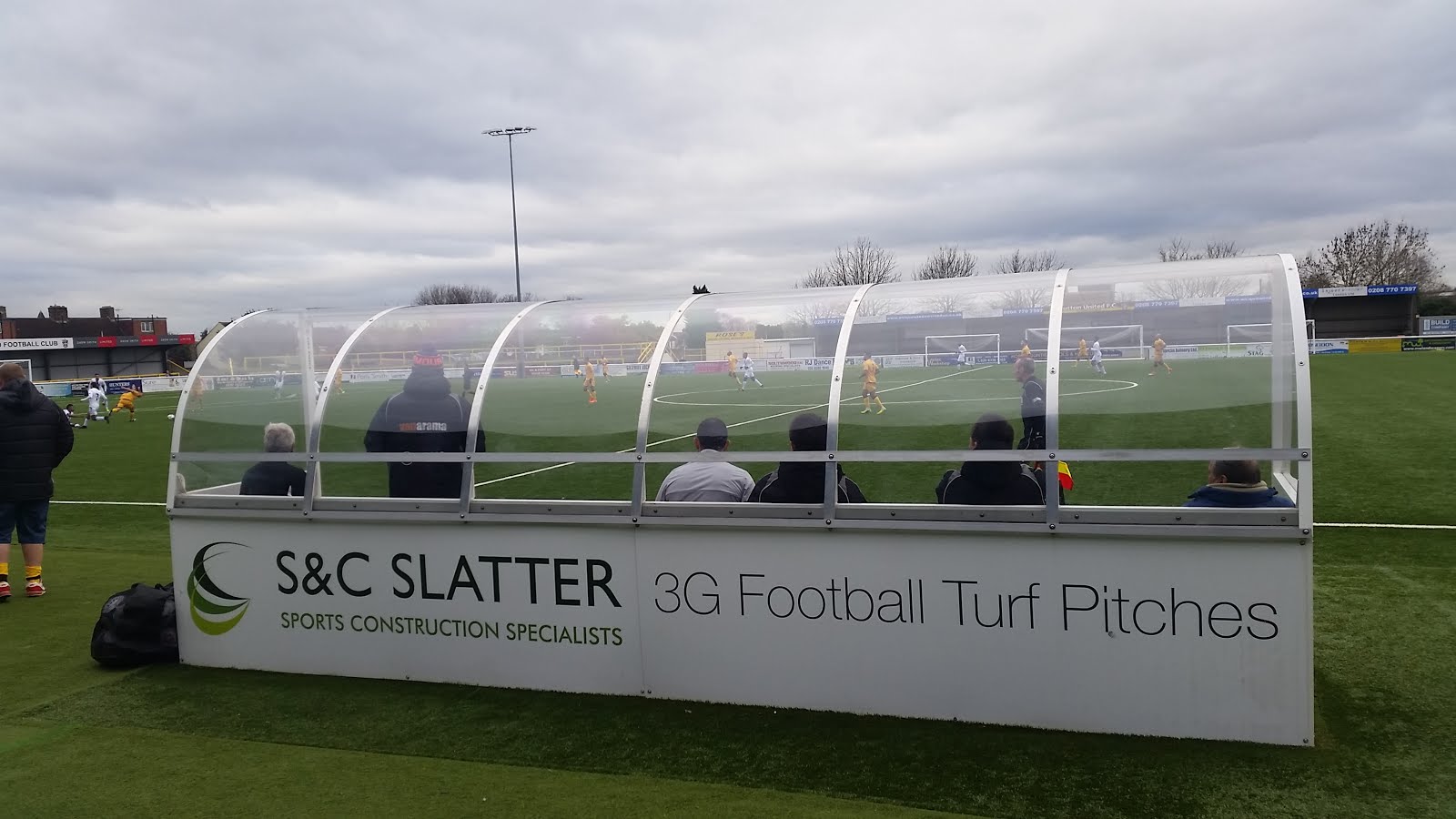 The view through the plexiglass.
Attention then turns to who's out on the pitch. We quickly ID the usual first-teamers out there, but our main confusion comes from a stocky, bald headed lad in midfield wearing number 6. Who's that? A new potential signing perhaps? We're pondering the identity of this mystery man when WhatsApp provides the answer and a member of the 4Days clan reveals that former U's star Nicky Bailey is in the team.
Everyone focuses hard on the figure on the pitch before tutting and going "Aaaah, so it is" in unison.
It seems that Nick was released by Barnet a little while back and he's currently unattached club wise, so he's no doubt here keeping fit. Which just goes to show you how fucking fickle professional football is. Nicky's only 31 and a quality player. How the fuck does someone like him fall through the cracks? Still, it's nice to see him gracing the GGL 'turf' in a U's shirt once more.
The first half is pretty even and with this starting eleven rumoured to be the one turning out at Casuals in the SSC tomorrow night, it's good to see they put in a decent shift with youth lad up top Reyon Dillon looking the best of the youngsters. Chances wise, Fleetwood's run of shitty luck continues after a stinging 30 yarder rattles the crossbar, hits the keeper on the back and rolls wide for a corner. Then Dan Spence is allowed to surge from deep and with a sight of goal, his low drive pings back off the base of the post.
Christ, now you can see why we hit the woodwork so often. Even practising we can't avoid it!
Palace have a little flurry before the break with a couple of dangerous moments, but neither leads to a goal and Shawy clocks off having had largely sod all to do for 45 minutes.
Totts takes his leave of us and heads off on his official business, whilst we take the opportunity to get out of the cold and head into the bar to warm up. To our delight, Wendy has the hatch open for refreshments, so we grab a cuppa and I fill Balti Steve in on my summer roadtrip across the USA with the missus. Much to his envy. Here we also find 4Days, who despite having Tuesdays off had completely forgotten that this game was on until he'd seen the early 1st half WhatsApp chatter!
2ND HALF TEAM
Will Price (Academy), John, Downer, Amankwaah, Wishart, Stearn, Bailey, Gomis, Bolawinra, McAllister, Fitchett. SUB: Eastmond
The second half is mainly first XI regulars getting a work out, although Nicky Bailey starts the half before being replaced by Craig Eastmond around 10 mins in. The Palace XI looks a bit livelier this half, although I've not a scooby how many changes they themselves made at the break. And with their first serious attack of the game around an hour in, they go in front. A raid down our left and the wideman gets inside Amankwaah. His angled shot is parried by Price and despite an effort from an off balance John almost on the line, he can only help it on it's way into the net. 1-0.
We play some alright stuff and following a corner, we once more connect with the woodwork. This time Bedsy Gomis and the back post nodding onto the crossbar. I wonder if these get added to the official "We've hit the woodwork X fucking times now this season!" tally or not?
Another left sided attack produces a second goal for the Nigels with about 20 to play. Their big Dundo-esque number 10 dumps Downer on his arse out wide and squares for a team mate to thump home from about 6 yards. 2-0.
Things peter out a little as everyone just takes it easy and enjoys the run out and at the end, I'm a little glad for the final whistle as it's rather chilly now and the feeling in my toes is starting to become something of a memory.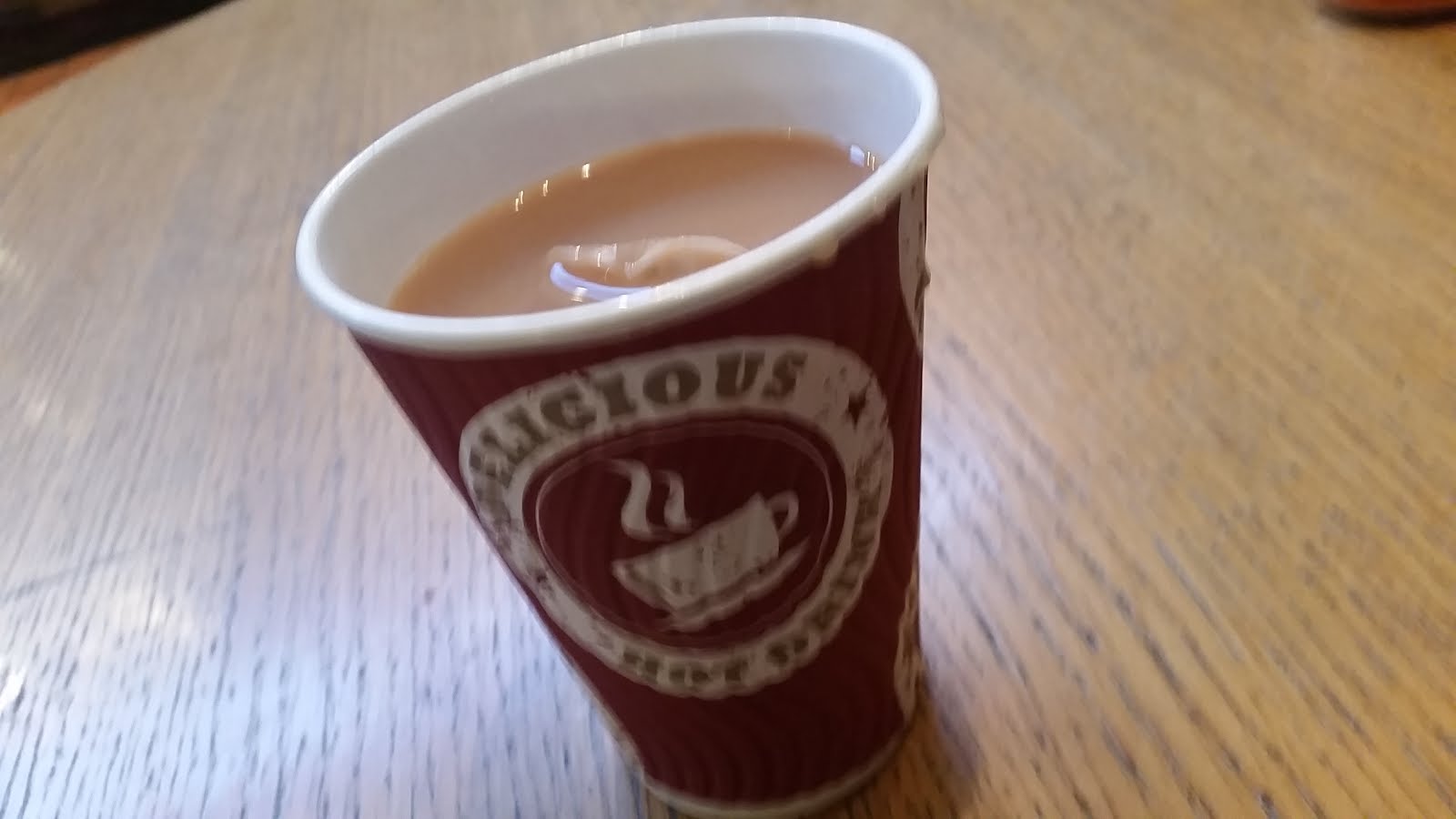 Gandermonium, brought to you in association with Tea.
I bid farewell to Balti Steve along with my fellow Sutton dossers (who I'll no doubt see at Casuals tomorrow night!) and pop into the warm bar with 4Days to grab a much needed cuppa. Then after some 'jobless' banter with our Lord & Master Dos, it's back to the Tazmobile for the short return trip to HQ where a crucial meeting with my washing machine awaits.
What? Socks don't bloody wash themselves you know! No matter how much I wish they did.
The ever charming Dukey should back on shift for tomorrow's clash of the titans down in Tolworth. See you there and don't forget your thermals!