It's been a strange week. Like many other unfortunates across the country, I hauled my Turkey and Quality Street stuffed carcass out of bed on Monday and returned to work after the Xmas break. By Wednesday morning, I'd had my fill and coupled with old reservations about my employers, I'd done what can only be described as 'fucked my job off' and handed in my notice. By lunchtime the same day, I was on a train home, handed 'gardening leave' for the remainder of the next 3 months of my notice period. Which is a bit disappointing really, as I'm shit at gardening. Nor do I have a garden.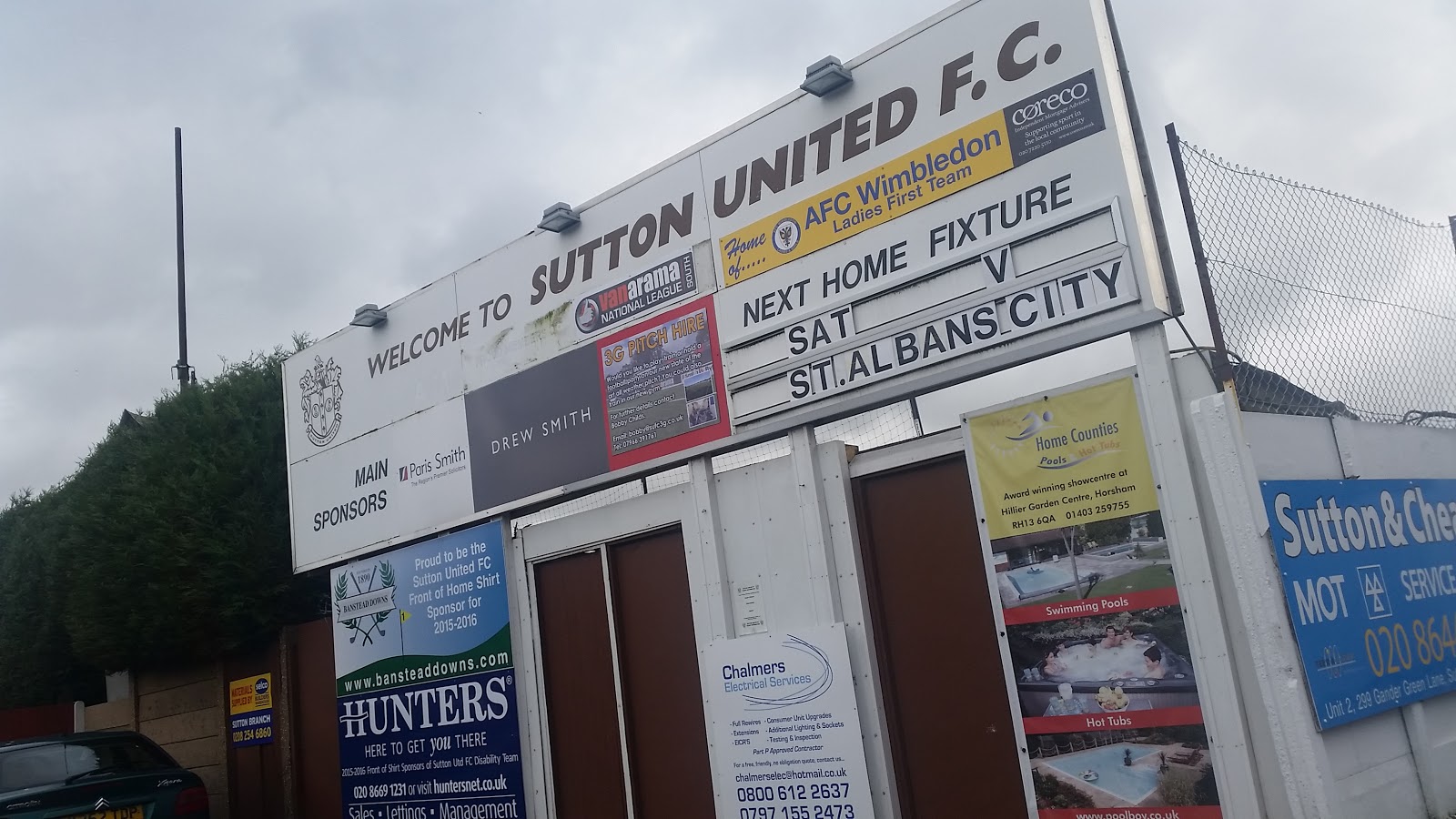 Yeah, I know. We always do one of these….
Naturally, my life changing news was greeted with nothing but messages of love & support from my GGL based non-league watching comarades. "3 months? You fucking lucky bastard", "Get a job!" & "Big issue?" being amongst the friendlier missives recieved via Facebook and WhatsApp throughout the day. With backing like that, how can I fail to find a new challenge almost immediately? By the way, anyone got the number for McDonald's HR department?
Self inflicted joblessness excitement aside, my attention was only briefly diverted from Saturday's clash on the magnificent weatherproof carpet at GGL against struggling Stalebuns. Thankfully, the weather had meant the loss of a couple of away fixtures over the seasonal period and made sure we came into 2016 with fresh legs, if not with quite as many points as we'd have liked. Still, we'd done what we had to when the chance arose and we'd also seen off Lowestoft Reserves in the Trophy, so can't complain!
Still, we'd lacked a little of the verve we'd been playing with recently. The Lowestoft performance in particular being pretty flat, but whilst getting the job done. We'd also made hard work of Basingstoke on Boxing Day and I hoped today's latest relegation threatened oppo wouldn't be quite so stubborn.
Despite having not had to work the last couple of days, I've slipped into properly lazy broken Britain dole scum mode already and don't arise from my pit until after 11. A shower, some brunch and I'm on the 1pm 407 into the thriving metropolis of Sutton. I alight at the Cop shop as usual and start the stroll down to the Lane via an ATM. Although I avoid a stop in Greggs for a sausage roll as I'm not quite that Jeremy Kyle just yet. Fortunately, as a bonus the horrible grey clouds hanging low in the sky refrain from dumping their wet payload onto my canister on the walk down to the utopia that is the People's Republic of West Sutton.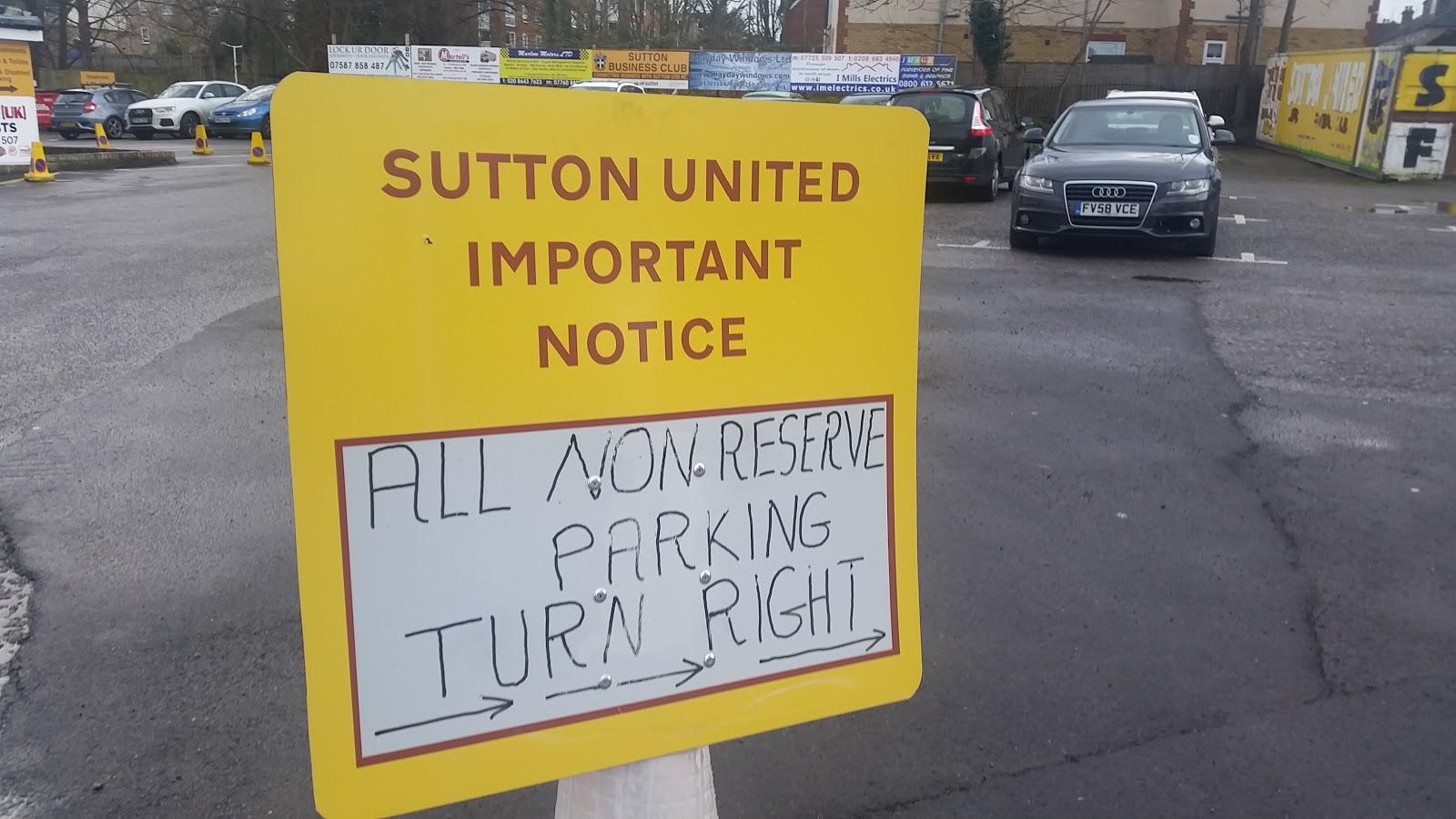 It's important you know….
I arrive to find that the bar is somewhat busier than normal. And with the weather we've been having the last few days, I'm not surprised. Many games round here will no doubt be off thanks to the sort of rainfall lately that would have Noah breaking out in a sweat. Between the door and the end of the bar we usually prop up, I've spotted Carshalton tops, a Casuals hat and a couple of other badged jackets I can't quite identify as I pass. Should be a good few in today then!
Arriving at nearly 2, it's of course my turn at the bar. The usual penalty for tardiness. So I get some drinks in and then having coughed up, realise I've completely missed Greek, stood dropping quids into one of the fruitys. I know the lad's lost some weight lately, but come on Taz! Naturally, I go to rectify my error only to find Wardy has something to say on the matter. "Make sure you get it right mate. He'll sulk otherwise. I got him a cider when he wanted a Fosters and he had a paddy. Had to buy him some sweets from the machine to stop him crying".
Oh. I see, domestic in progress.
The rest of the pre-match chatter involves hatching a genius plan to bunk on Curzon's team coach up to Manchester should our Trophy tie need a replay ("Get 'em a couple of crates. I'm sure they won't mind!") as the game will be on the Monday after and the amount of what appear to be small feathers on Dukey's polo shirt. This of course leads to accusations of him interfering with poultry and the flat capped one defending himself as only he can.
"I ain't no chicken fucker!"
Oh and will you look at the time, almost kick off. Must dash!
Worner, Amankwaah, Wishart, Beckwith, Eastmond, Collins, Bolarinwa, Gomis, Dundas, Fitchett, Stearn SUBS: McAllister, Fleetwood, Cooper, Wright, Spence
"Right lads, let's keep it tight. No silly 5-0 scorelines eh?"
Before we get underway, we notice that the visiting fans appear to have a several foot tall Xmas tree in their possession. As you do. This triggers a brief pre-kick off musing of whether they'd be charged a concession for that or the full 12 quid. Although given what the robbing fuckers charge for their games at Clarence Park, one would hope it was the latter.
Once more shooting towards the Rec End, the U's set about making sure there's no repeat of the drawn out situation we had on Boxing Day and get stuck into Stalebuns from the off. In fact it takes about 5 minutes to expose the rather ponderous looking oppo centre back pairing. Tombo gets possession in midfield, looks up and trudles a perfect little through ball into the box for the run of Fitchett. He applies the coup de'grace and slips the ball through the keeper's legs to open the scoring. 1-0!
As a way of commiserating with the vanquished foe, the usual post goal celebrations are punctuated with the odd shout of 'NUTS!'. I know, I know, we're too sporting for our own good sometimes.
Those celebrations have barely ceased before the visitors almost find themselves level. A punt down the line looks to be no danger at all. But Worns and Beckwith leave it for each other allowing the oppo striker to nip in and crack a rising close range effort off the outside of the near post.
Wakey wakey lads. Xmas is over remember, no gifts today thank you.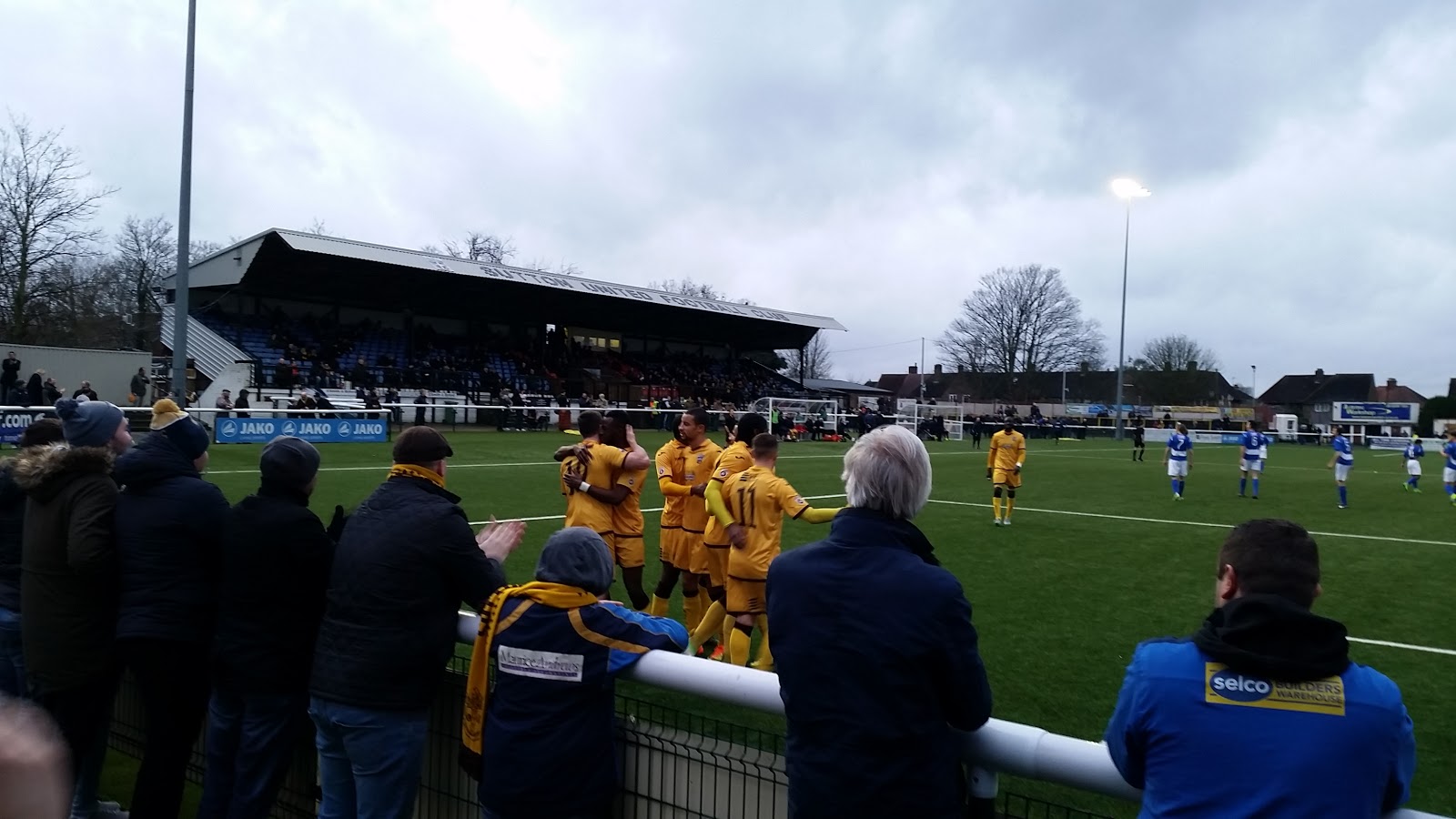 Ceeeelebrate good times, come on!
Sadly, we're still not quite awake yet and the Saints have another opportunity soon after. Another long ball catching us a little flat and their man is away. However, the flag is up straight away and his tidly finished effort thankfully doesn't effect the scoreline. Having taken that early lead, a rather watchable end to end contest breaks out and for a few minutes, the oppo look like they could be a decent threat going forwards. However, Tombo is starting to make the stupidly ponytailed fullback wish he'd called in sick today, as the ball is worked wide to him every time to try an prise an opening. Then with about 20 gone, we insert a touch of daylight into the scoreline.
Tombo is fed by Amankwaah and wastes no time in opening up a gap for a low ball across. Dundo arrives near post, sticks a heel on it and having taken the pace off the ball and sat it up beautifully, Ross Stearn pops in behind to belt a lovely sidefoot volley beyond the keeper and make it 2-0.
The second goal seems to give us confidence and knock St Albans and we spend the rest of the half trying to notch a killer 3rd goal and make that 2nd half a bit easier on the legs. Beckwith heads wide when well placed and then Stearn shoots over when he should be hitting the target from just inside the box after another Tombola run and low ball is diverted into his path. There's then an almighty scramble that we somehow don't score from, Tombo breaking slips in Fitch, he can't dig it out first time but turns and instead sets up the arriving Stearn. His first effort from the penalty spot is blocked on the line and his follow up from an angle is also turned away from goal by a defender. Finally, with the ball having got back to Tombo, his clipped cross is finally headed away for a corner.
With the break approaching, we finally all but put the game to bed. Dundo dispossesses his man down the right, advances and then slips a ball into the box for Fitch to rifle a low drive once more through the keepers legs into the far corner from a tight angle. 3-0.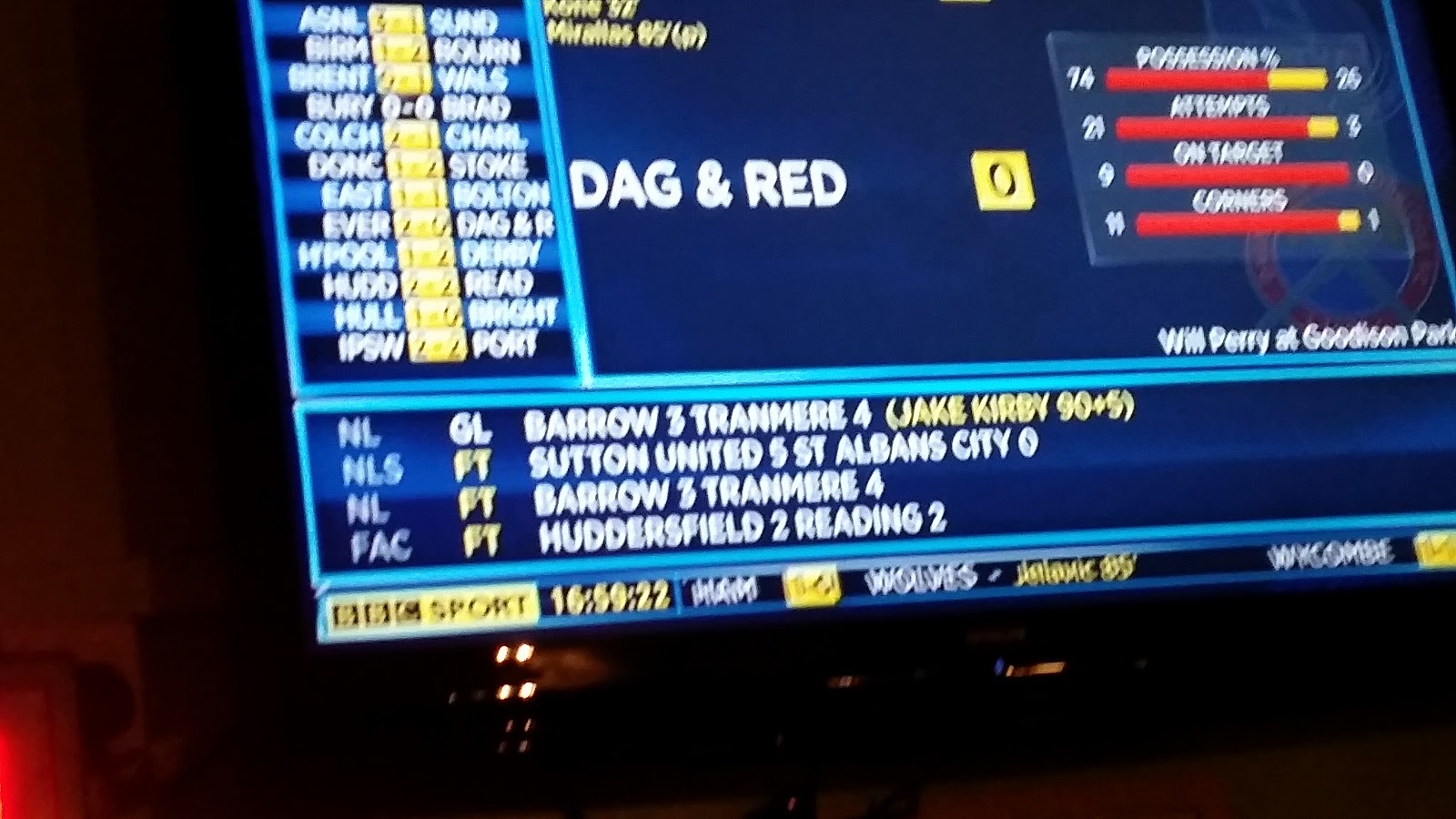 Up. In. Lights.
"NUUUUUUUTS!"
At the break, our feeling that the ground is a bit busier than normal is confirmed when it takes basically the whole of the break to get a cup of tea and a bacon roll from Roses 3.0, Chalmers also takes the piss by poncing a coffee. And to think he already owes me £3 for parts for his laptop! Cheeky bastard.
The queue for my half time warmer takes so long that not only are the teams out before I'm served but Fitch has wrapped up the match ball. All I see from my Shoebox obscured spot is the U's striker wheeling away in celebration. Arse. Still, the keen eyes on the terrace will no doubt fill me in on the details. Oh.
In the end, I manage to find out enough details to be able to report that Dundo blocked a clearance by a defender, the ball reached Fitch and he thumped a low drive inside the near post from 18yards. 4-0 and game over methinks. Thankfully, I'm not the only one to have missed the action as a strangely hat-less Dukey arrives. "I let Burgers old man go in front of me in the khazi, so I missed the goal!" he moans. Although he's more upset about the loss of his headgear, "Greek pinched my hat", just as the rain starts to fall steadily onto his uncovered bonce. Fitch should bag a fourth almost immediately after, with Tombola once more setting him on his way with a clipped pass into space, but this time Dan fires across the keeper and naroowly wide of the far post.
The rest of the second half is largely dull. With the game won, we don't exactly bust a gut, however we really should have more on the scoresheet despite this. The worst of all being the rubbish offside shout that robs Stuart Fleetwood of his maiden goal for the club. Wish makes a run down the left and then whips a cracking low ball in from deep. Fleets times his run and arrives perfectly to ram the ball past an exposed keeper. Sadly, despite being played on by no less than 2 blue shirts, the lino on our side has his flag up. Fleets gets halfway through his celebration before realising too, the poor sod.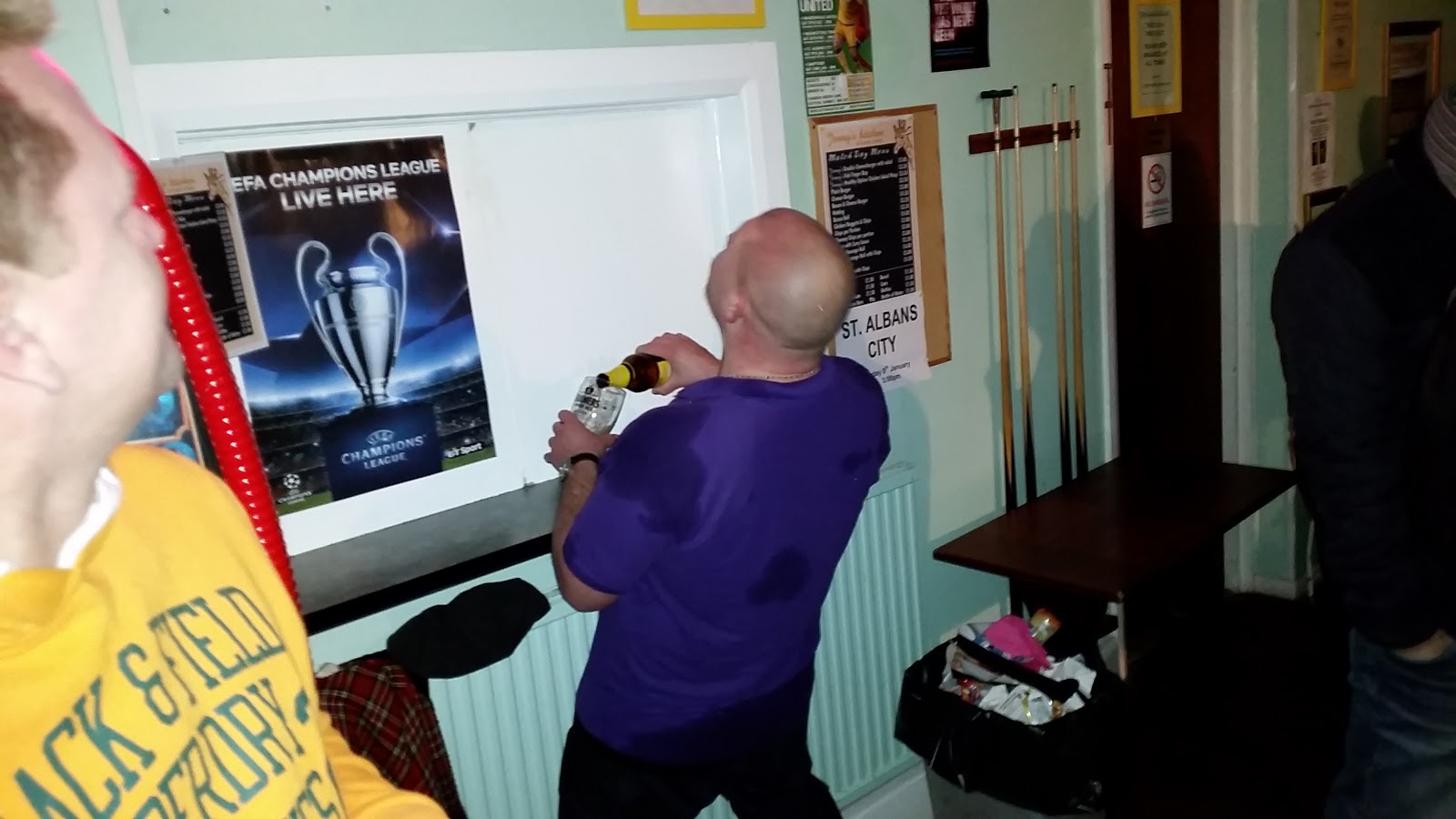 Stop that, STOP THAT RIGHT NOW!
Next time fella, next time!
Bedsy has a sighter with about 15 to play but his swerving effort is beaten away and then with about 10 left, Dan Spence celebrates his return by playing a lovely slide rule pass for fellow sub Tommy Right to scamper onto through the middle and tuck into the corner to round off a proper Hawaii 5-0 performance.
Wish and Tombola try to make it the half dozen, but a decent fingertip save denies the former and a goalline block prevents the latter from adding to the tally. But we're not fussed. By now it's properly pissing it down things are getting a little moist out here on the Shoebox so we're not that upset when the final whistle goes. And at least Greek had popped round to return Dukey's hat to stop him getting too wet.
We return to the bar to warm up & dry off whilst 4 Days and the Duke do their usual net lifting duties. Which just so happens to coincide with the rain going from 'steady' to 'Biblical' meaning both come in looking like drowned rats. Dukey takes advantage of the radiators being on to dry his fags, his jacket and er…..other things he keeps in his jeans. Not a pretty sight, I can tell you.
I stick around to dry out and enjoy a couple of pints whilst a rather farcical Strikers Are Key draw takes place, hosted by our Lord Doswell. The Midfielders pull out the ball, but their representative Bedsy Gomis does 'a Scannell' and pulls the wrong key. Dos & Graham Baker then take about 10 minutes to establish that the winning key is actually in there and display the safe being opened! Fred Karno springs to mind for some reason.
Following all this excitement and to get away from Tom humping the radiator, I accept Chalmers kind offer of a lift back to HQ as I and the good lady are heading out with my parents for dinner this evening due to her impending return to higher education the following day. Turkish grub and very nice it was too.
Drying out the essentials.
See, we can do grown up occasionally.
Right, I'm off to fill in some application forms. I hope Burger King are hiring….