So, after seeing the last game of last year and the first game of this year washed out due to the recent spot of inclement weather, we finally get to see our first game of 2016. It was time to entertain a former Ryman opponent of ours in Lowestoft Town. And who would've guessed, that since our defeat against Concord Rangers on November 28th last year, that we would still be playing in the first round.
But, just for a moment (and the fact we need some pointless filler) let's cast our minds back to Saturday. For it was here that we were due to travel to basement club Basingrad Basingstoke. And unlike the previous trip to Wealdstone, that got cancelled before we even left the house, this time we were unlucky.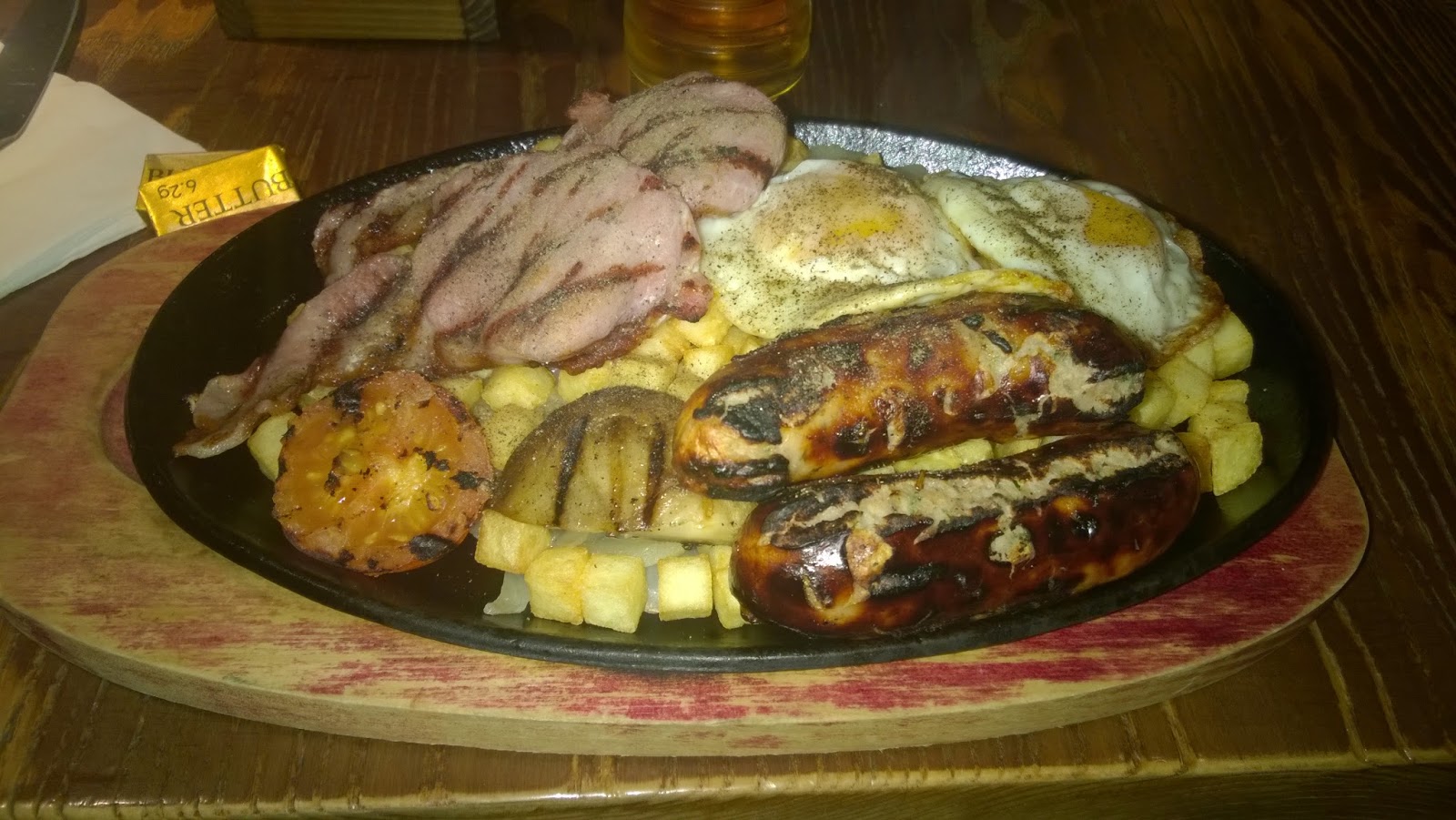 Dukey's New Years diet gets off to a flier…..
In fact it was precisely three minutes from getting on the train at Carshalton that I received a text about there being an 1100hrs pitch inspection. By the time we all arrived at Clapham we had decided that instead of forking out a score for a ticket to Winchester, we would carry on the journey to Waterloo to await news. Arriving here we hunted out a boozer. Finding one in the station was easy enough, so we were winning at life!
Or not. Because the bloody pub was in a basement, so no one could get any signal! But after some smoking breaks we finally found out the match had failed to pass the inspection and instead we went for a bit of SCR action at GGL instead. But not before an earlier than normal visit to O'Neill's and some late breakfast action.
But back to Monday night, and the return of Bradley Woods-Garness. As I'm probably the most Christian, most generous & most selfless member of the Firm, I offered Taz a lift to the game. Especially as he somehow had totally forgotten that a huge Trophy game was on. Unfortunately this offer was not needed on his part as the Firm Leader had made it back in time and instead offered to take both of us.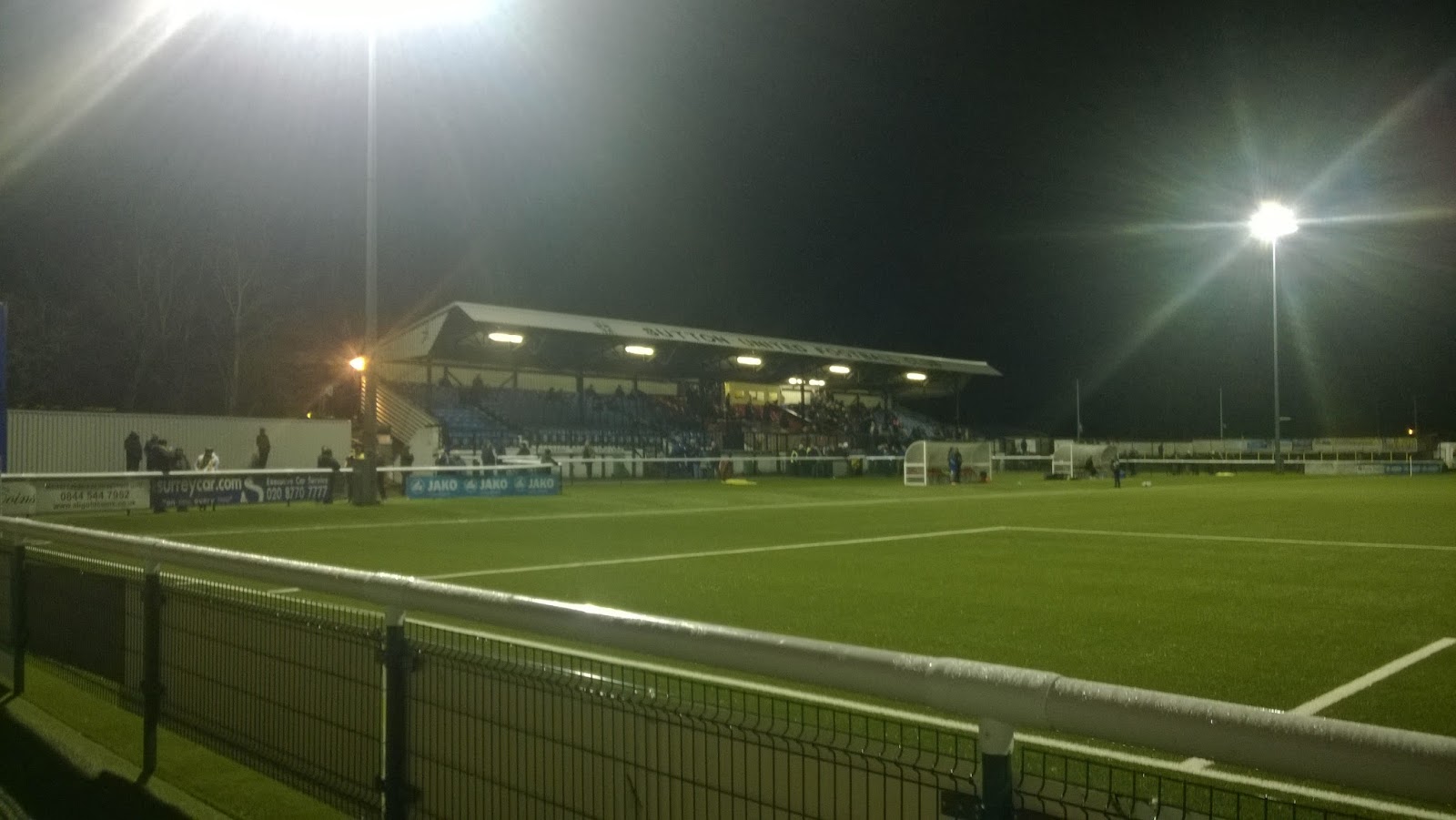 Stand!
Paying again into Johnnie's parking racket (still no receipt), the Firm Leader somehow managed to find the only parking space with a grass verge in the middle of it. In the bar most of the Firm had already arrived and we were greeted with the news that half of the Lowestoft first team had failed to arrive as they couldn't get the time off work. Gutted.
From the Twatter account we saw that we were going for a bit of muscle with Craig McAllister & Craig "dat's a bit of me" Dundas leading the charge. I was a bit surprised to see that apparently two Fleetwood's were named on the bench (but we'll put that one down to someone being a little bit tired and emotional when doing the teamsheet). It was also worrying that the man in the middle was going to be a certain gentleman from Leighton Buzzard in the guise of Chris O'Donnell. I guess the acting career didn't work out for him, especially after 1997's shocking Batman & Robin film.
Worner, Amankwaah, Wishart, Beckwith, Cooper, Collins, Bolarinwa, Eastmond, Dundas, McAllister, Stearn. Bench Warmers: Gomis, Fleetwood, Fitchett, Spence, Shaw.
Taking our usual first half spot at the Rec End, Sutton started very much on the front foot. The visiting keeper was confident to go for anything, but with a kink for punching everything. And failing. He did give us possibly the worst goal kick seen in a generation as he shanked the ball so badly to the left it landed nearly in the 'family' stand. Bloody divots.
Robin also set his stall out early with some downright strange decisions. First he overruled a clear corner (with the lino flagging for it), secondly he managed to book Dundo for diving after he was caught in the box after taking it past the keeper. His final nail in the coffin of respectability was after a free kick, and with the help of the crowd behind the goal, walking out a total of nine steps away from the ball instead of ten. The shout of "I know that's nine, I went to a grammar school!" from some mysterious figure near me was received with much laughter.
With half an hour gone, Sutton took the lead. Stearn saw his shot from outside the box saved by the keeper. And surprise surprise he didn't 'keeper' hold of it. The ball fell to Dundo, now either he had his eyes closed or was thinking about what was for dinner, but his shot managed to find the inside of the post and squirm over the line. 1-0! All he had to do was hit it straight. You would think that would be the moment to take them apart but in true Sutton fashion we gave Lowestoft a lifeline with a miss hit shot that was eventually headed over the line by none other than Mr Woods-Garness himself.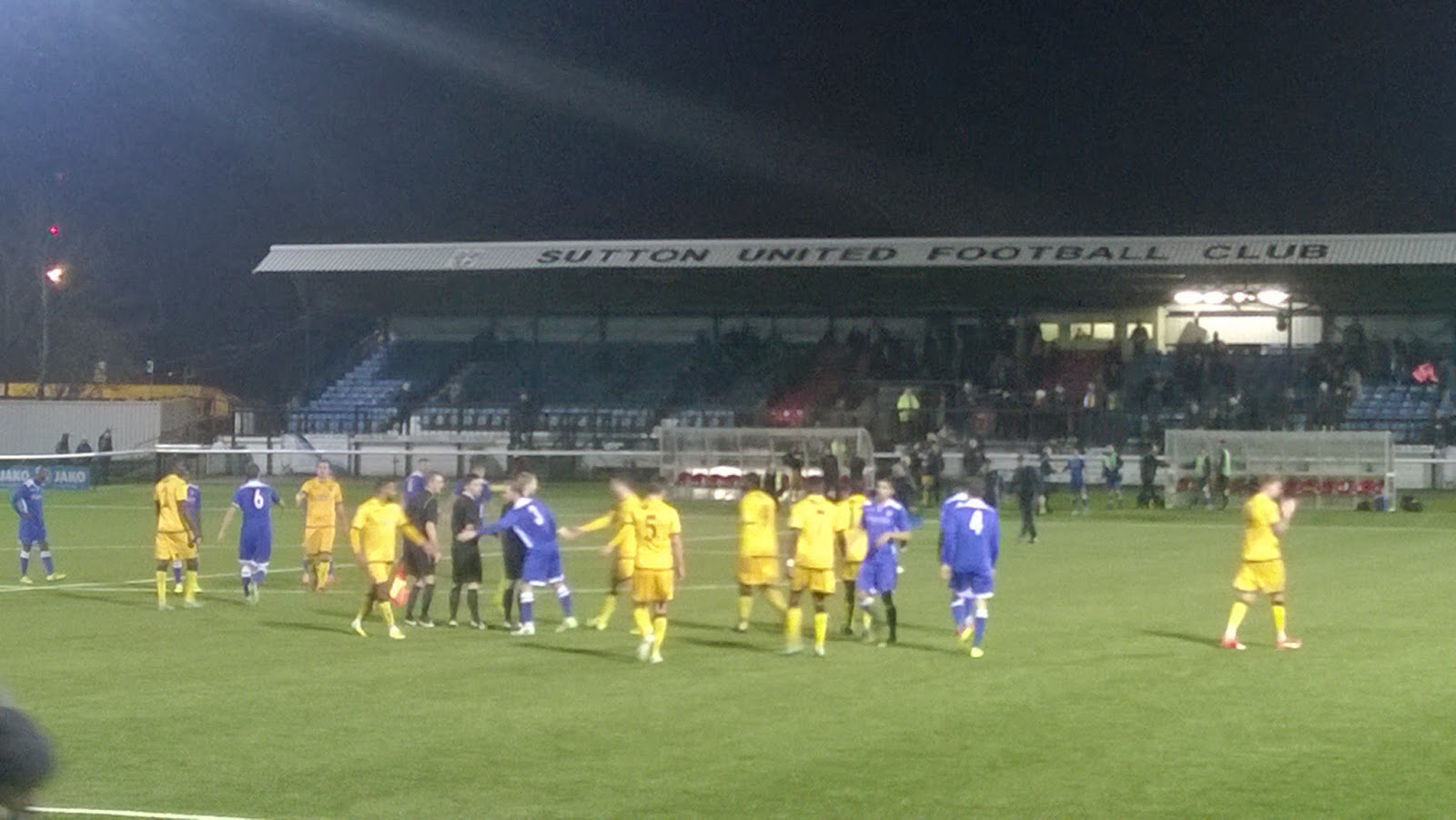 "Well played" "Cheers mate" "You were shit in Batman"
But before we could sigh with disbelief, we were back in front once again! This time it was an Amankwaah cross that was met by Eastmond. He fired the ball first time back across the goal to a sliding Dundas who guided the ball into the far corner. 2-1! There was still time to watch Dundas fail in a perfect first half hat-trick, when his easiest chance of a simple header failed to hit the target.
Second half on the Shoebox and the hope that the game would keep the same tempo failed to materialise. On more than one occasion we gave the ball away too cheaply and some of the free kicks given away were softer than a baby's arse. Worner was tested more by some wayward back passes than the away team during the half though.
Midway through the second half, Dundo got his third. It started with a peach of a through ball from Wishart that was latched onto by Bolarinwa (who had gone up top after McAllister had been replaced with Gomis). He calmly chested the ball down and unselfishly left it for Dundo, who then smashed the ball past the keeper into the back of the net. 3-1!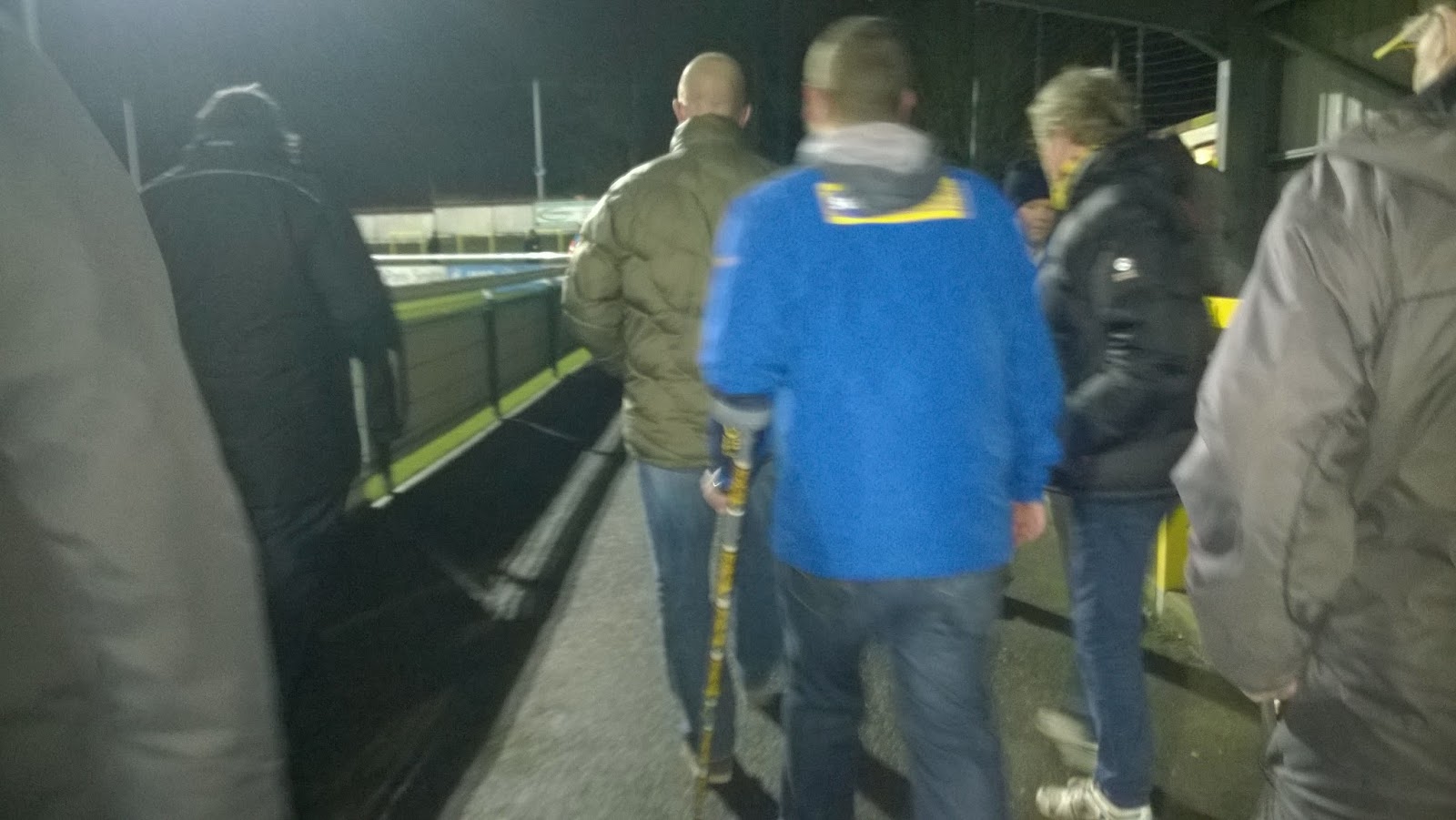 Mocking the afflicted.
Near enough after this Dundo was shoved back into the centre of the park as a double sub saw Fleetwood & Fitchett come on for Eastmond & Stearn. With the game beginning to fizzle out and the temperature dropping quicker than a drugged up Carl Lewis 100m times, it was time for some testimonial action as everyone seemed to try and get Fleetwood on the score sheet.
There was one piece of final play to see when a Lowestoft player managed to run 60yds to get onto a ball in the box. A coming together soon ensured and there seemed to be a 50/50 chance of a penalty or at least a corner. As always Batman's worst sidekick gave a free kick for simulation and then proceeded to book the player as well!
After the match and the usual duties of lifting up the goal nets, there was time to have a quick beer and a little chat with our old mate Bradley. Eventually though it was time to go home and with Sutton's own Tim Flowers with us, we made the trip to Croydon, Wallington & Carshalton before I was eventually allowed to go home.
Stale Buns at home on Saturday before an important trip to the Sutton B team in the SSC. I also see now that the Legend that is Dundo has reached 397 games for us and 95 goals to boot. That means at this rate his 400th game should be against Curzon Ashton in the second round of the FA Trophy. Let's hope his 100th goal isn't far off that too!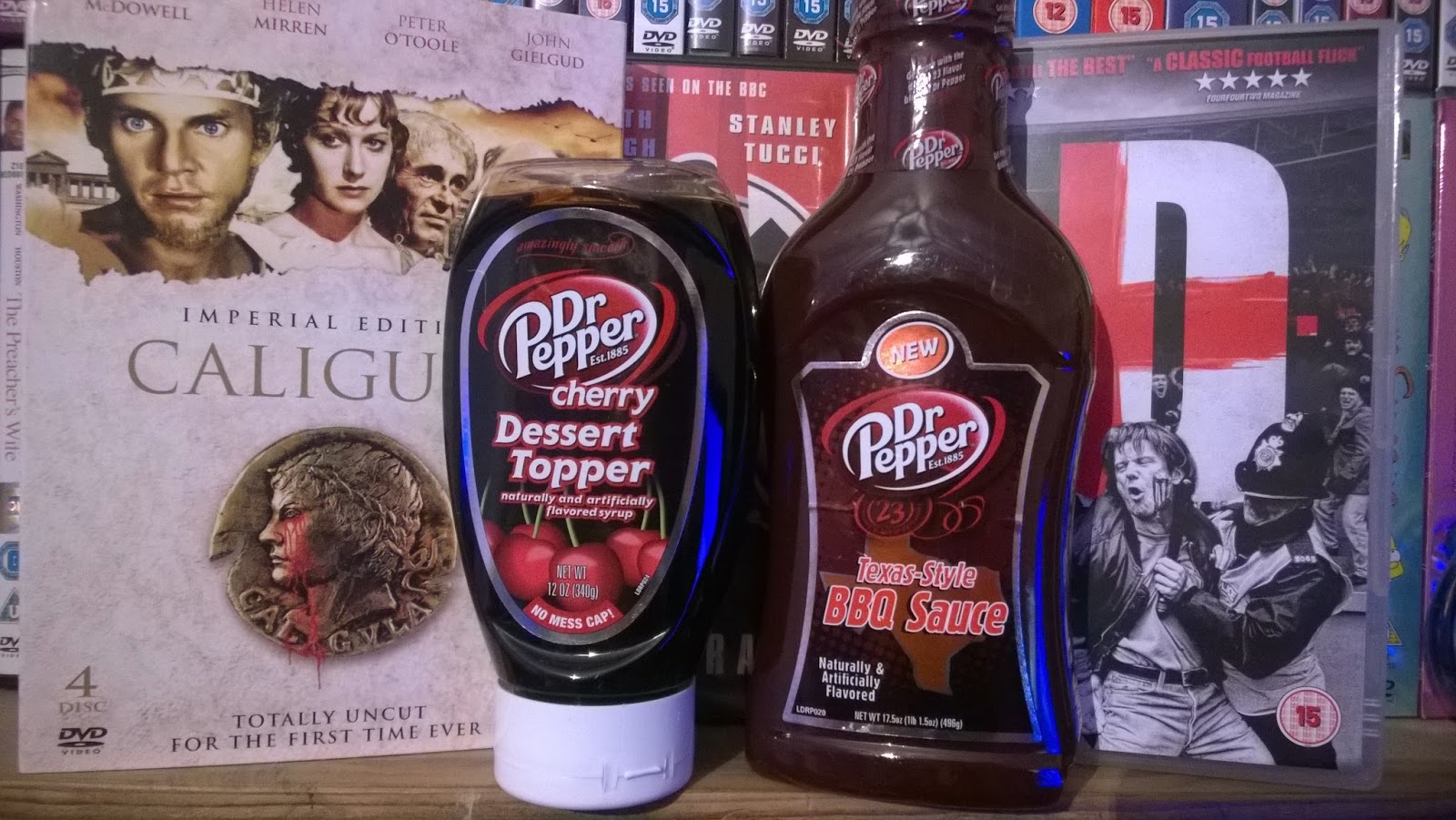 More drunken Amazon purchases….
Duke
Att. 454