Yes ladies & gentlemen, boys & girls. The rumours are true. We actually have a home league game for what feels like the first time in jeffing ages. Ok, so the last time we were at home was really only 3 weeks ago against Hemel in the cup, but that was one of just 2 at GGL in our last 9 fixtures. And when you do awaydays like we do, it can be something of a test of not only your wallet, but your physical wellbeing too.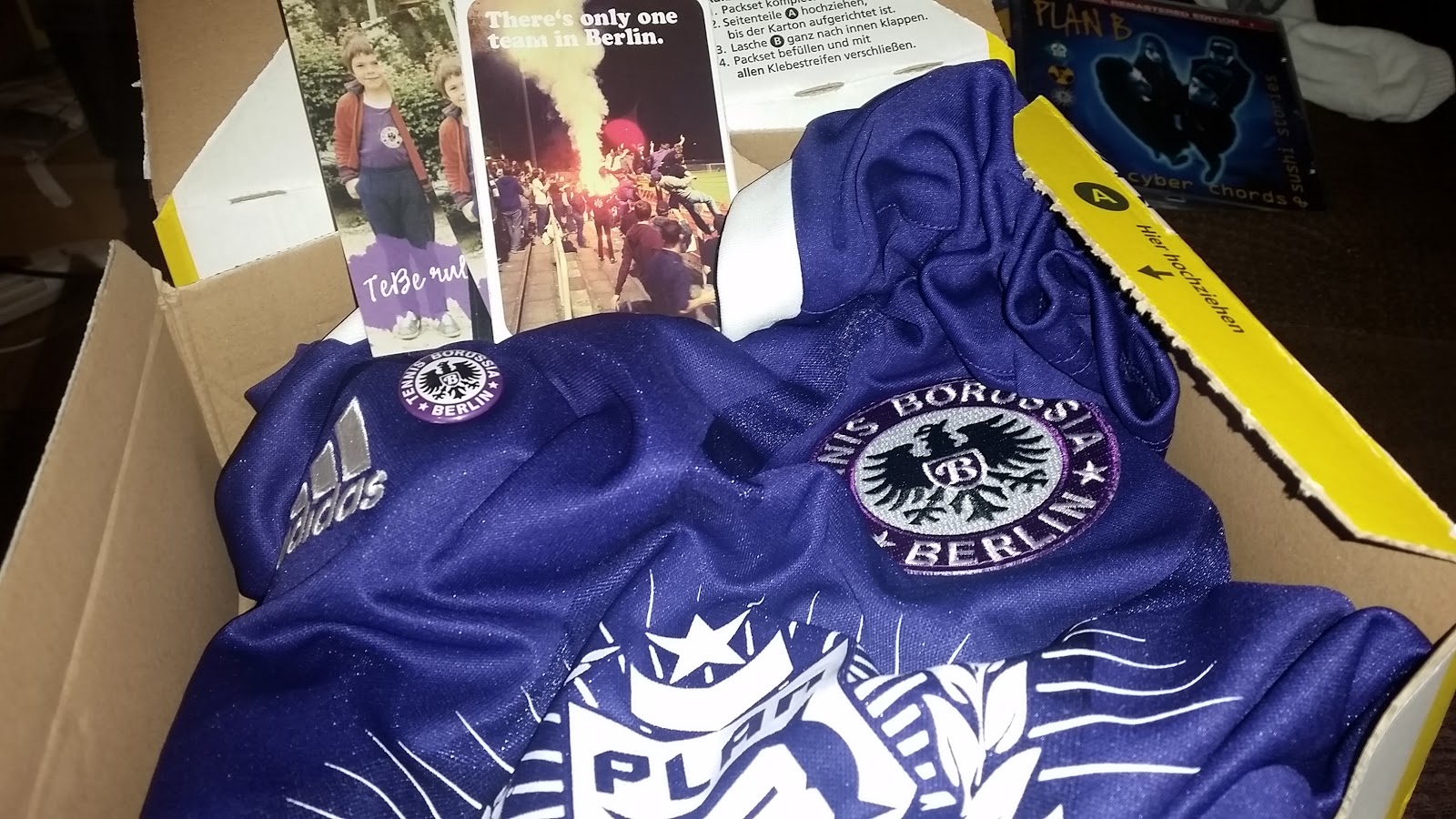 Mmmmm. Lovely!
Saturday saw the last in this testing run with a thankfully so-easy-we-could-do-it-in-our-sleep trip to Eastbourne. Even so, this was still not exactly a walk in the park with myself having to make the sort of run for the train that would make Usain Bolt break sweat thanks to the customary tardy service from the 407 bus and one of the party being accused of being a drug dealer later in the evening. That and we got to see the horror story that was Steve's mohawk hairstyle from a few years back.
Here's a bit of free advice. Never ever show us pics on Facebook, at least mildly embarrassing ones that we've not already found ourselves.
Of course, with a long overdue return to the beautiful wide open plains that is the People's Republic being on a monday night, I don't get to indulge in the same sort of drunken nonsensical bollocks that Dukey does on a sunday afternoon. Still, I've got a few things just as tedious to bring to the party.
Strangely, this day had a somewhat Berlin-esque flavour to it. Firstly, Parcelforce fucked up a delivery of a Tennis Borussia Berlin shirt I was waiting on, meaning I had to arrange to be at Hackbridge Post Office before 5:30pm to collect and secondly an email came through from Kenny of the 'Adventures in Tinpot' blog, who also does a bit on the side for HM Government in the German capital. Apparently, our match had been selected from the many available by Stoffers, a leading light of the European Football Weekends Facebook group. And would I mind giving him the low down? Apparently the kicker was "He likes beer, you lot like beer".
Beer? Us? Dunno where he heard that.
Of course, we're only too happy to help groundhopping royalty like Herr Stoffl, who we'd actuallyt met previously in Berlin after the TeBe game. Although quite how we're meant to be of service to a geezer who this very summer was in North bloody Korea watching games, I'm not quite sure. If he can do North Korea, then a foggy night at GGL with us dickheads will be a doddle!
Although we're sure Kim Jong Un has a far better line in bantz than us.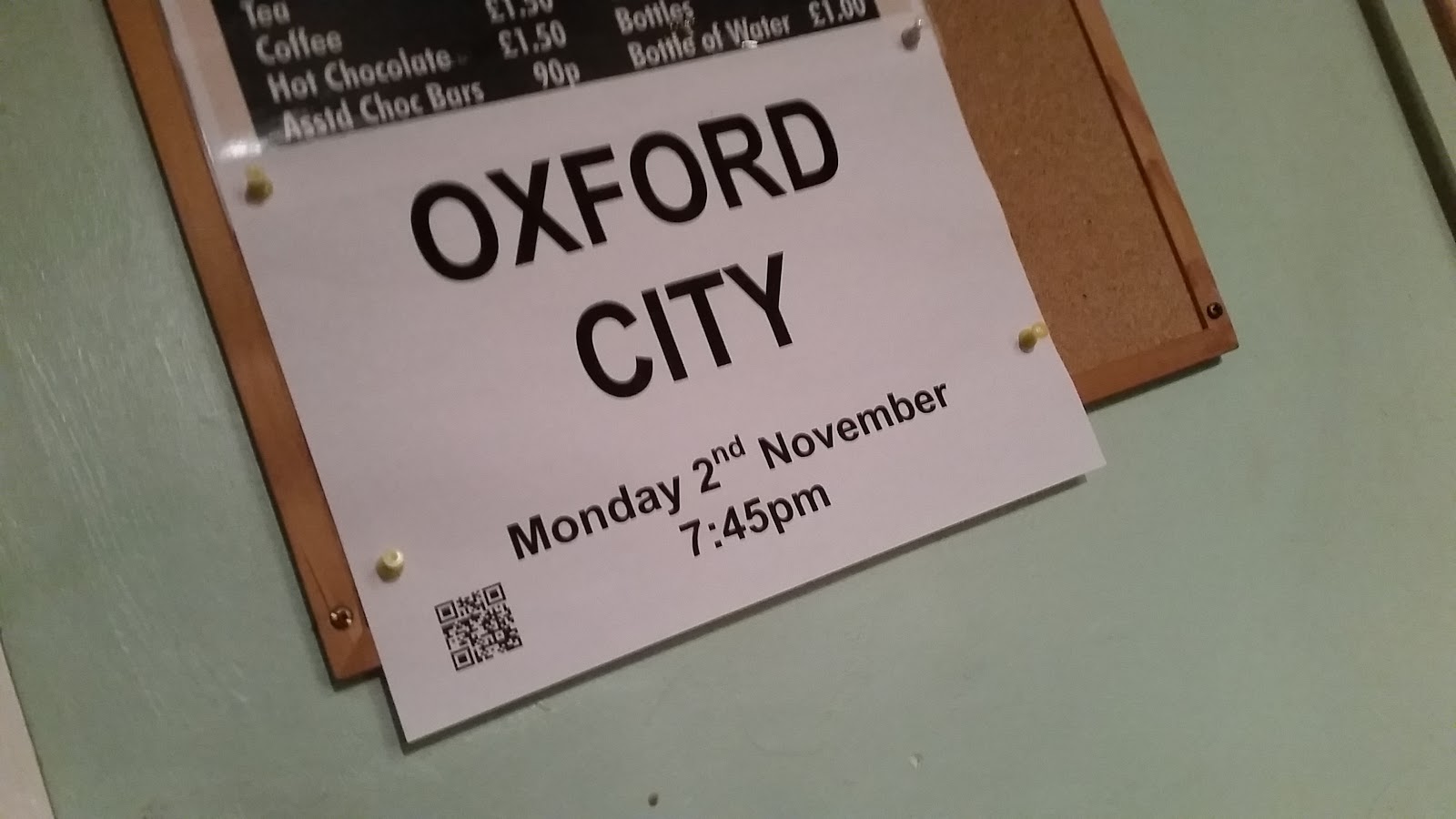 Oppo!
Bailing work at 4, I'm soon safely on the train to Hackbridge and despite it being operated by the usually less than impressive Thameslink firm, I'm actually stepping onto the platform at my destination bang on time. Incredible! Right, time for stage one. Recover my package from Parcelforce.
This is relatively painless as well and before I know it, I'm striding back to HQ through Beddington Park. The fog that has lurked all day clings close to the ground, around the tops of the street lamps. Much lower than, say, a set of floodlights. I hope this murk doesn't mess with proceedings tonight. Despite this, the park looks very mysterious. So I make a mental note to discuss annexing it for the benefit of the people of the glorious Republic with Chairman Totts at the earliest opportunity.
Back at base, I unwrap my little gift from Berlin. And it's lovely. A fabulous Violet Adidas Tebe shirt bearing the logo of local Punk band 'Plan B'. It even has a proper embroidered badge on it. I hope the U's home shirt I'm sending back in return isn't a disappointment with it's printed badge and Golf club sponsor!
I duck out of HQ just before half 6 to head into bandit country and pick up his Dukeliness from his palatial Carshalton manor house before heading into friendlier territory. Although our arrival at chez GGL is delayed slightly as it takes me 4 attempts to find a fucking ATM that's actually working and allows me to draw out my own hard earned folding. Eventually though we're parked safely in the exclusive Gandermonium parking spot (across Mr X's driveway in Frederick Road) and stroll up to GGL. Fortunately, my earlier fears about the fog are unfounded and there's only a hint of murk clinging to the tops of the floodlights.
In the bar it takes me a moment to locate our German colleague and I set about asking the burning questions. North Korea, What the chuff? And and also just exactly how did his beloved 1860 avoid the drop in Bundesliga.2 last season? They were being seen as 'doomed' when we were in Deutschland with about a month of the season to go back in May, so lord knows how they managed to stay up! Eventually though, it's time to head out for kick off and I show Stoffers the locals way in by the side of the stand for quick access.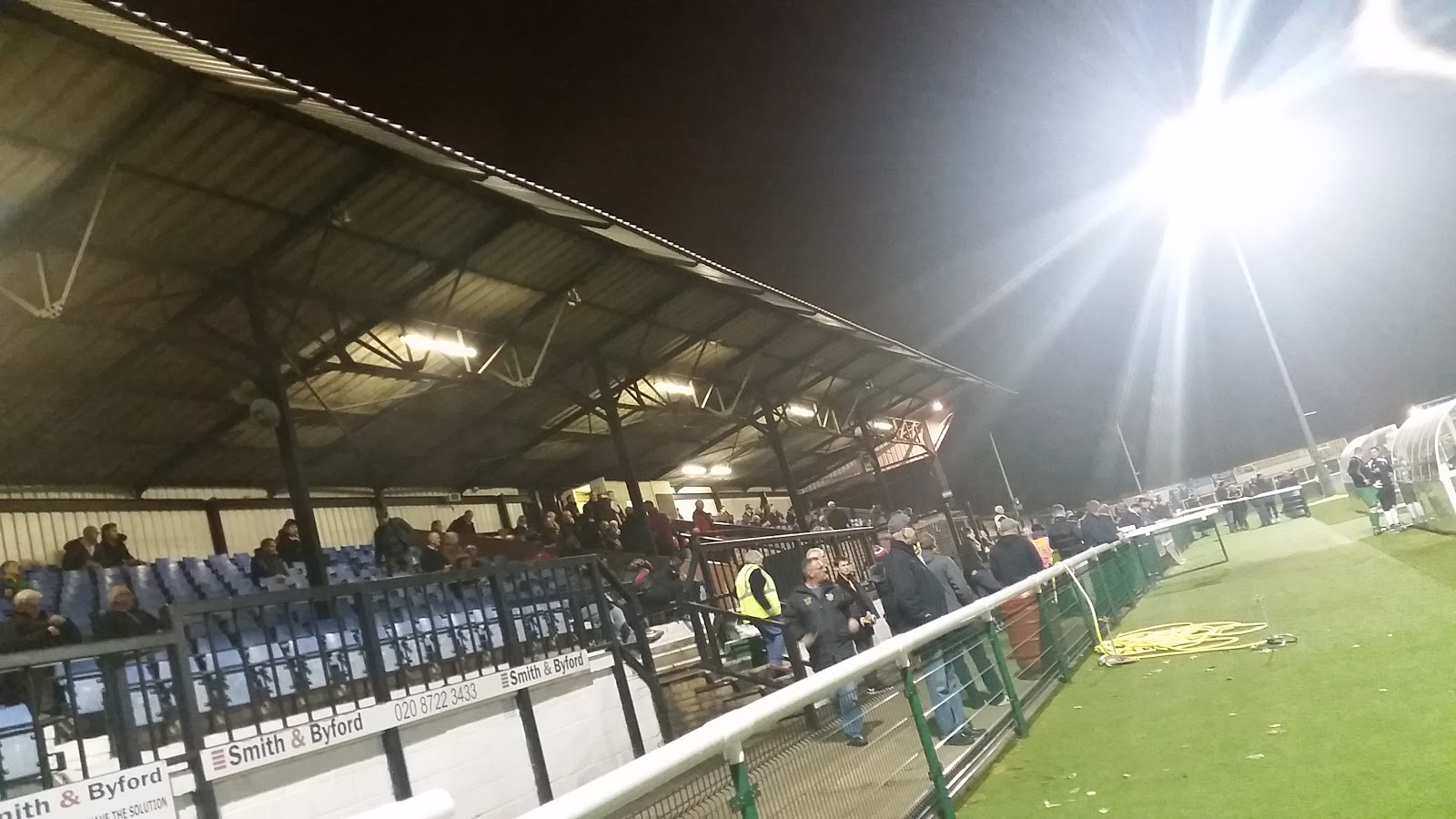 Stand!
Worner, Amankwaah, Wishart, Downer, Eastmond, Collins, Bolarinwa, Gomis, McAllister, Fitchett, Stearn SUBS – Fleetwood, John, Shaw, Dundas, Cooper
The lads, as per normal, shoot towards the Rec from kick off and as I and our German guest head to the club shop quickly, him for pin badges, me for a home shirt to swap for the Tebe one, we get off to a sharp start. Both Bolawinra and Stearn show their intent by immediately looking for gaps and forcing a couple of full stretch bits of defending from the visitors. With my shirt purchased, I leave Stoffers to do his thing and head round to join the rest of the gang at the Rec end.
We're having the better of the early exchanges and certainly carrying more threat. But Oxford are very capable themselves and some watchful defending of our own is required when the opportunity to break at pace. But for all our promising play, the only real moment their keeper is called into action is when Bolawinra bursts down the left, goes past 2 and forces the keeper to block a square shot from a narrow angle. The only other real event of note is Kev Amankwaah hobbling off after over reaching for a ball and Louis John comes on to replace him.
Into the latter part of the first half, the game is as tight as we'd suspected. But on 35 mins, we do what we always do and switch off just the once and are made to pay the price. The oppo's first corner is played short on the right and laid out to the corner of the 18 yard box where their man whips it first time inside Worner's near post. What makes the goal even more frustrating is the time they're taking over every set piece they have. The Yellow shirts in the box have had a good 30 secs to get organised for that and were still caught off guard.
We stick to our task and keep going. Then with half time approaching, the ref makes his first couple of telling contributions. First a corner of our own is massively flapped at by the keeper leading to a frantic few moments in the 6 yard box. But as Fitch eventually slams the ball high into the net, the whistle goes for some sort of infringement or other. From the restart, we suddenly find ourselves all at sea and a hooped shirt racing clear into the box. Bedsy chases him down and from where we're stood, looks to have pulled him down. We all hold our breath and await the ref blowing up, the pen being given and the midfielder walking. Instead, he gives nothing! A wave of 'play on' is all he does and we eventually clear the danger.
Erm….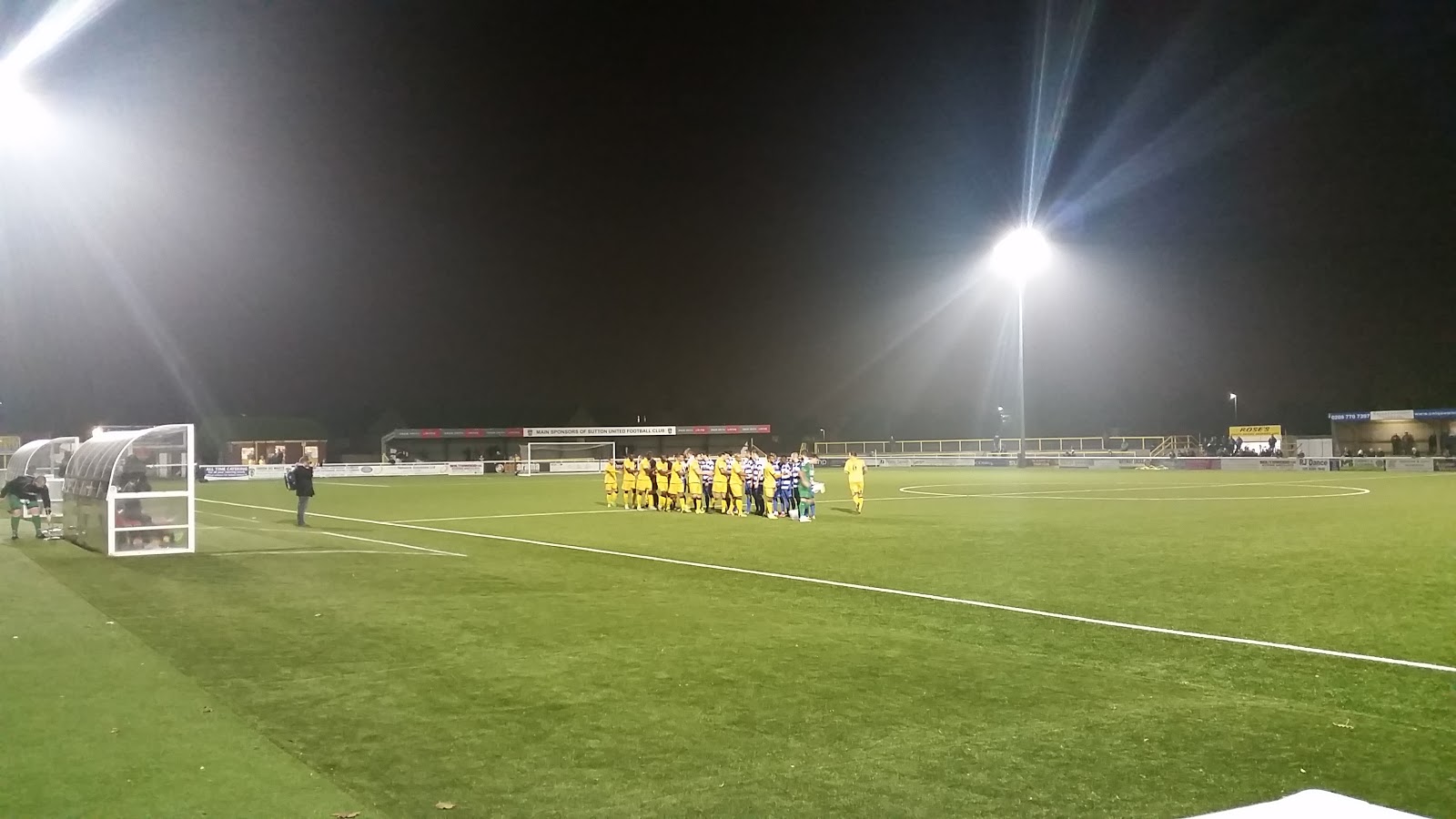 Lining up….
My miffededness (that's a real word by the way. Honest) at the break is somewhat mitigated by the fact I am absolutely hank marvin, so I make haste to Roses Tea Hut 3.0 and order myself up a cup of Rosie and a bacon roll. This goes a long way to warming the bones and reducing the grumbling from my belly. Feeling better, I set about informing Totts of my new TeBe shirt & its punk based sponsorship. I suggest that maybe we should have a whip round and get 'Comrade X' into the sponsors club next year? He doesn't say no!
The 2nd half gets underway with some hopes that a half time rollocking will get our lads on their toes. Instead, John slips seconds in and Oxford are in on goal! Thankfully, his colleagues close down the space and the resulting shot is not bother at all for Worner. After this wobbly start though, we're soon right at it and it's down the left that we're finding the most joy. Wishart bursts from deep down the flank and pulls the ball across the 6 yard box. Both McAllister and Fitch are there, but the former misses the ball and the latter can't get his feet right quick enough and rather than score from a yard out, he can only backheel it to a defender who scuffs it half clear. Stearn then picks up the loose ball, whips it in and the recovering Fitchett then bullets a header off the underside of the bar! Fucks sake….
Downs does a fabulous bit of 'Experienced Defending 101' by blatantly tripping an Oxford man out wide when he finds himself isolated and the guy knocks past him to run into space. A yellow card is awarded whilst we on the Shoebox piss ourselves laughing at the sort of defending Dukey would be proud of. It's a rare breather for the visitors though as their right back is given a torrid time by both Tombo and Wish down that side. It's the former who finally brings the leveller we've been threatening with a surge down the line, low ball across and it looks like it's turned in by one of the defenders desperately trying to get back. But who cares, it's 1-1. Game on!
We're all over Oxford now and another Wishart surge ends with the ball teed up onto the penalty spot for the onrushing Eastmond. His fierce strike is blocked right on the line, annoyingly by a yellow shirt it seems! McAllister reacts to the loose ball first and his hooked effort on the turn is just blocked by the keeper. Next up, a Stearn corner is wickedly curled in from the left and pings back off the far upright before being thumped wide of the target by Bedsy. From here though, we lose a little purchase as the changes come and the oppo remind us they're still about when a stupid drop ball on the edge of our box leads to a foul and a free-kick. Worns reads it well though and is across to beat the strike away.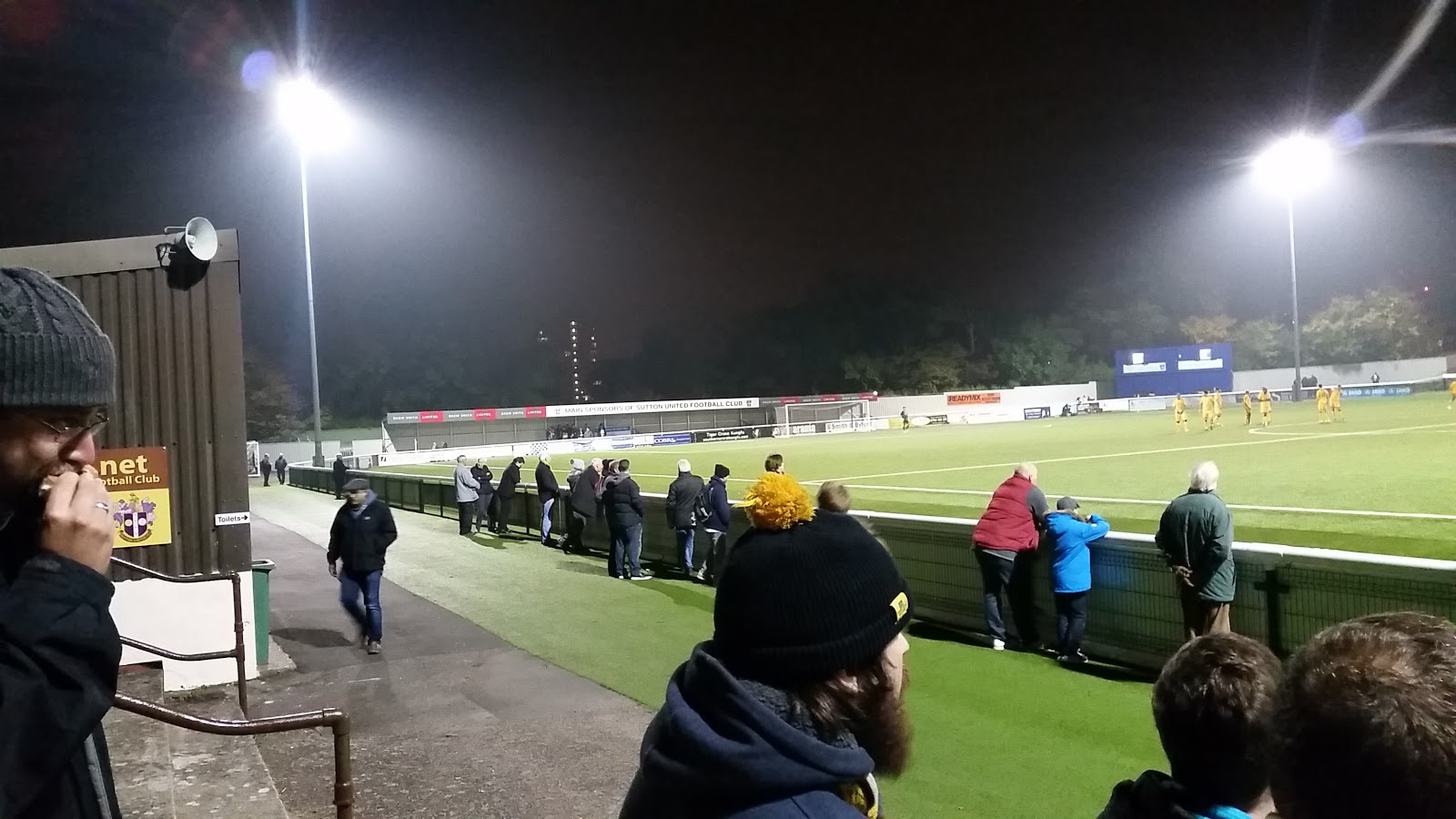 Packed away end.
The game ends with a bit of a whimper to be honest as the ref gives just the 5 mins added despite the keeper taking a lifetime over every goalkick since the dawn of time. And most of those 5 mins is burned up when Bolawinra and their no.3 go for the ball on the touchline. Tombo wins it and their guy, who's not exactly made himself popular during the game with some slightly over the top theatrics, goes to ground like he's just been hit by Jonah Lomu. Proper Sky TV rolling around follows almost right in front of the Shoebox and a couple of lads pop over to tell him what a tart he is. I turn to Ray just behind me and mutter "He'll be up in a minute good as new, you wait and see". Despite the 'injured' party being off the field of play, the ref still pisses about checking his wellbeing which then allows a small bit of handbags to develop, with their 7 sticking his hand in Fitch's face right in front of his refness. Of course, this means BOTH get a yellow. Probably because Fitch didn't do his own fucking RADA bit.
After all this, the St John's boys rock up with a stretcher for the fatally wounded no.3. Upon which, he's suddenly back on his feet and moving pretty freely, bar a somewhat comedy limp, but not before having told Nick that his mother was a whore in Spanish no less. Nick responds to this in traditional Anglo-Saxon rather than Welsh. On the Shoebox I mutter "Fuckin' told you" to Ray over my shoulder. Moments after the reappearance of Lazarus of Oxford, the ref blows for time and it's yet another 2pts gone begging at the Lane.
Despite the mild annoyance at the result having once more eluded us, most people are generally upbeat in the bar after. Whilst we're not winning as many as we'd like at home currently, it cannot be said we're not getting VFM with those cheapo season tickets of ours. We retire to the bar and are greeted by a BT Sport goals round up programme on the telly. Which includes not only the expected round of screamers and belters, but a good few cracking OG's as well. These of course get the most attention. I mean, who doesn't love watching the misfortune of some poor sod shinning it into their own net?
Well, as long as that poor sod isn't wearing your shirt that is.
A refreshing pint of shandy later and discussions of saturday mainly indicating everyone is having a bit of a lie in, it's time to drag Dukey away from the bar and drop him back into the badlands of Carshalton.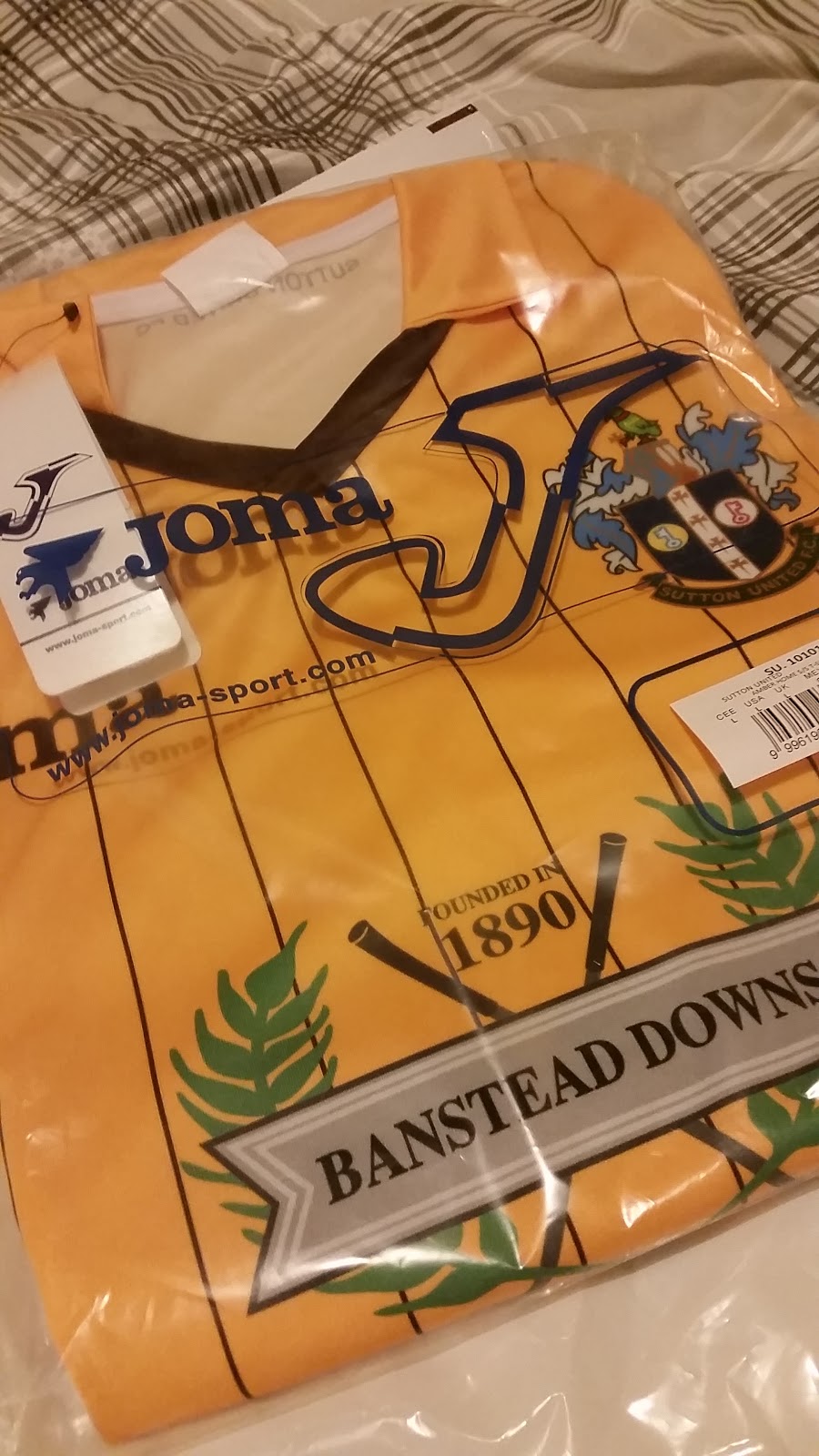 Next stop, Berlin….
Hayes & Yeading at the weekend and Totts with be your host for that one. And despite the fact home games against that lot are almost always awful (we're still in counselling from the game at GGL last season!), he even requested the duty as he reckons he's got himself a nice lead in for it. Fuck me, that could be well worth a read.
Don't say we didn't warn you!
Taz