So finally we get to our first away game of the season that falls no the traditional drinking day of Saturday. And where did the football gods decide to send us this season? Only to bleeding Kent and another poxy non-smoking ground with a town that is not really in our top ten of favourite destinations.
Arriving at Carshalton I was surprised to see A: No tea van at the very moment I was gasping for one. B: 4 Days who seemed to be alert and ready for today. After a confab we decided to get tickets for ourselves and Taz who would be joining us shortly. He did indeed join us early for once, so there was no last minute jogging on his part.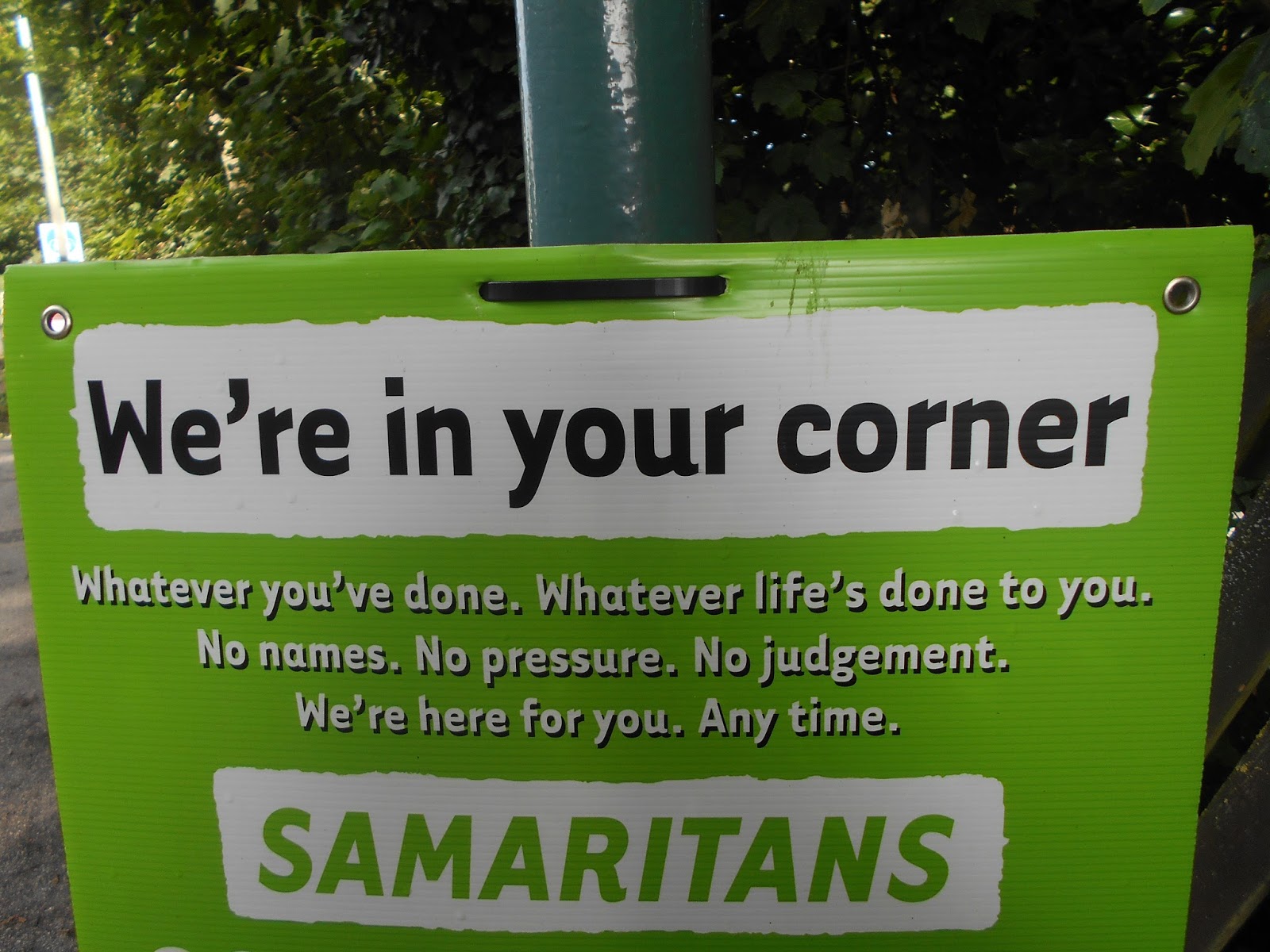 Well get it in the bloody box then!!!
Surprisingly not in the last carriage were all the other that were going to join us: Indy, Sean, Wardy, Dr Bell & Mr X were already in a heated debate on some pointless topic. Quickly it emerged that not everyone had purchased the proper ticket that took them all the way to Dartford. The plan was to change at Tulse Hill and then again at Peckham Rye.
With only a four minute change over at Tulse Hill it was Peckham Rye that some needed to get ticket extensions. Even though we must've spent a good 15 minutes discussing how those that needed to, would get tickets. Our famous motto is "Never leave a man behind, unless mutually inconvenient to the rest of the group" Well there was one idiot today, arise Dr Bell.
For some reason he joined us on the platform whilst others got their ticket extensions. Then he asks me what ticket I have. I reply a Carshalton to Dartford return, he then says that all he has is a travelcard! Well to those in the know, Dartford is easily outside the oyster/travelcard range. So indeed he had to follow the others to get another ticket.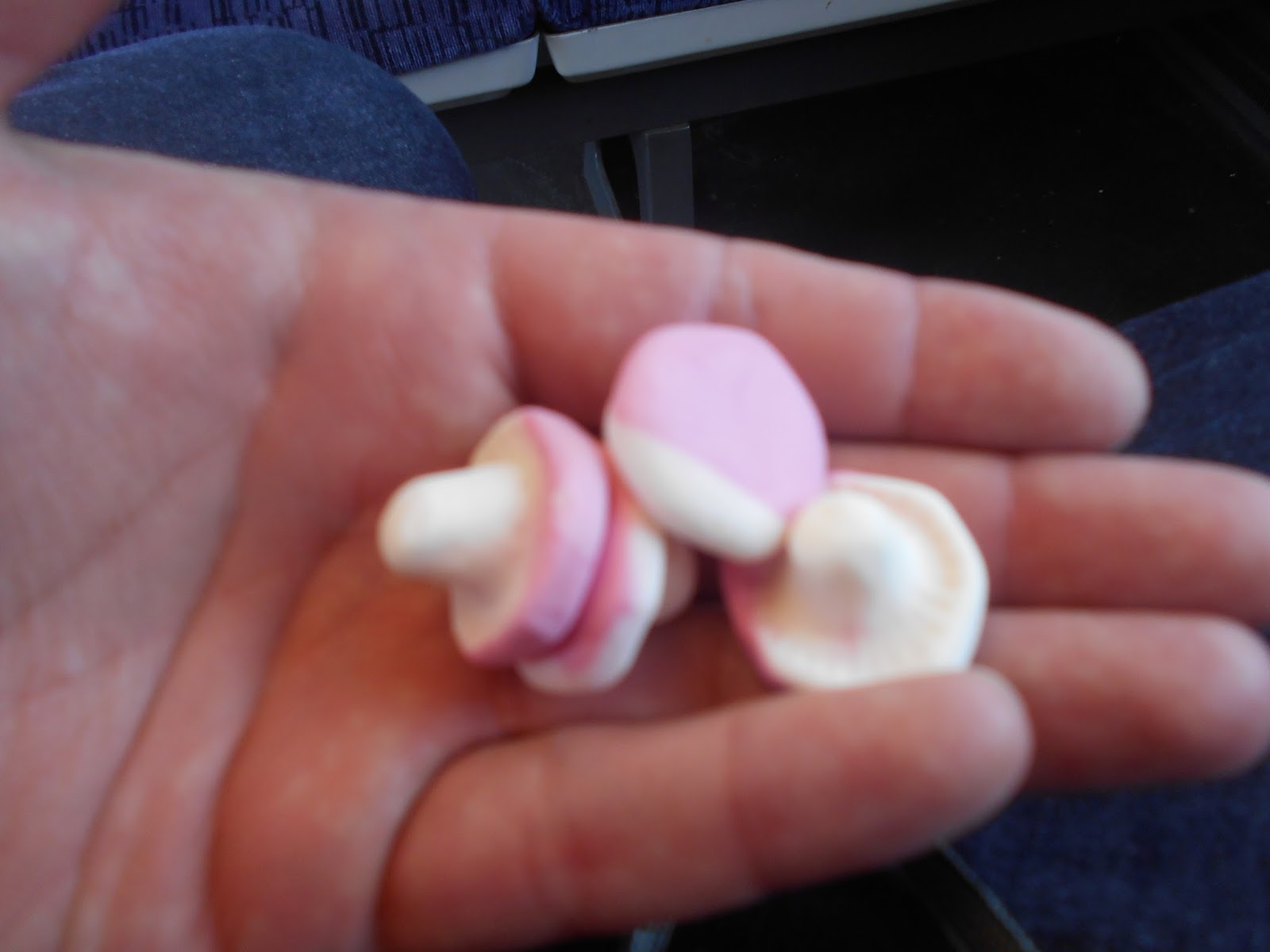 4 Month old Mushrooms
The rest had all managed to get theirs in double quick time. Mr X & Wardy had time for a cheeky snout, and Sean Connery went to the wrong platform and back before the train arrived. Still there was no Dr Bell to be seen. Even as the doors were closing there wasn't an Amber shirt in sight. Of course he missed the train and was now half an hour behind us. I wouldn't mind but this was at a point when we were all sober!
Arriving in Kent we manage to find the first boozer of the day, namely The Wat Tyler. We know had to wait for Dr Bell arrive so begun our quest to get a little merry. One conversation was over how on the official website it described in the preview that this was to be our third visit to Prince's Park. I was sure that it was our fourth and after much debate we agreed it was.
Eventually Dr Bell did arrive and this was even after the explicit directions from Taz, who stated to take a left out of the alleyway. As always Dr Bell took a right and headed in the other direction before realising his mistake, what a bampot! Wellie & Aleman arrived afterwards and several beers later we were deciding on our next boozer.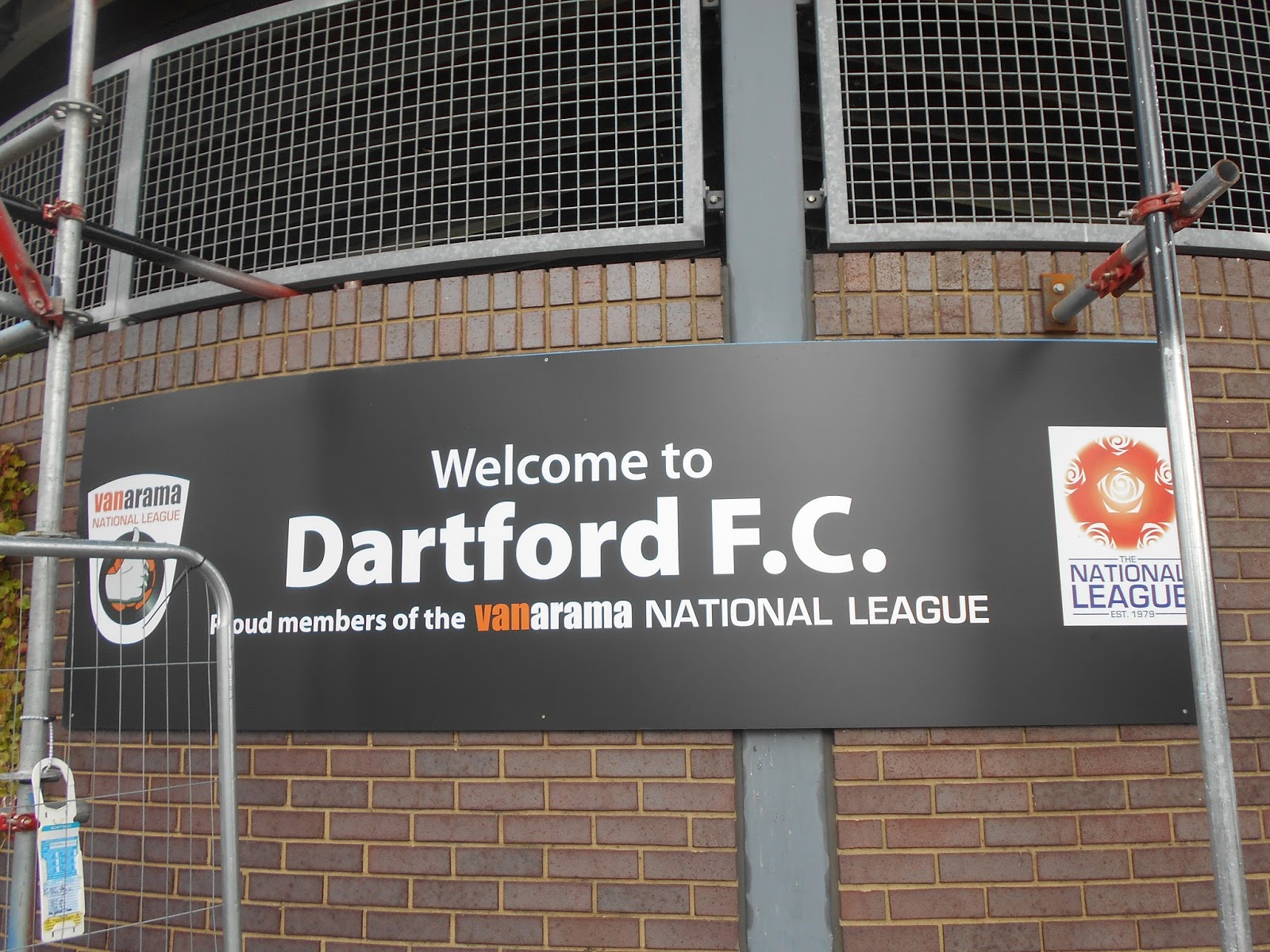 It's a sign, IT'S A SIGN!
Next on the list was The Malt Shovel and in the splendid garden whilst sweating like good'uns, most of us realised that we were overdressed for this type of weather. The next pub was the local Dartford boozer that had no Dartford fans inside it. Here we met Red Oxide & Son and most of us begun to discuss what our chances would be like today.
Arriving at the ground I was a little shocked that they charged £14, although someone did manage to get in the ground for £7. He claimed as a student, we reckoned it was an OAP. Inside we met up with Fat Juan and his personal chauffeur Marky N. Just before the off I did spot a couple of Clapton Ultras stickers. This of course got Marky N to regal to us a story of how there was some trouble between Clapton Ultras and some boys from Thamesmead recently. When asked why Thamesmead, Marky N just simple replied:
"You Don't Fuck Around in Thamesmead"
-Marky N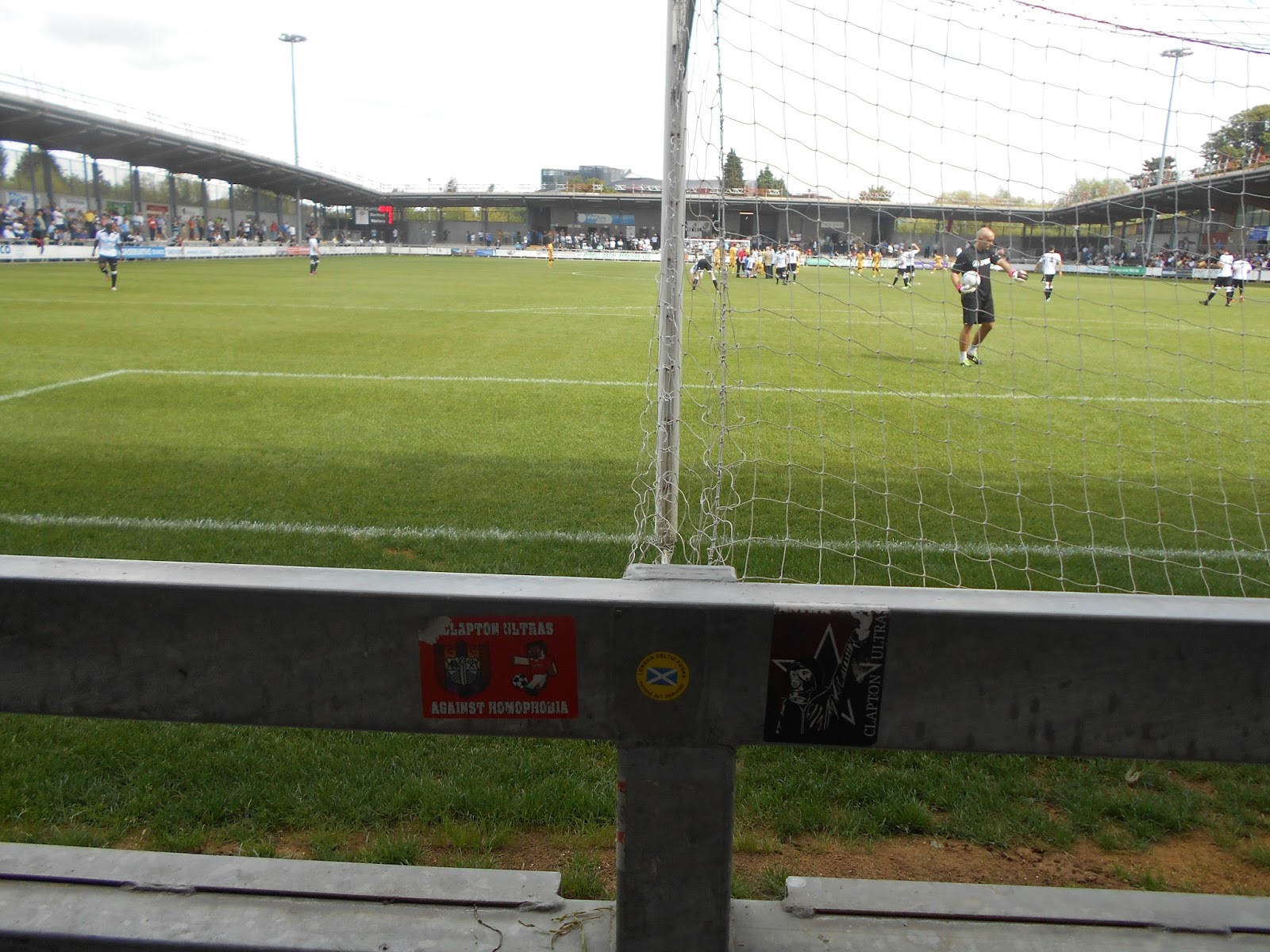 Match View…


Worner, Spence, Wishart, Beckwith, Cooper, Collins, Spillane, Southam, Dundas, Fitchett, Fleetwood. Bench Warmers: Stearn, Bolarinwa, Hippolyte-Patrick, Elliott Anderson, Shaw


The first quarter of an hour saw a tight affair with both teams probing each other down the wings. Dartford got the first break, Wishart (not for the fist time), gave away a very cheap free kick near the right-hand side corner flag. The resulting cross was met by a Dartford forward who unmarked, headed the ball into the back of the net.
Sutton did start to get into the gamer from this point, especially with Dundo looking like himself by marauding through players like yester-year. With ten to go in the half Sutton were level when after some sustained pressure, the ball fell to Spillane on the right-hand side of the box. As cool as a cucumber he slotted the ball into the roof of the net. 1-1!


There was still more drama to be had in the first half. The man in the middle, once again lacking in certain areas of the game, blew very late for a foul on Worner. By the time that he did it the ball was nearly at the halfway line. Then, the Dartford player refused to give the ball back to a very unimpressed Fleetwood. Next thing you know the Dartford goalscorer ran half the length of the pitch to get involved. This resulted in a yellow for each.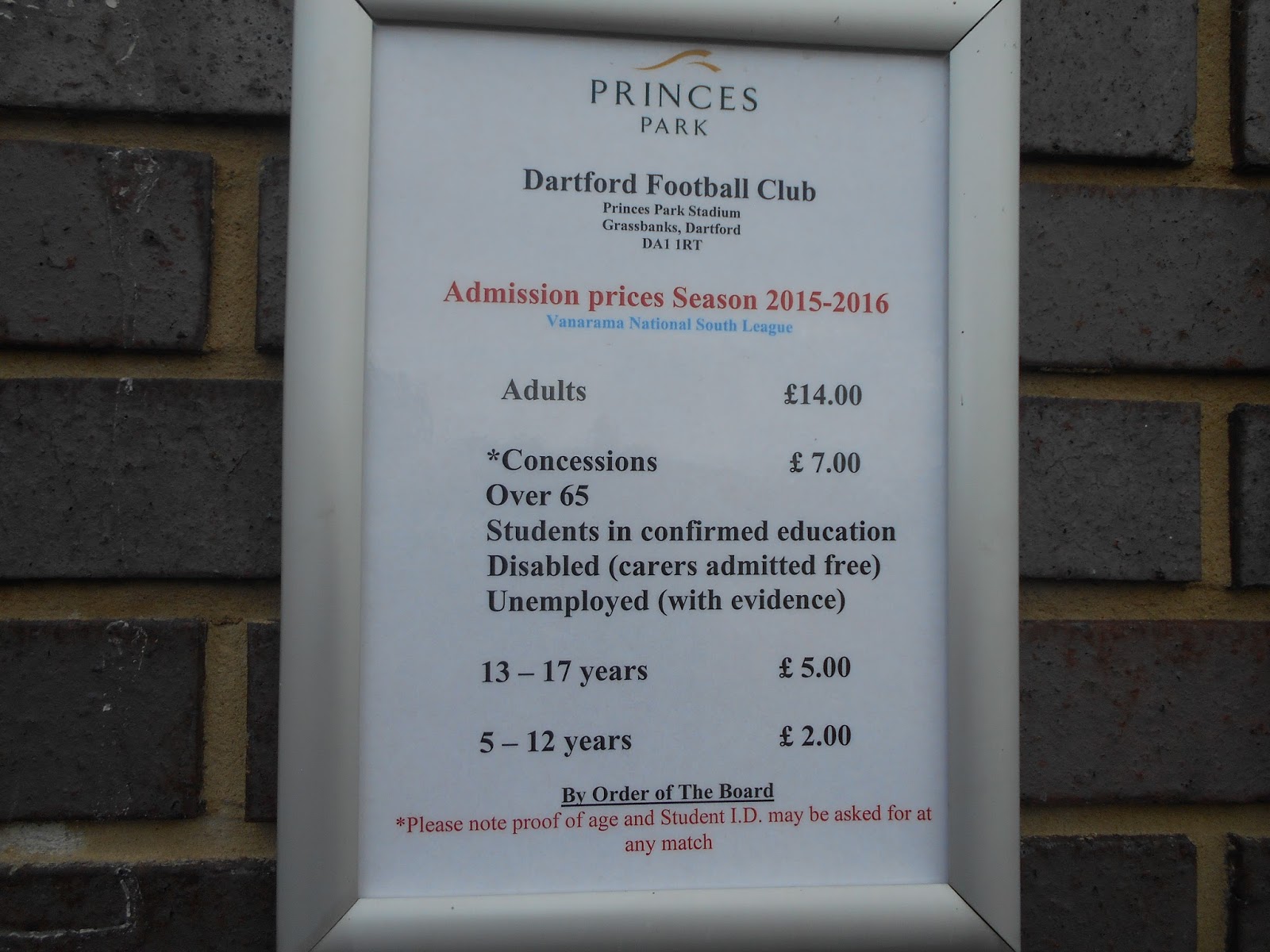 Should be called 'Pricey Park'…
After having several half time smokes outside the no-smoking ground. We took residence at the other end. Dartford started well and nearly drew first blood but were denied by the woodwork. Things seemed to be heading for a draw until Sutton nearly put the kibosh on the whole thing. Firstly, Stern was brought on for Fitchett and this resulted in a slightly confusing set up in the middle of the park.
It was the removal of Dundas that really changed the game. Less than five minutes later a rather fucked up situation resulted in a Dartford goal. A hospital ball back pass from Cooper to Worner forced him to rush out and clear the ball. Unfortunately his clearance smashed straight into the face of the Dartford forward and sailed into the goal. Unbelievable, I thought the Dundo clearance was a spot of luck but that took the biscuit.
After this it seemed that it was all Dartford and a matter of when not if. Then with ten minutes to go Shaq was brought on for Spence in a final roll of the dice. With this added pace on the right we finally managed to get the breakthrough we needed. With some fancy footwork he managed to get to the by-line surround by a couple of Dartford players.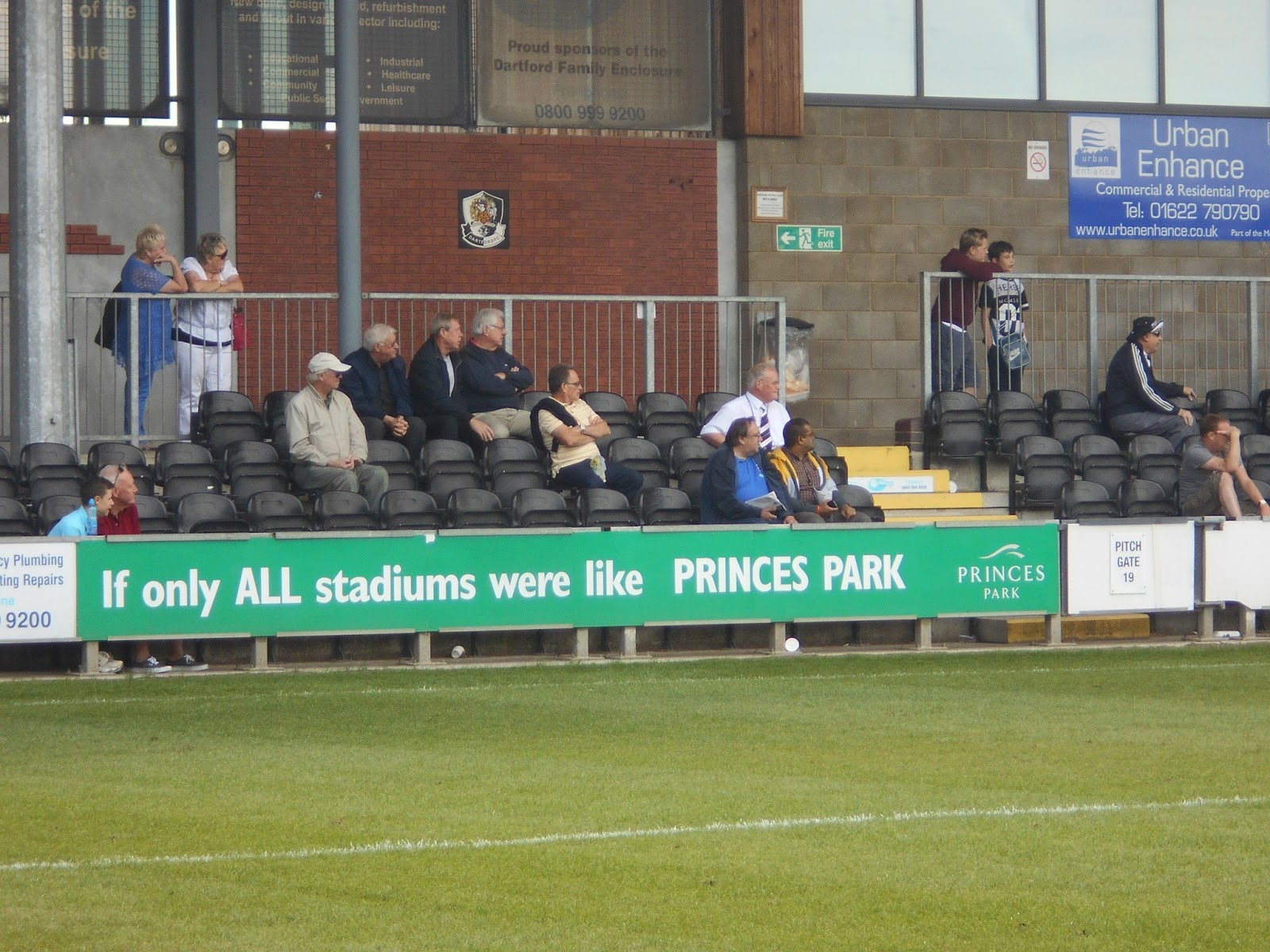 Dukey wouldn't agree with you there….
Suddenly out of nowhere he managed to get the ball accross into the box where it was met by Collins. His sidewards glance aimed the ball into the net past a flatfooted goalkeeper. 2-2! Who would've thought that Collins would be our top goal scorer? There was still time for Dartford to have one final bite of the cherry but they were denied by Worner. Either way I'll take the point and hope for three on Monday.
After the match, we enforce our 'if no-smoking, then no-drinking in the club' rule. The closest pub to the ground was The Ivy so we headed there. There was a surprise waddling up the street behind us, The Juan Hammer himself (apparently a ten pints Fleetwood lookalike) had decided to join the fun and leave the comfort of a lift from our very own Len.
In The Ivy we met Red Oxide and his boy once more. We also saw that our tenants had crashed out of the FA Cup, the Scum had won up the Kent coast and our own Louis John was on the end of a rather big drubbing from Kingston. Soon our attention turned towards out trip to Truro next Easter. The biggest question seems to be weather to fly down Friday or Saturday.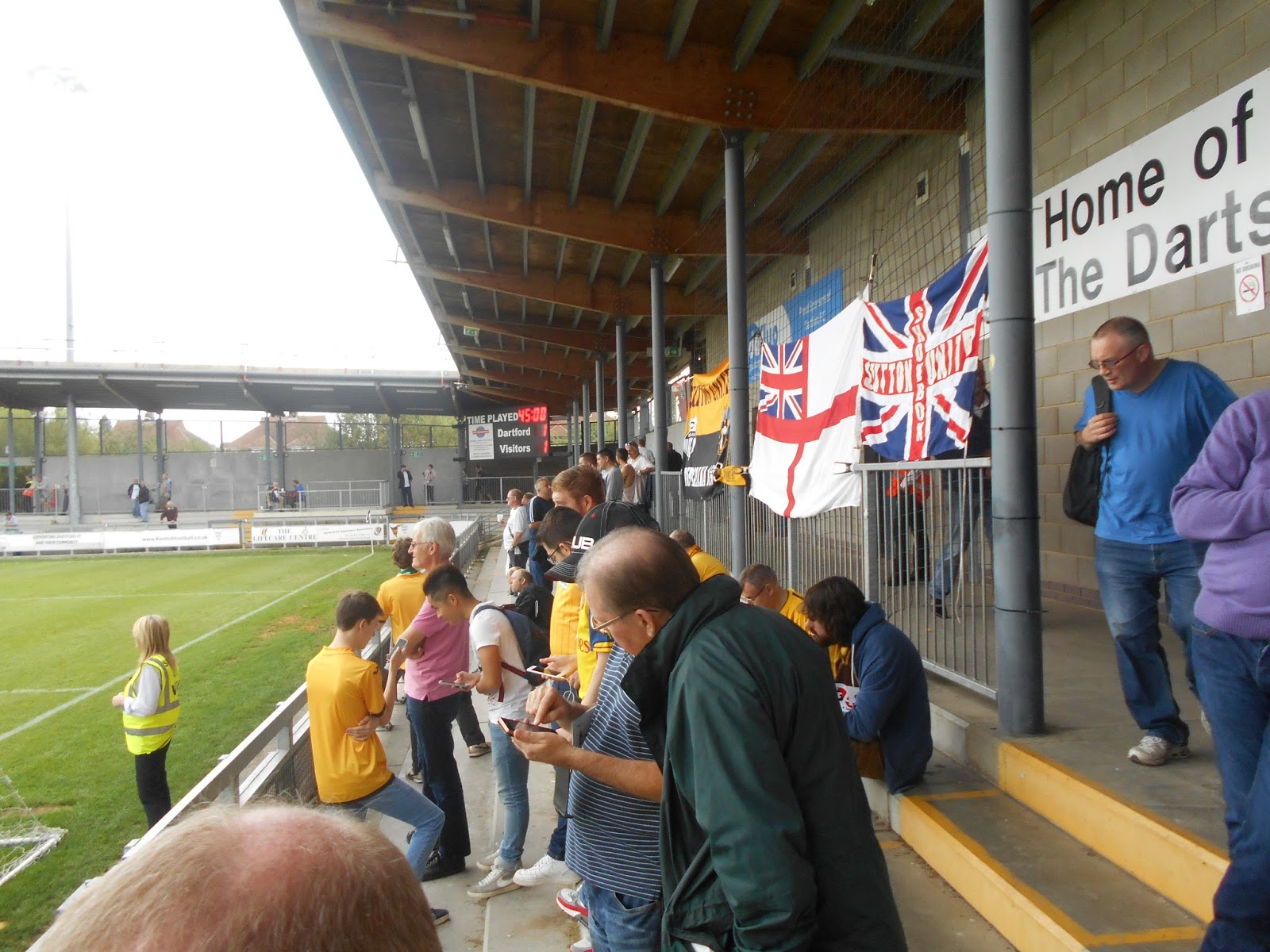 Massed on the curva…
The next pub was to be back at The Malt and a quick bevy before we were turfed out for a private party. Next was the local 'Spoons and a couple of sugar hits and to decide what our plan was for getting home. Me & Taz were on the old deep fried chicken run. Of course Wardy & Juan didn't just want a couple bits of chicken but extras as well.
The train trip home was to be the same as the first leg. Getting to Peckham Rye involved a lot of chicken eating and cider can drinking. The first change to Tulse Hill went without incident and it wasn't long before we arrived there. The only snag would be that the only train back to Sutton was to be on the loop and these take fuckin' ages!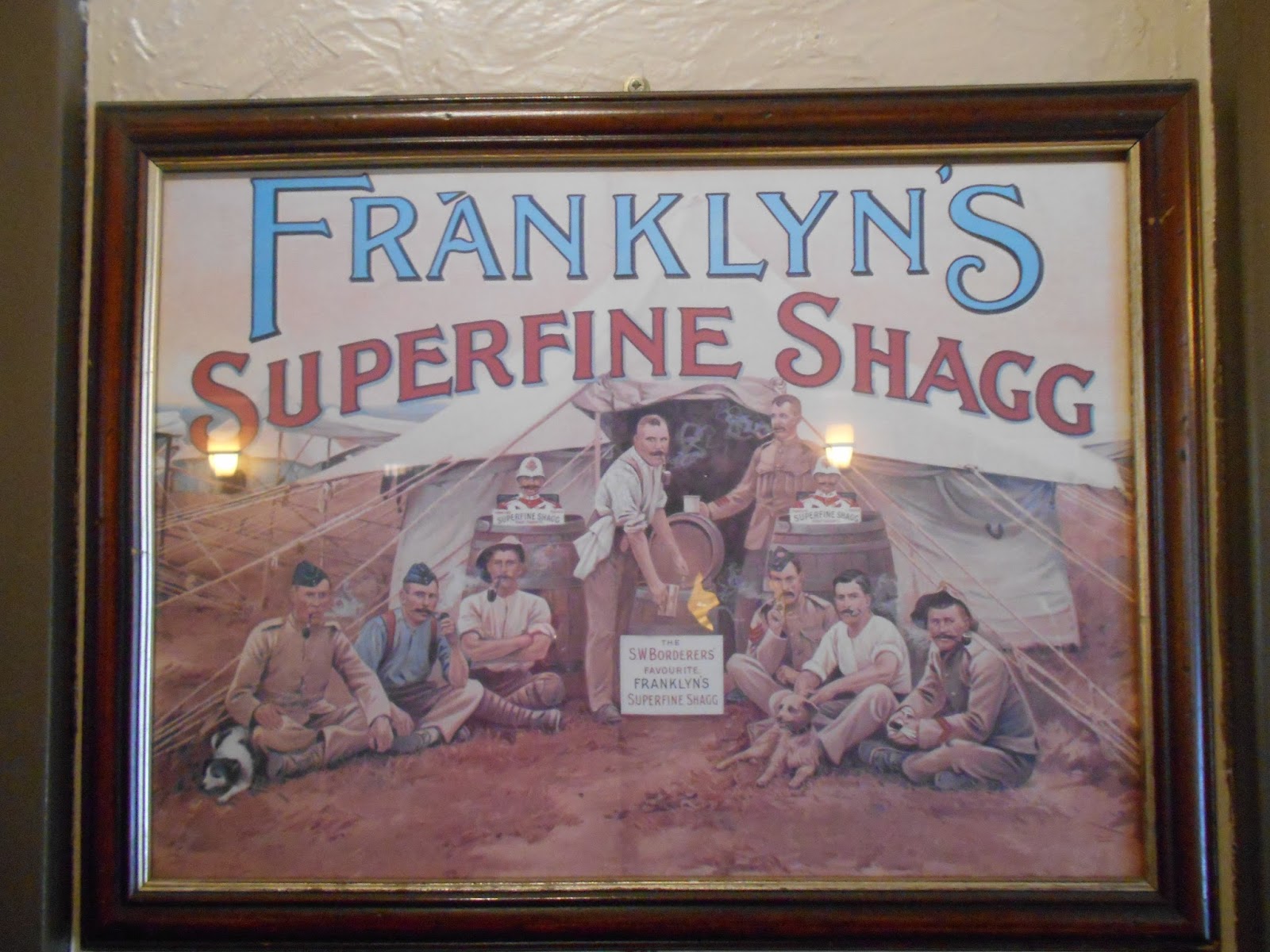 We have no idea….
Hitting Sutton fairly late left us with the option of going to O'Neills. Did we? Of course we bloody did! Only Taz was missing as he was due to hit cumfest Japfest the following day and had to be tucked up in bed for an early start. Another late addition was our very own Firm Leader who finally decided to make an appearance. Inside we saw the usual faces and it wasn't long before the night begun to blur ever so slightly.
Mr X & Wardy were the first to leave after several pints and soon to follow was Juan. A mysterious disappearance with a couple of the local Sutton talents, who may or may not have their own teeth in, just as I was getting him a drink (he can explain that one himself after Monday's match). With only me, the Firm Leader & 4 Days we decided to carry on into the early hours.
At one point there was some bird who wanted us to wear some floral band or something. Needless to say me & The Firm Leader are not ones to have a lot of hair up top so 4 Days was coerced volunteered. By the end of the night it was time to take the long walk home and boy did we walk all the way! The things we do for a solitary point these days.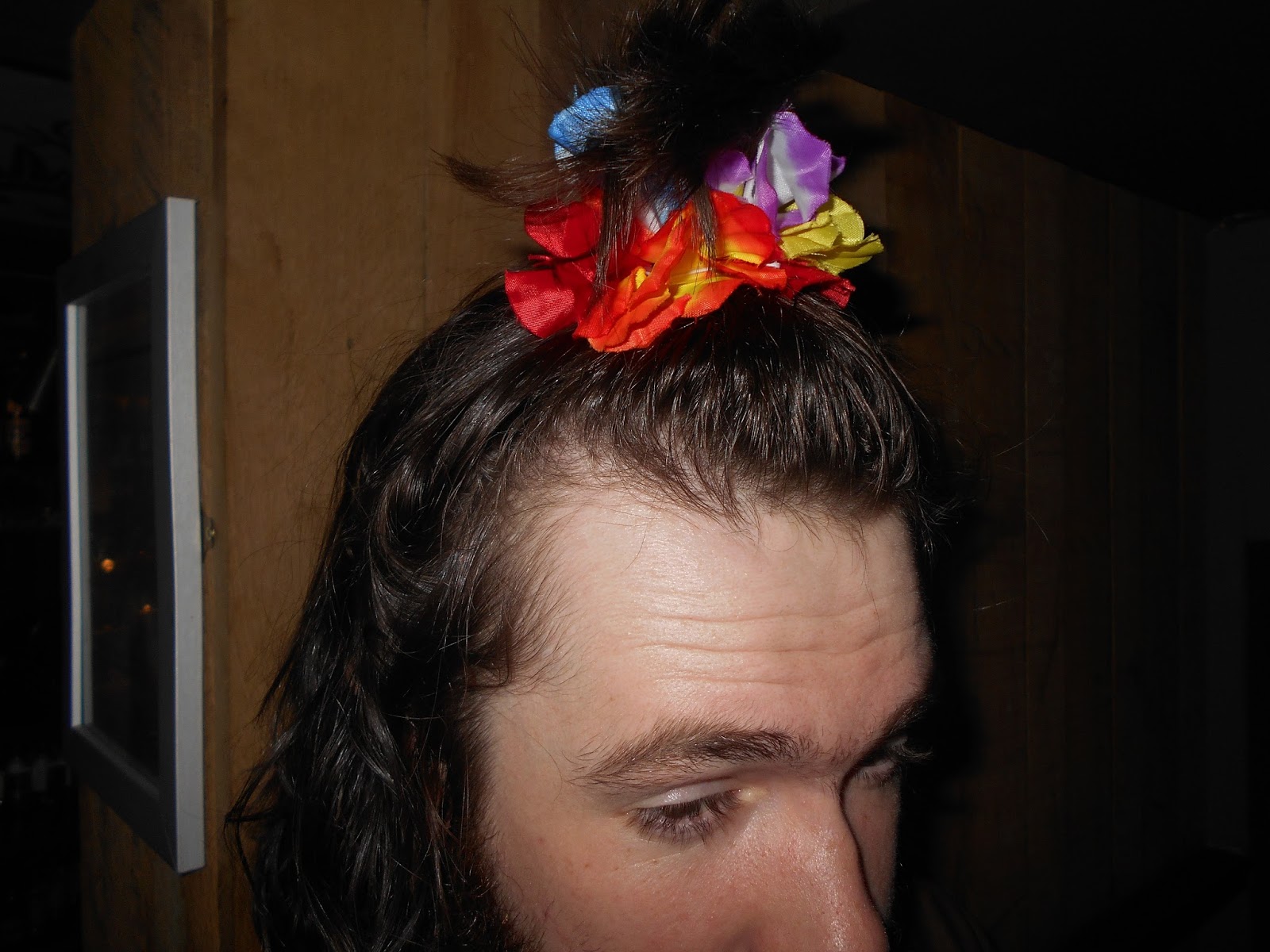 Nope. This one's lost us as well…
Duke
Att. 910
Percentage of non-defeats on grass: 100%