So there I was at Dartford, the game finishing at 2 a piece and I thought I'd join the boys for a quiet couple of pints, and maybe a gin or two. That kind of feeling "Well it's the weekend, and I haven't got work next week, so I'll let my hair down. Have a few beers Juan, go enjoy yourself…" Well I was so wrong!
Dukey did mention in his last write up about the Juan disappearing trick Saturday night, so let me fill you in on the whole shebang…
Arriving back into Sutton around 10 pm it was agreed by the group that we would hit O'Neill's as planned, and as Duke mentioned Taz swanked off home to get some shut eye, as he had to be up at silly o'clock in the morning for his trip to somewhere to show off his Jap toaster. Greek had even chosen to join us in Sutton- he said something along the lines of having had a few drinks indoors, he fancied a little company for the rest of night. Quite why he choose our company I'll never know! So onwards to the pub, by this time I was feeling somewhat a little, well pissed I suppose, given that not long before I had been compared to a Stuart Fleetwood look-a-like (although one after about ten pints or so). I'll take that.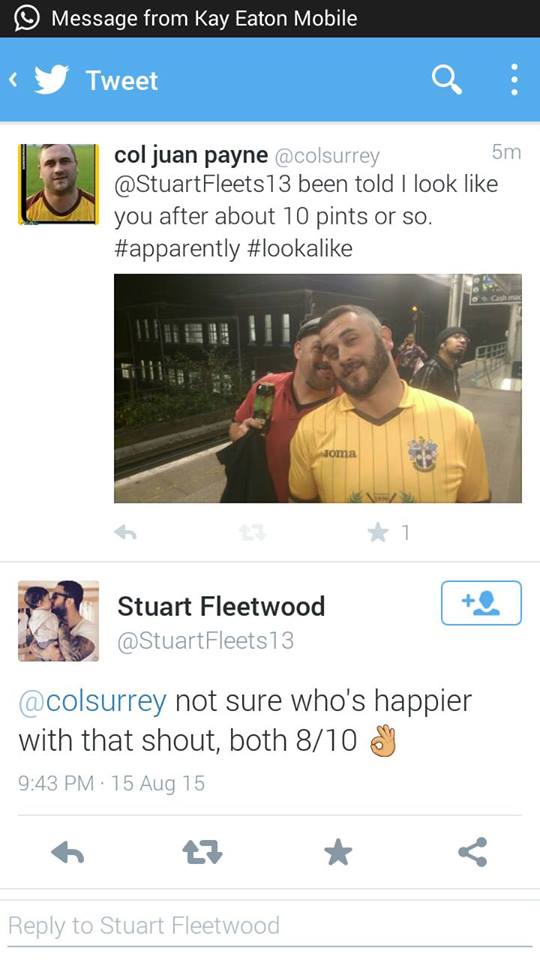 Social Media innit.
After a couple of rounds of drinks and on the way back into the pub, after a crafty smoke, I get talking to these two ladies of what I
thought of Sutton. For some reason they both appear to be looking at some of the decorative art work you find throughout  O'Neills. Actually I'm lying it was a picture of some rugby team. Naturally I inform them that rugby was not really classed as a proper game, but football was my bag.
Naturally the talk turned to how football players were a bit pony, and rugby players were built like brick shit houses, naturally the lass asked to see my guns. Quickly reverting the subject back to football and thanks to Stuart Fleetwood's latest tweet, I asked
her if she knew what a Golden Boot was, oh you don't know what it is, well let me explain! Cheers for that Fleet's the line worked- Game On! So as planned the small talk commenced, with Dukey, Wardy and Greek standing in the background taking the piss, and copying my body language, this was somewhat throwing me off my game. Still at least I wasn't being cock blocked eh Taz and Dukey?
This was the moment when I suddenly 'disappeared' (according to the Fat capped one!) and left the boys behind. I mean it's a tough decision to make, stay with the gang or head off with two ladies. It took me the whole of half a second to work that one out,
so off we went, after Amanda was totally freaked out my some dick head in O'Neills, her mate naturally didn't want to leave her. So of course being the gentleman I am offered them the security of a walk home.  After calming her mate down, myself Amanda (Sutton lass) and Stephanie (Manchester lass) decided to have a couple in the Revolutions bar up near the train station.
Side tracking I remember back in the day when this haunt was known as the Litten Tree, and it was one of those places where you were guaranteed a tear up, proper style, a usual Saturday night glasses, furniture and the odd body would get chucked round the place. However tonight the newly named Revolutions was well, empty. Only a few young faces plotted around the place, made me feel somewhat fucking old (34 according to Duke- tosser!).  Well a couple of cocktails, and vodka red bulls with these two ladies I'd been gassing with for a few hours now, turned into a quality evening, time pressing 01:45 AM as a group we ditched this place and headed back to Amanda's place not far from Overton Road. In normal circumstances when you aren't loaded up with
booze, it's an easy 5 minute walk at best, some twenty five minutes later we arrived back at hers. Amanda somewhat worse for wear headed off to bed, and I and Stephanie were left to our own and that's all I'm saying!
Stumbling in at 4 AM wasn't the time I expected I'd be back after just deciding to have a few. In true Gandermonium style I did myself proud. I even left my North Face clobber in O'Neill's which Dukey had to rescue for me- cheers pal.
Sunday morning, and I'd agreed to help a mate lay his new kitchen wooden floor. Have you ever tried laying a floor when recovering from a hangover? Well here's a free bit of advice, don't bother, it won't happen. All you will do is huff, sigh and not give one solitary fuck about nothing other than greasy food, full fat coke a shit film and sleep. So yeah Sunday was, in insurance terms, a complete write off.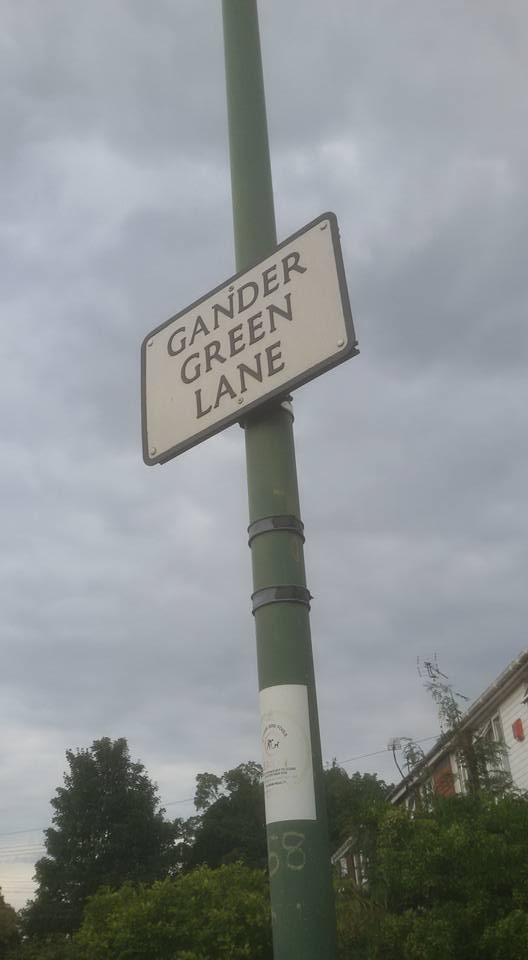 Daaaahn the Lane!
Monday morning, my work alarm goes off and as I'm off all this week that got chucked from one side of Juan Towers (West Wing)  to the other. Now awake, I thought I'd start this update before I head on down to the club for tonight's Monday night fixture. Monday night eh, that sure came around quick. And if I may quote the Duke here: Monday night football, it just doesn't feel right!
With the time approaching twenty past five, I headed up the road, and jumped on the train to Sutton, with it being dead early rather than wait for the connecting train to West Sutton, for some odd reason I walked it from here with plenty of time to kill it kind of made sense.
Arriving at the Club, the first friendly face was that of MarkyN, and his first comment was "I thought you were only going out for few Juan?" So did I Mark, so did I! With plenty of time on my hands I headed into the bar and grabbed a Bulmers. Southampton Steve then rocked up and soon to follow was Mr X, finally the usual rabble one by one appeared. Some 3 pints later, I headed out to get some chow from Rose's Tea Hut-oh hang on, wait a minute. Wasn't the old tea hut supposed be gone by now and replace with some all new shiny, suave looking static snack bar? Well, nope this hadn't happened, so instead I settled for a Burger from the dark side. Not a great one either if I'm honest.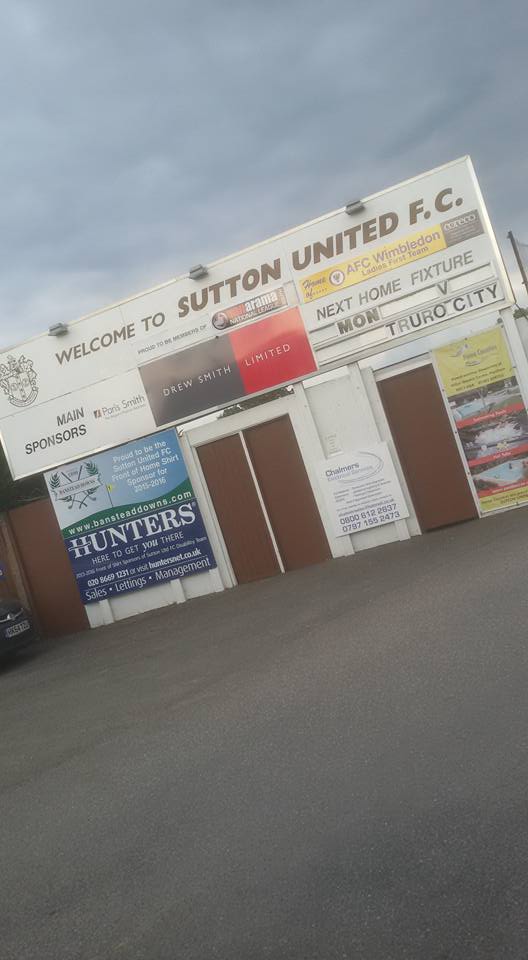 WELCOME TO HELL! Sort of…
Walking round the ground, just as the game kicked off, I bumped into my old work boss Clarkey, and avid Truro Fan and started having a wee gas with her and her husband, about their games so far this season and some other small chit chat. You could see the local Truro Fans had more than  likely hit the pubs after work, as some of their lads were well oiled up on the beers.
Gassing away with my old boss, and I completely missed the first goal by Fitch, but I managed to get a celebration pic. This seems to be the story of my life, keep missing key moments. Oh well, Dukey informed that it was a through ball down the left channel, and Fitch managed to turn past three before slotting it past the Truro keeper. Happy days, there's been talk of searching for an early goal to get us going, and now we had, what could possibly go wrong?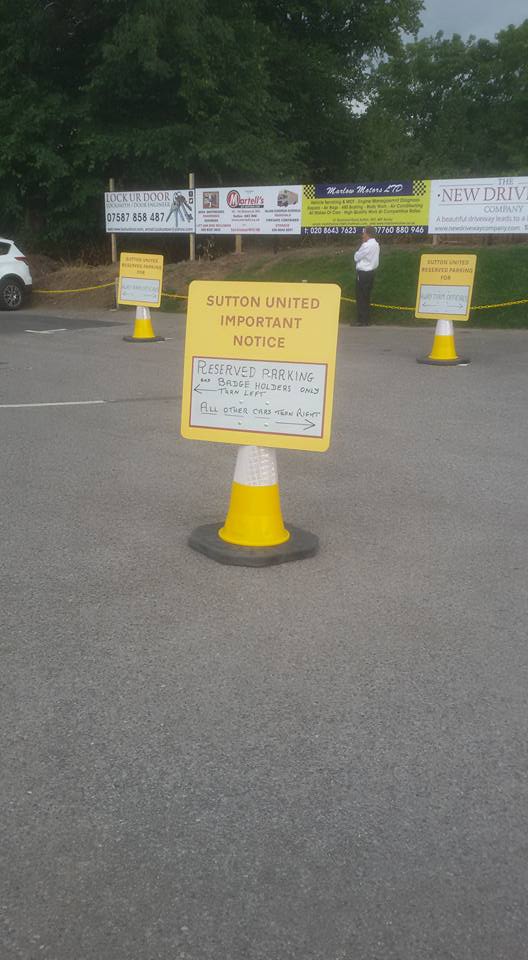 "But I came on the train!"
Well, here it is. Ross comes out to the edge of the box to make a save and clearly collects the ball into his hands whilst in the air and under the cosh from the Truro forward. He clearly makes the catch in my eyes, but yet gets booked by the ref and the ref awards Truro a Pen! I mean what is that all about? No-one in the ground can make any sense of it at all. Not even the Truro lot! I'm still trying to get my head around that decision now- will have to watch the highlights to see it again. Truro naturally go on to pull one back from the spot.
We crack on and continue to create chances, but the game is now all about the ref. Another mistake is allowing Truro to play in dark blue for start, so trying to actually spot him is a bloody nightmare. And well for the first half, he goes card crazy, I've not witnessed such stupidity in a long time with the yellow card count for us is up to 6 in the first 45 alone (thanks for the £1000 fine you incompetent fool). With the half nearly over I follow the Duke down towards the tunnel for a half time drink, and naturally the ref comes under some stick and abuse. Most of it pretty fair and just if you ask me, still he walks in looking all smug. Not sure why, he's had a shocker!
A quick bottle of Bulmers in the bar at H/T and who do we spot, but fans favourite and current Tonbridge gaffer, Macca. It's a family day out for him and the kids and well, the talk turns to the first half and even he can't believe what he has witnessed, especially the penalty. Most of us agree that perhaps one or maybe two of the yellows were justified but the rest, well the ref clearly lost his grip, if he'd had any, on the game.
Back out for the second half and we take up residence in the shoebox to witness more of the same. The only real highlight for us mid-way through was again a long ball through the middle up to Fleets, who pings the ball back into the path of Fitch who deploys his shot well and the ball flies past the Truro keeper into the back of the net. Perhaps our luck is starting to turn?!
However, with 10 or so left on the clock we are awarded a free kick on the left by line, so up steps Jamie Collins to deliver
it in. He is told clearly by the ref to hold on- so he does, some 10 seconds pass and just as Collins sends it down the channel the ref blows up and proceeds to show Collins a second yellow for time wasting,  followed by a red! Really mate, what planet are you on?  So that's us down to 10, but the madness continues…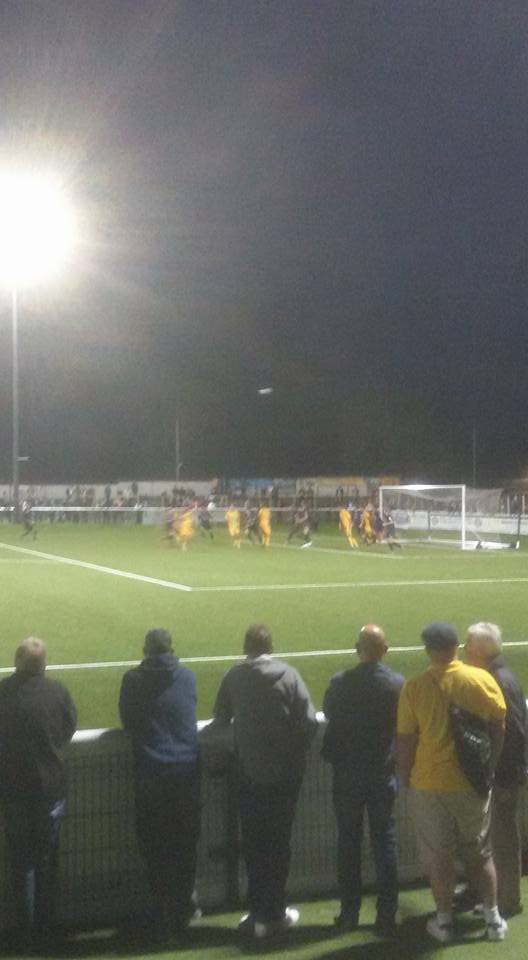 We don't do hi-def.
Truro now a man up are on the attack and have us under the cosh a bit. The Truro forward running through into the box goes down and all of us in the Shoebox are thinking "Here we go, another pen awarded against us". But no, the ref shows another 2nd yellow and sends the fella off for diving! Again, another very odd, strange decision.
To be honest this has been somewhat painful reliving this and having to write about so I don't even really want to talk about the clanger from Ross, but apparently he bumped into the post and with him off balance, the ball hit the palm of his glove and ended up in the back of the net. So the game finished 2 apiece.
Positives to take away from this one, well we didn't huff and puff and give up like I've seen before last season. We are looking  sharper, we're playing some good football at times and I can't knock the work rates. Just a real shame the game was ruined by the ref. Mr Elliott Kaye.  We've still also got one or two key players out with injuries, so let's just hope our luck changes and we get a decent ref. And soon.
Juan
(Duke's Smart phone still working…just)