Now, everyone knows pre-season games are crap. We all know neither side is really taking it that seriously and there's nothing at stake. So why would you bother? Usually, it's just boredom that draws you in. A few weeks without football and you'll watch any old pony. But, once in a while, someone dreams up a friendly that's not only worth going to, but also provides a weekend on the lash.
And when that opportunity arises, we here at Gandermonium, as Dukey might say, are on it like a car bonnet.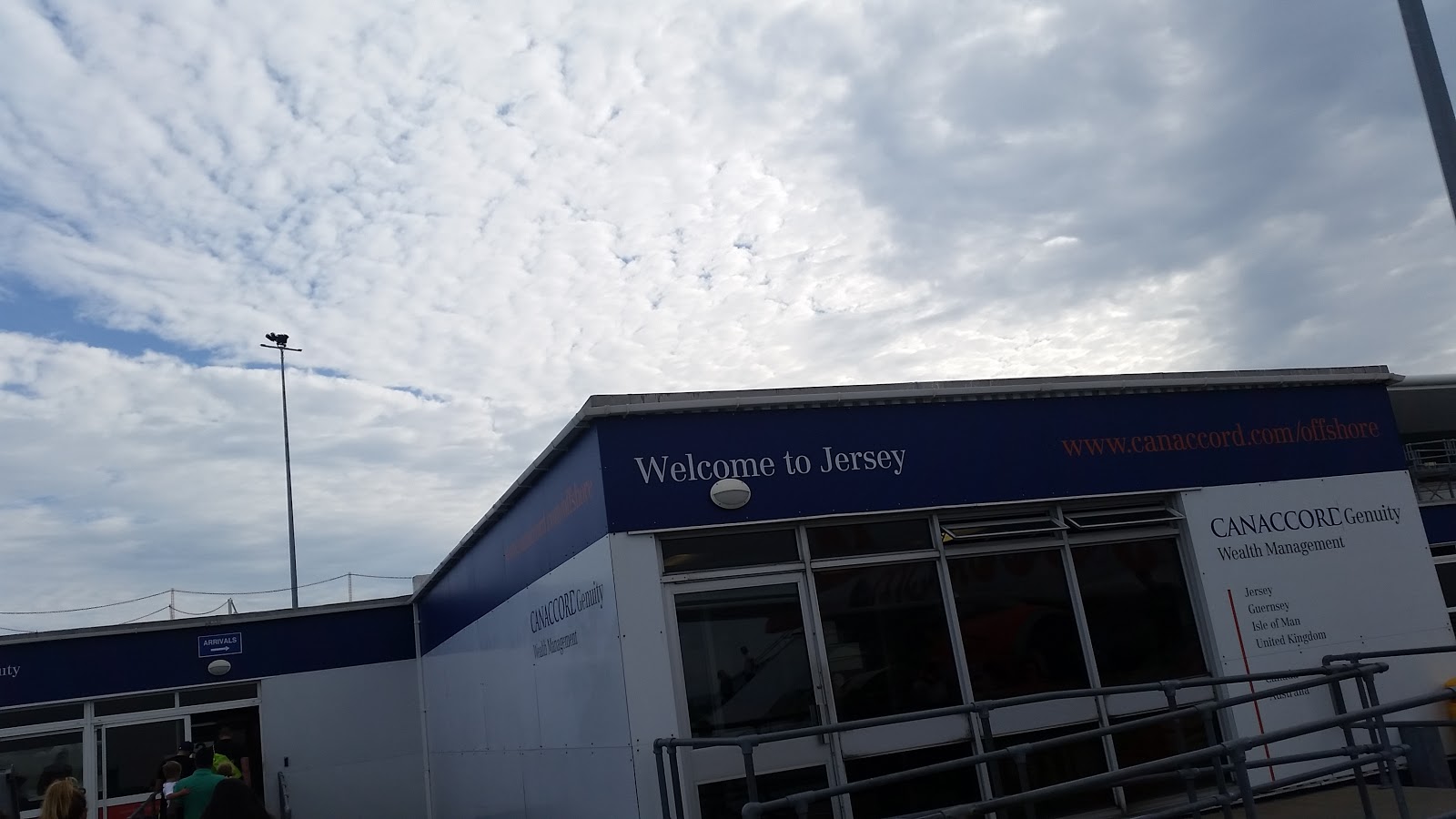 Hello Jersey!
Now, for your Premier League fans and even those of Championship outfits, these days opportunities to see your side in unfamiliar surroundings away from these shores are almost two a penny. So, you can imagine our childish glee* when a Non-League club like us announces we'd be playing a game out in somewhere like Jersey. Ok, so it's not as exotic as Thailand or the USA, but it'll fucking do for us.
(*And if you can't imagine the sort of glee we're talking about here, it's akin to a bunch of 30-something women being given free front row tickets to a Take That gig, along with entry to the after party where the main event will be the boys oiling up and wrestling naked in a paddling pool. Yeah, it's a lot)
Such was our delight at the fixture that even our normal clueless, idiotic manner went right out the window and within a disgustingly well organised 48 hour spell, we not only had 11 seats booked on an EasyJet flight to St Helier and a hotel sorted, but even transport from the airport at the other end. Yep, even we can't work out how that all happened and so fast.
Personally, my own excitement at hearing of the game abated a little quicker than others. Mainly as just a fortnight before, I'd be getting back from a 3 week holiday in the States. One I'd had to have some rather, er, frank discussions about with work to get. Now I'd be looking for another day off to go on the piss in the Channel Islands. Thankfully, this went smoothly and with no one else off on the Monday after, I was Jersey bound with the rest of the crew.
Typically with these sort of trips, it involves a start so early even the early birds are still snoring, so by 5am I'm heading to the top end of Sutton to get my passengers for the trip to Gatwick. Elsewhere, Mr X and Greek are performing a similar service to get the others in our party there too. On my way past Carshalton ponds, Greek pulls out coming the other way with Dukey on board to pick up Chalmers. So I give him a cheery flash of the lights and a less cheery flash of my middle finger out the window.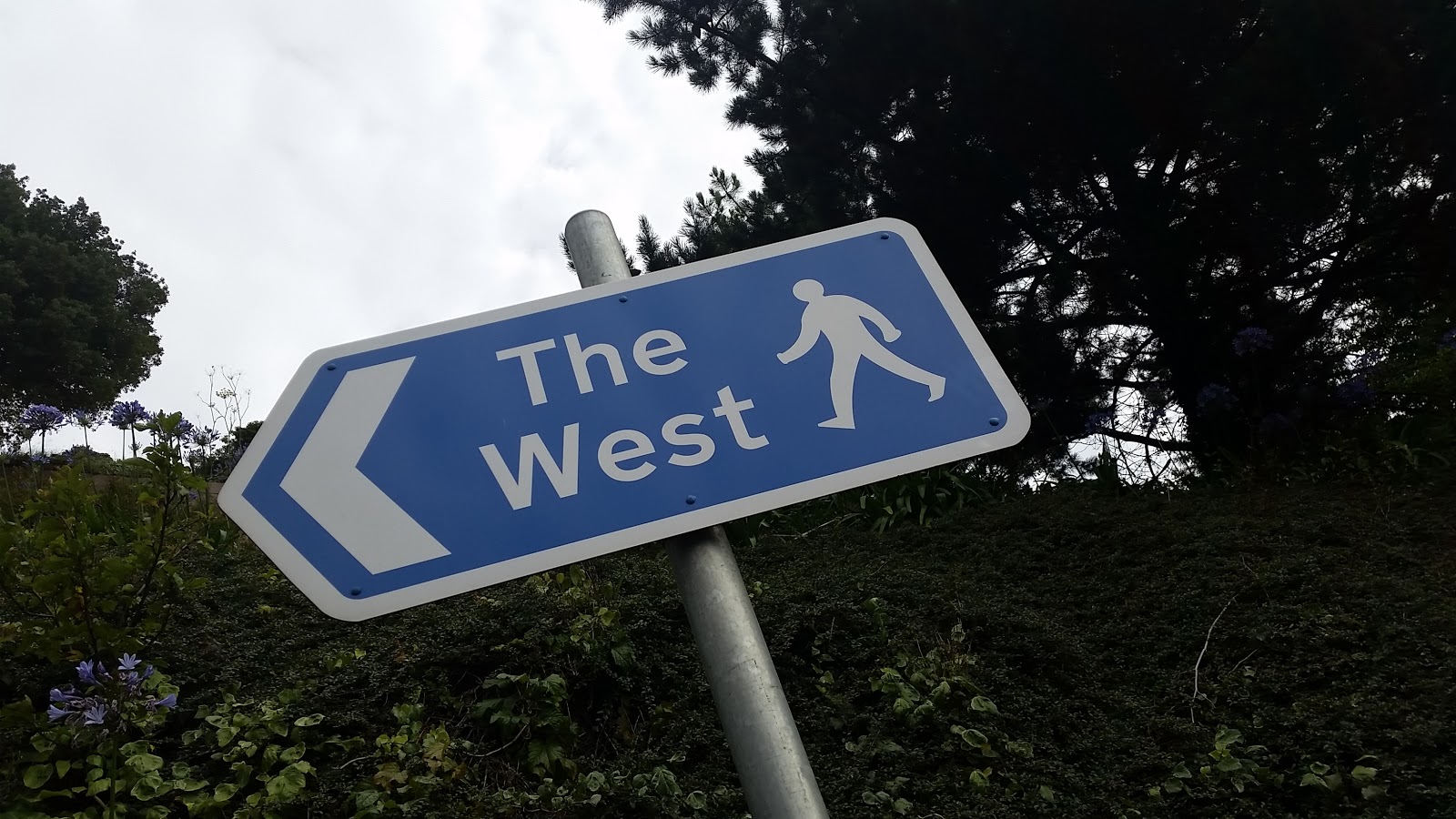 Isn't that where the Elves live?
Pulling up outside the Nightingale boozer to pick up Nick, who it turns out has prepared perfectly for what will be a 20+ hrs day by staggering in from his shift at the Hope at half 2. Bloody youngsters. Next up are Belly and his missus Ann down the road and then we're finally heading for Gatwick. 30 mins later, we're all parked up and find the rest of the herberts outside the terminal puffing away. Time to fly! Well, it will be once the Bell's have eventually passed security, as they've failed to understand the rule about the little bag of toiletries needing to be taken out of their bag.
As we're crammed into possibly the smallest aircraft in EasyJet's fleet, the flight is mercifully short. So short in fact that when Mr X orders an extortionately priced cup of tea and a Croque Monsieur, the cheesy treat never has time to heat up, let alone arrive. Naturally being of Scots parentage, his outrage at spending money on something and never getting it leads to a complaint which in turn leads to him being presented with said toastie as he steps off the plane.
Naturally, none of us find this remotely funny.
Even worse for his toastie cheeseness, he doesn't get to attack his treat until he's located the bus we booked to take us from the Airport to our hotel. By which time, Greek has given into the temptation for a bit of a wind up and already had a bite. Frowny Scottish face.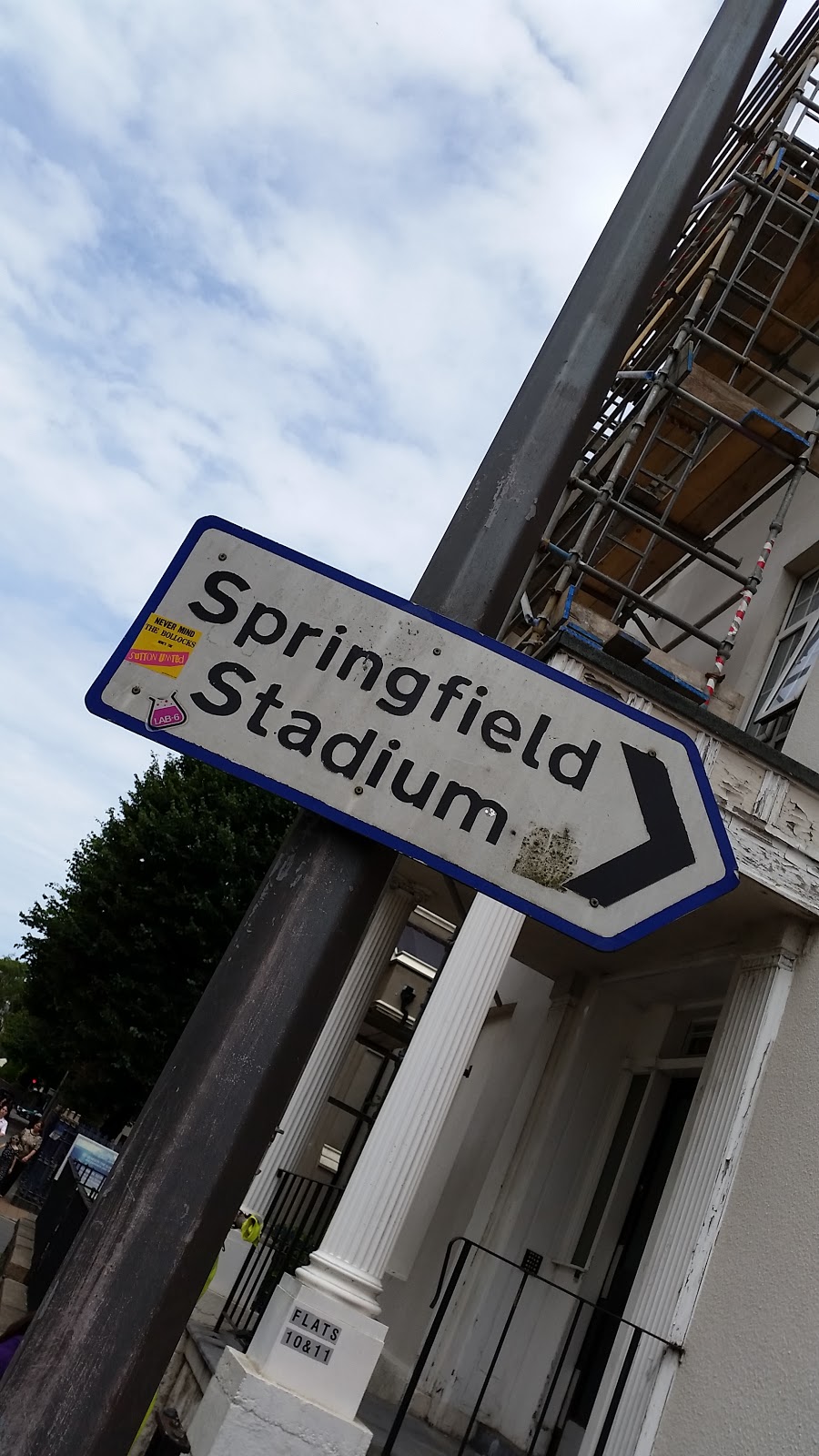 It's a sign maaaan….
The trip into town on our hugely over sized transport is mercifully short and we're soon tumbling bleary eyed into the car park of the Metropole Hotel. A place that has Greek's seal of approval already given it's named after a shitty nightclub he used to frequent in his more youthful days. Which is amusing in a way, given the amount of coffin dodgers tottering about the place. "This place is going to hate us!" chuckles Mr X as we lug our bags into reception.
Bags ditched, we're soon strolling down into the centre to find somewhere to scoff some breakfast. In the square outside the team's posh hotel, we first bump into Frakey and then Bobby along with a couple of other faces including ex-sec Mills. They fill us in on the bad karaoke style initiation the new players had been made to suffer the night before along with Stuart Fleetwood nicking Paul Loughlin's camera when he wasn't looking and getting 'arty'. You've probably already seen the family friendly versions online via Twitter.
Rumours that Totts will be flogging CD's of the 'directors cut' collection out of the back of his van at the next couple of home games are completely untrue by the way. Mainly as we've not yet managed to hack the servers at Loughlin Photographic HQ.
This is a small diversion and soon rumbling stomachs take over. The local M&S comes to the rescue with its little cafe providing a pile of bacon & sausage related edibles (apart from Mr X who has another Croque Monsieur). The eating of which takes us nicely to 11am and opening time for the Post Horn. Our first pub of choice. Here we find beer, the Ashes on the telly, a pleasant bit out front to sit in and a concrete tower block to stare at. Here the plan to go crawling round some other boozers are soon abandoned when we realise the place is actually a 5 minute walk from the ground. Right, whose fucking round is it? Wellie soon joins and we settle in for many many pints, whilst in the background the English cricket team play some sort of sport that certainly isn't cricket.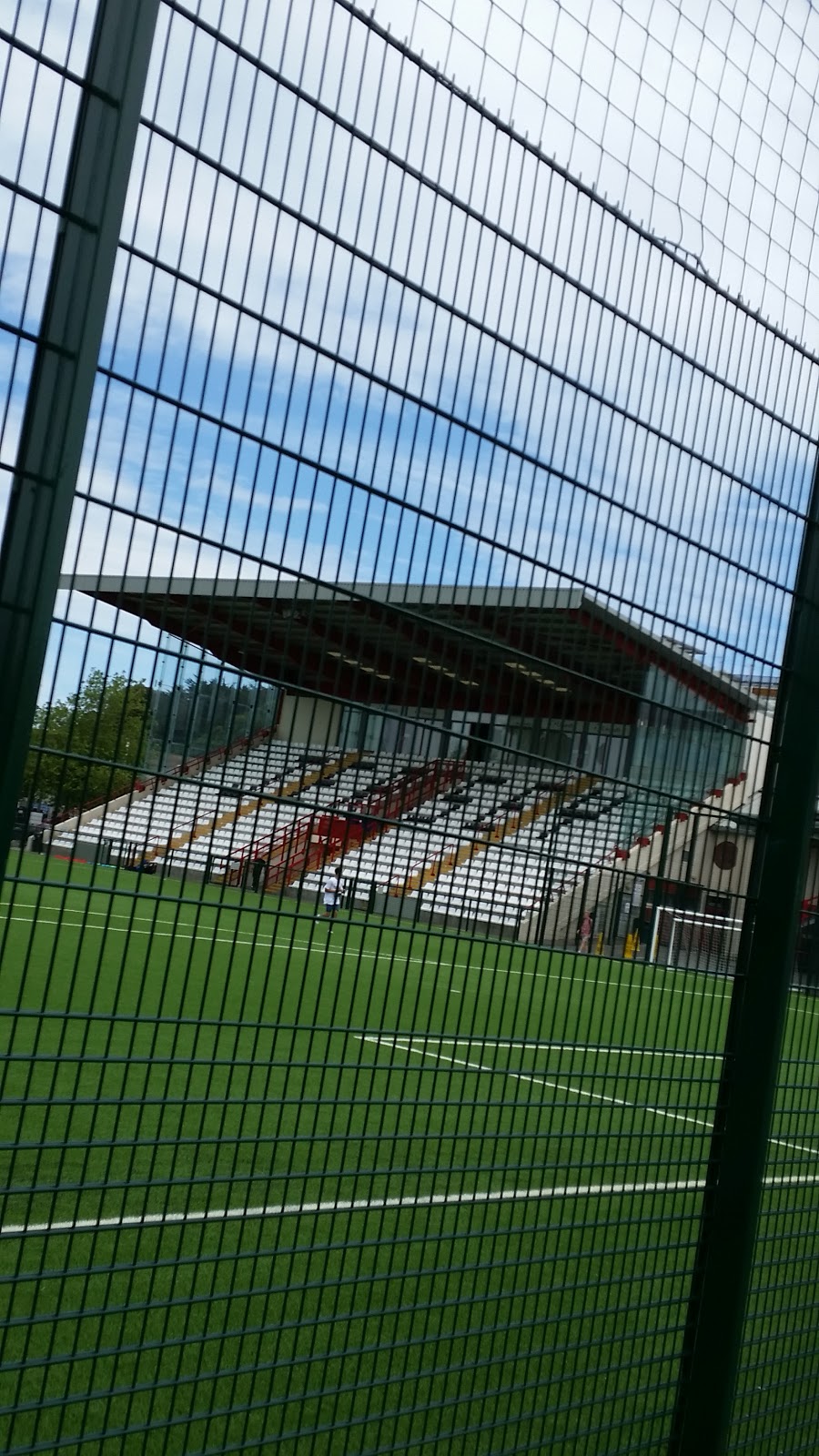 Goals has got a bit out of hand!
Here Dukey and Wellie both reveal they've received their season tickets. Well, when they say 'theirs'. Dukey has one in the name of 'Dan Ayre', whilst Wellie's surname is now 'White'. Come 2pm, we take the short walk to the ground. Some signs direct us and we suddenly find ourselves down a cul-de-sac amongst some garages. What the fuck? Oh, what's that little gate there? Ah! There it is!
The ground is a slightly strange affair. The pitch is surrounded on 3 sides with a green metal fence, like the local 'Goals' setup. But on one side, there's a rather large impressive looking stand. There's no standing behind the goals, but there is a little paddock on the opposite side to the stand. After a bit of effort, we eventually find our way into the bar, where the current occupation level is about 50-50 away fans, and get back to the beer. I take the opportunity to take a well needed leak and find myself sidestepping a large pool of vomit just inside the door with some poor bastard making a start on mopping up. Nice.
We had been a bit concerned before travelling as the club had announced that due to the flights being booked ages ago, some of the more recent signings wouldn't be travelling. And given that our most recent signing was a goalkeeper and his understudy is away in Ibiza this weekend, well, you can probably work out what we're getting at here. Thankfully, the club have bitten the bullet and sold their souls to change a ticket and get Ross on the plane. Being the 'keeper amongst our party, Belly is most disappointed.
Weirdly, we pay our 4 quid to get 'in' to the game at a gate outside. And then when we ask if we can go and stand round the far side, the gate bloke tells us to walk back out into the public park surrounding the ground, through a playground and then in via a gate that was already unlocked. Erm?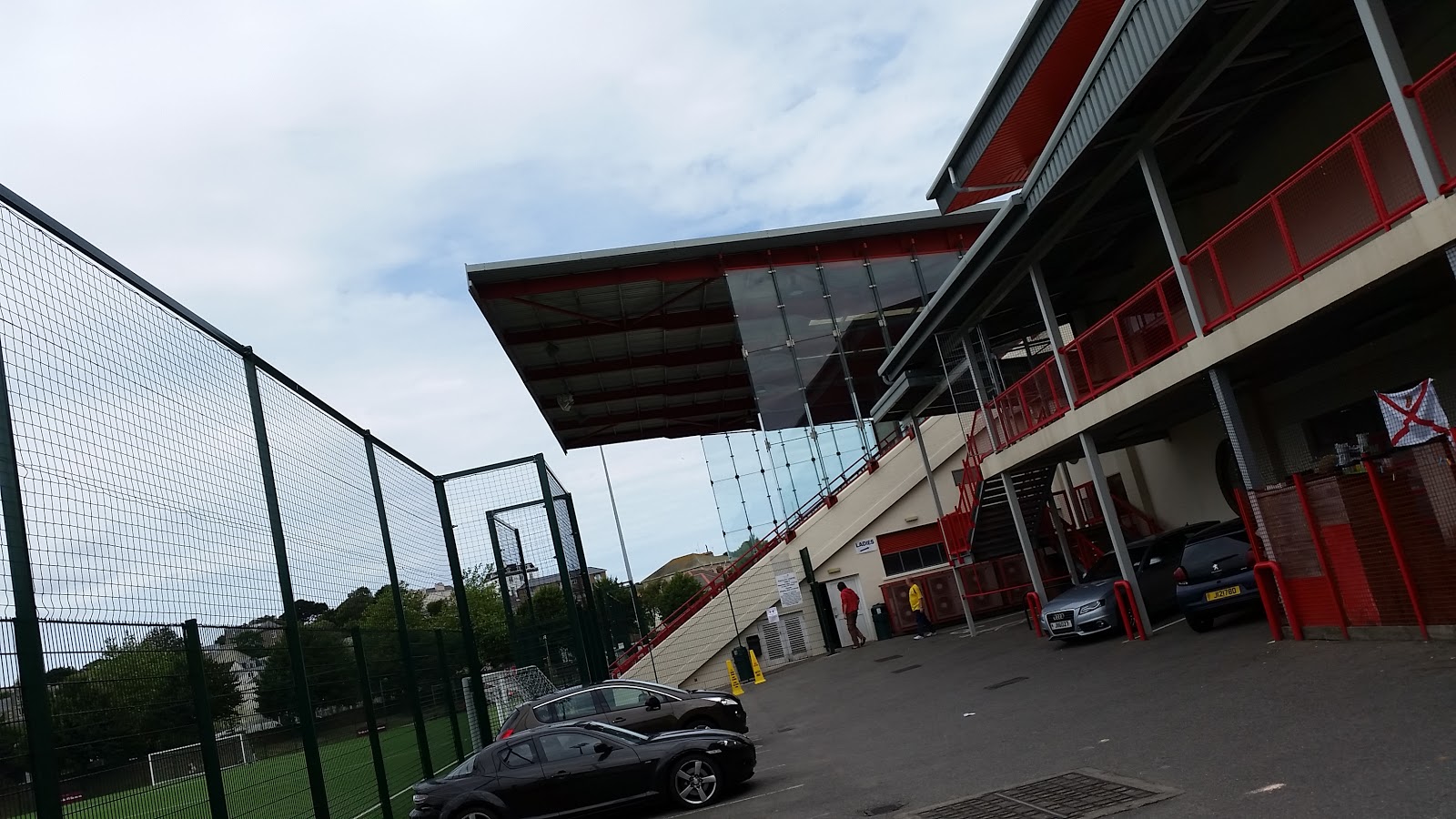 Profile!
The hosts are apparently fielding a weakened side today, with their Island games involvement over, they have several lads away on holiday as well as a couple out injured, so we're expecting a decent win. But they pack the defence and leave one man up top to try & frustrate and then hit on the break. However their keeper has to make two reasonable stops from Wishart & Spence having a bang from range. Jersey remind us they're there however with a couple of quick forays down the flank which present some decent positions, but their big number 9's touch lets him down both times. Spence then has one chalked off for offside.
Just as we're entering the 'well isn't this shit?' phase of the match and just as the rain starts to fall, a corner from Suvs is nodded back across goal from the far post and Fleetwood reacts smartly to direct his own header into the net and open the scoring. Further decent chances are few and far between before the break with our main efforts coming from range.
With the rain steadily coming down, we head for the bar at the break. Beer please! What? They've run out? Oh come on! Ok, no worries, G&T please! What? They've run out of that as well?? Oh for fucks sake…
We make our 3 changes at HT and the tempo is certainly a little better. Suvs livens up proceedings by finding himself a good 30 yards out and with time on his hands has a ping, firing a low drive past the keeper and into the bottom corner. Not long after, he's subbed after a bit of a clattering challenge in the middle of the park and a minute later Fleets is on his way too after getting a knock. This brings our subbed lads back into play, with Dundo getting a second shift.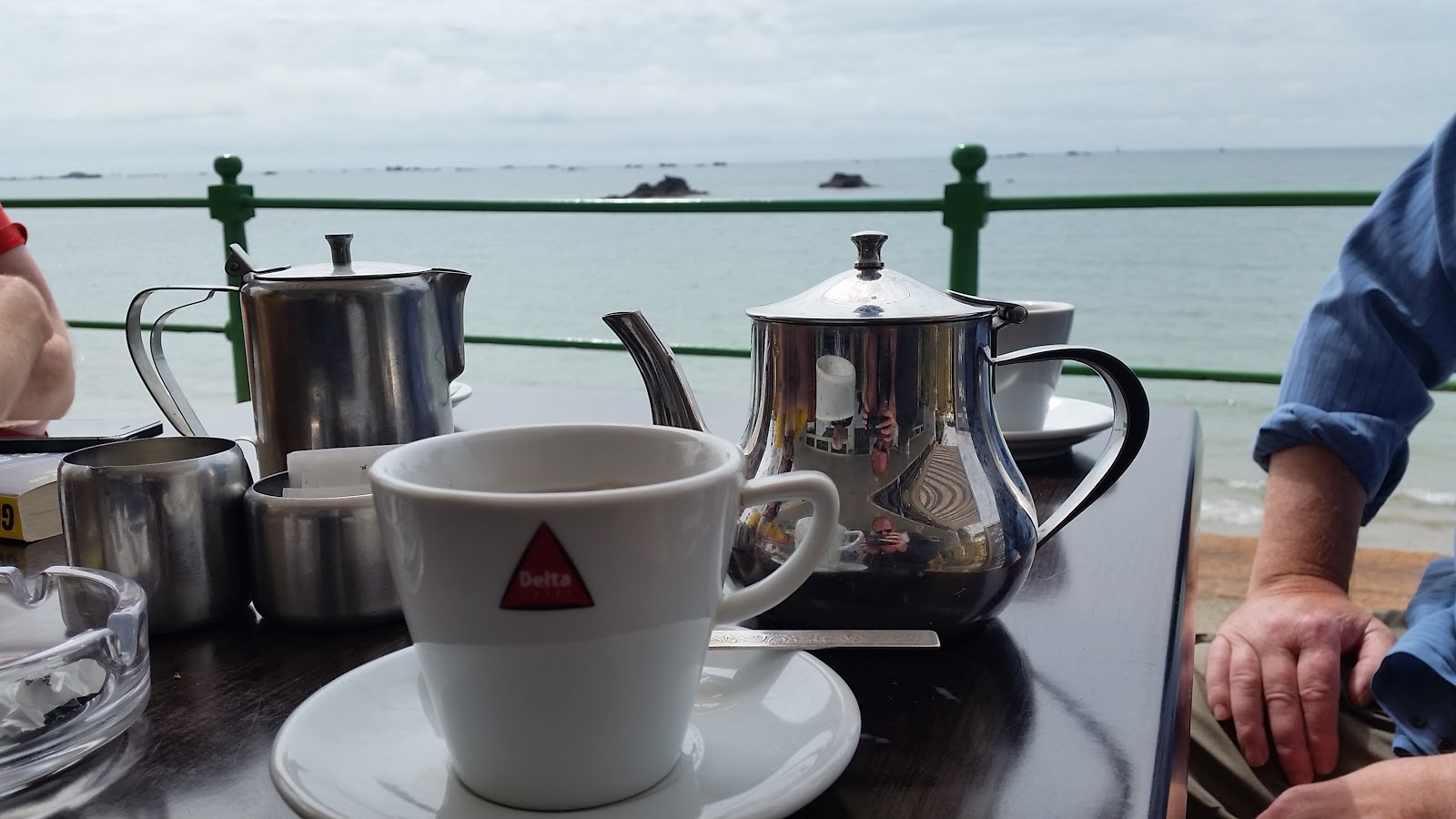 Doing tea. Being adult.
Once more, it turns all a bit pre-season before with 10 left, Ross Stearn puts a corner in to the far post. Dundo's header is blocked but the rebound pops up for Collins to nod into the roof of the net from a couple of yards out. That'll do pig, that'll do. Right, bar.
As all the good stuff is gone, we're all on Sagres while we decide what the evening holds. With a plan hatched, we set off on a stroll back to Gods Waiting room, shit shower and a shave, grab some dinner and hit the bright lights of St Helier. Well, we do. Dukey decides he wants more beer and instead heads off back to the pub with Rax and his missus. Charming! The change round at the hotel is remarkably faff free, although I do have the honour of ironing both Nick and Chalmers shirts as they're both fucking useless. We then decide that rather than mess about looking for dinner in town, we'll partake of the restaurant in the hotel. Of course, we've forgotten it's basically the sort of place that makes Saga look 18-30's so our mildly pissed chatter whilst we bang down a 3 course meal inside 30 minutes goes down an absolute storm in the packed dining area. Still, at least the waitress is a laugh and enjoys a change from dishing up to Doris and Audrey.
This time we can't be arsed to walk and take a cab into town, with Greek having his heart set on spending the night throwing some shapes in a place called Kasbah, St Helier's premier cheese fest club. Instead we first hit a couple of bars to get the beer going again and wait for Dukey, who has reappeared from his post-match refreshments, to head back to the hotel and chuck on his smarts for the club.
We hit Kasbah and immediately find it's a no go. The little queueing area out front is fenced off and the bouncers on the door aren't interested in making small talk, so instead we hit the slightly more clubby Mimosa which is apparently also where the team are due to be later. When we arrive it's virtually empty and drinks are cheap. Result! We camp out in the courtyard to escape the worst of the banging choons inside and set about chucking it down our necks. The team eventually filter in and from what we can see, the bonding side of this trip goes rather well. At the bar, Craig Mcallister apparently promises Greek we'll win the league. The round of jaegerbombs they've just had play absolutely no part in this claim, obviously.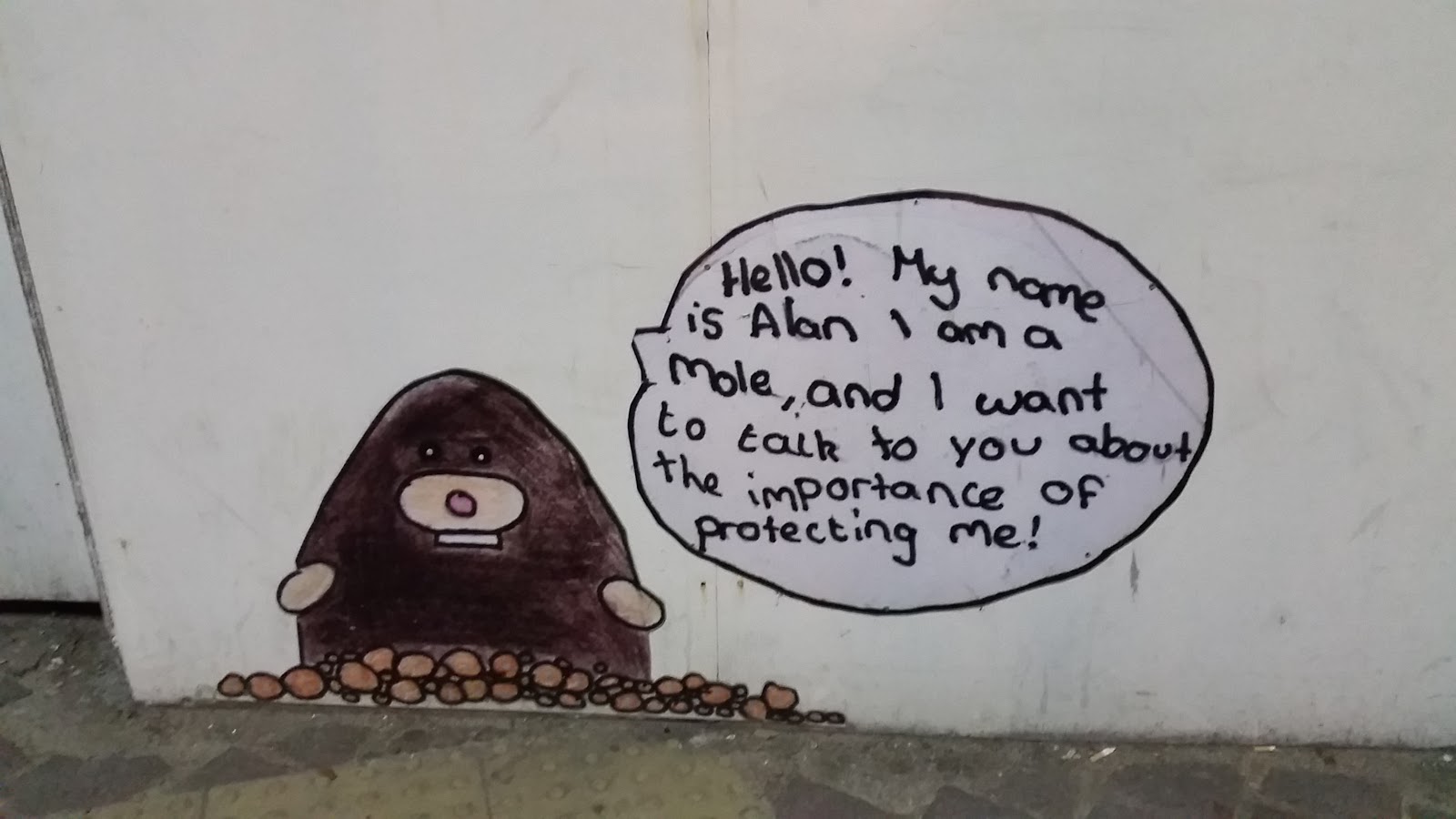 Fuck off Alan, no one likes you….
The place gets rammed and having tired of the mass of people, the majority of us slip out to get some junk food shortly before 2 leaving Greek and Mr X to their Jaegerbomb rounds. Dukey by this point is in kebab mode and nothing will deter him in his mission, fortunately for the ravenous 'Dan Ayre' we get the location of some scoff and everyone goes for what they want. Outside the kebab gaff, Loffers and I find Millsy tucking into one of his own which looks fucking awful! Then Dukey appears, cradling his reformed meat in a pita bread baby and with a glazed look of love in his eyes, stumbles off into the night utterly ignoring our shouts to wait for us and Nick. When he's hungry that boy….
It's the next morning and it's light. Actually why IS it so bright in here?? I crack my bleary eyes and find that Chalmers has left the kharzi door open letting sunlight flood into the room from the huge window in there. Stupid bastard! Time? Oh fuck off. It's only 8am! Head under the pillow, I shut out the light as walking a few feet to close that door is just too much to ask at this time in the morning. An hour later, my alarm wakes me. Breakfast time! I stumble into some clothes and find my way downstairs to get some much needed food, which does the job and humanity returns to my gin sodden form. With the rest of the gang electing to make use of the steam room and pool, I take a wander to get some much needed fresh air and find Chalmers sat outside a cafe bar on a nice little promenade along with Wellie. This turns out to be his hotel and it's distinctly lacking in 19th century clientele. Tea please!
Some adulting follows as tea and coffee flows and one by one, the crew surfaces to join us. Next stop, Sunday lunch! A pub in town provides a decent bit of beef and with little inclination to do anything else, we camp out at a bar called Troubadour and do what we do best. Booze and talk shite. Still, it's a productive several hours as we find out the Jersey FA were dead impressed with our numbers and may invite us back again next season (which is a bloody stupid idea frankly) as well as deciding that one of Dukey's favourite films, the football hooligan based tale 'ID', should be the latest to receive the West End musical treatment. We even come up with a couple of tunes!
So if you're reading Mr Lloyd-Webber, give us a shout eh? Not like you've had a hit in a while….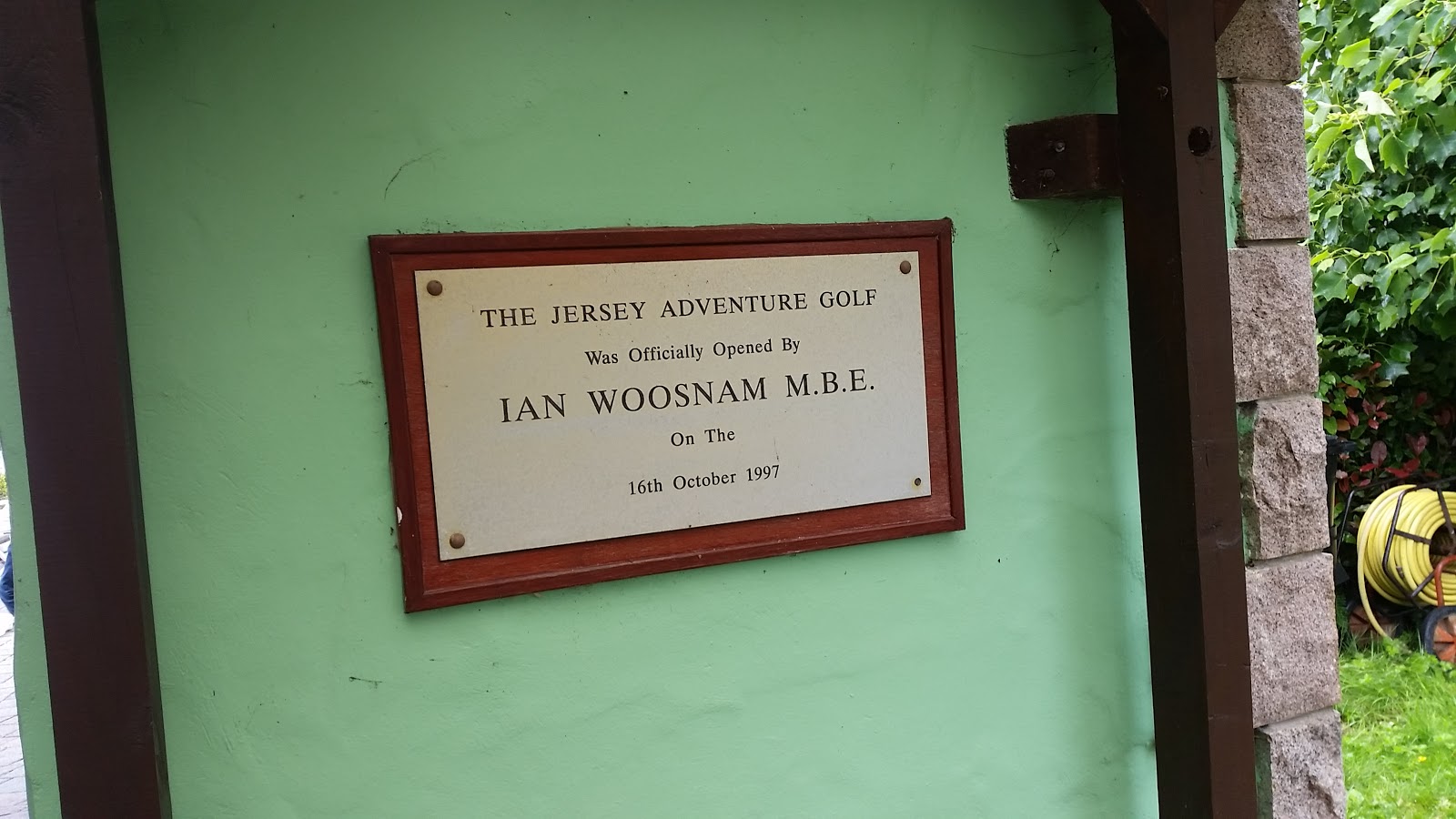 "Who opened the go kart track? Fucking Nigel Mansell??"
We also elect to try & use a well known online trip advice site to locate somewhere for dinner. It's number 1 recommended option for 'St Helier'? A kebab shop next to the Co-Op back home. Think about it…
Monday is tourist day and we get cabs up to the German underground hospital up near the airport and spend a while checking out the historical stuff. Our driver is a Scots lad, who apparently came for a weeks holiday 35 years ago on his way to Canada and never left! "Overslept did you?" enquires Greek. Next we head round the corner to possibly the most optimistically named tourist attraction ever. The 'Living Legend'. It's pretty low key stuff, but most importantly of all has 2 crazy golf courses, allowing us to resurrect an old away weekender tradition. The Shoebox Hungover Idiots Tour. Or SHIT for short.
Having seen off a coachload of fucking annoying French kids, we waste a couple of hours trying not to kill other people, wildlife or each other with golf balls and putters. Along with displaying a remarkable repertoire of double entendre based around poles, balls, holes, rims and anything else that springs to mind. Now, we've never said we set out to amuse anyone but ourselves!
In the end, an historic three way tie emerges between myself, 4 Days and Belly. Well, at least it does once Chalmers has remembered how to fucking count! Sadly, a play off is out of the question as we've now got to get back to the Metropole so we can be whisked straight back to the airport to fly home. We smuggle Wellie onto our bus and hide him amongst the 25 empty seats before the stampede to duty frees upon arrival and the Bell's getting yet another tug at security. Whilst everyone is off buying fags, I stand around waiting on a small display stage nearby and manage to half demolish the temporary board standing there. Quick as a flash, I step away and point whilst tutting disapprovingly at a couple of small kids running around the same area. Absolutely no one buys it. Erm, can we go now? The flights delayed? Oh. Ok then….
Time to go!
Eventually, EasyJet decides to take us home and whisks us from the foggy, wet Isle of Jersey back to the foggy wet part of the Isle of Britain known as Gatwick.
Do they really want us back next year? Seriously?
Well, be rude not to I s'pose.