Like most football fans, we here at the 'monium of Gander (with huge emphasis on the 'moan' in our case) are creatures of habit. And interfering with our routine is never a welcome thing. So you can imagine our sense of loss and confusion when we found we had to wait until the Sunday to go to our latest league match at Hayes. At Maidenhead.
The reason for the switch was not the Magpies, with which Hayes now lodge, being at home, but the fact that a fireworks display was to be held at the club on the Saturday and thus a football ground was not able to be used for something or other else. Fucks sake. Still, Mr X was relieved to hear this as we'd been telling him for weeks that the actual reason was a Morris Dancers convention. And he really hates Morris Dancers.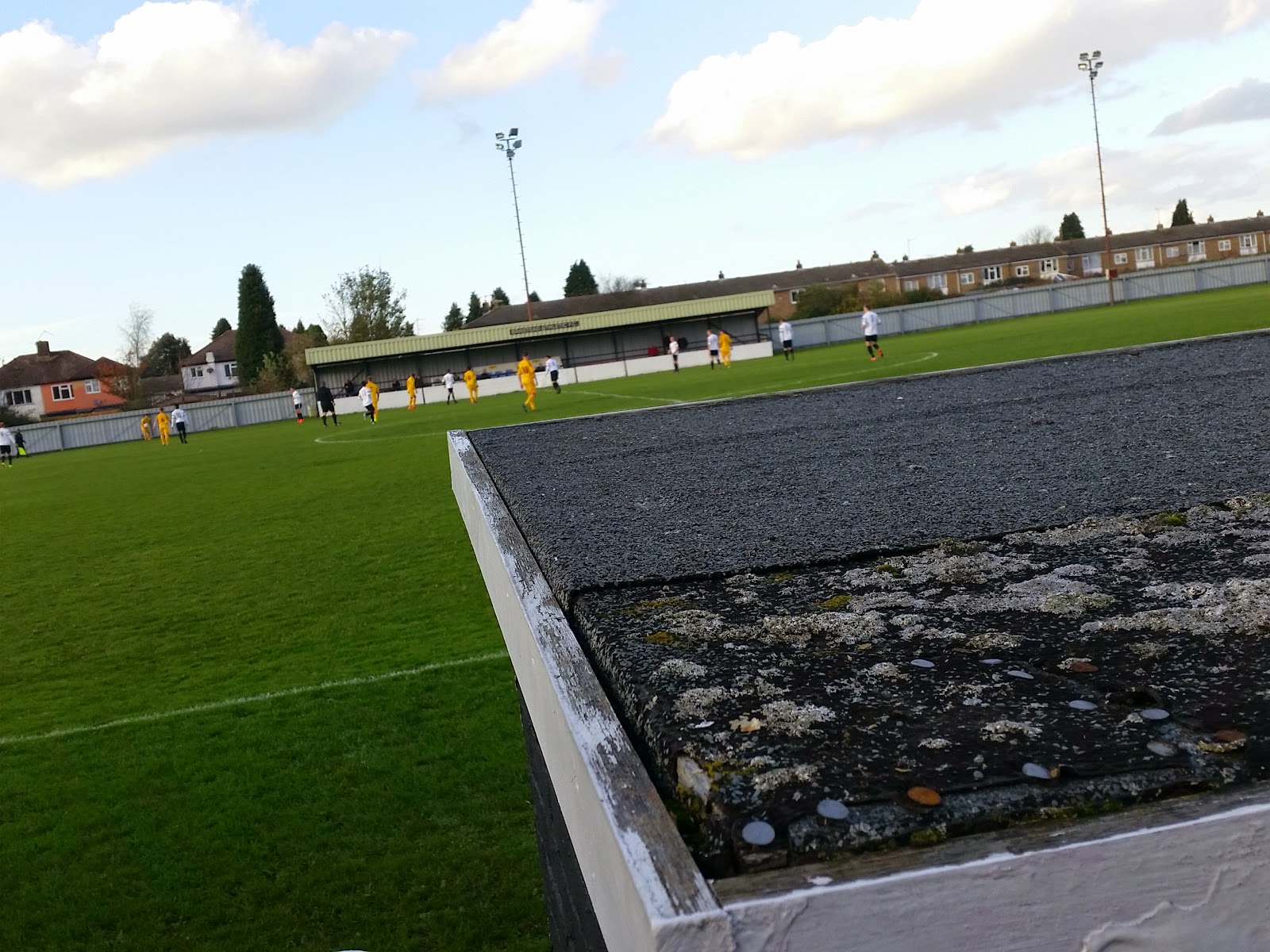 The perfect little picnic spot.
Cruel? Probably. Childish? Erm, yes. Funny? Undoubtedly.
So, with no hardcore 6th tier action to observe and get our juices flowing on a saturday as usual, the general suggestion was that we take in the reserves game up at Banstead, where they were to face Royston Town Reserves in a Suburban League match. All this sounded a delightful way to spend a leisurely Saturday until we remembered the last time we took in a ressies game, we ended up getting utterly steaming out in Epsom, decorating the town in thousands of SUFC stickers, conversing with the local constabulary before ending up stumbling out of a gentlemen's establishment at almost 3am.
Now we don't own a dictionary here at HQ, but I'm pretty sure that none of that is included in the definition of 'leisurely', even in an American edition. Especially the stickers bit. Still, despite the carnage of last time, I agree that I'm up for some ressie action in principal just so long as I can get my other errands sorted in time.
So it's at 10am I find myself in Debenhams menswear department, looking for some new strides for work and a few more smart shirts to accompany them. Ever the delusional idiot, I first pick up two pairs with a 32 inch waist to try on and head for the changing room. Emerging a couple of minutes later when my youthful illusion that I'm definitely not now a fat bastard somewhat shattered. Oh well, 34 waist it is then.
Having dropped well over a ton for my goods to the miserable cow behind the jump (no I do not want a fucking Debenhams card!) in an effort to keep me looking buff ting in the office, it's back to HQ to ditch the wheels and head for Epsom. Or not. It seems lazyfuckeritis has infected the rabble quicker than Ebola at a gang bang and instead we're meeting at the old bank so we can be bored to tears by Newcastle v Liverpool before cabbing it up to Merland Rise. Nice. Bus to Sutton it is then.
I stroll in around 1 and find Wardy at the bar (where else?) with Dukey & Mr X off out feeding their nicotine habit. Soon after a less hungover than expected Nick the Taff rolls in and joins the party. If indeed a party existed. Instead, over a couple of pints we mostly yawn at the dull fare served up by the greatest league in the world and exchange various streams of abuse, as is the normal manner for around this time on a saturday afternoon.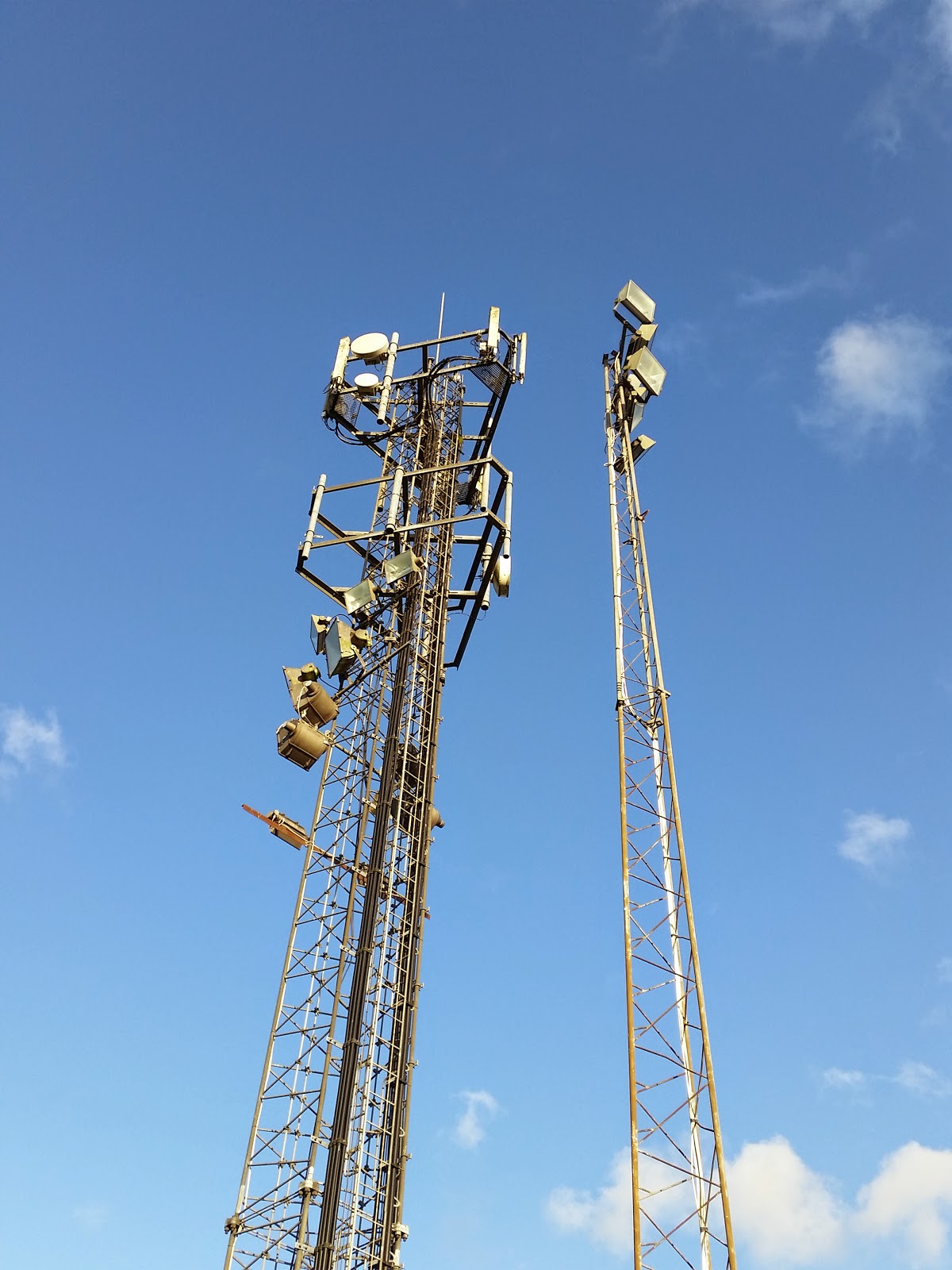 The 3G signal up here is surprisingly good.
Before long though, it's time to head for Merland Rise. Pleasingly, everyone has come prepared as despite it being really quite balmy out, big coats and wooly hats are on display. We might be idiots, but even we know that the home of Banstead Athletic can be a bit parky at the best of times and we're not letting the fact it's quite warm down here fool us into thinking it's also going to be just as warm up on the inhospitable north face of Epsom downs. Frostbite doesn't half put a pinch on your Saturday evening plans.
We head for a cab and as we're sorting details we notice we're one short. "Where's Wardy gone??" A quick scan of the horizon reveals him queueing in the bakery over the road. Eventually he appears with a carrier bag that looks quite full. "John, what's that?" I enquire.
"Picnic".
Oh for fucks sake, just get in the car will you.
One expensive cab ride later (£19 quid compared to Mr X's estimate of 'just over a tenner') and we stumble out at Merland rise as the teams are emerging from the dressing rooms by the near corner flag. Casual as you like, we flash out season tickets and strut in like the VIP's we are. Well, except for Wardy who has to cough up 3 quid. The ressies this year are keeping in with our recent strategy of promoting heavily from the youth teamers who are now too old to play u18's football, along with the odd recruit from elsewhere. It's paying off as summer joiner Shaquille Hippolyte-Patrick has just broken into the 1sts along with former youth skipper Brandon Johnson also appearing on the bench. Mr X informs us that it's very likely that prolific youth team scorer Ollie Sitch will be involved with the 1sts tomorrow and that a full back (whose name escapes me now) will also be signing forms. Another bit of goss is that someone by the name of Jerson Dos Santos is on the bench for us. Clearly the lad having now done every club in Southern England has returned to the start to begin his second lap.
Do not pass go, do not collect £200.
Once in the ground, Wardy makes use of the home dugout roof to break out the 'picnic' obtained earlier in Sutton. Two boxes reveal a couple of massive sausage rolls and some huge cheesy puff pastry things. The sausage rolls are most enjoyable and Dukey gives the cheesy puff a thumbs up despite a serious lack of pepper. With some soakage consumed, we take up position on the 18 yard line and observe proceedings on the pitch.
The oppo are pleasingly a proper old school reserve side, with a mix of older players in the twighlight of their playing days and young lads like ours who've no doubt got too old for the yoofs. The visitors include a certain Mr Cambridge once of Cambridge City and Histon. Although we're unable to recall if it was him or his brother who put in the wanky challenge that broke Craig Tanner's leg at GGL one night, so refrain from any recriminative abuse on the matter. Still, the presence of actual men playing should make it a good test for our far younger setup.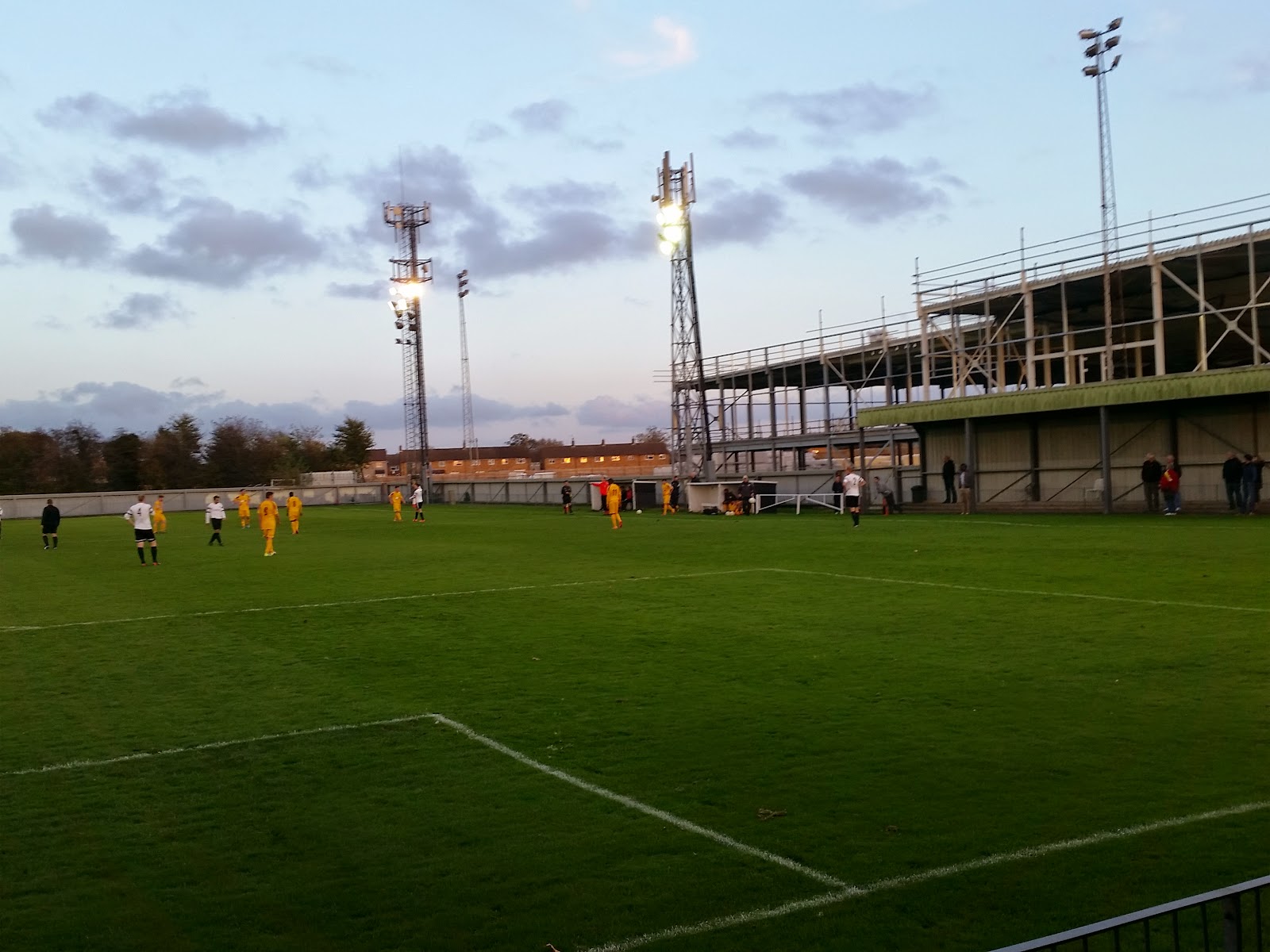 Banstead's new leisure centre looms…
Sutton start brightly, with the midfield snapping around and feeding quick balls wide for the runners. With this approach, it's not too much of a surprise when they take the lead after about 15 mins. A corner from our side is cleared to the edge of the box where Mikey Rouse rifles a rather tidy daisycutter back past the keeper on the volley. Niiice.
Our lads keep on top and Ollie Sitch imitates 'real' football life shortly after by standing in front of the keeper as we line up a free-kick, just as Steven Taylor had done for Newcastle about an hour beforehand at St James Park. Sadly it doesn't assist the outcome, although unlike Taylor, Ollie remains unbooked for his little action. Soo after, he's involved again, this time arriving at the near post to divert a low ball past the keeper for 2-0.
The rest of the half is largely uneventful, with Sutton on top but Royston finally finding their feet. In fact the only other real event of note is when a visiting player brings the refs attention to some fox shit on the pitch about 5 yards in from the touchline. Thankfully Jeff Moxey saves the day with a small plastic bag and removes the offending item of urban wildlife dumpage. Half time and we head to the bar. Mainly as we need a drink, but also because the sun has gone behind the clouds and we can feel the ice forming in our veins.
We reappear shortly after the 2nd half has got underway and take our spot huddled under the covered end. The visitors are showing a bit more life about them, but we waste a couple of half chances before one of the Royston midfielders reduces the defecit with what can only be described as 'a proper worldy'. He cuts out a pass on the edge of the centre circle in our half, takes a touch and punts an effort perfectly into the top corner at the angle of crossbar & post. Naturally, we all give this a polite ripple of applause, with added Fuck me!'s.
Any fears that this might give them a way back into the contest and make us regret our missed opportunities are soon banished. A cross in from the left is headed clear and drops to Emil Salama about 20 yards out. He subsequently cracks it straight back whence it came on the volley and into the back of the net. We make some changes with Brandon withdrawn in light of his involvement with the 1sts tomorrow and Jerson appears to make yet another appearance in a Sutton shirt. He's soon in on the action and in typical fashion for him and seemingly this game, he curls in a belter from a tight angle after weaving and step-overing his way into the box on the left.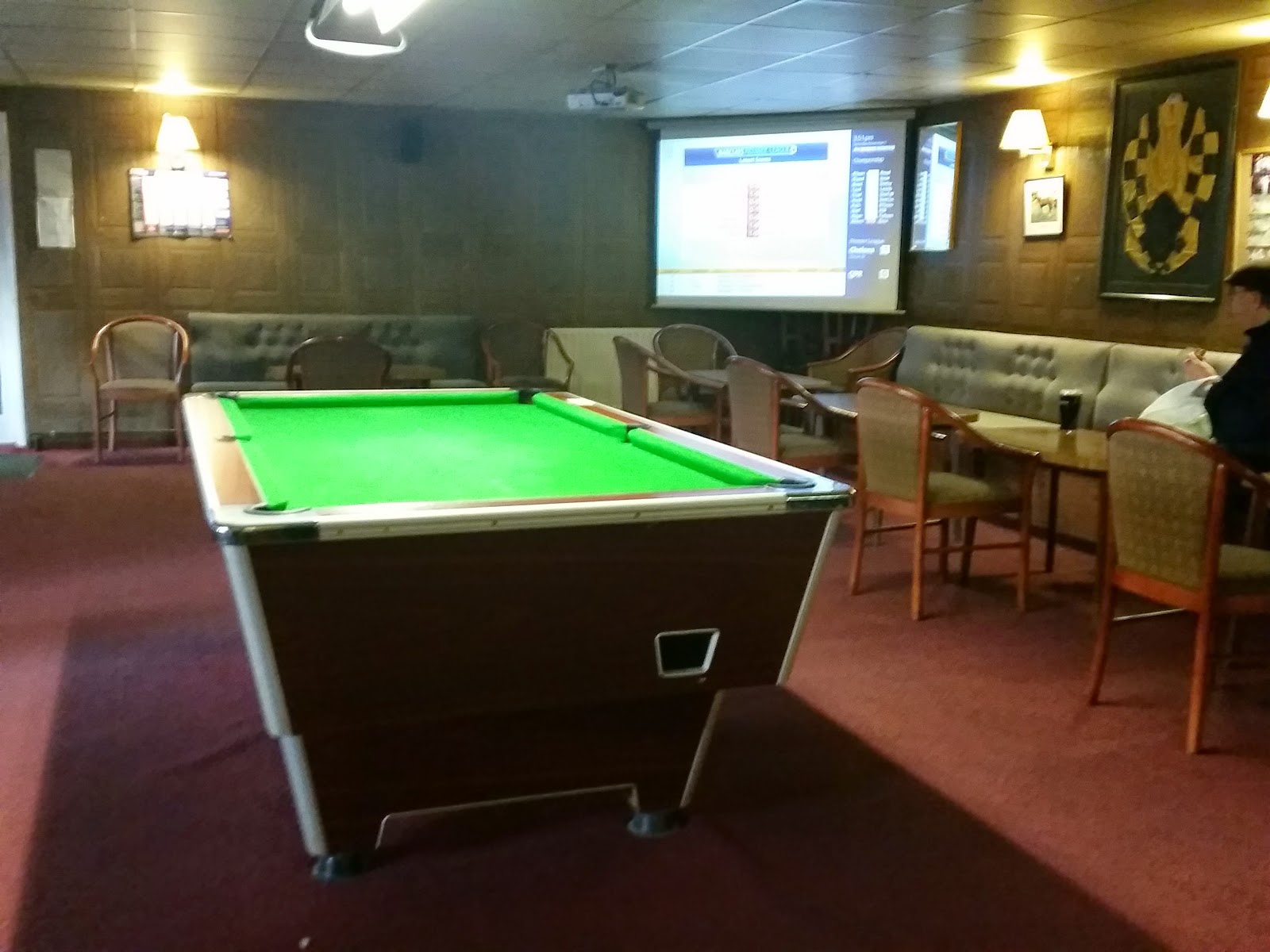 Sit down mate, we can't see the telly!
By now, the older heads in the Royston team have clearly had their fill and are mainly exhaling from their bottoms. So of course, the last thing they want is our kids running around lots. Which they continue to do, the hateful little sods. Another new face, the #16 whose name was apparently Gouzan(?) completes the scoring, rounding off a fabulous one touch move of 6-7 passes by clipping the ball over the advacing keeper for 5-1. We have a couple of other chances, but the keeper either intervenes or lax finishing means there's no further addition to the score before the end. A quick round of applause and we once more return to the bar to take a vague interest in the final scores coming in.
To be honest, most of the amusement here is provided by mobile internet connections rather than Sky Sports. First there's the increduluity that not only have Carshalton managed to win a game (4-0 against Ramsgate. Christ, how shit are they??) but allegedly in front of 230-odd people. Big improvement on the 51 that saw the SSC tie the other night eh lads? Funny that. Secondly, we hear that the amazing Kingstonian have been dumped out of the Trophy by Barkingside. MEGALOLz! Apparently news reaches us they were so bad that their ever loyal 12th man booed them off. Now we've been shit at times this year and we've had a whinge, but even we've never gone that far! Although to be honest that's probably because the whinging from the happy clappers about it really doesn't make it worth the effort….
Couple of drinks and a cab later, we find ourselves in the bright lights of Epsom. Home to some pubs. And er, another facility of the adult entertainment variety. We tip into a small boozer, have a pint and watch the end of the Bournemouth Brighton game before hitting the Spoons for a couple of cheap liveners. Then we march up the high street in search of food. With a good few pints now stored, there's only one thing for it.
Curry house.
Thankfully, Nick knows of a place opposite the cinema and we tuck into some nosh and a couple of Cobras before getting a disgracefully low value bill. We hastily pay up and leave a nice tip before giving it legs just in case. Then we head to the old Litten Tree, which is now a students paradise named 'The Faraday'. Here we forego the various retro gaming consoles dotted around the place and notch up a couple of more beverages sat out on the patio out front in the relatively balmy November evening air. Amusingly, Wardy's first pint of Guinness comes with something drawn on the top that looks suspiciously like a male appendage. A little stunned, Wardy enquires of the barman "Did you draw a cock on my pint?".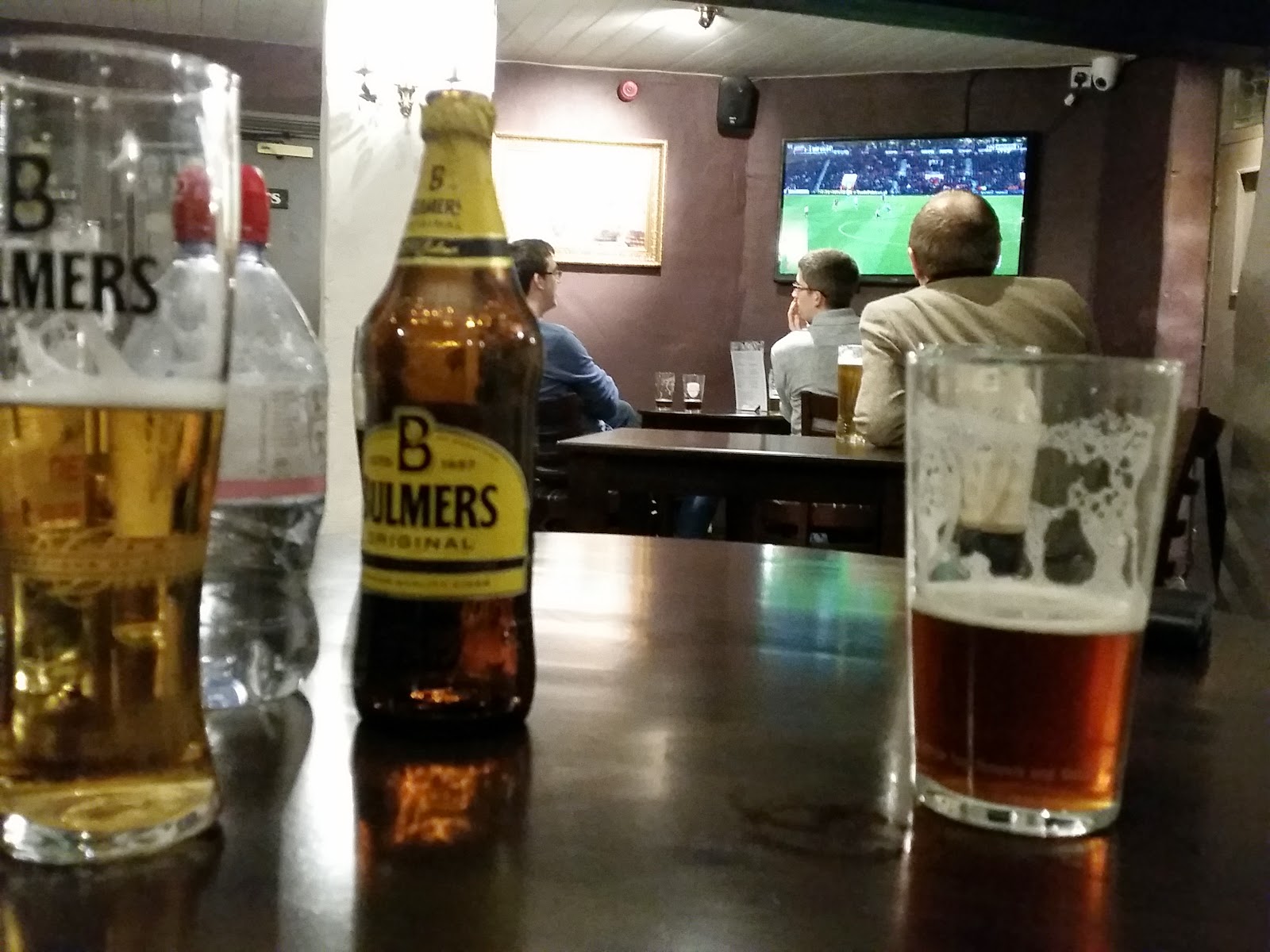 The more regular adult type establishment in Epsom…
"Nah! It's a shamrock mate. I just completely fucked it up" comes the cry of innocence from the other side of the jump.
As the clock ticks past 10, talk turns to that 'other' place just a short walk away. But with everyone full of beer and curry and an away game to get to tomorrow, we decide to scrap that idea and get the last train back to civilisation. Besides, it's a tenner to get in. We're not THAT pissed!
Amazingly for us, we make the last choo choo with no problems and back in Sutton, Dukey, Taff, Mr X & Wardy head to O'Neills for a nightcap, whereas I decide to stay on until Wallington and walk back to HQ to help digest the huge Tandoori mixed grill currently absorbing a days beer in my gut.
See you in the morning losers.