With a puff of smoke, the wheels of our plane land at Gatwick. The time is half past two, twenty minutes later than expected. For the past two days we've away doing what the Gandermonium Firm does best. But we won't be discussing any of that little trip here, we'll be leaving that little ditty for another time (soon!). Lets just say that over the course of two days we were considerably hung over and found ourselves considerably poorer at the end of it.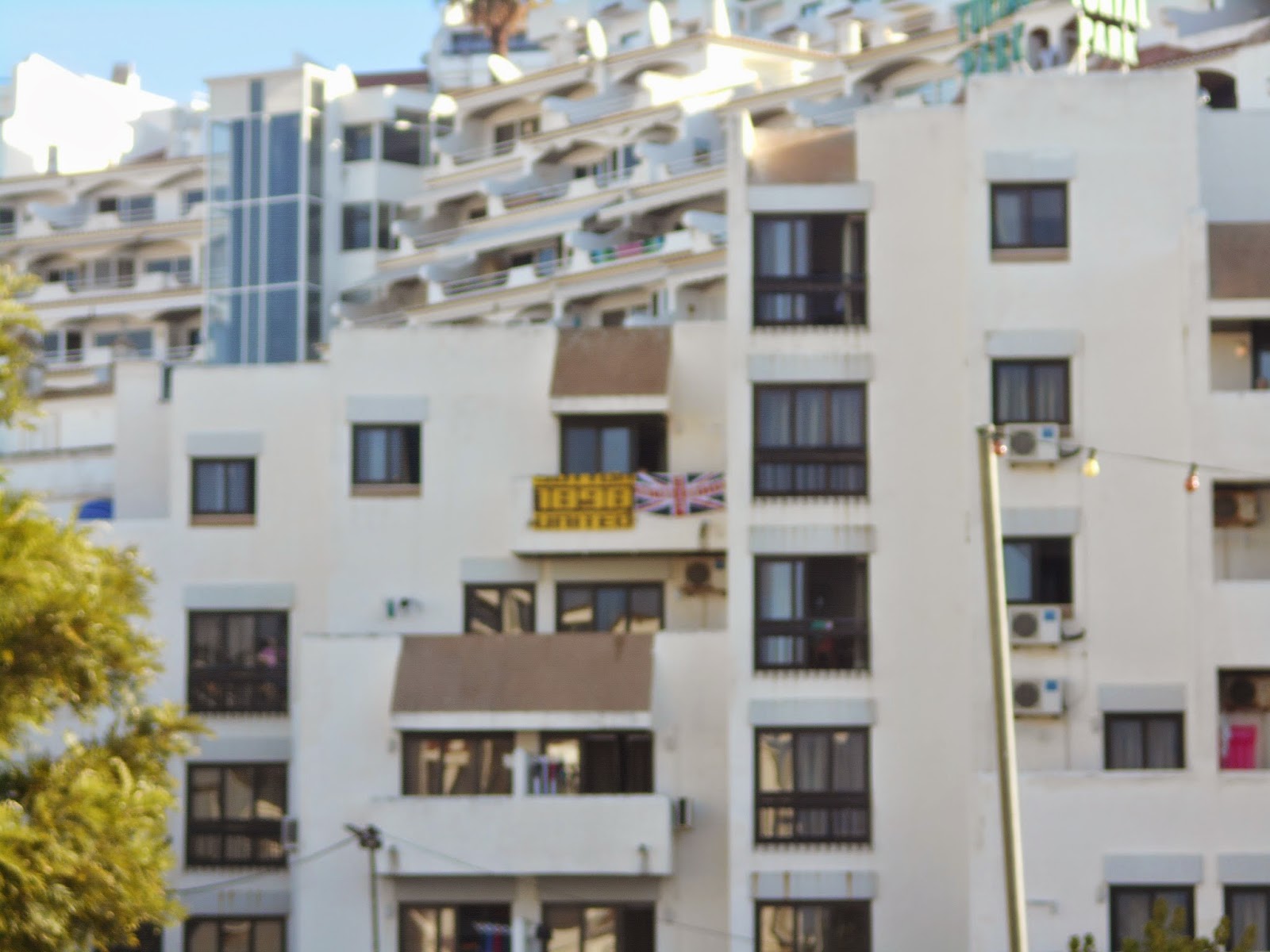 'Blend in' they said. 'Disappear' they said. 'Alright!' we said…
We must have landed at the furthest point needed to get the train because we were forced to walk at least half a mile over that swanky new bridge to get to the other side by which time I had become as confused as a baby in a topless bar. You were also blazed with adverts saying how Gatwick was better than Heathrow and deserved another runway. Frankly, I just wanted to get out of the fucking place!
No matter were you fly in from, every time you arrive in Gatwick you get a massive queue at passport control. Even the e-passport queue that me and Roger Taz were in seemed to take forever. In fact the queue was so long that by the time we reached baggage collection, Mr X's possibly legal or possibly not legal and definitely not stuffed with thousands of cigarettes black carry case was already making its rounds on the conveyor.
Another half mile walk along with a little trip on the spanky monorail and we were finally at the South terminal. The plan was to get the rails straight to Brighton town so Roger Taz was designated "ticket buyer", mainly as everyone else needed a slash. Fuck me, the khazis in Gatwick are posh! Every urinal has a personal sink and hand dryer next to it and the shitters look like a little one bedroom flat.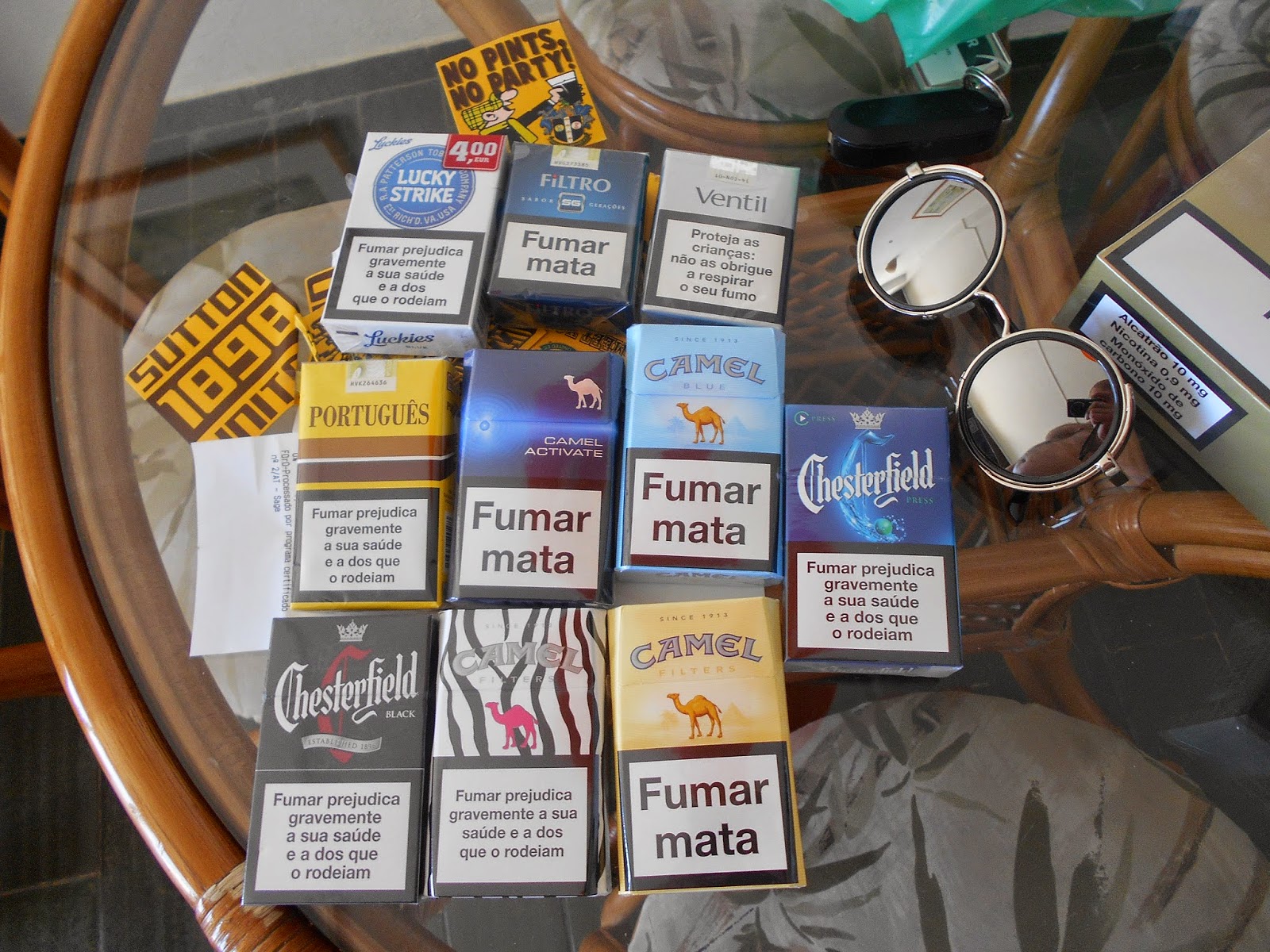 Absolutely not smuggled past UK customs in Dukey's pants….
Once Roger Taz had secured the tickets and returned muttering the words "Fuckin' tourists" under his breath we bombed down to the platform for the next train that was due in less than five minutes. Aboard we plonked ourselves down, well that is everyone except Mr X who decided to be a gentleman for once and helped an air stewardess with her bag. A pretty little thing she was, but with a tad too much war paint on for me.
The mood finally turned towards the game and the news that Jonathan Osei-Kuffour (aged: 32) had joined Sutton. Another Striker according to old trusty Wiki and I thought the problem was that we weren't creating the chances as opposed to finishing them. Some of us also began to think that the average age of the team was beginning to creak up a touch. We also felt that this match might by like Saturday's and be the other bookend to a mad weekend. Sadly, the service didn't stop at Hassocks and bombed straight through so I was unable to show the mob where I'd spent a restful night's kip last saturday. A fuckin' Premier Inn it wasn't.
Arriving in Brighton after three we headed to the local hole in the wall to get some English money out for a change. Most of us were hungry so we decided to decamp to the Prince Albert for food & refreshments. That was everyone except me, because as we all had bags with us and Mr X had his case. And as the taxi rank was at the station, we weren't going to travel far. Me on the other hand wanted my usual plate of gastronomic delight that was a large portion of Bacon Noodles from the pier.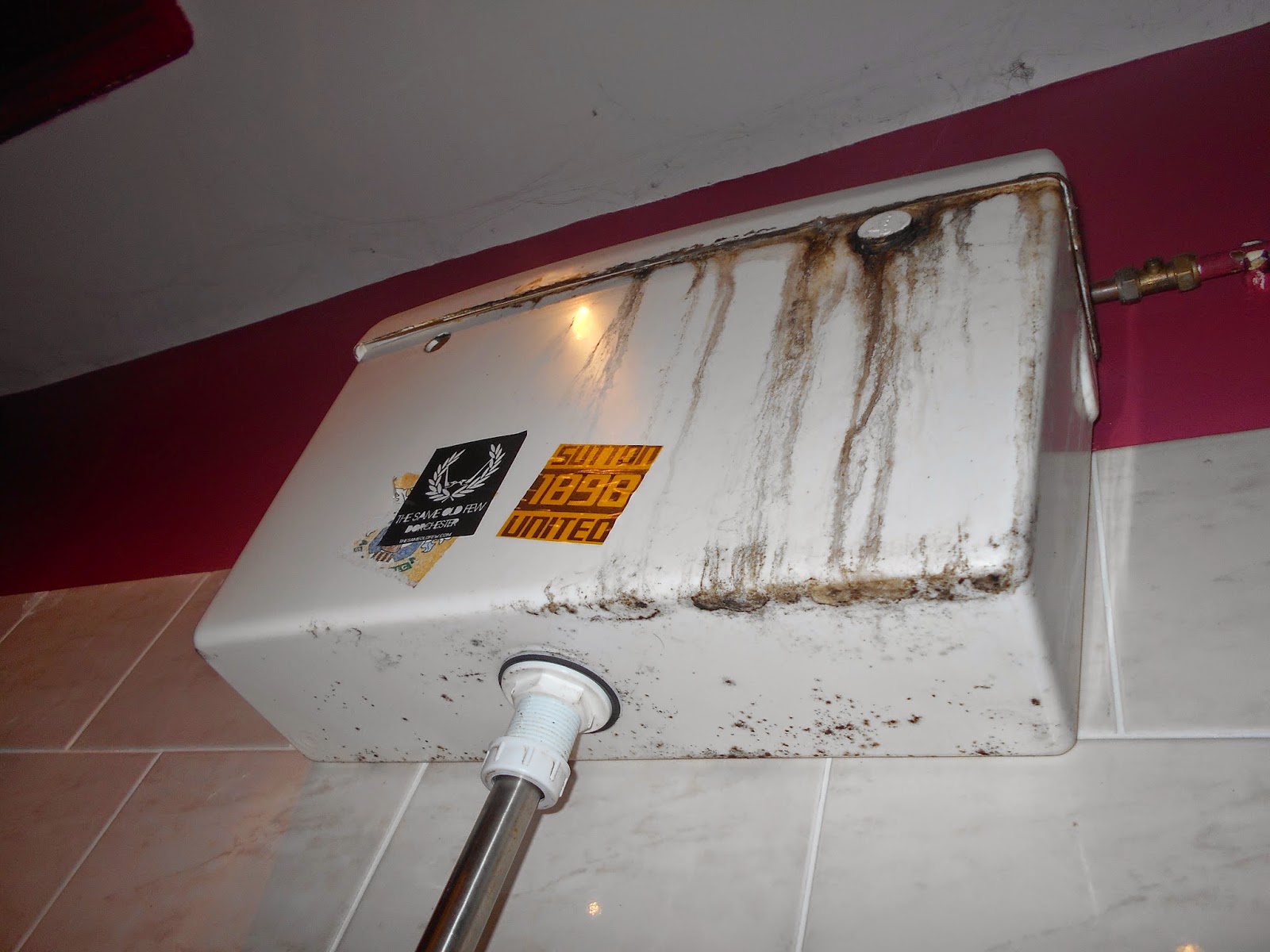 Fancy seeing you here!
Leaving my fellow travellers I headed towards the seafront and eternal happiness. I would have to say that I don't really like Brighton that much, especially sober. I'm surprised by the amount beggars around and 'specialist shops' to boot. Hitting the front I realised that I'd taken a slight detour and was by the wrong pier. The West Pier has been shut for as long as I can remember and the hollow structure creates a sad image against the horizon. Although that is about to change with the gay sounding 'i360' soon to be constructed right in front of it. Why you would want an observation platform there is beyond me but that's Brighton council for you.
Finally making it to the Palace Pier, I was able to do the old Jesus act of walking over water. The place was teeming with wrinklies sunbathing and goth looking students depressing the fuck out of each other. There were many temptations on the walk and I'm not just talking about skirt. The food was also around me. Calling my name. First there was doughnuts & Churros, freshly fried and sprinkled with sugar. The next was the old Duke favourite of Chips & Gravy, could I be tempted?
I may normally be weak willed but my resolve held out as I finally made it to the Noodle bars. There are now four of them here but one in particular is the one we frequent and that is for the one reason of being the only Chinese place I've ever visited that does Bacon Noodles. I don't know why I appreciate it like some that appreciate a good wine but just look…..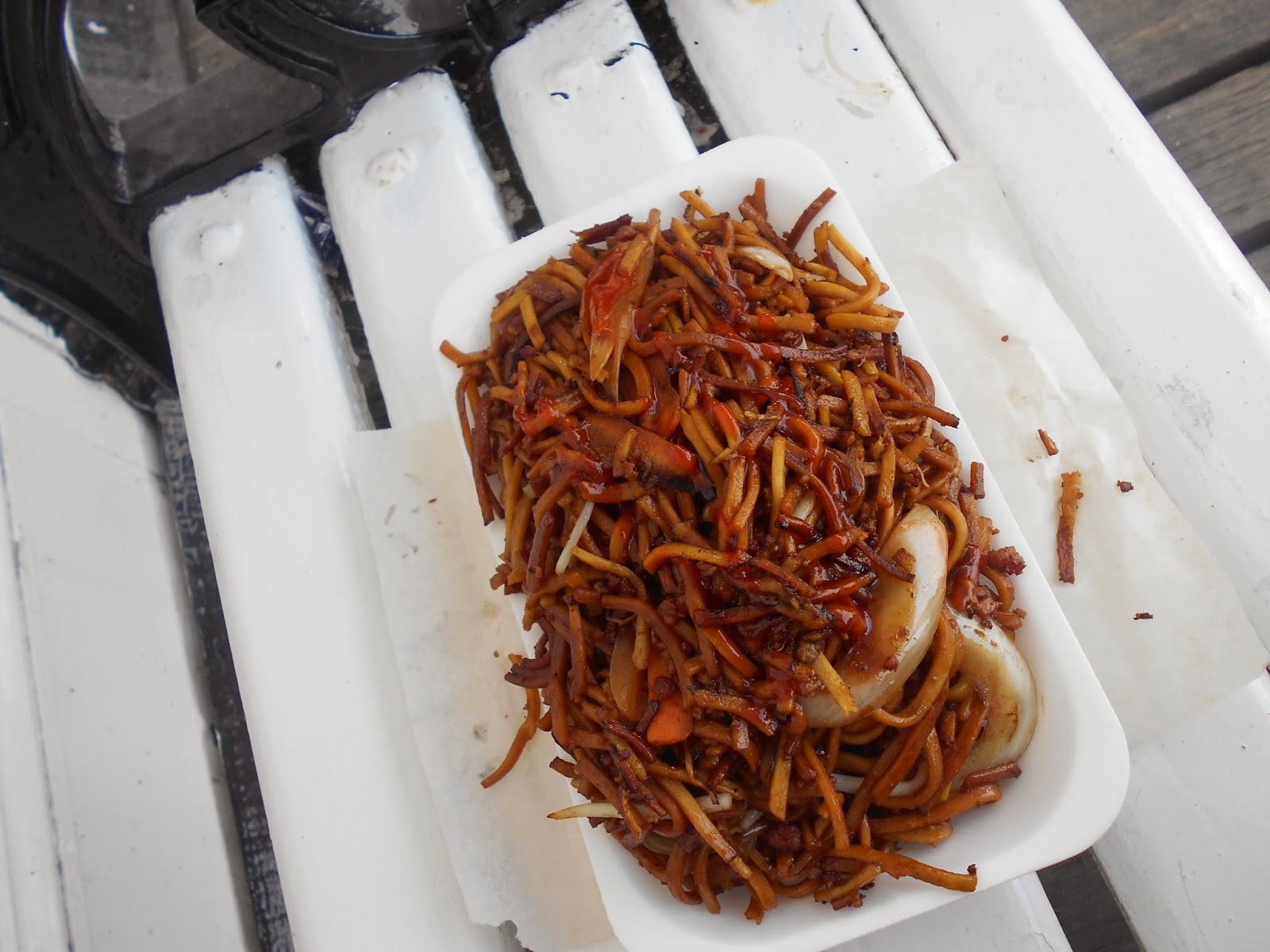 All the hardy Non-Leaguer needs when in Brighton. Oh and beer.
Once suitably filled with grease I snuck into Horatio's for a quick Vodka and was then off to meet the rest of the Firm, I even had time to buy some doughnuts for a very large member back at the Prince Albert. Arriving there I saw that they had finished their food. Mr X went for a sandwich, Roger Taz Fish & Chips and Juan went for a Falafel Burger! Yeah I know! About as nutty as a fruitcake.
To liven the mood we headed back towards the station and another boozer. Unfortunately no one wanted to get any shots in with me and the exertions of the previous 48 hours were now beginning to show. The talk was still of what our next excursion was going to be but before long Mr Bone had arrived and now had to take the full assault of rounding up a Gandermonuim two day break.
Before long the time had come to get a sherbet to the ground and after collecting one at the station we headed east out of the city. Arriving with the sun setting we went about talking to various people, it always surprises me the amount of folks that read this blog or follow us on social media. I don't know if its disappointment or envy that I see in their eyes. Still onto the match:-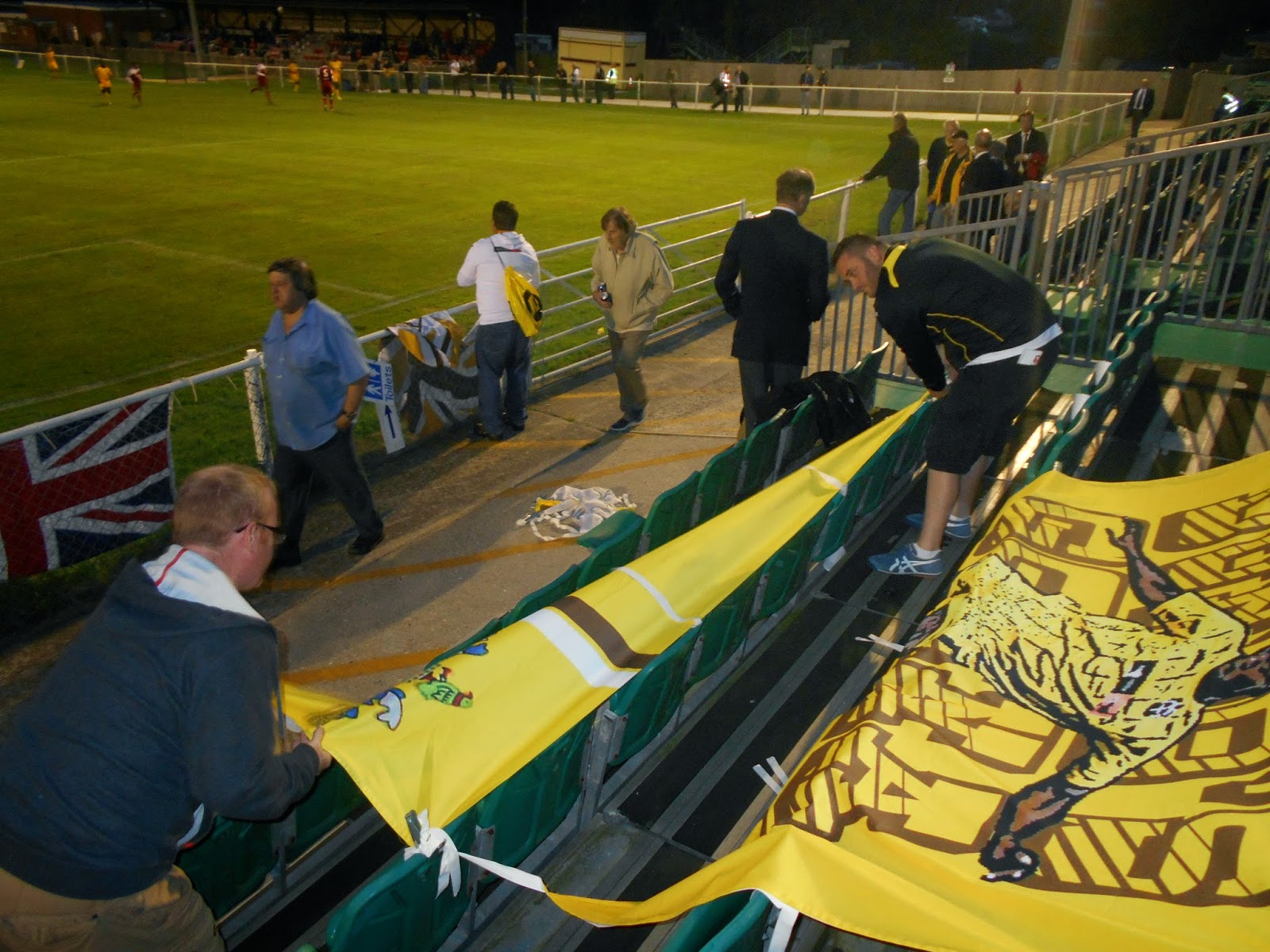 Erecting.
Julian, Amankwaah, Evans, Spillane, Hart, Clough, Haysman, Southam, Dundas, Reindorf, Kuffour Bench Warmers: Wellard, Taylor, Bignell, Lockwood, Lovelock
Shooting up the hill we made our way round to the open end. I even bumped into former assistant manager Payne on the way round. The first five minutes saw Sutton create one of the best chances which fell to Jessy who saw his shot saved by the keeper. Several minutes later Jessy was bundled over just out of the box and Micky's free kick went just over and wide.
The thing about this blog is the fact that I can mention other things the official match report can't. After Jessy had been bundled over, the ref begun to move the wall back. They weren't a couple of inches short but at least 6yrds closer to the ball then was legal. As he was doing this the Whitehawk keeper, as bold as brass, screamed "Fuck Off Ref!". And the ref just carried on nonchalantly, amazing.
The rest of the half was really a no brainer as the twat in black, a local boy called Mr Laver begun to diminish the game as a contest with the help of the antics of the Whitehawk players. Now everyone knows how Kingy runs his teams, but I ain't got a clue how you could support it week in week out.
One quick example would be when in the left hand corner of their end of the pitch, the number ten I think, took a classic swan dive over his own feet under the lino's nose only to get a free kick out of it. Whitehawk done very little in the first half except moan to the ref for every bleeding decision. Even at half time I felt we had soaked up the pressure confidently. Rumours are abound that maybe Dos & Julian were not happy with the referee and receive early Christmas cards, but no doubt something will be mentioned come Saturday.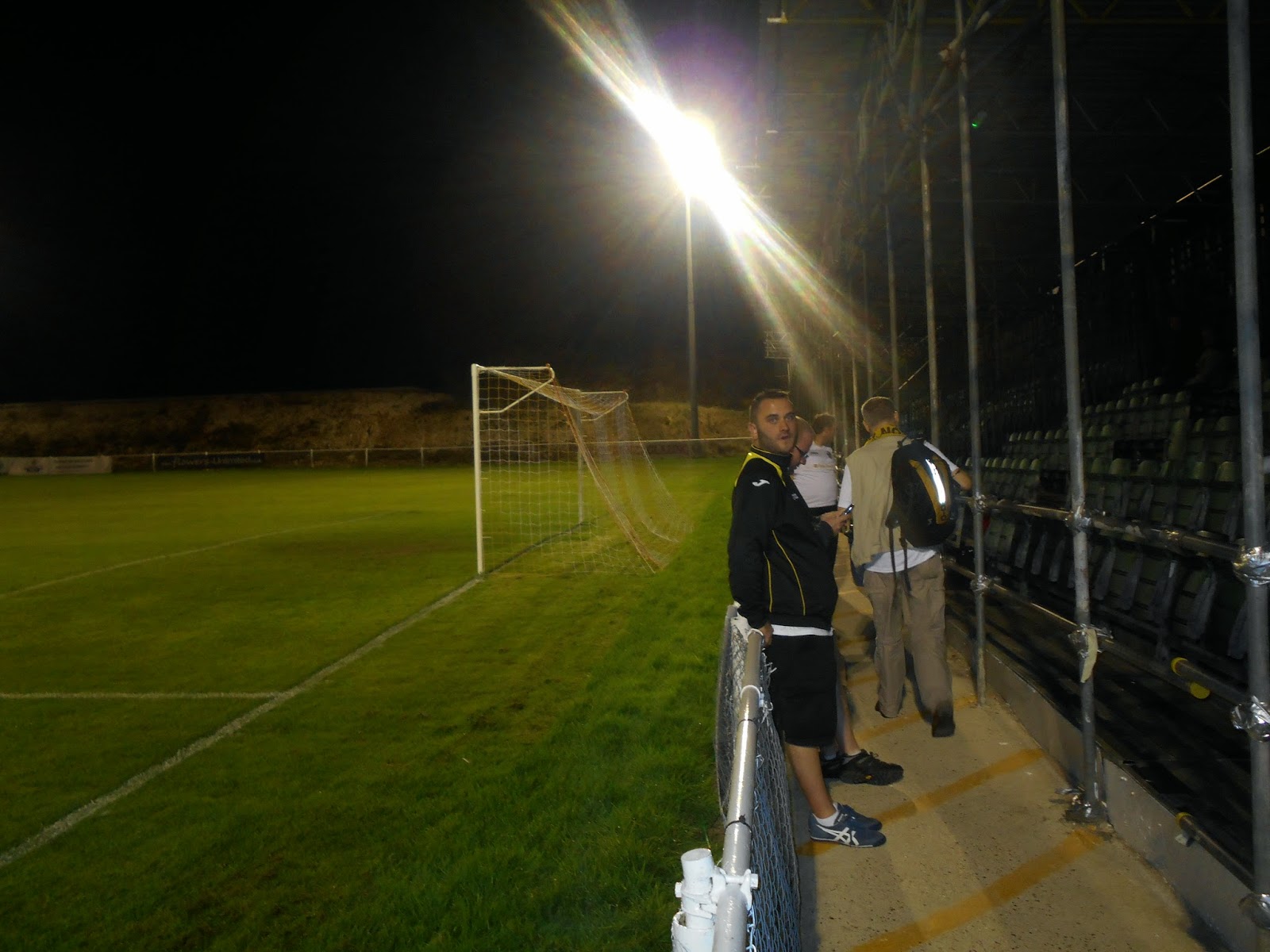 Just chillaxing.
The second half had us take residences under the cover at the other end. Juan had asked for a cup of tea but I'd decided to help him with the flags first. Giving Roger Taz a hand to put up the Dundo flag would seem to be easy to the untrained observer. Well, that is when you don't put your foot on one of the shitty seats and suddenly a whole row of them decide to give way. Cue mass laughter from those that were present and a now battered Duke heads indoors to get the teas.
Missing a couple of minutes of the second half because I was purchasing three of the most disturbing tasting cups of tea, I headed out to see Sutton were taking full advantage of now playing down the slope. The game changed when finally Sutton scored with a bullet of a header from Cloughie off a Micky cross. 1-0!
After that the ref started getting involved as first Cadmore got away with catching Jessy on the floor with a late boot to the face. Moments later they both went for a header on the other side of the pitch. I don't think it was a elbow so to speak, but to me it did look like he dragged Jessy down in a dangerous manner and that is why he got the red card. To be honest Whitehawk only got two cards all game compared to us getting at least five. Fuck knows how.
Down to ten men for the last twenty five minutes we still had to get that vital second goal to kill the tie off. After the subs with Bignall & Lockwood replacing Kuffor and a tired Jessy we still waited for the goal. And who else do we turn to at a time like this? Dundo of course! A ball over the top to a offside Bignall who left it, saw Dundo scamper passed the defence and coolly knock the ball past the keeper. 2-0!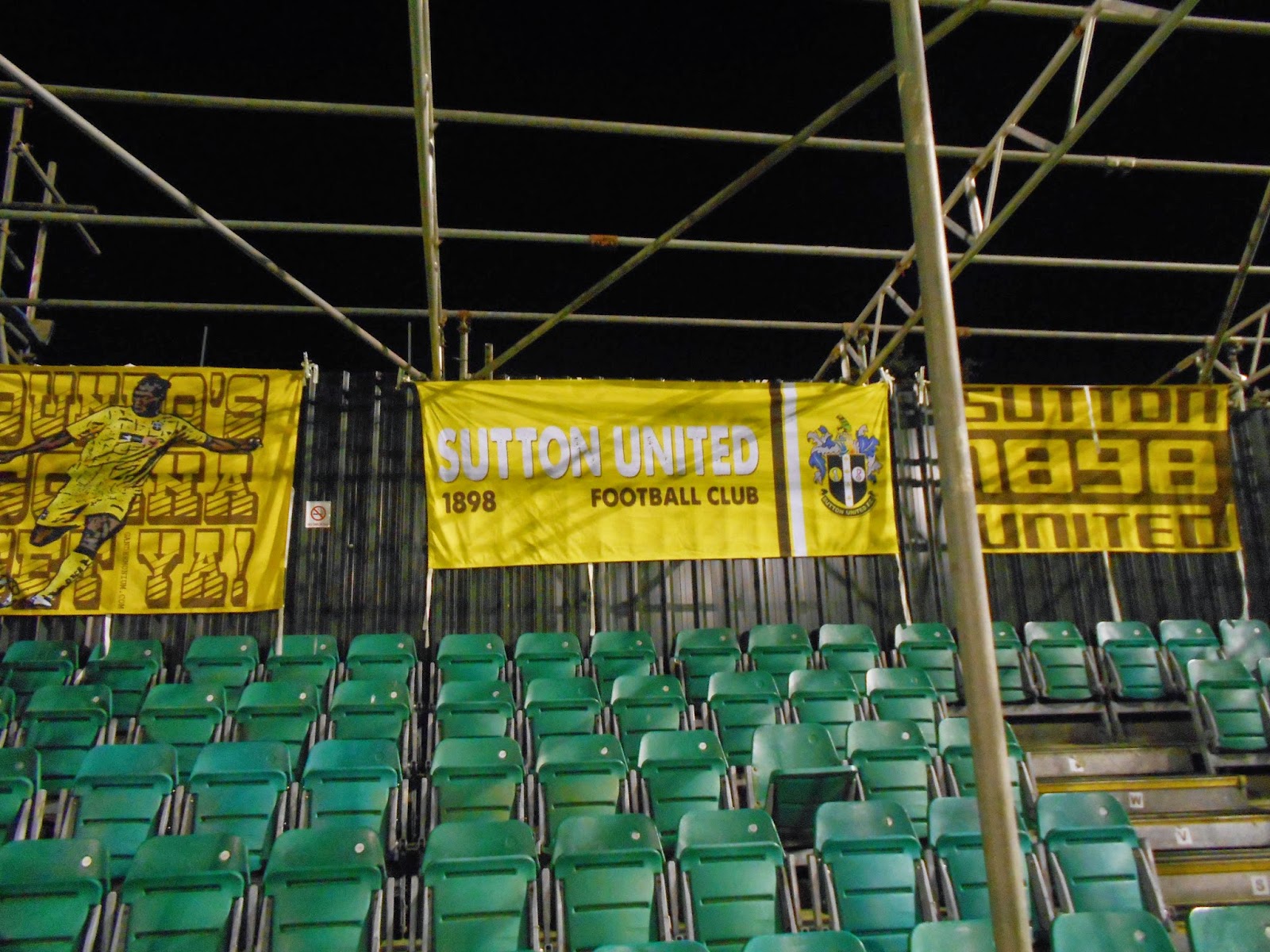 Colours on show.
Have that, thank you very much, goodnight Vienna. I'll take that victory and the three points that come with it. That win not only puts us Seventh but two points behind Whitehawk with a game in hand. I was also happy with the overall performance and the way that all the players played. Even Southam had a better game and managed to not even get booked.
After the game it was decided that geography would come into play. Mr X and Juan would jump in with former booze cruiser and secretary Millsy and me and Roger Taz would snatch a lift with MarkN. Much of the talk was about the game and the win we got there. Also it was a time to laugh at our neighbours who had lost again at home, this time to Casuals and K's had finally lost a game this season at Maidstone.
It wasn't long before I finally made it home and what a feeling to know you will finally be able to hit the sack and get a proper nights sleep. Still only the Gandermonium boys will go on holiday in between two Sutton games and just get another random game in. Add copious amounts of debauchery and alcohol, then you get the experiences we get.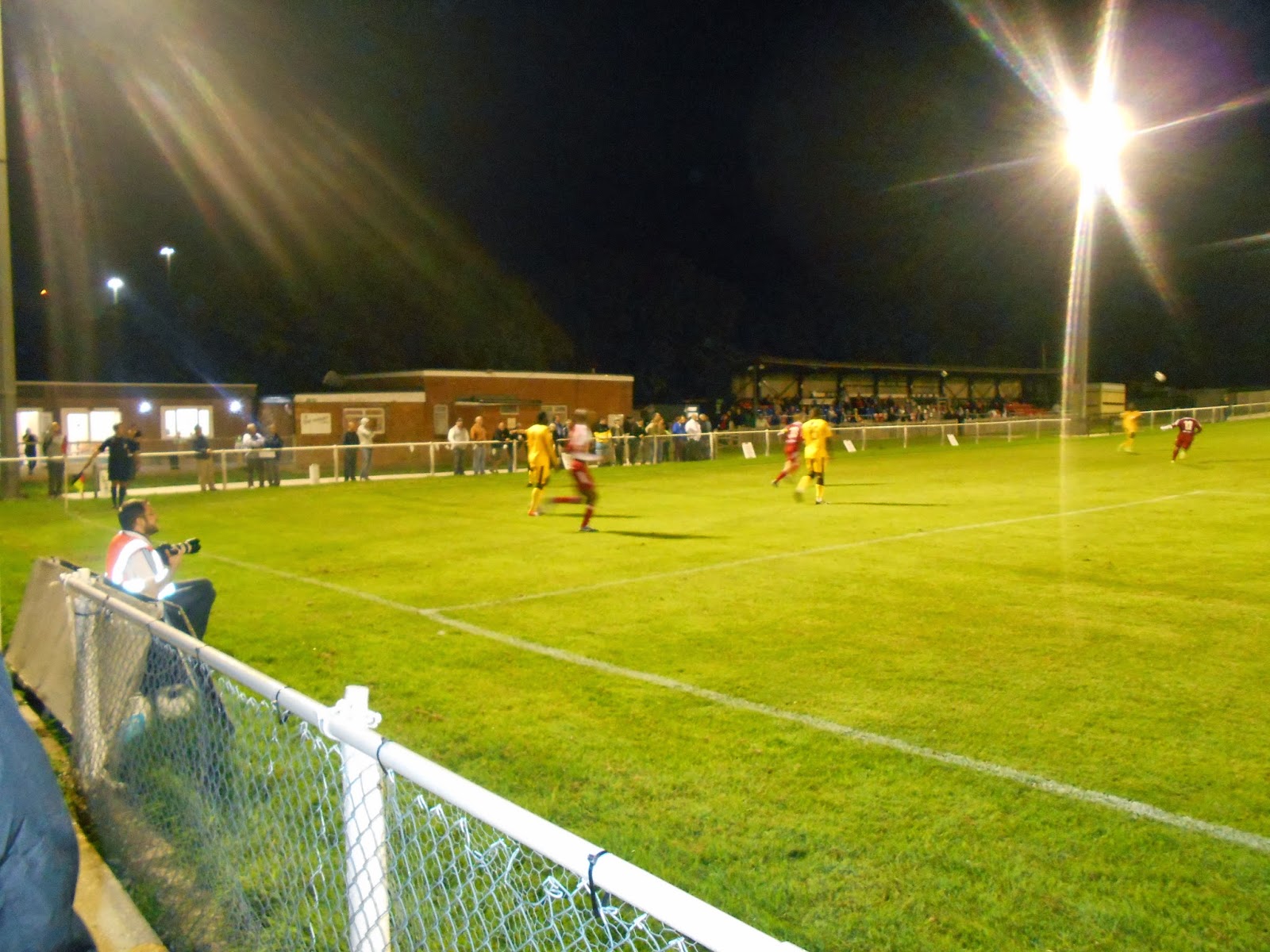 Action shot. Well, it is sort of a football blog innit?
Duke
Att. 207