Shut up shut up SHUT UP!
I don't have the best relationship with my alarm clock as it is to be honest, but when the little cuboid bastard is waking me up at 5am on a Sunday morning with his shrill electronic banshee howl, my dislike for him reaches even greater hammer attack inducing levels. Ok, I accept that ultimately I set the time he goes off at, but bollocks. This is Gandermonium, so sense and rationality have absolutely no place here.
Still, I digress. There's good reason why my little time orientated nemesis is shouting his arse off at some stupid hour. It's because I've a flight to catch to Portugal in 3hrs time for another ridiculous Gandermonium drinking session masquerading as a European football trip.
Oh god.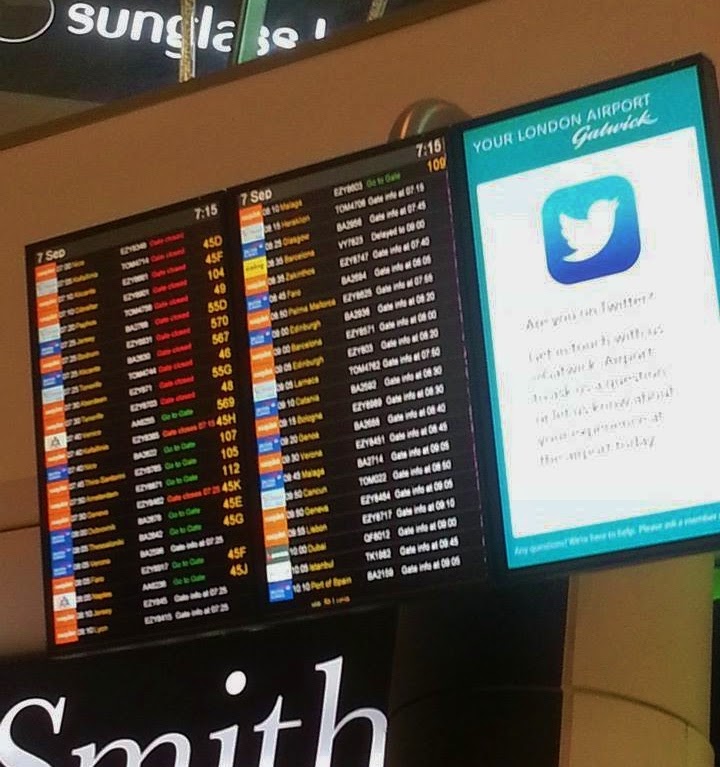 Lots of flights. And all at godforsaken times of the morning.
Right, lets do that wavy movie style flashback effect thing here and transport you to Belgrade, Serbia back at the end of May. The gang have just seen Red Star lift the Serbian league title and we're back in town enjoying beers and a slap up dinner, over which we're asking the question "So, where next?".
Well, the usual stuff comes up like Germany, maybe Belgium again. How about Serbia once more for a Vojvodina match or the Eternal Derby? All very tempting, but perhaps not quite odd enough for us. Hmmm. Odd, but in Europe. Then it hits me. Gibraltar! Their recent addition to the UEFA 'family' means they'll have some Euro 2016 qualifiers to play and as they can't play them on the rock itself at the moment, they'll be using a ground in Faro on the Algarve. Football, sun and boozy Brits abroad type destination all rolled into one?
That sounds like a bit of us!
Back to the present day and having got the match dates sorted, it turns out Gib's very first qualifier is at home to Poland on a sunday. Hmmm. That's doable. And we have Whitehawk on the Tuesday night. Perfect! A plan is therefore hatched. Do Concord at home sat, fly to Faro sun, watch game, get lashed, have a day chilling, fly back to Gatwick and hit the Whitehawk match in Brighton.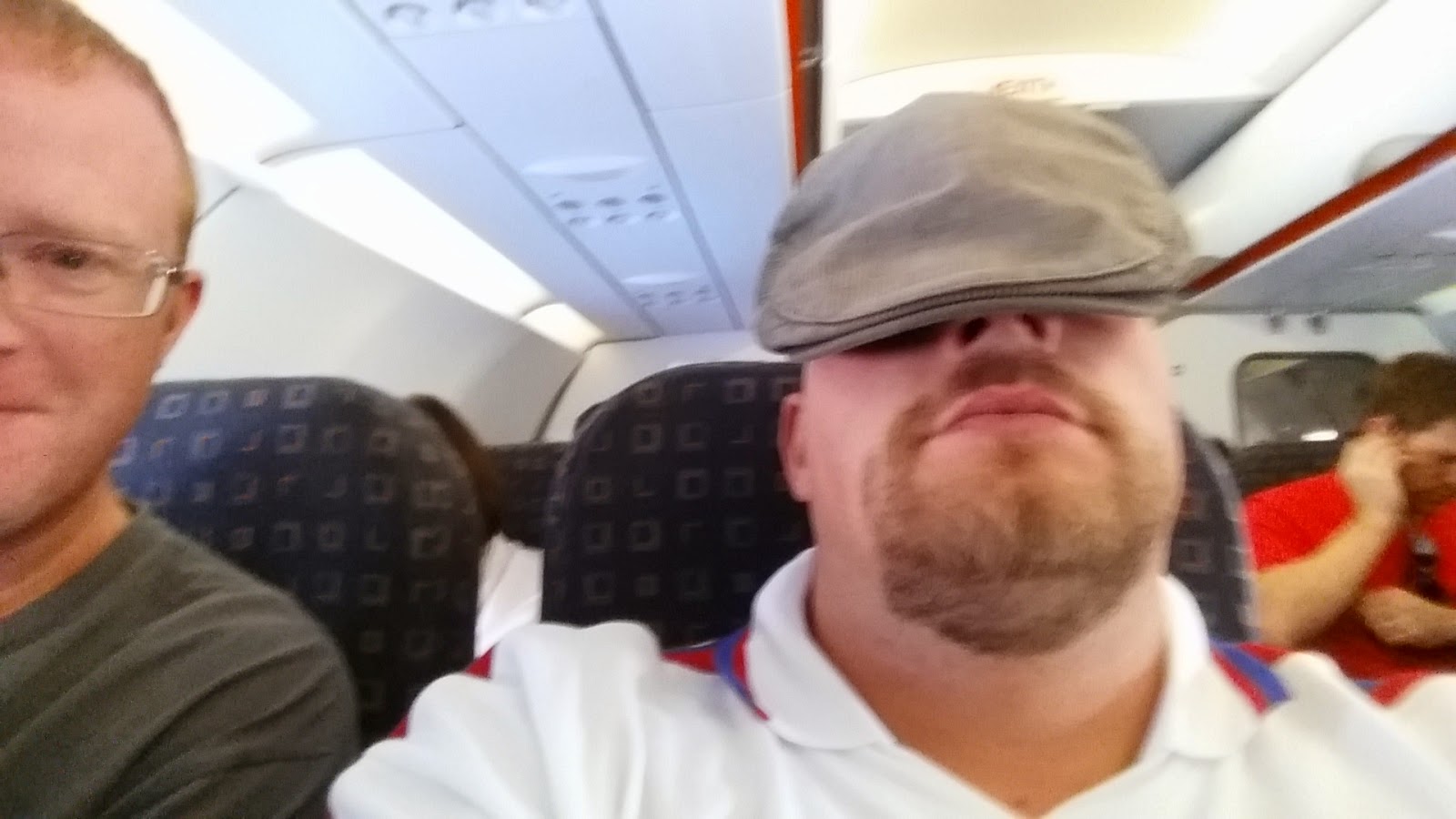 Taz gives this 'selfie' lark a try for the first time….
Bosh, wallop, sorted. As his Dukeyness would say.
We tweak the plan slightly by booking somewhere to stay 40km up the road in Albufeira instead of Faro as apparently the town hosting the match is a bit dull according to our sources. So a hire car is required and a designated driver needs to be nominated for the sunday. Juan falls on his sword here, but makes us all solemnly promise that things will get messy back in the 'feira after the game to make up for it. Seriously Juan, what a daft question. Have you met us?
So at 5:30am I'm round to Dukey's to collect him for the short drive to Juan towers and our cab to Gatwick. Within seconds of him parking his arse on the passenger seat my eyes are burning and there's a horrible taste in my mouth. "Fucking hell Tom, how much Brut did you put on this morning??" I enquire whilst jabbing the button to get my window down as fast I possibly can. Mr X is also joining us, but has taken the opportunity of a week in the sun and travelled out the previous Wednesday and is acting as our recce force. With the Toaster dumped on Juan's palatial driveway the cab to the airport happens in no time at all and we're soon stood outside the terminal with the smokers grabbing one last fix whilst we chuckle evilly at a small child who has fallen over near us and is being comforted in a less than comforting way by a woman we assume is her mother. Right, plane!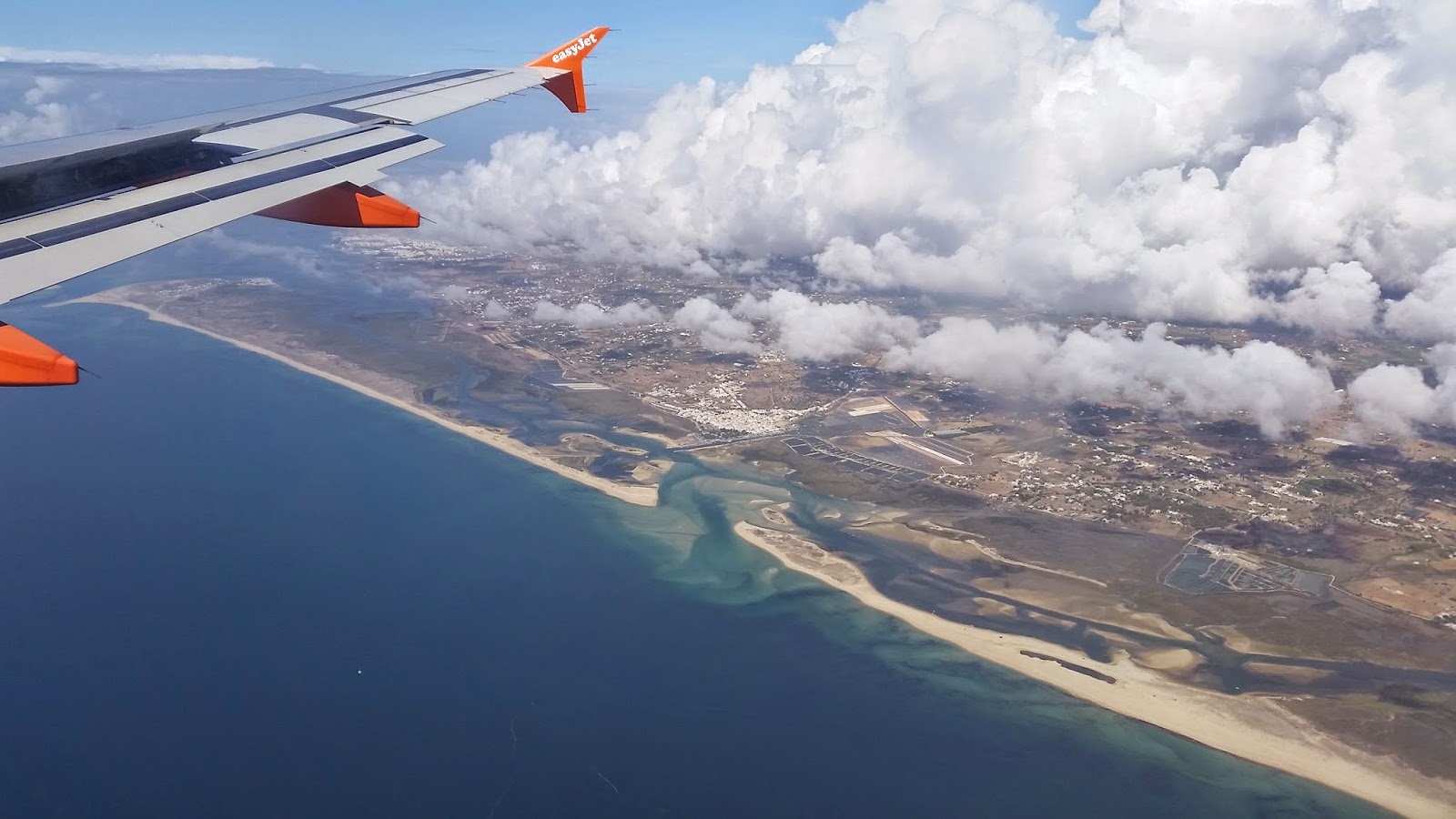 Hello Faro! Sorry, but we won't be stopping.
Well, once Dukey has got himself about 18 quids worth of fizzy pop, a copy of Zoo and the BBC history magazine to entertain him for the duration….
Stuff goes to plan, despite the sign at our gate announcing the flight is for Alicante ("That's nothing" says the Easyjet man on the desk. "Last week it was showing a BA flight to Miami for one of ours") and we land on time in Portugal 2 & a half hours later. Next up, locate hire car. Which sadly proves harder than it looks. The instructions I have are to call the company when we land and they'll come meet us at the arrivals hall. However, the number I have just seems to ring & ring before going to what I assume is voicemail. I say assume as it's all in Portugese and none of us speaks that, but it definitely sounds like a number being read out before being followed by a bleep, so I reckoned it was a fair shout. Still, despite no contact we head out and start searching in case they've turned up anyway, but alas without any luck. A nice lady in the tourist info office then gives them a call on my behalf but she can only confirm what I suspected. Voicemail. Arse.
This is going well.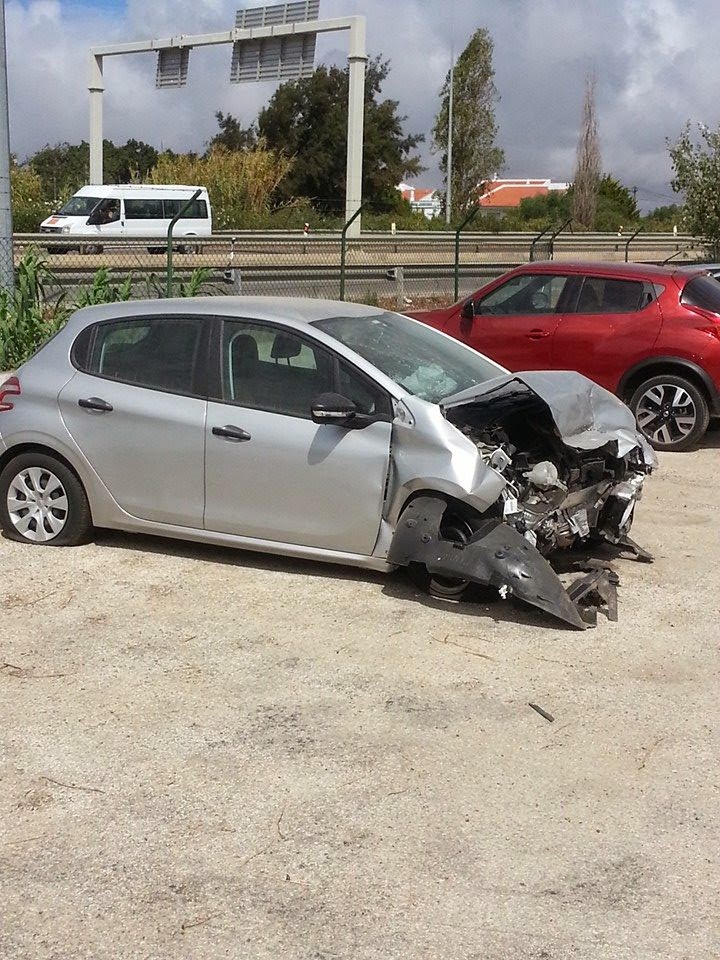 Well, that fills us with confidence….
Whilst wondering what the fuck we're going to do, I persevere with the number and eventually after several more attempts, someone answers! Thank fuck for that! He then directs me to their rep and before long we're on the little courtesy bus to their HQ just off the airport. Here, the ordeal continues, as we are then subjected to one of the longest hire car pickups known to mankind where you have to take a number and wait until called. Amusingly, their company tag line on the wall behind the counter begins with the phrase "Fast pickup". Clearly not a client of Bartle Bogle Hegarty when it came to the fucking marketing eh lads?
After a good half hour sat waiting on a sofa, I'm finally handed the keys to a silver Fiat Punto and we saddle up for the journey to Albufeira. The drive is pretty quiet, mainly as no one really uses the main motorways here these days due to the tolls they charge and the fact that Portugal is largely still in the grip of the EU's "not got a pot to piss in" crisis. Still it means we get where we're going relatively quickly. Well, sort of. Having brought a sat nav for Portugal with us for just this journey to ensure we find our digs promptly, like the dicks we are we simply don't bother using it and find ourselves a bit lost on the far side of town. Fucks sake! Still, we get to admire some of the posh villas on a couple of developments out that way, none of which we could afford even in the current climate, before I whip out my phone and punch up the address on Google Maps. After all, we're wasting valuable drinking time here!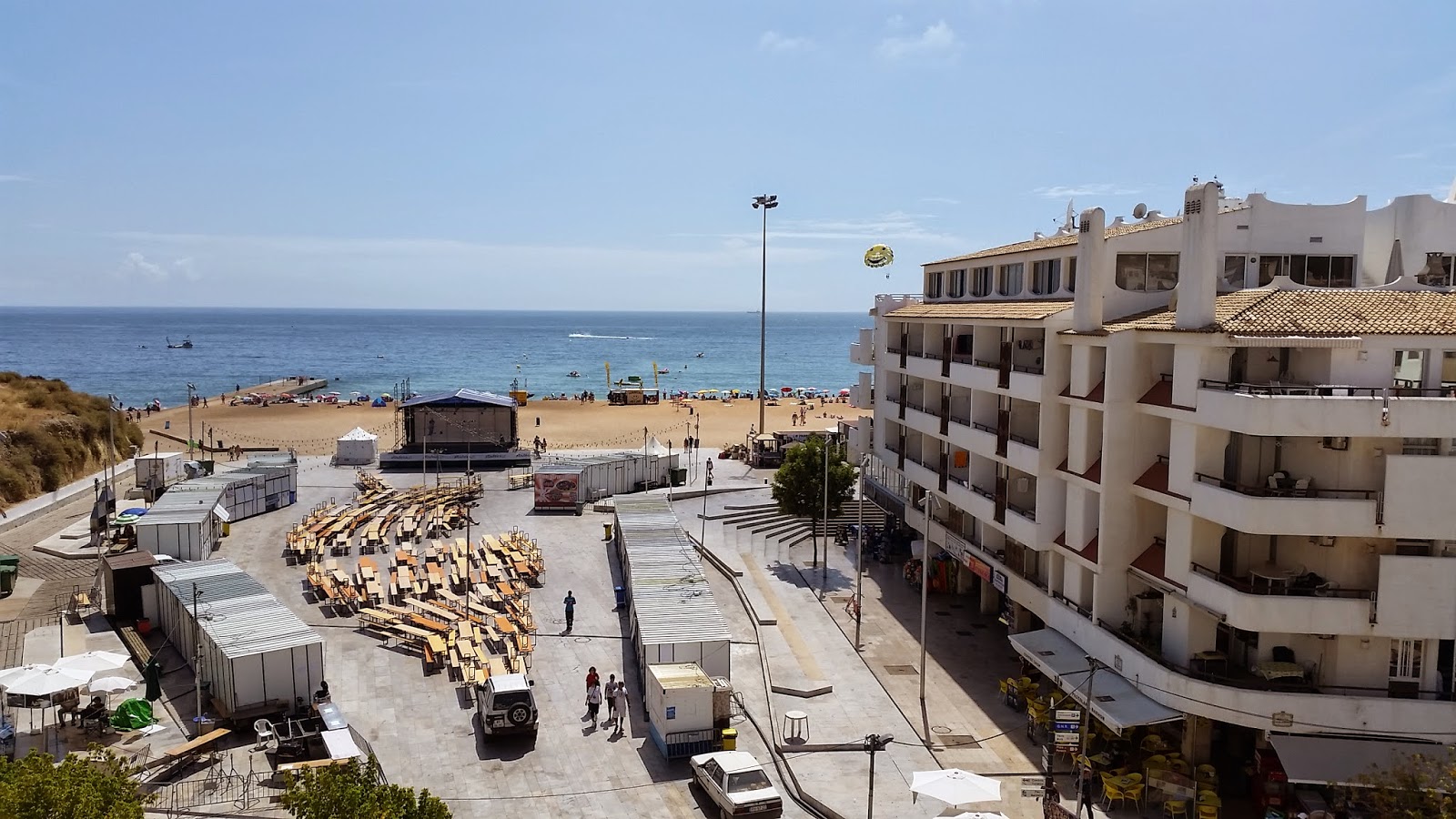 Us? A sea view? With our reputation?
Then after a couple of laps of the old town (where it looks like there is property more in our price range) and a short stop in a multi-storey car park where our Punto displays as much grunt going uphill when in 1st gear as Sutton have so far this season, we locate our digs and get checked in. After a few moments, a shirtless Mr X appears (put it away sunshine!), bottle of Sagres in hand, to greet us. It's then that the reception man informs us our apartment isn't quite ready yet, so we set about sorting parking for the car on site and whilst we then faff about deciding what to do after whilst Juan parks the motor, the bloke decides we're such charming chaps that he'll give us an upgrade. Either that or he's just keen to get rid of the annoying, indecisive English wankers cluttering up his reception area. Either way, result. Gandermonium wins!
Much to Mr X's disgust, we then traipse to 'Bloco C' and head upstairs to what is a large 2 bed penthouse apartment with 2 balconies and a sea view. Ok, there's a slightly damp smell in the place, but we ignore it and instead concentrate on looking as smug as possible for the disgruntled X who is stuck in the block next door (or 'The Favela' as Juan christens it) and has a view of a rather lovely beige wall. Unlucky dear boy! Right, beer o'clock I reckon. We head out and locate a nice little place just off the main square and enjoy a nice couple of cold beers with a slap up late lunch and take the opportunity for our recce party (the aforementioned Mr X) to fully brief us on our target. Or 'The bars and disreputable establishments of Albufeira's Old Town' as they would be more commonly known.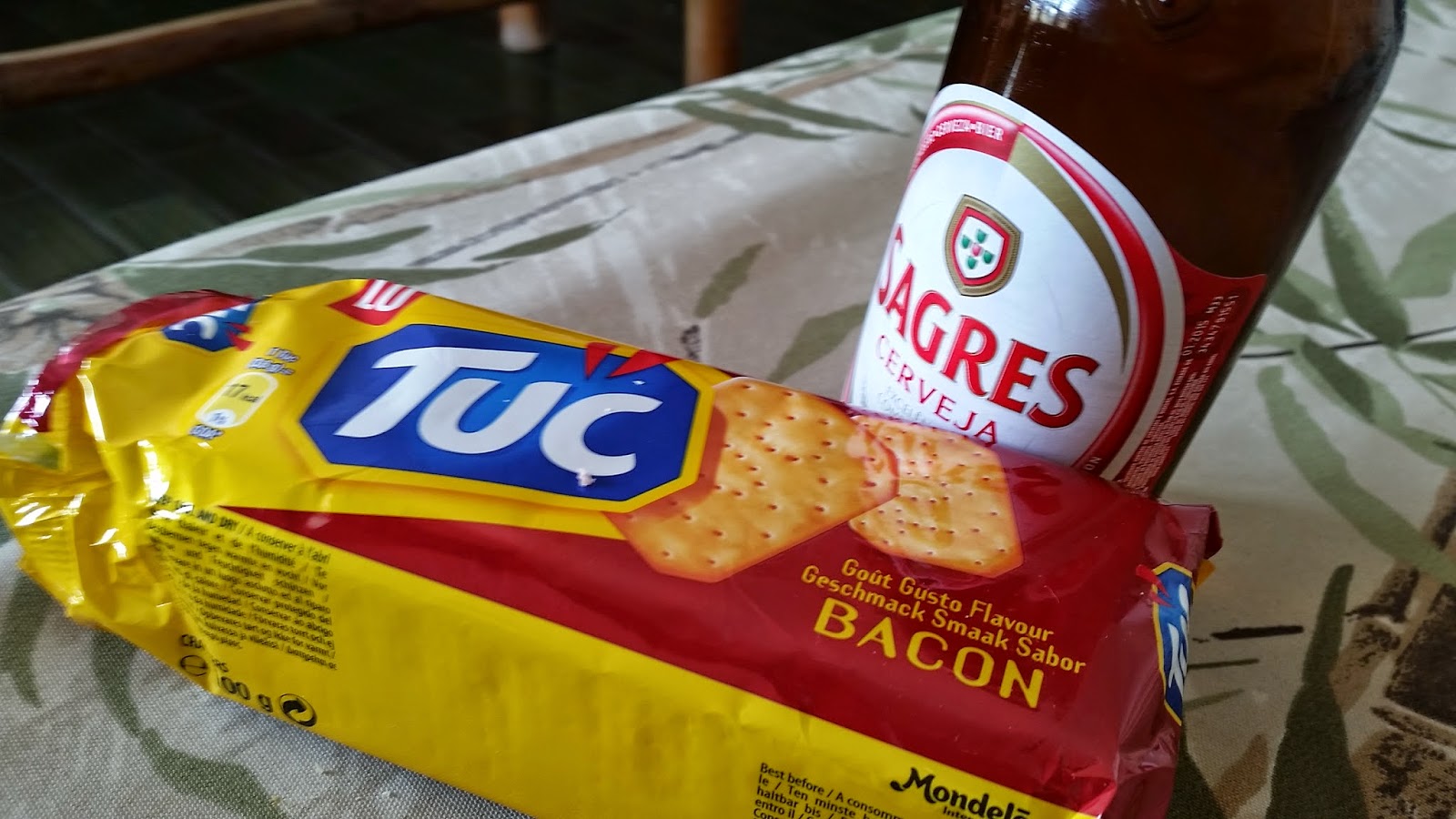 All the hardy Non-Leaguer needs when in Europe.
Fully fed and chilled out, we pop back to Mr X's for a beer, picking up essentials like water and packets of possibly Europe's finest invention, Bacon flavoured Tuc biscuits and then set about heading back to Faro for the match. The place is 30 seconds off the motorway outside Faro and Juan has us there in good time. So we take our pick of spaces in the largely empty car park at the Estadio Algarve. Having ordered our tickets online, the Gib FA had emailed me a voucher to allow me to collect the them at the ground and we eventually locate the little portakabin that is doing the issuing and we wander over past several coaches disgorging Polish fans, followed by wide eyed, stressed out looking coach drivers lugging bin liners full of empties. At this point Mr X swears he sees Michel Platini being driven into the VIP section in a large car, but given this is the man who wound up in Brighton after St Albans last week, we choose to ignore him.
Joining the queue, we notice a Kettering Town shirt and get chatting to a couple of Polish lads from Krakow in front of us and a couple of guys from Gib behind us, one of which is the next door neighbour of the Gibraltar skipper, Roy Chipolina. One of three Chipolina's in the line up. After a short wait, we get our printed tickets and wander back into the ground. Dukey pausing to take a picture of some recycling bins, much to the utter bemusement of the Portugese coppers on duty nearby. I dunno, never off duty that boy! Once in the ground, we find to our huge surprise and delight (although not so much the very sober Juan's) that despite this being a UEFA qualifier, you can actually get a beer in the ground! Hmmm, maybe despite all that being a corrupt French twat, Monseuir Platini isn't such a bad egg after all?? Hey, c'mon, we've never claimed to be anything other than very easily pleased! So we set about stocking up with a few Sagres while Juan consoles himself with an addition to his weird shirt collection by purchasing a smart Admiral made Gib away shirt. We also get him a diet Pepsi. The lucky man.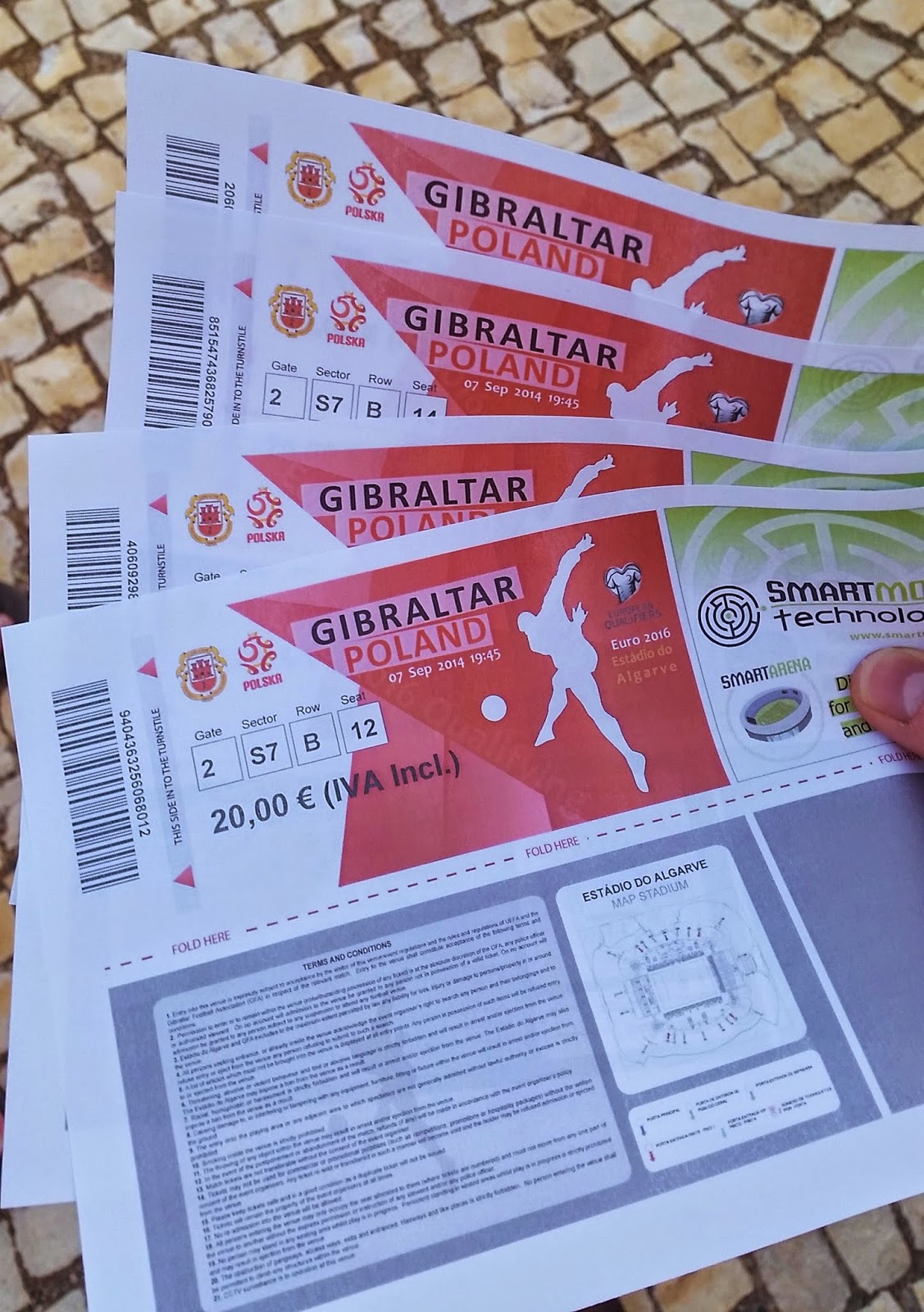 So just the £3 more than fucking St Albans then?
Up in the stands, my hopes that purchasing online from the GFA's own site would put us in the 'home' section are dashed as we find ourselves in what seems to be a neutrals & 'on the day purchases' section of the main stand which is a mix of Poles, Gibraltarians and us. Our seats are also quite near the front giving a less than impressive view. So we ask the nice man on the entrance if we can switch to the other half to be in with the home fans. But he's having none of it and insists on checking our tickets each time we ask the question and just pointing to our designated row. We quickly tire of this and instead head up to the back of the stand instead where there's loads of space. Now this not only gives us a decent view, but somewhere to hang our flags. The look on the face of a lad a few rows in front wearing a Palace top and a guy down the front in an AFC Wimbledon one make the effort worthwhile. The Sutton boys are here!
The teams come out and line up either side of some really pointless and fucking ugly archway thing erected on the pitch (why?) and the Polish fans on the far side pop off some pyro. Meanwhile, we pop off for some more Sgares. After all, no pints, no party!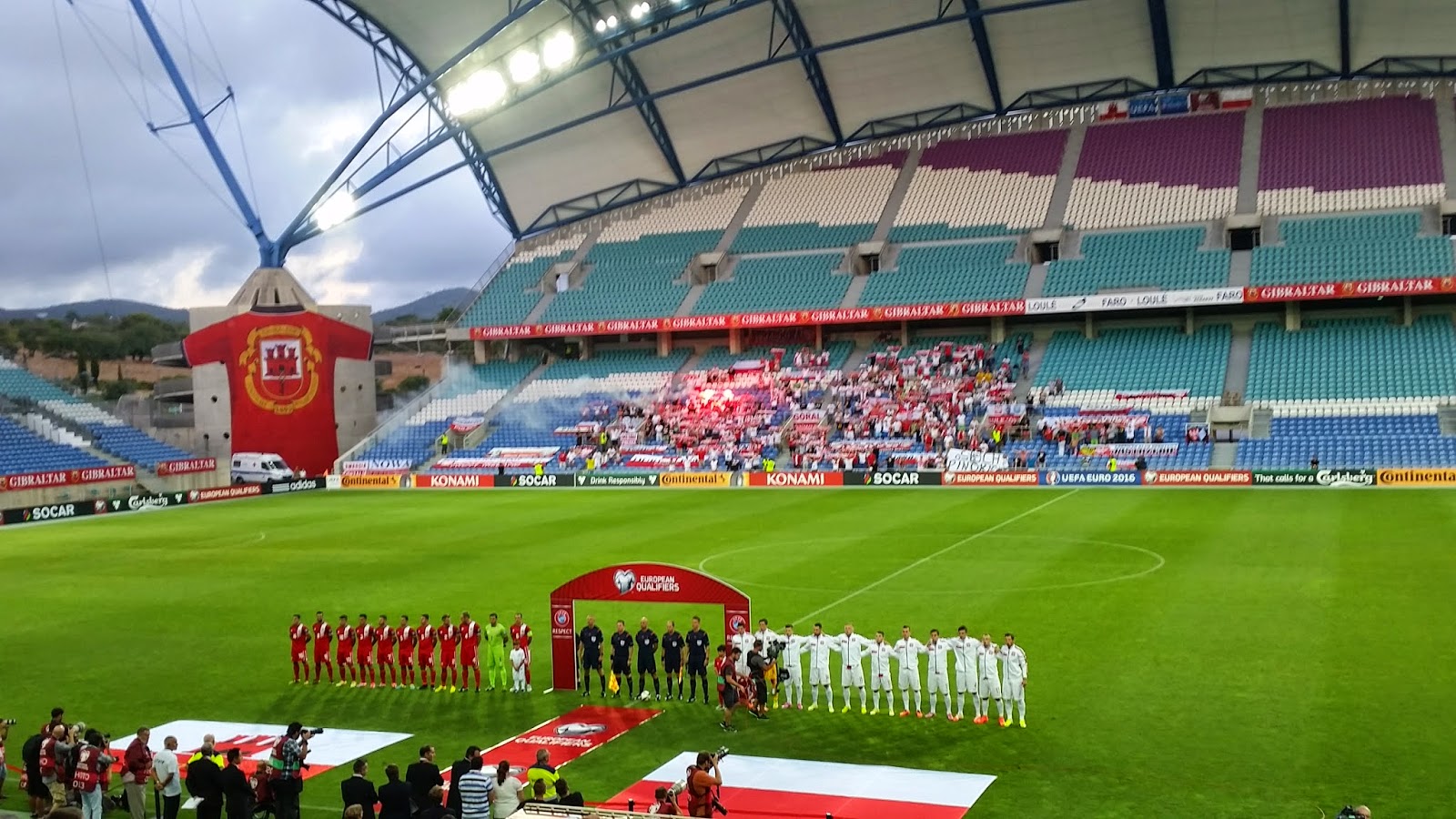 No pyro, no party.
Poland are seemingly taking this one seriously and are fielding a pretty much first choice XI, including Bayern Munich's Robert Lewandowski. With this in mind, we fear for the hosts a little bit. Getting slapped silly on your first time out won't look great and will no doubt give further ammo to PL watching armchair pundits who think small nations like them, Andorra and San Marino shouldn't be mixing with world beaters like England. Well fuck them I say. How are smaller nations meant to develop their game if the best competition they can muster is the Island Games against the likes of Jersey and the Isle of Man?
With the match soon underway, those fears are almost realised after a couple of minutes. The Gib lads look a little overawed and a quick interchange down the near side puts Lewandowski in, but his low cross zips along the turf about 8 yards out and out the other side untouched. The Poles look relaxed & unhurried and it takes several minutes for them to mount another move. This wins them a corner which Kamil Glik meets with a firm header, but Perez in the Gib goal makes a very good save to palm it over the bar. The respite is short lived however and the resulting corner is never really cleared. Eventually the ball finds it's way to the #11 Grosicki and having made a little space, he hits a low effort from about 20yards that takes a nick off a defender on it's way in and takes it beyond Perez to put Poland 1-0 up.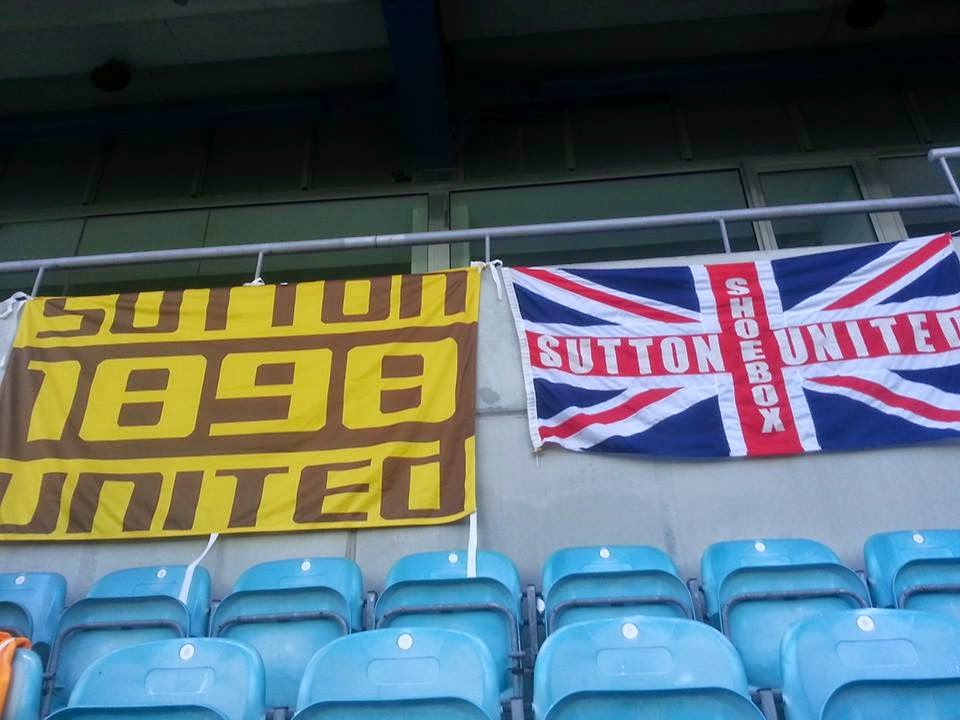 Sutton boys, we are here, something something, drink your beer!
From here we expect a bit of an avalanche as Gib haven't really got started. But having got the lead, the Poles seem to relax a bit and take their foot off the gas somewhat. This leads to the hosts getting a little more time on the ball and over a few minutes they grow in confidence, playing some tidy passes and getting forwards a little more. The small #10 for them Liam Walker at the heart of everything. From his touch it's not hard to tell he's one of the 2 pro's in the Gib starting line up tonight. Growing into the game, they almost shock the Poles after about 20 mins when a ball from just inside their own half picks out Brian Perez on the far side. His first touch is very tidy and he skips inside the full back before trying his luck from 20 yards. His dipping effort flies a few inches over, bringing a deep 'OOOH!' from the home fans to our right and a little smile to our faces. From this we conclude that if a miracle were to occur and they actually score, they could take the roof off this place!
The rest of the first half is pretty non-descript really. The Polish play well within themselves and whilst the Gibraltar lads have a nice share of the ball, they just lack that final ball to really worry their guests. The only moment of note is near half time when Szczesny rolls the ball out to a defender without looking and instead picks out Lee Casciaro, one of the hosts other stand out performers and has to react quickly to beat out his shot. Sadly, it wouldn't have counted as the lino has his flag up for offside and to be honest, we're not sure the ball had quite made it outside of the 18 yard box. Still, when the whistle goes for half time, Gib go into the break just the one goal behind and have so far given a decent account of themselves. Plenty for their support to be proud of.
We go and of course stock up on the Sagres for the second half and luckily beat the HT rush, coming away with adequate supplies to keep us refreshed.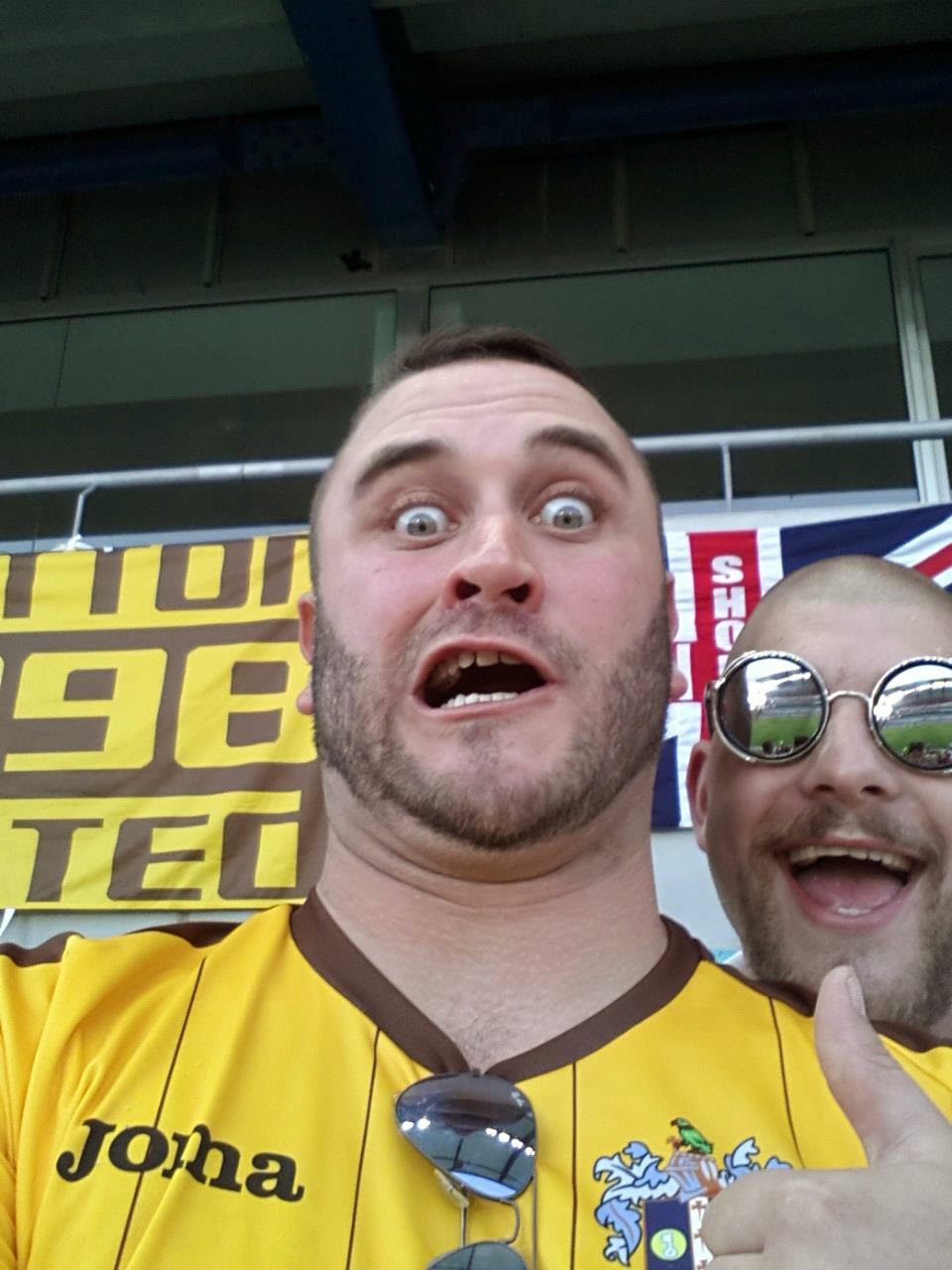 Juan was delighted to meet his video game hero,

Dr Robotnik at the game!
It seems that having been allowed a bit of time & space to play in that quiet 1st half has perhaps lulled the Gibraltarians into a false sense of competitiveness as they come out and try to take the game to the Poles straight from the restart. As you'd expect with largely semi-pro's against top level professionals, this does not go well at all. Barely 2 mins afer getting back underway, a Gib attack breaks down and the visitors show that they're done fucking around for the night by breaking at almost frightening pace. 3-4 passes later and Grosicki is cooly sidestepping 2 defenders in the box, selling the keeper a dummy and stroking into the corner from about 8 yards (2-0). A couple of mins later, it's 3-0 as Wawrzyniak sends a super ball in from the far side and Lewandowski has left his marker for dead to head firmly down and past Perez. The big Bayern man then almost makes it 4 soon after, racing through in the centre onto a ball from deep, but this time Perez beats away his poked shot. However, it's not long before it is 4-0. A couple of slick passes down the far side, Lewandowski plays a 1-2 on the edge of the box and then drills low through Perez from around the penalty spot. Oh dear, this could get really messy now.
The Poles have properly stepped up a gear and are finally looking a class above you'd expect them to be. The Gib lads though keep going and run their nuts off, getting a foot in here, a last ditch header there. And to see them playing with heart makes us Non-League idiots very proud. But then again, heart and effort are sadly not much defence in the face of relentless pressure from superior opposition. Perez is in action again after about 55 mins beating out a vicious curling effort from range before a free-kick from the far side is whipped into the heart of the Gib 6 yard box where the huge #4 Szukala gets up highest to power a header into the far corner to make it 5-0 and cap a positively brutal 10 minute spell from the Poles.
POLSKA!
By now, the main body of Polish fans on the far side are in party mode and are entertaining us with a selection of coreographed chants and lots of bouncing and whirling of shirts & scarves over their heads. The Gib fans respond by ironically doing Man City's 'Poznan' and trying to raise the volume themselves with chants of "GFA GFA GFA". Another staggeringly fast break from the visitors comes just after the hour when Rybus breaks up an attack ddep in his own half and races 60 yards at great pace before pinging a fierce low drive off the foot of the near post. For us, seeing the game played at such speed is a real reminder of just how pedestrian some of our play has been this season in comparison, let alone that of our level in general!
Frankly, we're scared little non-leaguers and we want our mummies.
Gib still refuse to chuck in the towel though and keep trying to play when they can. With 20 mins left, one tidy little move involving 3-4 first time passes puts the ball in behind the Polish defence. Sub Adam Priestly tears after it, but the question of whether he'd have got there before Szczesny is rendered mute as he's clearly wiped out on the 18 yard line by the chasing defender. It's a pretty obvious foul for us, but the ref ignores the howls of protest from the Gib fans (and us!) and waves play on. Harsh mate, very harsh!

Pretty panorama innit.
Reminded that these little terriers are still yapping away despite having been given several swift kicks already, the Poles put on their hobnails again and once more start swinging. Sobota is played in with a ball over the top, but Perez just gets a hand to the shot and Artell is on the line to block when Sobota follows up.
From here, the Gibraltarians obviously tire. Having run their guts out, they're now visibly wilting and in the last 5 minutes this leads to the visitors and that big Bayern bully Mr Lewandowski putting a nice shine on the goal difference. First the big striker takes a little lay off superbly on the run and gets the ball out of his feet quickly allowing him to fire sharply under Perez (6-0) to complete his hat-trick and bag the match ball, then with the game in added time, he turns well on the edge of the box and then with a clever little flick drifts away from the covering defender before selling Perez with a drop of the shoulder to give him space to rattle the ball in at the near post to complete the scoring.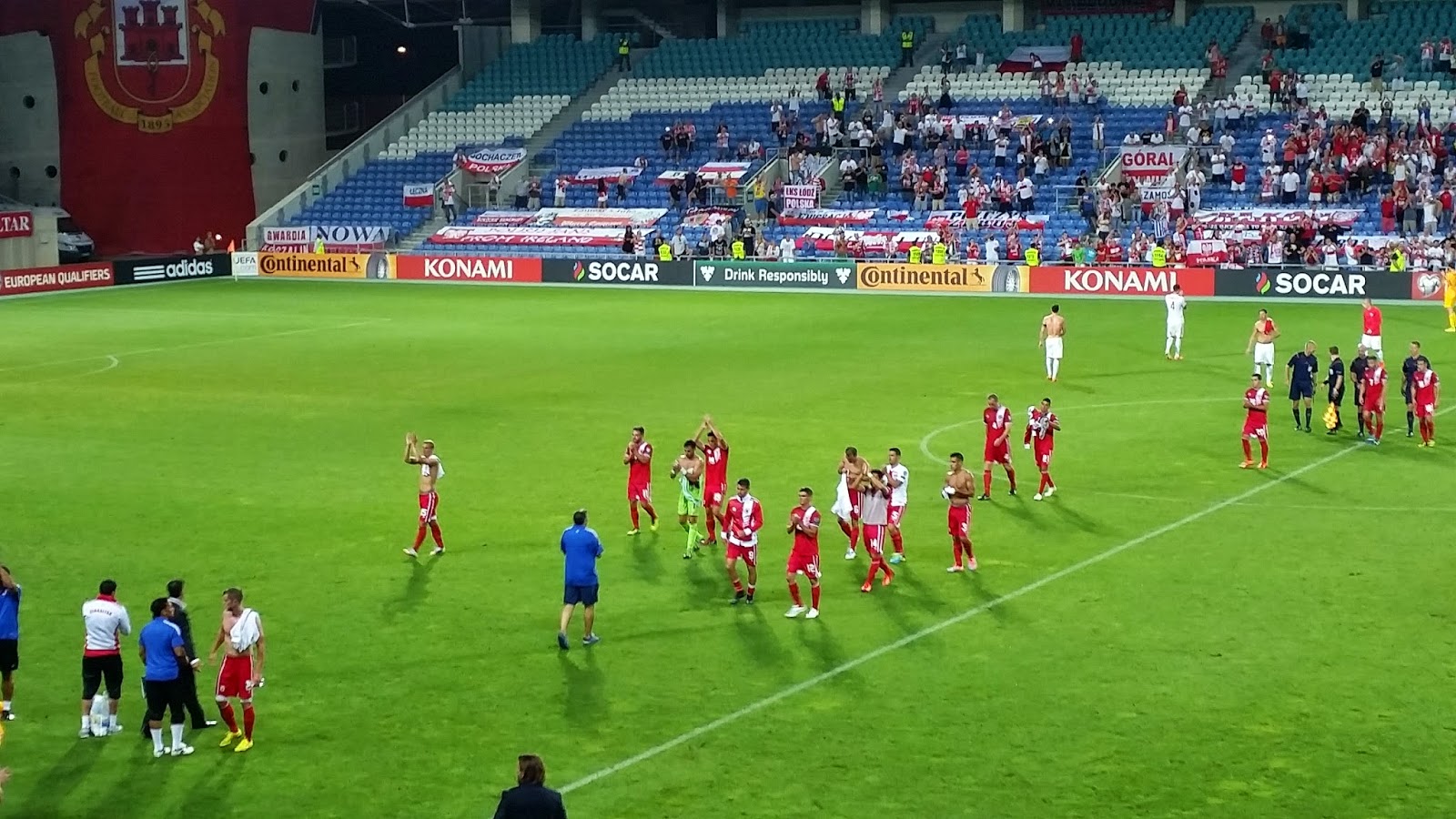 Accepting the applause.
So that's Gibraltar 0 Poland 7 (SEVEN). Sorry, we've always wanted to do that 'text after a big score' thing on here. Ahem.
Soon after, the final whistle blows and sportingly, everyone gives the hosts a rousing applause for their efforts. Which to be fair, they've earned. Despite being largely outclassed a lot of the time, they're stuck to their task manfully and tried to play the game the right way. I can think of a few sides who would have spoiled, kicked and hoofed their way through the 90 mins but it seems that isn't the way Gibraltar plays it's football. And fair play to 'em for that.
We strike the flags and wander back out into the cooling Portugese night, using the cover of the poorly lit parking area to distribute one or two Sutton stickers around the place. Just to show we were here. Then an increasingly thirsty Juan declares that he will be treating our hire car like a hire car in an attempt to get us back to the bright lights of Albufeira as quickly as our little Italian made shitbox will carry us and with as little regard for what the Portugese Department of Transport's mandated speed limit for the A22 as possible.
Suits us fine mate. We're sort of in the mood for a few pints as well as it happens!
Engage the Punto drive, Ensign Juan Sheet. Warp factor 'Rag it'.
ENGAGE!