The day began with the usual stomp towards the station on a overcast Saturday morning. There was time for me to get some dollar out and grab a can of the old doctor before hitting up the ticket man for a one day travel card (£5.90 with a railcard). To my surprise I was not just met by the Firm Leader, but by Taz as well. The clock read 0911hrs as the train rolled into the station.
On the train up to town were the usual boats, Mr X, 4 Days, Wardy and Dr Bell. The sites were the same as every trip and the mood seemed to be more happy that pre-season had finished than the new season being begun today. I was surprised to see at Elephant & Castle that the ghastly tower block next to the station has finally been torn down and left like a bomb site.
Arriving at Farringdon we swiftly headed to the underground for the couple of stops towards Paddington. The usual Duke shit of the week was where I'd decided to learn a new language, British Sign Language actually. And what better way to respect a new language then to just learn as many swear words as you can?
Wipe your feet on the way out lads….
Trust me, for the likes of the Firm Leader, me and Wardy there was hours of fun doing the signs and creating some of our own. How we made up stuff like: Neck-Crow-Feel-Ah! and Pee-Doh!-File just shows the mentality of some of the boys. This was to help us pass the time as for some reason we stopped at Edgware Road and didn't move for going on ten bloody minutes.
This meant that by the time we got to Paddington and the waiting Indy & Sean we were only three minutes from our train leaving. Needless to say we had yet brought our tickets so the chance of getting that train was immediately rubbished. Its at times like this, you let cooler heads prevail and me and Wardy went outside for a smoke and let Taz & Mr X deal with the tickets.
With the queues for the ticket machines too long Taz decided to ask a member of staff. Unfortunately she did not seem to compute that nine of us doesn't make seven tickets that she dispensed to us. Much questioning later and we managed to get instead the 1027hrs but the 1042hrs westwards. This was even after some crazy Chinese British Rail Worker screamed "Shut Up! Do Your Job!" to some of his bemused co-workers.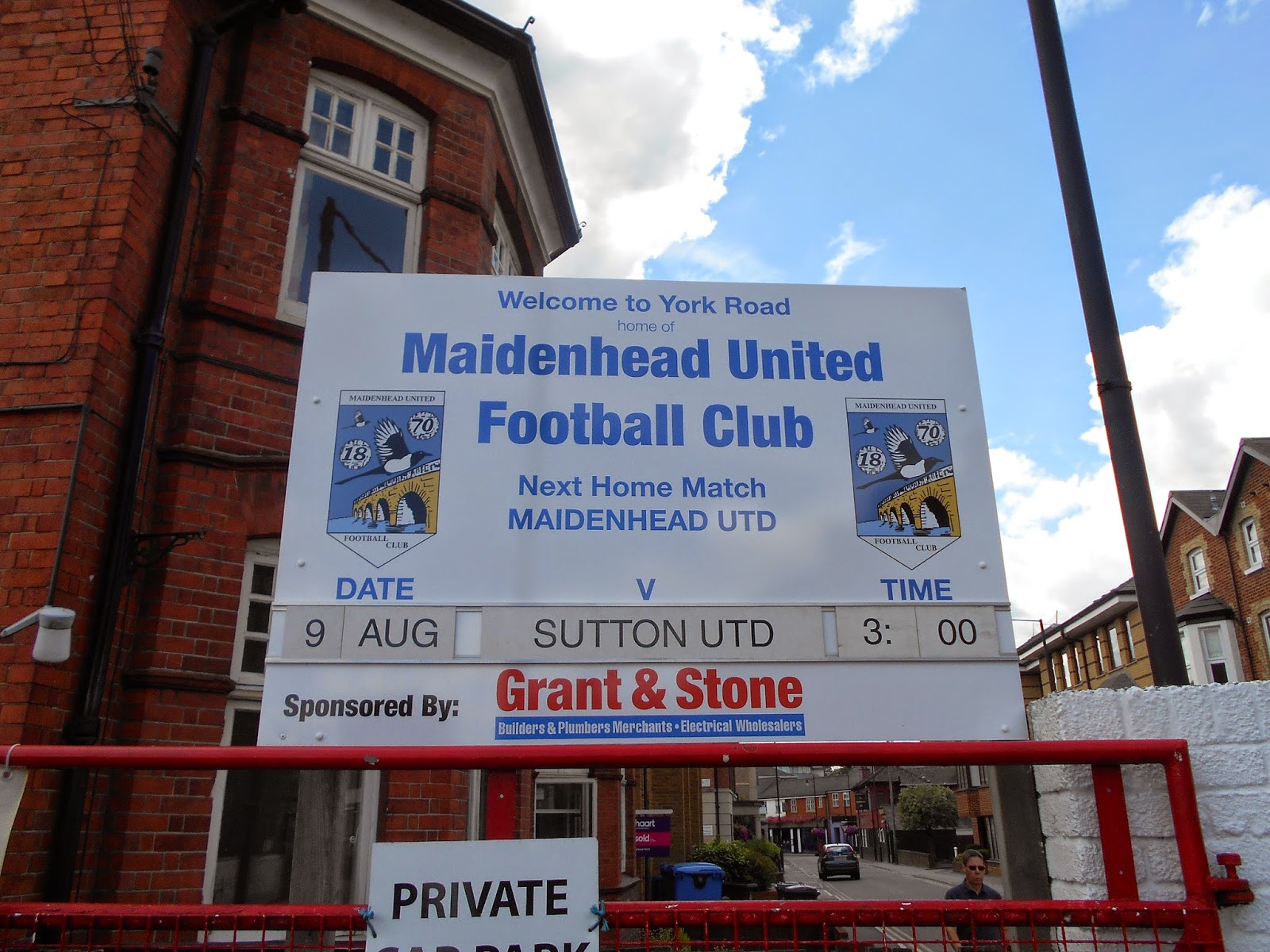 At least we've got the right place….
Lady Luck was still not to be with us as after we just got out of the station the announcement over the cracklin' system declared that the train was going to terminate at Slough. SLOUGH? For fuck sake! Getting off this train and waiting for the next one only whetted the appetite for the first beer of the new season.
Finally making it into Maidenhead half an hour later then planned we decided to hit the first 'Spoons to discuss the plan of attack for today. The first drink was a subtle larger and before I had time to drink it and smoke a cig we were told to drink up as we were moving on to the next establishment down the road.
The Corner House was the next pub on the list and to our surprise was occupied by a ref in all his gear supping a pint of Wife Beater. In between some rather grown up talk of rising house prices and modern living we asked the barman of any suggestions that he might make as he was a local and was frequented with the area.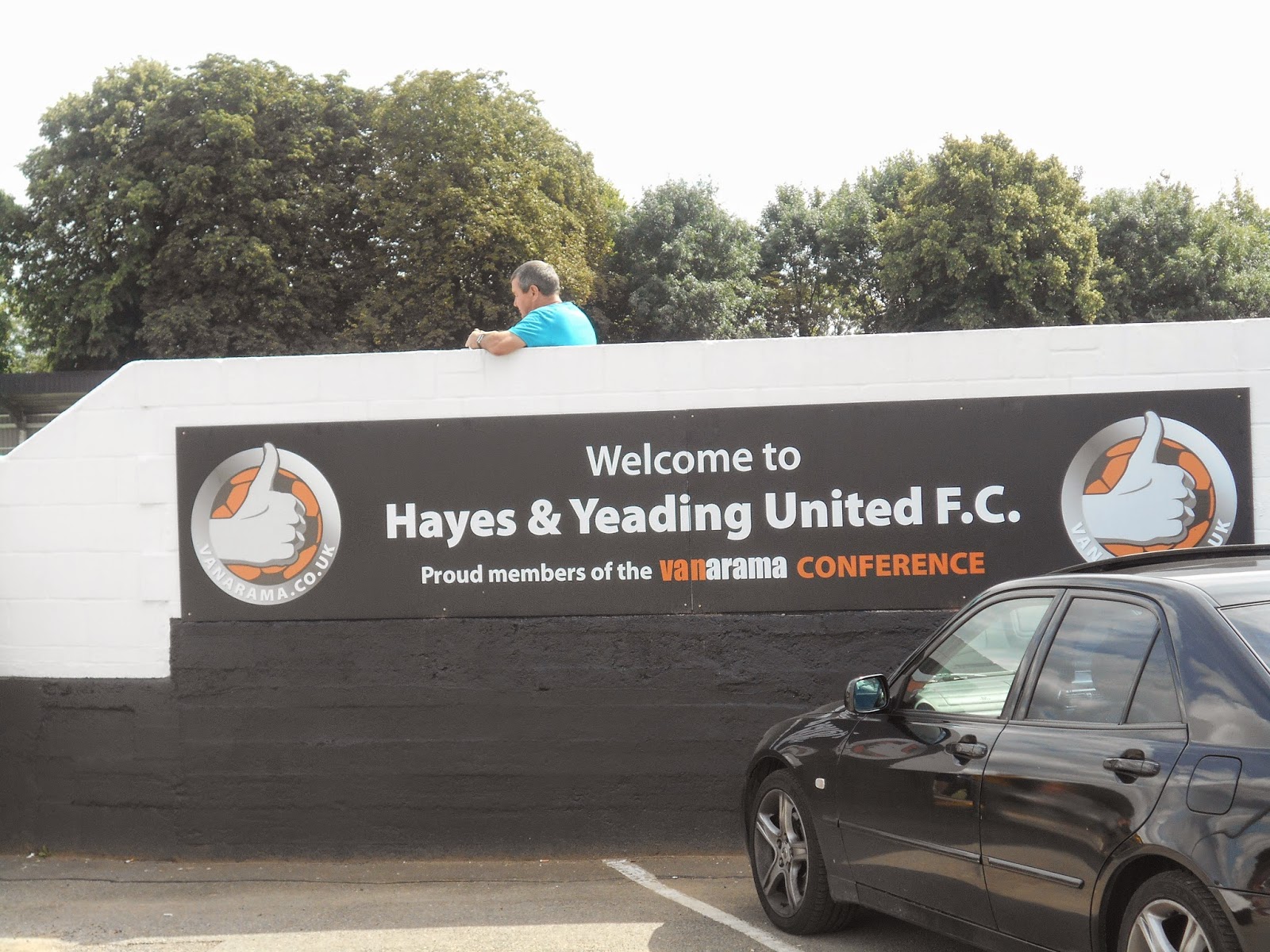 Erm, we thought this was Maidenhead?
Most of the words that came out of his north & south were "don't go there, it's shit" and "I doubt they would let you even in". Although, his description of a certain Anchor as having "to wipe your shoes after you left" had our spirits raised. Finishing a kiwi & lime based cider we again headed off, passing a Breakspear's pub that allegedly had a parrot, but hasn't been open every time I've hit this part of Berkshire.
The next stop was the old hobgoblin that is now the Maiden's Head and it may have changed slightly. Well in fact its changed beyond all recognition. The place has definitely gone upmarket with none of the festival posters on the walls and the juke box absent. Still we decided to stop here for some lunch and some of The Firm got sandwiches. Also it was here that we were joined by Wellie for today's adventure.
The finally port of call was the Anchor and bloody hell we all wished we didn't try it. Dirty glasses and ripped up seats were some of the settings we saw now before us. Quickly downing our pints and not before the Firm Leader had ordered the Blue Brothers on DVD for Mr X who claimed to never having seen the film we headed to the ground.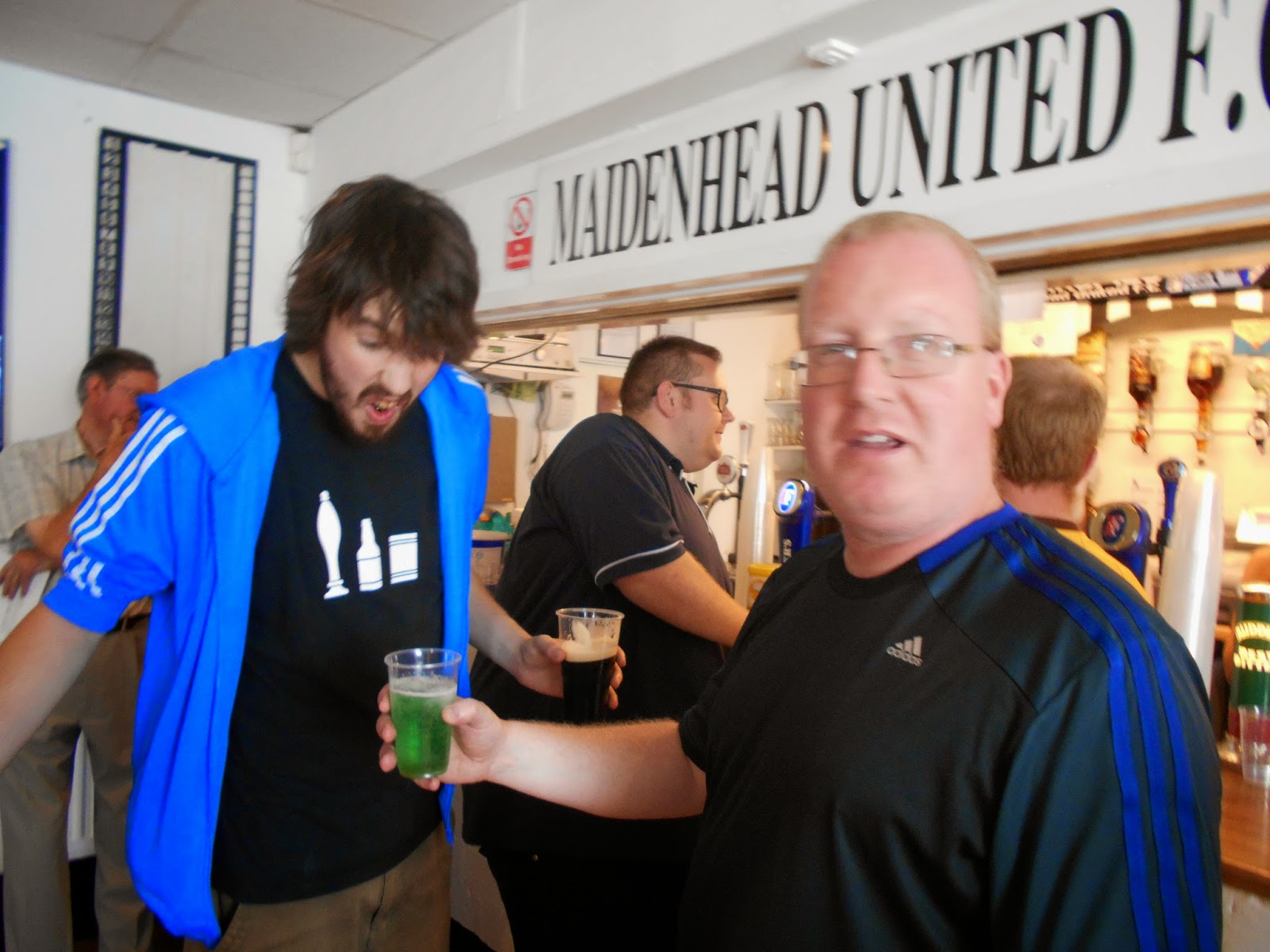 Nick utterly appalled by Belly's Disarrono & blue WKD….
With time still to spare we headed into the bar for a final pre-match tipple. For some reason I was given a bottle of Coruna in a plastic cup with a straw and a fork! Still it could be worse I could've had the WKD Blue and Disaranno drink that the Firm Leader had created. After this we headed outside to see the start of the game.
Lovelock, John, Lockwood, Spillane, Evans, Clough, Haysman, Dundas, Wellard, Reindorf, Williams – Bench Warmers: Shitta, Taylor, Hoban, Jarrett
The start of the game saw Sutton on the front footing as we made use of the possession allowed to us. I'm surprised a team would resort to delaying tactics on the opening day of season but its their choice. There was some chances for Marv and Jessy as we created a few early on. The next best opportunity fell to Micky who's free kick from 25yds out grazed the outside of the post.
This was followed by one of our best shots at goal when a Kane thunderbolt smacked off the inside of the post and fell like a peach to Jessy. Unfortunately he didn't expect it and wasn't in the right position and by the time he was, the defender was on him. There was a grumble by a very small minority behind the goal but I think they were wrong and that Jessy just wasn't ready.
After this the first kick in the proverbial happened when attacking down towards the right back the ball was cut back for old boy Tarpey to hit the ball past Tom. BOOM! Just like that we're one nil down and now chasing the game. The rest of the half saw the out of his depths referee start to brandish his cards. Tom got one for trying to do a Neuer and even former player Downs got done for a very small delaying tactic.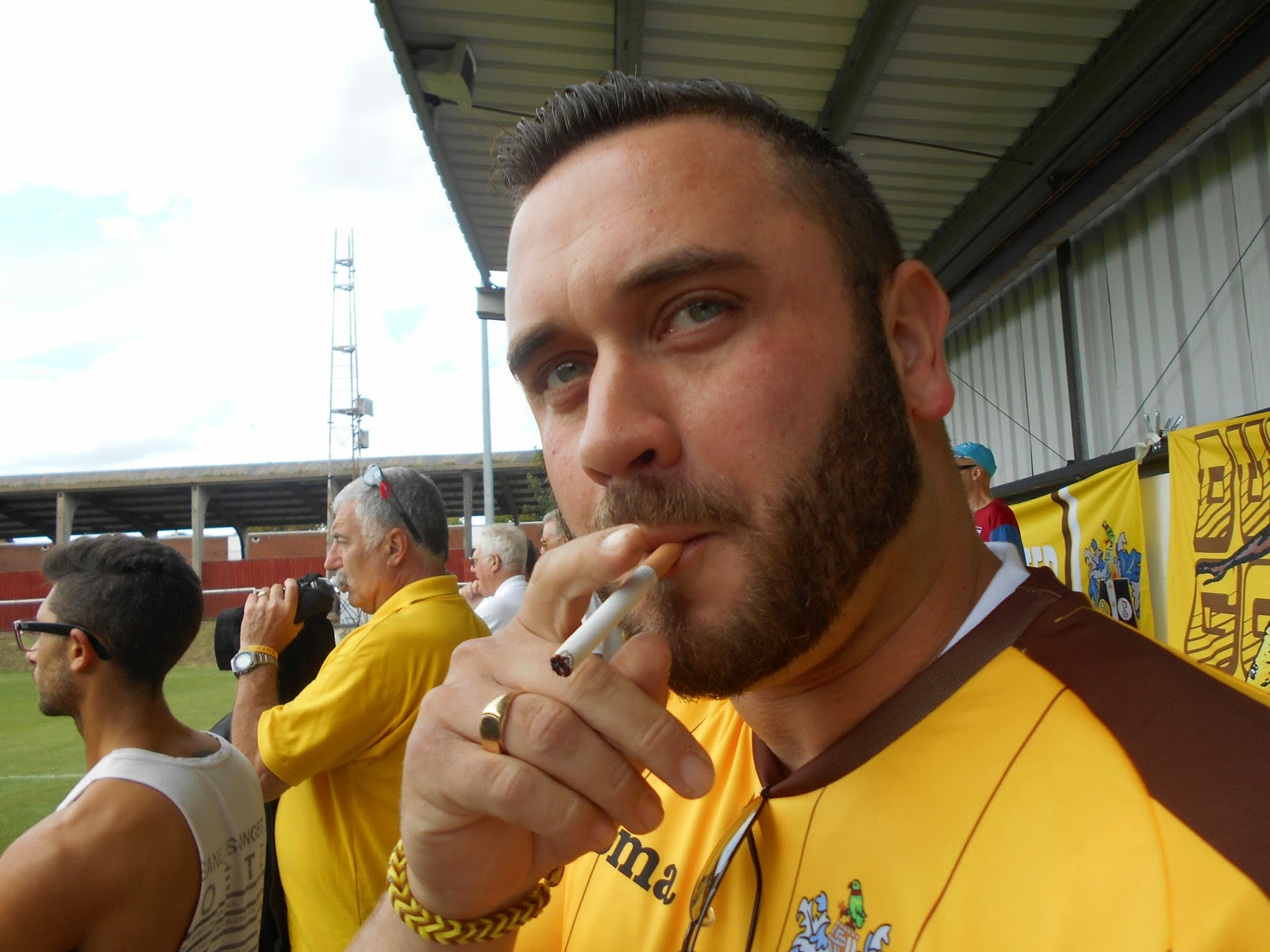 Got a light squire?
The second half saw the boys doing their best to get the deserved equaliser. Fifteen minutes in we got our just desserts when after a quick and tight run to the by line he knocked it back to Jessy who had escaped his marker and was free to simply rifle the ball into the back of the net. 1-1! Cue mass celebrations behind the goal and a cheer for a well deserved Jessy.
Several minutes later Jessy was replaced with JT and later on Kane was replaced with journeyman Albert Jarrett and the race was on for the winner. But as luck would have it the ball was lost on the attack and next thing we know they attack towards the right back position again four passes later and Tarpey is stroking the winner into the net.
Unfortunately the remaining seven minutes of normal time and the five minutes of additional play failed to have us give a right crack at goal and eventually we had to concede defeat. Its not like we didn't create the chances so we shouldn't be disheartened with the performance. Tuesday will be different and hopefully we'll see a better result.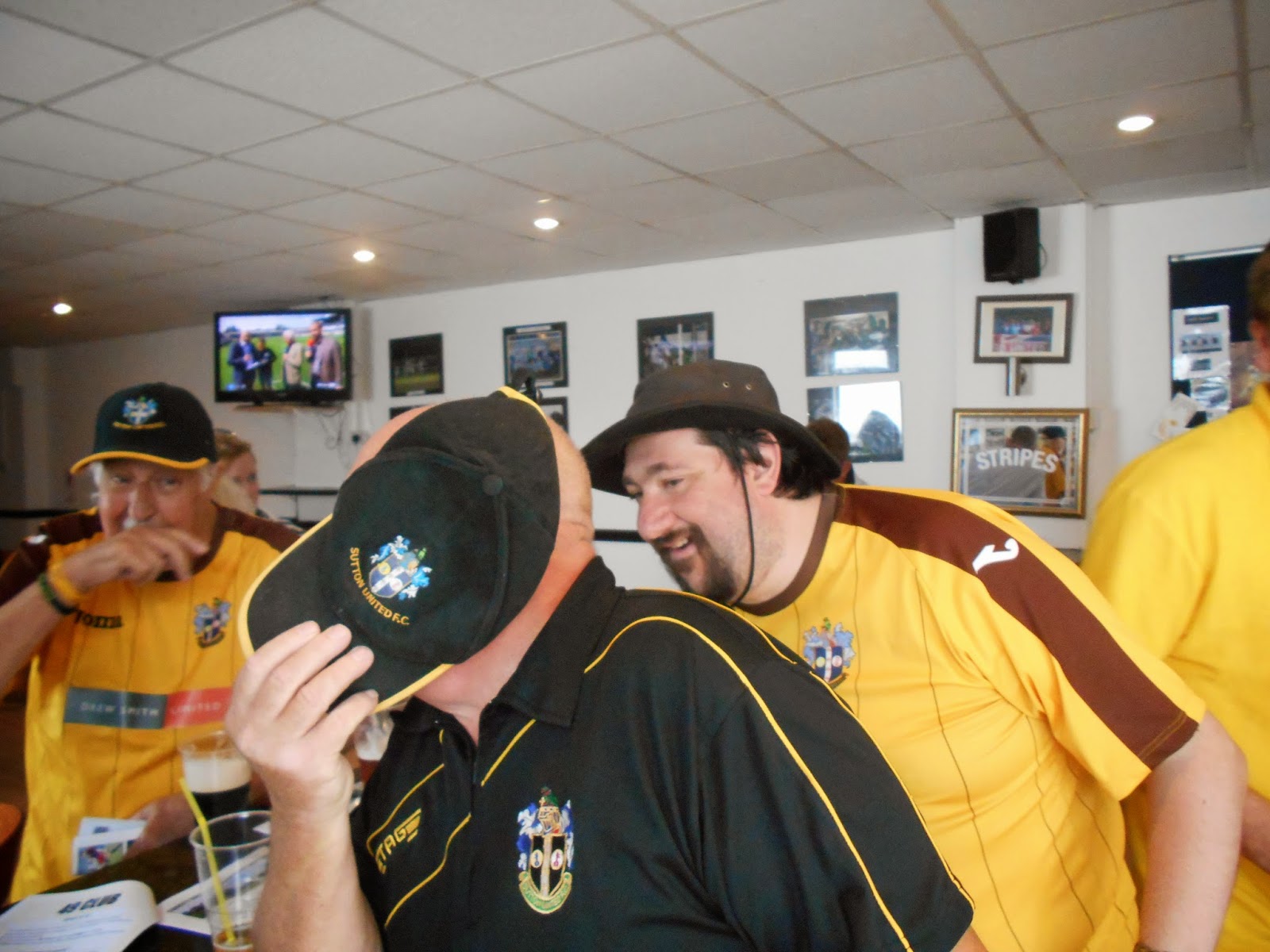 Is that Mr X? Could be! Who knows?
After the game we skipped the club bar and headed back to the 'Spoons. With some of the conversations taking a serious route like about the old British Mandate for Palestine issues, me and Wardy decided to talk to some of the less desirable like the fella who was a bit Brahms and Liszt. Somehow our conversation got onto the subject of tasting testicles but that's us for you.
The 'Spoons was also the place where we met our colleges from 'Go Mad and Stop Caring' who informed us that the elusive MMS were at the game. Shame we didn't spot them but I suppose there is always the return fixture. You would be surprised how easy it is for someone to keep us drinking because we went from planning to go back to town to hitting another pub.
When I say pub I mean a place called Bar Sports where we went from drink Brahma to cider and then to some cocktail shot called a Jam Doughnut! Yeah cheers Lenny! Why we do things like that I don't know but when in Rome I suppose. Eventually we had to leave and after saying goodbye we jumped into the local Sainsbury's to stock up for the journey back.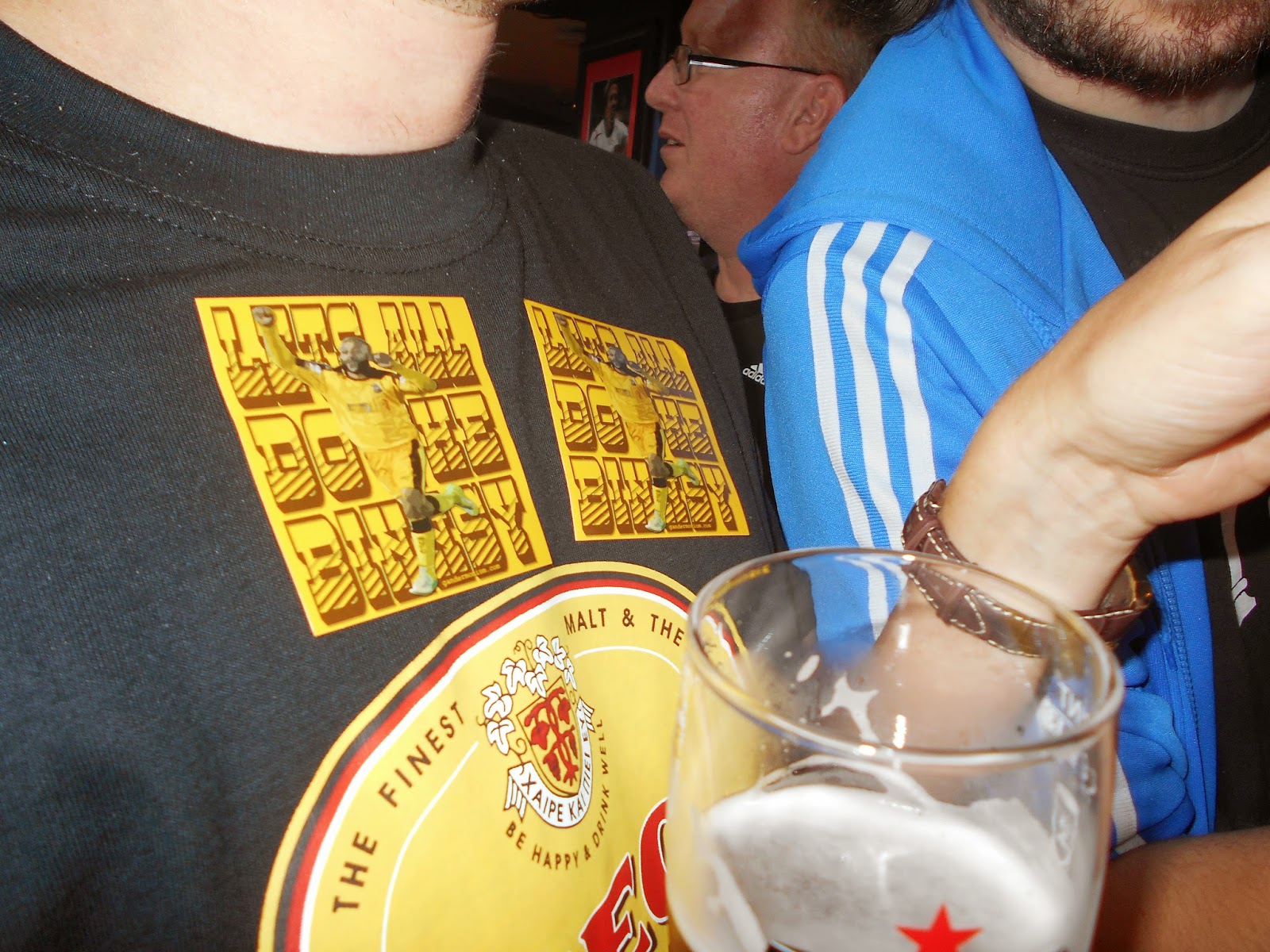 Stickers. Stickers everywhere.
Why Wardy brought choc ices, you would have to ask him. But it worked because he did manage to bribe the ticket inspector with one. The resulting smashed up can of Bud that someone let off showed how much we had descended since earlier on. Getting back to Paddington didn't stop the gravy train because before I knew it we were in the Sawyers Arms.
Things didn't light up here because we managed to bump into a couple of nice Chesterfield old boys who were more than happy to discuss their hate for all things Mansfield. It is strange that anyone can argue till the cows come home about why their hate is the strongest. Around this time the Firm Leader, Mr X and Wardy decided to be the advance scouting party back to Sutton.
Several pints later and after saying goodbye to Indy & Sean plus the Chesterfield boys, what was left of us headed to Victoria on the tube. Realising that we had at least twenty minutes until our change we decided to eat. Unfortunately my habit for a bit of Chips & Gravy was cut short because I couldn't find a way upstairs and instead had to settle for a tenners worth of Burger King.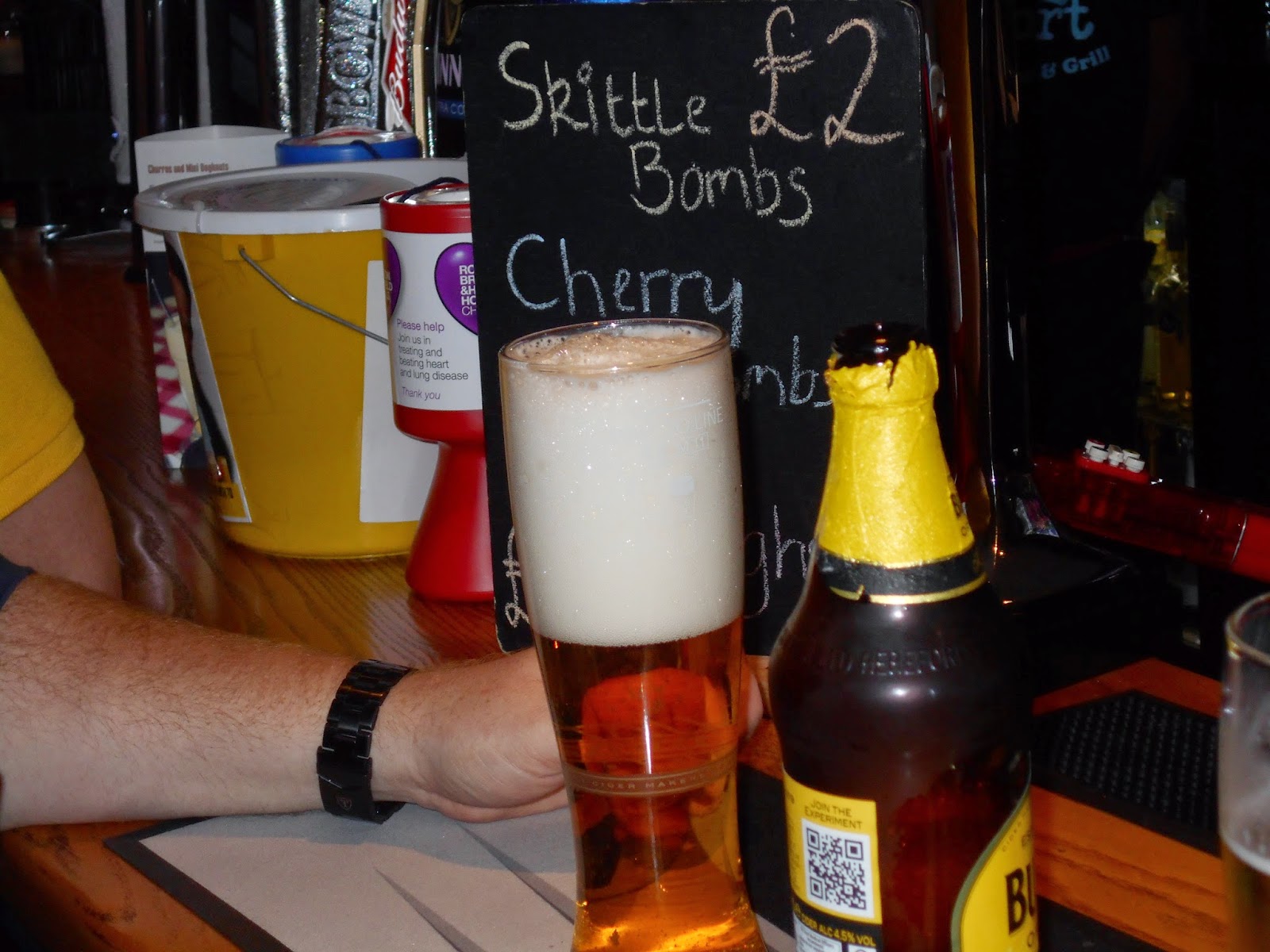 Obligatory booze shot….
Before we left we got word that our advance scouting party had been lost. Either it were Rebels in the hills or the women at home but they decided to call it a night. Still wanting a drink we went straight through our stop at Carshalton and headed to Sutton and our usual late night haunt. A cheeky round round later and after trying to awake the random fella spread-eagled on the couch we finally called it a night and caught a sherbet home.
Havant at home on Tuesday and with Juan writing up that I'm free to pray for a victory in our first home game of the season. The next away game is at Chelmo on bank holiday weekend. And I reckon that won't be the most soberest of trips! Happy hunting!
P Fucking S after three months I've finally manage to acquire my phone again! Well I say that, I think they have fucked it up but we will save that bollocks for another day.
We like large ones. Fnar!
Duke
Att. 404