What's that I hear you mutter, no game? No bloody game. Oh and why is that, yeah Salisbury. What a farce, beyond words. So at the expensive of another club that get booted out of the league after the actual fixtures are released is beyond a joke. Today was of course the day that we indeed had our home fixture scheduled against these wasters. So what! So bloody what!
Well, we loose our takings for the day, in excess of around 10 grand! Yeah cheers to the Conference for the Bond!
Rocking on, with no game listed for us. Some of us die hard fans, were called on again to you know, keep the club looking sweet, by taking paint brush, roller and tray in hand. So as I rock up the club at just after 10:30 in the morning. I look across the into the park, and see our squad are clearly not taking this  Saturday as a day of leisure, instead our Jamie Lawrence is putting the squad through a good beasting, and ensuring the fitness levels are kept to a high standard for the battle of Chelmsford!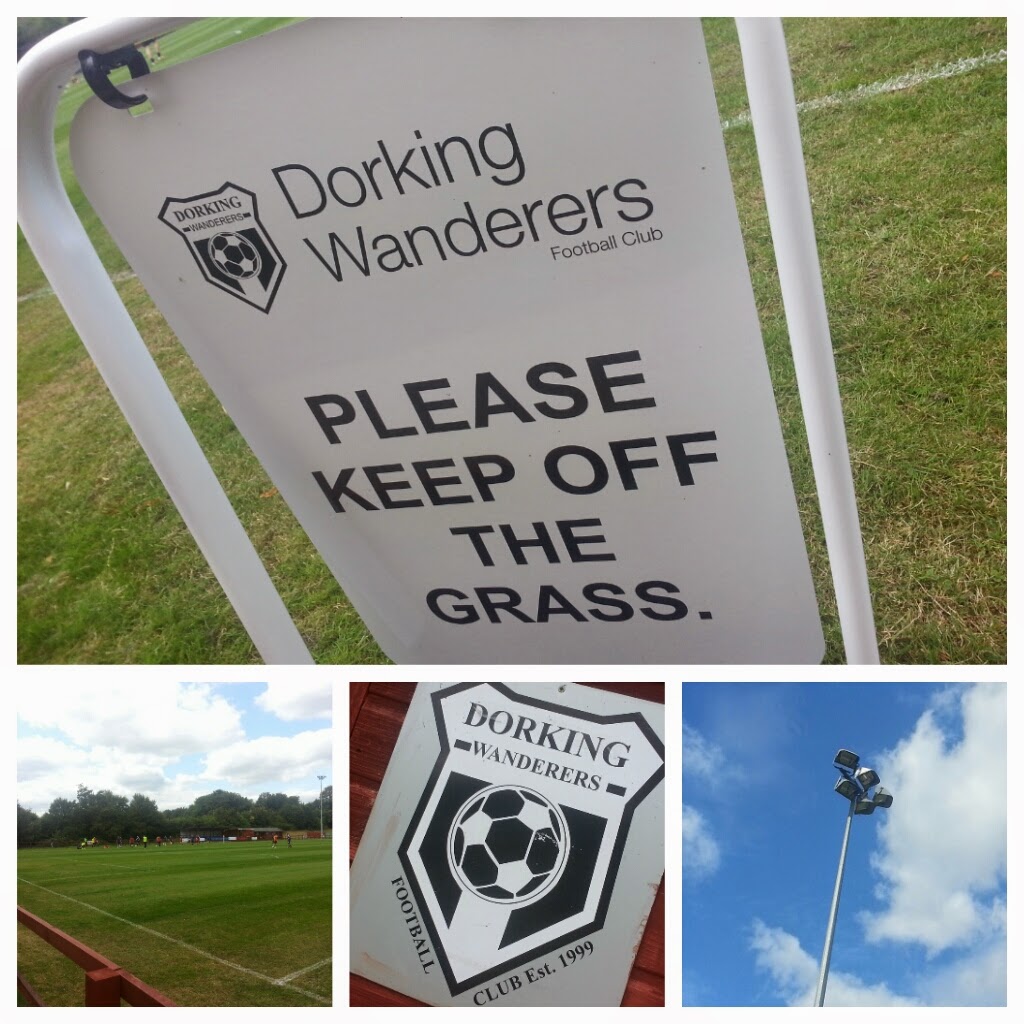 That'll make the game a bit harder then….
Leaving the squad to it! I arrive to see the same old faces doing the same hard graft. Myself, Taz and Mr X brushes in hand set to work, and give the Curva East a little face lift in amber/ canary yella-you decide when you see it. A couple of hours pass and the job is done. The Curva East looks a decent glow in the dark yella. On completion of the works, Mr X reckons it's a job well done and rewards us with Bacon Sarnies- we all love the bacon! Oh yes Mr Duke turns up just on time as the Bacon is being served, well 20 mins before but we don't count that! Better late than never eh Dukey Boy !
Right then boys, so we have er finished for the day then, what are we gonna do with ourselves? Go home to our wives? Go and sit in our arm chairs and wank off to pop idols or dancing on ice? Fuck no is the answer we are instead going where no non-league fan has ever been before….Dorking Wanderers. Yes you heard me correctly Dorking Wanderers. Now then you non-league lovers. If you want to know more about this team then you can google or Wikipedia it yourselves. But let me tell you this, they were formed in 1999. So there's not a great deal of history there as a club, but they've won a few titles in their short existence.
We grab up our gear and make tracks for Dorking. John boy joins Milisy, and I've got the rest of the crew. Taz sadly can't join us, for some reason he decides to head off home and polish up the Cube ready for one of them car shows, which he is due to head up to Sunday morning.  So we make tracks and go up the A217 overtaking a Sutton fan in his black cab on the way! We exit off down towards the place where they make Viagra-Dukey fills us in on his knowledge and wisdom, on the subject of Viagra. We then head down past Boxhill. We pass Brockham and chuck a right at the cock roundabout, head down the A24 and before we know, and I
nearly miss the turn we have arrived at ten past two. With 50 minutes to kill, we make haste for the bar. Yes a ground we've never been to before and that's the first thing we do, we are after all have a reputation to uphold.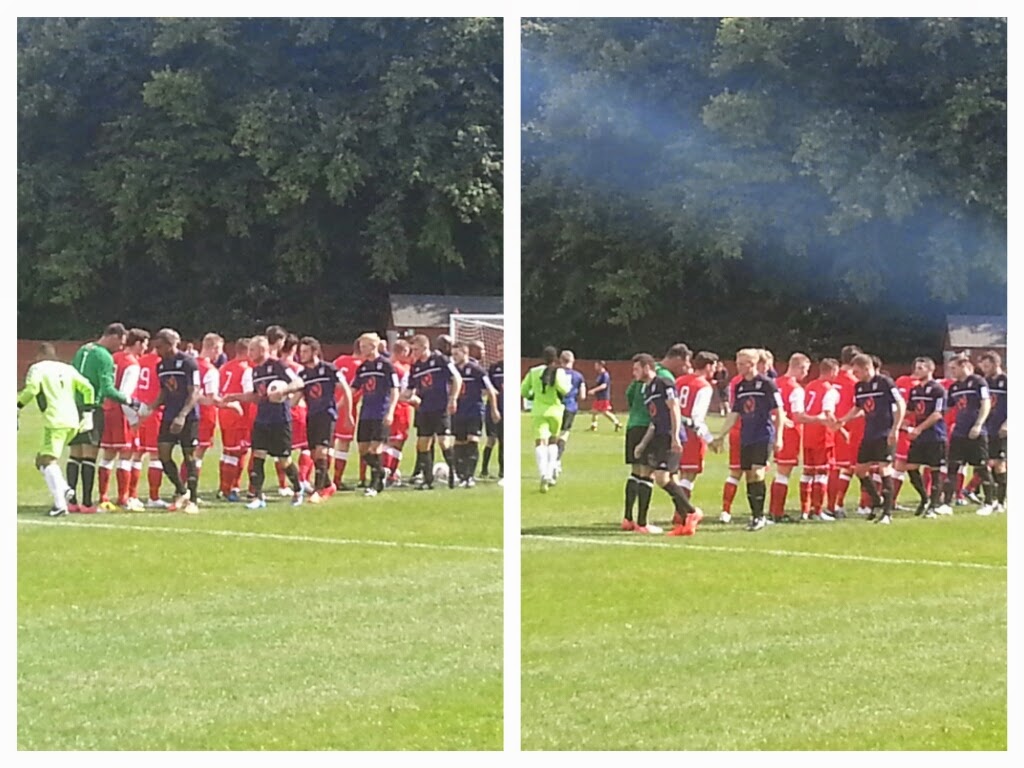 Lining up for the off…..
Refreshed with a few tinnies for the crew, some 10 minutes later and John Boy and Millsy decide to join us. Now let me describe the ground as best I can. Its basic, but its ok.  I mean its a league below Carshalton Athletic, and it's a better set up than their
shit pit! You've got a perimeter fence which runs around the ground giving a rather rustic feel. You've got two sets of changing rooms, which are best describes as glorified sheds with a little extra.  Walking further round you find a small stand which accommodates about 50 or so seats and even a small section for those of the committee. Then you've got the bar/tea hut in one, and also an area with sky sports. Oh and a tannoy system that is currently better than ours. Looking back towards the exit the landscape is one of the rolling hills of Box Hill.  To the left of there is a cricket club, and beyond another football pitch. So all in all not a bad little set up for this level of football. I my humble opinion I'll give it a Gandermonium 3 out of 5 for effort.
Time pushing on, a ten to three and I take a little look through the programme, again a decent effort for a quid. A total of 20 pages, 5 pages of adverts and the remaining dedicated to information and statistics dedicated to the first, reserve and youth level set up.  Now my eye is caught on the team line up for Dorking Wanderers, and two names stand out to me. The first being Luke Pidgeon,
now I'm sure as houses are houses he used to be a Bobbin. The second name that stands out like a neon sign in Vegas is that of none other than Glen Boosey! Jesus, the last time I saw him, was at Casuals a few year back in the Surrey Senior Cup, the left foot legend.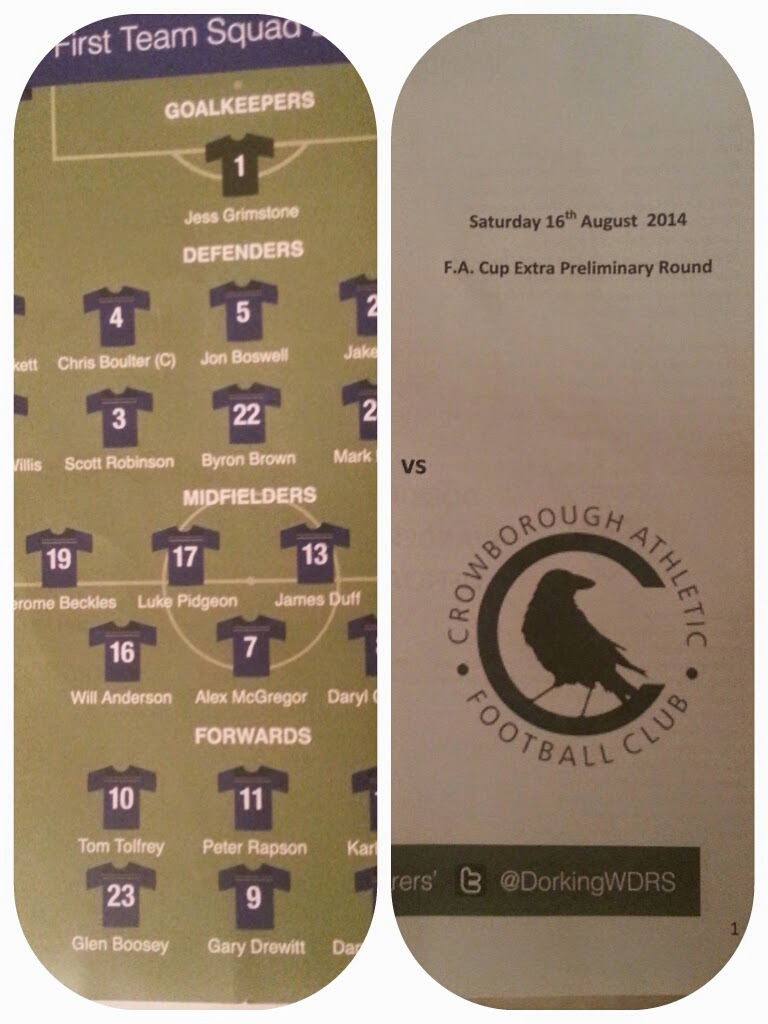 Spot the ex-Sutton player….
The big hand at 12 and the little hand at 3, it's time for kick off. The players come out and form a line, as part of the respect campaign and do the traditional handshakes, and head off for the toss of the coin. Both teams stay as they are and kick off gets underway. Now bearing in mind this is an F.A Cup Extra Preliminary Round, I was expecting a pretty face passed game. But
I was wrong, so very wrong indeed. To be fair Dorking within the first 15-20 minutes looked the brighter and better of the two teams, and to be fair to them knocking the ball around at a casual rate. But not really pressing Crowborough hard enough. There is  one thing that is good about this level of football, you get to see some real robust and slightly naughty challenges going in about every three minutes, the sound of a smashed shin pad is always the giveaway.  A discussion goes on between the firm as to who will get the first yellow of the game and we go 8 and 9 from Dorking, and some 5 minutes later and 8 gets booked for a naughty challenge.  Both teams in the first half continue to block each out, nothing pretty here, just basic football, hoofs from the back, up to the midfield and not much else going on.  I start to loose interest; I even look up into the sky as two replica 1st world war planes fly over head. But my focus is back on the game when after some 30 odd minutes have passed, Dorking finally have a shot on goal, but it's weak and is easily saved by the Crowborough keeper.
The ref blows up for half time, and it's time for a brew, diet coke, beer, hot dog, whatever takes your fancy really. Once more enjoying the surroundings and I turn to my left, and who rocks up for the 2nd 45, none other than one of our co-authors, Mr Totts! Now he duly informs us, that he did in fact get lost on his way here, and had to revert to his Sat Nav whilst out on his Mountain Bike. Now for a minute he had us all fooled, we were under the impression that he had ridden said bike from Sutton. But no, no he
got the train down with his bike and decided to climb up the hill and then drop down into Dorking but got a bit lost on the way.  Just a little stretch out said Totts as he heads back to the bar for another well earned tin of Carlsberg!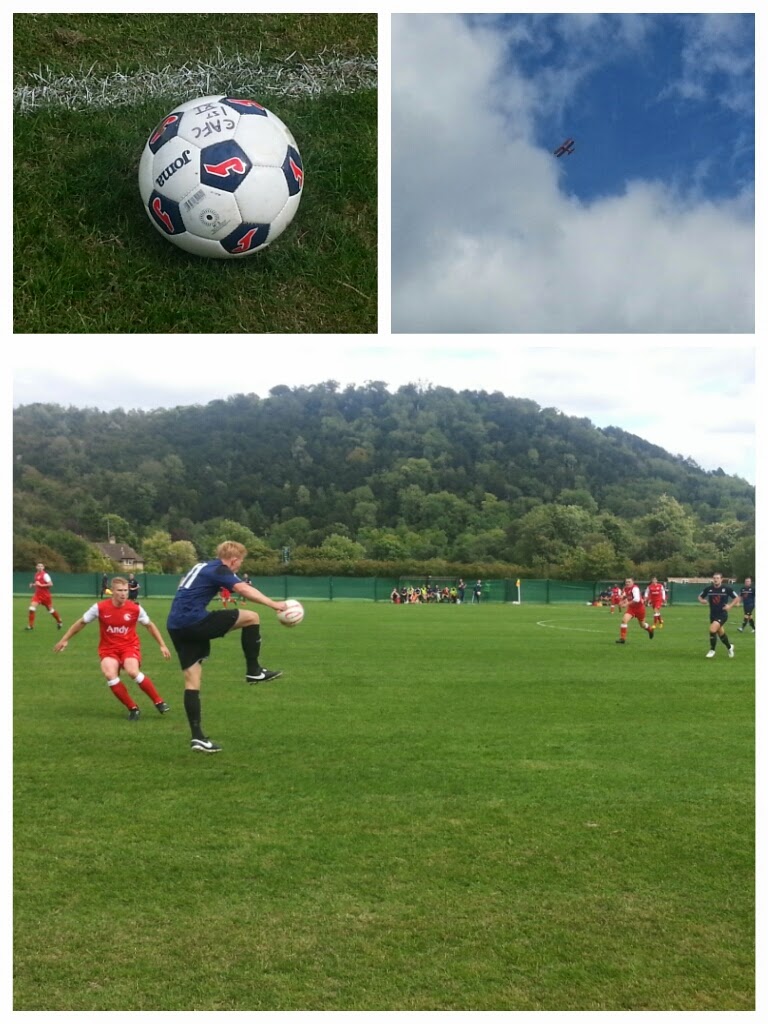 Some Real FA Cup action!
With the 2nd half under way, it's pretty much the same as the first. Just more fouls, more cards, even more missed challenges by
the ref, and even a couple of elbows thrown in for good measure. Dukey was in his element. Let me tell you this, I've never seen this boy look so happy, how he loves a robust leg chop challenge.  A couple of subs are made by both teams, Boosey comes on for Dorking and it was difficult to tell at first if it was in fact him; he'd grown a goatee beard, and grown his hair back, I thought this must been some kind of imposter , you know one of those wanna be legends, but yeah it was him.  You could only tell it was him by his left foot being top notch, and well his right being not so top notch.  The game went on and it all got a bit dull. There were a couple of chances in the dying minutes for both to go and win it, but the final ball just wasn't there.  The game finished nil-nil so it goes to Tuesday night for the replay.
Now the firm had mentioned about heading off into Dorking for the night, but a sudden mention of strippers and a Weatherspoons, meant they were on their way to the bright lights of Epsom. A short car journey back into Epsom, and they arrived into the first establishment, The Marquis. Now if you roll back the clock and go back in time approx a year or so ago.  We headed into Epsom to watch a Reserve game of football and our drinking quest started in The Marquis, and well the night ended up with us all in a strip joint down the other end of the high street at 2 AM. Will this happen again? I shall say only this, what goes on tour, stays on tour. But yes, they will probably end up back in the cat house…
….I love shit football, it makes everything in life so much better….
Juan